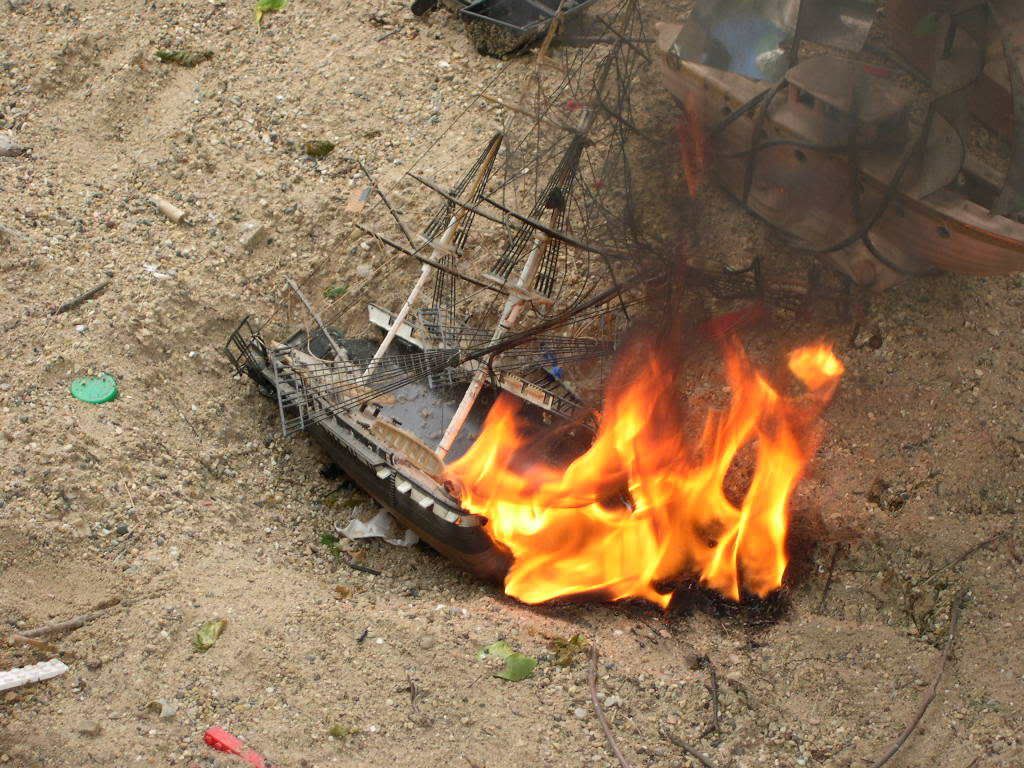 Ok, if a burning replica of the USS Constitution doesn't get your attention, nothing will and you can go back to reading about Northwest DC9s.
Well, it's been a while since I last picked up the pen and scratched out a trip report, so I hope I'm not rusty. I have 6 that I am meaning to write, but, as those of you who dabble in the black art of trip reporting know, it takes time to write a good one.
The trip at hand details my journey out to the Air Force Academy to attend the week long "Summer Seminar". (This trip was last summer. I know, I am the king of procrastinating.)
At the time, I had the huge decision to make between attending the Academy or pursuing an aviation career elsewhere. This trip solidified in my mind the right path for me to take.
Routing for me was pretty simple, all business on the way down, just stopping in Dallas, and fun with a triple seven on the way back. It worked out to be MSN-DFW-COS-DFW-ORD-MSN, and all for a reasonable price.
Flight1
AA 3386
MSN-DFW
Depart: 6:58
Arrive: 9:18
Seat 5A
Type: ERJ 145
Anything else?: Just ask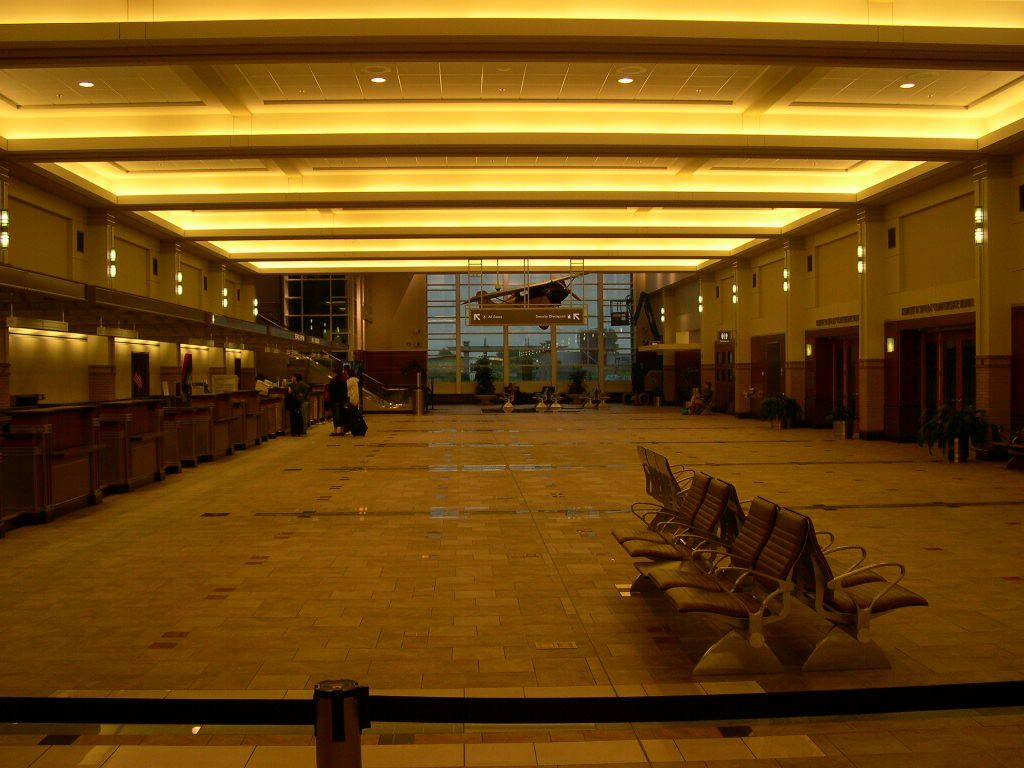 For lack of a suitable word, the picture above demonstrates in 1000 or less what kind of a day it was at MSN.
I have always been a morning person, so getting up at 5 something was no problem. A cursory glance over at the Northwest counter made me glad that I had gone with AA.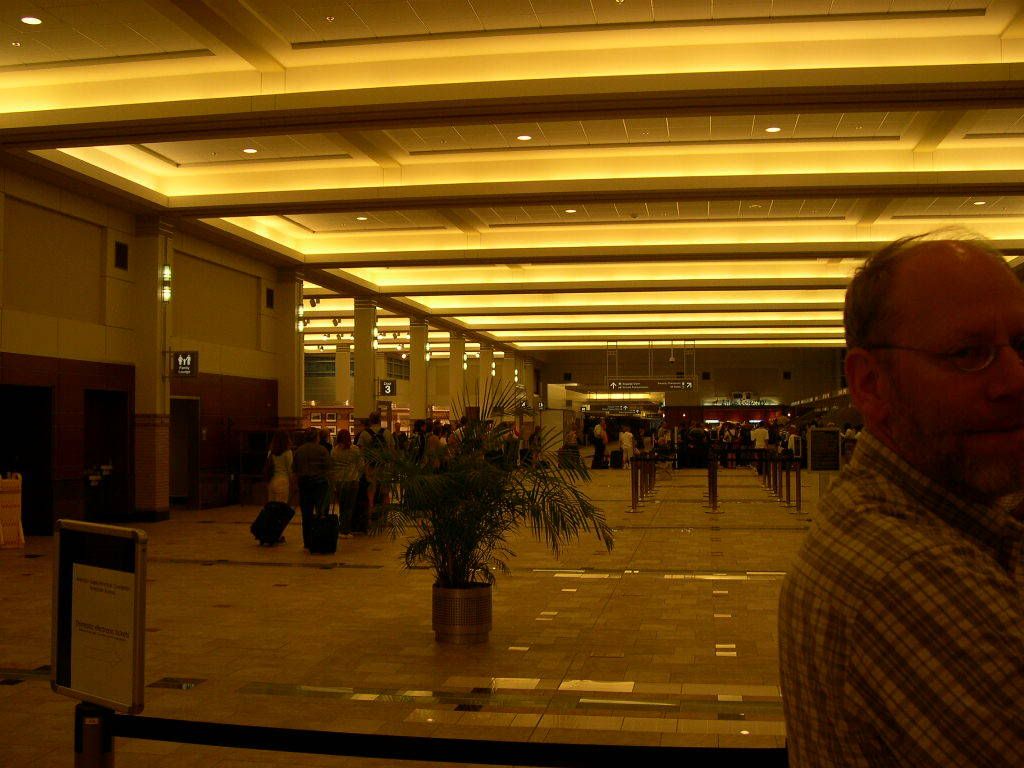 Walking around the terminal, I took the following crappy pictures: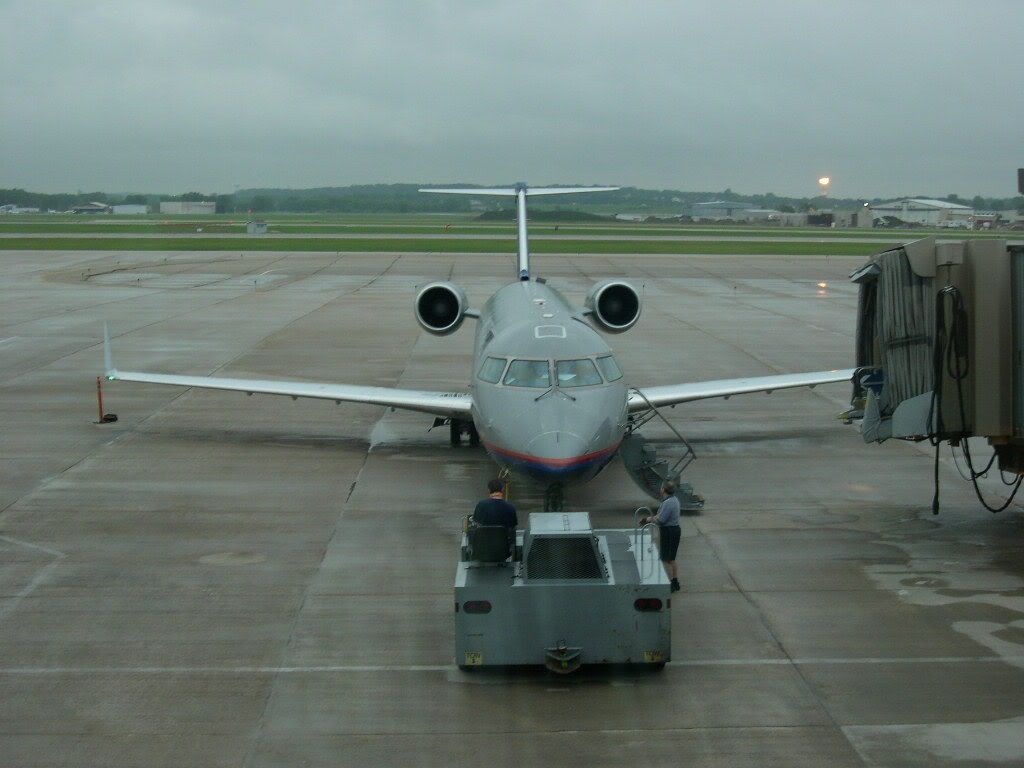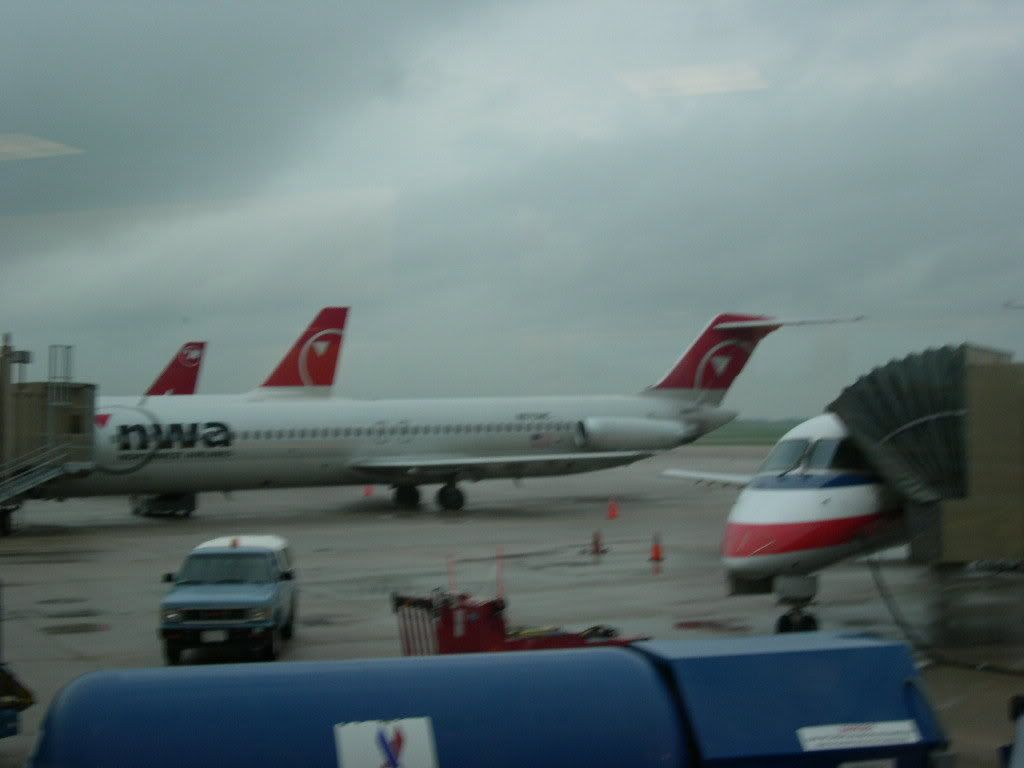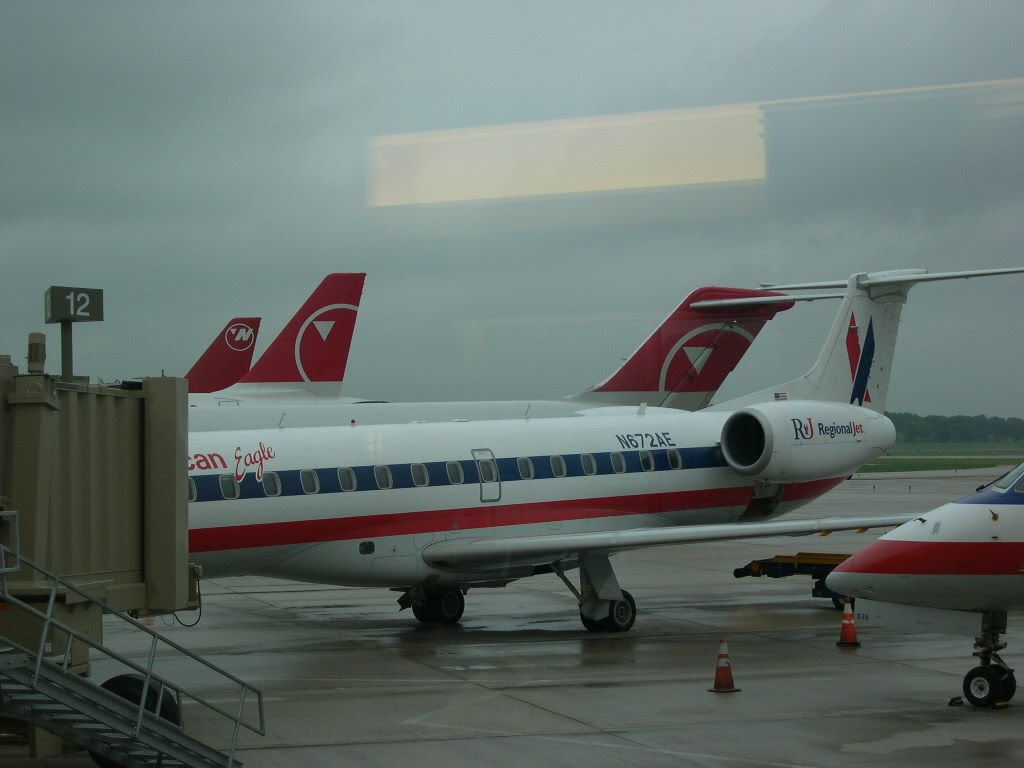 The push, taxi, and take were nothing special, and to add to the list of nothing special was the weather over MSN that day.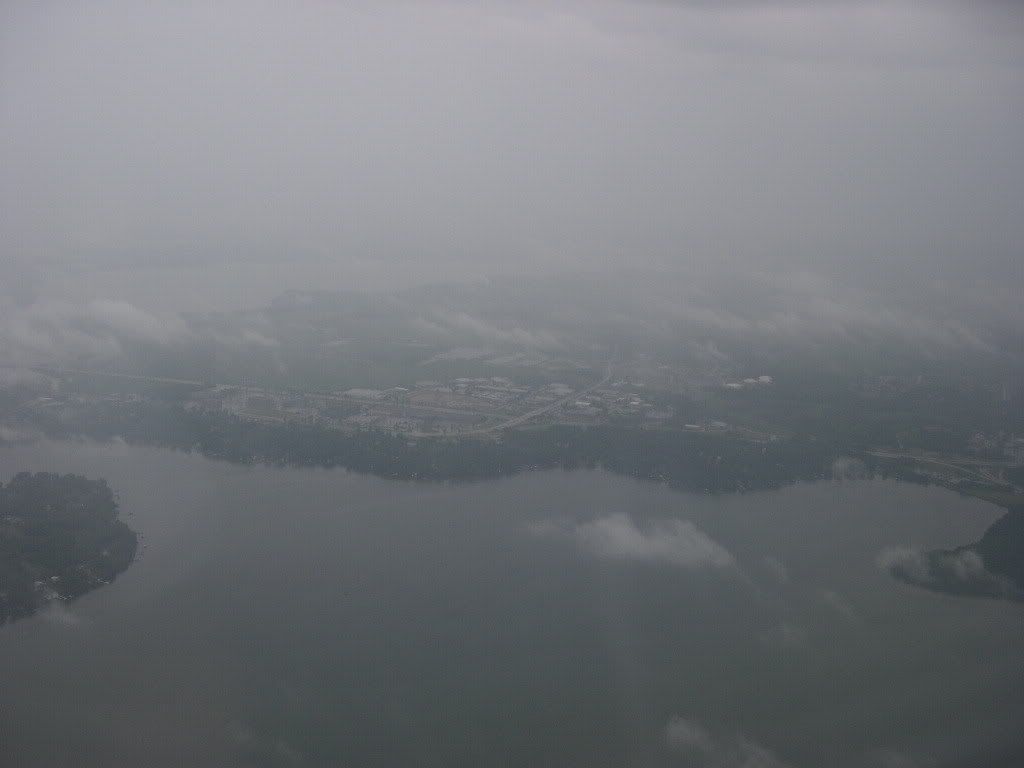 The Dane County Coliseum can be seen below as well as Willow Island, the location of the world's largest brat fest.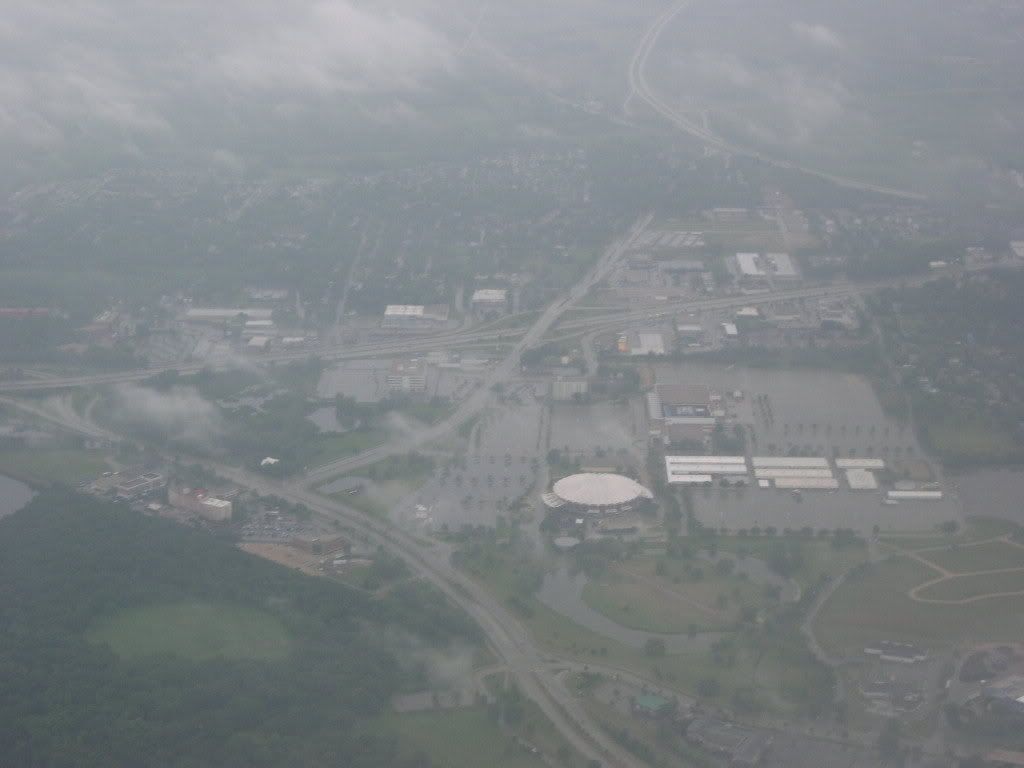 Life up above the clouds was pretty kickin' (Don't worry, I don't know what the means either)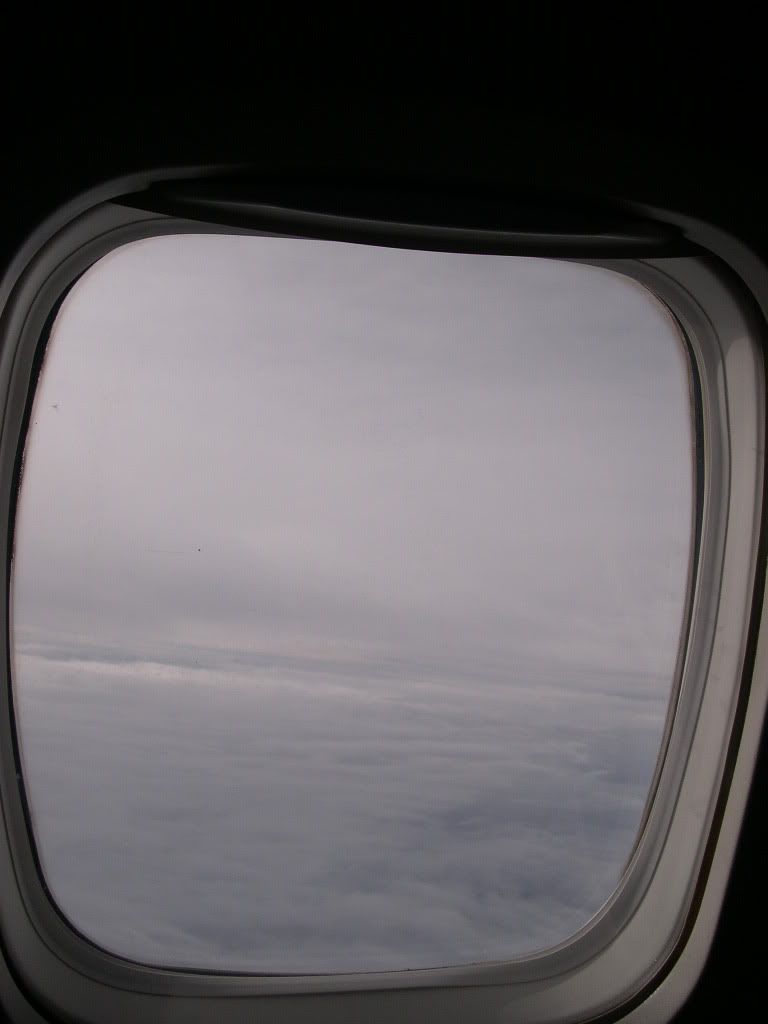 And the mandatory partly clandestine pic of the cabin, hoping the FA won't notice
In the middle of the flight somewhere, we passed over an interesting cloud formation.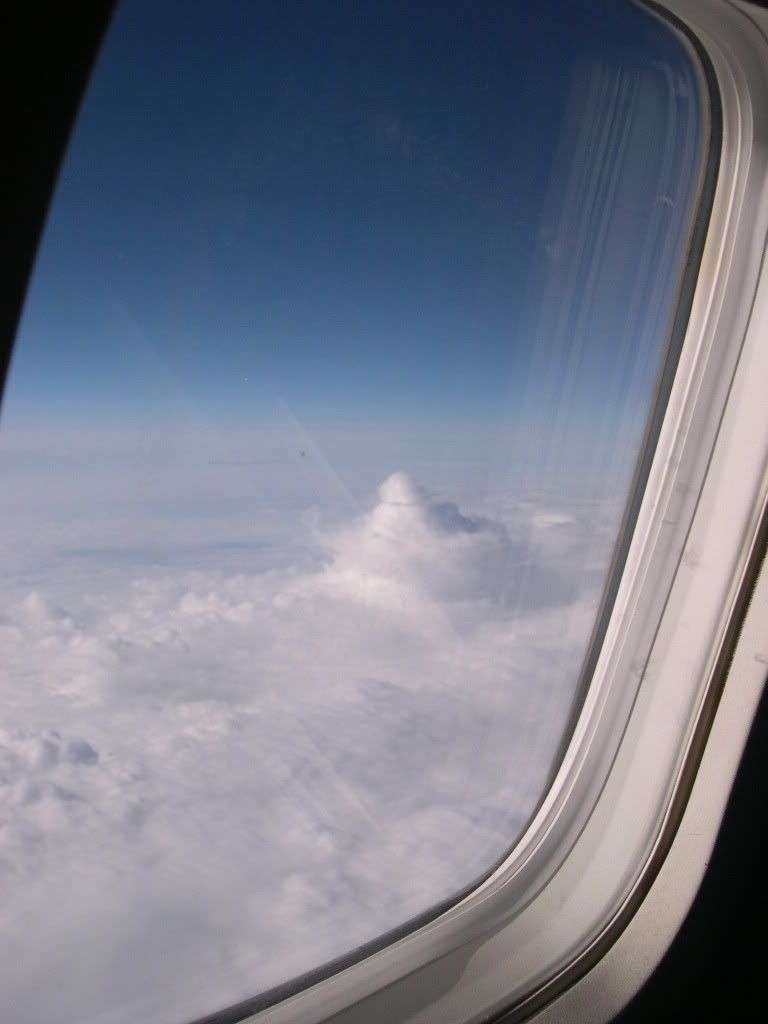 We also passed over an airport which I did not recognize...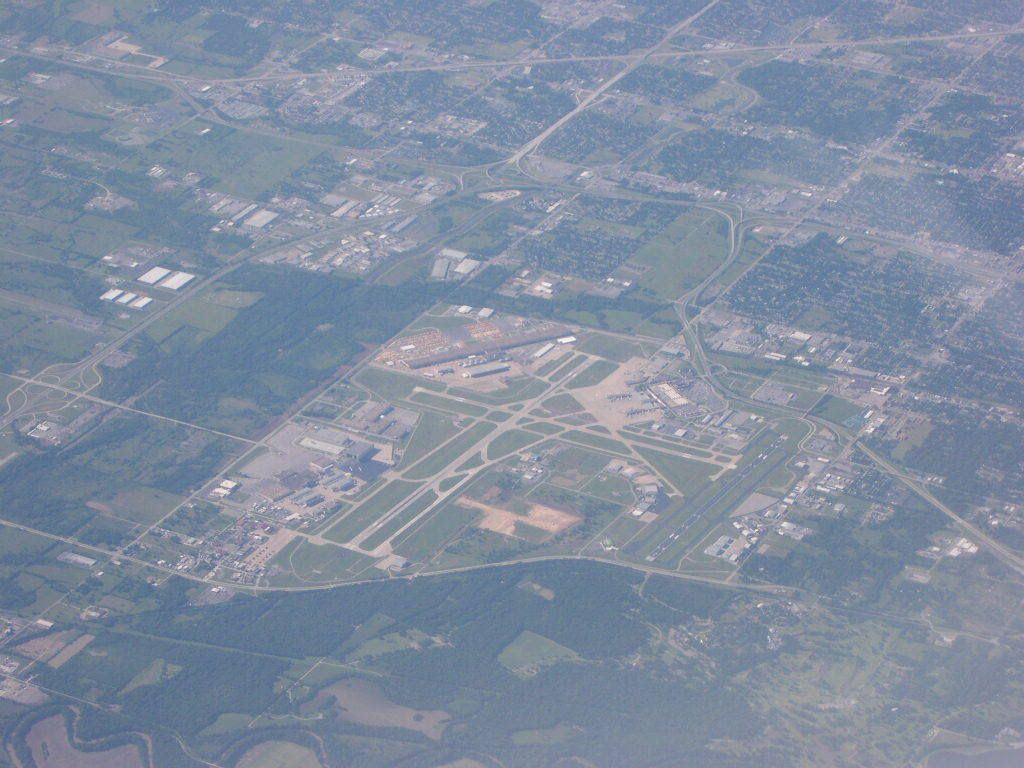 Soon enough though, we were downwind for DFW.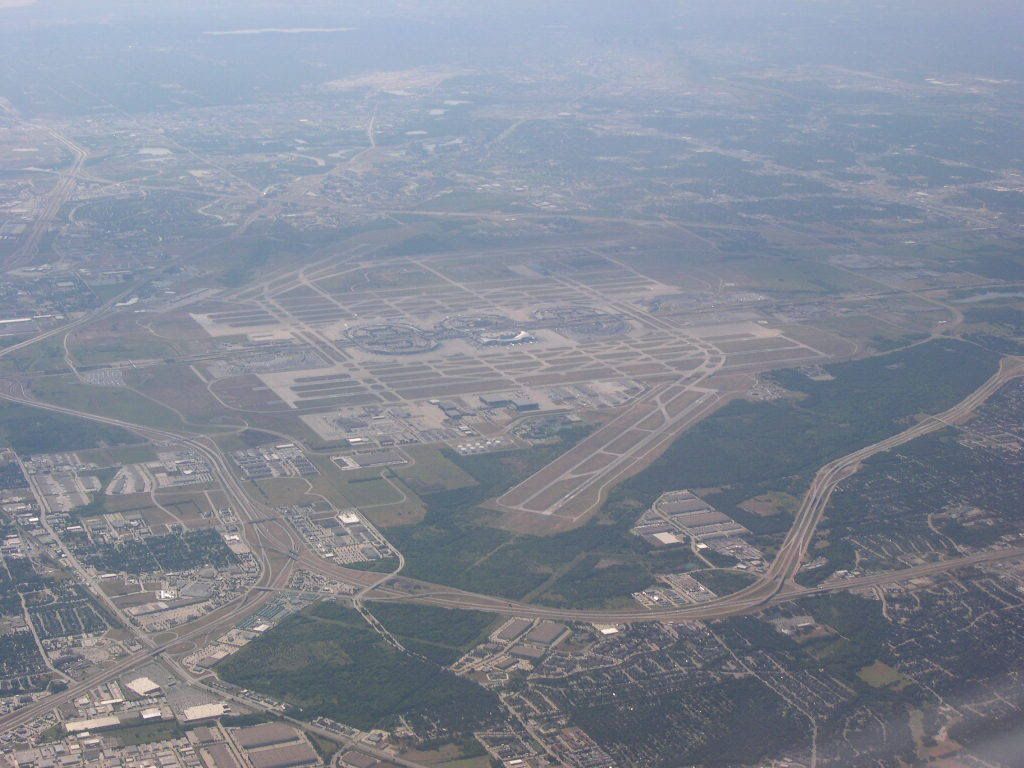 We hung a left turn right over the Rangers stadium and then some theme park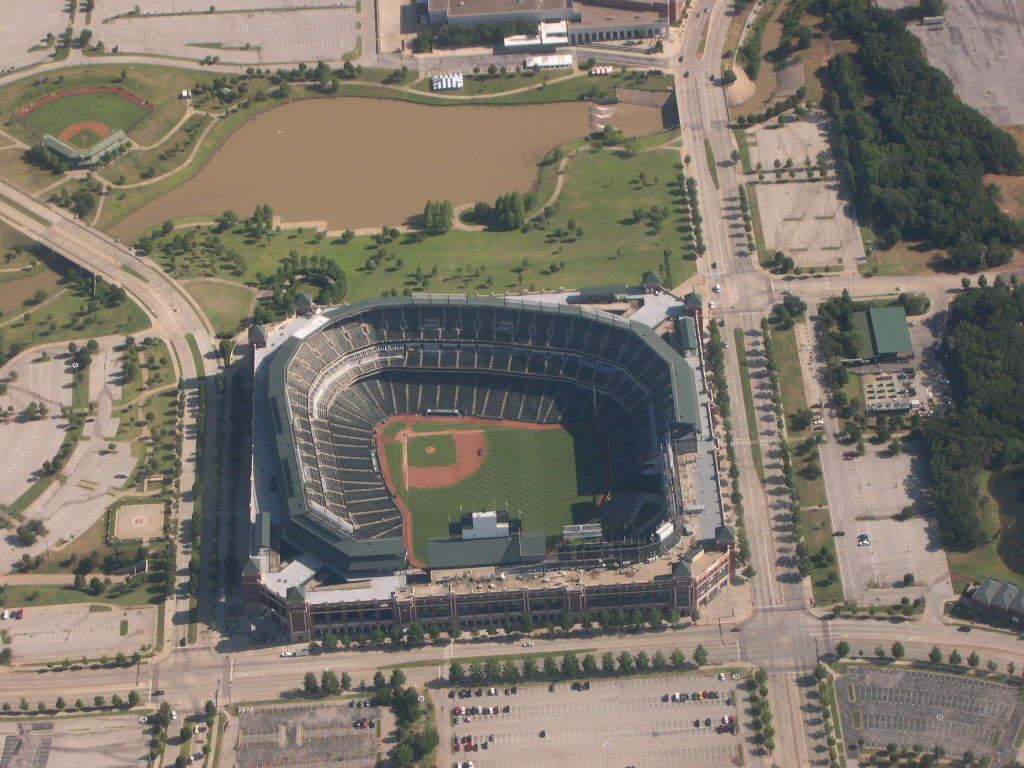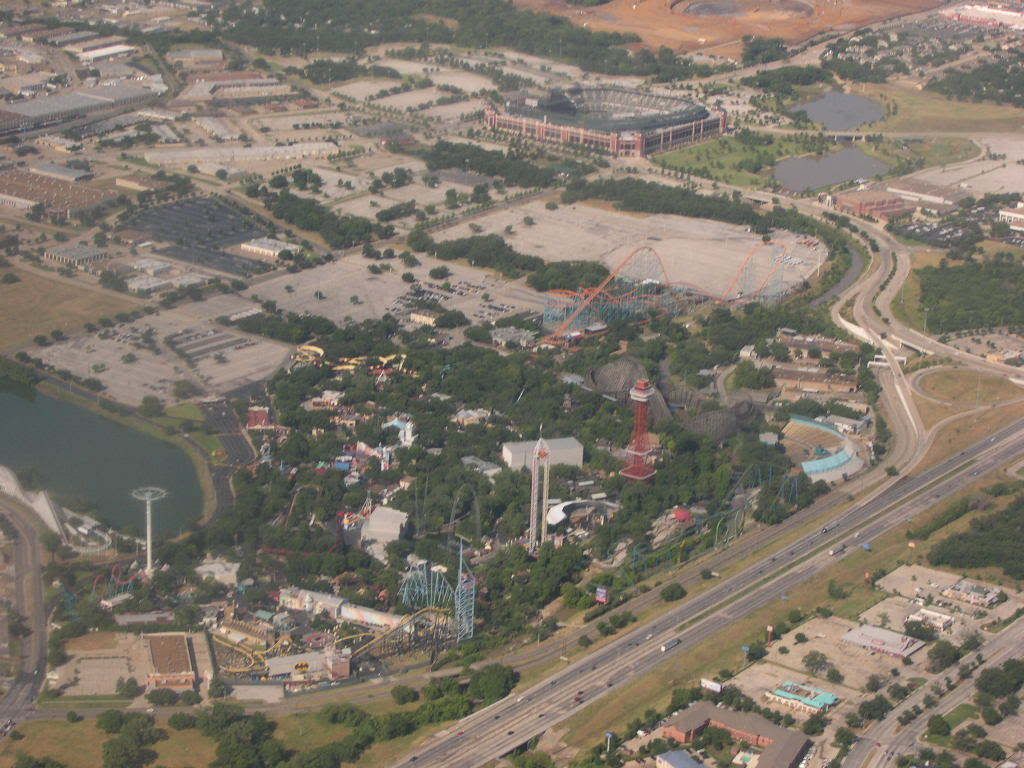 And, after a smooth approach, we were on the ground.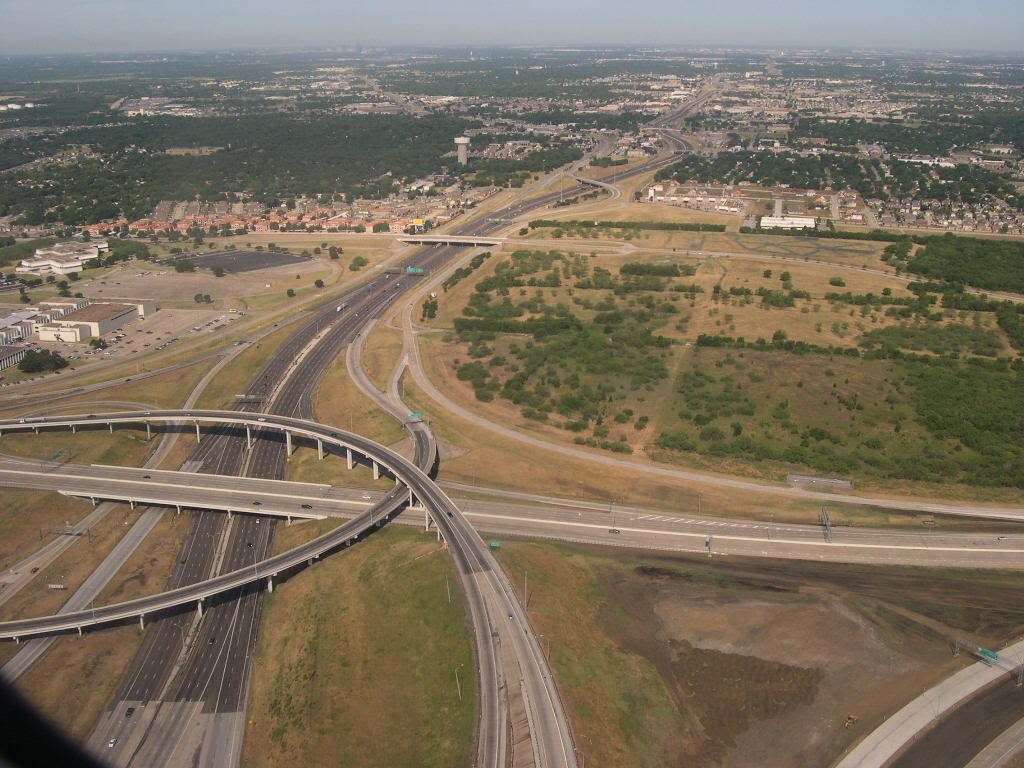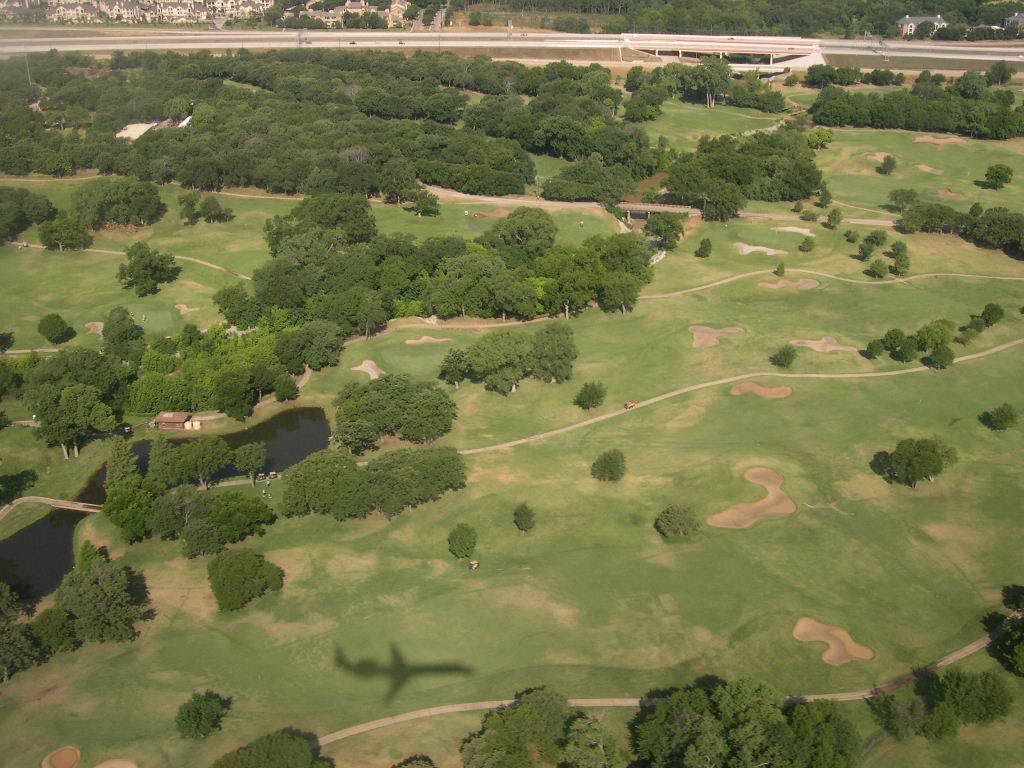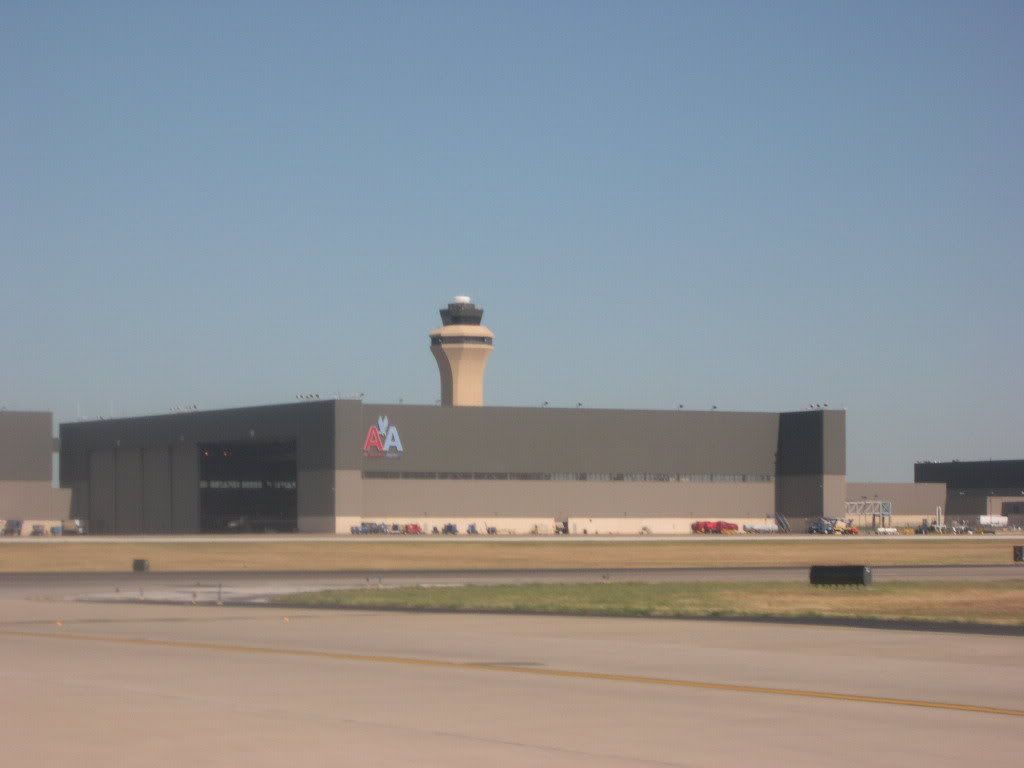 After turning off of the runway, an MD80 took off right before my gleaming eyes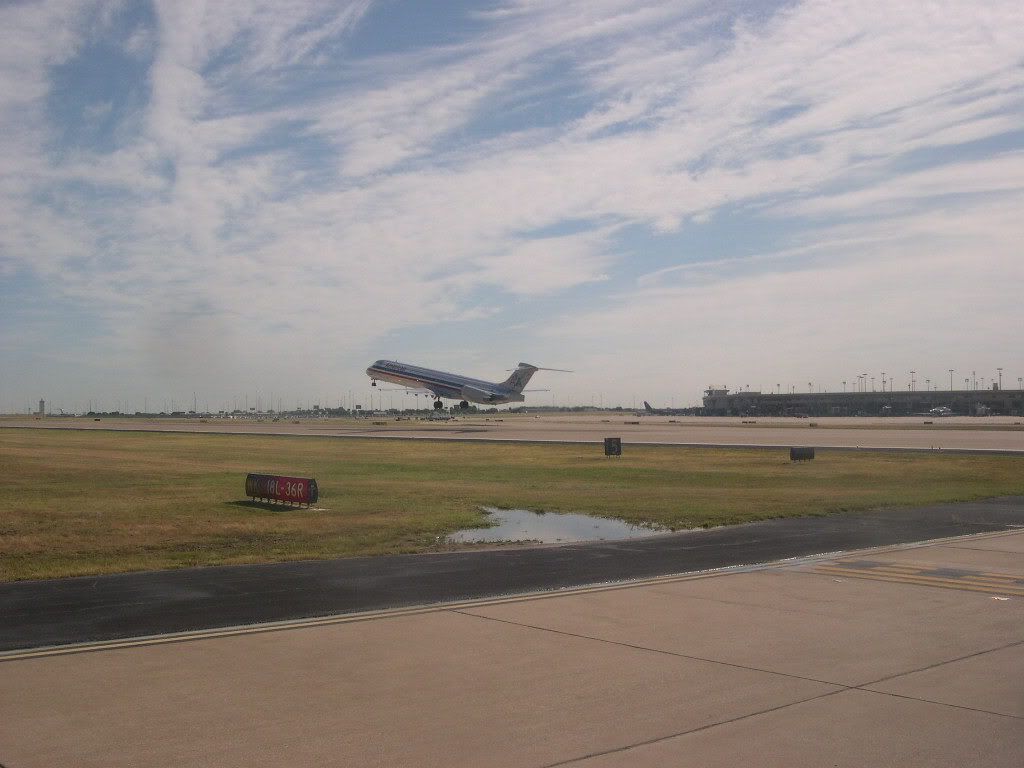 And a short taxi later, we were pulling up to the terminal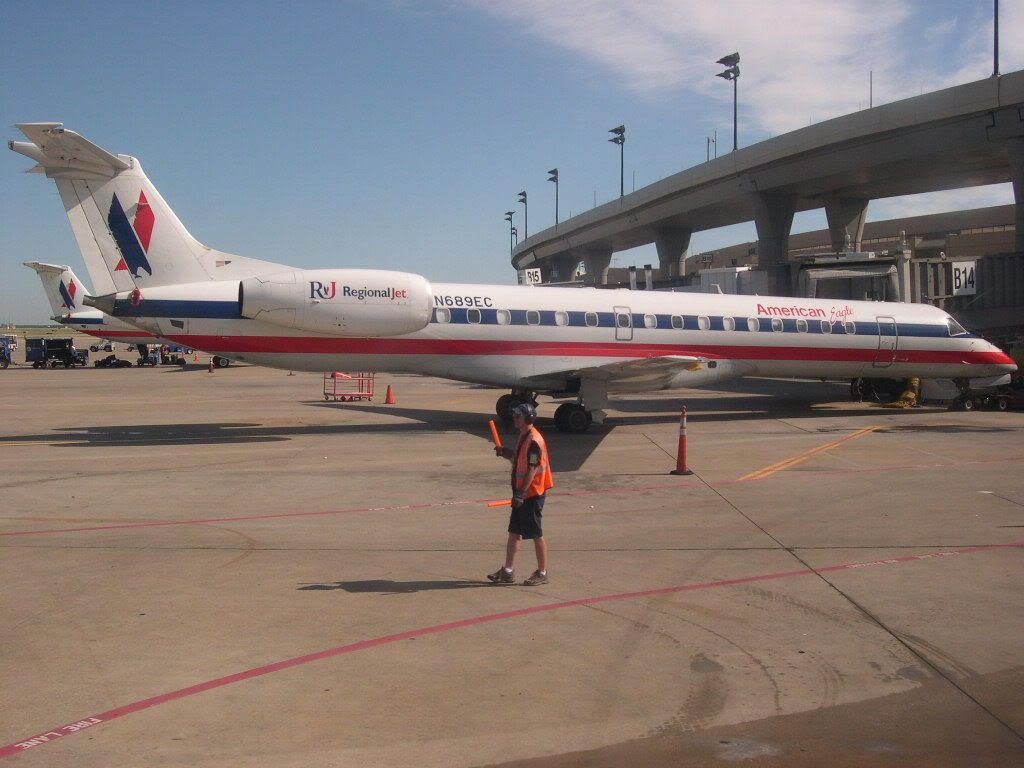 With a few hours before my flight to COS, I decided to wander around Dallas, and take the train around a few times. So the following pics will hopefully sum that experience up.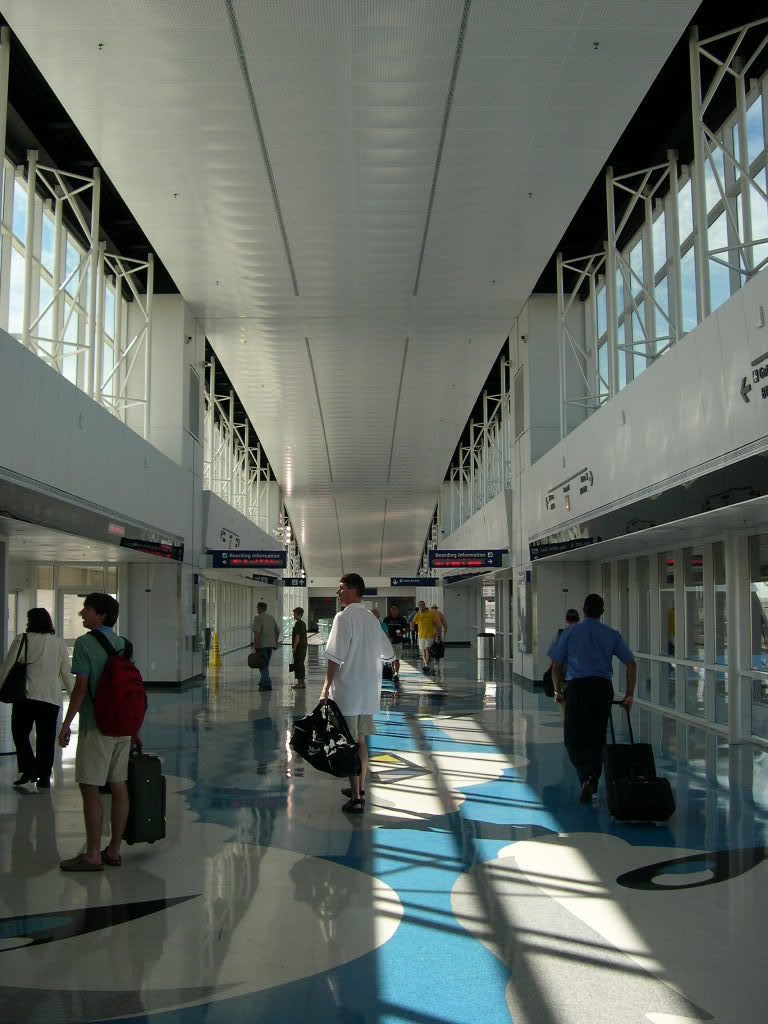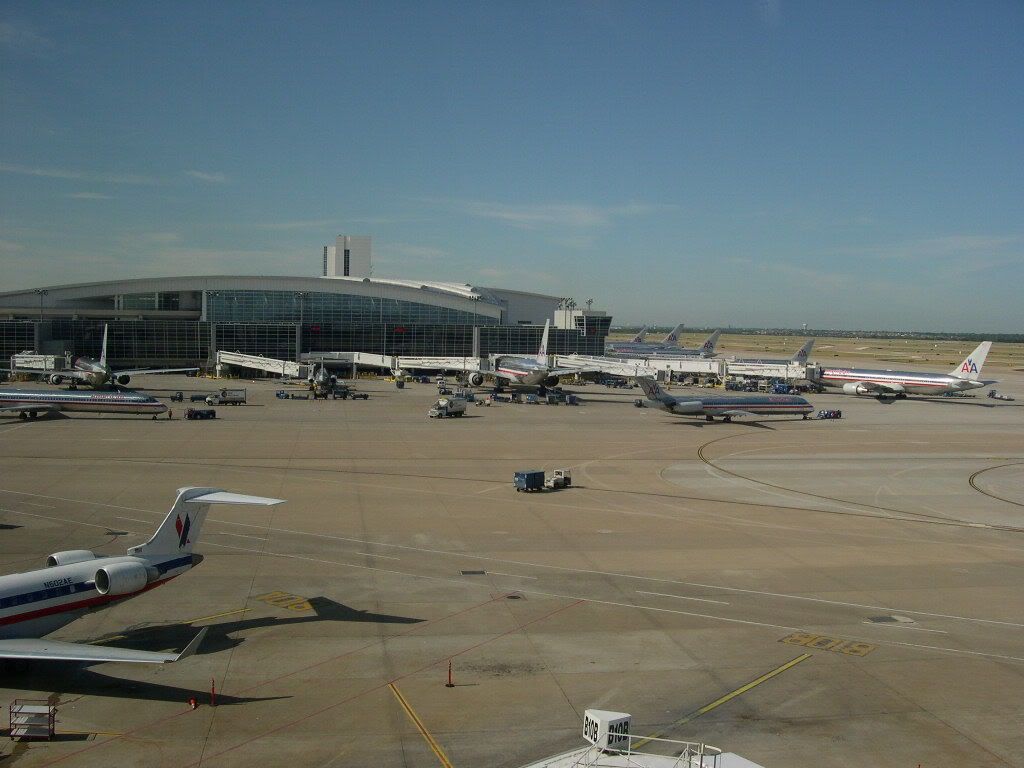 That famous L1011 that always seems to be there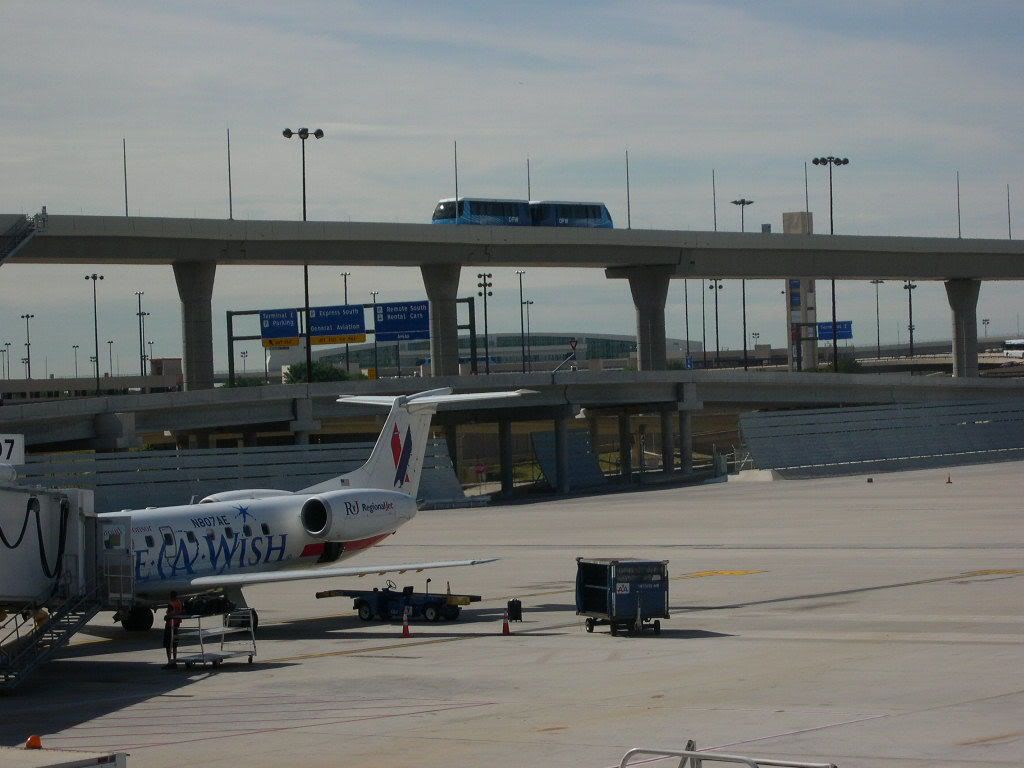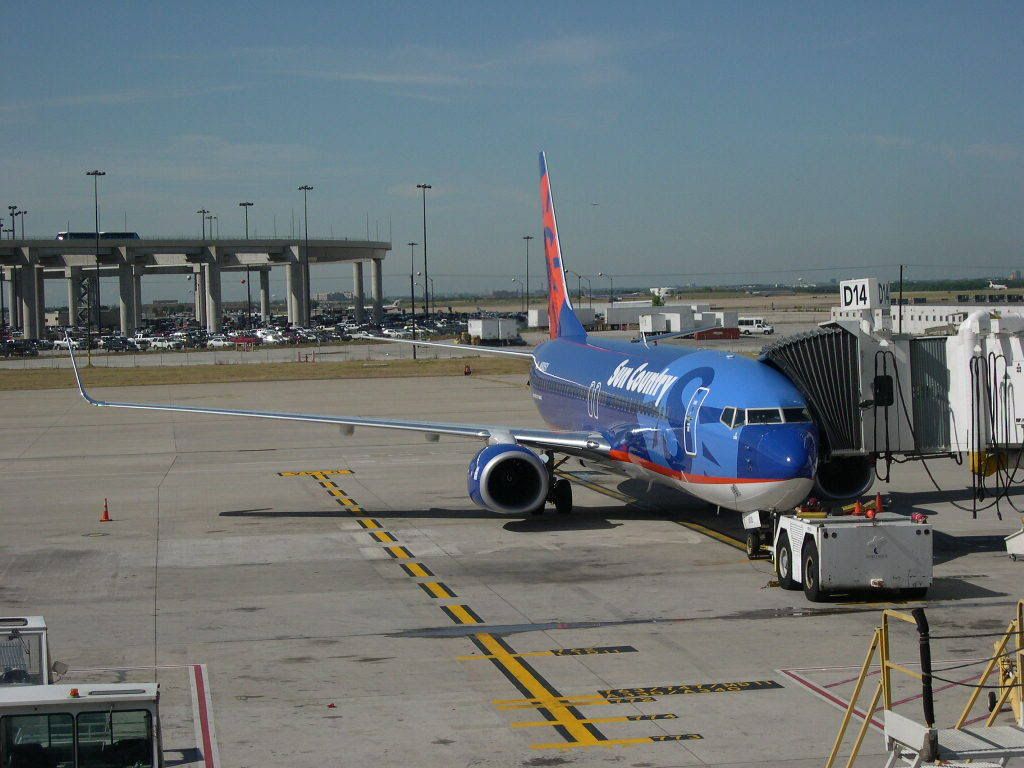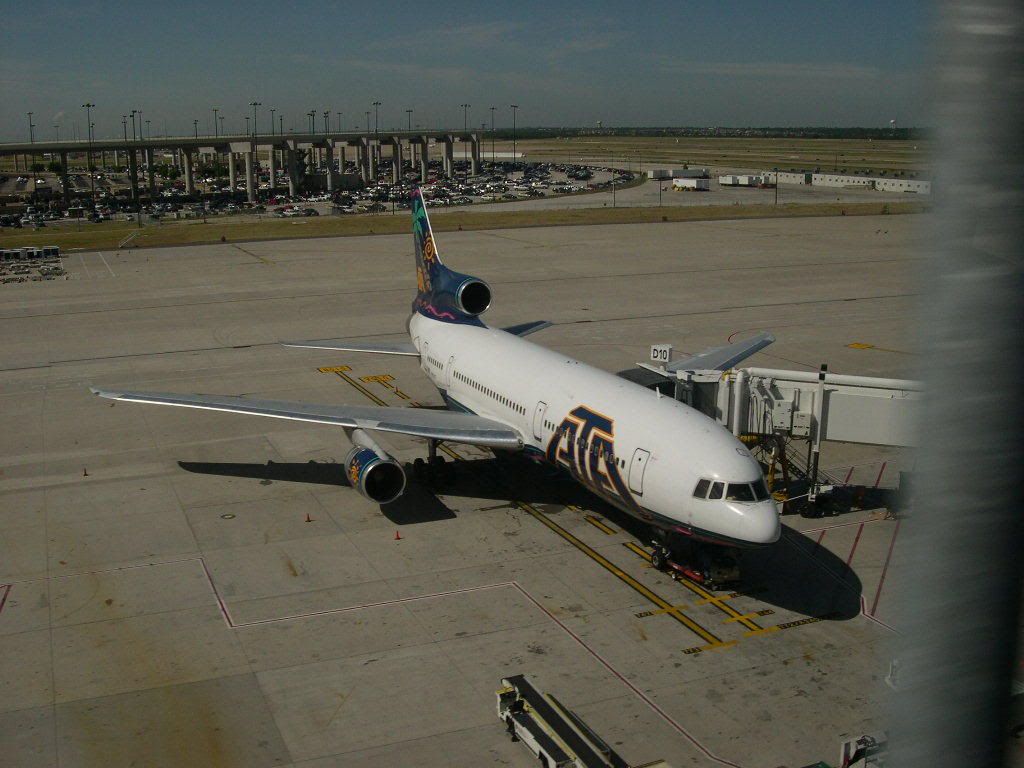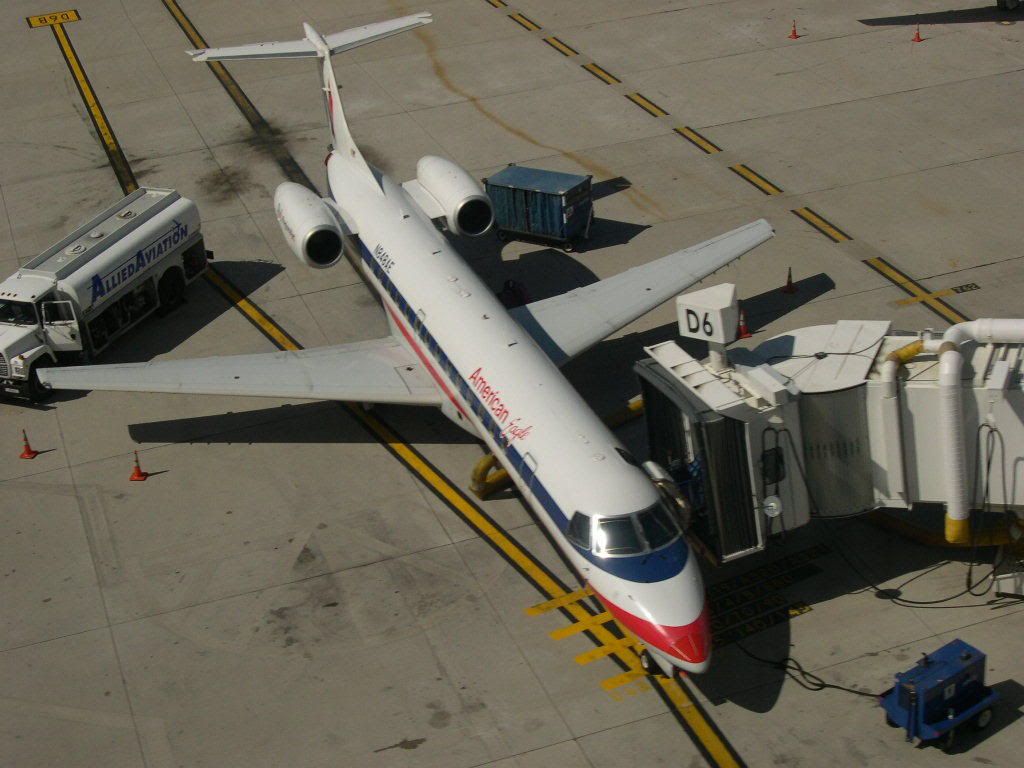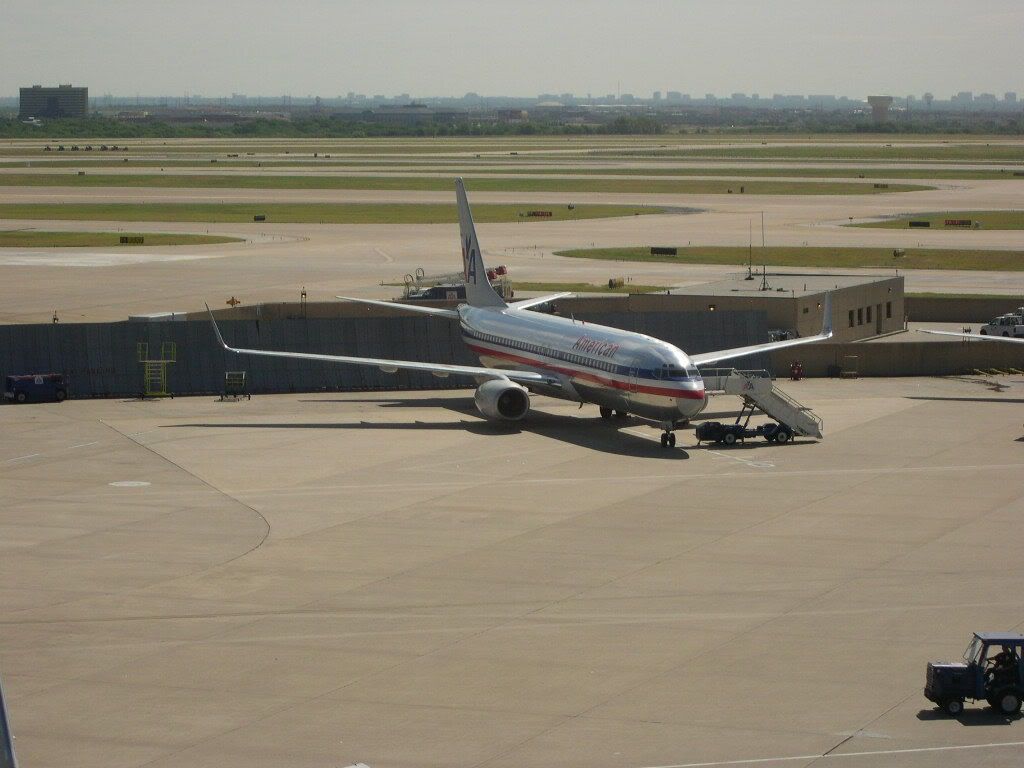 I have noticed this on two separate occasions now---The dispatch tower seen below has a sign in the window that says "Wright is Right!" Coming from an AA dispatch tower, that is no surprise.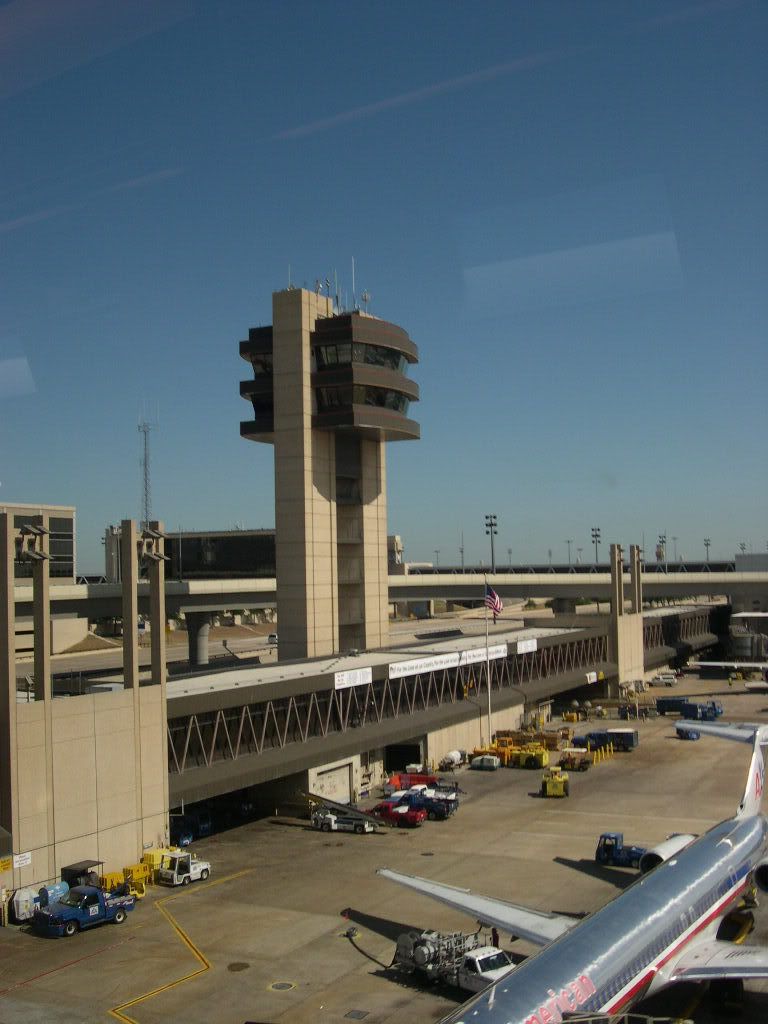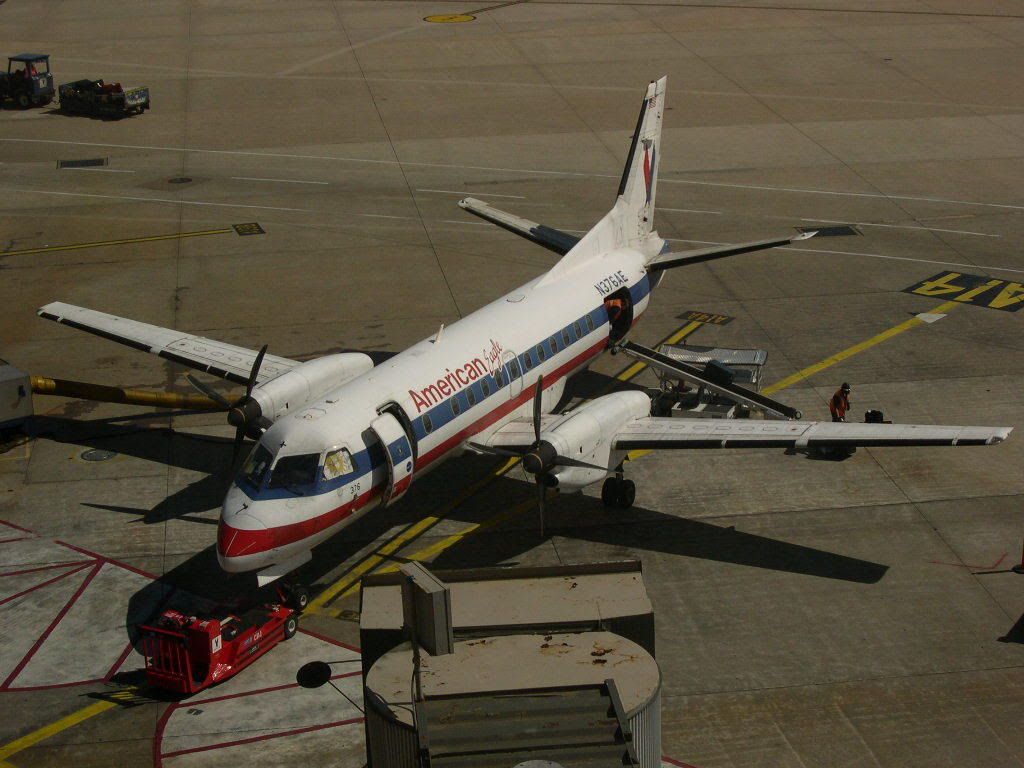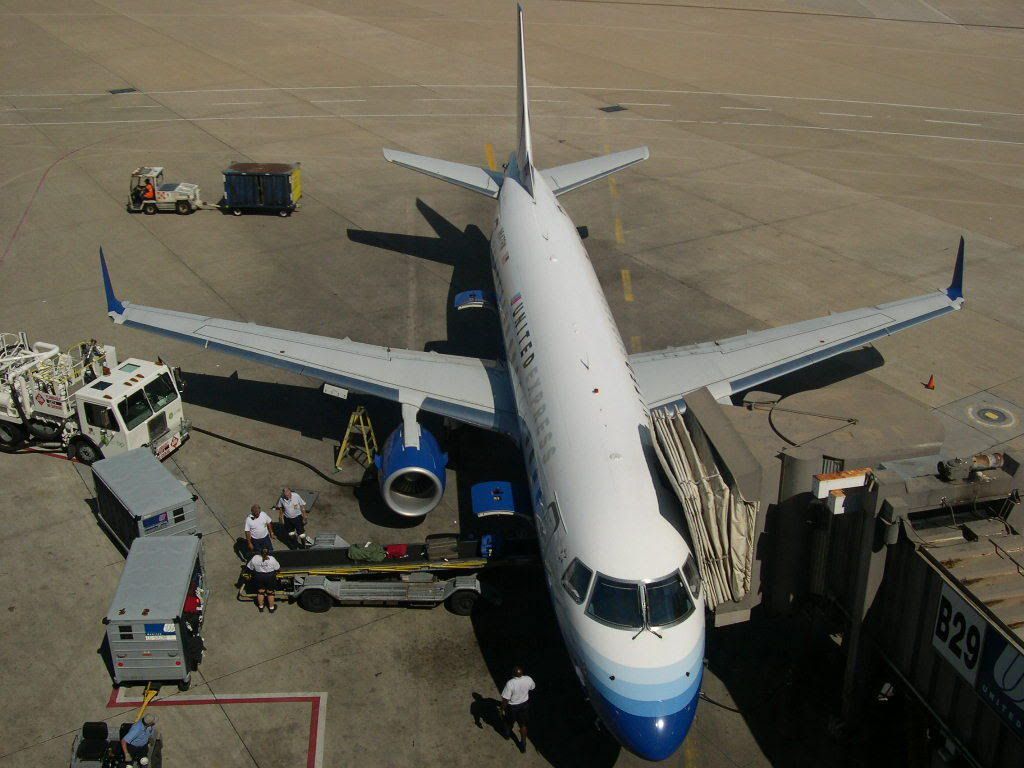 The most beautiful plane there...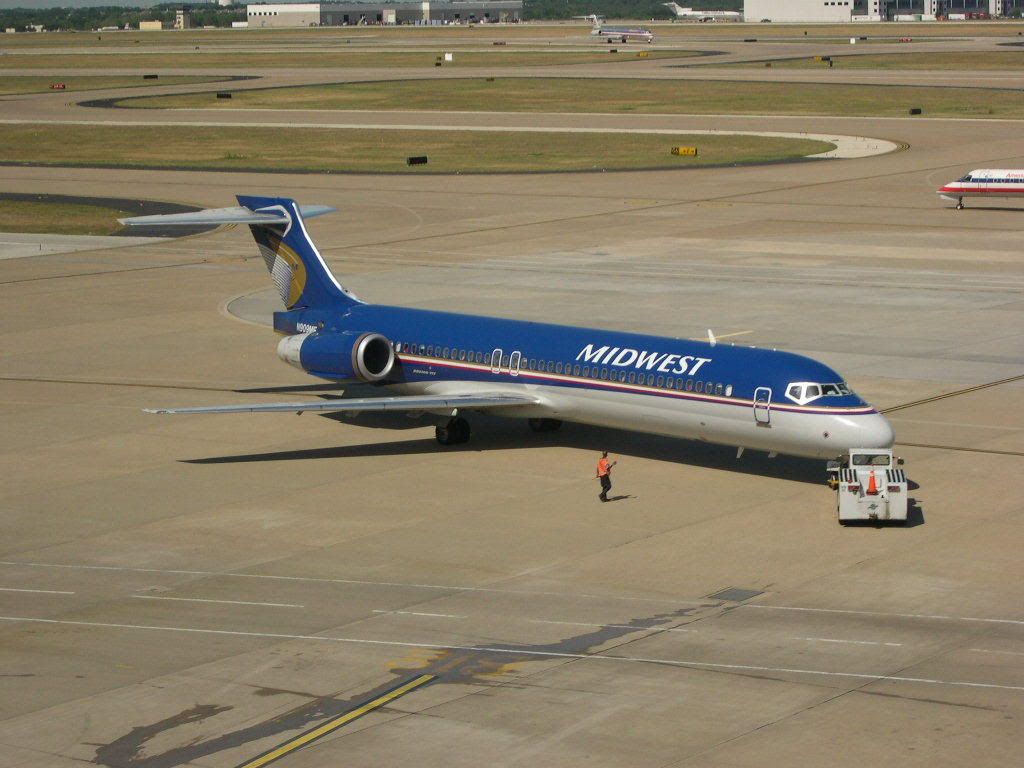 That guy is pretty small compared to that triple seven engine
Soon enough, too soon, it was time to head off to the Academy.
Flight 2
1067
DFW-COS
Seat 13A
Type:S80
Blah?: Yes
Boarding and all that jazz went smoothly, and I found myself seated next to another kid who was headed up to the Summer Seminar. We chatted most of the flight, thus allowing me to take very few pics. The ones I did take are below: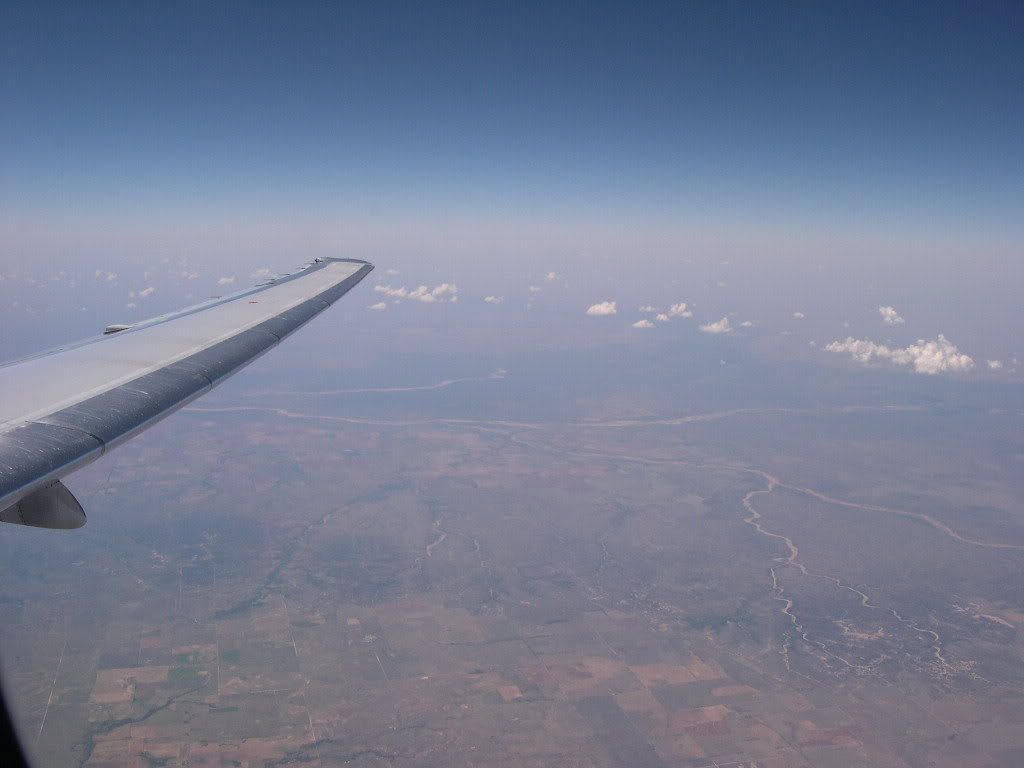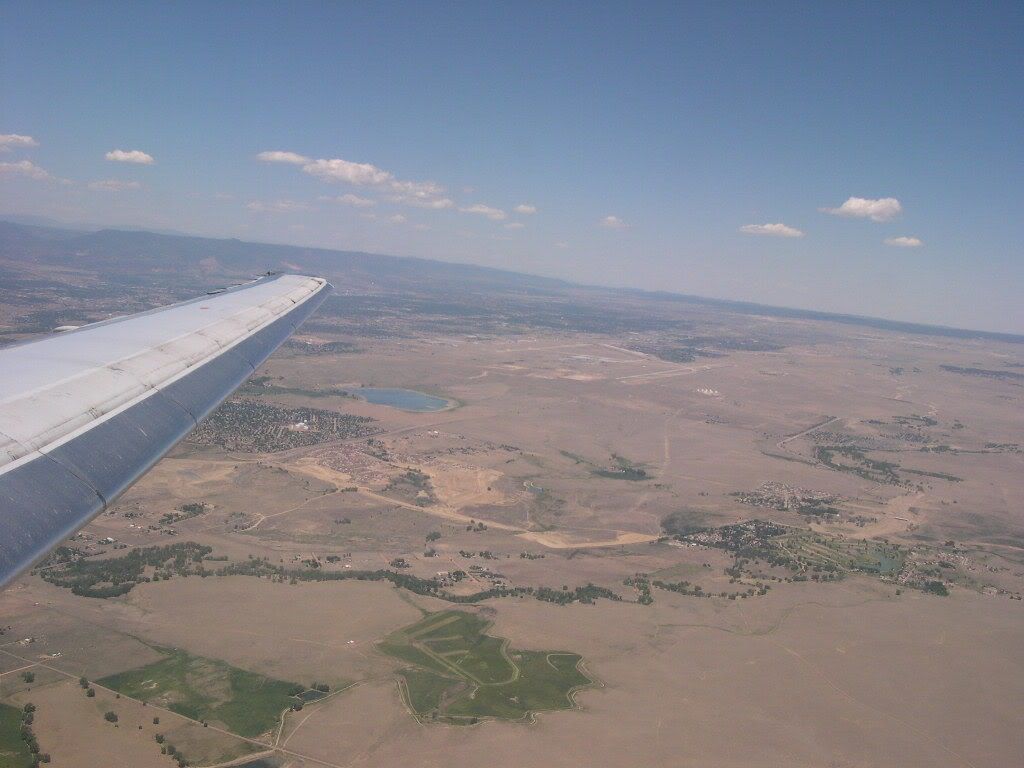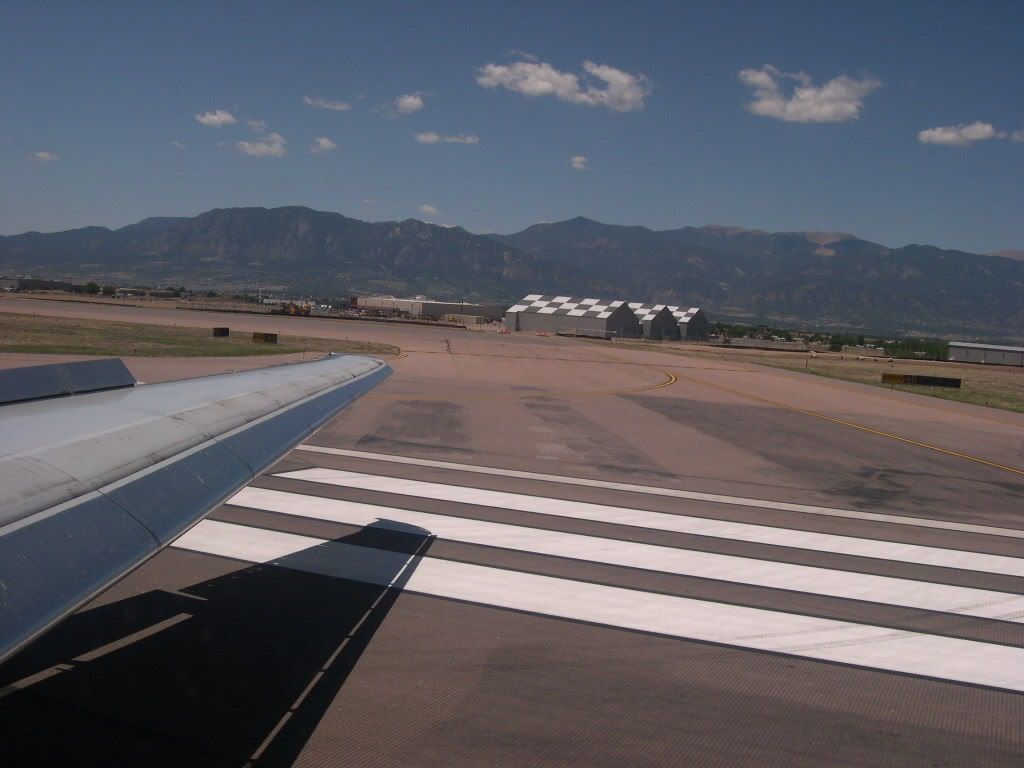 Well, having been to the Academy before, I knew what to expect as far as the campus is concerned, but not so much about the life there. After spending a week there, I realized it was not for me. I don't know about everyone else here, but for me, I would take commercial aviation over military any day. As anyone calling themselves an aviation aficionado does, I know all of the military planes by heart (it would be a discredit to our world of aviation not to know them), but they just don't excite me as much as commercial ones do. I don't know how to put my feeling into words words, but given the choice between taking a ride on the Concorde or in any military jet, I would choose Concorde hands down.
In speaking with many of the cadets and other kids at the Academy, I realized that none of them knew or cared a lick about aviation. Someone there tried to insist to me that Boeing was building the A380 and not Airbus. After a few minutes of listening to his case, I just smiled and agreed. Most of the cadets that went on to become pilots, it seemed to me, kind of just wound up flying because it was what the Air Force told them to do, and not because they had grown up staring at the sky, trying to name every plane that flew over.
I guess to sum up what this trip showed me, the Academy is not in any sense for those of us who love airplanes as much as the people on this site do, it is for people who want to live the military life and end up doing whatever the military wants them to do, and if that so happens to be in the cockpit of an aircraft, so much the better. I still have the greatest of respect for those attending, but know I will be much happier elsewhere.
Here are a few random pics from the week there: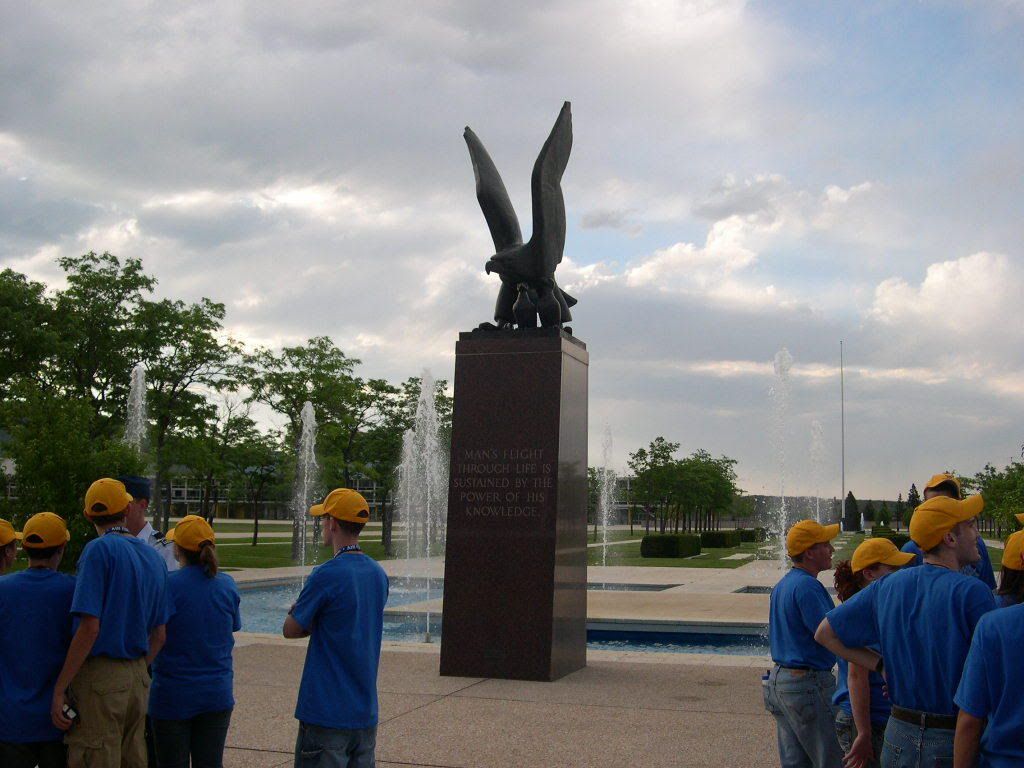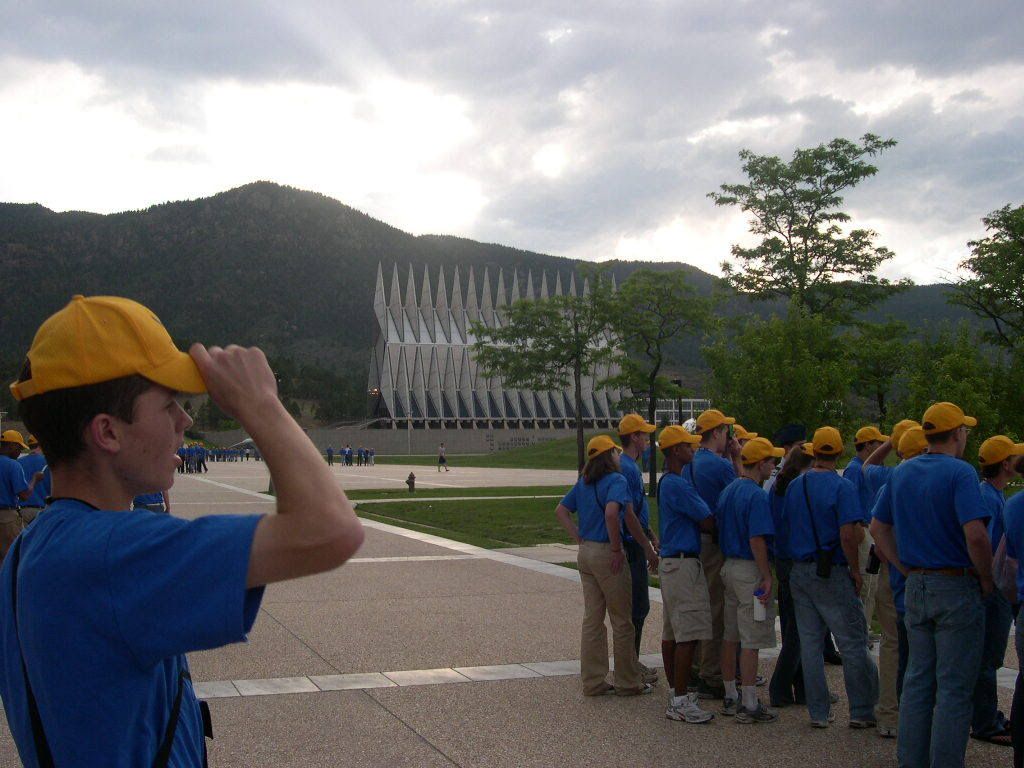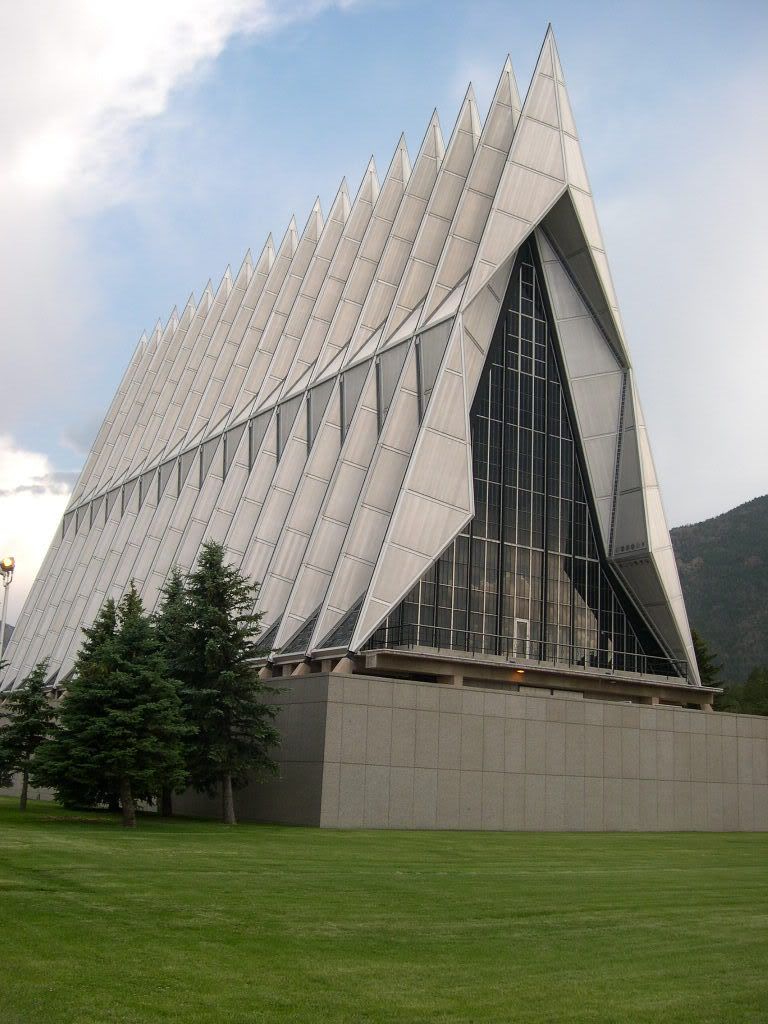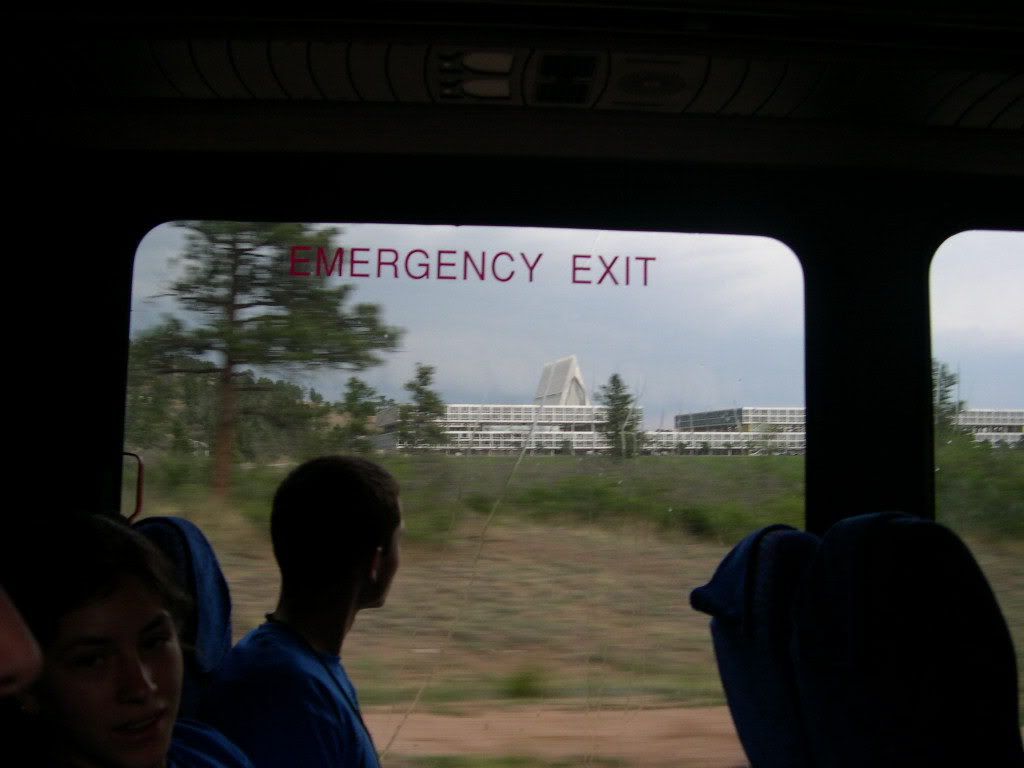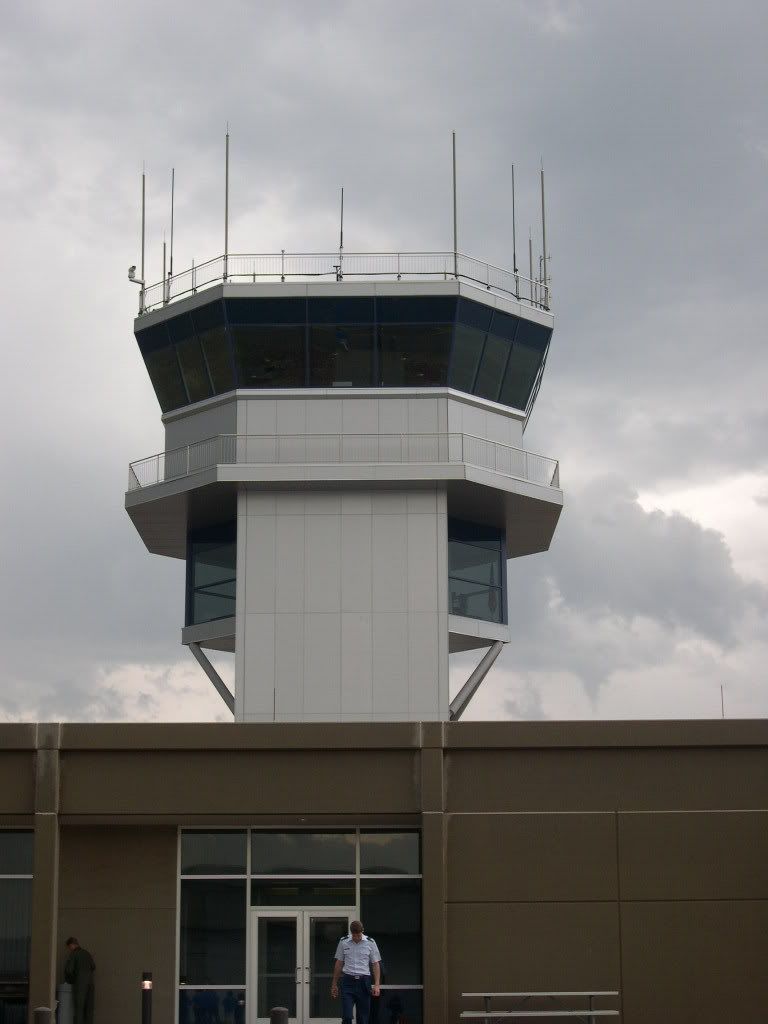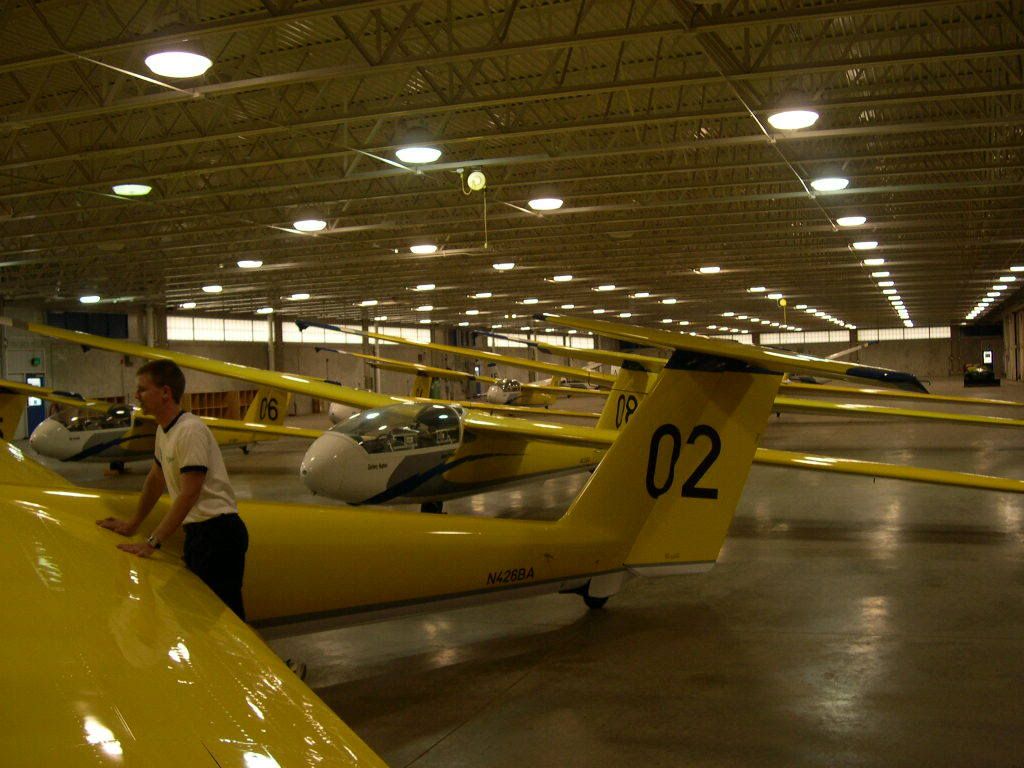 Going to the observatory was very cool.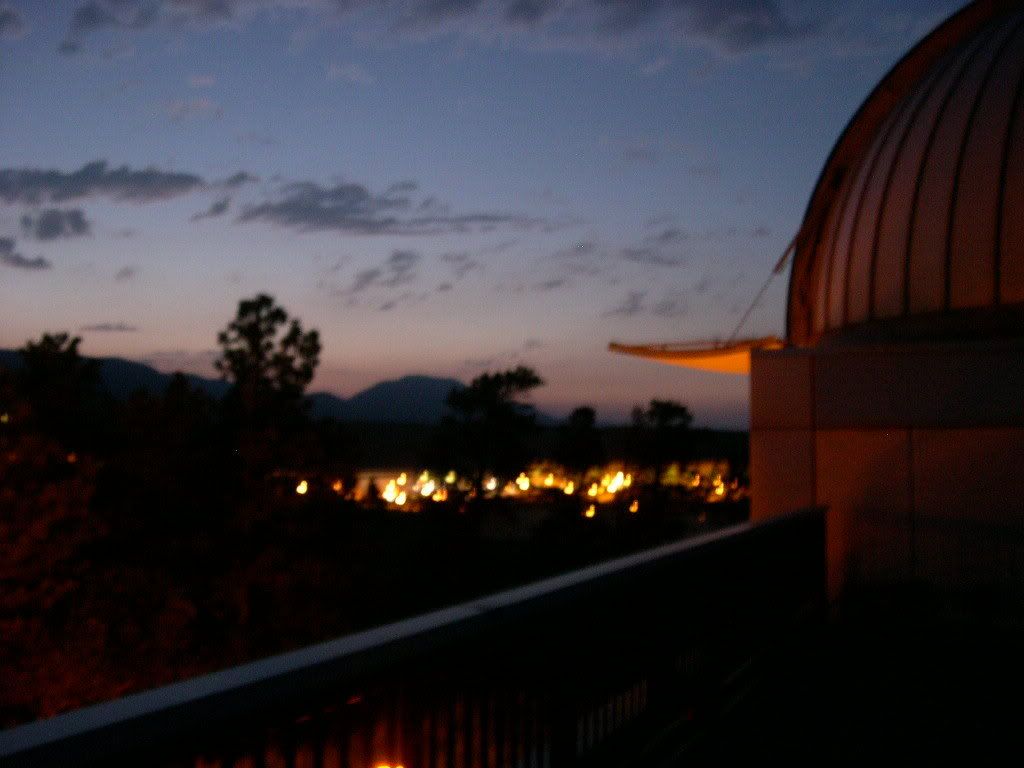 Well, a thought provoking week later, it was time to head home. Looking out the window, a Song painted DL 757 was a nice sight.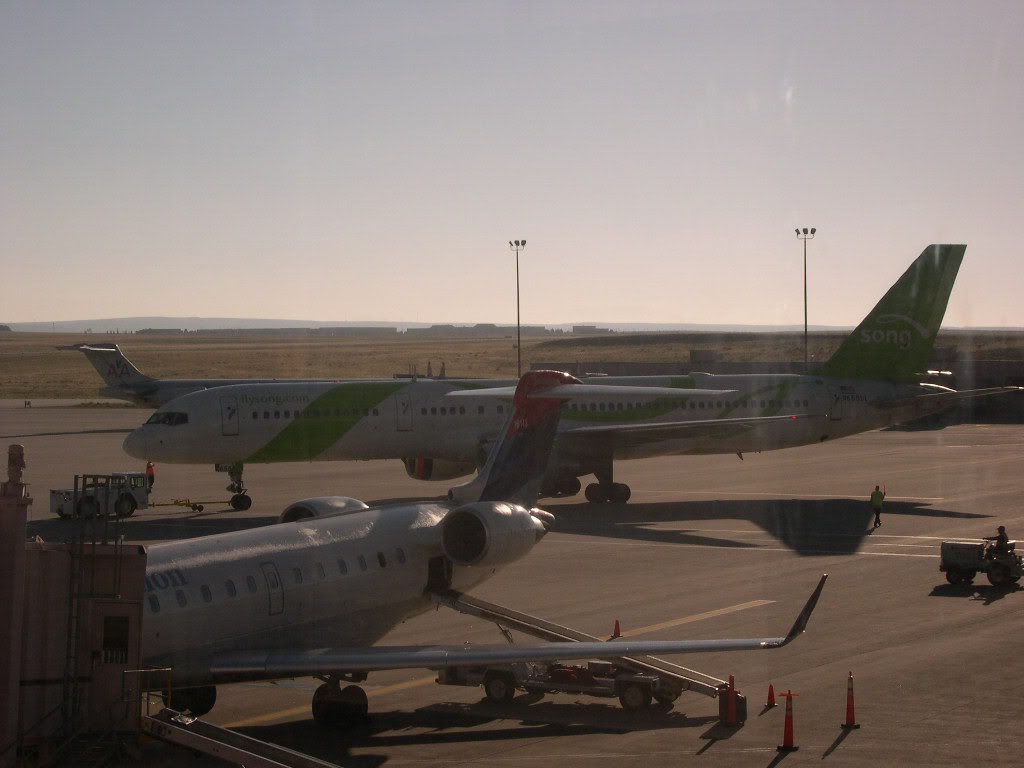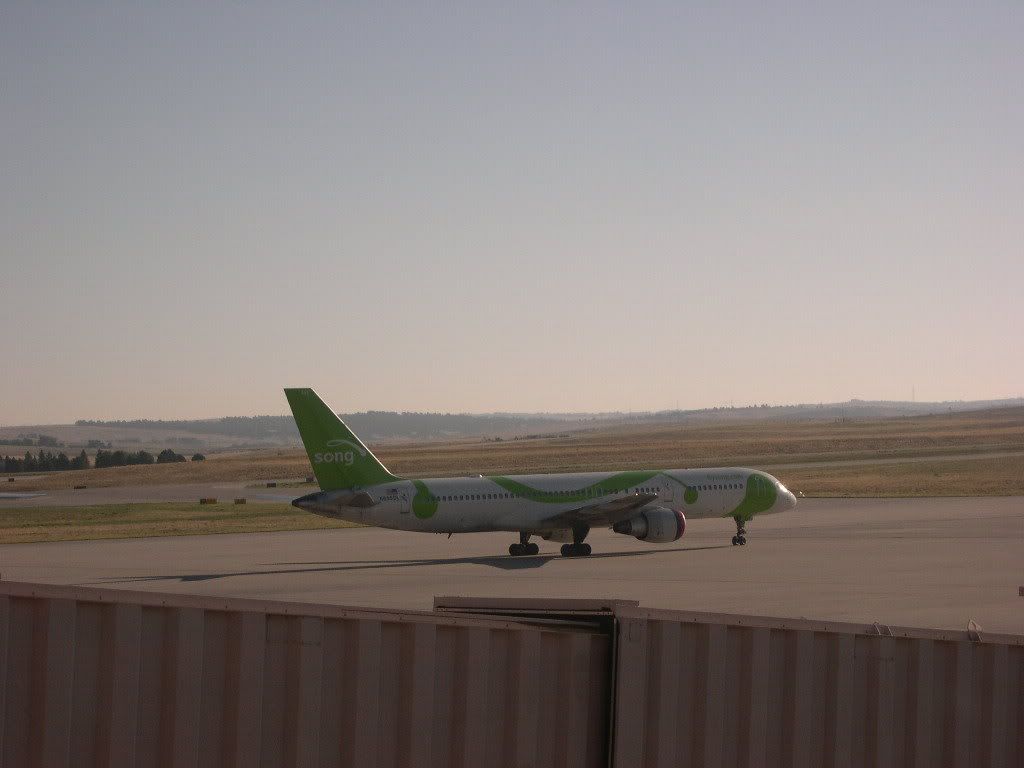 With the terminal quiet and time to kill, I got a muffin and a smoothie and looked out of the windows.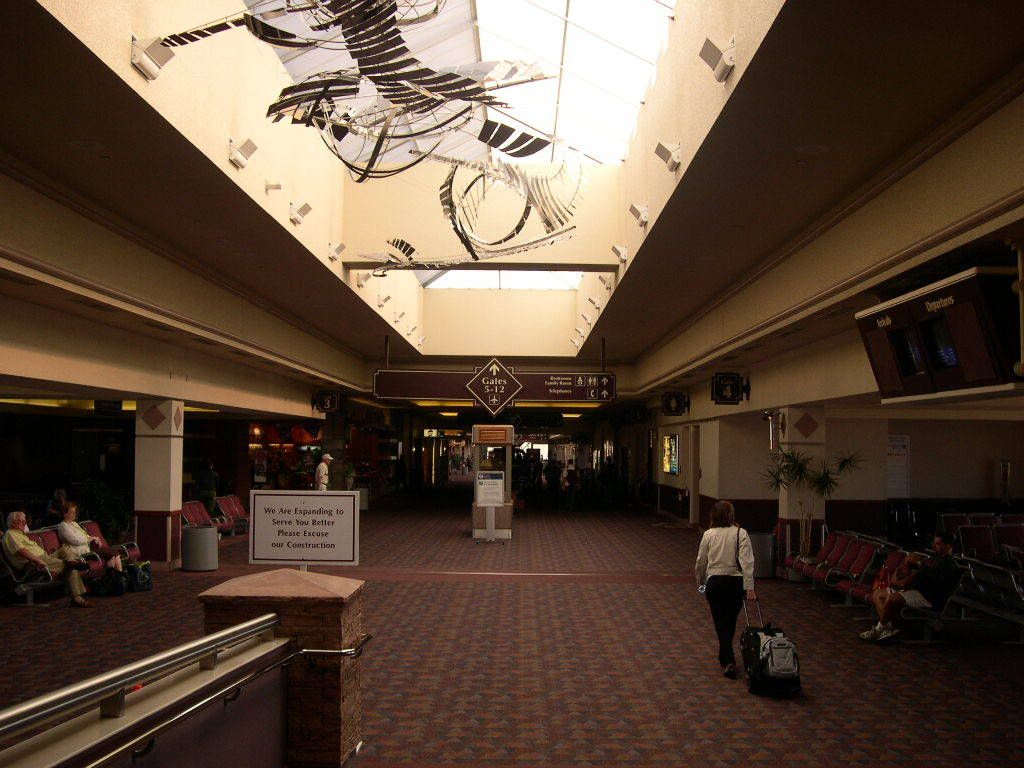 My plane ready to take me to Dallas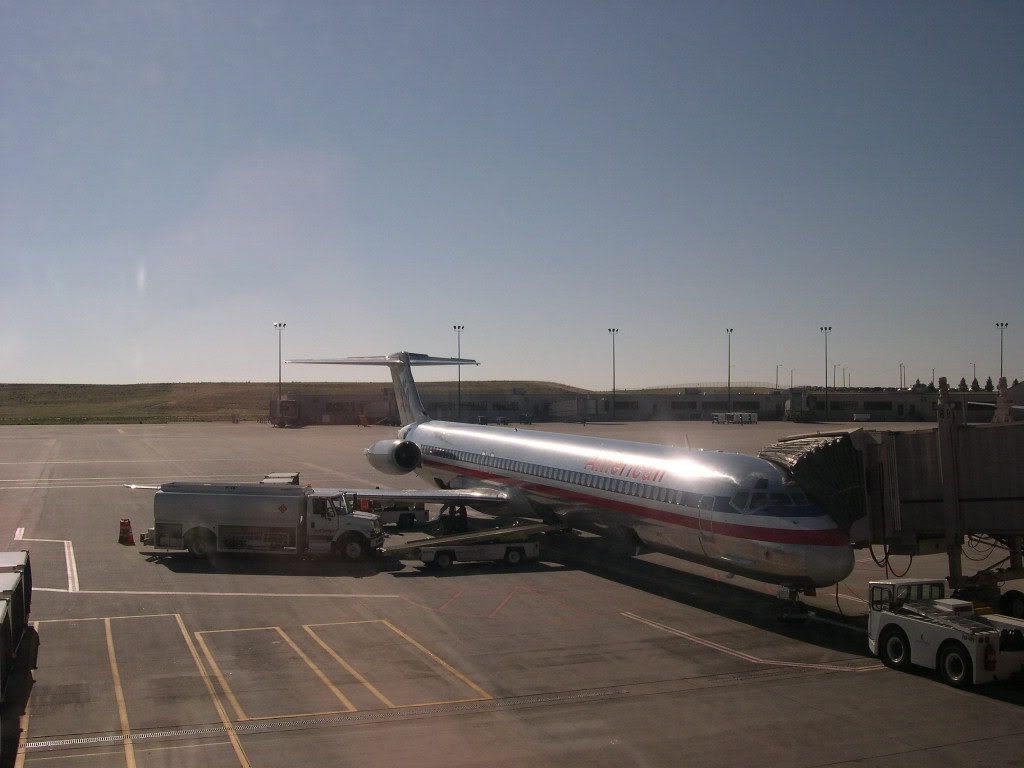 I had selected good seats back when I booked the tickets, but for some reason, I was "upgraded" to front row seats of the vibration concert performed by the JT8Ds.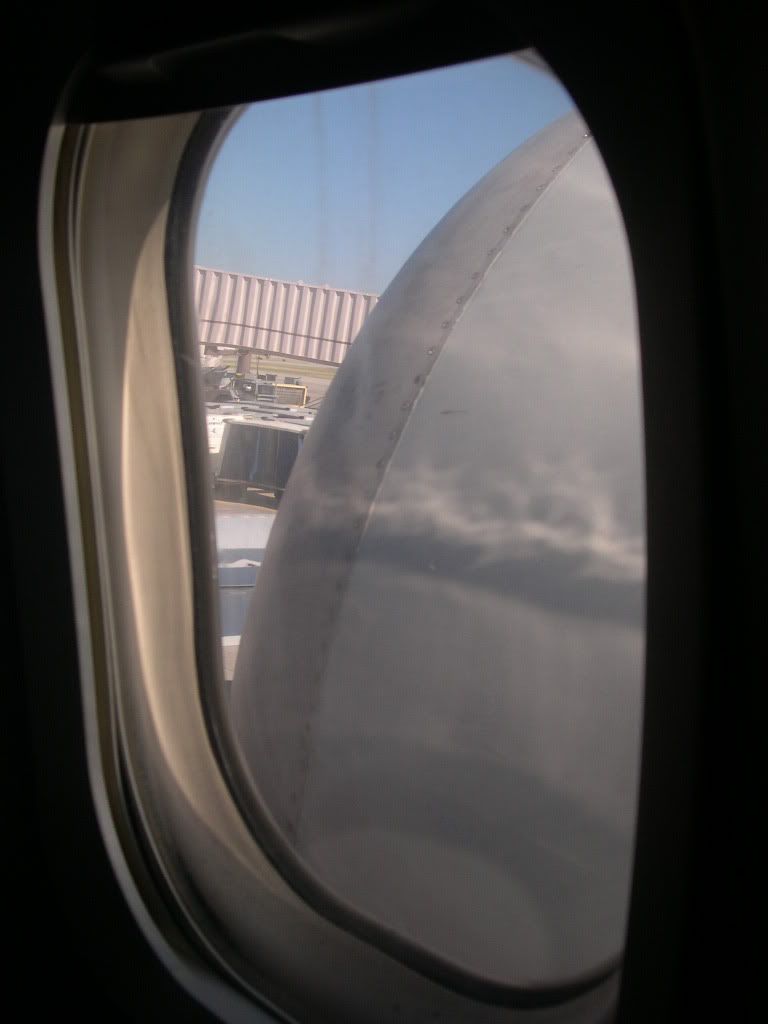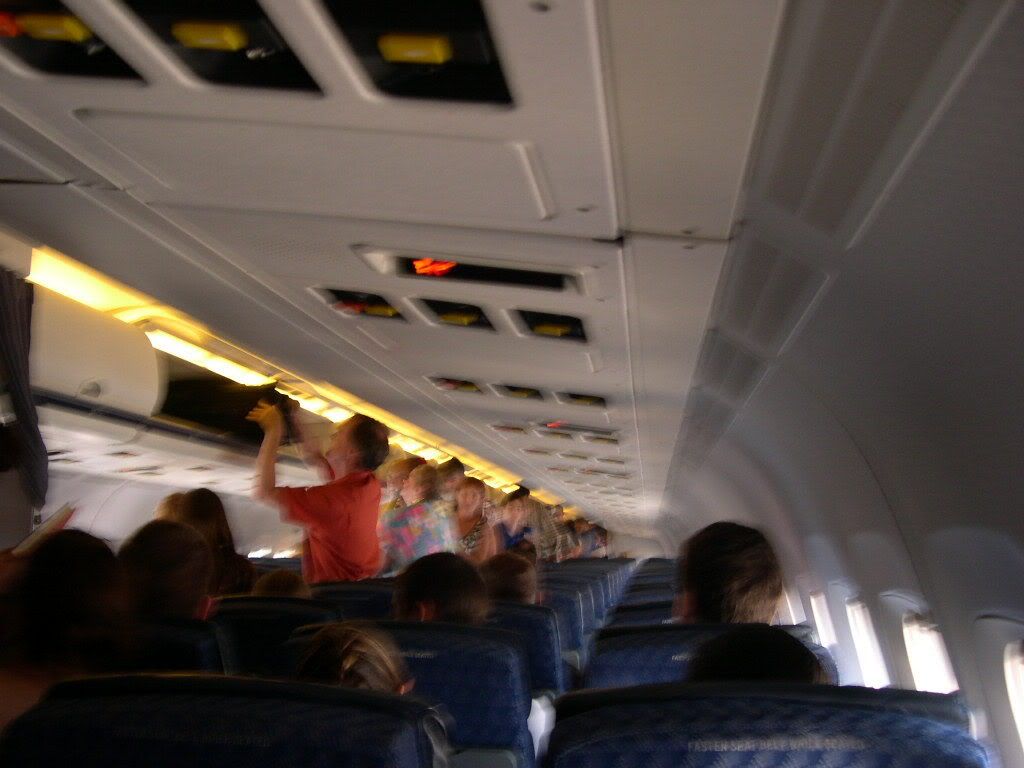 If I thought I was a die hard fan, but that fly actually jumped up onto the concert 'stage'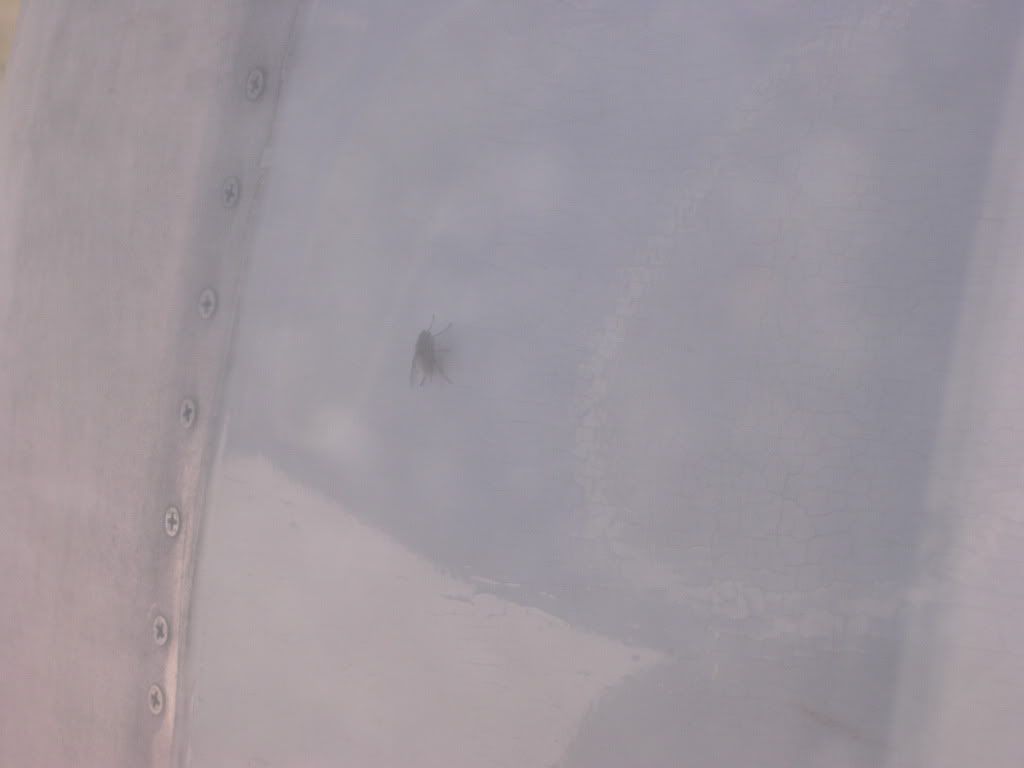 With not much of a window view, I took very few pics for this flight. Meager rations were passed out after we reached cruising altitude.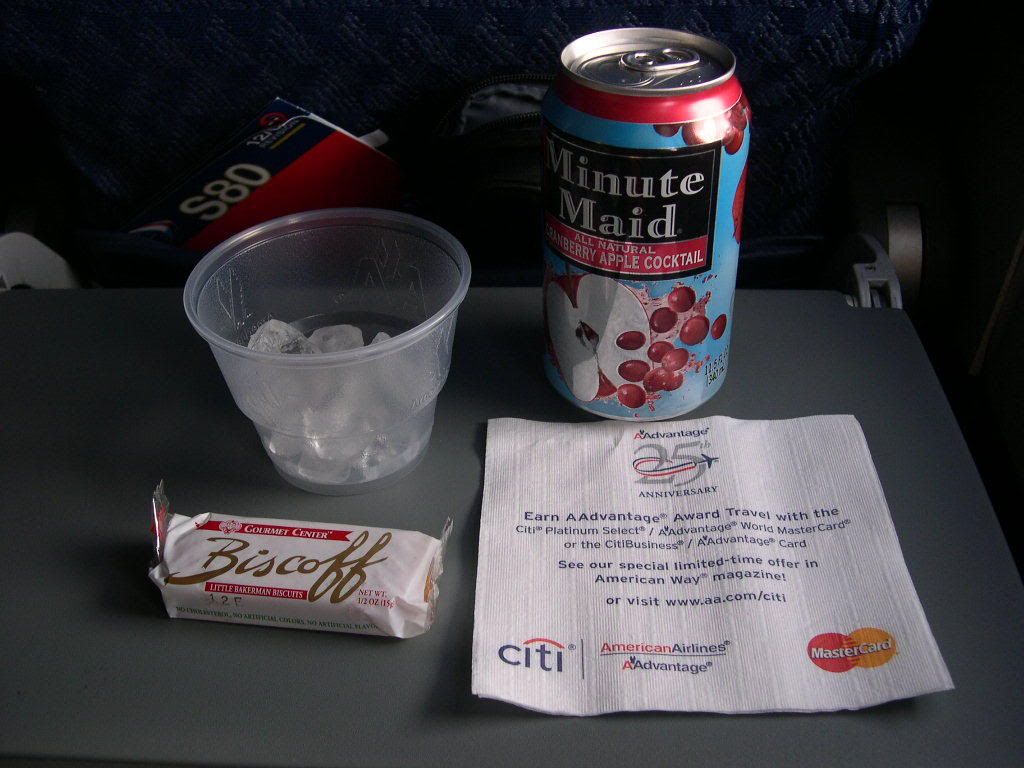 As most good rock bands do, JT8D broke stuff on stage at the end of the concert.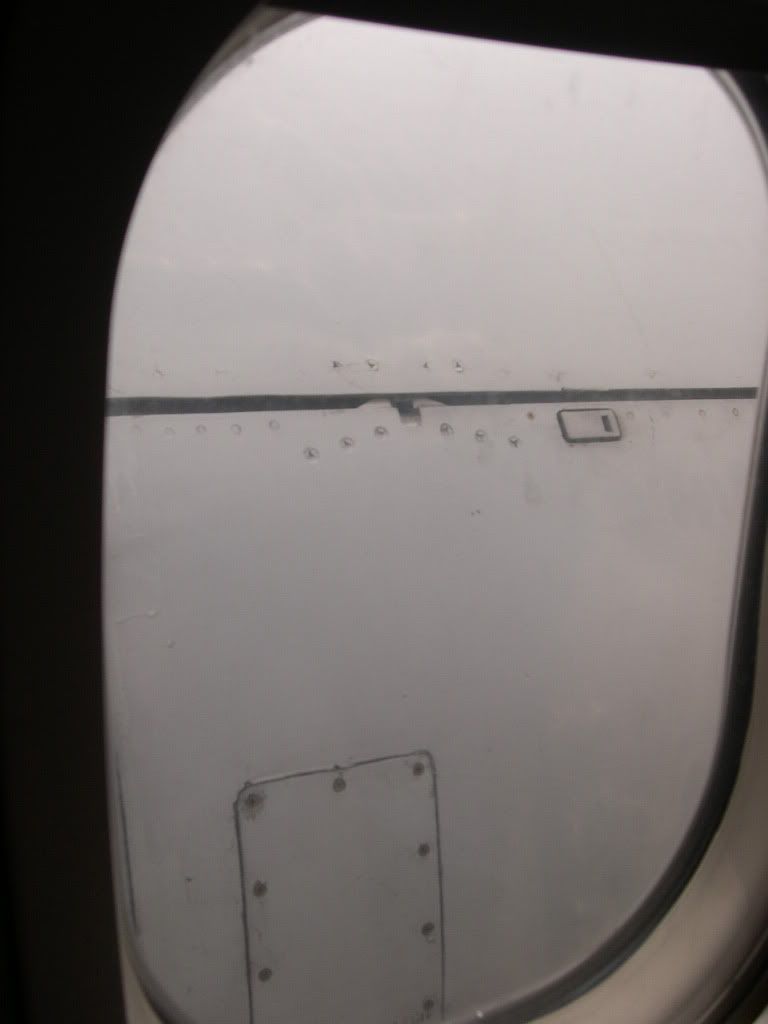 After waiting a few minutes for our gate to open up, I was back inside of the awesome D terminal. Now, as I had mentioned before, my next leg would be flight 66, the triple seven flight to ORD¬---I was excited. My excitement and short connection time caused me to head straight to the gate in the A terminal. Along the way, I got one or two pics.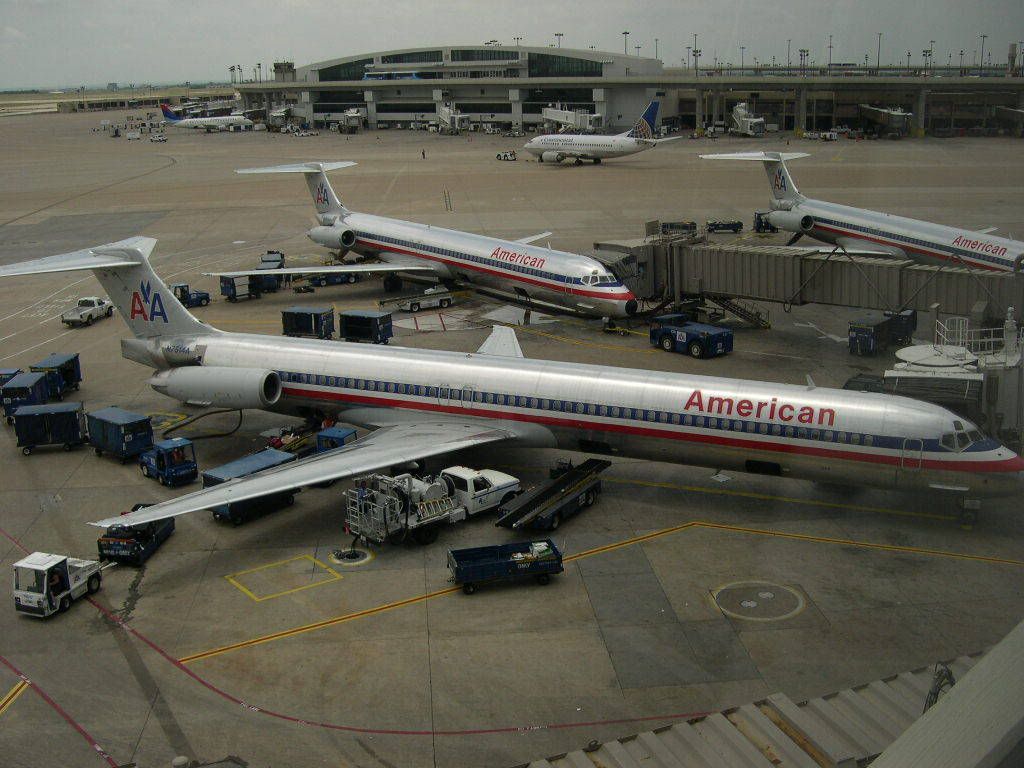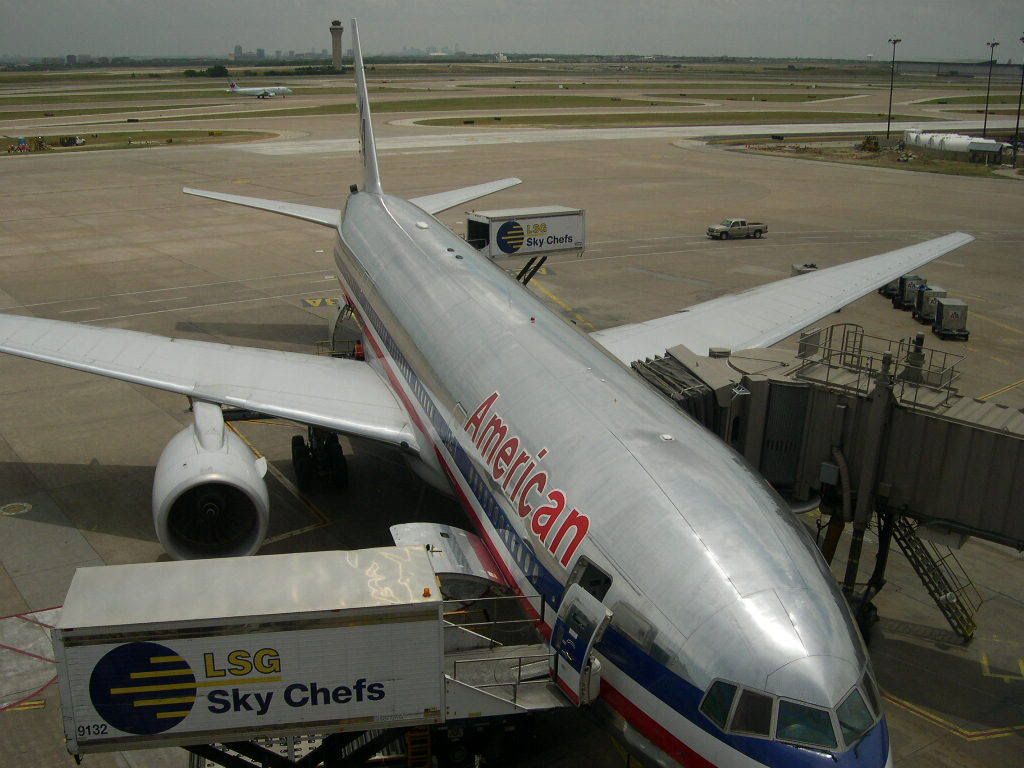 And there she is, NiforgotAA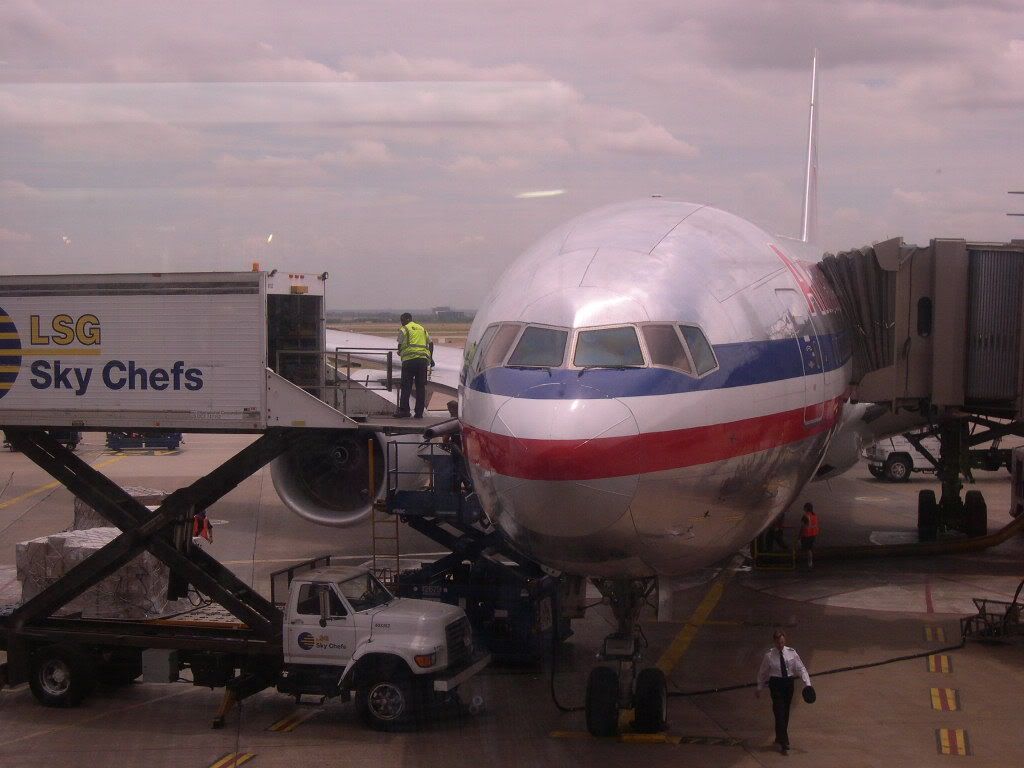 Flight 4
AA 66
DFW-ORD
Seat 30A
Type: 777
Meal?: Dream on
Push back was a little late, but no matter. This was probably because of all the business travelers trying to get upgraded. I have read on flyertalk about how all the business travelers try to get on this flight as it is a 777, and I must say, the stand-by and upgrade lists were both very long.
Other than the fact that this was a triple seven, there was really nothing noteworthy that happened. We had a very smooth flight and cruised at FL390. So here are a few pics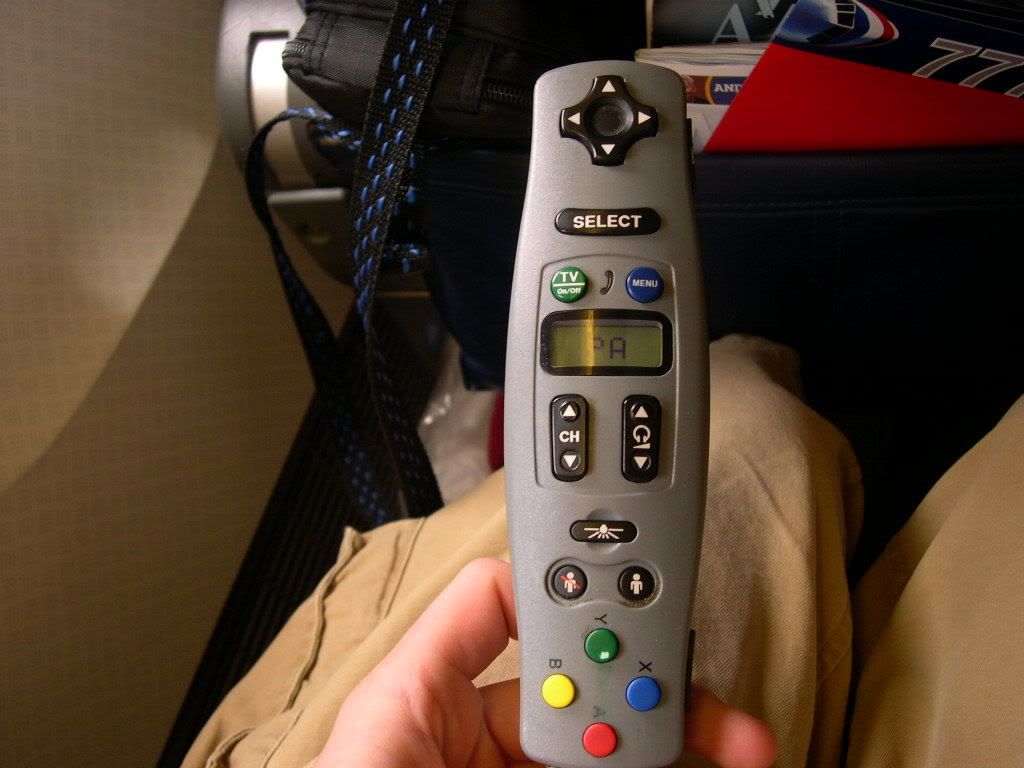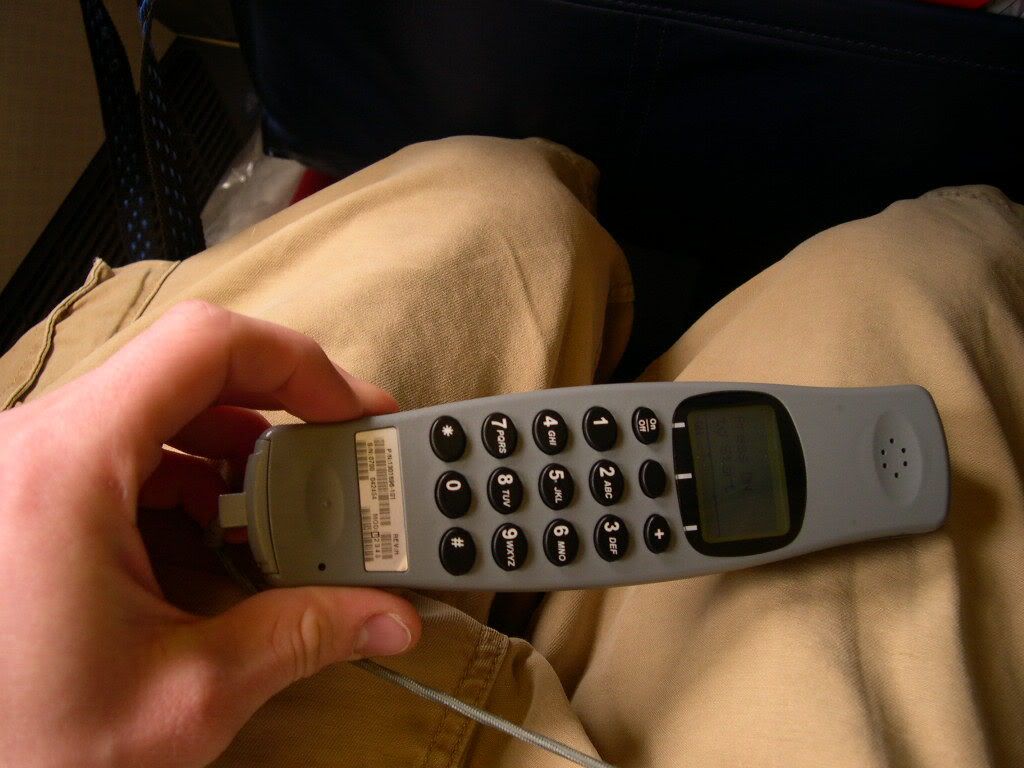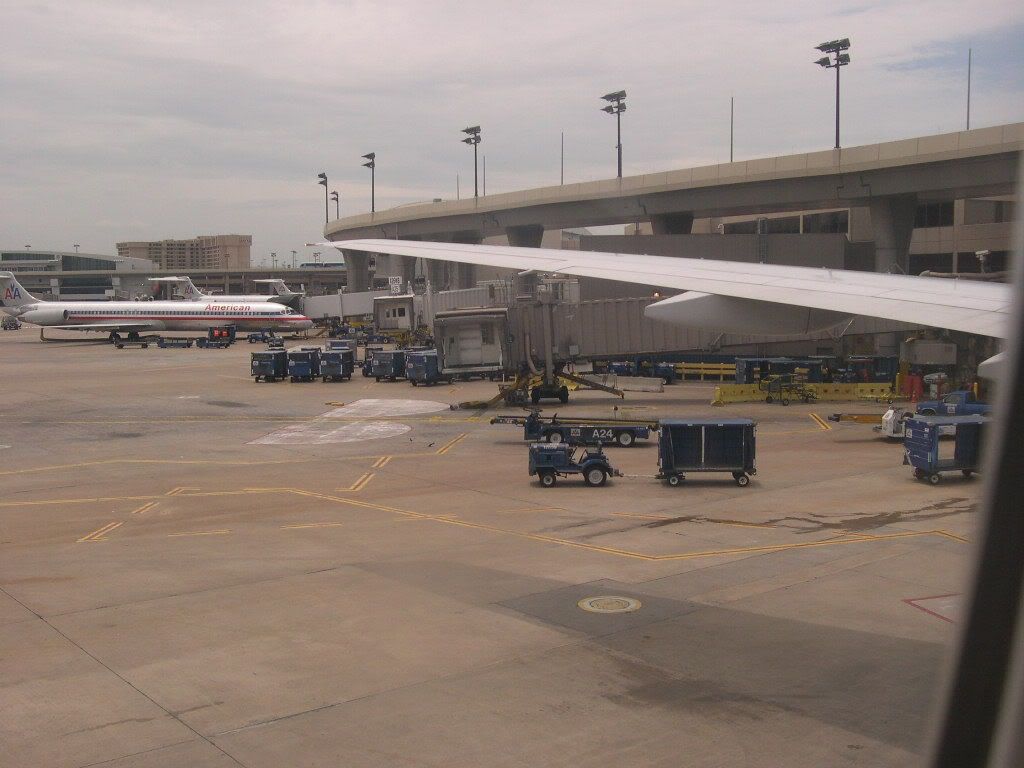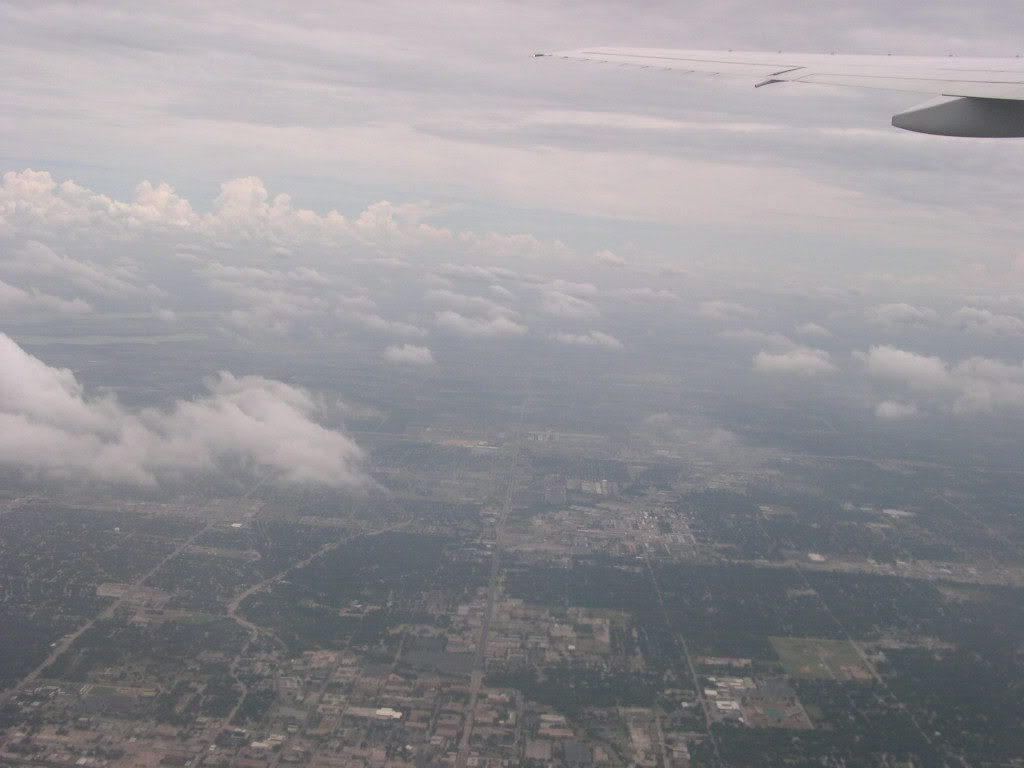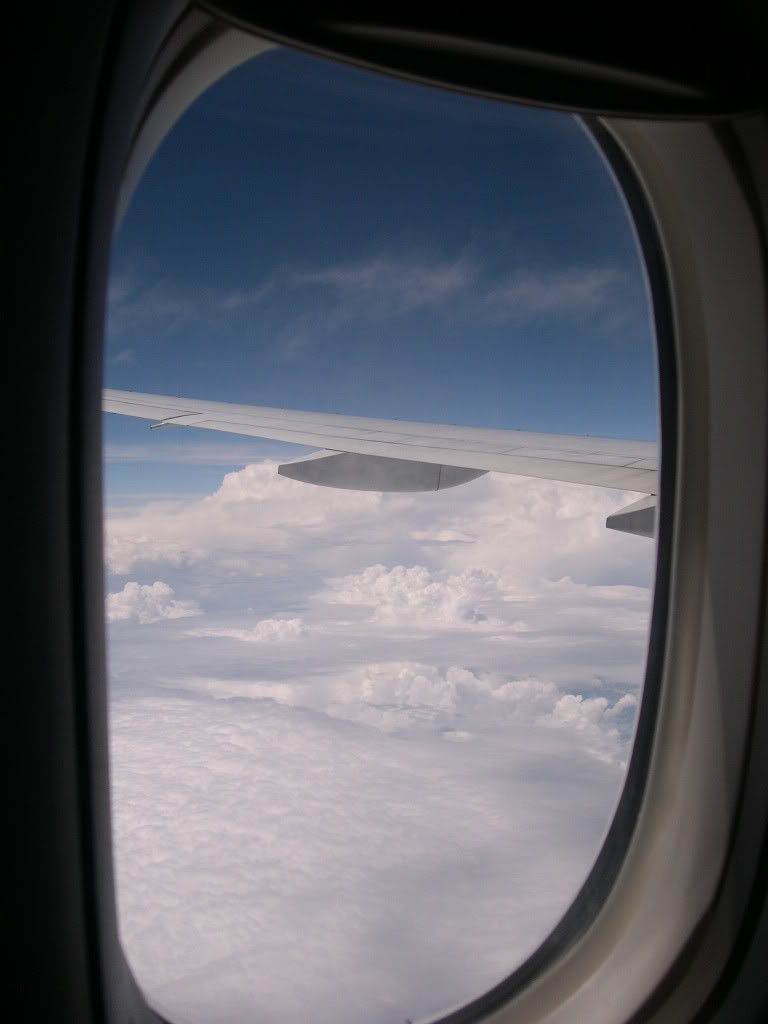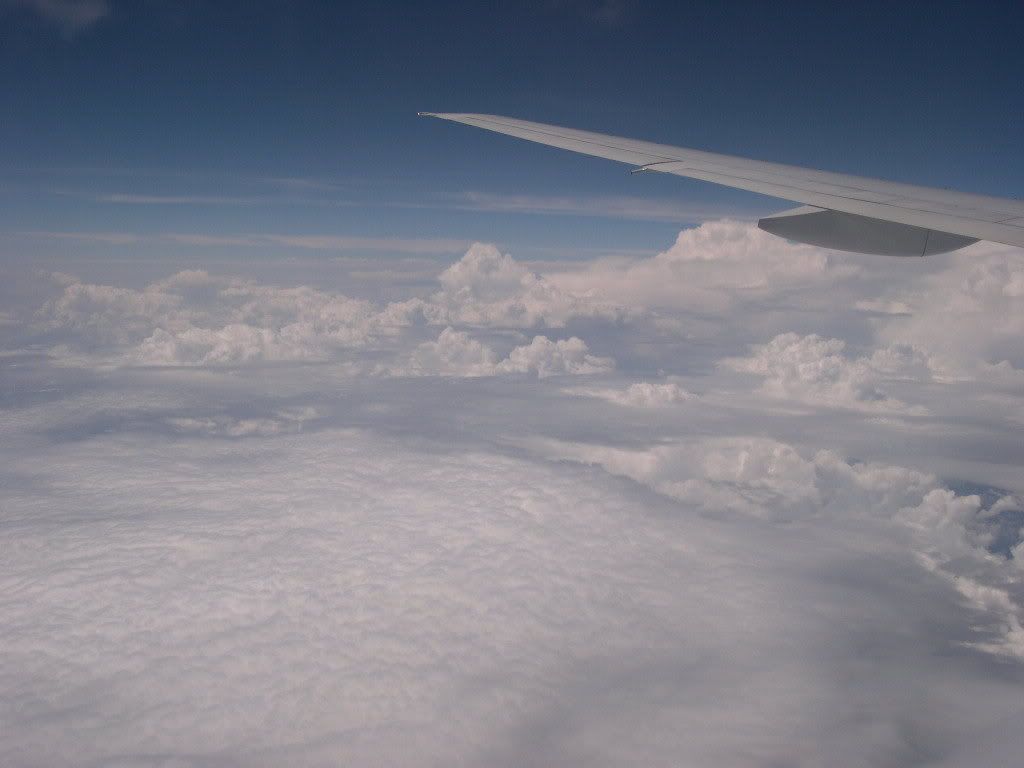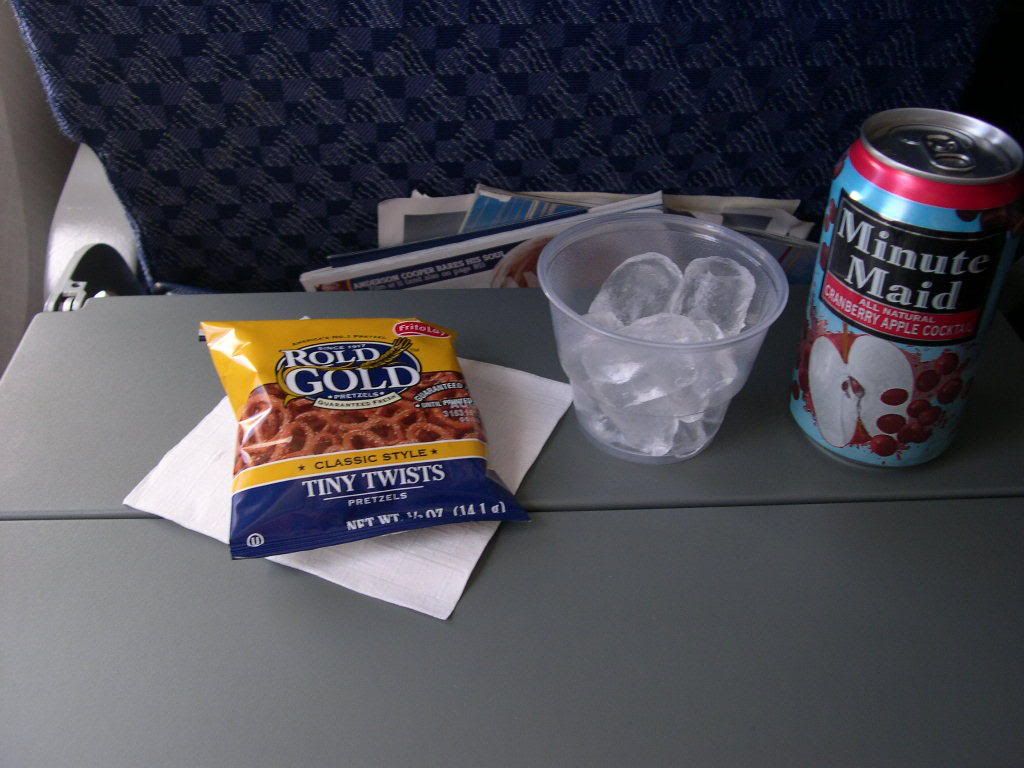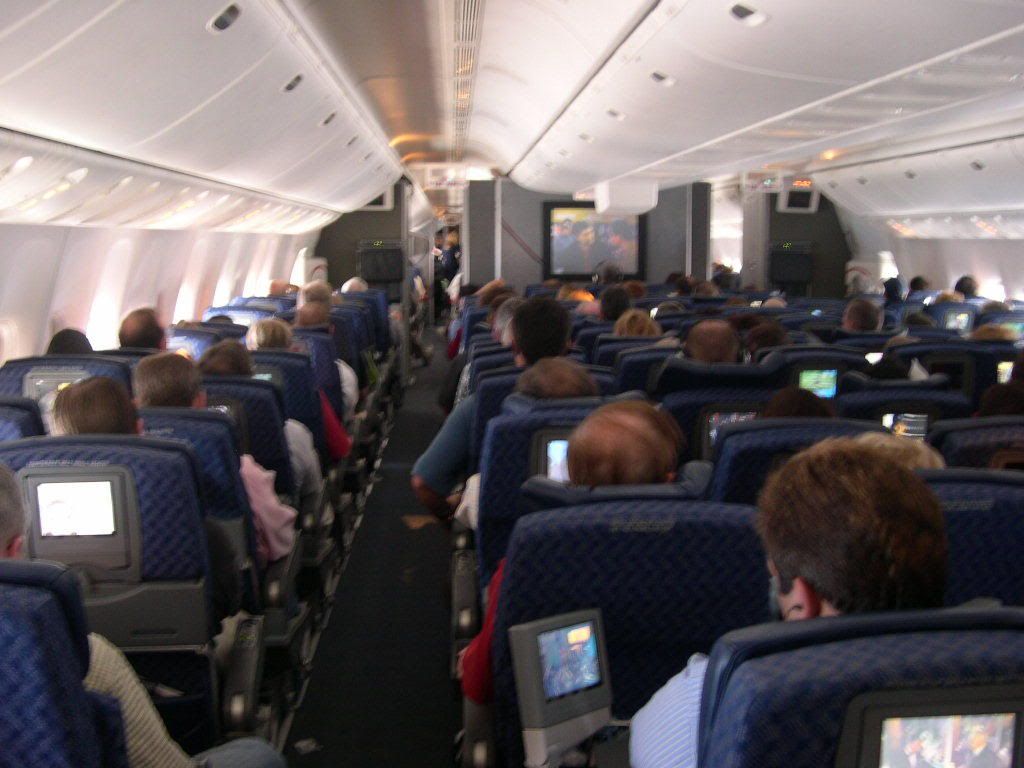 After watching part of some movie that sucked, we began to descend into Chicago
My flight to MSN is the second one listed, 4422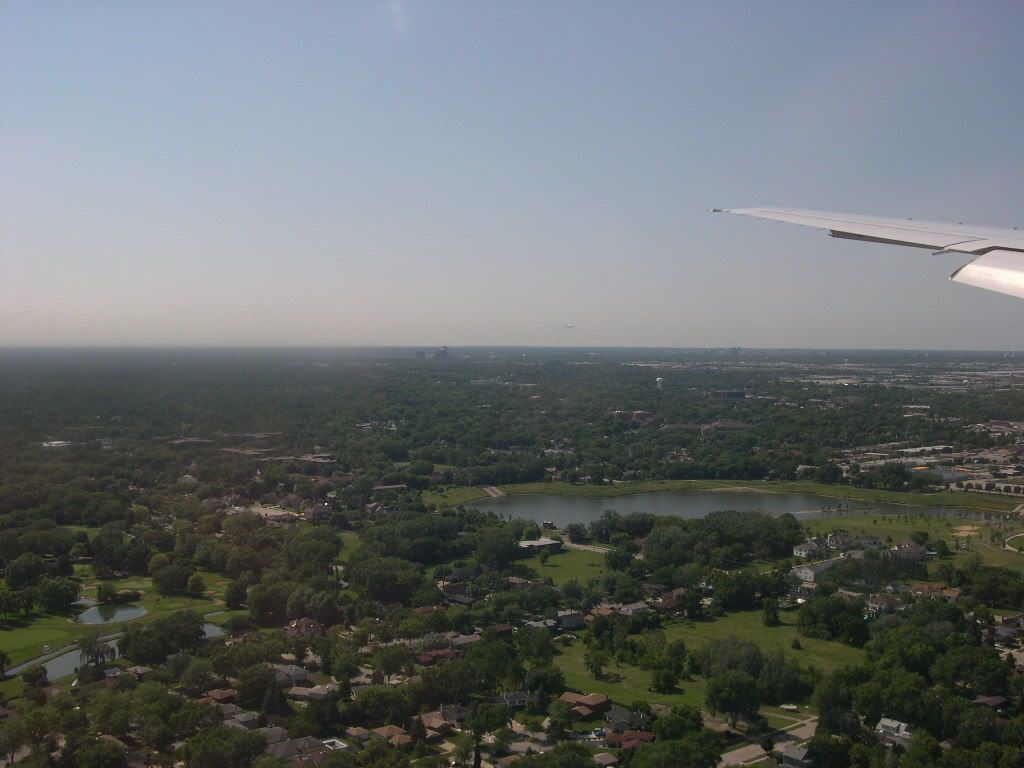 At the gate
Despite what some might call a long walk from the K concourse to the C concourse, I made my normal pilgrimage to the Berghoff Café to get a Reuben.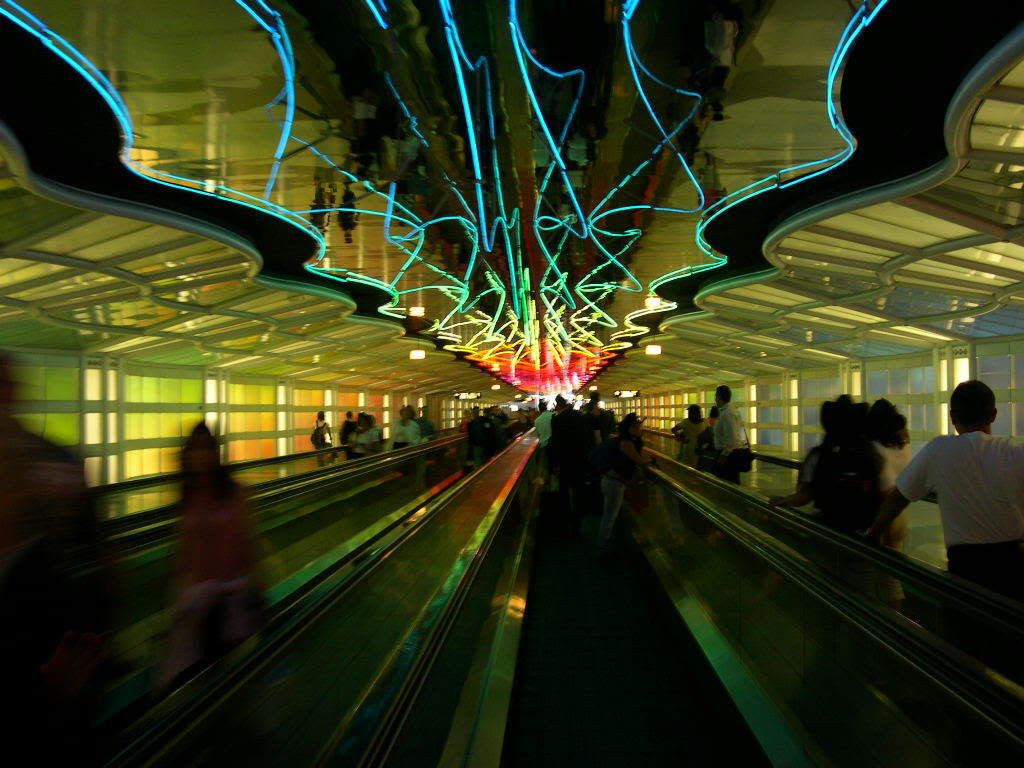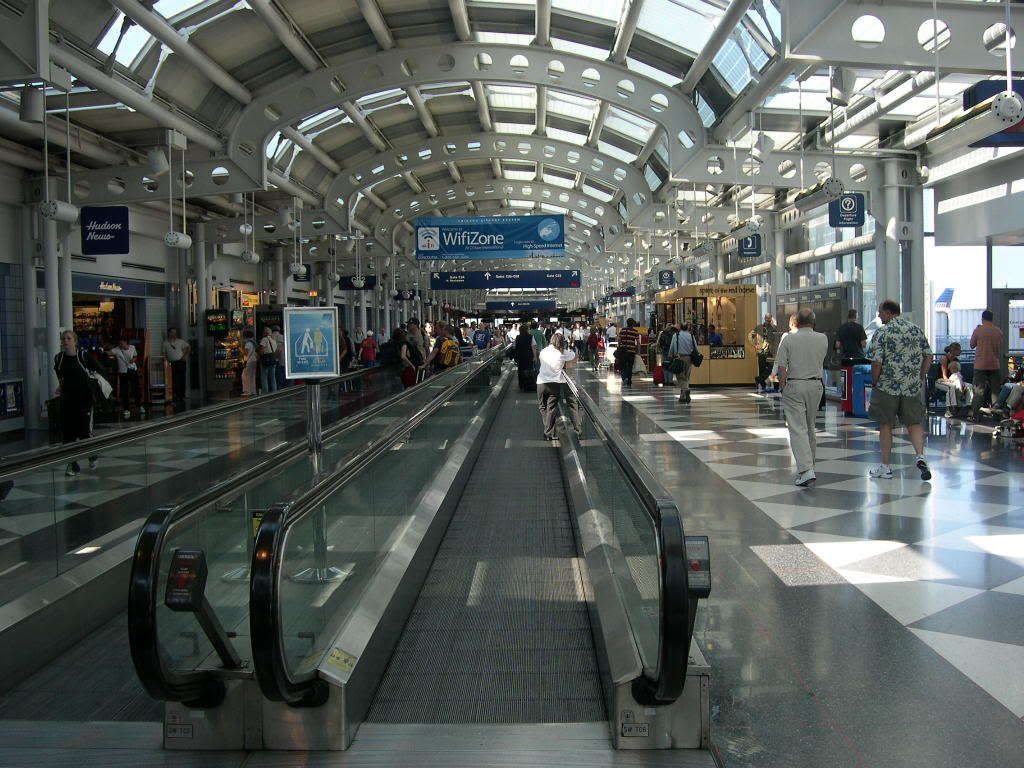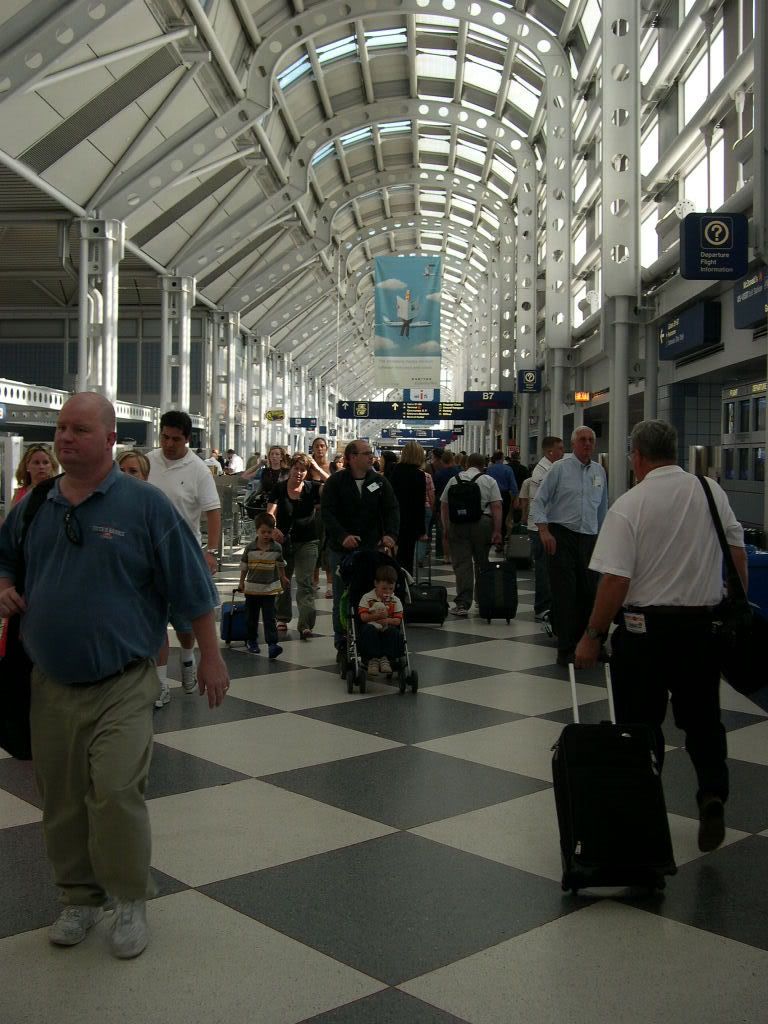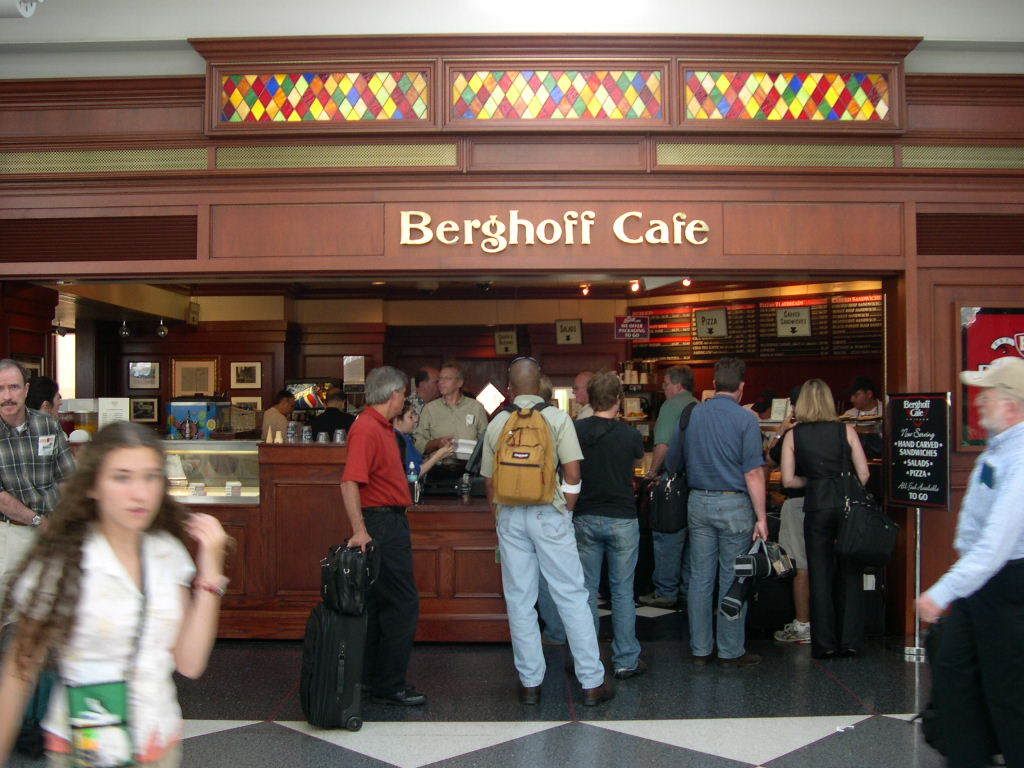 As it always does, O'Hare had a good feel about it on this Sunday evening. As the day was not smoggy, I could spy the Sears Tower off in the distance.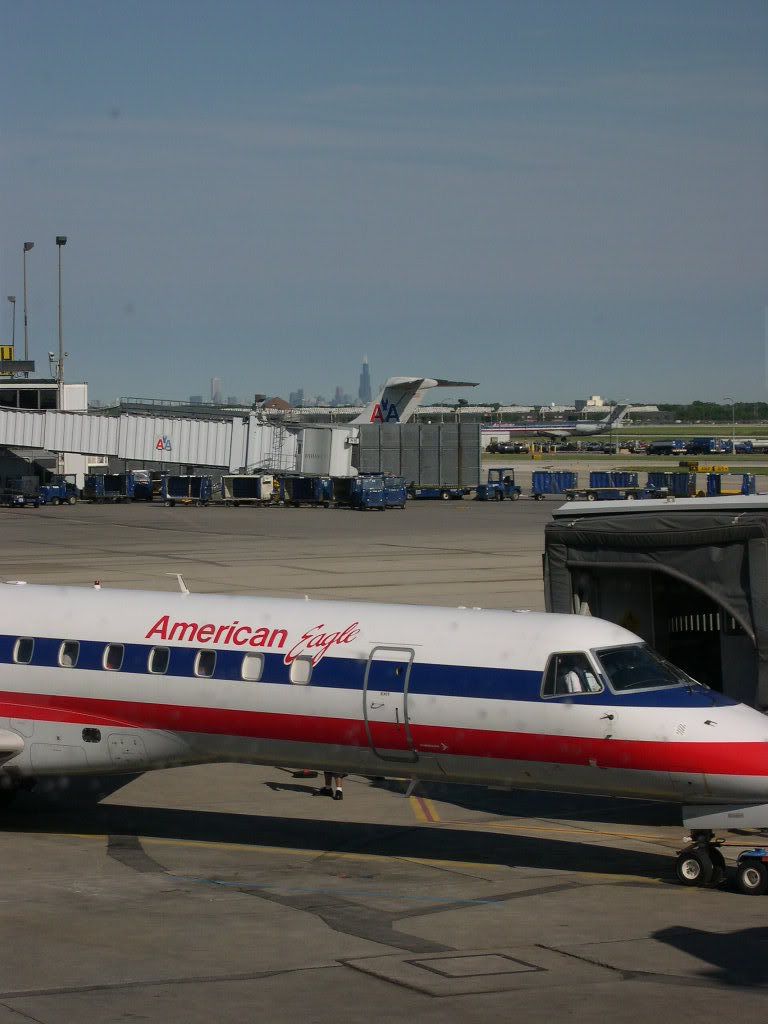 My flight back to MSN (4422) left from one of those downstairs gates in the G concourse, not too exciting.
Flight 5
AA 4422
ORD-MSN
Seat: 5A
Type: ERJ 145
A glance through the cabin showed that it would be a light load for the short flight back to MSN.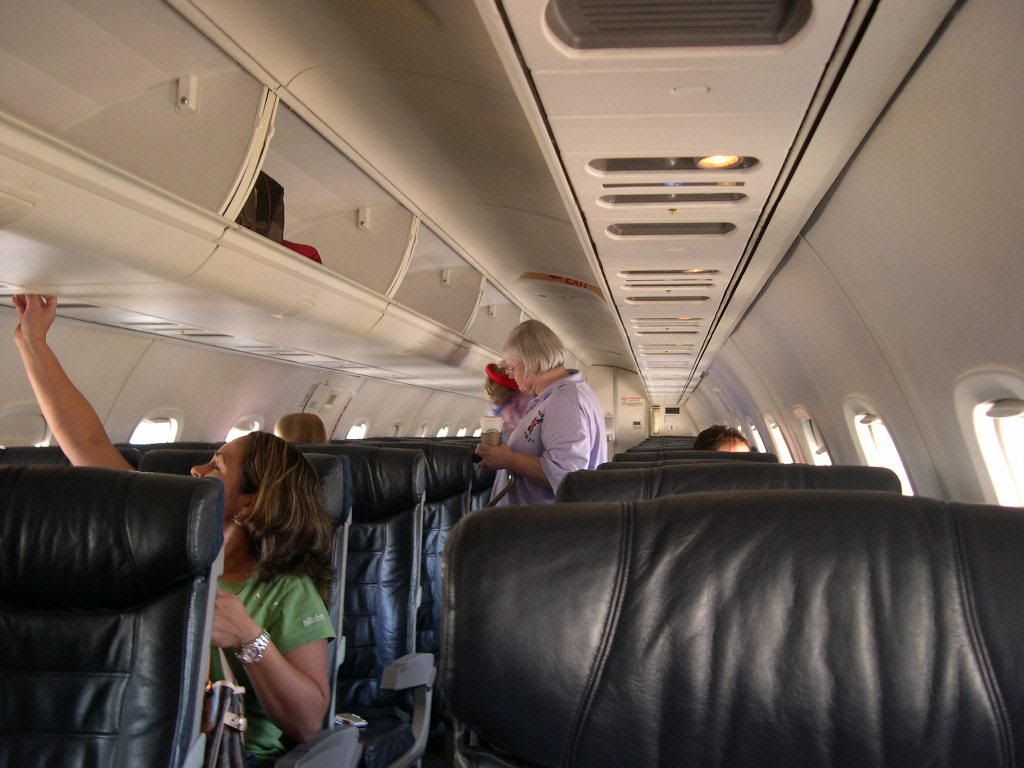 The taxi was, as they usually are, uneventful.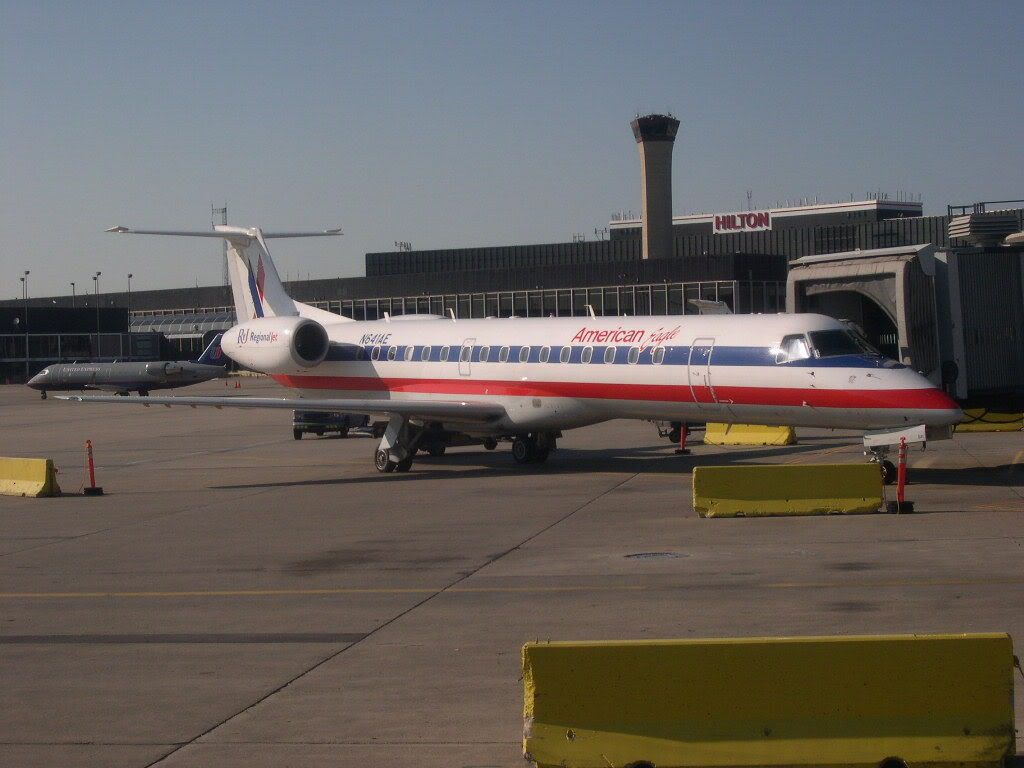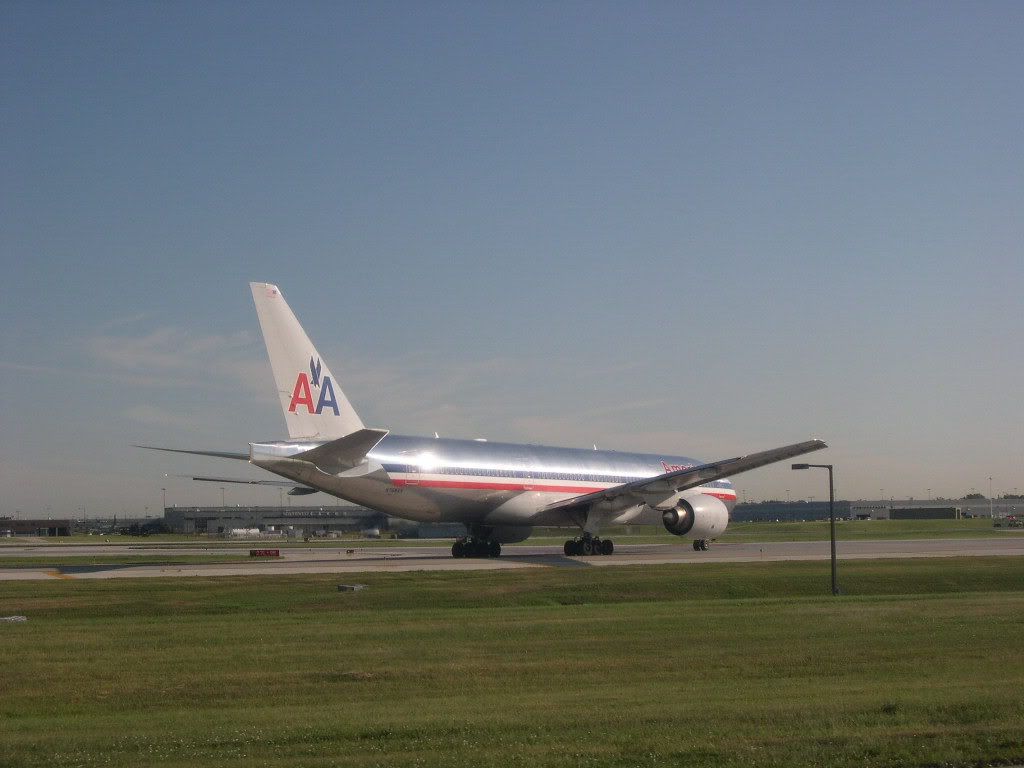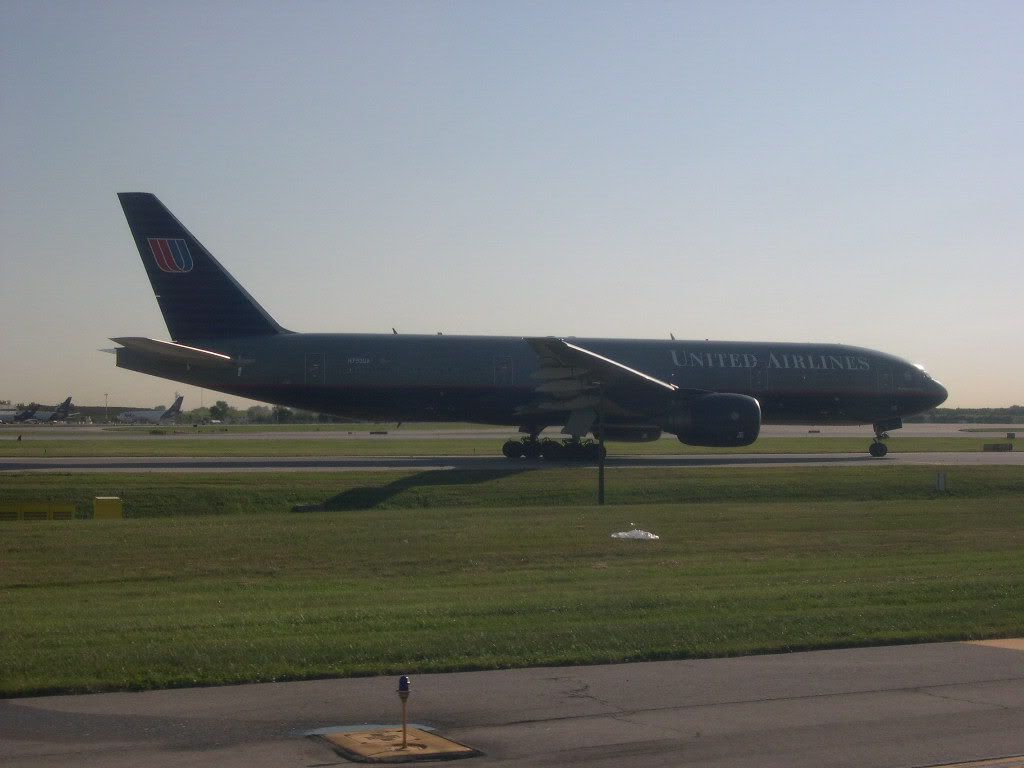 We were in the air shortly, and before I knew it, Madison came into view.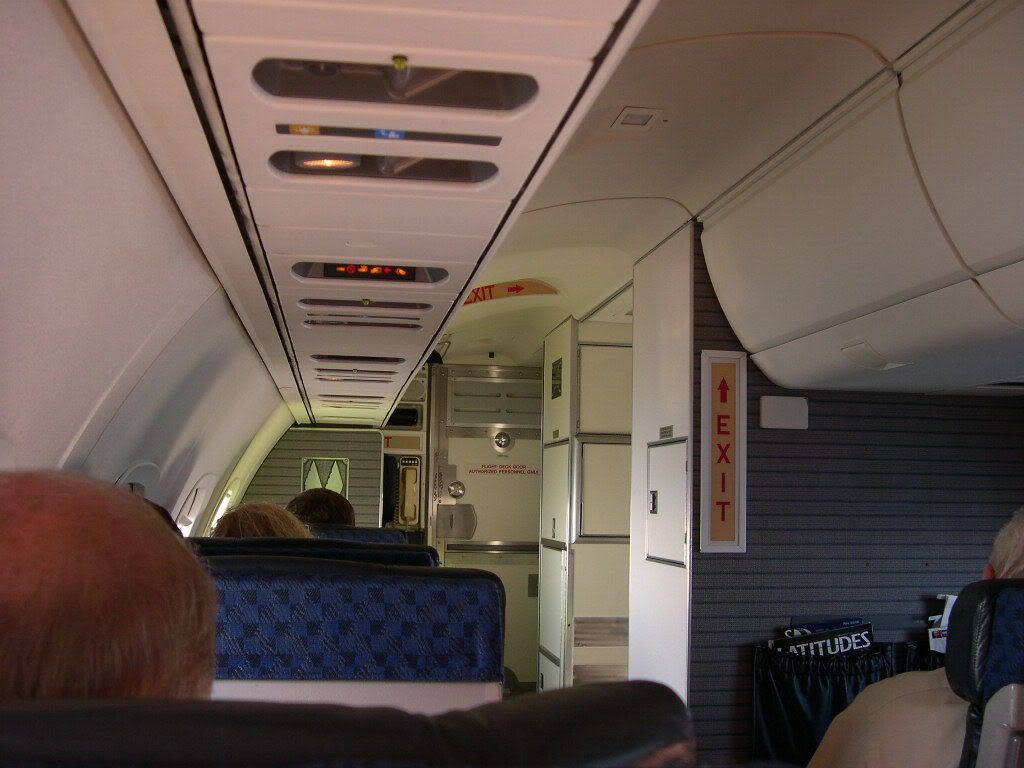 If you have ever wondered where those godforsaken "Lunchables" come from, look no further than that building spewing smoke on the right.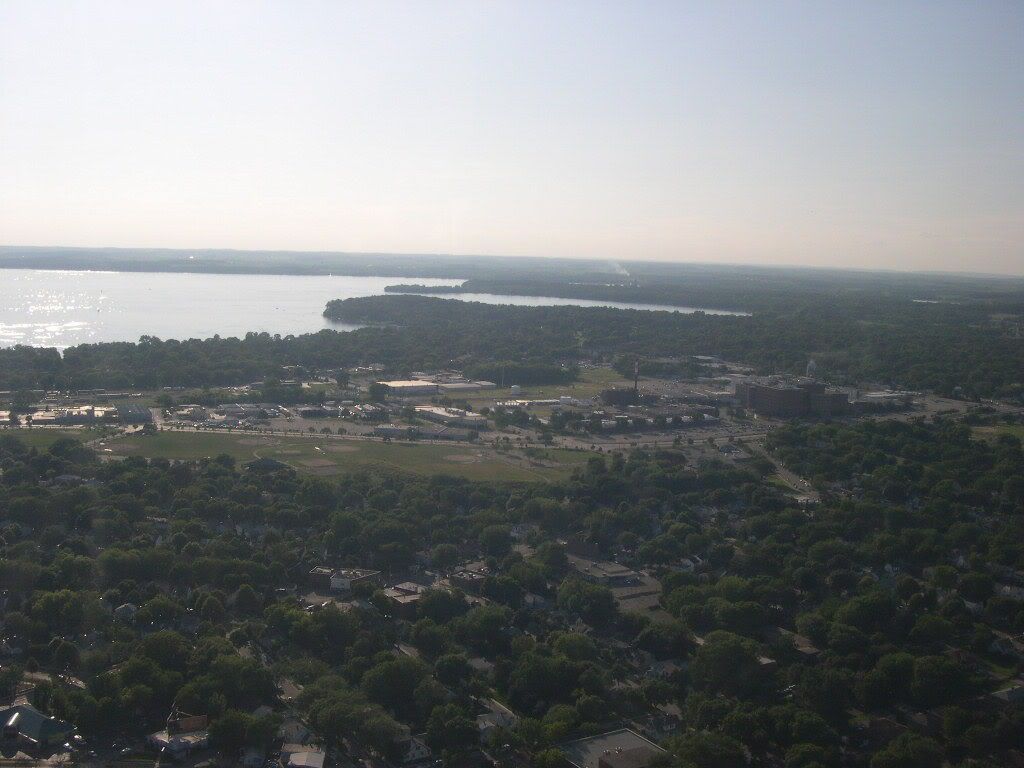 The plane that carried me safely to Madison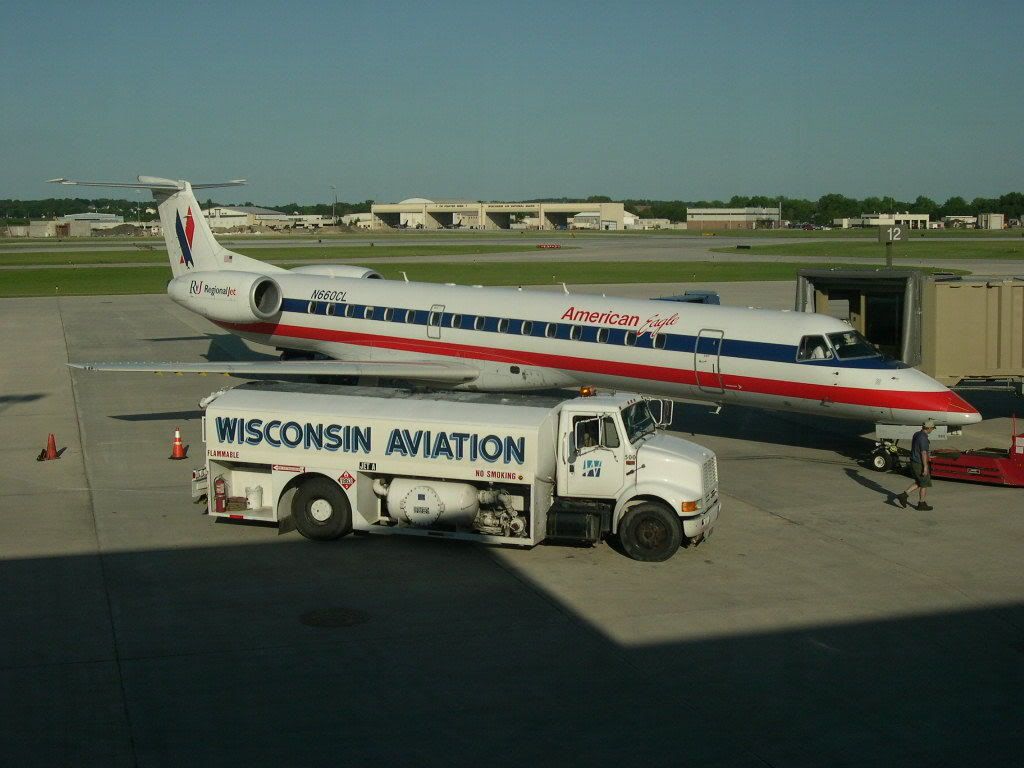 The newly remodeled terminal was looking pretty good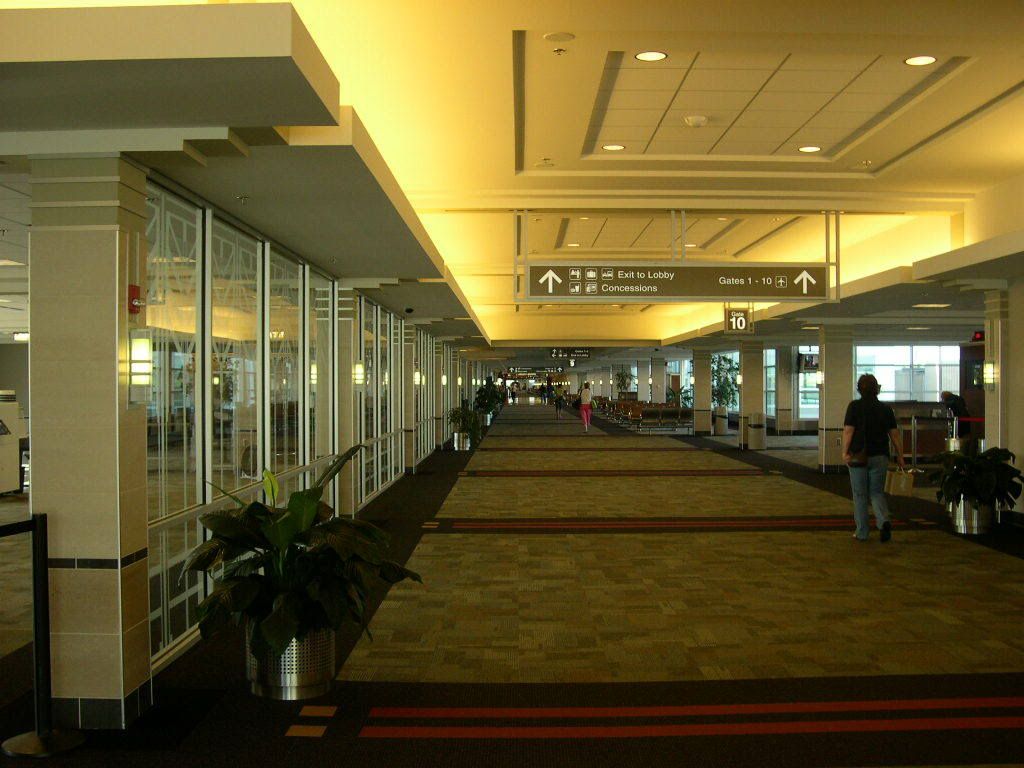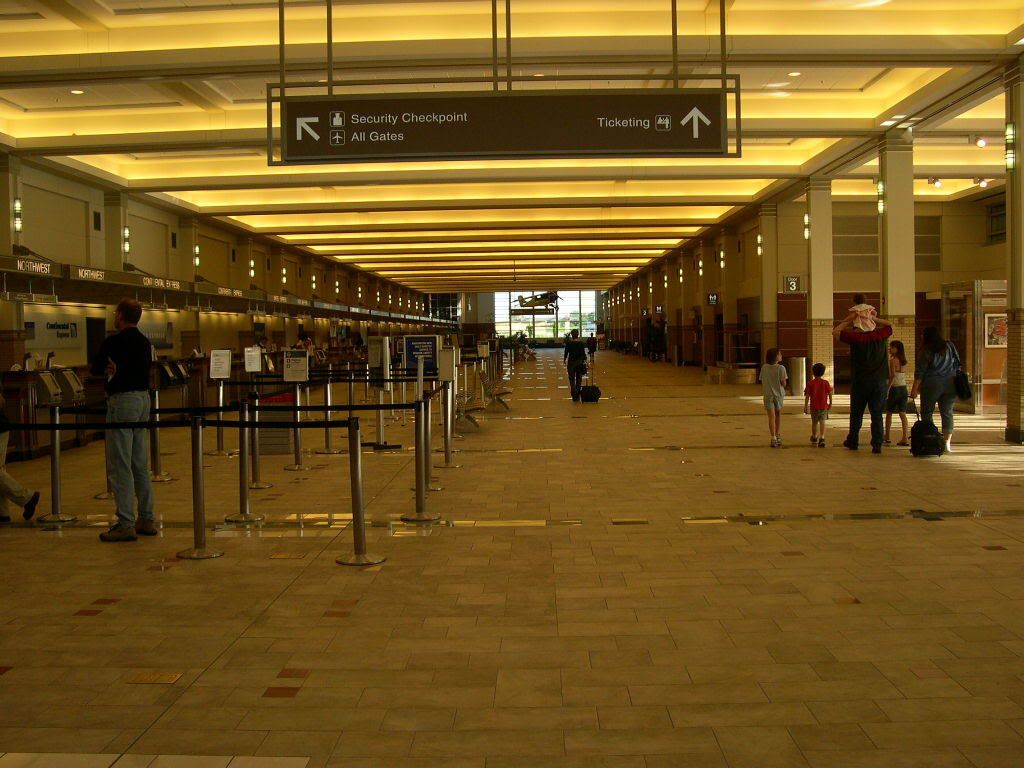 All in all, it was a very fine and worthwhile trip. I figured out, at least, where I didn't want to go for college and enjoyed some great flights at the same time---no complaints there. AA seems to offer a consistently mediocre product that I can tolerate, so if it works out that I fly them again, no complaints will be heard coming from my corner.
Well, I guess, thanks for reading and I am glad for any questions or comments.