Greetings,
Welcome to Part 1 of my 2nd Trip TR. Several months back I had posted my first ever TR, as a result of a fantastic journey on CX from JFK-DXB
(found here)
.
This was a one-day trip to Jordan to attend my best friend's wedding and also my first time back in Jordan (where I am originally from) in 2 years. This trip was planned back in March, where two main options of transportation were feasibly available, given the short stay I had. Option A was Royal Jordanian and Option B was Etihad. Although I have also explored other options like EK and QR, it was not worth the drive to DXB nor the transit at DOH, as it would take too much of my time.
In exploring my two options, I found that both airlines offered competing fares with barely a few AED's difference. Furthermore, I realized that this could be my chance to explore the new Pearl Bed Etihad is famous for (provided I get a new plane). So after some research on
www.etihadairways.com,
I realized from the seat-map presented to me on the day I planned to travel to AMM, that the new Pearl Zone was being offered. In addition, for the return leg, the seat-map showed that of their B767. So I booked Pearl to AMM and Coral back to AUH. It just was not worth paying extra for whatever EY had to offer as C on their B767. All in all, the total fare was cheaper than a return fare on C. So Option B it was!
Given that Etihad is rumored to use their oldest aircraft on Middle East/South East Asia sectors such as Kathmandu, Dhaka, Amman, Damascus, etc, I was very skeptical on whether they would change the aircraft. In addition, Etihad's fleet structure seems to be a major factor in causing delays to ripple across their fleet, sometimes for days on end (I am not sure about this, but this is just my observation..Anyone can confirm or reject this?). Nevertheless, I kept checking the seat-map on EY's website on an average of once a week and it still showed the new Pearl seat-plan. So I was all set! I was getting really excited! Will Etihad "change the way I see the world"? Let's find out …
Approximately a month after I made my booking, I came to realize that my flight time, flight number, and equipment had changed for my return leg (this coincided with Etihad's major schedule changes made to normalize their network connectivity, thanks to Mr. Hogan I suppose). This, by the way, was discovered by chance during one of the many times I had checked my booking on the web. Although I did provide the airline my contact information, I was never informed by them. So now my scheduled aircraft on the return leg was an A332 instead of the B767, however not with the new Pearl Bed.
Friday 29th June, 2007
I woke up at 9am, took a shower, and got dressed for the trip. I ensured all belongings I wanted to take were packed, and double-checked that my digi-cam was ready, and batteries all charged up. While all my personal belongings fit in one carry-on, my mother who had left to Jordan last week, had packed 2 suitcases and asked me to bring them with me. So I had two suitcases and a carry on for the trip there. However, I would be returning with just my carry on.
By 10:30am I left the house, and this was my ride (my car) to AUH:
[All pictures are clickable thumbnails]
At around 11am I stopped to get gas and by 11:10am I had parked at the AUH parking garage, which looks like this:
The following picture shows the construction of Terminal 3. This terminal, as many of you may know will be dedicated solely for Etihad's operation and will serve as an interim solution until the new Midfield Terminal opens. T3 is scheduled to open in April of 2008 and while video mock-ups show it to be extremely basic, it will cost approximately 3 billion AED:
And this is a picture of the main terminal building (landside T1) right between the departure and arrival areas: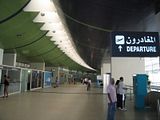 By 11:15am I had passed through the first security check dedicated for premium passengers right before the check-in desks, and approached the check-in desk. Etihad's Diamond and Pearl Guests have a small dedicated check-in area which looks like this (excuse the blurriness):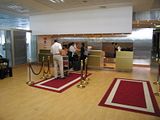 And here is what the Main (Economy) check-in hall looks like: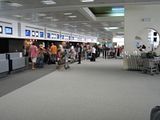 While the premium pax check-in area is nothing major to write home about, it did the job of providing a secluded and more exclusive means for check-in. Etihad Airways' ground handler at AUH is Abu Dhabi Airport Services (ADAS), with a few Etihad-only dedicated staff to help maintain quality.
A very friendly set of agents checked me in for my flight to Amman. During this process, I asked what the aircraft registration number was for today's flight, and one of the agents pulled out a piece of paper and read "Yankee Juliet sir!." I am aware that any current or upcoming A332 with a registration that falls between A6-EYF and A6-EYQ will have the new Pearl Bed and most definitely A6-EYJ fell in that range. So I was only hours away from the Pearl Bed that awaited me for this short hop to Amman! I was assigned seat 7A, handed my boarding pass, and my lounge invitation card, and was wished a pleasant flight. By 11:20am I was done with check-in.
Flight Information
Airline:
Etihad Airways
Flight Number:
EY513
Departure:
AUH @ 13:40 (Actual: 15:15)
Arrival:
AMM @ 15:45 (Actual: 16:45)
Seat:
07A
Load Factor:
100% (+1 sitting on the crew seat)
Flight Time:
2:30 hrs
Equipment:
Airbus A330-200
Registration:
A6-EYV
A picture of my boarding card to AMM: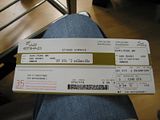 A picture of my Etihad Premium Lounge invitation card:
I proceeded to immigration, and as there was no queue, I was processed in no time. Although summer season is quite busy at AUH, this time of day seemed a perfect time to travel, as it was not a peak hour. After immigration, I started to walk towards the main terminal hall; however I came across the one thing that always reminds me of why I am such an aviation freak. I stopped to spend a few moments to admire.
And here she is, the A345; a true beauty: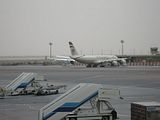 After my few moments of heaven, I proceeded to the main hall to explore the situation, and buy some presents for my sister and brother-in-law from the duty free.
Here are a few pictures of AUH: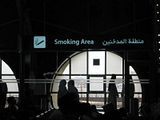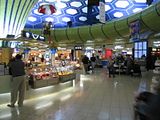 I think AUH is quite an ugly airport to be honest. The green/navy blue tile mixture reminds me something you may see in a bathroom and not a terminal. Furthermore, the ambience is too dark and not so inviting. In addition, there aren't many places to sit down, especially during peak hours when the terminal is more like a mad house.
After doing my rounds of exploring, I went to the smoking area (see above) for a quick cigarette. This smoking area is a new creation by Changi Airports International. As some may or may not know, Changi have signed an 18-month contract with AUH to manage and control the operations at the airport. In addition to the smoking areas, they have also set up free Internet kiosks across the terminal hall.
After doing my shopping at the duty free, it was already 12:00 pm, so I decided to check the Etihad Premium Lounge out. The lounge is located right behind immigration in a very strange area that one could easily miss. In order to enter the lounge you have to climb a set of stairs or use the elevator. I entered the lounge and handed the invitation card to a very unfriendly agent, who granted me access to the lounge. The lounge was definitely not to my taste at all. It was very small, too crowded, and full of children running around. The seating arrangements allowed for absolutely no privacy, as you could easily see and hear others. There was a buffet area, with a drinks station, a hot food station (3 selections: mixed grill, biryani, and penne arabiatta), and a cold food station (sandwiches, salads, and desserts).
Some pictures of the Etihad Premium Lounge: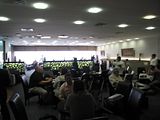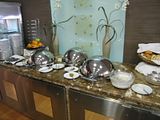 I waited for about 10 minutes until I found a place to sit by one of the dining tables. I placed my things, and proceeded to invade the buffet. The food looked alright, so I grabbed a diet coke, and had some Penne Arabiatta, grilled chicken, bread, vegetables, and some chocolate dessert. The food was alright, although the pasta was a little too oily for my taste.
Here is a picture:
By 12:30 pm, I was done eating, and ready to get out of the lounge. I just did not like it at all. I understand that Etihad is a new carrier, and they can only make the best use of available resources, given the current state of AUH however, I hope to see a major improvement in the future. Emirates offers a better lounge, especially at JFK, although I found the lounge in DXB to be filthy.
I walked to Gate 3, where I was to board from and upon looking out the window I found my plane that was to fly me to Amman. Here is A6-EYJ: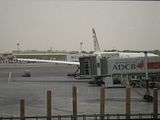 I sat for a bit by Gate 3 as there was still some time before boarding, when suddenly I look up at the FIDS by the gate, to see a display of the flight information to Brussels! I thought that was quite odd as my boarding card indicated that the AMM flight was to leave from this gate. I checked the main FIDS to find that the AMM flight now left from gate 17, which is located down one level by the duty free, where you board through stairs.
I hurried to Gate 17 and found a large number of British passengers waiting to board a flight that certainly did not seem like it was going to Jordan. I asked an ADAS agent where the AMM flight was to leave from and he said "there has been a gate change and Amman will now board from Gate 17." Furthermore, the flight was delayed for 30 minutes. There was absolutely no announcement of any gate change nor any delay and I found this to be ridiculous.
The British passengers at my gate were actually going to LHR (makes sense) and they also had a gate change several times, and many of them were extremely unhappy about this. So once they were asked to proceed to their gate, the Jordanian looking passengers started to arrive.
I asked another ADAS agent about what was going on and she said that an aircraft had gone tech and now we are to use another aircraft (BUMMER!) hence, the gate changes, delays, and equipment changes for AMM, KHI, LHR, and BRU. While I knew that my chance on that Pearl Bed was history now, I still asked what registration the aircraft will be. She checked with someone else to get back to me and say "Yankee Victor Sir!" Not only is this an OLD 2-zone aircraft, but this one is notorious for going tech ever so many times! I was not happy at all!
While waiting by the gate, a set of cabin crew arrived at the gate at around 1:05pm. This nice set of crew was to take us to AMM, and here is a picture:
And here is the gate I was to leave from: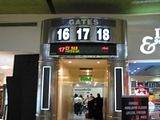 The gate area began to fill up with a lot of passengers and so many kids; a typical summer flight to Amman. I overheard many passengers complaining about the gate change and about being mistreated by the airline in some way or another.
By 1:30pm I went through security check and at 1:45pm boarding commenced in the most un-orderly way. There was no boarding process and no boarding according to rows whatsoever. So there was a huge bottleneck at the gate. After a lot of pushing and shoving, I got into the bus where the air conditioning wasn't working, and for some reason the bus didn't move until 1:45 pm.
Here are some pictures of A6-EYV: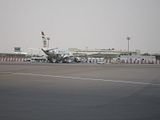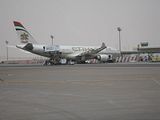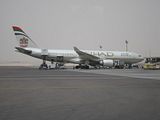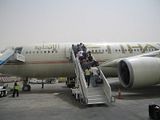 I boarded through door 1L and was greeted by lovely set of crew. They were very friendly indeed. They apologized for the delay and explained that this was due to a tech. The cabin manager took my boarding pass and paused for a minute, and then asked "sir? Are u in Coral? Your seat is 7A" I said "No! look at the card, the class says J." She then said that on this aircraft there is no 7A for Pearl, so she decided that due to the aircraft change, there is to be free seating in Pearl, just as there is in Coral. I thought it was quite strange to allow free seating in Economy! And boy was I right!
The aircraft didn't look so bad in Pearl, although old; and the seats were your old-fashioned style seats with no in-flight entertainment in Pearl. However you can watch movies on a portable DVD player (Martinair style).
Here are some pictures during boarding: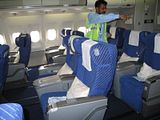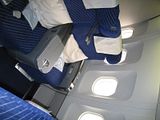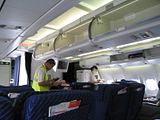 I was offered a pre-departure drink, and a choice between orange juice, carrot juice, and champagne. I chose the OJ: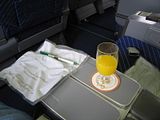 I had a chat with the crew and asked about the A346. They said that it had already arrived from Toulouse and that it is in Al Ain (AAN) for training purposes. The cabin manager said that in a few days she was to go for A346 training and that several pilots were to also go for their training soon, as the plane will soon be deployed to YYZ. In fact upon checking EY's website, I learned from their booking system that July 5th will be (or was, depending on when I post this TR) the first A346 operation to YYZ.
I then proceeded to ask about this old aircraft, and they said that there are no plans to get rid of them since the airline is rapidly expanding and in desperate need for all their aircraft hence, they refurbished the interior to make it look better. They also said that this aircraft is used on routes where "passengers do not look for quality" such as Dhaka, Kochi etc.
While the new departure time was set for 2:10pm, it was already 2:40pm and the flight had not left yet. Apparently the free seating policy in economy took its toll. Passengers sat all their children on seats, even if they initially had not purchased any for them, leaving several passengers with no seats available. Furthermore, a business class passenger was asked to sit in economy and they will refund his money because there also were no seats left in Pearl. So for this reason, the crew had to go around each and every passenger in Coral, and check their tickets to see how many seats they purchased!
After the problem was sorted out, and the Pearl passenger was also found a seat in Pearl (next to me), the flight was ready to depart. Pushback finally happened at 3pm.
Here are some pictures during pushback and engine start (love that progressive sound!):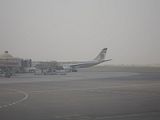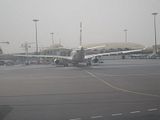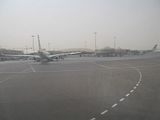 A short taxi to runway 31 and by 3:15pm we were up in the air. This is when I noticed the HUGE difference between the A340 and the A330. The A330 took significantly less time to get off the ground!
Here is the takeoff video:
Shortly after the seatbelt sign went off, the cabin crew got up and prepared for the service. Menus were first handed out, and strangely there was no indication of what was to be served, whether it was lunch, dinner, or what not. Only the contents and courses of the meal were listed. As I am a complete airline menu freak, I found this menu to have been prepared with a rush (i.e. just for show). But that is just my opinion.
Menu pictures: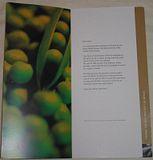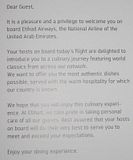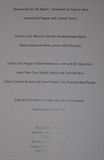 After the menus were handed out, there was hot towel service and then the crew handed out forms containing a listing of the movies available for viewing on the portable DVD players. I opted for the old-fashioned way and that is with no IFE on this flight.
The crew then came around to take our lunch and drink orders and I opted for Lamb Fillet Char Grilled, Kebab, and Sereshk Rice. From the sounds of it, I think this was an Iranian dish.
Lunch service began about 30 minutes after departure. The cabin crew rolled their trolleys by and placed linens on the tray tables, passed the lunch trays (with starter dish) out with our drinks. As both starter options were not appealing to me, I was given the Chicken Liver starter, although I did not eat it. The bread selection however was amazing. I chose a trio-type of bread that consisted of white, wheat, and pumpkin bread in one. It was AMAZING. The salad was rather plain and uninteresting, however not bad.
The cabin crew came by and collected all finished starters (including my unfinished one) and replaced them with our main course selections. The portions were good, however they may have needed slightly bigger plates as it seemed like they squeezed the food into a small dish. The meat was tender, and the rice was great. Definitely a good meal.
Here are some pictures of the service and the meal: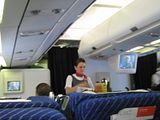 With my main dish, I wanted more of that amazing bread, however I noticed that no 'automatic refills' of bread or drinks were offered. But if you do ask for more, the crew was more than happy to offer you some with a smile. I asked for more bread and I was immediately offered some from the bread basket.
After we were done with our lunch, the crew came by with the trolleys to collect our trays and offer dessert, coffee, and liqueur. Our lovely Australian cabin crew suggested the date and mandarin crumble as it was getting 'rave reviews' and so, it was that I chose. It was in fact, a heavenly dessert! Probably the best I have had on a flight.
The cabin manager came by and distributed comment cards to me and my fellow passenger next to me and once again apologized for the delay. She also said that we need to be as honest as possible in these cards in order to show the airline where improvements are required. I thought that was a very 'honest' thing for her to say, and I really respected that.
A picture of my dessert setting (and comment card):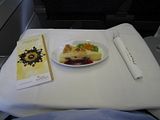 The passenger seated next to me also apologized to the cabin manager for shouting at her during the free seating escapade at AUH. She said "you did not shout sir and even if you did, you had every right to as it is our duty to take to Amman on time, and it was our mistake, but you did not shout." I then commented on the free-seating policy and that besides that, the crew was fantastic in the way they handled the mess at AUH because they never lost their calm or smile. She told us "well it was either we decide on a free seating policy or we keep the passengers waiting until the ground staff sorted out the problem which would have taken a few more hours."
After she was done talking to us, she saluted us (like a soldier) and proceeded to talk to all the other passengers in the same friendly way (however, far from robotic and in fact very personal).
Here are some random pictures taken during the rest of the flight: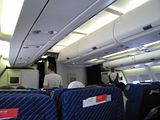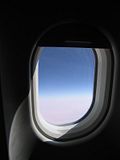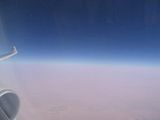 The rest of the flight was rather uneventful, and an hour and a half after the meal, we began our descent towards Amman Queen Alia International Airport. The crew began preparations for landing, announcements were made, and the fasten seatbelt signs were switched on. Sadly for me, the flight was coming to an end!
At 4:45 pm we touched down at AMM, approximately an hour late. Here is the landing video:
A few pictures while we taxied to Gate 8: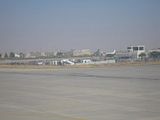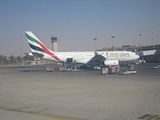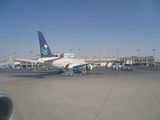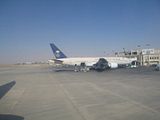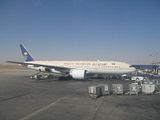 A short taxi to Gate 8 and soon enough the doors opened. I grabbed my things, and proceeded to door 1L. I thanked the cabin manager for a good flight and she wished me a great stay in Amman and said "come back and see us again!"
Amman airport was a nightmare as usual. It is very old and always so crowded. Immigration took a good 15 minutes as usual and the air conditioning wasn't working at all (again). After passing through immigration, I took the escalator down one level to the baggage claim area. It was like a total madhouse, people everywhere pushing and shoving trying to take a good spot by the baggage claims. There were no luggage carts available and I had to wait for 10 minutes till a 'refill' arrived. Furthermore, bags always take so long to come out at AMM, and even though my luggage was tagged with Pearl Zone tags, they apparently were just for show.
After a good 20 minutes my bags finally showed up, so I placed them on my cart, passed through security and then to the arrivals hall to meet my family.
This concludes Part 1 of my TR. I hope that you enjoyed it, in anticipation that you will also read Part 2 (my return in Coral which should be posted within a few days), where I will be presenting a video of a manual safety demonstration conducted that day (a rare occurrence nowadays on wide-bodies). Stay Tuned!
Regards,
Roni