Jet2.com LS762 Malaga, (AGP/LEMG), Spain - Blackpool International (Squires Gate, BLK/EGNH)
Flight Details:
Date: 10th June 2007
Departure Airport: Malaga, (AGP/LEMG), Spain
Airline: Jet2.com
Flight: LS762
Equipment: Boeing 737-377
Registration: G-CELS (Jet2 Leeds-Bradford)
Destination Airport: Blackpool International (Squires Gate, BLK/EGNH)
Seat: 3F (Window, 6F booked)
Scheduled Departure: 2110z
Actual Departure: 0025z (11th June)
Departure Gate: B24
Departure runway: 31
Scheduled Flight Time: 2hrs 45mins
Scheduled Arrival: 2310z
Actual Arrival: 0201 BST (11th June – Manchester EGCC/MAN)
Actual Flight Time: 2hrs 46mins
Arrival runway: 23L (Manchester MAN/EGCC)
Arrival Gate: Remote stand 83 (Manchester MAN/EGCC)
I spent a lovely weekend celebrating my 30th birthday in Nerja but alas, it was time to come home. My outbound flight with Jet2.com on Friday 8th June 2007 was excellent, on time and uneventful (
LS761 review here
). The inbound flight was a mini-adventure!
The flight was scheduled to depart from Malaga Airport at 2110 which meant I needed to be at the airport for approximately 1900. I only had a small bag since I'd only gone for the weekend so it was quickly packed and my brother drove me to the airport from the apartment in which we were staying in Nerja. It was only 40 minutes away and we arrived at the airport in plenty of time, about 1850. Because of all the building works at Malaga airport at the moment, the drive up to the airport was a little chaotic with police directing cars all over the place and lanes blocked. Jet2's check-in area was noted on the ticket as ground floor Terminal 1. However, all roads lead to Terminal 2 so I told my brother to drop me off anywhere and I'd walk the rest of the way. It was easier than trying to find a way to Terminal 1. Although there are two terminals, its not like many major international airports were they are separate buildings located in different areas of the airport. These terminals are adjacent to each other and part of the same building.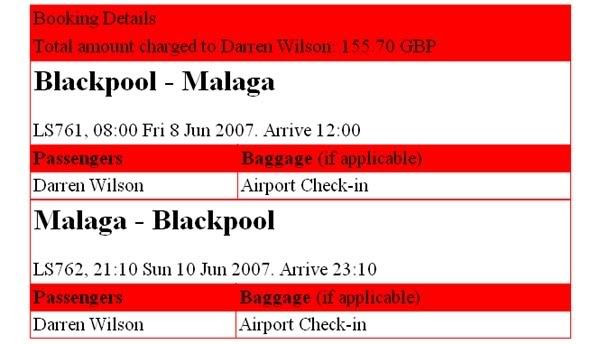 Unlike on my outbound flight, on-line check-in wasn't available so I had to check-in as normal. I looked at the screens once in the Terminal and it confirmed the check-in for my flight was in terminal 1 at desks 9-13. I followed the signs and after a 5-minute walk, I eventually found the desks in the far corner of the terminal building down some steps. There were 16 desks in total with 9-13 allocated for Jet2. All other desks were closed. For anyone who is returning a hire car and flying with Jet2, ignore all the signs for departures when you return your car and just head across the road from the drop off point. The check-in area is in-front of you. It'll save you a hike around the terminal building!
The queues at check-in were relatively small. There were 2 other flights checking-in as well as my Blackpool flight; Leeds-Bradford and Newcastle. It only took 10 minutes to get to the front. I handed over my passport and booking reference and the check-in agent asked which flight I was on. I said Blackpool and she said, 'you've pre-booked your seat, 6F', which I had done for the outbound and inbound flights. I can't be doing without a window seat! I didn't have any luggage other than my hand luggage so check-in was quick and easy. As she handed over my boarding card, she said the flight was delayed and there was no information on how long the delay would be or what the problem was at the moment. That didn't sound positive.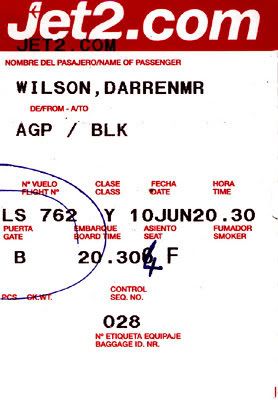 I headed straight through to the departure lounge since I wanted to try and get a few photo's overlooking the apron before the sun was too low in the sky and light levels prevented photography. Jet2 fly from 'Zone B' so I headed over to the security check point and was greeted by some long queues. It didn't take as long as expected, 10 minutes. The checkpoint was a combined security / immigration system and was very slick. One agent checked your passport and boarding card while the other screened your bags.
Once through in to the departure lounge, I had a look at the screens and the flight was showing but had no information. It just stated boarding at 2030 as per the schedule. I would just have to keep looking at the screens on a regular basis. The departure lounge had some excellent views over the apron. The terminal has huge pains of glass and the runway was visible in the background to watch landing and departing aircraft.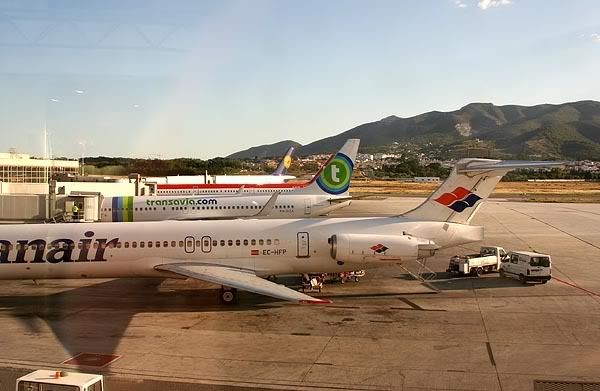 I had a watch for 10 minutes but there weren't many movements or photo opportunities. I decided to go upstairs to the duty free area and get a few things that I'd promised people while traffic was quiet. I had to get my mum 200 cigarettes (32 euros) and a bottle of Southern Comfort (21 euros) for the friend who was picking me up once we landed in Blackpool. The scheduled landing was 2315 so it was unlikely we'd be back for then considering the delay. The duty free / catering area was extremely busy. It seems Sunday evening is a busy time in Malaga. Once I'd done my shopping, I got myself a bottle of diet coke and a chicken sandwich from the food hall, 8.30 euros so no the cheapest place to eat.
I went back downstairs and checked the screens to see if there was any change but there wasn't. I found an excellent spot overlooking the apron, perfect for photography. One problem with taking photo's from the departure lounge, especially as light levels fall, is glare and reflections on the glass. The trick is to take photo's at right angles to the glass with a lens hood to try and minimise the glare and reflection. The spot by the security checkpoint in Zone B overlooked the centre of the apron so was ideal. The glass was a little dirty but you can't do much about that. I managed to get a few nice photo's of arriving and departing aircraft taxiing across the apron: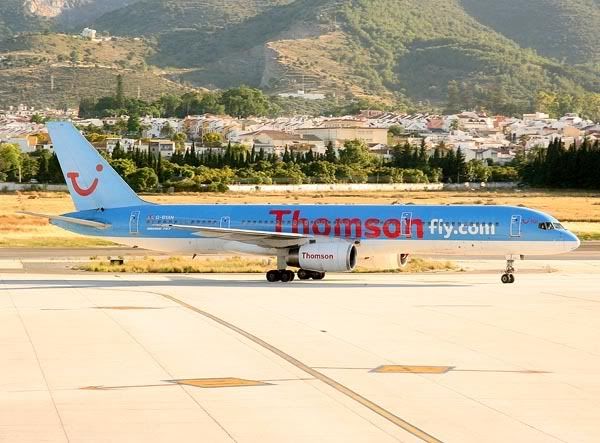 View Large
View Medium


Photo © Darren Wilson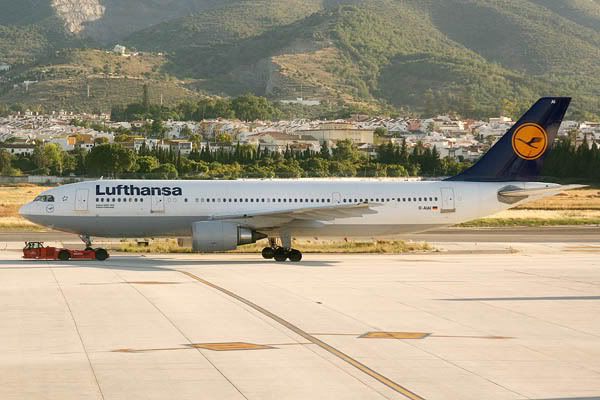 View Large
View Medium


Photo © Darren Wilson
I kept checking the screens every 15 minutes and listened to announcements for any information relating to my flight. The screens eventually changed and updated the boarding time as 2300 so I enjoyed the photo opportunity and views over the apron while the light was sufficient.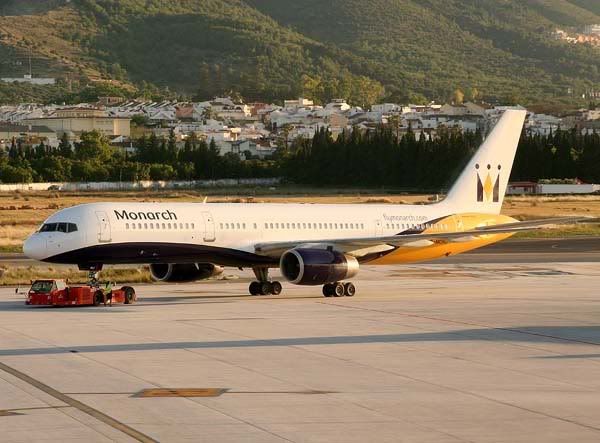 View Large
View Medium


Photo © Darren Wilson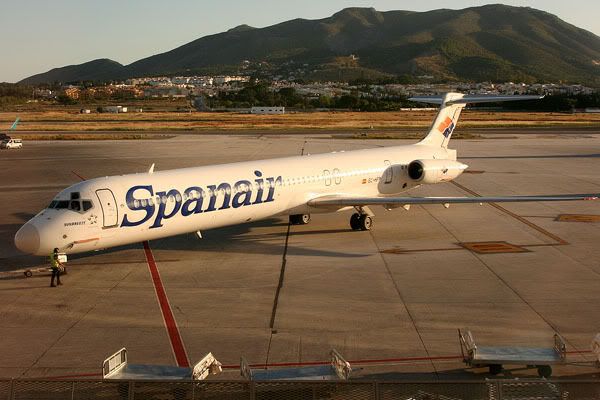 The light eventually made photography impossible at around 2130 and the screens were still showing a boarding time of 2300. I heard the Leeds-Bradford and Newcastle flights being called for boarding and they left on time. I watched them depart, a 737-300 and 757-200 respectively. By this time, the airport was noticeably much quieter as passengers departed for their flights. I checked the screens again and this time it showed boarding at 2320. A read of a newspaper left on one of the seats killed a bit of time and I eventually heard a call for LS762 at 2315 to proceed to gate B24. I made my way down to the gate and to my surprise, I was the only passenger there. The last few passengers disembarking the inbound flight, LS761 made their way from the aircraft and the screen at the gate just said 'boarding'. However, there wasn't an agent at the gate which I thought was strange. 10 minutes past and no other passengers turned up so I was beginning to wonder what was going on. An airport officer who asked which flight I was waiting for approached me and could he see my boarding card. He looked at my strange and said 'uno momento por favor'. He made a phone call and just said someone will be here in a moment. A Jet2 agent arrived with a family of 4 people and said 'oh Mr Wilson, we've been looking for you for the last 2 hours. Did you not hear the calls?' I just no, why? Is there problem? Apparently, the outbound aircraft had a technical problem in Blackpool and was 3 hours late departing, hence the delay. Because of the delay, the inbound flight had been cancelled due to Blackpool Airport closing at 2330. If that's the case, they're pushing it a bit when the flight is scheduled to land at 2315. Any minor delay or head wind would cause regular problems. Anyway, because the flight was cancelled, they said they'd made numerous announcements and put Blackpool passengers on the Leeds-Bradford and Newcastle flights. Myself and the family of 4 didn't hear any announcements and there was nothing on the screen at any time to suggest the flight was cancelled.
Luckily for the 5 of us, the delayed flight was positioning back to Manchester and they said they'd put us on that flight and provide a taxi from Manchester to Blackpool once we landed. That worked out far better for us since the alternative airports were miles away from where we wanted to be. Leeds-Bradford is at least 1.5 hours drive away from Blackpool and Newcastle a good 2.5hours drive. It was all a rush at the end because they wanted to get the flight away ASAP. I sent a quick text message to my friend who was picking me up in Blackpool to say don't worry about me, I don't need picking up from the airport. The family of 4, the Hughes said their luggage had been put on the Leeds-Bradford flight but the agent said not to worry, that would be forwarded on to their home address once in Leeds.
We quickly boarded the aircraft and the cabin crew asked us to sit in rows 2 and 3 so that we were all together. The family of 4 sat in row 2 and I had row 3; and 20 rows behind me all to myself! A maintenance engineer was sat in row 1 who came out with the aircraft just in case there were further technical problems. Whatever the problem was, it must have been serious.
The doors were quickly closed and the Captain made an unusual announcement; "good evening Mr Wilson and the Hughes family, this is your Captain'. I've never had that before! He apologised for the delay on behalf of Jet2 and said we were about to push back, we were just waiting for a driver for the tug. He confirmed that because we couldn't land at Blackpool, we would be heading for Manchester and taxi's would be waiting for us to take us back to Blackpool Airport. Quite appropriately, our aircraft for this flight would be 'Jet2 Leeds-Bradford', which we might have been heading to if we hadn't have missed the calls!
View Large
View Medium


Photo © Darren Wilson
View Large
View Medium


Photo © Darren Wilson
The cabin crew did their safety announcement and we pushed back and taxied over to runway 31 for take off. As we were holding short of the runway, something strange happened. A British Airways A320 landed on runway 31 then I noticed an aircraft taxi on to the opposite end of the runway, 13. I expected it to back-track towards us for take off but it didn't, it took off with a tail wind. It looked like a 737-800 since it had blended winglets, I wasn't sure of the airline because it was dark. After that departed, we taxiing on to 31 and the engines spooled and we commenced our take off run. Since the aircraft was very light, we soon rotated and climbed steeply in to the clear night sky. We climbed out on runway heading then made a steep right hand turn of 180 degrees since we run parallel to the airport giving a good overview. We then turned left and headed north for the 1157 miles to Manchester.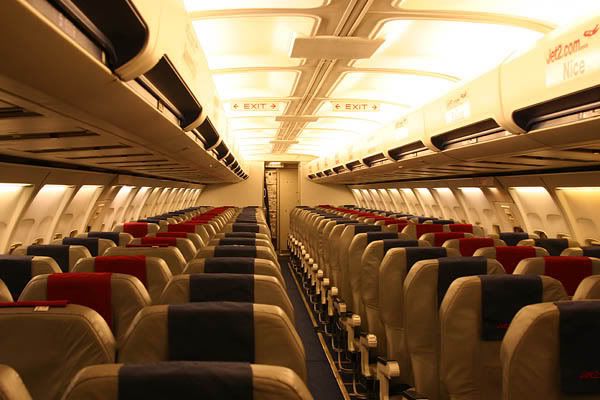 The cabin crew announced, well, I say announced, come and talked to the 5 of us and said they didn't propose to do their usual cabin service since there was little point. If we wanted anything, either press our call button or go to the galley and ask. I asked for a hot chocolate and the others decided to treat themselves to a Whiskey and a Gin.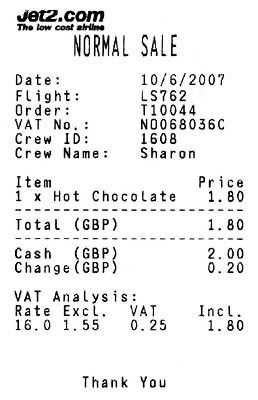 Once we were established in to the cruise, the flight deck door opened and the Captain come to visit us. He said it was pointless making an announcement over the PA system with so few passengers so he thought he'd do it personally. He explained our routing; pretty much a northerly track through Spain, over the Bay of Biscay, across Brittany then the English Channel to enter England over Exeter. From there, we'd head up the centre of England before starting our descent in to Manchester. He said he'd point out Madrid when we were passing and he also said he expected a bit of turbulence a little later in to the flight since there were a few storm cells over Europe so to watch out for the lightening out of the starboard windows in the distance. The anticipated flight time was 2 hours 45 minutes.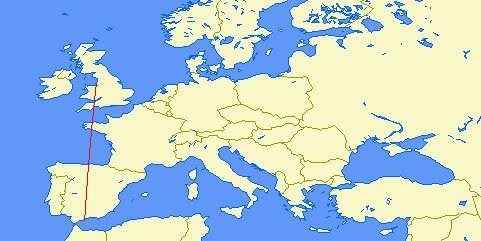 It was nice to meet the captain, it's not every day the flight crew come out to meet the passengers. He said he'd love to allow us to sit upfront with him and show us the flight deck but rules are rules and he couldn't. He welcomed us all in to the flight deck once we landed though. I was up for that!
The flight was pretty uneventful apart from the expected turbulence half way in to the flight. We saw plenty of lightening in the distance over France. I had a second hot chocolate after the turbulence, about an hour before our anticipated landing of 0200 in Manchester. The Captain came to visit us again before the descent and talk to the flight engineer to say everything was running fine and he'd done a great job. From the flight path, I knew we'd be heading for the newly designated runway 23R. However, as we approached, I noticed we were higher than normal for 23R and to my surprise, we landed on 23L. That's the first time I've ever landed on 23L. The touchdown was perfect, so smooth I never felt the wheels touch the tarmac. We landed at 0201, spot on. The reason for landing on 23L was soon obvious as we rolled out, 23R was closed for maintenance. We rolled out to the end of the runway to the turning area with gentle braking and no thrust reverse due to noise abatement for night landings. We held short of 05R before we back-tracked to taxi to terminal 1 as there was an ATR landing behind us. That turned half way down the runway so we followed that in. We come to a halt at the remote parking area at stand 83.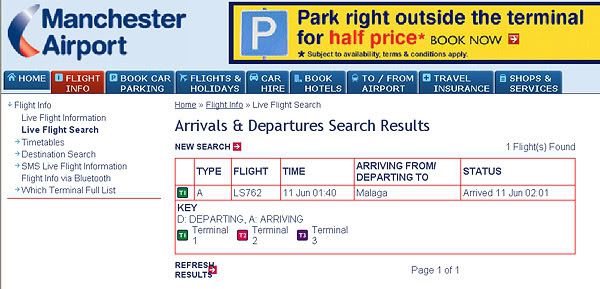 The flight was excellent and I was looking forward to meeting the Captain and First officer in their office. The L1 door was opened and we were greeted by a member Menzies who are the ground-handling agents for Jet2 at Manchester. They said a coach was waiting to take us to the terminal and taxies once we cleared arrivals. Because it was the early hours of the morning, the family didn't want to visit the flight deck since they had to sort out their baggage and I couldn't really hold them up while I had a visit so I missed the opportunity. We departed the aircraft and the bus took us over to Terminal 1. As none of us had any baggage, we quickly cleared passport control and went straight to the lost luggage area so they could fill in the required forms so their baggage would sent from Leeds-Bradford to their home address. As promised, once through customs and in to the arrivals hall, a short wait and a taxi driver arrived to take us back to Blackpool. Since I lived closer to Manchester Airport than Blackpool Airport, I explained the situation and he said that's not a problem, I'll take you home and I'll get another taxi to take the others to Blackpool. That worked out perfect for me. I arrived home at 3.30am which was 3 hours later than expected.
Overall, even though it was a little inconvenient that the return flight was delayed and cancelled, it was partly my fault that I missed the calls. I thought Jet2 handled the situation perfectly and got us back safe and sound and the actual flight was excellent, quite memorable in fact! My outbound flight was faultless. This was my first time with a low-cost airline I was quite impressed with Jet2's operation. I'd certainly have no problem recommending them and flying with them again. I'll not be forgetting my 30th birthday.
Darren