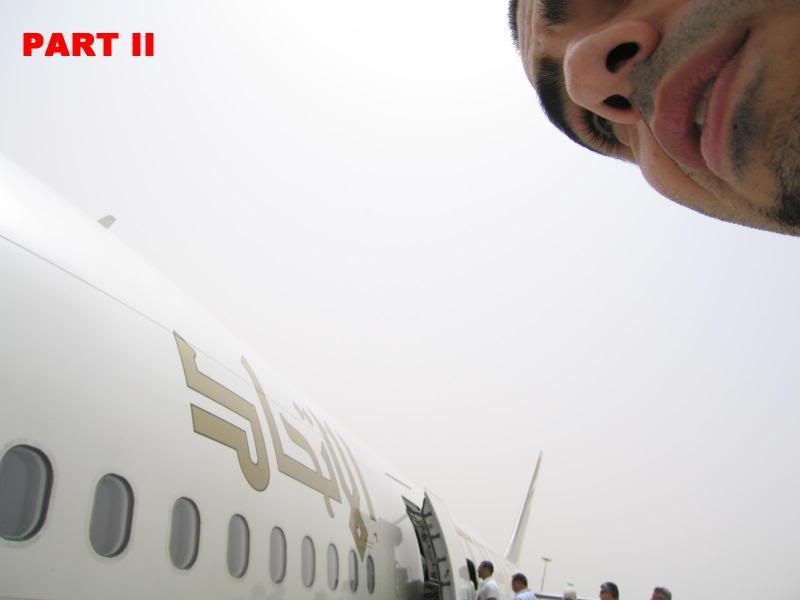 Greetings once again and welcome to Part 2 of my TR.
Part 1 is found here.
This part of the report may be shorter or at least with fewer pictures as I was getting a lot of strange looks at AMM and on the flight when I clicked some pictures. Sorry about that!
By the way, the intro picture with my head sticking out looking like some strange creature was actually taken by pure mistake. Because I had my camera on hand while boarding, I pressed the button accidentally to produce this picture, which seemed just perfect to start this TR  
Saturday June 30th 2007
I woke up at 9am and was already feeling the blues of having to go back to work the next day. I wanted to stay longer in Jordan but I couldn't as I do want to save some leave days for my next trip in August (Etihad Pearl to JFK).
I hung around at home for a few hours, and around 1:20pm I left the house to go and have lunch at my sister's. At 2:30pm I bid my goodbyes to everyone and headed to Queen Alia International Airport. The drive to AMM is more or less 30 minutes away from the city and so by 3pm I had arrived.
The airport was not as crowded as it usually is. I proceeded through security which took no time at all, then straight to Etihad's check-in desks. Emirates to DXB was also checking in right next to us. What I did notice was that Etihad had placed barricades in front of the desks to maintain an orderly queue while Emirates did not. Furthermore, from what it seemed, Etihad was expecting more passengers but I could be mistaken depending on when the EK flight left.
Here is a picture of the check-in area:
[All pictures are clickable thumbnails]
I stood in a short line and within 10 minutes it was my turn. Ground handlers at AMM are Royal Jordanian with a few EY-only staff, the standard routine I suppose. While the friendly agents checked me in, I enquired about the registration of today's aircraft. I was told it would be "Yaknkee Echo." While A6-EYE seemed like it does not have the 'Etihad' interior, I was not sure which one it was. All I did know is that from the check-in desks, I could tell it was a 3-zone aircraft. One agent (an Etihad guy) told me that it is a "brand new aircraft with private suite-like seats in Pearl." How funny I found it that I knew more about his airline than he did.
Since I had no bags to check, I was processed efficiently and given my boarding pass with Seat 14G assigned. Here is a picture of my boarding pass: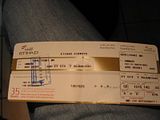 Now that I was all set to go, I was getting excited. Will Etihad live up to its standards in Coral? Will I get a good aircraft? Let's find out …
Flight Information
Airline:
Etihad Airways
Flight Number:
EY514
Departure:
AUH @ 16:45 (Actual: 17:00)
Arrival:
AMM @ 20:40 (Actual: 20:30)
Seat:
14G
Load Factor:
70%
Flight Time:
2:30 hrs
Equipment:
Airbus A330-200
Registration:
A6-EYE
I went through immigration, which surprisingly was a lot faster than the arrival yesterday. After I got my passport stamped I climbed the escalator one level up to the main terminal. Because I had an Amex credit card, I was allowed to use the lounge facilities at the airport free of charge. There are only two lounges at AMM and both are operated by Royal Jordanian. While they are both small, I find the staff to always be very generous and courteous.
Here are two pictures of the main terminal hall at AMM (quite boring to say the least):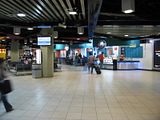 I entered the lounge and was greeted by one of the staff who took my flight and card information and ushered me to have a seat. I placed my stuff in the smoking section and went to the food area to get a diet soda. There is not much to offer in terms of food at the lounge, apart from snack items, sandwiches, cookies, fruit and the likes. I think that you may order hot food if you like, but I wasn't so sure. There is a small secluded area within the lounge that has several workstations that offer Internet access. I am hoping it's high-speed!
Nothing much has changed in the lounge for quite some years so it has definitely been showing its age. But still, I feel very attached to this lounge in particular as I have stayed at it a countless number of times ever since I was a child.
Some pictures of the lounge and my drink: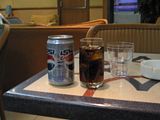 After finishing my soda and having a cigarette, I thought I would go to the duty free to see what model airplanes they sell. I usually find quite a collection there however, unfortunately this time around they were out of stock.
The duty free at AMM is managed by Aldeasa, and I have heard that it is a Spanish company but I am not sure about that. The duty free area is located between the North and South Terminals and offers quite the variety of items from toys, fragrances, chocolates, liquor, cigarettes, souvenirs etc.
A picture of the duty free:
After no luck with finding any model airplanes, I looked at the watch to find that it is already 4pm so I thought I would head straight to Gate G9. I passed through security and entered the not-so-full waiting area at 4:05 pm. By 4:10 a pre-boarding announcement was made informing us that the flight will soon be ready for boarding and that passengers with children are to board first, followed by row numbers. Good to know that this is in an orderly fashion today!
By 4:15 pm it was time to board and since the load was on the lighter side, my row was called in no time. We boarded through door 1L and were greeted by a smiling pair of Etihad ladies who welcomed me on board and directed me to my seat. The moment I got a view of the Diamond Zone cabin I thought to myself "hey, I've seen this very same scene on Airliners." And here is a picture of what I exactly saw:
View Large
View Medium


Photo © Bailey - AirTeamImages
Not a plane that was to Etihad's specifications, but still, it was a nice plane. I believe this one is leased from CIT. I loved the ambience as the colors were extremely calm and soothing and the plane looked spotless. I believe that this particular aircraft frequented Brussels/Toronto before the A345 was deployed on the non-stop (and now the A346).
I arrived at 14G, placed my carry on in the overhead compartment, and made myself comfortable. Upon sitting in my seat, I found the legroom to be rather tight. Here is a picture of the legroom: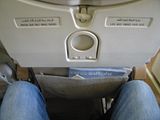 And some random pictures of the cabin during boarding (excuse the blurriness as I had to take quick snapshots):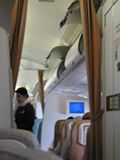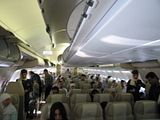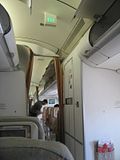 What is interesting about this aircraft is that it offered a premium economy section (the pink-ish seats as evident in the pictures above). Etihad does not sell 'premium' economy seats, so I was wondering why this arrangement was in place. Perhaps for full-fare passengers?
While everyone was busy getting settled before departure I thought I would flip through the IFE guide (Fast Forward). Selections included new releases, classics, Arabic movies (a decent collection and better than EK I thought), Asian movies, Kids, and European. Their TV channels included news, action, drama, lifestyle, Arabic, and kid selections. The system seemed decent enough for a long flight but I did not make use of it this time. However I did find it to be a little less user-friendly than EK's ICE (which beats them all).
A picture of my screen:
By 4:40pm the fasten seatbelt sign went on and a departure announcement was made. Here it is:
After that, the crew came around with water as a pre-departure drink. I thought that was a nice touch as I haven't seen that before in economy, except for that one time KLM introduced a similar pre-departure drink service in economy that consisted of a choice between OJ and water (didn't last too long though). Here is a picture: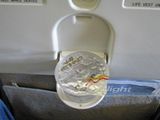 At 5:50 was pushback, and during that time, the crew were trying to play the safety demo on the main screens however there seemed to be a problem with the system. So they decided to do a manual demo! I love manual demos! Here is a video:
A short taxi to the runway, cabin crew made final checks, took their seats, and we were up in the air by 5pm.
After we reached cruising altitude and the fasten seatbelt signs went off, the crew got up to start the service. Headsets and menus were first handed out: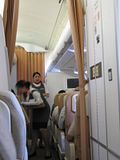 The menu was a simple one page card and dinner consisted of Middle Eastern Moutabel Salad for starters and a choice between Pan Fried Fish Dory with Sauce Harra, Steamed Rice, and Lamb Masala, Biryani Rice Harissa Vegetables for the main course. For dessert there was a Date and Pumpkin Mousse, followed by tea, Brazilian Coffee, or Hot Chocolate. The lamb looked good so that is what I went for.
What I do like about Etihad is that they offer food with a more Arabic touch to it than Emirates. Being an Arab carrier, I don't see why it shouldn't offer something Arabian.
Shortly after and approximately 30 minutes after departure, the crew rolled out the trolleys to distribute the dinner trays. When 'Rosani,' who did the safety demo for us, came to me, she asked "would you like fish or lamb sir?" I said "lamb please," and she then asked "and what would you like to drink with that?" I said "tomato juice please." She placed my tray on my tray-table and then poured me a glass of tomato juice and placed it on my tray. Here are some pictures: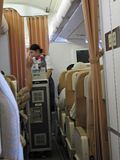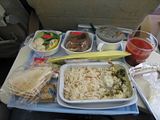 I realized that what was on my tray, while Lamb, was not what was mentioned on the menu, b ut I ate it anyways. The lamb was a bit tangy and it came with a hot yoghurt, and rice; an Arabic dish usually cooked at home. I later came to realize after snooping around in the seat pocket in front of me, that they handed out the wrong menus. I found a menu that was distributed on the flight to AMM and it stated exactly what was on my tray:
I thought that was a bit silly because either the crew did not pay attention to what menus they gave out on what flight, or that they realized their error on flight from AUH and thought what the hell they won't read them anyways.
The rest of the flight was rather uneventful. An hour and a half after the meal, we started our descent and the crew prepared for landing. They started playing what seemed to be an arrival video on the overhead screens, to find that by mistake they played the Toronto landing video instead of the Abu Dhabi one. Rosani happened to walk past me so I jokingly asked "are u taking me to Toronto?" and she laughed.
At around 8:30pm we touched down on Runway 31 at AUH. We taxied to a remote stand and deplaned by stairs. Within 20 minutes I was already at my car since I did not have any checked luggage to wait for at the baggage claim.
All in all, I had a positive experience with Etihad. While I believe that they need a little more stability in their network operation, and within their ground services, I believe that there exists some decent potential in-flight. The most important indicator of good service offered my an airline to me lies within their cabin crew and their in-flight service (to an extent, this doesn't include IFE). In this aspect, Etihad did not let me down, and in fact delivered a final result that had me overlook the negative aspects that occurred on the ground at AUH the day before.
Did they "change the way I saw the world?" Not this time, no. However, I will have to try them on one of their flagship routes to determine so.
One final picture, goodies I took back home:
Thank you all and best regards,
Roni.
Possible future TR's:
JFK (Pearl, Etihad) in August
Hong Kong (Definitely CX) in October (tentative)
[Edited 2007-07-05 22:23:51]