It's not much of a written report so I'll try to let the pictures tell the story.
Los Angeles International (KLAX/LAX) – Taipei International (RCTP/TPE)
EVA Air Flight 1 (BR 1)
Boeing 747-400 Combi
B-16408
Scheduled Departure – 2340, Actual – 2345, Airborne – 0005
Scheduled Arrival – 0600, Actual – 0514, Gate – 0520
Super First Class
LAX - Gate 110 for Gate 205, TPE – Gate C7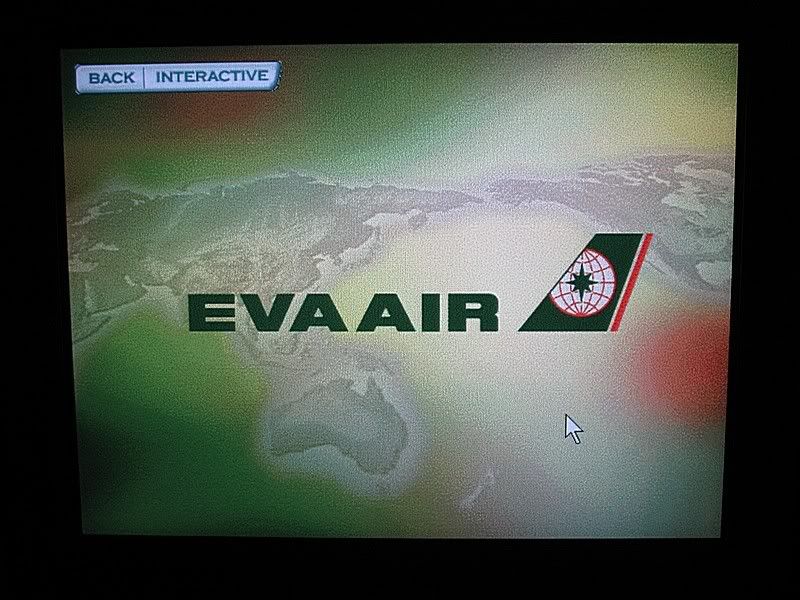 Check-in was fast and smooth. I went to the temporary first class lounge for a short while before heading through security. The gate this evening was used to ferry us by bus to the remote gates. I happened to be on the final bus and the doors were soon closed behind us. I received a cool towel and pre-departure drink of OJ. The captain welcomed us aboard and announced the flight was scheduled for 13+09 hours. This proved quite prescient.
After reaching our initial cruising altitude of FL280, the crew sprang into action for dinner service. Dinner service began 50 minutes after departure and ended 40 minutes later.
Menus were already placed at our seats prior to boarding.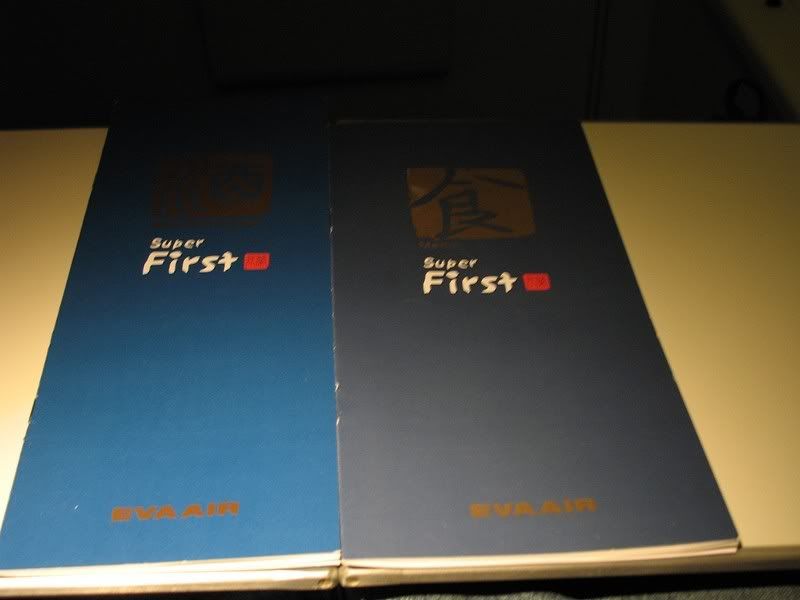 Wine Menu
Champagne
- Moet and Chandon Dom Perignon 1998
Burgundy White Wine
- Albert Bichot Domaine Long-Depaquit Chablis Grand Cru 'Blanchot' 2002
German White Wine
- C. von Schubert Maximin Grunhauser Abtsberg Riesling Spatlese 2003
New Zealand White Wine
- Matua Valley Paretai Marlborough Sauvignon Blanc 2005
Bordeaux Red Wine
- Chateau Gruaud Larose 1999
California Red Wine
- Franciscan Oakville Estate Merlot 2003
Australian Red Wine
- Yalumba Cabernet Sauvignon Shiraz Barossa Valley 2002
Fortified Wine
- Burdon Dry Fino Sherry
- Graham's LBV Port 2000
Drinks Menu
Coffee
- Regular Coffee
- Cappuccino
- Coffee Latte
- Espresso
- Decaf Coffee
Tea
- Oolong
- Jasmine
- Ti-Kuan-Yin
- Green
- Kamille
- Beerentraum
- Earl Grey
- Darjeeling
- English Breakfast
- Milk
Soft Drinks
- Apple Juice
- Orange Juice
- Tomato Juice
- Calpis Water
- Cola
- 7-Up
- Chocolate
Cocktails
- Bloody Mary
- Evergreen Special
- Gin Martini
- Gin Tonic
- Highball
- Red Eye
- Screwdriver
- Vodka Martini
Liqueurs
- Kahlua
- Bailey's
- Midori
Spirits
- Bacardi Light Rum
- Bombay Sapphire Gin
- Camus Extra Cognac
- Royal Salute 21 Years Scotch
- Smirnoff Black Label
Plum Liqueur
- Choya Yoshu Dento
Beers
- Gold Medal Taiwan
- Heineken
- Kirin Ichiban
Supper
Hors D'oeuvre
- Lobster and Artichoke Salad with Lemon Viniagrette Dressing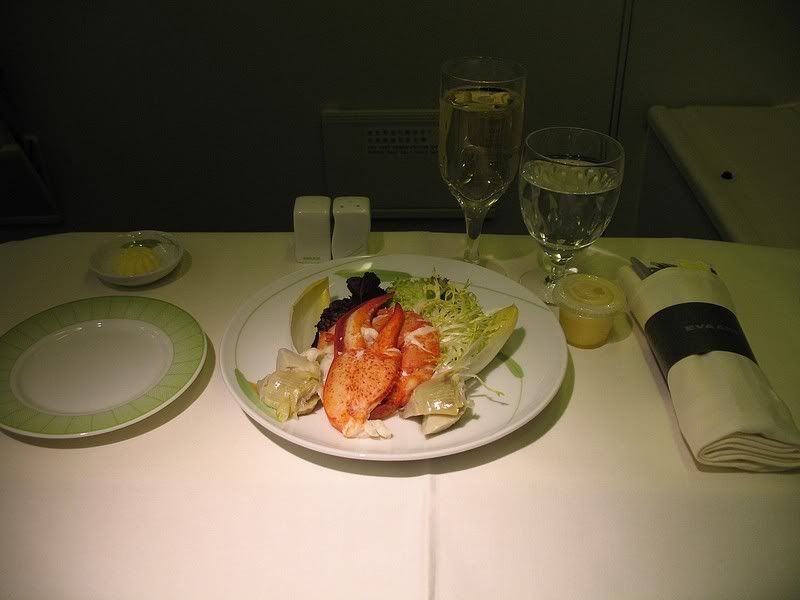 Soup
- Black Bone Chicken Soup with Ginseng and Red Dates
- Roasted Fennel Chowder
Main Courses
Steamed Black Cod Fish with Tree Seed
- Steamed Rice
- Chinese Vegetable
Roasted Chicken Breast with Truffle Sauce
- Fingerling Potato
- Mixed Vegetables
Pork Tenderloin Roll with Vegetable In Sherry Sauce
- Apple and Cranberry Quinoa with Pancetta
- Seasonal Vegetables
Internet-Only Order Options
Seafood Congee
- No accompaniment
Veal Chop Au Jus
- Mixed Vegetables
- Potatoes
Lobster with Salt Egg Sauce
- Mixed Vegetables
- Steamed Rice
Chilean Sea Bass with Pesto Sauce
- Pasta
Fresh Fruit
Coffee or Tea served with Godiva Chocolate – I had a Bailey's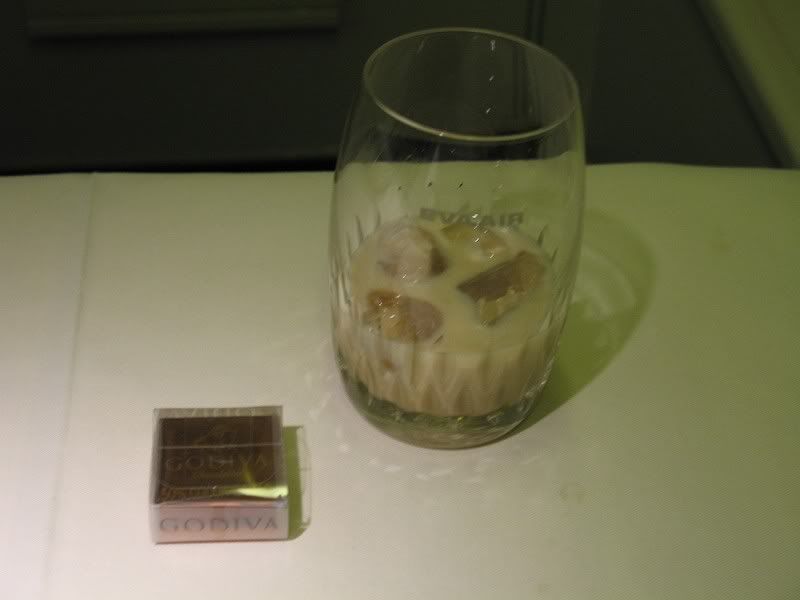 In-Flight Snack
- Siu Mai (Shrimp Dumpling and Beef Roll)
- Corque Monsieur
- Cup Noodles
- Hot Chocolate and Cookies
Lights came up three hours prior to landing for breakfast. We were served a wake-up beverage and hot towel. The service lasted 45 minutes.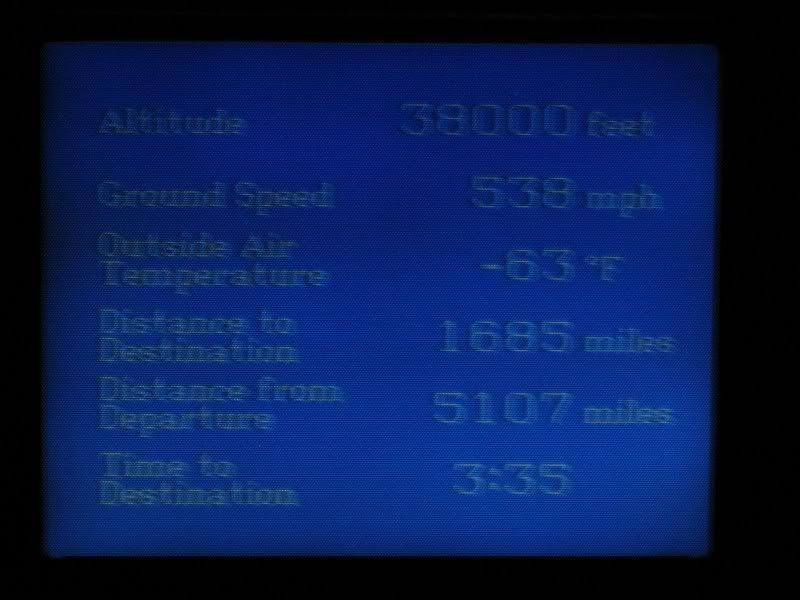 Breakfast
Cold Drink
- Champagne, Juice, Soya Milk, Yogurt Drink, Whole Milk, Lowfat Milk
Hot Beverage
- Jasmine, Oolong, Tan-Kuan-Yin, English Breakfast, Darjeeling, Earl Grey, Japanese Green Tea, Camomile Tea, Mixed Berries Tea, Lowfat Milk, Whole Milk, Soya Milk, Coffee, Espresso, Decaf Coffee, Cappuccino, Coffee Latté
Fresh Fruit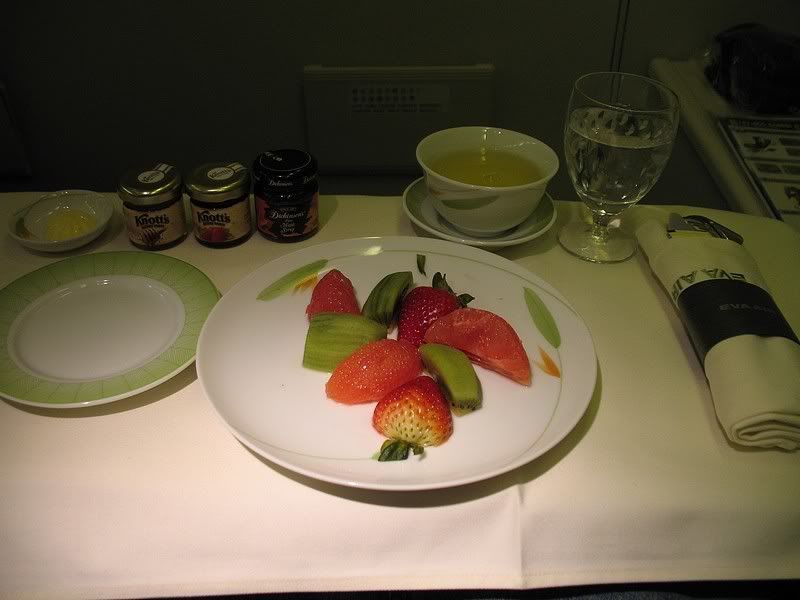 Choice of Bread
- Croissant, Almond Danish, Shiao Bing, and Toast Served with Butter, Jam, and Honey
Cereal and Yogurt
- Corn Flakes, Muesli Cereal
- Natural Yogurt, Strawberry Yogurt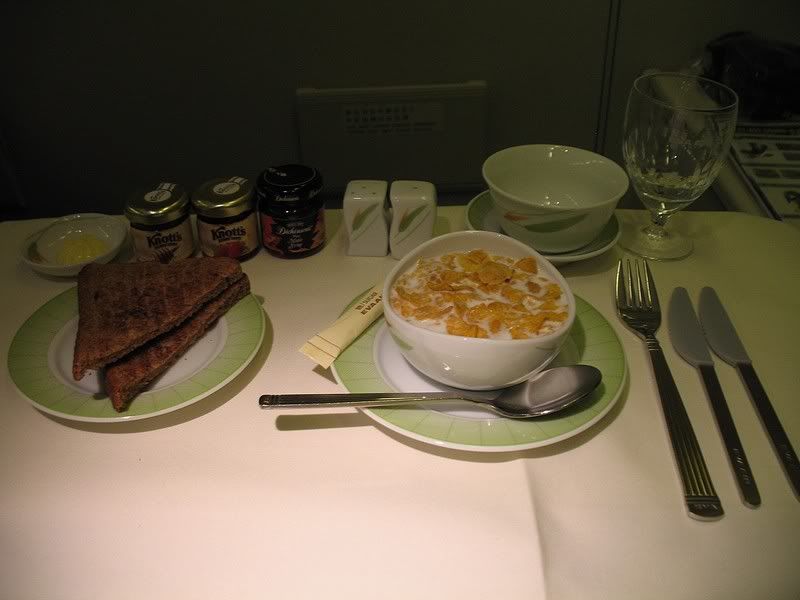 Main Courses
Five Grain Congee
- Snow Cabbage with Bean Sheet
- Dried Pork Julienne
- Egg Pancake with Dried Turnip
- Chicken Roll
- Cucumber with Pork and Mushroom
Tan Tan Noodle Soup
- No accompaniment
French Toast
- Scrambled Eggs
- Bacon
- Cherry Tomato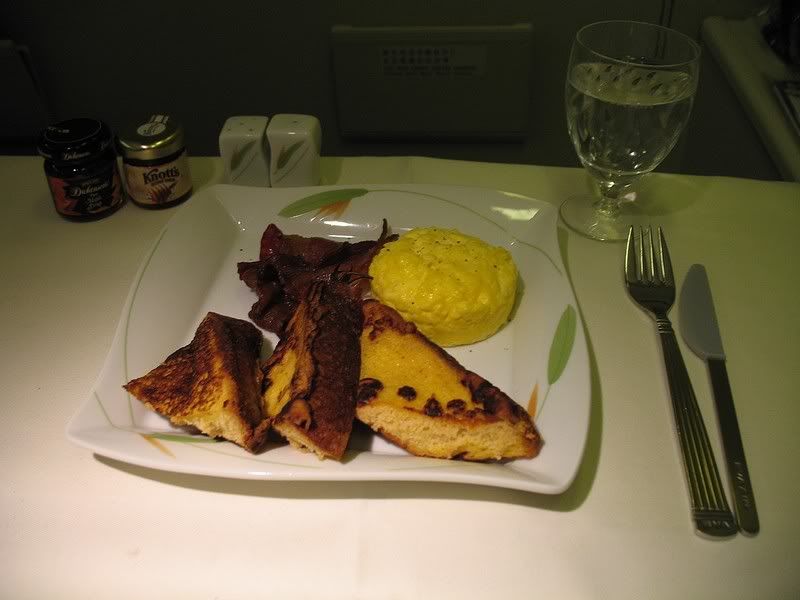 Route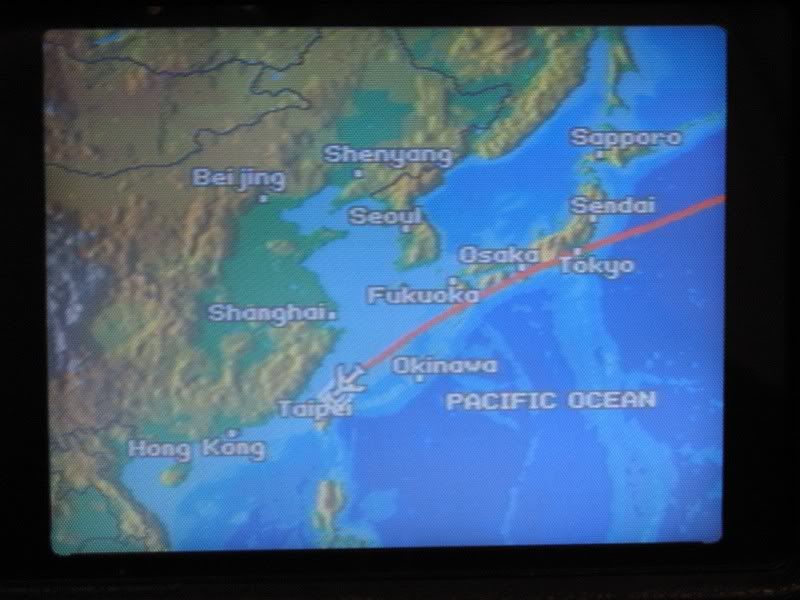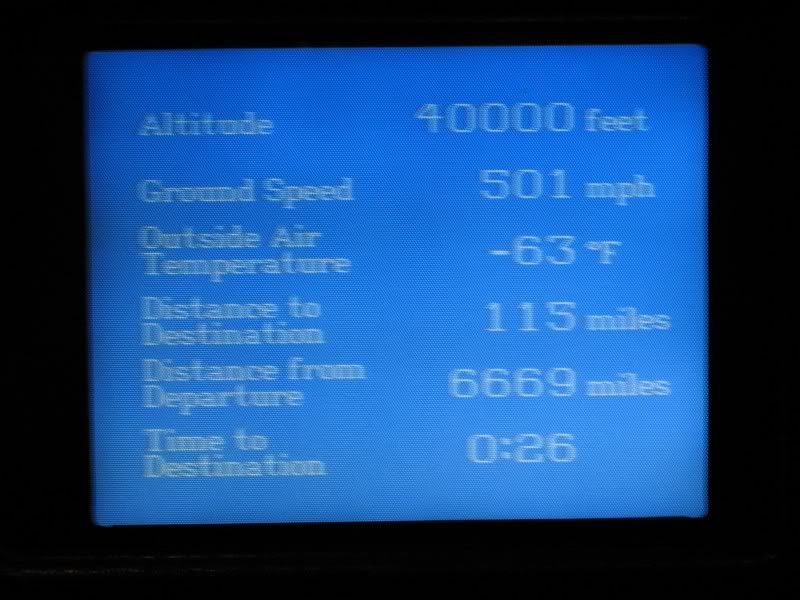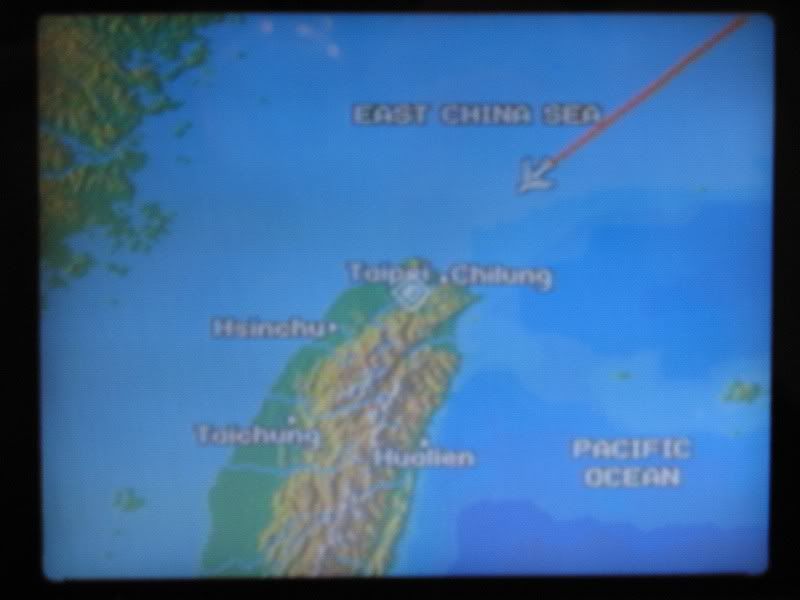 F Class Seating Section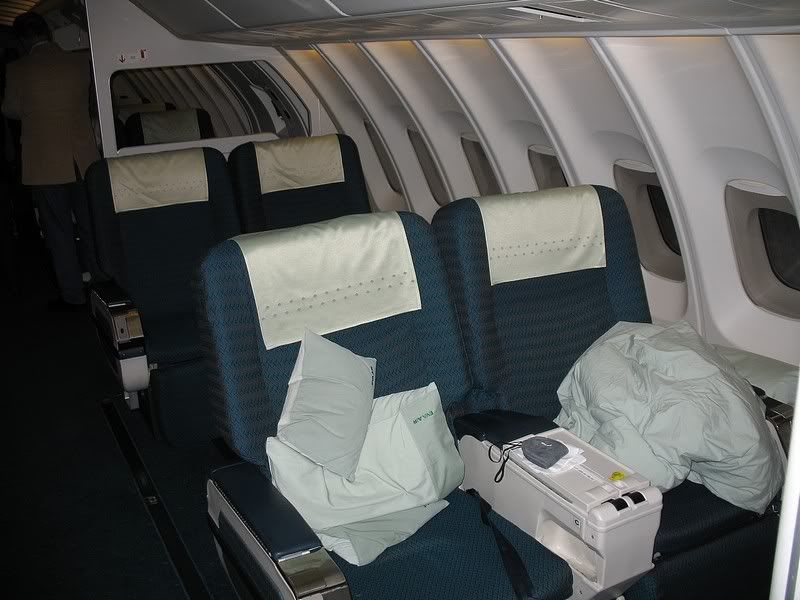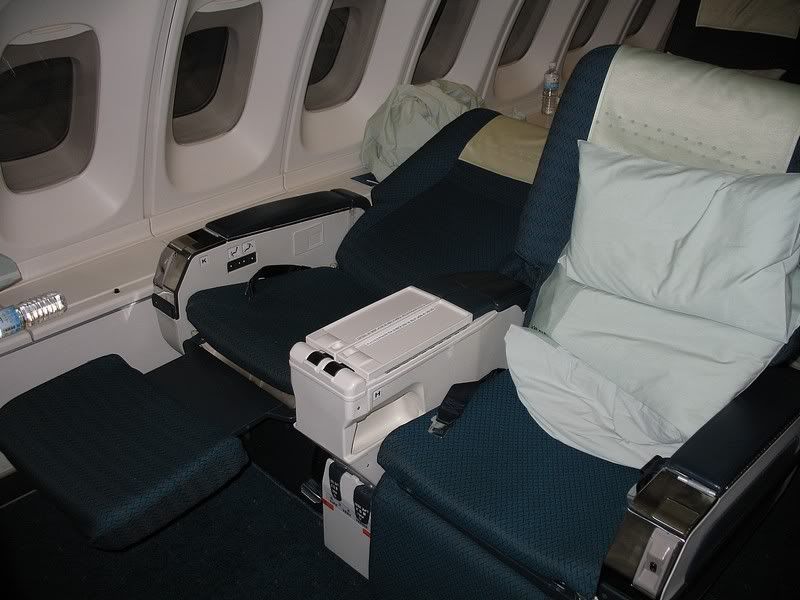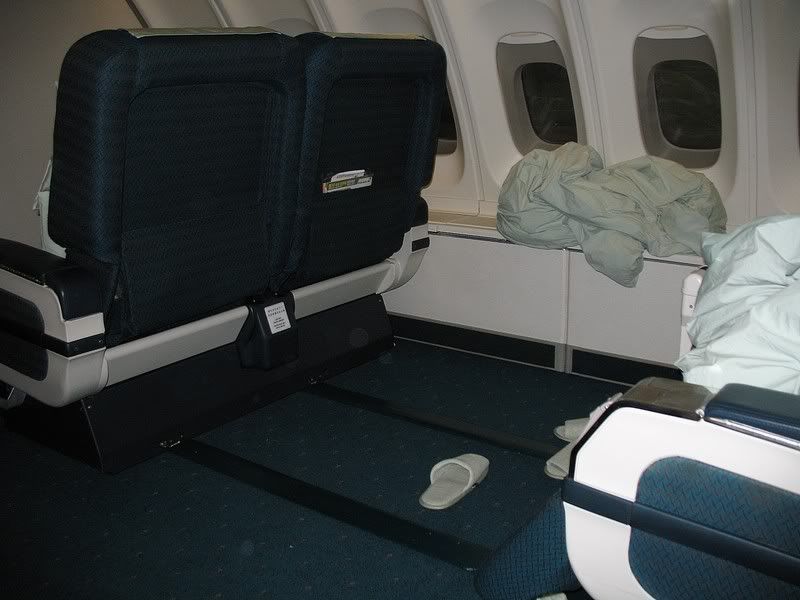 We arrived well ahead of our scheduled time. Several other flights landed around this time and there was a large back-up at the transfer security line. Through security, I headed to the lounge for a shower and change of clothes.
Evergreen Lounge
Main Lounge Entrance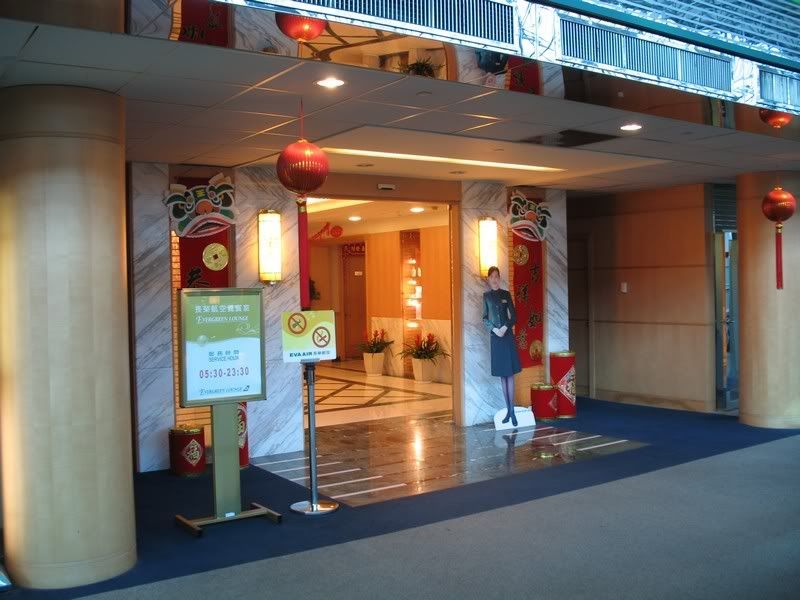 Food Area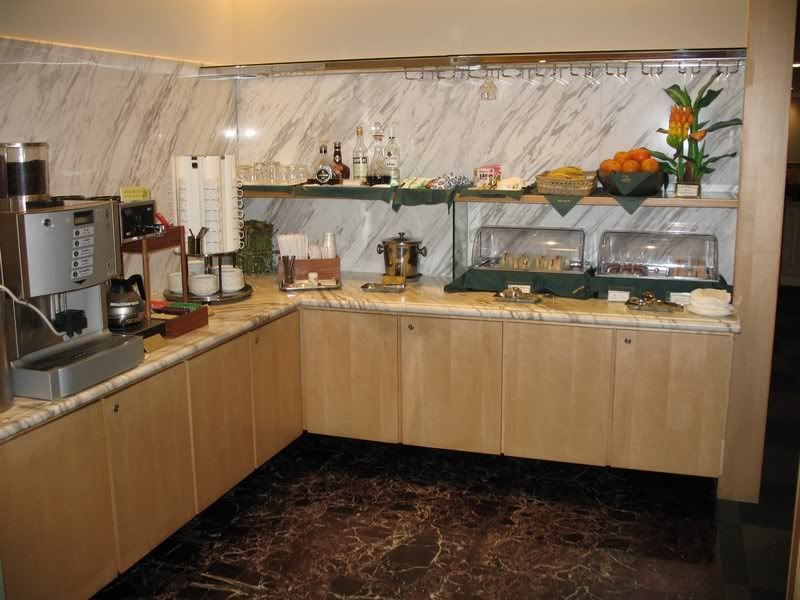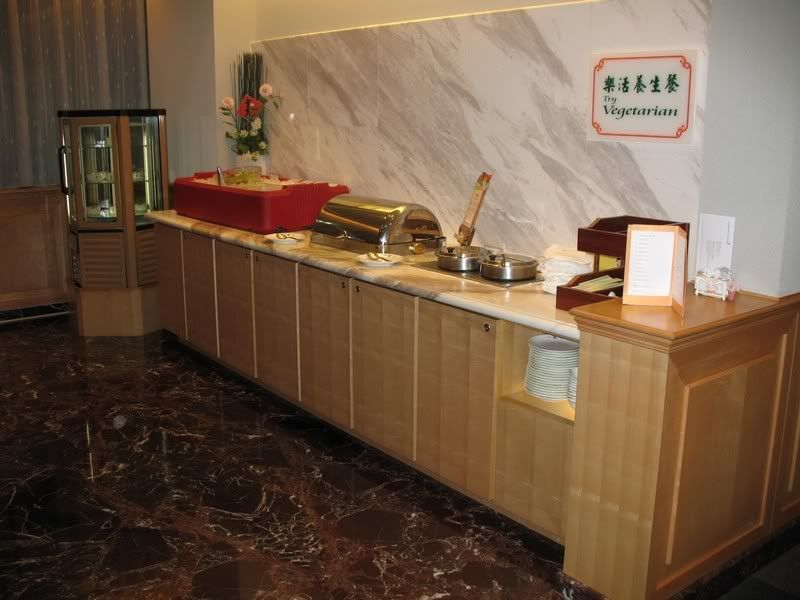 Internet Area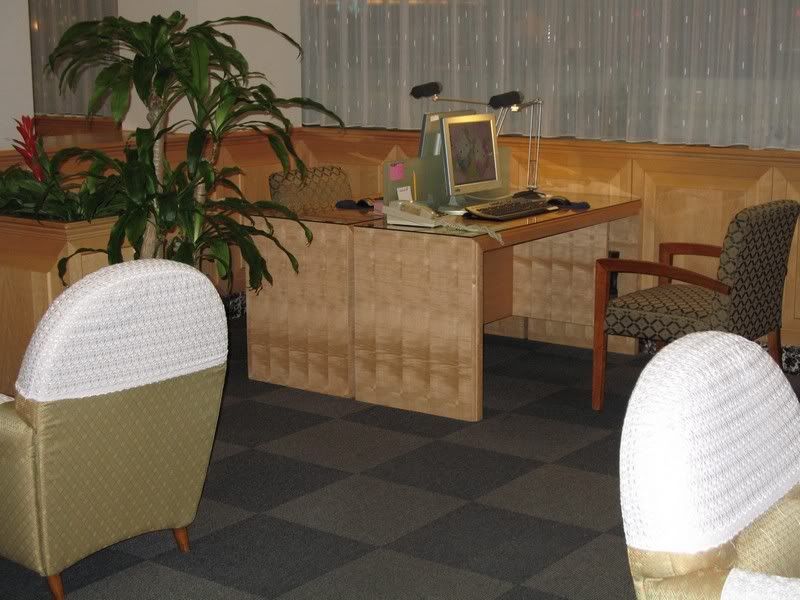 Seating Area