I have decided that my first post as an Airliners.net member will be my report on my recent trip to Europe. Before I begin just a quick bit on how I came here. I found airliners.net a few months ago and I have been lurking here for a few months until I finally decided I would join a week before my trip to Europe.
First a little background.
Back in August myself and a few friends joined up with a group to go to Germany to improve our German language skills and to go to Bolzano and Venice, Italy for a little vacation before flying back. Most of my friends took the flights the company recommended to them, with Delta Airlines>SFO-ATL-FRA--VCE-JFK-SFO, but I decided to burn some miles from my mom's Mileage Plus account instead (what are Moms for?
). This whole trip cost 50K in miles, and since I do not usually book with miles I really can't tell you if that is expensive or not for a Y ticket for one person. Perhaps someone can enlighten me?
Also, I decided to use two airlines with whom I have never flown, AC and US. I also get to experience an aircraft I have never been on, a US Airways 767-200.
My expectations for the airlines and their flights during my trip:
United Airlines>SFO-YYZ
I fly 85% of my flights on UA, either cross country or to Colorado and other Western US ski destinations, and I have always considered them, even today, to be an airline with solid service. Maybe they are not the best of the US carriers, but I find them to be generally clean, safe, reliable, and with friendly service, if lacking on the amenities somewhat compared with other US airlines like CO or DL.
Air Canada>YYZ-FRA
I have never flown on Air Canada before, however, I have high hopes for this flight. This route is run by a 767-300ER, and I was hoping that I would get a new XM'd 767. From the service standpoint, I am also hopeful, even though I heard some bad things about AC's cabin crews. I was slightly disappointed that their was no dinner service scheduled for this flight, just a snack and breakfast, but it was not that big of a bother to me because I just figured I would get something to eat at the airport.
US Airways>VCE-PHL
I am not looking forward to this flight. My experiences with US Airways domestic some years back was much less than enjoyable, and I always felt service has been sub par for these flights Also, for this flight one of the oldest planes in the US Airways fleet, the 767-200 will be used, so that is another cause for concern. A few weeks before my trip, US Airways announced that they would begin updating these 767-200s with expanded meal choices and entertainment. While none of these updated aircraft will be available for me on this trip, I think this is a step in the right direction for US Airways. For this flight though, my expectations are not particularly high.
United Airlines>PHL-SFO
See SFO-YYZ flight expectations.
Tuesday, June 19th
I woke up at six in the morning in order to make the ~100 mile commute to SFO. While I could have taken an EMB-120 from MRY to SFO (which would have been more convenient for me), I did not want to burn more miles than absolutely necessary. As I made my way north I hit some minor traffic as I passed SJC, but things sped up and I soon arrived at the United Y check in line at SFO. The line was packed. Eventually I checked my bags through to Frankfurt, but when I went to print a boarding pass out from one of the easy check in machines, it did not spit out a boarding pass but merely something that looked like one, but instead said something along the lines of "See United Airlines Representative"
Wonderful....
A harried UA employee pointed me toward a short line for a
single
UA customer service agent. After 10 minutes in this line, I realized that
every
UA self check in machine in the Y area was spitting out these "See United Airlines Representative" cards and the clueless UA agents were beckoning everyone into a single line for one UA representative. I spoke with several people in line who were obviously going to miss their flights and onward connections. Thankfully, I had joined the line early and I eventually received my boarding pass and headed off to the equally long but faster moving security line, leaving behind me shouts from angry travelers for a supervisor.
Eventually, I made my way through security and still had about 10 minutes to go until boarding so I took some pics of SFO, an airport I do not visit as often as my beloved SJC.
Action accross the way on the international side of things
My flight to Toronto scheduled for an on time departure
Boarding Pass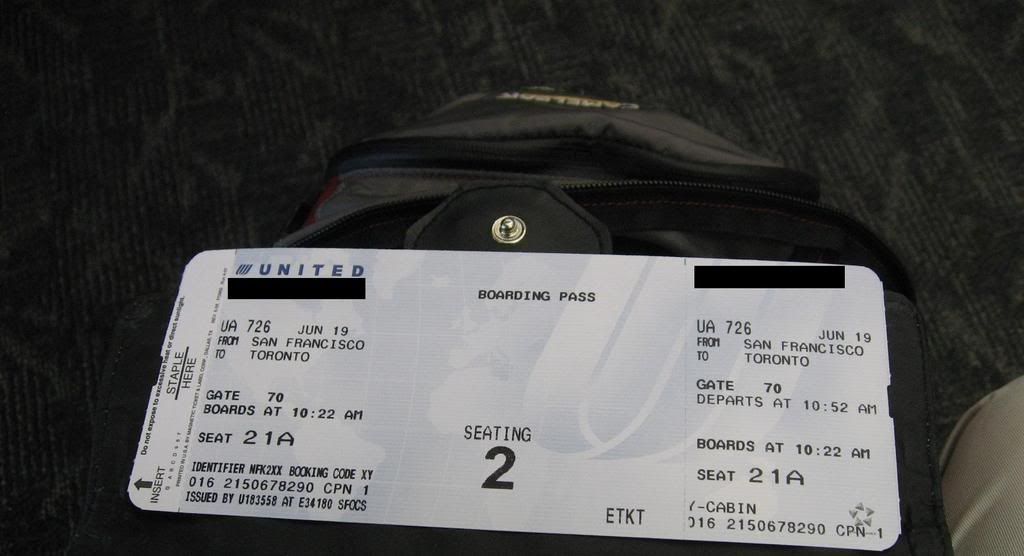 My A319 to YYZ
More A319 to YYZ
Boarding went smoothly and soon we pushed back from Gate 70.

United Airlines
Flight Number
: 726
Aircraft
: Airbus A319
Registration
:N830UA
Seat
: 21A
Gate[b]: 70
[b]Scheduled Departure Time
: 10:52
Actual Departure Time
: ~11:55
Scheduled Arrival Time
: 6:40
Actual Arrival Time
: ~7:20
An A320 , bound for Vancouver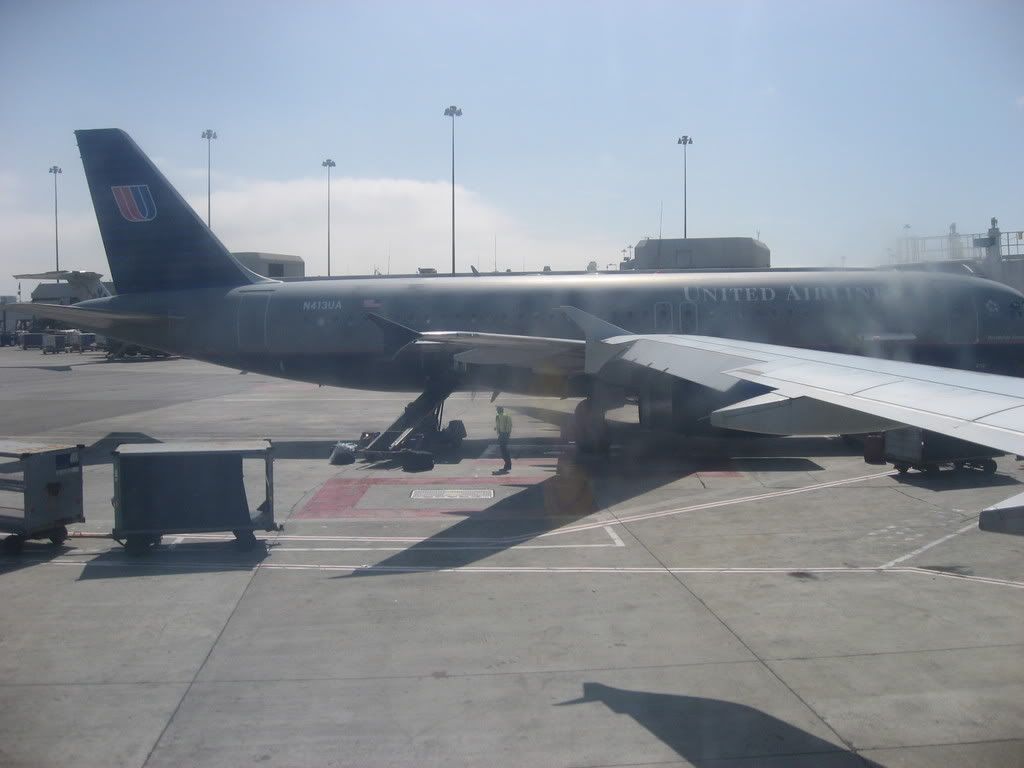 Thankfully Channel 9 (another reason I like UA) was activated so I listened as taxied and held short of 28L. And we held short. And held short. After 10 minutes we were ordered back to Gate because we were underweight. After a quick taxi back and another 20 minuted wait we were topped off and the Captain announced that we had just added about 40 bags destined for YYZ,
so I was happy for the wait. We quickly taxied back to 28L and took off through some light clouds into the California sky. Nothing much happened out of the ordinary happened on the four and a half hour flight to Toronto. I watched the movie Shooter for the second time, and I liked it less than when I saw it the first time. I never take UA's Buy on Board service, so I just had a Sprite and pretzels.
Drink and Snack Service: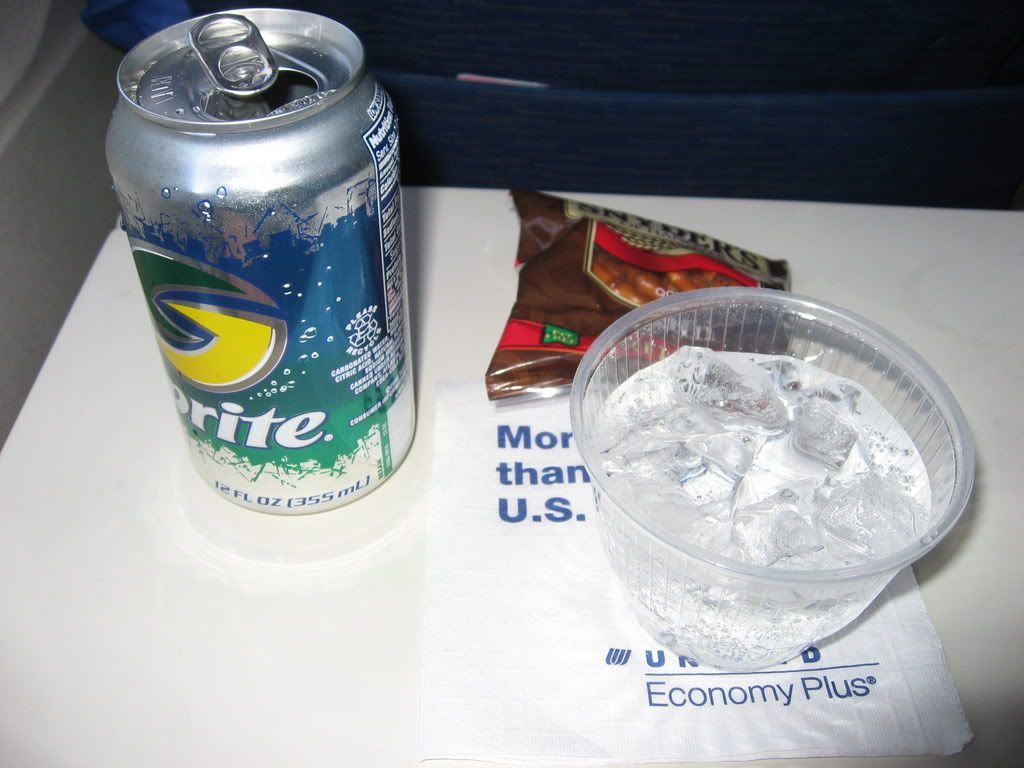 Over the Great Lakes, don't know which though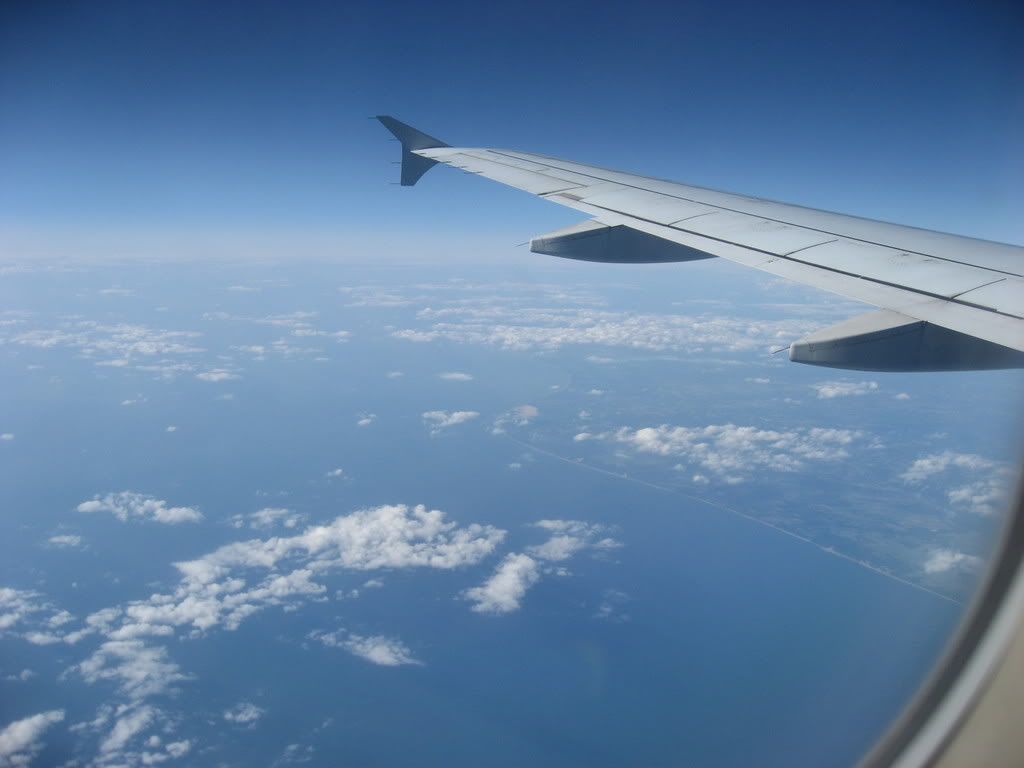 Soon we came in to land YYZ, and I heard the following over the ATC.
ATC: United 726 go around.
Surprised passengers looked around as the flaps and gear came back up and we circled around to land again. This afforded me some excellent views of downtown Toronto
Unfortunately, my camera battery died after this shot, much to my displeasure.
Soon we landed and taxied to the gate. Since I had not received my boarding pass for my Air Canada flight I proceeded through customs and immigration and went up to the AC check in area and printed my boarding pass for FRA.
Air Canada Boarding Pass (took this picture at home, interestingly they did not tear apart the boarding pass and give me the stub, just scanned it and gave it back to me)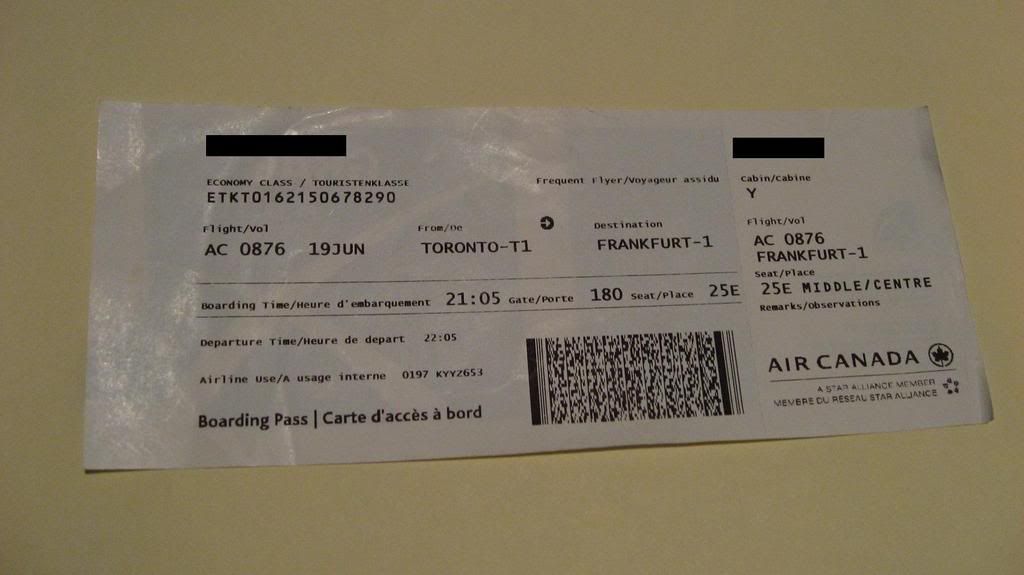 I then made my way back through security to Gate 180 for my flight to FRA. Looking out into the night at gate 180 I saw the dark green tale and new I was not getting an XM'd 767. Damn, I thought. I went looking for something to eat then and I had some fries and a soda at a cafe near the gate. This would later prove to be a bad move.
After my snack I went quickly back to the gate because I wanted to try and change my seat to either an aisle or a window and confirm my luggage was checked through on this flight. I got in line for the gate agent behind two people an hour and fifteen minutes before scheduled flight departure. After 10 minutes I found out that both people were waiting for the possibility of an upgrade and one was using a voucher. Eventually I got to the front of the line and waited some distance behind the man in front of me who was busily talking to the AC gate agent about his upgrade voucher. After a few minutes of conversation the man with the voucher moved to one side of the gate counter and waited. At this point their was about 50 minutes left before departure. I moved a small forward. The AC agent behind the counter was tapping away industriously on his computer and muttering to his female colleague about having to do something manually, all the while seemingly trying desperately not to notice me. After about 10 minutes of patient waiting I said "excuse me". He immediately held up his hand and motioned to the female AC agent and told her she could begin boarding the flight. As the first class pax and the elites began boarding the flight, the AC agent again began industriously typing on the computer again not looking up. I moved small step forward and opened my mouth and the AC agent seemed to notice this and he moved to the PA phone and began calling people's names for upgrades. I stepped back exasperatedly. The man behind me chuckled, and said:
"Air Canada are masters at ignoring you."
I said, "no kidding"
"Look" he said, "You are close to his desk, you have obviously been waiting for quite a while now, passengers are boarding, and he still won't help you"
The man and I chatted for a few minutes about Maxjet while the Y pax boarded and eventually the man behind me (who was looking to change out of his middle seat also
) left the line and boarded the flight. Soon myself and the man with the upgrade certificate were the only ones left at the counter and the last of the Y class pax were boarding. All the while this AC had continued muttering to himself and typing on his computer. I moved forward then and again the AC held up his hand and gestured to the man with the voucher,
to tell him he could not use it to upgrade to a higher class of service because it was full
. As that man boarded the plane, I finally moved up to the counter and asked the agent about moving my seat (when I checked the morning of my departure their were at least 10-15 unfilled economy class seats). He said the plane was full.
I then explained my baggage situation and he told me it would be find so I moved to the waiting female AC agent and boarded the old Canadian Airlines 767.
Air Canada
Flight Number
: 876
Aircraft
: Boeing 767-300ER
Registration
: C-CFAZ if I remember correctly
Seat
: 25E than 25F
Gate[b]: 180
[b]Scheduled Departure Time
: 10:05
Actual Departure Time
: ~10:10
Scheduled Arrival Time
: 11:55
Actual Arrival Time
: ~12:15
Honestly, I do not remember much about the beginning of this flight because I was feeling rather sick to my stomach and I was more than a little annoyed about my experiences with the AC agent. Finally however I had a bit of luck. The two passengers in in 25D and 25F wanted to sit next to each other and so they gladly moved over so I could have 25F the aisle seat! Soon we were off the ground and I began to feel quite sick, which is a first for me because I have never gotten sick on an airplane no matter what the turbulence was like. I searched the seat back pouch for a the small white bags that I felt like I would be needing at that moment. Nothing. Only a safety card for the 767-300ER. At that point I just thought I would use the blanket or the small plastic bag I had in my carry on but after an unbearable 45 minutes I began to feel better and went to sleep for about 2 hours missing the "snack".
I woke up later feeling much better and had a look around the 767-300ER. It was still using the one big projector in the middle of the front of the Y cabin which was controlled by a mini cassette player which looked like it was from the 1970s. The movie was The Bourne Identity which I watched again for the umpteenth time. After that I read a the Dale Brown novel Warrior Class and listened to my Ipod until the breakfast service started. The choices were an omelet or pancakes, and I elected for the pancakes. At that time I do what I enjoy doing on some flights, which is to try and strike up a conversation with the cabin crew. I talked to the AC FA serving me for some time. She had been with Air Canada for 39 years and was planning on retiring soon. We talked about the industry as a whole for a minute or two and then she went away to clear the trays and prepare for landing.
We landed in Frankfurt on time and by the this time I was quite tired and was more than willing to get off the plane. Customs in Germany was quick and easy and I got my bags and headed off looking forward to a great time in Germany!
After a great time visting the cities of Frankfurt, Munich, Nurnberg, Regensburg, Innsbruck, Bozen, and Venice it was time for me to head back to the US.
Friday, July 6th
I left my Venice Hotel around seven AM in the morning and took the water taxi to the bus station and grabbed a bus to Venice Marco Polo Airport.
Bus from Venice to VCE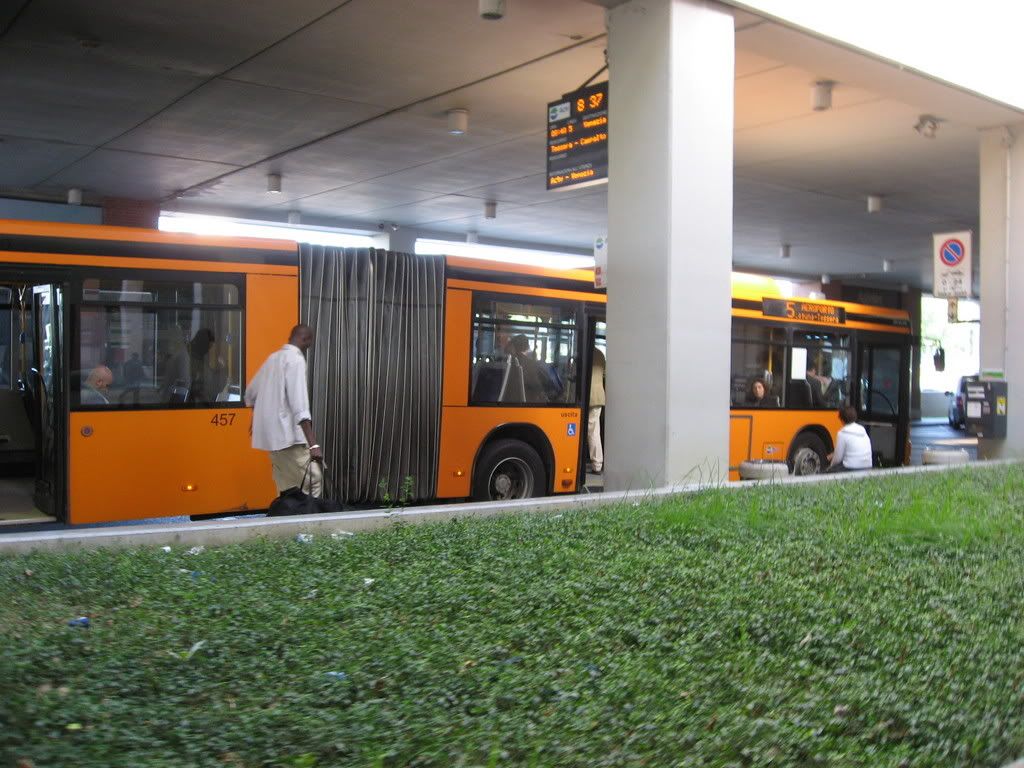 Pictures of the of VCE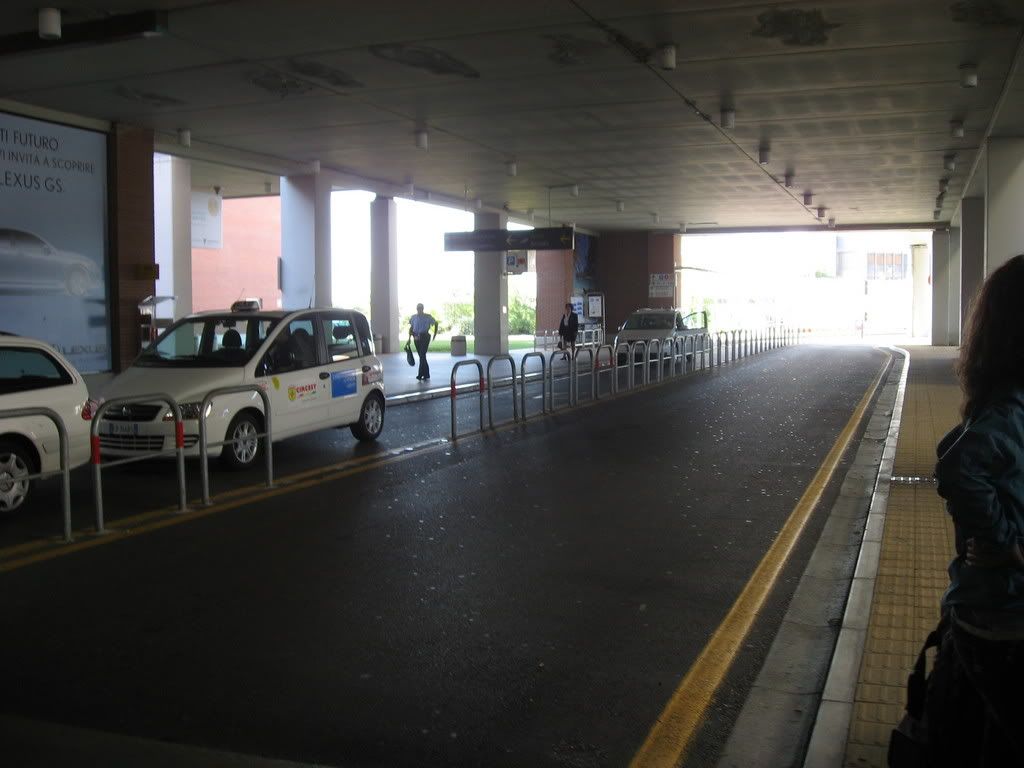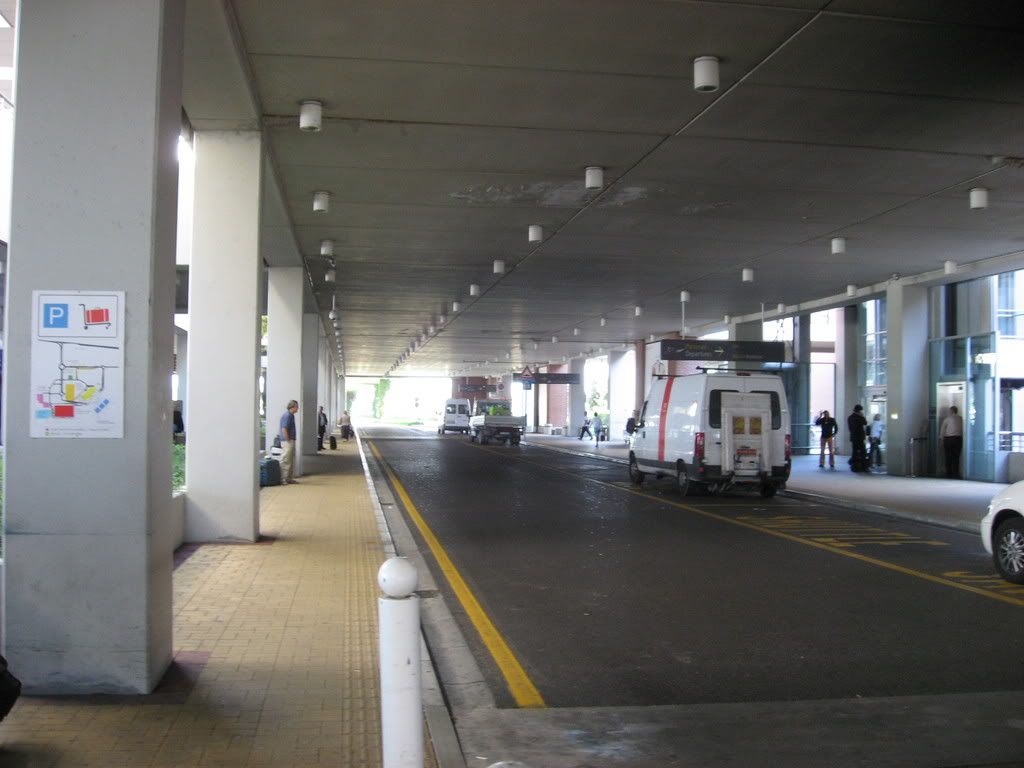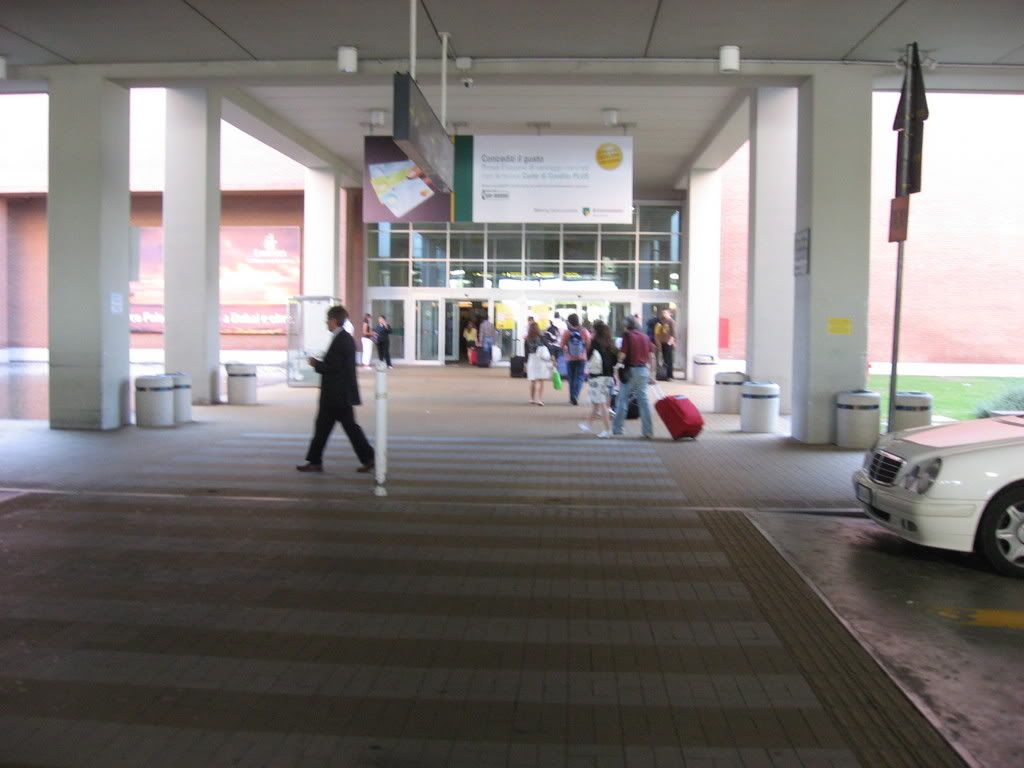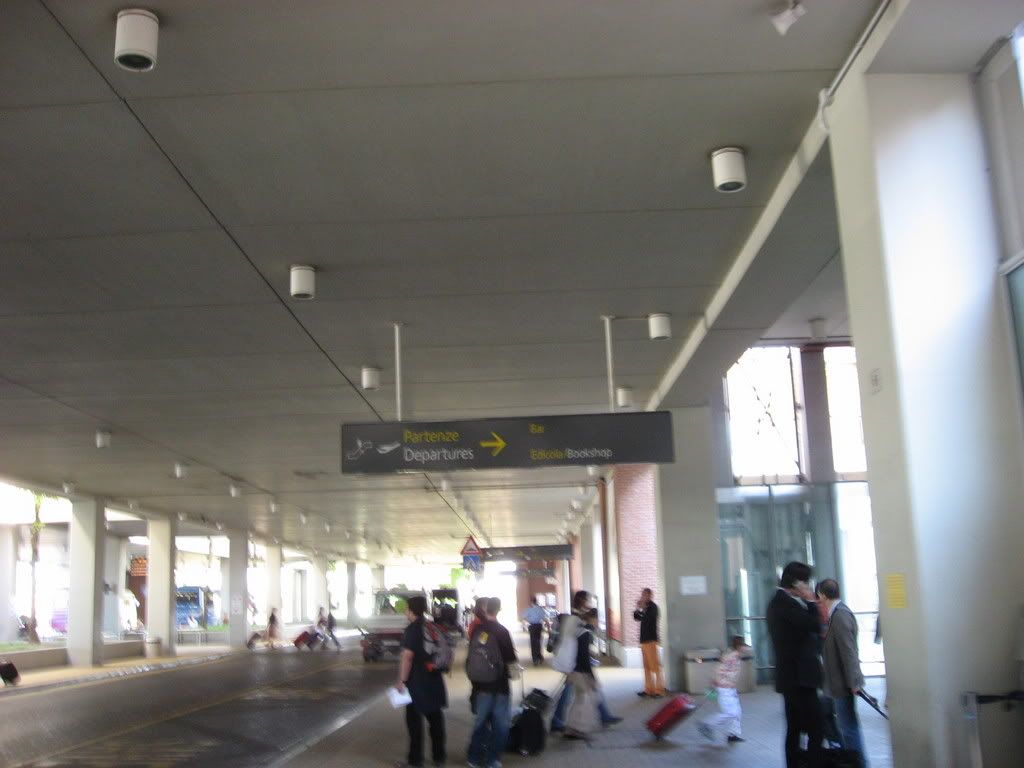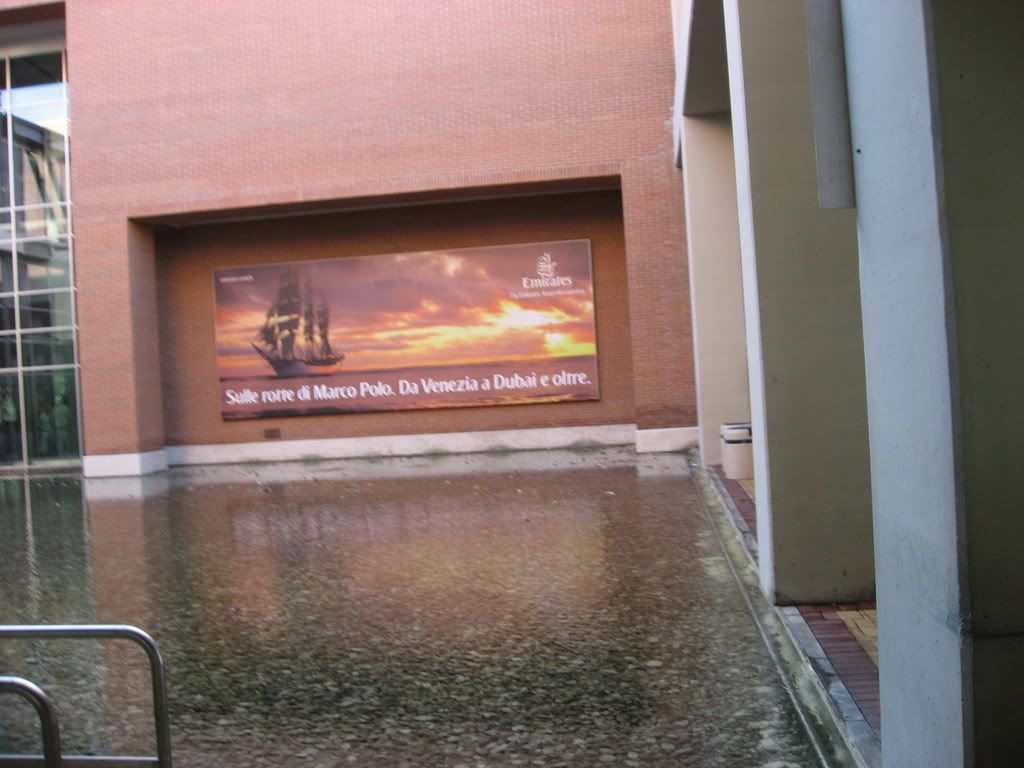 US Airways and Delta Check-In Counters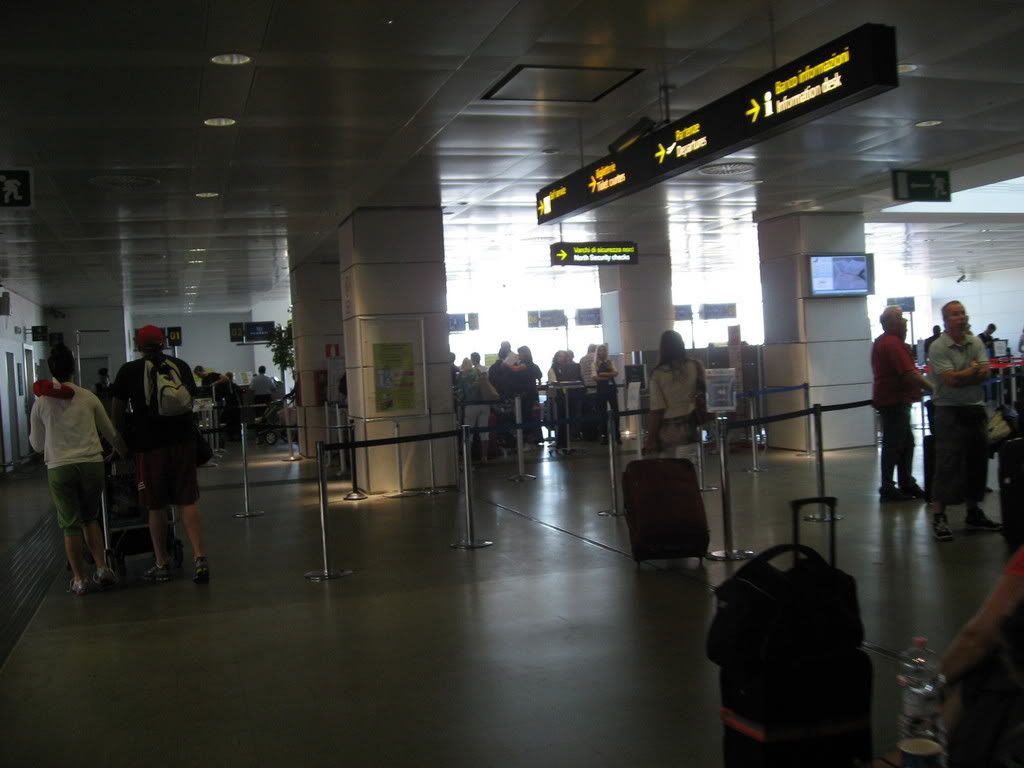 I made my way to the US Airways ticket counter, noting happily that unlike my friends who were taking Delta home, their was almost no line. Before I could approach the counter, a woman looked at my bags, passport, itinerary and asked me about 10-15 questions:
Have you been in control of your bags at all times?
Have you accepted anything from person or persons unknown?
Please state all the electronic devices present in your luggage.
and so on....
After these questions I proceeded to the check in desk, checked my bags through to SFO, and received my boarding passes for my US Airways and my later United Airlines flight:
US Airways Boarding Pass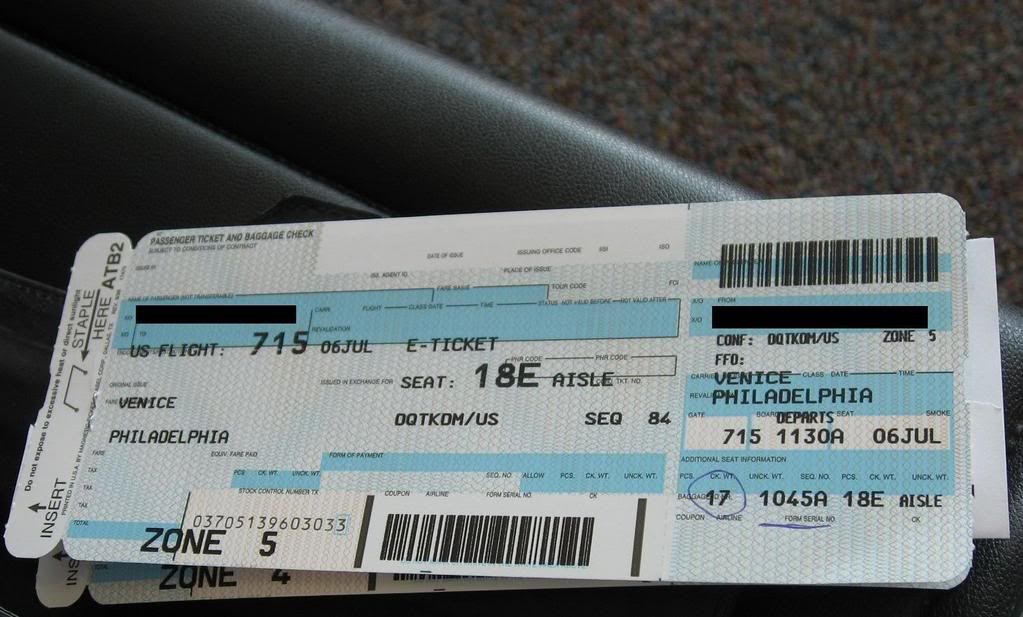 After all this was done, I went through security and after a quick passport check, and soon I was waiting near my gate.
The Boeing 767-200 that was to spirit me off to Philadelphia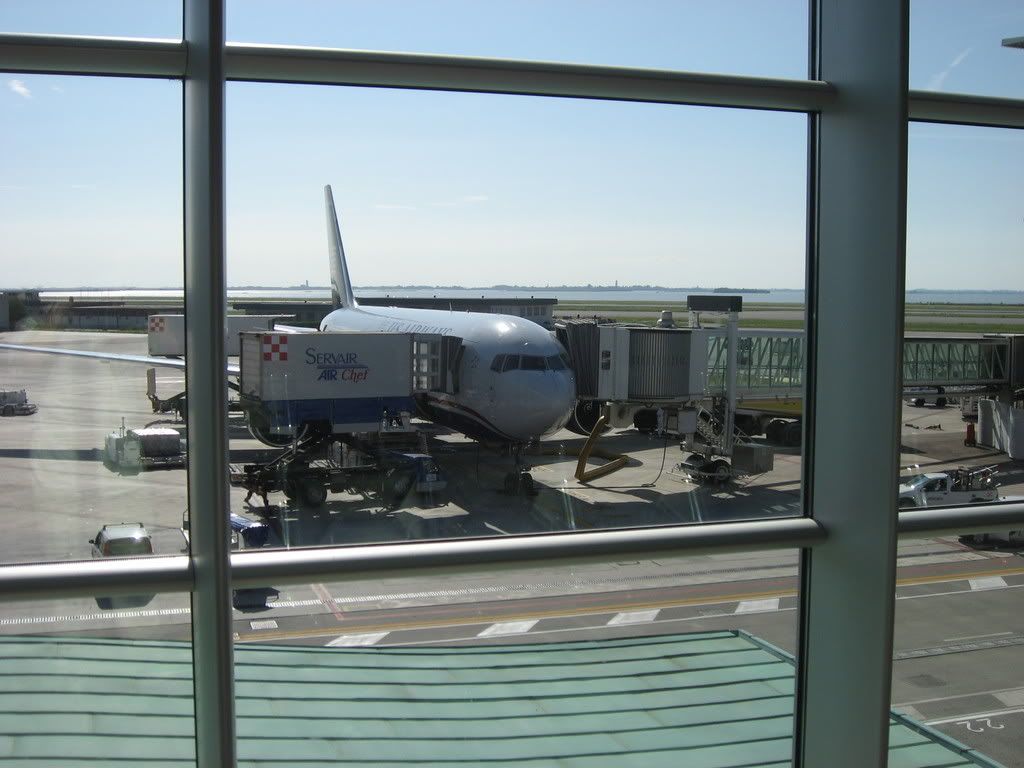 Aircraft Taking Off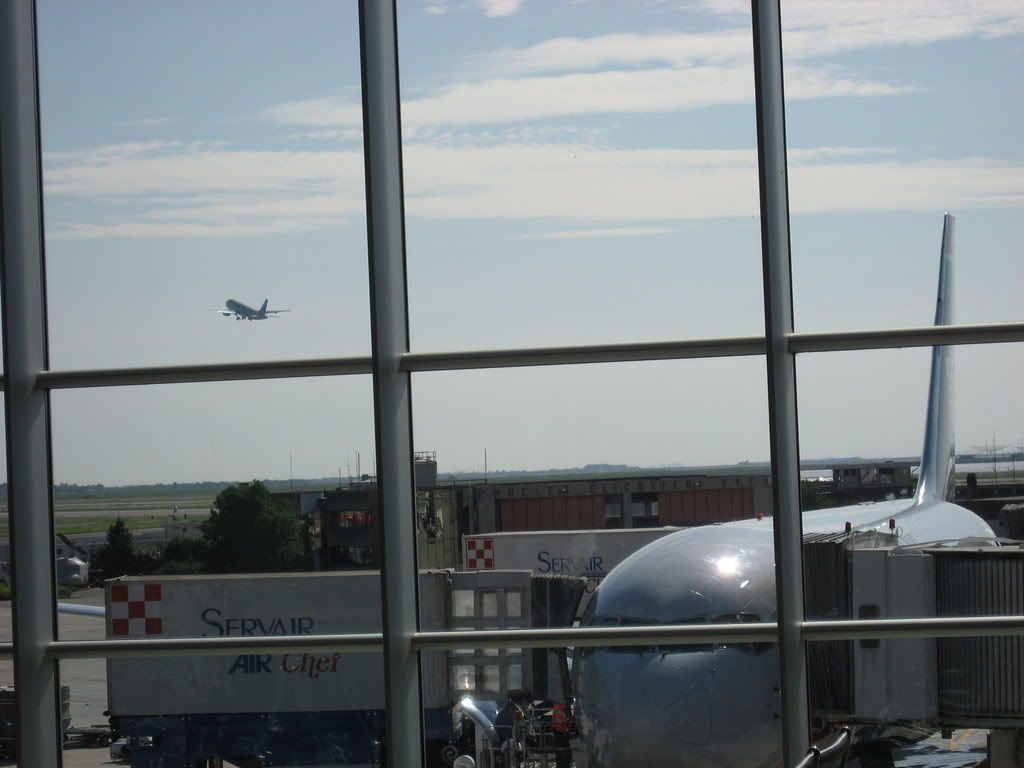 Gate Area
Soon my zone, Zone 5, was called for boarding, my boarding pass was taken and my stub was given to me but before I was allowed to board the plane a US Airways agent asked me the same questions that I was asked during check in.
Have your bags been with you at all times?
ect...
When I answered in the affirmative for her questions I was allowed to board the plane. I was interested to see an Italian Police officer in a full tactical vest standing next to the entrance to the 767-200 watching every person who boarded the plane. For a person who likes to see lots of security when he flies, this was reassuring.
US Airways
Flight Number
: 715
Aircraft
: Boeing 767-200
Registration
: unknown, could not get a look at it
Seat
: 18E
Gate[b]: 17
[b]Scheduled Departure Time
: 11:30
Actual Departure Time
: ~12:15
Scheduled Arrival Time
: 3:15
Actual Arrival Time
: ~3:40
I entered the aircraft where a US Airways FA directed me to my seat. As I found my way to my aisle seat at 18E, I noticed that this 767-200 seemed to be much more taken care of then the AC 767. All the surfaces were clean and the seats in the Y cabin were leather and looked almost new and with plenty of padding, they were quite comfortable as well. Indeed I actually felt sorry for the Envoy Class pax, who had tattered cloth seats! Also, 18E had a good view of the video projector at the front of the Y cabin.
The view from my seat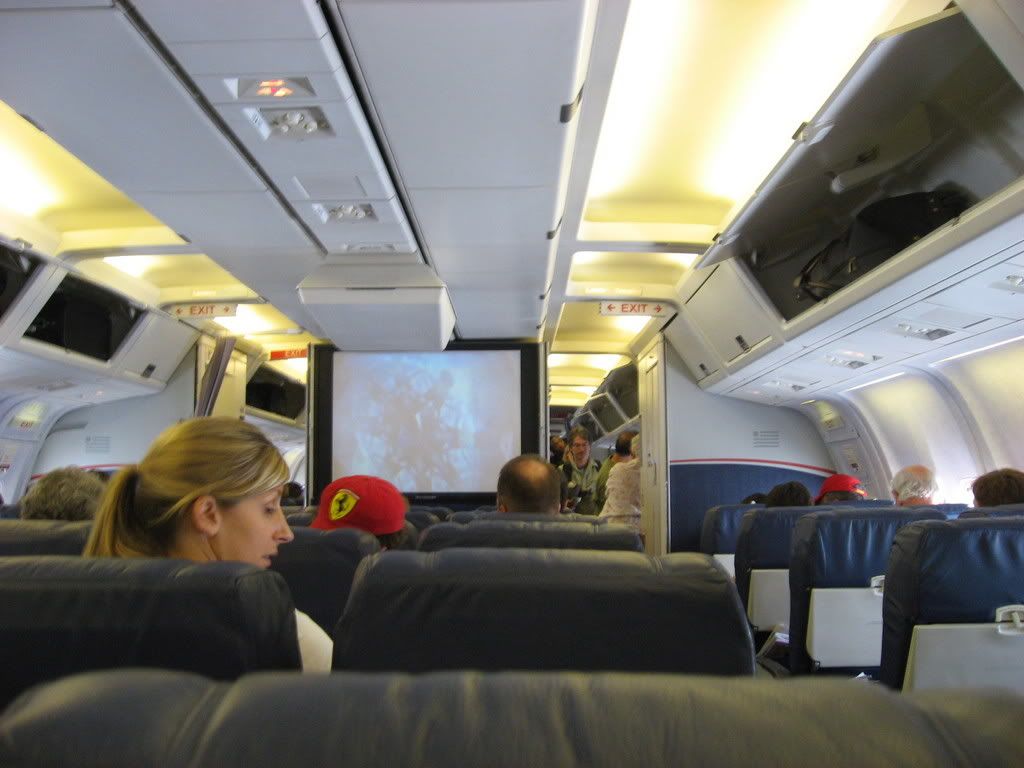 When everyone was seated we were informed by the Captain that we would have wait for another our until ATC in Brussels gave us the ok to take off and that he was working on an earlier departure. About a ~30 minutes later the captain succeeded and we took off for our 9 hour flight to Philadelphia.
Soon after take off the Y class pax were served "dinner" with a choice of chicken or ravioli. I chose ravioli:
Dinner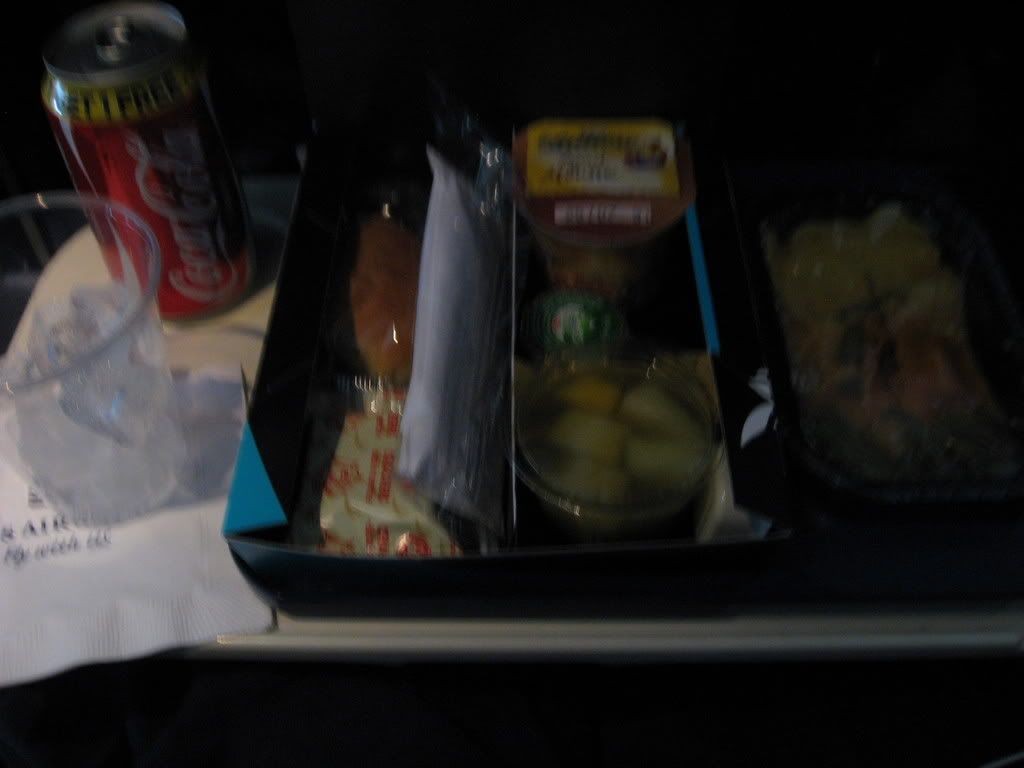 Soon after that the movie started and I was surprised because three movies were shown, unlike one on Air Canada. They were Breach, Charlotte's Web, and Firehouse Dog. After dinner their were over five water or orange juice runs throughout the Y cabin and one full drink and snack service just before landing (which I declined, accepting only a Sprite because I was not that hungry). Overall, the service was good, but brusque, with little emotion and only few smiles in response to my "Thank Yous". The landing at PHL was smooth and soon we disembarked from our trusty steed.
After about an hour I made it through Passport control agriculture and security and made my long hike over to Terminal D for my United Flight. I stopped by King of Pizza for some food and then made my way to the gate snapping some pictures along the way.
PHL Terminal D
Looking out from Terminal D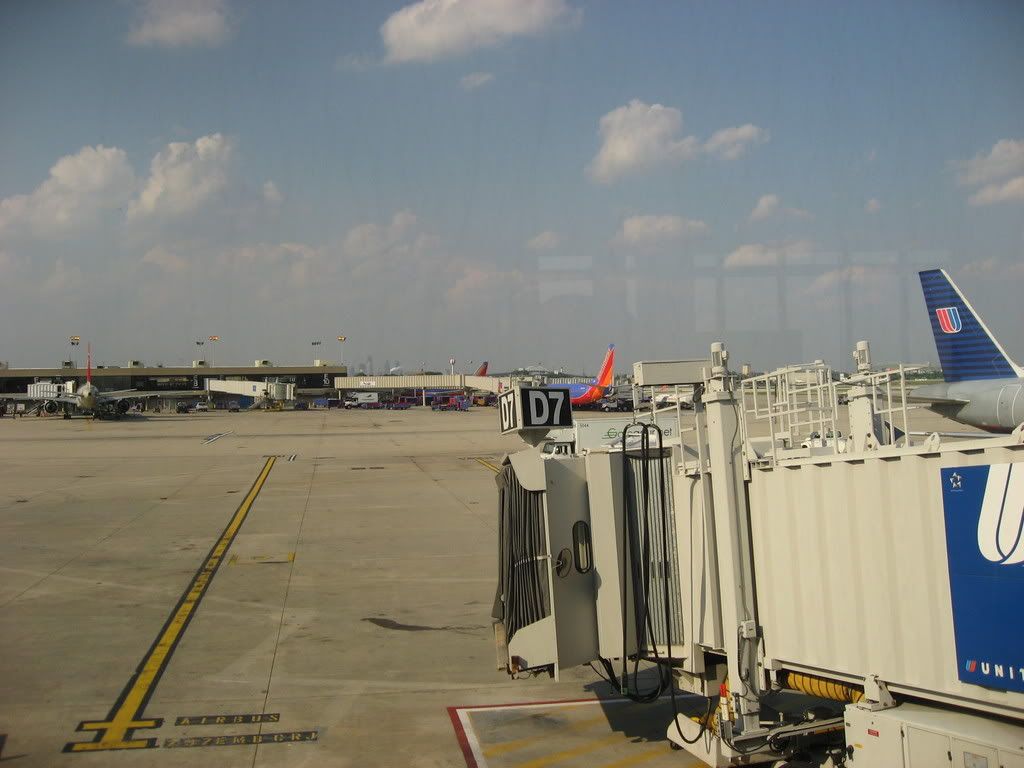 My A320 that would take us back to SFO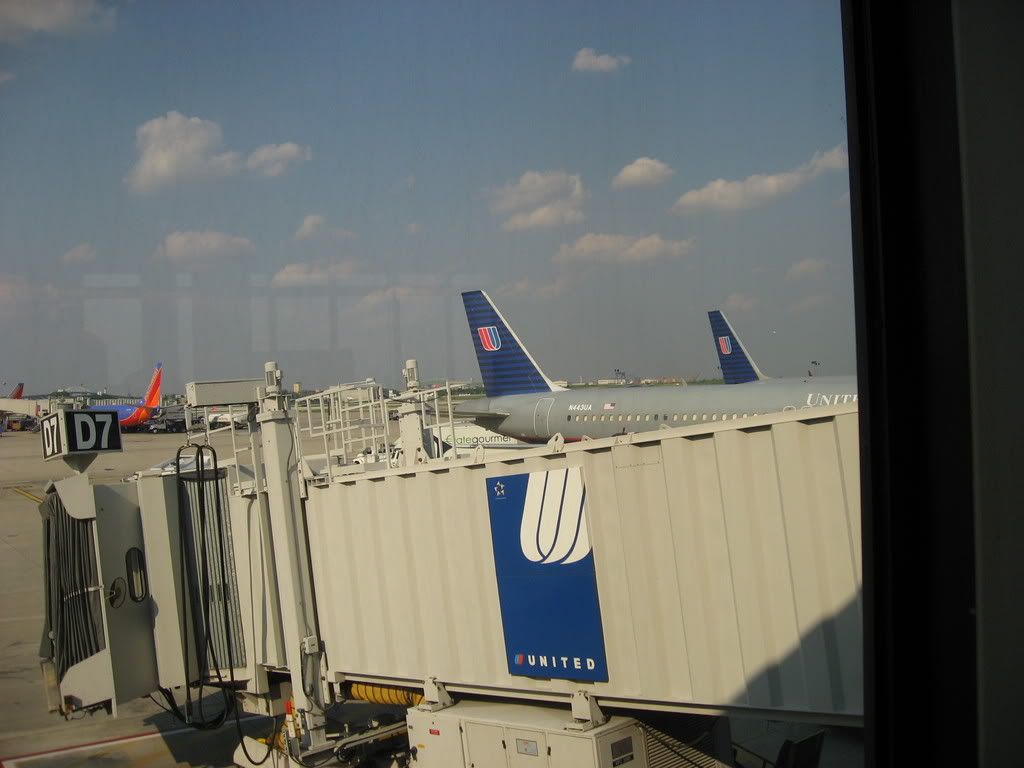 Soon it was time to board, and so I took my Zone 4 boarding pass and climbed on board:
United PHL-SFO boarding pass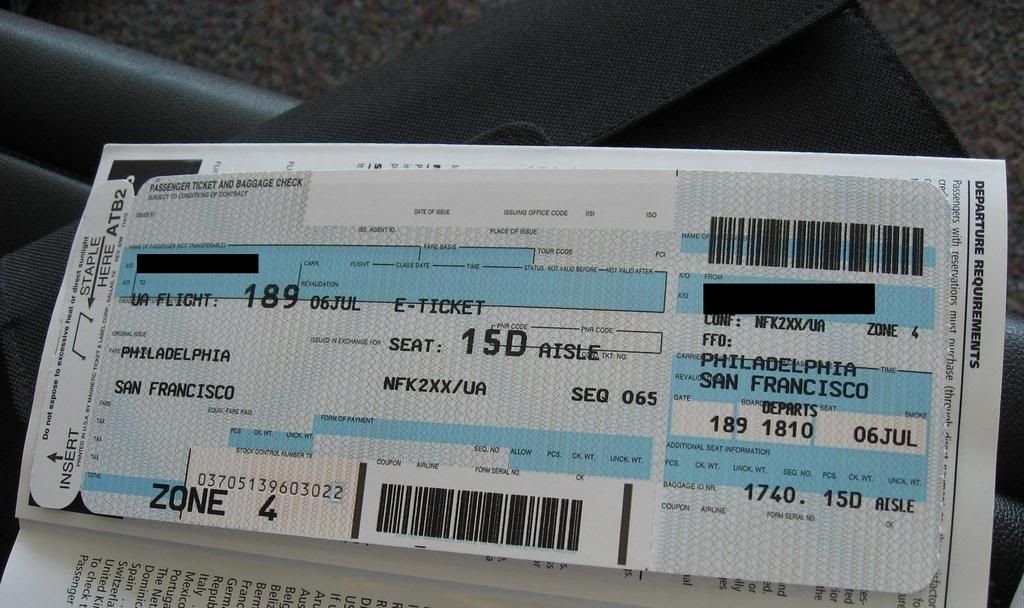 United Airlines
Flight Number
: 189
Scheduled Aircraft
: Airbus A319
Actual Aircraft
: Airbus A320
Registration
: N443UA
Seat
: 15D
Gate[b]: D9
[b]Scheduled Departure Time
: 6:10
Actual Departure Time
: ~6:10
Scheduled Arrival Time
: 9:40
Actual Arrival Time
: ~8:55
I boarded this flight slightly tired and eager to return home and because this aircraft had been upgraded to an A320 their were quite a few empty seats, but I decided to keep mine. We pushed back from the gate on time and I caught this rare find on the holding for us as we taxied for takeoff:
US Airways with Allegheny markings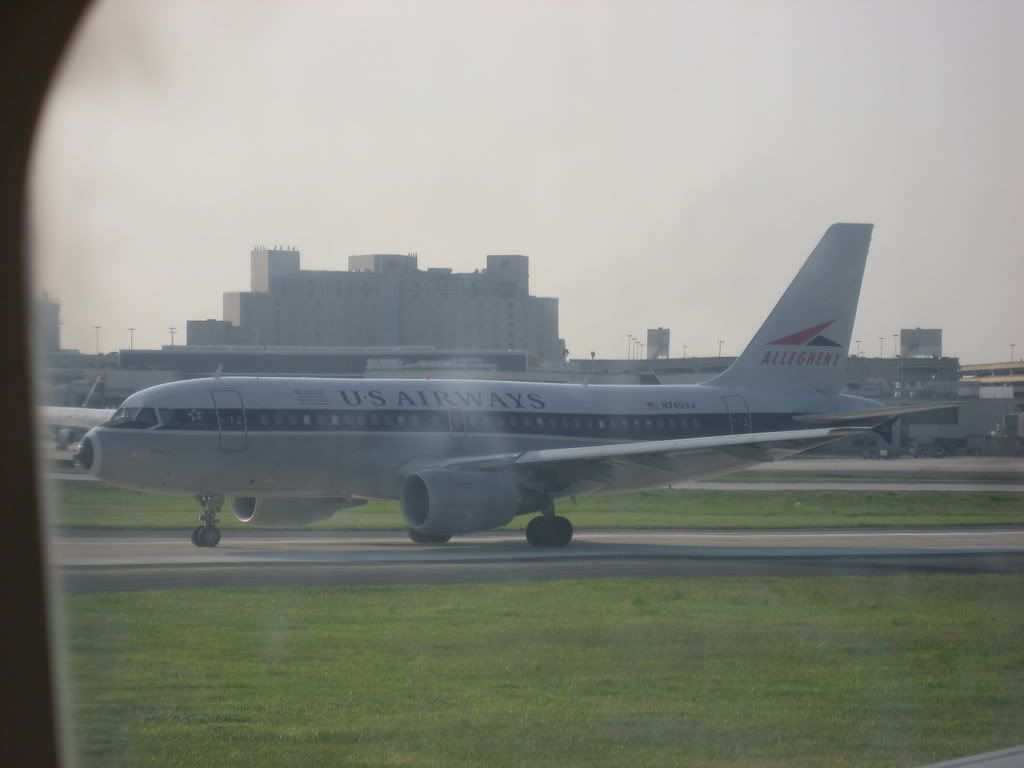 Soon we were airborne and heading for San Francisco. Buy on Board service started first (I declined as always) and then drink service came around. I chose a coke:
Drinks and snacks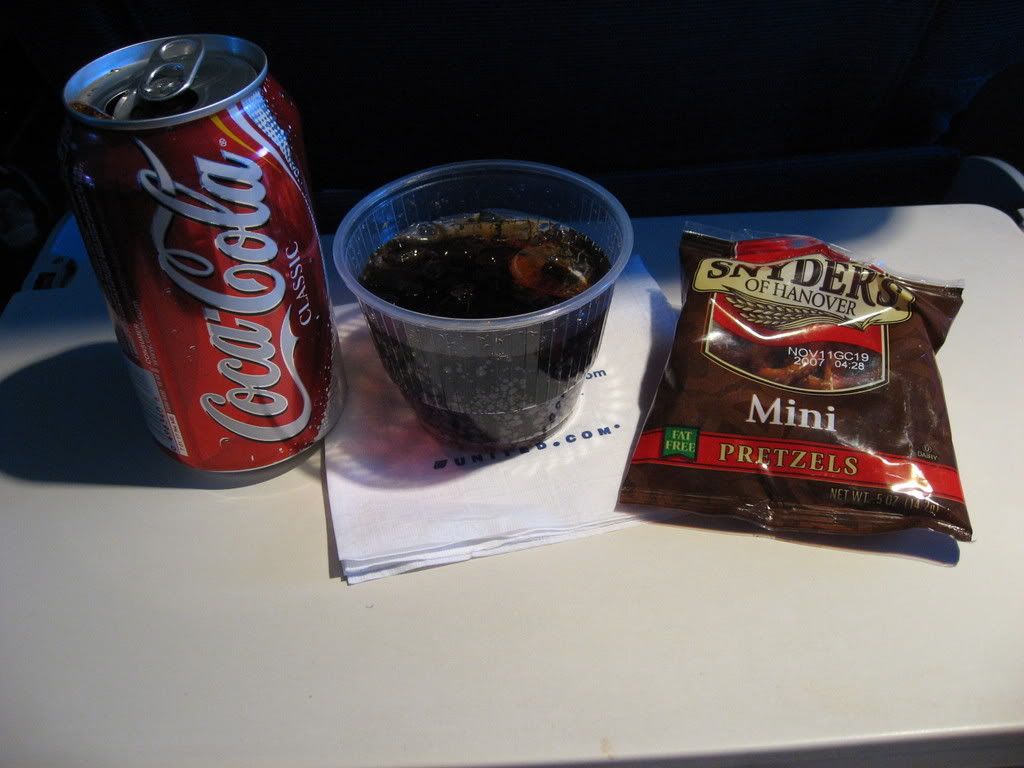 After the drink service the feature movie The Last Mimsy started. During the movie and during the rest of the flight, FAs came throughout the cabin with water and orange juice offerings, always with a friendly smile, and this was great service for a United flight. During one of these water and orange juice runs I struck up a friendly conversation with one of the FAs. She had been working with United for 29 years, and had also worked for Pan Am and she shared my feelings of liking the narrowbody 737, A319, and A320 aircraft better than the widebody aircraft. Funnily, she asked me if I was working for an airline (myself being only 17!). We talked about the industry and I found out from her that interestingly enough she was not the most senior crew member on the flight and that both of the other two male FAs had worked with United for longer periods of time.
Shortly after my talk with her we began our descent into SFO and made a flawless landing that was so gentle that my two seat mates did not wake up! We were almost thirty minutes early and we had to wait for a few minutes until the plane at our gate pushed back. I said goodbye to the FA who I had talked to and to the Captain and First Officer and went to get my bags at the SFO baggage claim.
Finally, my two and a half week vacation in Europe had come to an end!
Conclusions

Despite my check in woes, both of my United Airlines flights again reinforced my opinion of them as a stable, respectable, reliable airline with good service and with great people working for them. I would defiantly fly them again.
I was disappointed in Air Canada's performance. My experiences with the gate agent at YYZ combined with the state of the 767-300ER aircraft, level of service and food made this trip less than a pleasant experience. I'm sure that if I had flown on one of their XM'd planes my opinion would have been different, but the service was still less than adequate even for Y pax. I would definitely think twice before flying AC again.
Surprisingly, the airline I thought would do the worst was one of my more pleasant experiences! US Airways really stepped up to the plate on this flight with a clean aircraft, formal and well dressed crew, and overall good entertainment (compared with AC that is, obviously this flight could not be compared with the likes of BA, or VS trans-Atlantic which I have flown). While the service could have been more friendly and the food better, overall, this was my most comfortable flight of the trip and I might choose US Airways again in the future.
----
Well, I hope you enjoyed my trip report, please give me feedback on how to make my Trip Reports better!
Also, look for my reports on upcoming flights to the US Pacific Northwest with AS and my flights to Southern California on the new Express Jet Airlines!
Hope you enjoyed!
-Osprey88