Well I finally took my trip to London Stansted (Europe) on Flyglobespan a couple weeks ago and documented as much as I could.
This is my first trip report so please let me know if there is anything I can improve on etc...
Well the time came. After all the delays that were happening and worries and bad complaints I heard about Flyglobespan's operations I was ready to embark on my voyage a little worried about how things would turn out and what an adventure it was.
We arrived at Hamilton Airport (YHM) on Monday June 25th 2007 at about 18:00 EST for a 20:25 EST flight. It took us a mere 5 minutes to check in at Flyglobespan's booth. Which was actually operated by Air Canada agents, they do the ground handling as well. I had pre-booked my seat and they had that on record and I did get the seat I had pre-booked. I didn't even need to show my printed out itinerary with confirmation number, my boarding card was an Air Canada boarding card. After checking in we then proceeded to the security check. Another 5 minutes later and not much screening at all (The typical put your bag on the belt and walk through) I was sitting in a chair in the waiting room at YHM waiting to board. At this point it was about 6:20. I was very early and could have easily shown up at 7:00 and made it easily on time. What a great airport to deal with in regards to checking in and heading through security.
Well at about 19:50 we got the call to board. Basically the last half of the plane boarded from the rear stairs and the first half of the plane from the front. As I climbed the rear stairs I noticed a couple mechanics up in the left main landing gear well and thought that wasn't a good sign. We get on the plane and it was boiling hot, no air conditioning! Once we were all boarded and everyone completely covered in sweat the Captain came on and told us that they were sorry that it was so hot on the plane but they were unable to turn on the Air Conditioning at the moment because the mechanics were fixing a small hydraulic leak and that we would be delayed 25 minutes. At this point the F/A's passed out little cold spring waters to everyone.
After about 25 minutes we were all set to go, let me tell you the flight must have been 95% full, I counted from what I could tell was 3 or 4 empty seats:
Flyglobespan (GSM)
Flight Number: 165
Aircraft: Boeing 757-200
Registration:TF-FIS
Seat: 29F (Window)
Scheduled Departure Time: 20:25 (EST)
Pushback: 20:40
Take-off: 20:48
Estimated Travel Time to Doncaster, England: 6hrs 25mins @ 35,000 FT
I found my seat to be excellent, I had more than enough leg room and could completely stretch out when nothing was under the seat in front of me, which was my bag anyways. Here is a picture of the legroom if you can tell: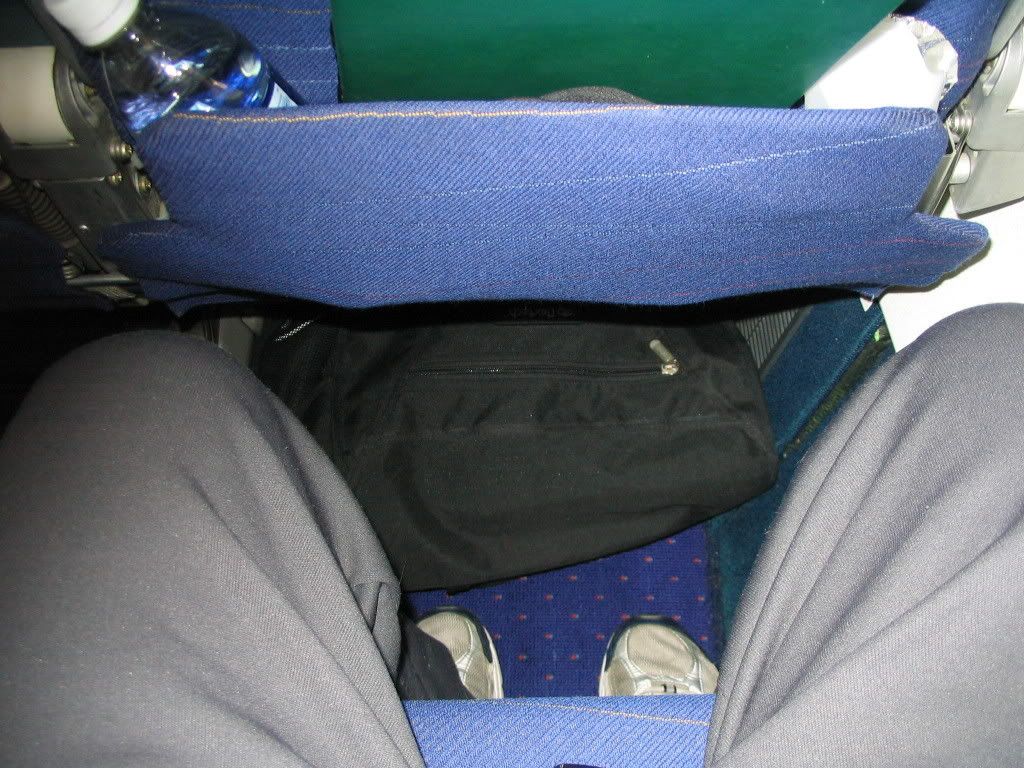 The IFE was OK. Nothing spectacular, they showed 2 movies which were Pursuit of Happyness and Dr. Doolittle. I found it odd that they played Dr. Doolittle second because by the time that came on all the kids were asleep. After the movies I think they played a couple British comedies, but I was asleep like most people. Here is a pic of the cabin from my seat: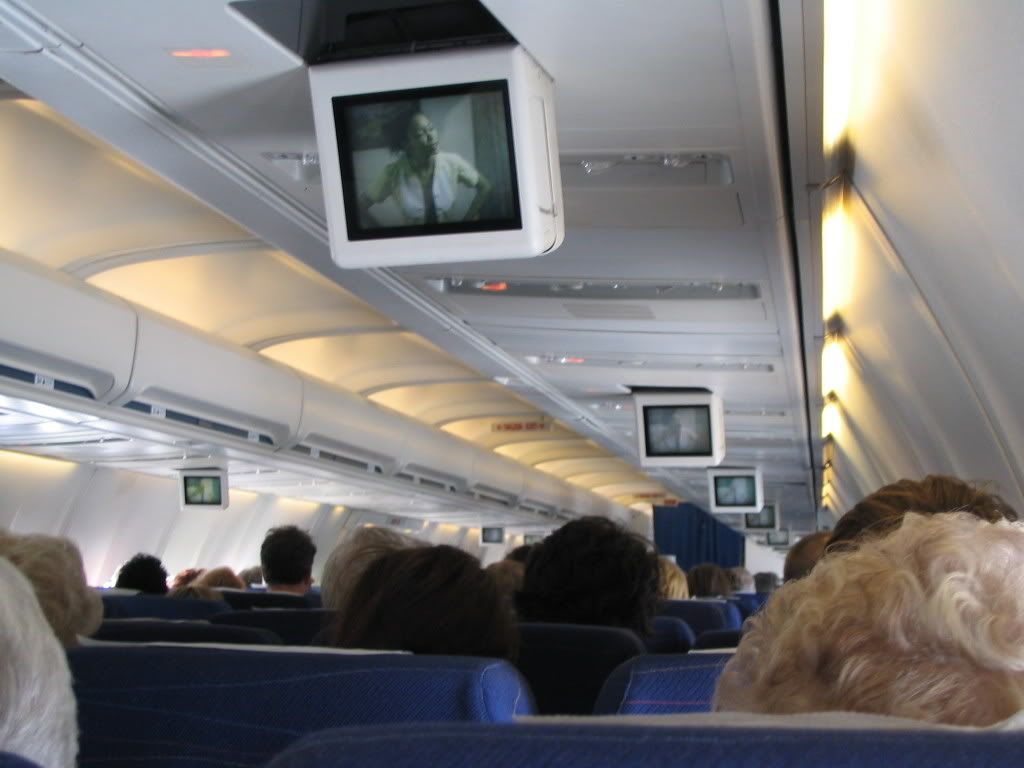 The inflight service was better than average and by the way the female F/A's from IcelandAir were absolutely gorgeous both ways. Some of the hottest females I have ever seen! They came around first with a cart offering things for sale such as pop and snacks which the menu was for in the seat backs and is also on the web site. You have to pay in pounds and of course I didn't have any so I bought nothing and stuck to the water, juice and snack I had bought at the airport. At around 10:30PM EST the F/A's came around with a hot meal which was a surprise that I wasn't expecting. The meal was cheese ravioli with tomato sauce which I actually thought was pretty good. I wanted more, it was kind of small. Here is a picture of the meal we got.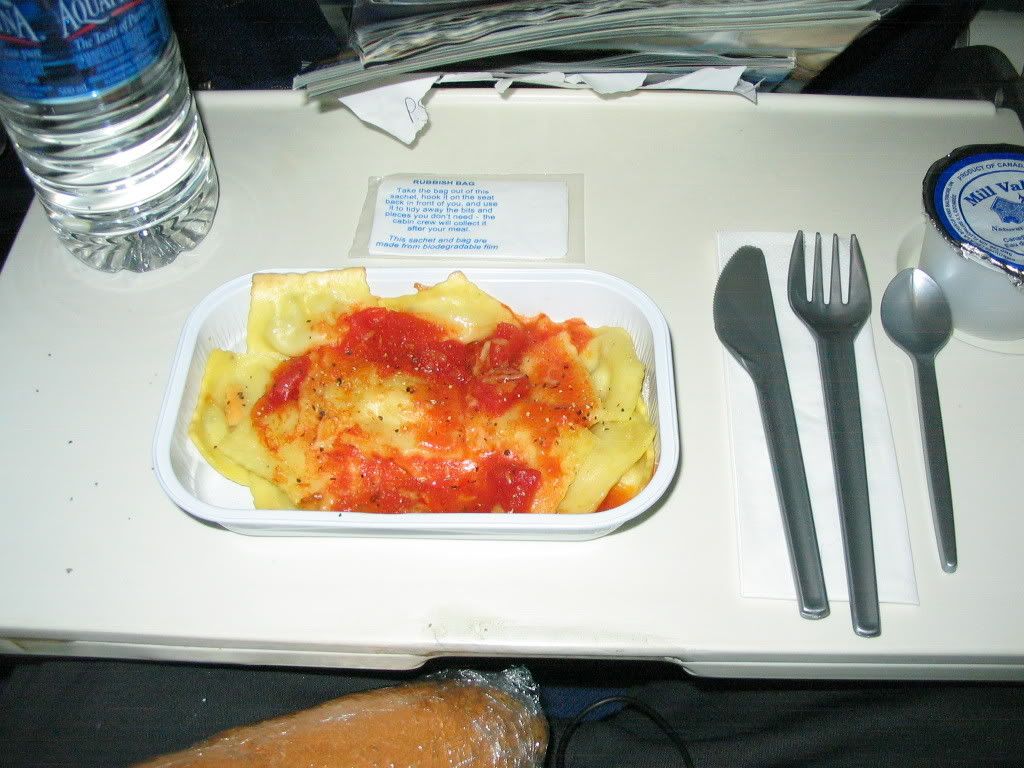 Anyways there was one more purchase service that I can remember before I fell asleep and then before I knew it we landed at Doncaster airport (flew all over the horrible flooding though, it was shocking), we were there about 50 minutes to drop people off and refuel. Most people got off here which I found surprising. I don't know if Doncaster has a short runway but we definitely did some sort of short field take-off or something. The pilot sat there full engines and brakes for what seemed like an eternity, I've flown lots but never experienced that, it was really cool. Very shaky. Here is a picture of the refueling truck refueling us.
Landed at Doncaster, England: 8:34AM UK time
Pushback: 9:15AM UK time
Take-off: 9:24AM UK time
ETA to Stansted: 40 minutes @ 17,000 FT
We landed at Stansted airport uneventfully at 10:10AM UK time, 10 minutes behind schedule.
Now for the way back on July 3rd, 2007 which we ran into some problems.
We boarded the plane (Aviance boarding card) at Stansted airport at 11:30AM UK time for a 12:00 departure to Doncaster to pick people up. Because of the weather we were delayed about a half an hour on the ground but finally made it in the air at 12:35PM UK time. Flight was less than half full.
Flyglobespan (GSM)
Flight Number: 166
Aircraft: Boeing 757-200
Registration:TF-FIS (Same Aircraft)
Seat: 29F (Window) (Same seat, pre-booked)
Scheduled Departure Time: 12:00 UK time
Pushback: 12:09
Take-off: 12:35
Estimated Travel Time to Doncaster, England: 25mins @ 17,000 FT
We landed in Doncaster at 13:09 UK time without issues and the other passengers began boarding and we began fueling, the flight on the way home again was at least 95% full, lucky for me there was an empty seat beside me
. Now here's where it gets interesting. Once everyone was boarded we seemed like we were ready to go but they weren't closing the door, we waited and waited and finally the captain came on and told us there would be a small delay because the engineers are just inspecting the plane and finishing up the paperwork before we fly over the Atlantic, I don't know if this is required for ETOPS (an inspection before take-off the captain at first said it was routine) but he said another 10 to 15 minutes. We waited what seemed like another hour and then the Captain came on again saying that they found a problem with an electrical unit and we needed to get it fixed but we were going to stay in the cabin and not offload the PAX because of security reasons. F/A's passed out water and put on some British comedies on the IFE. From what I could see and the sounds I could hear it sounded like they were working on the back of the plane. Maybe the APU? It sounded like every 20 minutes or so they tried to start it or something. Anyways, GSM did not have an Engineer at Doncaster so we were apparently using Thomsonfly's engineer, who at times left our plane to work on their own aircraft. This is what we were told. After over 3 hours the Captain came on and said the problem was fixed, sorry it took so long (he was very apologetic) and we were ready to go. There were a lot of unhappy people onboard but I was just happy they found whatever it was they found then and not halfway across the Atlantic. So off we went...
Pushback: 16:39 UK time (notice the difference in time from landing to pushback)
Take-off: 16:50 UK time
Estimated travel time to YHM Hamilton: 6hrs 45mins @ 35,000FT
The inflight service was about the same coming home as going there. They showed the Pursuit of Happyness again as well as Finding Nemo which the kids really liked and quieted them up a lot. Halfway through the flight we were served a hot meal consisting of 2 Bangers (sausages), mashed potatoes, peas and carrots which I also thought was very tasty. We were also given a free glass of red or white wine and coffee or tea after dinner. I thought that was very nice. Here is a pic of the meal: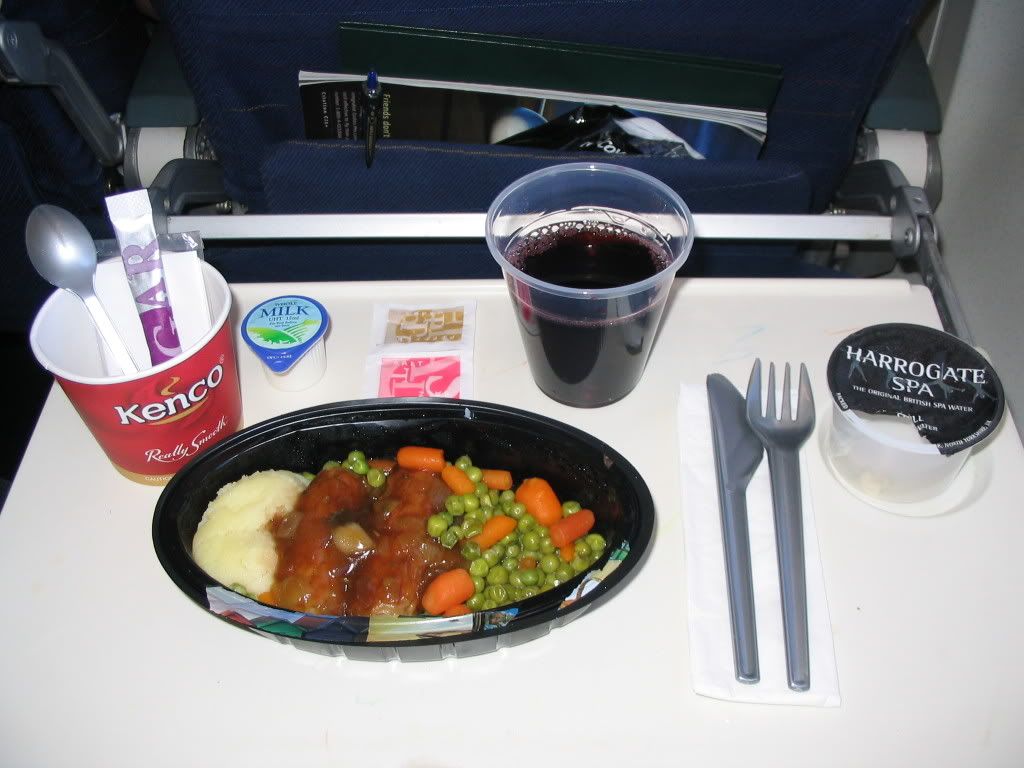 Then of course the usual purchase services of snacks and drinks. I bought some stuff to get rid of the last of the UK money I had. Plus the duty free service. All in all the service on-board was very good and WOW the F/A's. Even better on the way back
So we finally landed at YHM Hamilton at 6:45PM, 2hrs and 25mins late. Then the usual customs etc...
All in all if it wasn't for that delay in Doncaster the experience on Flyglobespan was better than I thought and I would not hesitate to fly with them again if the price was right. I really enjoyed England and France and will be going back real soon.
I hope you all enjoyed this trip report and let me know if there is anything I can improve on or do better. It was lots of fun writing it and keeping track of everything.
Aaron (YHMYYZspotter)