Sorry that part2 has taken so long to show up as a trip report but Ive been a little busy recently.
Anyway, part one can be found at:
NCL-ANU Via LHR/LGW With Pics Part 1
(by
Sketty222
Jul 1 2007 in Trip Reports)
As mentioned earlier I was only in Antigua for 6 nights to celebrate my 26th birthday. I spent the first 3 nights at Jolly Beach Hotel and the last 3 nights at Galley Bay. Now for anyone who hasn't been to Galley Bay before, it is a must. Put it on the 100 things to do before I die list because it absolutely amazing.
A few pics from the holiday
Sunset at Jolly Beach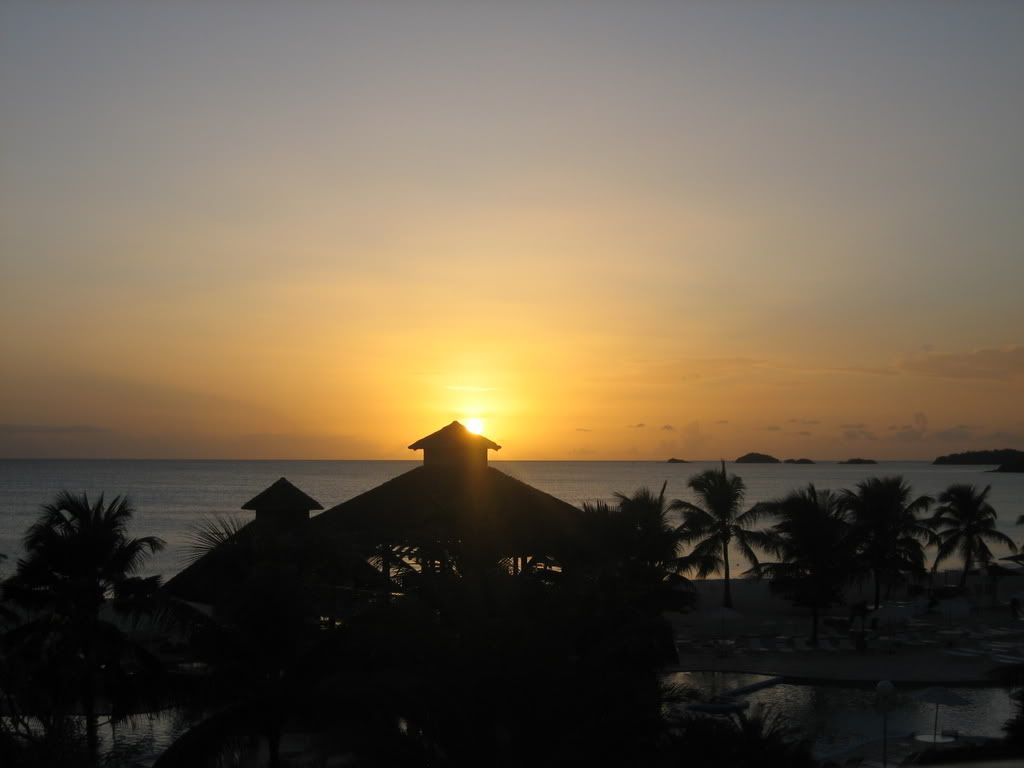 Me Thinking I'm Magnum P.I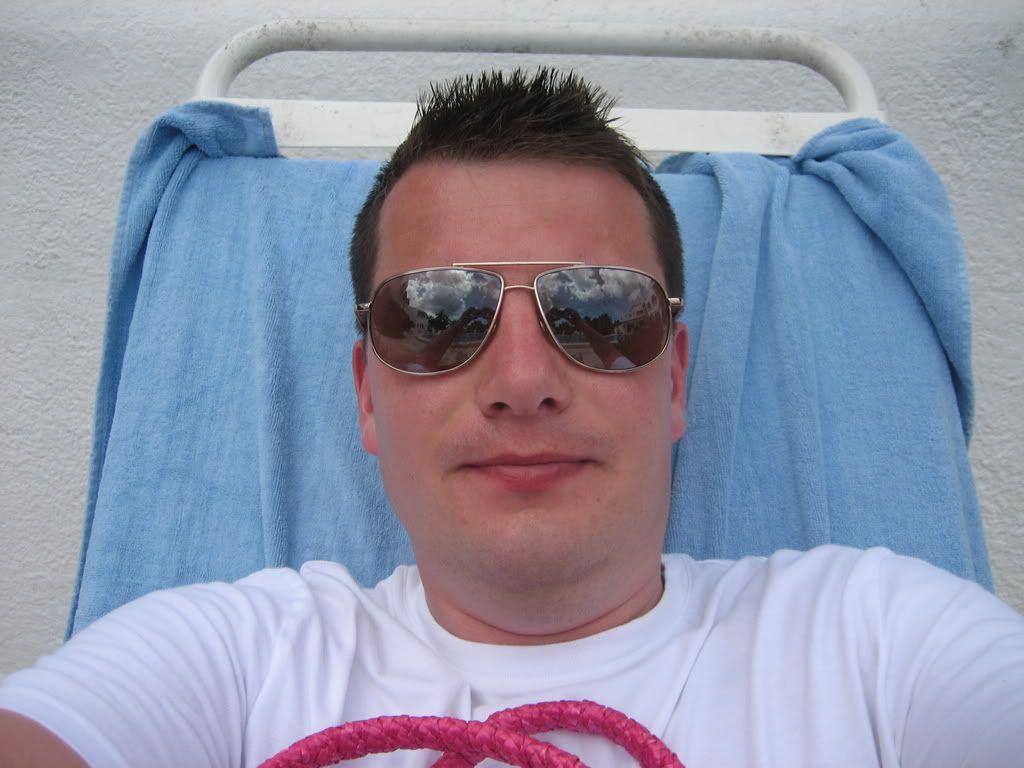 Caribbean Airlines 737-800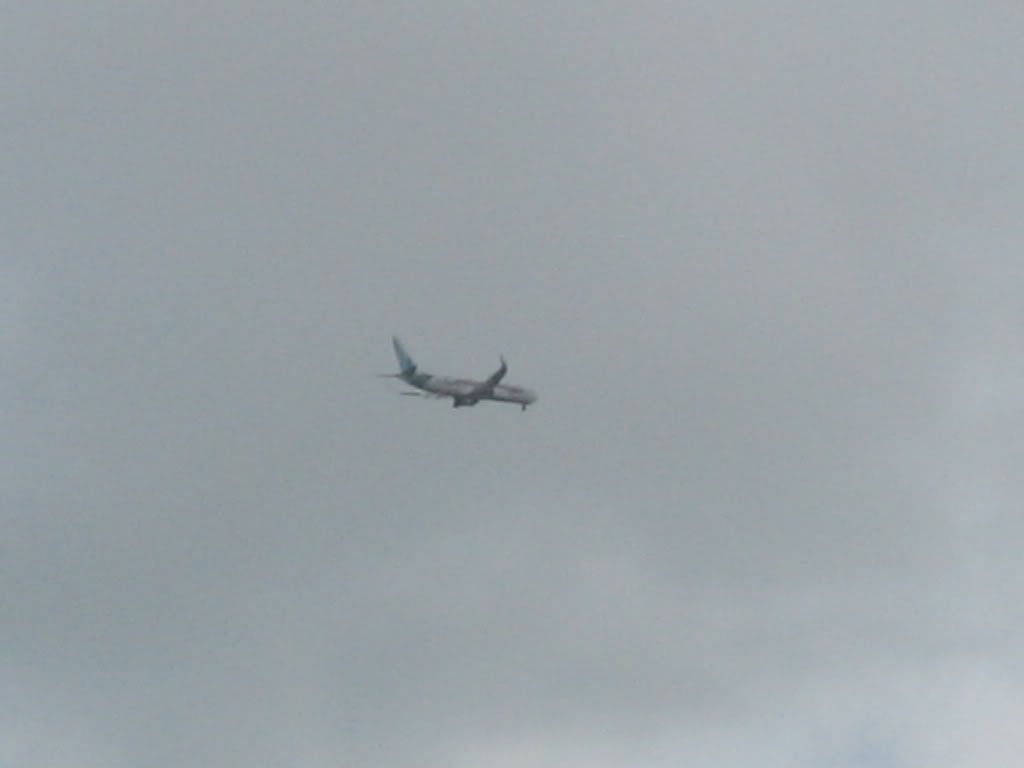 Jolly Beach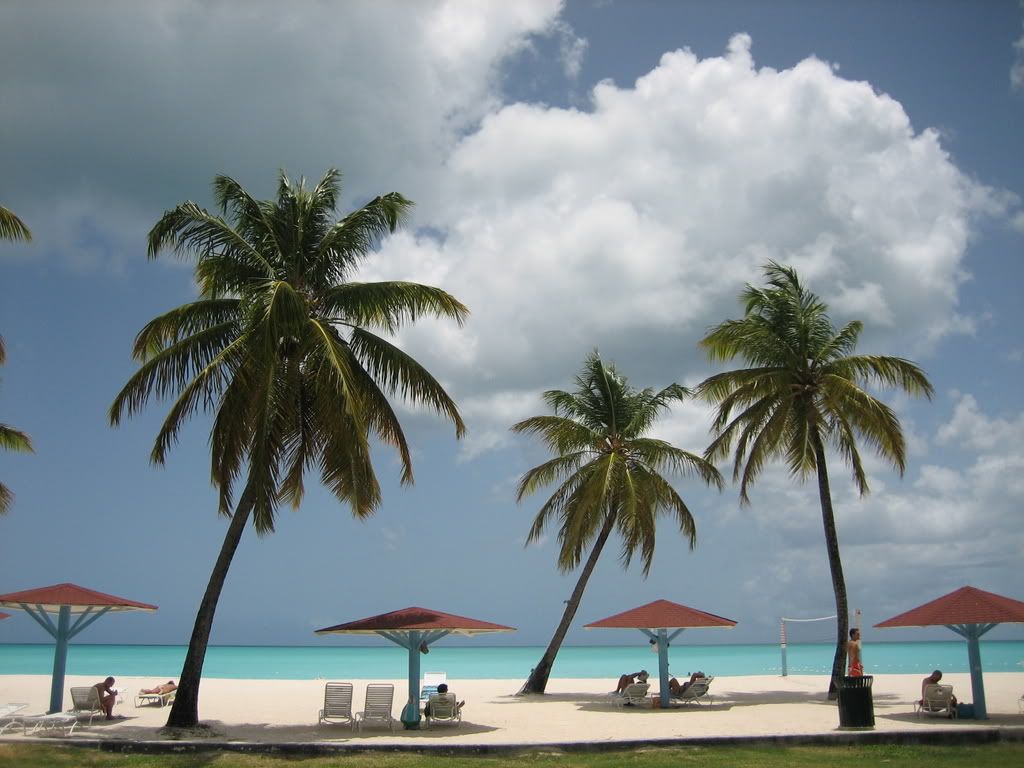 Cabana at Jolly Beach (one of my favourite shots)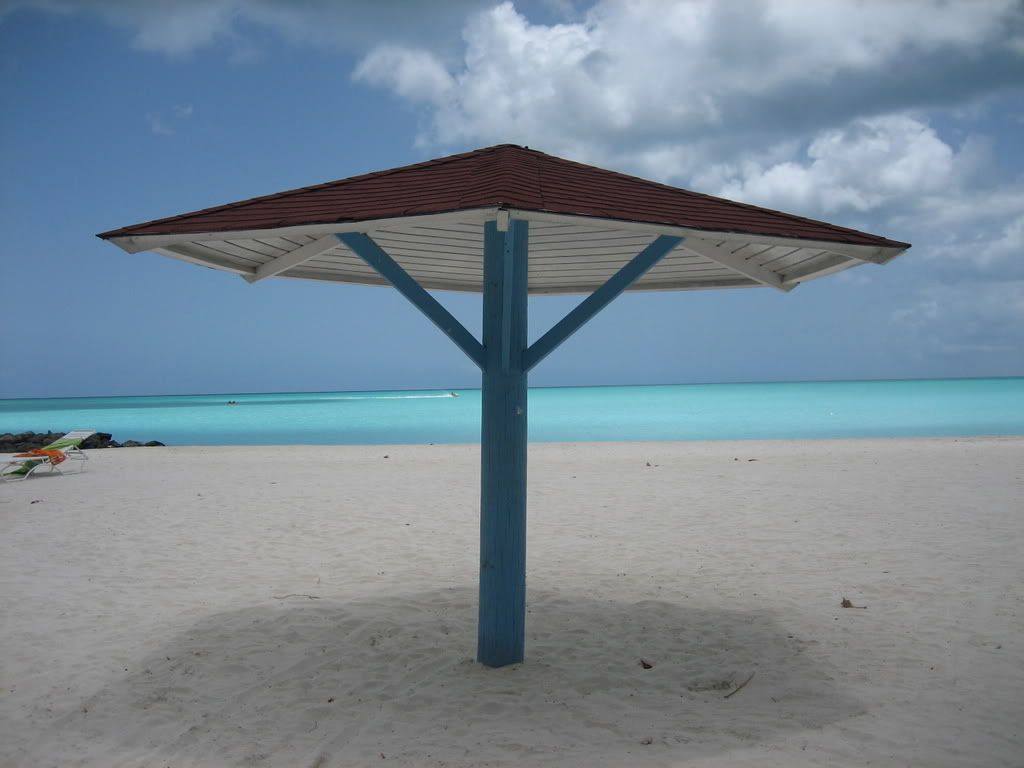 View from my room at Galley Bay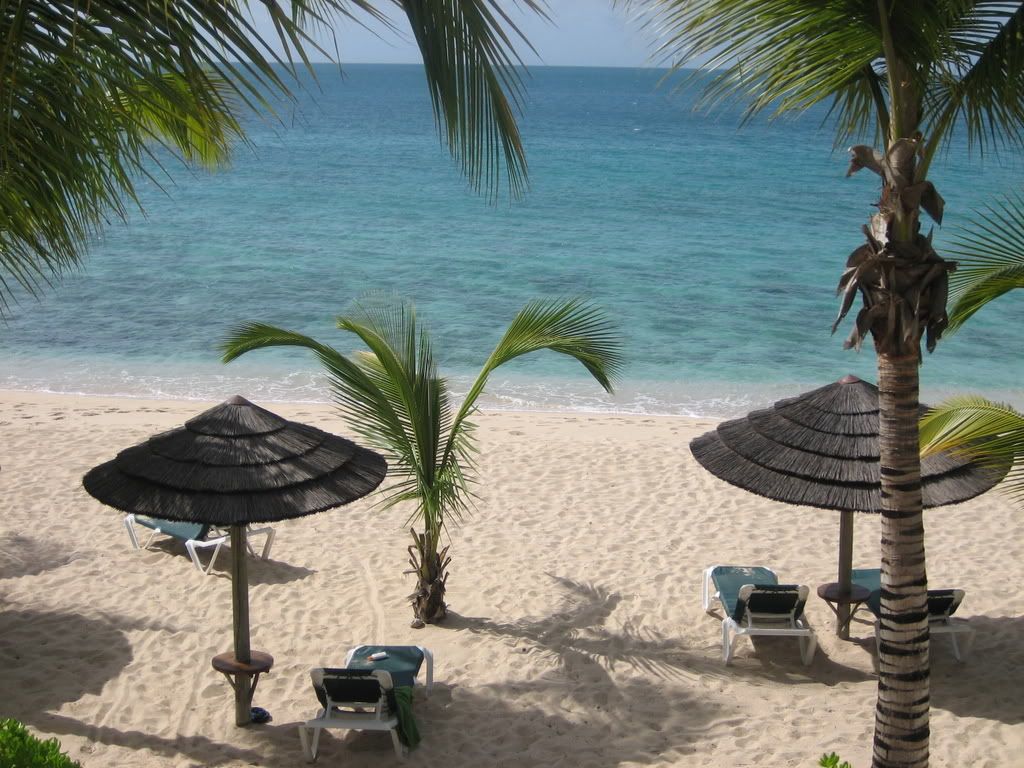 Galley Bay Beach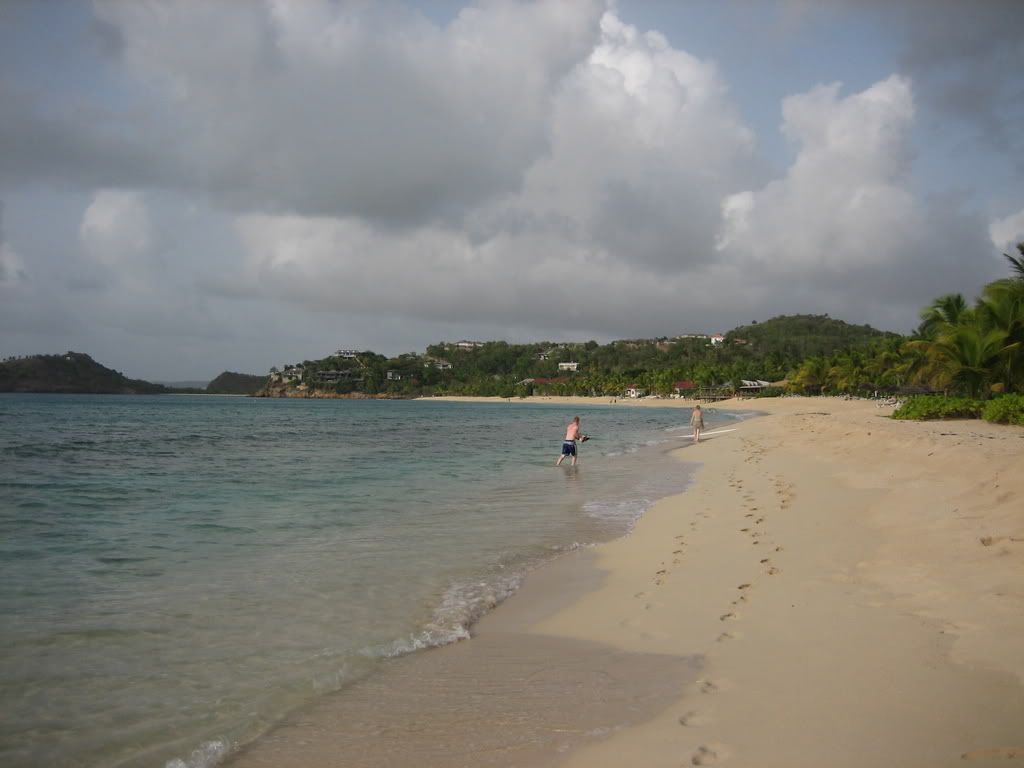 Well the holiday was coming to an end and it was time to pack the suitcase and check-out of the hotel. We decided to keep the room on at the hotel as the flight didn't leave until 2005 (local time) and also booked a taxi for 1700.
We checked out of the hotel at 1645 and waited for our taxi to pick us up. The journey took about 40 minutes as we had to make our way through St. Johns (the Capital) and it was rush hour traffic, well Caribbean rush hour anyway. Arriving at the airport at 1740/1745 I noticed that it was very quiet.
ANU-LGW
BA2156
27/06/07
2005-0855*1
B777-236ERb]
[b]REG G-VIIO
We made our way to check-in and there was no queue which surprised me as when I'd spoken to my colleagues at work they had mentioned that the flight was quite busy. We were greeted by a nice young woman whose name I cant remember. She asked how many bags we were checking in and I told her one asking her if the flight was busy or not but she couldn't't tell me because check-in was still open in UVF(the flight comes form UVF-ANU and then onto LGW).
She tagged our bag and stuck the corresponding part onto my passport advising us to return to the check-in area at 1900. To the bar..... for a couple of bottles of Carib beer to help kill some time.
Last time I was in ANU there was a viewing area on the upper level of the airport. Unfortunately this had now been transformed into a new departure lounge/gate so there was to be no viewing of aircraft for me today.
The clock was creeping around to 1900 so the wife and I decided to head back down towards the check-in area.
A few pics of the check-in area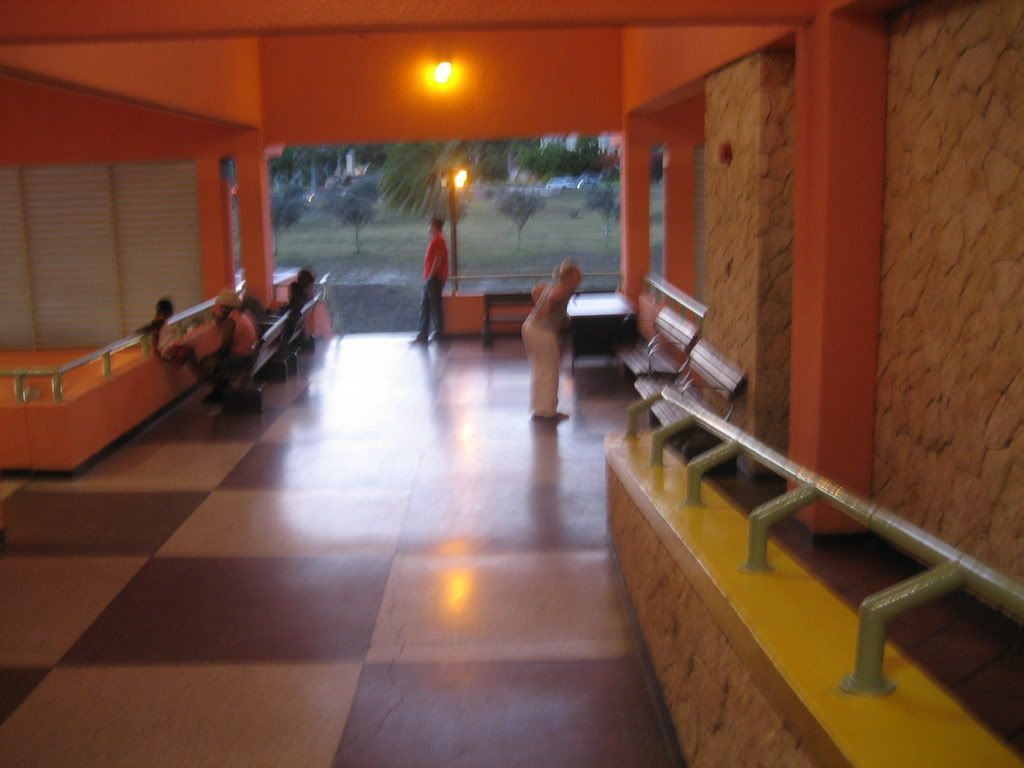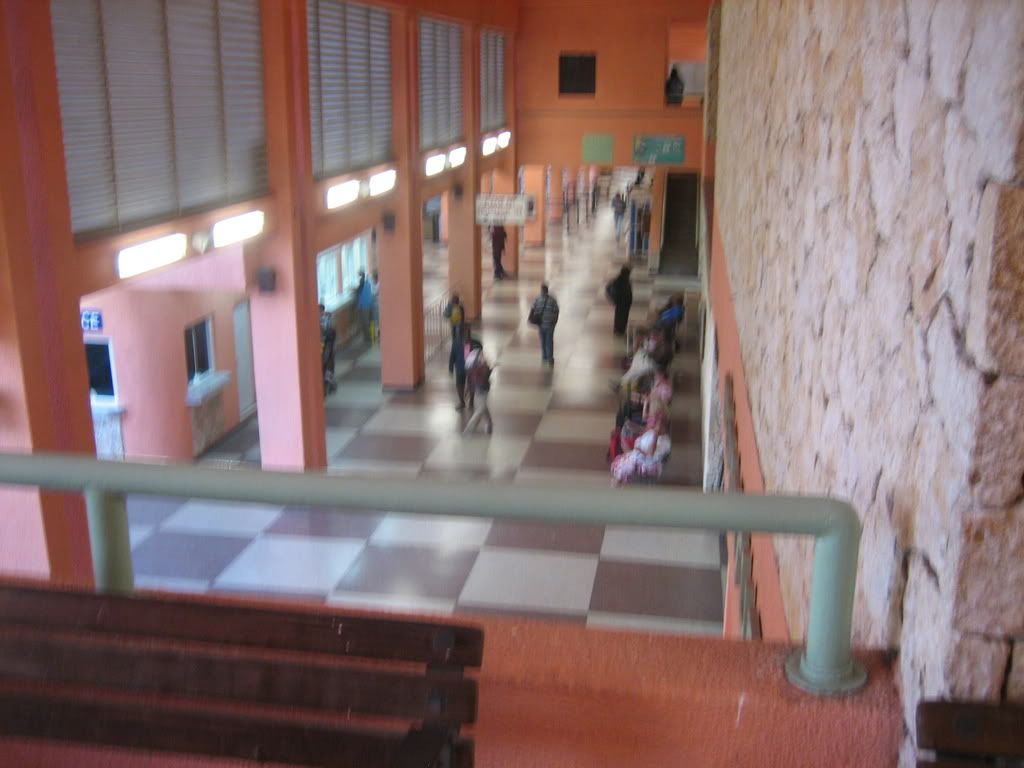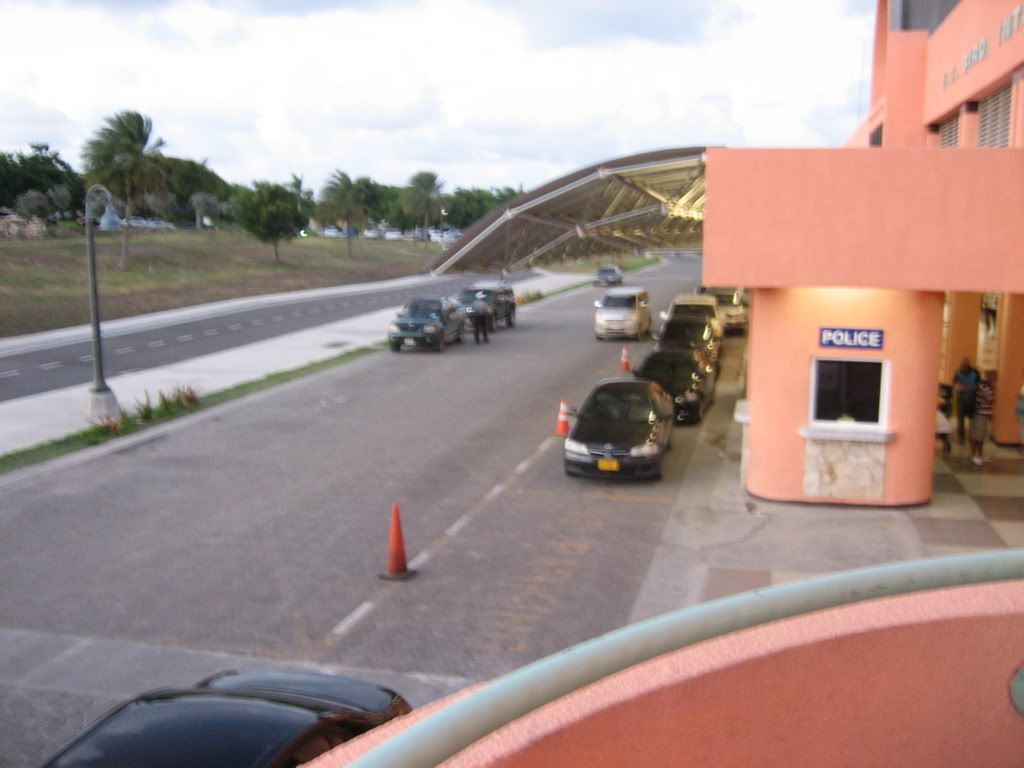 We got to the departure area and there was a bit of a queue at the BA desk. I noticed a couple of other people hanging around looking a bit suspicious. I then knew that these were the other standby passengers this evening. We all kind of looked at each other knowing that anyone of us could get on the flight and others may not. Eventually we got to the desk and were told quite abruptly to return at 1930 which we did.
Other staff members started coming forward and with their fingers crossed that they would be getting on the flight this evening. Normally when your travelling on standby you get told no later than around 45minutes before the flight if your on it or not. This evening it was getting closer to 25 minutes before departure and we still weren't clear who was travelling and who wasn't.
There were about 17 people on standby that I could see, mostly from the UK travelling back home but there were some Antiguans travelling to the UK for their own holiday.
The reason for the hold up was a family who all seemed to have different passports and the mother kept shouting down her mobile in Spanish for no reason except that she was really crazy. It seemed that there was some kind of visa problem with one of the gentlemen travelling and this was what was holding us up.
Eventually the check-in staff started to call the staff members forward and were told we were all going to be travelling home tonight. Thank God, it had been a long day and I was ready for my Club World bed, fingers crossed
Handing us our boarding cards the check-in agent told us to hurry up as we only had 20 minutes because the flight was boarding already. This kind of scared me a little because we still had to pay the departure tax of USD20.00 per person and make it through security.
The departure tax was paid in about 5 minutes which surprised me as it normally takes longer and we headed over to the security queue. This was little bit different as I started to get a bit of a bollocking from the emigration agent. "Where have you been Mr Burnett???" I started to explain the situation and why I was late and he started to have another go advising that I should't be coming through security so soon before the flight departure time.
After being told off by emigration I made my way to the security checkpoint which was 2 or 3 metres away.
I took all of my change out of my pocket along with my wallet and phone etc. Walking through the scanner without beeping was a new experience for me as I always set the alarms off for some reason or other. Picking up my change the security agent asked what I was to do with all my Eastern Caribbean change that was in the tray. I explained that I was always give my change to BA's charity, 'Change for good', who donate it to charities Worldwide.
Her response was " That is Caribbean money, it should be staying in the Caribbean!"
I started to laugh her comment off but then realised she was being 100% serious. I decided that she was definately not getting it now and that BA would probably put it to bettre use than she would and I walked off towards the gate.
The flight was leaving from gate 3 and there were still quite a few people in front of me waiting to board. Boarding in ANU is very similar to disembarking the aircraft only the walk to plane is a little longer.
After making my way to the aircraft I climbed the steps looking at the massive GE90 that was going to help me cross the Atlantic and reached the cabin crew member. I was sitting in seat 30C this evening and my Wife was sitting behind me in seat 31C. All of the standby passengers were allocated seats in Economy, the only exception being a gentleman that turned up with the cabin crew. He had been allocated a seat in economy but when he boarded was asked to wait in the forward galley as he would be travelling in Club World this evening.
I know the topic of airline staff being upgraded before commercial passengers has been discussed to length on here
but the fact that this guy was upgraded really annoyed me. He was only upgraded because he was dating/ friends with one of the female cabin crew. To be honest if he was BA staff then I wouldn't have such a problem with it but the fact that he wasn't made it a whole lot worse because my wife has been BA staff for 6 years now and has never experienced Club World or First. Anyway, rant over and back to the report.
Doors where closed at 2014 and we started our taxi towards the end of the runway. There was a couple sitting in seats 31AB next to my wife and the bloke wasn't very well. They had travelled from St Lucia and he was complaining of having a fever, although the plane itself was very hot as well. My wife has a bit of a phobia of sitting next to people who are ill when travelling as she doesn't take nicely to the sight and smell of vomit. He seemed ok for the time being though.
We reached the end of the runway and began the turn to line ourselves up with the runway, taking off towards the North of the Island. The take-off roll seemed very long and the lady sitting in the window seat in my row mentioned to her husband that she could see the end of the runway when taking off. I didn't think it was that long a take-off but it was definately one of the longest I've experienced.
The wheels had left the ground and we were 67ft in the air(I quote from the moving map details) when the woman in front of me decided that it was time to fully recline her seat. The guy next to me started to shake his head and had a bit of a giggle to himself. A bit of a giggle, he wasn't sitting behind her!
Ive always thought that BA's economy product was ok and there was plenty of room even with the seat in front reclined. I think that this seat must have gone back further than any other seat ever because I had about 4 inches between my forehead and the PTV.
The seat belt signs went off and I decided that I would head to the galley for a drink of water so that I could take my medication. I was listening to one of the cabin crew mention that he was going to start the drinks service in WT+. I jokingly said " you cant take me with you can you?". He laughed and said he could take me up there, show me around and drop me back off at the galley but that was about it as it was completely full this evening. This cabin crew members was very funny and would walk throughout the cabin singing songs to the passengers.... funny guy.
I got back to my seat and kind of slided and bent myself into my seat, the guy to my left having another quick giggle at the situation.
Eventually the meal service started and the choices were chicken curry or pepperpot stew with potatoes. Again I chose the chicken curry. The lady in front of me still had her seat fully reclined as I was receiving my meal so I leaned forward and asked her if she could put her seat upright just while I was eating. No response, so I tapped her on the shoulder and again asked politely if she could mover her seat to the upright position while I ate. No response, so I moved her headset gently off her ear and again asked if she could move the seat to the upright position. Again no response. I mentioned it to the cabin crew member handing out the meals who asked the woman and she put the seat upright straight away.
I knew the woman spoke fluent English because I heard her having a conversation with the guy sitting in the aisle opposite her, so my only guess is that she was completely and utterly rude.
I was half-way through my meal when my plastic glass of wine was sent flying all over my tray. The woman in front of me had decided that she had finished her meal and she was to get her full allocation of seat space at this precise moment. I was going to ask her to move her seat forward again but realised that I wouldn't get any response from her, so I struggled on with my meal.
When the cabin crew came around to remove the trays she kind of looked at me, shook her head and smiled as if to agree with my predicament and sentiments.
I ordered double G+T, another bottle of wine and turned on the ipod. The sound of Lenny Kravitz helped me off to a bit of sleep for a couple of hours and I awoke when it was light outside, about 3 hours from London.
I got out of my penned in area and made my way to the bathroom to stretch my legs and wake up a little bit.
I grabbed a couple of shots of the cloudy sky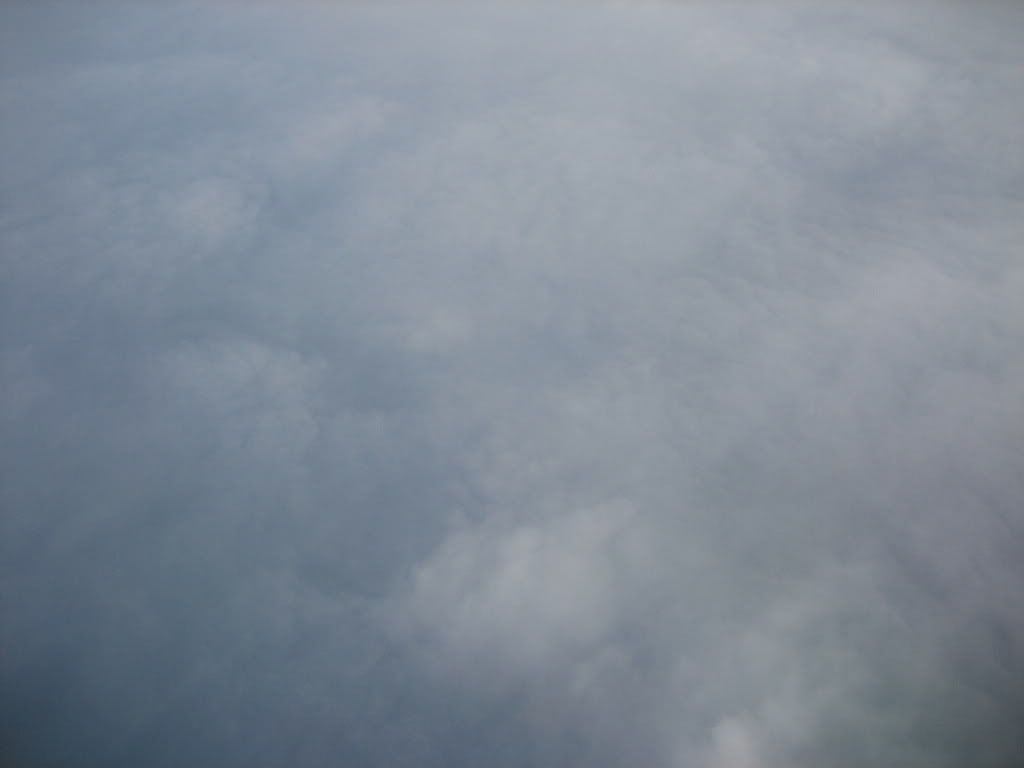 Cabin view from the back of the aircraft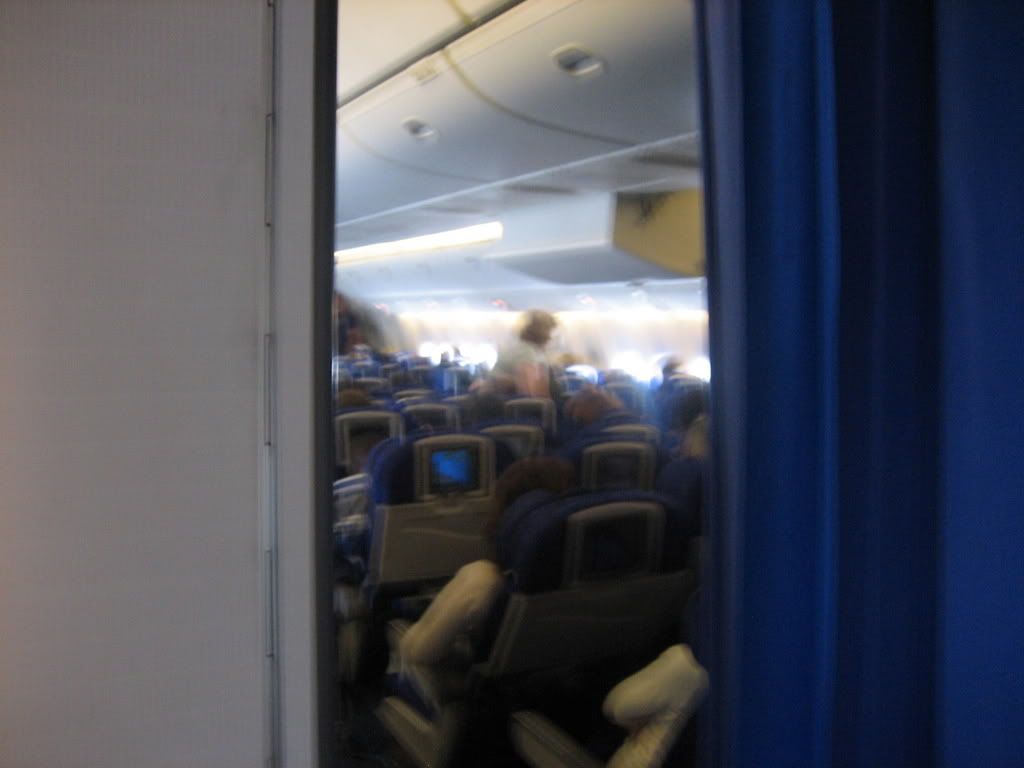 I made my way back to my seat and started to speak to my wife who had had no sleep whatsoever.
The guy next to her was being sick all night and I had managed to sleep through it all. They were a German couple and it turns out that his girlfriend/wife had been shouting at him in German, quite loudly, for being sick on the plane.
My wife makes me aware that he was very sincere and apologetic for not feeling to great and eventually spent the last 2 hours of the flight, before the seat belt signs were turned on, at the toilet.
Breakfast came around but I declined it as I still didn't have any room to eat it.
The Captain came on the tannoy to give us the info on the routing into LGW and to let us know that we would be landing in 35 minutes unless we were put into a holding pattern.
10 minutes later the seat belt signs came on and the cabin crew came around asking for all seat belts to be fastened, headsets to be handed back and seats to be put into the upright position.
The lovely lady in front of me acknowledged the crew ad put her seat upright which actually shocked me. 10 minutes to landing call was given by the captain and the crew took their seats. This seemed to be a sign for the woman in front to recline her seat again.
This really annoyed me and made her aware that the seats were to be in the upright position for landing in case of an emergency and if she kept it reclined it blocked the row behind her.
With a tut and a shake of the head she moved seat forward again.
We landed very smoothly at 0840 and taxied towards that North terminal. The doors of the aircraft opened and we made our way off the plane. I again made sure to thank the crew for their service and made my way to immigration.
The queue for UK nationals was very small and we were through within 10 minutes and on our way to the baggage area. I kept looking at my watch because just like the outbound trip we had to make our way across to LHR on the speed link coach.
Looking at the monitors our bags were to be brought onto belt 4. All passengers made their way to belt 4 and then a tannoy sounded advising that they were having problems opening the hold door on our aircraft and that they would update us with any info as soon as they could. 15 minutes later we were advised that the bags were now going to go to belt 7 and they were on their way now. I moved across to belt 7 and ended up standing next to this absolutely stunning woman. I could have sworn she was a supermodel as she was so beautiful and a heaving bosom on her
Anyway, she was standing next to this Italian guy who looked very very familiar. Eventually I realised that it was Gianluigi Buffon, the Italian goalkeeper and the woman with him was Alena Seradova, the ex miss Czech Republic and now model and TV personality.
SHE IS BEAUTIFUL
Eventually at about 0945 my bag turned up and we went through customs and headed towards the National Express counter to buy tickets for the Speedlink coach.
20 minutes later and we were on our way to LHR T1 on a crowded bus with an Asian man sitting asleep next to me who could wake the dead with his snoring.
We pulled into the central bus station at 1108 and I knew it was going to be a rush to try and catch the flight we were hoping to get on. I pulled my bag out of the coach's hold myself and started the marathon run to T1. Well it seemed like a marathon run after an overnight flight and then the bus journey from hell.
LHR-NCL
BA1332
28/06/07
1140-1250
A320-111b]
[b]REG G-BUSF
Making our way as quick as possible to the BA staff travel desk I explained to the agent, Tommy, that I was listed as standby on the BA1332 at 1140 and I was hoping to catch that flight.
Tommy gave me a very stern look and said " dont you think your leaving check-in a little bit late sunshine, as the flight does leave in 23 minutes!"
I explained to him what had happened at LGW and he acknowledged the situation and asked if 2 emergency exit seats would be ok for us. I said that any 2 seats would be fine as long we could catch the flight. He issued our boarding cards and told us to make our way to gate 5D ASAP. Security was a breeze apart form the little boy who had his signed MAN U football taken off him screaming the place down. A little bit louder than the boys screaming was his mothers whilst she shouted at the security staff
We got to gate 5D just as it was closing and we had to get a coach to the aircraft which Ive never had to do before for a domestic flight. The coach made its way to stand 120 something and I noticed that we were ravelling on G-BUSF, an A320-100. Ive never travelled on a -100 before and was looking forward to it.
climbing the rear steps I saw a couple of people that I knew, said hello and made my way way to seat 10F. It was a change having a window seat especially since I was on standby. Unfortunately the window was all scratched so I knew my pics wouldn't come out at their best
G-EUPS A319-100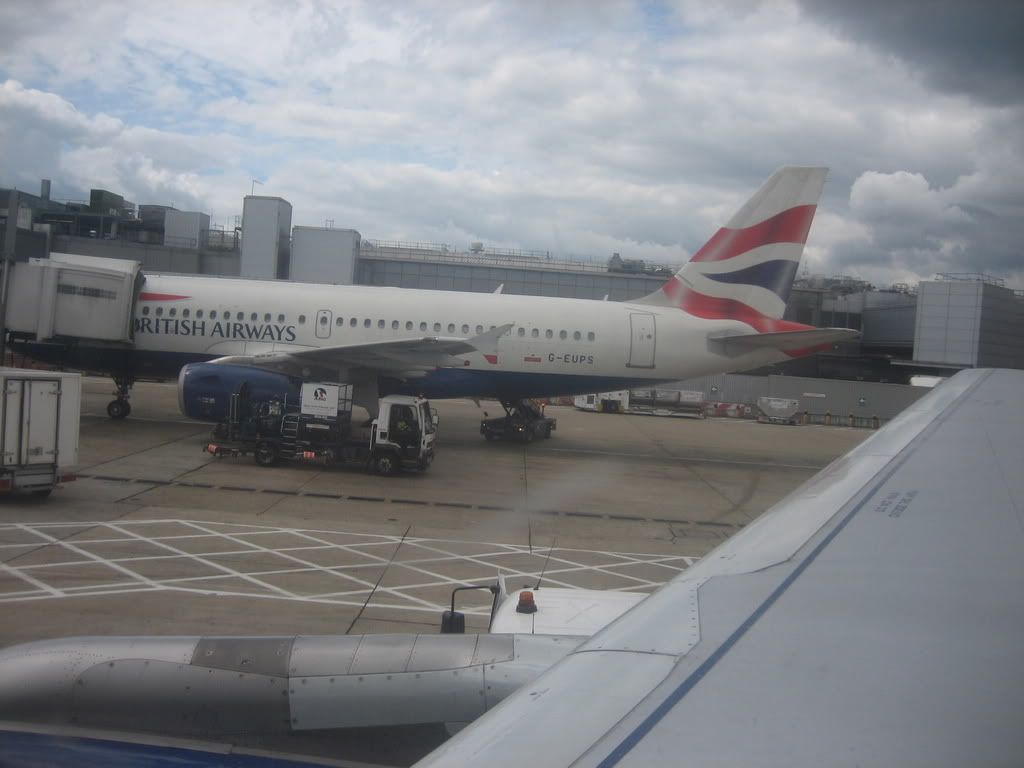 The doors eventually closed and the Captain came on the tannoy to give us our routing and our flying time which was 50 minutes.
We pushed back and started our taxi towards the runway passing an abundance of BA aircraft
Look at all of these BA planes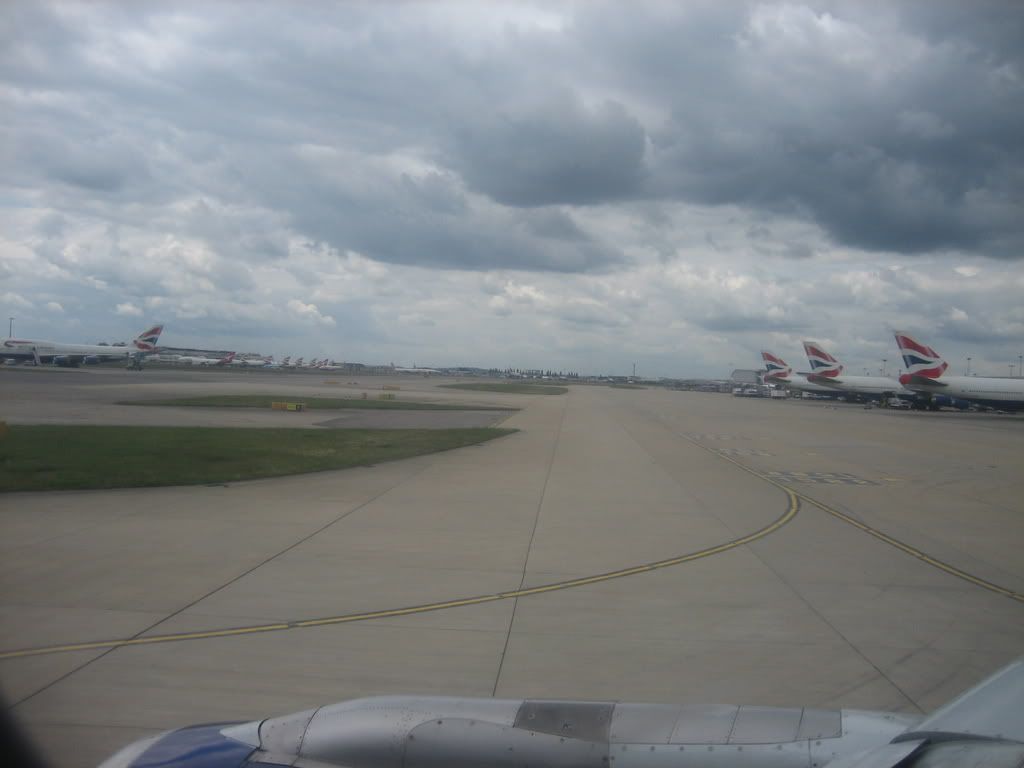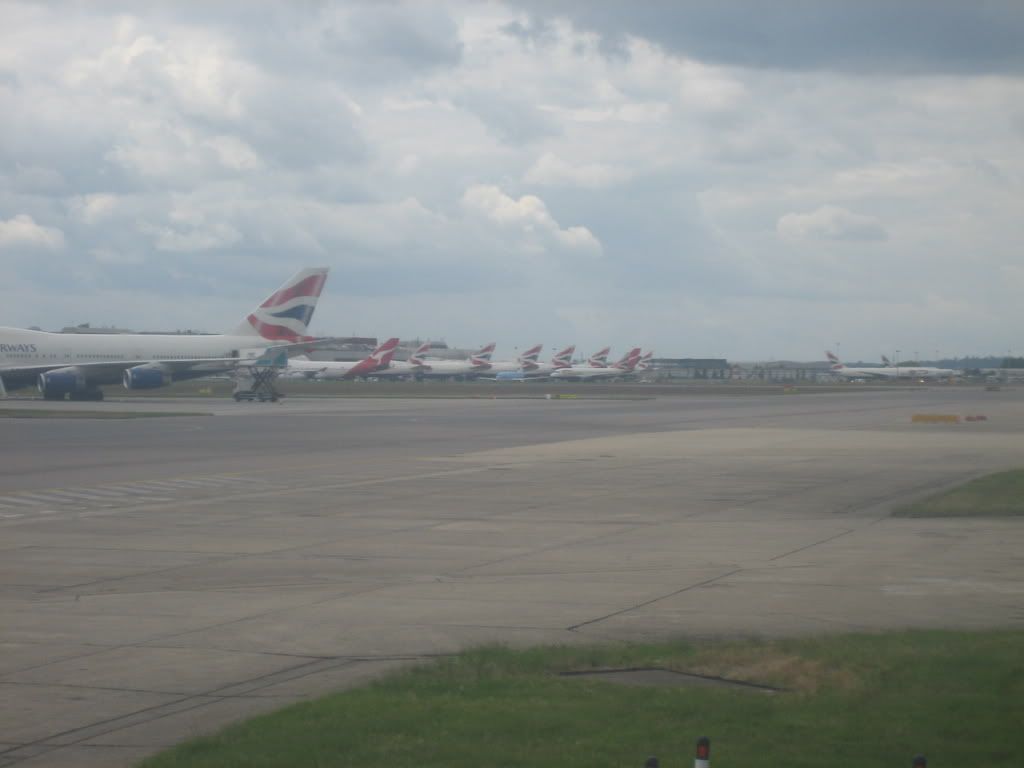 I had my eyes glued to the window hoping to catch another glimpse of the AC 777-300 but no such luck this time.
I did however see a Clickair A320 and before we got close to it I got really confused and thought it was a Silkair A320.
I really needed more sleep, what was I thinking, a Silkair A320 at LHR
Clickair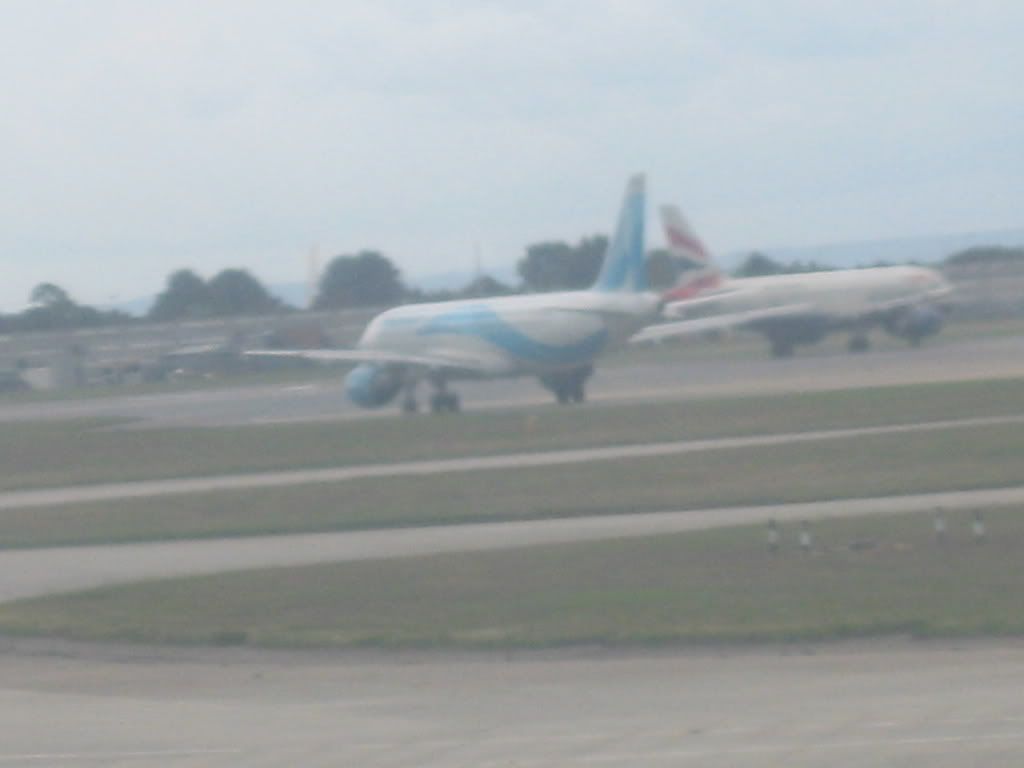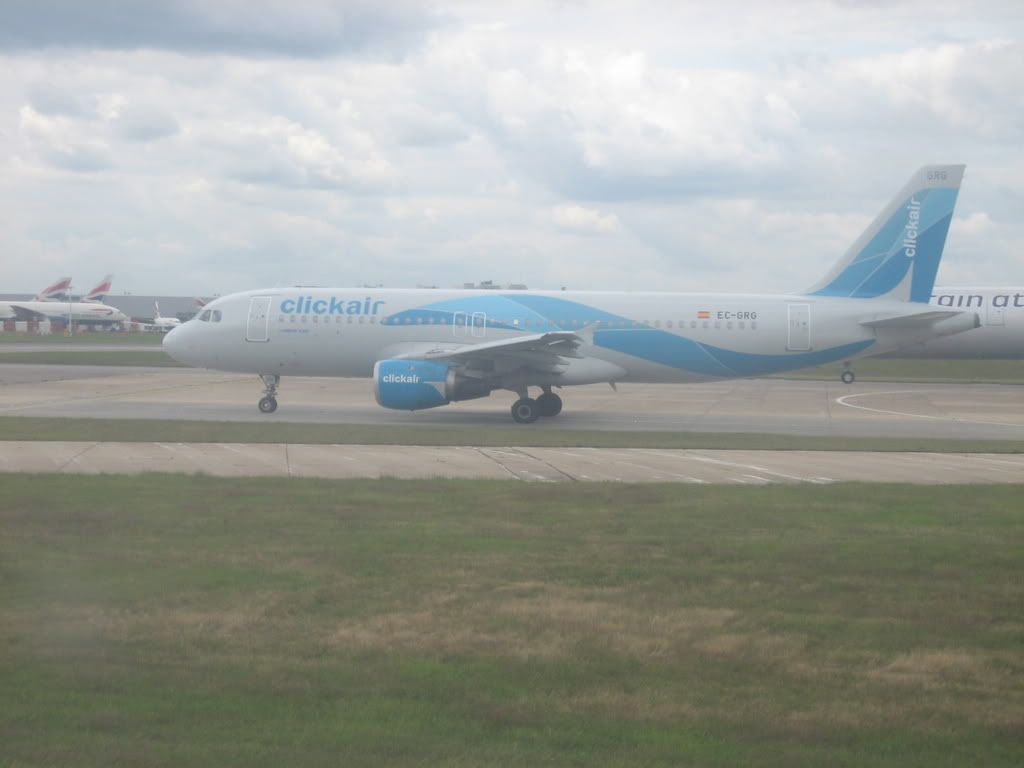 BMI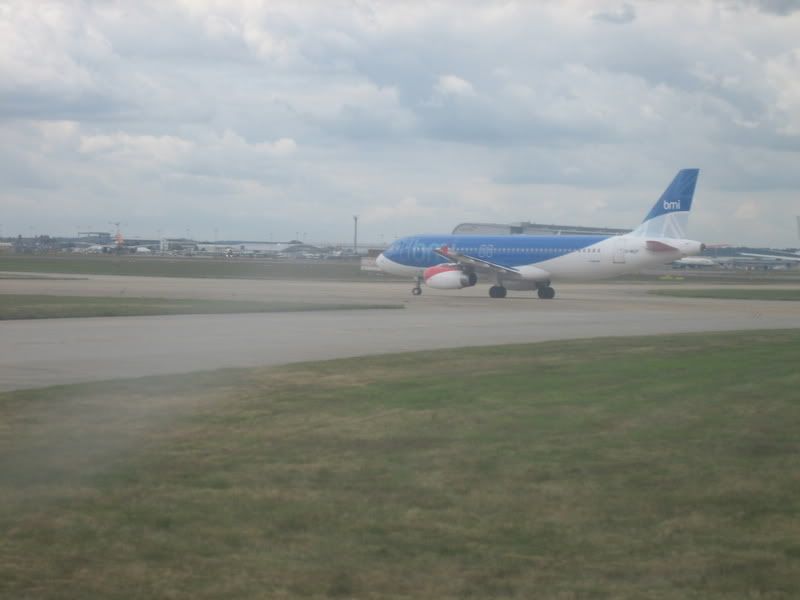 As we got closer to the runway there were more and more aircraft waiting to take-off.
Virgin A340-300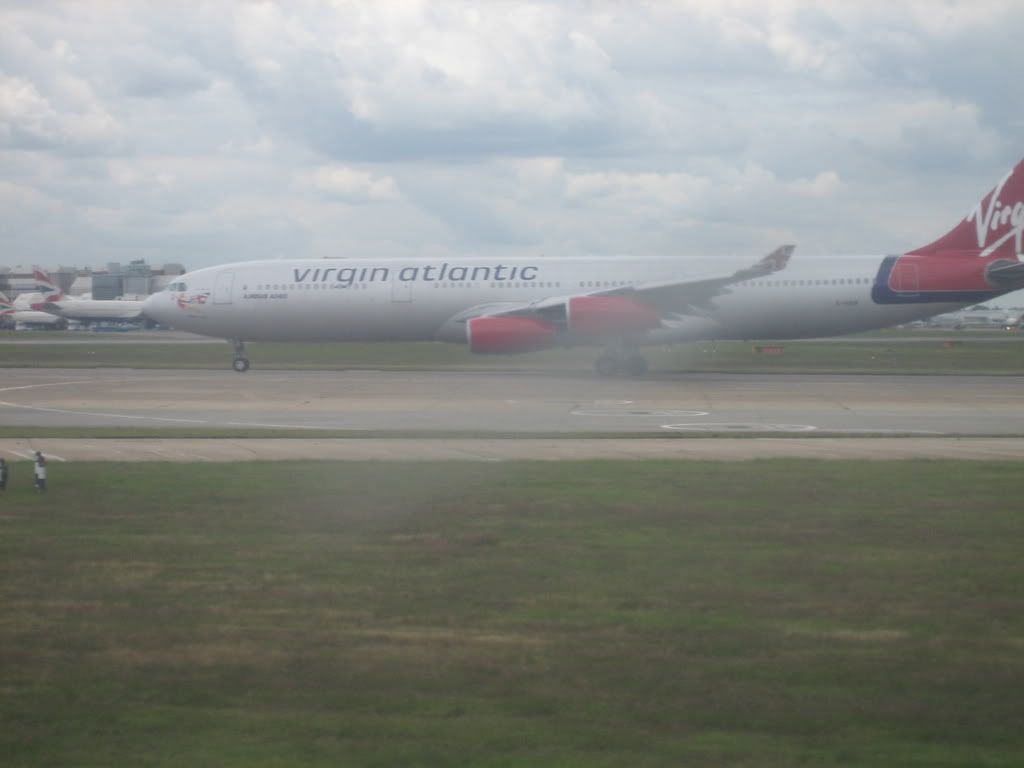 The A340 pulled onto the runway and started what seemed like a very slow take-off run. Ive heard on the forum before that the A340's climb really slowly and boy did this A340 climb really slowly
A340-300 starting its take-off run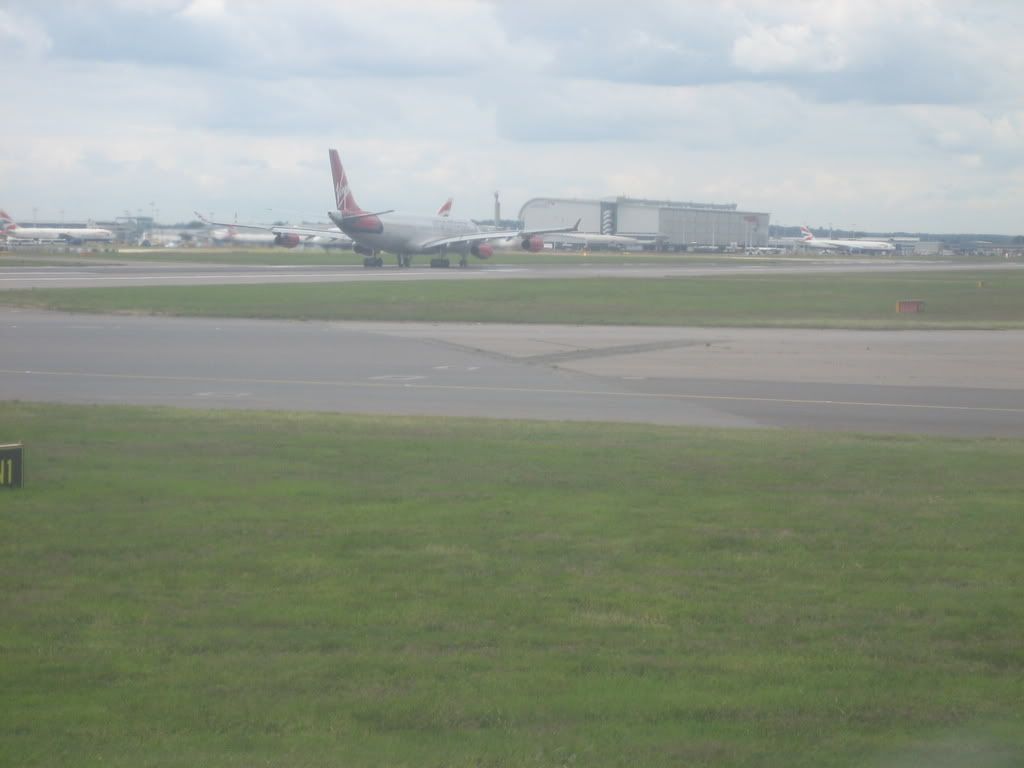 Another BA aircraft awaiting take-off clearance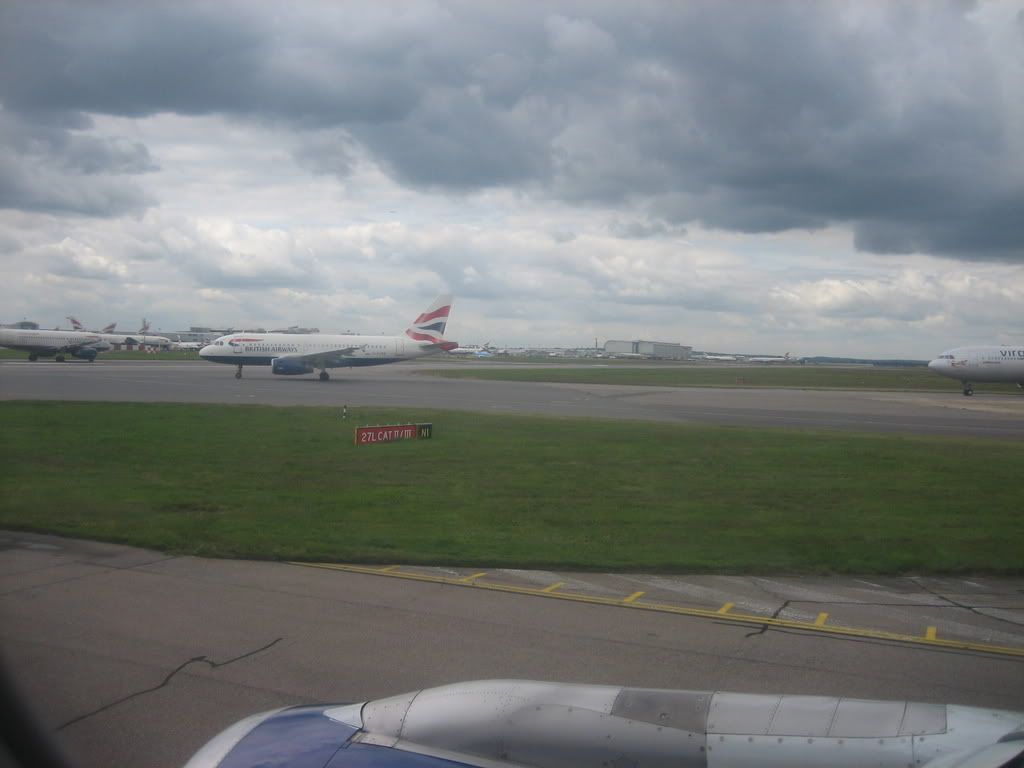 AA 777-200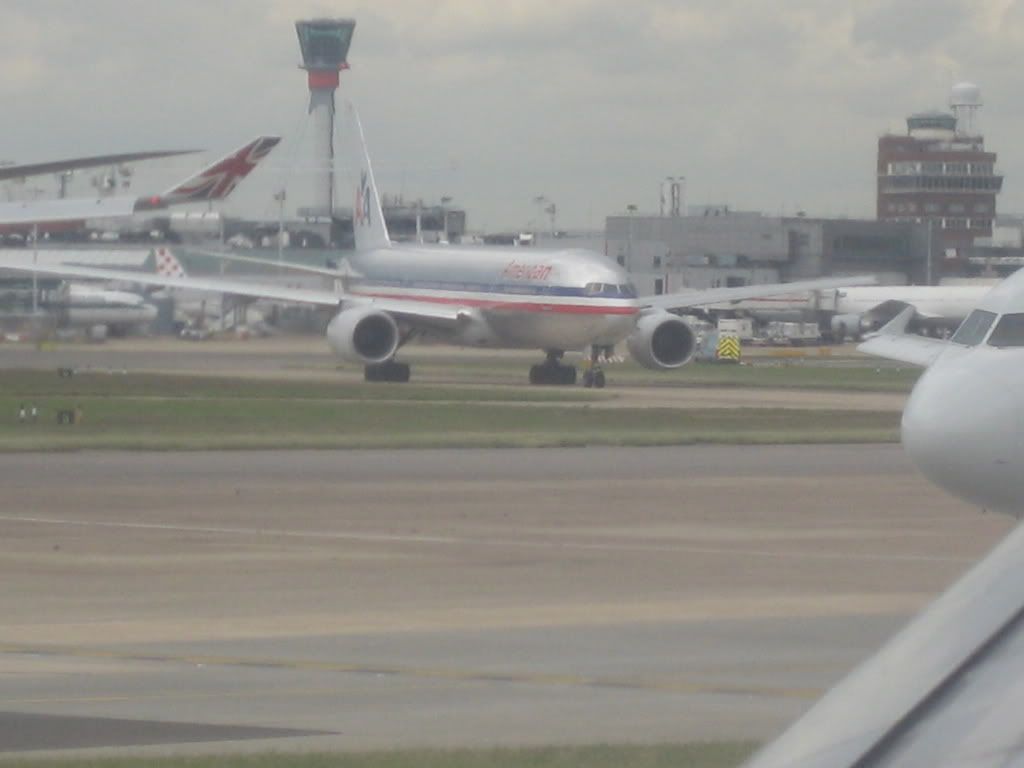 Eventually it was our turn to take-off and we powered down the runway. I had realised that we would be taking off towards T5 and hoped to get a decent video of it on take-off
Take-offd was quick and we climbed quite quickly to about 5 or 6 thousand feet where we stayed for about 5 minutes or so.
I took a few pics of the countryside around LHR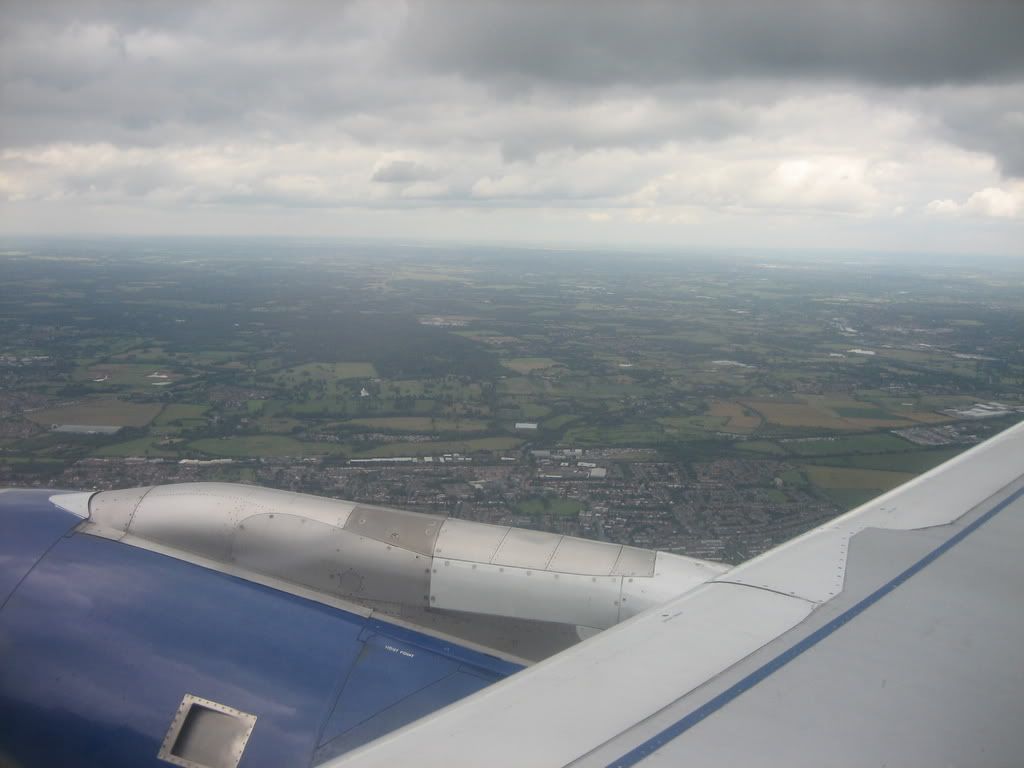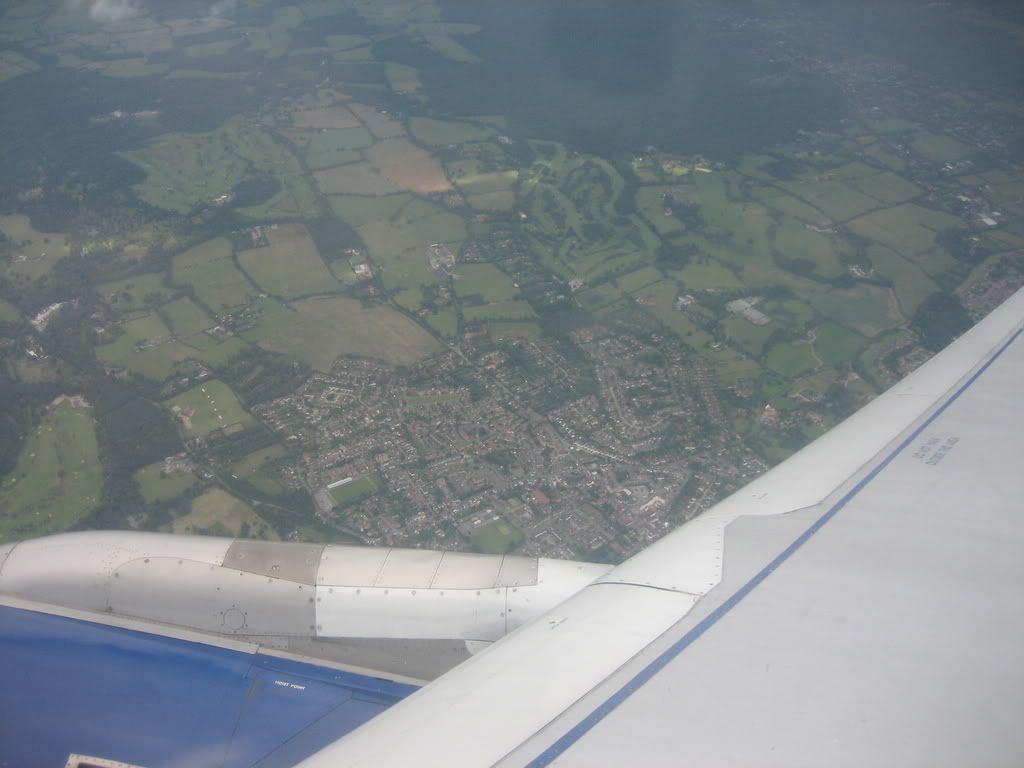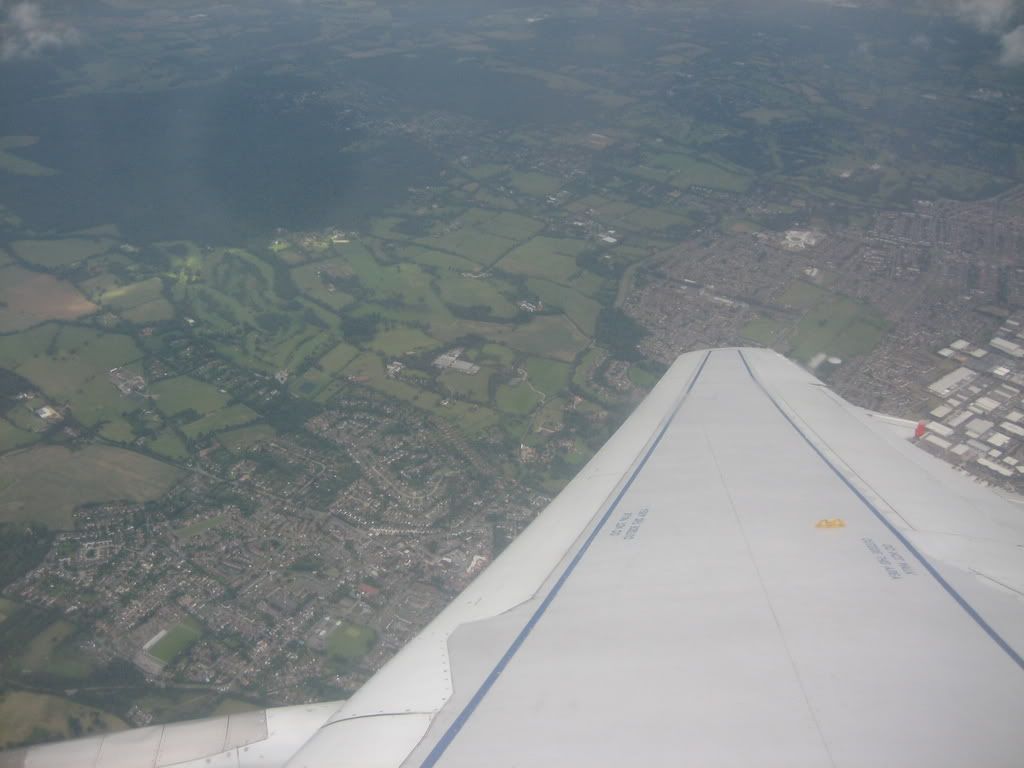 We started to climb again and headed towards our cruising altitude of 26,000 ft and soon the nice clear views started to disappear and were replaced by clouds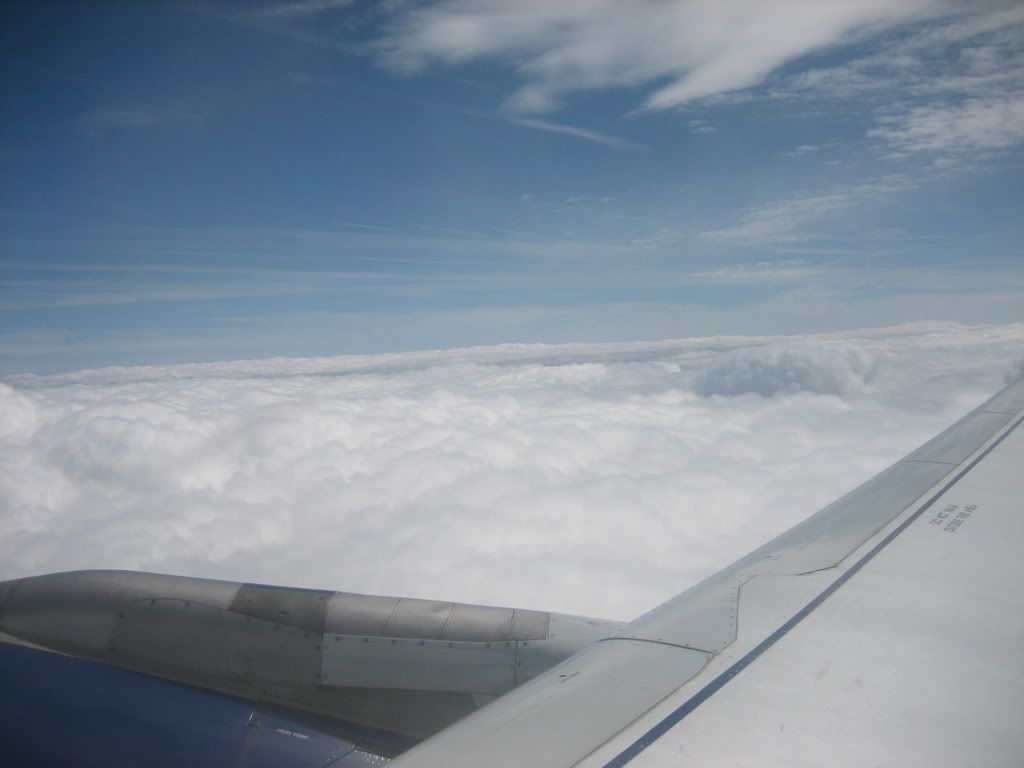 We had been at cruising altitude for about 10 minutes when we started our descent into Newcastle. The captain came on again to tell us we would be flying over Leeds and then heading out towards Yarm, Teeside, Durham, Sunderland and then to the east of NCL before we would make a left turn to line up with the runway.
Teeside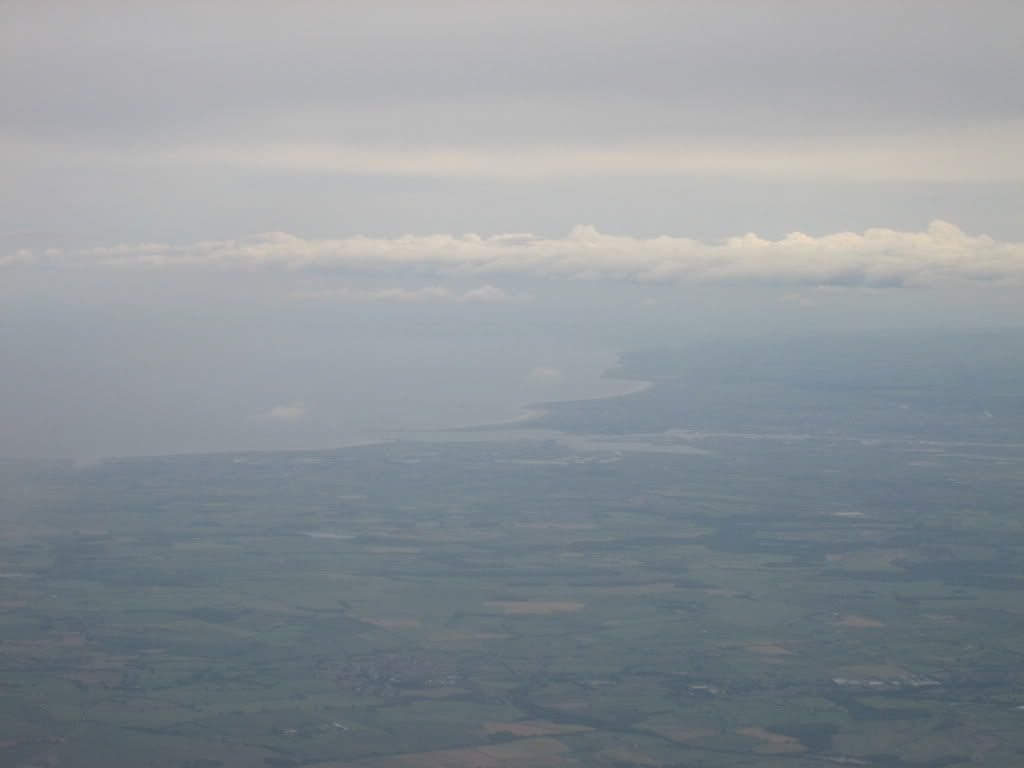 Sunderland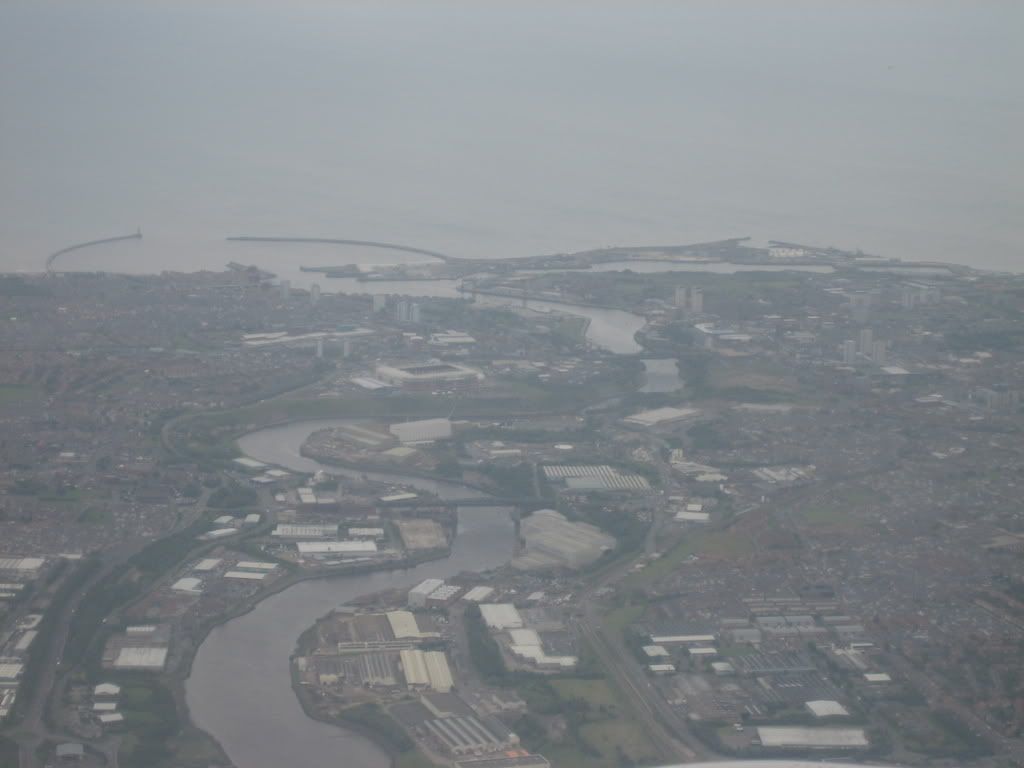 We headed out over the North Sea before making the left turn towards the airport
The North Sea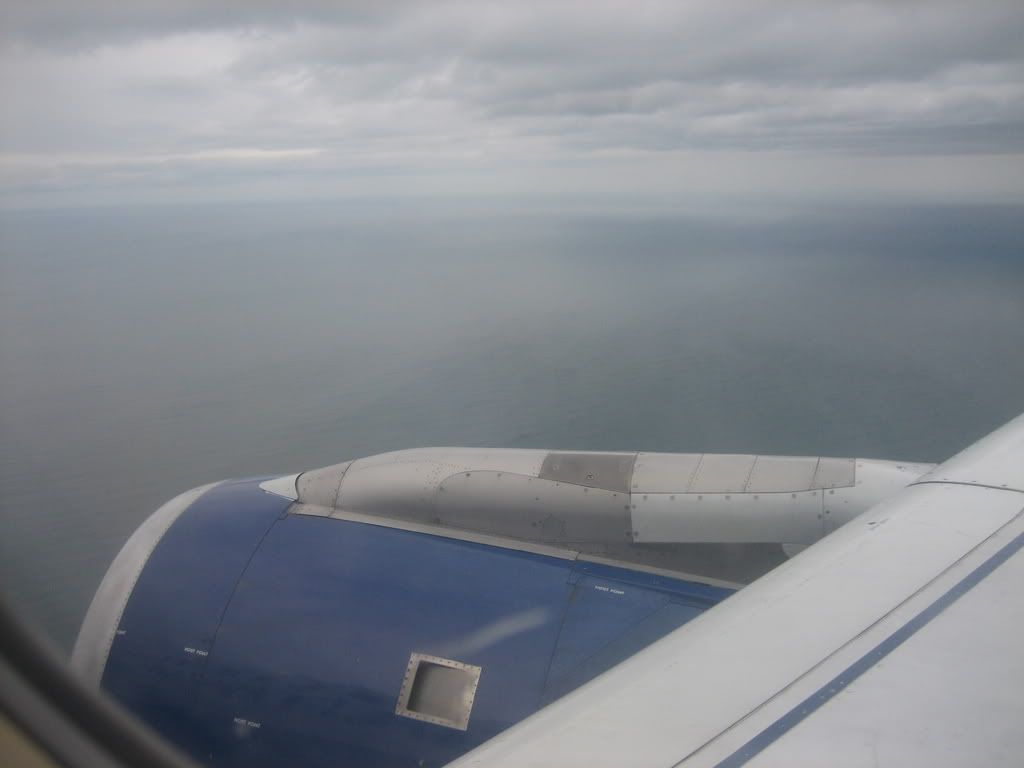 Landing in NCL
Apron in NCL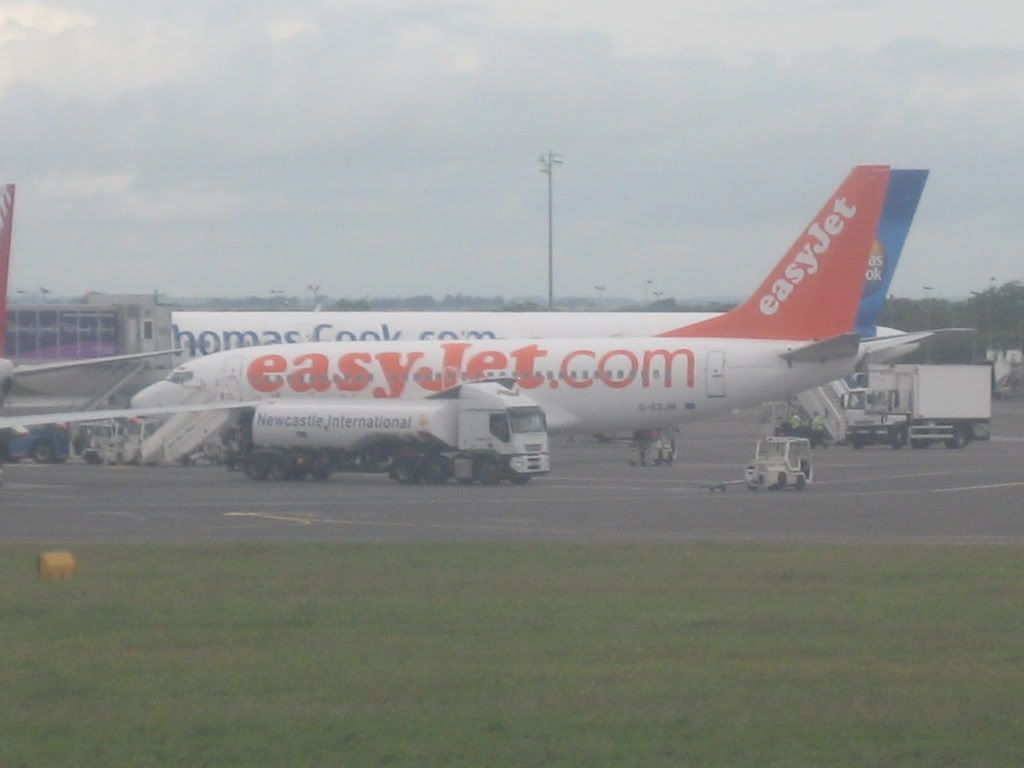 The flight arrived early at 1244 and pulled onto stand. BA own the air bridge at NCL so they always operate out of gate 3. Within minutes the dorr was open and we were on our way.
Overall these flights weren't my best with BA. The service in places wasn't at the high level it should be and the longhaul flight was ruined by a woman deciding that I shouldn't eat my meal and therefore reclining her seat onto my forehead. To top things off my bag was lost for six days and when my luggage was received it wasn't in the greatest of conditions.
Never mind though, I'm sure Ill fly them again in the future
Hope you enjoy and please give me any feedback on what what was done well and what could have been done better
Lee