Hi all,
Finally I found the time to prepare this another trip report on one of my flying experiences.
This time it's back to my best rated European airline, giving the best service for the best prices. Then I mean: back to Air Berlin!
Since they operated many flights out of AMS a few years back, I travelled frequently on them and collected a Silver status in their frequent flyer program. As most of my points are idle for a while now, they came closer to the expiry date, and it was now time to spend 12,500 miles for an award ticket, and buying the other leg myself. Not much choice anymore out of AMS, so I had to get off my legs and fly to Mallorca. Not bad for a day 'spotting' around the airport perimeter. As the outbound flight was already selling for 139 euro's ex taxes, I spend my miles for the outbound leg, and soon after the complete bookings were made. I was also able to preselect my seats free of charge.
The day of flying begun really late that night, or early as you wish. I woke up at 0300am for some coffee and preparing my bags. I had to bring my shorts and a towel as well, because the weather forecast showed temperatures up to 32 degrees Celcius. So I used a second bag next to my overweight camera backpack.
When driving to my office at the airport, I was stopped by local police. They checked the car and my drivers licence, as part of a prevention campaign against theft in my neighbourhood. When everything turned out to be OK, I continued my way. Parked my car, chartered somebody from the nightshift at work to give me a ride to the terminal building, where I arrived at 0450am. As everything was still closed at this hour, I walked straight to the checkin counters. Desk 30 was available, seeing a very long queue and with only 2 counters open. Majority of the passengers were typical Dutch holidaymakers, going for week sunshine, and booked an all-in package with a touroperator. No selfcheck-in machines at AMS for AB flights, and I didn't want discussions, so queued at the end of the line. Although it's possible for me to go in front of everybody with my Silver status on AB, I just waited for my turn. And the departure time was getting closer and closer.
Checked in at 0540am, got my choosen seat. It was not possible to checkin for my return flight to AMS the same evening. Two pieces of handluggage also no problem for me. I walked straight through security, no queuing at all here, and down to gate M2. M1 up to M6 are basically the new H-gates (for lowcost airlines), although when boarding at a M gate, you won't pass any shop, snackcounter etc. This reduces of course the amount of late showing passengers at the gate.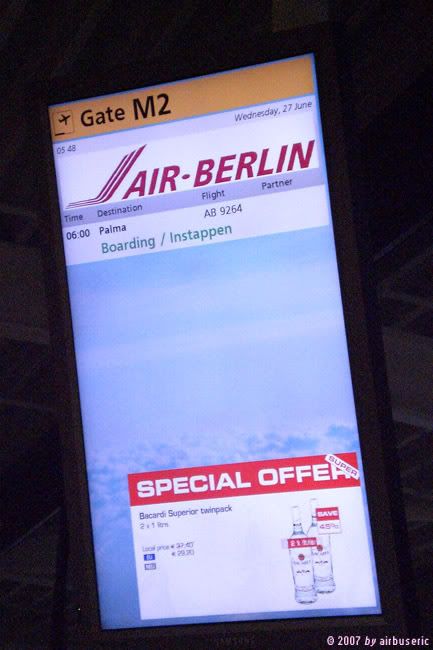 New flatscreens at AMS give the information about the boarding process etc.
When I arrived downstairs at the boarding area I noticed my flight was being operated with an aircraft operated by Iberworld, a Spanish charterairline company. The aircraft was painted in the latest Iberworld colourscheme with additional Air Berlin titles.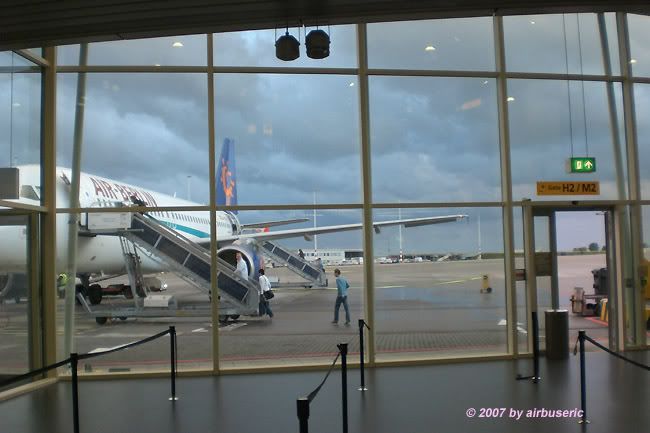 EC-KDD seen upon boarding. This is the lowcost terminal at AMS.
I grabbed a Dutch newspaper (Telegraaf) and German magazine (Focus) at the aircrafts' entrance. The most passengers were already on board, and I found my row still empty. Later only the aisle seat got occupied as well, so did AB block off 1 seat for me, as a frequent flyer on them? I don't know, but the rest of the aircraft was basically 100% full
.
Boarding and documentation finished quickly, and doors closed 0610am.
AMS-PMI
Flight No.:
AB9264
Date:
27JUN07
STD:
0600
ATD:
0616
STA:
0825
ATA:
0831
A/C:
Airbus A320-200
Reg No.:
EC-KDD
Seat:
04F – Economy Class
My 17th ride on an Airbus 320, and the first on this machine.
View Large
View Medium


Photo © Javier Rodriguez - Iberian Spotters
After pushback the flight safety instructions were demonstrated by an Iberworld video on the drop-down screens. After some 5 minutes taxiing we lined up at runway 24 for takeoff which was quite powerful and took long before we got airborne. Probably caused by a high amount of luggage in the lower holds.

Lining up runway 24. Not much other traffic around for the moment!



Good views on the beautiful clouds, soon after being airborne.
The cabincrew was put together was 1 Dutch male AB crew, 1 German female AB crew, 3 Iberworld female crew and 2 Spanish flightcrew. Most information about the service was given by the Dutch guy, also in own language. Good point towards the mainly Dutch passengers.
The breakfast was served free of charge from 0650am, containing a Bertolli sandwich package. I took the Cheese/Union/Tomato sandwiches, which were tasting really good! Additionally I ordered a coffee and orange-juice. By the way, the other sandwich taste was bacon/egg. About 45 minutes later another drink service was given. I had another coffee.

Low-Cost? This is your breakfast on Air Berlin, and free of charge!
During the flight I tried to relax a little, listened to my MP3 musicplayer and enjoyed the views outside. I noticed here also the bad legroom on this A320. I recall AB's own aircraft have a better seatpitch, at least on their B737-700/800's, the F100 for sure!

This is how the cabin looked like on the Iberworld/Air Berlin A320
After passing the Pyrenees, decent into PMI started and the garbage was cleaned up by the crew. We arrived from the Northwest, so perfect views on the beautiful coast of Mallorca Island. After decending further over the island, we landed smoothly on runway 24L. At this moment I also got my first view on AB's newest colourscheme, featured on D-ABBX, the brandnew B737-800. I didn't see that aircraft again that day
.

Mallorca Island from above. Seen during decend into PMI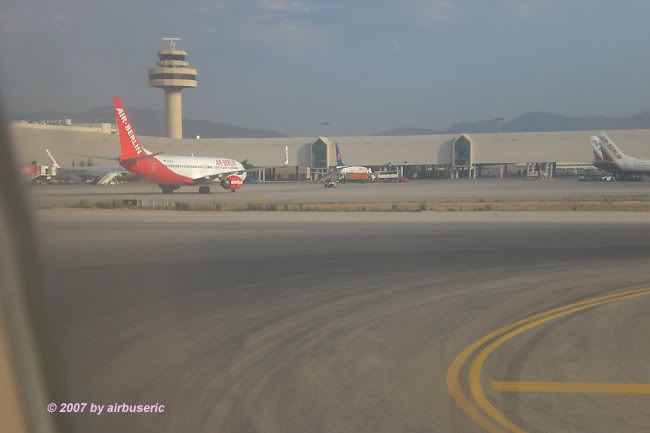 My first sight on the new Air Berlin colours, as well their newest B737-800 (D-ABBX)
Another feeling of being on a holiday charter was that many passengers in the rear cabin started clapping after landing. They were probably happy to be on the Earth's surface again. Anyway, I don't like it and it can be quite annoying. But also funny of course
.
We parked on a remote stand, and were bussed to the terminal building. From there, a long walk to the arrival lobby. PMI is very large airport, and it was busy like hell! It was Air Berlin rush-hour!! I guess about 25 AB aircraft arrive/depart within one hour or so. Many passengers are in transit as well on them, so you can imagine the situation under these circumstances.

Disembarking at PMI, down the stairs and into a bus
***
For this day I rented a cheap Smart 'fortwo' at Sixt, and to get my car, I had to take the complimentary shuttle service to their offices nearby. This service went smoothly and within 30 minutes after arrival I was on my way in the powerful Silver-Blue coloured tiny Smart
. First I drove into Playa de Palma to do some shopping at the supermarket, were I bought some drinks and things to eat. After this, I went back to the airport, and found my place close to the active runway, near the perimeter. Here I watched the arrivals and was able to spot some interesting visitors.

My SIXT rental car. And almost as fast as a sportscar!
In the afternoon I went to the other side of the airport to see departures. Views on the traffic at PMI are really good! After a long and warm day, I dropped the car again at 0530pm, and took the shuttle back to the terminal.
***
A large area of checkin counters open for AB flights departing that night, back Germany, Denmark, The Netherlands etc. Long queues everywhere, but here they also offer selfservice checkin. I used it, and was even able to change my preselected seat into seat 01A. This gave me at least good legroom. I noticed that my FFP number was not printed on my boarding pass.
After passing the large security checkpoint, which was a breeze actually, I walked in the area with some taxfree shops and restaurants. As I also passed by the McDonalds and Kentucky Fried Chicken, I decided to take me some nuggets and a cold drink. When I finished this, I walked towards my assigned gate, in the C corridor.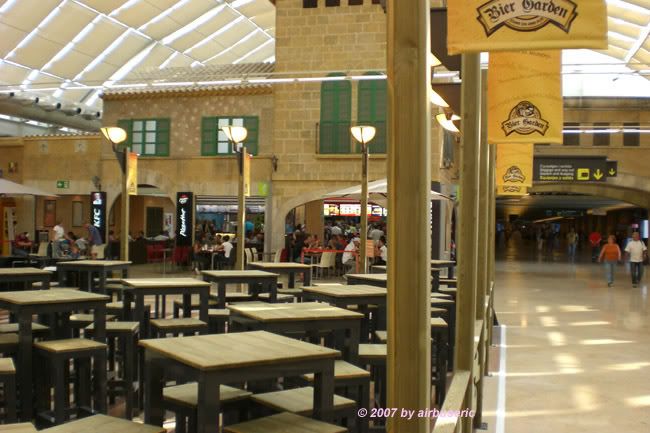 The 'Biergarden' and some fastfood chains. Good food for the (mostly) German travellers
As many other AB flights arrived, I also saw the same A320 arriving at my gate (C64). That's a pity. AB operates such a large fleet, and I managed again to fly twice on the same machine on one day!
Before boarding I double checked if my FFP number was attached to this reservation, and it was actually. Boarding was announced at 0745pm, little late in my opinion. No Dutch newspapers, only some German glossy magazines, and a newspaper; Frankfurter Algemeine.
A lot of conversations between ground staff and crew, and it was about the start-up etc. Quite easy to follow as I was in row 1. Apparently there were problems with the APU, making a jetstarter necessary. Even the captain went outside the aircraft again to check with the ground handling company himself. And the captain definitely showed his Spanish temper
Passenger bridge was disconnected from the aircraft at 0819am, L1 door still open. And it stayed open even when the jetstarter was working to get our engines running. A lot of noise came into the cabin, very annoying for the passengers. This was noticed by the crew too, and they closed the doors at 0824am.
PMI-AMS
Flight No.:
AB9265
Date:
27JUN07
STD:
2005
ATD:
2026
STA:
2230
ATA:
2249
A/C:
Airbus A320-200
Reg No.:
EC-KDD
Seat:
01A – Economy Class
My 18th ride on an Airbus 320, and the second on this same machine. Load aprox. 90%.
View Large
View Medium


Photo © Biel Gomila
During pushback the same flight safety video was playing on the screens, and the Spanish part of the crew checked all rows for handluggage and seatbelts etc. A German female AB crewmember gave a word of welcome, and also informed us about the fact that we were on an Iberworld aircraft, because AB was short of own aircraft at the moment.
We took off from runway 24R, using intersection N1. Most probably to get in front of some other traffic waiting at the holding point. Once airborne, I got some good views on Playa de Palma. I was too shy to make pictures here, as 2 cabin crewmembers were sitting in opposite direction and I expect them not to be tolerant to me when I was going to use my digital camera
The 2 Air Berlin crewmembers asked if passengers wanted to order a hot meal from the menu, then they were able to prepare it. Of course, these menu's were not free of charge.
Therefore I decided to wait for the free sandwich offer, containing 2 sandwiches in a package again, now again cheese/tomato, or the salami option. I took the first option, together with my juice and coffee.

Again for free, but not so fresh and tasty…
The sandwich was actually not really fresh tasting. A bit dry, and the cheese was not my favourite. When I was ready, I decided to close my eyes and listened to the MP3 player of my cellphone.
After 45 minutes or so, another coffee or softdrink was offered free of charge. I had another coffee, to keep myself awake. The screens were showing the route-map, and we flew about this route:
Palma – Barcelona – Toulouse – Périgieux - Chateauroux – Tours – passing west of Paris. When we flew over Belgium, the crew started selling taxfree goods. I bought myself a small modelplane, which fits perfectly in my collection at home. I also bought a present for a familymember. As AB Silver member, I showed my pass and got 5% discount on these purchases.
At 1015pm, over Belgium, we started decending and the crew started preparations for landing. When we came under the clouds, and closer to AMS, I noticed a strange routing along the Dutch coastline. As I'm quite familiar with the current routes to/from AMS, I knew something was not 'normal'.

During decend. End of a long day!
After some minutes, I found out the reason for this different routing. A lot of lightning was visible in the clouds around our aircraft, and it got a bit turbulent as well. Probably a heavy storm was in the vicinity of the airport. This might have caused also the landing runway becoming 18C. It's a long while ago since I used the 18C, as usually, and especially at late evening or early mornings runway 18R is used. Runway 18R approaches cause less noise pollution and is therefore the best option. We touched the concrete of 18C at 1041pm, and now only a short taxi to the H-stands. We parked a couple of minutes later at gate H1. No aviobridge here. Disembarking via stairs, and walking into the terminal building. I got out of the plane quickly, the advantage of being seated in row 1
!
I had to call my collegue to get myself picked up again, but within 45 minutes after landing I was back home. It as a nice, warm, but long day for me.
To conclude this report, some words on AB;
+ good to see the benefits of their Topbonus frequent flyer program (free flight, discount on boardshop)
- not enough check-in desks open at AMS, causing a slight delay on departure
+ inflight meals/drinks are good and free of charge. I liked especially the fresh one on my outboud leg
- Iberworld crew not on par with AB standards
+ interesting aircraft to fly on from my point of view
- not good to get this same aircraft on my return leg (of course from my point of view)
Anyway, I still prefer AB above many other carriers in Europe. The fares are reasonable, service is good and the meal is on many occasions better then on e.g. KL/AF. Flights were only minimal delayed, no big deal for me. I just hope that AB will introduce more routes out of AMS some day. Currently only PMI and RMI are served. Would love to see them expanding to some German cities and/or ZRH!
Comments, questions, etc are most welcome
Cheers,
Eric