This time a guided trip with some customers was on the agenda, and the snooze option on the alarm clock suffered some stress this morning. After pressing snooze twice I struggled out of bed around 04.15 to have a shower and a cup of coffee and making ready for my departure to AMS. At 04.45 I started engine nr. 1 of the Renault in front of the door and taxied to the highway. Traffic was very light actually and at 05.55hrs I waited a bit at desk 8 at the LH counter. What I didn't see was that my customers arrived a bit early and were already there, which was very good as the queues for check-in were very long.
The check-in computers were all out of order so I decided to ask my ticket agent how we could check inn e-tix with all the machines "kaputt". She smiled and checked us all in instantly, which was obviously very nice. This ment we could walk over to the security check bypassing the huge queues at the check-in counters.
Just as last Monday this queues weren't too long and within 10 minutes the whole group passed security.
We wandered to gate B11 were an Airbus 321 was awaiting her first flight of the day with a short hop to FRA.
Flight: LH 4689
Routing: AMS-FRA
Reg: D-AIRL
Type: Airbus A 321
Seat: 5A
Load factor: business 75% / Eco 95%
4th flight on the A 321 and the 1st on this machine
We saw a lot of people waiting at the gate so we decided to grab a cup of coffee at the Sportsbar near gate B9. Boarding was announced so we could see as everybody stood up and queued up. When the queue was almost gone we walked over and boarded the good looking 321 through door 1L..
After boarding was completed we were pushed from the gate and taxied to rwy 24 for take off.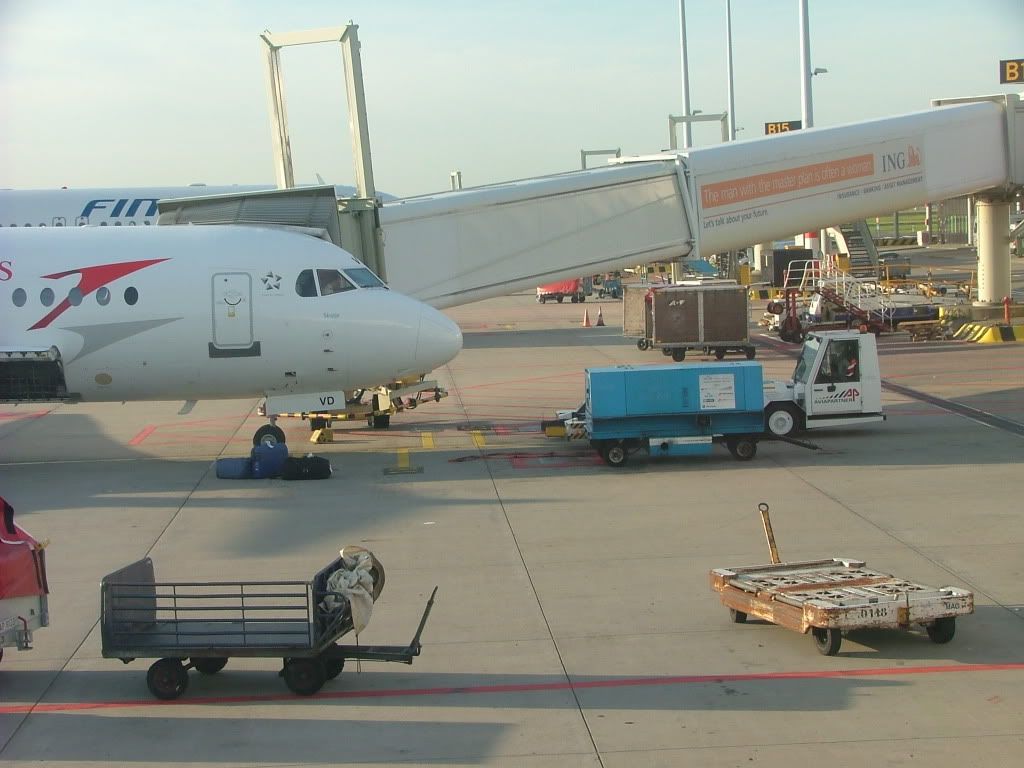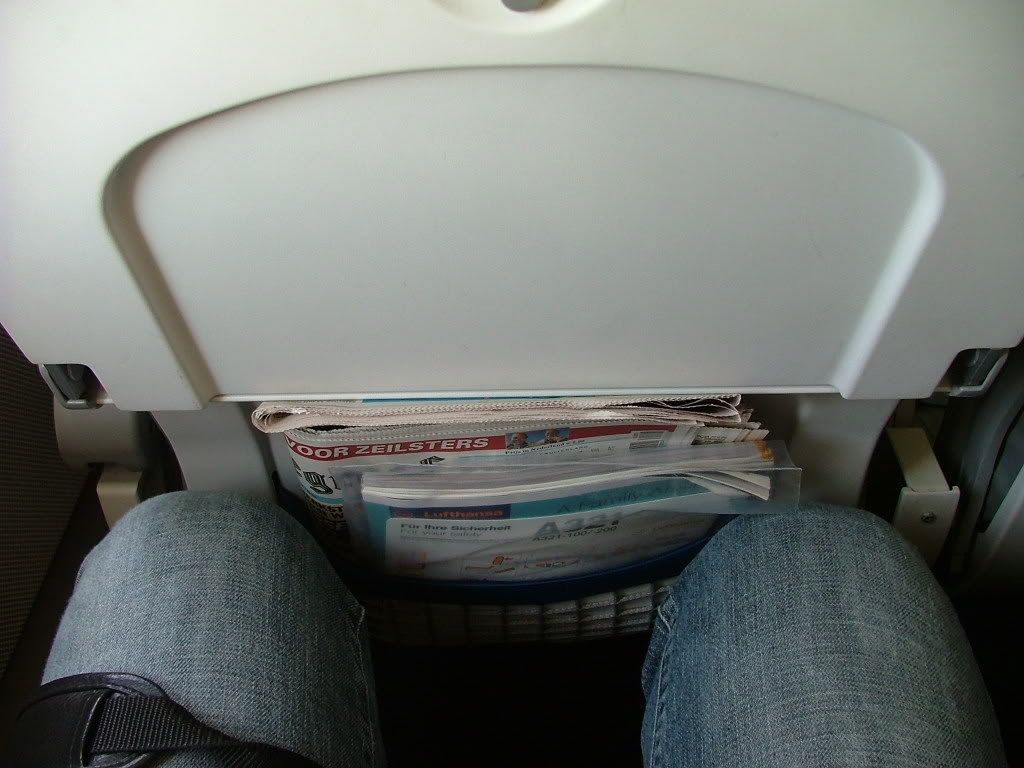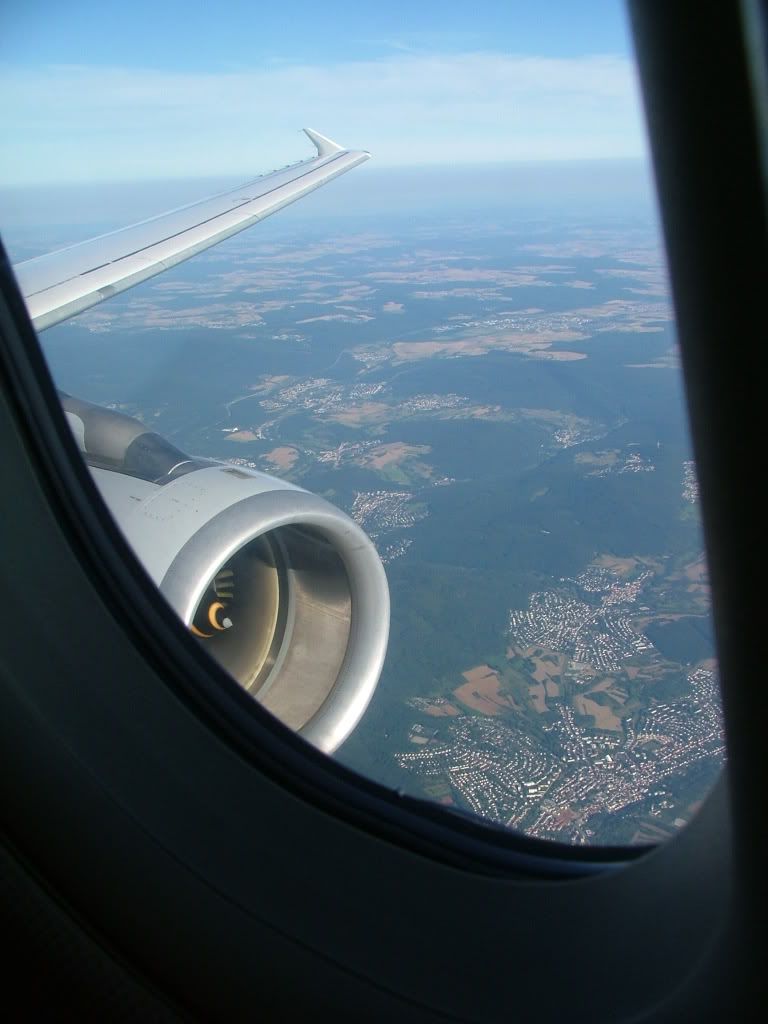 We turned left towards the southeast direction and service started after the seatbelt lights were switched off. I decided to have another cup of coffee as did most passengers around me.
A fresh breadroll with cheese was served which tasted really good and fresh. It looked to me that LH improved service on this short hop. Legroom on the 321 was sufficient but not too roomy. But again with 1,91mtr height every aircraft is quite tight. After only 25 or so minutes we started our descent into Frankfurt. We were assigned runway 07L for landing. Our pilot flying made a comfortable landing and we taxied to the A-concourse. Disembarkation was a bit messy as it seemed that 170 passengers stood up from their seat immediately after the parking brakes were set. Luckily with our row 5 and 6 seats we were soon setting ground on German soil.
Out of the terminal 1 we went to catch the bus to Tor 25 were the main gate of Lufthansa Cargo is located.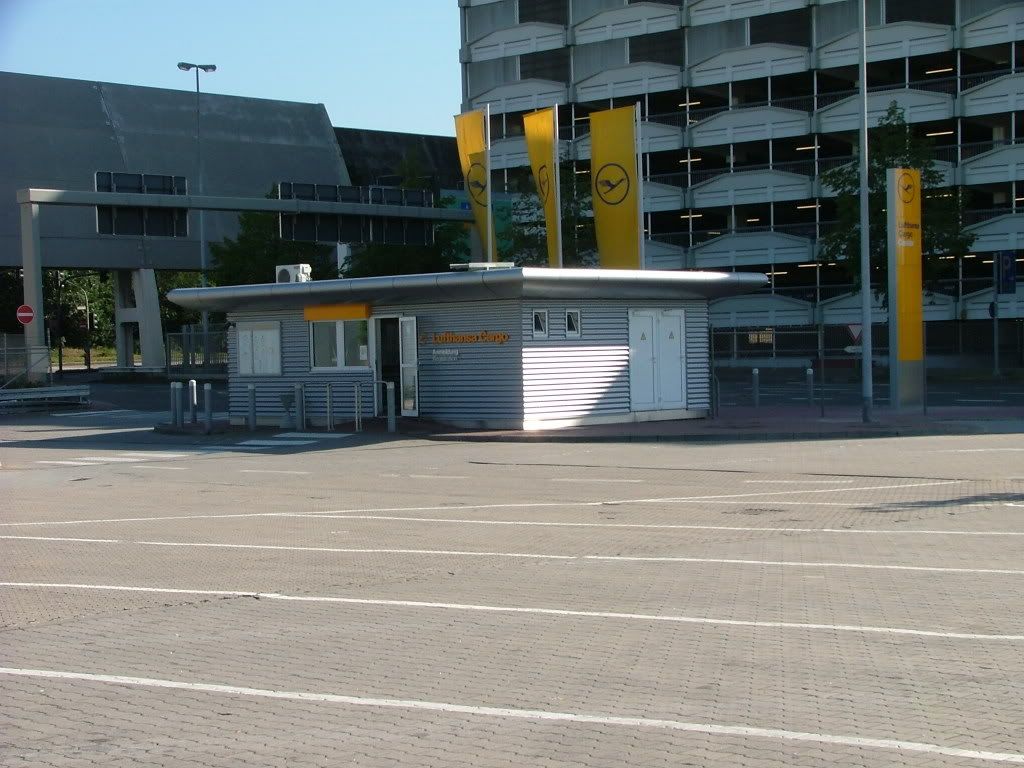 We had to wait a bit for our tourguide to be there, but we were 20 minutes early.
Our guided tour at the LCAG premises lasted for 2,5 hours, unfortunately but logically no pictures were allowed to take, due security reasons.
During the tour we went on the tarmac and watched the last pallets being loaded on the MD-11F which was due to leave for TSE and I believe PVG.
After the great tour we went to the LCAG-canteen located across the DHL building and had lunch.
At 1300 the bus back to terminal 1 arrived which we entered. Only 3 stops later we exited the bus at the LAC where the second tour of the day was given. This tour went through the Flight Training center, Simulator area, maintenance halls, engine workshops and also entering a couple of birds being prepared for a late night departure to the far east.
I will let the pictures do the talking here.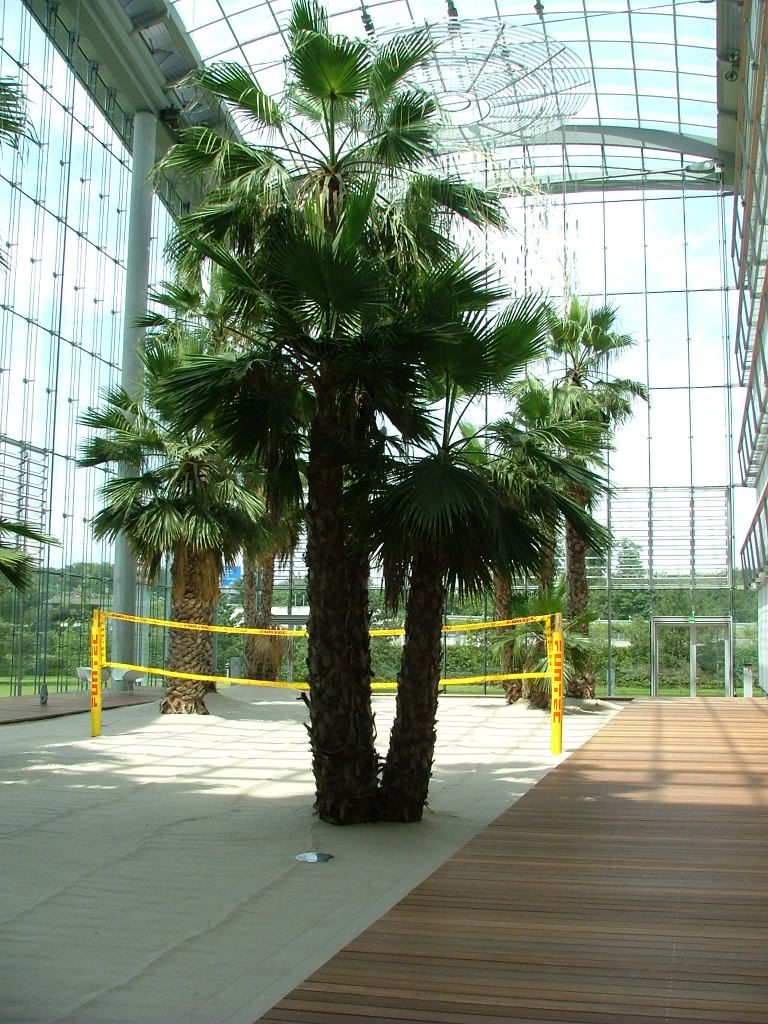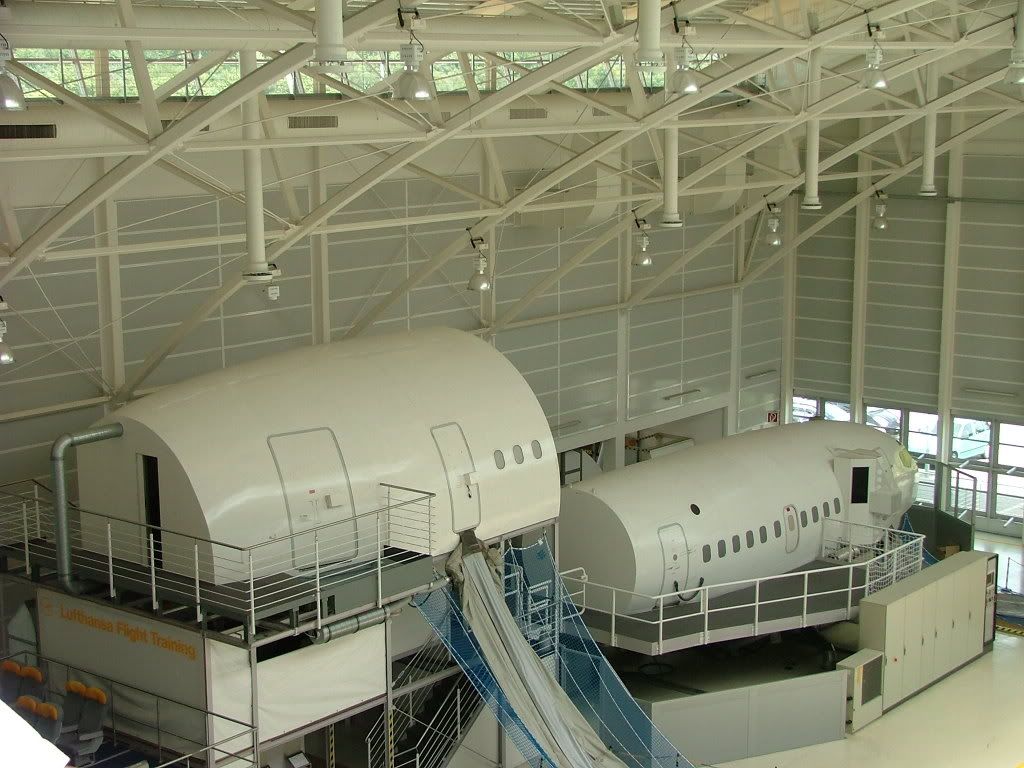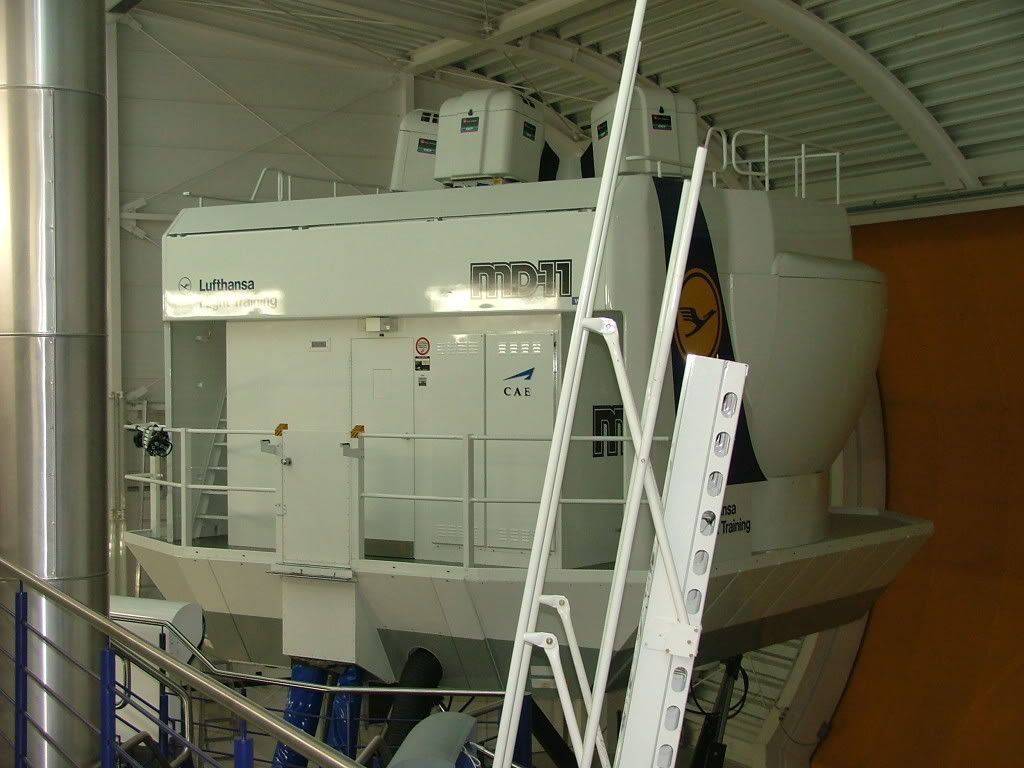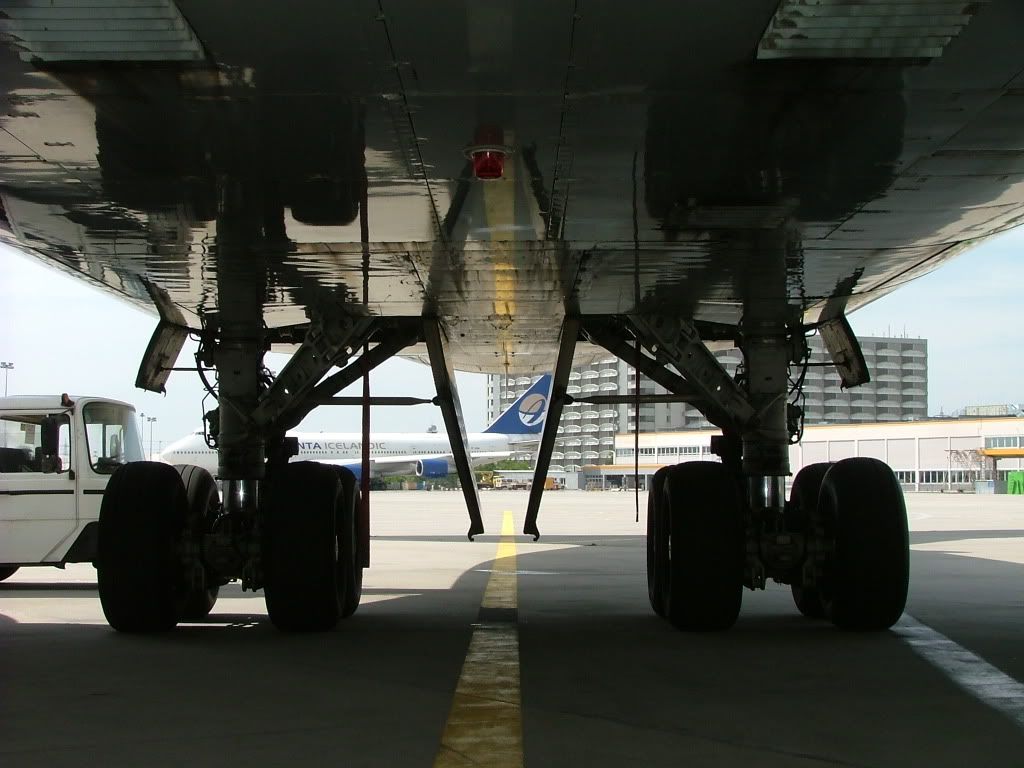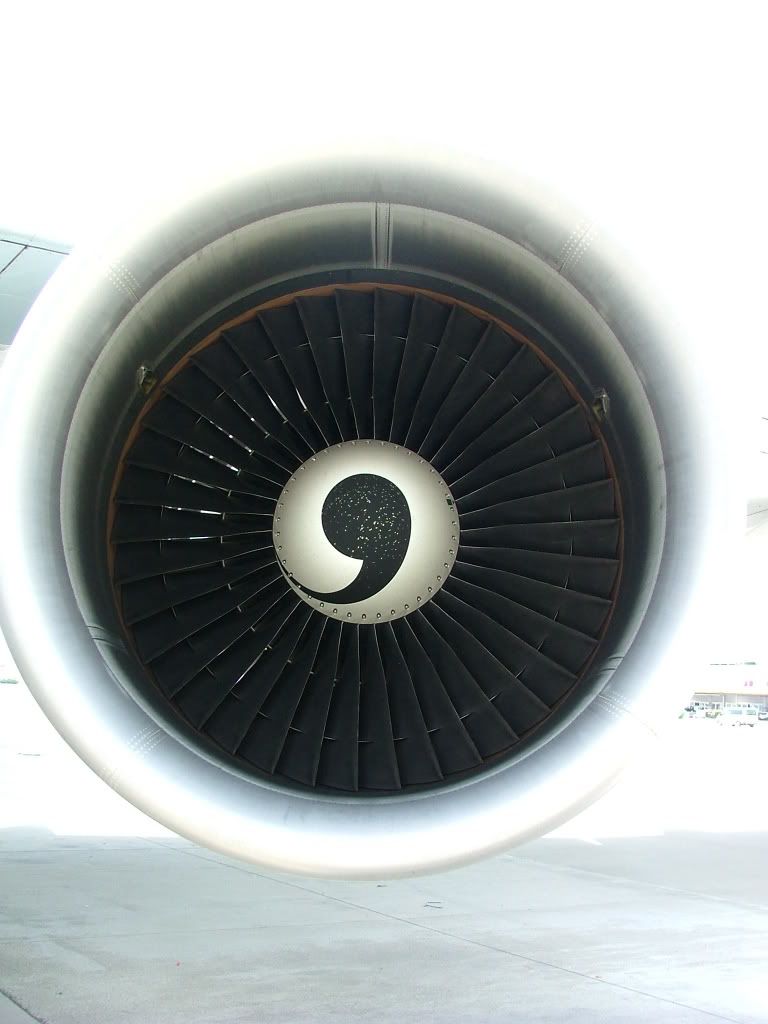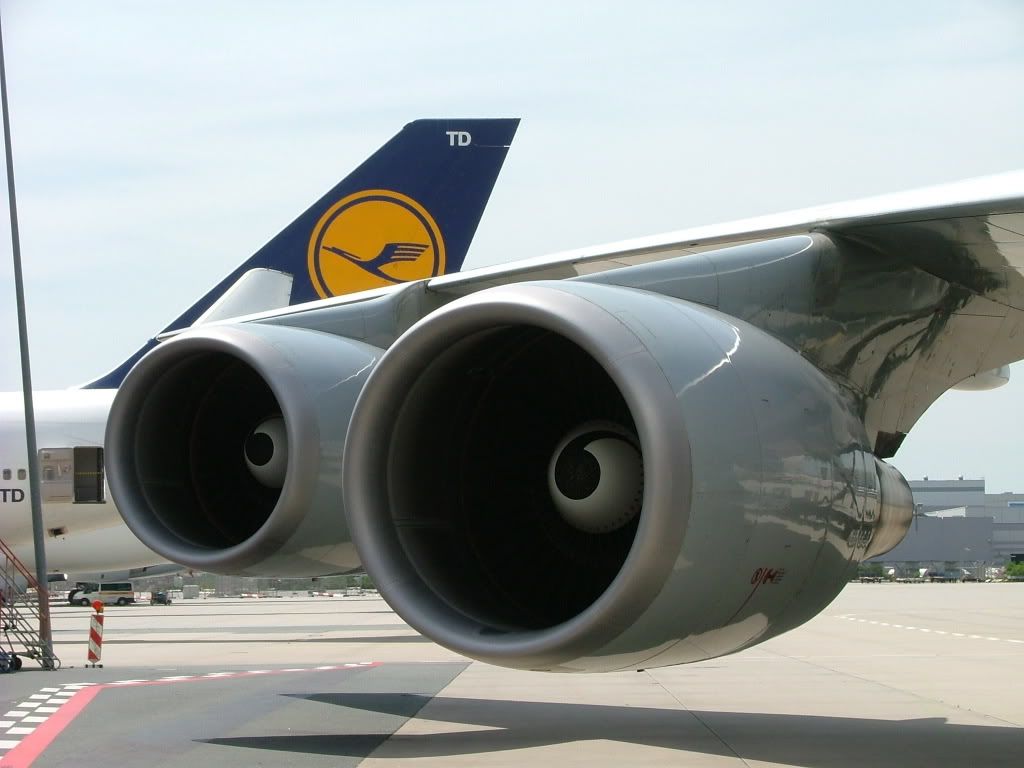 nice to see the retrojet from this close
At 16.15 our tour ended and we went back to Terminal 1, where we could queue up for security after the AMS agent also checked us in for the flight back to AMS.
The line was short and within 5 minutes some of the group could start shopping  
After this was done we walked almost all the way down the A-concourse as our flight was given gat A 38 which is about 1km walk ( or so it seemed )
Flight: LH 4682
Routing: FRA-AMS
Reg: D-ABXN
Type: Boeing 737-330
Seat: 7A ( actual 6A )
Load factor: business 0% / Eco 30%
4th flight on the 733 and 1st on this machine
Boarding started a bit late, which was no problem as the load on this flight was very light.
Within an heartbeat we heard the boarding completed and the doors were closed almost 10 minutes early. The purser offered us to change seats as everybody seemed to be seated from row 7 to 13. As 7A does not offer a window I decided to sit at 6A were I had a nice view of the FRA apron.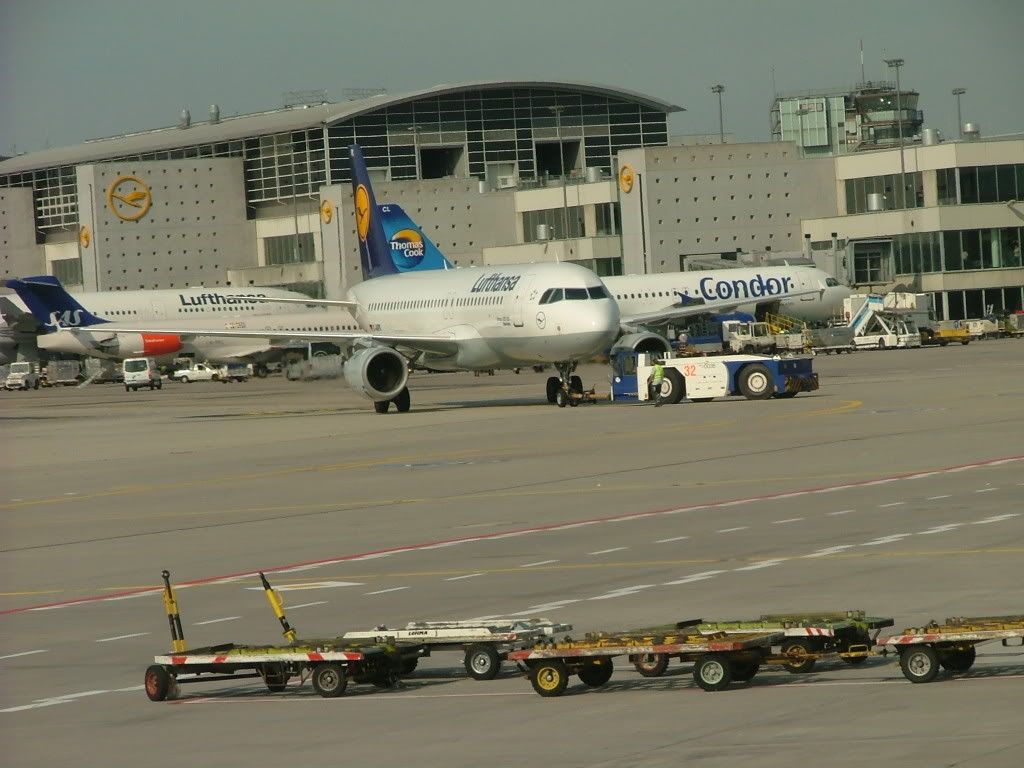 320 being pushed back
then it was our turn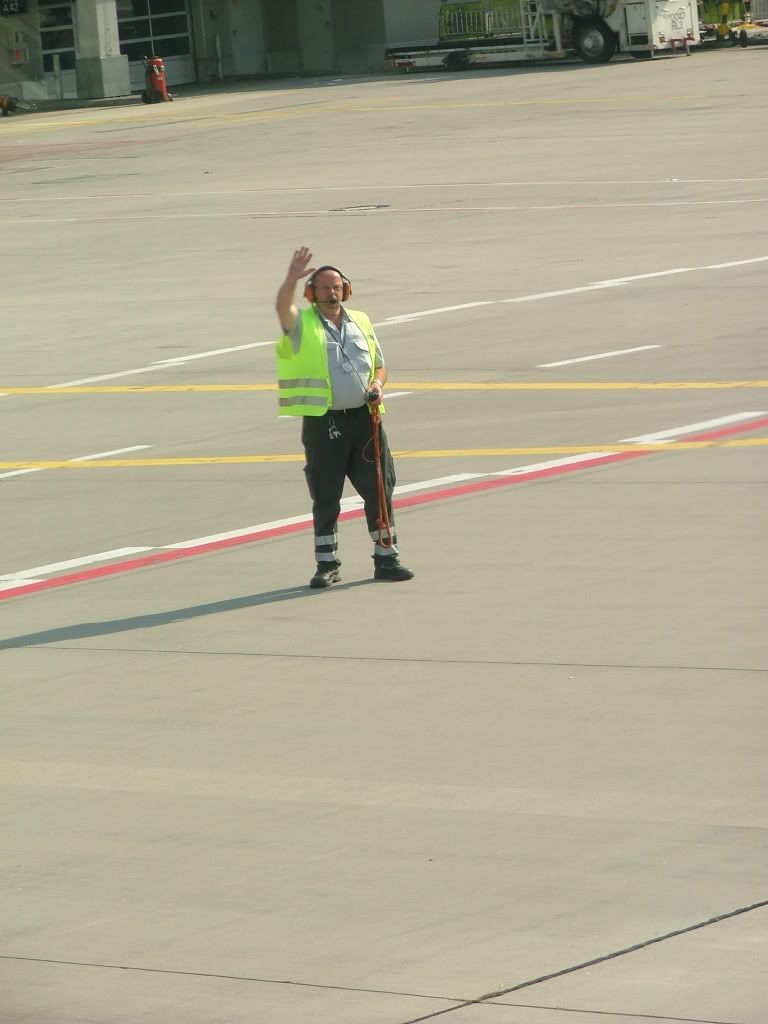 Tschuss!
After a short wait we pushed back and were given the thumbs up from the ramp agent.
We taxied to rwy 25R and I saw a company MD-11F landing on 25L as we thundered down 25R.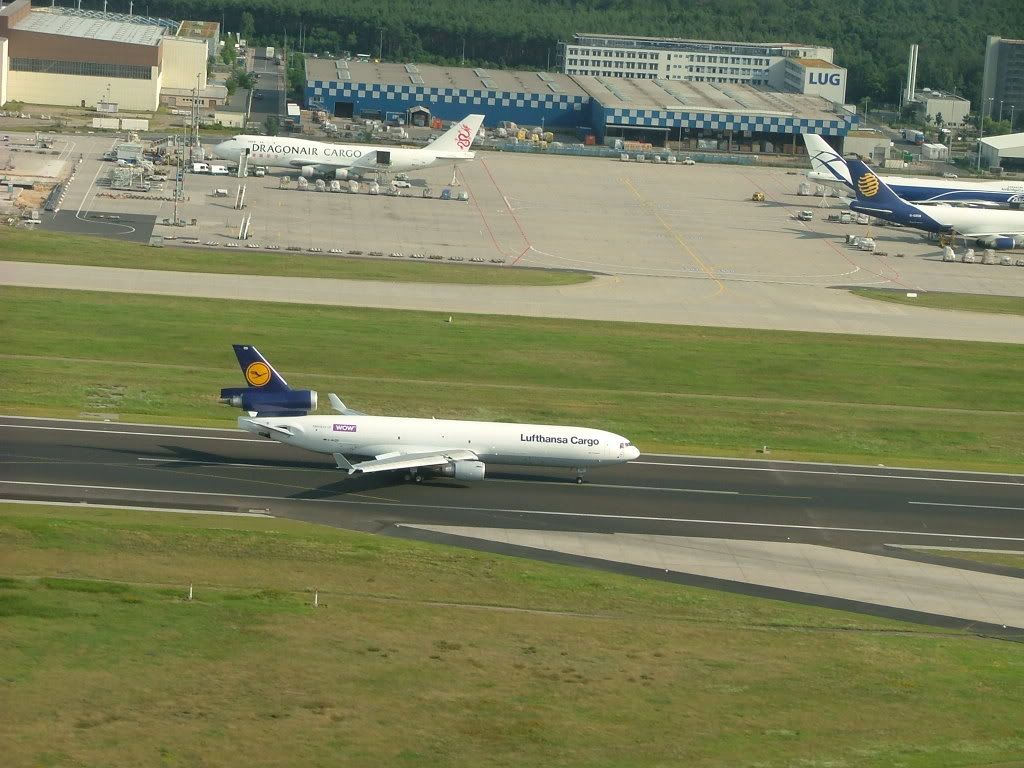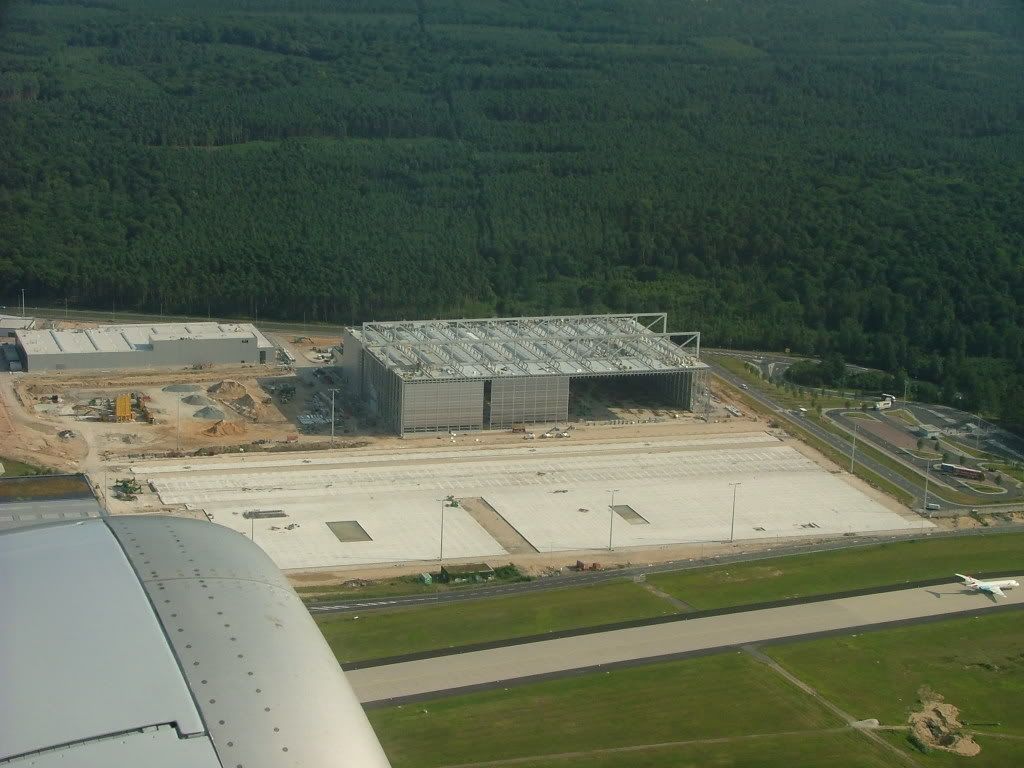 The new A 380 maintenance facililty at FRA.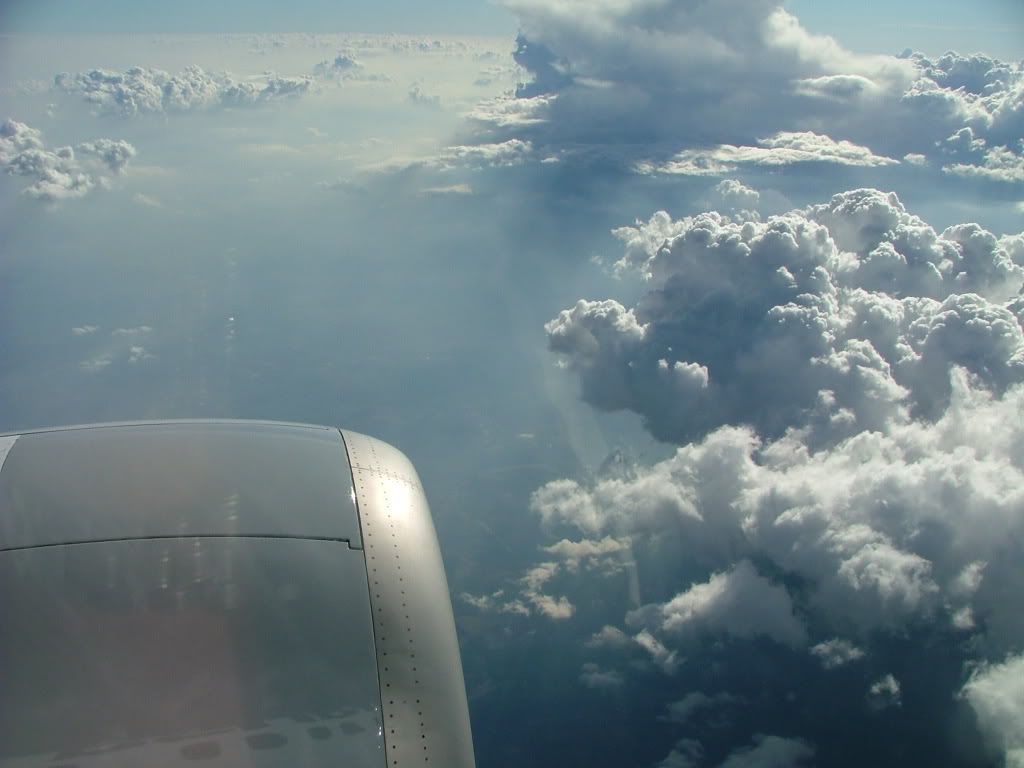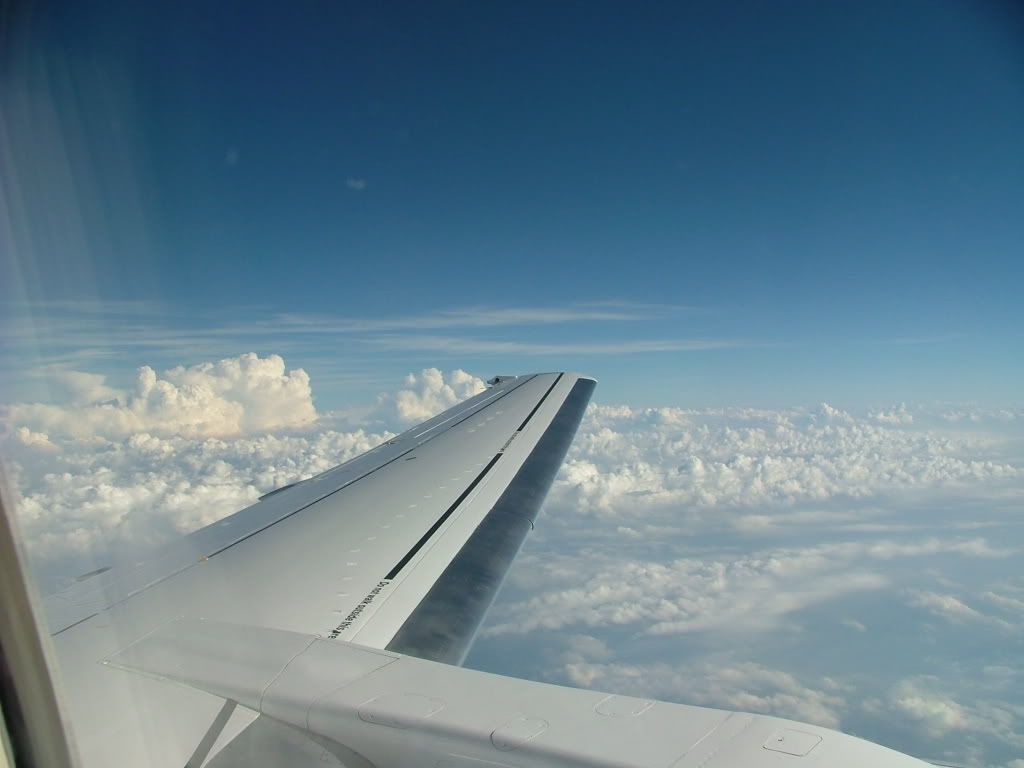 The view offered amazing cloud formations during the whole flight.
We were served a small cheese-sandwich and drinks. 10 minutes later the attendants passed by again to offer a second drink, which was very nice. According the information given by the F/O our cruising altitude was only 20.000ft.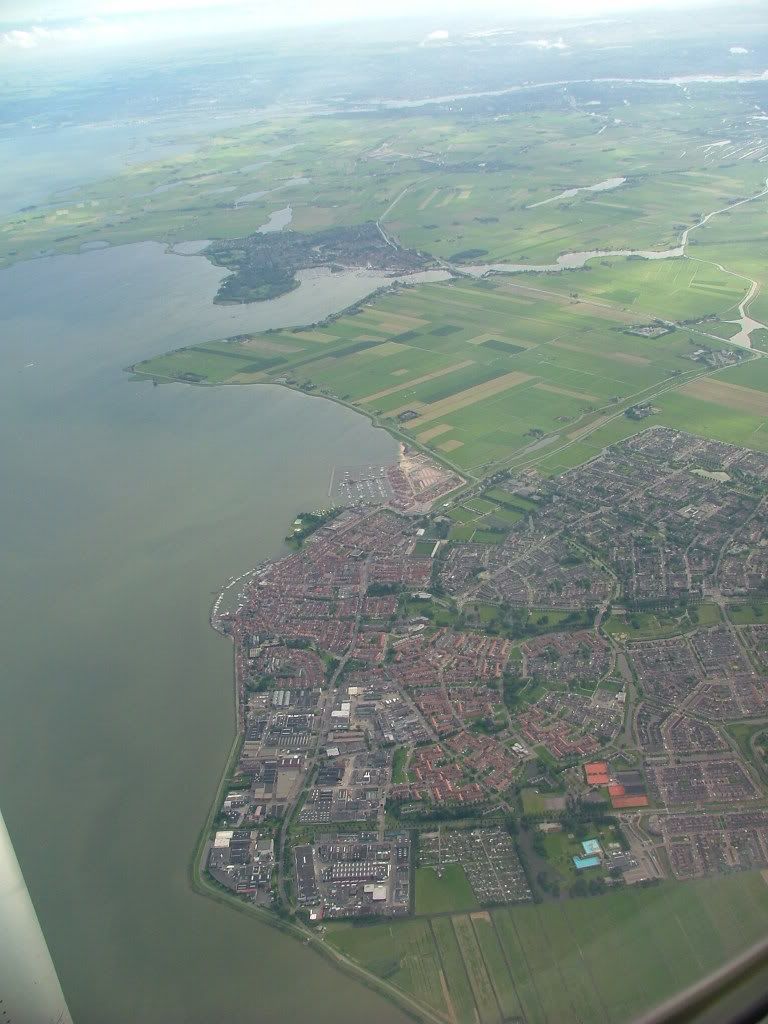 Volendam
We entered the AMS area again around Volendam and Purmerend and had a Spykerboor approach to rwy 18C. Touchdown was soft and breaking very hard.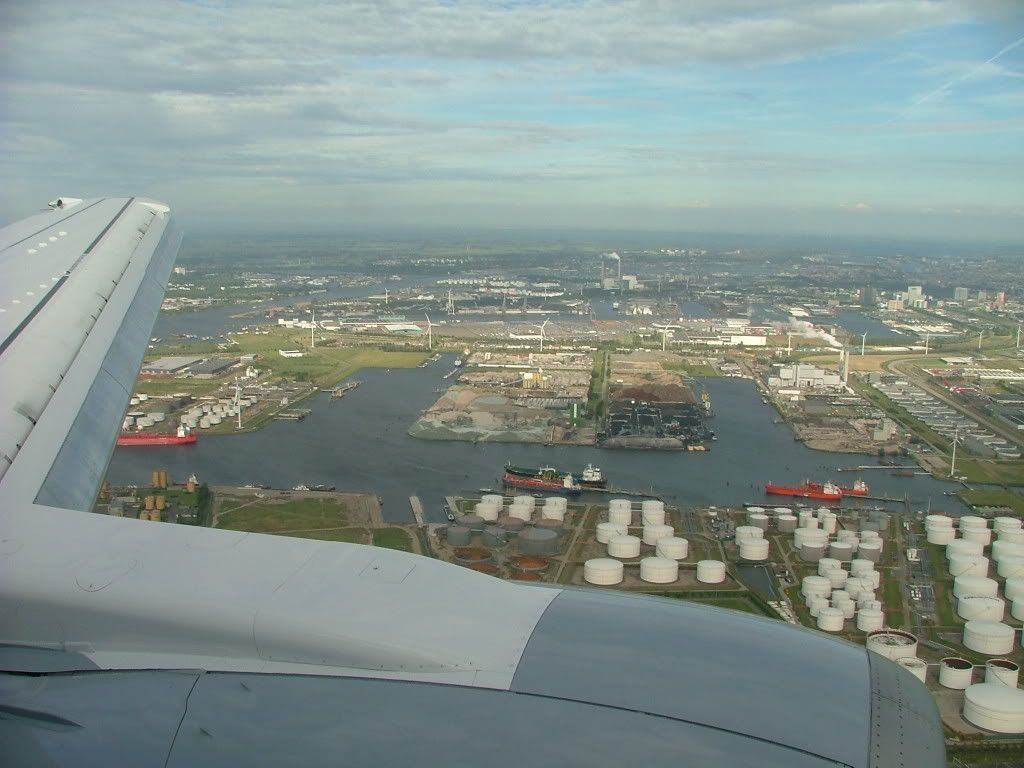 After turning onto the taxiway I understood why we braked so hard. On short finals for 18C was already an KL 772 and for my feeling quite close to us. Nevertheless we taxied over the southern bridge across the A4 to our finger-gate at B9. Deboarding was quick and I was the first of the plane, as nobody was seated in the rows in front of me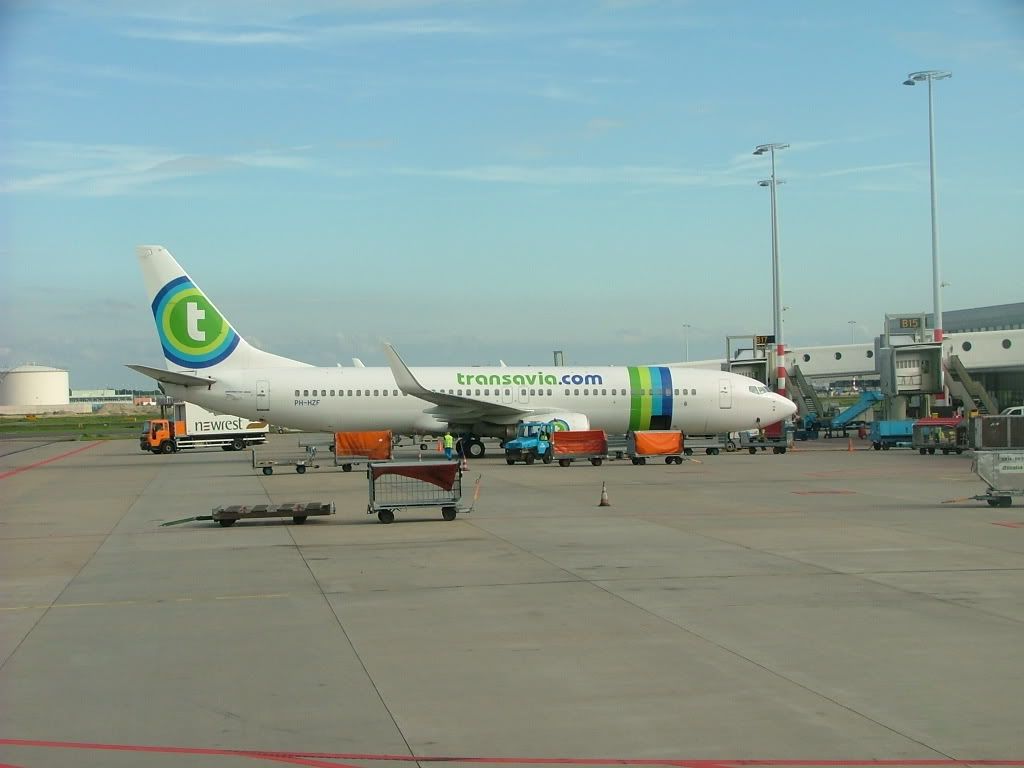 After we entered the arrivals hall we said our goodbyes and we all went our own way.
Around 2000hrs I was back home and ready for a cup of coffee at the couch watching TV.
It sure was a nice and interesting day, weather was great, flights were comfortable and I was very tired.
Brgds,
DALCE
[Edited 2007-07-15 15:45:06]
[Edited 2007-07-15 15:52:14]
Edited due to pics not working properly.
[Edited 2007-07-15 15:55:49]