Continental Flights 50,62 / 63,51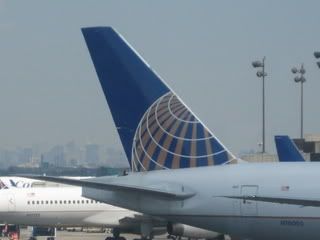 Flight 50.
Boeing 757-200
KIAH – KEWR
Seat: 16F
The flight was boarded on time; however the weather in IAH was scattered storms to the Northeast. After pushback, we sat on the taxiway for about twenty minutes while the pilot got a re-route. We finally taxied from E-3 to 15L. After takeoff, we slowly climbed up to FL370. The choice of dinner was a micro-waved burger. I didn't bother to eat it figuring I had just got a burrito from Pappasitos in Terminal E at IAH. The nice thing about CO's 752 fleet is that the first rows have AC power! This allowed me to use my PC to watch a movie without worrying about draining the battery for my international flight. Our route would take us over the Alexandria VOR and from there to the east. We flew north of ATL and then northeast toward IAD. We landed on 22L at EWR on time, even though we had a long ground wait at IAH. Our gate was 90 something, which put me right next to my departure gate. Food in EWR was average for an airport.
Flight 62.
Boeing 767-400 Hawaii Version
KEWR – LEMD
Seat 18D
Boarding was 45 mins prior to departure, and since the Business First cabin hadn't been cleaned yet, economy was the first to board. I boarded the plane and noticed a pillow, blanket, and headphones were waiting for me. There were 15 open seats by the time we were to depart. But, since there were a lot of passengers on CO 62 from IAH-EWR (which had a 45 min. connection time), the bags had to be transferred. Our Captain came on the PA and said that we would be waiting for the rest of the bags to get loaded. The wait turned into another hour and a half! People were getting very impatient. The boarding door had been closed, but it was reopened to let more passengers on. I was kind of bummed because I had an open middle seat next to me. We finally departed and taxied to 22R. Our climb was very slow and choppy. Our route would take us south of Massachusetts by nearly 100 miles and then directly toward LIS. Meal service commenced about 40 mins into the flight. There were two choices: chicken or lasagna. The lasagna was great! The roll was very good as well. Duty free was next. Finally the lights were dimmed. I woke up right over the Portugal / Spain border. A quick breakfast was served. It consisted of OJ, fruit, yogurt, a croissant and the fixings. We flew over Salamanca, Spain, where I am staying for the next two weeks. We landed to the North.
Lasagna
Review for departing flights:
Online Purchase: 9
Check-in: 8
At the Airport:
IAH: 10
EWR: 6
Boarding: 8 (very efficient)
Aircraft
Cleanliness: 9
Entertainment: 9
Meals (EWR-MAD): 10!
Service: 9
Flights 63, 51
Flight 63.
Boeing 767-400 Hawaii Version
LEMD-EWR
Seat 14L
Background:
We left Salamanca at 2 in the morning and took a chartered bus to MAD. We arrived at 0500 local time and realized that the tour director had left our passports back in their office. Great! What an idiot. One of the girls in our group missed her flight to LHR, but the rest of us were lucky enough to leave at 1130 local time. So, we sat in the restaurant for about two hours waiting for the taxi to arrive with our passports. At around 0830 we decided to go ahead and get in line for check-in at the CO counter. They did the background check on the laptops and we finally received our passports just as we were approaching the counter. I had already checked-in and chosen the seat in the forward part of the Y cabin. Check-in was a breeze and so was passport control. Security took about 5 mins. We sat in the airport for about two hours until our flight started to board. Terminal 1 at MAD is very barren. There were no restaurants past security, just vending machines.
Inside MAD Terminal 1
Flight:
We boarded on time and found a blanket, headphones and pillows on our seats. They were playing light rock and roll on the PA. Pushback was on-time and we taxied to RWY36L. Taxing took awhile as there were quite a few planes before us. The pilot called for the flight attendants to be seated when we were taxing into position. We used almost 90% of the runway and climbed out toward the Northwest. The first drink service was about an hour into the flight. Next was the lunch service which consisted of braised beef or grilled chicken breast. The chicken was fantastic. There were two more drink services throughout the fight. About an hour from landing, the ISM (purser) came on the PA and said that they had lost the Immigration documents for entry into the USA. So when we landed in EWR (on-time) we had to fill out all the documents before we could approach the customs official. Immigration was easy and there were no lines. Our connecting flight was 4 hours later so my friend and I chose to go standby on CO51.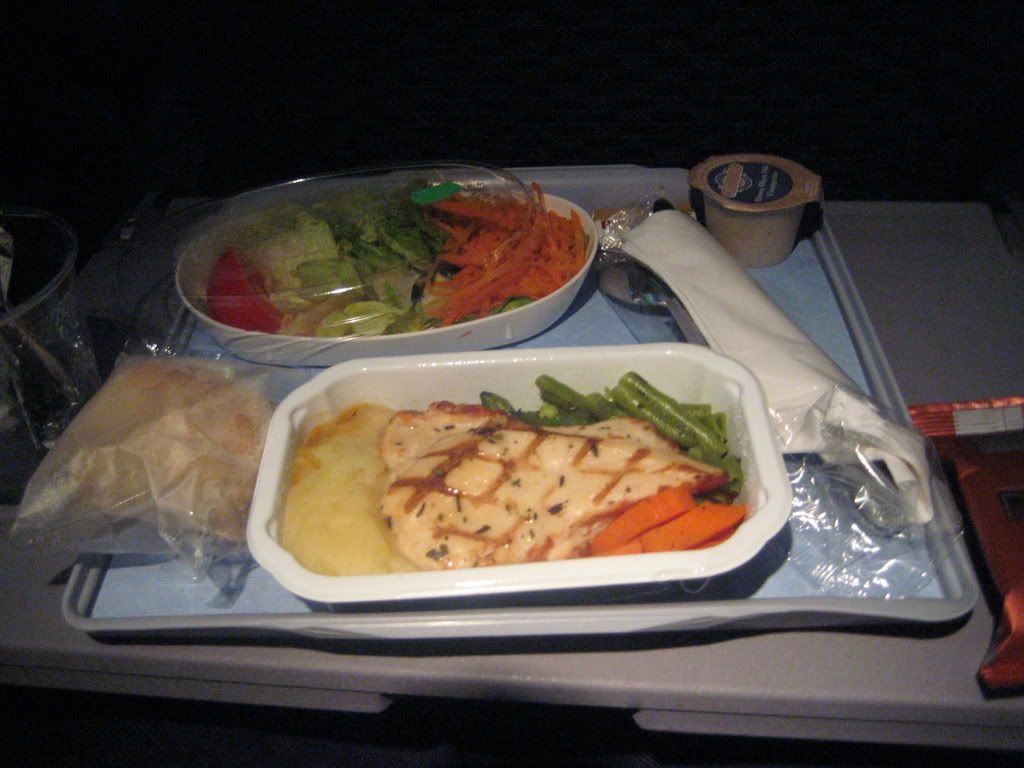 Grilled Chicken Breast with Mashed Potatoes and Vegetables.
The "mini" Y cabin between Business First and Doors 2L and 2R
Flight 51
Boeing 767-200
KEWR-KIAH
Seat 25E
My friend and I were lucky to get aboard the earlier flight to IAH. We were tired of traveling and by the time we taxied to the rwy, I had already fallen asleep. I didn't wake up until landing in IAH! Sleep deprivation really catches up with you. We landed on RWY 26L in IAH and taxied to Gate E-7. Our bags didn't make the connecting flight unfortunately, so we went to Salt Grass and came back to pick up our bags. The 762 as well as the 762 are in a 2-3-2 formation. I really enjoyed this, even though I was stuck in the middle seat for the final leg.
Review of Returning flights:
Check-in: 9 (very efficient in MAD)
At the Airport:
MAD: 3 (terminal had no amenities)
EWR: 7 (American food has never looked so good!)
Boarding: 10 (took 15 mins. To board the 762! – 20 to board the 764)
Aircraft
Cleanliness: 10
Entertainment: 9
Meals (MAD-EWR): 9.5
Service: 10+
Various Pictures from my Trip: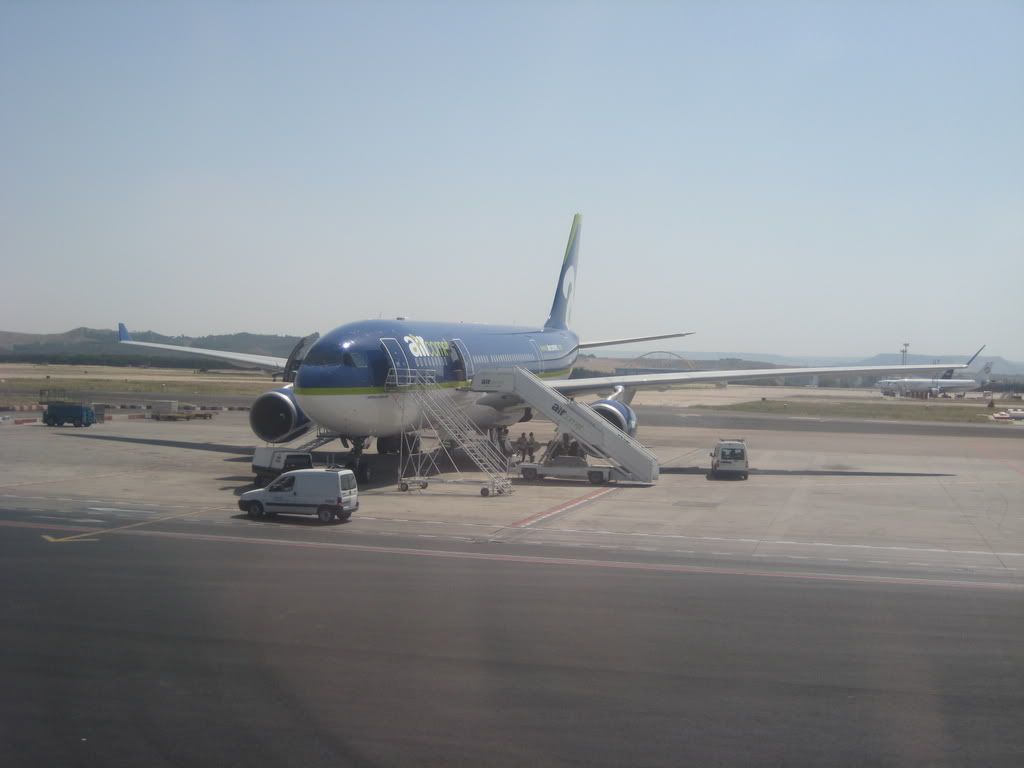 MPD (Air Comet) A332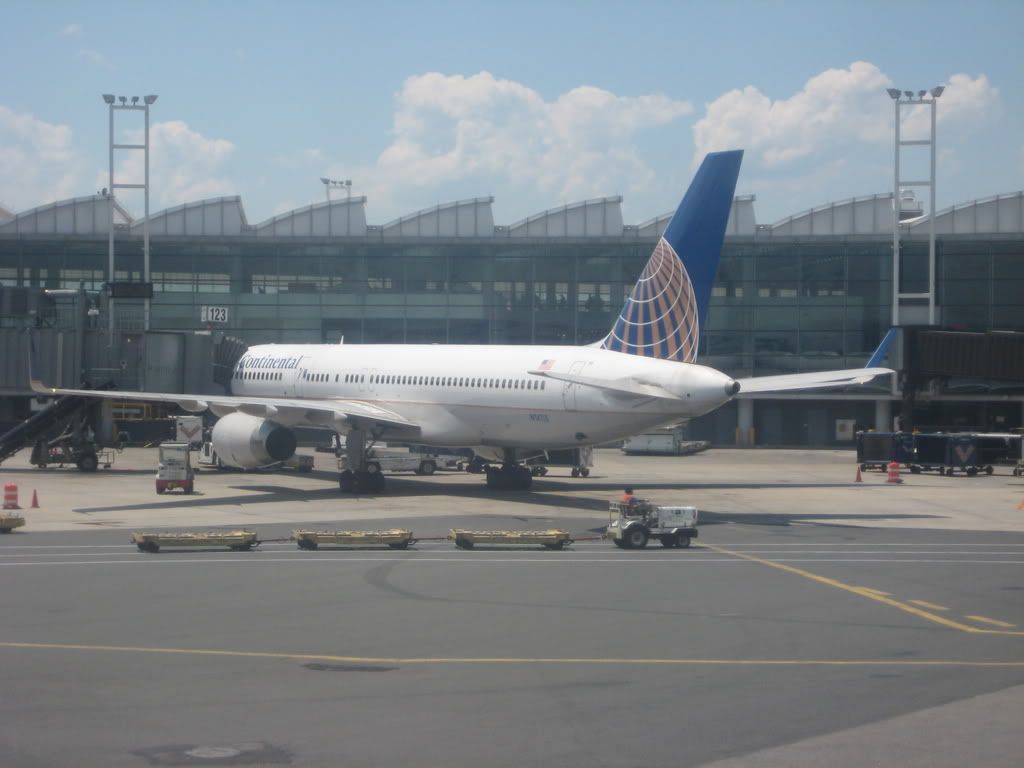 CO 752 in EWR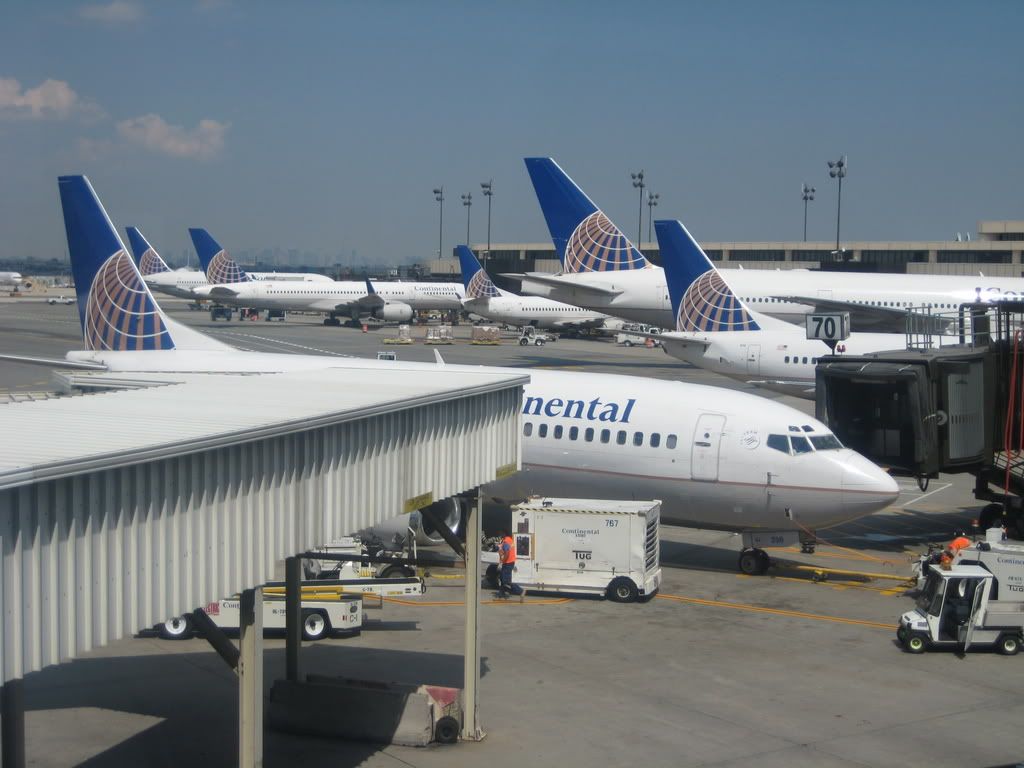 EWR Terminal C looking towards gate 90
CO 777 Peter Max and more
I hope you enjoyed this trip report as it is my first report on Airliners.net!