Part 1:
Competition In Orlando: DEN - MCO On F9 (Part 1)
(by
Yanksn4
Jul 14 2007 in Trip Reports)
Well everyone, thanks for reading the first part of this report. With that, let's move on to part 2.
As I promised before, I'll go into a little of why I was there in the first place. Previously I explained how I won the state championship in the field of international business. The idea that allowed me to do this was fractional-jet ownership. My company was called "Red Corporate Express" and was HQ'd in Shanghai. Here are just a few other aspects of the compnany:
> use of six Eclipse 500 aircraft
> 25 hours of time = $400,000
> partnership with Chinese companies
> dvd's, flat screen tv's for in-flight entertainment
> service to most big cities in China
The entire manual for this idea was around 30 pages in length (max it could be) and mainly described (with market data, analysis, wealth reports, etc.) why I felt the new business could succeed. As I had done in COS, I had to explain my idea to a judge of the contest and convince him or her of my argument. For those wanting to read the full thing, here is a link to the document. I think all you have to do is download it.
http://www.4shared.com/file/20156763/ff1466b8/i2_online.html
The whole DECA conference brought tens of thousands of high schoolers to Orlando fron all over North America. In between competting and registering for this or that, I had the oppurtunity (along with my crew) to go to Sea World and Disney World. The entire week was fun and gave me a chance to get away from school (always a positive). Although I didn't win anything, it was still worth coming here.
Day of Departure
Anyway, on about Tuesday of that week the time for us to return to CO finally came. As our flight was one of the first of the morning, our adviser scheduled the shuttle pick-up for 5.00am and being as I was up all night anyway with some fellow competitors, it didn't matter that much. With us that morning were about thirty other kids heading back home and with that the bus to the airport was full to the brim.
CHECK - IN
It took about half an hour or so to get to the airport and once we did, my crew unloaded our bags and we headed inside to look for the Frontier counter. Unforutnately, this was impossible to find as my crew headed up and down both sides of the terminal at least twice until we finally found the counter.
Check-in was quick and easy. Luckily, we got there just in time to avoid the growing line behind and around us. As boarding passes were issued, we headed over to security. Once passing through, we boarded the tram to the concourse where our Frontier flight was located.
Upon arriving at the concourse, we walked all the way down to where the gate was. Around us were VS's gates as well as others. Our plane had not arrived yet and there was still around an hour or so til it would. With that I headed over to where Burger King and Starbucks were located. Once grabbing something small for breakfast, I decided to kill time by walking down DL's side of the concourse. This area was pretty busy as you had flights going to NY, LAX, ATL, etc. Luckily I was able to spot a whole range of DL's fleet that morning (as you see in the pics below.)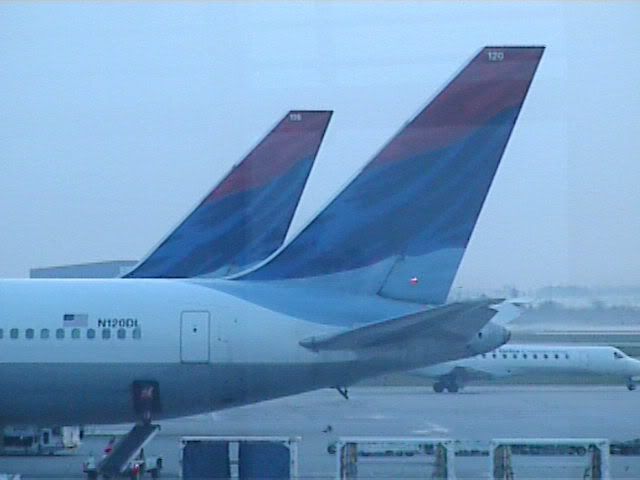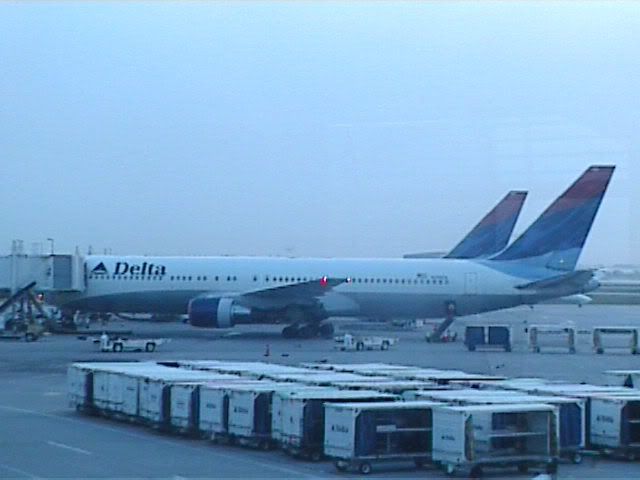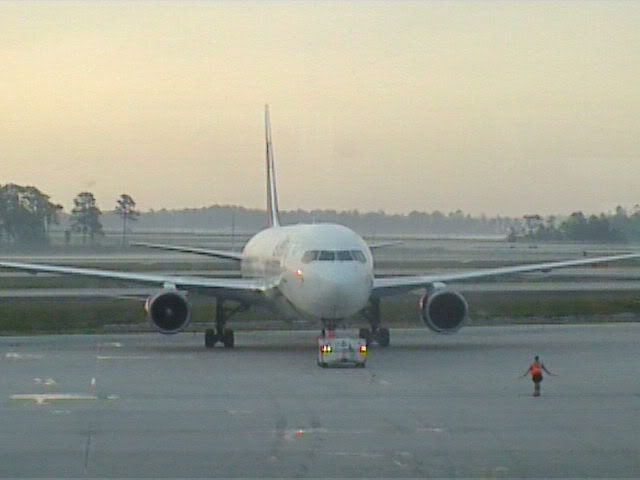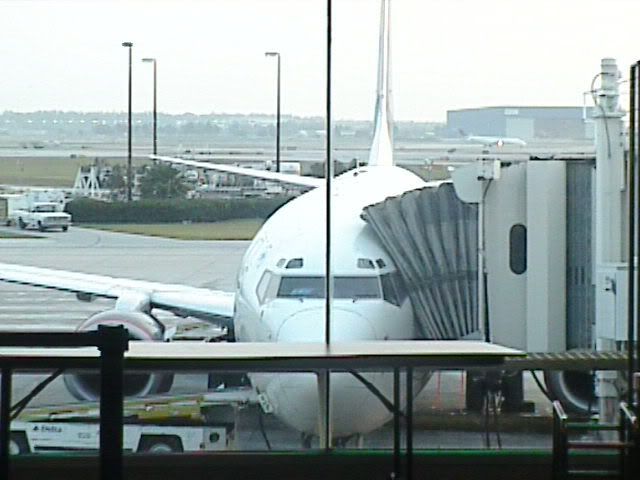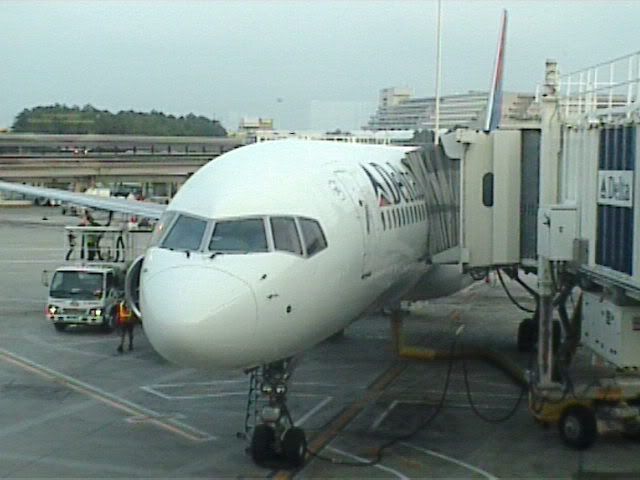 As this started to get tiring and wanting to explore a little more around the airport, I took the elevator located next to DL's Crown Room to the small gate areas for region flights. Upon reaching the area and finding it cramped as hell, I sat down next to the window and tried to get the best shots I could of some CRJ's as well as a DL 757.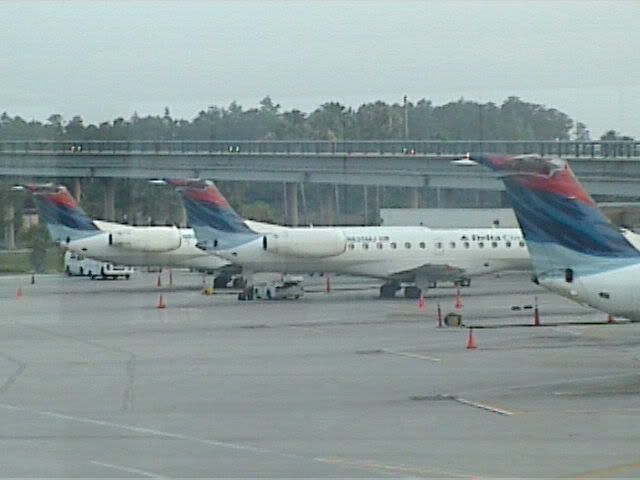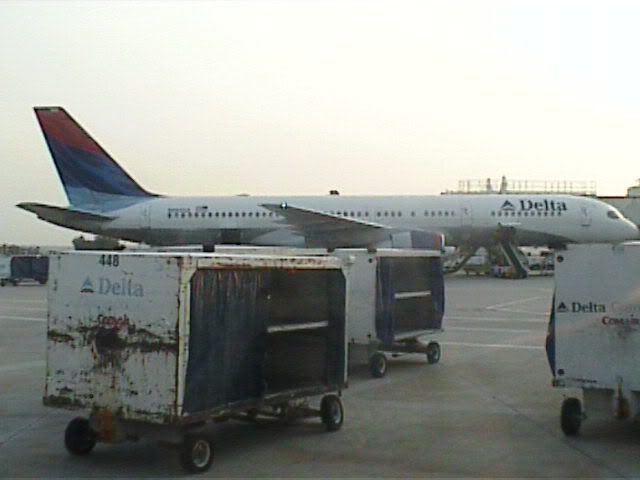 Unfortunately it only took a few minutes for this to get boring and so with that I walked back to the elevator to reach the main floor. Once there, I headed back to the Frontier gate in order to relax and just look around. As I got back, the area was quite full now and within five minutes the flight from DEN had arrived and deplaned. During this time I got up once more in order to see what animal we had for this flight. Turned out I would be on both foxes of the Frontier family as this morning we had "Foxy."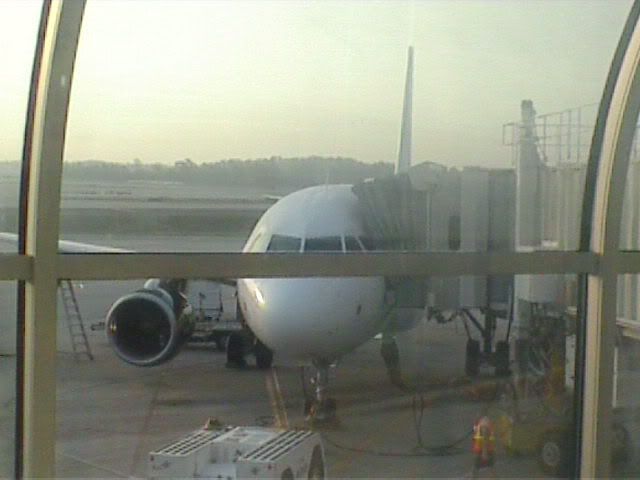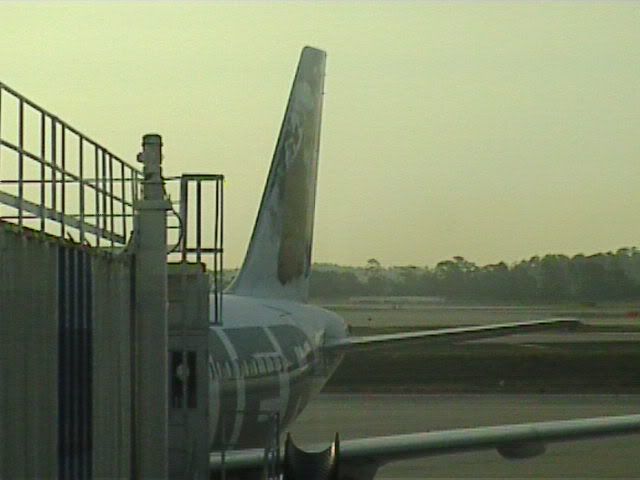 BOARDING
Route: Orlando, Florida (KMCO) - Denver, Colorado (KDEN)
Airline: Frontier Airlines (F9)
Flight Number: FF671
Seating Class: Economy
Seat: 10F (exit row)
Load Factor: 100%
Aircraft: Airbus A319
Date: May 02, 2007
Departure Gate: 86A
Boarding: 07.55
Blocks-Off: 08.09
Scheduled Departure: 08.25 Eastern Standard Time
Actual Departure: 08.40 Eastern Standard Time
Scheduled Arrival: 09.38 MountainStandard Time
Actual Arrival: 10.09 Mountain Standard Time
Flight Time: 3 hours 29 minutes
Average Speed: 442 Knots
Average Altitude: 36,000 Feet
Arriving Gate: not known
Tail Number: N922FR
Frontier Animal: "Foxy"
Ten minutes later, the ground crew finally started boarding. Once Assent members and those with children were boarded, it was our turn once again to board early. As my crew reached our seats, I was very happy to find out that we were in an emergency row exit. This would provide great leg room for the three hour flight back home and give me the chance to get some sleep.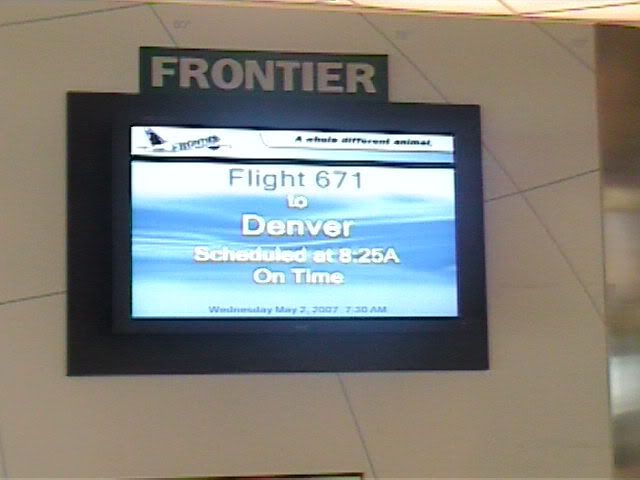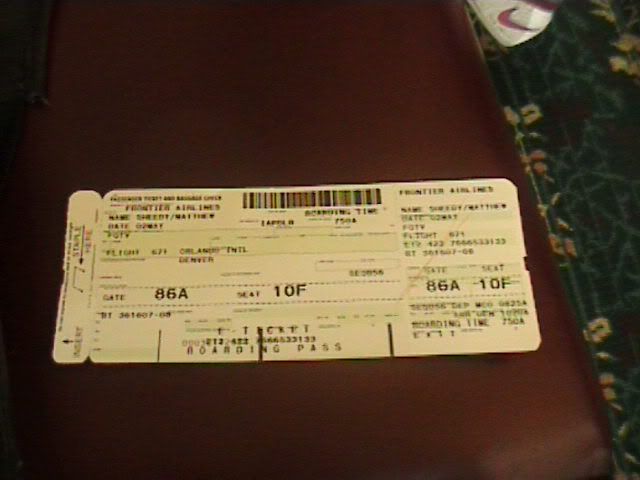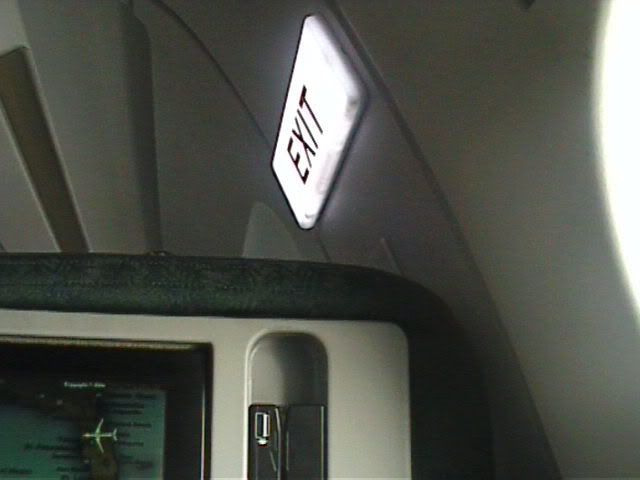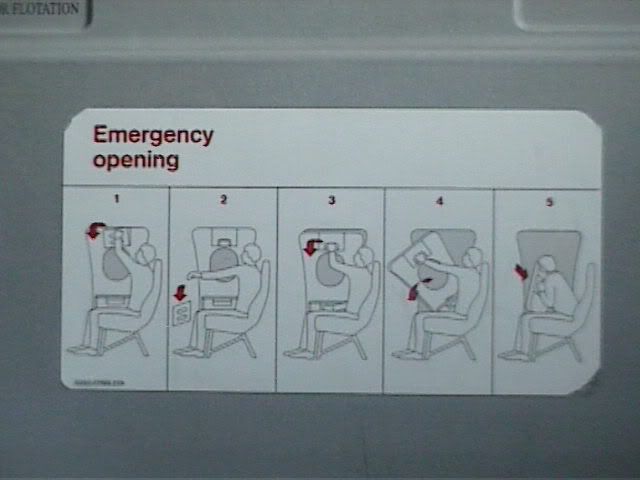 Boarding would complete around ten to twenty minutes later. However, we still would not pushback from the gate for a few more minutes. Once we did though, the crew came around and made sure we spoke English (hence emergency row seat). Following this the crew split up to inform us of the safety procedures. As a flight attendant was a few feet in front, I really had to conceal my camera in order to get a few images.
TAXI
The taxi to the runway at MCO took quite some time. It seemed forever just to get there and line up for the runway. Along the way though, I was able to catch some new photos for my collection. This included a FedEx A310, Air Tran 737, and some WN 737's as well.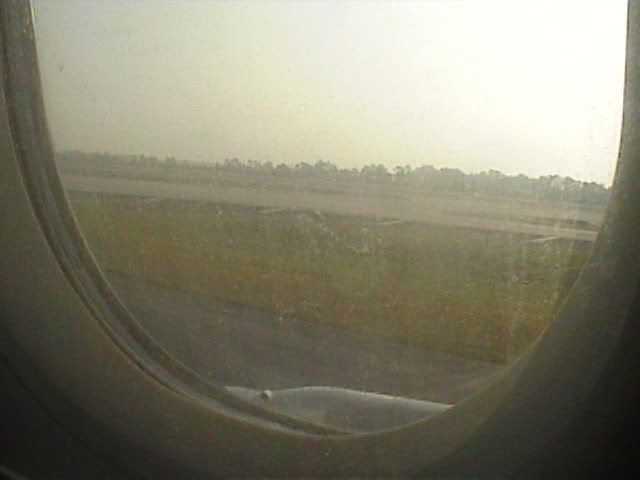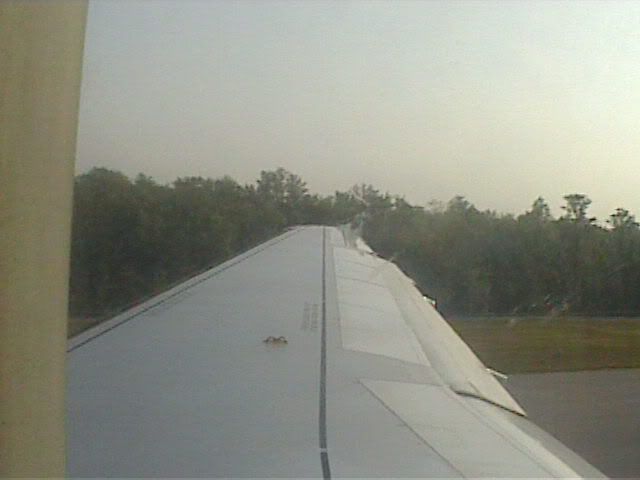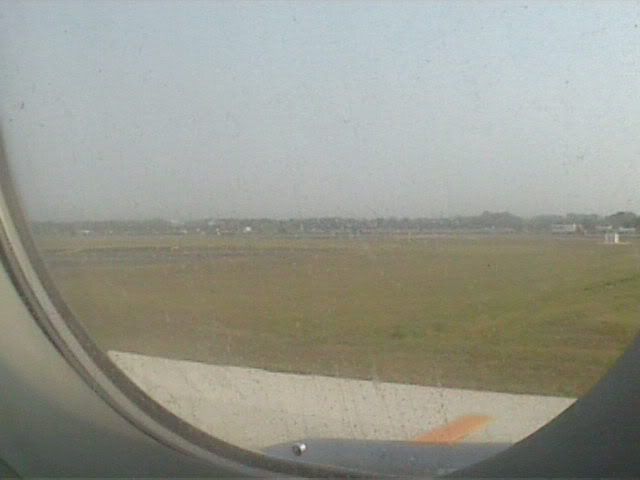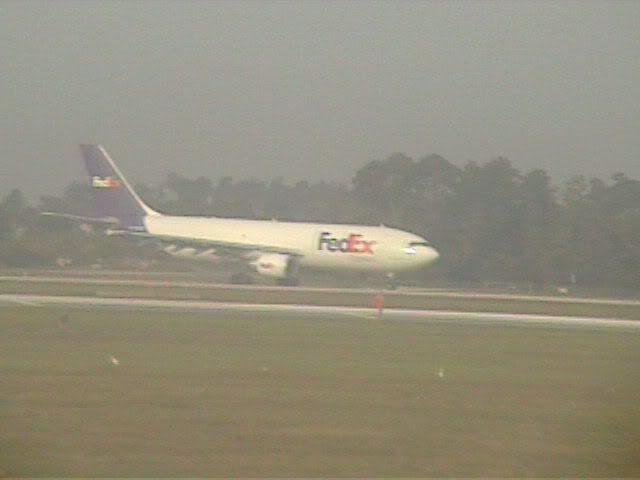 TAKE-OFF / ARRIVAL
Anyway, we finally managed to reach the runway. As we did, the pilots put us into take-off speed and we rocketed down the pavement. Lift-up into the sky was smooth and with little incident.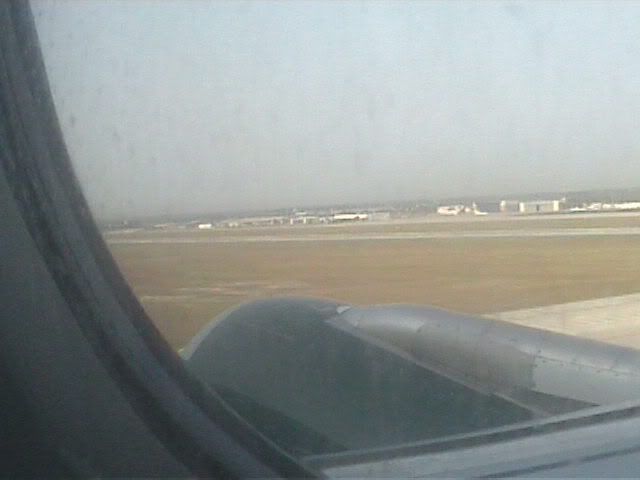 Around ten minutes into the flight, the crew came around again with drinks and then maybe another ten minutes later with snacks. For the first round, I chose some sierra mist (even though I really don't like to drink soda in the mornng) and for the snack decided to take the LaMar's Donuts (Denver based company) being passed around. LaMar's was alright, though I still overwhelmingly prefer Dunkin's. Anyway, to my hatred I couldn't sleep a wink on the flight and since I was too cheap to buy the directv service, I instead brought out my laptop. For the next two hours or so I fiddle around on it listening to music or watching movies. In between this, the crew came around with seconds on the drinks and I again had to choose soda in order to wake me up. Besides this and occasional shake or two by turbelence, the remaining flight to Denver was uneventful.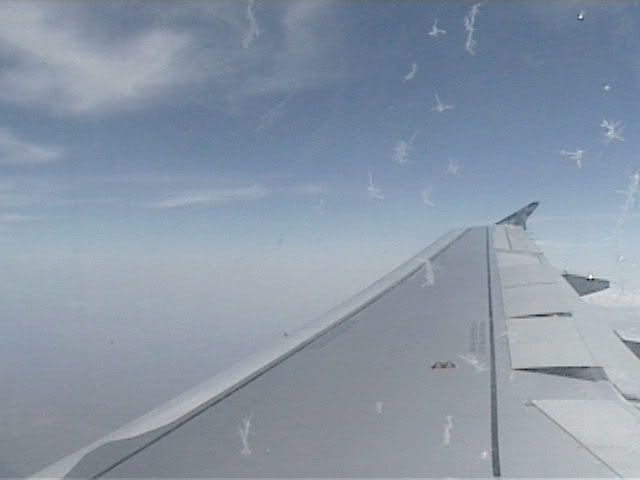 As we started to hit Colorado territory once again, the plane started to descend out of the atmosphere. It was at this time I woke my friends who had been sleeping for the entire flight. While they tried to gain some berring of where we were, the flight continued to descend and turn towards the airport.
The scenery we could see from our side of the plane was only the fields and farms that are the plains of eastern Colorado. Unforutnately we couldn't get a good glimpse of the city skyline. Anyway, within twenty minutes or so of our begining decent, we had reached the final point for arrival into Denver. Five minutes later, we were back on Colorado soil. As we touched down, the crew did a nice gesture by congratulating all Colorado competitors and welcoming them back home.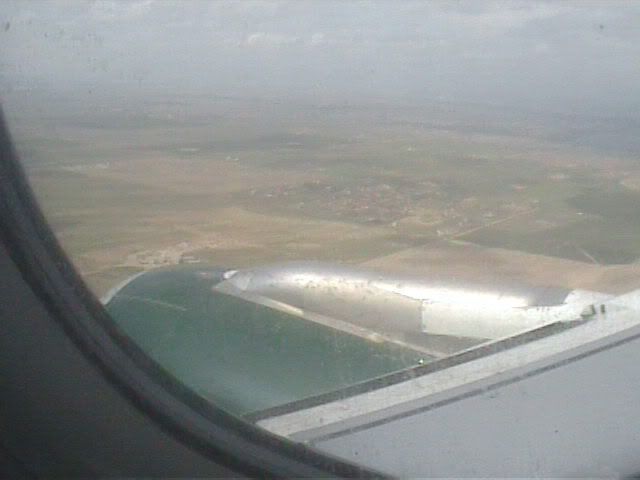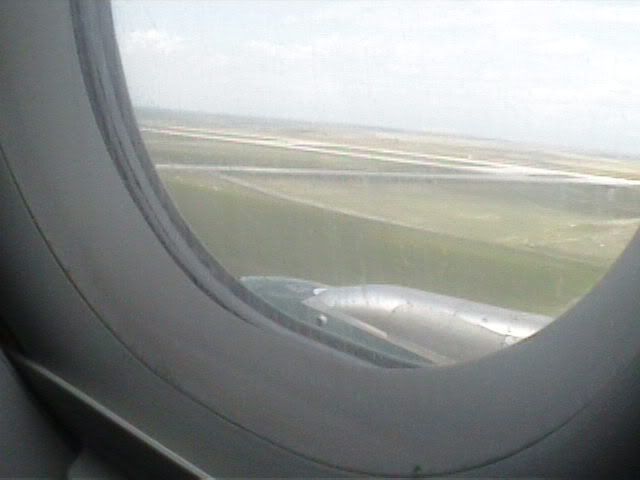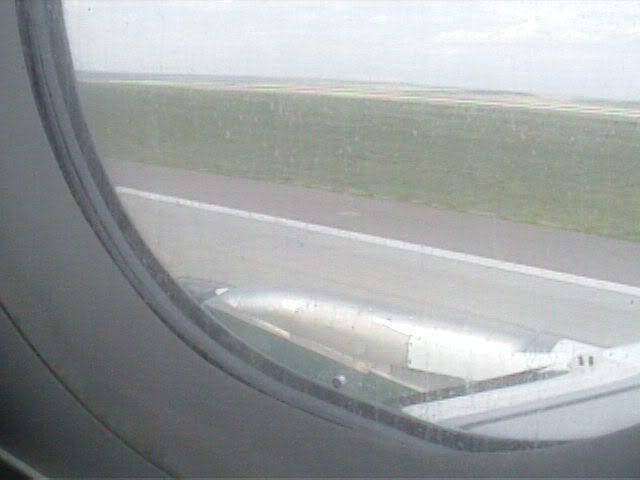 TAXI
The taxi to the gate was quick as it took only a few minutes to complete. As we reached the gate, I as well as others turned our phones on again and headed towards the exit. Stepping into Concourse A, we headed towards the concourse train to take us to the main terminal. Having a few minutes of time, I decided to call my mom at work to let her know I safely on the ground and that I would be home in about an hour and half.
Finally we arrived at the main terminal and headed towards baggage claim. Once picking up our bags and my poster, my adver's husband was gracious enough to drive us back to Littleton. So once arrivng home I had to quickly unpack and get some sleep as I had to return to school the next day
Well thanks everyone for reading this report. Feel free to ask any questions you may have. If want to read more from me, I'll be posting around three more reports in the next few weeks as I am flying from Denver to NY three times in less than four weeks.
Mina san, owari desu.