This is my trip report #11 in
Airliners.Net
and it is a
Malaysia Airlines
trip report.

I have written a trip report on the segment, flown with the same carrier earlier but then decided to write a new one because of the difference of aircraft used. The earlier trip report was on a Boeing 737-400.
Some statistical information about the segment, KCH-KUL:


I have flown the segment 19 times (excluding the return KUL-KCH segment).

All 19 segments were with MH.

Aircraft used on the 19 segments are as follows:
- 14 times on Boeing 737-400
- 3 times on Airbus 330-300
- 1 time on Airbus 330-200
- 1 time on Boeing 777-200ER

As for the class of travel:
- 7 times on Golden Club Class
- 12 times on Economy Class

FIRST SEGMENT
The journey began in Pontianak, Indonesia where I am based. It was time for my monthly return trip to Kuala Lumpur, Malaysia so I decided to go with the usual route, via Kuching, Malaysia. The first segment to Kuching was on Batavia Air and I have written a trip report about it too.
Details of the first segment:
Date/Day: 30 March 2007/Friday
Flight Number: 7P 821
Carrier: Batavia Air
Aircraft: Boeing 737-200
Aircraft Registration No: PK-YTV
Route: Pontianak (PNK) to Kuching (KCH)
Departure Time: 08:00 hour Indonesian (West) time (GMT +7)
Arrival Time: 09:40 hour Malaysian time (GMT +8)
Seat Number: 12A (Window Seat)
Journey: 40 minutes
Distance: 130 miles
Class of Travel: Economy
Fare Category: Y (Full Economy)
The only notable event to write about the first segment is that it was on a classic 27 years old Boeing 737-200 (FFD: 15 April 1980), which is the same age as mine, which I found some A.Netters are crazy about.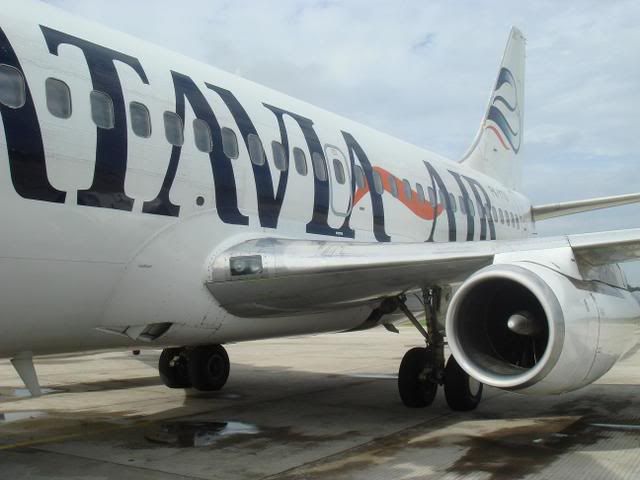 The aircraft, PK-YTV.
Another thing to note is that the flight is the first one with Batavia's new 'oranje' flight attendant's uniform. Based on the information I gathered from Batavia's inflight magazine, the new bright orange collarless uniform is more comfortable for the flight attendants to wear.
Batavia's new flight attendant's uniform.
For comparison, here is the old uniform.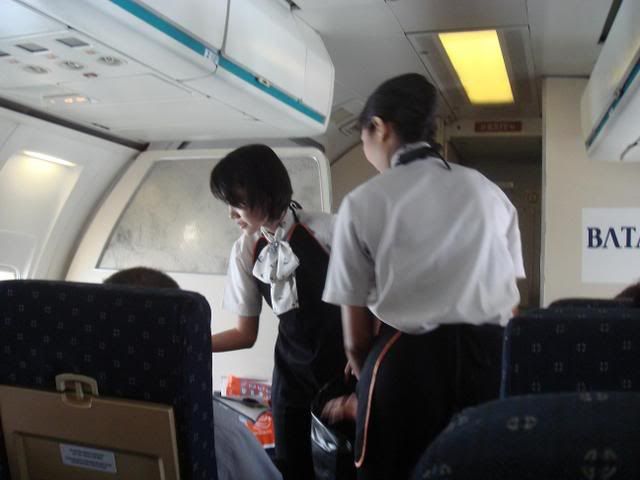 Batavia's former flight attendant's uniform.
PRE FLIGHT
I arrived in KCH at about 09:50 hour, cleared immigration and custom, and at about 10:00 hour. I took an elevator to the departure level and went straight to MH's new ticketing office in KCH. During my last trip, the office has yet to be opened.
MH's new ticketing office in KCH.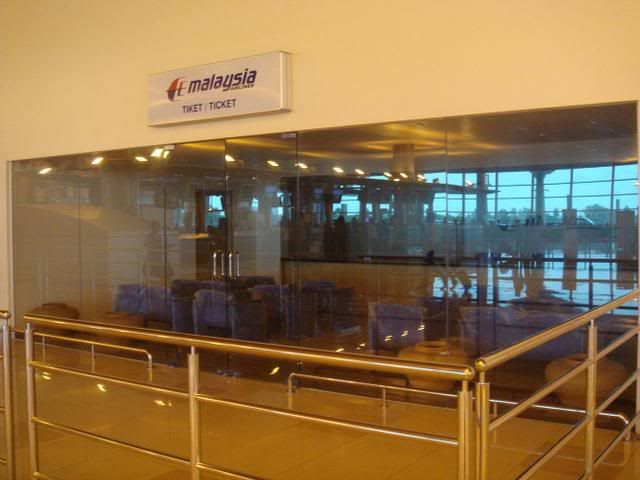 MH's new ticketing office in KCH on 20 February 2007.
The office has a standard interior as MH's other ticketing office. I am not sure when is the actual date of the opening of the ticketing office but the interior has yet to be properly placed with sofa still wrapped in plastic and vases still without fillings.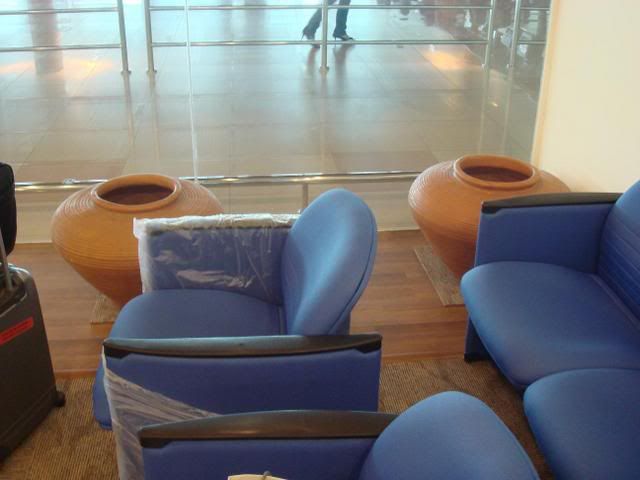 The unfinished interior inside MH's new ticketing office in KCH.
The only grouse about the office would be the location, which is too far away from the terminal's entrance. It is situated behind the Check-In rows and the narrow walkway to the office is a long walk circling the perimeter fencing of the Check-In areas. Well I guess, people would still flock to the office wherever it located anyway to get the ticket, although many first timers would have a difficult time in finding their way to the office, I can assure that. The side facing the terminal's entrance at Check-In Row A and B, where MH used as their ticketing counters previously were now deserted.
Considering I have less than hour before the scheduled departure time of my flight to KUL, after purchased my ticket, I went straight to check-in at Check-In Row A and once done, I proceeded to custom and immigration clearance.
Checking in at Row A.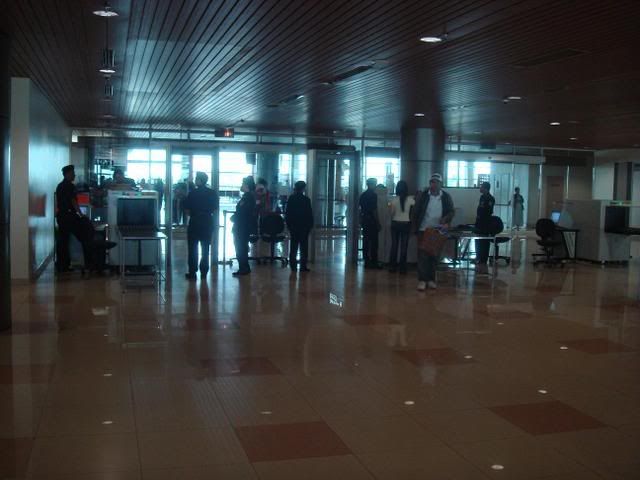 Custom clearance.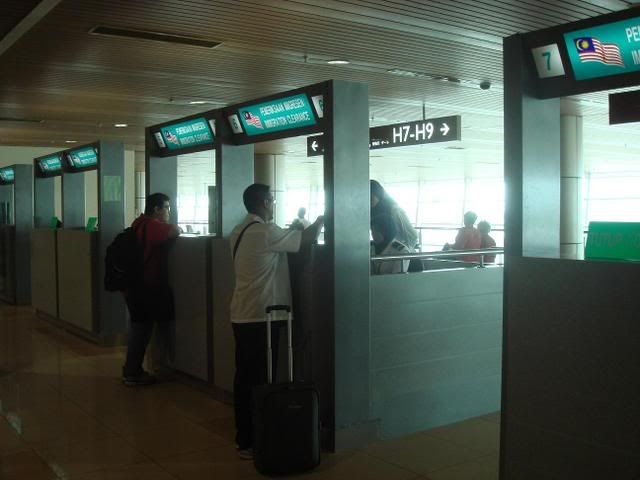 Immigration clearance.
The immigration is KCH is commendable as there was always a lot of counters opened for travellers and one would never have to wait for more than 5 minutes to clear them.
Although a bit rushed, I still managed to sooth my eyes at my favourite spot inside the terminal – the aquarium.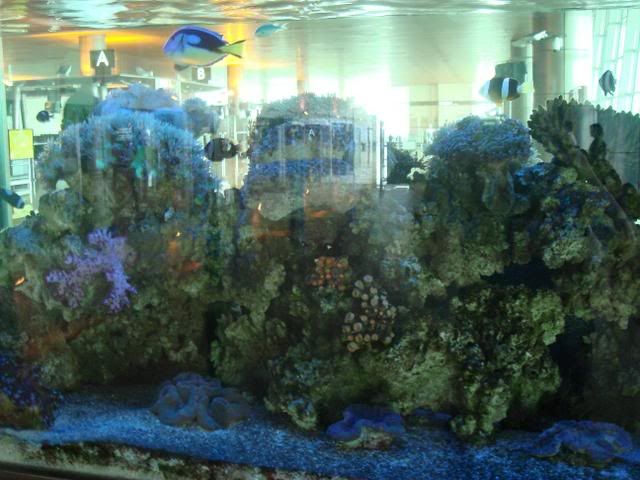 KCH's aquarium.
After clearing immigration, I stood for a while looking at the airside area. The terminal looked quite deserted, not may people around but I can still see a few MH's B734s on the tarmac.
View over KCH's airside area.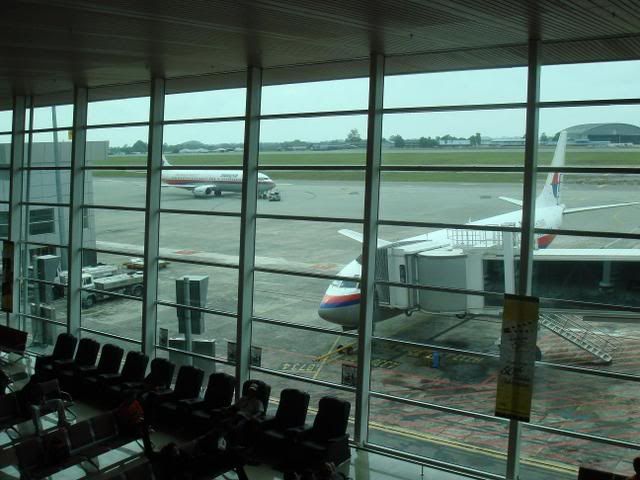 MH's B734s on the tarmac.
My next stop would be the MH's Golden Lounge. On my way to the lounge, I saw a group of MH's flight attendants sitting in front of one of the gate with their fellow passengers, maybe waiting for their delayed aircraft to arrive.
MH's flight attendants waiting for their flight.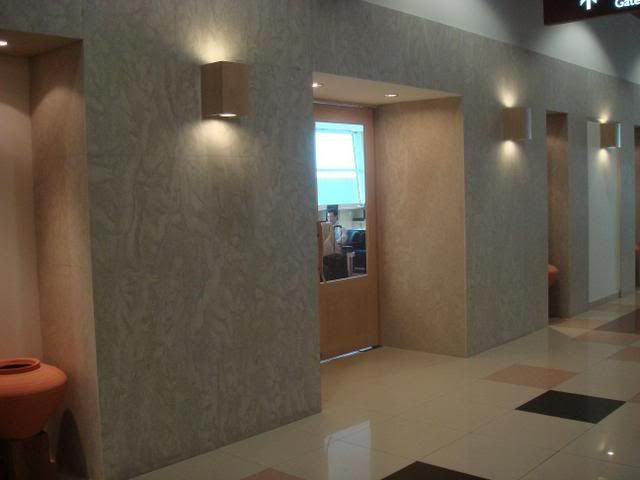 MH's Golden Lounge in KCH.
I received a warm greeting upon entering the lounge. After handing over my ticket for the receptionist to complete her administration, I settled down on one of the sofa inside and savoured the refreshments offered.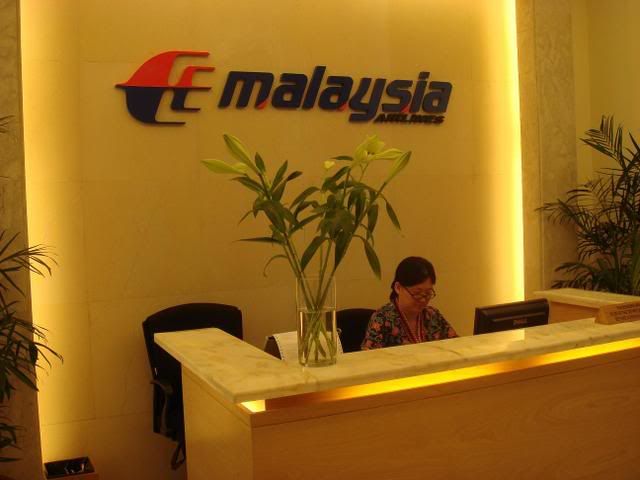 Receptionist inside MH's Golden Lounge in KCH.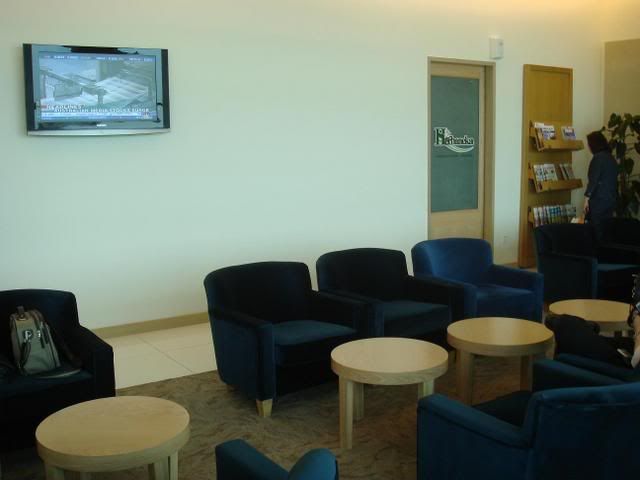 Seating area inside MH's Golden Lounge in KCH.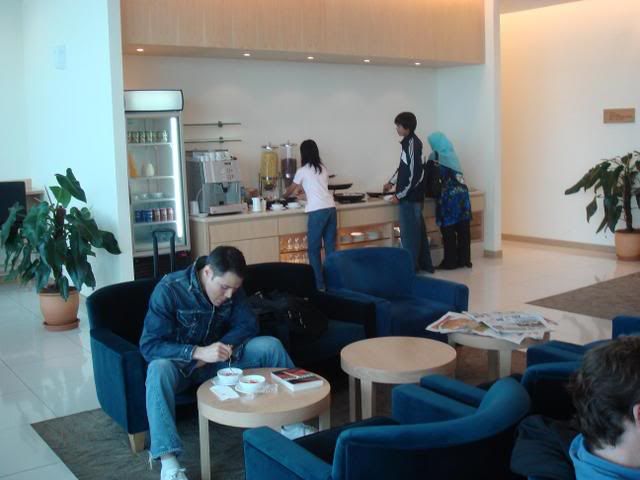 Refreshments spread area inside MH's Golden Lounge in KCH.
While savouring the refreshment, I saw PK-YTV, which brought me to KCH in less than hour ago being pushed back and ready for her inbound journey back to PNK.
PK-YTV being pushed back for her inbound journey to PNK.
While inside the lounge, I couldn't help to smile and made funny faces all the time because there was one cute little traveller who seemed very amused peek-a-booed me.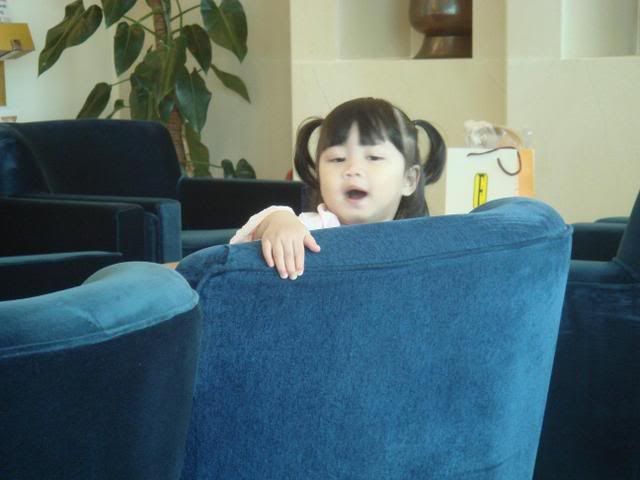 Cute little traveller looking amuse peek-a-booed me.
At around 15 minutes to 11:00 hour, the receptionist made a boarding announcement for my flight and I left soon after.
Departures schedule.
My flight to Kuala Lumpur was assigned at Gate 8, which is located at the furthermost side of the terminal. Gate 8 is the usual docking gate for widebody aircraft to KCH.
When I arrived at Gate 8, almost all passengers have boarded the 12 years old aircraft (FFD: 22 June 1995) but I can see the aircraft is still being loaded with cargo.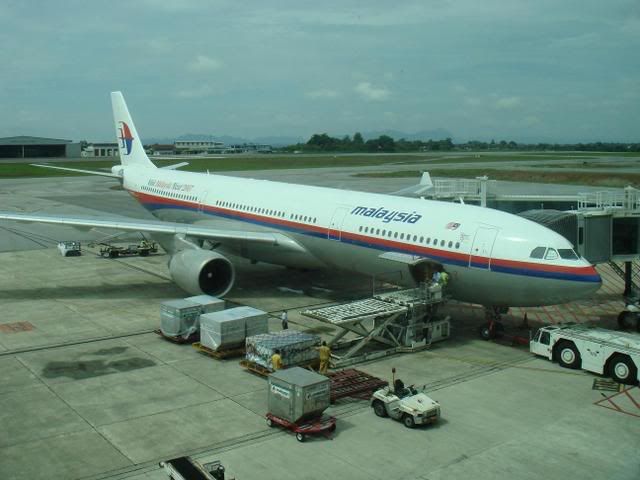 The aircraft, 9M-MKG.
Reflection of the aircraft being loaded with cargo.
A 'smiling' Airbus welcoming me onboard.
The almost deserted departure lounge of Gate 8.
After having my ticket, boarding pass and passport being inspected, I boarded the aircraft using the glassy aerobridge and bid goodbye to Kuching.
The 'junction' inside the aerobridge.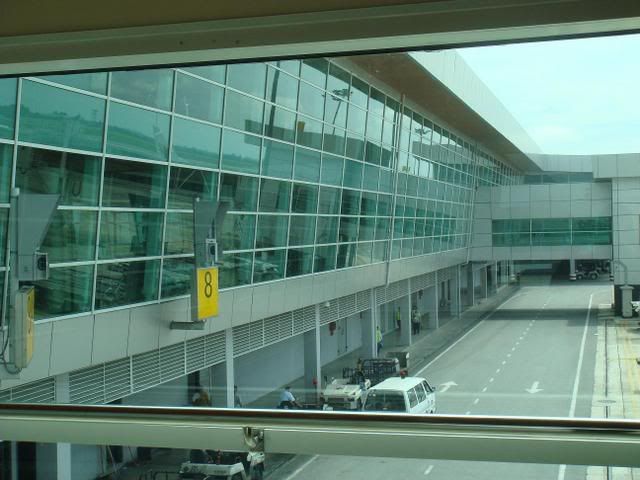 KCH's terminal building as seen from the aerobridge.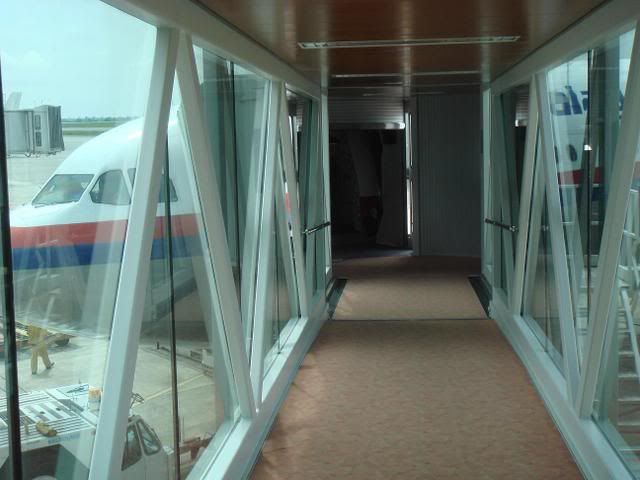 Moments before boarding 9M-MKG.
FLIGHT'S DETAILS

Date/Day: 30 March 2007/Friday
Flight Number: MH 2507
Carrier: Malaysia Airlines
Aircraft: Airbus 330-300
Aircraft Registration No: 9M-MKG
Route: Kuching (KCH) to Kuala Lumpur (KUL)
Departure Time: 11:05 hour Malaysian time (GMT +8)
Arrival Time: 12:50 hour Malaysian time (GMT +8)
Seat Number: 4H (Window Seat)
Journey: 1 hour 45 minutes
Distance: 603 miles
Class of Travel: Golden Club
Fare Category: C (Full Business)
I got onboard and was ushered to my seat. I was then being offered a pre take off welcome drink, to which I chose the pink guava juice. A cold towel for passenger to freshen up followed next.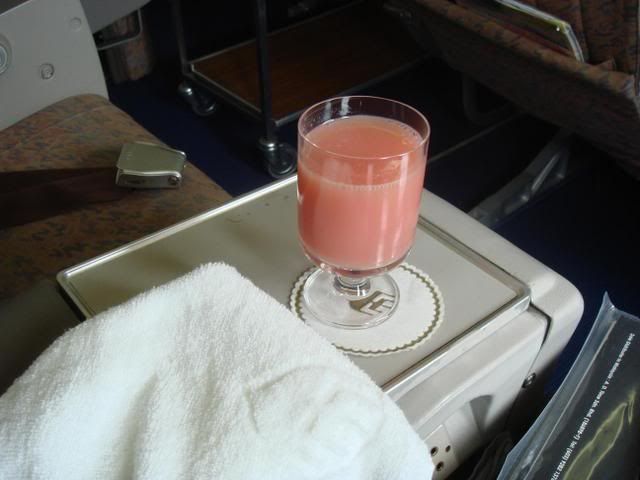 Pre take off welcome drink, a pink guava juice and the cold towel.
Then came a male flight attendant with a cart, offering a selection of newspaper, to which I chose The Star. Surprisingly, the day saw an aviation related news made the headline, the LAGs ruling (liquid, aerosol, gel) enforcement at all international gateways in Malaysia.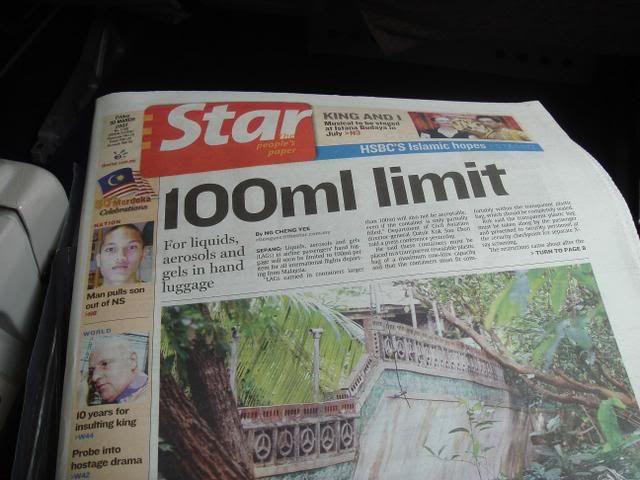 LAGs ruling in Malaysia.
The aircraft was being pushed back slightly delayed from schedule. The welcome address was communicated in Bahasa Malaysia followed by in English. The safety demonstration procedure was done through a screening from the main screen at the front of the cabin.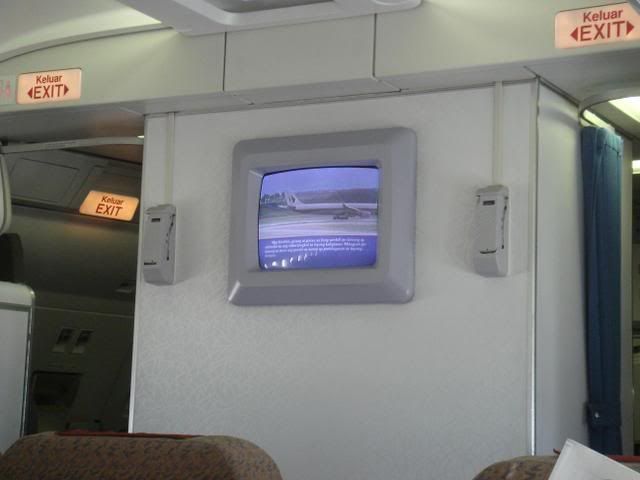 Safety demonstration using the main screen.
While taxiing, I saw Gading Sari's B732 which crash landed in KCH in January still resting beside the taxiway in KCH. Shortly after, the aircraft rolled and rotated smoothly to the clear sky.
The crashed Gading Sari's B732 on the left while a MH's B734 queuing up for take off on the right.
After the seatbelt sign was switched off, the flight attendants began preparing each passenger's table for lunch. They also asked passengers whether they would like to have another glass of drink, the 'post take off' drink they called it. I opted for a can of 7-Up.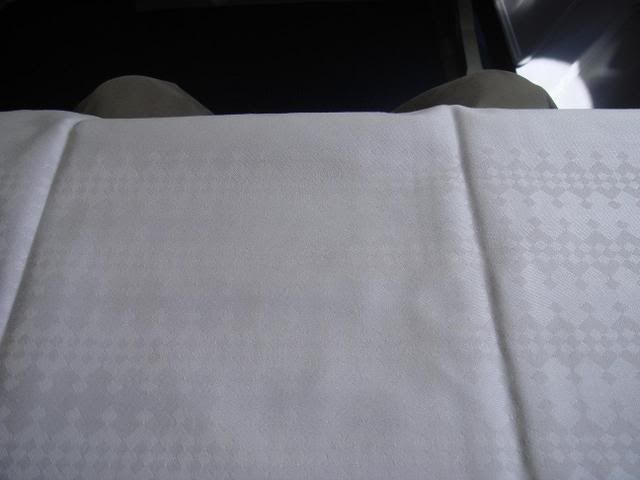 Table being prepared for lunch.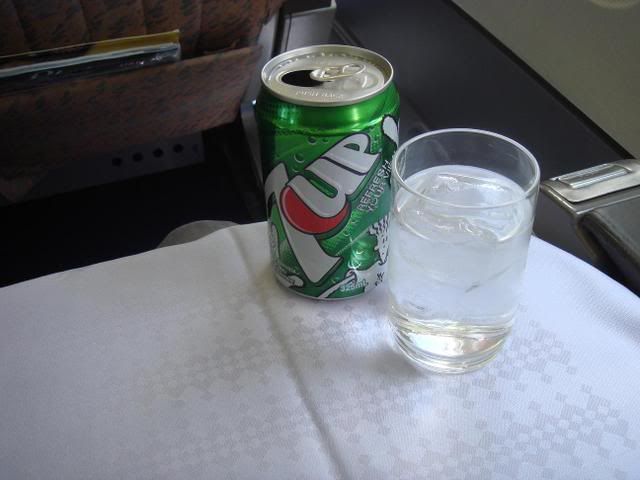 My 'post take off' drink, a can of 7-Up.
I was offered 3 selections of lunch to which I chose a rice-based dish. The dish came with chicken rendang and vegetables, a prawn salad as starter, a slice of cream cake as desert and also 2 slices of garlic bread with butter. All were served in MH's china. A glass of plain water was also given to me to company the dishes. The lunch was filling and satisfying.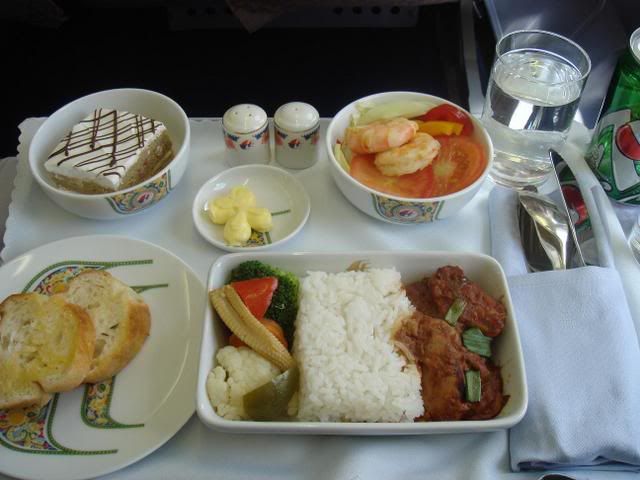 My lunch.
Just some standard facts, the seat pitch onboard MH's A333 is generous, at 45 inches.
Seat pitch.
As for the inseat publications, there were MH's monthly inflight magazine
'Going Places'
, inflight shopping catalog
'Temptations'
, monthly IFE's guide
'Select'
, Visit Malaysia 2007 brochure and the safety card.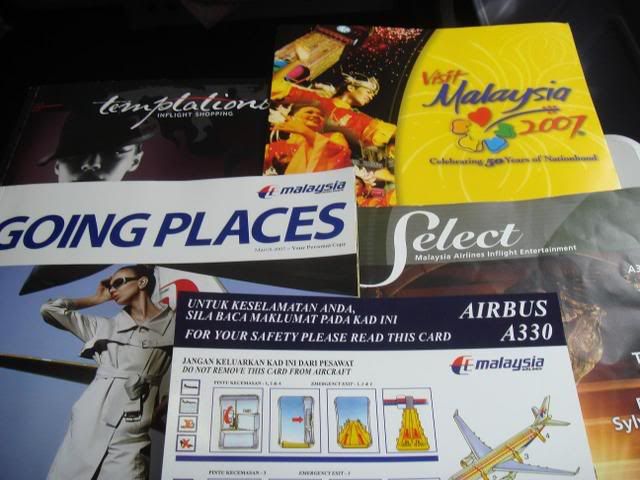 Inseat publications.
The load on the flight was at around 50%. The weather throughout the journey was sunny.
View of the cabin from my seat.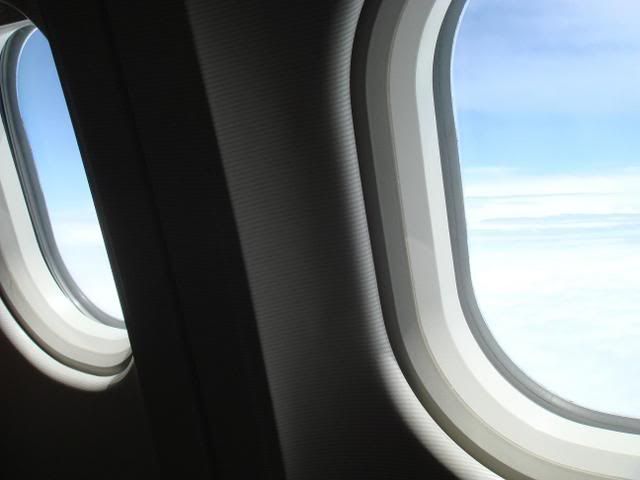 Clear sunny day throughout the journey.
The flight attendant who served me is Ms. Georgina Yap and she worked very hard to ensure that I have a pleasant and sound flight. I was addressed by name and she always alerted if I need assistance. The service onboard MH's flight is excellent and top notch, without any doubt.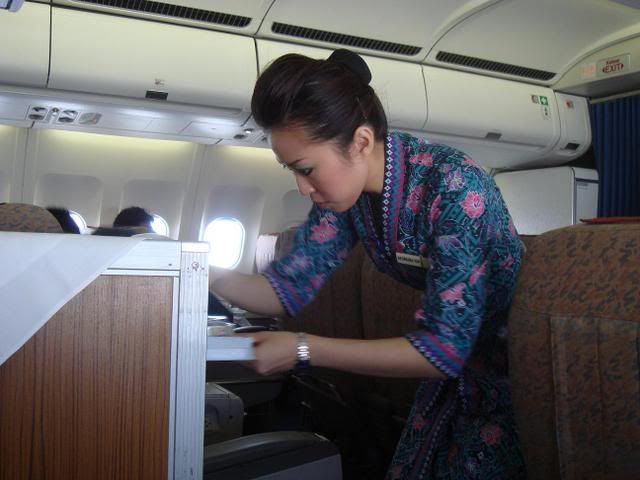 Ms. Georgina Yap in action.
Without knowing, the flight started descending and the captain made an announcement from the cockpit to inform passengers about the distance to KUL, expected time to arrive and also the weather condition in Kuala Lumpur.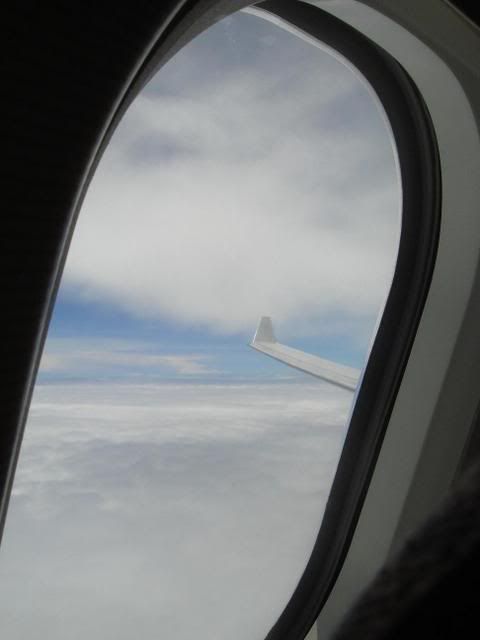 Descending commences.
The aircraft landed on time and smoothly on the runway. Announcements were made to welcome the passengers to KUL. It was again communicated in Bahasa Malaysia and English. The whole journey was uneventful.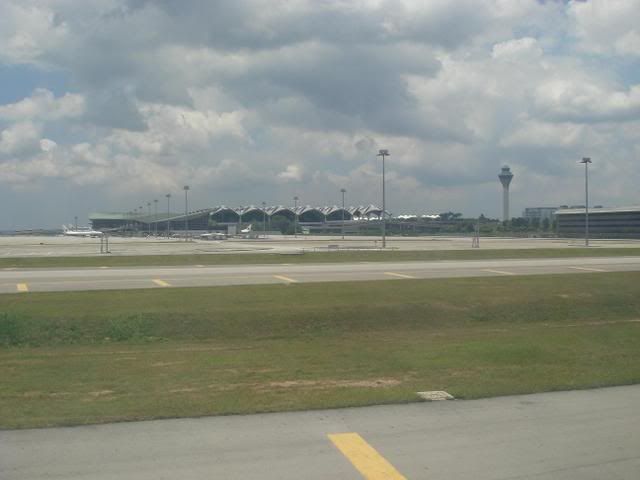 Landing with KUL Main Terminal Building an ATC in the background.
The aircraft docked at one of the B gate at the Main Terminal Building. The flight attendants wished me goodbye upon disembarking and I headed straight to the baggage reclaim area rightafter.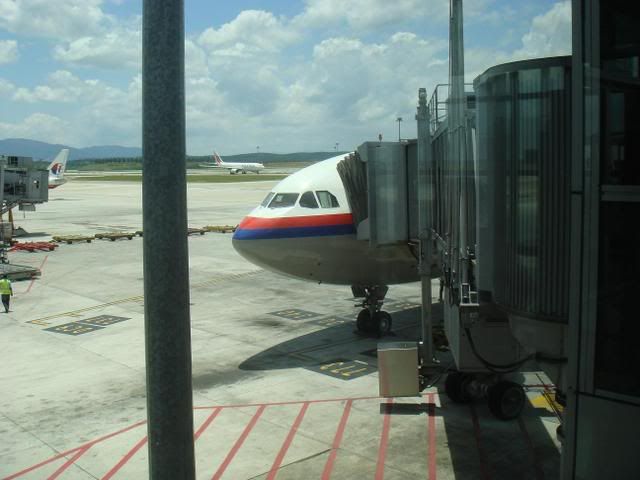 A final look on 9M-MKG after disembarking. A Sri Lankan A330 can be seen taxiing in the background.
KUL's 'lush greenery' domestic terminal.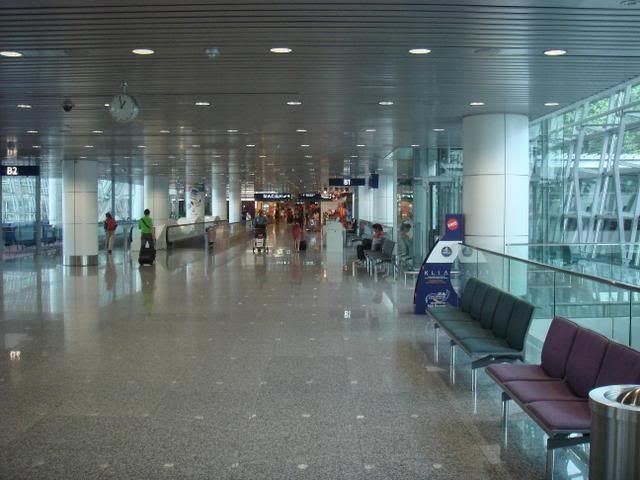 On my way to the baggage reclaim area.
My flight was assigned with baggage belt M. Upon reaching the area, my checked-in luggage has yet to arrive on the conveyor.
Baggage collection belt information screen.
View on Luggage Conveyor M when I reached the area.
About 5 minutes later, my checked-in luggage arrived on the conveyor and without wasting any time, I proceeded to Level 1 of the terminal building to board a KLIA Express train to KL Sentral in downtown Kuala Lumpur. The one-way ticket cost MYR 35. The train was more crowded from usual on that day but I managed to secure a seat.
USD 1 = MYR 3.50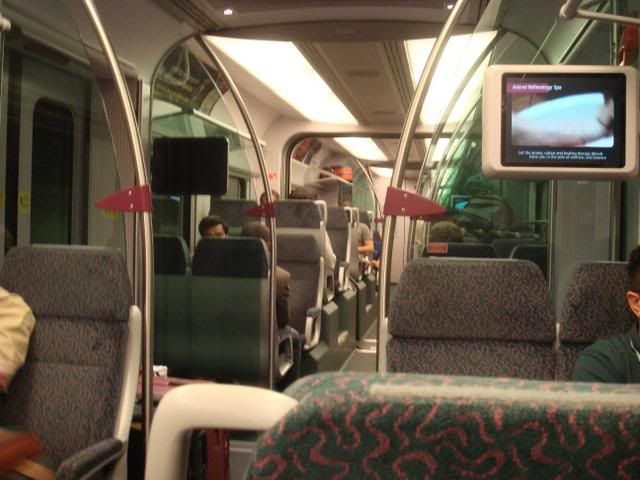 View on from my seat onboard KLIA Express train.
The 28 minutes train ride offers passengers great view of Putrajaya and also the Kuala Lumpur skyline.
Passing by Putrajaya with the 'spaceship lookalike' Putrajaya Convention Center in the background.
Passing by Kuala Lumpur's skyline with the Petronas Towers dominating.
Can't get enough of the Petronas Towers? Lets go near and touch it.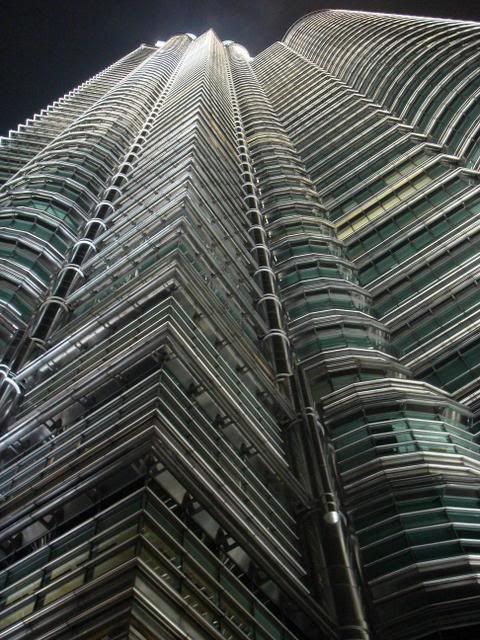 Touching the Petronas Towers while looking up to the pinnacle. I snapped this photo just before I left home that night after spending the whole day catching up with my friends who mostly working around the KLCC area. The shimmering towers are absolutely mesmerizing after sunset.
My journey back to Kuala Lumpur finally came to an end.
REMARK
Overall, from my personal point of view, MH's domestic product offerings are better onboard the widebody aircrafts as compared to onboard the Boeing 737-400s. The seat pitch is better, cabin layout is brighter and generally, the flight attendants are also friendlier onboard the widebody aircrafts, resulting in a smoother and more pleasant journey to the passengers. I would always choose to board a widebody aircraft over the B734s on MH's domestic routes anytime.
However, widebody aircrafts are only being deployed to selected domestic destinations and the number is very limited. As for KCH, there is only one or two widebody aircrafts being deployed daily. Other MH's domestic destinations, which are being served by widebody aircrafts are PEN and BKI.
Feel free to read my other trip reports:
Istanbul Winter 2006 With MH (Photos) Part 1
(by
9MMAR
Dec 19 2006 in Trip Reports)
Istanbul Winter 2006 With MH (Photos) Part 2
(by
9MMAR
Dec 19 2006 in Trip Reports)
Intra Asean Jakarta In Business With MH
(by
9MMAR
Jan 1 2007 in Trip Reports)
Intra Indonesia Pontianak With Batavia (Photos)
(by
9MMAR
Feb 13 2007 in Trip Reports)
Intra Indonesia Jakarta With Sriwijaya (Photos)
(by
9MMAR
Feb 24 2007 in Trip Reports)
Intra Asean Kuala Lumpur With MH (Photos)
(by
9MMAR
Feb 27 2007 in Trip Reports)
Intra Asean Jakarta With MH (Photos)
(by
9MMAR
Mar 6 2007 in Trip Reports)
Intra Asean Kuching With Batavia (Photos)
(by
9MMAR
Mar 14 2007 in Trip Reports)
Intra Malaysia Kuala Lumpur In Golden Club With MH
(by
9MMAR
Mar 22 2007 in Trip Reports)
Intra Malaysia Kuching In Golden Club With MH
(by
9MMAR
Apr 19 2007 in Trip Reports)
Intra Asean Pontianak With Batavia (Photos)
(by
9MMAR
May 31 2007 in Trip Reports)
9MMAR