In February, TUIfly announced they'd start operations from Memmingen, a former airbase located somewhere in the middle of nowhere which is better known as the Allgaeu. Initially, one B737-300 would be based at FMM, operating flight to TXL, HAM, PMI, VCE, AYT, NAP and HER. Me being the curious type of guy, I really wanted to try out this new airport. Unfortunately it was quite difficult to find any flight to the holiday destinations at all - I guess most seats were taken by TUI (the tour operator). Finally I found one flight and booked it, for 19,99EUR, plus the "Zug zum Flug" railway option for another 19,99EUR.
FMM-PMI
X3 2416
16 July 2007
STD: 10:05 ATD: 10:15/10:18
STA: 12:05 ATA: 12:07/12:10
Seat: 25F
Number of passengers: 146 (out of 148 seats)
B737-300
D-AGEG
Built in 1988
View Large
View Medium


Photo © Frank Kuehne
I had flown on this particular aircraft before, back in the good old days when DBA still existed. As you can see, this aircraft had quite a lot of operators before.
DBA:
View Large
View Medium


Photo © Marcel Schmidt
DBA "Willkommen zum Fussball":
View Large
View Medium


Photo © Rob van Ringelesteijn
DBA white engines:
View Large
View Medium


Photo © Samy-Jay Greve
Germania:
View Large
View Medium


Photo © Stefan Welsch
Ukraine International:
View Large
View Medium


Photo © Jordi Grife - Iberian Spotters
Monarch:
View Large
View Medium


Photo © JetPix
At 6am, I left home for the train ride to Memmingen. S-Bahn to Stuttgart, ICE train to Ulm, and then RegionalExpress to Memmingen. From there, there was supposed to be a bus to the airport. I expected some more passengers, but I soon found myself standing alone waiting at the bus stop in front of the railway station next to the sign "Allgaeu Airport". 10 minutes behind schedule, a
huge
coach bus arrived. I was surprised to be the only passengers, but apparently the driver was even more surprised to have any passenger at all - because when I wanted to pay, she just said "I can't sell you a ticket, I don't have a cash box with me!". Great, a free bus ride to the airport. At 09:00, I arrived at the airport.
Even though I like the old-fashioned way of checking in at the airport counter, I had used the online check-in option on TUIfly's website this time, just because I wasn't sure at what time I'd arrive at the airport. So I had now a bit of time to explore this newly-opened airport.
The terminal building - a former military hangar: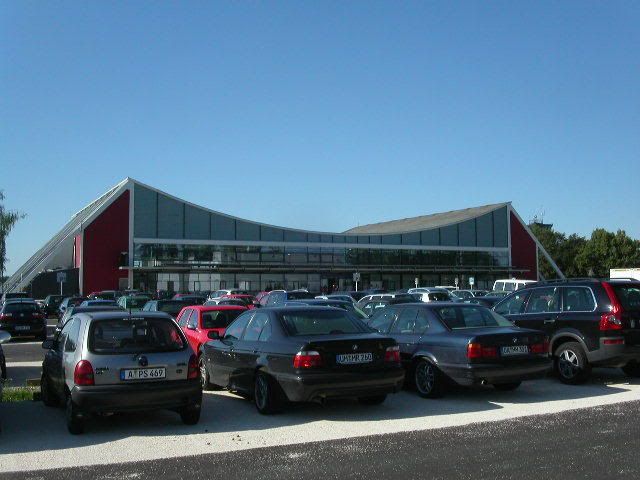 Inside the terminal building, there are nine check-in counters, three of them were staffed for the TUIfly departure to PMI: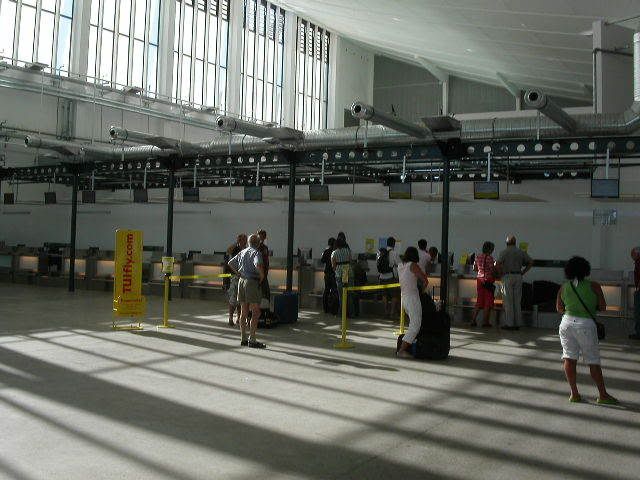 Next to the terminal, there is a spot from where you can overlook the small apron through a fence. There was just no activity at all, as TUIfly is the only airline flying to FMM, and the only FMM-based aircraft was just on its way back from TXL. On the other side of the terminal, one could see the airport staff pulling the baggage carts from the terminal to the parking position - by hand! I decided to go through security soon.
Gate area: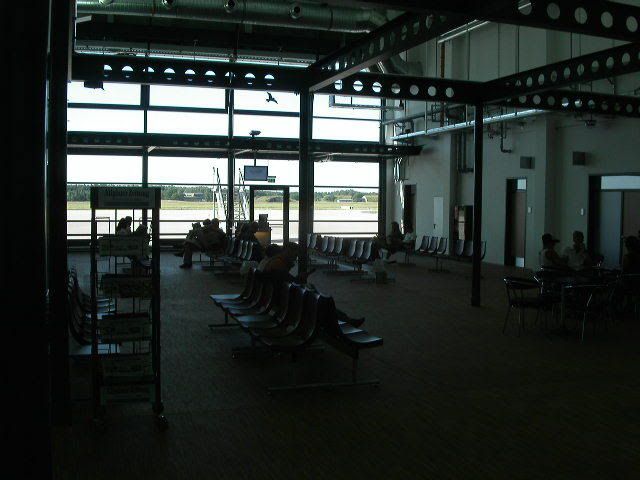 The gate area is quite small, certainly big enough for one full B737 flight, but it might sometimes become cramped when TUIfly bases their second aircraft there in autumn. Anyway, it's a nice, clean and bright terminal, with a glass front facing towards the apron. Free local newspapers were distributed, apparently a marketing idea of the local newspaper publishing house.
At 09:30, our aircraft arrived from TXL: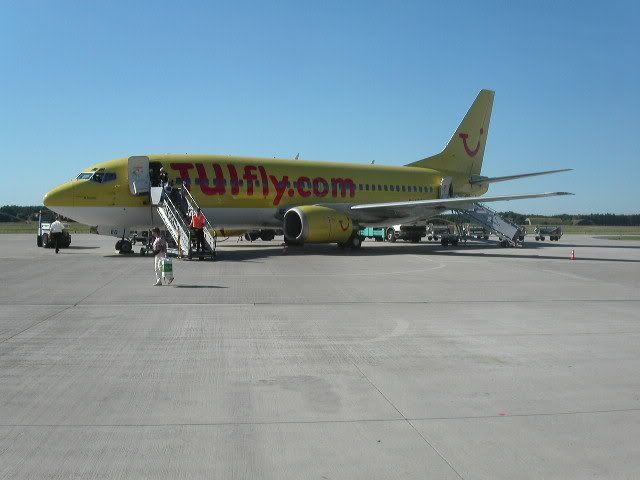 The two gate agents started boarding by 09:55, and as they do not have a computer at the gate, they had a passenger list and had to cross out every name. By the way, I was surprised how many passengers had checked in online on this holiday flight, I had checked in the day before in the early afternoon and had sequence number 018.
All passengers queued at the front door, but with row 25 (out of 27 rows) I thought the back door would be the better choice. A young flight attendant in HLX uniform welcomed me. There was a choice of free newspapers distributed at the door, however the choice was quite limited. IIRC, it was the choice between "Handelsblatt" and "Gala". That was it! I had expected a bit more, to be honest.
I took my seat in row 25, the cabin was equipped with grey leather seats, legspace was quite low, but at least the cabin was in a clean appearance. TUIfly (Or should I say Germania, as this aircraft is still operated by them) did their best to keep the "status quo" of this old cabin, however it looks like they didn't upgrade the cabin since the 80s: No video screens at all, no audio (I thought both would be a standard on TUIfly?), this aircraft didn't even have individual air vents above each seat, I had never seen this before. Well yes I did, on exactly this aircraft when I last flew it on DBA.
Boarding was completed soon, and next to me on 25E, there was a guy who had been seperated from his girlfriend because they checked in late, the girlfriend was sitting on a middle seat some rows to the front. He asked me politely if I would change my seat so they could sit next to each other, but I replied just as politely "No". It's not my fault if they came late to the airport.
Doors were closed, and both cockpit (two male) and cabin (three female) made their welcome announcements. We taxied to the runway, taxied on the runway until the end and made a 180� turn there - no taxiways at FMM...
Take-off on runway 24 into a crystal clear sky: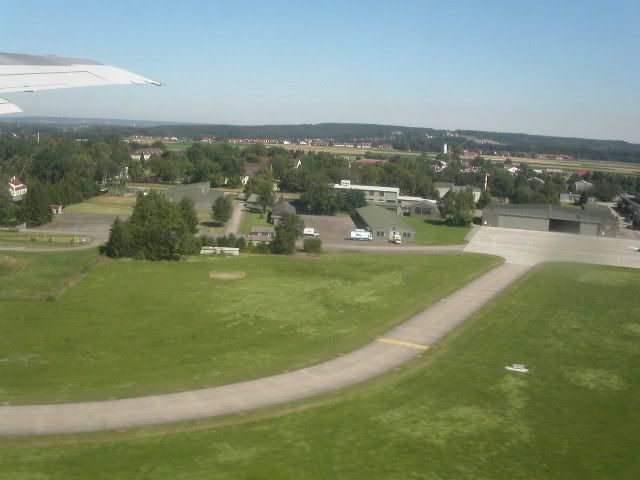 The city of Memmingen: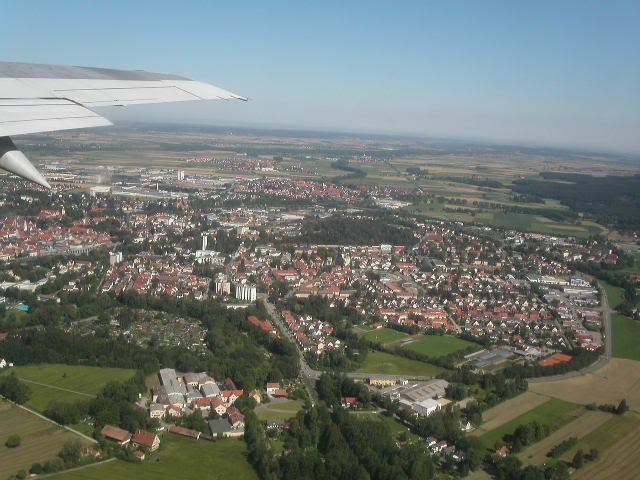 At this moment, the power of my camera's batteries was low. But don't worry, I had some spare batteries with me. But, stupid me, I had forgotten to charge those, so this was the last photo I could take on this trip. Which is quite a pity, because we flew over some quite nice landscape, and visibility was good: First the Allgaeu, then the Lake Constance, the Alps, Genua, Turin, Nice, Marseilles, Mediterranean Sea. Anyway, all I could do was enjoy the scenery, but no more pics.
A few minutes after take-off, the cabin crew came around and distributed toys for the children. Then they made an announcement about TUIfly being the new airline evolving from the Hapagfly/HLX fusion, and that meals and drinks on holiday flights were still for free, so we should just ignore the menu cards in our seat pockets. Today they had the choice between turkey and cheese sandwiches, however, they had run out of turkey somewhere around row 20, so passengers sitting behind this row didn't have the choice and had to take the cheese option. I didn't mind, as I would have had taken cheese anyway.
One drink service on this flight, I had a Fanta.
The captain made two more announcements about our routing, which was very welcome due to the lack of monitors / airshow.
The f/as did their duty free sales, and before landing, they distributed a "Mars" bar to everybody.
Very unusual approach into PMI: Whenever I flew to this island before, we appoached over the water. However, this time we crossed the whole island once from north to south and then landed into southwestern(?) direction. A hard landing and strong breaking, then the traditional applause. We soon arrived at the jetway, and at the door the f/as offered some sweets in "Hapagfly" design. The brand TUIfly had been introduced in December last year, and they still have "Hapagfly" sweets - hey, just imagine how many sweets they must have in stock
I met with Contact Air, who wanted to join me on my FMM-PMI flight, but the flight had been sold out already when he wanted to book, so he had taken a STR-PMI flight on Condor instead.
Conclusion
TUIfly brought me from A to be on-time and for quite cheap. The use of German railway for just 19,99EUR is a nice feature. Cabin was clean and comfortable (though with limited legspace). There were a dozen small things I was missing, e.g. a wider newspaper selection, and the meals used to be of a bigger quantity - however, the quality of the sandwich was good, it tasted great. The cabin equipment was very basic, but good enough for short flights. I hear you say "That's what you get when flying a low-cost airline", but I don't fully agree. TUIfly is not HLX, TUIfly is HLX and Hapagfly. The holiday flights are former Hapagfly routes, with the majority of passengers having tour operator holiday packages. Given this fact, the frills like newspaper selection or meal service were bit too basic. Anyway, it was a nice flight, and I got it quite cheap. The airport of Memmingen is new, nice and sympathic, I liked it a lot - even though its location is too far from where I'm living to use this airport regularly. But it was nice to try it out.
This is the end of my report about a new German airport, I hope you enjoyed reading. Once again my apologies for the lack of inflight pics. I hope you liked it anyway, and I'm looking forward to reading your comments. Regards, Alex.