12 June 2007 (Tuesday)

San Diego International/Lindbergh Field (SAN) - Kahului (OGG)
flight/equip/reg
HA37/763/N584HA
(delivered 02/17/89-LTU)
scheduled/actual departure (gate)
0830/0828 (41)
scheduled/actual arrival (gate)
1100/1042 (39)
seat
39B
For only the second time in our 11-year marriage (the other being our honeymoon), my wife and I are off on a getaway by ourselves. We were visiting my parents in Oceanside (north of San Diego) for the week and they were good enough to watch our three boys while we go on a 2 ½-day jaunt to Maui.
My wife have several Rapid Reward travel awards on WN, so I kept on a eye on WN's website for our date to open and, hopefully, book SAN-OAK (WN) and OAK-OGG (codeshare with TZ). Alas, when WN released its schedule, I was not quick enough as all available seats were sold (unfortunately, our dates were not flexible).
However, HA had a fare sale and I was able to book a nonstop SAN-OGG for $349 roundtrip (hey, I wanted to fly a widebody to Hawaii anyways). The WN awards will have wait for another vacation.
We woke up at 500am so we can leave at 600am, thinking the inbound traffic on I-5 might get a little hairy. Other than a little back-up near Del Mar, we managed to get to SAN in under an hour.
SAN does not have any parking garages, which is part of its exterior charm. You have the terminals with the occasional take-off above on one side and the view of the harbor and downtown on the other. Add a few palm trees and you have an urban mainland tropical paradise.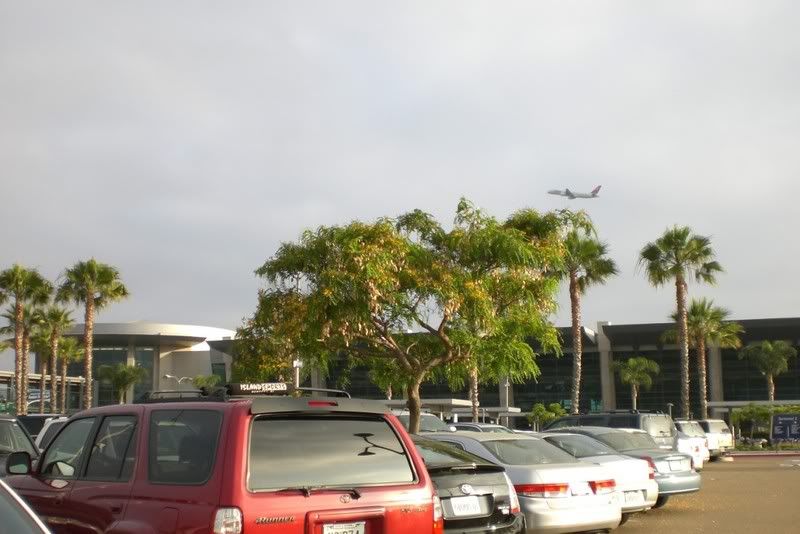 Terminal 2 parking (with NW 752 departing for MSP)
The new addition to Terminal 2 opened in 1998 and, personally, I love the openness inside, especially compared with the rest of the terminals. The rotunda at the west end is a great feature and is utilized well to accommodate the line for security. The use of the green and a few earthy beige colors as well as the use of metal panels throughout give it an inviting and unpretentious feel.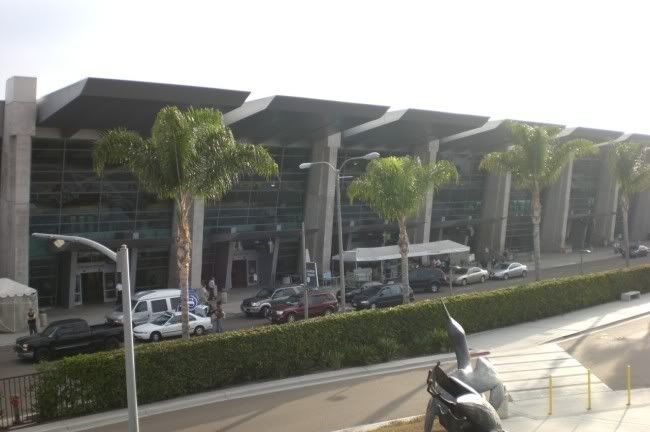 Terminal 2 at SAN
Once inside, we proceeded to the ticket counters to check our bags in. Oddly, Hawaiian Airlines do not have a "counter", per se. They basically have a niche area across from the rest of the airline counters with a few kiosks and luggage carts parked next to it. We used the kiosk to check-in and print our boarding passes. There was an HA ticket agent there, cheerfully placing our baggage tags on and a handler who took our bags and placed it on the cart along with the others. My wife was a bit apprehensive (she has had some "incidents" with her checked baggage before), but I told her not to worry, that Hawaiian only had 2-3 flights a day out of San Diego, so our chances are pretty good that our luggage will end up on the right plane.
After saying good-bye to my father, we took our place in line at security. It was busy, with the lined snaking around the rotunda, but we managed to clear it within 15 minutes.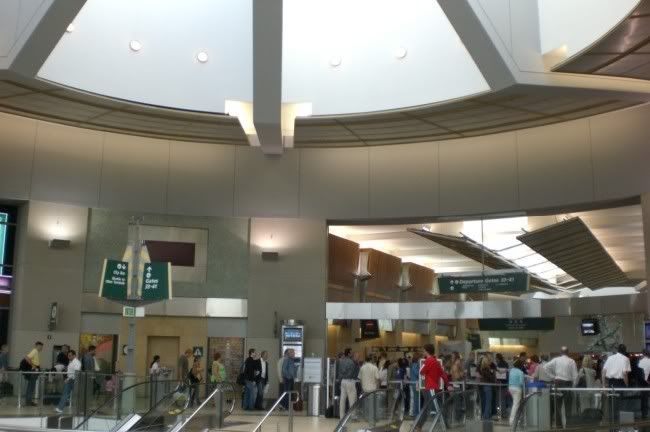 The security screening queue at the Terminal 2 rotunda
With some time to kill, my wife excused herself to the gift shop to find a book to read (what, is she going to have a hard time keeping herself busy on a 5-hour flight over an empty ocean?). I proceeded to a viewing area where I watched the air traffic outside and looked at a display of the airport.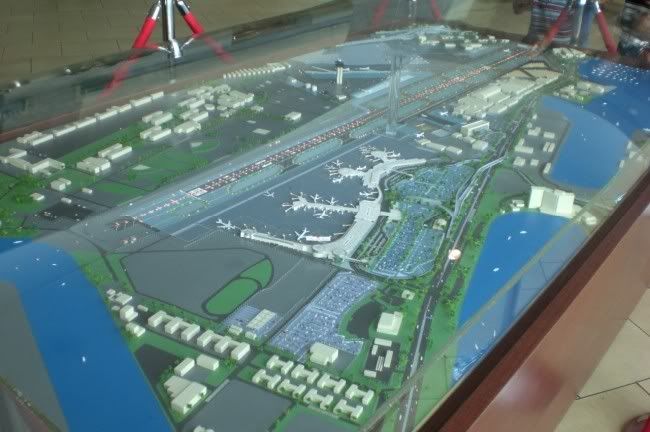 Scale model of SAN on display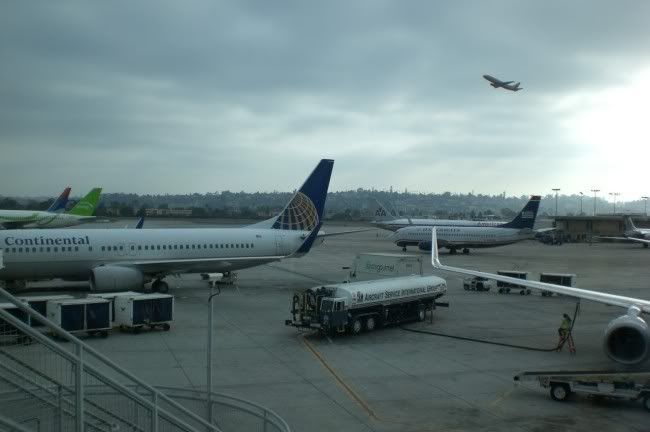 Morning traffic (DL, Song, CO, AA, US on the ground; WN taking off on 27)
When my wife finally decided on her paperbound entertainment, we proceeded to our gate. Like I gushed before, I love the interior finish of this terminal and it is apparent as you walked down the curved concourse.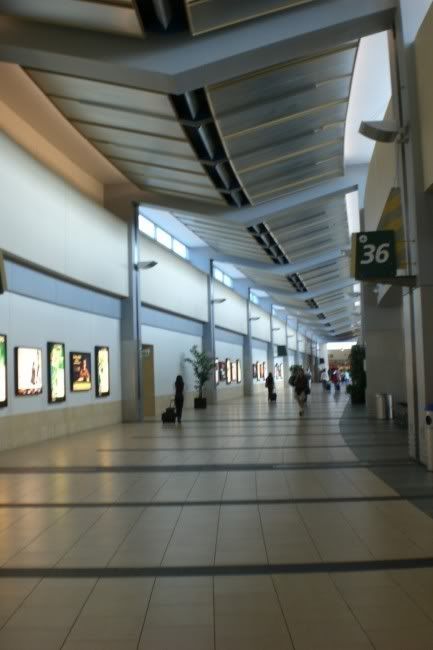 Walking down the concourse to Gate 41
At gate 41, they have already commenced boarding. We drew "Kioea" for this flight (my wife was in full Hawaiian mode and was delighted that our plane has a native name, let alone any name), which has the old interior and leather (or is it thick vinyl?) seats.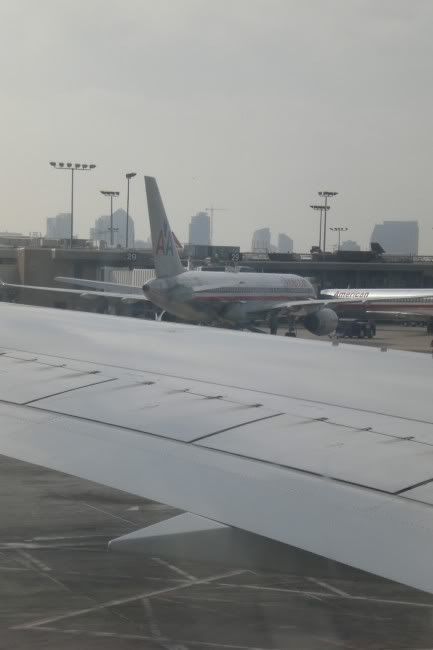 Looking out our window: AA 752 going to BOS with downtown San Diego in the background
This is our first time vacationing in Hawai'i (unless you count the hour or so I spent at HNL flying SFO-HNL-GUM on PA when I was 8 years old), so we enjoyed the video that was playing on the monitors during boarding, showing the sights and sounds of Hawaii. We were ready to go, dammit!
It was a pretty full flight, so I was wondering if there were any weight restrictions on widebodies departing SAN, given the grade and somewhat short runway. I guess the restrictions was only for flights departing on 9, where you have to negotiate I-5 and a small hill near Balboa Park (any information on this is greatly appreciated).
Regardless, we departed on 27 and it was a smooth takeoff towards the ocean. Our path took us to the northwest, hugging the California coastline up to the LA and the Catalina/Channel Islands, where we made a turn to the left into the Pacific. We were on our way.
The airshow was showing on the monitors during takeoff (note to my hometown airline CO on their 737/757s: after the safety video, it's okay to keep the monitors down and run airshow), then switched to a video on some of the entertainment options on the flight, then reverting to more Hawaii travel programming.
At this time the flight attendants started down the aisles with the dig-e-player, which is a portable device that plays movies, tv shows, music, etc. They rent them for $15 and only accept credit cards (this was a cashless flight). The player comes with (2) headphones.
The featured movie, showing on the monitors, for the flight was
The Astronaut Farmer
. So my wife and I pondered between a free Billy Bob Thornton movie or $15 for the player.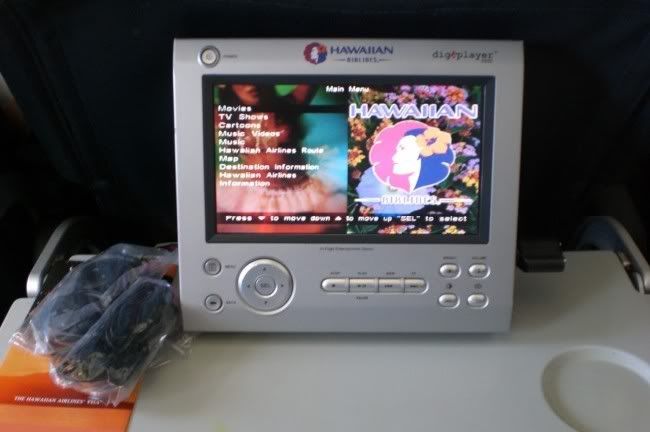 HA's dig-e-player
When we received the player, the FA quipped that they usually run out of players on these flights, so I thank them for starting from the back of the plane.
Forgive me for my spotty memory, but our choices for the movies included:
Eragon, The Good Shepherd, Happy Feet, The Pursuit of Happyness, Blood Diamond, Epic Movie, and Because I Said So
. We opted for
Music and Lyrics
, which was an acceptable romantic comedy with some great 80's style music. Hugh Grant had some funny lines. Sorry, other than
The Simpsons
, I didn't check out the choices under the TV Shows, Cartoons, Music, and Music Videos channels.
About 2 hours into the flight, it was time for the grub. God, I miss having a choice of food on a coach flight (no offense to CO). I went with the chicken/rice/red sauce (with salad and Oreos) while my wife opted for a turkey sandwich on some kind of focaccia bread (with chips and Oreos). We each got a whole can of soda. My meal was adequate while my wife didn't care much for hers (keep in mind she can get picky). She also took my Oreos.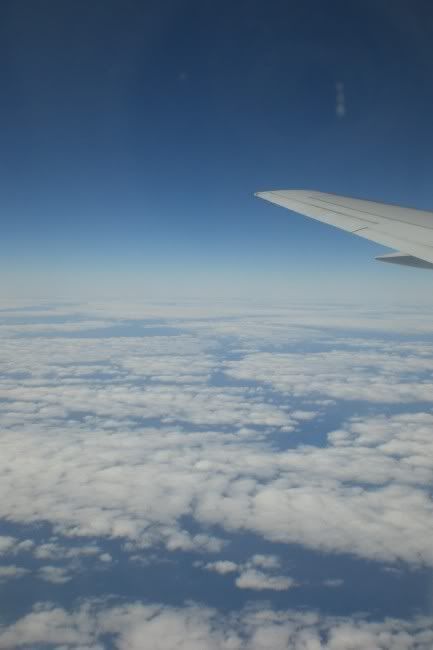 Obligatory shot of the Pacific (with clouds)
Overall the flight was smooth, with some very light chop here and there. There was a lot of cloud cover during the flight and I strained to see some wave breaks in the Pacific.
By the time
The Astronaut Farmer
was over, we started our descent into the ocean (hey, I didn't see any land yet!). Yes, we got excited as soon as we saw the mountains of Hawai'I (specifically the Big Island).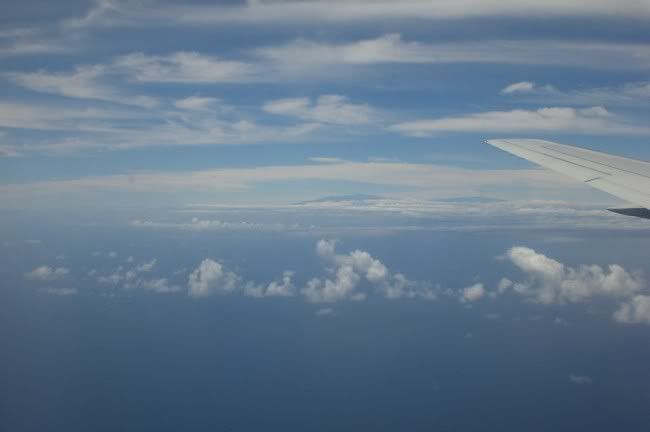 Approaching Maui; the Big Island in the distance with Mauna Kea (L) and Mauna Loa
Almost immediately after that, Haleakala came into view. Given our flight level, I realized we are not using runway 20 (I guess we have a north wind today).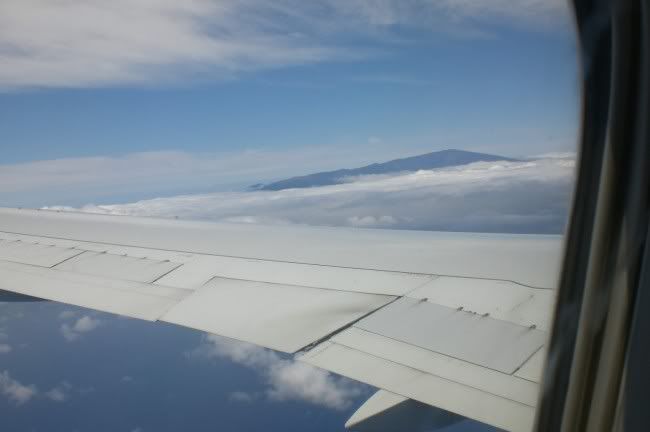 Over Maui with Haleakala poking above the clouds
Sure enough, our path took over the central valley, where I got a nice view of Kihei and South Maui as we made the u-turn and lined up for the landing on runway 2.
I guess being on a tropical island has an effect on us, because it was all a blur as we breezed through the terminal, got our bags, got on a Hertz rental shuttle, got into our jeep, and took off for West Maui.
We thoroughly enjoyed our stay at the Sheraton Maui and, especially, fell in love with Ka'anapali Beach. Our room wasn't ready when we arrived, so gave them our cell phone number, took a change of clothes to the restroom, got changed, and headed for the beach for a couple of hours.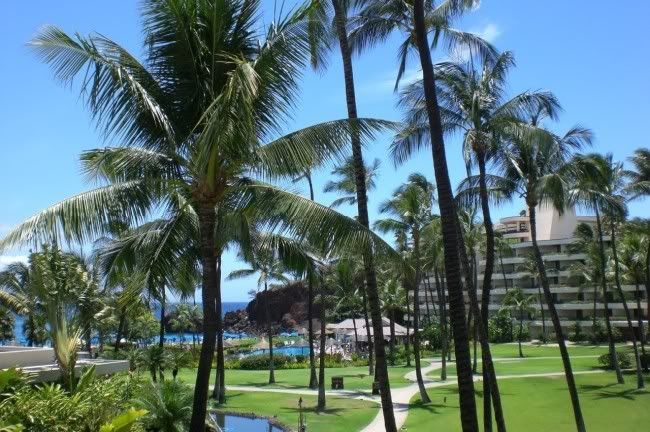 Sheraton Maui grounds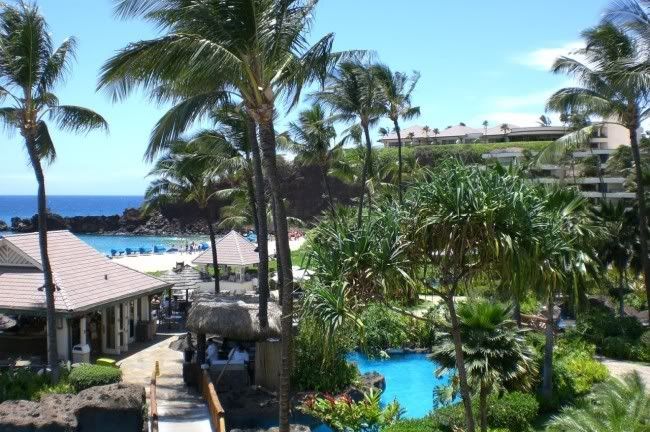 Part of the Sheraton's pool area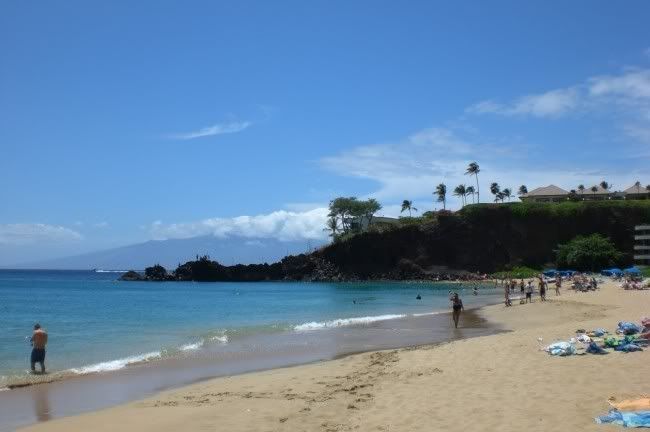 Black Rock at Ka'anapali Beach with Moloka'i peering behind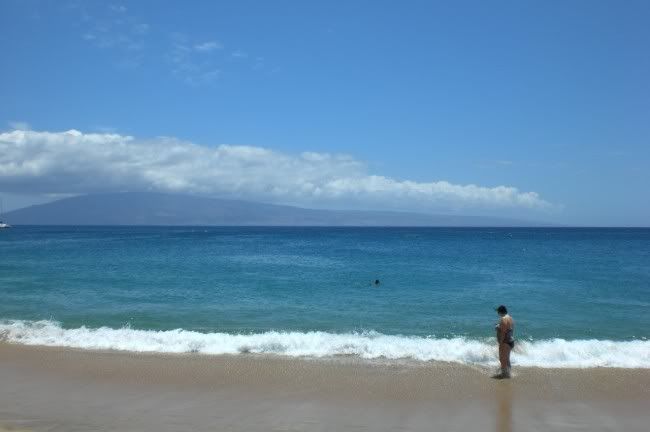 Another shot of Ka'anapali, this time Lana'i on the horizon
At around 245pm, the front desk called to tell us the room was ready. I reserved the garden view room, which is their cheapest rate (if you can call $400/night cheap) but got upgraded to a partial ocean view with the ocean on one side of the balcony and the West Maui Mountains on the other side. We were ecstatic; I was more so since we got a flat panel LCD tv in our room as well.
Partial ocean view from our balcony
We had reservations that night for a lu'au at the Hyatt Regency down the road, so we had enough time after checking in to shower and dress. I, myself, wouldn't be too keen on going (I mean it's just eating and watching a show, right?), but my wife insisted.
To tell you the truth, I enjoyed the show: the food was tasty, the people sitting next to us were friendly, the dancers were beautiful and talented, and the whole show wasn't overly long.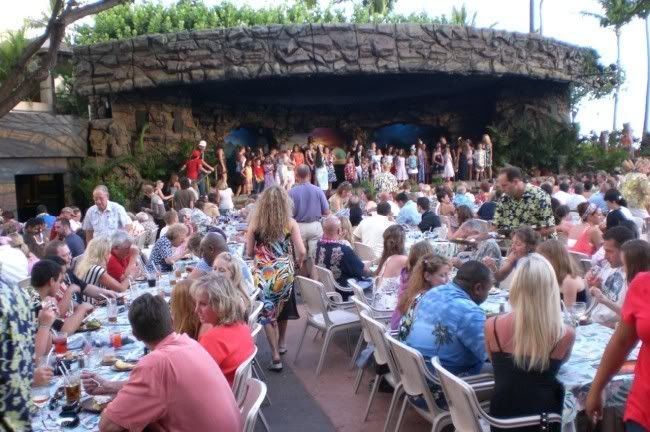 Drums of the Pacific Luau at the Hyatt Regency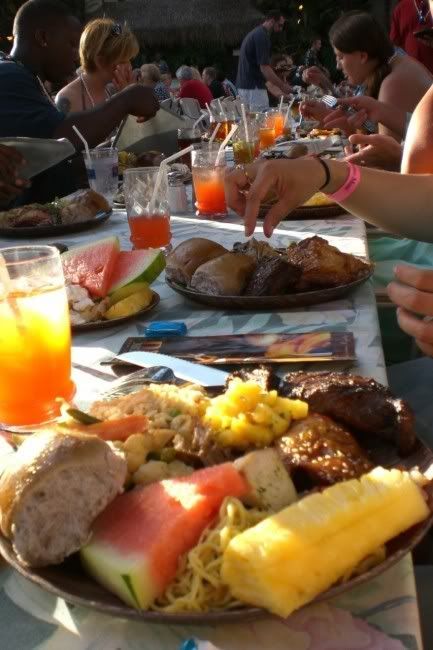 Luau chow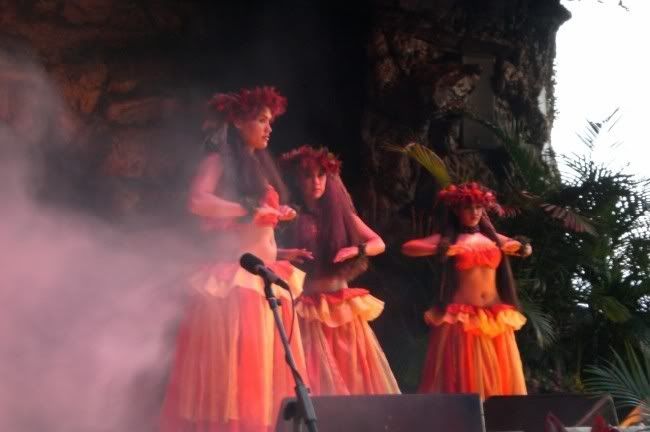 Apologies to my beautiful wife, I was a little distracted…
Boy, it has been a while since I have experienced jet lag: I was totally out by the time we got back to our room and my head hit the pillow. Good thing, because we are planning to take off at 5am the next day to take on the Road to Hana.
Please stay tuned for that, as well as our visit to South Maui, some information/pics of OGG, and our return trip to SAN, also on "Kioea" (with some cabin shots).
Thanks, and any questions/comments are appreciated.