Earlier that year A.Net-member "Ndebele" had informed me that he had booked a day-trip to Palma de Mallorca, taking off with TUIfly from the newly opened airport "Memmingen / Allgaeu" (FMM) to PMI in the morning and returning to our home airport Stuttgart (STR) in the evening. He asked me if I wanted to join him. I searched for flights but didn't get the flight FMM-PMI on that day any more at the time I was booking. But I thought a day at Palma de Mallorca in summer wasn't a bad idea anyway, so I booked a Condor flight STR-PMI in the morning for EUR 39.00 + EUR 23.00 tax (so all in all EUR 62.00) and the return flight PMI-STR together with Ndebele on TUIfly in the evening for EUR 24.99 + EUR 24.05 tax (so all in all EUR 49.04).
If you want to read about Ndebele's trip from Memmingen to Palma, click here:
New Airport: Memmingen To Palma On TUIfly B 737-300
But now let's start with my Condor flight:
Monday, 16 July 2007
Stuttgart (STR) – Palma de Mallorca (PMI)
Airline: Condor
Flight number: DE 1622
Scheduled departure time: 07:45
Scheduled arrival time: 09:50
Type of aircraft: Airbus A 320-200
Registration: D-AICK
This aircraft was built and delivered to Condor in 2001.
There isn't yet a picture of D-AICK in the new, blue colours it is wearing since earlier this year in the database. So here are two pictures of the previous mixed Condor colours:
Here are some more pictures of former colours and titles of this aircraft:
As I live quite close to Stuttgart Airport (only 10 minutes by train), I used the "late night check-in" option which Condor offers at STR every evening between 18:00 and 20:00. I arrived at the airport about 15 minutes before 18:00. There were 3 counters designated for Condor's late night check-in in Terminal 3. 3 young guys and a mother with her child were already waiting in front of me. At 18:00, 3 Lufthansa check-in agents arrived and opened the counters. I was checked in in no time, got seat number 30F and this somehow shabby looking all-white "Lufthansa Handling Agent" boarding pass: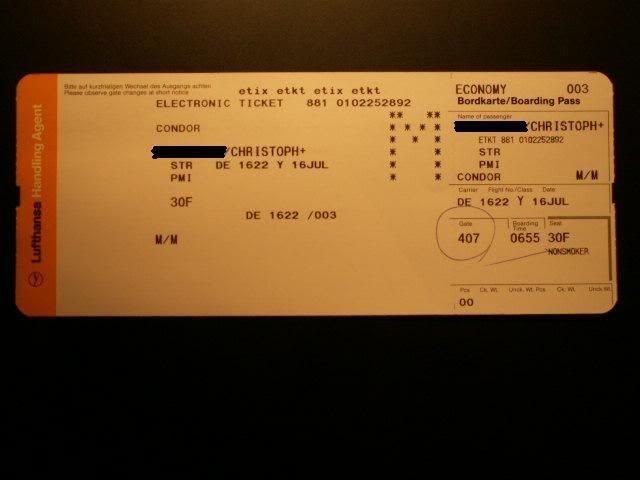 I also presented my Lufthansa Miles-and-More card and was rewarded with 750 miles. Not that bad for a 39.00EUR one-way flight, especially keeping in mind that I recently got only 250 miles for a Lufthansa return flight STR-TXL-STR that was much more expensive.
On Monday morning I arrived at Stuttgart Airport again at about 7:00. I passed security check which was busy but still didn't take much time as all check-points were staffed. I proceeded to my gate number 407 on the ground floor in Terminal 4 (which is linked airside with Terminal 3):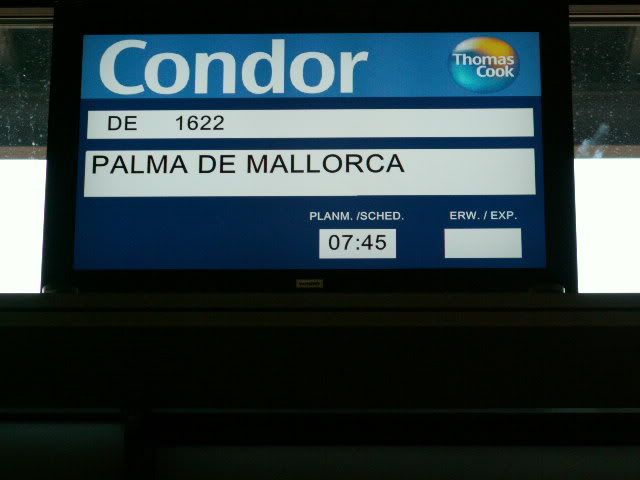 The gate was filling with lots of holiday passengers: young people, families with small children and some elderly passengers as well. Boarding was announced at 7:15, half an hour before departure time. A bus took all passengers to our aircraft which would be D-AICK today. Quite a familiar aircraft to me – this was going to be my fourth flight on this bird.
Our aircraft D-AICK, a snapshot from the bus: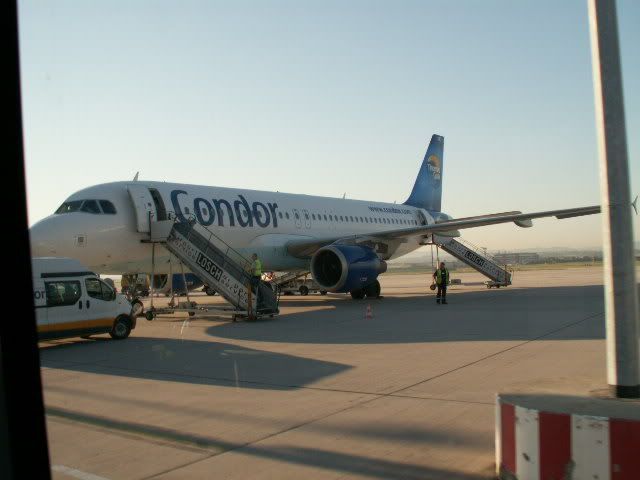 Boarding through the rear door – it's going to be a sunny day: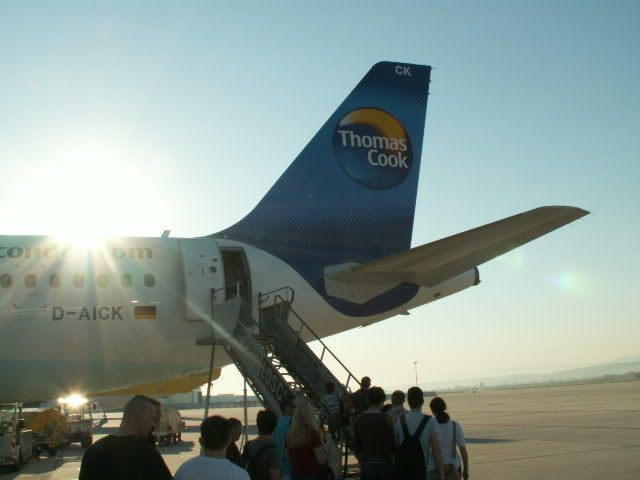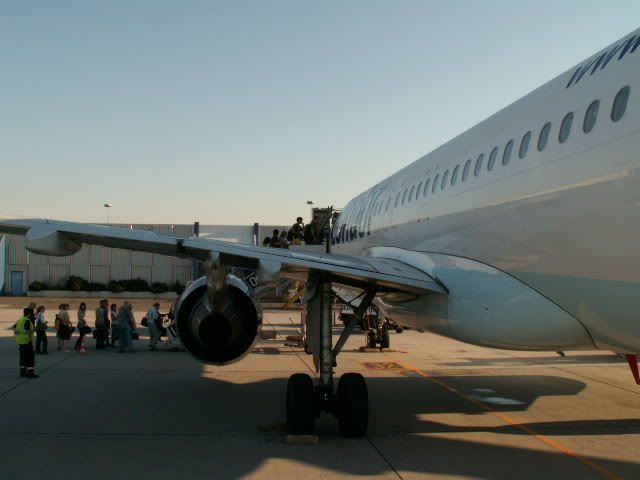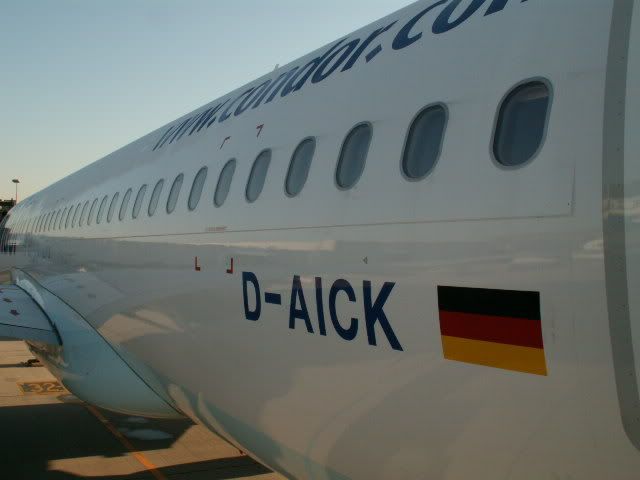 Welcome sweets were distributed at the doors by the cabin crew that consisted of a male purser and 3 female flight attendants. Newspapers and magazines were available. I took my window seat in the last row but one. The cabin filled quickly; a second and a third bus arrived. The purser announced "Boarding completed; 173 + 2, head-count, please" to his colleagues. So we had a full load on this flight; the aircraft has 174 seats. The safety video was shown on the screens.
The captain made a welcome announcement as well and informed us about our departure route with a take-off to the East and then a sharp right turn. We were off-block on time at 7:45 and taxied to runway 07: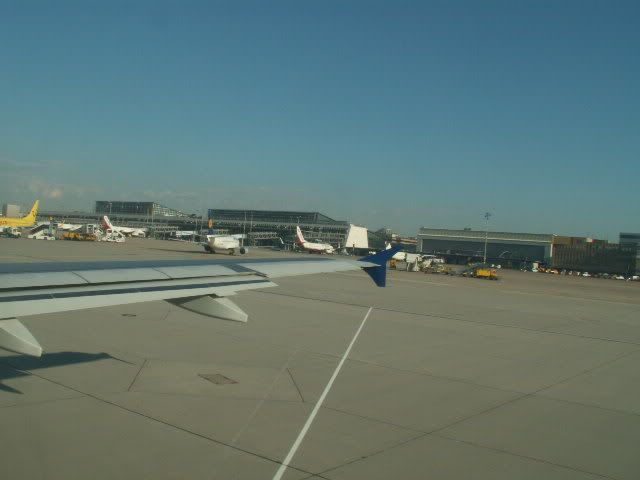 A Lufthansa Regional CRJ 200 was taking off before us, then we had to wait a short time for the landing of an Air Berlin B 737-700 arriving from VIE: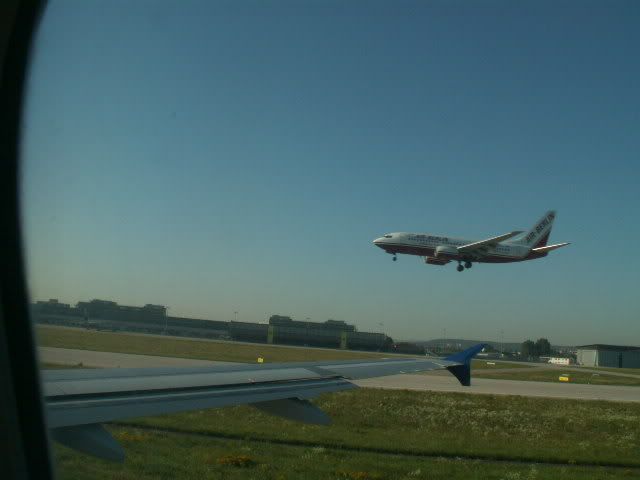 Now it was our turn to take off in Eastern direction. The cargo ramp was unusually busy. According to the information of a local spotter I met the day before, these two Atlas Air B 747 were operated on behalf of DaimlerChrysler: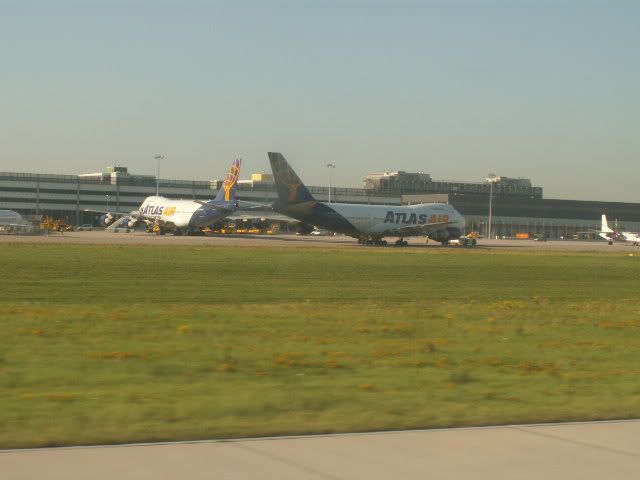 Passengers could watch the departure from the captain's point of view on the screens via the outside camera at the front gear. I really enjoy this feature when flying Condor. Unfortunately, the lens was a bit dirty this time. Shortly after take-off: The City of Filderstadt: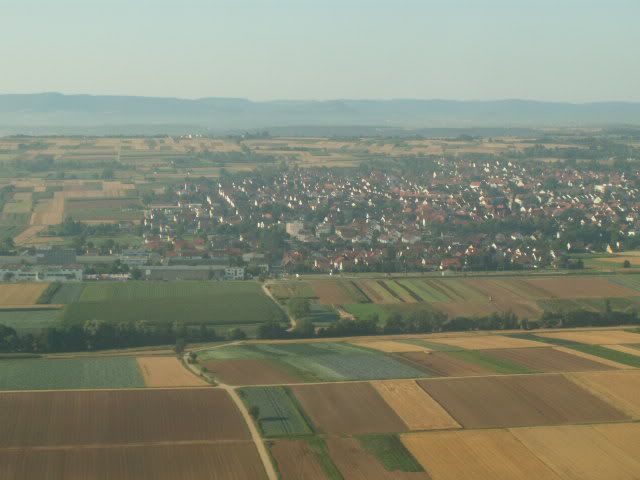 We were flying on a quite unusual but nice departure route. This should be the Town of Wendlingen, but I'm not absolutely sure: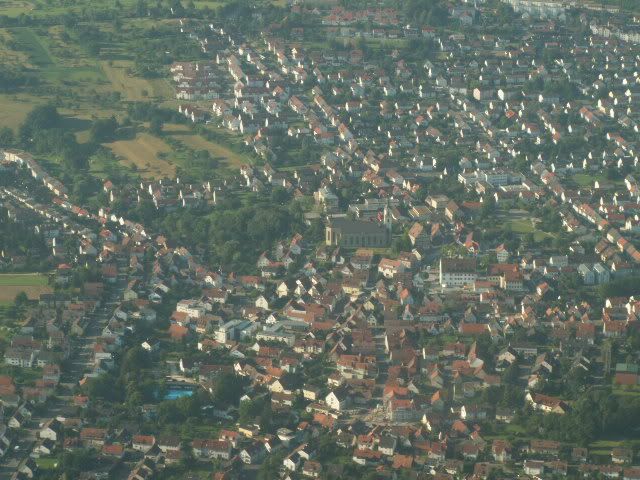 The motorway "Autobahn A8" Stuttgart-Munich: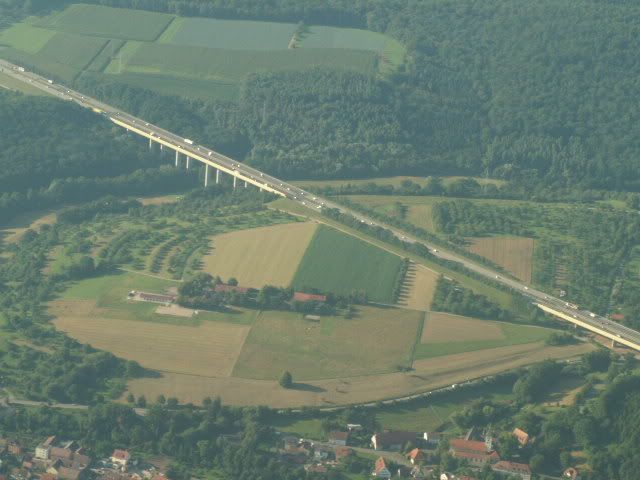 The region around Stuttgart gets quite rural when you get away from the city a bit: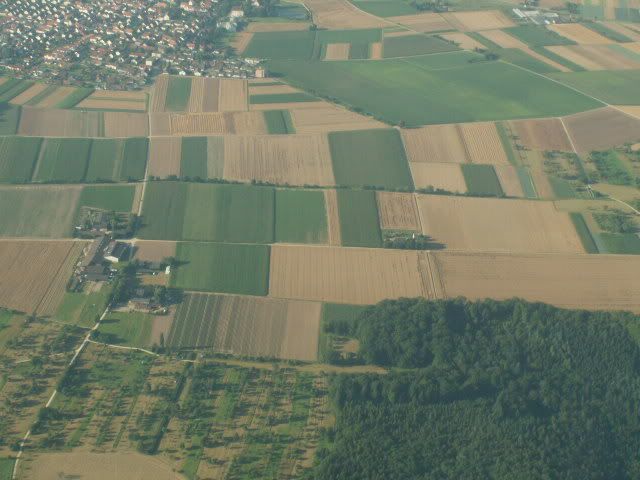 The promised right turn: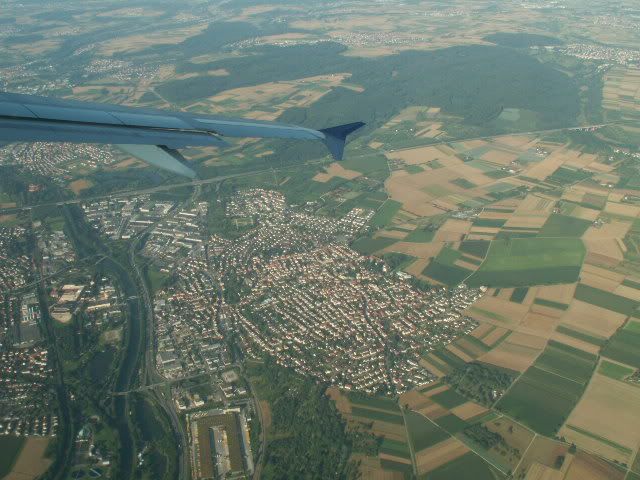 The City of Stuttgart; in the centre of this picture you can see "Gottlieb-Daimler-Stadium":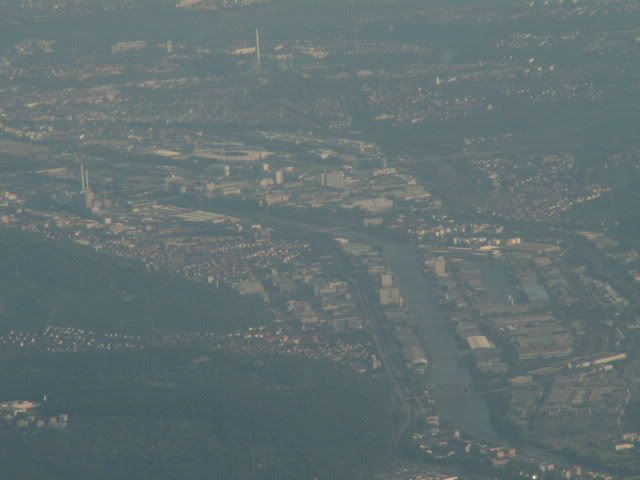 Then we had a very nice view of Stuttgart Airport again: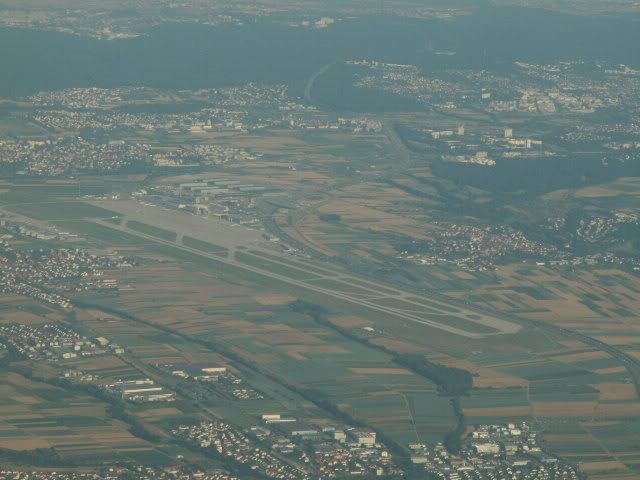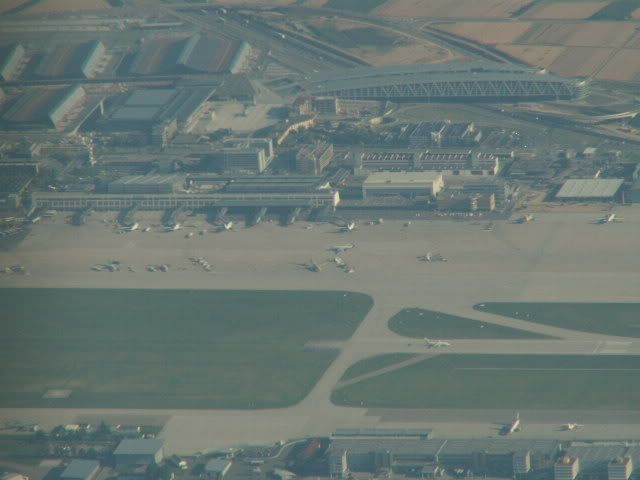 DaimlerChrysler car factory at Sindelfingen: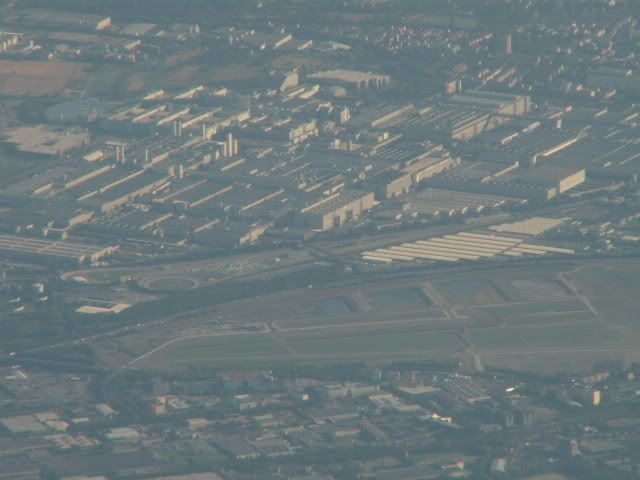 The cabin crew came trough the cabin selling head-phones for EUR 3.00, but I had brought my own one. Like most holiday carriers, Condor offers several audio channels with different kinds of music, as well as a movie programme. On this short flight, they were showing an episode of "King of Queens" which I enjoyed watching: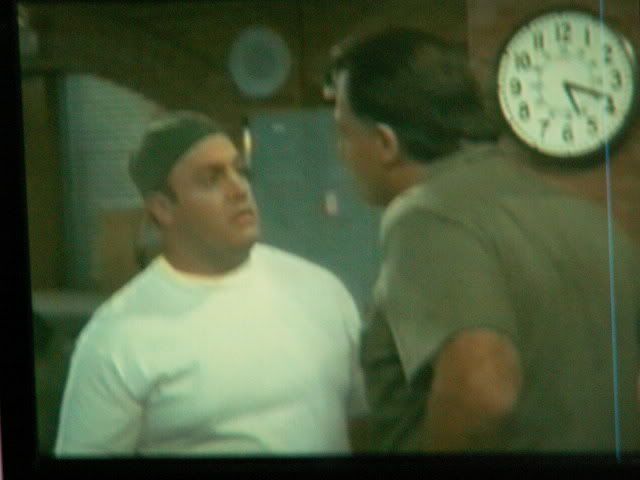 By the way: I think it was the first time that I really watched the video programme on a charter flight – usually they only show stuff like Miser Bean or Candid Camera which I don't find too funny – but I guess this is a matter of taste.
The captain came over the microphone again informing us about our flight route which would be STR – Black Forrest – BSL – GVA – Rhone – MRS – Mediterranean Sea – PMI. Like many pilots of holiday carriers, he also informed us when there were cities or mountains visible on the right or the left side. I really like this; it is very informative, especially when the air show isn't working due to movies or series shown on the screens.
Cabin crew started their meal and drinks service. Every passenger got a "Laugenbroetchen" (typical Southern German roll) with cheese (no choice) and two drinks for free – I had a coffee and an orange juice: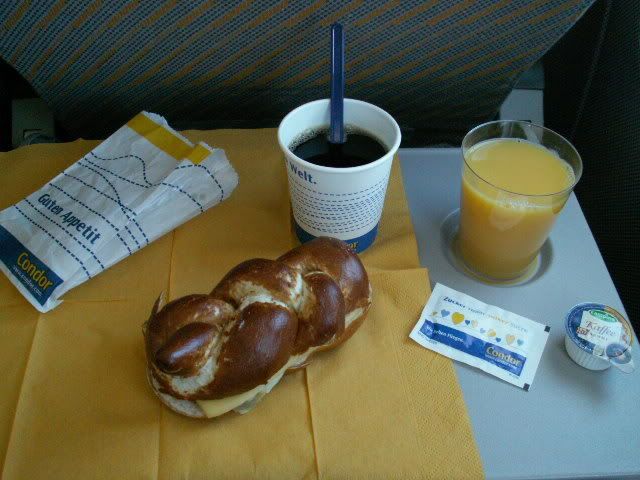 It tasted quite good and was all right for the length of the flight.
The Black Forrest: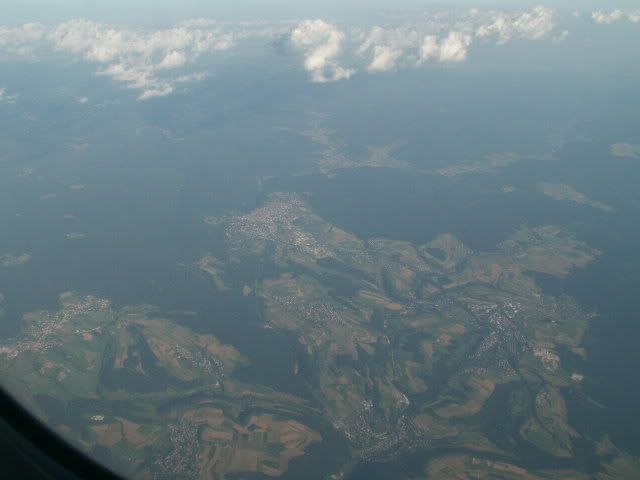 The River Rhine and the City of Basle:
BSL Airport: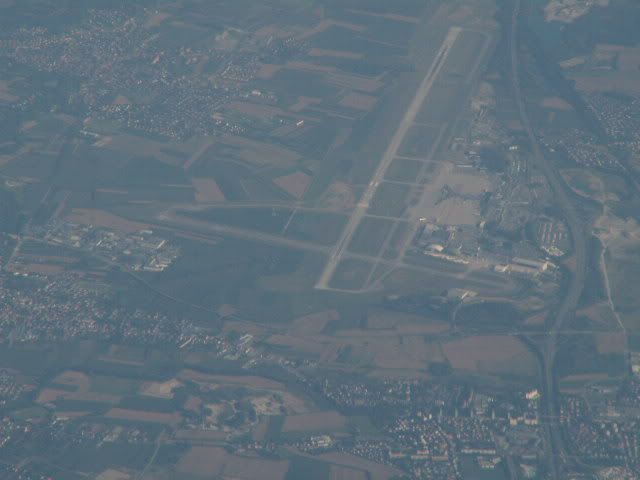 Lake Geneva: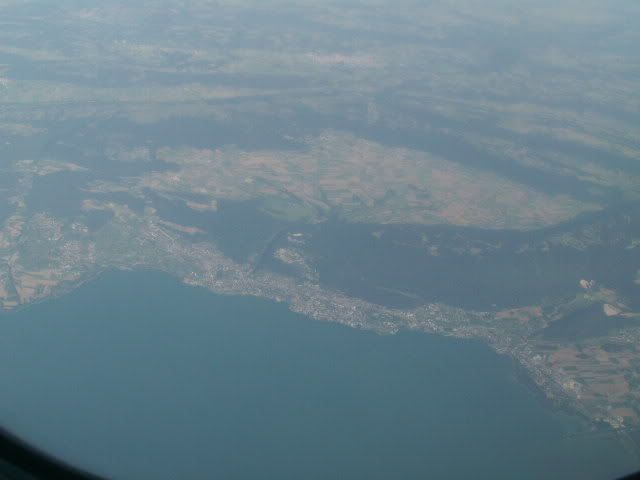 The River Rhone: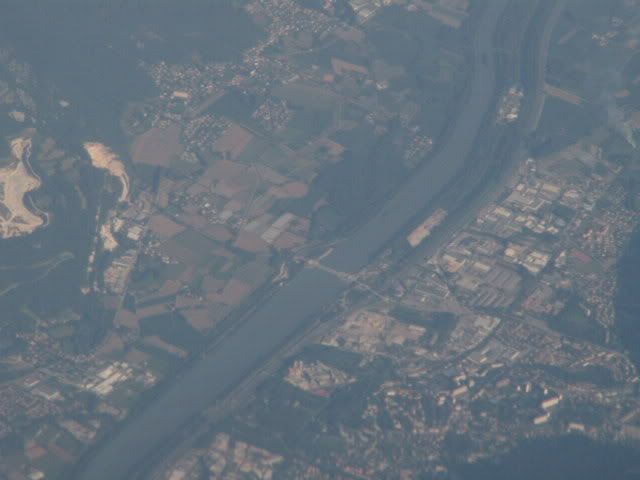 The Maritime Alps: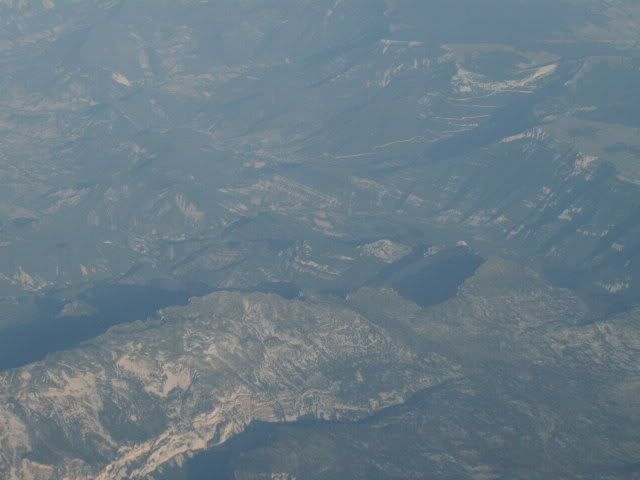 Soon we reached the Mediterranean coastline near Marseille: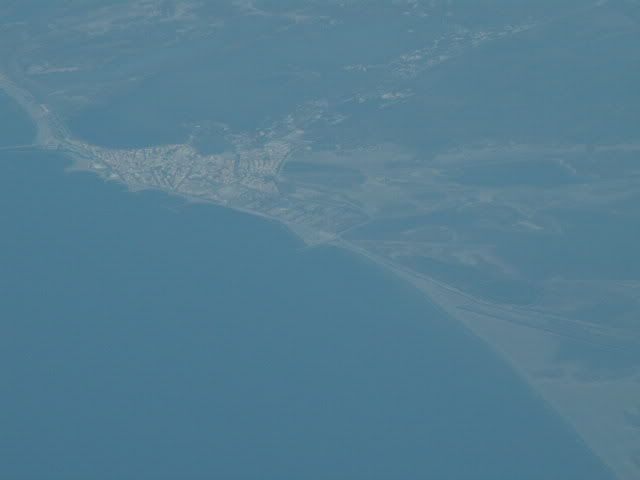 Our flight route on the air show: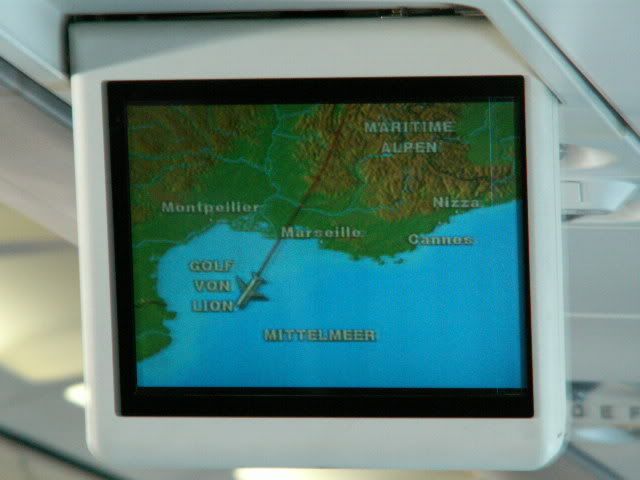 We were reaching the Island of Mallorca from the North: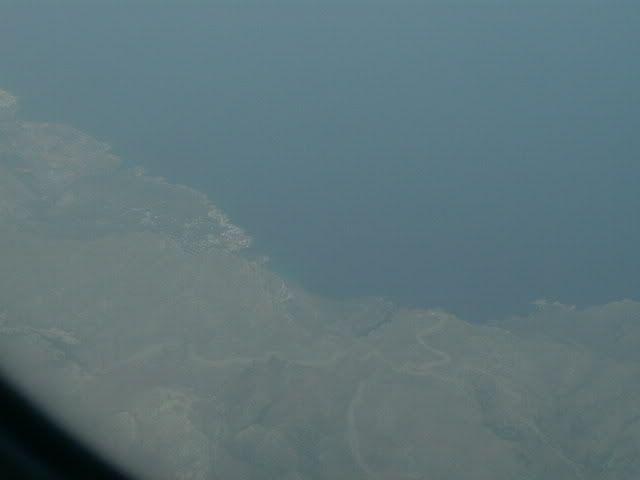 An observatory on a mountain in the centre of the island: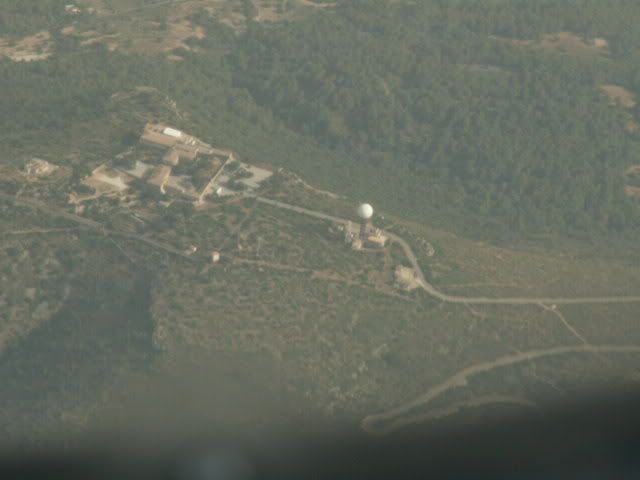 As we were flying in from the North but had to approach the airport from the South, we had to fly by the airport, out over the sea, perform a U-turn and return to the airport from the South.
Passing by PMI airport: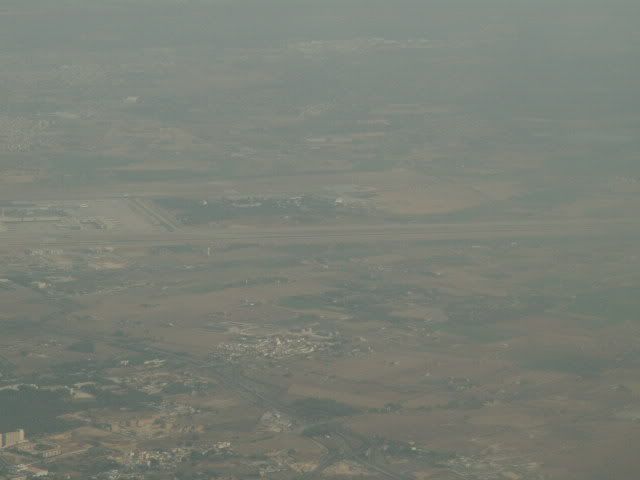 The South Coast: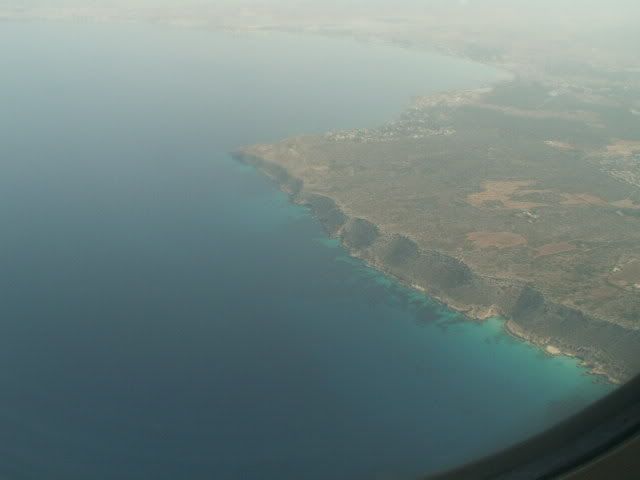 U-turn above the sea: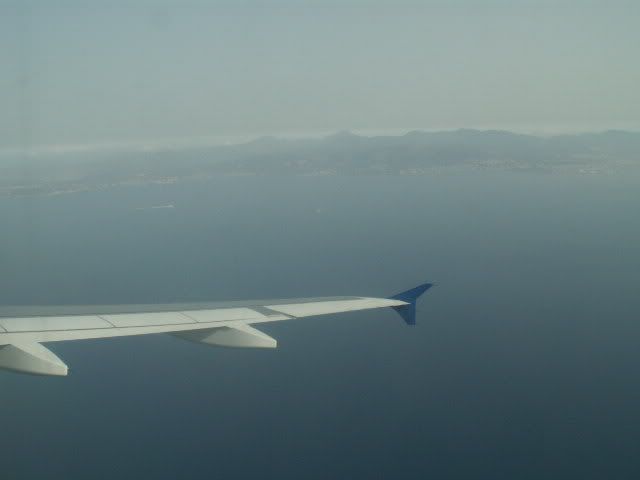 A cargo ship: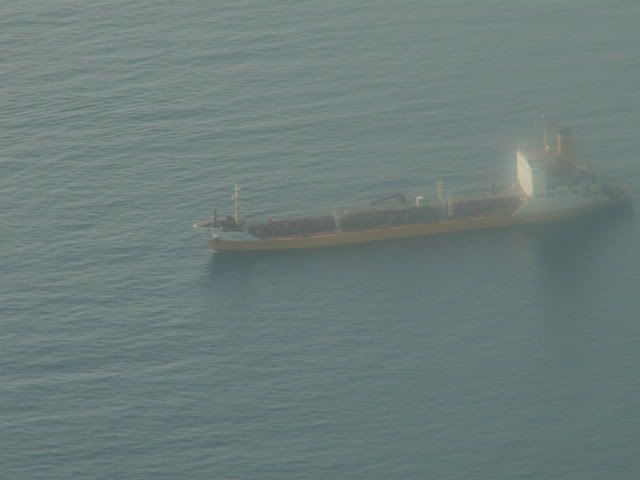 Approaching the coast again: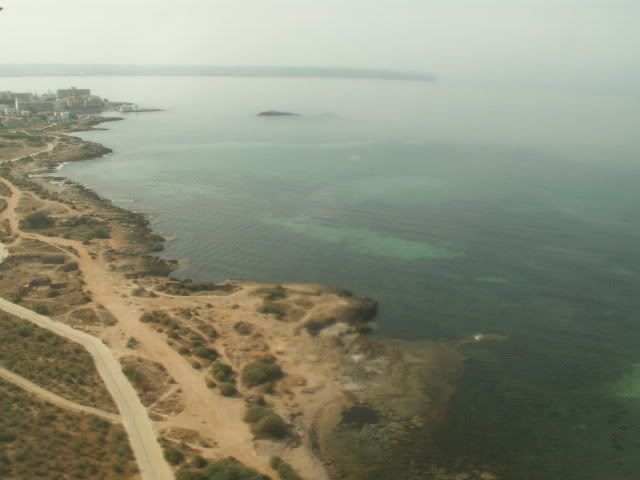 Final approach: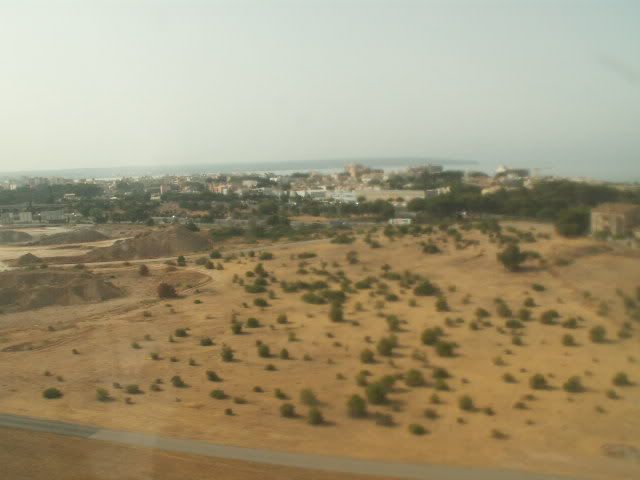 We touched down on runway 06R and taxied to a remote parking position on the apron. That was the first time the aircraft didn't use a jet-bridge position when I arrived at PMI. But it is summer holiday time and the airport seemed to be quite busy at that time of the day. We were on-block on time at 09:55.
Apron overview: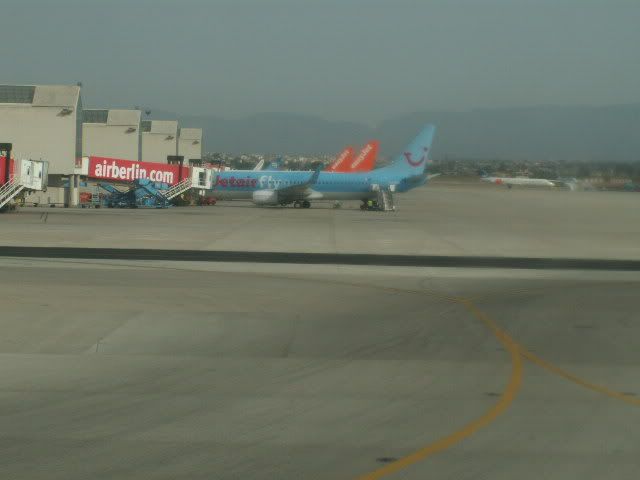 I left the aircraft through the rear door:
Two busses took all passengers to the arrivals facilities of the terminal building.
The disadvantage of the arrival at a remote parking position without a jet-bridge was that I wasn't able to stay airside to expect Ndebele's arrival and meet him at his gate. So I spent some time spotting landside. Two hours later, at 12:05, Ndebele arrived from FMM and we met in the arrivals area.
We decided to check in for our return flight in the evening first which was already possible as there were 5 counters open for TUIfly "all flights". A friendly agent from Iberia checked us in and we got seats 17A and 17B, sequence numbers 006 and 007: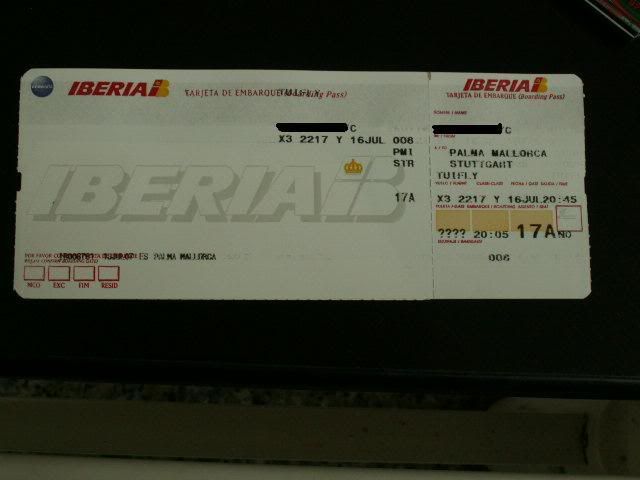 We spent the remaining day enjoying the sun outside, then we passed security check for some airside spotting.
Monday, 16 July 2007
Palma de Mallorca (PMI) – Stuttgart (STR)
Airline: TUIfly
Flight number: X3 2217
Scheduled departure time: 20:45
Scheduled arrival time: 22:45
Type of aircraft: Boeing B 737-800
Registration: D-AHFX
This aircraft was built and delivered to Hapag-Lloyd in 2001. In 2003 it was painted in the blue colours. In 2006 it was transferred to TUI's low-cost division HLX and was painted in the special "Cagliari / South of Sardinia colours it is still wearing today. In 2007 Hapag-Lloyd and HLX were merged into the new airline TUIfly.
Here are some older pictures of this aircraft:
At around 20:00 a delay of around 45 minutes was announced for our return flight to Stuttgart. At about 20:30 our aircraft arrived. It was D-AHFX, still in HLX colours and wearing this special "Cagliari / South of Sardinia" paint scheme: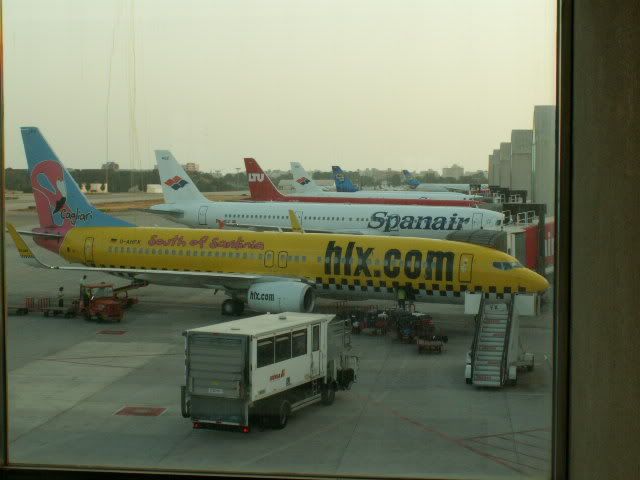 Boarding started at 21:00. We were welcomed by the flight attendants (2 female, 2 male). The cabin was equipped with grey leather seats and pink headrest covers with "Deutsche Telekom" adverts on them. All in all the cabin was I a good condition.
Again a full load on this flight – I didn't see a free seat. The captain also made a welcome announcement. The apron had emptied since the arrival of our aircraft: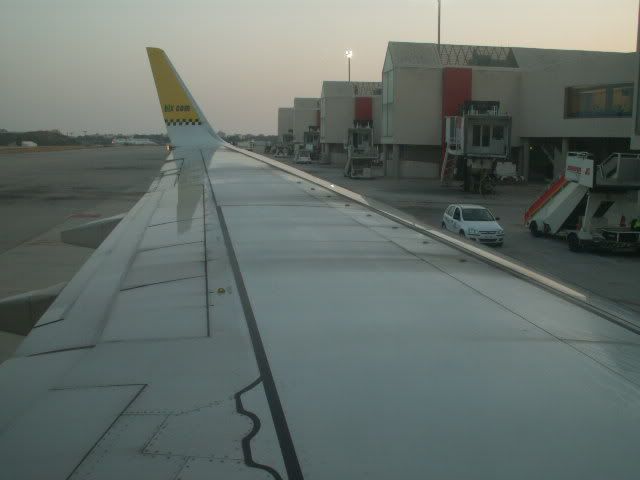 The safety video was shown, then we were off-block at 21:20 and taxied to runway 24R. The airport wasn't too busy at that time, so no time to wait at the runway. We took off immediately: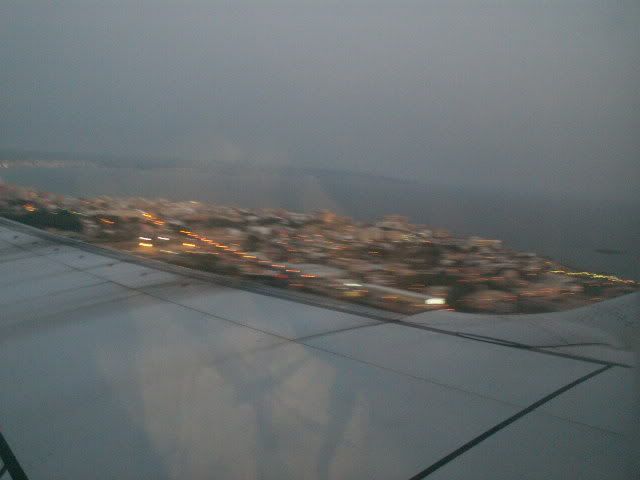 Cabin crew offered amenity kits with an eye-cover, ear-plugs and an air pillow for EUR 5.00. But Ndebele and I were so tired after that long day that we would be able to sleep even without these features. The first officer who was operating this flight came over the microphone with a very detailed announcement. He explained the delay with the holiday time and the busy airports in Germany and in the holiday regions. Our flight route would be PMI – Menorca – Gulf of Lyon – Toulon – Maritime Alps – Mont Blanc – GVA – ZRH – Lake Constance – Swabian Mountains – STR. But as it was a night flight, we weren't able to see anything of this. So here is my last picture out of the window – the last sunlight of the day:
Food and drinks were distributed – sandwiches again, this time choice between ham and cheese, as well as a drink service: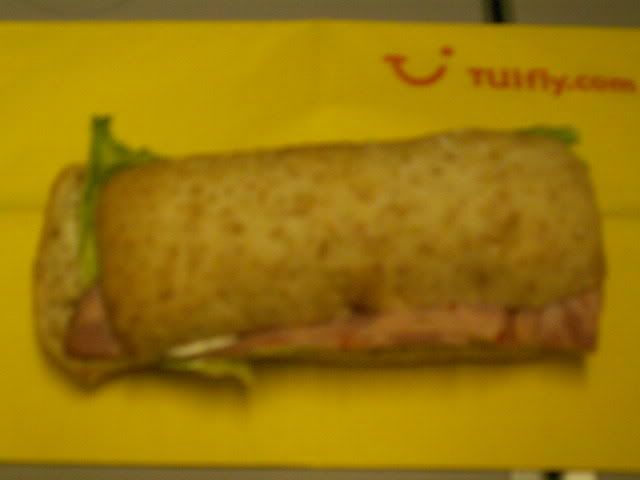 Again quality of the sandwiches was good.
TUIfly has a nice air-show with 3D-graphics of aircraft and landscape which is enjoyable to watch, especially if it is dark outside. The remaining flight was uneventful – I tried to sleep a bit. Cabin crew performed their duty free sale.
Soon we were approaching STR from the East and touched down on runway 25. We taxied to a parking position in front of the Lufthansa maintenance hangar where we were on-block at 23:10, about 25 minutes late which is still acceptable. Cabin crew distributed sweets at the doors. Two busses took us to the arrivals facilities in Terminal 1. Ndebele and I both left the airport by train in different directions.
Conclusion:
This was an enjoyable day-trip to sunny Mallorca. I had the chance to compare Condor and TUIfly on the same route on the same day. I have to say that both airlines offer a similarly good product. Food service, condition of the cabin and entertainment are equal on both airlines – as long as you don't end up on one of TUIfly's B 737-300 as Ndebele did on his flight FMM-PMI in the morning. There were friendly cabin crews and a very informative flight deck on Condor as well as on TUIfly. I would fly both airlines again. However, I somehow still prefer Condor a bit, but that's a personal opinion. Probably it is because I took most of my holiday flights up to now with Condor and was always happy with the flights.
Thanks for reading my report. Questions and comments are always appreciated.
Regards
Christoph