My 300th leisure flight: Summer in Germany
Hello, dear readers,
time to write down another story.
Some weeks ago, I noticed in my log, that leisure service number 300 is not far away.
As I want to complete this number ahead to the summer holidays, I´ve secured a short trip around germany.
Tuesday, 17.07.2007
STR (Stuttgart-Echterdingen) - HAJ (Hannover-Langenhagen)
Duration: 40 minutes
X3 370 operated by Tuifly B737-700 D-AHXD
Scheduled: 07.15 // 08.20
Acutal: 07.50 // 08.30
Gate: 313 Seat: 27F
Loadfactor: around 80%
Fare: 46,20 EUR
History:
Delivered to X3: 21.06.2007
Leisure flight no. 8 on the 737-700 and the first on this machine.
Hannover was a white area on my map, fare and time ok, so that will be the starter for this trip.
Up and away by car, at the airport at around 06.00 am, boarding was announced for 06.45 am, check-in was done at home,
the night before, without problems, this time.
Earlier a 73G was announced, changed to the 73W late monday.
A nice STR visitor in the background:
The An 124 on the cargo apron again: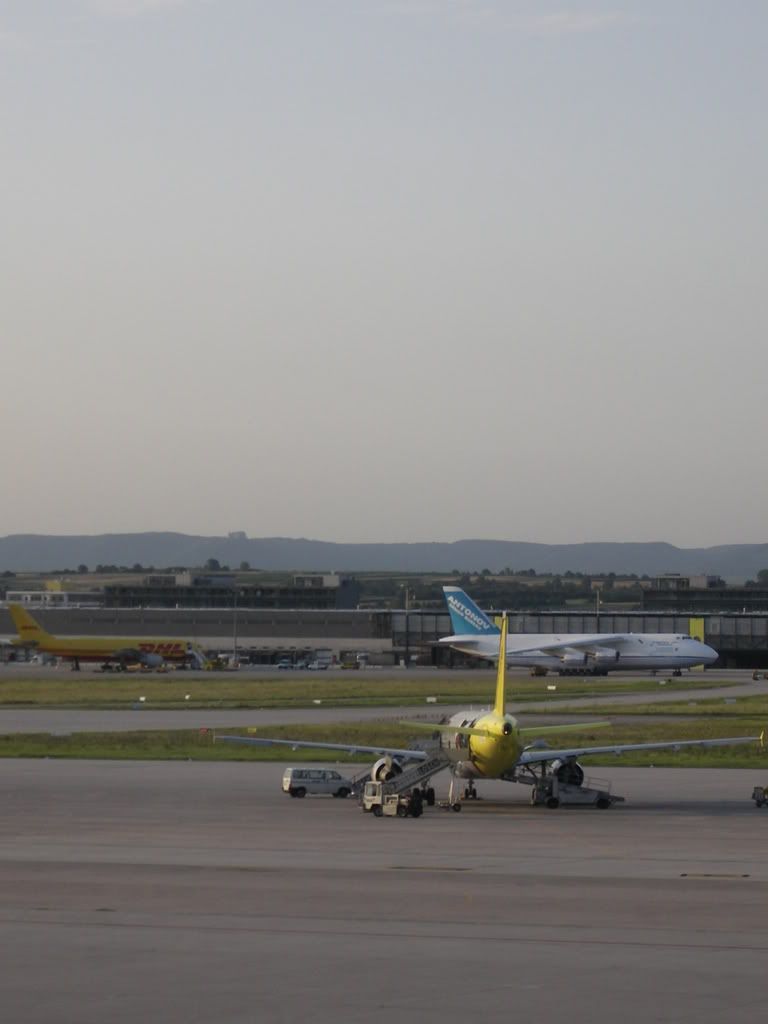 No time to wait at T3 security. Gate 313, that means a bus gate, on the upper level, but down the stairs to the ground.
Boarding was ontime, the bus filled up and surprise, D-AHXD awaited me on the apron, a real baby machine, age, three weeks only.
Welcome to D-AHXD:
Sunny STR boarding: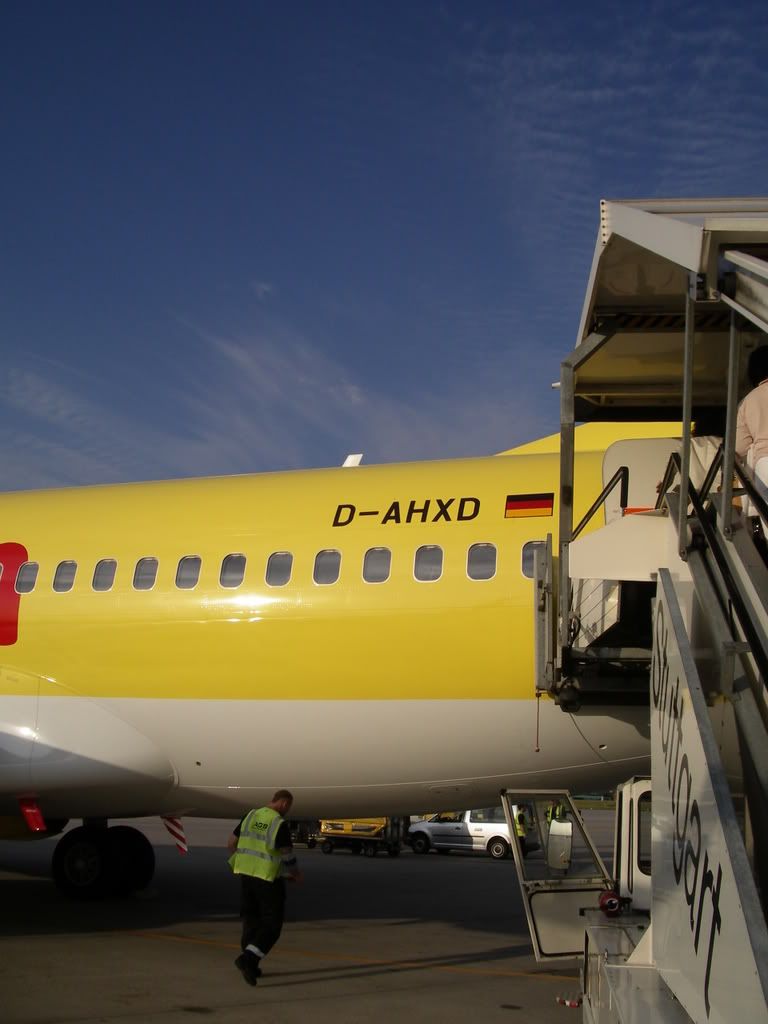 Rear door boarding, as usual, two male, one female FA´s on this service. Cabin crew was nice.
A short welcome from the flightdeck during boarding, the pilot seems not to enthusiastic this morning.
The cockpit crew from germany.
Taxi for a runway 25 departure, I count eight planes ahead, hey, this is not Heathrow!.
The cabin clean, modern style, fitted with new style fabric recaro seats in mixed colours.
One short info from the flightdeck while on cruise over PAD, nothing more, no map system.
No special service. Calm flight.
Touchdown on HAJ´s runway no. 27L , ten minutes delayed, mainly about the long departure queue at STR.
Airbirdge deboarding.
More clouds at HAJ: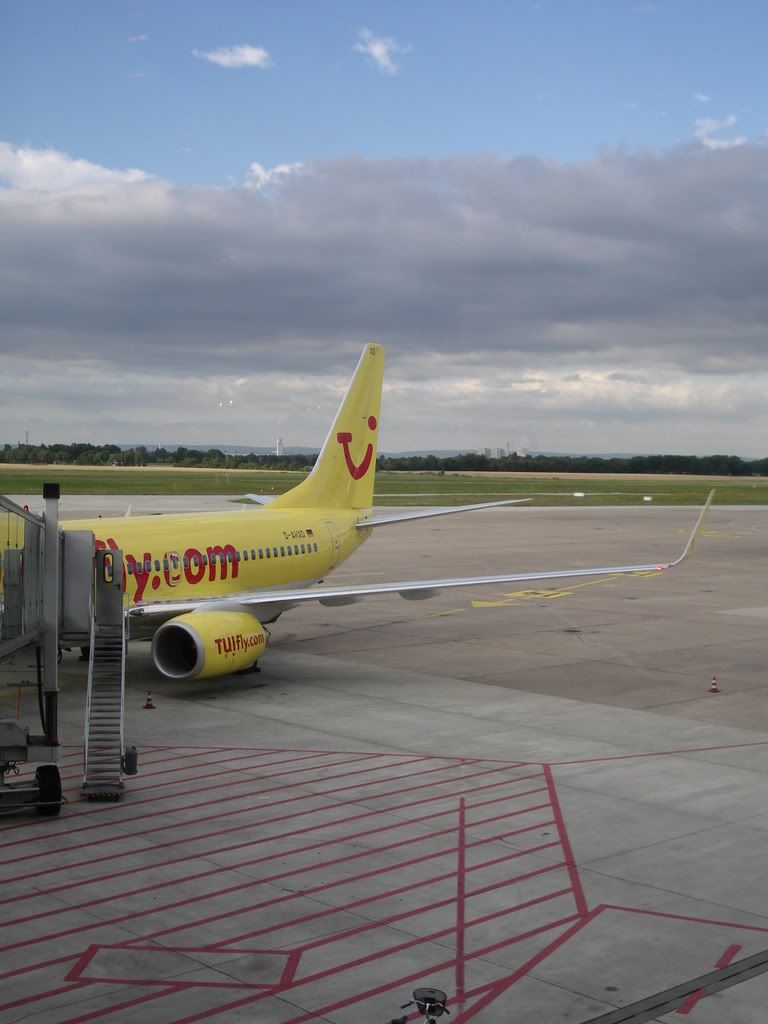 D-AHXD from the groundlevel HAJ: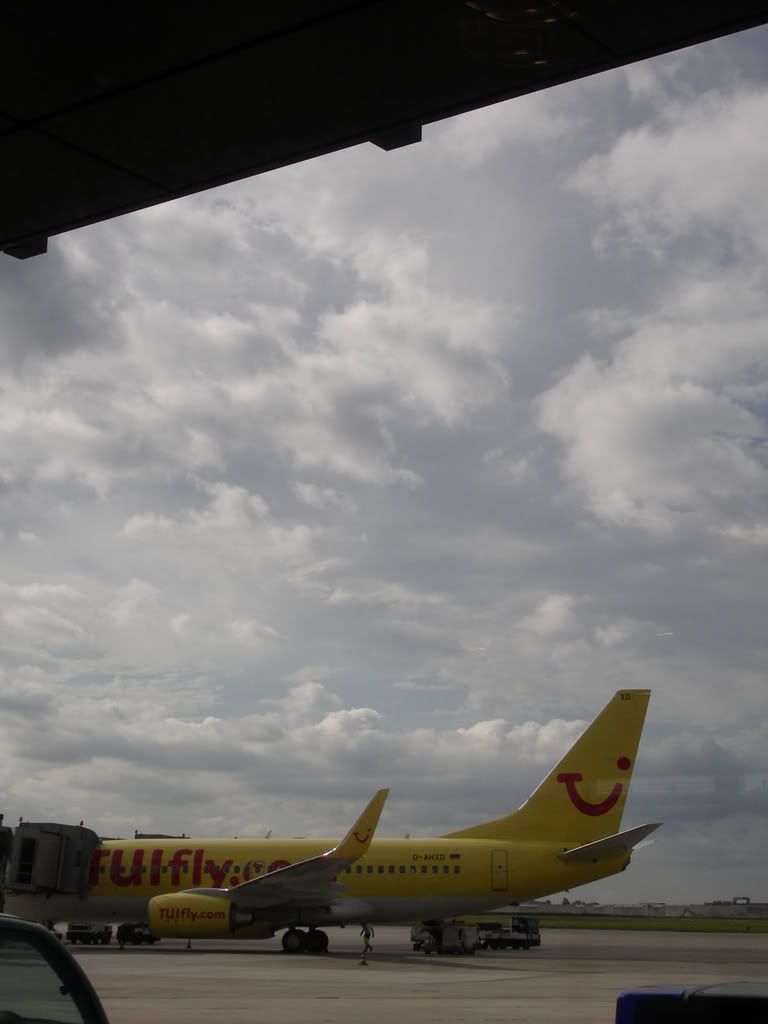 HAJ has a direct train connection to the main station, so further to the city center.
Some impressions from lower saxony´s capital:
The opera: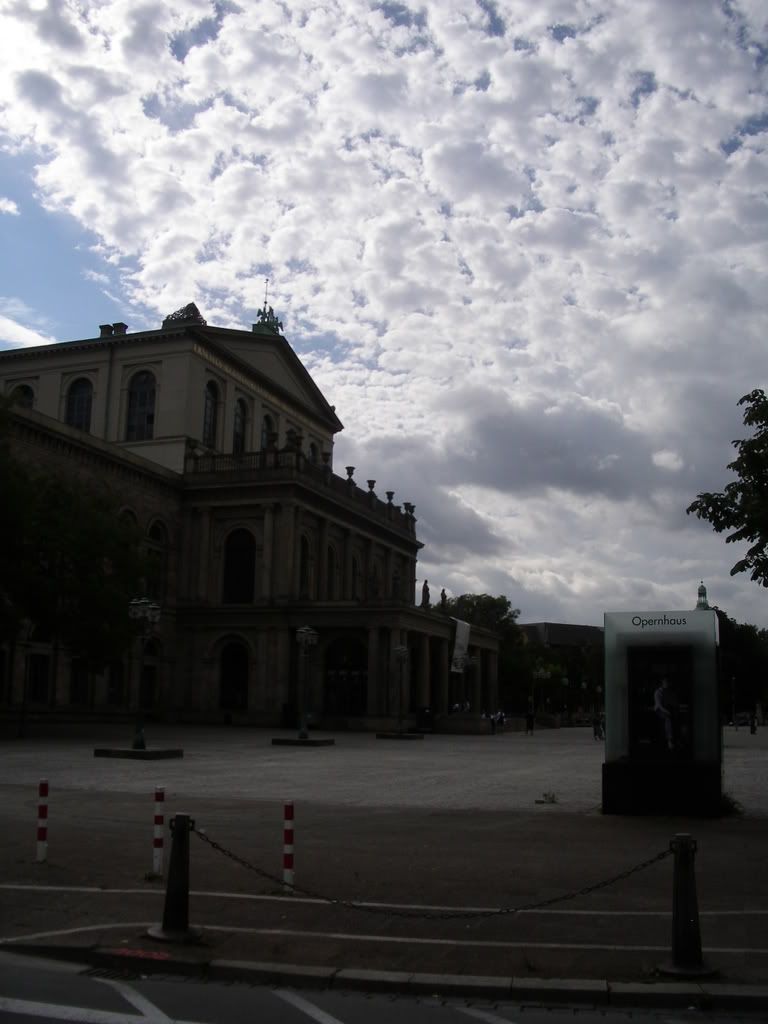 Modern architecture, AFAIK NordLB: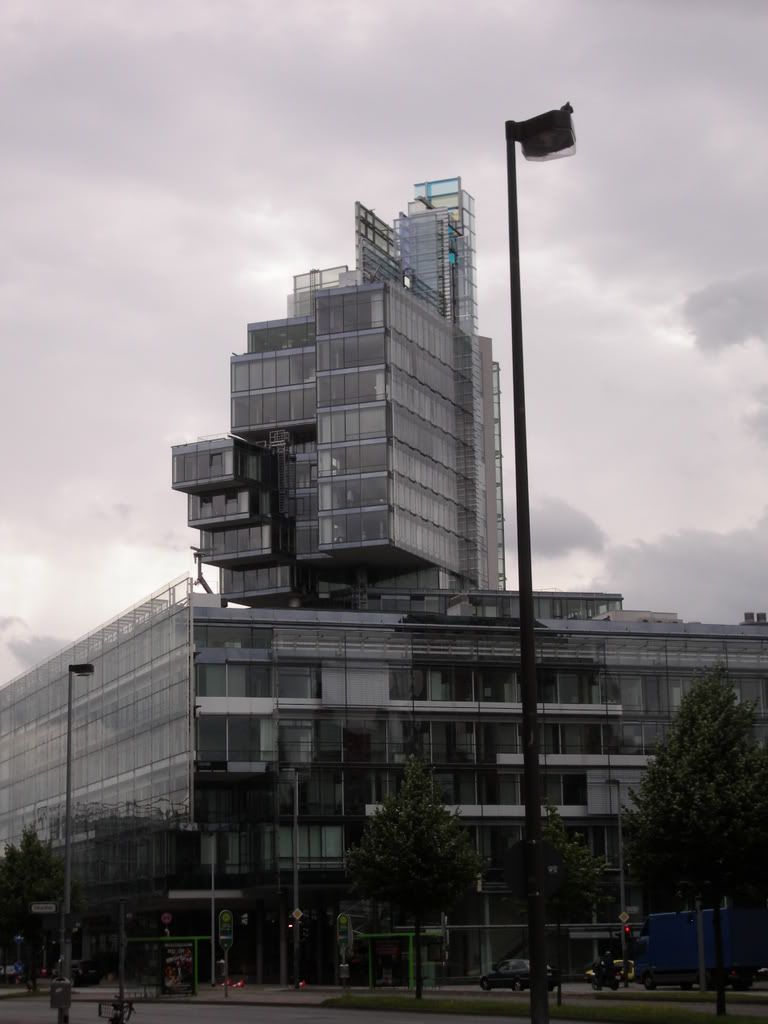 The new town hall:
And the old one: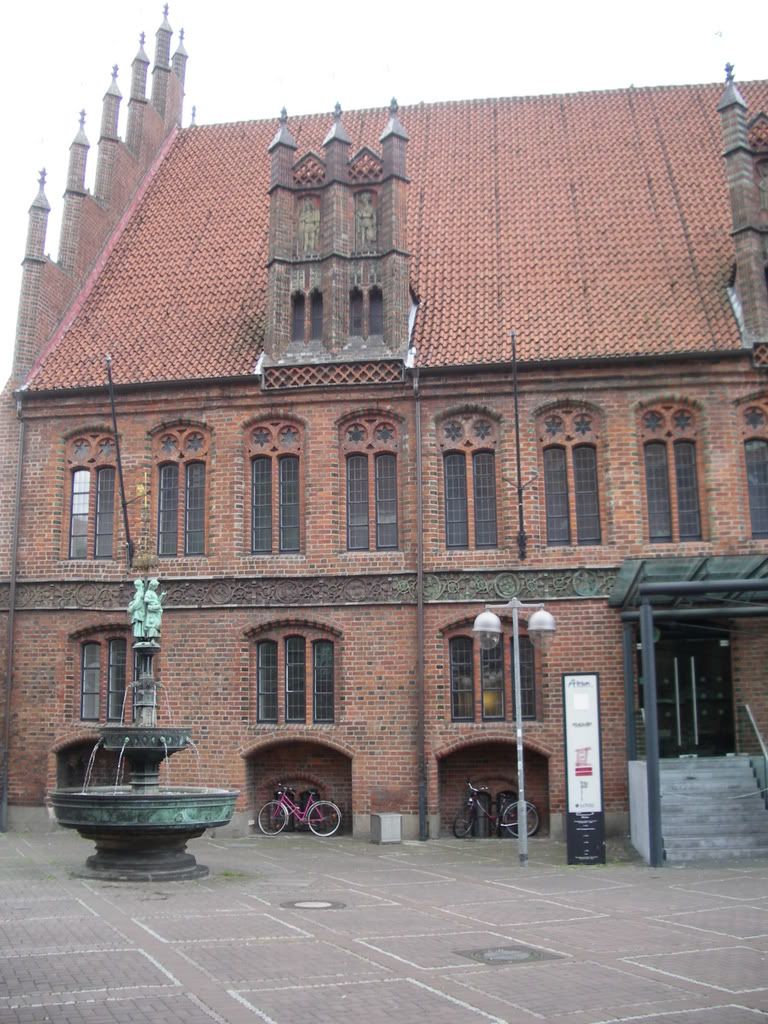 And what about this?:
With Deutsche Bahn´s special advertissement, EUR 29.-- for a oneway trip in germany, it´s easy nowadays to fill the gaps between
your flights.
I leave Hannover at around 12.30 am by the ICE, high speed train and arrived short after 2 pm at Berlin´s new main station.
A nice ride with the view on both former parts of germany. By bus to TXL airport, where I arrived at around 3 pm.
Tuesday, 17.07.2007
TXL (Berlin-Tegel) - FRA (Frankfurt-Rhein-Main)
Duration: 50 minutes
AB 6559 operated by AirBerlin B737-800 D-ABAS
Scheduled: 16.55 // 18.10
Actual: 17.20 // 18.10
Gate: A06 Seat: 31A
Loadfactor: Around 80 %
Fare: 83.-- EUR
History:
Delivered to AB: 11.02.1999
Leisure flight no. 28 on the 737-800 and the first on this machine.
Check-in was also done the night before, no problems, so no need to hurry, especially when you know the gate system in TXL´s main building.
There is a separate security check at every gate, and the gate areas much to small for nowadays needs.
There was a new terminal just opened and from the upper stair level it was nice to follow the apron activity.
Bulgarian Air Charter on the way to Burgas:
And finally departed:
A-300 arrival from FRA:
The one and only Germania plane in Germania colours heading for IST:
My plane was announced with a ten minuted delay arriving from LED/St.Petersburg but after I followed the touchdown of a 738, I´ve checked the screens again
and noticed that this was my machine to FRA, in the end arrived some minutes early.
Ok, to the gate, no time to wait at the secuirty there, the area crowded as expected, the door to the next gate also open, but with another LH 737 to STR, not more space at all.
TXL: My machine at the gate:
Boarding ontime by an airbridge, the last rows first, four female, one male FA on this service, friendly so far.
Departure from runway 26L via Erfurt to FRA. Another calm flight. Flightlevel 28.000 ft.
The map system on the screens during the whole flight.
A real friendly welcome from the german flightdeck crew during boarding and later more info´s when we cruised, good job there.
The machine fitted with dark, grey fabric seats, ok conditions, legroom was better than on X3 this morning.
The FA´s served snacks and beverages, also free magazines during boarding.
Arrival ontime on FRA´s runway 25L , taxi to the apron in front off T2 and parked beneath another company A320.
And finally at sunny FRA: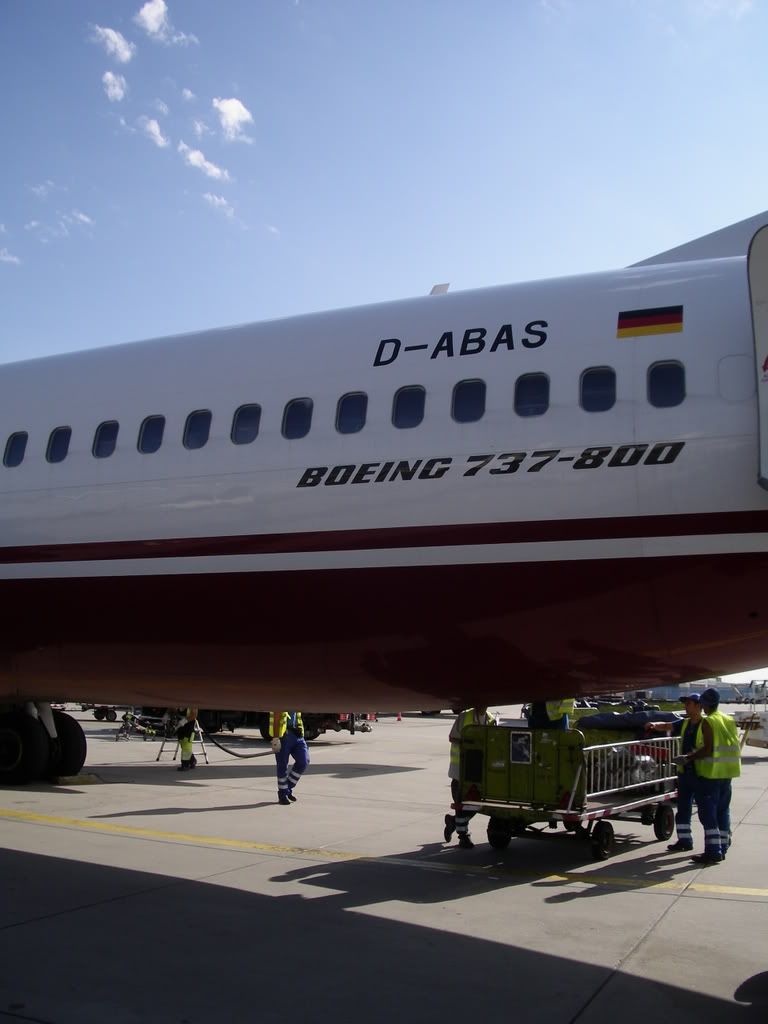 Deboarding at FRA: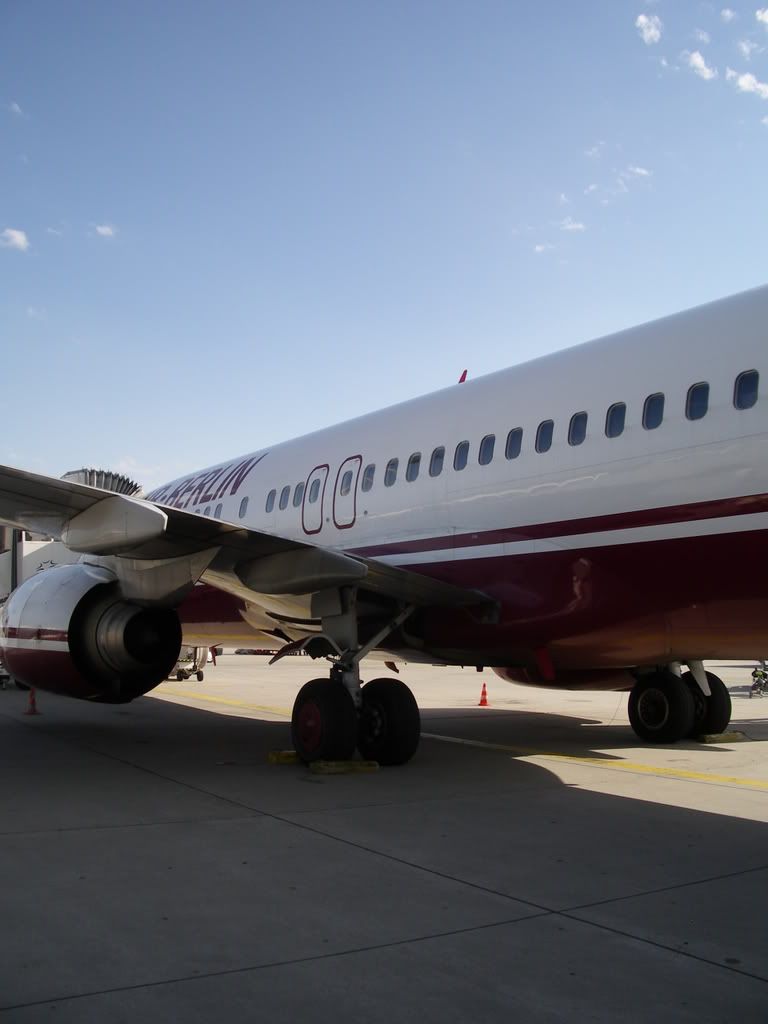 Bye-Bye D-ABAS:
By bus to T2, via the Skyline to T1 and ontime at the long distance train station to reach my ICE, booked for another 29.-- EUROS,
back home to STR.
So, time for my opinion about leisure leg 299 and finally 300.
Both airlines provided nearly ontime services, the fare on X3 was lower, AB was more expensive but acceptable at all.
AB has the more enthusiastic cockpit crew, while the cabin crew was nicer on X3.
Ok, difficult, I think I will go for 300 or so more flights to improve my opinion!.
Comments welcome, also the short one´s.
Markus (FLIEGER67)