Failte!
And welcome to my first trip report. I'm very excited to finally have my very own trip report. So sit back, relax, and prepare to take in the sights of over 100 photographs, the rants and the raves of my trip from Shannon to Los Angeles, via the hell hole that is Dublin Airport.
Well I suppose it all starts with me going to bed at 2 a.m. the morning of my departure, after finishing all the packing (six people for three weeks) and sitting down with a bowl of honey nut Cheerios and watched a little Dirty Sanchez.
At about 5:45 my dad woke me up, fifteen minutes before my alarm was set to go off. In typical "teenage style" I refused to get up yet, and said something rather unpleasant, which I then denied saying afterwards. After about 30 seconds, I got up, showered dressed, ate and started getting ready. Our flight was due to leave at 8:30, but we told a certain parent that the flight was due to leave at 7:45, so as to get out of the house on time. As you see, the last time this person was heading off on a flight, they refused to get up in time, and just about made check in. Sure enough they did the same thing this time. We left the house at 7:26.
We arrived at Shannon airport at around 7:45. The long term parking was packed. So while dad dropped 5 of us off at the terminal, he went off and parked. We walked in to a very crowded (by Shannon terms anyway) airport. The Aer Lingus lines for Economy was very long. When my dad arrived, I suggested the Gold Circle/ Premier check in, as there was only one person ahead. But then, a very good looking blonde EI agent courted us over to the Fast Pass check in machines, where check in was completed in about one minute. We then walked straight up to the bag drop desk, to have our bags tagged. Que an upset four year old who was quite reluctant to see their beloved car seat be taken away.
At around we ran towards the security point which was on the upper floor. We get there to be greeted with a large line, which was very slow moving. After 15 minutes, and the screening of bags, removing of belts, and one pair of even though they weren't asked to, we ran again through Duty free (filled with U.S. soldiers) we ran to get 14, I think. Two very nice (and again blonde, and attractive) EI agents took our cards and we boarded, greeted by two very nice female FAs. We took our assigned seats, which were spread out. We then went towards the back of the plane, and set up camp at seat 31, 32, and 33 A&C. I took the emergency exit row A seat, with my 13 year old brother. One FA asked if we were both over sixteen to which we both replied yes.
A very friendly FA sat across from us in his seat. He was working only two flights that day. SNN-DUb, and DUB-SNN. Take off was delayed for about 15 minutes due to a technical problem. But sure, what would a flight on an EI A330 be without a tech problem!
After which we pushed back. By the way, we were parked next to a DL 763. Taxiing along I spotted a AA752 with winglets, some FR birds, and one of EI's newest A320s, made noticeable by the lacking of .com titles on the side. We taxied along, and saw usual's like some Antone's, and that OMI or OMA 757 which had been parked on the runway for quite some time. We taxied straight onto the runway and took off!
Flight #: EI 124
Route: SNN-DUB
Date: June 30th 2007
Type: A330-202
Reg: EI-DAA
Delv: 17 April 2001
CN: 397
Sch. Dep: 8:30
Act Dep: 8:50 (ish)
During the take off roll, the FA in front of me blessed himself, which I found a little strange. We soured, and as we soured I chatted to the FA.
At this point you are pro bally wondering why there are no pictures yet, even though I have promised you 100. Well, We were in too much of a rush at check in and a little too stressed at security for me photograph anything. So here are the first pictures.
The new crew rest area just aft of doors 3 L&R. They resulted in the removing of 16 Y seats, reducing capacity from 251, to 235.
Legroom at the exit seat.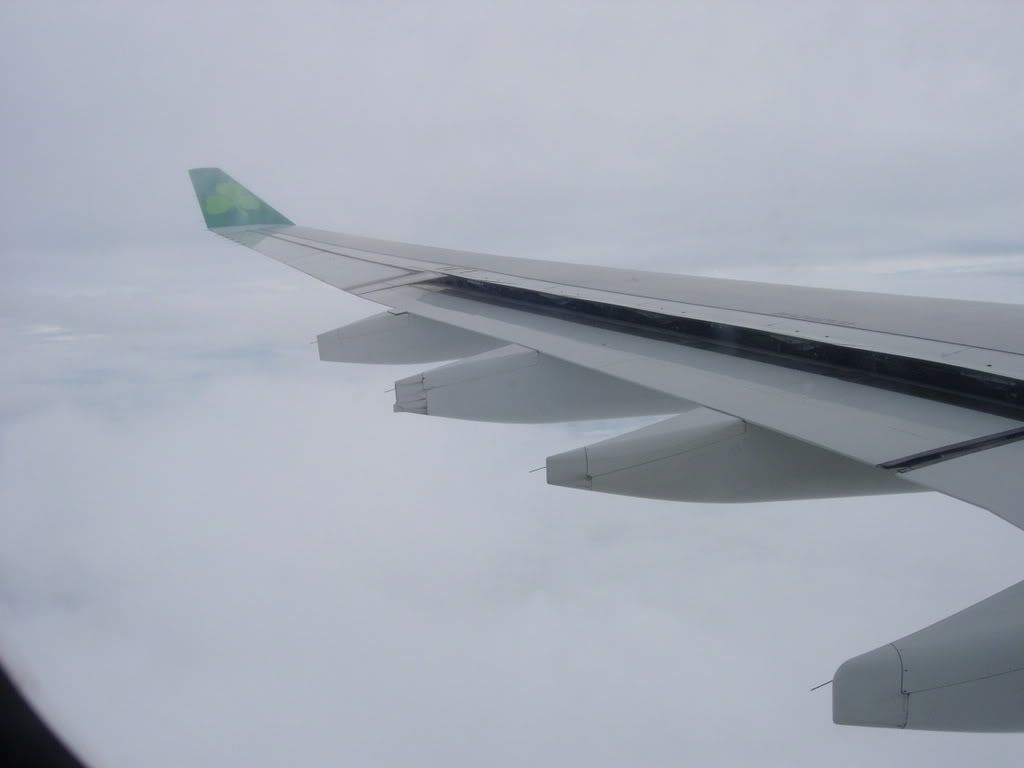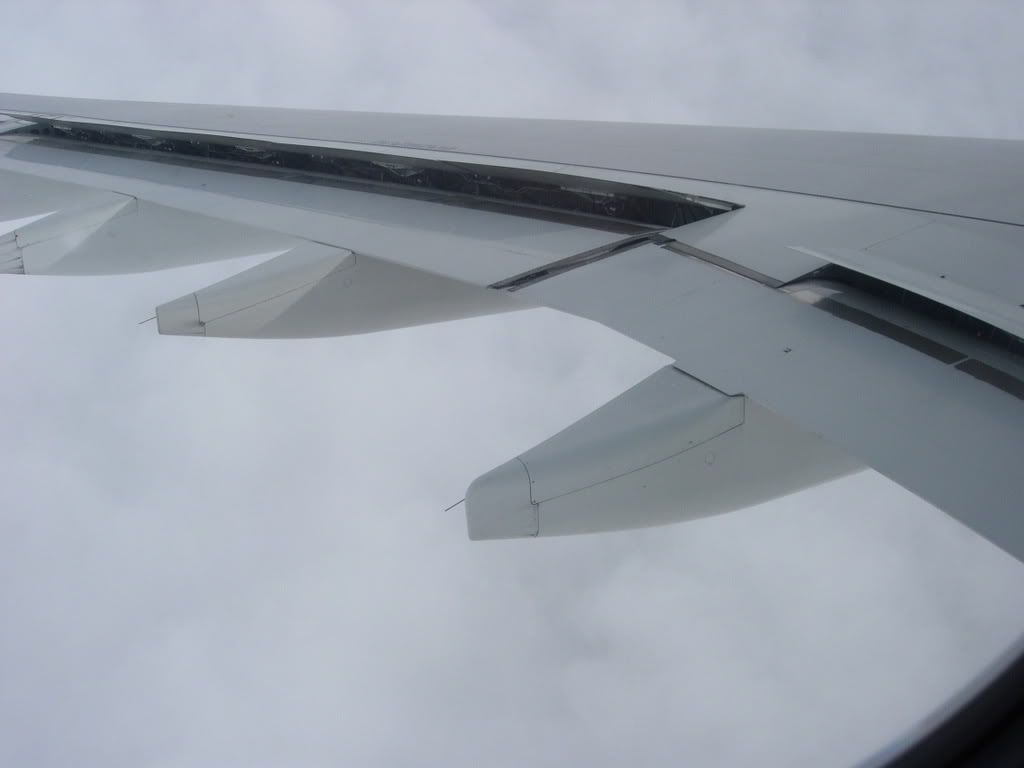 Spoilers deployed for descent.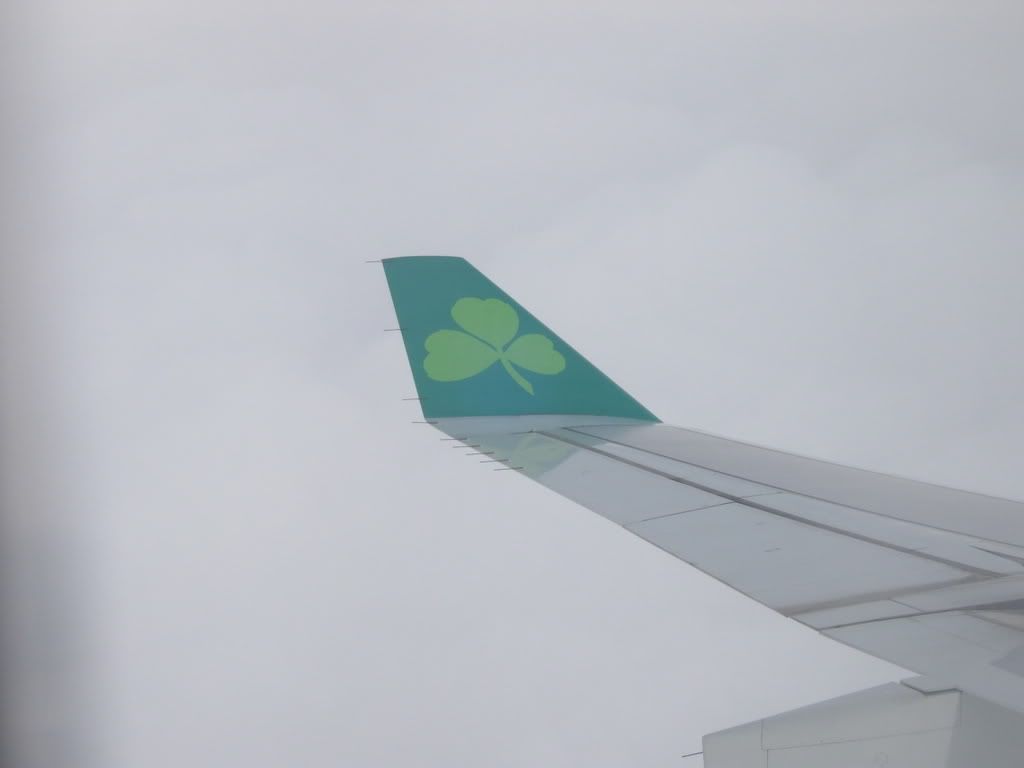 The winglet.
The PTV that is stowed in the armrest.
Approach. The visibility was low, and cloud coverage broke at less than 1000 feet.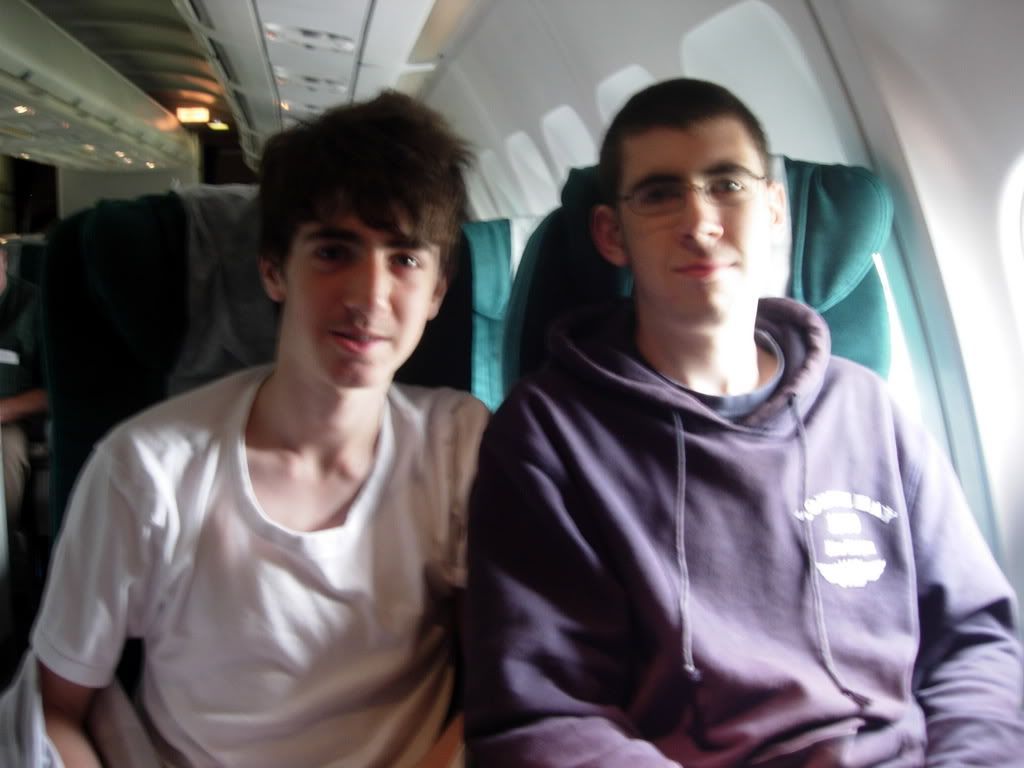 My brother and I in the holiday mood, as taken by the very friendly FA in front of us.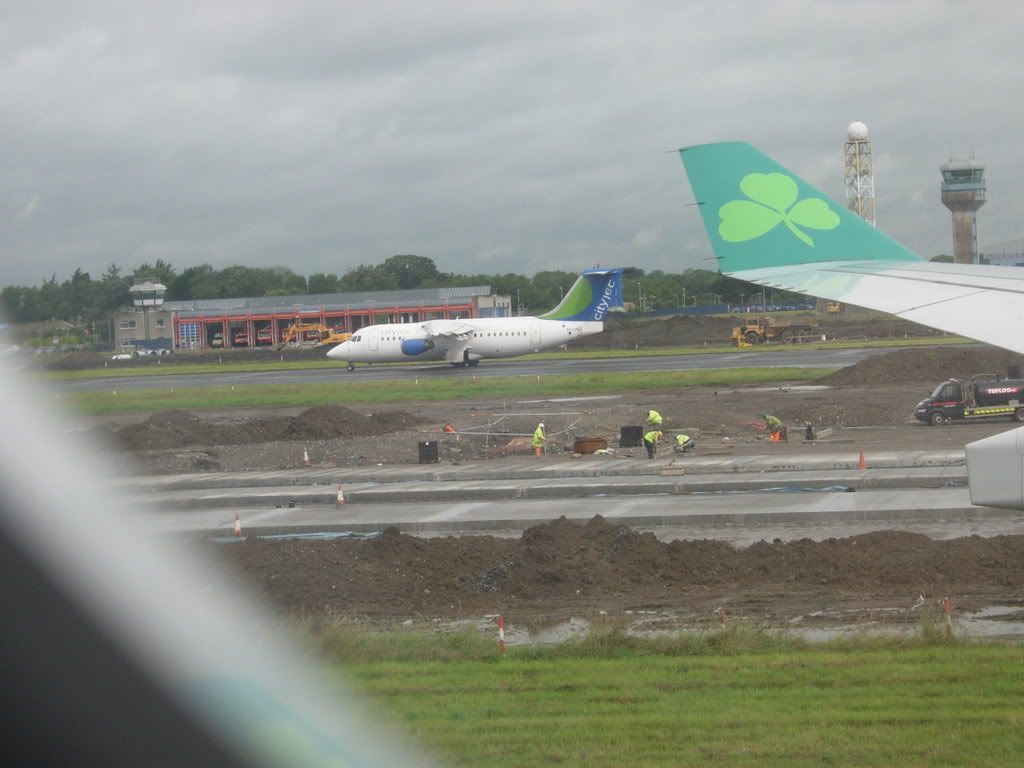 We've landed! WX, old colours.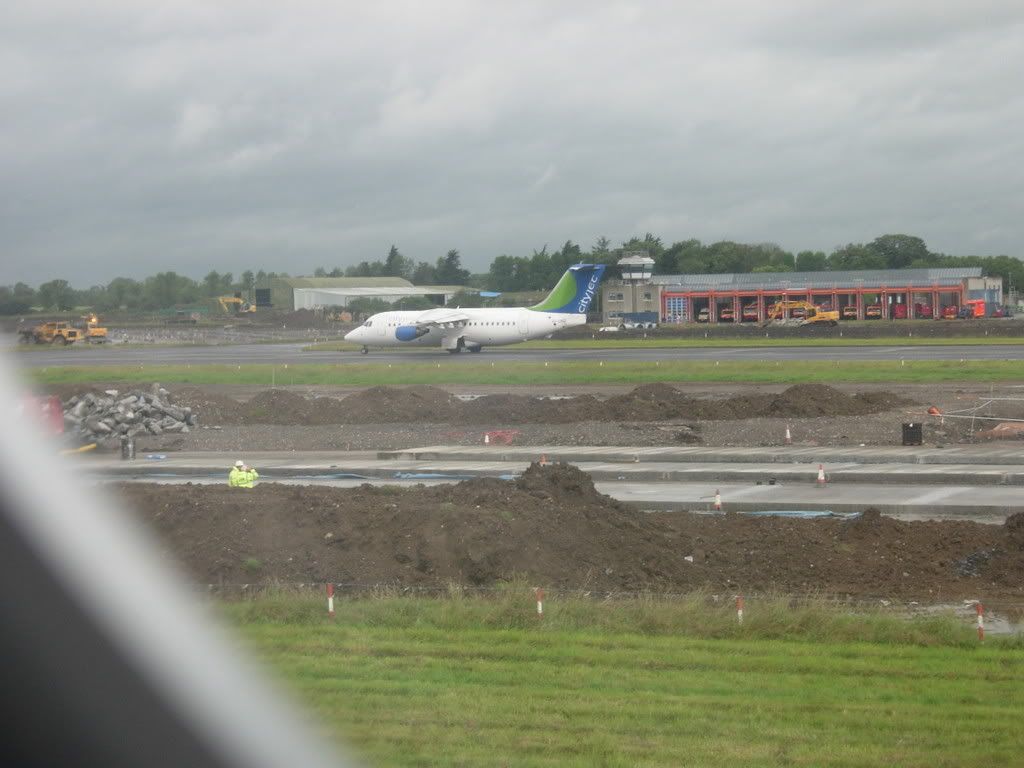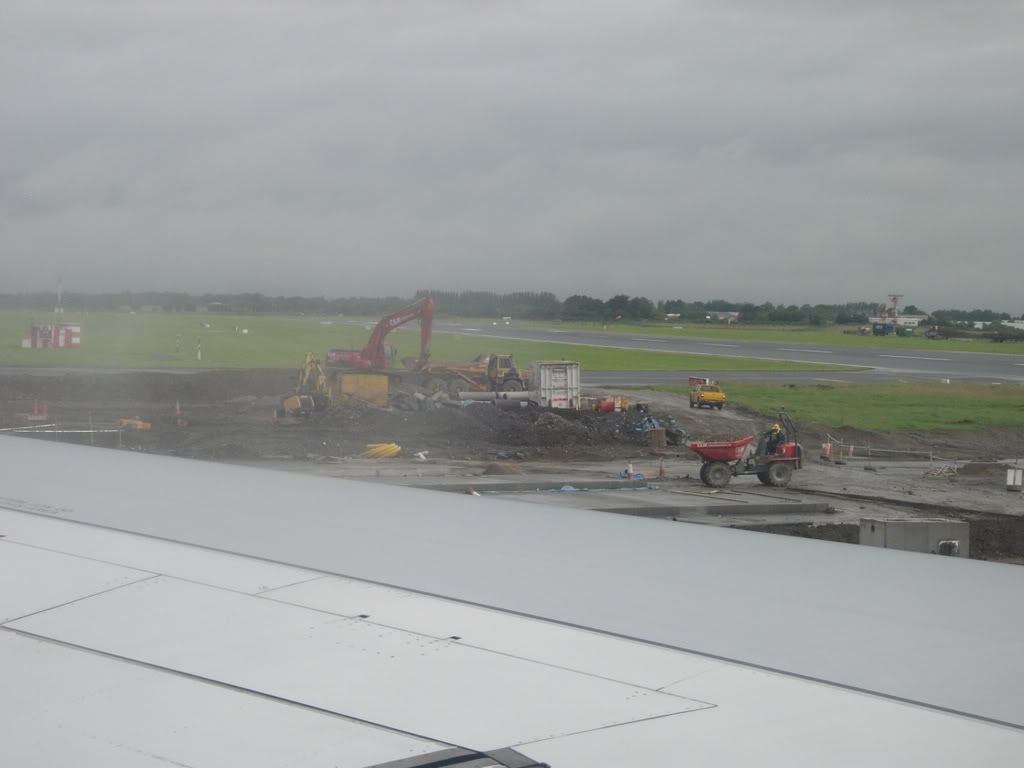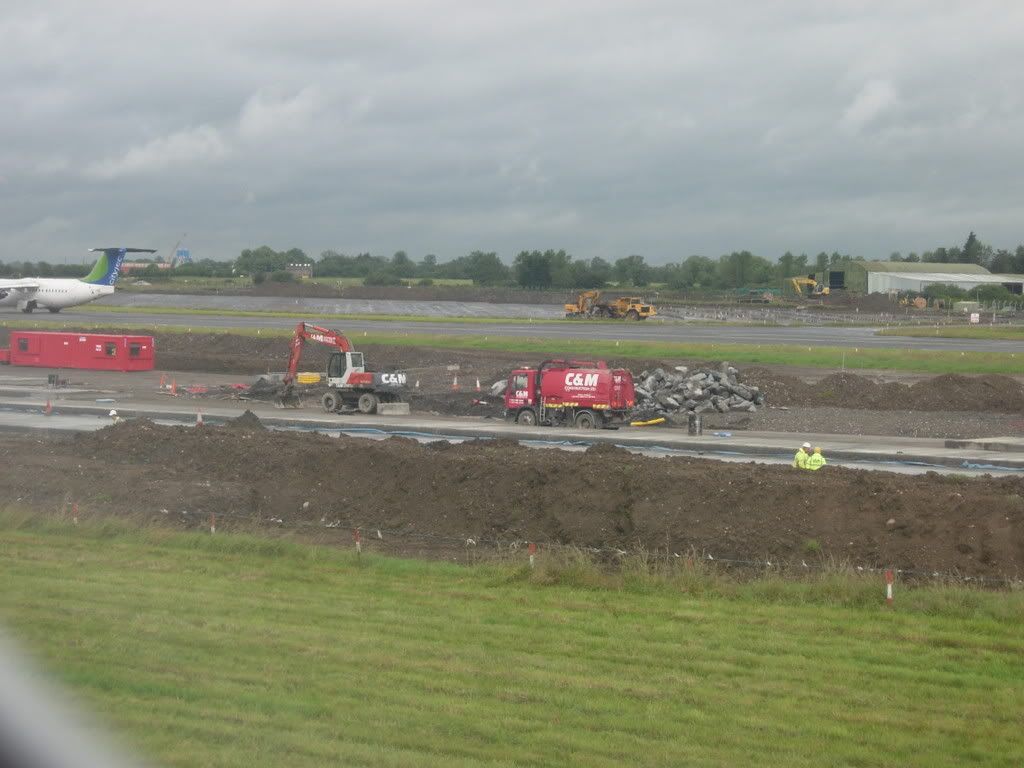 Just different things to see at DUB.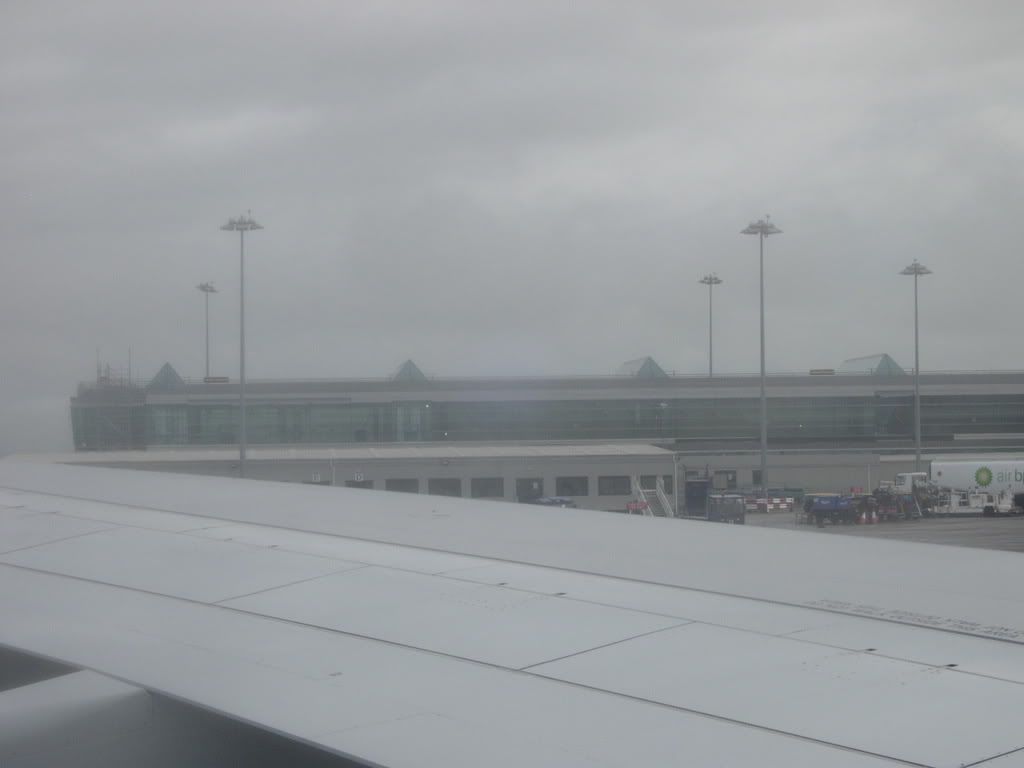 The new Pier D coming along nicely.
Just more things.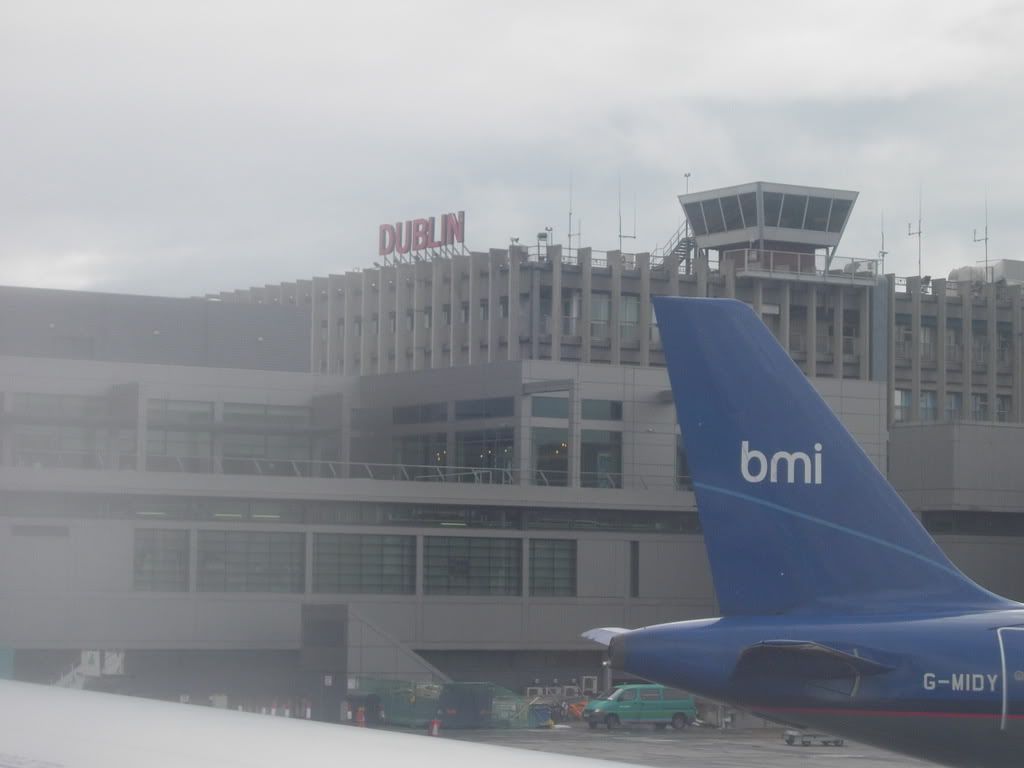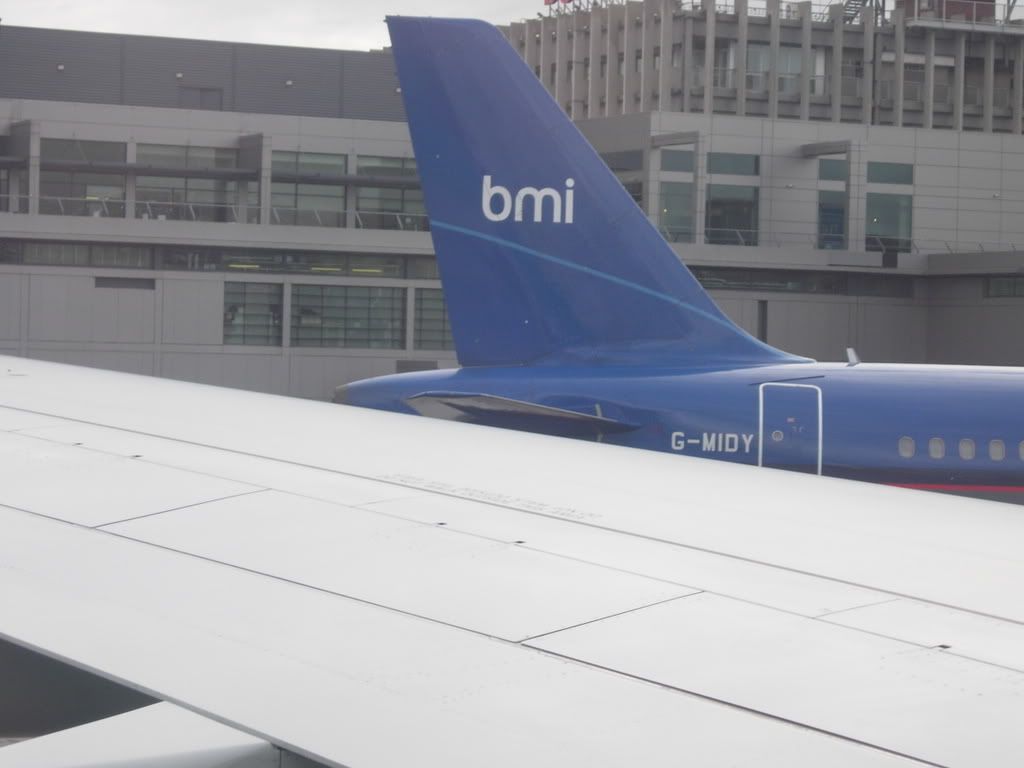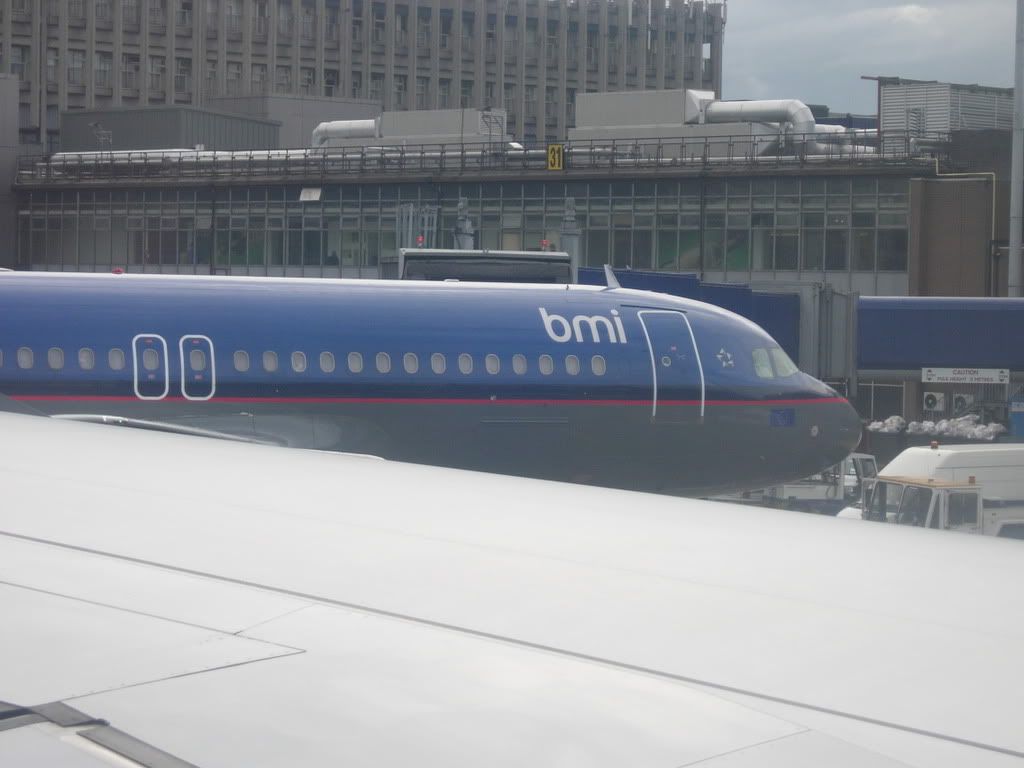 A BD A320 parked next to us.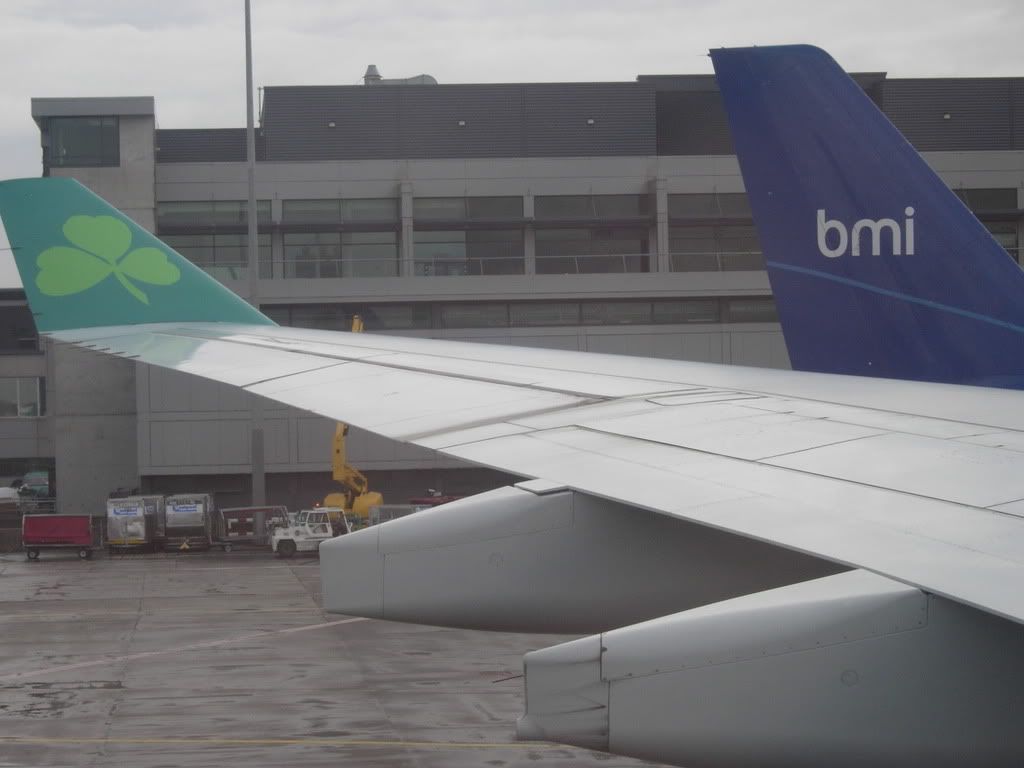 I really like this picture for some reason.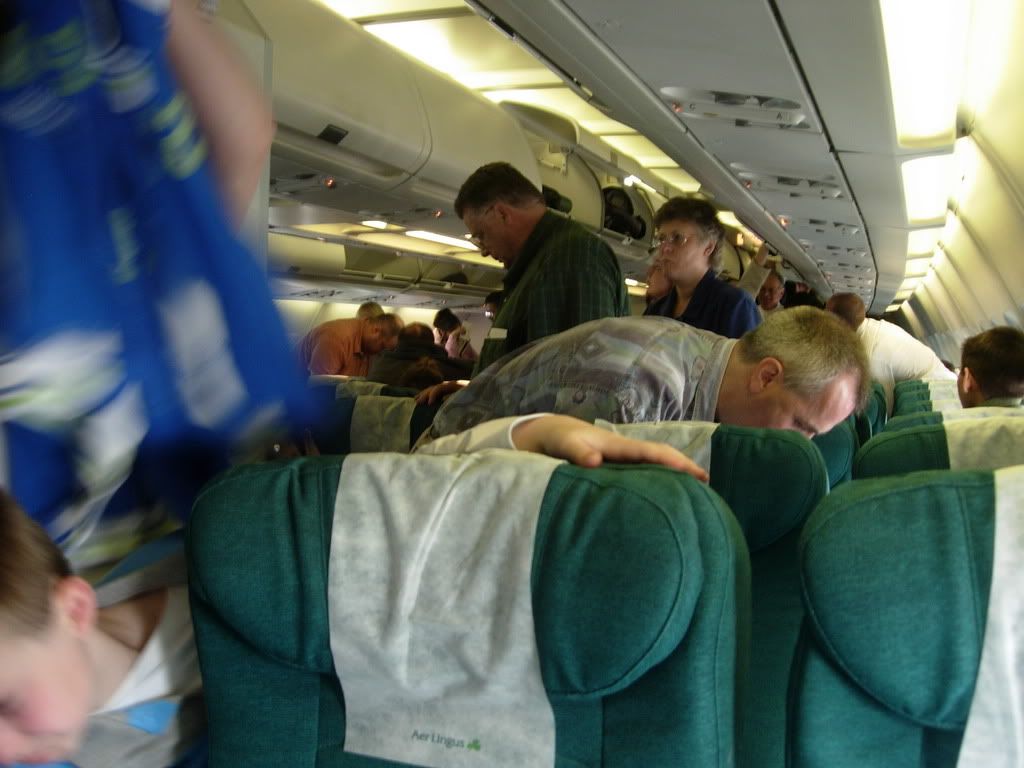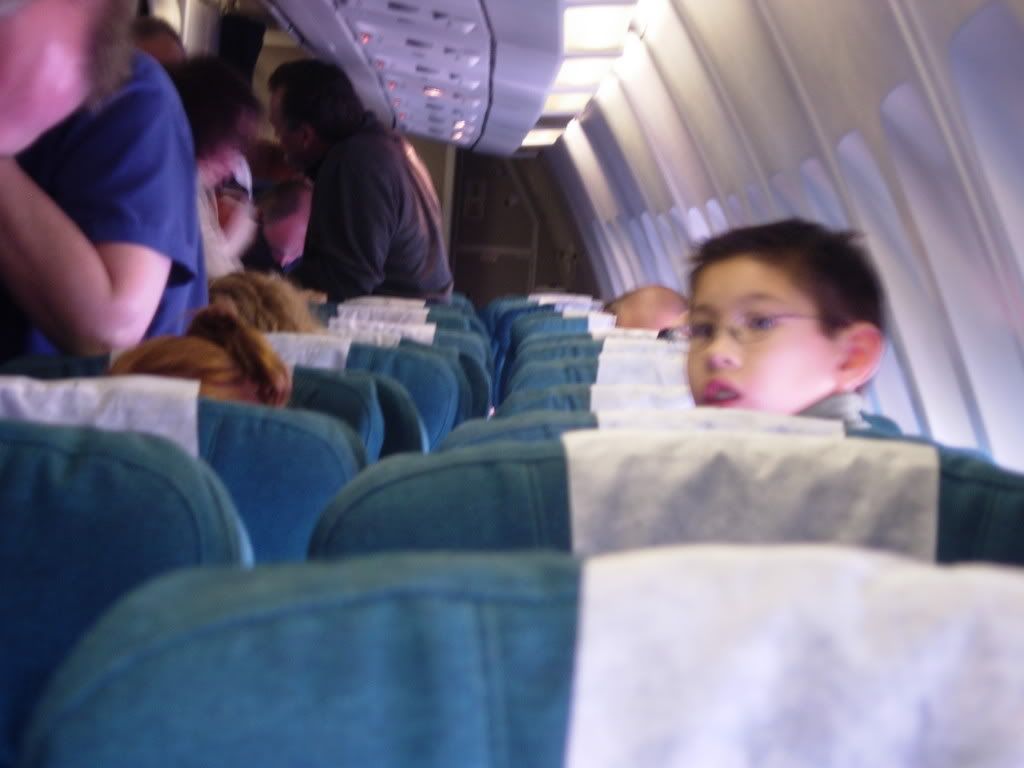 Everyone gets up to leave.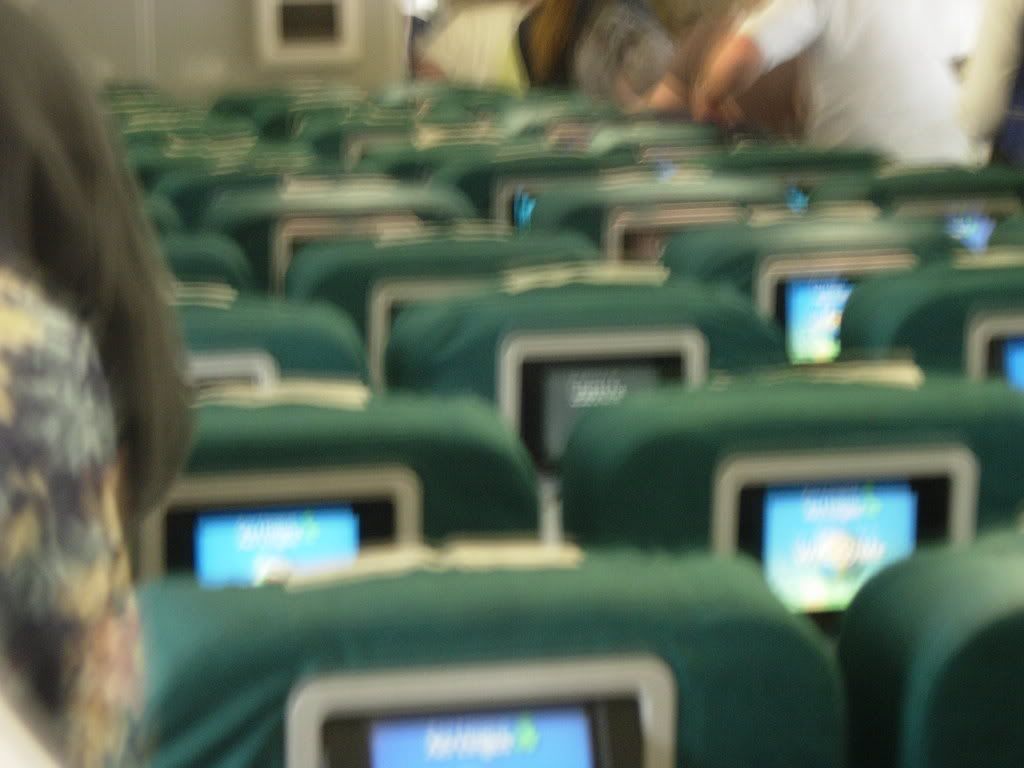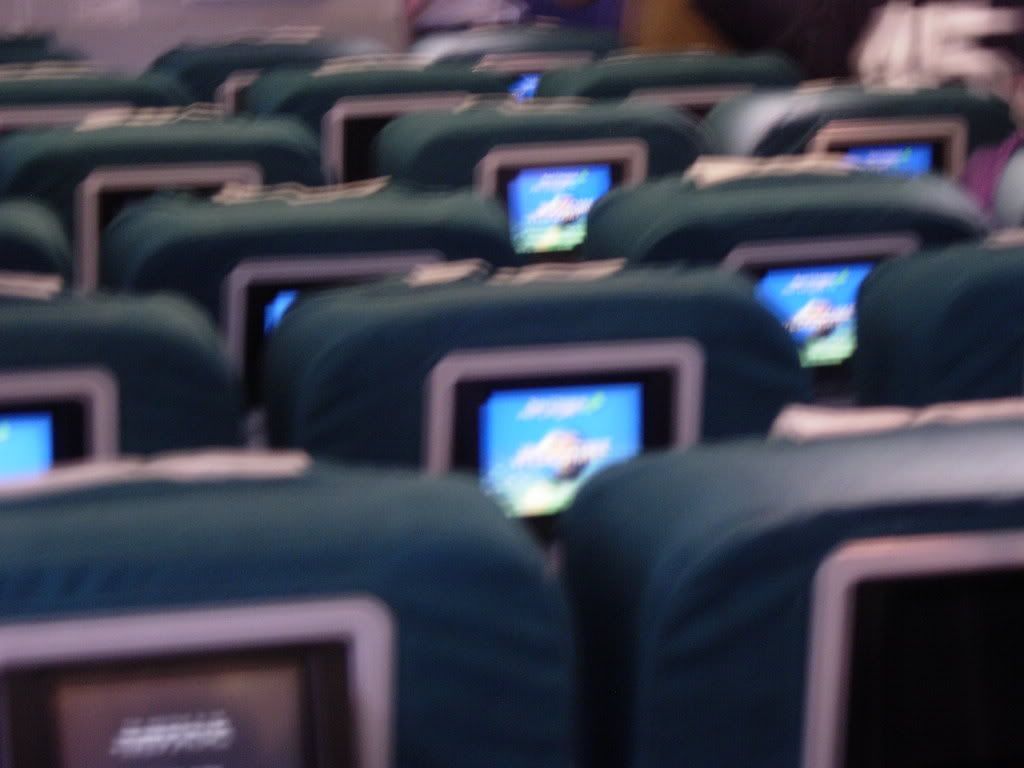 On the way out. Not great pictures, I know.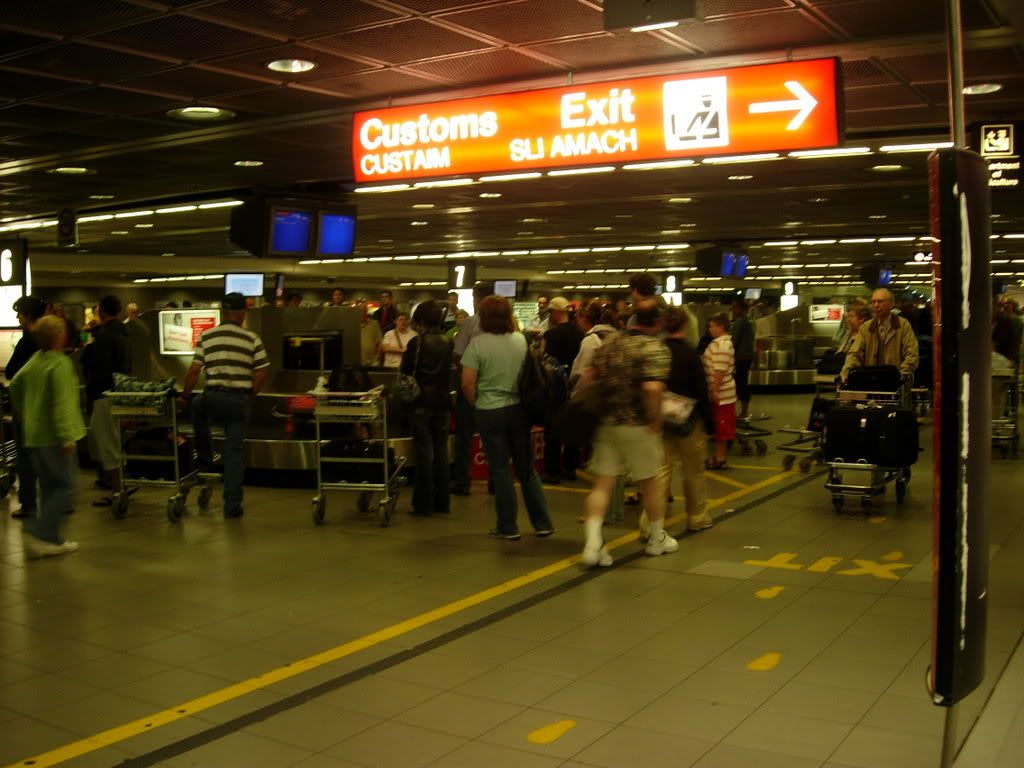 The baggage hall. Very busy, and hectic.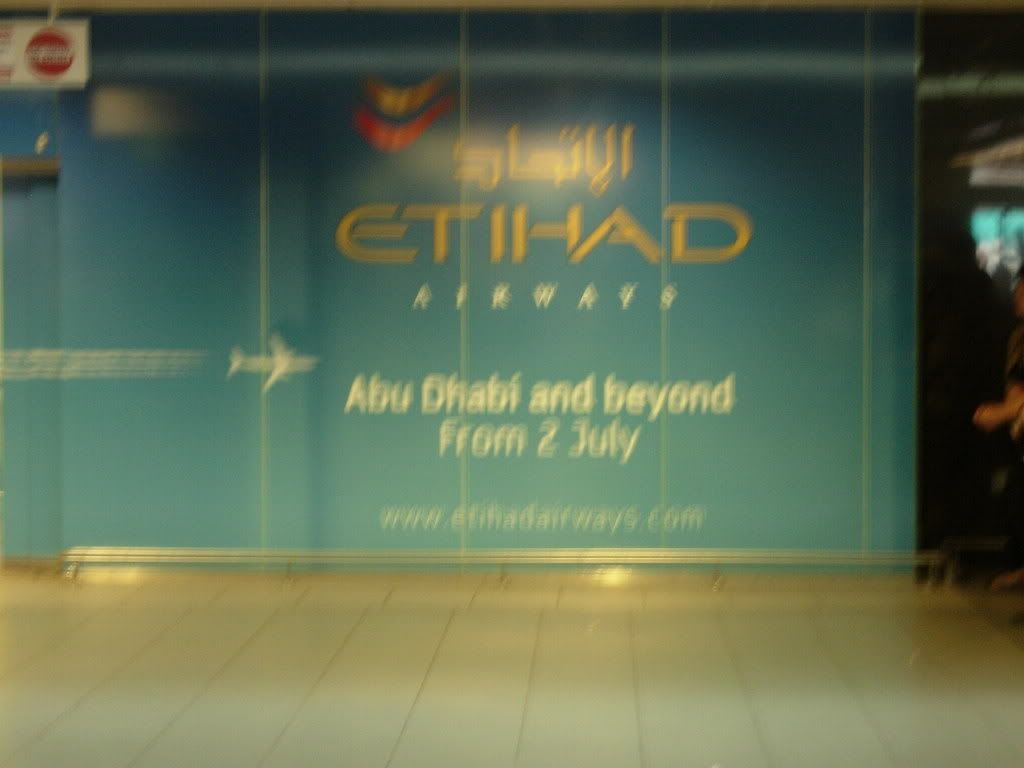 Walking into arrivals. I hate that feeling of everyone staring at you.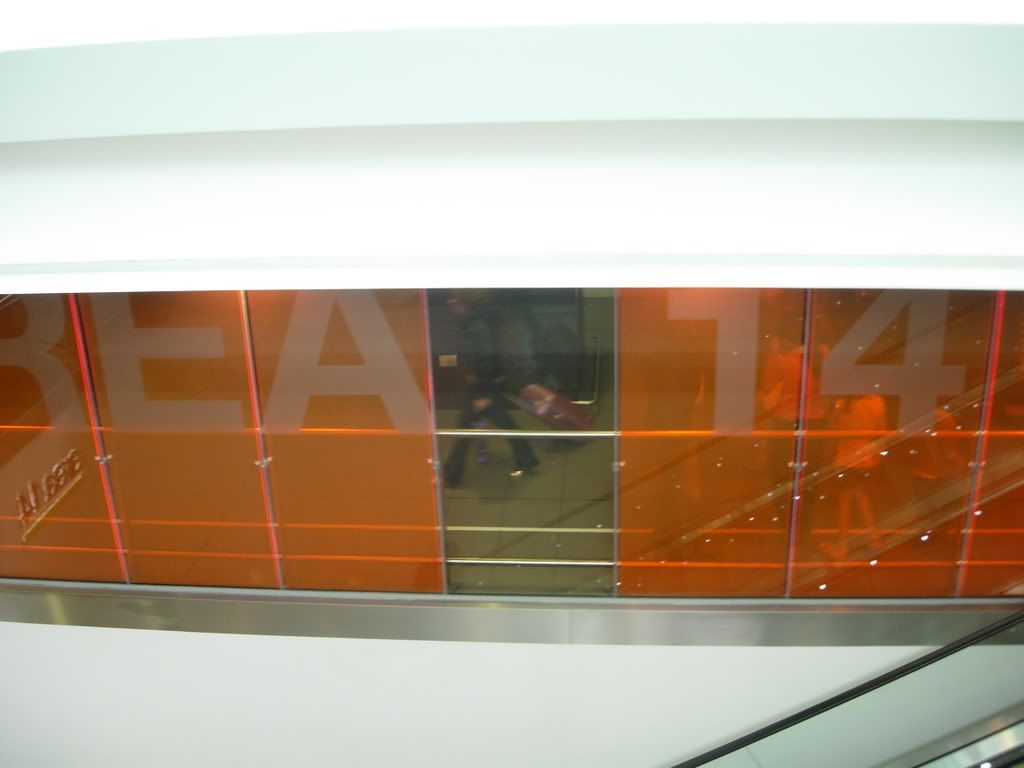 Up the escalator to Departures, while down below, is the new Area 14, where all EI U.K. and German flights depart from.
Departures. What a mess. It's an unbelievable site. Move, or be moved. I tried to take pictures, but there was not time, or space.
We got into the Domestic, Business and Transiting line. There was about a ten minute wait here. After going through the doors, you reach the security check point. Very busy again, and very slow. After that you reach Dublin Airports shopping area, known as the Street. Very crowded also. We used that bathrooms here. I tell you, they're not that bad. A lot worse at LAX.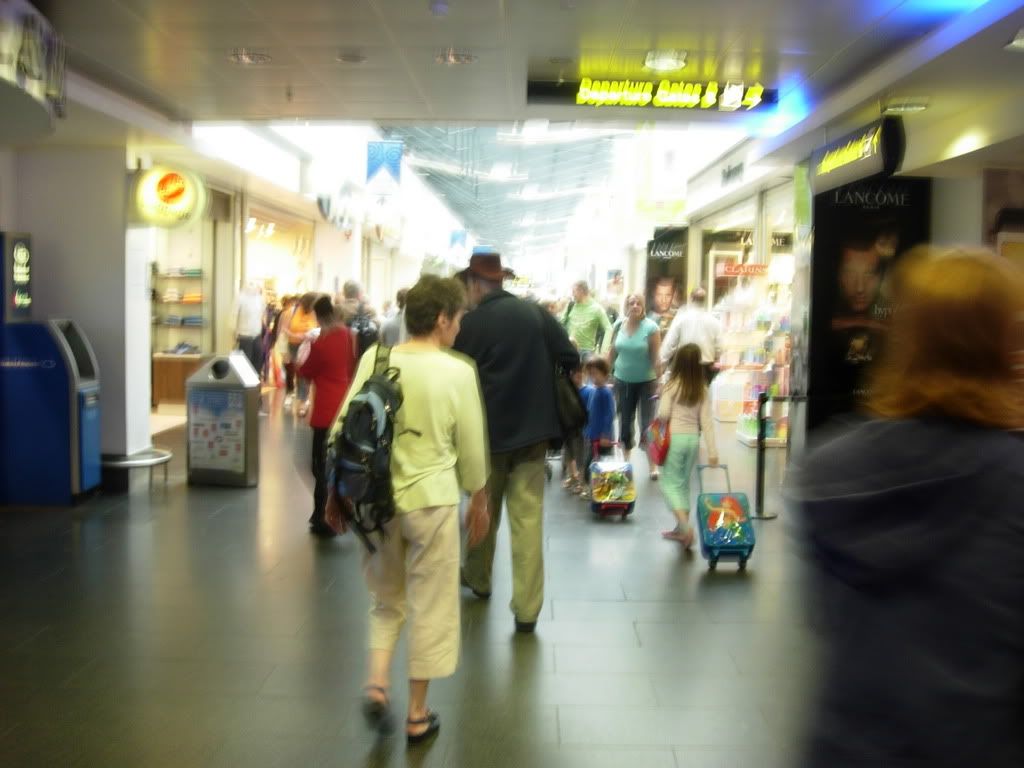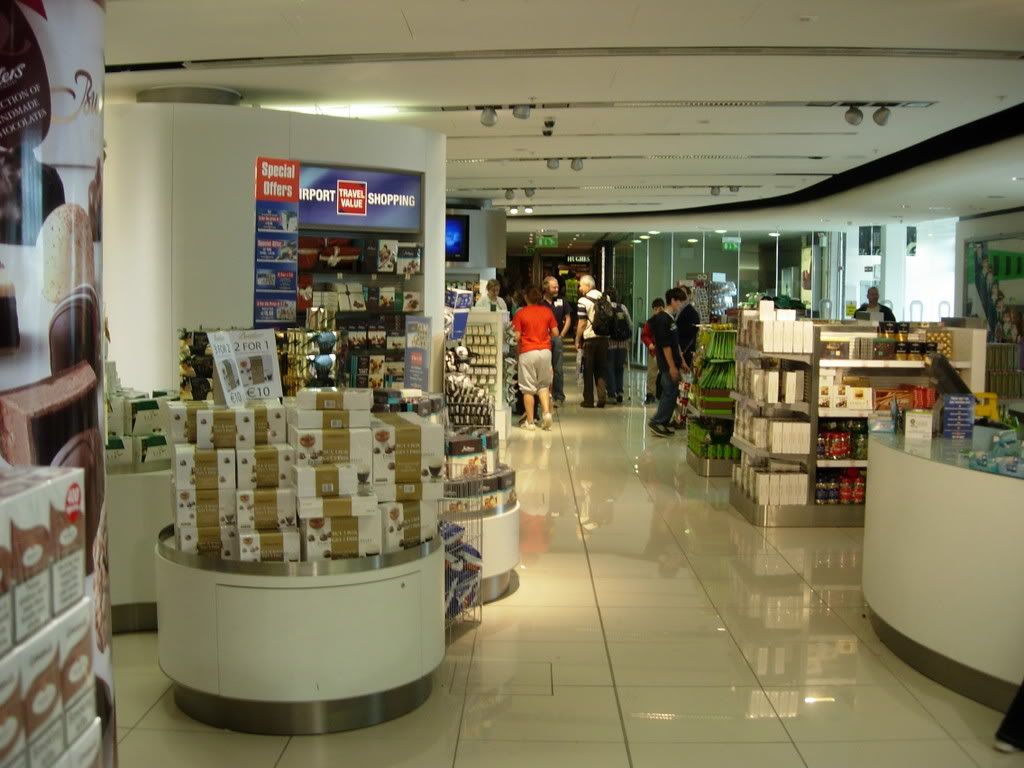 The street and duty free. I remember ten years ago, walking through this area on my way to Pier B for a flight to JFK. The little ramp you walk down to get there, used to be really nice. There was a little stream next to the ramp on the right on the way down, and an "Irish pub there as well. Not anymore. Just plain white walls and floors.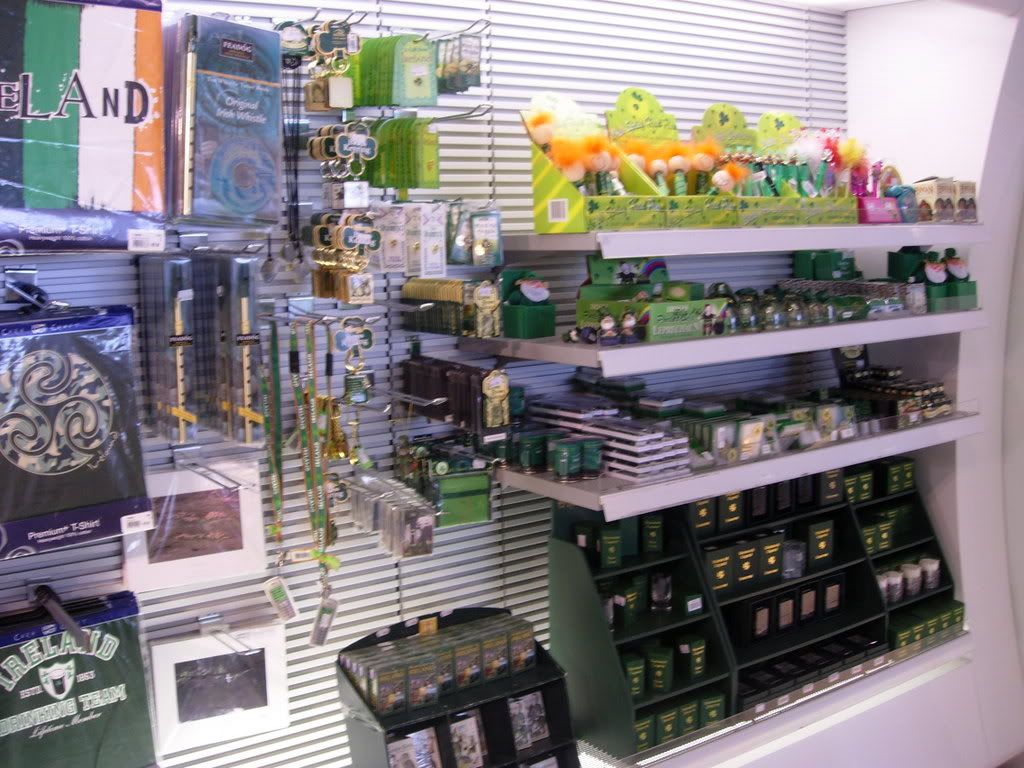 Reminds me of Disney a little.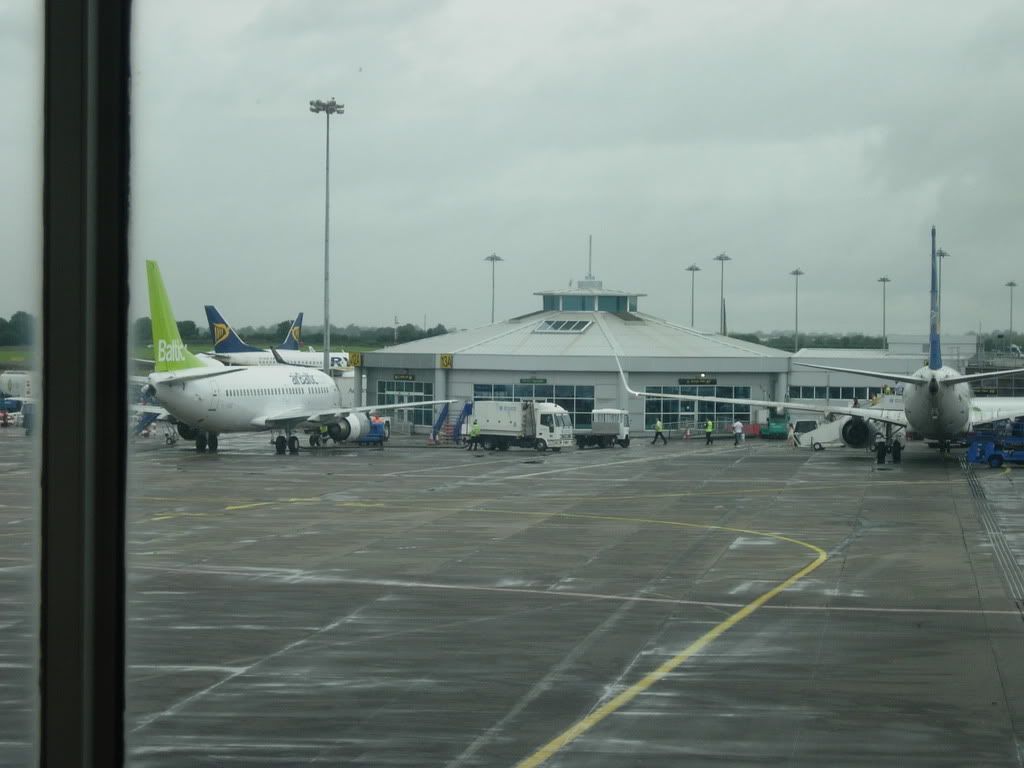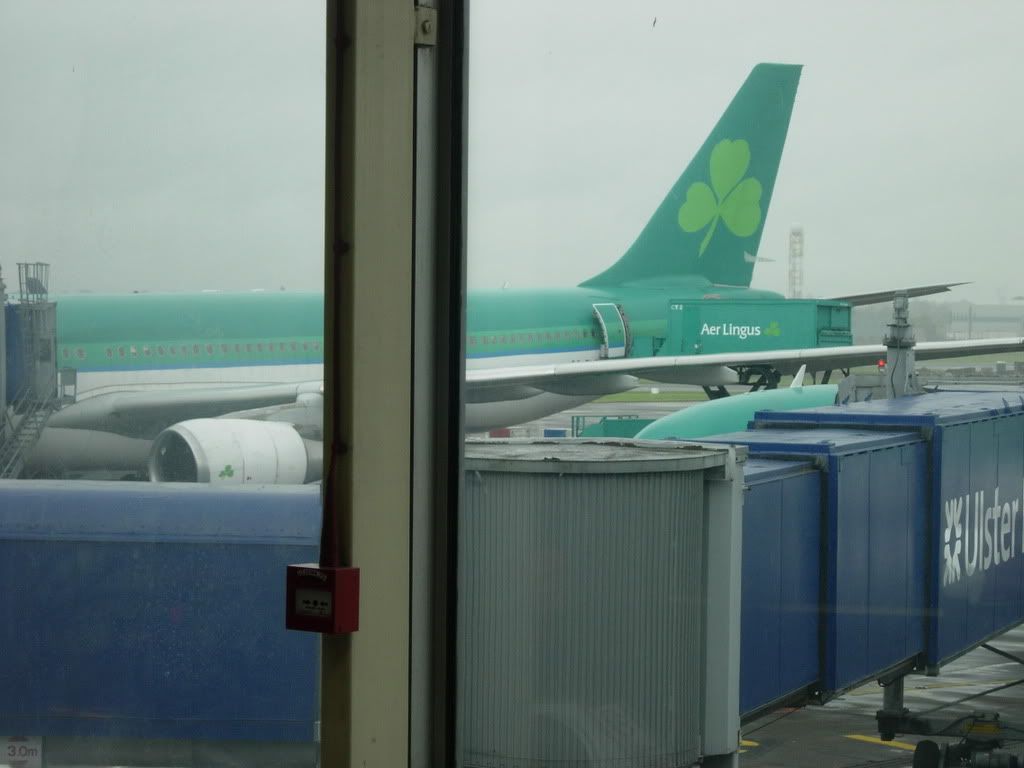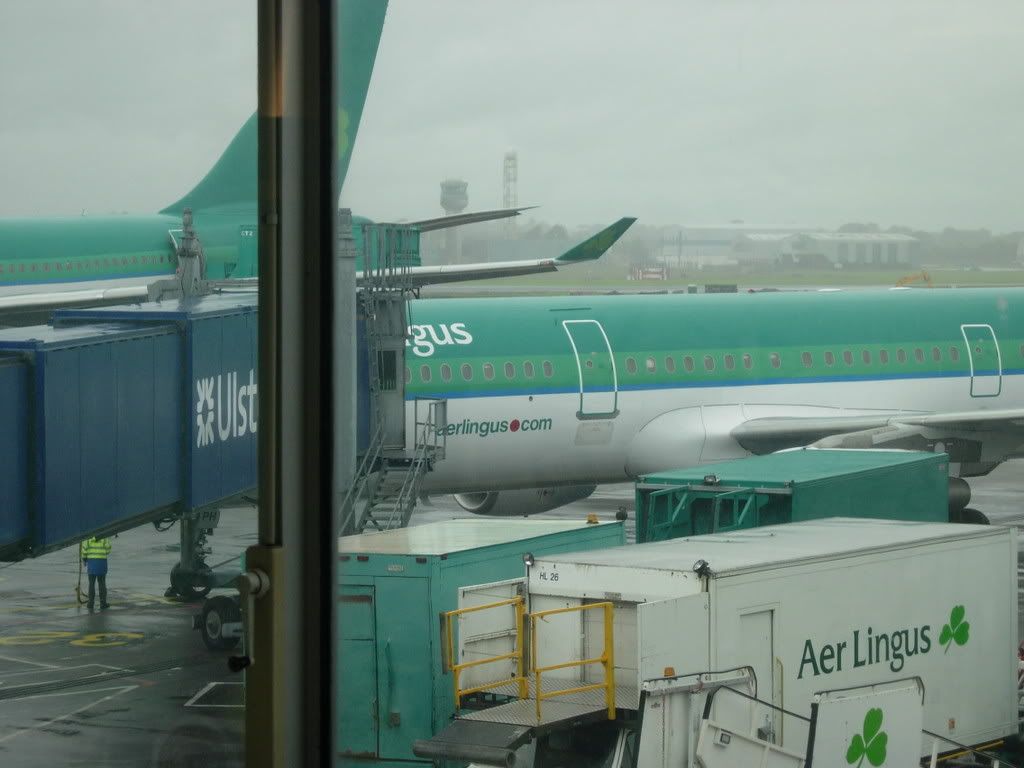 Views from Duty Free.
Cool, jazzy picture.
Building a Better Airport. Got a few queer looks for taking this one.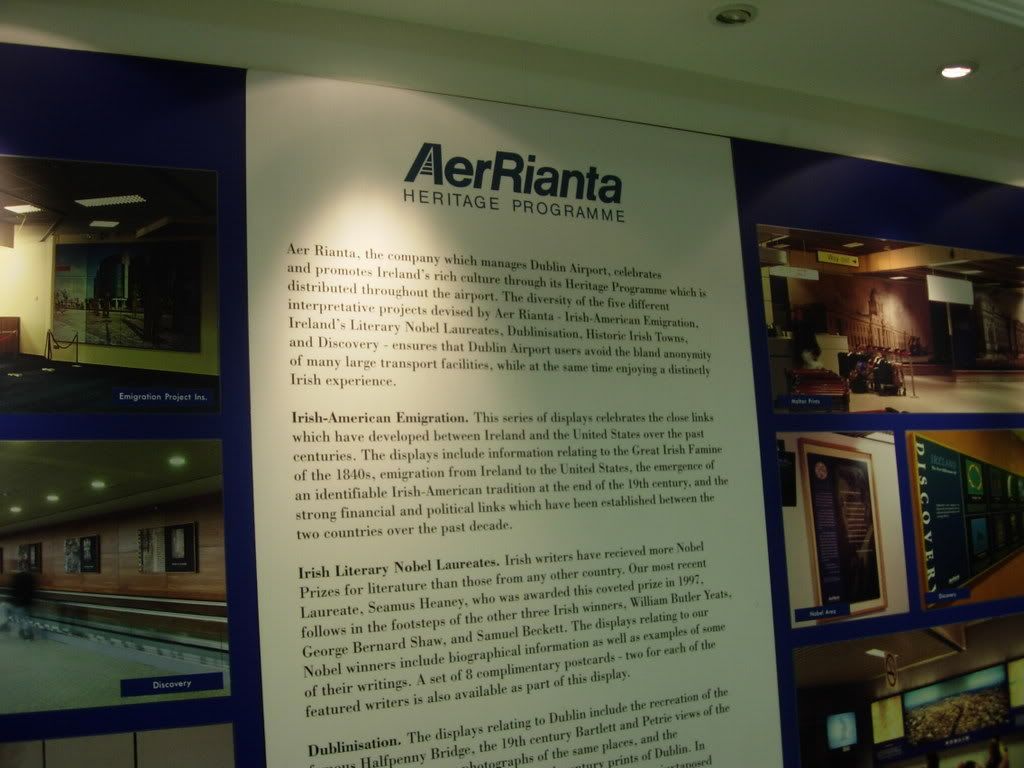 Pictures worth a million words.
We proceeded to immigration (U.S.) where we waited, and waited and waited, until we were finally dealt with by a very nice woman, who liked like Lois out of Malcolm in the Middle.
We then went through to the boarding area. A very retro area, witha lot of seats, but not enough. EI had two flights going. One to JFK, the 105 operated by EI-CRK, and one to LAX, operated by EI-DAA. Delta also had a flight to ATL.
We ate some pastries from the cafe there, and waited. There was a short delay, and so we waited. Finally Premier rows 1-4 was called for boarding. Than rows 44- 30. Then everyone else. We were in row 26, so we waited a short while, then proceeded. We were greeted by two friendly female FAs. We took our seats in row 26. I took seat A, the window one. Well, let me tell you all about seats 26 A. The cabin has the new all green seat covers. But my seat has the old one on the base. Thats fine, I like, and it's a little more comfortable than the others. Now the rest. The screen is broken, and is hard to adjust, and pops out at the bottom is you pull. There is some green gunk around it. The picture quality is not as good as my brothers. EI are now offering " new headphones". They are very small, and very 1980' style. But the worst, is the fact that there is gum all over th inside of my seat pocket. The magazines, and cards, were all covered at the bottom of the pages. Ewe.
Some welcome.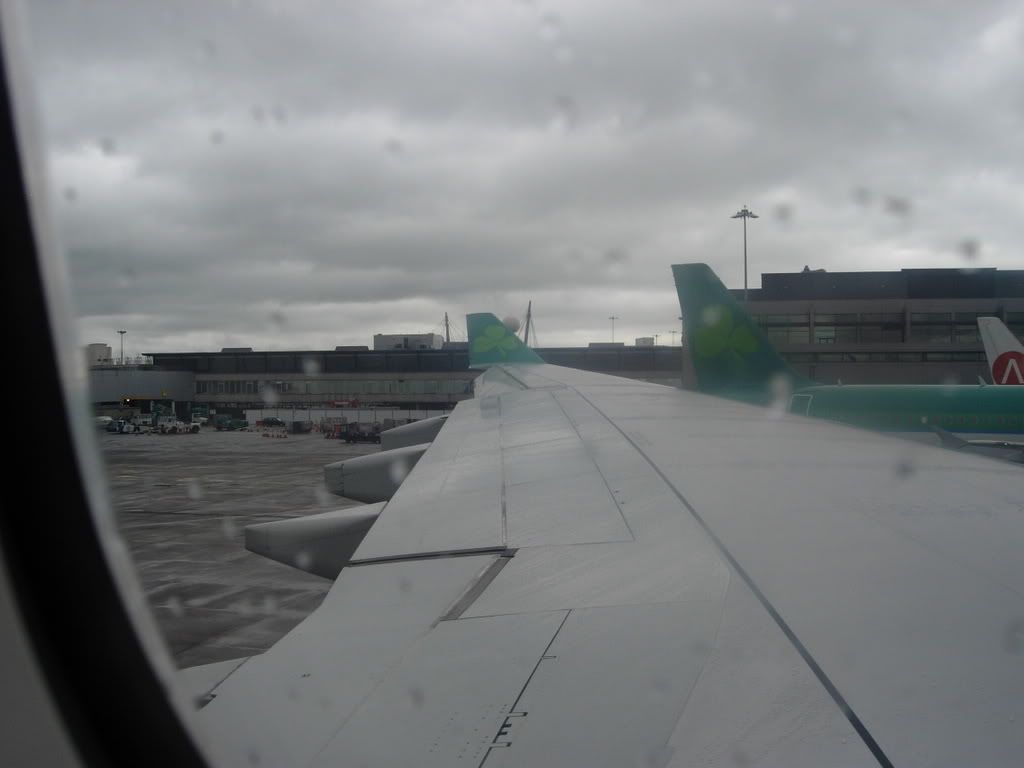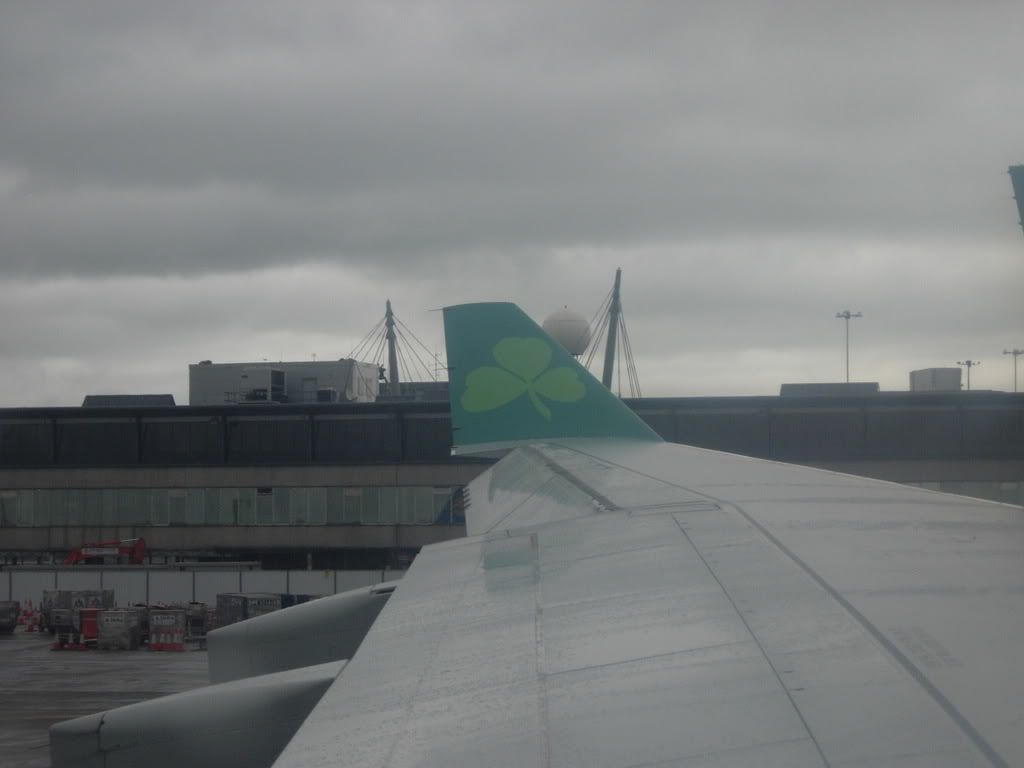 My view for the next 12 hours.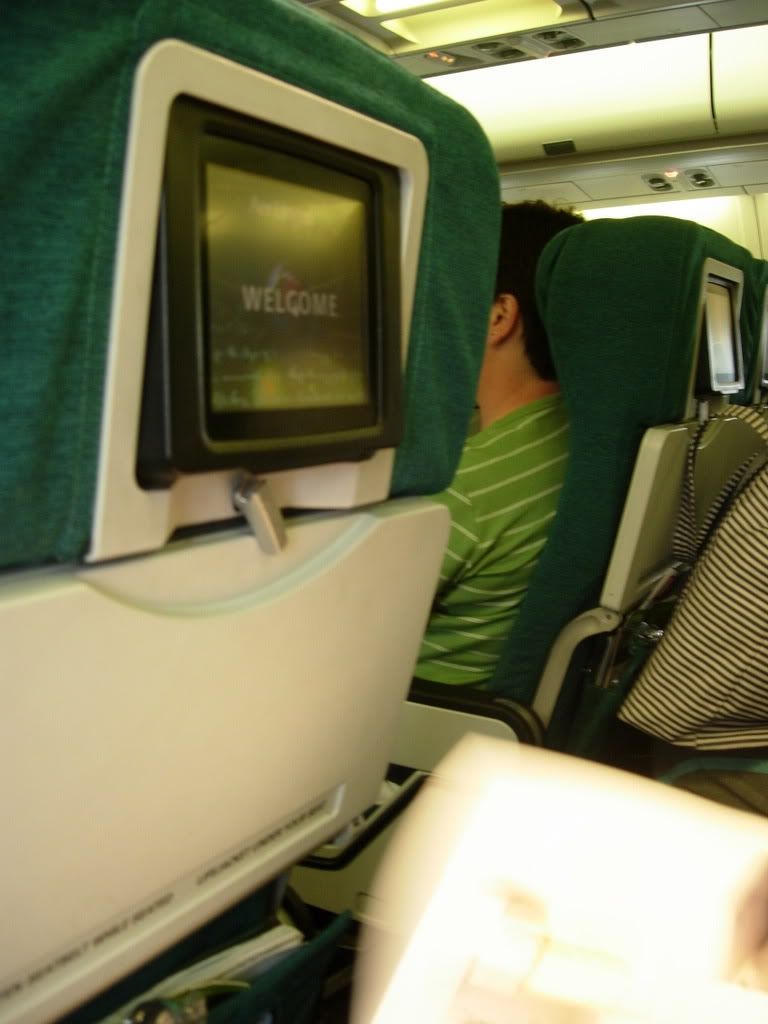 The very full cabin.
A321 next to us prepares for push back, probably to LHR.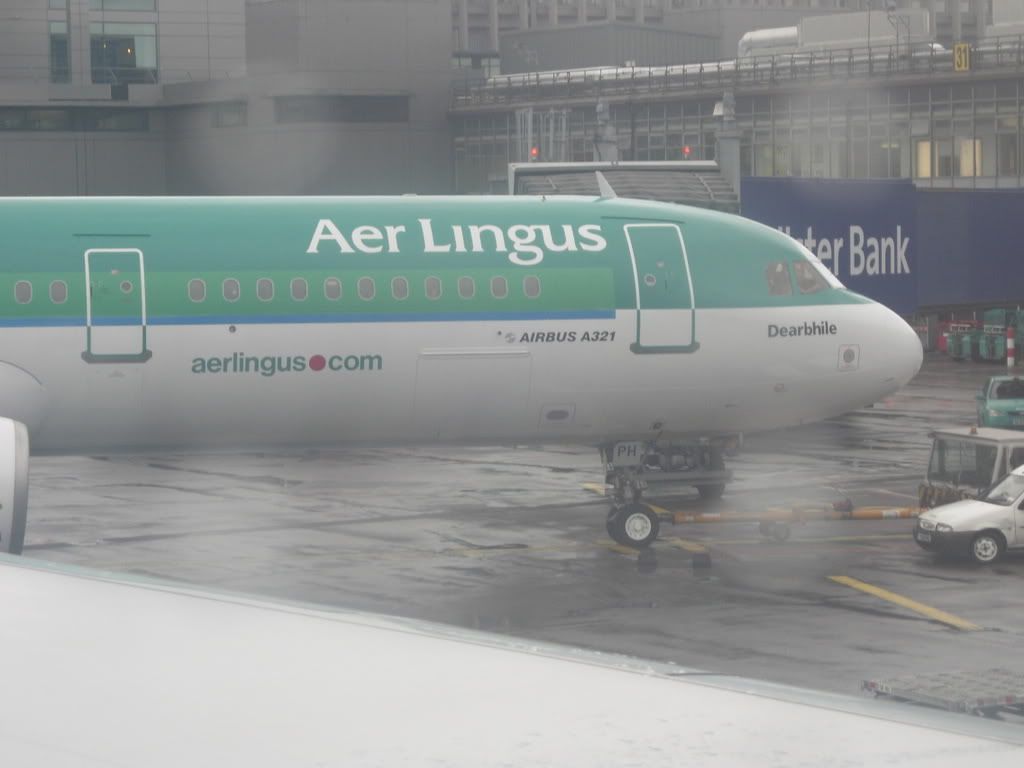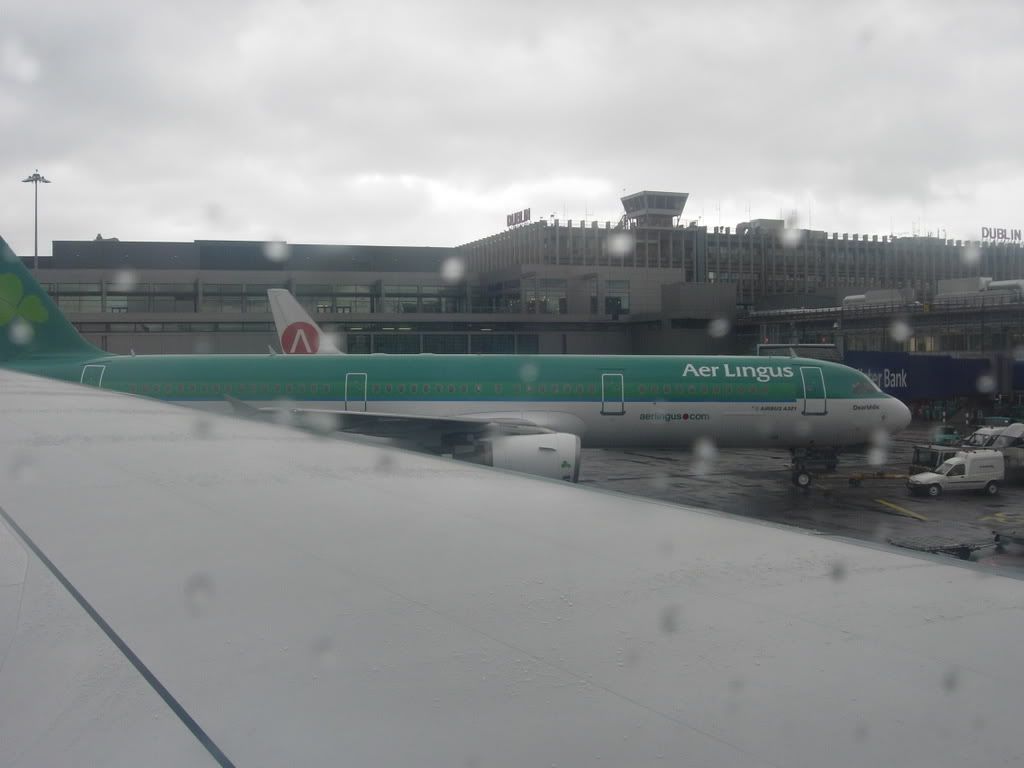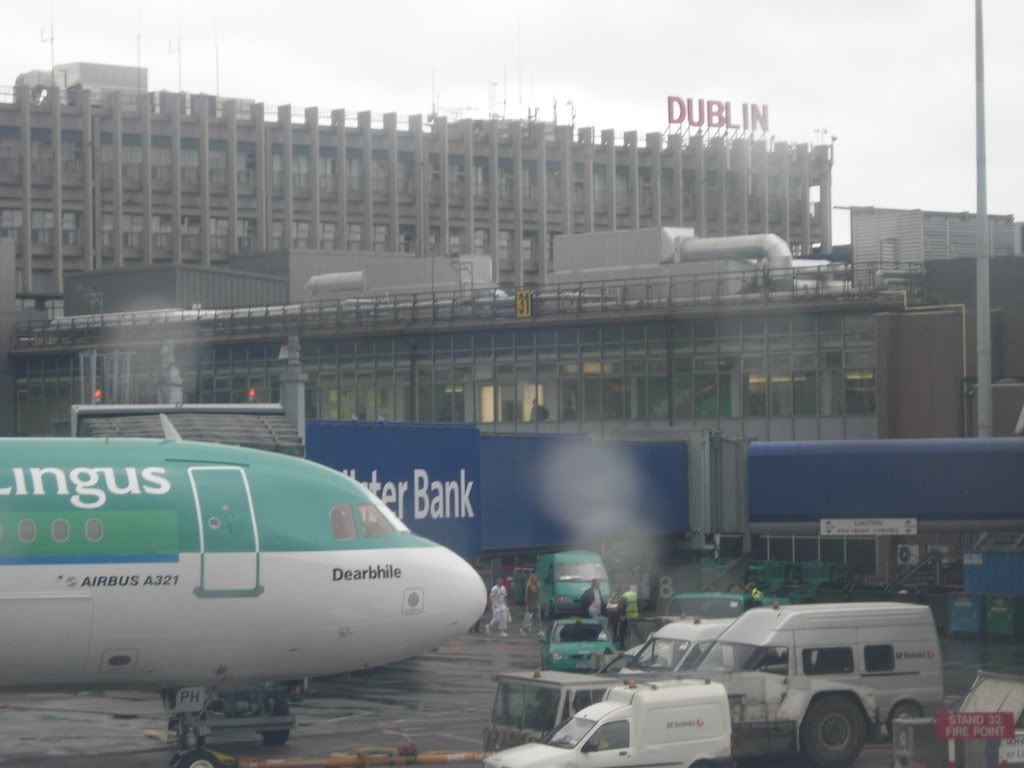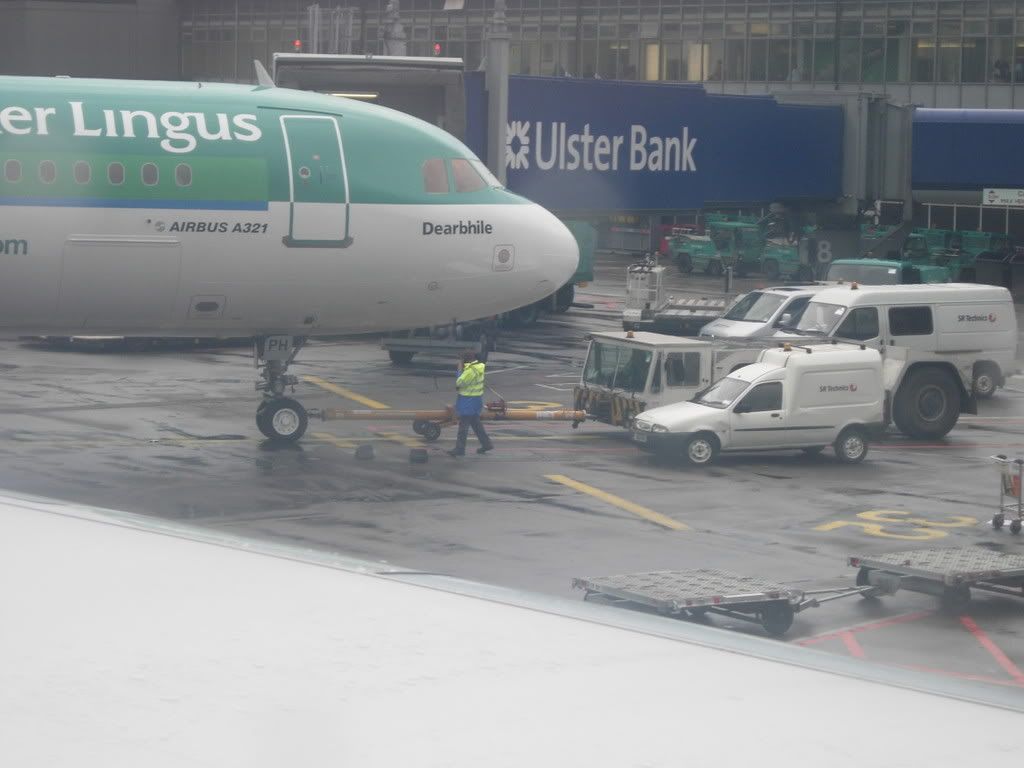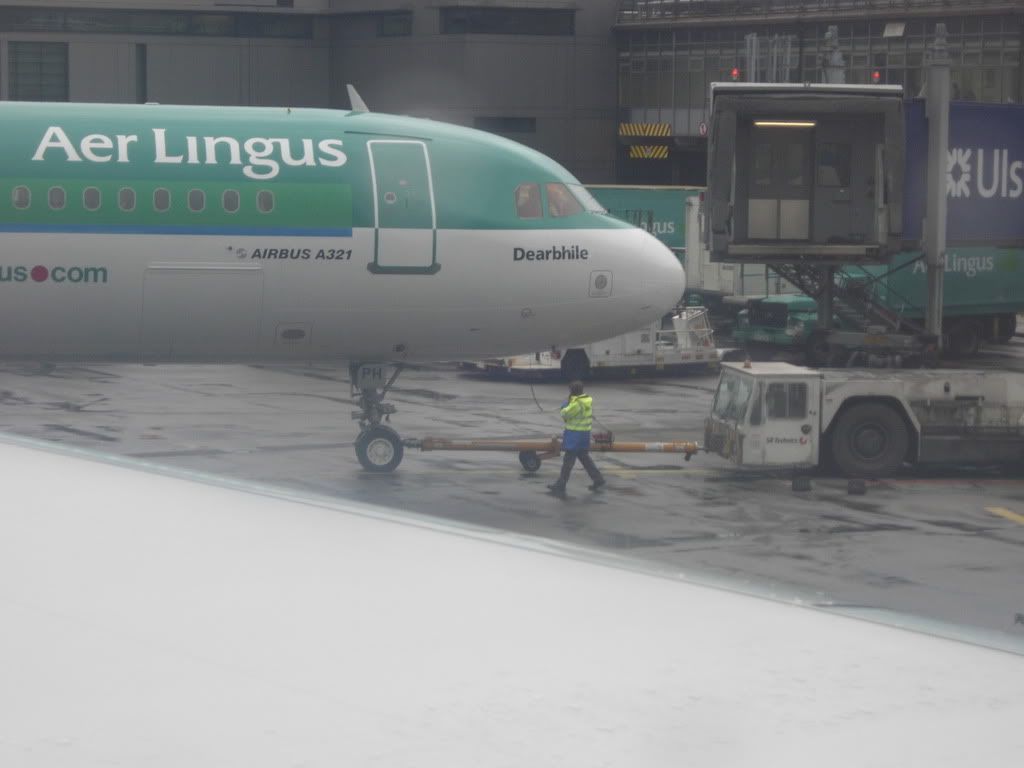 And off we go eventually! The surrounding traffic at DUB, The WX bird with the new colour scheme. See if you can spot it. Thats if you want to waste your time doing it.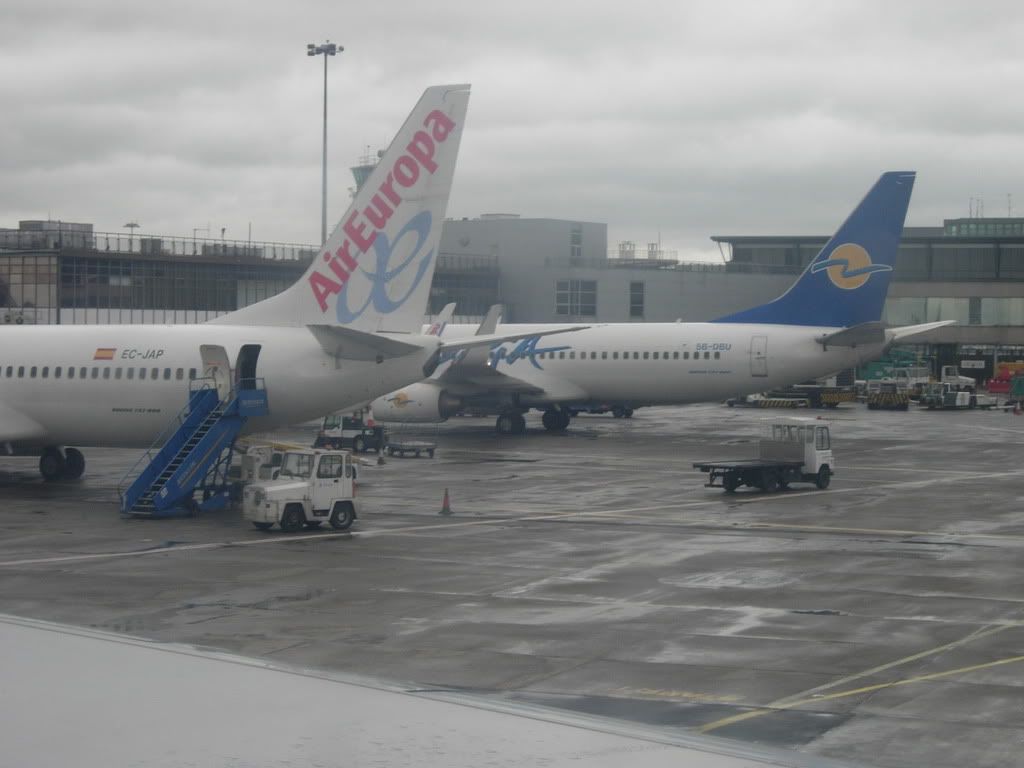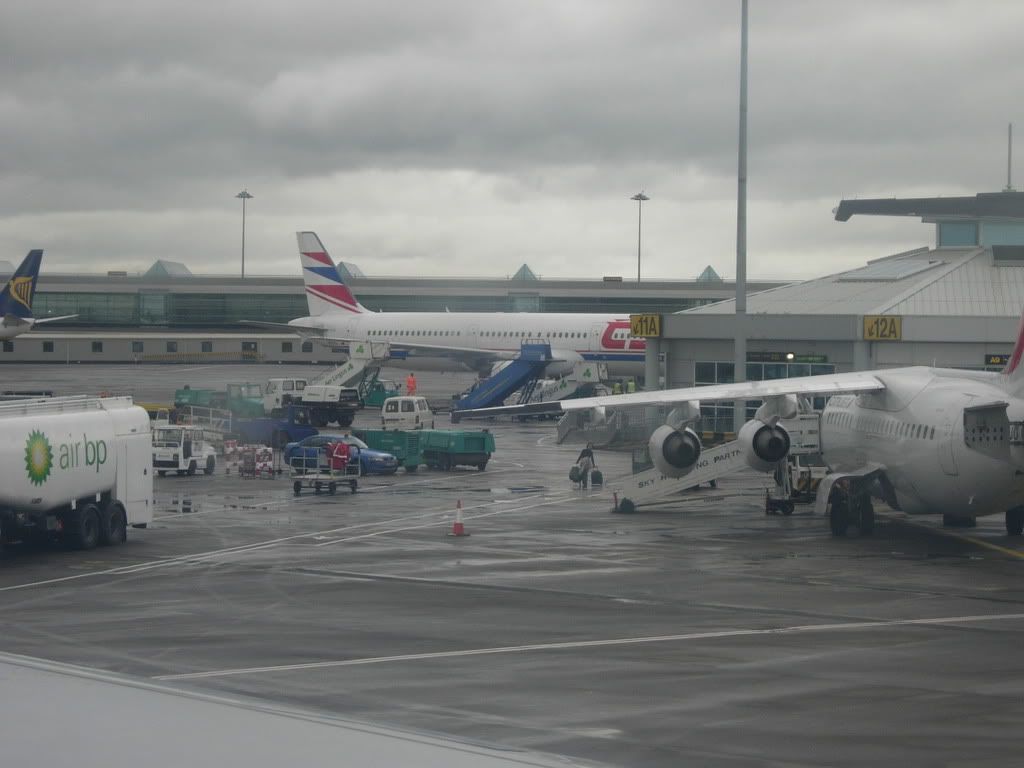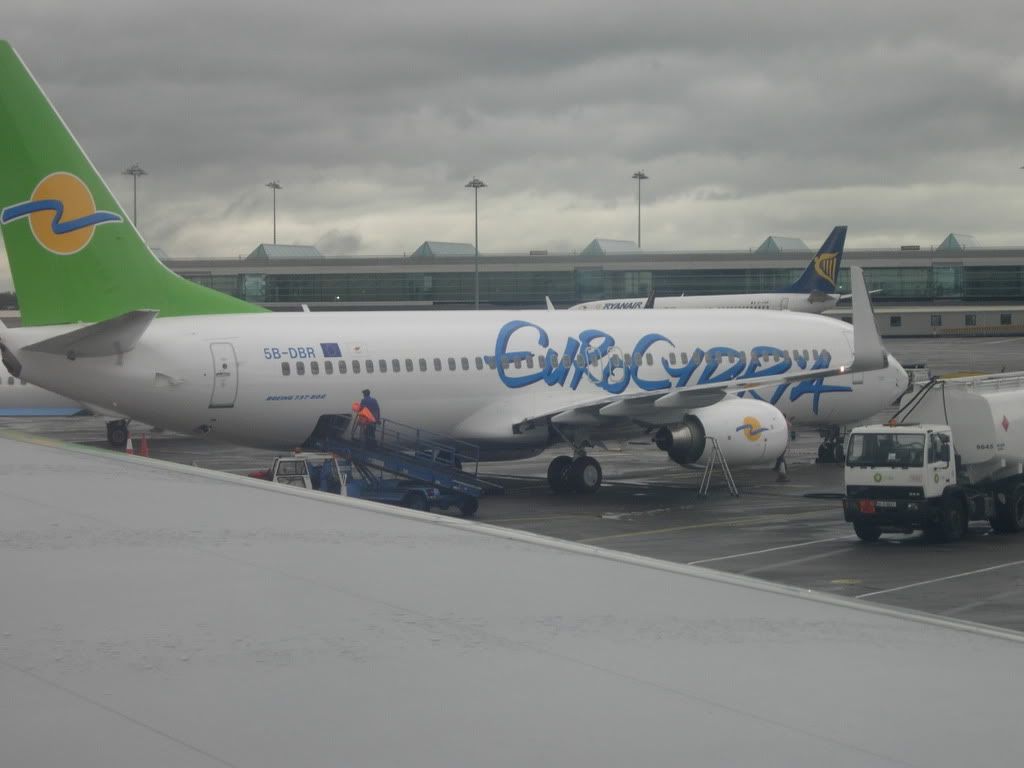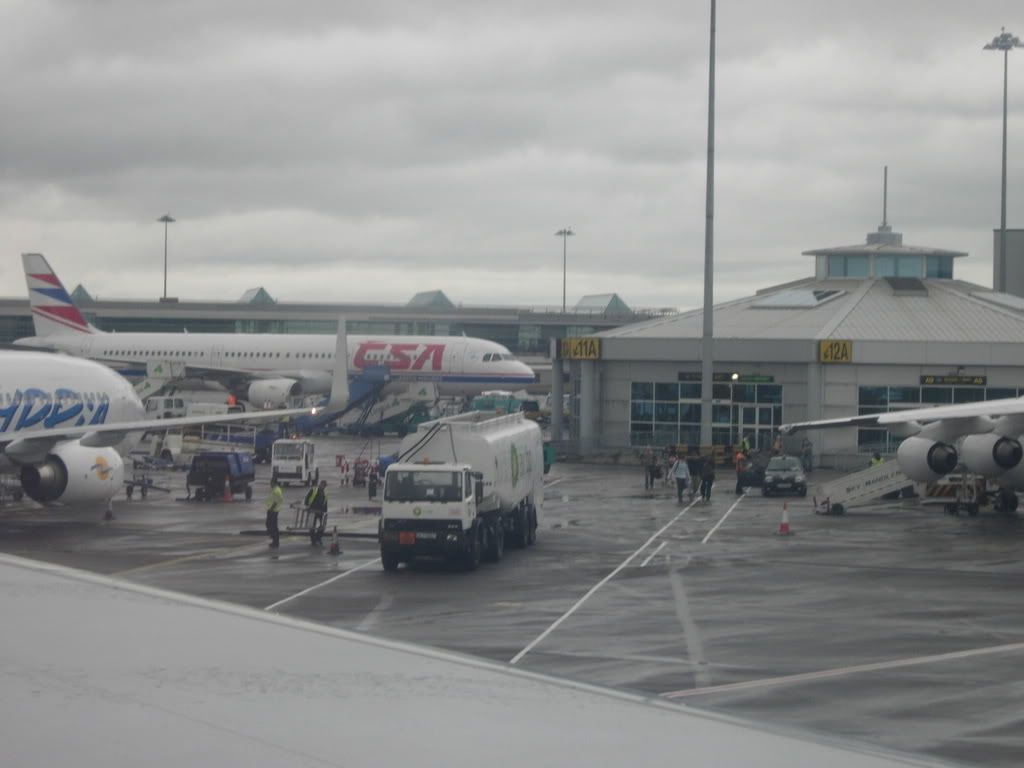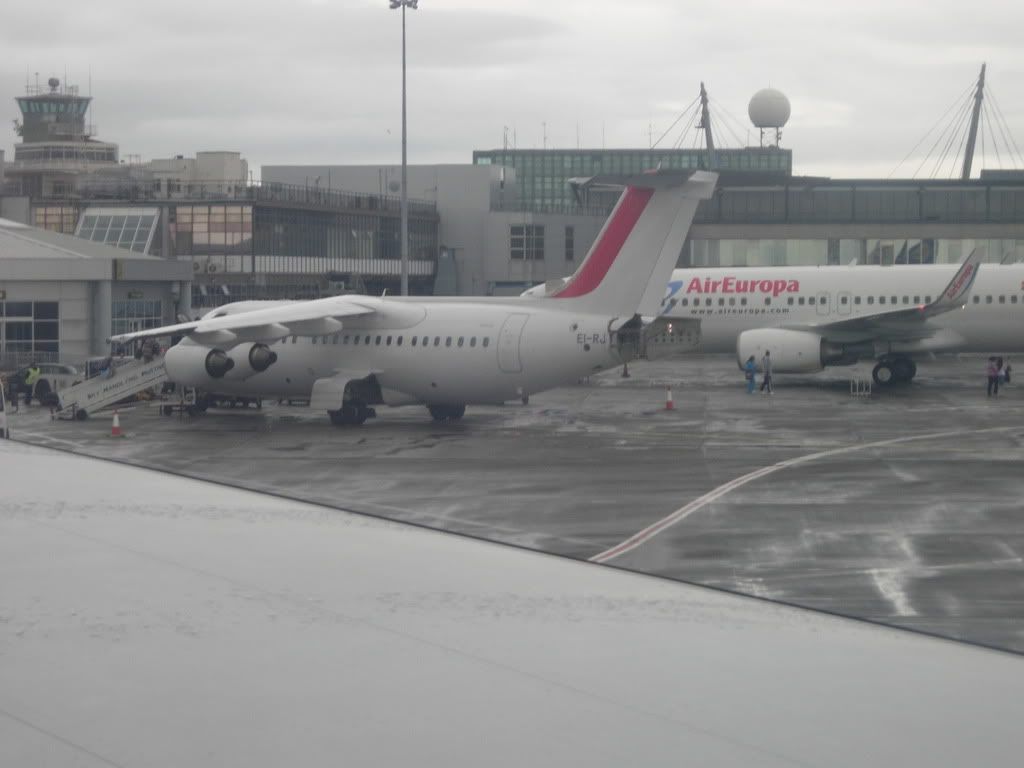 The safety demo. It took a good few goes before it started working. Even then it came and went.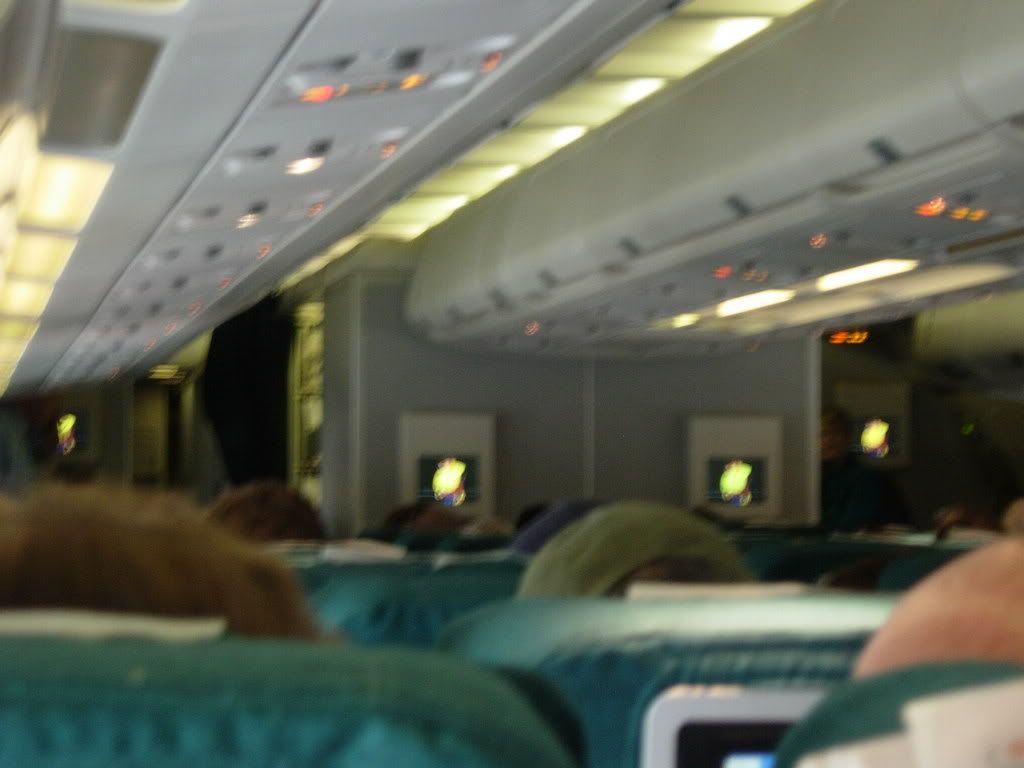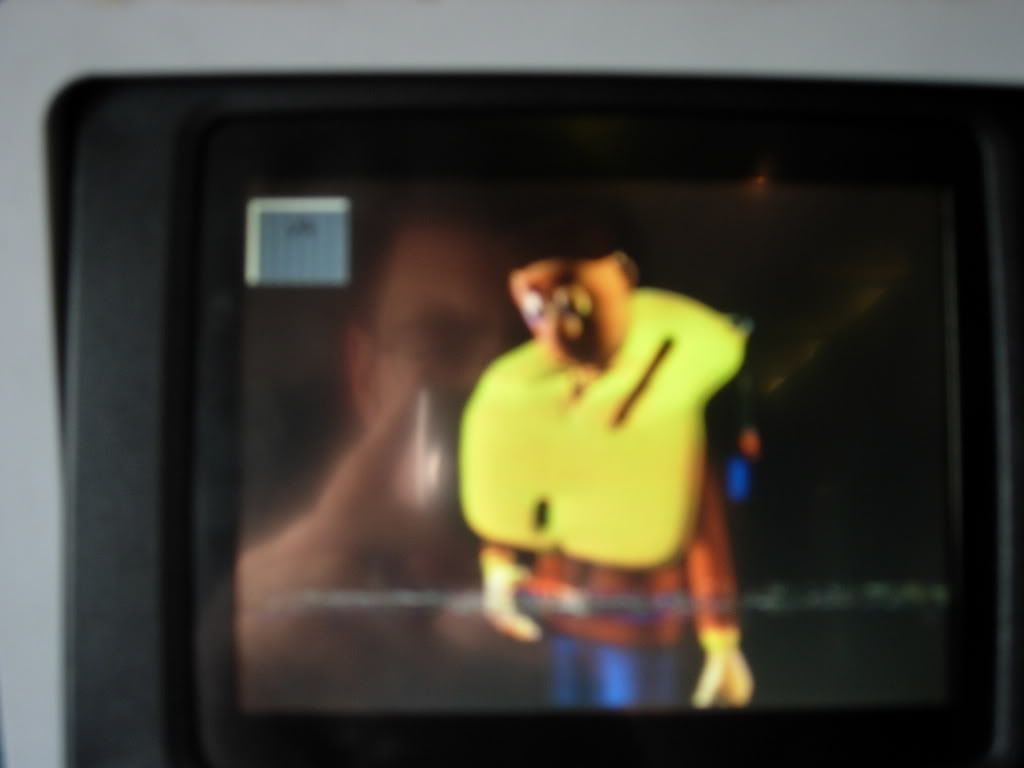 DUO parked, and getting ready for it's flight, EI 125, DUB-SNN-ORD.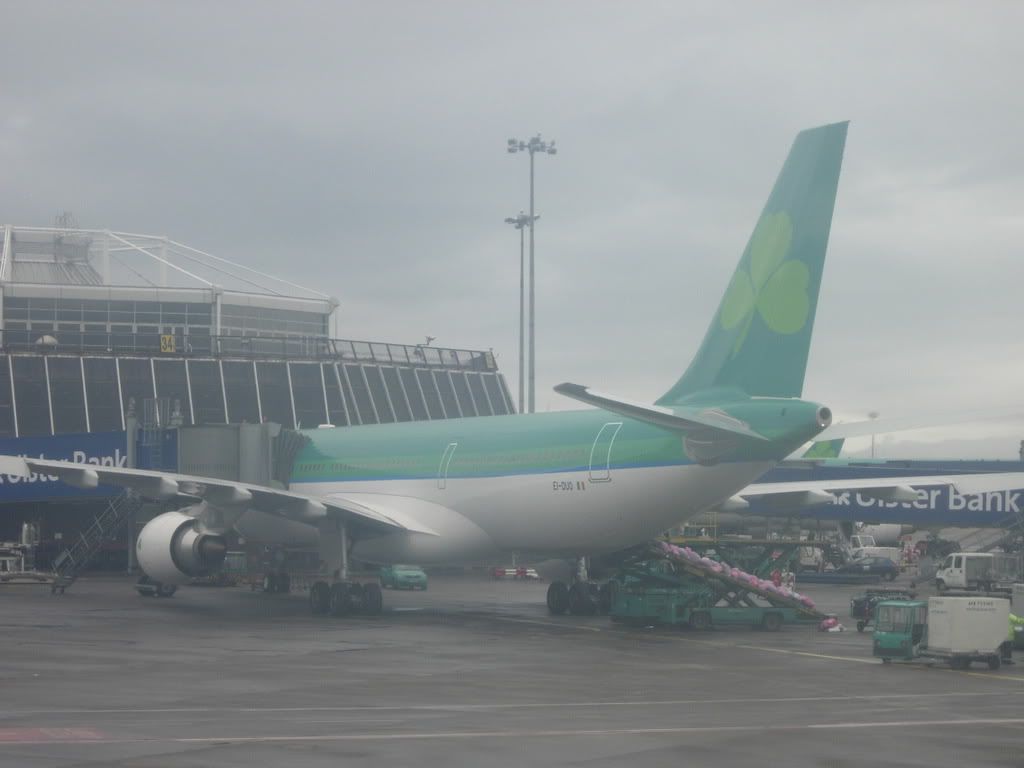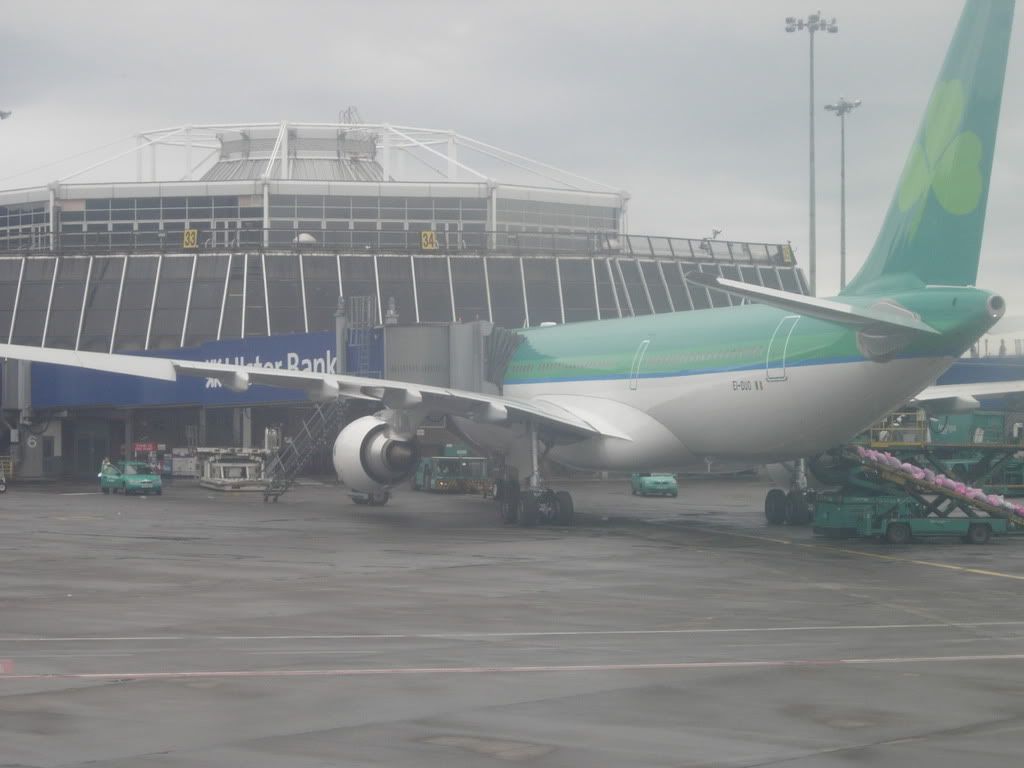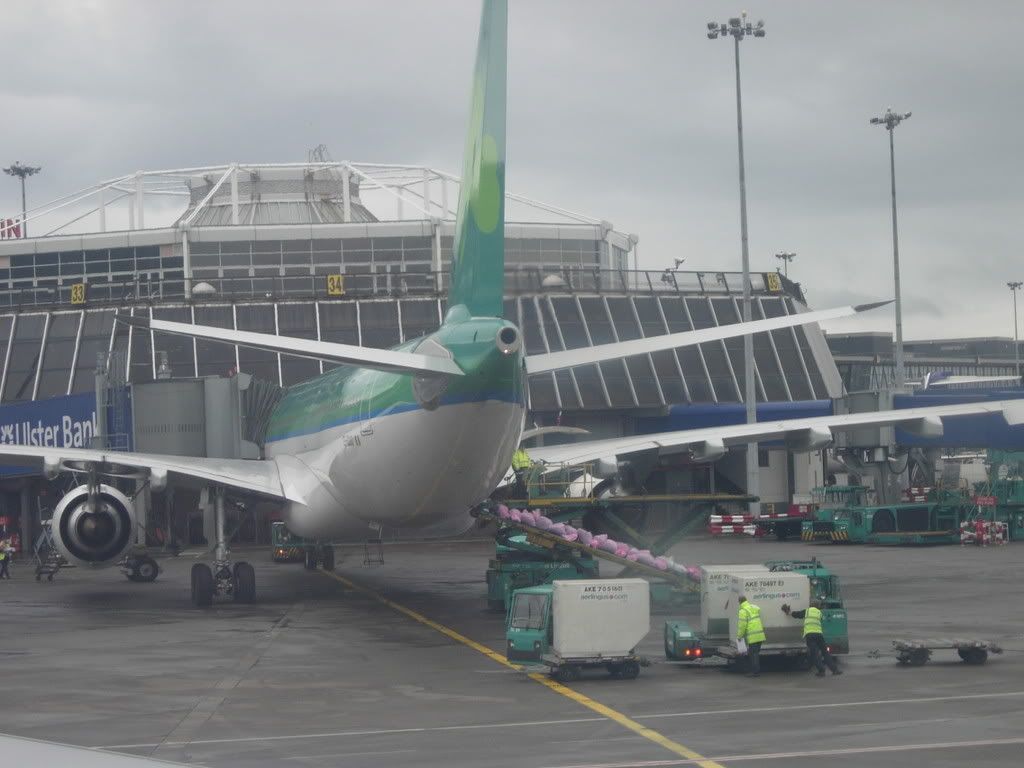 Traffic at Pier B.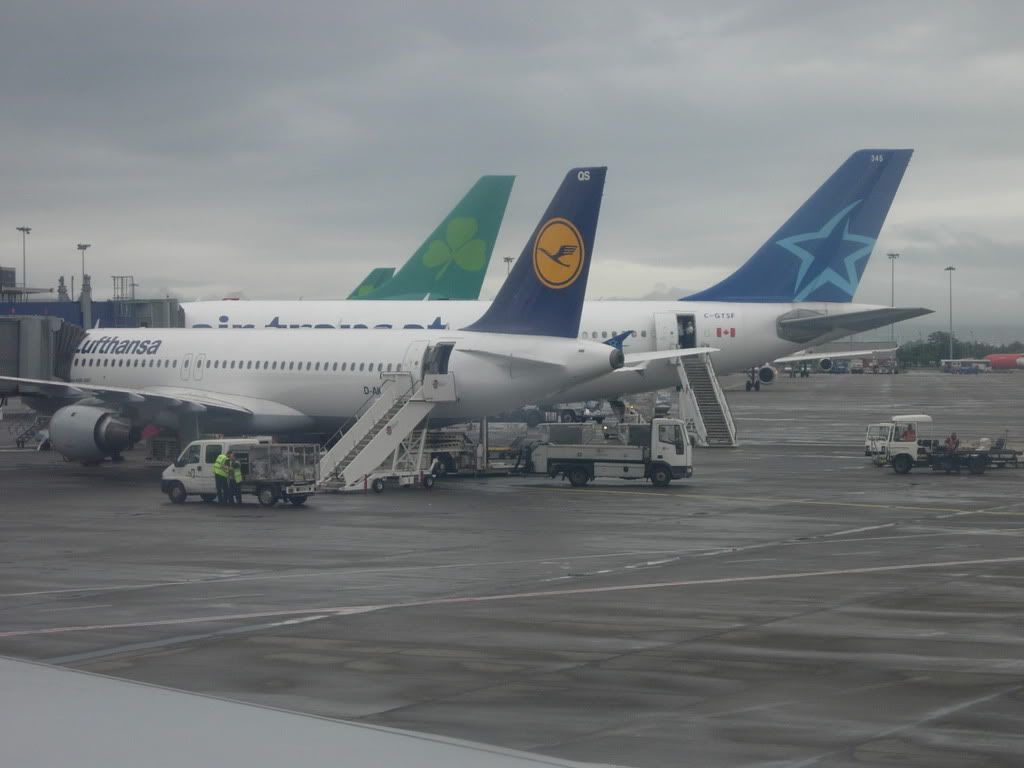 US Airways 757 in the new colours.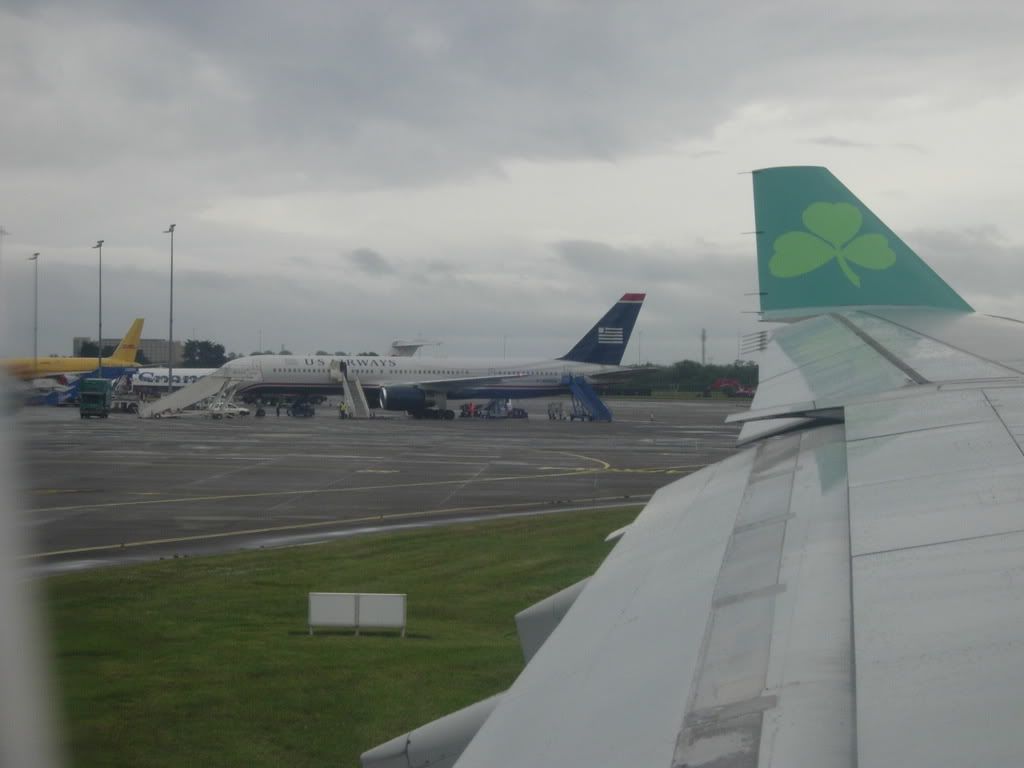 Pictures from take off.
bmi A319 heading for LHR.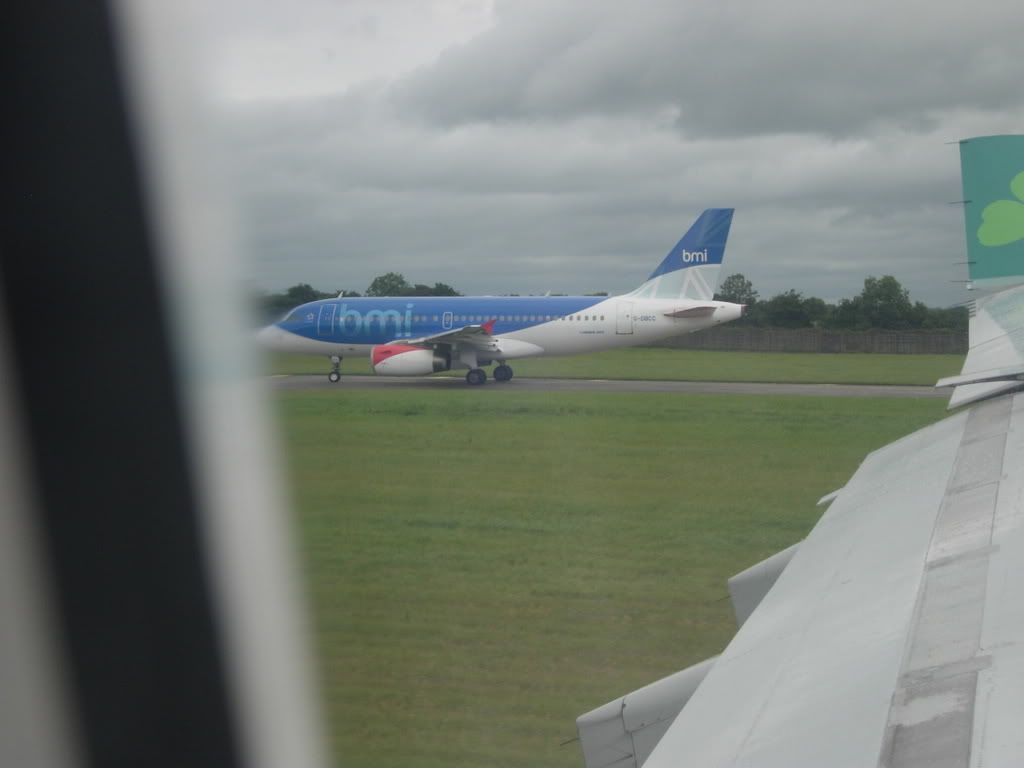 CO 757 heading to either SNN or EWR.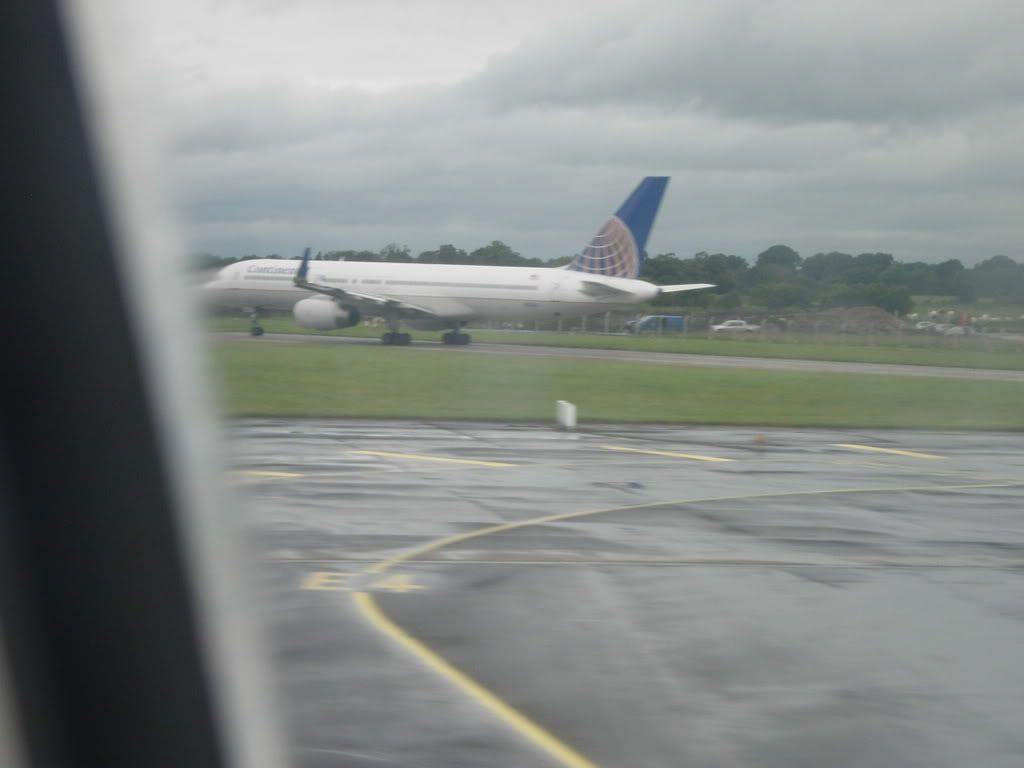 I'm pleased to say that the head FA, welcomed us in both Irish and english, something becoming more and more rare at EI today.
The take off roll was quite long, what with our heavy load and all.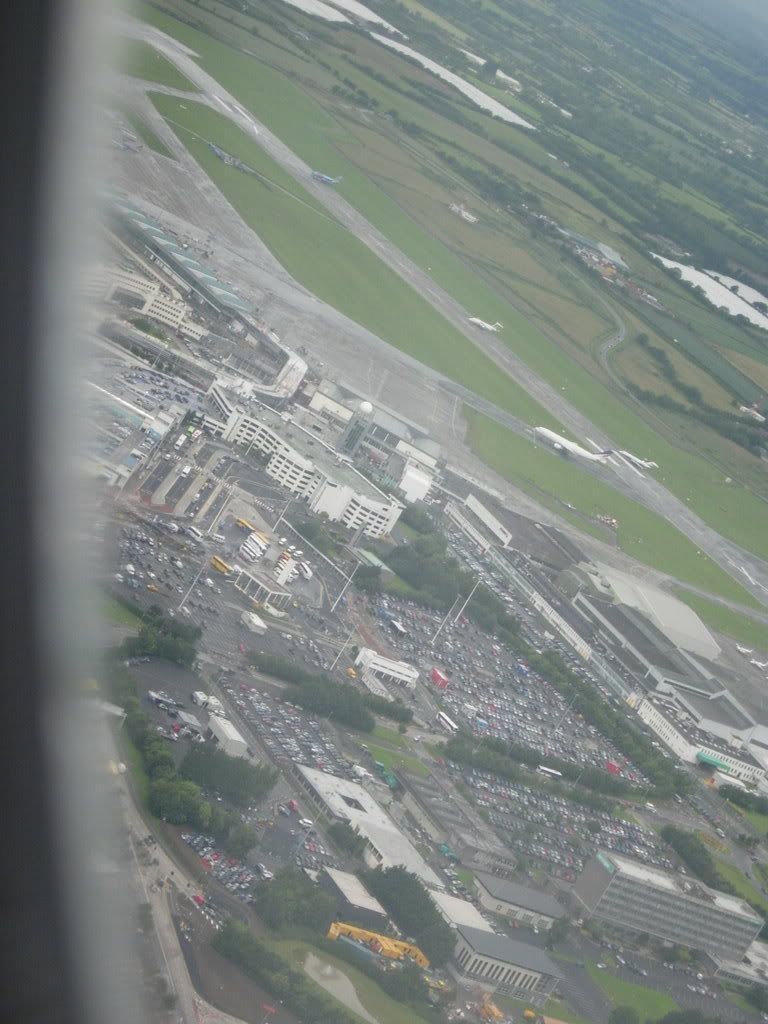 Banking left, to the North, with a little vortex off the winglet.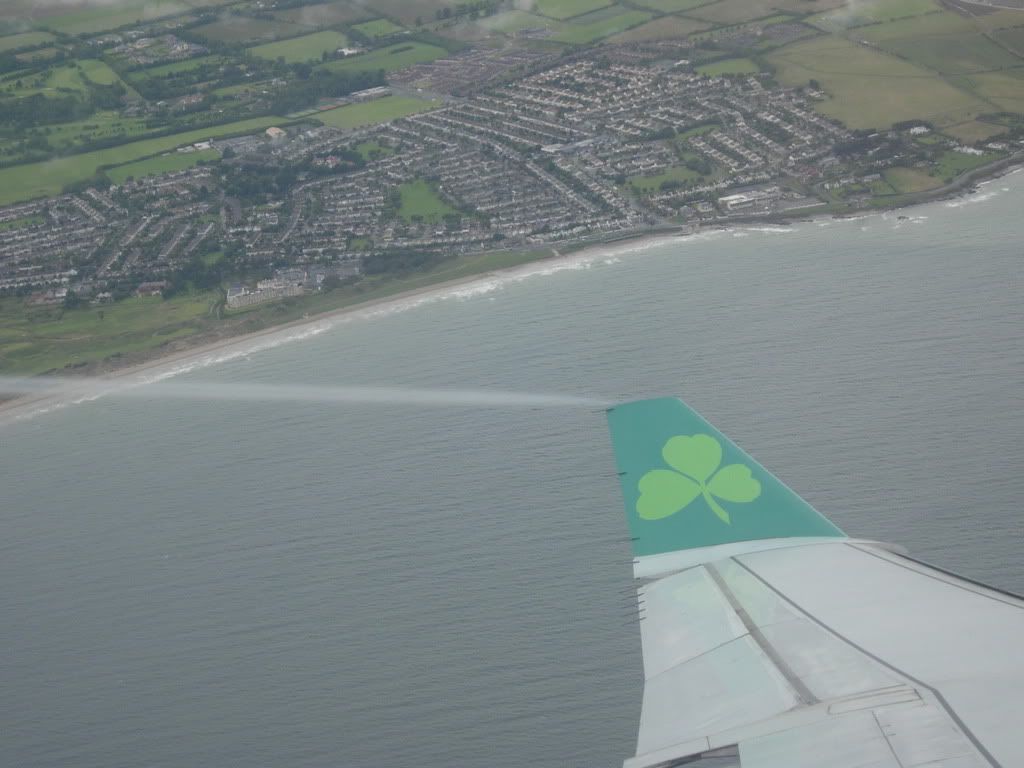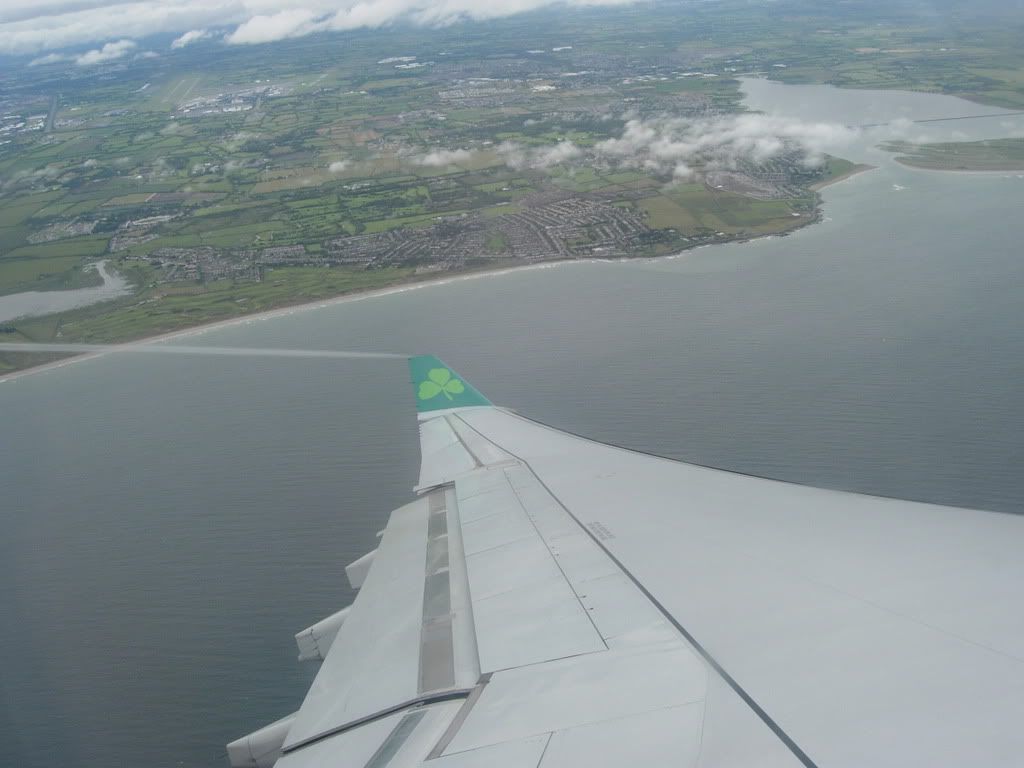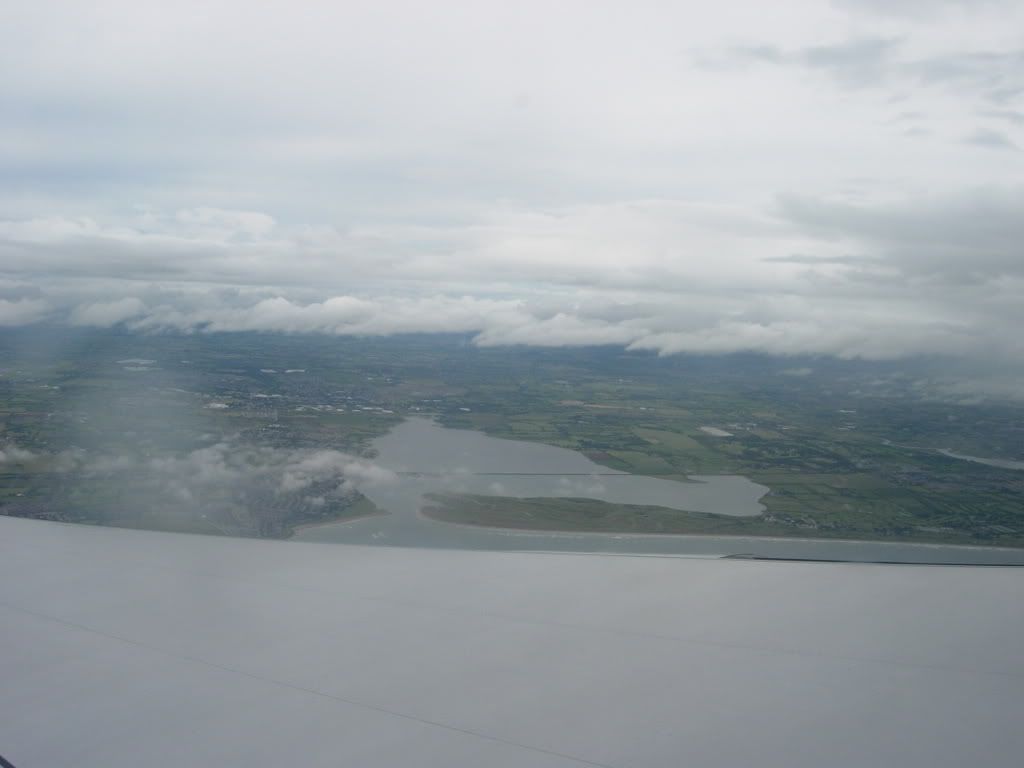 That was the last little bit of land visible for the next 7 or so hours. We climbed for about 20 minutes.; After that the crew announced the commencing of the drinks service. IFE was shortly started after that. I had some difficulty at first trying to get my screen working, but soon sorted it out. I started watching Zodiac. A thriller/ Murder Mystery, which was quite good.
The service then came around. I had a coke, with a little bag of onion and chive pretzels. The were simply de-vine, gorgeous, heavenly, call them what you want, but they were great!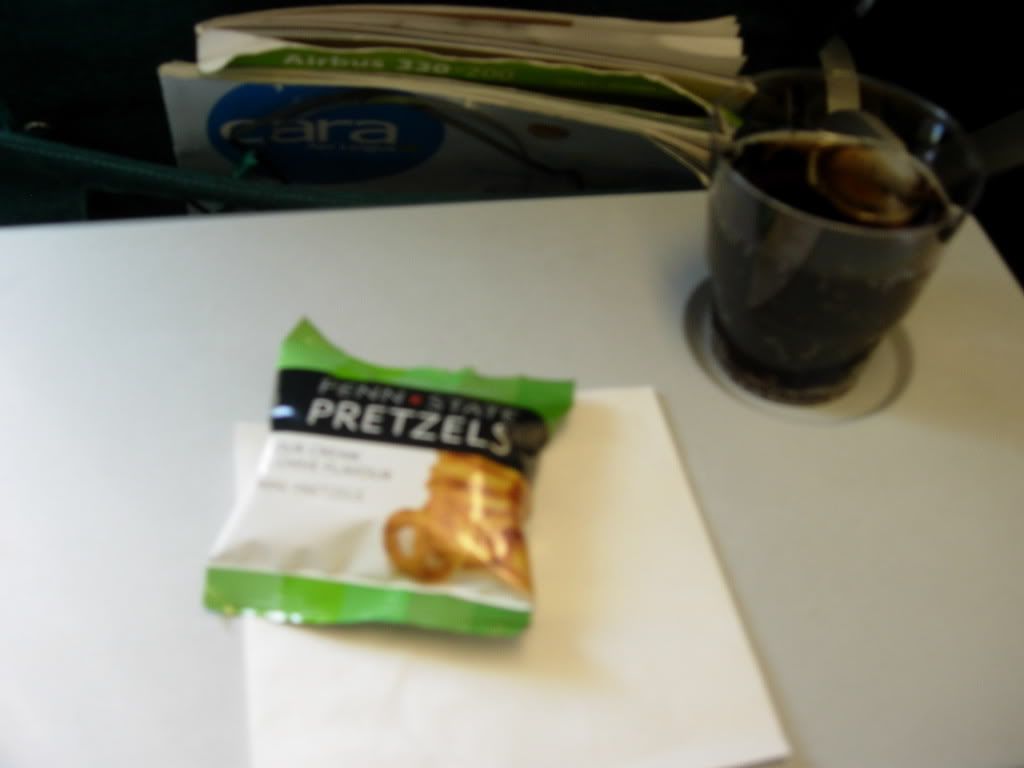 So I was watching Zodiac, and after about 40 mins, the crew announce that they will be shutting down the system, and rebooting it for the 50% of the pax who's screens were not working. They said this would take about 15-20 mins. After about 40 mins the tellies came back on. I waited yet another 40 mins to get back to where I had been in Zodiac. During the wait, the meal service came around. Just in time for me to get back to where I was. The option for lunch was chicken or beef. My entire family had the beef. It was beef lasagne's, and it was very good, surprisingly. It came with a pasta salad, a Lilly O'Briens bag, a roll, butter, water, crackers and cheese.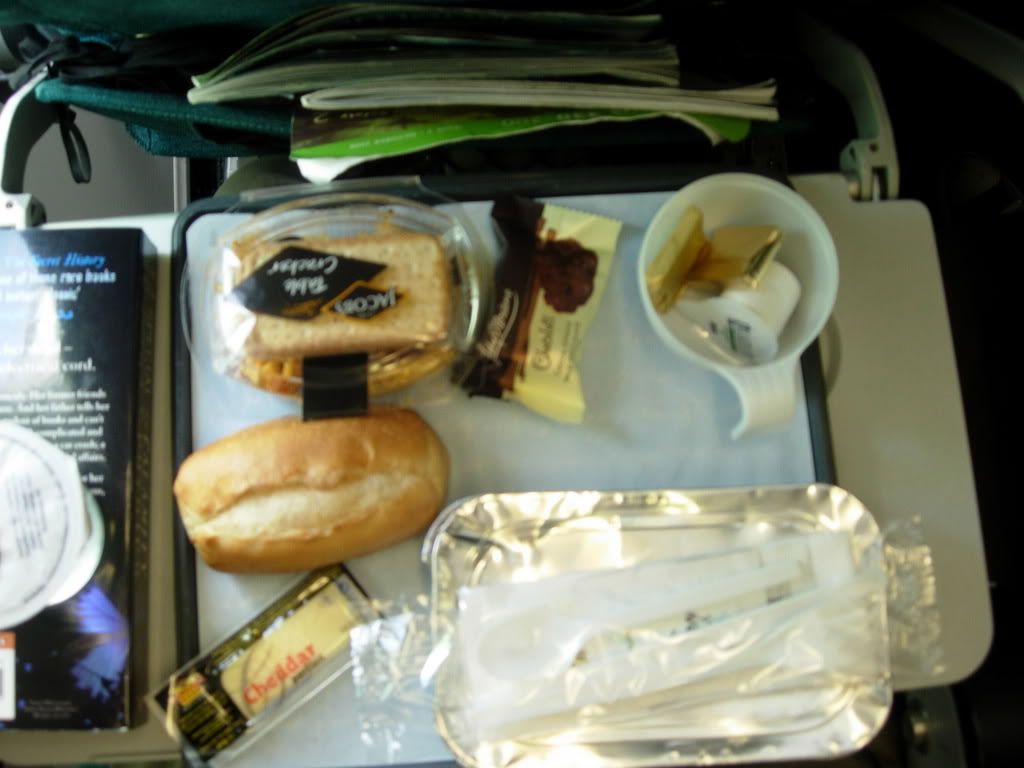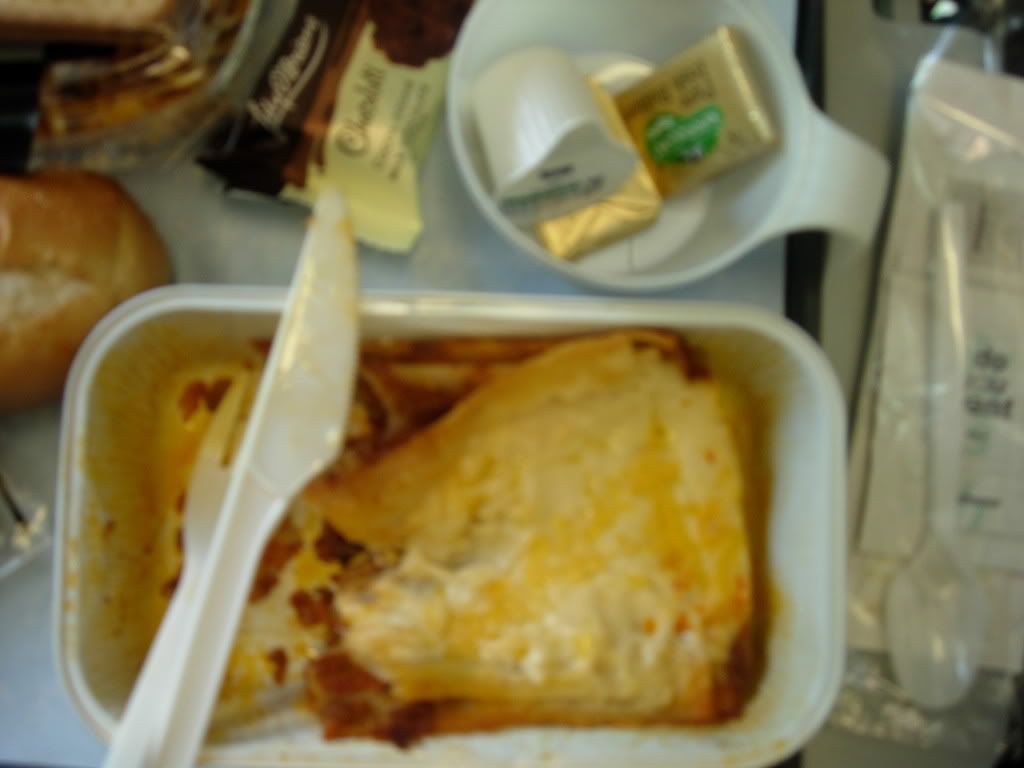 It was all very good, and I ate every morsel, except for the chocolate. I forgot about it.
As you can see, the headphones on EI have deteriorated very much in quality recently.
Just a lot of inflight pics.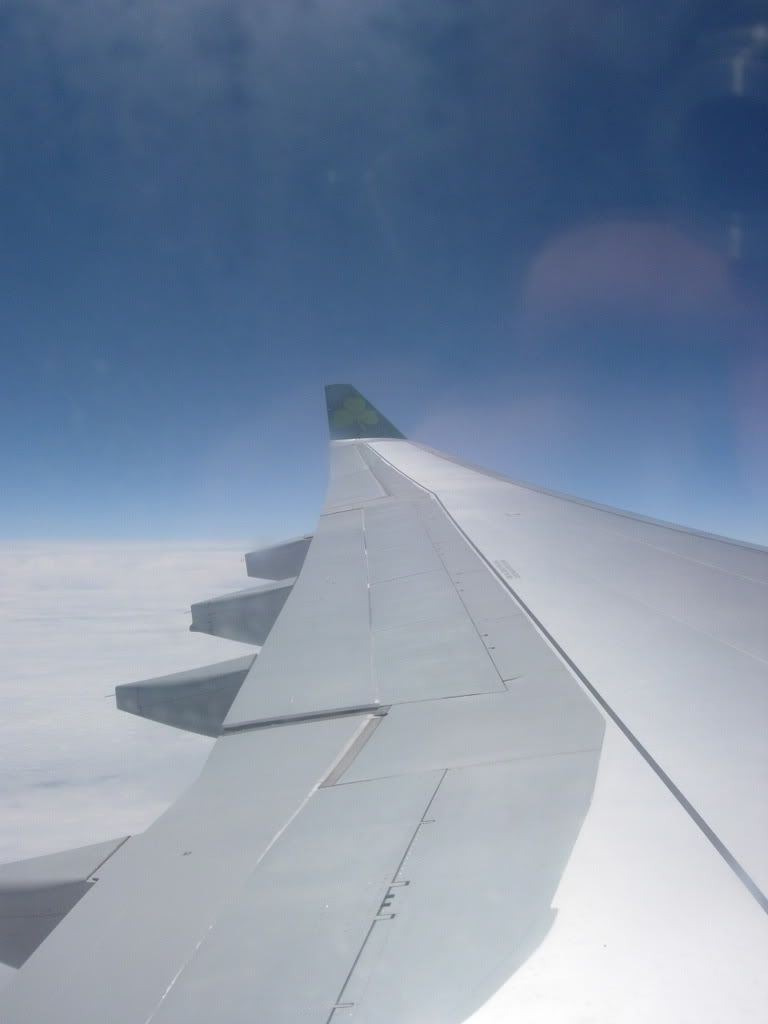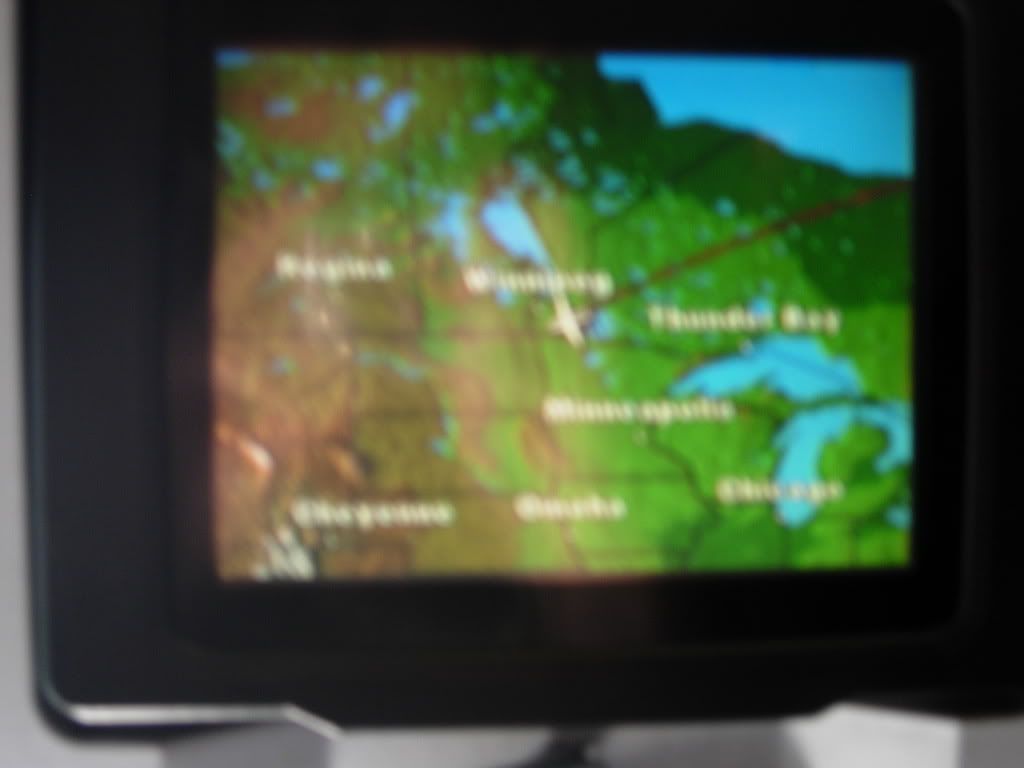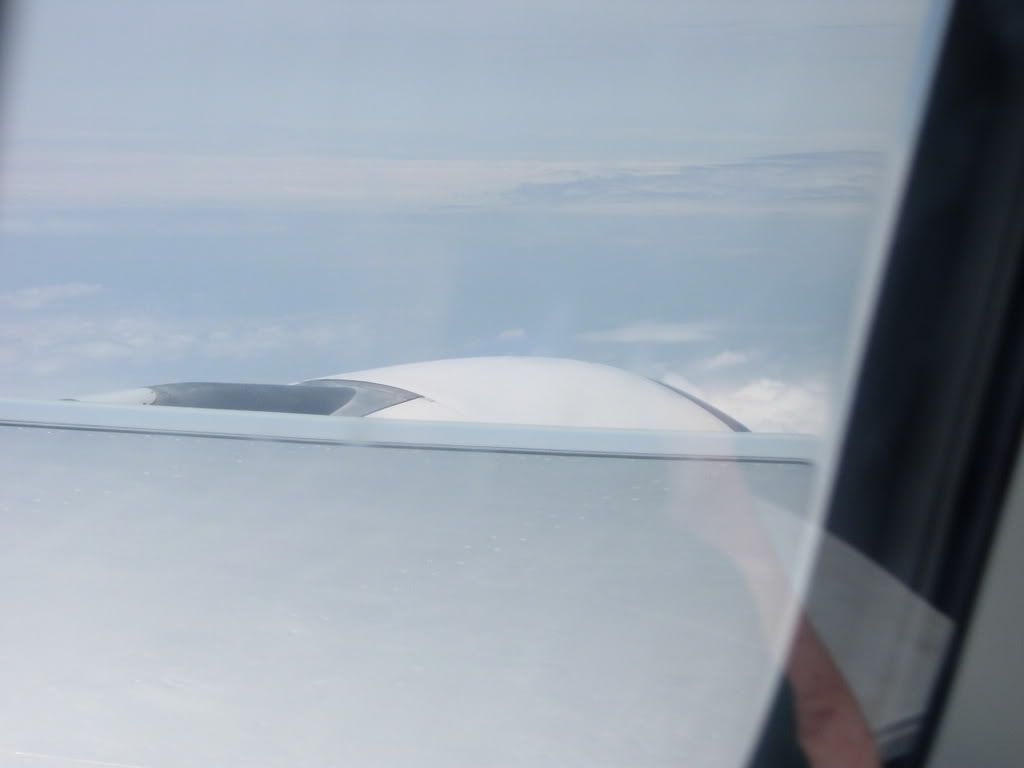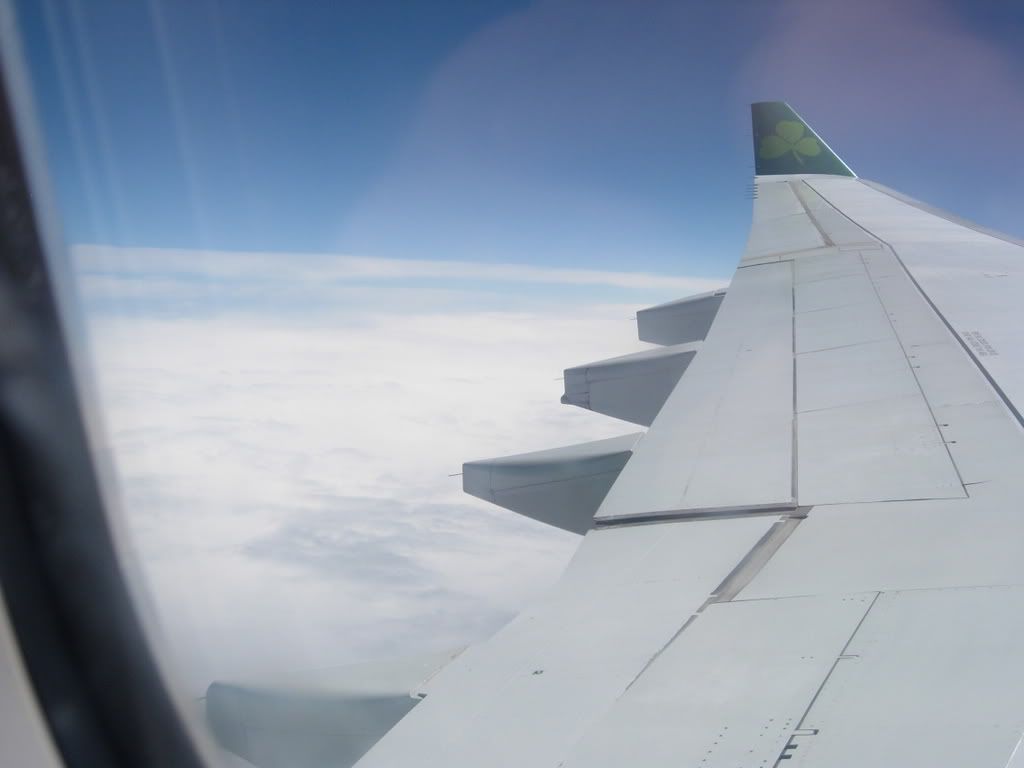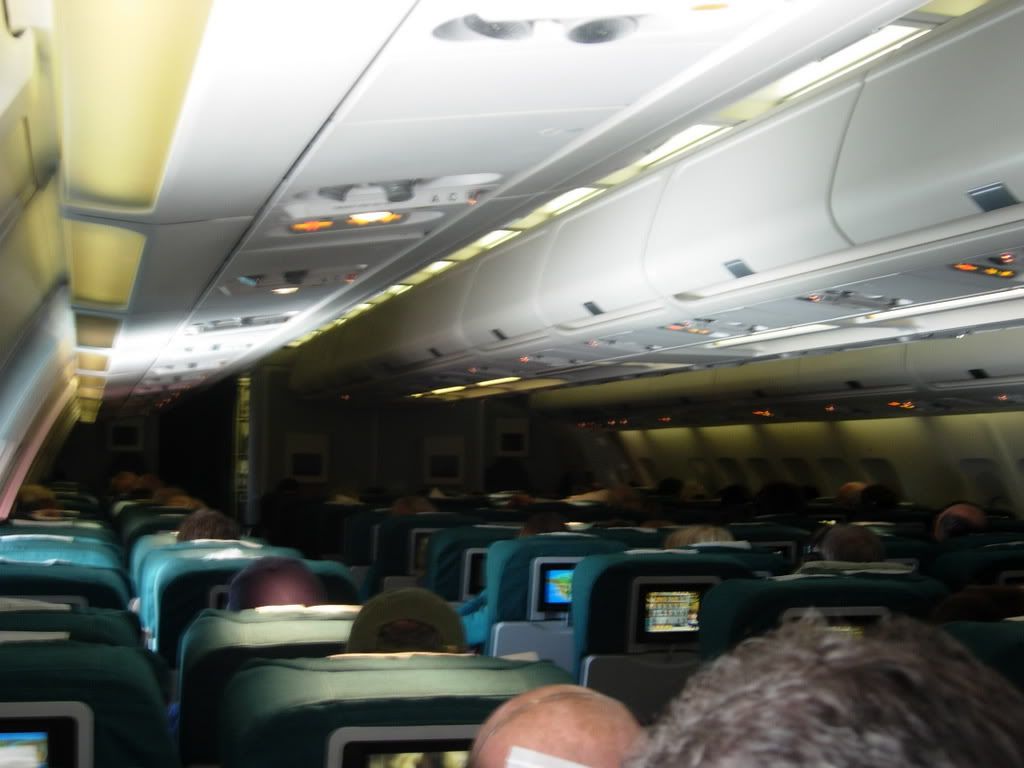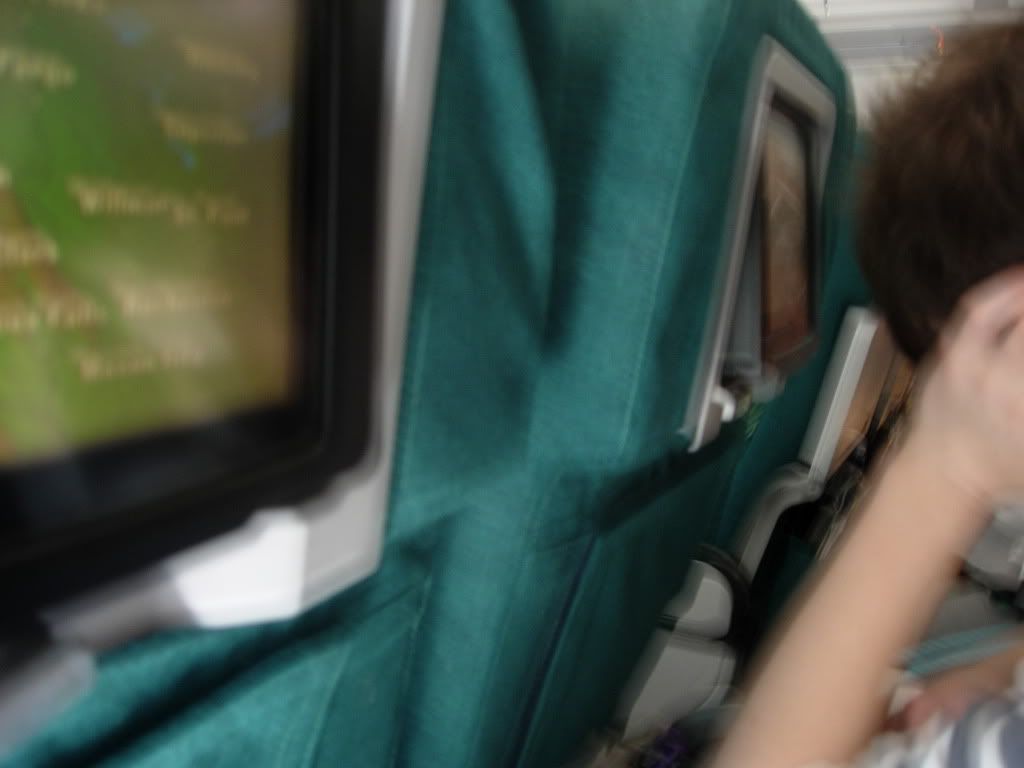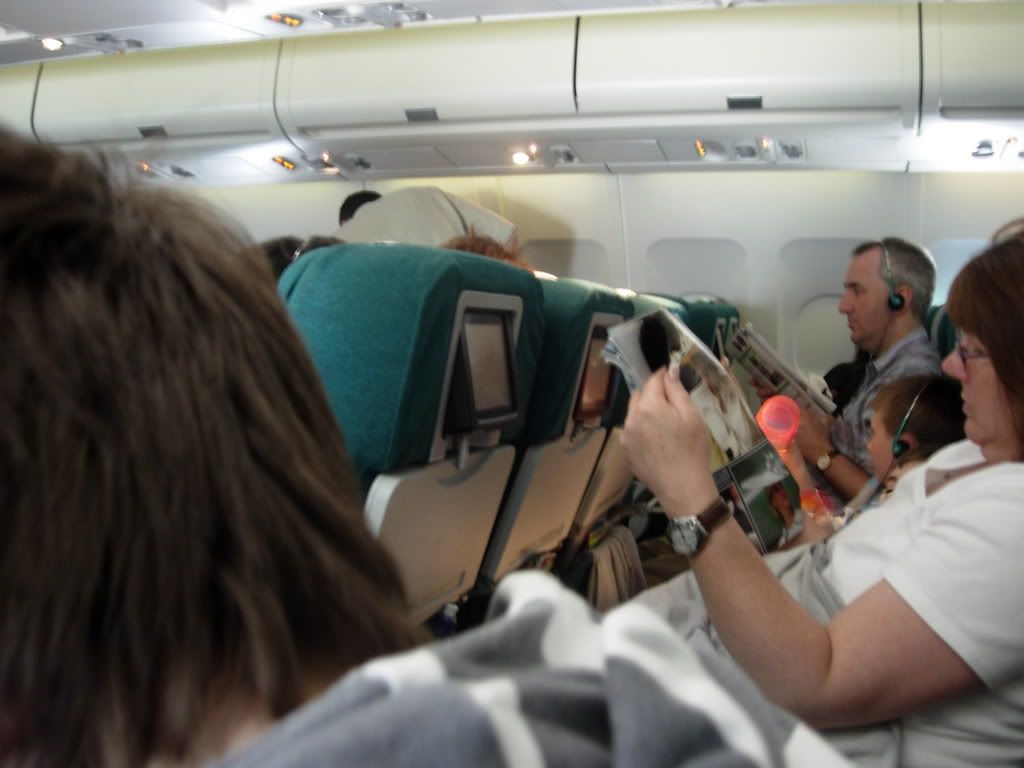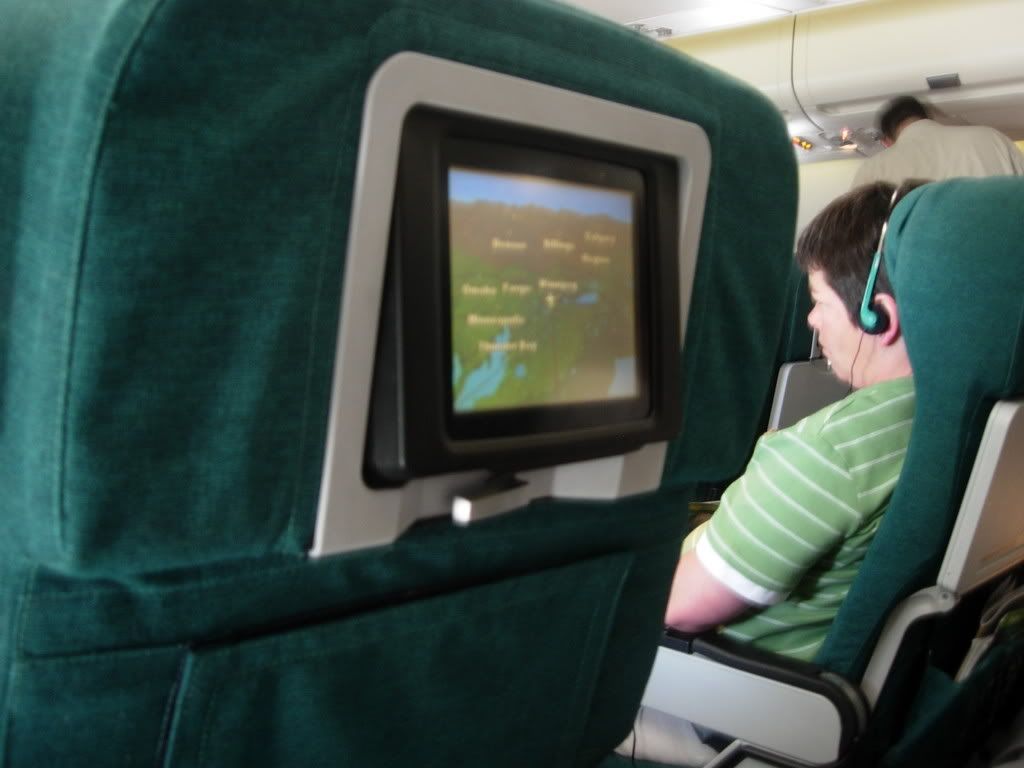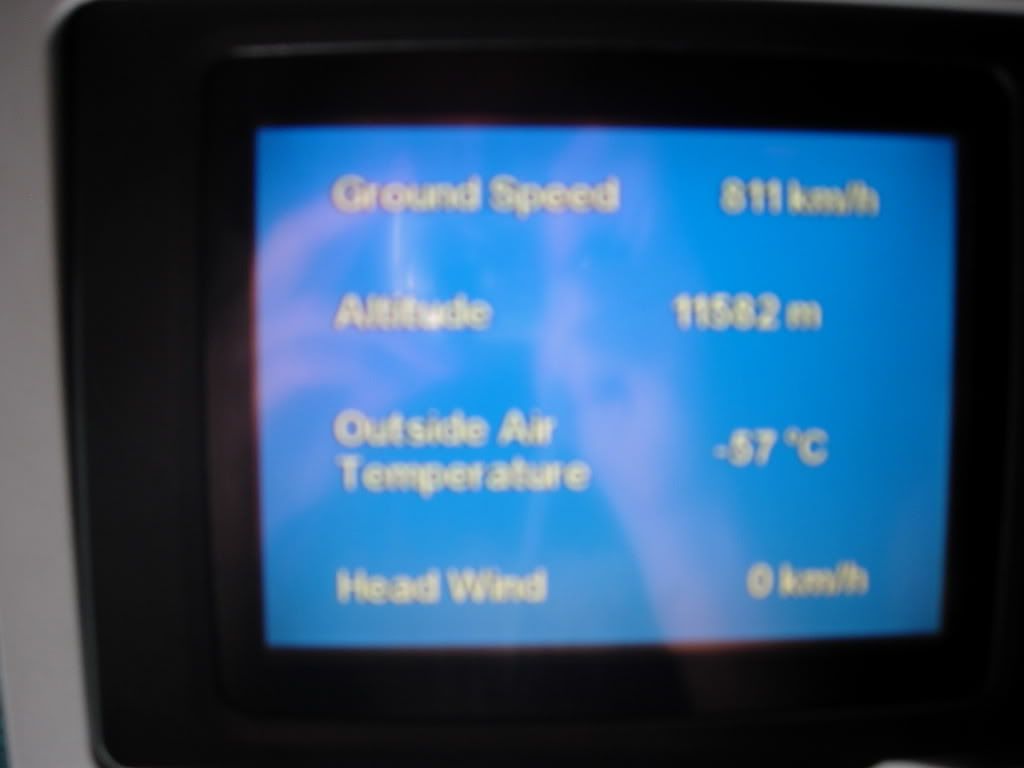 It was at this point that the camera died, so no more pics for this TR. There will however be more in the next one.
So a few hours after the lunch service, and after the crews all disappeared to the galleys, and the crew rests cabins, the second meal service commenced. We were handed out scones in a package made from, black styraphone, and covered in clear plastic. With it we got an empty cup, and some butter and strawberry jam. I tried my best to eat the damn thing, but it just fell apart. I did eat most of it though. I also downed a nice cup of tea. After the service I attempted to sleep. Although I ended up only sleeping for about 20 mins or so, I actually ate up two hours of flight time. After my rest I returned to flicking through the IFE. I watched the tail end of the documentary about the Dow Jones (still don't have a clue what it does) and the start of a Disney movie called something like the Sandlot. It was the sequel to the original movie made about 10 years ago, which I had seen a few times. This new one was starring Mark Whalberg, and I watched it for about 30-40 mins. For the rest of the flight, I never really settled on anything. The choices were pretty poor. I just tuned in and out of things.
So, somewhere along, about an hour out of LAX, the third and finals meal service commenced. We were offered either a honey chicken wrap, or a chicken and stuffing sand which. The same stuff that you can purchase on short haul flights. I chose the wrap, which was very good, and then offered half a sandwhihc by my dad, which was also very good. The crew also came around with juices, so I took an orange. During the flight, if you wanted a soft drink, you would have to get up and get one from the galley. There was one soft drink service (apart from the juices) during the entire flight. And on this flight, they only served out of 2 litre bottles. No cans. I was very disappointed by this. Just more cost cutting.
The crew however, were very good. They were friendly, courteous, and hard working, with a relaxed tone. There was only one who seemed to be a little grumpy looking, but I never encountered here. Three in particular stand out. The only male steward onboard (who's two sons were up the front in Premier) who was relaxed and friendly. A short, round young blonde girl, who was very friendly, and always had time to chat or play with the kids onboard. The third, was a young girl, with black hair, who was tall and attractive who was very bubbly and happy during the flight. She never stopped smiling, on an 11 hour flight and was very helpful.
We started our descent with the Hollywood hills in sight, as well as the smog, clearly hanging over the city. Again, just like on my first flight that day, the spoilers were used on descent, which seemed odd again. On finals, we came pretty low, lower than I though we would be coming. I bet we looked great though. We came really low over the highway, before a sudden thud of us hitting the runway. We didn't break too hard, and soon enough we turned off the runway. One thing I noticed was an Aer Lingus Cargo sign hanging from on the cargo sheds, it was hanging next to a large Qantas one. We suddenly stopped taxiing, and were told to wait as the aircraft in our stand had to re due it's engine start up after a failure. I didn't see what airline, or aircraft it was. But I got to see all the other traffic that LAX had to offer. An AA 738 with winglets, a AA 752, a LH A346 from MUC, and lots of AA Eagles. Then on the other side od the airport I could see CX, WN, and UA coming and going from the runways. Finally we turned on stand, and docked. It was up with everyone, and finally we started our way out. Economy pax were held back, while Premier disembarked first. Everyone else then followed. The crew said goodbye and smiled as we walked off. It's a long walk from where we were parked to the baggage hall. We were on the very last stand so it was a good ten minutes before the hall. It was packed. Flights were coming in from Korea at the same time, but because immigration had been dome in DUB we breezed through that. We wen to our assigned carousel and waited. There was an EI agent there, in the green uniform, who was quite easy to spot amongst the crowds, another great thing about the EI uniform.After about an hour we got our stuff and walked out of the terminal and went out side to catch a Hertz bus.
The Hertz parking lot is really cool. It's right under the approach for one of the runways, and planes were like 50 feet above our heads. We saw WN 737s, AA MD-80s,/757s/737s, UA 737, NW A319, SQ 747, LH 747, LX A340, and lots of little props as well.
So thats the end of my first TR, I finish the next one later on, with pics from the interior of EI's latest A330-200, with both cabins photographed.
Hope this wasn't too long, and please forgive any grammar or spelling mistakes.
Thanks!