This is a trip report for my flights this summer between Charlotte and Frankfurt. Its pretty long and detailed but I hope you enjoy it!
May 19, 2007
US Airways flight 704
Departure city: Charlotte, NC USA (CLT)
Arrival city: Frankfurt, Germany (FRA)
Aircraft: Airbus A330-300
Registration #: N277AY in old colors
I should mention first off that on this trip I was going with a group from my university, Appalachian State, to go on a study tour and finish my Bachelor's degree. I was running late because I had to meet my group at 2:00 for a brief orientation and then to check in for our flight to Frankfurt. I ended up arriving at the airport around 2:20 but no worries, I just missed the first few minutes of my professor's brief orientation and honestly it wasn't anything I hadn't heard already though this was my first time meeting people from our group. After some pictures and last minute questions our professor said we could check in. I was first in line in our group and was greeted by a friendly lady. I asked if the plane was full and she replied it was 100% full both in Economy and Envoy. I gave her my dividend miles number and asked her if I could have an aisle seat and she looked at my boarding pass and informed me I was already assigned an aisle. I checked in my bag and went through security fairly quickly. Since I had some time to kill I decided to walk around the airport and see what was going on. I did spot the US Airways piedmont heritage aircraft and snapped a shot of it: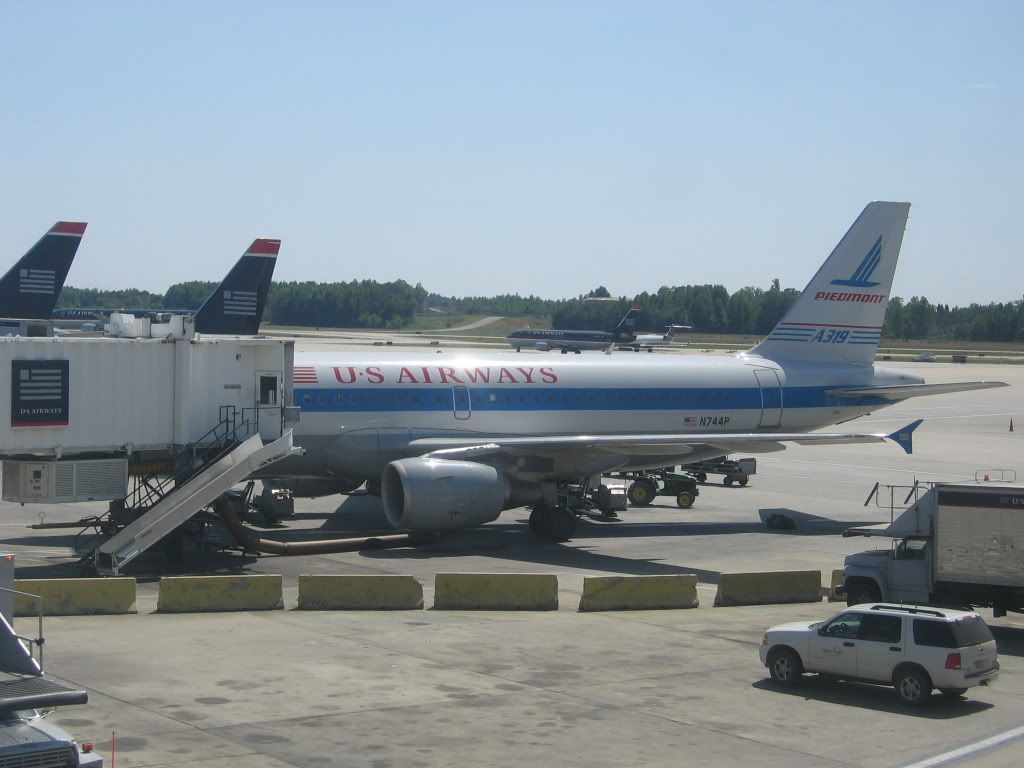 US Airways Piedmont heritage aircraft parked at Concourse B.
I made a few calls in the connecting area between Concourse B and C before heading back to Concourse D where I walked around and saw the US Airways A330 that would be going to London later and the Lufthansa A330 for Munich was getting ready to board. I then went over to Gate D3 and checked in with my professor. Our flight was scheduled to leave around 4:30 but was delayed for 30 minutes. We were required to get our passports checked and boarding passes stamped before boarding the aircraft. I did snap a few shots from Gate D2 that you can see below.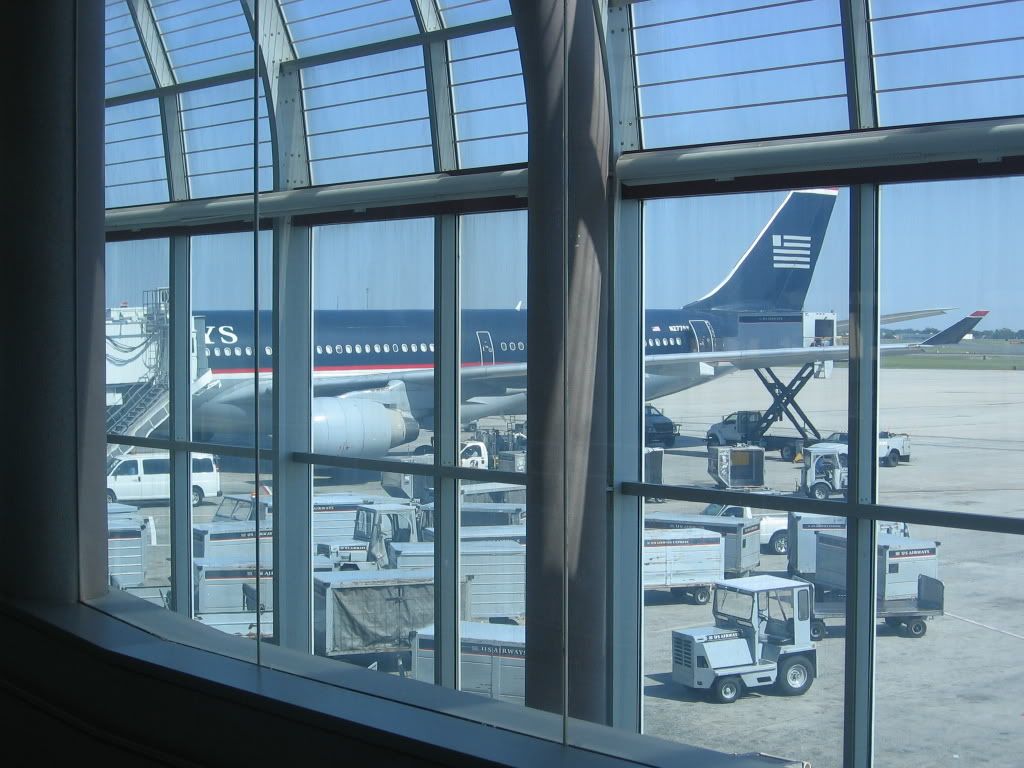 N277AY parked at Gate D3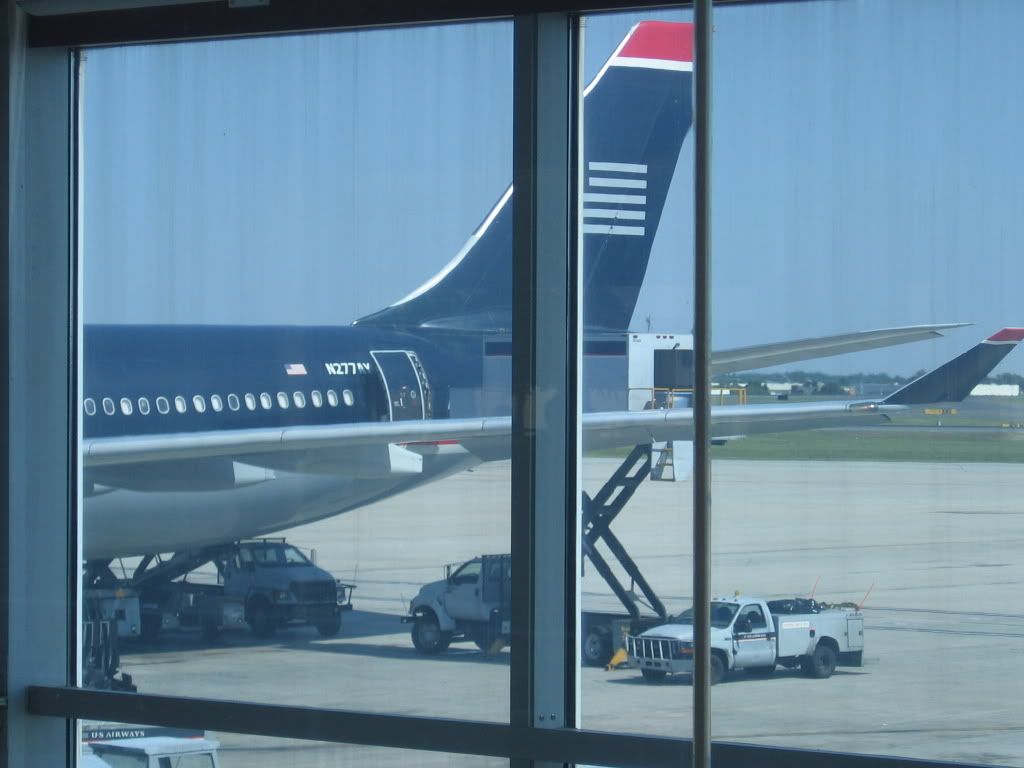 N277AY
Around 4:50 we began boarding and I made my way to seat 32G and let my seatmate, Leslie get in first since she had the window. Boarding went fairly smooth but then there was a problem with one of the seats that kept making the noise for the flight attendant call – remember this for later on in the trip report! They had to get a mechanic to come in and fix it before we could leave. We were welcomed aboard our flight to Frankfurt in both English and German and then finally pushed backed from the gate around 5:30, an hour late, and taxied over to Runway 36L. We were first in line for takeoff and lined up. I was able to still see out the window and had an excellent view of the right wing and wingtip. We began racing down the runway I thought the plane was going to fall apart, at least the cabin anyway. The overhead bins began shaking pretty bad but besides that the A330 has some awesome power and it could definitely be felt taking off! We took off to the north and immediately made a left turn and then a right turn over I-485 and then another sharp right turn towards the northeast for the journey to Europe. A clear view of the Charlotte skyline and area could be seen from the window.
The first drink service came by about 30 minutes after takeoff and I opted for a ginger ale and was given a small bag of pretzels. About 30 minutes later after the first beverage service dinner was served, which was a choice of pasta or chicken. I had the chicken which was a chicken breast with mushroom sauce and a side order mashed potatoes and steamed carrots with bread and butter and a fruit cup for dessert. I conversed with my seat mate Leslie who was also on the tour and we talked about Appalachian, people we knew, what were most excited about seeing in Europe before we both got into the US Airway passport system. To be honest it was okay but in my opinion not worth the hype I read about here on airliners.net. Then again I have never flown a U.S. carrier on an international flight. As far as international flying I only have Air France, Qantas, and Air New Zealand to compare the service on US Airways to. The passport system was nice in that it was on demand but it just seemed a little dated to me and not a very big selection. Plus the fact that there was no flight tracker really irritated me. Having said that I did watch an episode of Joey, Everybody Loves Raymond, Two and a Half Men, and two episodes of The Simpson's. I then watched an Italian movie called The Days of Abandonment.
During this flight the crew was pretty good, some were really friendly. There were these two flight attendants who started picking on me during the flight, in a fun way of course! One nicknamed spike because of my short hair and the one named me stripy because of my striped shirt. They were really great and during dinner one of them was able to find a vegetarian meal for my friend Leslie (who is a vegetarian).
I did ask for a Bailey's on the rocks during this flight and was extremely disappointed how small the baileys was. Mind you I wasn't expecting a big glass or anything but compared to the Bailey's I saw on Continental Express back in December this one was a size smaller than that one.
I got a little sleep but then started chatting with the guy sitting in front of me who was also on our tour and the guys sitting behind Leslie and I who were on our tour as well. We chatted about various things when we looked out the window and saw lights below. The guys behind me insisted we were flying over Portugal but I then tried to explain that the flight took us up the northeast coast of North America, across the Atlantic, and we were probably flying over the U.K. or Ireland. They didn't believe me until we started flying over the English Channel an hour or so later. Why is that people think us Airline geeks are trying to be know it alls when all we are doing is pointing things out and trying to correct a false fact?
While flying over the English Channel we were served breakfast which consisted of a doughnut, coffee, and orange juice. Not too long after I could feel the plane slowing down and knew we were beginning our descent. While I didn't have the window seat I have to say that the descent into Frankfurt was certainly one of the most picturesque I've seen in awhile. Flying over the German countryside at dawn with the little German villages scattered throughout the forests is really beautiful. There was fog which mixed in with the towns and forests which made it unique. Now the approach is a weird one we would circle, turn left, then turn right, then turn left, turn right, etc. I saw a couple of Lufthansa 747s circling below and above us. Finally I felt the plane lining up and the landing gear drop down and flaps set for landing. From here on out you could see more development and knew that the Frankfurt area was getting ever so close. Soon the runway was in sight, I felt a bump and looked at Leslie and say "did we land?" when all of the sudden there was a bigger and harder bump and the guy behind me said "Yeah we did." I guess you had to be there….LOL. After the brakes were applied and the aircraft slowed down we made our way over to the Frankfurt terminal aka Lufthansa City. I looked at the time and noticed we were about an hour late. I can say that I saw tons of Lufthansa jets, another US Airways A330, a Qantas 747-400, an Air Canada 747-400, a Singapore Airlines 747-400, and others. We made our way over to a parking stand and soon the stairs came and we were deplaned. I have to say its pretty awesome being out on the tarmac and being up close to that plane. I snapped a few shots that you can see below: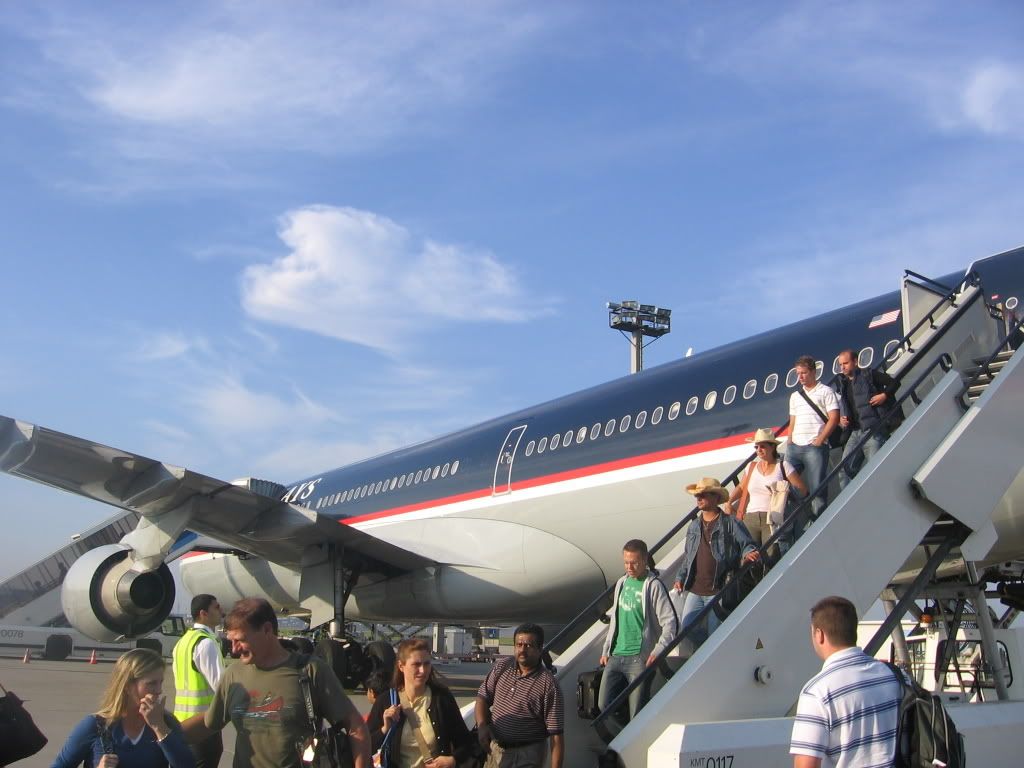 N277AY shortly after arriving in Frankfurt
N277AY shortly after arriving in Frankfurt
Tail of N277AY
We were then ordered to get in buses and were taken to the main terminal where it was obvious that FRA was under renovation and then went through customs before being met by our bus driver to take us to Strasbourg.
Overall not a bad flight and certainly went by faster than I thought. The service was pretty average, nothing spectacular about it but nothing awful about it either. The two flight attendants I mentioned before were definitely the highlight of the flight for me!
June 12, 2007
US Airways flight 705
Departure city: Frankfurt, Germany (FRA)
Arrival city: Charlotte, NC USA (CLT)
Aircraft: Airbus A330-300
Registration #: N277AY in old colors (yes, again)
We showed up at FRA a little after 9 AM for our 11:45 AM departure to Charlotte. There was some confusion by our bus driver on what terminal to go to and then once we figured that out we had trouble determining where the US Airways ticket counter was. Eventually we found it and begin standing in the really long line. I was impressed with how they had it set up. There were dedicated lines for the flight to Charlotte, the flight to Philadelphia, and the second flight to Philadelphia, and of course one for Envoy class customers. You had to go first clear your passport with this man who had a laptop and then he told you what line to go into to check in your bags and receive your boarding pass. I was greeted once I went up to the ticket counter and asked immediately if I had an aisle seat. She replied that I had a middle seat. I am not a big fan at all of middle seats so I asked if I could be moved to an aisle seat which she was able to. I then asked her if there were any seats in Envoy, she replied yes and asked if I wanted to upgrade. I told her that I would think about it which was a big mistake on my part.
Once I was checked in I wandered around a little bit and then decided that I would try and upgrade. I figured since it would be $500, why not? I asked the man with the laptop if it was still possible and he said yes and instructed me to go to the US Airways service counter which was in this island area in the middle of the terminal. I went over and waited in line before asking the lady if I could upgrade. This turned into a 20 minute fiasco. First of all the lady did not have a very warm personality and she became incredibly frustrated at me when I told her I had checked in already. I told her that I was sorry but that I decided to upgrade afterwards. I might as well have been the worst person on earth when she saw that I was on a group ticket. She played around with the computer and called her supervisor and tried for 20 minutes to get me upgraded while telling me that "You should have upgraded when you checked in" a few times. Finally she said there was nothing she could do and to try my luck at the gate. Are these reservation systems so complicated that you can't even upgrade a willing customer? From what I understood there was hardly anyone in Envoy class so there were seats available, even the lady at this desk admitted that. Oh well, so much for that, I guess I learned my lesson. I didn't even bother asking the ticket agent once I was already there.
Going through security was okay, took awhile, but nothing to complain about, plus there were some hot German officers that made for good eye candy…LOL
Once I was checked in I went over to the duty free area but didn't see anything that caught my eye so I went over to gate C06 and went into the waiting area to board my flight. I decided to just spend some time alone and reflect on my three and a half weeks in Europe. Boarding commenced on time at 11 AM and they boarded us by Zones. I was in Zone 8 which was one of the last to go aboard. I then found my seat 16B next to a girl about my age. We chit chatted for a little bit and then decided to switch seats since she would probably be getting up from the flight more than I would, plus I didn't have the window seat coming over so I thought it would be fun. We switched and then all of the sudden our flight attendant call button kept started going off. I tried to get it to stop but it didn't and eventually the F.A. came over. Remember on the flight over how I mentioned that a mechanic had to come on and fix the F.A. call button that kept going off? I think this was the same one since this was the exact same aircraft I had flown on to Frankfurt in May. The F.A. was able to stop it from buzzing though so no worries. We were welcomed aboard our flight to Charlotte in both English and German and then pushed back from the gate and were surprisingly first in line for takeoff. I shot a video of our takeoff below which was smooth:
And got a picture:
Not too long after we were airborne we were served a beverage service and then dinner afterwards. I had a chicken dish similar to the one on the flight to Frankfurt but this one tasted much better. From here on out the flight was pretty uneventful. I had a very nice crew looking out over our section. There was this one male flight attendant who was extremely professional and was always smiling and was kind of cute. On this flight I listened to some Fall out Boy on the passport system, watched the Simpson's, Dream girls, and Ghost Rider. I got about 30 minutes of sleep but that's about it. I bought some duty free Grey Goose and chatted with some of the flight attendants. I asked them if they were CLT or PHL based and they said they were CLT based and made a couple of jokes about PHL based crews, friendly jokes of course! We had a small snack and beverage service about an hour and a half from Charlotte and then shortly after the US customs formed were handed out. I snapped a couple more pictures out the window: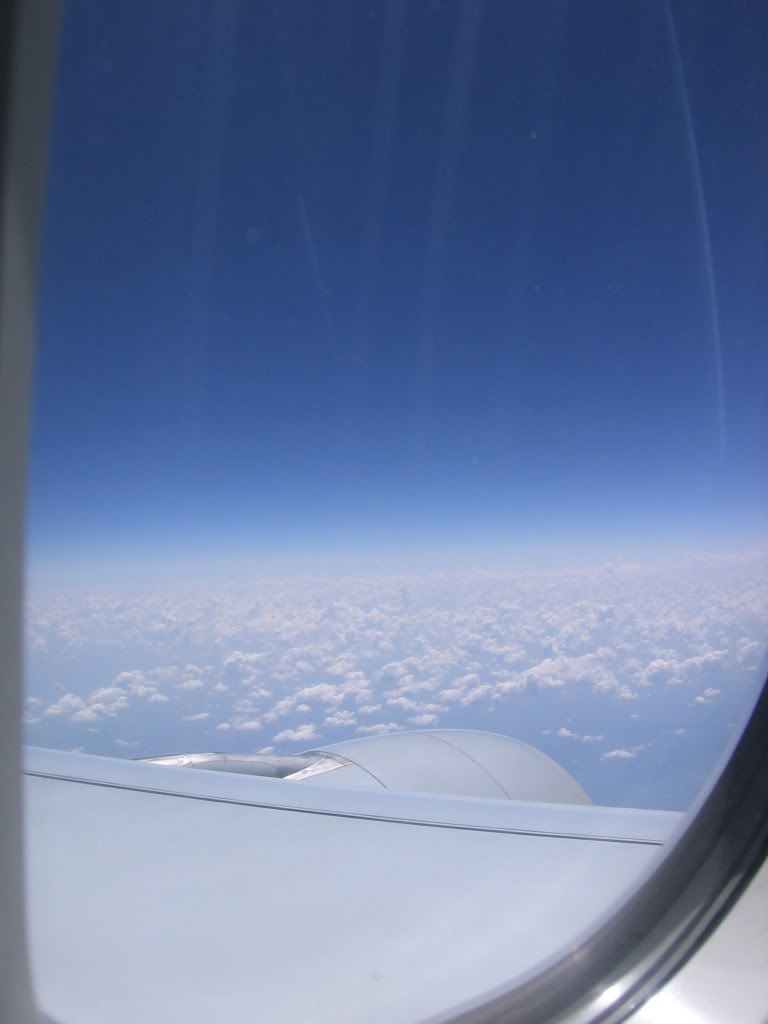 We were flying somewhere over Virginia when I felt the plane slow down and knew we were beginning our descent. As we made our way down into the USA the Captain came on and announced we were flying over Greensboro and would be landing in Charlotte in about 20 minutes. We made our descent into a hazy and cloudy North Carolina. I didn't know exactly where we were until the plane made a sharp left hand turn and then knew we were flying over Lake Norman. We lined up for landing on 18R with the landing gear down and flaps deployed. It was cloudy in Charlotte and according to the Captain storms were expected in the area. We made a pretty smooth landing on 18R and were then greeted by a flight attendant announcing that the local time was 2:00 PM and that we were one hour and twenty minutes early. The whole plane applauded as we taxied over to Concourse D. As we taxied I noticed the Lufthansa A330 from Munich land on 18R. We got to Gate D11 and were then told that because we were early we would have to wait to have the gate pulled up to us. Apparently the flight from London had arrived a couple of minutes earlier and customs wanted to get the majority of the London passengers through before letting us off the plane. We waited about 15-20 minutes before the gate was pulled up to our aircraft and we were allowed to leave the plane. I let most of the plane go in front of me and asked the flight attendant if I could visit the cockpit. They checked to see if one of the pilots was still up there and sure enough there was one so I was able to see the cockpit of the A330 which was impressive and looked similar to the ones found on the A320 aircraft. I noted to the pilot about how it was impressive we were an hour and twenty minutes early. He said it was and said that we just had a good tail wind and that the air traffic controllers were good to them and gave them short cuts all across the Atlantic. I thanked him for letting me come up and he said it was no problem. As I exited the aircraft the flight attendants joked with me and asked if I was ready to take her out and give her a test fly. I laughed and said no, not today.
I proceeded to customs and stood in line and once again thanked the flight crew for their warm hospitality and service aboard the plane. Standing in line took forever though I will say the customs facility in Charlotte is very nice. While I may have been one of the last ones to go through customs from my flight I was one of the first to get my bags. I said goodbye to people from my group and then waited at the curbside for my Dad.
Overall this was a good flight. I do want to comment though on N277AY. While the A330 is a good aircraft I have to say this particular aircraft seemed like it could use some touching up inside. Several seats looked worn out and there was a bathroom door that had some paneling that looked like had come off.
The flight crew was great on this flight and the service was once again average, nothing spectacular but nothing awful. The food on this flight was slightly better than on the flight to Frankfurt and I thought the crew was a little friendlier so I definitely rate the flight to Charlotte a little bit better than the flight to Frankfurt.
Feel free to ask questions or make comments.
Adam