Introduction
This is part two of my trip report for summer vacation 2007, a trip in which my family and I travelled to central Italy focusing on the province of Tuscany. Before a write about the return journey on Air Canada, as promised I'll give some of the highlights of my time spent in Italy.
After arriving in Rome (Roma in Italian), my family and I spent a few days touring the city. We saw most of the usual sites like the coliseum, the pantheon, the Vatican, etc. This was pretty interesting as I have learned some of this at school for history, and thus I could understand and appreciate the historical importance of these many landmarks.
One of the many nice town squares that can be found all over Rome
I thought this was pretty unique, at least for us Westerners. Here in Rome the gas stations are located at the side of the street...you simply pull over your car and start pumping!
The Coliseum in Rome; one of the greatest engineering marvels in world history in my opinion.
And of course, which one of our Roman Catholic friends could forget...the Vatican?
After Rome we ventured northwards, visiting a nice little spa town called Chianciano Terme. Here we stayed at a small family owned hotel, which had the best Italian meal I have ever tasted! The locals in these smaller cities sure know how to cook, I'll tell you that. A night stop over there and then we were off driving again, this time we landed ourselves in Florence (or for the Italians, Firenze). A little too crowded and touristy for my liking, we all agreed this city was just okay, especially since nearly all the tourist sites were pay-for-entry (compared to the free visitation that the Roman sites provided). Next we went further north again to Genoa (Genova), a large financial centre located along the beautiful Mediterranean Coast. Here we walked by ourselves throughout the older town on various outlined 'historical walks', which were quite nice and gave us a good overview of what the city was like.
A nice fountain in the central financial square of Genoa. Surrounding this plaza are many bank offices.
After that, it was time to start heading south again, this time travelling along the Italian Riviera and stopping in one of the coastal towns that is part of the Cinqueterra (land of five cities). This was my favourite part of the entire vacation. During the day we walked along a designated cliff path for a few hours that gave magnificent views of both the Mediterranean Sea and the various towns that were part of the region, while in the evening we went to the beach (just across the street from our hotel) and swam in the salt water. It was very impressive!
This upscale city on the Italian Riviera was very beautiful!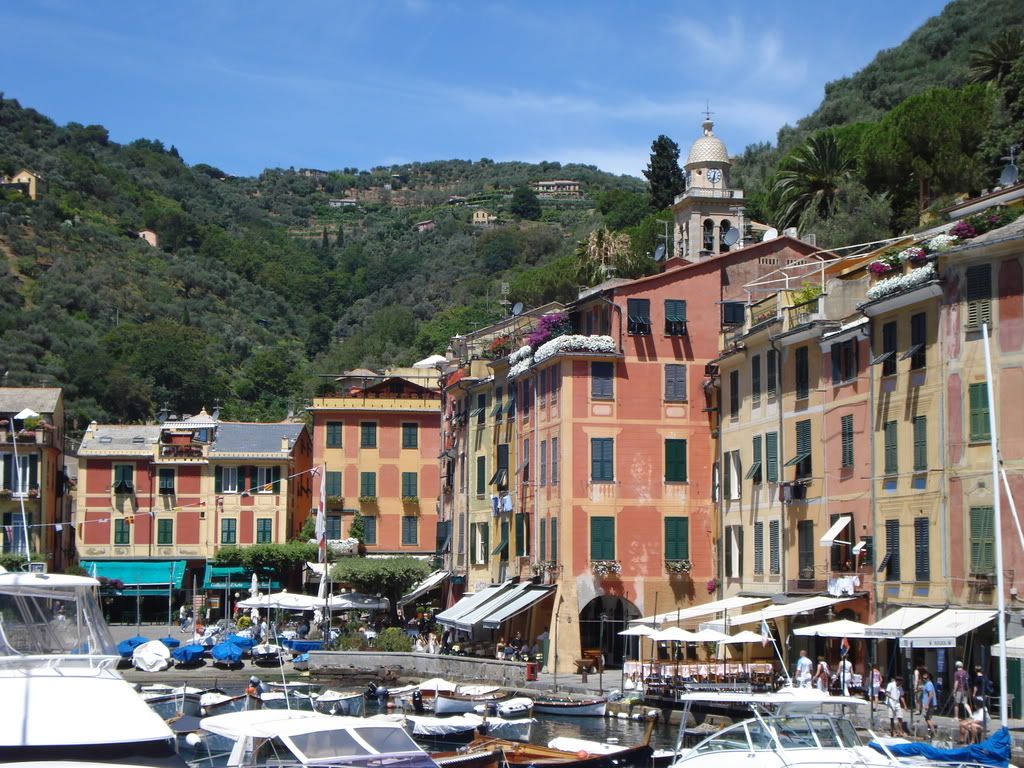 Portofino is one of those iconic and colourful little towns in the Italian Riviera that everyone talks about.
The cliff walk offered amazing views of the Mediterranean Sea...
...and great views of the cliff top villages too!
Nearly two weeks of the trip were now over, but we still had much to do. We then headed into the centre of Tuscany, where we stayed for a week at the Castle of Montalto just outside of a city called Sienna. A historical castle converted into an apartment style vacation complex, it did not disappoint. It featured its own private swimming pool, tennis court and ping pong table…and the best part is that it only has around six units meaning it is quite peaceful and tranquil. From here, we ventured to various nearby towns during the day and relaxed back at the castle in the evenings. The swimming pool sure came in handy, because not only was it extremely hot during the entire week, but one day there was actually a record setting heat wave in Sienna when the temperature reached a whopping peak of 45°C!!! That day my whole family felt like total crap, because with that kind of heat you just don't want to move at all since it is just so unbearable. Oh yeah, and this should be a good time to mention that the castle did NOT have any form of air conditioning! So much for the movies where people wear long shirts and pants while enjoying life 'under the Tuscan sun', we were literally baking under it! Despite the heat however, this part of the vacation was still very enjoyable.
A famous monk monastery and winery in the heart of Tuscany.
Finally, it was time to wrap up our summer vacation. We drove back to Rome, stayed the night at a hotel nearby the airport, and the rest is history. A few notes about the trip…the food was VERY good! Italians really know how to cook, the pastas were all very tasty and much superior to anything I have ever had at home in Canada. Also, I've already said it but Italy can get quite hot during the summer months. For a native Canadian who doesn't really like weather any hotter than about 30°C, I found it a little too hot for my liking. I still very much enjoyed walking the towns and such, but next time I would consider trying to go when it is a little cooler. And finally, no offence to any Romans, but the drivers in Rome are absolutely insane! There is no such thing as pedestrians' right-of-way; you've got to find your own way across the road by avoiding cars. Anyways, I hope this was a good quick overview of my trip without going on and on about things too long. So without further ado, it's the portion you've all been waiting for…the return journey!
Return Journey First Leg
Date: July 23, 2007
Flight: Air Canada AC893
Departure: 9:30 (late)
Arrival: 12:30 (late)
Route: Rome Fiumicino FCO to Montreal Trudeau YUL
Aircraft: Boeing 767-200
Luckily, our hotel in Rome had free internet for its guests and thus I was able to check-in my family online for our entire return journey. So the day before, I went online to aircanada.com to check us in for our flights. Although I had preselected our seats when we purchased the tickets, just for fun (and in part to see what the loads might be like for the flight) I decided to click on 'change seats'. To my surprise, there were open seats in the front four rows of the aircraft (Air Canada calls these seats premium economy, because since they are 6-abreast at 38" pitch on the 762 they are not up to standards to sell as Executive First on international flights). The system let me move all four of us into the premium economy section, so I did so without hesitation! I was ecstatic, and so were my parents who kept commenting after the flight how much more comfortable the seats were. My only question is that aren't these seats usually held for Star Alliance Gold and Aeroplan Top Tier members (rather than un-loyal fliers like me)? Anyways, the next morning we took the hotel courtesy shuttle bus to the airport, which dropped us off at Terminal B right in front of the Air Canada check-in desks. Although we had already checked-in, we were unable to get boarding passes and we still had to check-in our baggage, so we headed to the once again empty Air Canada check-in area. This was quite surprising, as we were there about 2h before departure and I would have expected most people to arrive at check-in around this time. With no line-up, we proceeded to the presumably bored Executive First agent who called for us to come over to him. As you know, I had a connection in Montreal and the check-in agent was very informative by telling us we would have to clear customs in Montreal, retrieve our bags, and then head to the Air Canada connections desk just outside of customs. Minutes later, our bags were sent down the conveyor out of my sight and with boarding passes in hand, we headed towards security. Here the lines looked very long, but security was extremely fast and efficient because I don't remember waiting more than five minutes in a line that looked like it could easily be thirty minutes long. A quick baggage drop off and security check meant my family and I had a lot of time to burn, so we slowly walked through Terminal C (Rome's international terminal) while browsing the multitude of duty free shops and cafés. After exploring virtually every store in the landside terminal, we boarded the train which would take us to the satellite terminal where our flight would leave from. Here we all split up to venture around and meet back at the gate in time for boarding. I burned the final half hour of waiting easily by looking at the duty free shops, and of course, doing some spotting!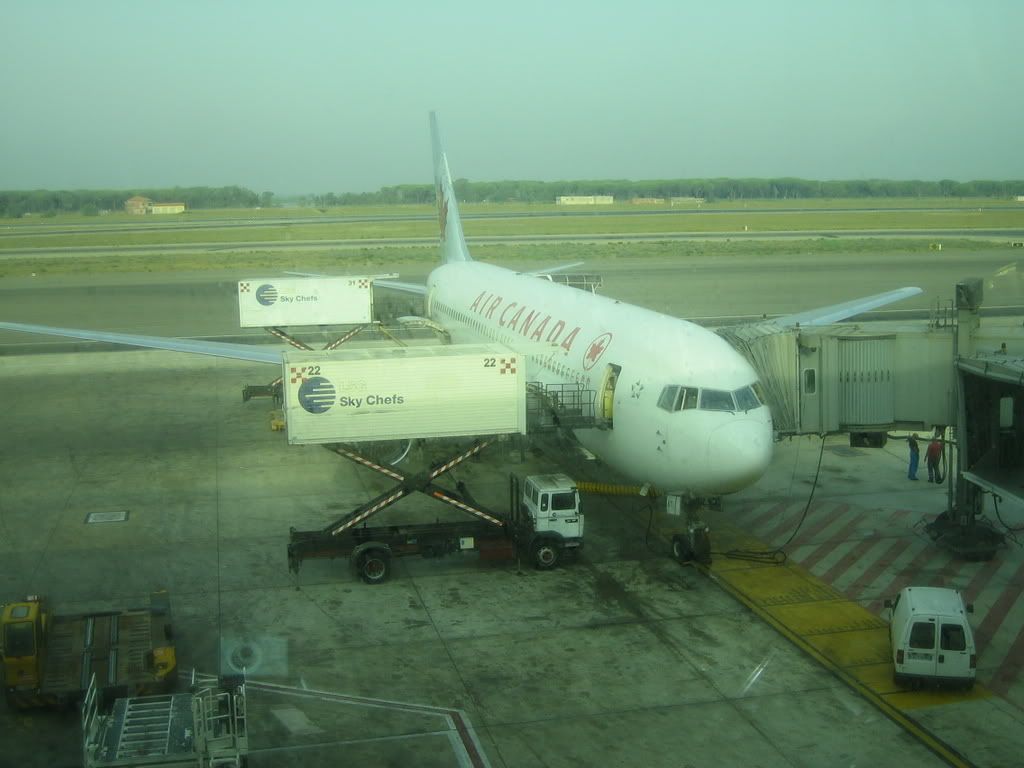 Here she is getting catered; the old and rugged 767-200 that'll take me home! Sorry for the odd tint, but the windows in Rome had some type of weird coloured coating on them.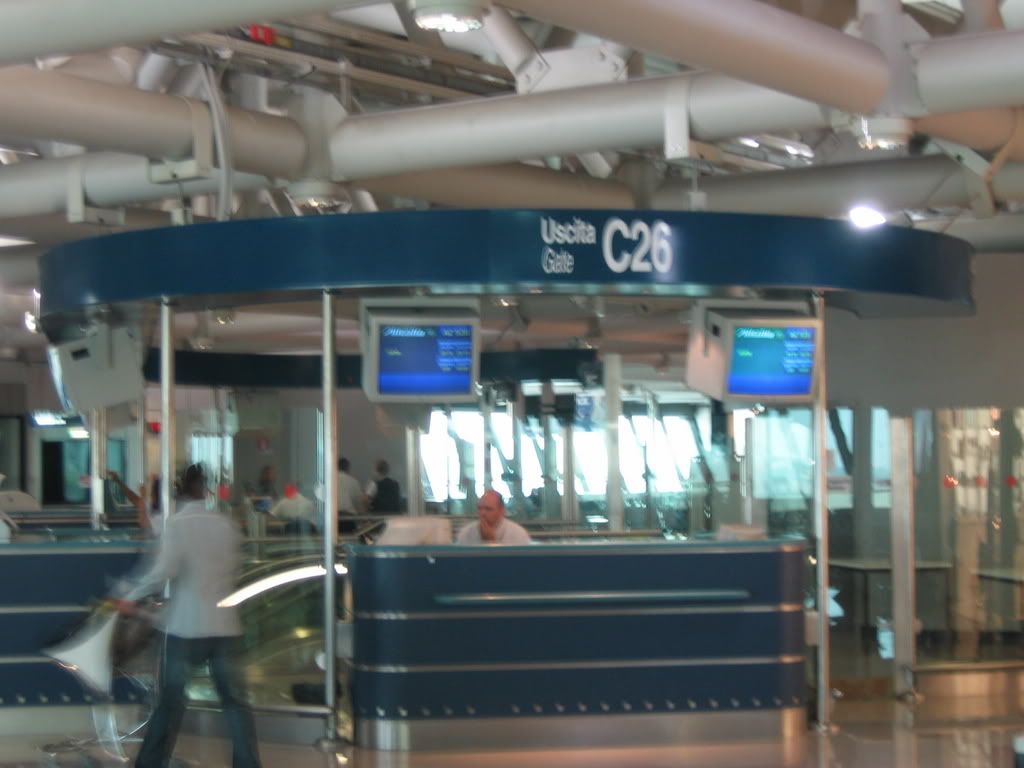 I guess I wasn't paying attention to the camera as this is a pretty blurry picture of our gate, C26.
Another look at the 767-200 set to fly to Montreal.
And one more time just for kicks!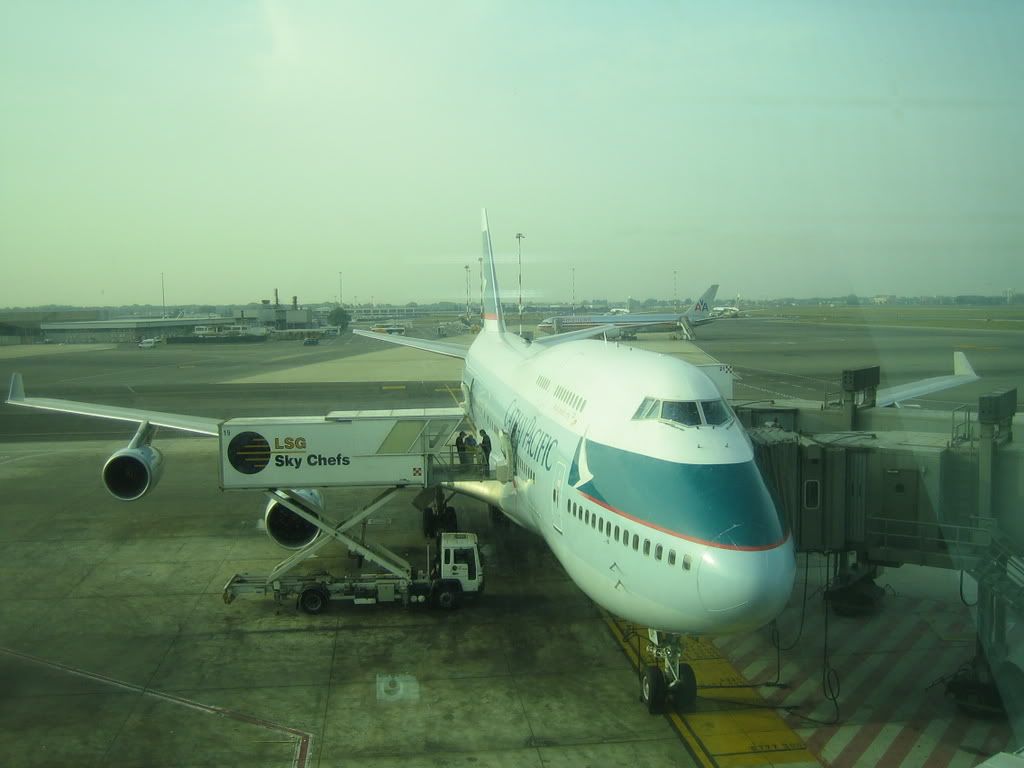 This big behemoth from Cathay Pacific just can't wait to get home to Hong Kong!
American Airlines 767, destination unknown...
The background shows an overview of the landside terminals at Rome Fiumicino.
A Delta Airlines 767, this one was headed to Cincinnati I believe.
Soon enough, boarding was called for Air Canada flight 893 with service to Montreal through gate C26. Just as quickly, around one hundred people jumped up and crowded the area to try and get on first! I sat on the waiting benches and laughed. I could never understand why people always want to get on the plane first, in order to be squeezed into a metal tube…its not like the plane is leaving without them if they are right there at the gate nearby! It took quite some time for the line to die down, and when there was not a soul left in line, my parent, brother and I got up out of our seats and leisurely made our way onto the aircraft.
I remember my exact seat for this flight, how could I forget the amazing 4A seat in premium economy? In all my life, I have never flown anything but economy class, so this was really a brand new experience for me. A nice wide seat, more legroom than in a car, and full recline with a bulkhead directly behind (no crushed passengers to worry about) made seat 4A on this 767-200 the best thing that has ever happened to me on an airplane (well, to be fair there was once this really attractive young broad of a flight attendant…but I won't go into details). Due to a couple late passengers, the entire flight ended up getting delayed nearly half an hour, but I honestly wasn't worried since I had a leisurely two hour connection time in Montreal. Soon enough anyways, the cabin doors were closed and we pushed back out of gate C26 while the flight attendants came around again with free headsets.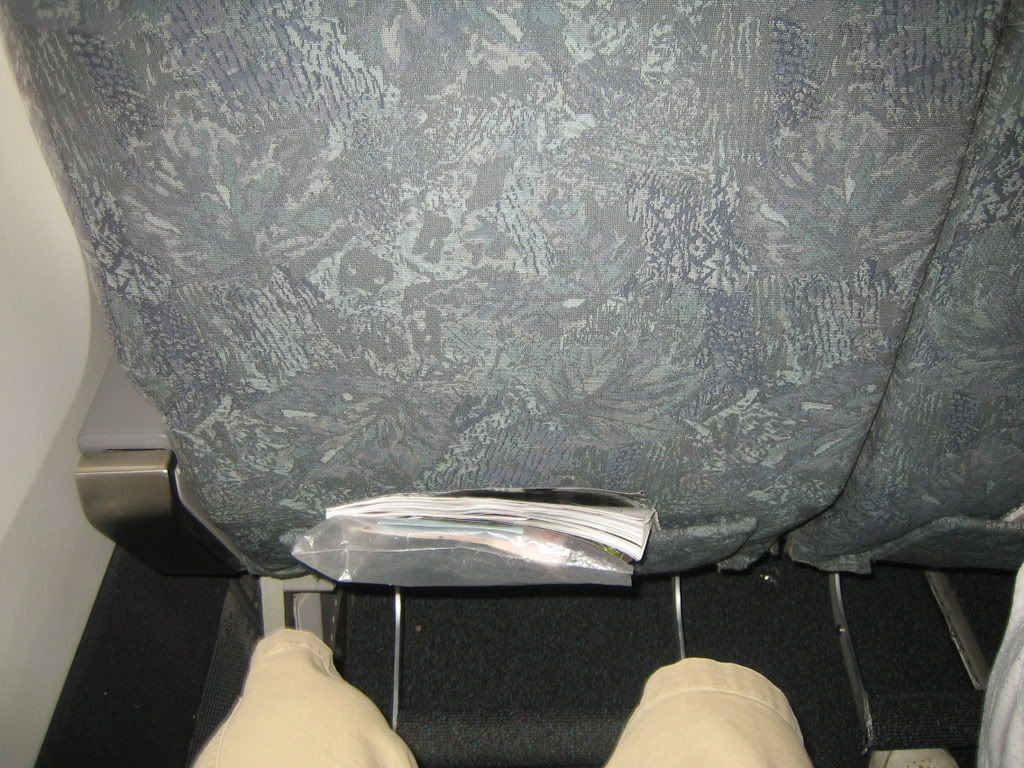 The nice wide seats and plentiful legroom offered up front in premium economy.
That opened rear door is just an accident waiting to happen...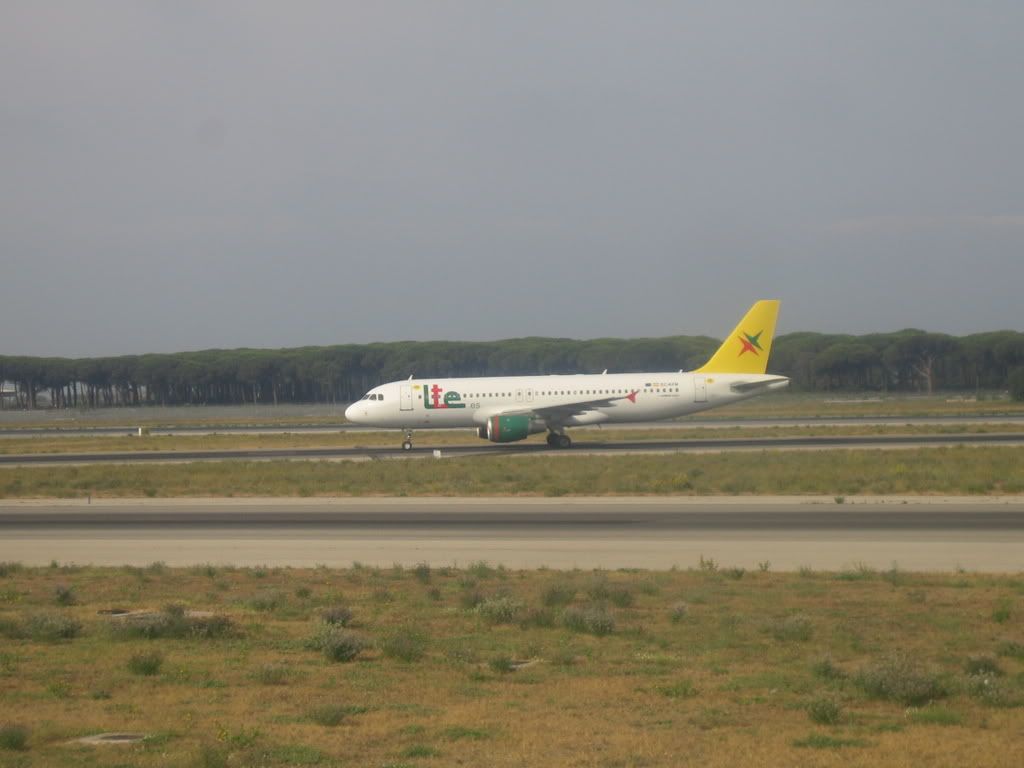 Never heard of this airline before...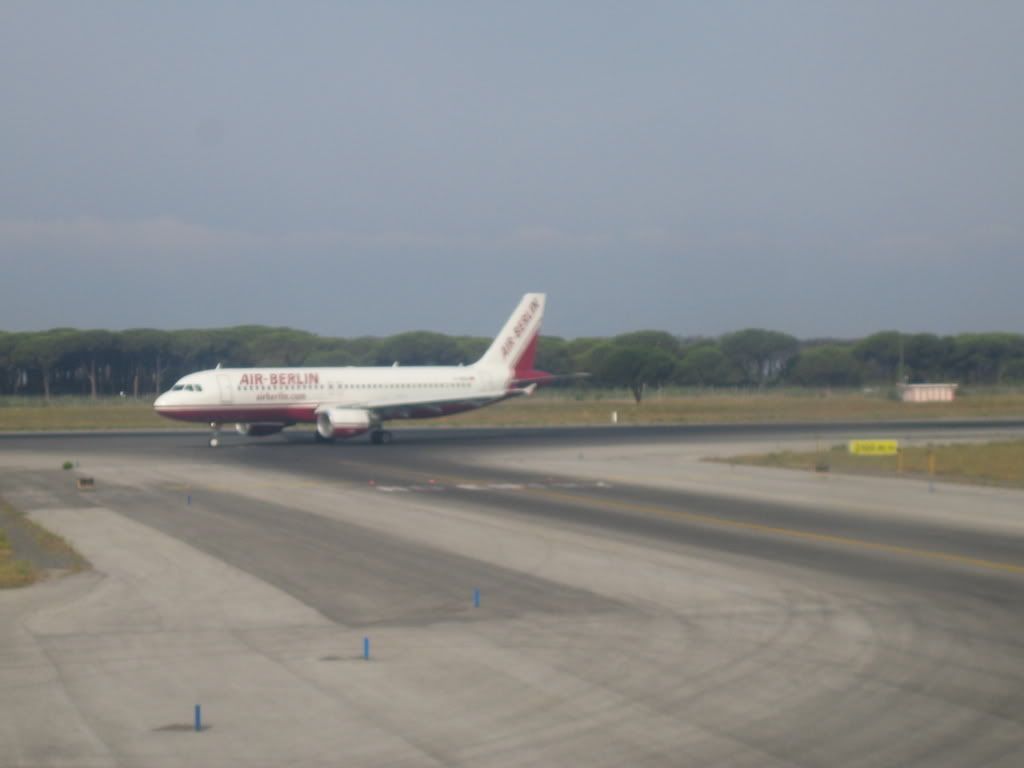 One of the major European low cost carriers, Air Berlin.
This Super 80 is just about to spool up for a rocket launch of a take-off!
It must be prime departure time in Rome around 9-10am, because we were something like 10th in line for take-off even after what seemed like a marathon of a taxi. Sitting on the tarmac for that long at least let me snap a few pictures of nearby planes! After a while of waiting, we were finally next to take-off. Our 767-200 rolled out from the holding pad onto the runway and blasted off into the bright blue sky.
We're pulling up into the holding pad directly behind this Air One CityLine CRJ.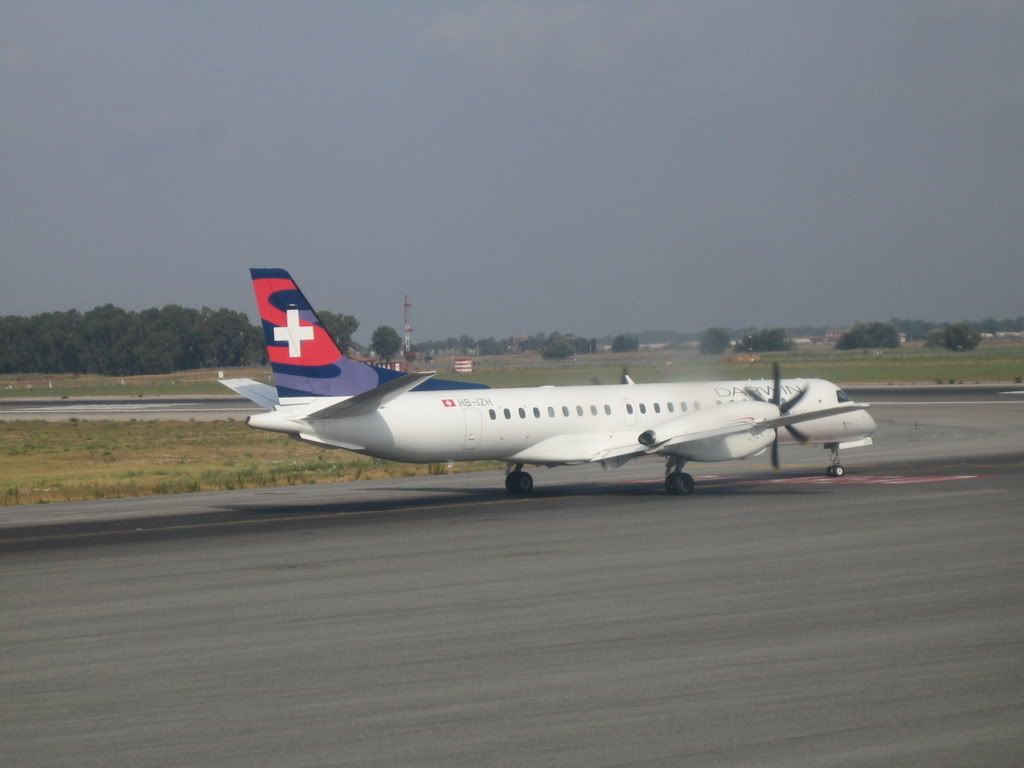 And on the adjacent holding pad, a Darwin Saab propeller plane.
On the holding pad behind the Saab was an another Alitalia Super 80.
Here's another look at that S80, with two other planes holding for take-off in the background!
Just as we're about to turn onto the runway, here's one final look at the long take-off line this bright Monday morning.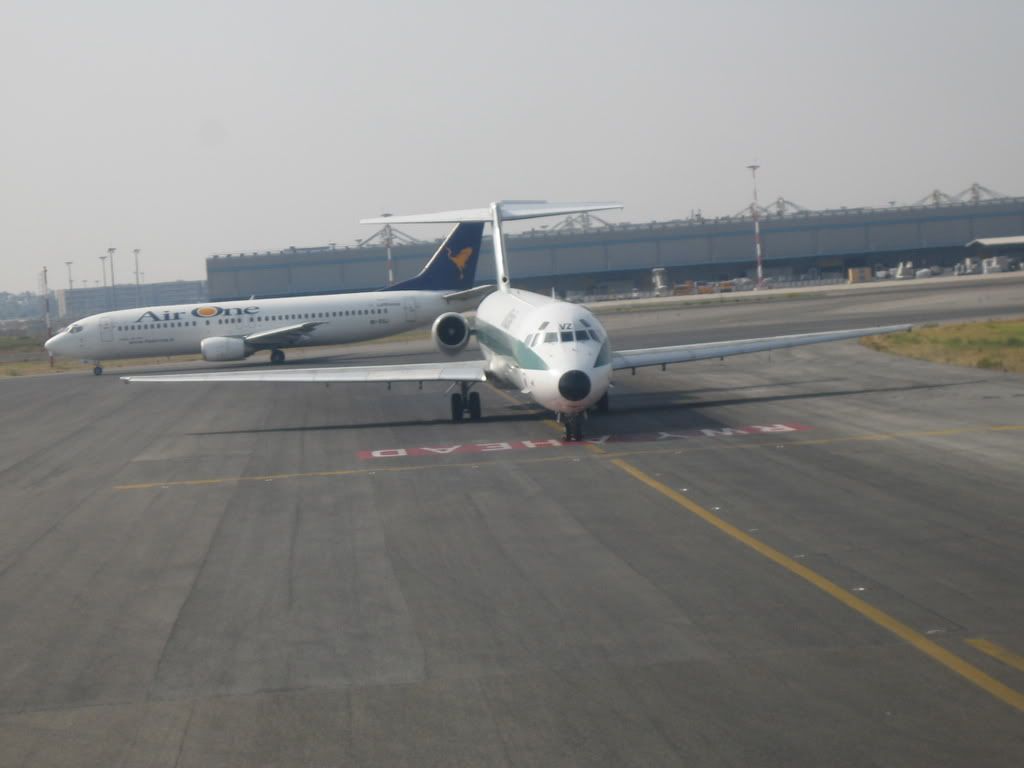 Sorry Alitalia, but we get to take-off first.
More planes waiting and some Alitalia hangars in the background as we spool up for take-off.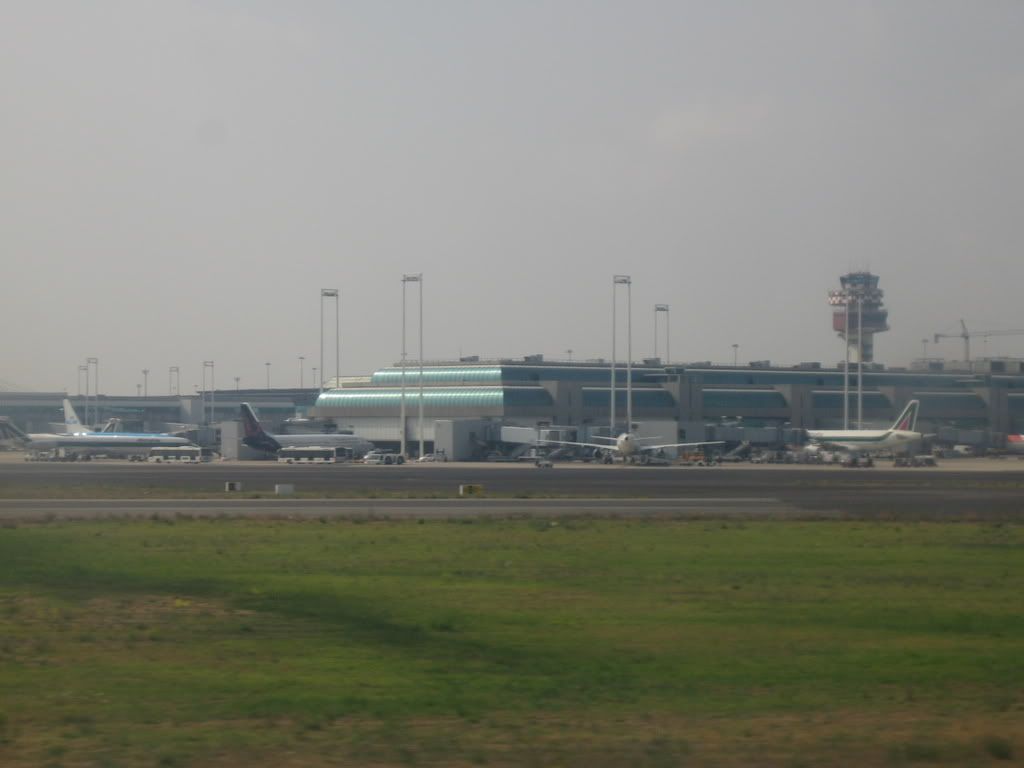 The building here is Terminal B I believe, which is used for domestic and European flights.
On rotation here's a nice little overview of the Terminal C satellite building with its many gates and widebodies.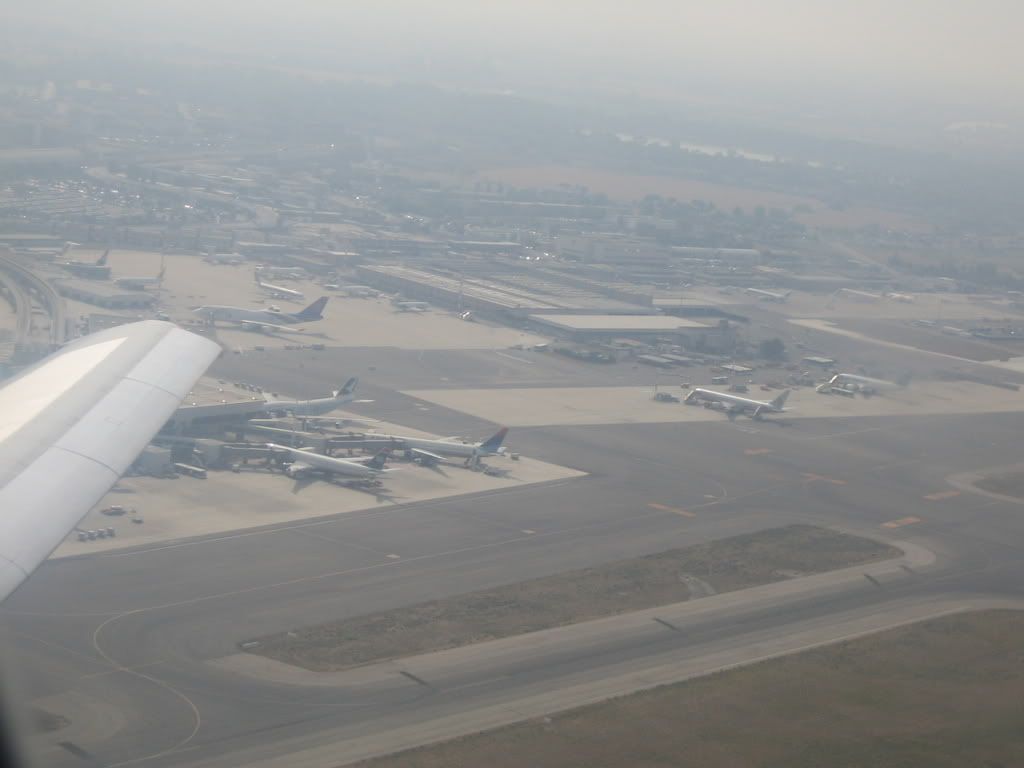 Goodbye Rome. Until next time...
Shortly after the seatbelt sign was turned off, the flight attendants began a bar and beverage service prior to serving a hot lunch. This time the choice of hot entrée was between salmon in an herb sauce and chicken in a tomato sauce. I opted for the salmon, and was not disappointed! The salmon was tender and tasty, the side vegetables were packed with their own flavours, and the potatoes were nice and firm. Just like on the way to Rome, I was very impressed with the entrée itself (other than the diminishing quantities). The meal also came with a salad (I didn't even trying it after the disappointing salad served on the way over), a bread roll (see prior comment), a miniature bottle of water (I noticed it was pure Canadian spring water…nice choice!), a small dairy milk (mmm…), and a pack of chocolate chip cookies (these were good tasting, but not soft enough in my opinion). Because I had eaten such a large breakfast and since lunch was served quite early in the flight, the entrée, cookies and mini chocolate bar were enough to fill me up at the time. One thing is that I think Air Canada should have served the lunch a little bit later (I found I got quite hungry in between lunch and snack), but it could be just personal preference. Anyways, this meal service was again rounded up with hot drinks to which I had a nice tea to wash it all down.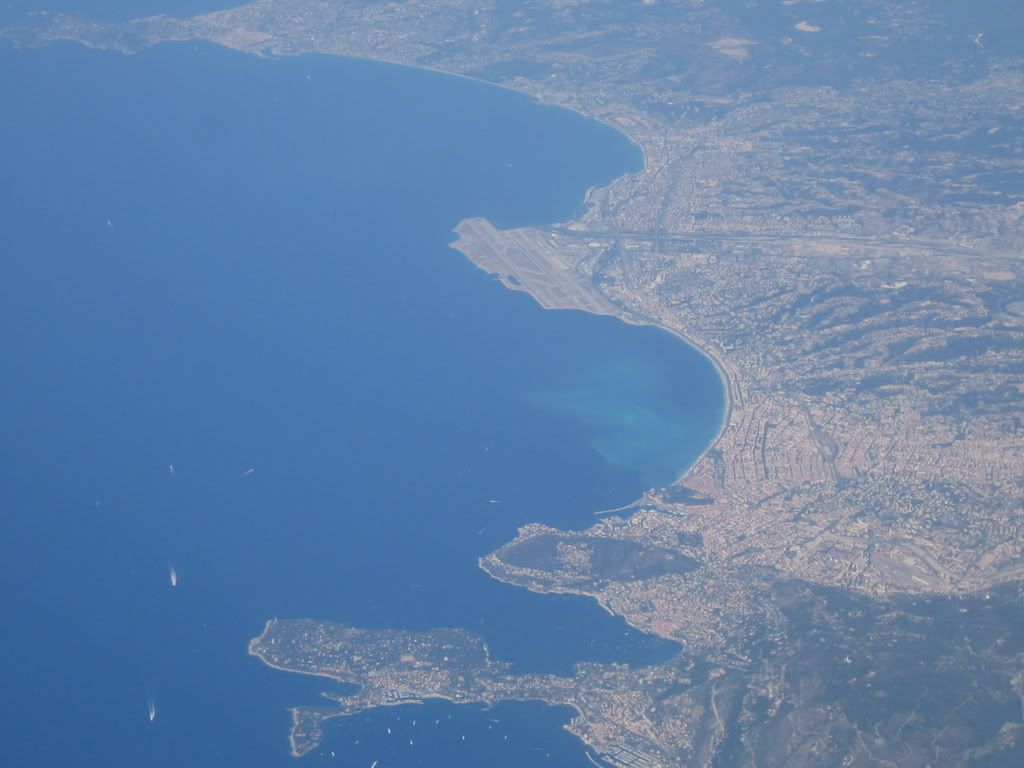 As meal service was beginning, the Captain announced that a great view of Nice, France could be seen out the left side of the aircraft. Just my luck!
For lunch I chose the salmon basted in herbs accompanied by potatoes, carrots and some type of green vegetable.
Midway through the meal, the feature movie presentation began to play on the overhead projector style monitors…it was Shooter starring Mark Wahlberg. This was great for me as I had wanted to see this movie but never got around to it. Full of action and with a pretty good storyline, I really liked the movie and would definitely watch it again. The other two movies that played during the flight were Frequency with Dennis Quaid and Are We Done Yet? starring Ice Cube, but I didn't watch the entirety of either of these two movies (I had already seen Frequency, and by the time the other movie was on I just wanted to listen to music and sleep a little). So after watching Shooter, I fully reclined the seat, stretched out my legs, plugged myself into my MP3 player and closed my eyes to get some sleep (my family had all awoken at a bright and early 5:45 in order to get to the airport on time). It's amazing how much difference 6" of legroom and some recline can do, because while I couldn't sleep at all on the way over, I slept like a baby for a few hours in this larger premium economy seat. I awoke to a midflight snack service of butterscotch ice cream. It was a good effort I suppose, but the ice cream was melted a little and thus not hard enough (it was flavourful however). I'm sure it is hard to keep stuff frozen though onboard…I don't know how the galleys work exactly. Maybe someone can elaborate? Anyways, I took another short nap and just basically relaxed listening to my music for the next couple hours until the pre-landing snack service. About an hour before arriving in Montreal, they served us hot calzones with a choice of either tomato & cheese or pepperoni flavours alongside the beverage of our choice. I went for the pepperoni calzone, which was very tasty and pretty filling for what was supposed to be a light snack. These were almost like Pizza Pockets in both flavour and filling-ness, but much less greasy.
For pre-landing snack I chose the pepperoni calzone. These were quite good!
As we soared above a cloudless sky, I gazed out the window over Eastern Canada for the final hour of the flight, and before I knew it, we were descending back into Montreal. We soon landed, and although I really enjoyed the family vacation, it would be lying to say I wasn't happy to be back home in Canada. And to think just a few more hours and I could be sitting at home, working on this trip report! As I said earlier we departed about half an hour late, and were unable to make up any of that time over the Atlantic. Thus, many people missed their connections but Air Canada was very good and booked them all on the next flights, and even announced this right before landing that they could get their new boarding passes at a special desk.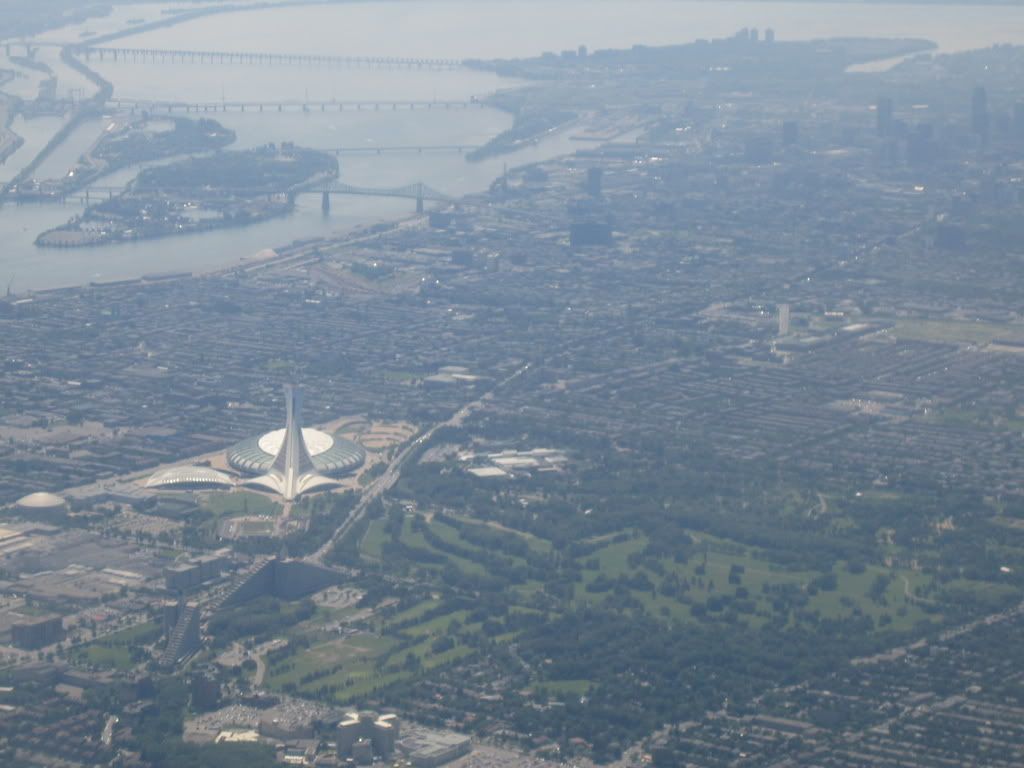 Montreal's iconic Olympic Stadium, a modern architectural masterpiece, can be seen on the left.
Another view of the Olympic Stadium complex.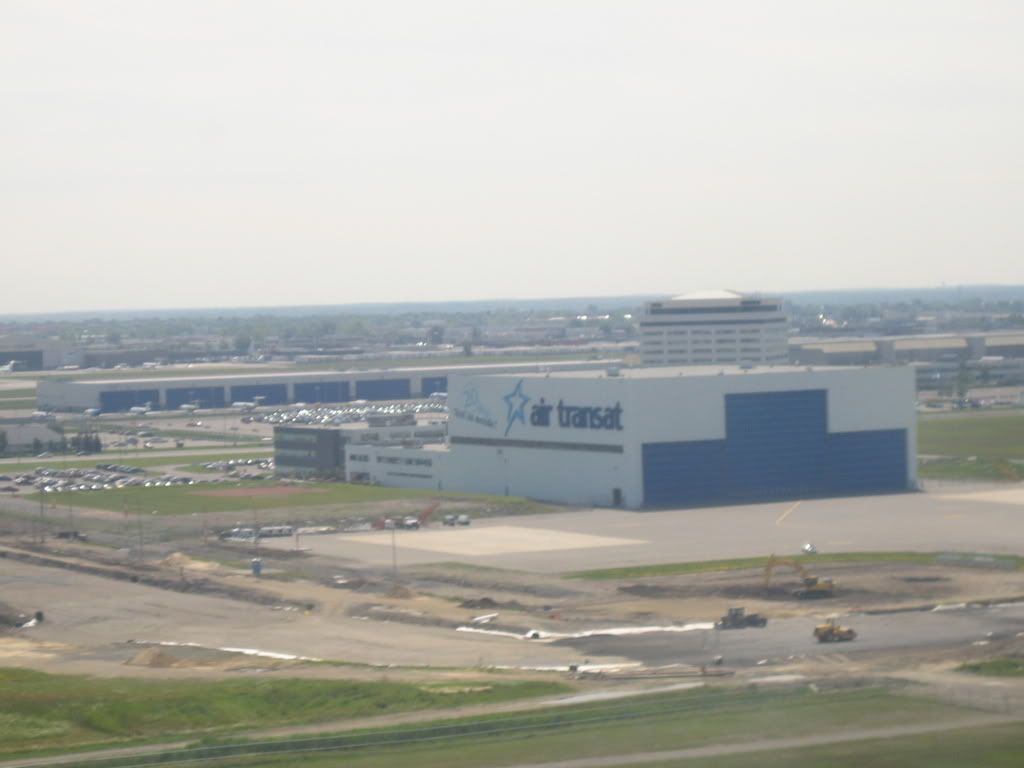 The Air Transat hangars at Montreal's Trudeau Airport.
After landing, there was a quick taxi before we pulled into a gate at the international wing of Montreal's airport. Interestingly enough, because I was near the front of the plane I was able to actually watch the jet bridge operator move the bridge into position and dock it to the aircraft. Definitely a cool thing to watch from up close! The flight attendants then opened up the cabin door, my family and I collected all our belongings, and we headed off the aircraft into the terminal building and towards Canada Customs.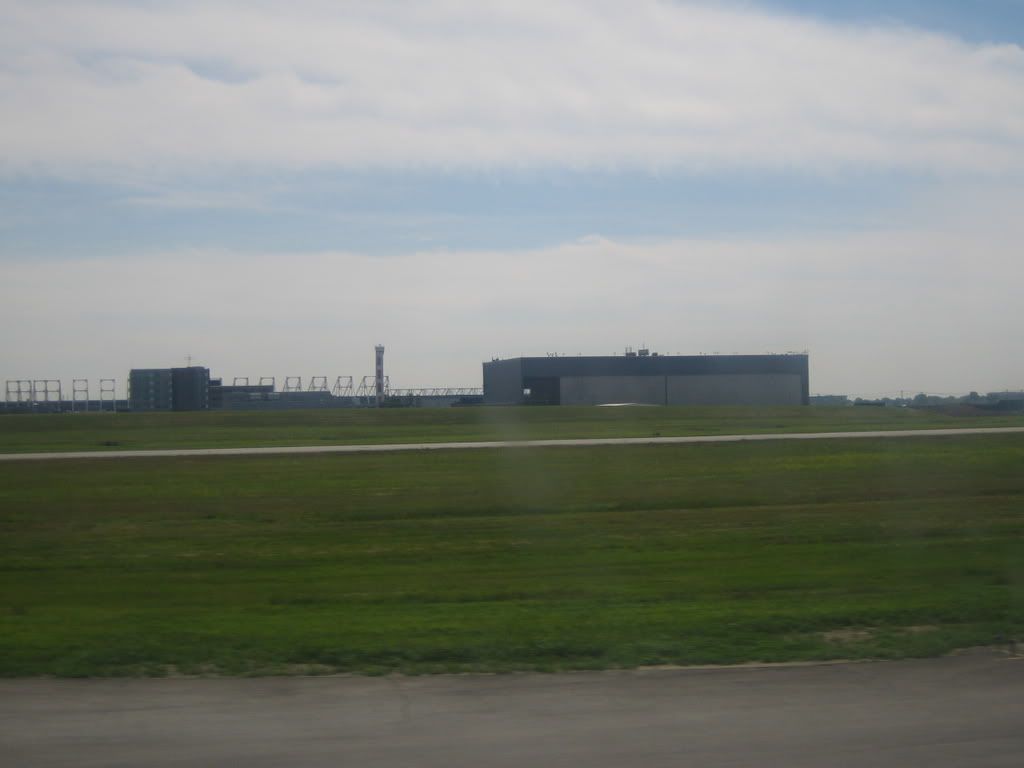 Touchdown! It felt good to be back on Canadian soil after a long three week trip.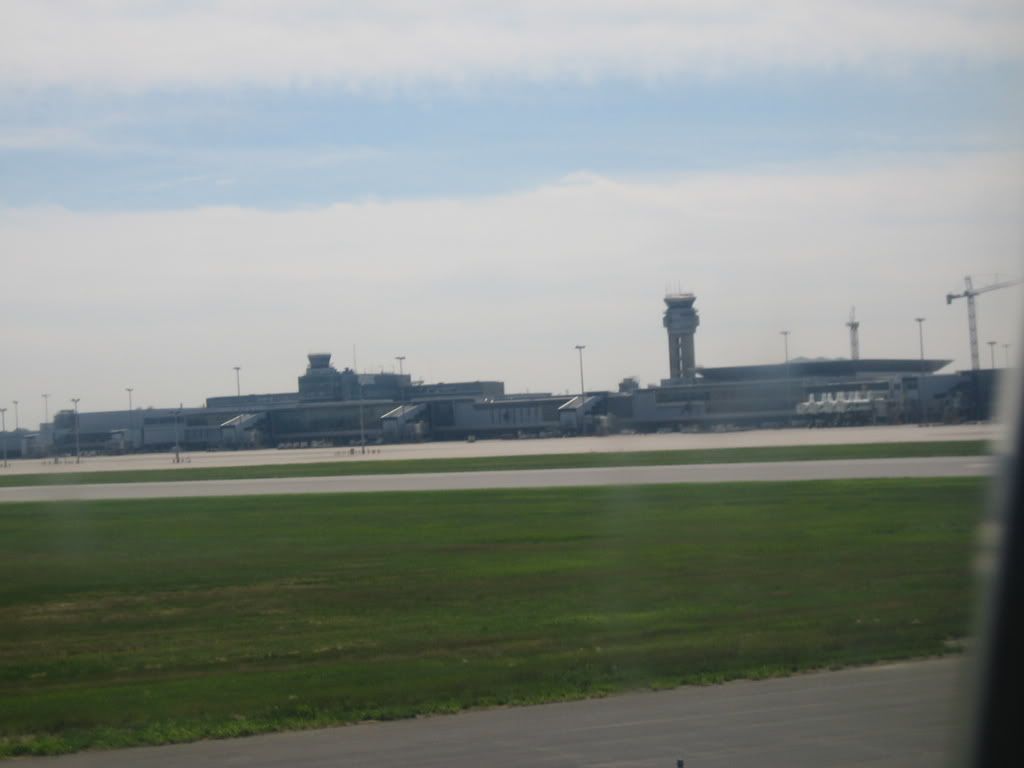 Hmm...where have I seen a picture like this before?
Take two.
Take three. Don't worry that's the last take, I promise.
The old aeroquay building in Montreal is now much smaller than it used to be.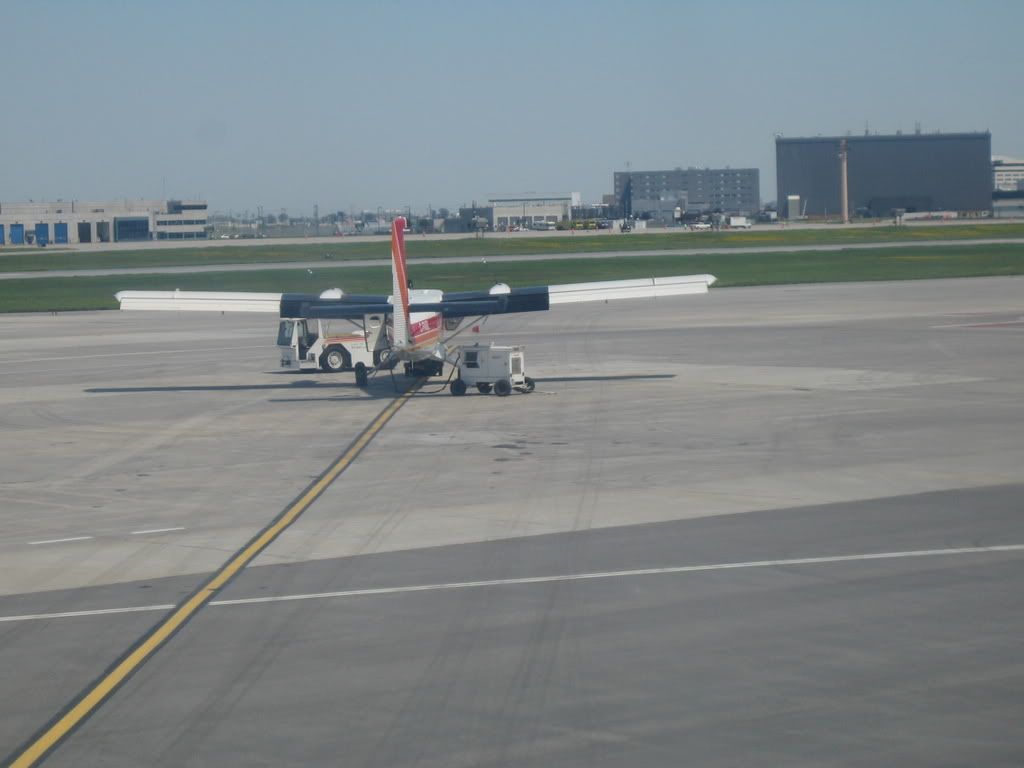 I wonder where this little guy is going.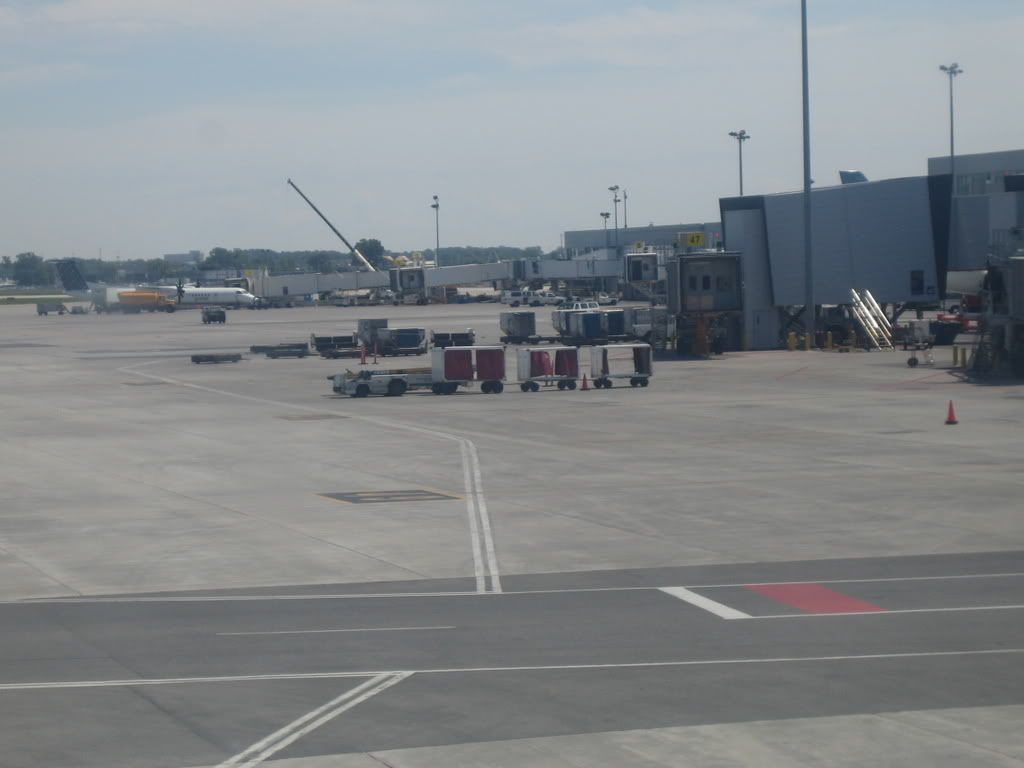 A look over at the domestic wing of Montreal's airport. Look closely and you'll see a Porter Airlines Q400 prepping to go home to City Centre.
Smile, you're on camera!
As an overview, this was a very good flight in my opinion. Sure, it's nearly all because I managed to snag the larger seats up front in premium economy, but still, I was impressed. My whole family revelled about the improved comfort, and I just hope sometime I will be able to fly a true premium economy on some other airlines (honestly, first class is great for those who can afford it but in my opinion just a little more legroom and some improved recline makes all the difference in the world). The movie selections seemed a little bit better this time around, with two pretty recent films (Shooter, Are We Done Yet?) and one good older film (Frequency). Food service was also a little bit better in my opinion, as although the lunch was similar to the dinner served on the way over, the ice cream was a nice touch and the calzone was both filling and tasty. Cabin service was about the same and the usual standard for Air Canada, with most flight attendants being pretty cheerful and friendly on the whole. I will mention however that the purser, who was serving our section of the plane and thus served me multiple times, was very friendly and gave what I thought was exceptional service during the entire flight. So overall, this flight was definitely above average for me, and probably one of the best transatlantic experiences I have ever had (which when I think about it isn't that difficult as I've only ever flown Air Canada and Air Transat to Europe).
Return Journey Second Leg
Date: July 23, 2007
Flight: Air Canada AC415
Departure: 14:10 (late)
Arrival: 15:20 (on time)
Route: Montreal Trudeau YUL to Toronto Pearson YYZ
Aircraft: Boeing 767-200
After arriving at Canada Customs, we were impressed to notice a shorter express lane for connecting passengers, which was nice since the regular line was really long! A few quick questions yielded us a stamp of K10, a passing grade apparently, on our declaration card. We headed downstairs to the baggage claim, where things went downhill slightly. For some reason, our entire flight took a really long time to get bags onto the claim, as it was easily 45 minutes after arrival at the airport when the first bags came down the carousel. Soon after, my family picked up our three bags and proceeded to exit the customs area. Just like the agent in Rome had said, there was a connections desk right outside customs, where we proceeded to get our new baggage tags and boarding passes. The combination of late arrival and slow baggage delivery meant we had a mere half hour to make the connection, which was to my surprise, 'plenty of time' according to the agent serving us at the connections desk! She obviously wasn't lying, because within minutes we had dropped off our bags, cleared security, and made it to the boarding gate before final boarding was even called. It is truly amazing how short the queues can be on some of the slower days at these large airports. Anyways, we got to the gate and I realized that we were on the exact same 767-200 heading back to Toronto. I crossed my fingers and hoped that they had time to clean the plane!
We took our seats on one of the few *gasp* FULL Rapidair flights I've ever seen, and before long we were ready for departure. Sorry, no pictures for this leg of the trip as I was still pretty tired and had a slight headache from the transatlantic journey. I'll keep this part short and sweet, as it was pretty similar to the Rapidair flight on my outbound journey. Flight attendants came around once offering beverages, but to my surprise no snack pack this time despite them being right on top of the galley cart. As usual there were all the main newspapers available and a small selection of monthly magazines too for those who wanted them. Pretty soon we were descending into Toronto, and I was actually able to identify many local attractions from my window seat on the right side of the plane. I saw the world famous CN Tower, everyone's favourite Canada's Wonderland, and the teenagers' choice Vaughn Mills Mall to name a few. Our 767-200 circled around the airport once before landing and taxiing into one of the gates on the connector hall between Piers D and E. My family and I disembarked the aircraft, collected our luggage, and exited security to meet my awaiting grandfather. From there, we walked over to the parking garage, piled into his car, and headed home.
The sole picture for this leg. They were selling this service in Rome called Secure Wrap. For ONLY 7Euros they will wrap your luggage in yellow plastic! Apparently someone was dumb enough to take their offer...
As a final wrap up, this vacation was pretty good overall. Italy was nice and quite interesting, but a little too hot for my liking…personally I prefer travelling to Germany a little bit more! The flights were definitely a great deal price wise, and as such it isn't right for me to criticise anyways. However, no criticism necessary since all four legs were acceptable (in fact the return flight from Rome was much above satisfactory!). My only complaint is that the 767s really are starting to show their age, but as Air Canada has publicly stated, it is only a matter of time before they get either overhauled or sent to the scrap heap. As usual, I'd gladly fly Air Canada again if the price and time is right, and I'm quite sure the rest of my family shares the same sentiment.
Here ends my journey to Italy for summer vacation 07, I hope you have enjoyed my trip report!