My Boeing 737-500 smoothly glided down onto runway 4L shortly after noon on a rather warm summer day. As we taxied to our assigned gate located in Terminal 4, a white gleaming Air France 777 caught my eye in the distance. At that moment I realized my latest Trans Atlantic adventure was about to begin and I could not wait to get off this blue and gold baby Boeing and board its bigger red, white and blue brother, the best place on earth according to Air France.

Air France 023
New York (JFK) – Paris (CDG)
Boeing 777-200ER (F-GSPI)
Seat: 4A
Scheduled Departure Time: 17:00
Actual Departure Time: 17:20 (Actual take off 18:50)
Scheduled Arrival Time: 06:00
Actual Arrival Time: 7:10
Check In:
At around 12:50 I exited the Air Train and was greeted by the glass and steel structure that is Terminal 1 at JFK. The terminal looked as immaculate now as it did seven months ago after my arrival from Seoul. After glancing around, I headed to the Air France counters which were still closed. Therefore, I impatiently stood in line of eight people. Then at 1pm, personnel in the classic blue and white uniform of Air France appeared. A gorgeous young woman came over to us in line and said, "Only if you are flying business class can you be in this line." A loud collective groan was heard and within an instant I became the second person in line. I started talking to the gentleman in front of me who was heading to Greece. This was his first time flying Air France as his normal airline (Delta) was full. I laughed and told him, "Air France is a very different flying experience from Delta." He laughed and said, "If it is anything like my last KLM experience, I can't wait." I almost warned the man but decided to let him make up his own mind about Air France.
The lone agent proceeded to check the gentleman in first which took a total of three minutes. When it became my turn, I was greeted with a smile and a "bonjour monsieur." After my passport and e-ticket were handed over I was handed two boarding passes and the standard CDG transfer booklet. "Monsieur, you are checked straight through to Bombay. You will arrive in Terminal 2E and your flight to Bombay leaves from 2E as well. The lounge here is located towards the right hand side behind security, between gates 1 and 2. Boarding begins at 4:15. Thank you for flying Air France, bon voyage."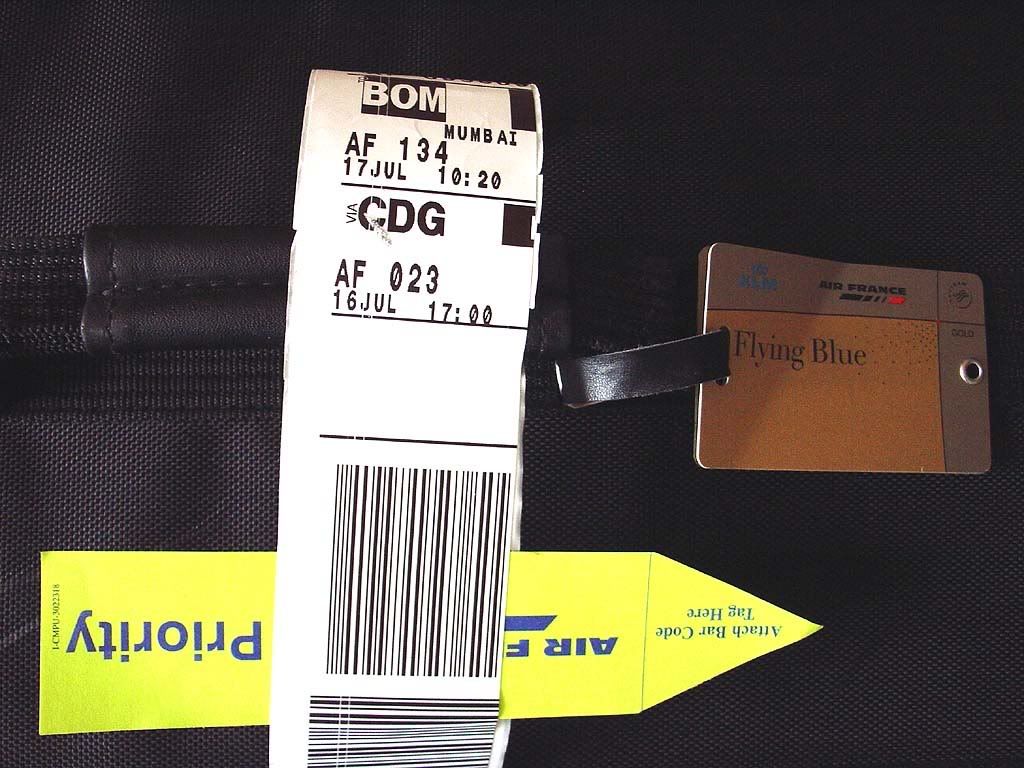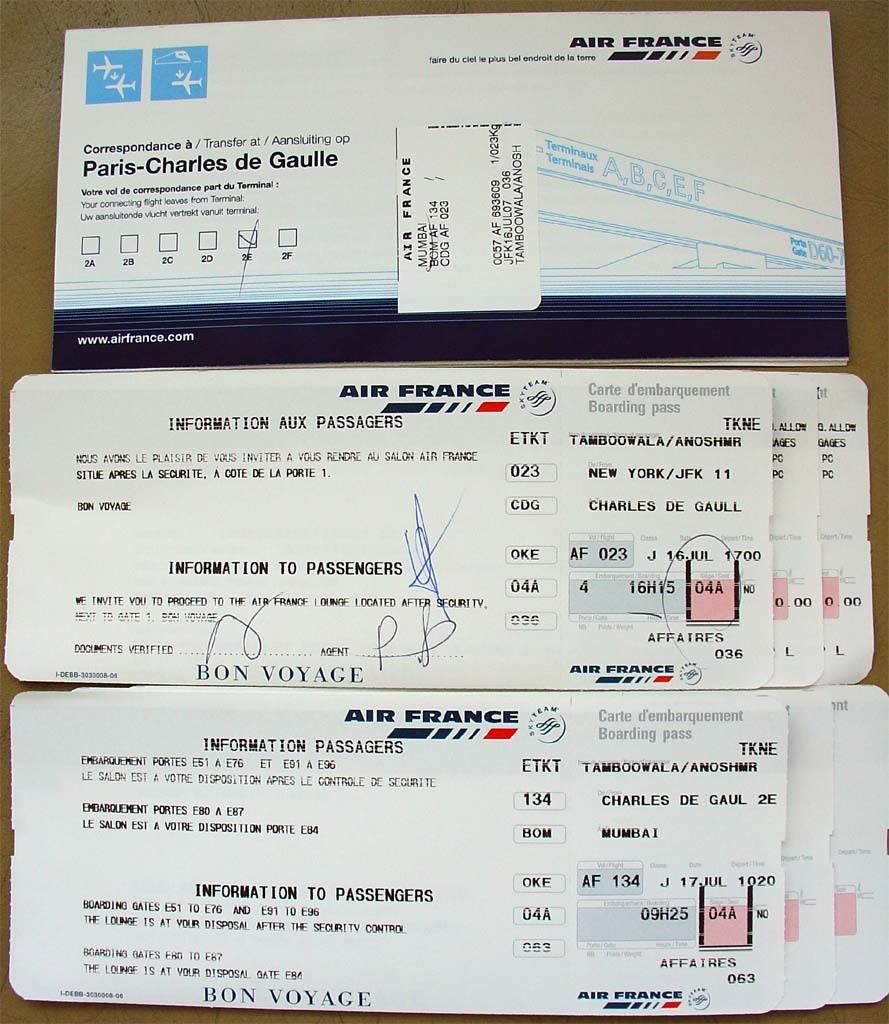 With paperwork in hand, I headed towards security which was rather deserted at this hour. After clearing, I made my way towards the Air France Salon which was located next to gate 1.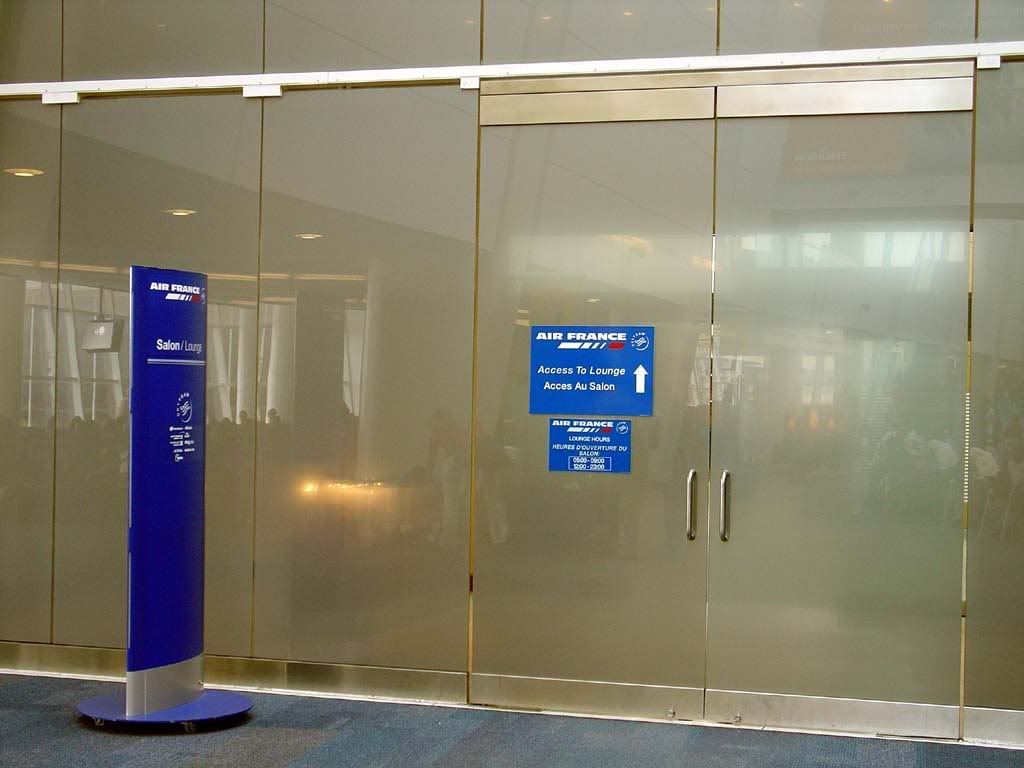 Lounge:
Upon entering, I was greeted by a friendly agent
"Welcome sir, please make yourself comfortable."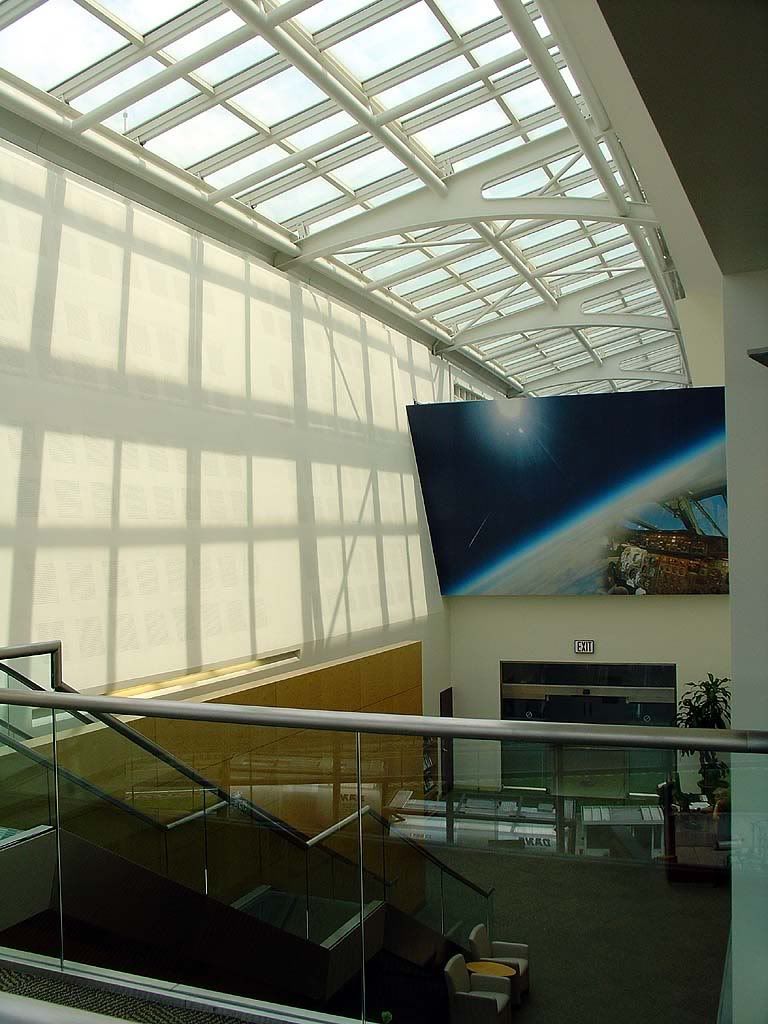 The downstairs part of the lounge looked rather crowded so I rode the escalator to the top floor which seemed deserted. However, just after sitting in front of one of the Mac PC's, the agent came walking over to me,
"Excuse me sir, Aeromexico passengers do not have access to the top floor."
I gave her a perplexed look and she gave me an equally perplexed look as I pulled out my Air France boarding pass.
"Oh you're an Air France passenger! I don't know why I thought you were Aeromexico. Disregard everything I just said, enjoy your stay."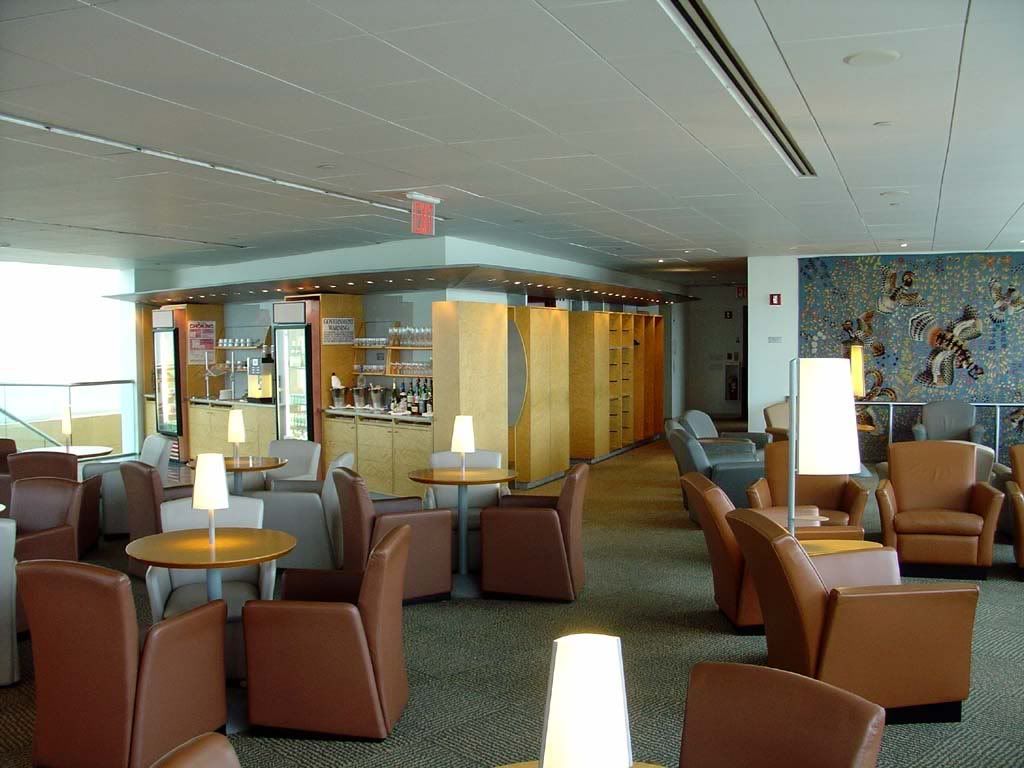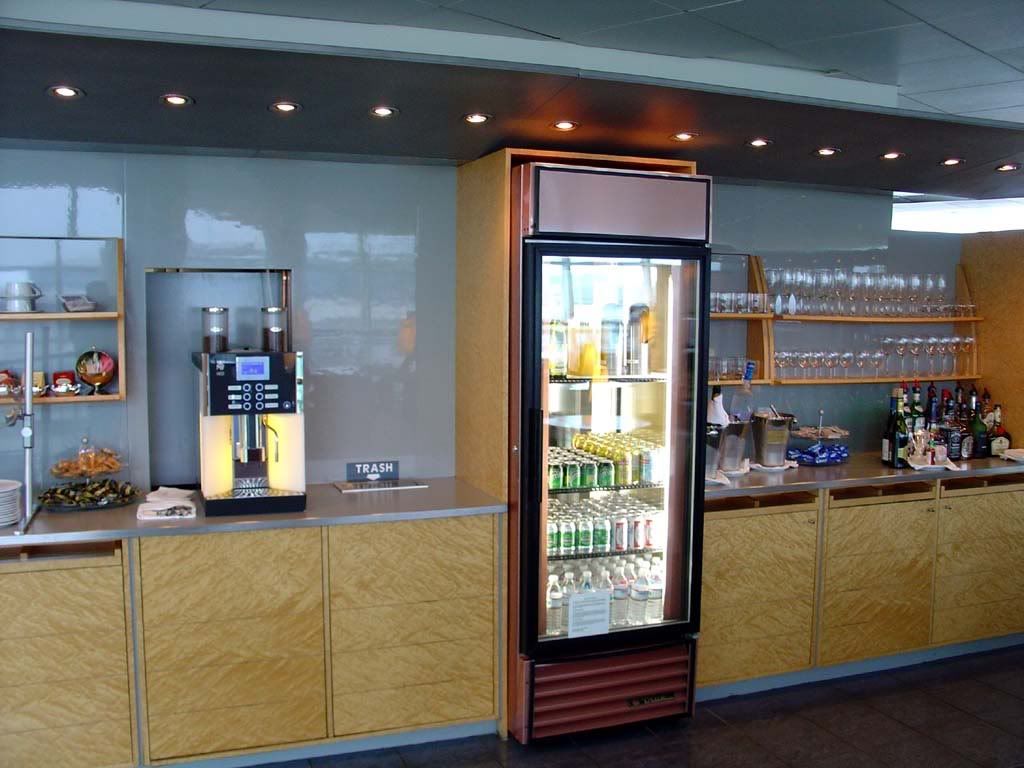 I sat down at the corner with a can of Diet Coke and commenced the traditional good bye phone calls. Around 3:30pm as I was finishing up my last phone call, I felt hungry so I grabbed a bottle of water and turkey sandwich. Sadly, the sandwich turned out to be a little dry and tasteless.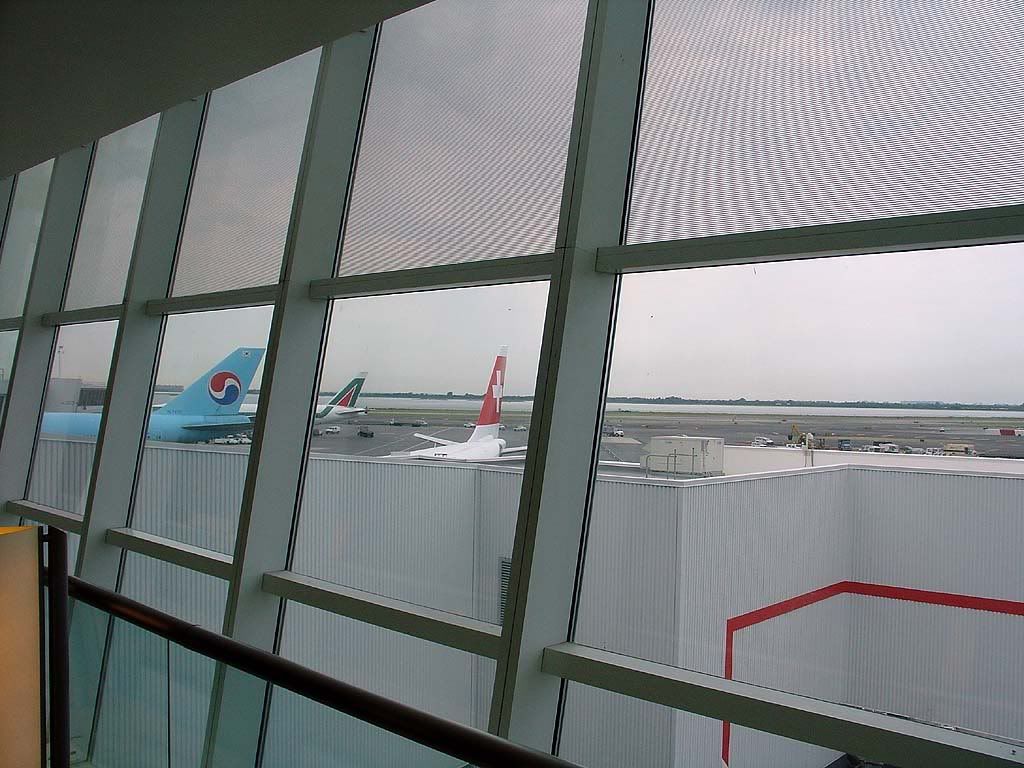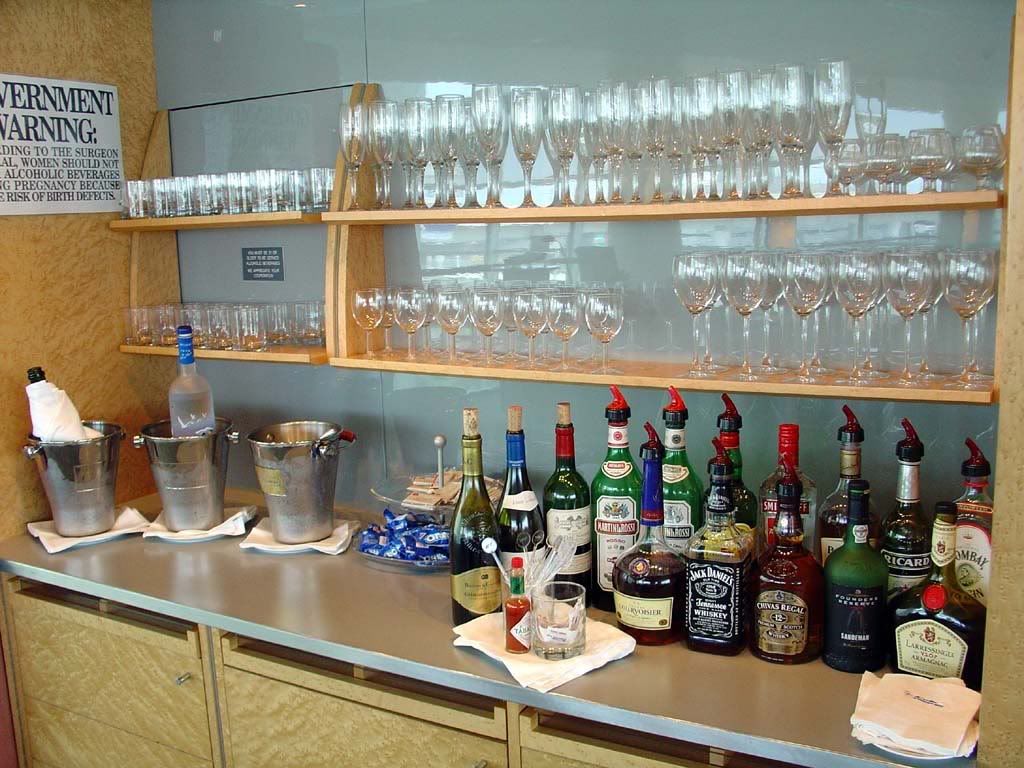 Shortly after 16:00 I decided to head out to the gate area. The terminal was pretty busy at this point with a Lufthansa 747-400 and an Air China 747-400 boarding. I passed by an Austrian Star Alliance 767 as well as an Olympic A340. The amount of variety JFK offers never ceases to amaze me as it reminds me why I enjoy watching aircraft.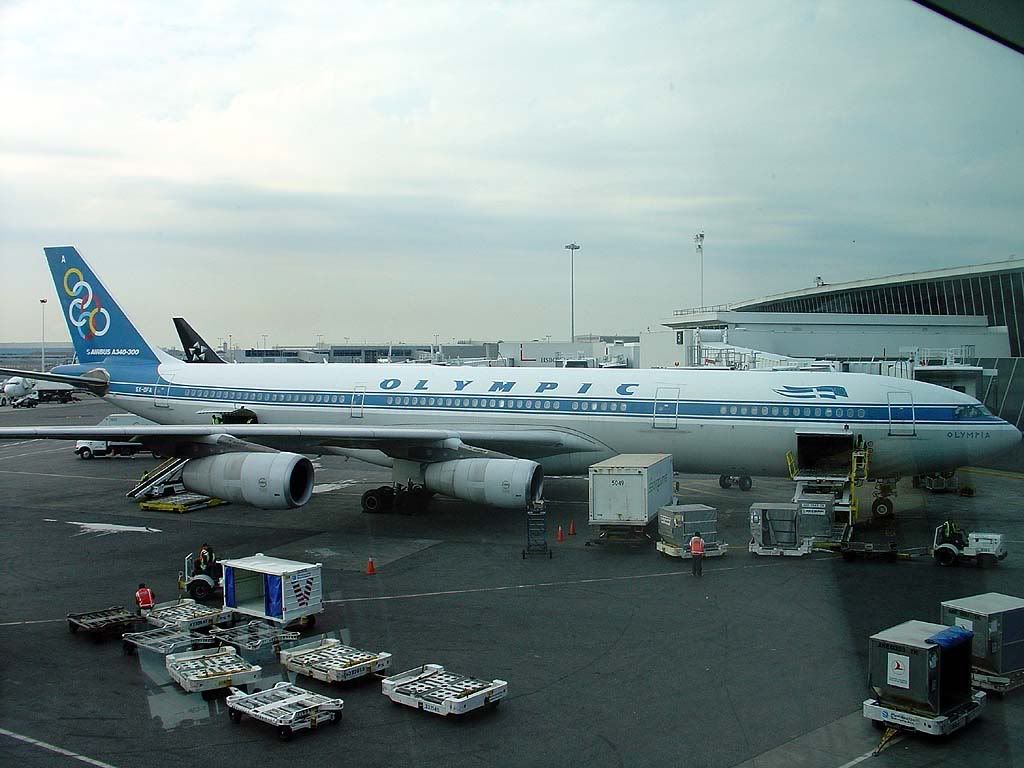 As boarding was about to commence, I leisurely walked over to Gate 4 where the Boeing 777 was sitting just as it had been hours ago when I landed.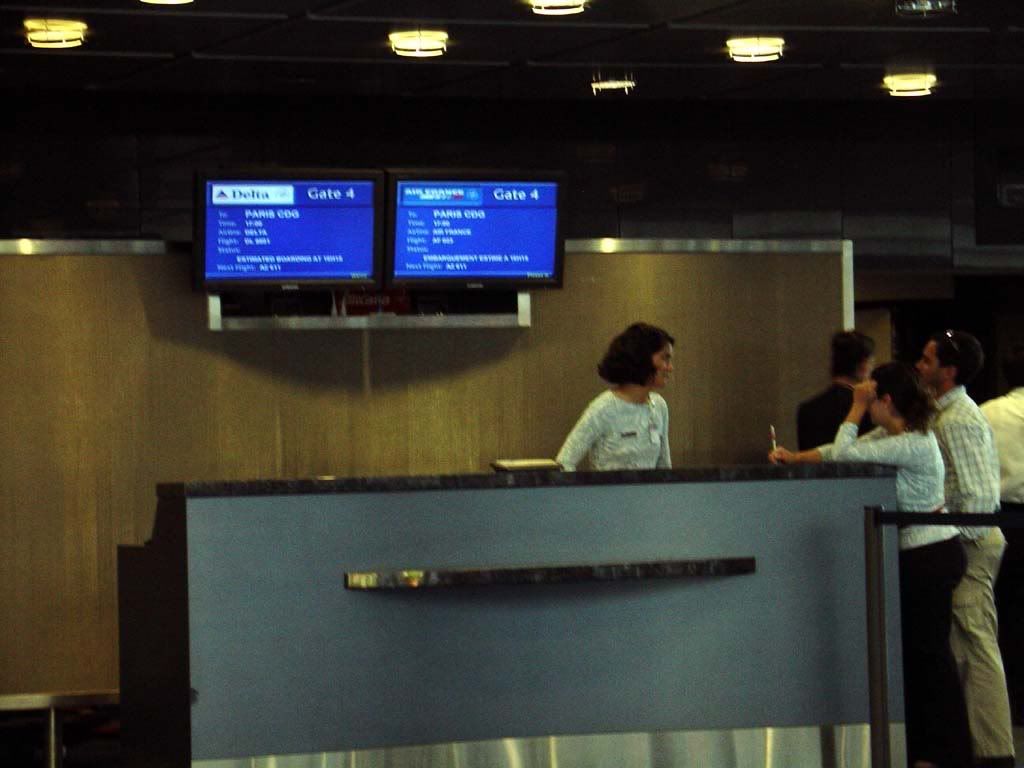 Boarding:
At exactly 16:20, boarding commenced with First and Business Class passengers. Upon entering the aircraft, I was welcomed with a "Bonjour Mousier" and I was pointed left where I was greeted by another female flight attendant. The usual blanket, pillow and coat hangar were awaiting me on the seat. After confirming I had nothing to hang, the coat hangar was taken away. I settled into the seat and found a bottle of water and amenity kit had placed in their respective pockets.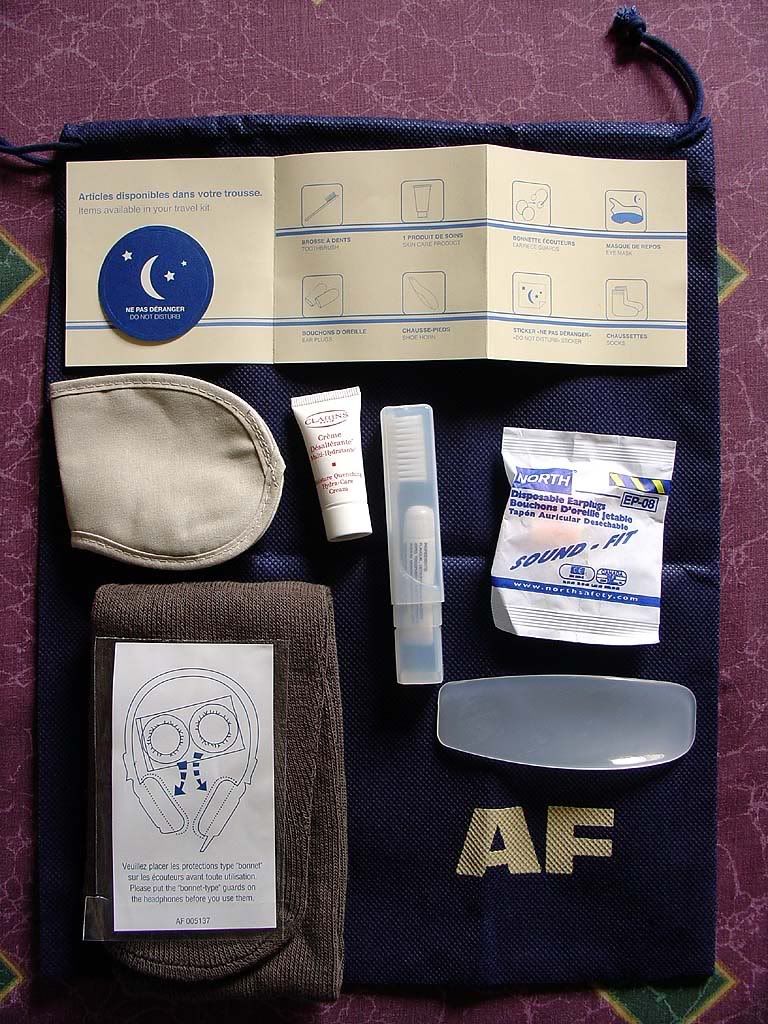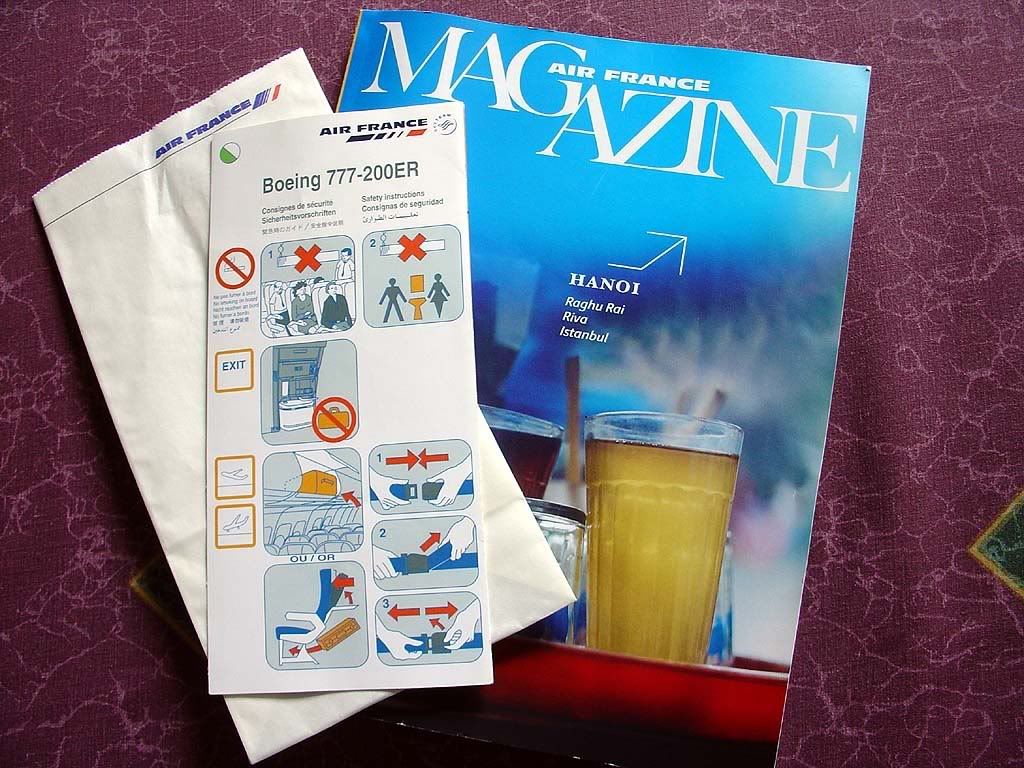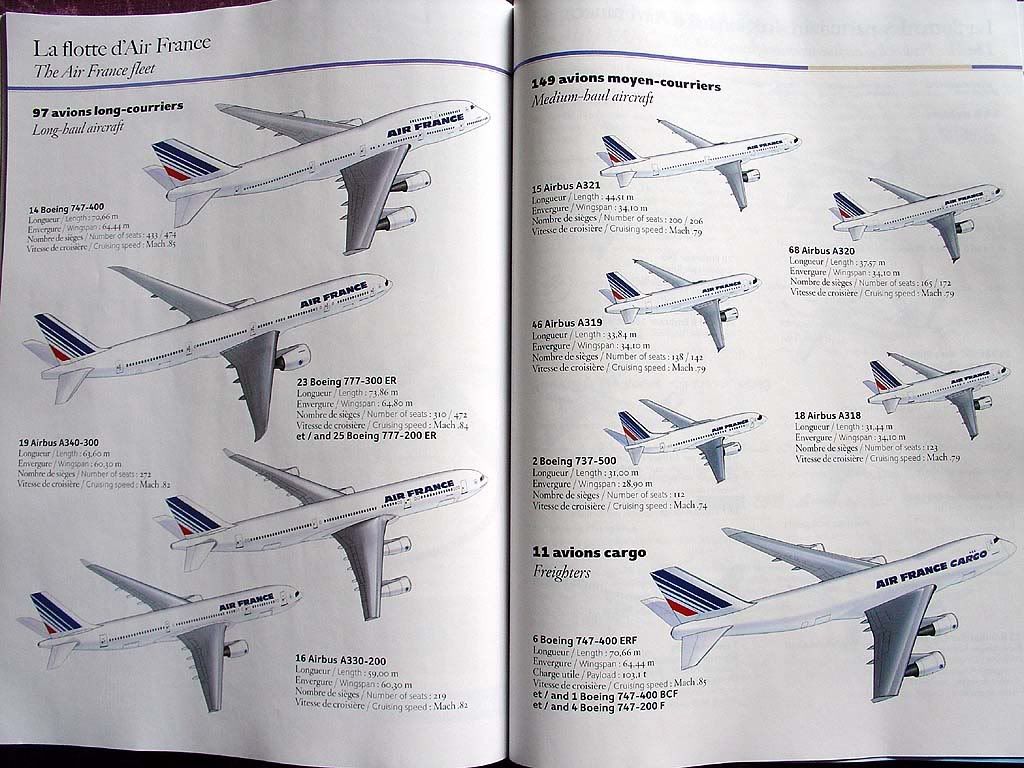 The seat had a little more padding this time compared to the seats I sat in in December, leading me t believe these are the updated versions. However, they did not make much of a difference. As the cabin started filling up, I noticed there were a number of cabin attendants on hand assisting passengers with bags while hanging coats. Shortly thereafter, a tray of orange juice and champagne was brought around. Not being a fan of champagne, I selected the orange juice.
By this point, even though 1700 passed, the boarding door was still open. Five minutes later the captain came on the P/A and made the following announcement.
"Ladies and gentlemen, we are waiting for some last minute cargo to be loaded before we can begin our push back. However, there is going to be a sufficient delay due to traffic congestion today and we estimate that to be at least an hour."
The cabin door was closed and we waited till around 5:20pm to be pushed back with the Air France safety demo playing.
A few minutes, later the captain came on once again to inform us there were "roughly 50 planes ahead of us" so we should sit back and relax.
As the delay looked long, the flight attendants came around and asked everyone what they would like to drink as an aperitif. A Sprite was delivered to me shortly thereafter by a smiling flight attendant with a packet of "mini crepes filled with cheddar." My "merci" was met with a smile and a gracious "you are welcome monsieur."
Around 1800 our engines were finally turned on and we began a slow and steady crawl towards the runway. During the taxi I was disappointed to find out the 772's on Air France do not have the nose camera like their 332's and 77W's.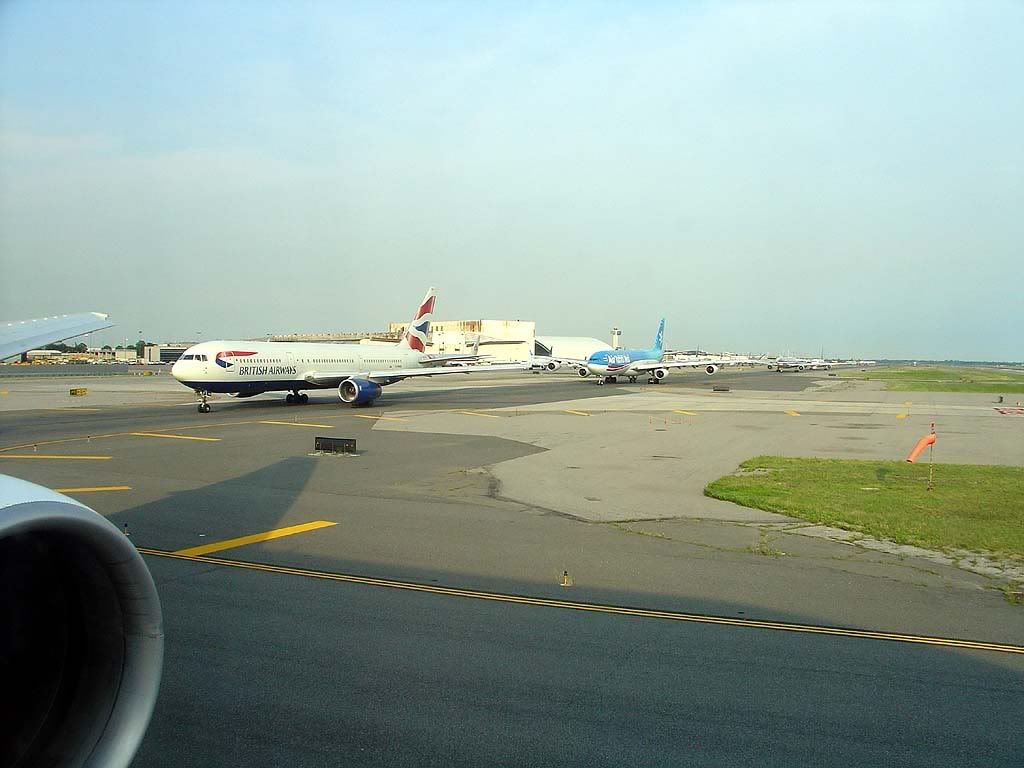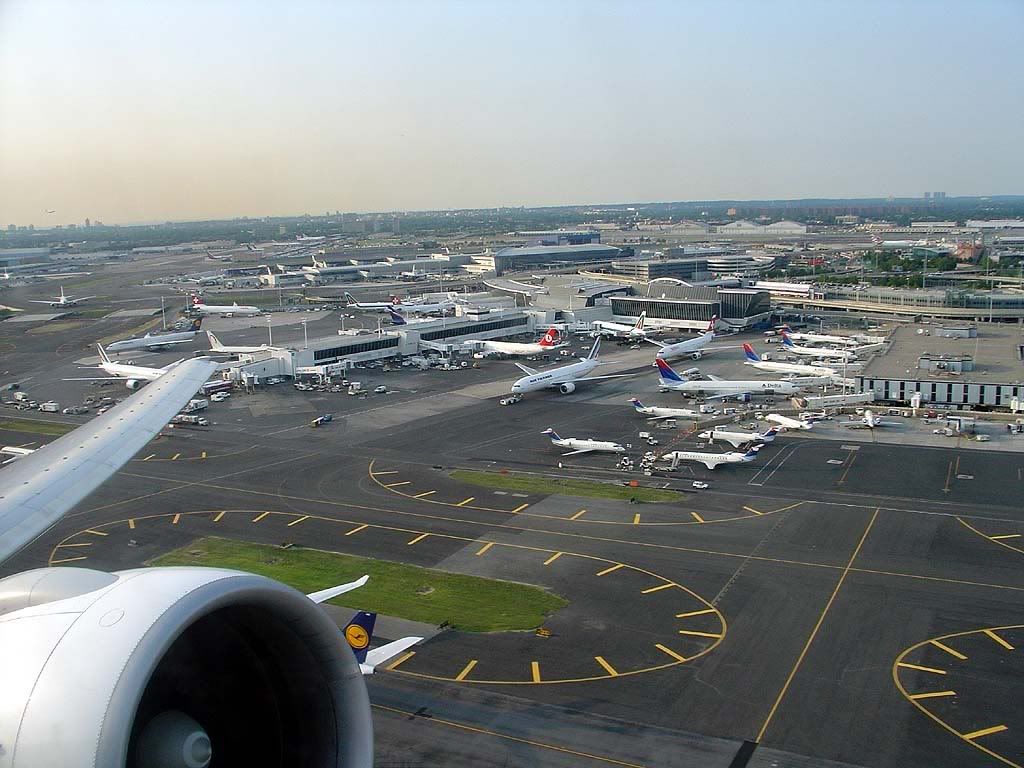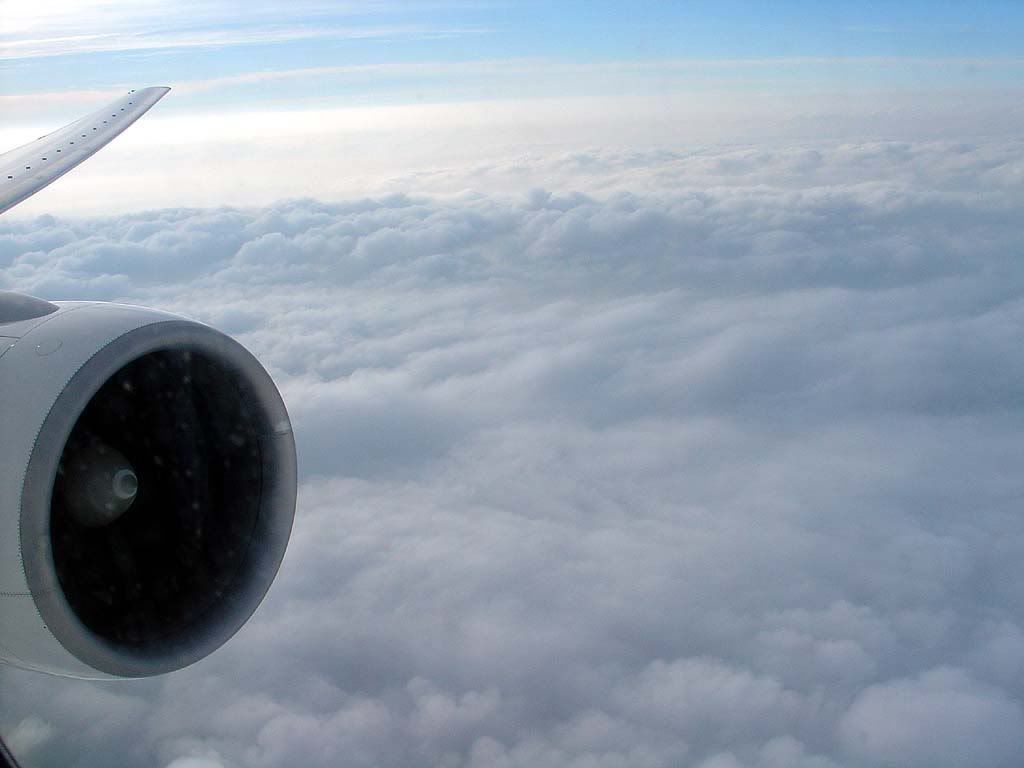 The Flight:
Once airborne the IFE was turned on and I settled in on the short features channel which was not on demand but playing the following shows:
The Simpsons
Numb3rs
Friends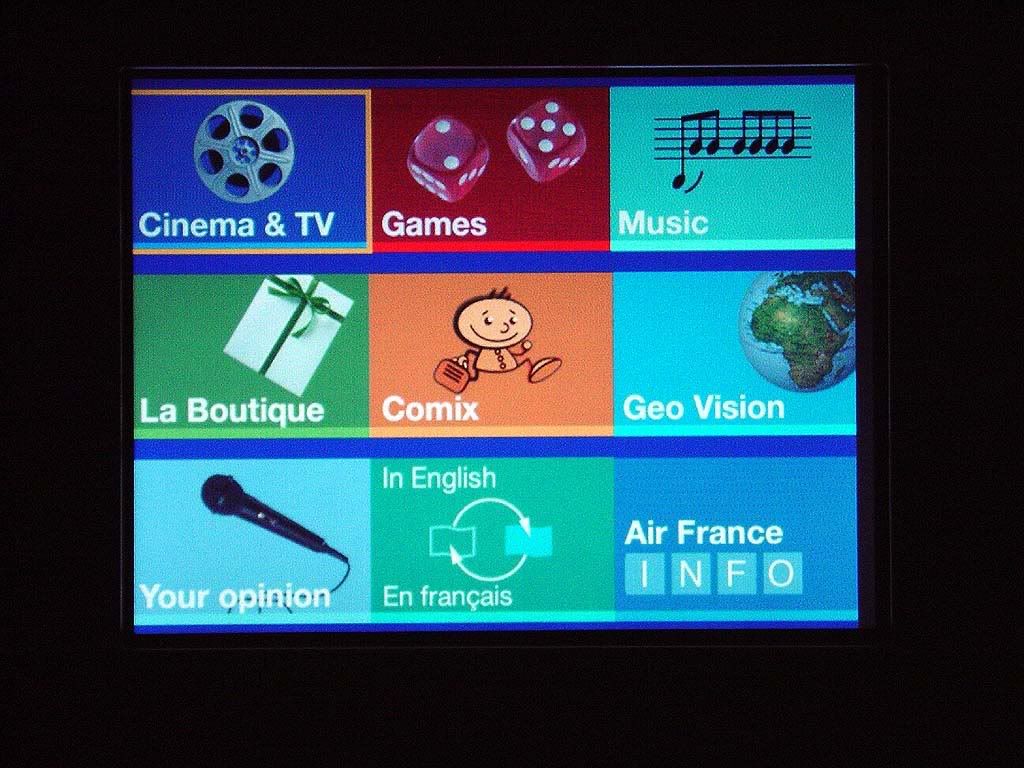 Menus were handed out and as the aperitifs had been served on the ground, the cabin crew started immediately with the dinner service.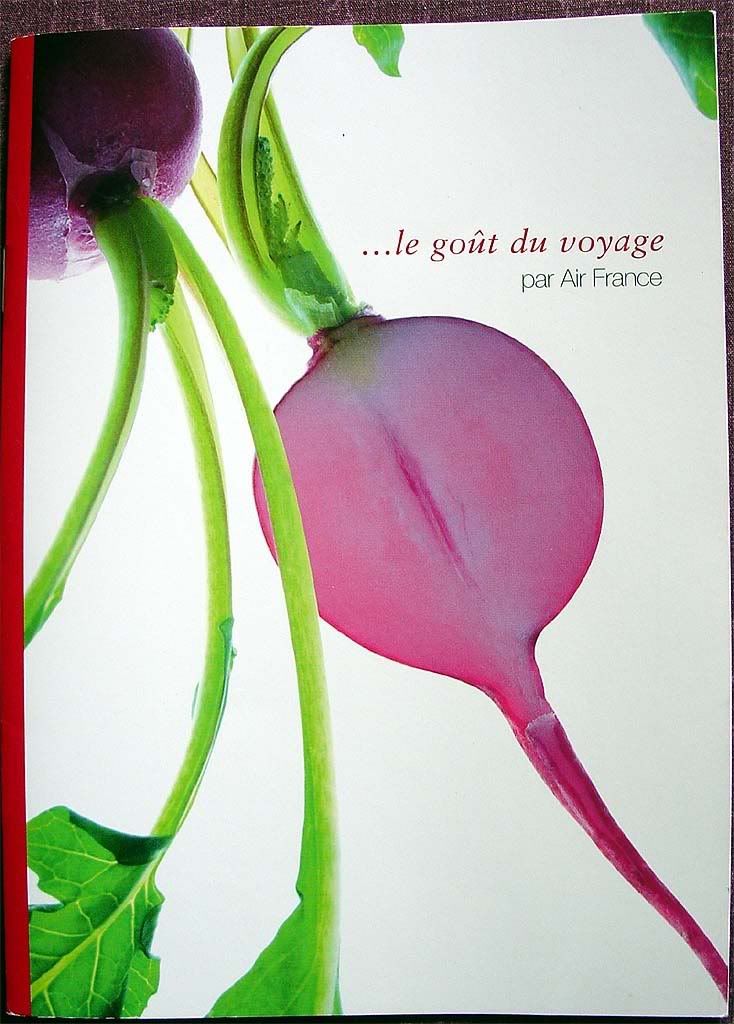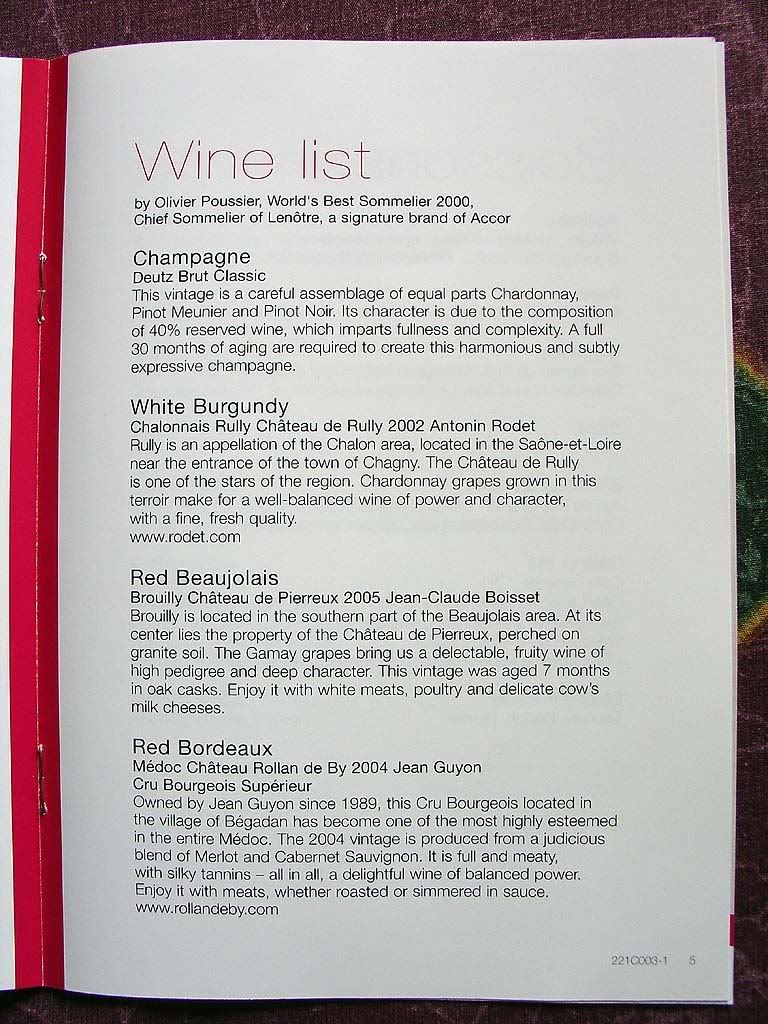 First, hot towels were handed out followed by table cloths which were placed ever so gently on our trays. I settled on the Red Bordeaux and a glass of water. A bread basket was placed in front of me containing a wide selection of rolls.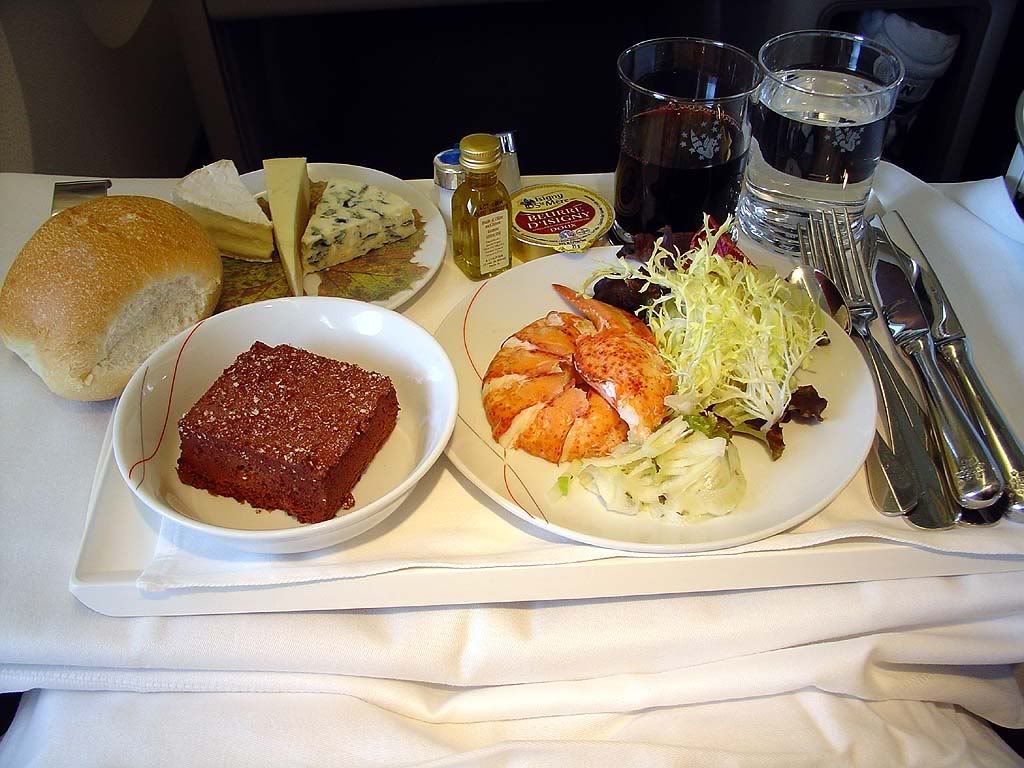 After receiving the appetizer, I poured the lemon olive oil over the lobster and, I must say, it was exquisite. The oil was not overpowering and complimented the flavor of the lobster perfectly. The apple fennel salad tasted great as well. Once I had licked my plate clean, I started on the bread and cheese which was up to Air France's excellent standards.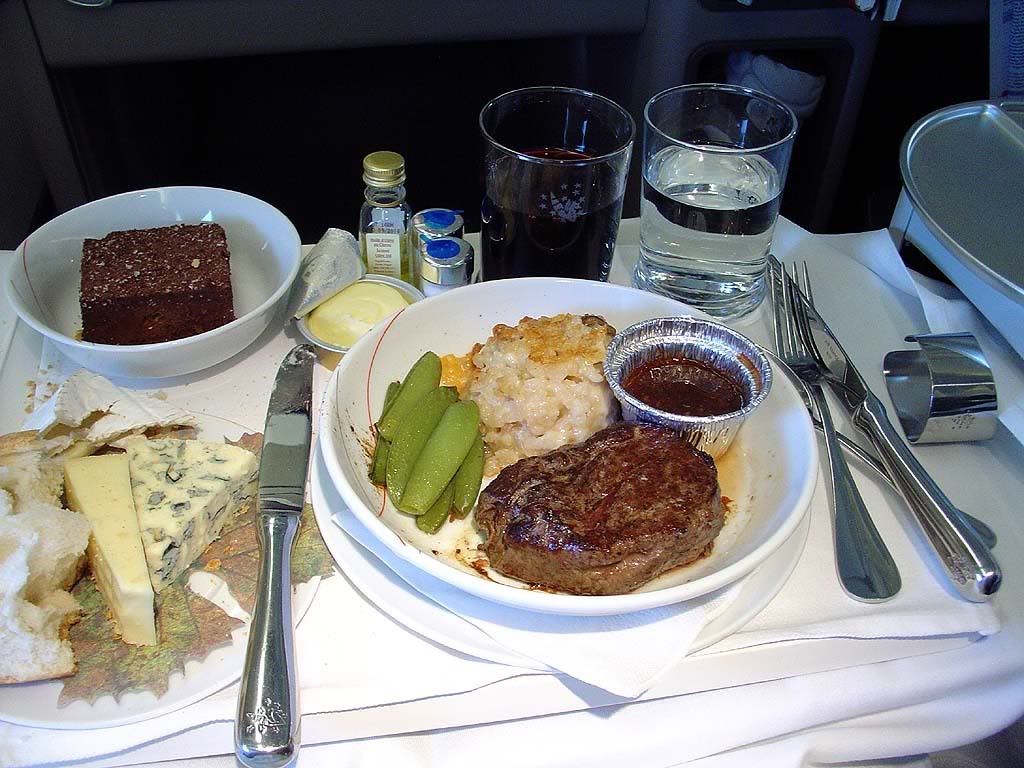 Soon my empty plate was exchanged for the beef entrée while my glass of wine was refilled. Unfortunately, this is where disappointment started. The steak was much smaller than on my previous Air France flights. It was also well done rather than medium which made it chewy and dry. While it was not bad, it was a big let down after my near perfect steak six months ago on Air France. Also, the mushroom sauce contained no mushrooms but was still a great addition to the otherwise dry steak. The risotto was a bit tasteless and needed some pepper for flavoring. At least the sugar snap peas were done perfectly.
Annoying as the entrée was, my biggest complaint lay with the dessert. While the cake tasted great, it was a considerable let down compared to the dessert cart Air France normally offers on its long haul flights. In fact, my seat neighbor queried the cabin crew about the lack of choice for dessert and asked where the normal sorbet and cookies were. The response was as this a short flight, it was deemed unnecessary to have a lavish dessert trolley as most passengers prefer to rest rather than eat.
My tray was collected with a smile and I was asked if I would like some tea or coffee. Once the flight attendant heard my request for tea, she placed a hot cup of water on my tray table along with a box of nine different kinds of tea in front of me to pick from. I selected the classic Ceylon tea.
Once everything had been collected and the cabin lights were dimmed, I finished up watching the last episode of Friends. I then placed my seat in a semi cradle position and tried to nap to the best of my abilities with some "Altitude Jeune" playing on my headsets.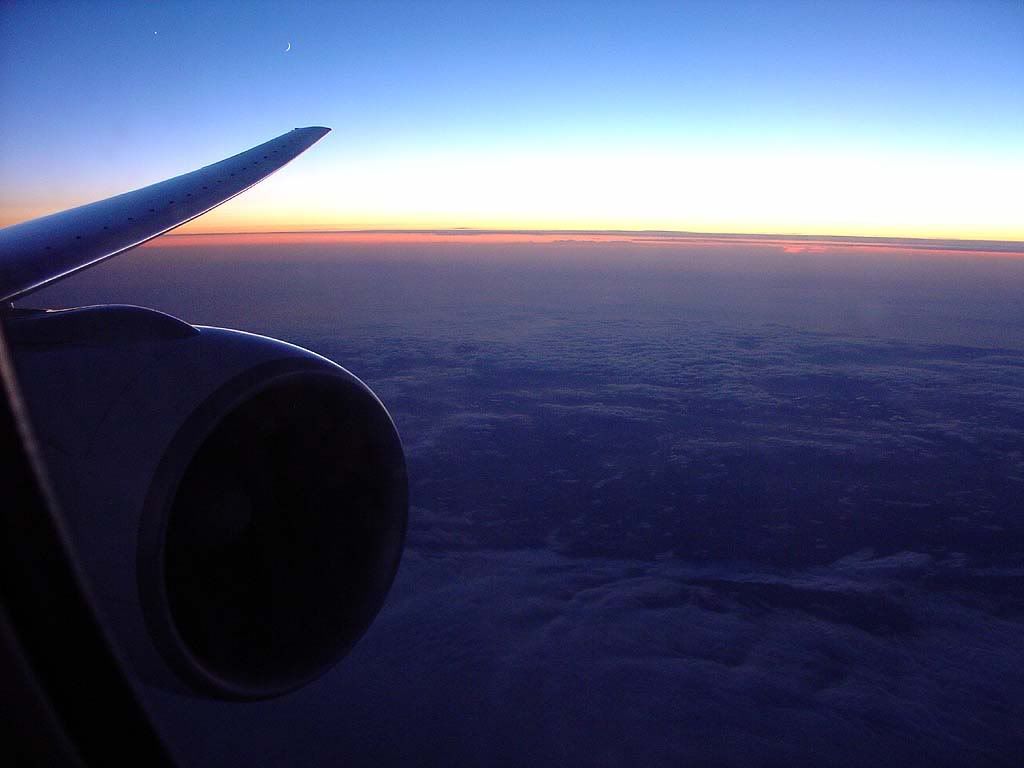 Sleeping on planes has never been a skill of mine and Air France's L'Espace seats certainly do not help my case. Somewhere over Iceland I gave up and started to play with the games.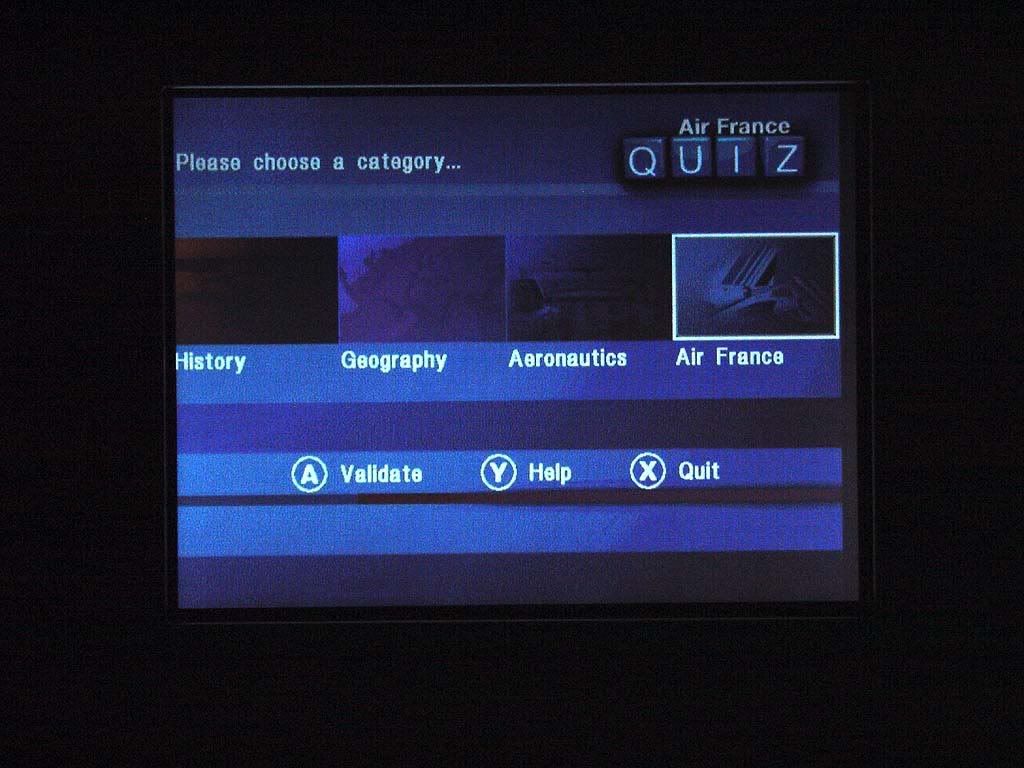 The Air France quiz kept me entertained for quite some time before I ended up watching a movie. The list for today's flight was:
Bridge to Terabithia
Michou d'Auber
(French Movie)
Zodiac
Ensemble c'est tout
(French Movie)
Wild Hogs
Premonition
Shooter
Contre-enquete
(French Movie)
Blades of Glory
Love and Other Disasters
Freedom Writers
Finding Nemo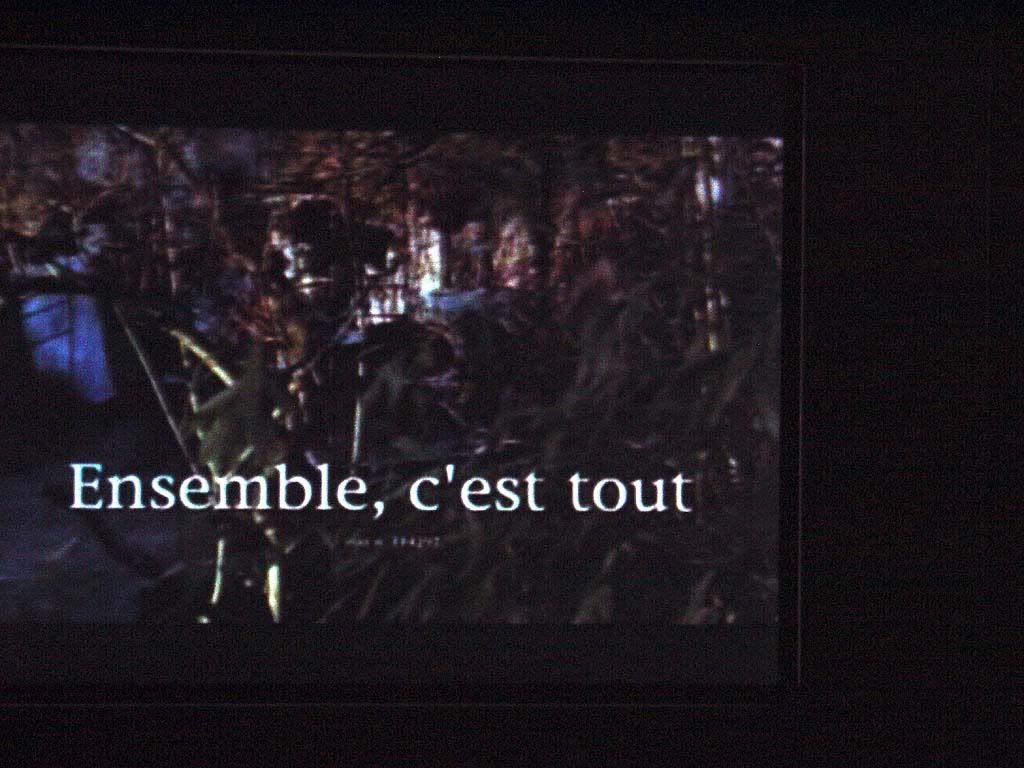 90 minutes before landing, the cabin lights were turned on and linens were placed on our tray tables. When the breakfast cart rolled around, I selected a cup of coffee along with a croissant and a blueberry muffin from the bread basket which had a number of different choices this morning.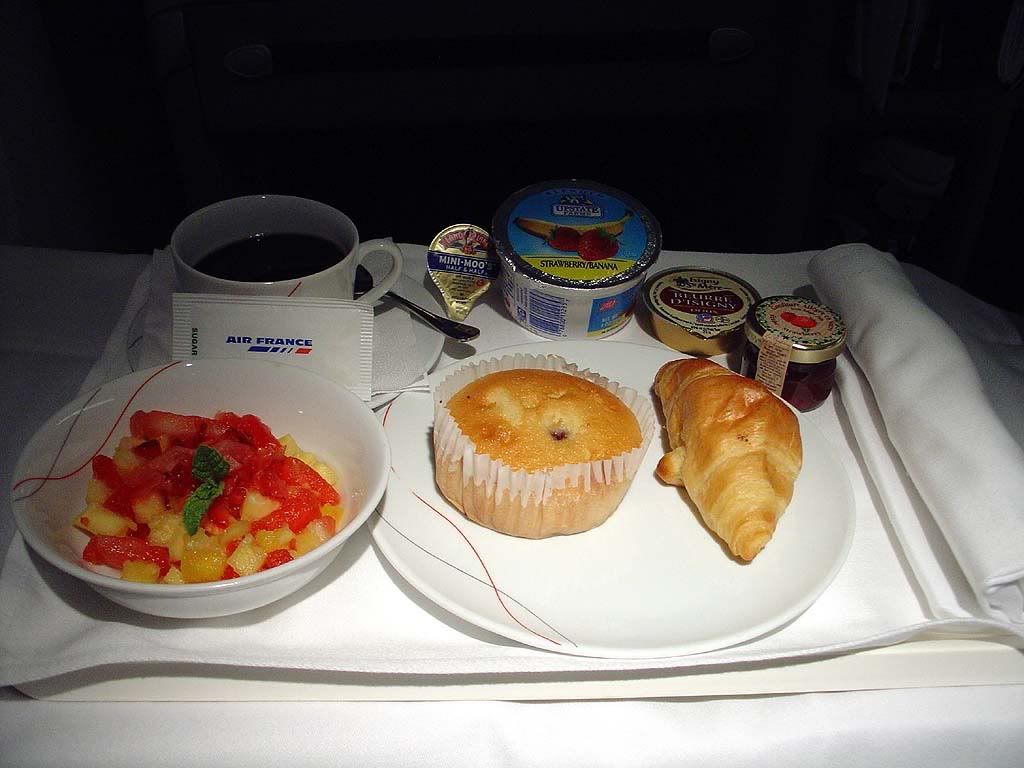 The coffee was nice and strong, the croissant hot and soft which went perfectly with strawberry jam and butter. The muffin was fresh and moist while the yogurt tasted like it came out of the local grocers refrigerator which is all I can ask for. However, the fruit bowl was a disappointment. It contained chopped up watermelon, strawberry, pineapple and some unidentifiable fruits which ruined it. The fruits did not taste good mixed up with some bits being rather hard and chewy. I could only muster up two bites before giving up.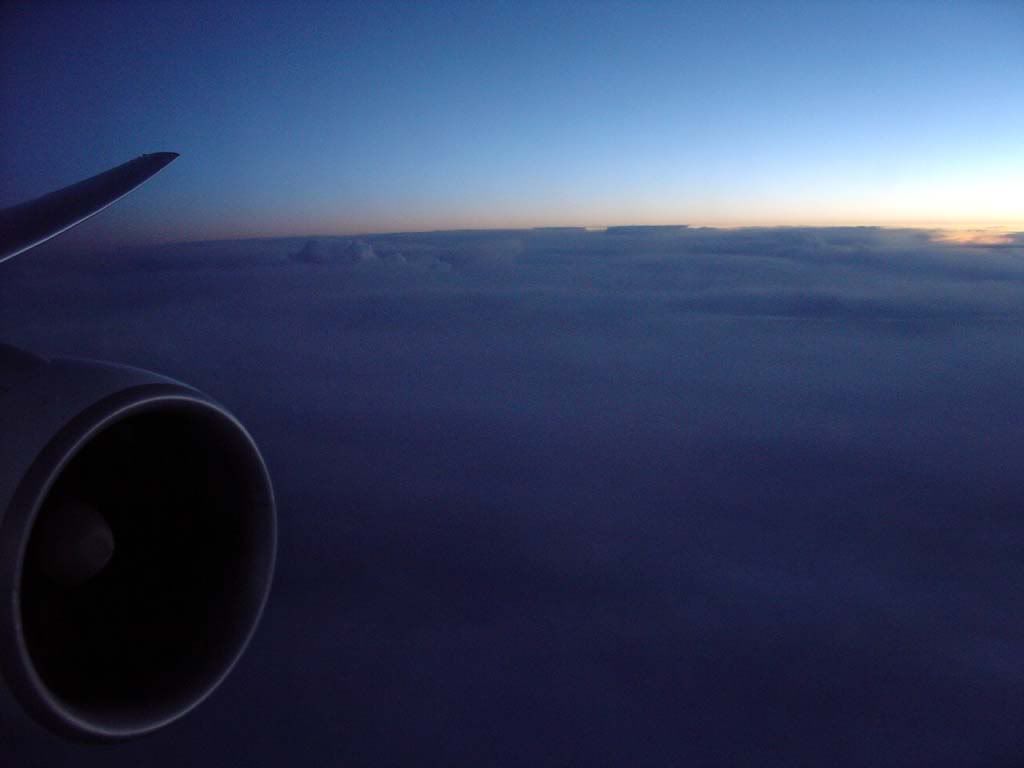 Once the trays were collected, steaming hot towels were passed around just as the sun was beginning to rise outside. Descent began shortly after 6:30 with the French countryside looking as green as ever outside my window.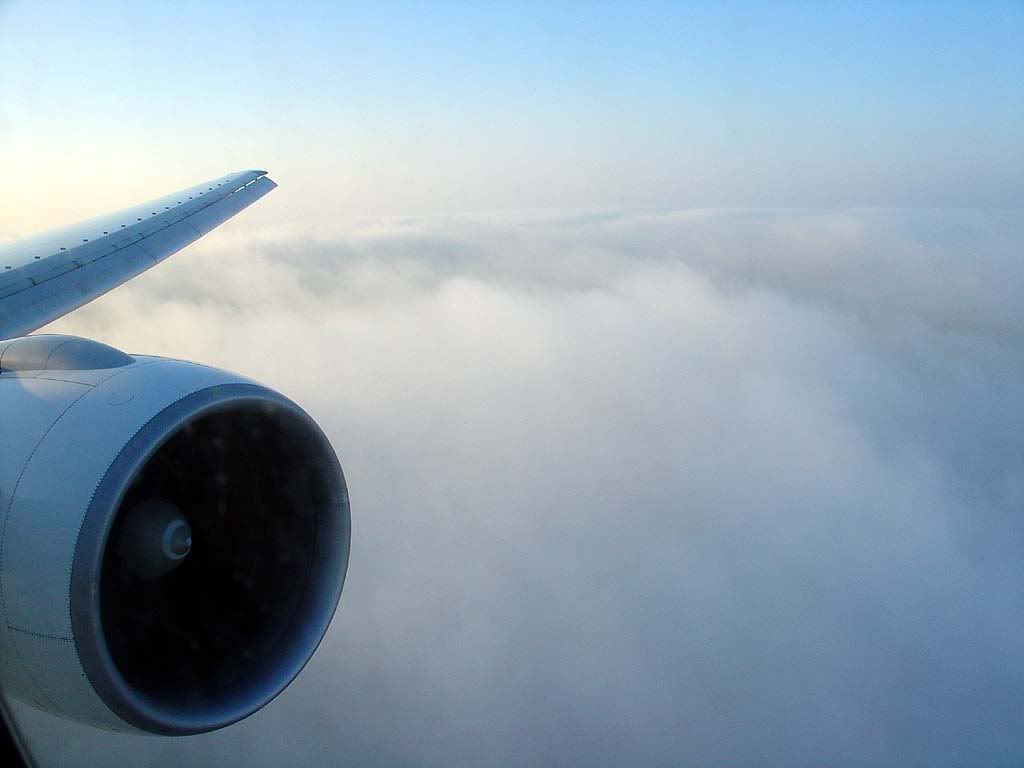 While we were descending, the maitre de cabin came around to personally thank each of us for flying with him today. "Monsieur, thank you for flying with us today, I hope you enjoyed your experience. Have a pleasant transfer in Paris on to your final destination."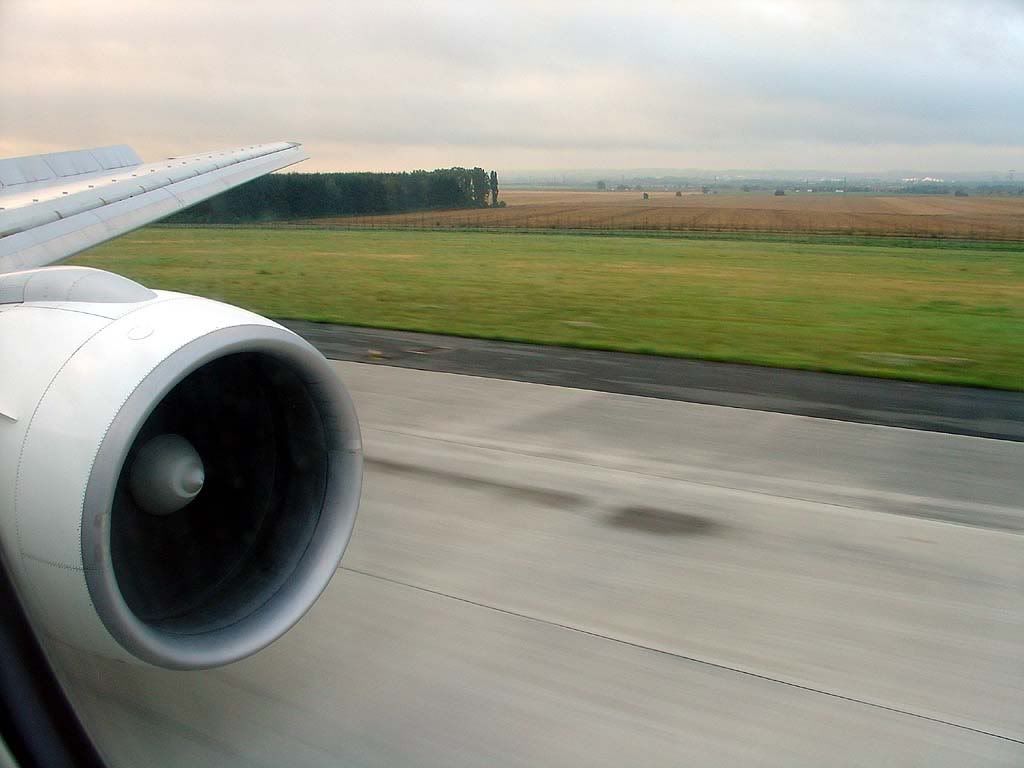 Arrival and Transit:
After a gentle touchdown we began our quick taxi to the gate. We docked at a hard stand directly in front of Terminal 2C. Many passengers were panicking and trying to run to the exit. When the lady sitting next to me offered to let the gentleman in the aisle closer to the door he politely declined. "Thank you, but don't worry about it. I missed my connection already; it was supposed to be at 7:30." However, two gentlemen flying in First Class saw this opportunity and barged their way through with an "excuse me, excuse me, we have a close connection!" We looked at each other and laughed.
"Why are they in such a rush? We are all going to the same bus anyway."
"I guess they have good seats on the bus now."
"Some people are just so oblivious."
As I exited the aircraft, the crew was on hand at the door with their customary "merci, au-reviour." As I walked onto the stairs, I was greeted by a rather chilly and windy morning. The dedicated First and Business Class bus was waiting for me a mere five feet from the stairs. I grabbed a last look at the huge Boeing in front of me before we began our 10 minute journey to Terminal 2E.
After driving around in circles, the bus came to a stop at little doorway with two escalators leading up to the arrivals floor. Following the signs for "Transfer Passengers," I ended up at an Air France connection center where a gentleman took a look at my boarding pass. "Ah, Mumbai up the escalator and to the left."
I proceeded up to the next level and looked at the nearest monitor which listed the Mumbai flight as departing from Gate E82. I found a tiny sign tucked away in the corner which listed all E gates through a security line up ahead. I handed my boarding pass to an agent who looked at it while simultaneously scanning a sheet in her hand which had all the gate information for Intercontinental flights departing from Terminal 2E. She said something in French and pointed towards the First and Business Class line.
I emptied my lap top, pockets, liquids, shoes and belt into the x-ray machine as the security agent had requested. I was about to walk off when another agent yelled at me in French while simultaneously pointing to my hand bag. I placed it on the table and he proceeded to furiously look through the side pockets. Two minutes later he pulled out my silver watch, yelled something in French to the girl who had scanned the bags, put it back in the bag and waved me to move on.
Once that ordeal was done, I followed the sign for gates 80-87. I went down what seemed like an endless concrete corridor down some steps followed by another few empty hallways before being greeted by an agent who pointed me towards the bus behind her.
Another 15 minute ride and we were let off at a dedicated terminal which after riding for so long, could easily have been in the suburbs of Paris. From the outside it looked like a warehouse, however from the inside it looked like any other terminal. Very clean and bright, looking almost new with its own dedicated duty free area and lounge. The signs for the Air France Salon were easy to find and I was in front of the doorway within seconds.
I was greeted by a young good looking blonde female with a "Bonjour Monsieur, Parle-vous Francais?" After a quick confirmation that English and German were my preferred languages, she wrote out "E82" on my boarding pass.
"Your flight will be boarding from gate E82 at 9:25am. Please make sure you are on time as we do not make announcements in the lounge. Enjoy your stay."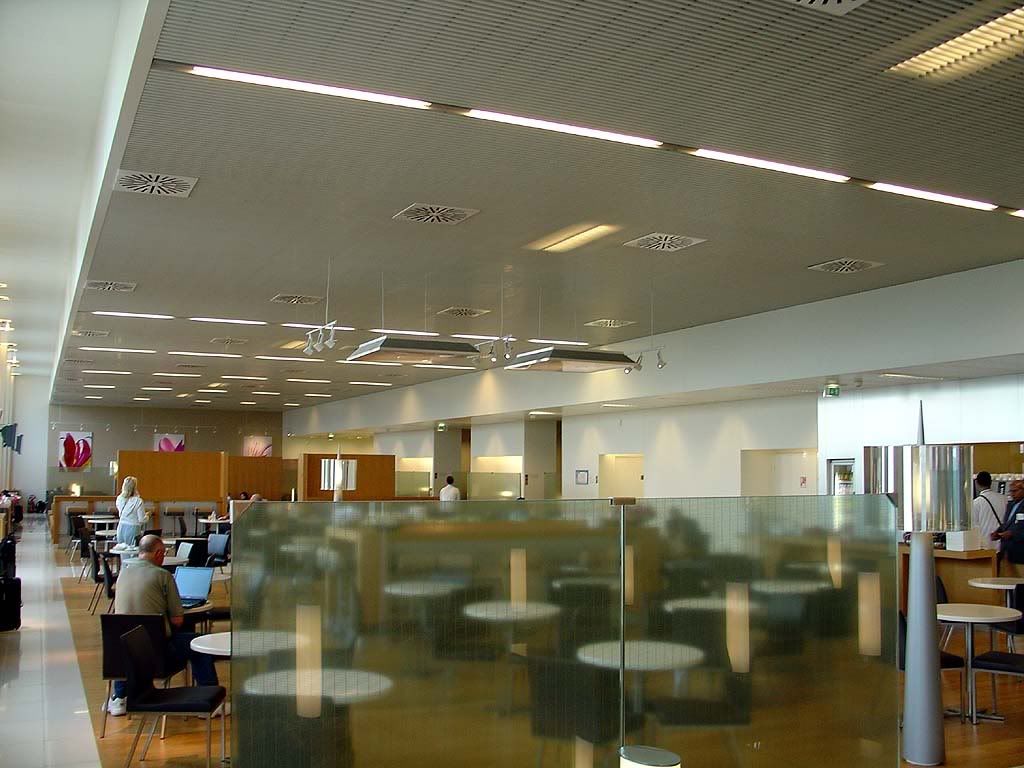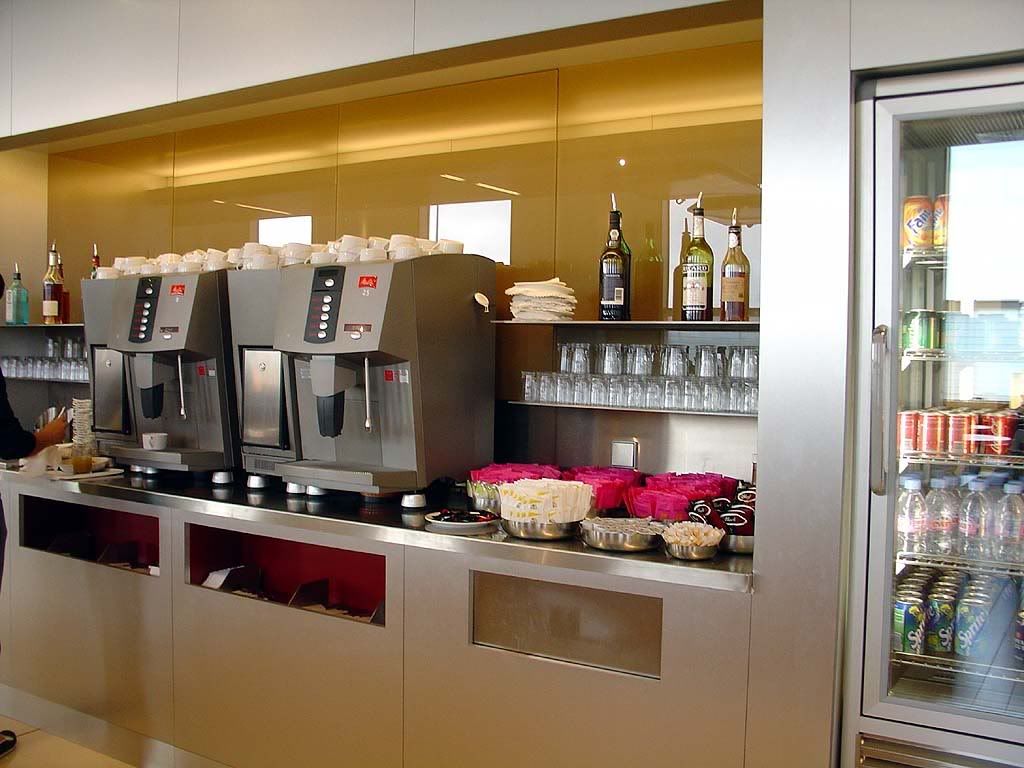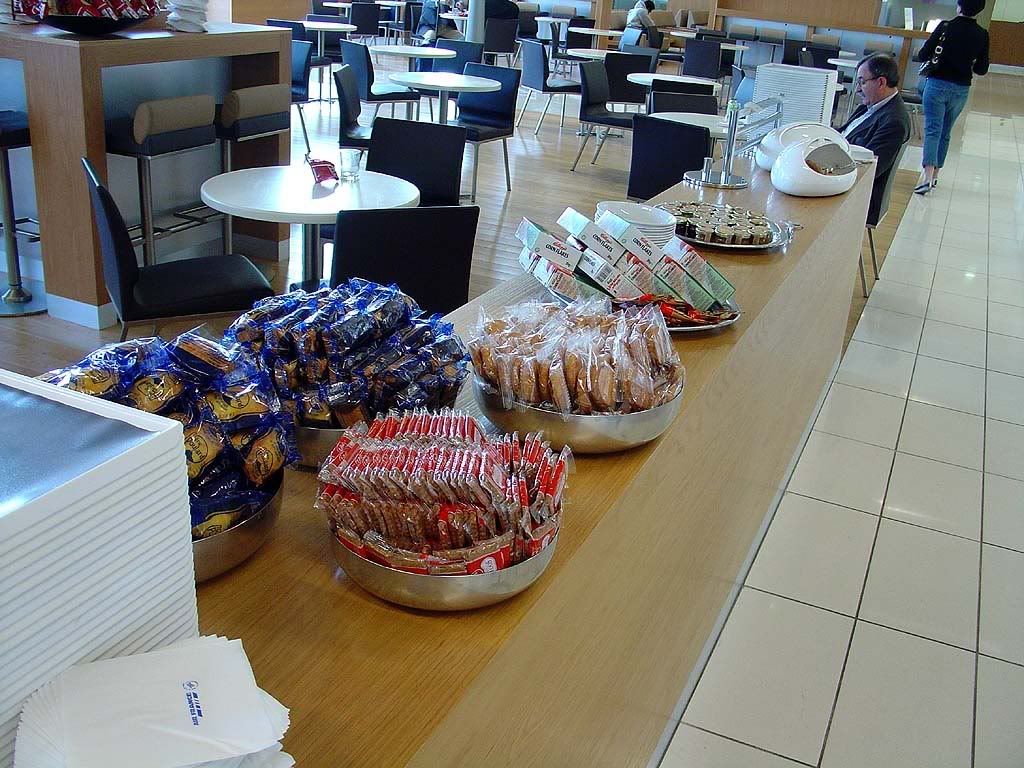 The lounge was extremely clean, wide and spacious leaving me impressed. There were plenty of food items including but not limited to cereal, muesli, cookies, chips and pastries. I settled on a cappuccino and a fresh croissant as I was still pretty full from the flight.
Once my coffee was finished, I strolled over to the bar and decided to have my preferred drink in Europe, Fanta orange. Having grown up with this in Germany, I cannot tell you how amazing it felt to have some as there is nothing like a good old can of European Orange Fanta!
I quickly walked around looking to see if there was a possibility of grabbing a shower, but this lounge was sadly not equipped with shower facilities. Therefore, I decided to see if the lounge had wireless, but as in New York was only accessible by a handful of Mac PC's placed in the corner. I hope Air France seriously considers adding free wireless to their future enhancements. It may be a small item but it actually makes a world of difference when I am at a lounge.
Shortly after 9am I decided to head out and buy some Duty Free items before heading to the gate. As I walked through the terminal, I was very impressed, Air France really thought about making this terminal comfortable and user friendly for its passengers once they got there. I also liked the fact that the terminal was not crowded due to a limited number of flights operating out of here. It made the whole experience rather pleasant.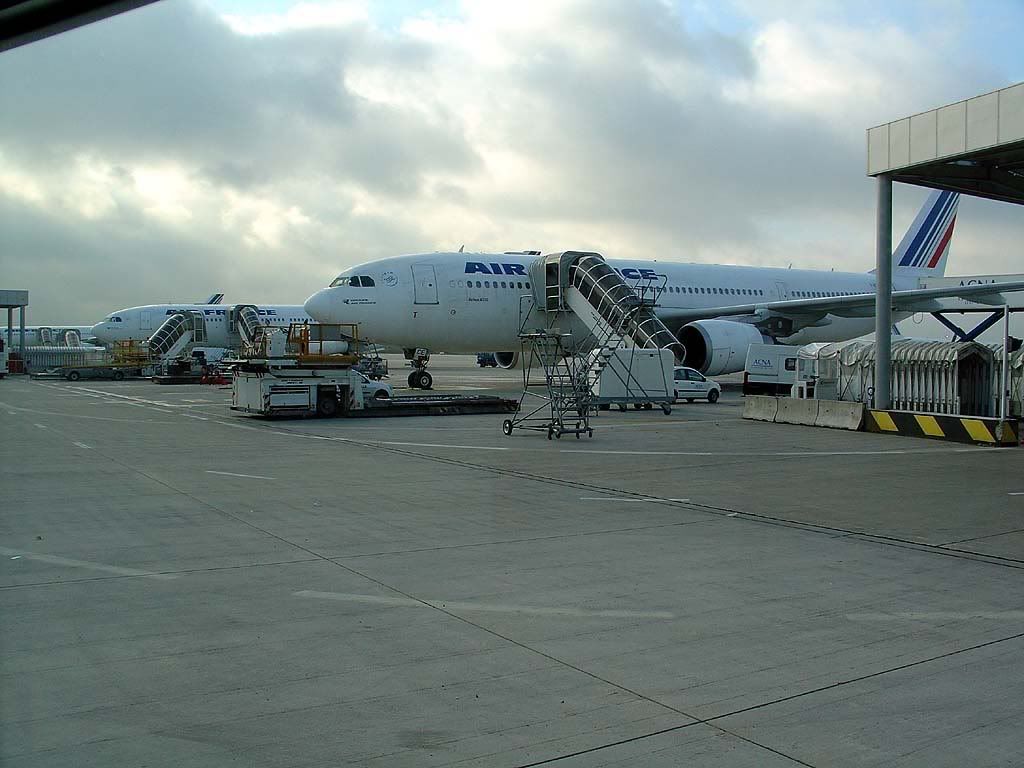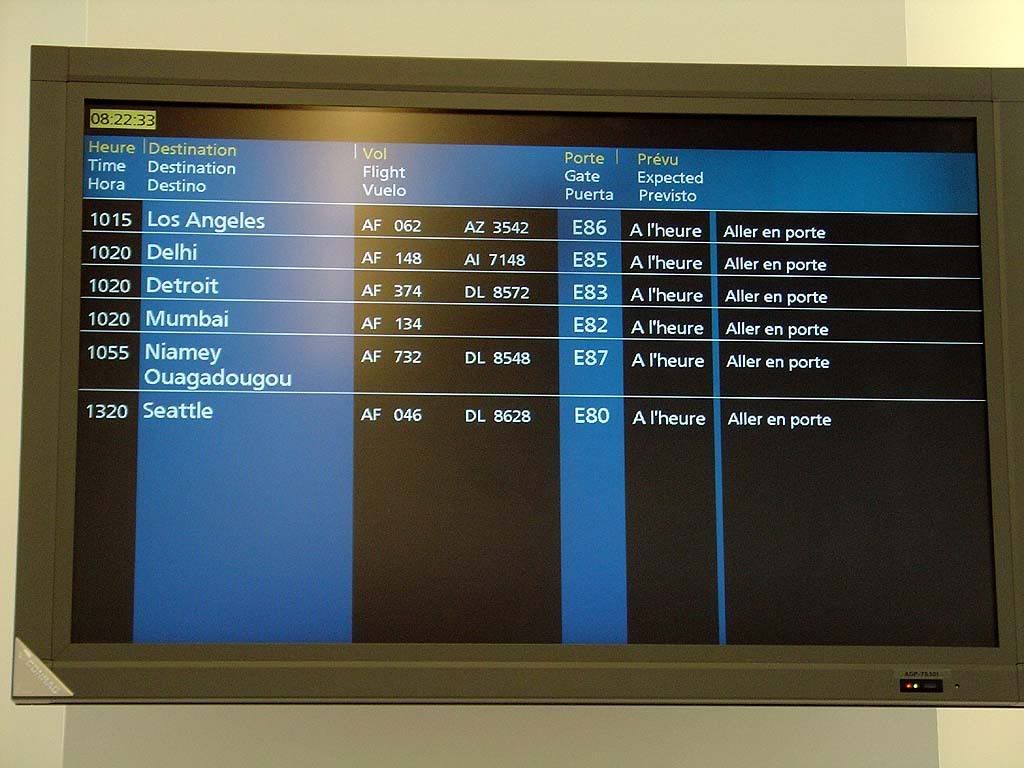 [Edited 2007-07-26 19:50:35]