Aircraft Hunting in the Philippines
Part Two:
MPH-MNL-MPH-CEB-MNL, CRK-MFM, HKG-LGW; on Asian Spirit, SEAIR South East Asian Airlines, Philippine Airlines, Tiger Airways and Oasis Hong Kong. Flying on the BAe 146-100, D328-100, Indonesian Aerospace CN-235-110, A330-300, A320-200 and finally the B747-400.
Continued from Part One:
I had intended just to spend three or four days on the island of Boracay, but pretty quickly I decided to stay longer as it was so relaxing I just did not want to leave! Still, aside from enjoying the beaches, the food and the drinking and good company in the evenings, I had a few more aircraft types that I wanted to fly so decided just to take a day trip to Manila and back instead of going elsewhere in the Philippines for a few days. Conveniently there were several travel agencies located on the island and ticket offices for both of the main airlines, I planned to take Asian Spirit to MNL on the CN-235 and then fly back an hour or so later with SEAIR on the Dornier 328. All was sorted in no time (so I could get back to the important job of lying on a beach eating fine seafood!), the outbound flight costing 2671.20 pesos, whilst the return was a little steep at 4099.20. I also found out from the Asian Spirit office that their ATP aircraft had been grounded 'indefinitely' for essential work, which was a nuisance, but at least I can hopefully still fly that one in the Azores.
Thursday 21st June
I wasn't sure exactly how long the return journey would take me to the airport, so I ensured I left my accommodation a good couple of hours before the flight went. As it was I was there in just over half an hour, though the motion of the boat on the way over did not go well with a minor hangover from the previous night!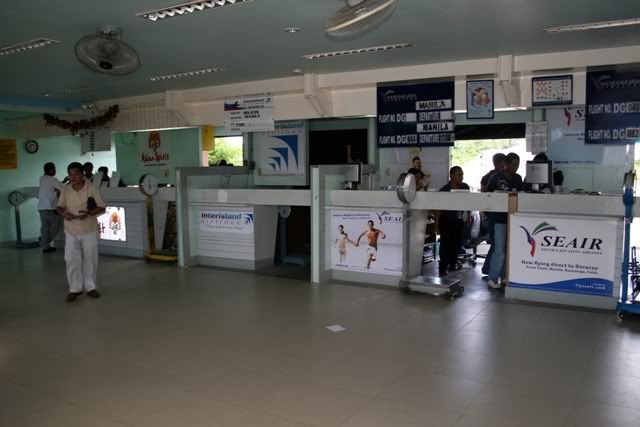 The terminal building was quite empty, sure enough the loads were light and worse still the flight operated by the CN-235 which I was due to take had been cancelled as a result, instead it was suggested I flew on the BAe146-100. This was a great disappointment, I explained that I was only flying today to fly on that specific aircraft, the agent checked when its next flights would be, surmising that the next day I would have a much better, but not 100% chance of it operating the flight. So, Asian Spirit changed my ticket for the next day at no charge, but then I still had to leave the terminal, find and then pay the SEAIR ticket office over a thousand pesos to make a last minute change to my return flight!
I'd just come back into the terminal again to confirm that I had managed to change my SEAIR flight and would definitely not be flying today when the same agent said the load was just as light for tomorrows flight and that, having checked with the operations manager, it would probably be cancelled. Yet another damning blow, but instead of just throwing money at the problem and constantly changing the tickets around, I thought for a moment: My aim was to still fly the CASA, plus SEAIR on the D328, but I also wanted to try and get on the very rare 146-100 again, which I had aimed to fly on back to MNL when I returned on the 24th to fly home. The CN-235's daily routine is to fly (plus a morning return from Cebu to Cagayan de Oro) Cebu – Caticlan –Manila – Caticlan – Cebu but, as I'd found, very often the loads are too light to warrant flying to MNL and back, so the plane sits at MPH all day, before returning to CEB in the late afternoon.
So, with the excellent help of the Asian Spirit staff and ticket office (and I'm not just saying that, they really did bend over backwards for me and were superb) we hatched a hopefully fail-safe plan to get me on it! On the Sunday 24th, when I was due to leave back to Manila, the CN-235 was certain of operating to MNL as it was fully booked, the flight to CEB had good loads too, so they made me a waitlisted reservation to MNL and an unconfirmed reservation to CEB, but at the same time blocked off a seat on both flights – and just incase it all went wrong, I also had a reservation made for me on the last flight back to MNL at about 5pm, an hour after the CEB flight was due to leave. Basically, whichever one was being operated by the CASA I could take, this would mean in the very worst case scenario I would just end up in Cebu and not Manila, at least having flown this amazingly rare aircraft! But of course in order to definitely still fly on the 146-100 they then retrieved my now cancelled reservation for today's flight, which was now only 40 minutes away. I had another quick trip back to the SEAIR office, where I was expecting to be charged a thousand odd pesos again to return my flight back to how it was, but much to my pleasant surprise, because I was changing straight back to the original flight, they amended the ticket for nothing, which I thanked them very much for
and
then they also returned my original payment for the change (probably thought I'd eventually made my mind up)! I'd managed to bemuse the security guards at the entrance to the check in hall by passing through about five times, which is time consuming but unavoidable as the ticket offices are not located inside the Caticlan terminal building.
This time though I actually checked in and received my boarding pass, once again I thanked the staff for their amazing help and, after paying the 10 pesos departure fee headed into the departure room - it wasn't really big enough to call it a lounge! As I waited the CN-235 which I was so desperate to fly on (sole aircraft of its type in the fleet) landed from the East, taxing in and then reversing itself into a parking space between the terminal and a company Dash 7.
Boarding was a little delayed due to the aircraft not being on the ground yet, but as I sat down the unmistakable shape of a 146 flashed down the runway past the ramp, reappearing a few moments later and boarding as soon as the arriving pax had disembarqued.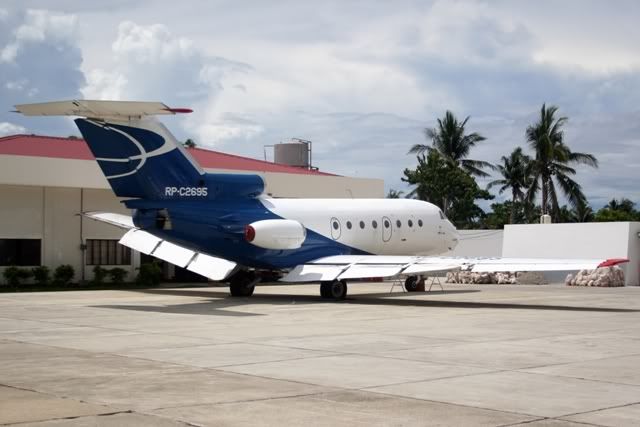 Still occupying much of the ramp is the Yak 40 of Interisland Airways which suffered an incident on the runway about a year ago. Nobody seems to know if it's going to be repaired or not, the damage may be cost preventative though. Now the other Yak 40 they own is stored and their operations to MPH are on a charter only basis, using Turbo-Lets.
MPH-MNL
Carrier: Asian Spirit
Flight: 6K 882
Aircraft: British Aerospace BAe 146-100
Registration: RP-C2994
Date of First Flight: 19.10.1982 (cn 005)
Seat: 4F (13A taken)
Estimated Departure Time: 13:05
Actual Departure Time: 13:26
Estimated Arrival Time: 13:40
Actual Arrival Time: 14:06
Total Flying Time: 40 minutes
This 146 was only the fifth airliner to roll of its production line at Woodford right back in 1982, the previous three aircraft are still in service in Australia and the first still stored by British Aerospace. I was allocated seat 3F, but as I turned and walked down the aisle I realized there was already a little girl in the seat staring excitedly out of the window - now no way could I be so selfish as to ask her to move (considering the amount of times I am lucky enough to fly each year), so I found a free seat at the back instead. Because of the very short runway the 146-100 is limited to just 56 passengers, what's interesting is that these seats are not simply just left empty, they are actually removed completely in whole rows to save on weight, whilst a measly hold luggage limit of just 10kg per passenger is rigorously enforced!
The taxi to the end of the runway was quick, reassuringly there is a large lake literally straight after the concrete strip ends, which the plane taxied right to the edge of before tightly turning to the right in order to line up, whilst ensuring the maximum runway length was still available. The spoilers were raised and lowered one last time and then the engines began to power up, for a normally quiet aircraft the noise was immense as all four sat there screaming around at absolute maximum thrust, you could feel the aircraft desperately writhing and nudging at the brakes from which it was trying desperately to break free, but still they held firm. Then with a soft clunk from below they were released, the nose surged upwards and, for a moment, as I was pinned into the back of my seat it felt almost as if the plane was attempting to do a wheelie! The acceleration was simply amazing; just 13 seconds later the nose was rotating, heaving the plane off the ground with a good 100m left to spare!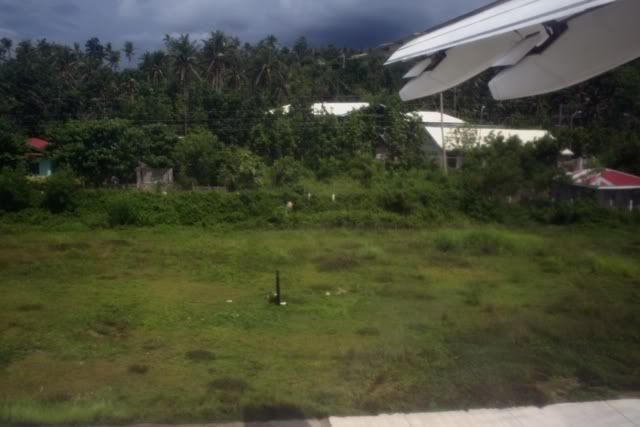 Climb out was steep, around 20 degrees and after a right hander towards Manila we proceeded straight up to the cruise of 22,000ft, quite high for what was just a 40 minute flight! Once the seatbelt signs were off I got up and took a few shots of the cabin, then as the cabin crew were both preparing the service asked if it would be possible to see the cockpit.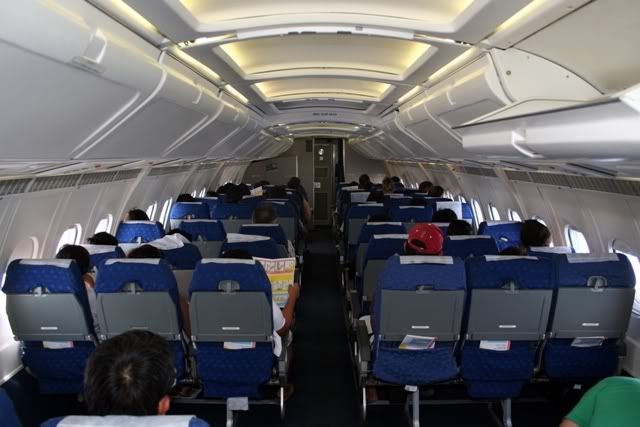 As she dropped a couple of drinks into them, one of the stewardesses passed on my request to the pilots, which was met with a warm welcome. It was best to wait first for the service to be completed, which was pretty much identical on all the Asian Spirit flights within the Philippines; consisting of a carton of concentrate 'juice' and a packet of biscuits. Simple, but enough to provide a little sustenance on a short flight. Once finished the stewardess asked if I would like to follow her, so duly I grabbed my camera and headed up to the front of the cabin, drawing the curtain to the front galley so as not to attract too much attention in where I was going. The captain welcomed me to the cockpit and introduced the First Officer, like the previous flight, they were both keen to learn of my interest in aviation and were pretty bowled over to hear that I had traveled all the way from England to fly on rare aircraft! (amongst other things) As for the captain, well here was a man who was very proud of his aircraft and quite rightly so! He explained that he had visited Woodford, near to Manchester where the 146 was assembled several times for training and other purposes on behalf of the airline.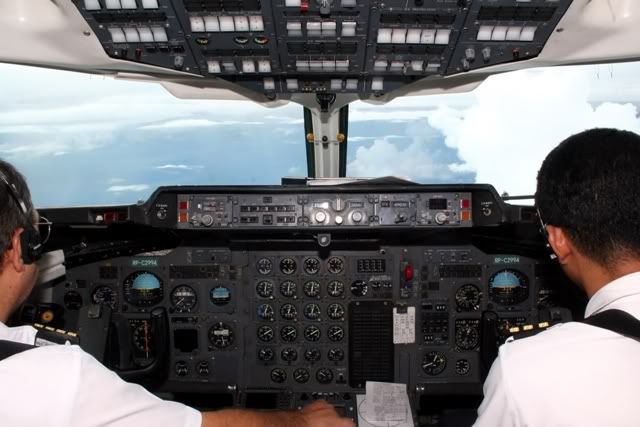 Conversation soon got around to the 146's impressive performance from Catalan's very short runway, the Captain pointing out that currently it's the shortest runway in the world which this type of aircraft is operated from; the usable length is around 850 meters, but that it is barred from operating in even slightly wet conditions, incase of a rejected take off or over-run upon landing as the 146 does not have reverse thrust. I was also curious as to his thoughts of Cebu Pacific flying the ATR72 from the strip, it's restrictions and the stiff competition they will no doubt present to all the current operators, well, apparently the models they are taking delivery of will have up-rated engines to provide more thrust, thus, as I found out later, enabling them to operate from 900m runways with no weight restrictions. At peak times of the year there will soon be a flight every 10-15 minutes to and from Manila (currently about every half hour) on five different carriers, something which isn't likely to be sustainable for all of them. In general from talking to many people at Asian Spirit I got the picture that they plan to make full use of the Dash 7's STOL capabilities in the future by operating into more constrained airports (possibly upgrading existing Let services and then expanding the route network further with the freed up Lets) once competition hots up on the MNL-MPH shuttle which currently, in the words of the Captain, is their 'bread and butter' route. The 146's will increase their presence in Caticlan, partly to head off SEAIR's 'fastest flights to Boracay' slogan with both carriers now claiming 35 minute flying times, but also to provide extra capacity and lower, more attractive fares, especially once Cebu Pacific and Air Philippines get their teeth into the market!
Soon it was time to begin the descent, I asked hopefully if it was possible to watch the landing from the jump seat? Yes certainly, it was not a problem – again I was delighted by the answer! It's quite an ingenious seat on the 146; stowed in a folded position behind the First Officer's seat, it slides out sideways and then back towards the door where it then locks in place and the seat folds down. Certainly there was a lot more room in here than in the Dash 7, being much more spacious.
The view was amazing as we dropped down through the large cumulous clouds, each one taking it's turn to throw the aircraft around a little, until we shot out of the other side - reminding me a little of a flight I'd taken back home last winter, only fortunately without thunderstorms and no where near as turbulent! Descending through the cloud base revealed Manila and its many suburb cities spread out below, pretty much as far as the eye could see into the humid haze covering it like a misty blanket. The Captain then spoke, just informing me that they would obviously have to concentrate for the landing and could I please remain silent until they were down, but that I could still take as many pictures as I wanted, of course this was no problem, I was only too pleased at being able to sit there and watch the whole process at all!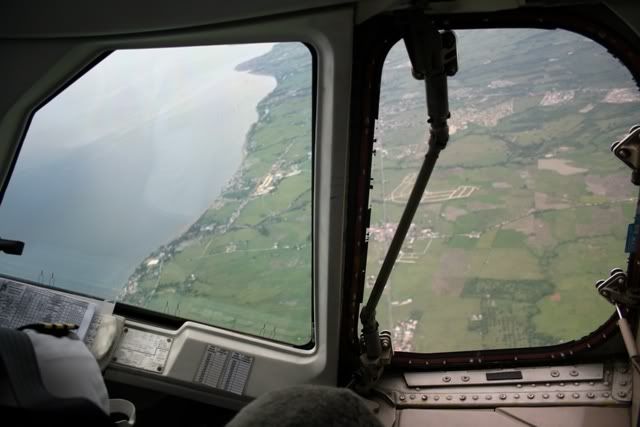 Manila airport drifted past in the distance through the right hand window as we held at 4000ft, then whilst flying over the coast a long right hand bank brought us around some 100 degrees to a heading of 063 to line up with runway 06, still some 15 miles ahead.
For the initial approach the First Officer was in control, whilst vertical speed was maintained by the autopilot, descending gradually over the Cavite area, then back over Manila Bay, taking us down below three thousand feet. At 1500 feet or so the flaps were extended, which typically for the 146 pitched the nose down and, along with the air brake now open at the back, rapidly reduced the speed to 120 knots.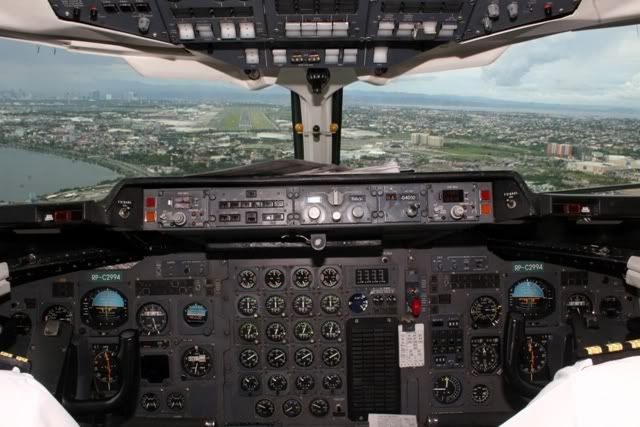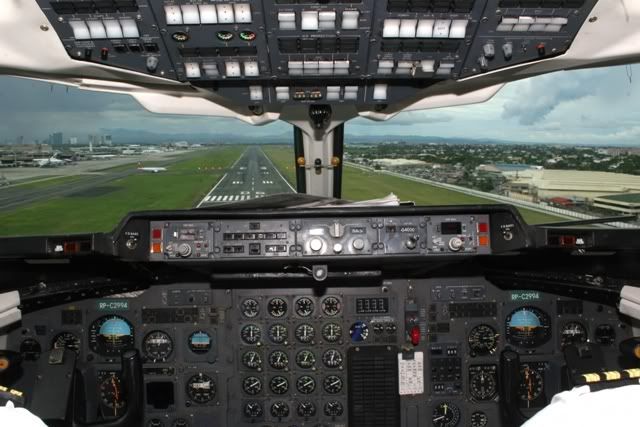 There was a slight, but still noticeable crosswind blowing, requiring some last minute adjustments to the course by the Captain as he took control for the landing, just before the aircraft barked out a height notification of '500!' The landing was gentle, dropping onto the tarmac a good way down, after a long flare. Spoilers automatically rose on the wings, but with such a long runway there was no need to apply heavy braking, instead rolling out towards the intersection with the cross runway, which doubles as a taxiway for aircraft destined to the domestic terminal when arriving as we did. Once we had drawn up on our parking stand I thanked the Captain and First Officer for their hospitality and showed them the pictures I had taken of their approach, I was bemused and a little surprised when he asked me if I was going to upload them to 'that airline website', 'Airliners.net?' I asked, 'yeap, that's the one' he said! Well, I told him I'd give it a go, and hopefully he'd see them there if they were good enough and didn't get rejected!
All of the other passengers were now walking towards the terminal, so after helping to stow the jump seat again and with a final word of thanks, I collected my bag (which had been brought to the front now for me) and headed for the terminal.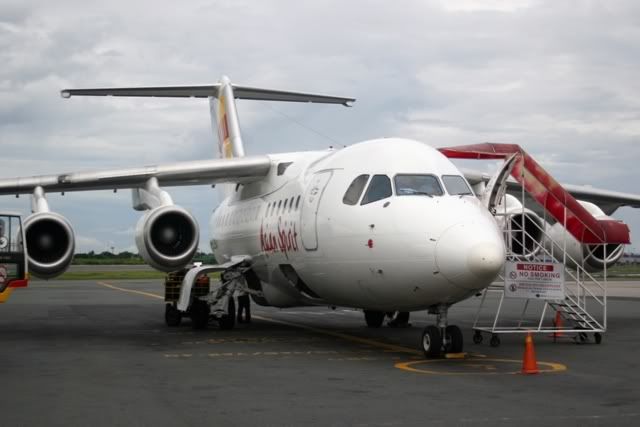 During the taxi I had seen exactly what
PRGDLGUY
had meant by the huge amount of old aircraft littered around the place; DC-3s and the like, so I thought I'd try and find a way of getting some pictures. I had just 2 hours before my return flight left, so first off I checked in with SEAIR for the 16.30 flight, then headed off around the perimeter wall. After a bit of a trek I managed to find a gate, through which I could see a whole host of interesting aircraft. Now, I had been reliably informed that a few dollars would help in many such situations where the guards are not supposed to let you in, but unfortunately that was not the case. It only took a doughnut. Yes, even I was a little surprised that 'persuading' someone with a doughnut actually worked, it's almost like something out of the Simpson's! If I had more time I would have applied for a press/photographer pass which I was told is now available for access with a guide (transport too I presume) to the entire airport, but since I did not have the time there was really no point. I also was lucky enough to meet one of the guys there who actually owned several of the aircraft I was interested in, including this very beautiful old DC-3.
A similar example was apparently sold recently to Cathay Pacific for display at their Hong Kong headquarters, he gave me directions to where it was, but unfortunately I did not have time on my return through HKG to find it.
Once I had a few shots time was running out, so I headed back to the terminal, although on my way I dropped into the Pacific Air offices, who were kind enough to let me photograph their present fleet, most of which didn't appear to be going anywhere soon!
Most of the aircraft now act just as donors for spare parts to keep the airworthy ones in the sky still going. By the time I got back to the terminal there was less than half an hour before the flight to Caticlan departed, in fact by the time I had cleared both sets of security and bought some more doughnuts (just in case of course) the flight was boarding.
MNL-MPH
Carrier: SEAIR (South East Asian Airlines)
Flight: DG 043
Aircraft: Fairchild-Dornier 328-100
Registration: RP-C6328
Date of First Flight: 20.12.1994 (first delivery date – first flight unknown)
Seat: 2A
Estimated Departure Time: 16:00
Actual Departure Time: 16:04
Estimated Arrival Time: 16:35
Actual Arrival Time: 16:42
Total Flying Time: 38 minutes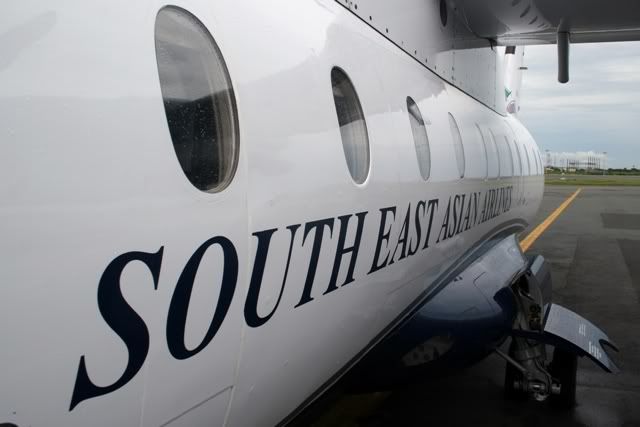 This flight was the last of the day to Caticlan and looked to be fairly full, but once onboard there were still about 10 seats not taken. I had no idea what to expect on the aircraft, which was a youngster compared to the ones operating my last few flights, having not flown it before; I found the cabin comfortable if a little too grey, laid out in a 2-1 configuration with comfortable grey leather seats, the seating area being slightly elevated above the aisle - my seat was 2A at the very front, which had plenty of legroom and was separated from the door by a partition. I was the last to board, so after the dispatcher exited the doors were closed and then a thorough safety briefing given whilst we were pushed back almost all the way to the threshold of the runway! Turning onto the runway the engines powered up and after a short pause the plane was rolling, accelerating quickly along the tarmac then pulling gently up into quite a shallow climb, which was nice as it provided an interesting view of the suburbs from above.
The D328 is well known for being one of the fastest props in service, yet it was impressible quiet inside the cabin, even though I was sitting almost next to the engines and props, certainly it wasn't as loud as a Dash 8 which I use as a benchmark for prop cabin noise.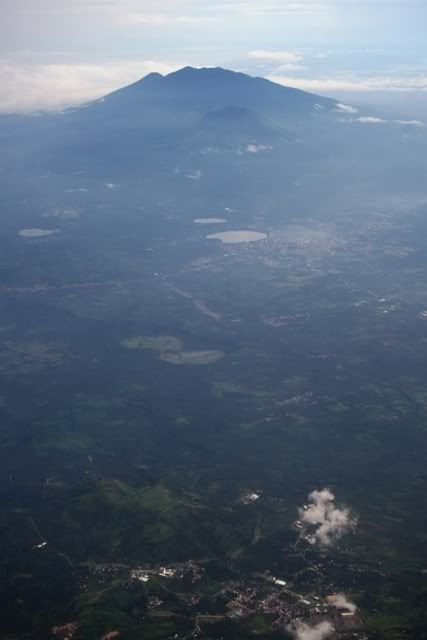 There was a brief complimentary service in the cabin by the single stewardess onboard; basically a light snack and a small drink. The cockpit door was left open throughout the flight, from take-off to landing, once in cruise the attendant said it was fine to take a picture and wow, once in the cockpit what an incredible difference it was compared to the other props I had flown. The 328 boasts a glass cockpit and avionics by Honeywell; hardly a dial in sight but five large LCD displays which, as the pilot showed me, could be cycled through to display all the various systems in operation as well as the radar, including a current picture of the weather along the flight path and at the destination, which incidentally wasn't looking too good for the area around Boracay, but they expected to land before it closed in.
I took a couple more pictures and then returned to my seat; it's against SEAIR company regulations for passengers to be in the cockpit for takeoff/landing and, apart from that the weather wasn't going to be kind to flying or photography, in fact it was going to be the exact opposite! Descending down through the thick grey layer of cloud also illustrated how well the 328 took turbulence, even flying through large storm clouds you felt the jolts much less than even in larger props, it was almost as if you were flying in a 146 or 320.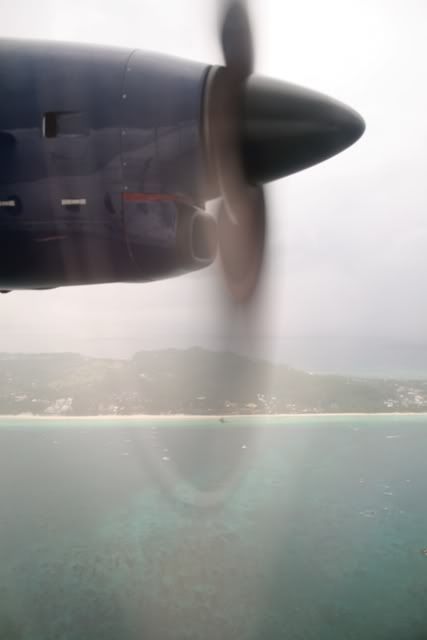 Boracay appeared below through the murkiness; we flew along just off the white beach before turning to the right a little, then pulling sharply around to the left to land at Caticlan, skimming over the beach.
Once more the wheels had hardly touched down when the props were feathered and the brakes slammed on – rolling out on what little runway was left before turning at the end, no sooner had we done so, then the heavens completely opened, which meant for a very wet exit from the aircraft. Fortunately there was a member of ground staff handing us each an open umbrella to cover us for the short walk across the ramp to the terminal, an excellent touch I must say to please your otherwise soggy passengers!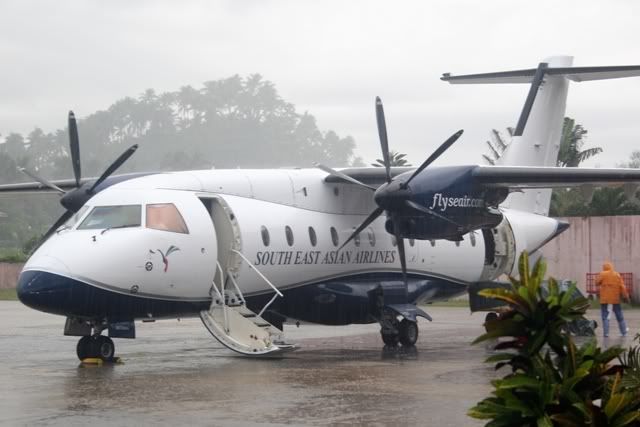 Waiting for me at the arrivals area were some of the staff who had helped me out earlier with my tickets; for their help I had promised to bring them some doughnuts back from the MrDoughnut kiosk in Manila airport, sure enough they were very pleased with them, though I kept a few for myself and just incase I needed to persuade any more police or security guards!  
  Downpours in this region are often heavy but sometimes they give over after a while, so I waited in the terminal for a few minutes, however this one was showing no signs of abating, so I decided I'd just have to get wet on the way back. I'm glad I didn't wait either, because it took over 5 hours to stop, having flooded just about everywhere!
Sunday 24th June
All too soon it was time to depart from Boracay, ultimately this would be the start of my return trip to Birmingham, via here there and everywhere though, as is usual for me. I still was not completely sure which flight I would be taking, but I had found that I could take a flight from Cebu up to Manila late in the evening, so I would still get back in time should I take the CASA that way – which was preferable actually, as I could then also fly on Philippine Airlines, meaning I'd have flown pretty much all of the airlines in the country.
I made sure I left where I was staying by mid morning, which, incidentally was very good for about £3-4 per night –
Trafalgar Cottages
– run by a nice guy who is very helpful, I can highly recommend this hostel if you're backpacking! I reached the airport in no time and once there was greeted like an old friend! Both flights were in fact running and both had space on them, so I could take my pick. Well, in the end I chose to go to Cebu on the afternoon flight at 16:00, not just so I could also fly PAL back to MNL, but seeing as it was such a lovely day I could also spend a bit of time shooting the arrivals and departures. I checked in and was issued with my boarding pass, it was also possible to leave my rucksack in the terminal to save me carrying it around. To my surprise I was then directed to the ticket office again where I needed to have the fare difference refunded, which turned out to be all of 150 pesos less than the MNL flight (I couldn't remember even paying for it), not that I'm complaining as it then bought me a good lunch!
The locations to photograph at Caticlan are simply superb, the fence is about 3 feet high, although most of it isn't upright and the little bits that are have gates in them to allow you to walk over the runway if you should so desire! The western end seemed to be the best (and the shortest walk from the terminal), essentially there is a road which passes just a few meters from the end, and from either side there are some great approach or departure shots to be had.
If only the fence was stronger it would be the ideal place to 'fly SXM style' in the thrust as the 146 or others power up, however you'd probably get scorched or blown into the pond across the road – talking to the guy who's job it is to stop the traffic, I found out that several people a month apparently either don't realize that the aircraft is there (he can only be on one side of the runway at a time to stop traffic!) or attempt to drive or ride past anyway when something is powering up to full thrust at the end, just 10 meters to the side. So far nobody has been killed, but each time they have been blown off the road and into the water! It would be even worse if they managed to do this as an aircraft was skimming over just a few feet above the road to land, or actually
ON
the road as at least one plane managed, hence the demolished fence at this end!
The opportunity for a real close up landing photo was just too good; a 'souvenir' dollar did the trick for him to turn a blind eye as I lay down at the end of the runway, just off the road, flat on my back at the top of the bank down to the pond. I've got to admit that as well as being a 'buzz' it was actually quite scary to watch a 328 flying nose down, straight at you before passing literally just a few feet above my head with an angry roar.
I wouldn't normally include such a large sample of pictures, but given the location and aircraft types, I think it's obvious to!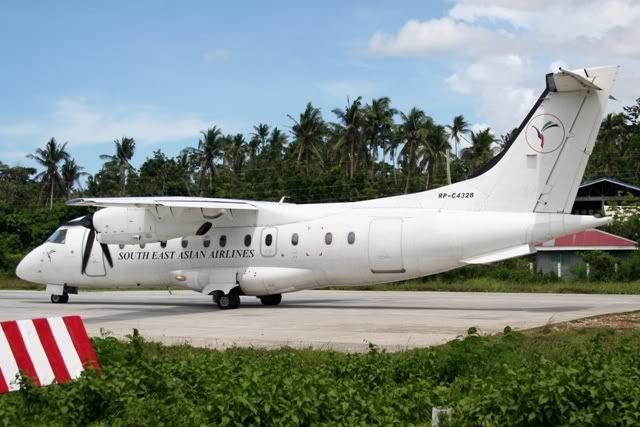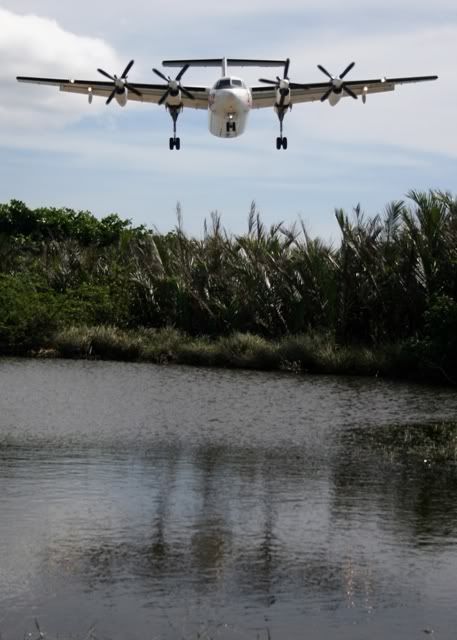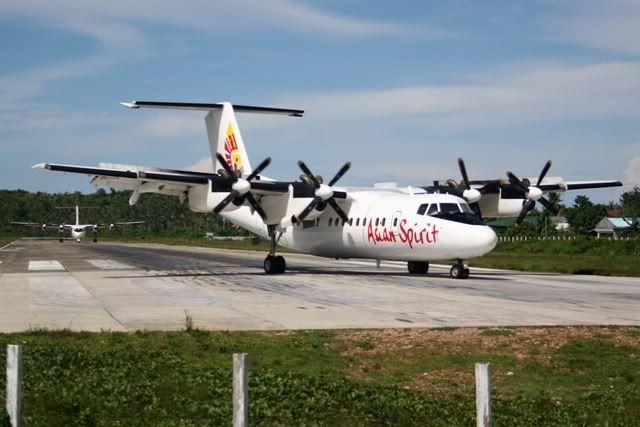 Soon the runway is going to be extended by 300m this end, I'm not sure what will then happen to the main road, it may well just go over the runway as presumably from the length of the extension it will protrude a little out to sea. I couldn't quite understand whether it was due to be completed in three years, or if the work would commence in three years, but whichever, it will mean aircraft like the 146 can land in all weather, with full loads.
By this time it was nearly 4pm, when my flight was due to leave, however it had still not landed yet from Manila. I knew I'd have only a few minutes to run back to the terminal, but I really wanted to shot it, considering how rare the CN-235 is, so I positioned myself back along the road, where I could jump into the middle and hopefully get a picture of the plane dropping down over the 'Stop and Look, Landing and Taking off Aircraft Ahead' sign. The guy stopped the traffic and called back to me 'its coming!' I fired off a burst of shots as the aircraft floated over the road, getting one which was neatly above the sign. Annoyingly my camera decided to grab the sign as the main focus point as I panned, but still, it came out well enough!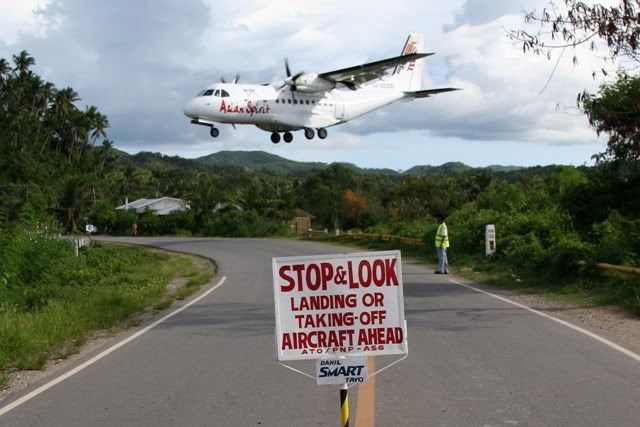 Quickly I made my way back to the terminal, digging the boarding pass out of my bag as I went. There was still plenty of time though once I arrived, walking in one of the staff members excitedly gestured to the apron, just visible through the check in area, where the CN-235 was now disembarqueing. I was just as pleased, having begun to think that I would not manage to get a flight on it!
The tiny departure lounge was packed, with several flights to Manila and mine to Cebu which commenced boarding promptly, leaving me just enough time to grab a bag of crisps and a drink to have onboard. I was keen to get plenty of pictures of the CN-235 on the ground, as I doubt I'll ever fly it again, plus the whole airport is probably going to have changed greatly by the time I think about coming back.
MPH-CEB
Carrier: Asian Spirit
Flight: 6K 995
Aircraft: Nurtanio (Indonesian Aerospace) CASA (IPTN) CN-235-110
Registration: RP-C5000
Date of First Flight: During 1986, exact date unknown
Seat: 2A
Estimated Departure Time: 16:00
Actual Departure Time: 16:19
Estimated Arrival Time: 17:00
Actual Arrival Time: 17:16
Total Flying Time: 57 minutes
The 235 is in fact quite a common aircraft, although it's almost exclusively a military aircraft, the exceptions being just a handful of airlines that operate or operated the type in commercial service. Up to a few years ago this included Binter Medditeraneo in Spain who operated the Spanish built CASA version; until they were absorbed into Air Nostrum I would often see these at BCN and MAH, so again it was nice to have caught up with it at last! Other operators I know of are Air Namibia and Merpati in Indonesia, although the latter is going to have withdrawn all examples by the end of 2007, replacing them with 15 of the 60 seat Chinese Xian MA60 aircraft.
This particular version was built under license by Nurtanio in Indonesia, who are now better known as Indonesian Aerospace. RP-C5000 was the first aircraft to come off the Indonesian production line and is now a little over 20 years old, having served with Merpati Nusantara Airlines in Indonesia previously until 2002 when it was purchased by Asian Spirit.
I was the last to board, using the left rear stairs, walking all the way down the aisle to find my seat at the front, 2A, which was the exit row. The air conditioning was producing its own clouds in the cabin which were then rapidly condensing on the ceiling and turning to rain, yet despite this it wasn't having any affect on the temperature and seemed to be concerning many of the passengers, the crew then making an announcement reassuring us that it was perfectly normal! As one of the crew later told me, the air flow into the cockpit is completely the reverse and freezes them with several jets of cold air, whilst the cabin is still boiling, hence they keep the door open all of the time which roughly counters the two affects out!
Take off was going to be from the east, the road where I had been standing all afternoon seemed even closer as we taxied to the very end of the concrete, and turning to oppose the opposite end of the runway. The props beside would around faster as the power was increased, pushing aggressively at the air behind. Then, quite slowly at first, we began to bounce and rock forward, gathering speed though and pulling back after a roll of about 600 meters – impressive even for a STOL aircraft.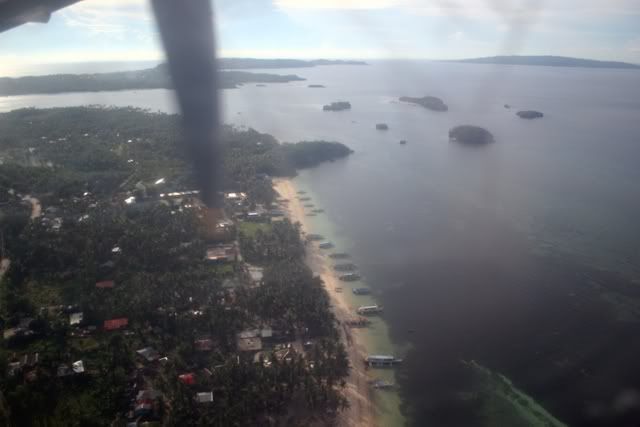 Boracay drifted past under the left wing as we banked South to head for Cebu, then a flying time of roughly one hour was announced whilst the cruise would be 11,000ft. Inside the cabin the noise was quite high from the engines during climb out, although this sullied as we leveled out. Looking around the cabin it was much like the Dash 7; with a tired appearance and windows which were barely transparent! Unlike the 7 though, there is an additional main door on the right at the front, quite an unusual place as most aircraft have them on the left. As you looked more closely, it seemed that nothing fitted correctly or appear as it should; almost every panel was either bowed out of shape, broken, fixed with duck tape, or just didn't fit properly in the first place. But, despite all this, nothing rattled and the ride, even through large and normally volatile storm heads, was incredibly smooth. This made me wonder, just how on
Earth
did De Havilland manage to make the original Dash 8 (non Q version) sound like you're shaking a load of marbles around inside a metal tin on take-off - not that it gets much better in cruise, yet here is an older plane, apparently held together with sticky-tape, which hardly rattles a bit?!
There was a short service from the stewardess, offering the same combination you receive on all Asian Spirit flights; a juice flavored (read 'E-numbers!') drink and a packet of biscuits, or I think that's what they were. The low flight level gave some excellent views of the countryside and islands below, discernable through the few bits of unscathed window – I found that the small porthole in the emergency exit door offered the best chances of taking a clear picture.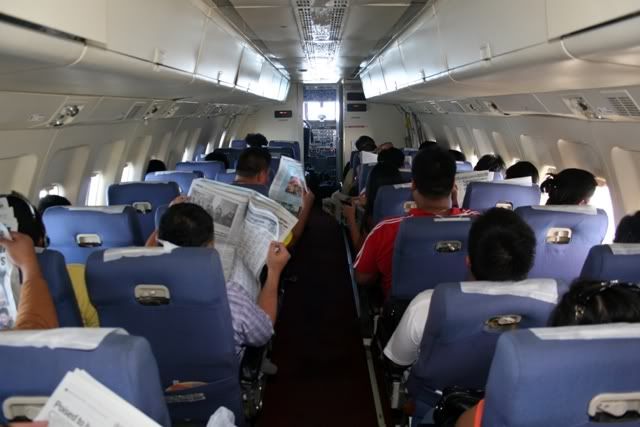 At one point I got up and asked to take a few pictures of the cabin, I would have asked to see the cockpit, but aside from having a good view in anyway from my seat through the open door, I could see that it appeared to be very cramped and overflowing with flight bags and paperwork! The flight was pretty uneventful in whole and soon the descent began towards Mactan Cebu airport, flying over the city with the airport parallel to the left, a Philippine Airlines B744 clearly visible on the ground.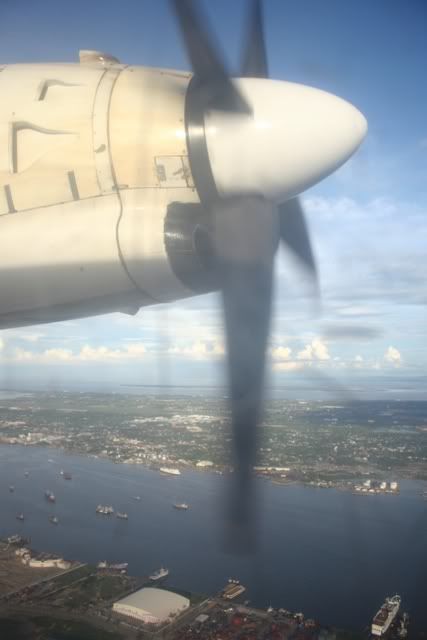 A long bank 180 degrees around to the left ensued, followed by several quick corrections and an absolutely perfect landing, you couldn't feel the wheels touch down at all, it was that soft! Once parked up, just about everyone jumped to their feet long before the belt signs were turned off. I reclaimed by bag from the overhead and asked the pilots if it would be ok to take a picture, which was no problem at all.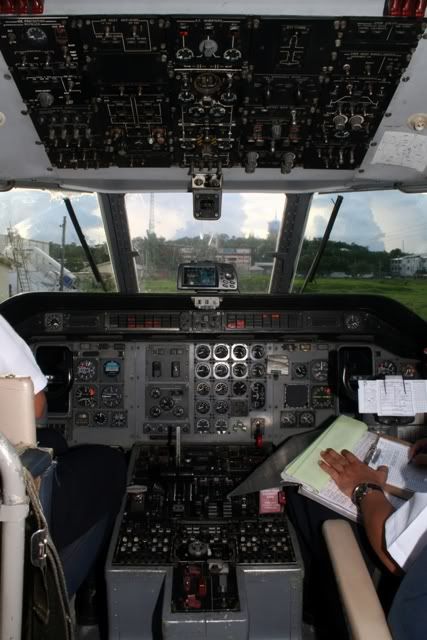 We were being bussed to the terminal, so as the last passengers were beginning to trail towards the back of the aircraft I thanked them, complimenting their landing and hurried to the back, quickly asking if it was possible to take a safety card as a souvenir, again, that was not a problem. The bus, rather more a coach, was full with only room to stand left and nothing to hold onto, instead I just sat on the steps up to the door – although I was anticipating they might close them when we moved – I had to hang on tight not to get thrown out! Once in the terminal the luggage was on the belt - nice and prompt I thought, then after collecting my bag I headed to the Philippine Airlines office in order to book a flight up to Manila straight away.
To my great annoyance, I was 5 minutes too late to still get the cheap fare! The travel centre in Boracay had told me that I could book it (for 2000php or so) any time up until the standard 45 minutes before departure required for check in, but, what they hadn't told me was that the only fare I could actually buy was an open ticket at full price! I was literally five minutes too late, the mandate for the flight had just been closed (three hours before departure) and hence all the low fares were wiped out of the system. Bother! – or words to that affect. I could still take a later flight and save about a third, but aside from being operated by an A320, it was the last flight with seats available – if something went wrong with it for some reason and I didn't get to MNL that evening I would be rather stuck for getting back to the UK! There was no choice, so I had to buy the open ticket which came to 3823 pesos, still pocket money compared to open fares in the UK, but nevertheless an expensive five minutes!
After checking in and letting them know which flight I wanted to take I found a café and had something to eat, along with a nice strong coffee – I doubted I'd get a good nights sleep for the next few days, so I might as well be wide awake. After paying another departure tax, 200 pesos again, I found there was nothing to do in the departure lounge, but luckily the doughnut stand was still open! It wasn't long before the 8pm Air Philippines A319 operated flight to Manila started to board, then shortly afterwards, my 8.30 flight was called – at which point half the departure lounge got up and headed to the gate.
CEB-MNL
Carrier: Philippine Airlines
Flight: PR 868
Aircraft: Airbus 330-301
Registration: F-OHZN
Date of First Flight: 28.07.1997
Seat: 62A
Estimated Departure Time: 20:30
Actual Departure Time: 20:28
Estimated Arrival Time: 22:00
Actual Arrival Time: 21:26
Total Flying Time: 56 minutes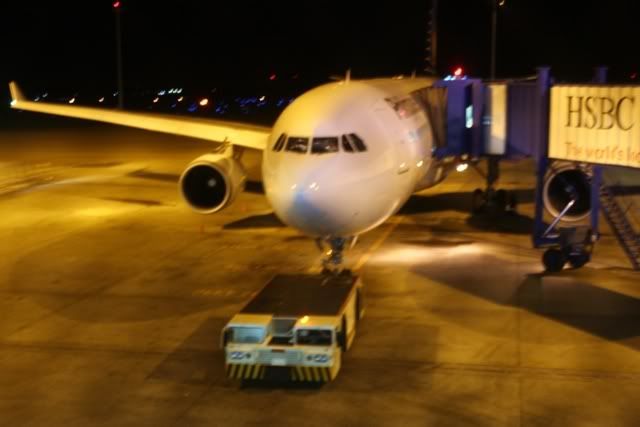 I was one of the first to check in, so was able to get an emergency exit seat; 62A, which meant a long walk towards the back of the A333. From my seat I could see the Cebu Pacific A319 operating the outbound flight to HKG, on which I had arrived almost two weeks previously. Also, to my surprise, I could just make out a Qatar Airways A332 at the far end of the International Terminal, I had no idea they flew to Cebu. The boarding took a long while to complete, but because the flight had been called almost an hour before scheduled departure we were still able to push back ahead of time and make the taxi down to the end of the runway. I wondered how long the roll would be; even with the light load it was a particularly hot and humid evening, so as the engines powered up and we headed down the runway I kept an eye on my watch; 31 seconds until airborne – not bad. An announcement proclaimed that the estimated flying time was expected to be just under an hour, which to begin with felt very turbulent although it settled down a little once in cruise, from where I could look down and watch the lightening sparking through the clouds, instead of at the plane. I tried holding my camera still long enough to get a decent picture, but all this achieved was finding out that the guy next to me was also very much interested in photography, so apart from getting up for a while to take a few cabin shots, we spent the rest of the flight talking about cameras and lenses. It didn't take long to find out he was a fellow Canon man either.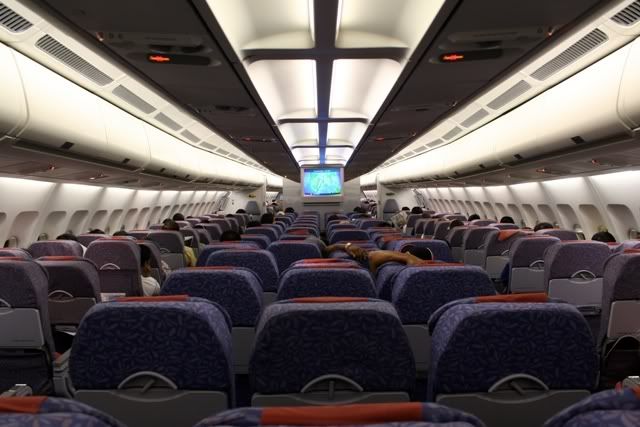 The service onboard the flight was on a par with Air Philippines; offering a selection of biscuits and crackers, along with a cold drink and then tea or coffee. The seat itself was also comfortable, on some of the flights I had taken there was either little padding in the first place, or the seat was so old that you could no longer feel it, plus the legroom was very good, being the emergency exit row after all. Our descent down to Manila heralded several decent drops through the clouds and general turbulence, our path being tracked on the screens showed that we were already over the city and one long bank later brought us onto final approach for runway 06. The touchdown was pretty heavy; slamming down hard onto the runway after what seemed to be a very long flare and using the whole length to stop. On the way out I asked if I could get a quick picture of the cockpit - always one sure fire way to remember the registration is to check back to a picture of the aircraft, it had to be quick though, as the crew were getting ready to leave the aircraft and shut it up - before flying up to MNL they had operated into CEB from Tokyo Narita in Japan, so were undoubtedly tired!
One I'd reclaimed my baggage I wondered what to do – the coach to Clark Airport went at 06:00am – still hours away, so I could either stay at the airport for a bit, or head for the bus station right now – there being no point in bothering with a hotel for such a short time. In the end I opted to go to the station, via the place I had previously stayed at; I thought I may have left my diary (Fila fax/notes/numbers/deadlines – the lot!) there, but alas that one seems to be gone forever, so onwards I headed to the station and although initially I got the wrong one, I was soon pointed to the correct one. Only one problem; it didn't open until 4am, hmm, still well over three hours away!
Monday 25th June
Fortunately there was a 24hour Jollibee fast 'food' joint directly opposite, so I whiled away the time in there and had something to eat at the same time. Come about 4:30 I headed across to the bus station to wait for the ticket office to open at 5:30am, whereupon I purchased a ticket to CRK for 350 pesos.
I used to think some of the bus stations in the UK were bad, but this one cast them in new light; I think I counted about 20 varieties of cockroaches in the toilets alone! I got the feeling that the likes of Cebu Pacific offering ultra low fares on domestic flights has really hit the long haul coaches – and it's not surprising when you consider Manila to Davao is over 2000 pesos and takes days, compared to an hour or so in the air for the same price. At about 6am a call was made for the bus to Clark, thankfully it was air conditioned – perhaps a little too much so; the cold plastic coated leather seats not helping matters. The bus stopped again in Manila where it became just about full, before continuing along the motorway towards Angeles. I was tired and fell asleep, but it seemed that every time I woke up we were in some incredibly random place; firstly we were stopped on a road in the middle of no-where, then in a market where the bus driver was arguing with a stall holder over just which cob of corn he wanted to eat for breakfast, then to top it off the next time I roused we were in a field, driving along beside a new motorway under construction! Still after two and a half hours of bum-numbing jolts we were inside the old air force base.
It may seem obvious, but to me it felt very strange; everything was laid out like you would find in America, even the trees were not native which to me gave the whole area an uneasy 'out of place' feeling. Not to mention the abandoned touches of home visible in all directions, from the design of now forgotten and deserted shops and buildings to the faded signs and markings on the road. It's hard to imagine it now as it was before Mt. Pinatubo erupted and covered the whole site with several feet of ash, warranting the base to be closed. The airport itself was small, in fact it was too small for them to allow all of the passengers inside of the terminal, only once check in opened could you go inside, so instead some very arbitrary seating was provided outside in a sort of open building shown below;
This was utterly hopeless in the growing heat of the day, no air conditioning, no refreshments open, and what felt like half the world's population of flies buzzing at you – if Clark really aims to become a contender to MNL then they really need to upgrade the existing terminal facilities right now and not just plan big for the future. Certainly I would not hurry back if returning to the Philippines, it's also worth pointing out to anybody thinking of using the coach to or from the airport that the timetables are not accurate, there is only one bus per flight, not two and they do not operate in the Air Asia livery and fill up quickly.
I had over two hours to wait outside, so went for a walk – there were a few aircraft parked up around the hangers, a Grand Airways 737-200, SEAIR D328s and D228s and in the distance another YS-11 which I presume belonged to a Japanese airline before now being owned by Asian Spirit, wearing the same livery as the spare aircraft I had seen before in ZAM.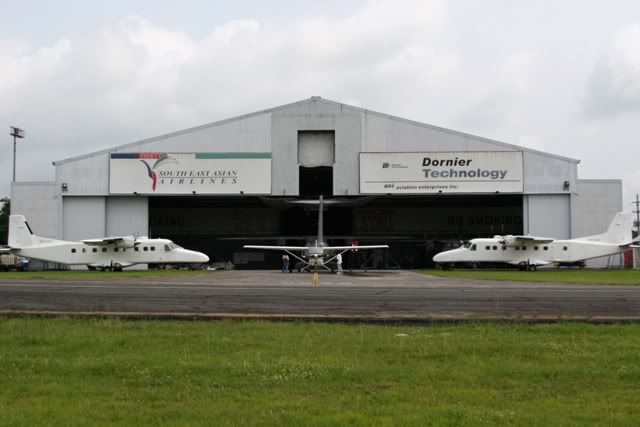 Eventually Tiger Airways passengers were allowed into the terminal, which is a piece of airbase history in itself, there is a main line of check in desks, then Tiger Airways who use a couple of basic kiosks to the side – probably to save money as there were several conventional counters still not taken. Still, they had the operation running smoothly and pretty soon I was checked in, seat allocations are offered, so I opted for 1A and was handed my boarding card and departure card to fill out.
The departure taxes were quite high; 100 pesos for the terminal fee and then 500 for the departure tax in itself, once paid I had my passport stamped and proceeded into the equally small lounge. Apparently each airline likes you to sit in a certain block of seats so they know where you are, I didn't realise this though and just sat at the front where I could see out of the windows – not that there was anything on the ramp to observe. There were a few movements before my plane arrived – an Air Asia A320 flight to KUL, Cebu Pacific A319 from and then back to CEB (I had thought about flying this up to CRK, but the times were too tight to be sure) Hong Kong Airlines B738 from HKG and then the Tiger Airways flight from MFM which I would take back. I was impressed at just how quickly the flight was turned; no sooner had it stopped, then the fuel truck was ready and, as the last passengers exited they had us lined up for boarding. The planes are parked a good distance from the terminal so that there is no need to push back - they can simply taxi forwards and off to the runway – saving time and expense for the operators, but in turn there are no busses provided so it means a fair walk.
CRK-MFM
Carrier: Tiger Airways
Flight: TR 903
Aircraft: Airbus 320-232
Registration: 9V-TAH
First Flight: 26.10.2006
Seat: 1A
Estimated Departure Time: 13:15
Actual Departure Time: 13:21
Estimated Arrival Time: 15:40
Actual Arrival Time: 15:01
Total Flying Time: 1 hour 40 minutes
Greeted by the crew at the door, they pointed to my seat which I gladly fell into – feeling as I was quite tired and ready for another power nap! The aircraft was immaculate, inside and out, but quite rightly so as it was only 8 months old! Once boarding had completed the doors were shut and off we went, ahead of the Hong Kong Airlines B738 which had been on the ground considerably longer. Clark airfield is pretty massive so the taxi to the active runway, on the far side of the airfield from the terminal, took a while and along the way we passed several freighters, the UPS MD11, a DC10 from the same company and a 727 from TRI-M.G, who I had never heard of before. The take-off from Runway 02 was nothing special, just your typical Airbus 320 experience and fairly soon we were up in the clouds, drifting away from the Philippines and towards Macau.
The flight was comfortable, there was fairly good legroom in the front row and the rest of the seating looked pretty good too, certainly comfortable. It wasn't until after I had arrived back home that I realised this was my 300th commercial flight, I had no idea that I had taken so many! A short buy on board service was offered, but I'd eaten back in the terminal at CRK so drifted off for a short nap instead. The next thing I know and we're starting to descend towards Macau, circling the country once, or 'Special Administrative Region' as it is now, and lining up to approach runway 16 from the North, touching firmly down and using just about the whole length to stop.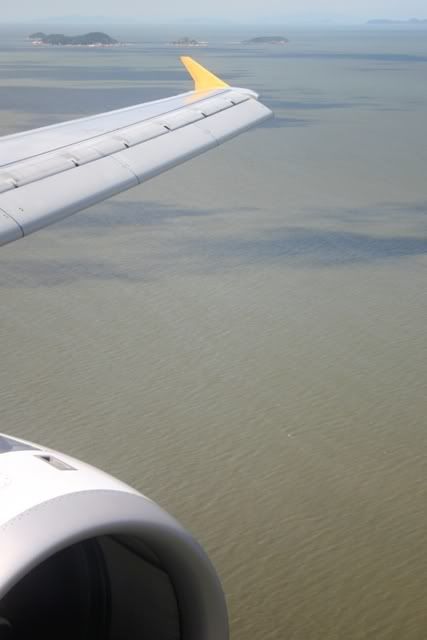 Macau's airport is certainly interesting, the runway being built out at sea on a long island, linked to the terminal area by two long bridge taxiways. Unsurprisingly we didn't link up to an air bridge, but parked just next to the terminal, well within walking distance of the entrance to immigration. Being at the front I was one of the first off and headed promptly through immigration and, after a fair wait for the luggage looked for busses to the port.
I still had over 8 hours before my flight left HKG, but even so I didn't want to hang around. The busses, like most places in Macau, accept HK Dollars, so after paying the 3.5 HKD fare to the ferry terminal I found one of the few remaining seats for the short trip. The 16:00 ferry to Hong Kong Island was just about to leave - I paid in a mixture of HKD and Macau Dollars and passed immigration in record time, then ran through to jump onboard before it left for the hour long passage. I had officially been in Macau for less than an hour! Luckily the boat ride was smooth, although I don't get sea-sick I just didn't feel like being thrown around a lot; having not had an ideal amount of sleep.
There were several choices to get to the airport once I had arrived; the bus, the airport express, or like I had done previously by taking the MTR and then the bus from Tung Chung. The latter definitely was cheaper so I did this, although I had a tough job getting the ticket. I had no change left, which I needed to buy a ticket from one of the automated machines, so I asked one of the guys at the ticket counters if I could buy it from them – no apparently, but he gave me some change for my note. Ok, try again, he hadn't given me enough change in coins for the ticket, but even when I explained this he still told me just to buy it from the machines. He spoke good English, but after about the fifth attempt at explaining to no avail that I would just like some more coins in exchange for a note I gave up in frustration! I was about to get the bus, but thought I'd try another machine – still wouldn't accept any notes, but I noticed a 'concession' fare which at 11 HKD (half the normal fare) I had enough change for. 'Sod it, I'll risk it!' I thought, it's not as if I didn't have a good go at trying to pay full fare! As it was I had no problems, and by 7pm I was on the local bus from Tung Chung to the Airport, not bad - 14.5 HKD in total for the trip.
The design of the new Hong Kong airport is one of my favorites; it ranks right up there with the new T4 at Madrid so, as there were still almost two hours before check opened, I had a wander around to take some pictures including the new Terminal 2 where Oasis Hong Kong would be checking in later;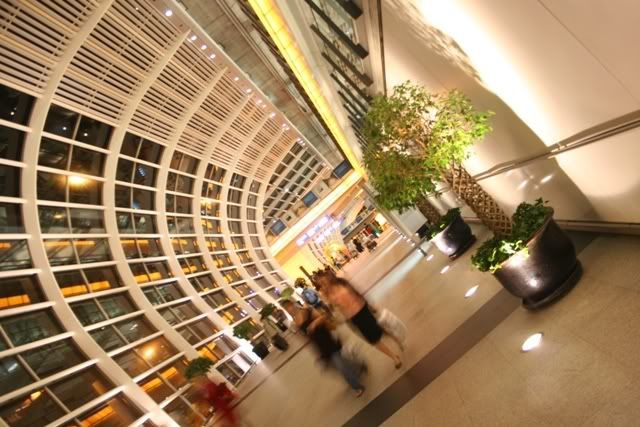 Check in opened just after 9pm, although I had already selected my seat online while still in Boracay; 50K as there were no emergency exit seats still available. Despite accumulating a good amount of interesting rocks, shells and bits of coral you typically find on the beach, my rucksack was still only weighing 14kg. At first I was offered an upgrade as the economy cabin was overbooked, but upon carrying this out the guy checking me in found that it was not possible, due to myself traveling on a heavily discounted student fare, still not to worry, I aimed only to sleep for the flight!
As a passenger you feel quite lost in Terminal 2, it's not exactly a terminal in the strict sense of the word, just another annex in which an overflow check in hall is located and so far is only used by Oasis and Emirates, yet despite this all of the countless dozens of shops stay open and seem to be pulling in a little trade from somewhere. There is no need to return to the main terminal after check in, as down an escalator you find emigration facilities and then, down yet another very long escalator, is a small automated train which takes you on a twisty tour between the piles supporting the structures above, delivering you to a small platform next to the existing station below the food court.
I'd eaten back at the complex in Terminal 2, so all that was left now was find some way of killing the last few hours until my flight left, luckily there are several complimentary internet stations, so I had a chat to some mates back home on msn and checked the weather… well, it could be worse! Just then I noticed boarding was starting, so I headed the short way to the gate where the 744