Here's my procrastination at best
: the final portion of my Trans-Pac adventure to the Philippines and Japan. For those that want to catch up, here's the links to the first two parts:
LAX-NRT-MNL-ILO On NW WBC & PR's New A319!
(by
N751PR
Mar 17 2007 in Trip Reports)
ILO-MNL-NRT-NGO-CTS-NGO-MNL W/ PR & JL Y And NW C
(by
N751PR
May 25 2007 in Trip Reports)
As I reported earlier, I got this business class ticket for $500 more than the cheapest Y bucket available at the time. Of course, there was a catch to this: I couldn't fly NRT-LAX nonstop on the return, instead choosing on either NRT-PDX-LAX or NRT-SEA-LAX with NW and AS or NRT-HNL-LAX with NW and DL if I wanted to maintain the cheap C fare. I've heard bits about this flight and, at one time it's possibility of being axed, so I decided to try this route out myself as well as maximizing my time in C seeing that the other two flights from NRT were shorter. The 2nd portion of my TR gets a bit fuzzy as I was knocked out. Well, I guess this is where I begin the trip report that I should've finished months earlier! Enjoy.

Flight 20, 2 January 2007
World Business Class
Boeing 747-451
MNL-NRT
Four hours after hitting the sack, worn out due to my hop from NGO w/ NW 71 the night before, I was woken up by my mother who, after our December 28 fiasco at the nearby (and now closed) Hyatt Regency, was extremely cautious on the time allocated prior to my flight. Once I showered up my half-awake, medication-induced self and quickly chugged down the only thing that had caffeine which was conveniently in sight, a can of Monster energy drink, we departed the Heritage Hotel to experience once again the early morning hustle and bustle of NAIA.
Expecting a larger horde of balikbayans going back abroad after a holiday season with family and friends, Terminal 1 was less chaotic than anticipated. NW72 to NGO was having it's final boarding call which made check-in much easier as there was just those of us on flight 20 with the only two other flights going out up to half an hour after us being just 5J and SQ. Ironically he agent that was to check my travel documents prior to checking in was Jason, the same one that helped me reschedule my flights and followed me through after missing flight 72 a few days earlier. Being such a recent event, he recognized me and asked if everything went well. Though tempted to tell him of the chaotic mess I went through in the journey to CTS, I just nodded and mentioned "Yeah, it went well, in the NW side of things at least." He smiled, gave me back my passport, and motioned me to the open WBC counter. Checking in itself was uneventful (for a change
) and I was issued my boarding pass and the invitation to the WorldClub.
NW counters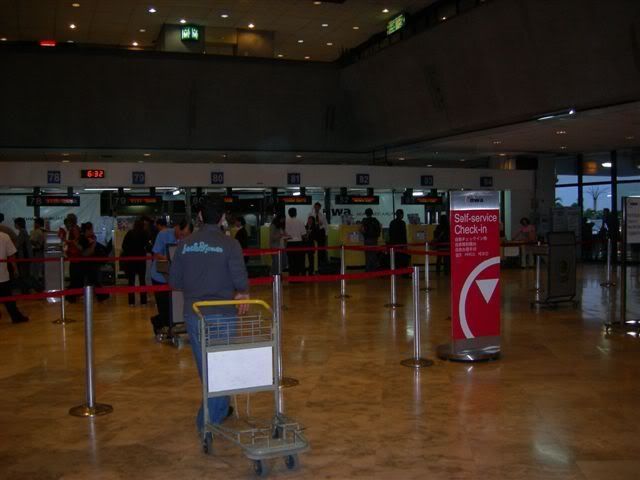 With my luggage checked in and disposed of, I headed to the airport tax and immigration desks which ate up a lot of time. That, alongside the two security checkpoints that I had to go through unfortunately killed my chances of being able to relax in the WorldClub. Though safe enough for me to not miss the flight, it looks like I didn't allocate enough lounge time.
Immigration line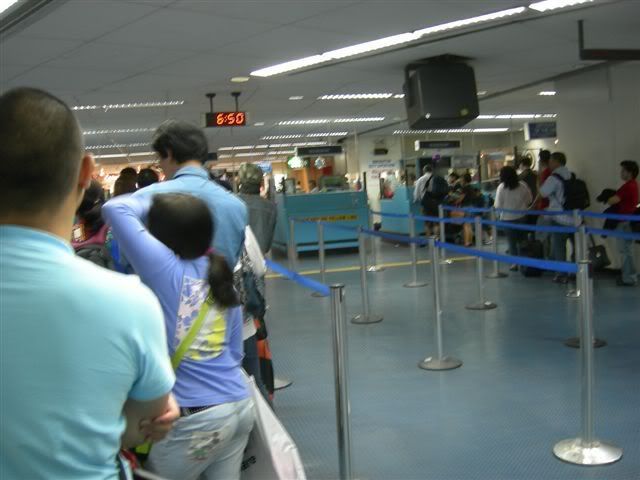 Getting to the gate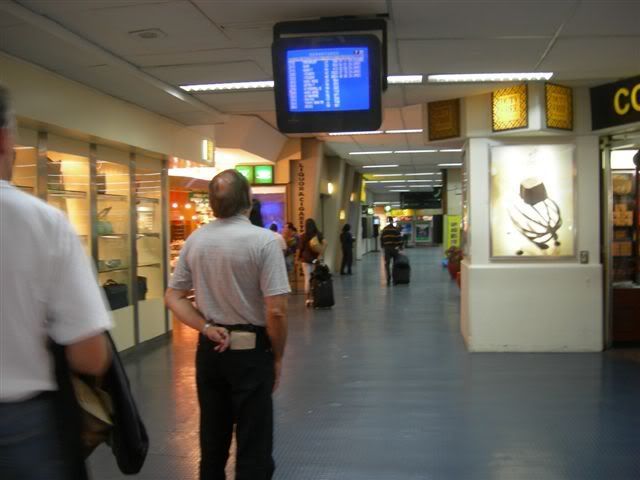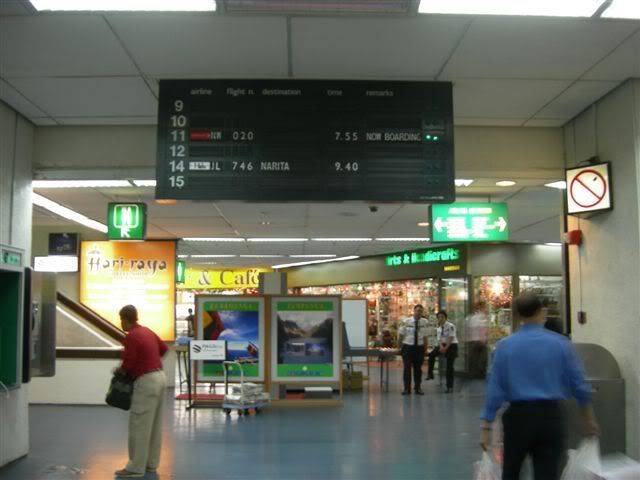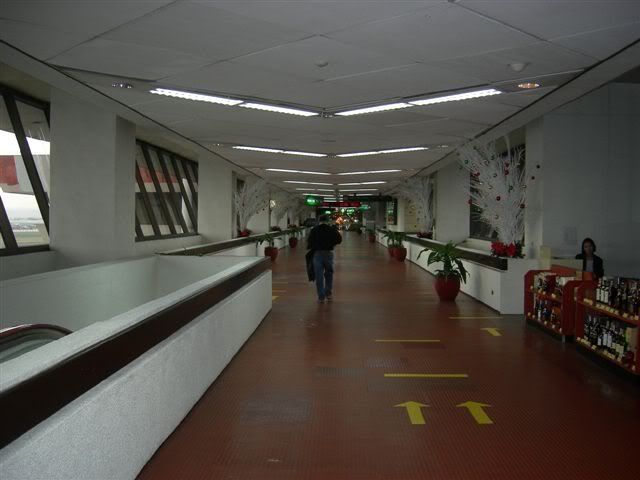 Prior to entering the third checkpoint, I gave one look at the boarding area for a quick trip of nostalgia. I was trying to imagine myself 13 years earlier as a six year old, playing around with three other children I met. At the gates, there was the UA 742 that was to take us to GMP while a LH 742 just arrived at the next gate. Though not as modern as it's other Asian counterparts, Terminal 1 still has a place in my heart as it is a part of an experience that made me the aviation enthusiast that I am today. I wouldn't visit this terminal again for another 12 years and by then, UA has long axed MNL from it's network, LH now uses the A346 via CAN, and those children I befriended are in high school and college scattered around the States, most likely never to meet them once more. Back to 2007, I finished my reminiscing and headed to the final checkpoint.
Ah yes, the memories...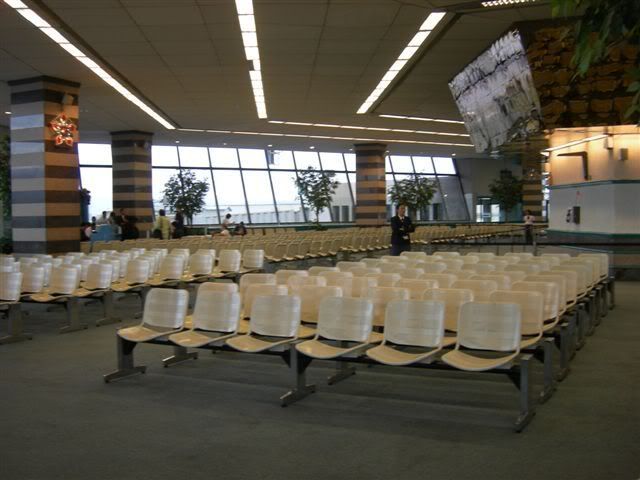 Going through the third checkpoint was rather smooth seeing that a lot of the passengers were already onboard the aircraft. Boarding the 744 and walking up the stairs to the upper deck now became routine for me whereas ten months before, I would've considered it an experience in itself. Nevertheless, the small and more private-feeling cabin of the upper deck is still always a joy to ride.
I greeted my seatmate in 77B, a middle-aged man probably heading back to the Midwest while I was setting myself up in 77A.
Yet another upper deck shot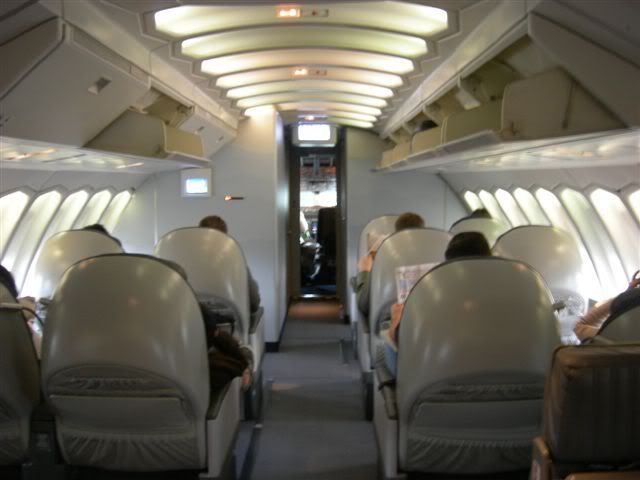 Give me a couple years and the OJ will eventually become champagne.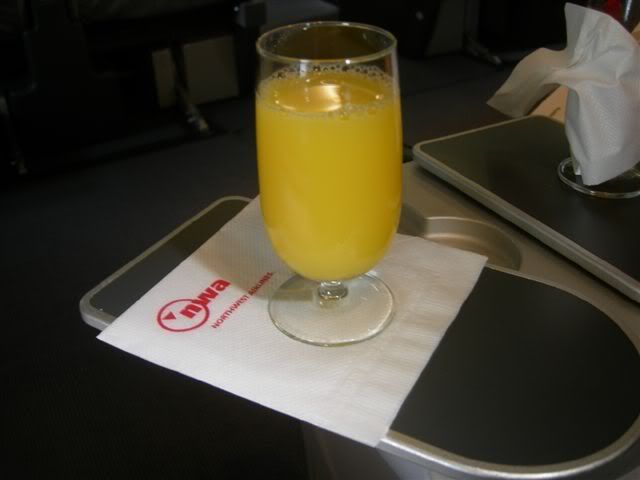 Pushback and taxing to the runway was pretty quick, with just a PR A343 in front of us with a PR 733 and 5J A319 taking up the rear. The only visible aircraft parked in Terminal 1 was the SQ 772 and JO 742.
Here we go...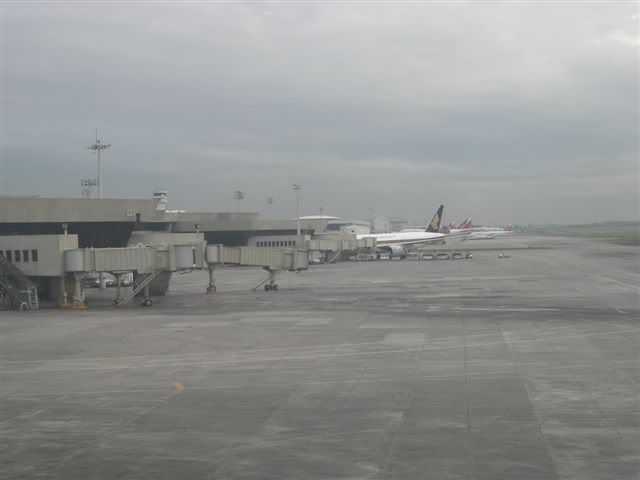 F-OHPK rolling ahead of us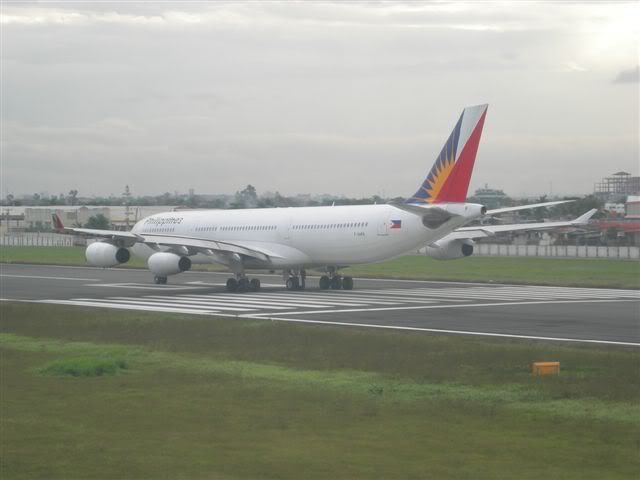 Morning lineup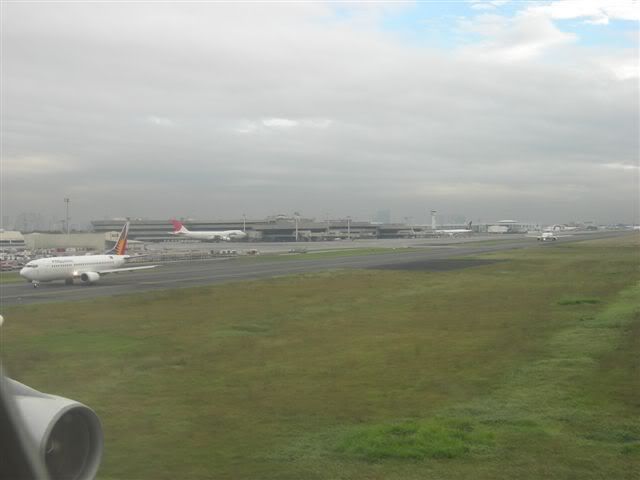 Climbing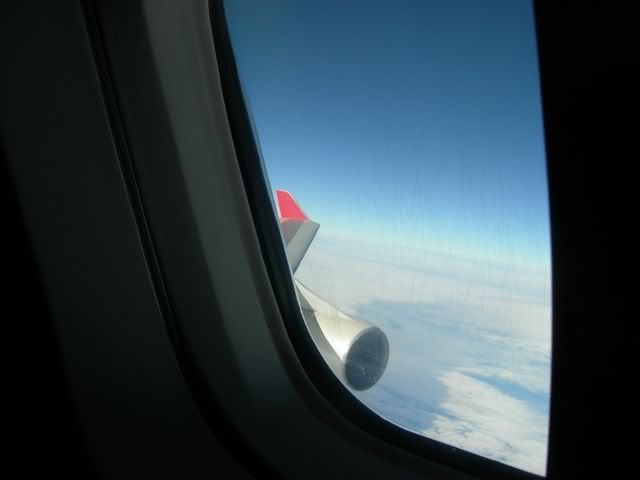 Once leveling out, the F/As headed to the galley to prep for our meal service. Here's a bit from my menu:
Breakfast

Assorted juices

Fresh Fruit

Yogurt

Warm Breads

Choice of

Creamy mushroom omelet with grilled pork chipolata and tomatoes

Sautéed white fish and prawns in oyster sauce with braised egg noodle and vegetables

Cold cereal

Coffee or tea
In a nutshell: it's the same menu that I had when I flew out on December 28. Seeing that I was in the same flight five days later, I didn't expect too much of a change, though now I'm curious if and when NW rotates the WBC menus. Seeing that I already had the omelet five days earlier, I went for the noodles. Though the omelet was delicious, the noodles were
by far
the better choice. The pastry was also great but there was one side dish that I absolutely loved: freshly sliced mangoes. Another kudos to MNL catering.
What's explaining a delicious breakfast without a picture?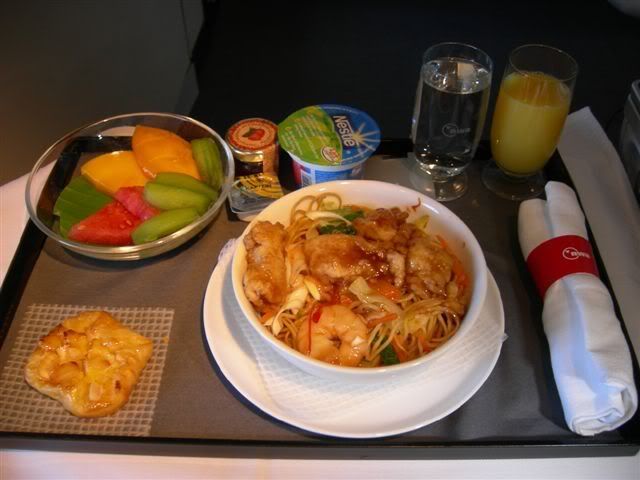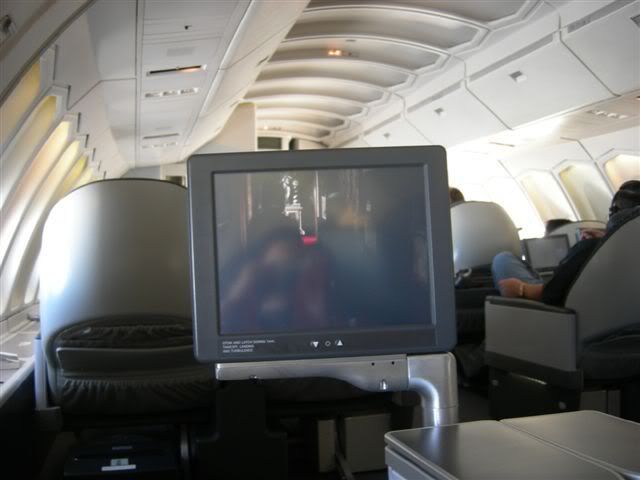 Once the F/As cleared the trays for us, I settled down for a movie (which I am seriously having problems trying to recall) for the rest of the flight. Three hours later, the Honshu coastline began filling our windows as we started our descent into NRT.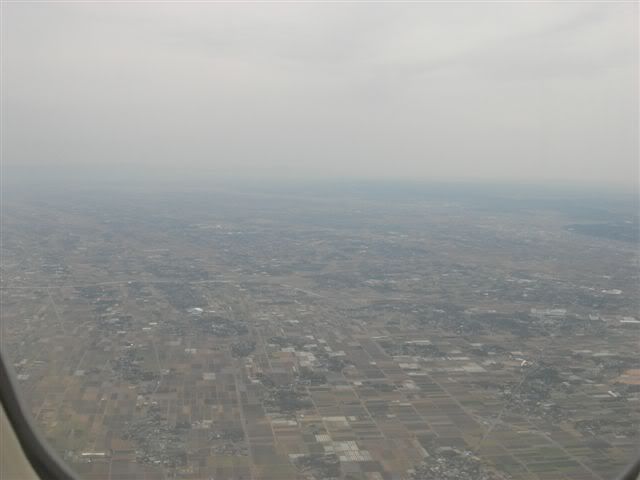 After a quick and smooth landing and taxing, in no time we soon found ourselves airside of one of my favorite airports to connect in.
I presumed that this was going to be the last time I would be seeing an AZ a/c ever again. Six months later, I still saw that classic livery in NRT.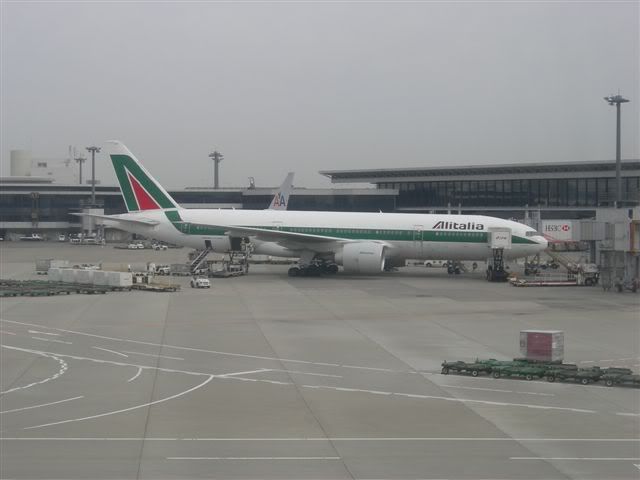 Thanks once again.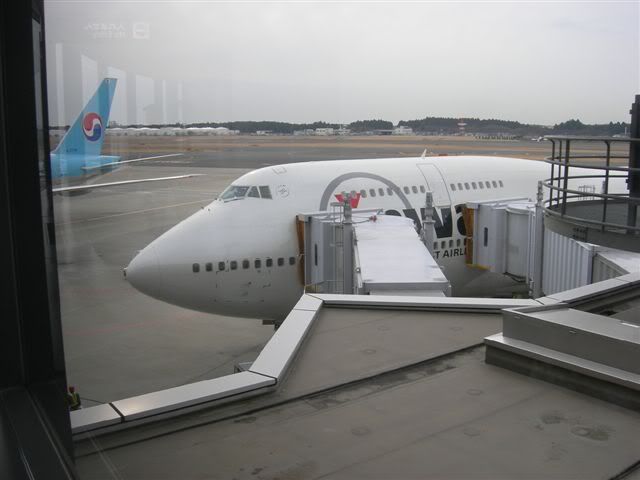 The winglet of my ride to PDX is sticking out in the right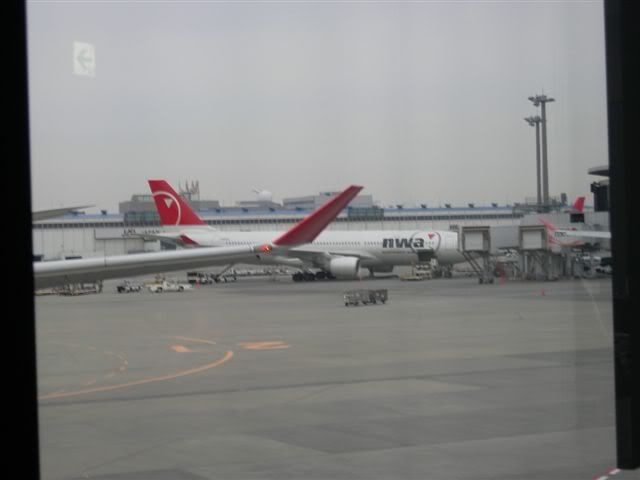 I spent an hour of my layover in NRT in the Satellite 2 WorldClub where I caught up on the latest aviation headlines in my laptop. After finishing up on that, I went down back down to do some last minute souvenier shopping for some friends. It's amazing how much time you could spend debating which gift is suitable for who...before I knew it, the first boarding call for flight 6 was commencing and I was soon rushing down to Satellite 1.

Flight 6, 2 January 2007
World Business Class
Airbus A330-223, N857NW
NRT-PDX
N857NW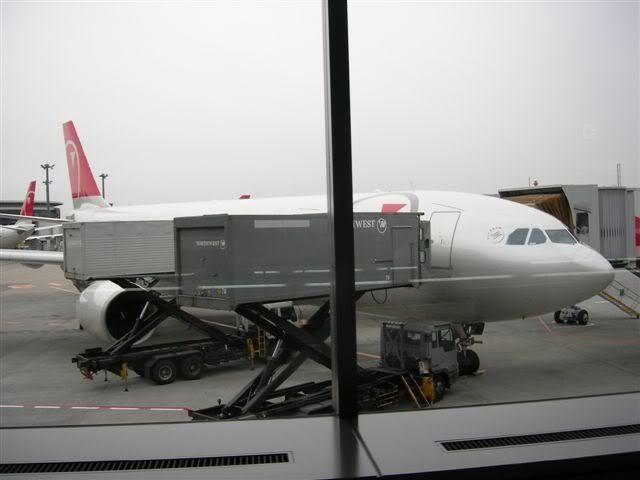 WBC/Y jetway signage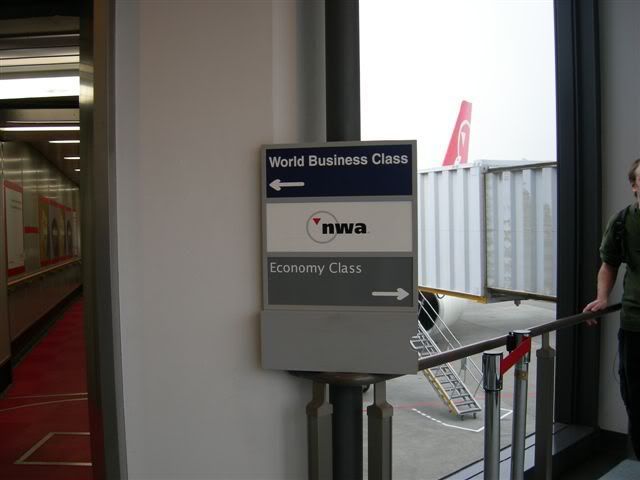 Once onboard, I was greeted by a couple *very* cheery F/As, somewhat of a rarity in my travels w/ NW.
I was pretty excited to be onboard this flight as this would be my first NW A330 experience though there was some irony as I would be onboard my last NW DC-10 flight the following week. As I waited for my seatmate, I was overhearing one of the F/As jokes (which, again, I unfortunately don't recall entirely...next time I should seriously write these TRs ASAP when it's more fresh) to the two cheery ones in the nearby galleywhere the other two were puzzled by the joke whereas the F/A that was telling it noticed my chuckling and replied, "See, he gets it!" Just then, my seatmate, connecting from ICN, greeted me and occupied 4B. After a few minutes of browsing around the latest issue of the WorldTraveler magazine, we were finally ready for some pushback action.
A view from 4A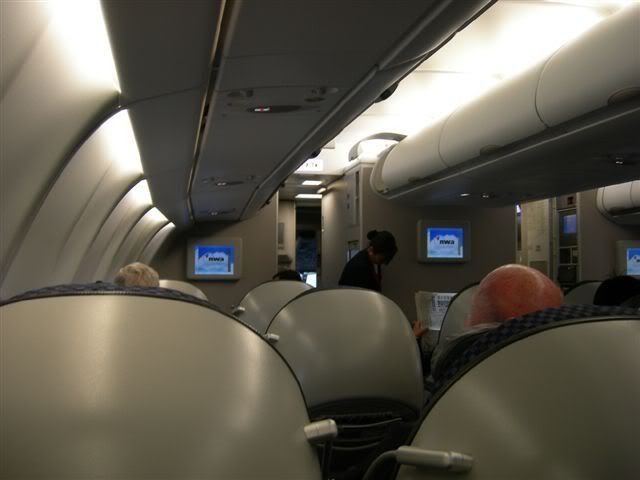 Preparing to pull away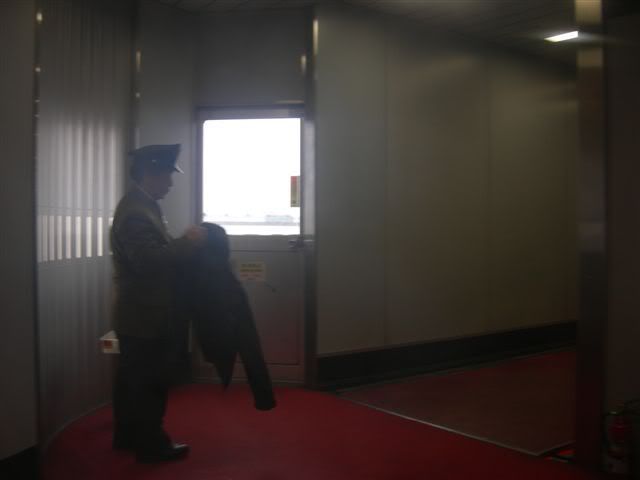 The last time I'll be seeing an AA and CX a/c in Terminal 1 (thanks for leaving the Admirals Club with us though!
)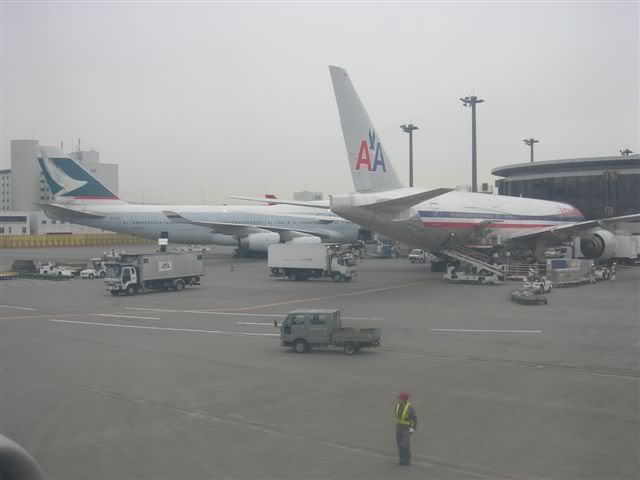 And thus begins our taxi...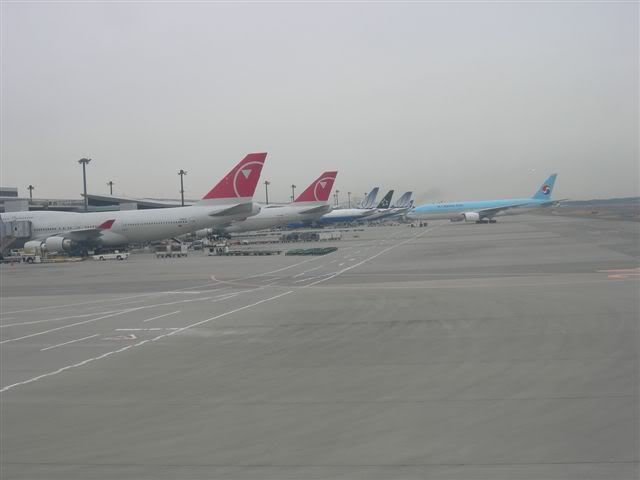 CI 744 and KA A330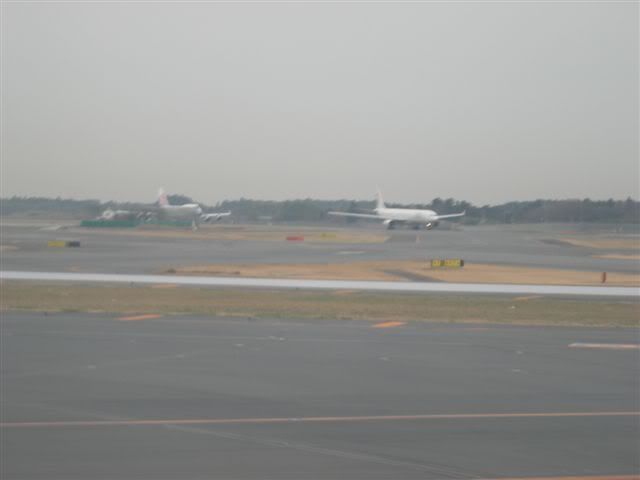 The taxi itself was rather uneventful with us passing through the lineup of NW and UA a/c with just a KE 777 in front of us.
Holding for this NH 744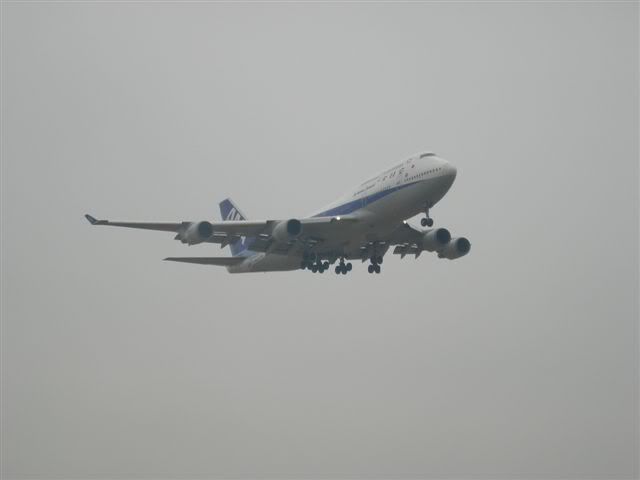 Ready to leave the cloud cover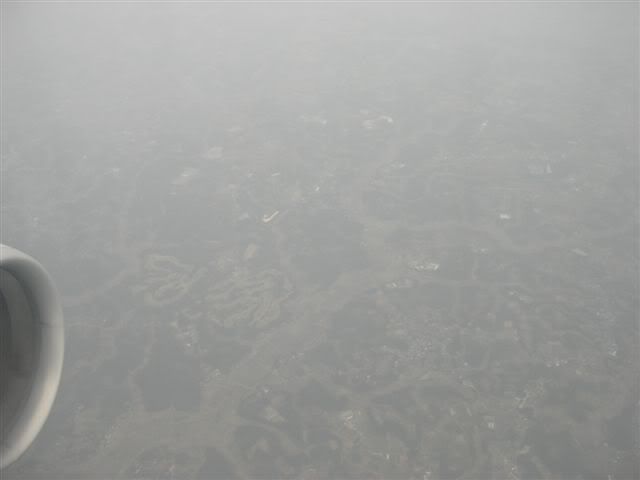 A few minutes after the seatbelt signs went off, the F/As began to distribute the headphones and amenity kits. For once, I decided to dig into what my amenity kit has to offer since I usually keep it wrapped and save it for my next trips to the Philippines. The only thing I bothered using was the pen.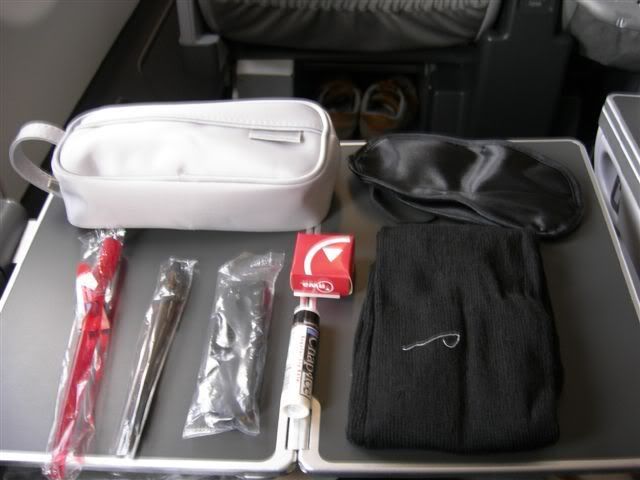 Afternoon skies over the Pacific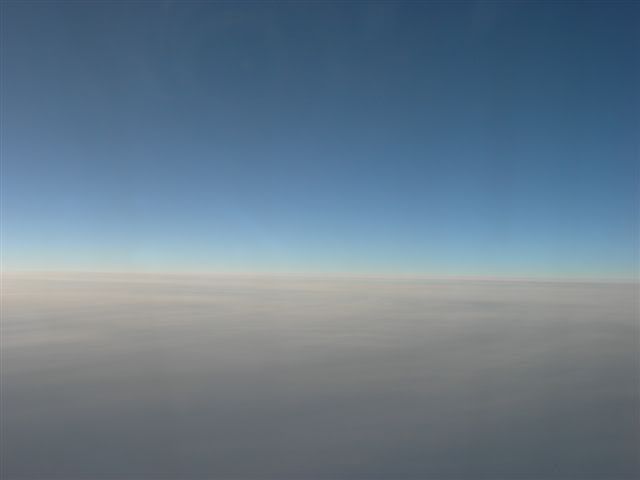 After tucking away my kit, I pulled out the PTV and immediately moved to select the movie I've been meaning to watch for quite a while,
Flyboys
. That had to wait as all the PTVs were treated with the routine showing of the in-flight exercise video that seriously needs updating followed by the immigration form video with everyone's favorite F/A, Steve Pacquin (after so many NW int'l flights, his name finally sticks), and the standard US Visit segment. While waiting for the videos bit to finish, the F/As began serving snacks. Finally midway through the snack service, I was able to get back to the AVOD.
Here be the mixed nuts, 7UP, and the aforementioned US Visit video.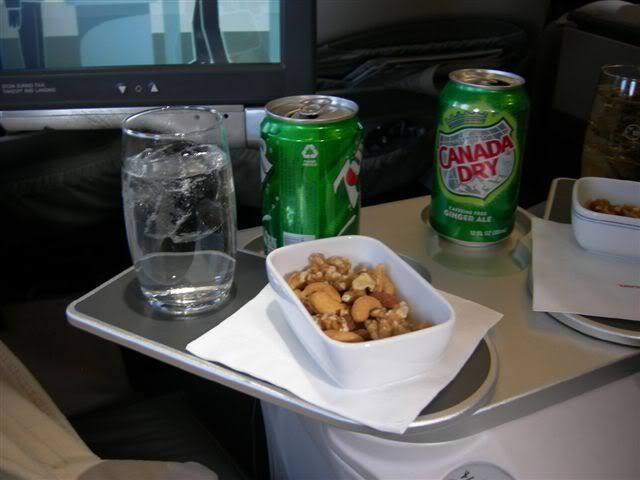 Looking west to the dusk sky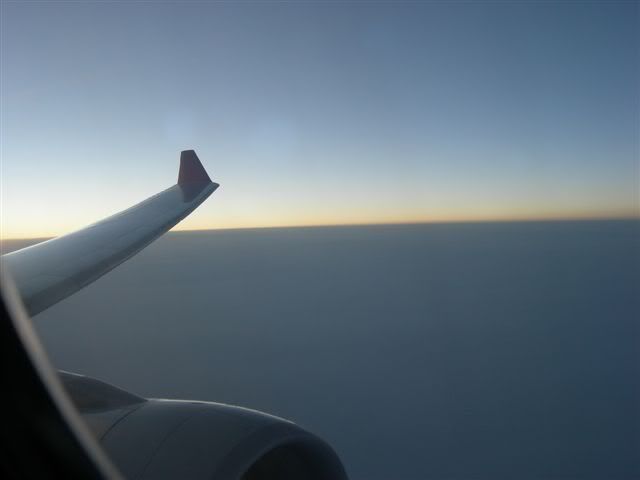 Brings back memories of the oceanliner fan in me: the R.M.S. Aquitania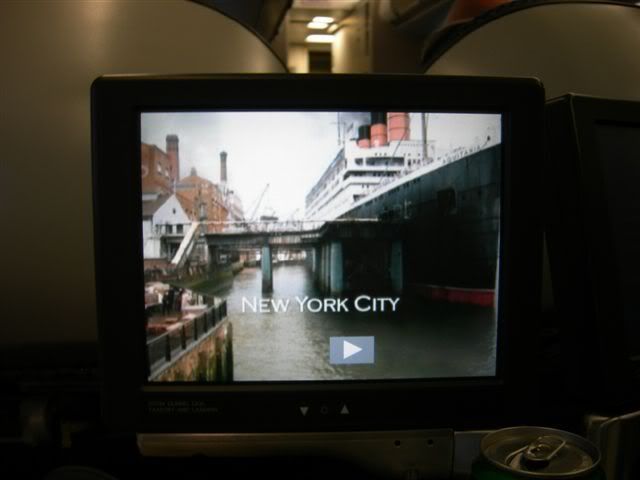 Just as I was about to get deeply engrossed in the movie, the meal service began. Perfect timing.
Unfortunately I haven't been able to locate the menu for this flight and seeing that it's been nearly 8 months since I took this trip, I don't recall too much of the other choices in the meal.
Appetizer - chilled chicken, scallops topped w/ some roe, salad, and garlic bread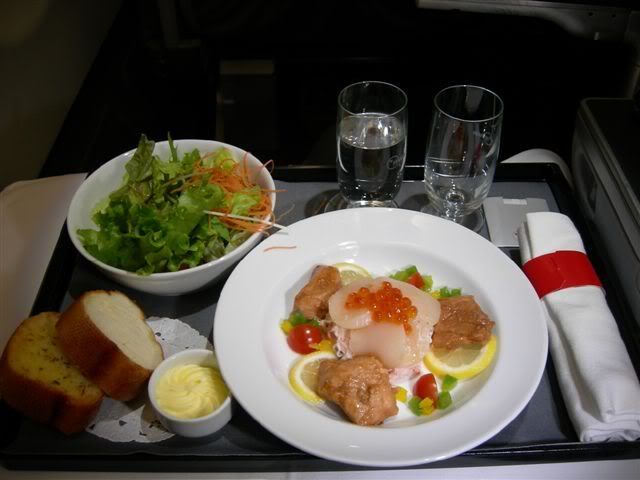 Main Course - Korean BBQ ribs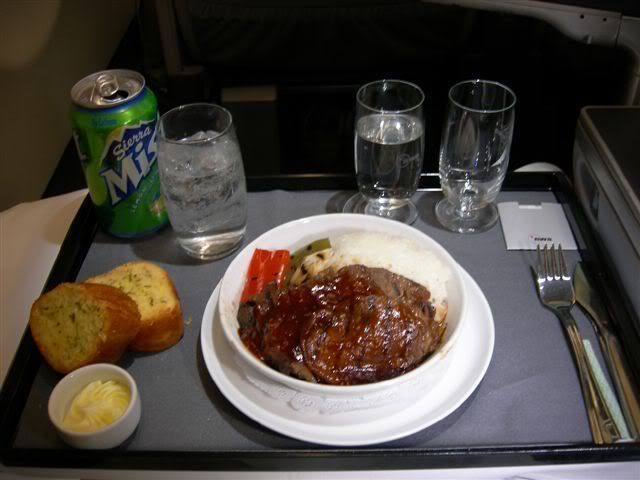 Dessert
Back to the movie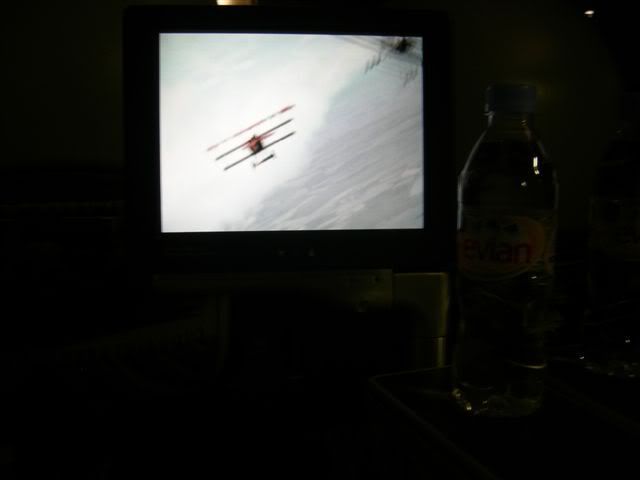 All the courses were delicious, especially the BBQ ribs. Thankfully they offered cake for dessert since I didn't get much of a chance to raid some of my favorite bakeries back in Sapporo.
I spent the rest of my time awake finishing off
Flyboys
, however as I was 3/4 finished with the movie, the movie was paused as there was an "announcement in progress". At first I was clueless as to why the F/As would be making an announcement in the middle of the flight...and then it hit me. The F/A was requesting if there were any doctors onboard as there was a passenger in the "left side" of the Y cabin that was experiencing difficulties of some sort. The passenger in 3C turned his head to the Y cabin while I gestured to him if he saw anything, replying back with a shrug. Still concerned but knowing that I couldn't do much to help, I conceded and went back to finishing the movie. Once the movie was over, I finally surrendered to my drowsiness thanks to the meds, reclined my seat to fully flat, and spent the rest of the flight knocked out.
Several hours later, the cabin lights were back on and another announcement was made requesting us to bring our seats back into takeoff/landing position as we were about to land in PDX. I guess we didn't divert after all... Unfortunately the after-effects of the medication I took earlier were still with me and I went back to sleep, skipping on the joys of landing. The next thing I knew, we arrived at our gate, however, we were requested to wait as the passenger that experienced difficulties had to be evacuated from the plane. Once that was completed, the WBC cabin was cleared to deplane. I stuck around to ask the F/As if I could get a cockpit shot which they thankfully allowed.
World Business Class cabin ready to deplane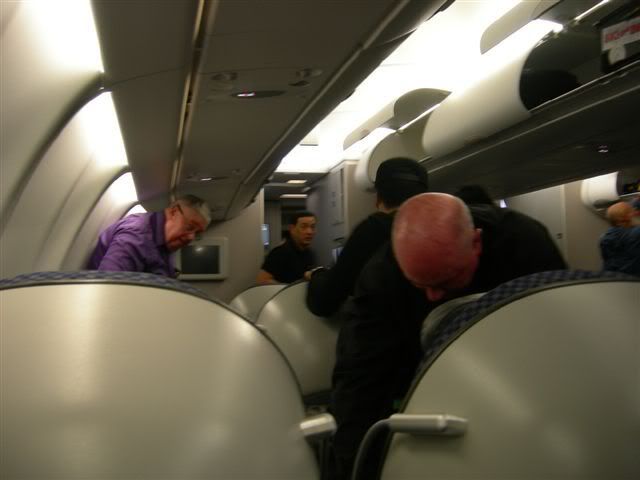 Cockpit shot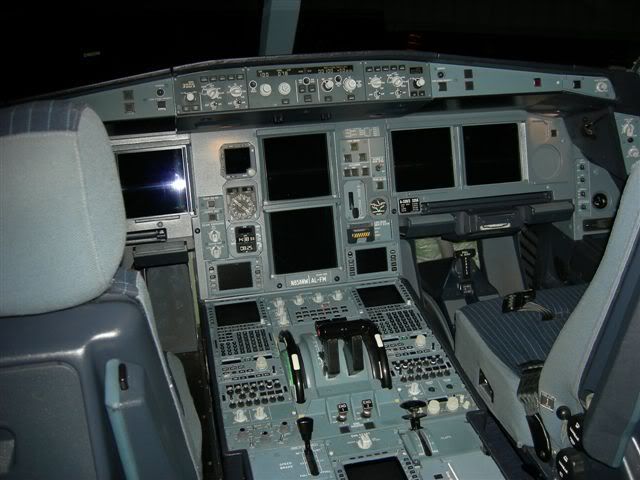 I thanked the F/As as I deplaned, forgetting to ask the fate of the passenger, and somehow brought my half-awake self all the way down to immigration.
Somehow, my half-awake self still managed to take pictures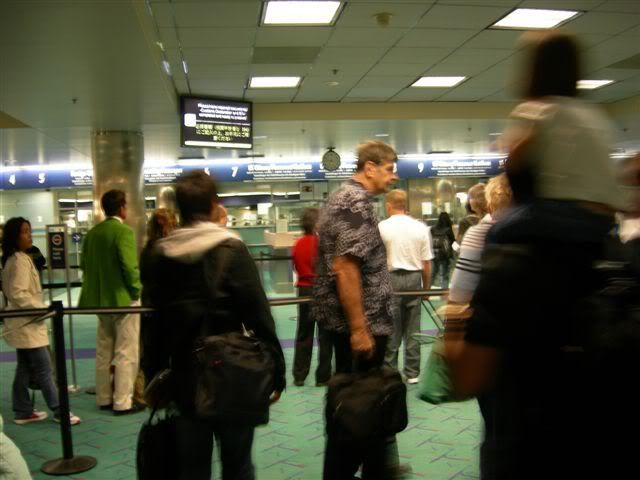 Baggage claim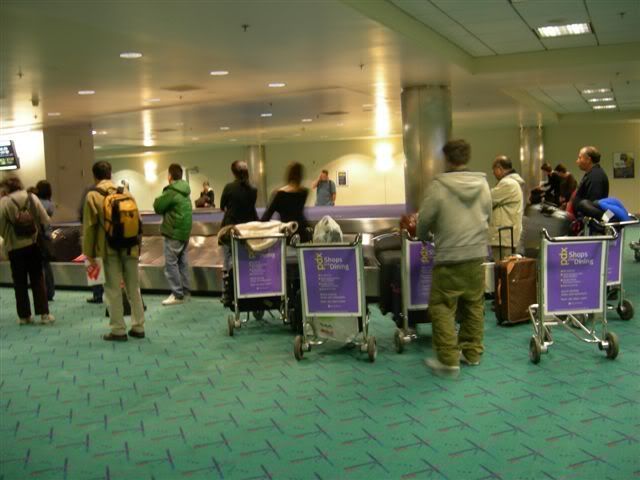 Once I finished completing all the customs and immigrations formalities and properly re-disposed of my checked luggage, I headed back airside to connect to the AS flight that would take me back to LAX.

Flight 6, NW codeshare flight 4008, 2 January 2007
First Class
Boeing 737-881
PDX-LAX
After getting a quick and short boost thanks to a cup of coffee, I spent my time prior aimlessly wandering around Concourses B and C. Typical me.
This was the second time I've connected in PDX with my first being six months before getting to EUG. It's always nice to find my way to this airport in the midst of my journeys.
Once finished with my exploring, I headed down to C5 to hang around and for boarding.
Some shots of early morning PDX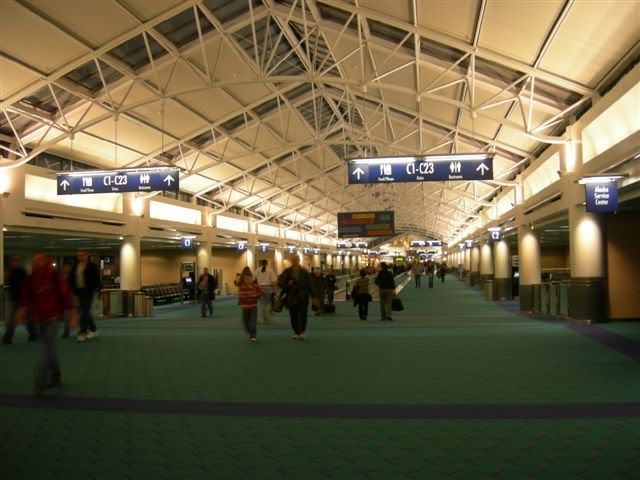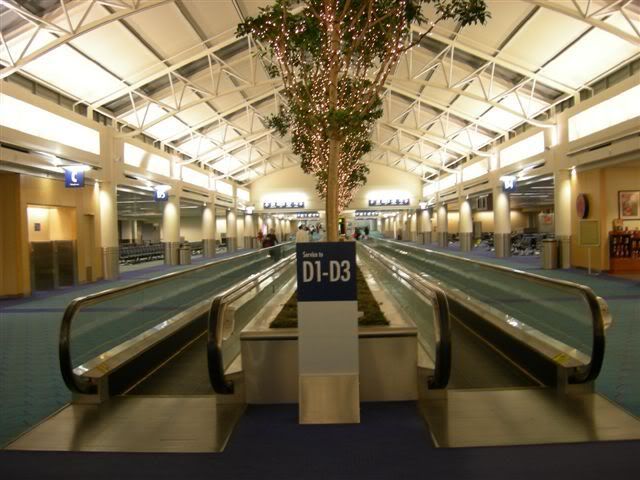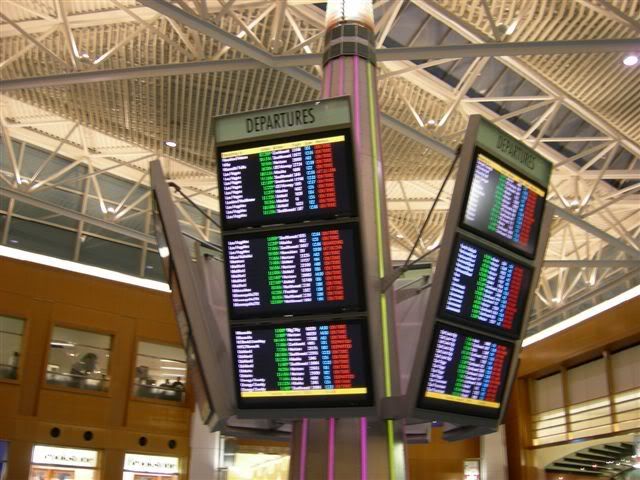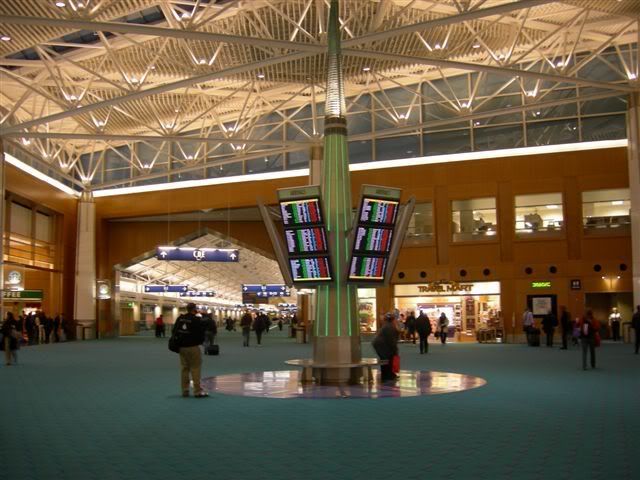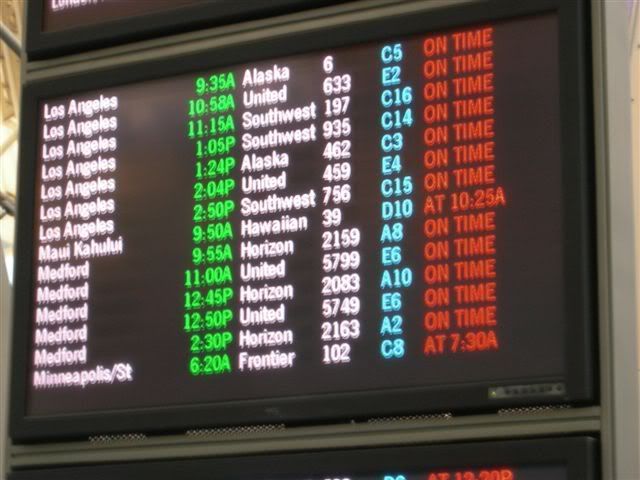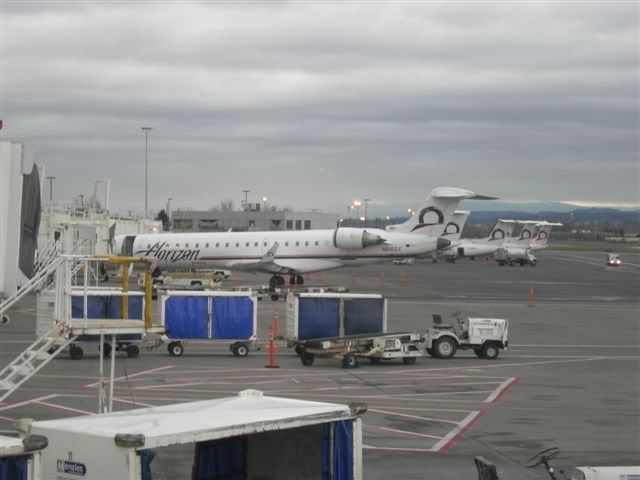 A title well earned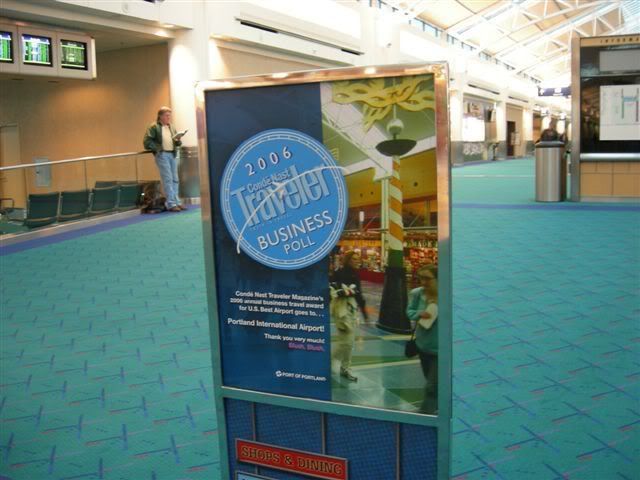 Beautiful live music and a delicious cup of coffee, lovely way to start your morning.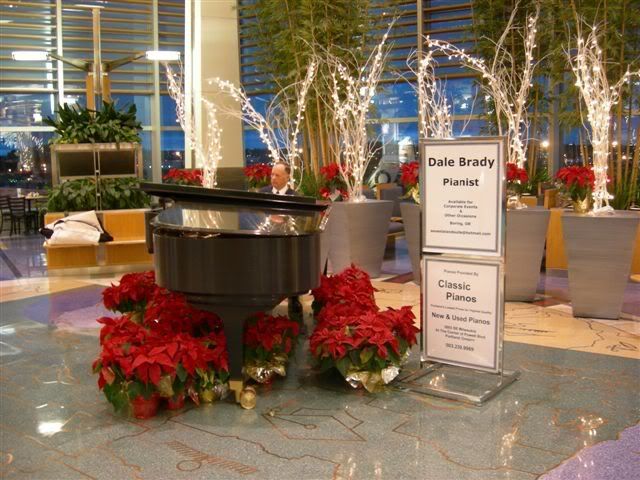 Waiting to board...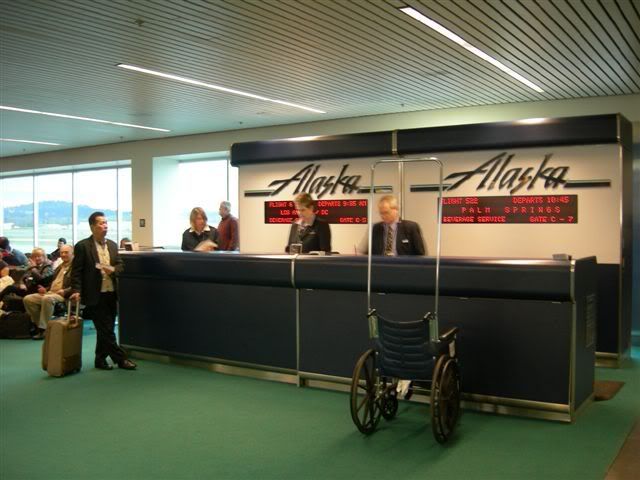 FINALLY!
4F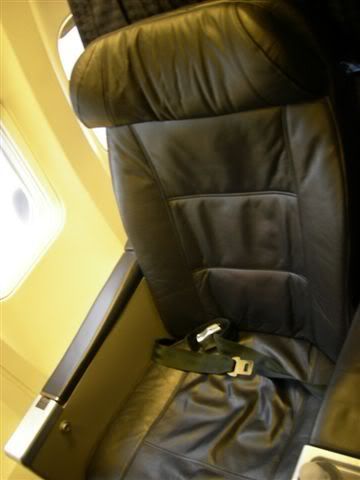 73G N622AS waiting alongside us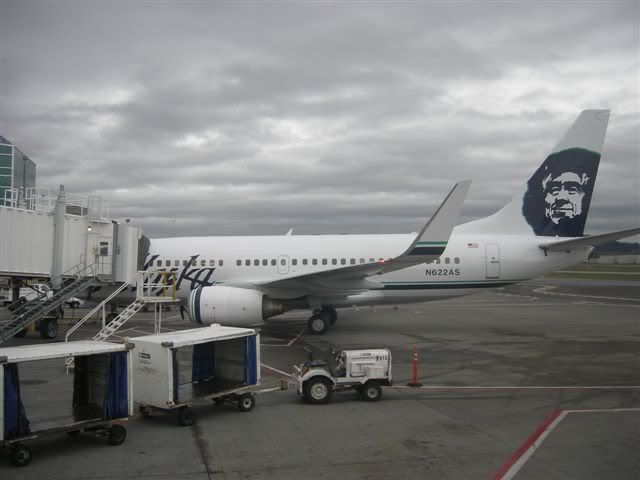 Once settled into my seat while the effects of coffee were wearing off, I immediately went back to sleep...which pretty much explains what I did throughout almost the entire flight. Once I found myself completely awake, we just landed on 24R at LAX. To this day, I still can't believe I slept that much through a flight...in F too! Gah, so much for savoring the final leg of the premium experience...
Lonesome JL 744 in the remote gates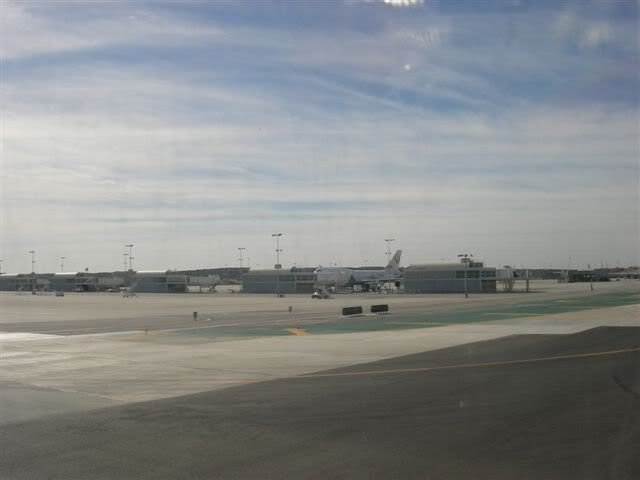 A busy morning in Terminal 3 w/ the Tom Bradley Int'l Terminal in the right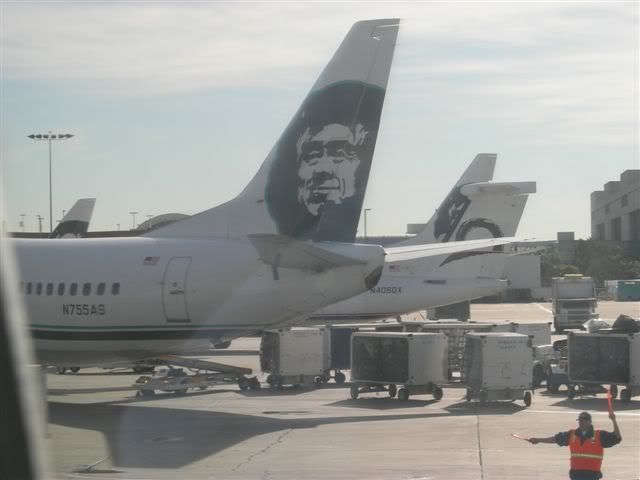 A couple of F class pics I managed to take before deplaning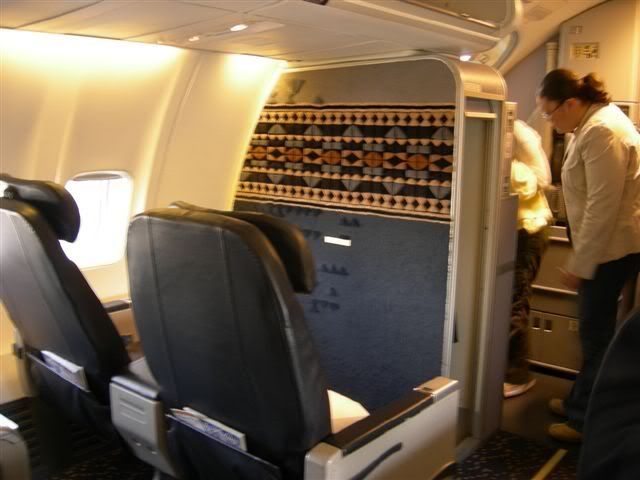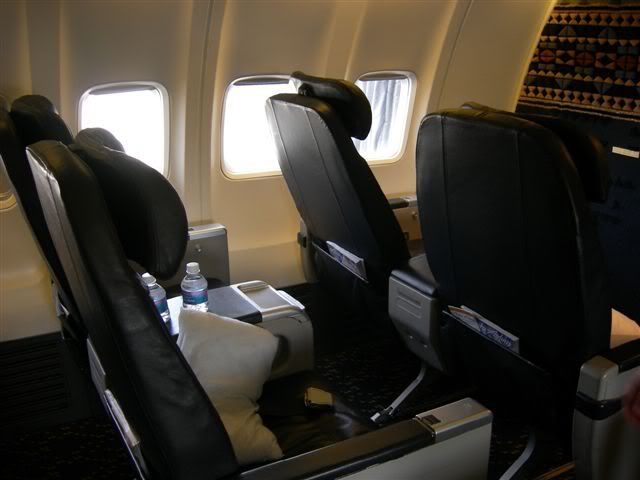 Now seeing
THIS
got me all perked up.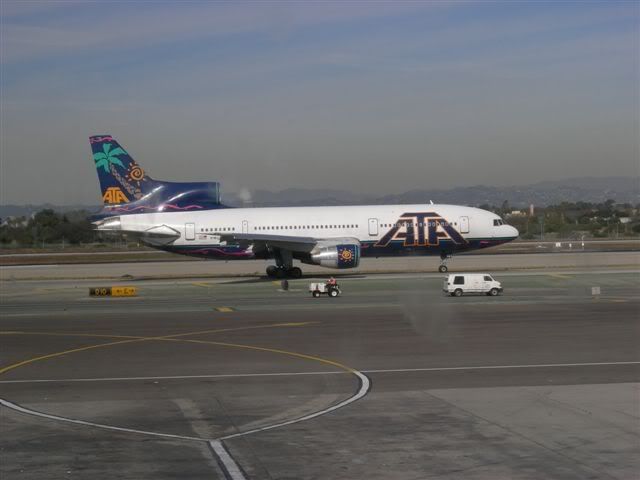 To match the busy ramp of Terminal 3, here's the passengers that make it possible.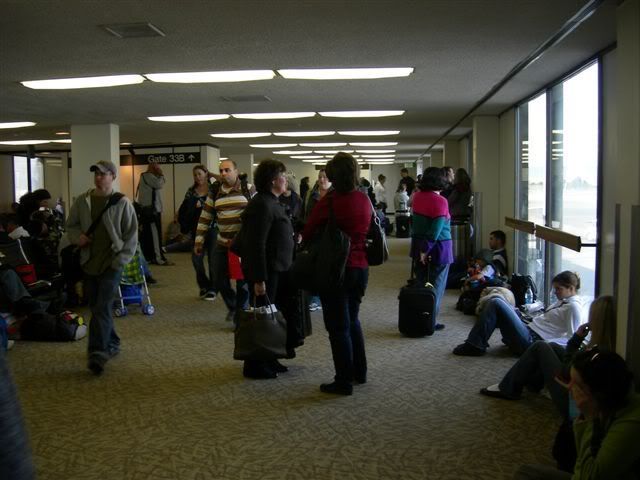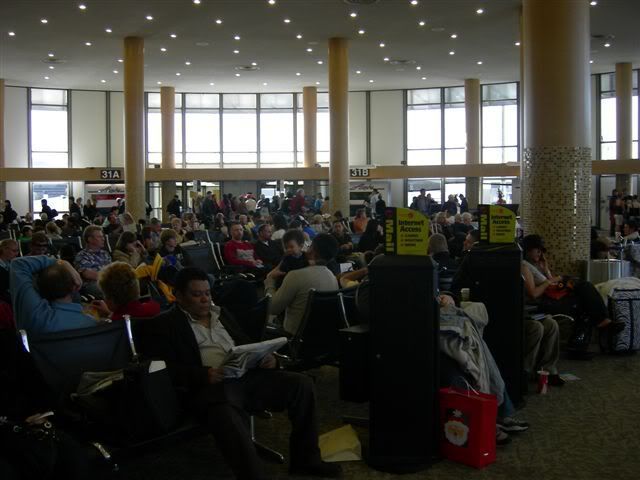 The baggage claim of was a mess as we were meshed together with a couple (or more?) other AS flights. While waiting for my luggage in this mess, I struck another conversation with a couple other college/post-grad students whom just came out of the DCA flight. Definitely nice to have a few people to chat with in the middle of all this hustle and bustle... For some reason which I don't remember, it got to the point where all three of us exchanged e-mail addresses. Meh, I'm still figuring out what were were chatting about...:/ Once I recovered my luggage, I bade farewell to my two newfound aquaintances and headed off to the hotel and parking shuttles curb to get picked up by the Four Points LAX shuttle so I could store my luggage and head down to Santa Monica College to start Winter term.
Some pictures of the busy carousel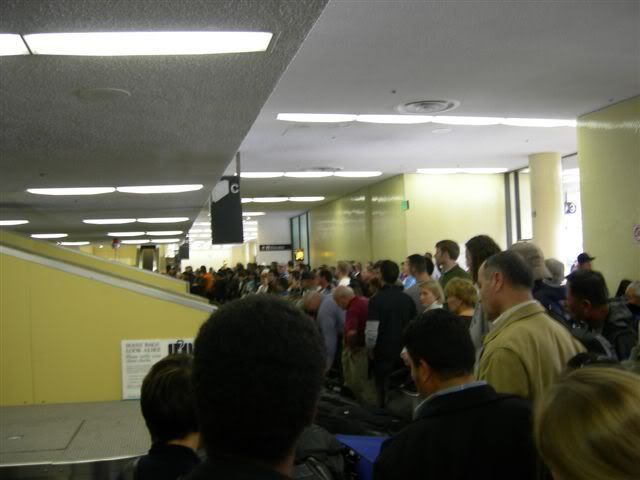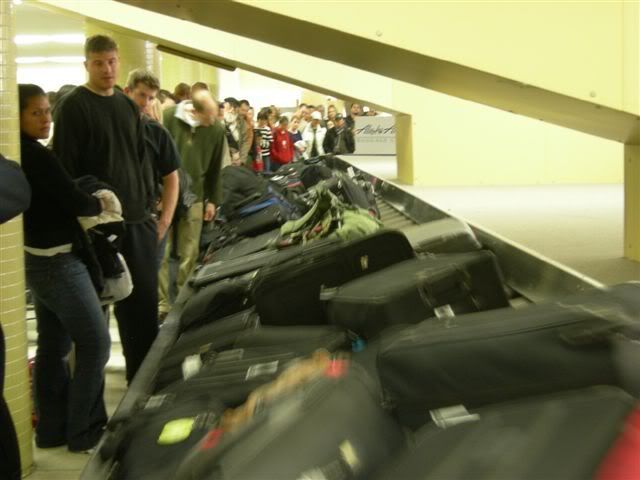 Deciding to arrive from Asia on the day that you are to start Winter term in a community college was probably one of the dumbest things I've pulled off, however, I only was taking a single class which involved providing skills to surviving college. An easy "A", you might say. I arrived in the classroom with my travel gear sans checked luggage looking like I spent the entire night awake, probably giving one hell of a first impression to my peers. To break the ice in our first ever session, our professor had us do an activity where we had to write something about ourselves and put it in a jar where we'd randomize it and try to figure out which person matched the description. At first, I was drawing a serious blank on what to describe myself, and then I glanced at my boarding pass for Flight 20 that I used as a bookmark and began scribbling into the scratch paper. When it comes to school, I try not to make much references to my passion for aviation (seeing that my Star Alliance bag with it's FlyerTalk tag should suffice
) but at the time I was desperate and needed to jot something down before he began collecting the notes. The professor read out the choices:
I want to eventually become a director
and
I love fast cars
being a couple. However, there were a few notes that seriously caught the attention of the professor. One of them being:
This morning, I just came out of a trip that involved flying from and connecting in Manila, Tokyo, and Portland
.
------
Thanks all for reading the final installment of my Winter Vacation Trip Report! Hopefully I'll have the last NW DC-10 flight TR finished sometime soon (hopefully within this year.
)