Having finished our A-levels and neither of us having a gap year, a friend from school and I decided that we would go around the world in six weeks. We chose our route and then booked the Great Escapade ticket which allowed us to use VS, SQ and NZ and travel up to 29,000 miles.
Our itinerary was as follows
Friday 22 June: LHR-SIN on SQ
Thursday 28 June: SIN-MEL on SQ
Thursday 05 July: MEL-SYD on DJ
Tuesday 10 July: SYD-AKL-RAR on NZ
Sunday 15 July: RAR-AKL-LAX on NZ
Saturday 21 July: LAX-BOS on B6
Friday 27 July: BOS-NYC on the Amtrak Acela Express Train
Sunday 29 July: JFK-LHR on VS
We had both decided that it would be nice to take the train to the airport instead of relying on our parents and so we booked seats on the 16:02 departure from Exeter to Heathrow Terminal 3 via Reading.
Friday 22 June 2007
Exeter - Reading - London Heathrow Terminal 3
STD: 16:02
ATD: 16:06
Class: First
Coach: H
Seats: 7F and 7E
Train company: First Great Western
Our around the world trip started off with a rather nerve-racking experience as we nearly missed the train out of Exeter. Heavy traffic and numerous roadwork's, along with every single traffic light being against us, meant that the extra 20 minutes we had allowed to get to the station quickly disappeared. We arrived on the platform after literally jumping out of the car and running through the barriers at 16:01, only to find out that the train was delayed by four minutes, oh well. It gave us a few more minutes to say good bye to the parents and board the train at our own pace.
I was disappointed to see that we were on one of their trains which hadn't been re-furbished, anyway the First Class is still relatively comfortable and does make a nice change from the bedlam of Standard; this was to be one of the few moments of "luxury" for us on this trip. The journey was very quiet, very little happened. We were offered a glass of red/white wine which is complimentary on a Friday evening; a nice touch I feel and we were also served at seat with various snacks and drinks.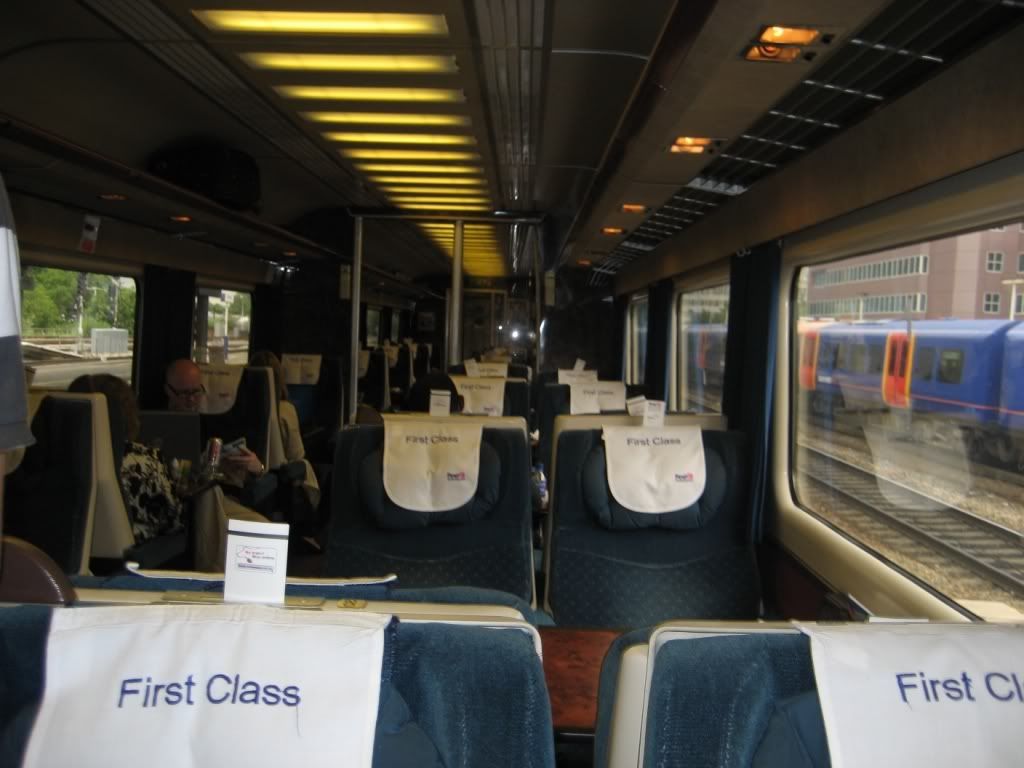 First Great Western First Class
The train pulled into Reading at 18:00 and we made our way to the Railair departure area where we had to wait for around 20 minutes before we were able to board the coach which would take us to Heathrow. While we were waiting we got speaking to a South African chap who clears landmines across the continent for a living and goes out "into the field" for three months at a time, sounded like a very interesting job but definitely not my cup of tea. We left the station at 18:25 and the journey was very easy, we were slightly late in departure but this didn't matter as we had allowed plenty of time for our flight, we were held up on the M4 with traffic jams (no surprise there) and got to Heathrow Terminal 3 at 19:15.
It was excellent to see the large amounts of construction work that's going on outside the terminal which should vastly improve the whole concourse area and also hopefully improve conditions within the building, the check-in area is in desperate need of some more natural light as many of you will know. Check-in was very easy and carried out a pilot and courteous member of staff, we were assigned seats 56D and 56E, not the best seats in economy on a 747 but it wasn't possible to change them apparently. We made our way up to security and were very impressed with how efficiently the staff were processing everyone, as we passed one of the security guards he opened up a new channel for us and so we avoided the queues and were through into the departure lounge within five minutes, better than fast-track I'd say! Just after we passed through we heard a fire alarm go off and looked behind us, the whole check-in area was evacuated apparently due to a security scare…we had a feeling our flight would be delayed.
We were right in our thoughts, the gate wasn't displayed until 21:45, 30 minutes before our departure time, at which point half of the departures area cleared out and we all made our way for Gate 40, the furthest you can go. While walking to the gate I spotted numerous aircraft, including:


Virgin Atlantic: A340 (both 600 and 300)

Virgin Atlantic: B747-400

Jet Airways: A330

Air Canada: A330

Eva Air: B777-300ER

Air India: B747-400

Gulf Air: A340-200

Sector: LHR-SIN Friday 21 June 2007
Flight time: 12 hours
STD: 22:15
Pushback: 23:05
Rotate: 23:32
Runway: 21L
Aircraft: Boeing 747-400
Registration: 9V-SMY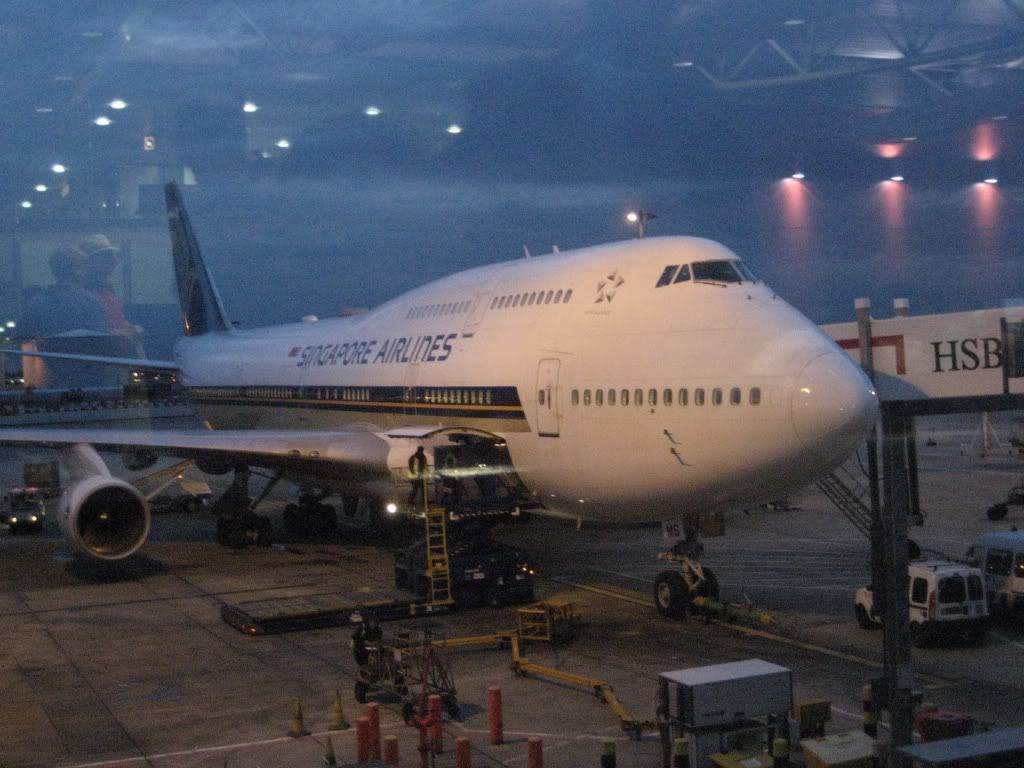 *Being my first trip report my notes and photos for the first few sectors are a little on the thin side, my apologies*
Boarding took some time as the flight was full this evening, there were a number of large groups in the rear Y class cabin with us who took some time to get themselves settled down, they kept on trying to switch seats with each other. One of the first things I would say about the cabin was the temperature, it was un-believably hot and SQ doesn't provide passengers in economy with their own ventilation control. A number of passengers requested the temperature to be lowered and we were all told that once we were at cruise level then it would stabilise and be more comfortable.
Once everyone was sat down the cabin crew came around with hot towels which are a feature of Asian carriers that I really like. I was impressed with the level of legroom, perfectly adequate for me being only 5ft 7" and the seats were fairly comfortable. It would be good to see a lumbar support feature like the one I experienced on MH while flying LHR-KUL-LHR back in March.
There was more legroom than it looks in this photo, I just had too much stuff in the seat pocket!
We had a very informative captain who provided us with plenty of information about the flight, our route and the weather. After take off we quickly headed out west over northern Europe and the southern tip of Russia. Amenity kits and Menus were handed out to all passengers after about 30 minutes from take-off; I was very impressed with quality of these economy class menus, a proper booklet, not just a flimsy piece of card or paper.
Dinner was to be as follows:
Appetiser
Ham with coleslaw salad
Main course
Roasted Beef fillet served with roasted vegetables and mashed potato
OR
Roasted Chicken served with hoisin sauce, seasonal vegetables and chicken flavoured rice
OR
Fish Vindaloo with mixed vegetables and rice pulao
Cheese
Cheese and crackers
Desert
Ice cream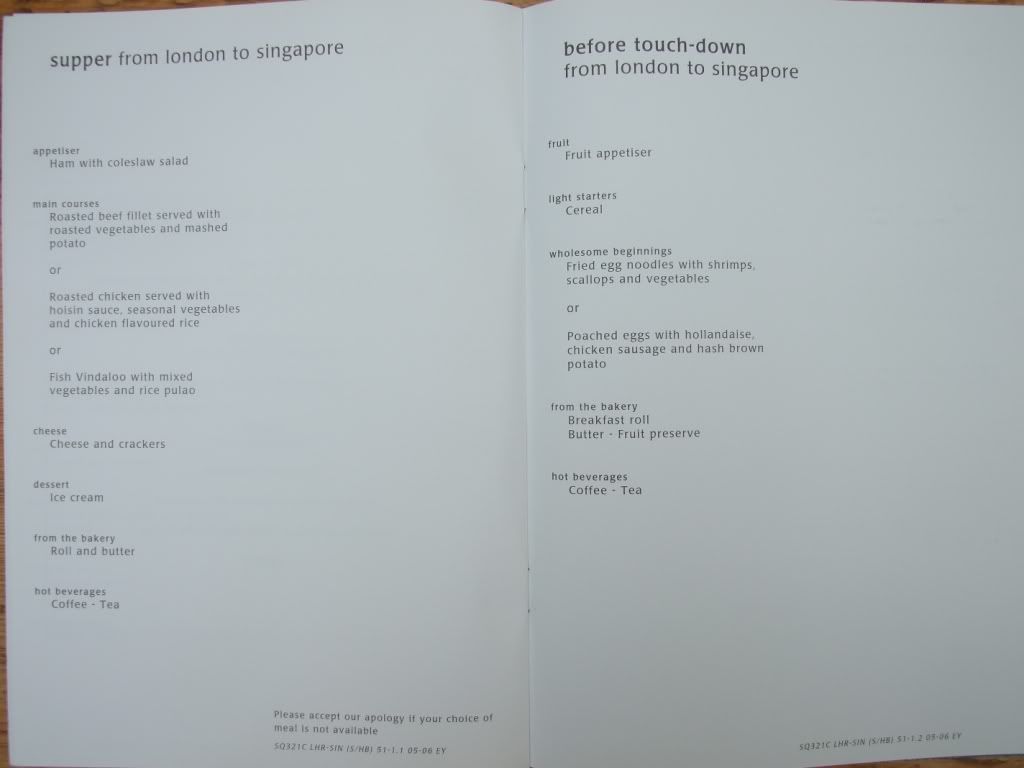 The amenity kit was a little disappointing, it consisted of a pair of socks and that was it. What happened to ear plugs, an eye mask, toothpaste and a toothbrush?
While preparations were made for dinner to be served I decided to test out the IFE. The size of the screens is pretty poor compared to other carriers today and I also had a few problems with the colour contrast and on a random basis everything on the screen would appear very red and there was nothing that could be done about it according to the crew. The system is also incredibly slow to respond to user input, I appreciate that the system has to deal with commands from hundreds of passengers and the best of all IFE systems take a few seconds to respond, however at times this one took up to 10 seconds. The fact that it's AVOD is probably the only thing going for the IFE on the 747-400 and the sooner they phase these aircraft out the better in my opinion, they're not going to solve any of the problems if the aircraft are just going to be replaced by A380s etc. (I assume this is their plane, I apologise if I'm in-correct).
Dinner was served about one hour and 40 minutes into the flight, for dinner I decided to have the beef which was fairly normal for economy class plane food, nothing special. Drinks were also served and there was quite a ride range of alcoholic and non-alcoholic beverages including the legendary Singapore Sling, I decided to save this experience for The Raffles Hotel.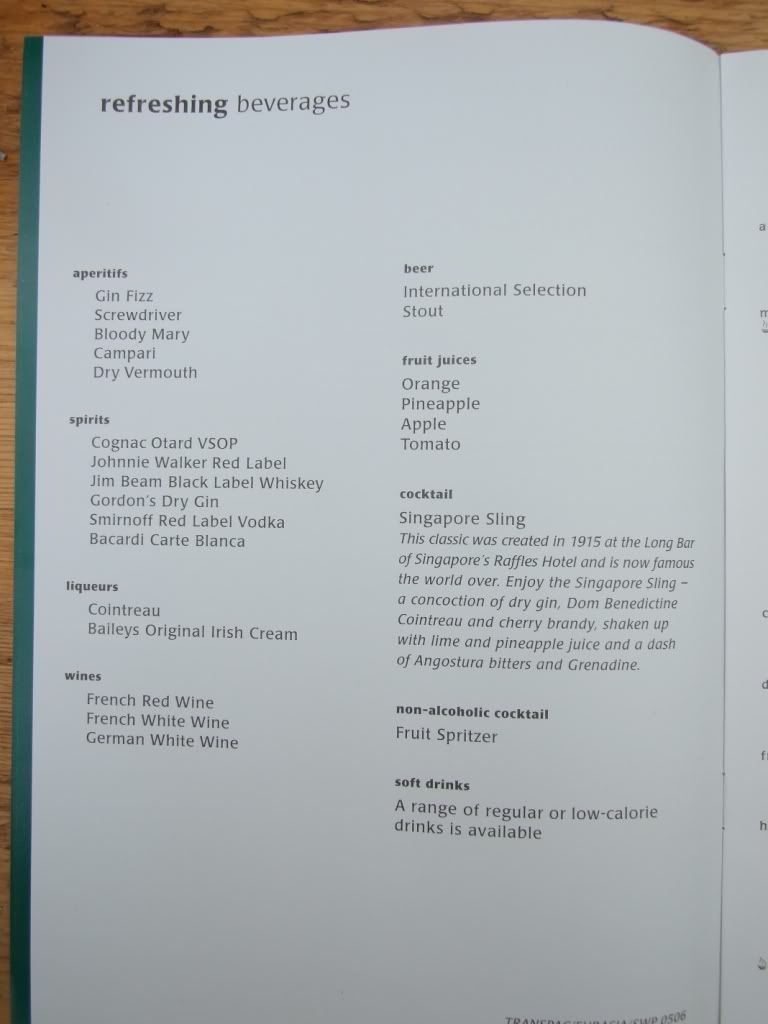 After dinner tea and coffee were offered. Our trays were cleared away within an hour which I though was quite impressive considering it was a full cabin and the cabin crew came around offering water and orange/apple juice. We were also told about the snack bar which was available in the galley and allowed passengers to take a selection of snacks at any time through the flight, I didn't have anything from it but the menu is shown below.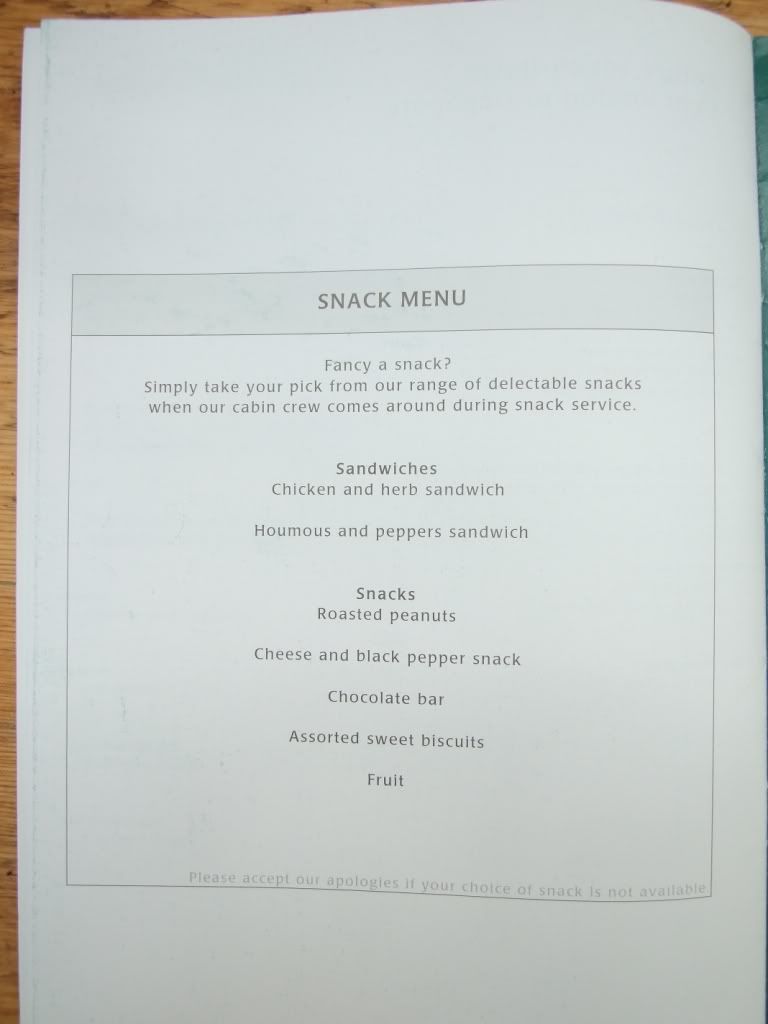 The lights were turned off after we had been in the air for around three hours, so I decided to recline my seat and try to fall sleep which is a huge ordeal for me on planes. Of all the flights I've taken I've never managed to sleep for longer than 30 minutes so I was very surprised to see that when I woke up and checked my watch I had been sleeping for four hours, must say something about SQ economy class seats! With flight time being exactly 12 hours I was left with another seven to try and relax and watch some films, I managed to watch The Holiday, Shrek and numerous episodes of The Simpsons and Absolutely Fabulous. While everyone else was asleep the cabin crew remained persistent with the drinks rounds and their presence was felt in the cabin which to be me is important and I was very impressed by this. We hit some quite strong turbulence over India which woke up a few people. By the time we passed over The Bay of Bengal we had only three hours to go, the lights came on and preparations for breakfast started. For breakfast we had two choices:
Light appetisers
Fruit
Cereals
"Wholesome beginnings"
Fried egg noodles with shrimps, scallops and vegetables
OR
Poached eggs with hollandaise, chicken sausage and hash brown potato
From the bakery
Breakfast roll, butter and fruit preserve
I had the poached eggs and chicken sausage which was again adequate, not the best I've had on a plane but not the worst, tea and coffee were also offered along with orange and apple juice. While breakfast was being served we hit another spot of turbulence, this time more severe and it knocked over my friend's drink which was a first for me!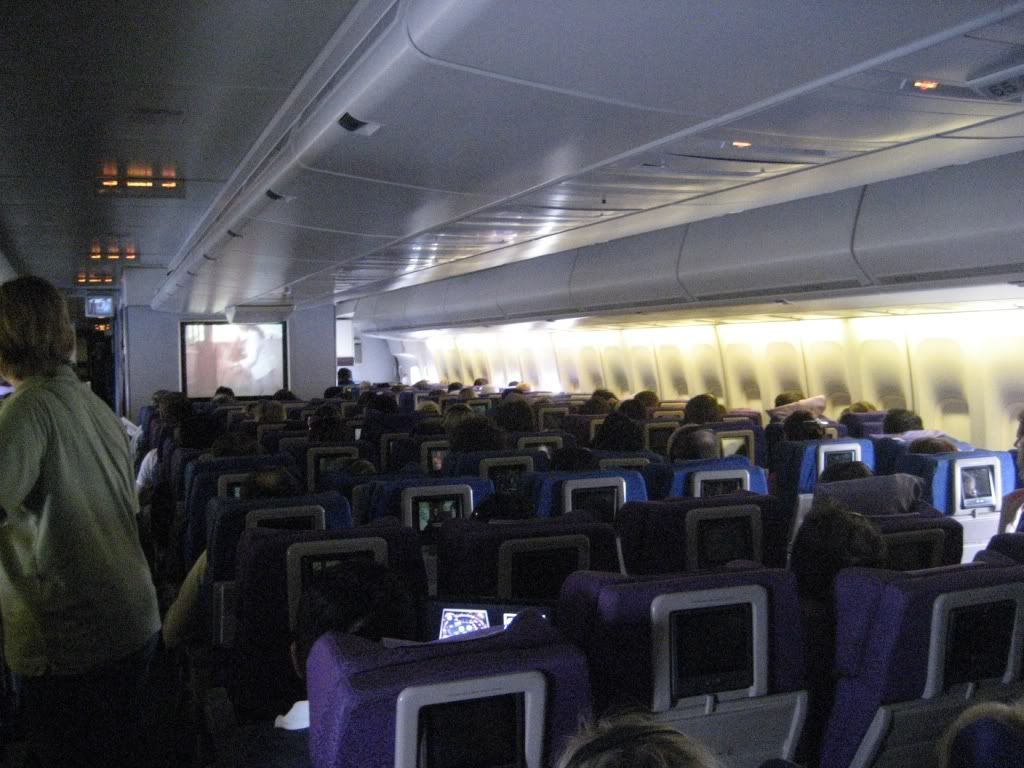 The aft cabin after breakfast has been cleared
The rest of the flight was fairly un-eventful and the cabin was prepared for landing when we had an hour to go. Hot towels were handed out again which allowed us to clean up a little before our landing in Singapore.
STA: 18:00 (Saturday 22 June 2007)
Landing: 18:37
Runway: 02R
At the gate: 18:45
Gate: E22 – Terminal 2
To finish things off, I was quite impressed with my first experience on Singapore Airlines. There were a few factors which I would like to see an improvement in such as IFE but this is just a very small area and I'm guessing will no longer be an issue for them when they replace the 747s (correct me if I'm wrong about that!). The service was very good and the crew were polite and friendly. The food could have been improved a little but that's the same for most of the airlines I've ever flown with. All-in-all I enjoyed the flight and would love to experience one of their more modern aircraft such as the Boeing 777-300ER or the A380 when it comes into service.
Next report:
SIN-MEL on SQ 747-400 and MEL-SYD on DJ 737-800
[Edited 2007-08-03 19:16:17]