Indian aviation has gone through a lot of changes and one airline, Kingfisher, has drawn much attention of late thanks to their Richard Branson type CEO. When I found I was to embark on a holiday to the Southern state of Kerala, I opted to fly Kingfisher on the way there and Jet Airways back. This would allow me to compare two of the best products on offer in the Indian skies and see if Kingfisher was all that was rumored. It also gave me a chance to sample Jet Airways, which is a legacy carrier by all rights. I wanted to see how Jet Airways was coping with the sudden flood of competition in the market.
Kingfisher Airlines has been advertising a lot recently and I thought a quick TV commercial would be a good idea to show you what the airline is all about:
Kingfisher Airlines 121
Mumbai- Kochi
Airbus A319-131 (VT-KFI)
Seat: 5F
Scheduled Departure Time: 11:00
Actual Departure Time: 11:10
Scheduled Arrival Time: 12:45
Actual Arrival Time: 13:06
View Large
View Medium


Photo © Nitin Sarin
Check In:
Reaching Mumbai's Airport can be a daunting task even in normal circumstances but today's monsoon rains made the journey even more troublesome. As the taxi drove up to the Kingfisher Airlines drop off point, we were greeted by a male agent in a bright red coat with a "Welcome to Kingfisher Airlines." He collected our bags and we were personally escorted to the check in counter. The gentleman asked to see our tickets and proceeded to check us in on a personal hand held device. However, just at that moment the female agent behind the counter became free and my father handed her the tickets as well. I also handed my Flying Blue card to the agent as my number had not been put into the system yet. Unfortunately, as the gentleman had already checked me in, she could not input my account number anymore. This also resulted in two different sets of boarding passes; mine being on the electronic paper while both my parents were on actual boarding passes.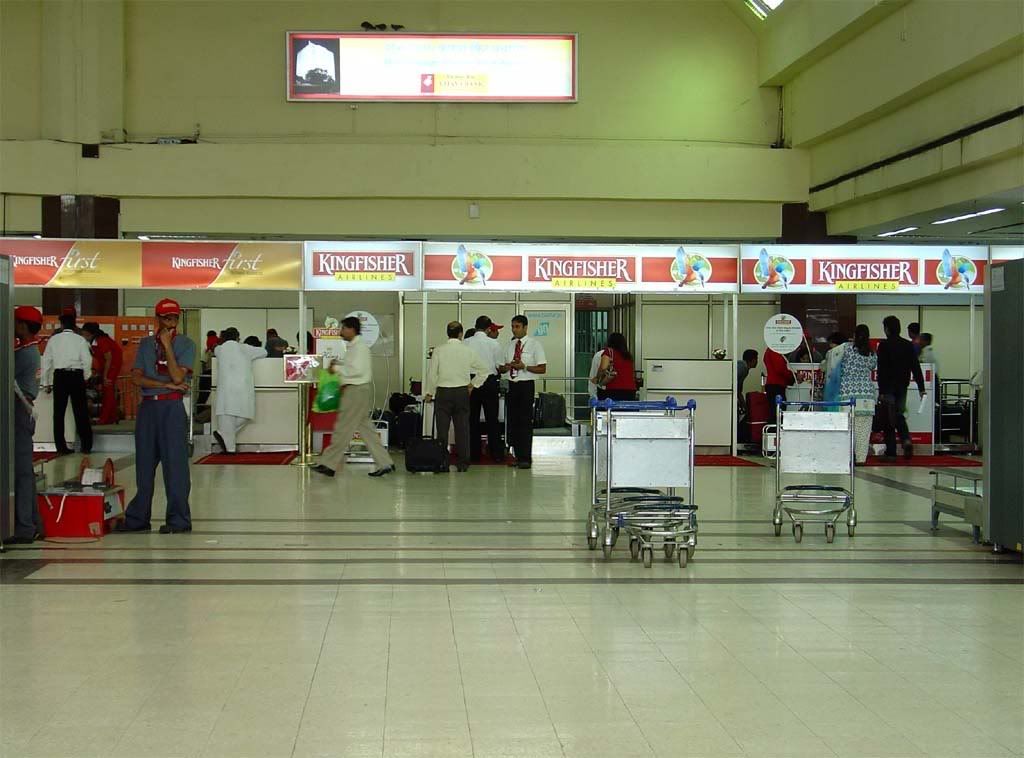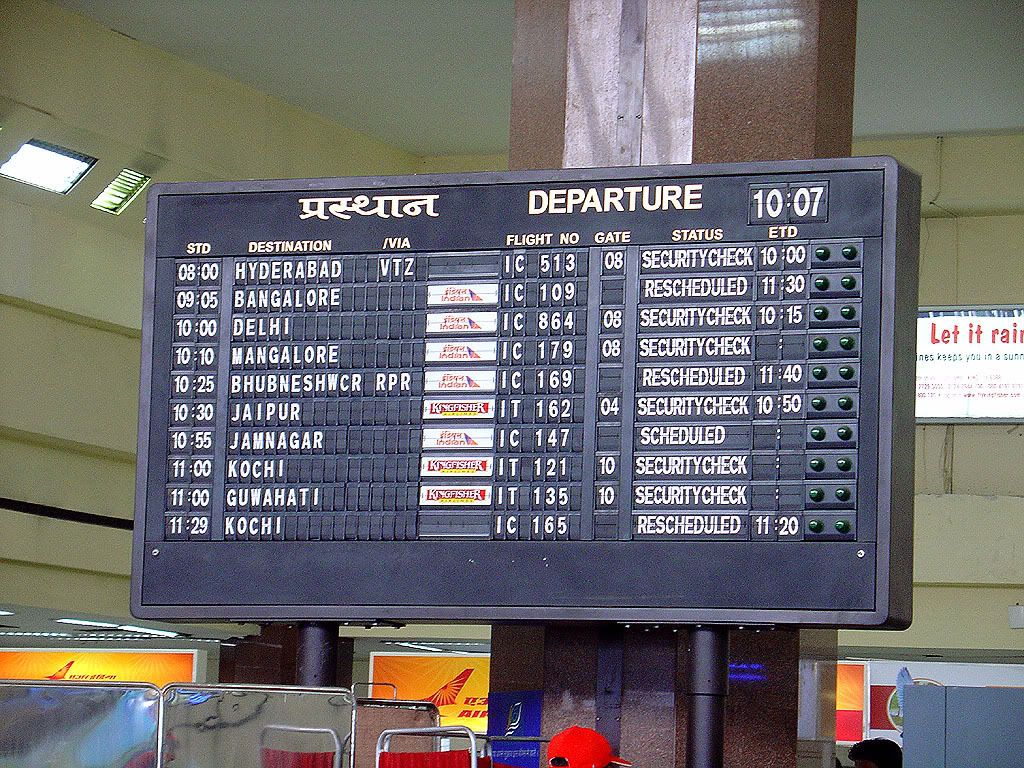 Once check in was complete we went over sat down for a few minutes. It had been almost ten years since my last visit to the domestic former Indian Airlines Terminal. However, today there was not a single trace of the original tenant as everything had already been converted to the new merged Air India logo.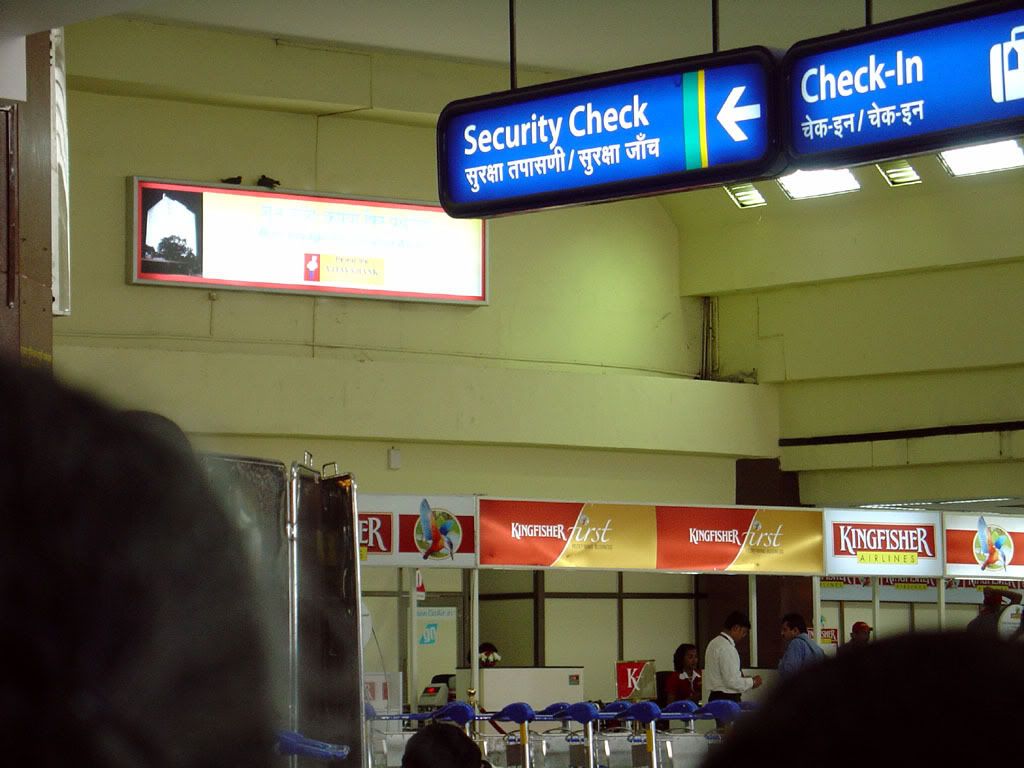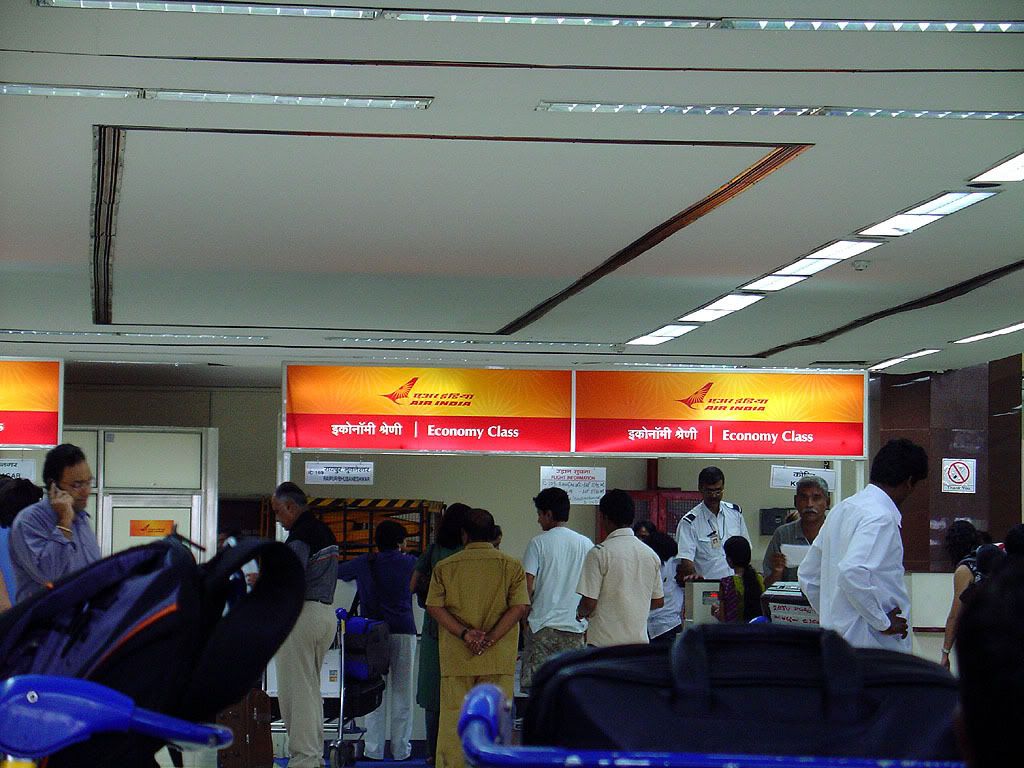 At 10:15 we decided to head towards security passing a rather bleak looking Air India lounge which was shared by Kingfisher. Annoyingly, my Flying Blue Elite status only allows access to Jet Airways lounges but not Kingfisher Lounges. Hopefully this will be changed soon. The security screening was relatively hassle free today and we were on the escalator towards the lowest floor quickly. Once you reach the bottom level, there is a rack of newspapers free of charge which I thought was a nice touch.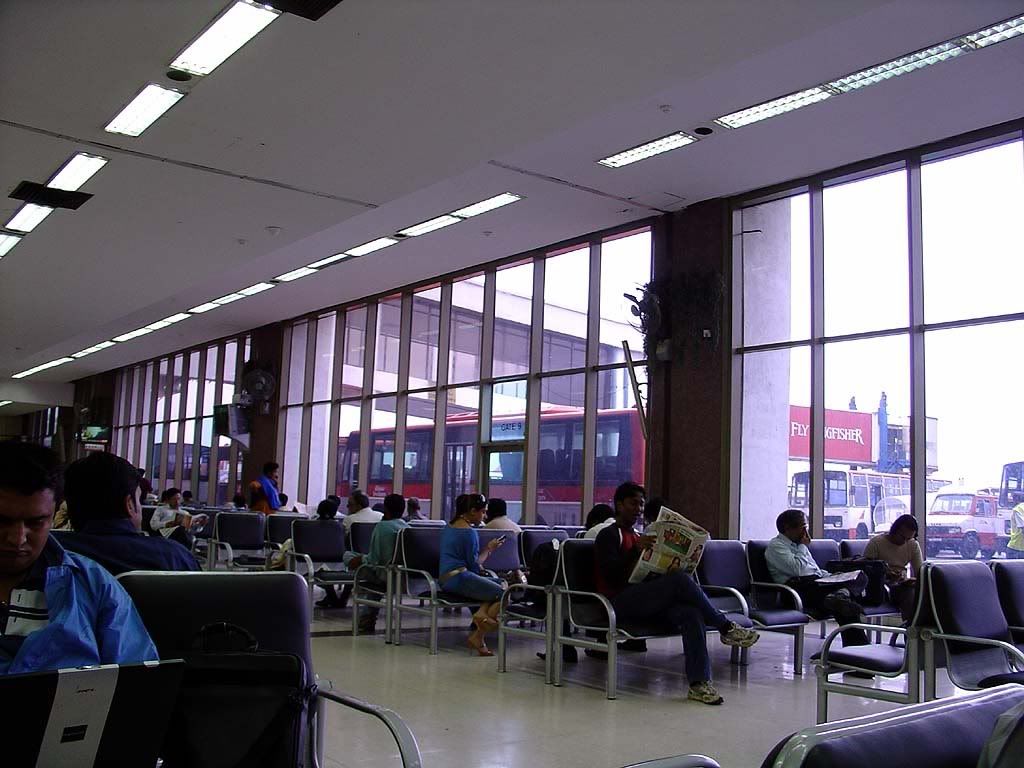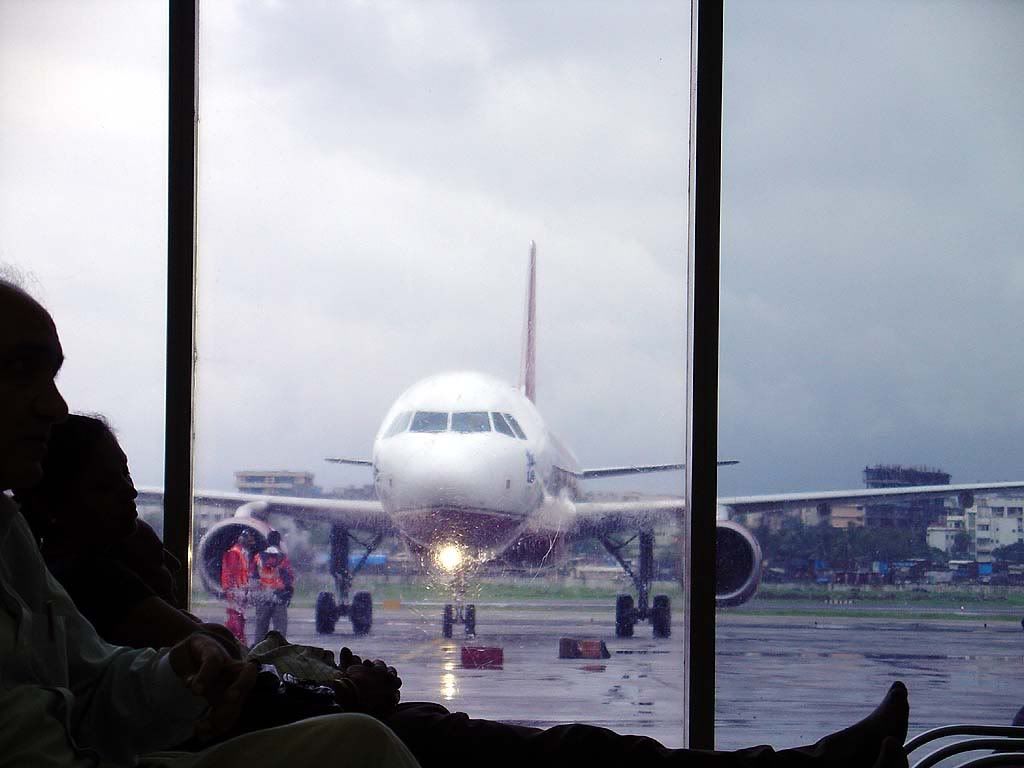 Boarding:
At 10:35, boarding was announced for the Kochi flight and we proceeded towards the air conditioned bus that was waiting. Our boarding passes were not scanned or ripped but rather a big black "X" was placed on our assigned seats on a big chart full of squares.
The bus was outfitted with red leather seats which looked like heaven compared to the rusting metallic carcass of the Indian Airlines buses that were parked in the distance. Just as we began our drive to the aircraft, it started to pour outside.
After a 5 minute drive in the pouring rain we stopped at one of the hardstand positions located between the domestic and International terminal. I was happy to see that the stairs were covered so we would only be exposed to the elements for a very brief point. The front door of the bus opened and in true Indian fashion it was every man for himself. People were pushing and shoving trying to get to the front door not realizing that the plane would not be leaving without them. At the mid point of the stairs, our boarding passes were collected and ripped before we could proceed any further up the stairs.
We were greeted at the door by two very attractive females in their distinctive bright red uniform.
"Hello sir, welcome aboard Kingfisher."
Reaching the fifth row on this all economy configured A319 was a relatively easy task. Boarding was over relatively fast and an announcement was made for the cabin crew to arm the doors. A quick look around revealed a load factor of no more than 30%. My parents each moved to their own row thus allowing me to have complete control of three seats.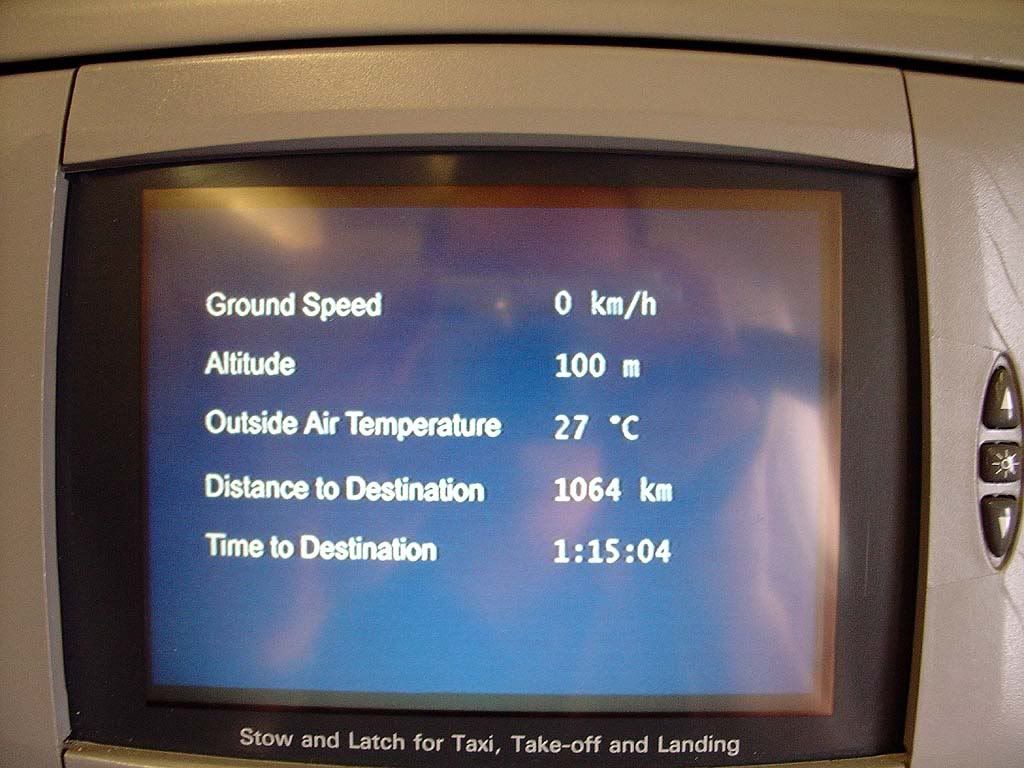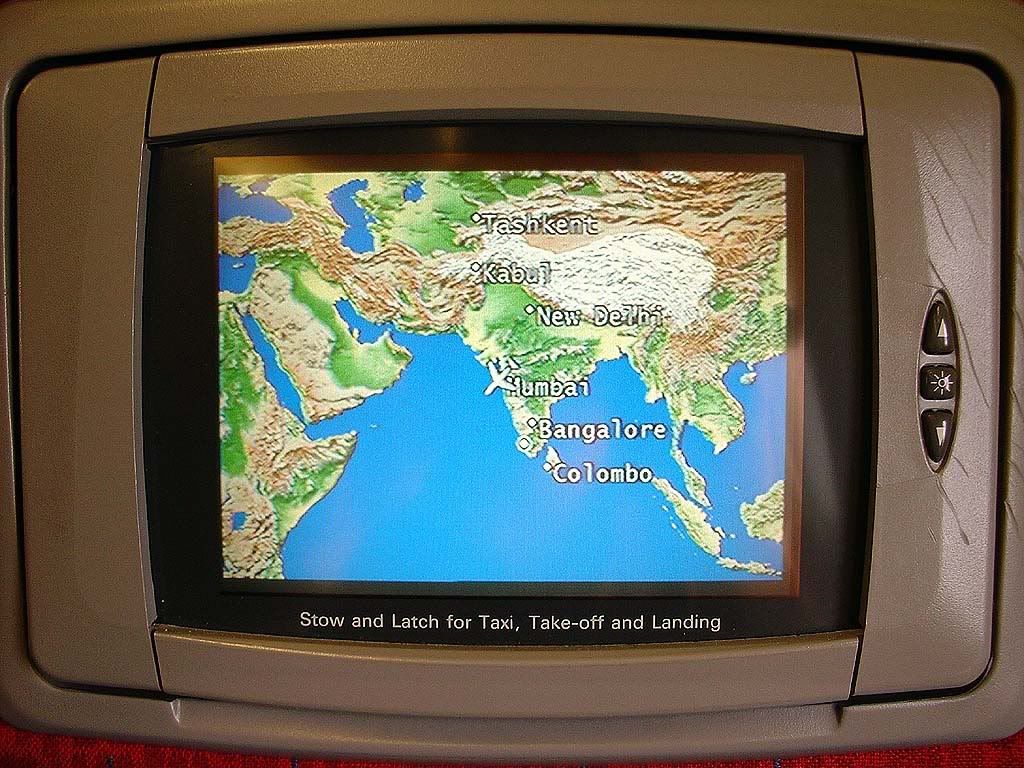 A good looking flight attendant came around with a tray of mini water bottles followed by another flight attendant with a tray of amenity kits and menus.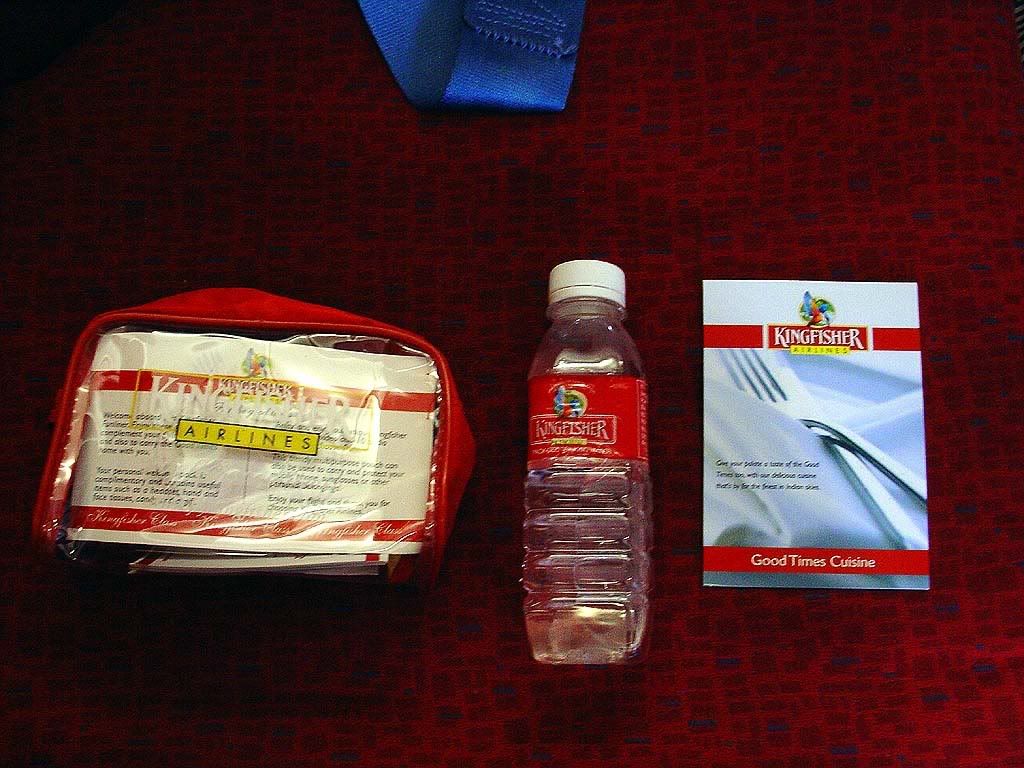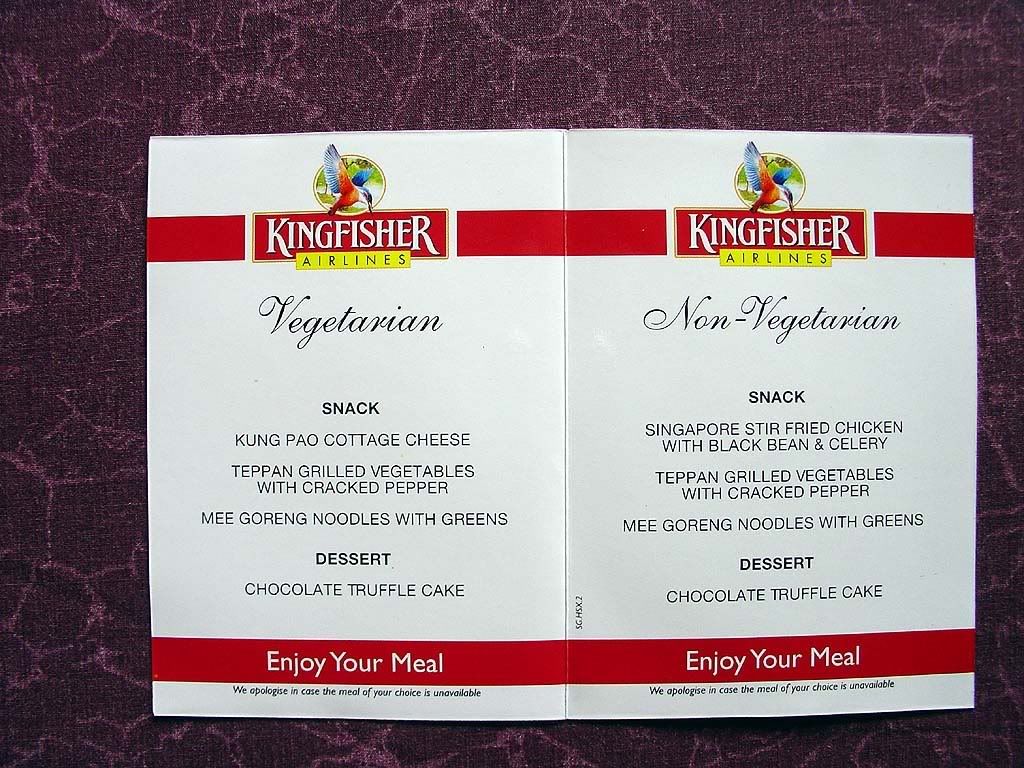 The female captain welcomed us onboard and informed us that our flying time to Kochi would be one hour and 40 minutes and to expect some turbulence due to the monsoon weather. At this point the flight attendants were coming through the aisle once again.
"Excuse me sir, my colleague handed out the wrong menu card. This is the correct one; could I please collect the old one?"
You hear that Roni, Etihad is not the only one who does these kinds of mistakes.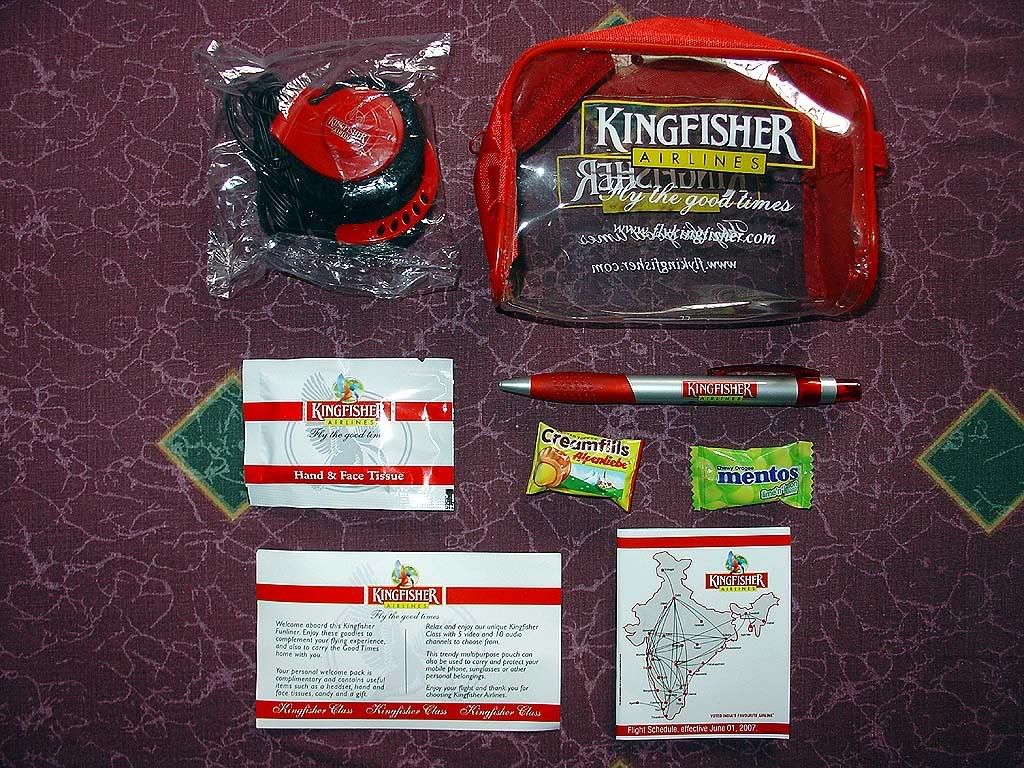 Push back commenced shortly after 11:15 with the King, Vijay Mallya welcoming us onboard his airline. The video below is an older version but the message stays the same. In the new one he walks through an empty Kingfisher First cabin and sounds more natural than he did in the old video.
This was followed by their distinctive safety video, first played in Hindi then in English.
Once the videos were done, I plugged in my Bose noise canceling headsets and tried out Channel 9, "House Music" while we taxied to the runway.
The Flight:
After a rather fast taxi, we were at the runway where a Saudi 747-300 was waiting for its take off clearance. When the large beast revved up its engines, the giant aircraft disappeared into a wall of water and out of sight. We taxied onto the runway once a landing Indian Airlines A320 had cleared the water soaked runway. The engines were throttled up and we began our rather silent and light take off roll.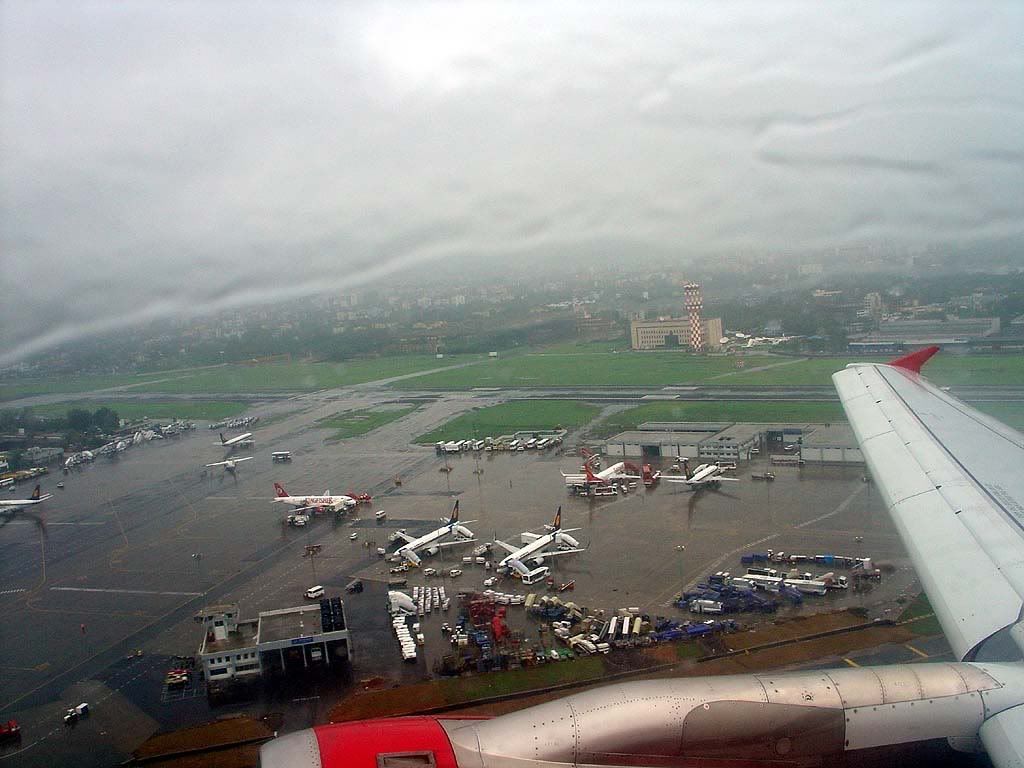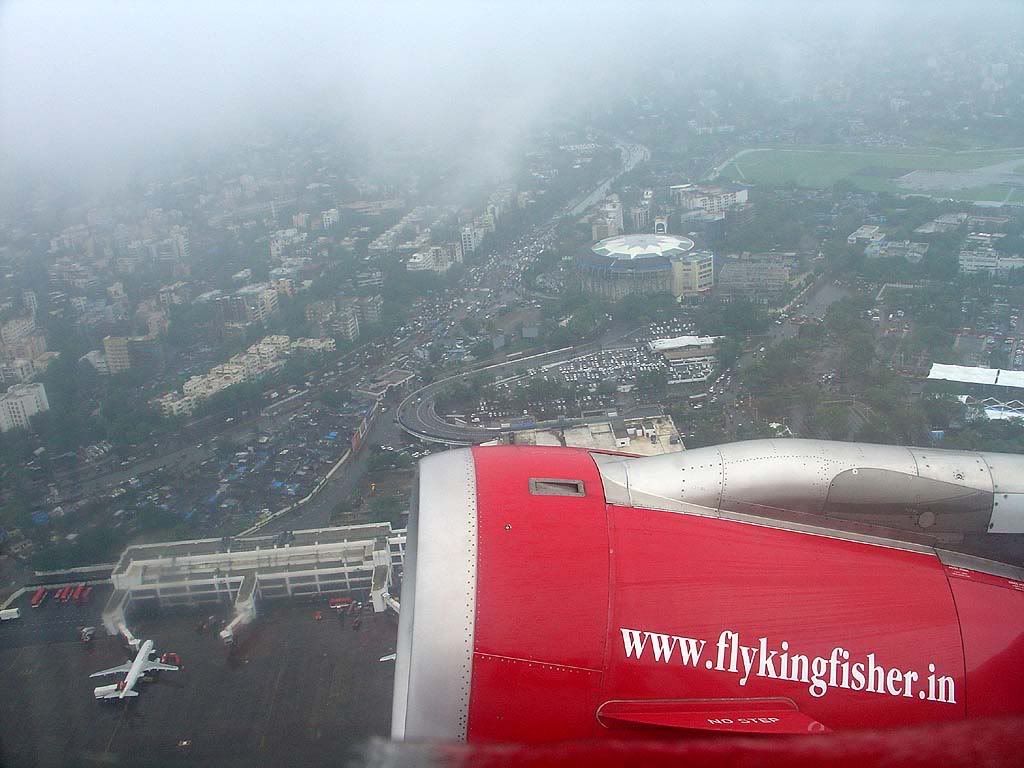 Once we were above the clouds, the air became smooth and the sun shone brightly. The PTVs were turned on and I flicked through the channels to see what was on offer. I ended up watching "No Reservations" on Discovery Travel & Living.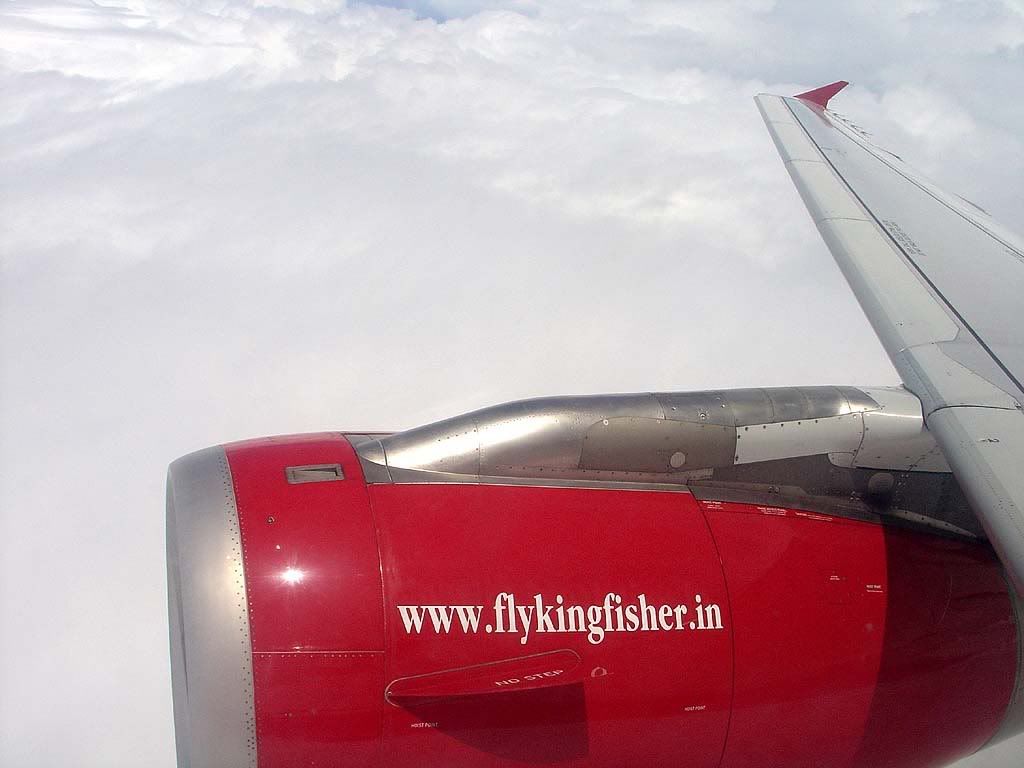 Service commenced a few minutes later with a flight attendant walking around the cabin with a tray full of drinks.
"Hello sir. Today we have some fresh lime juice, apple juice and coke. I can also get you anything else you would like from the galley.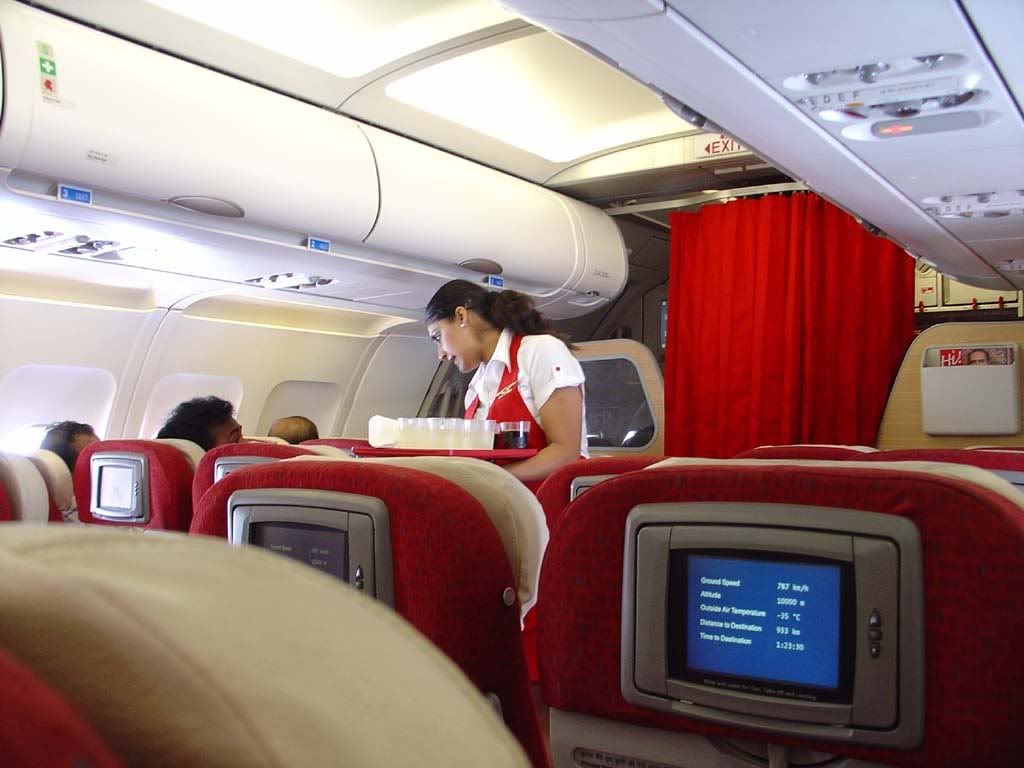 I settled on the only glass of coke left on the tray which was handed to me with a large smile. A quick glance at the menu showed the details for the snack on offer today.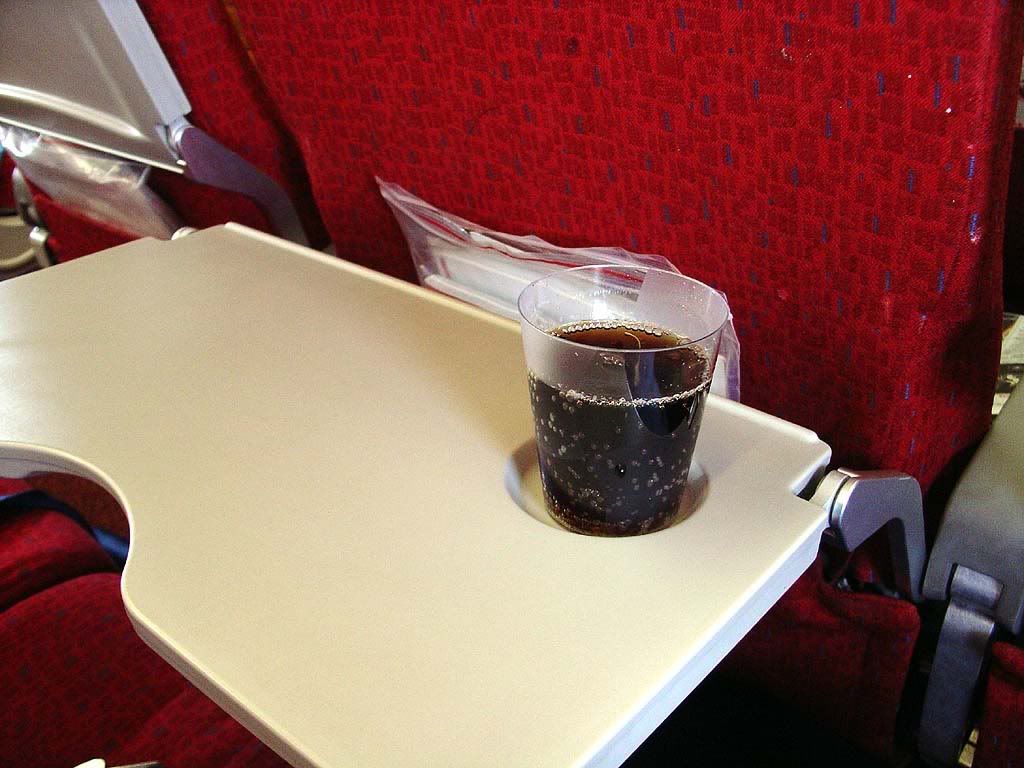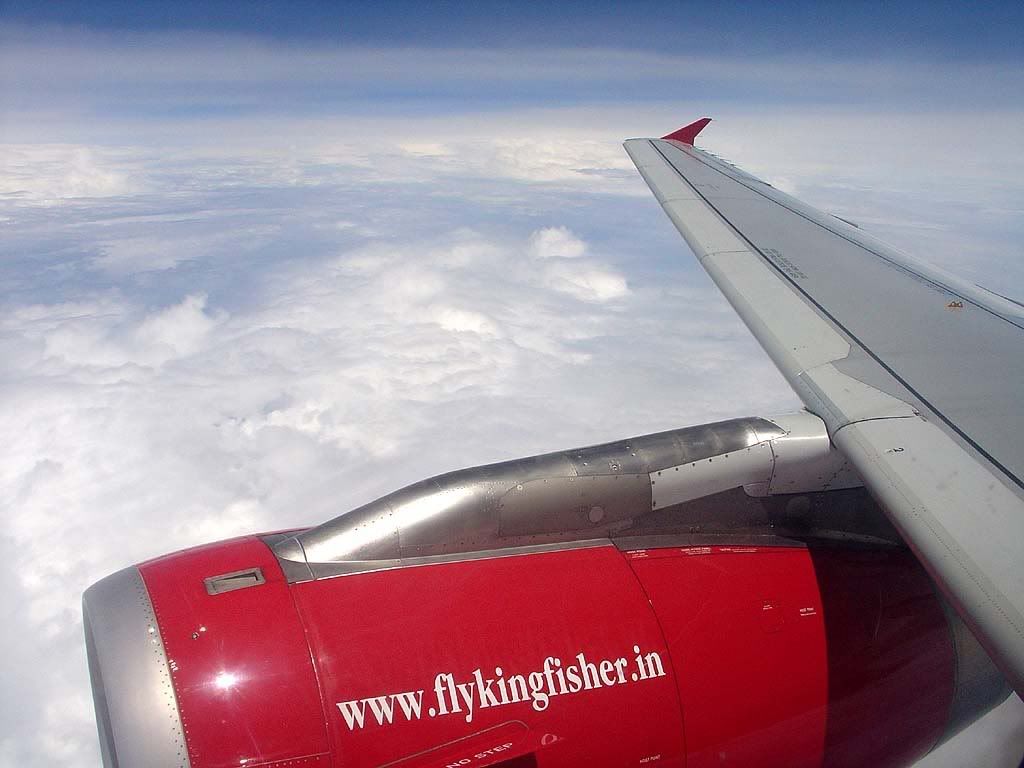 A cart was rolled down the aisle by one of the young attractive female flight attendants,
"Sir would you like vegetarian or non vegetarian today?"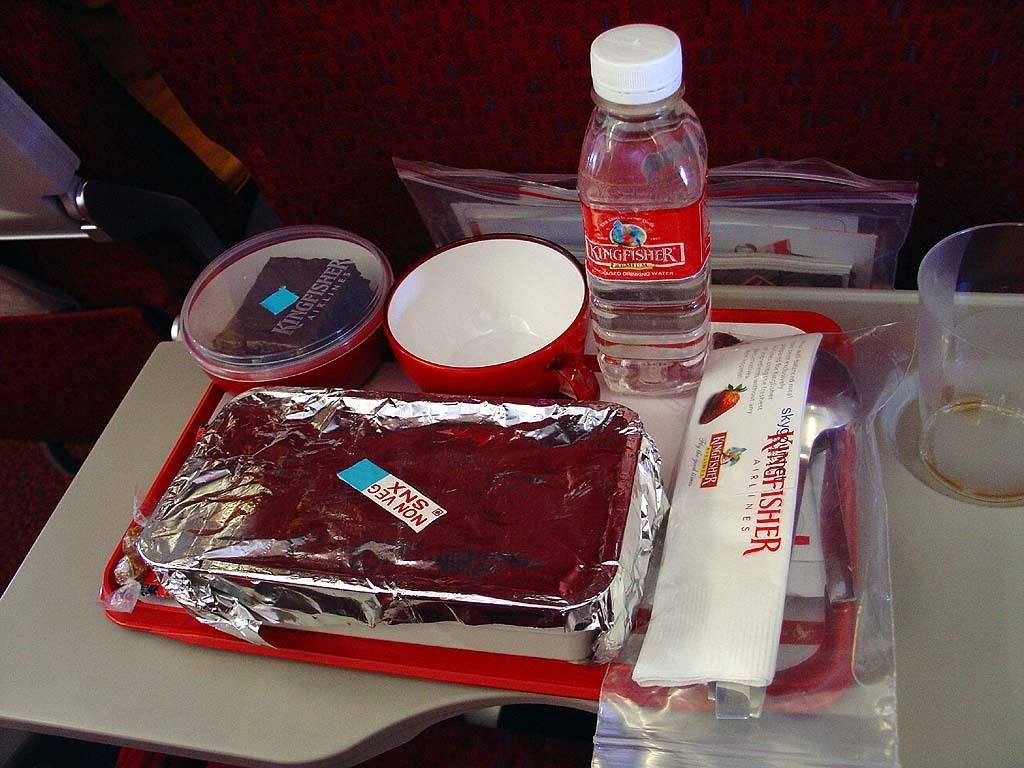 My non vegetarian meal was placed on the middle empty tray table with a "please enjoy sir." My initial thought was wow, if this is a snack, what do they consider a meal? The chicken tasted great as it was soft and full of flavor. The Singaporean noodles were perfect, not too dry or soggy but unfortunately, the vegetables were rather undercooked. The highlight, however, was the dessert, a very smooth melts in your mouth chocolate cake.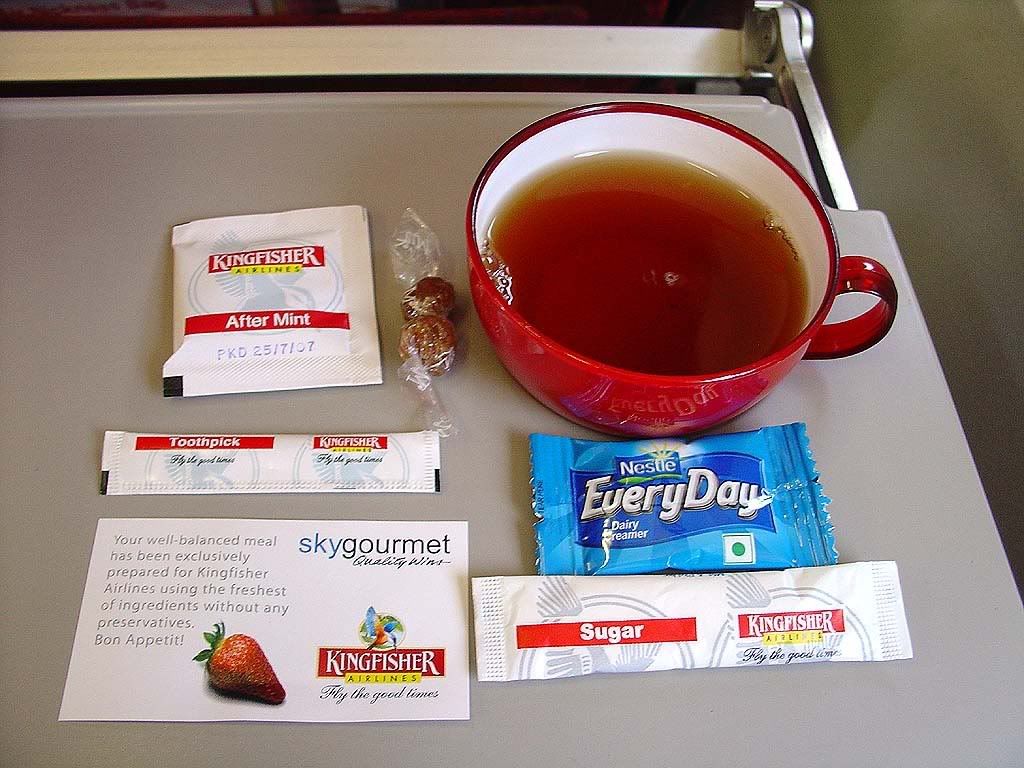 The young ladies came through the aisles once again to offer tea and coffee. My empty red cup was filled up with some tea.
After such a great snack, the crew came around to offer refills of coffee and tea. The cart was eventually rolled around once again and the young lady ever so graciously collected each tray.
"I hope you enjoyed your snack sir?"
"It was great, thank you."
"My pleasure sir, if there is anything else you need, please let me know."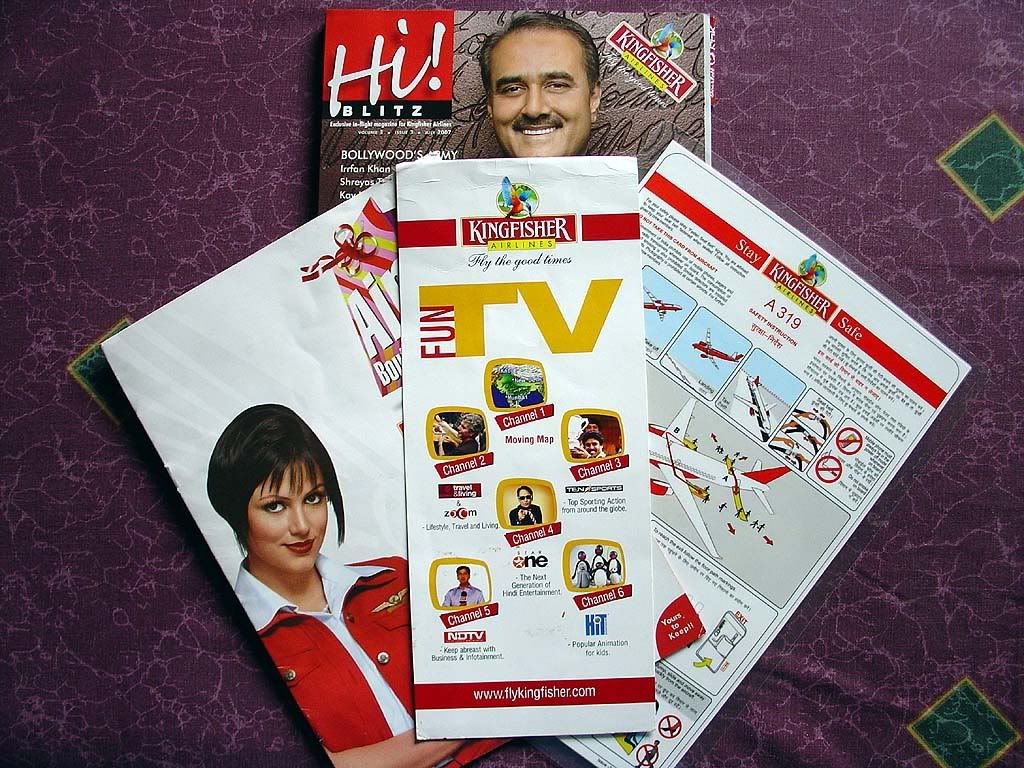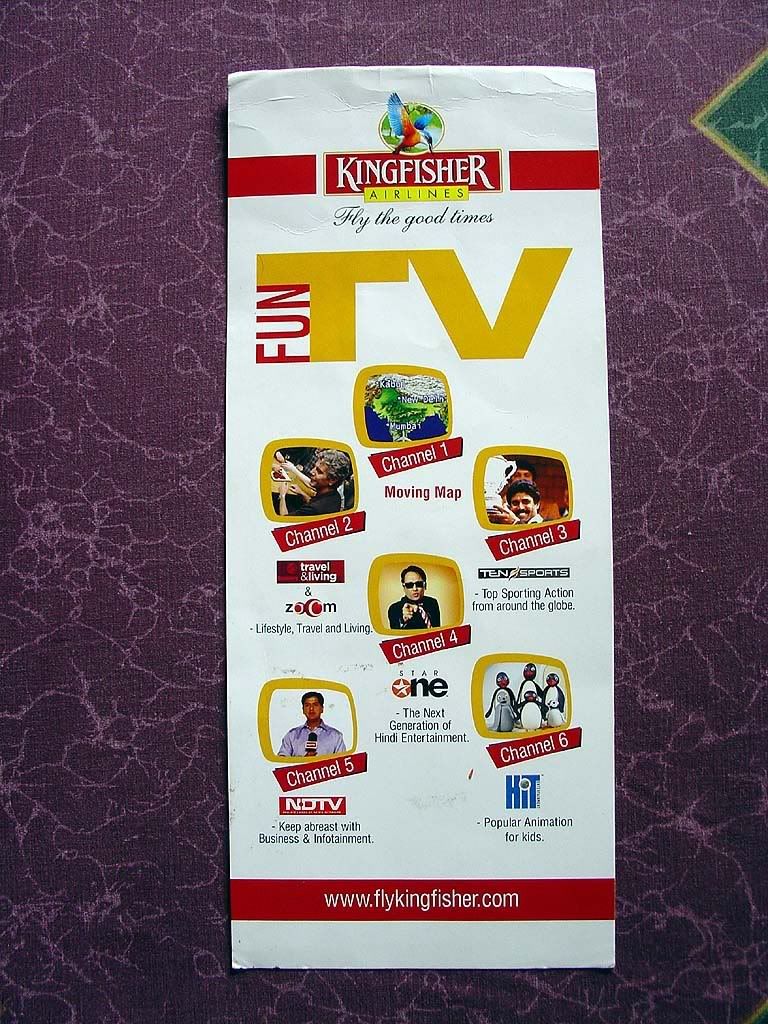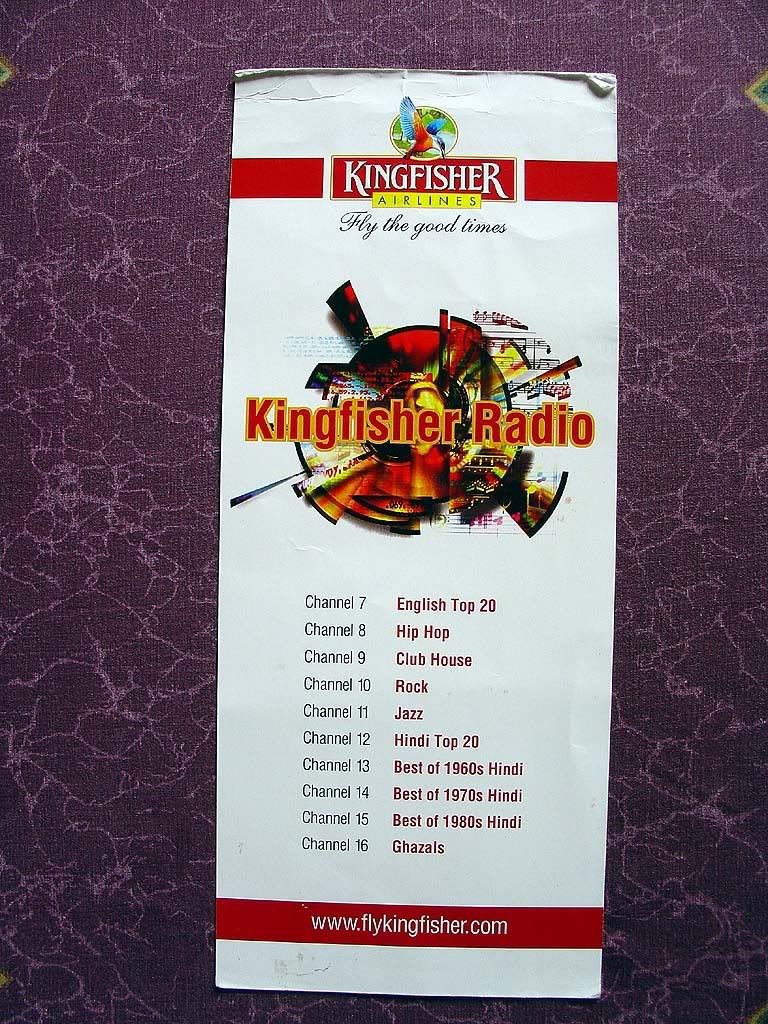 Nothing was enticing me on the TV channels so I decided to switch back to some House music with the moving map display. But wait, a flight attendant came around again, this time with a survey.
"Sir, would you mind filling this in to tell us how we did?"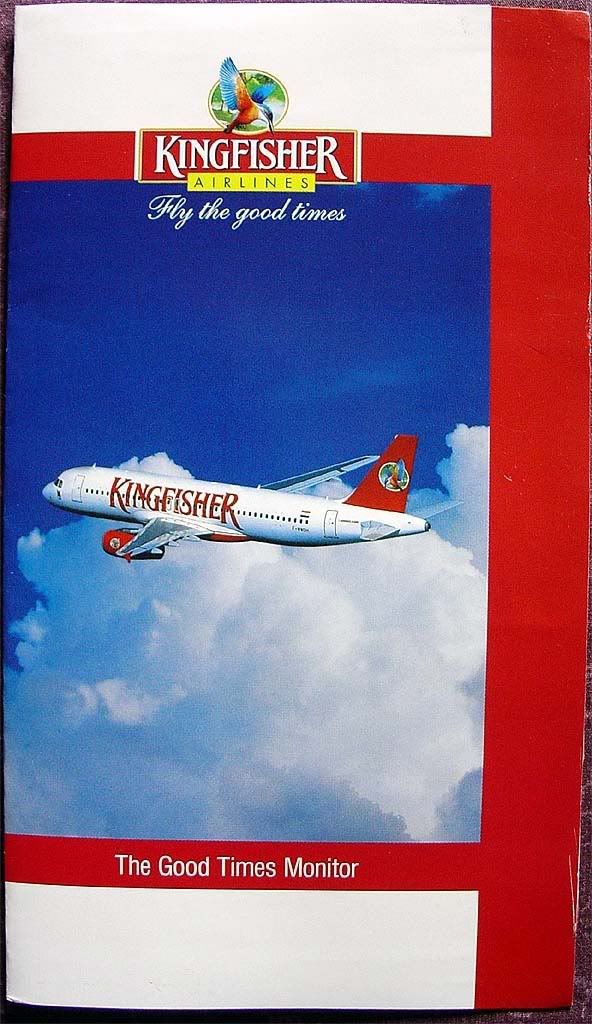 I was impressed so far, but I left the survey to both my parents as I felt I would do more justice sending this trip report to Kingfisher.
The flight progressed smoothly and I was kept busy with the wide variety of Kingfisher adverts being played on the PTV.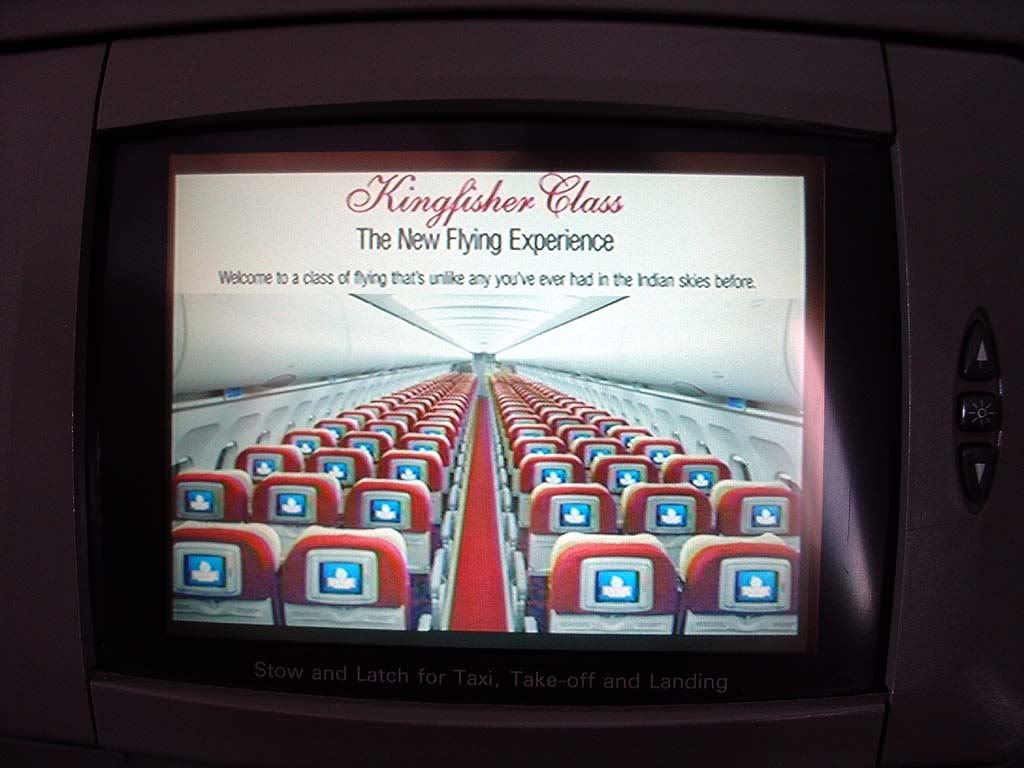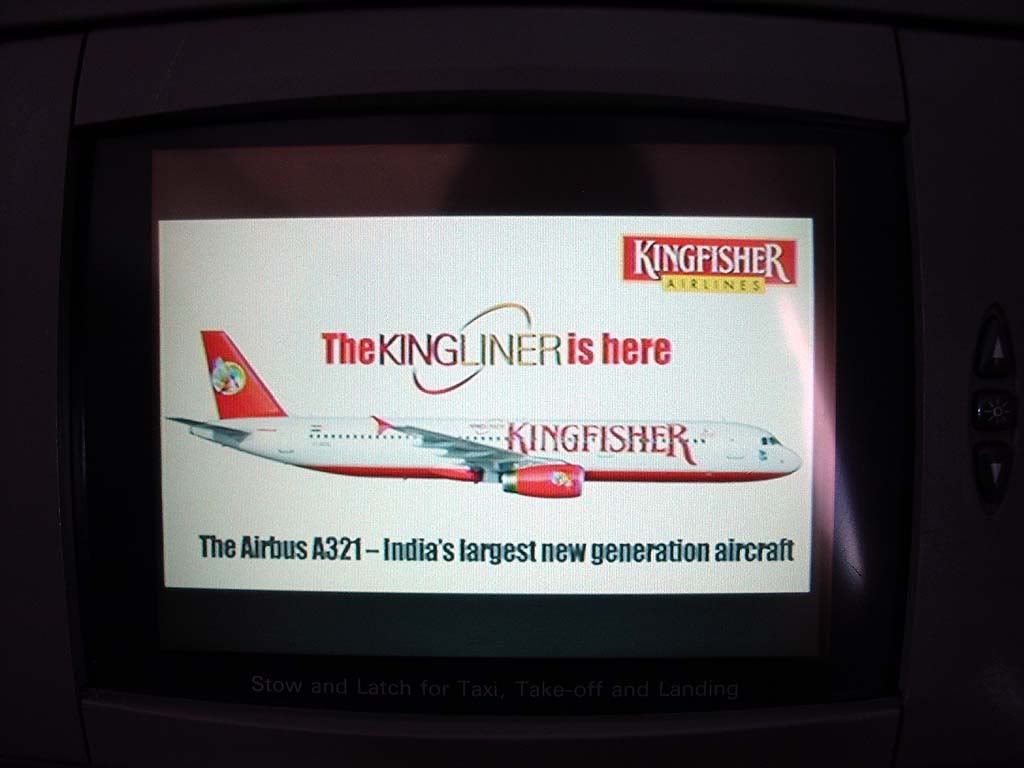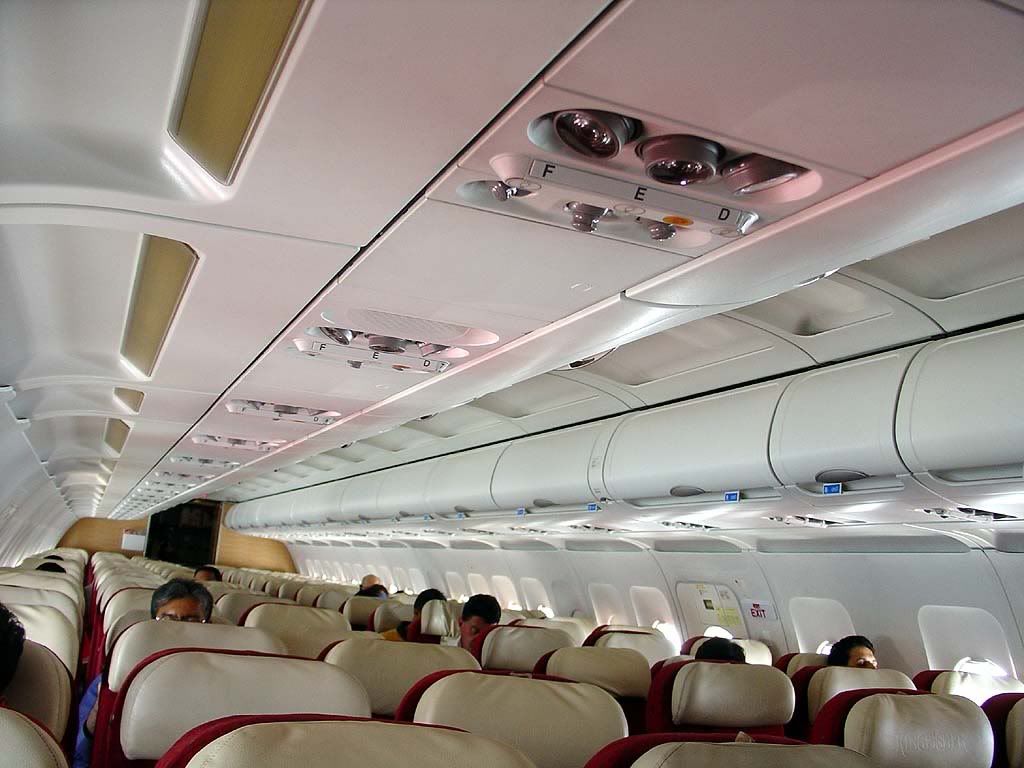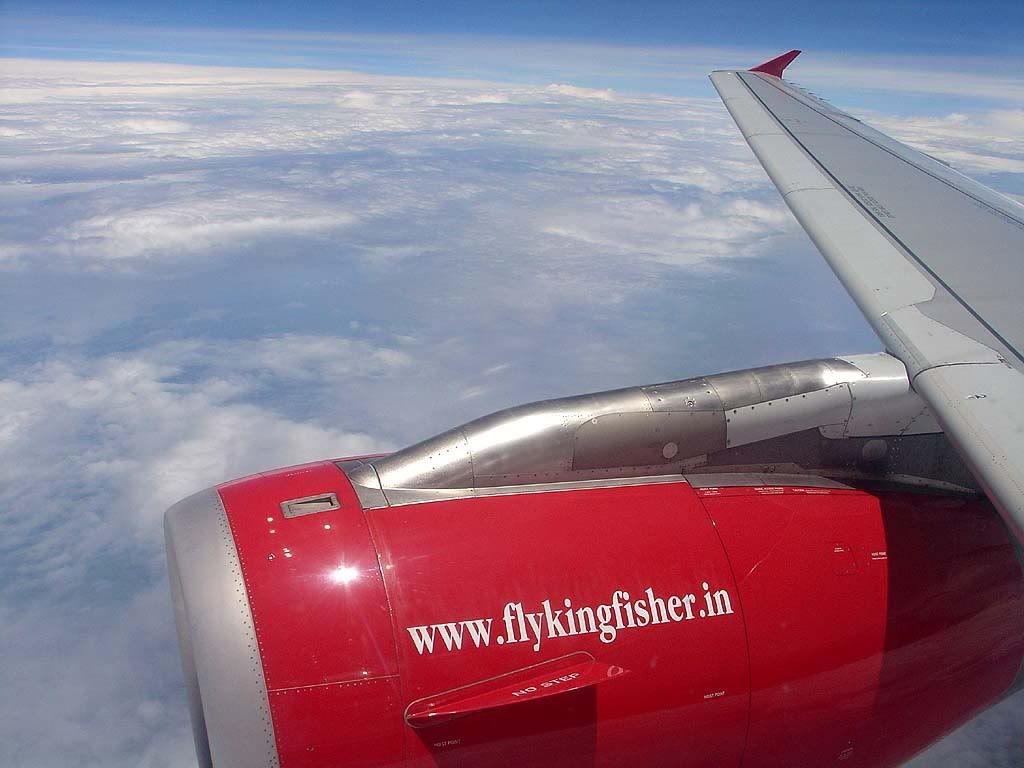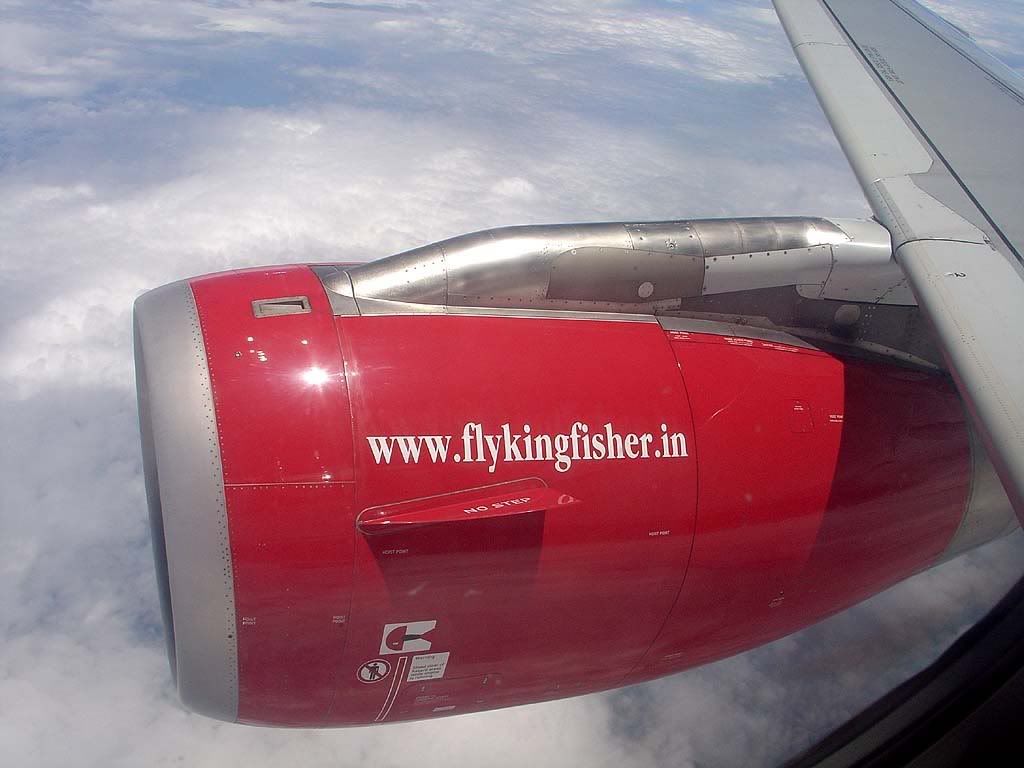 Just as the captain announced descent, there appeared a flight attendant in the aisle once again, this time with a tray of water bottles.
"Would you like some water sir?"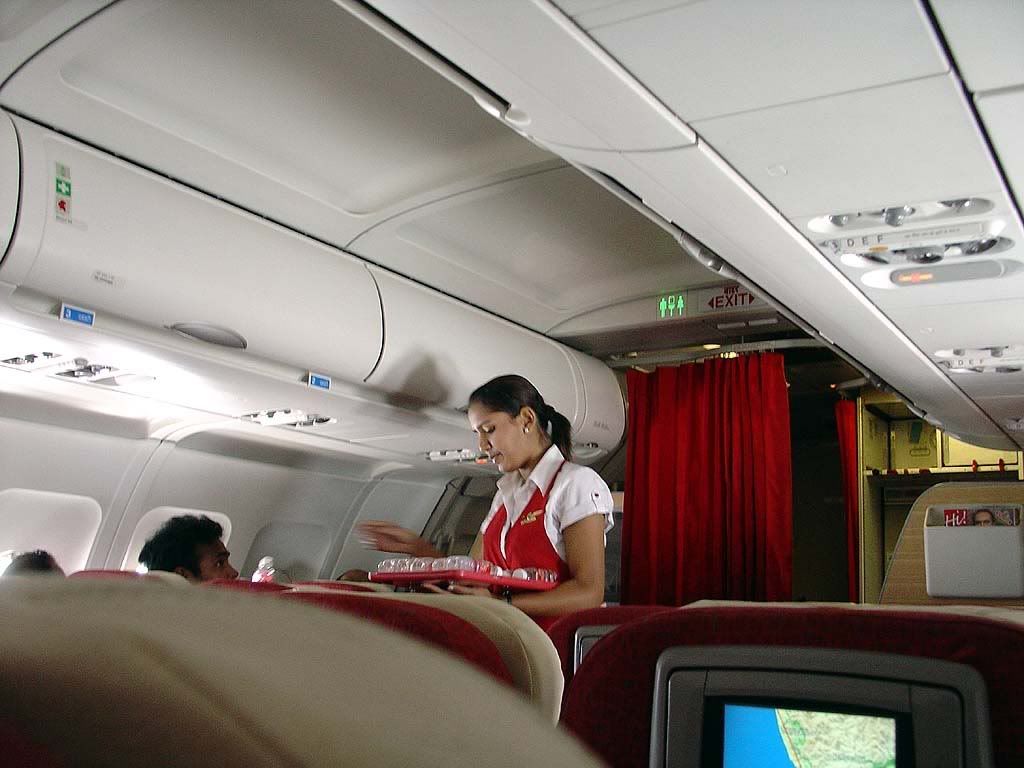 How could I refuse such a genuine offer like that? Instead of the standard arrival announcement, we were shown an arrival video which I found rather amusing.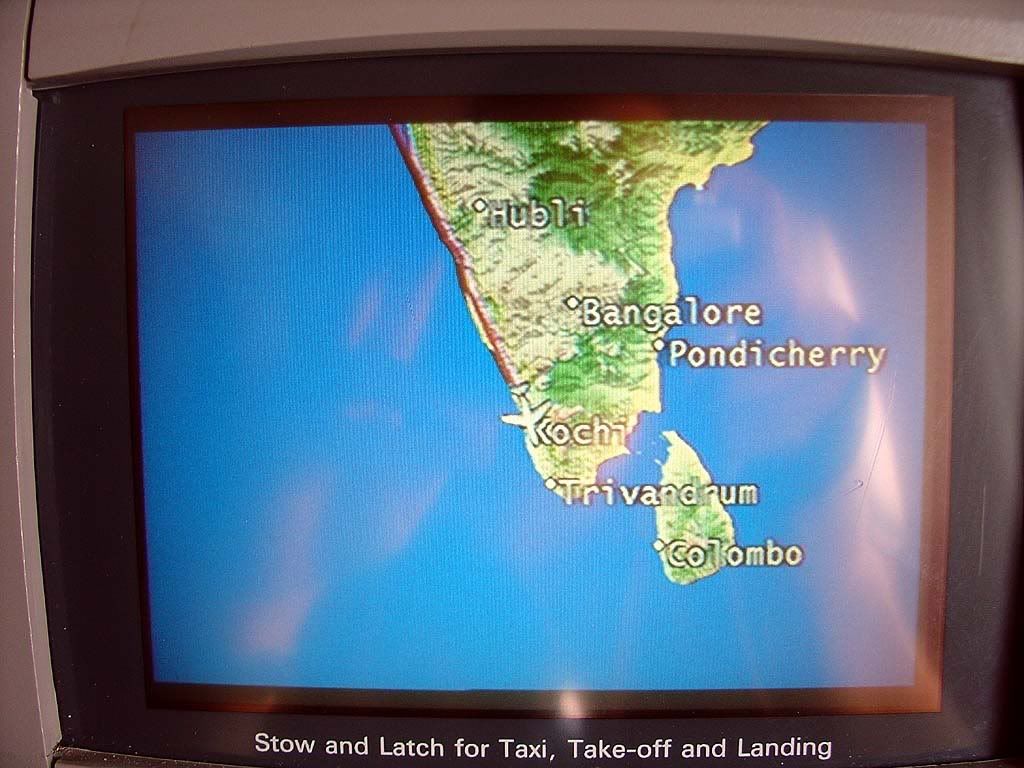 As we descended into a rainy and misty Kerela, we hit a few minor bumps.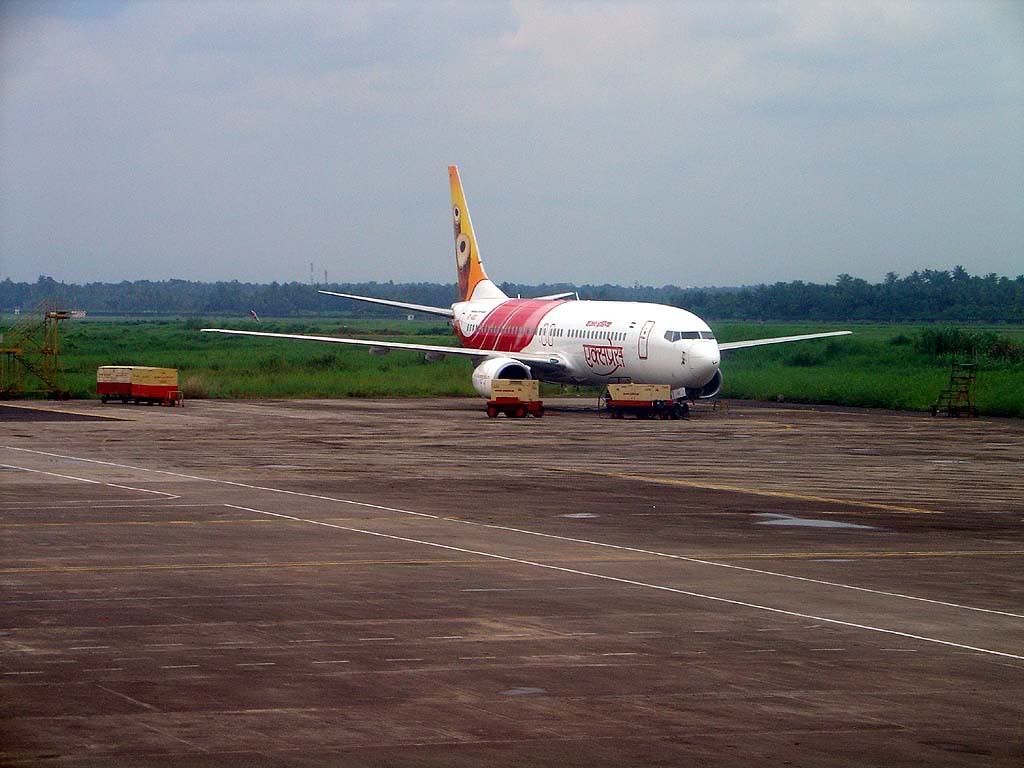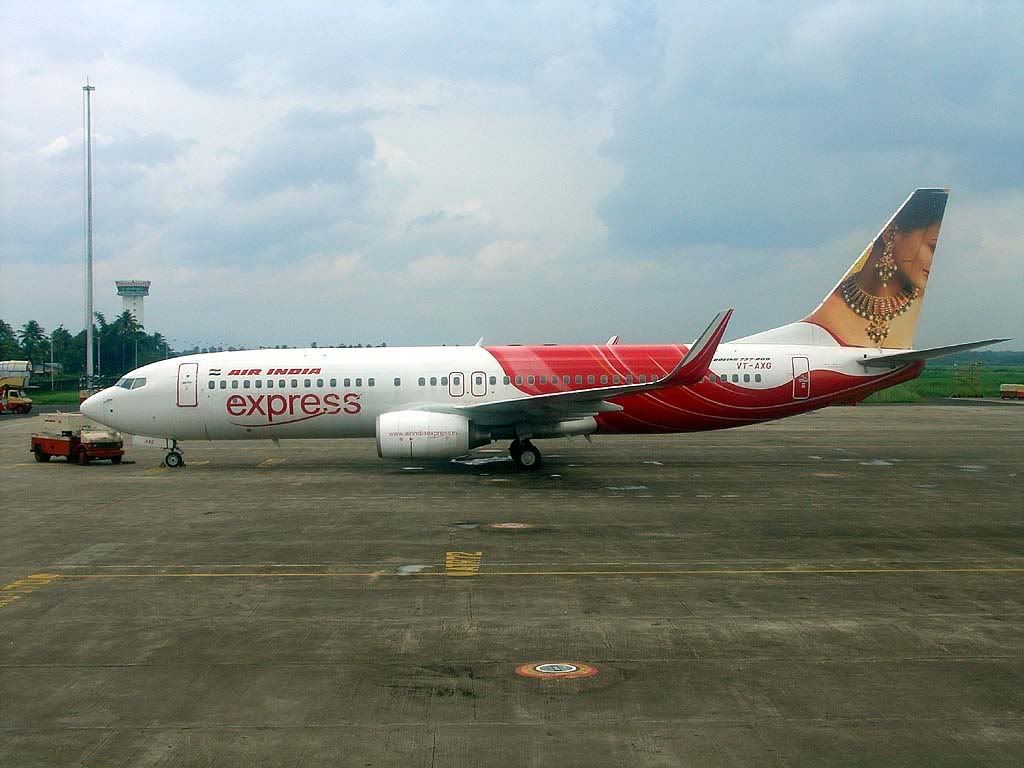 Arrival:
After a very smooth touchdown, we taxied over to the small domestic terminal parking between an Air India Express 737-800 and Jet Airways 737-700. Upon deplaning, there were two flight attendants at the front door smiling and wishing everyone a pleasant stay in Kochi. After a quick walk in a fairly orderly fashion we entered the terminal. As we had no checked bags, we went straight out and were in the car on our way to the Taj Malabar within seconds.
Verdict:
One word, wow! I was skeptical at first about Kingfisher but I was pleasantly surprised; especially considering this was a domestic flight in coach. The PTVs worked well for a domestic run though a bit more choice would certainly not hurt. The seats were comfortable, especially for a domestic run. The food was great; when one takes into consideration it was a snack and not a meal. The check in process was smooth and flawless; the personal escort from the car to the check in counter added a very nice touch to the overall experience.
Above all, I want to praise the flight attendants I encountered. Not only were they all beautiful, they performed flawlessly in every way. They took pride in their work and it showed. From the moment we boarded till the moment we left the aircraft, they had a genuine smile on their face. They cared about their passengers and did everything they could to make us feel as comfortable as possible. A lot of reputable world airlines could learn a thing or two from Kingfishers cabin crew. It is no wonder that Kingfisher won best cabin crew for Central Asia in the recent Skytrax awards.
Great job Kingfisher Airlines! If this is my experience on a short domestic hop, I can hardly wait to see what the airline has in store when they fly internationally. All I can say is, Jet Airways, watch out, Kingfisher is going to give you some serious competition.
Score:
Kingfisher Airlines 121
Check In:
9 (Friendly and efficient)
Boarding:
9 (Fast and pretty easy minus the rain which is not their fault)
Seat:
8 (Maybe an inch or more in legroom would not hurt an otherwise good seat)
Aircraft:
10 (Brand new plane Airbus and it showed)
Crew:
9.5 (Cabin crew on this leg were almost perfect, in everyway possible)
Meal:
8 (Meal tasted good and was more than enough for such a short flight)
Entertainment:
8 (Limited TV channels but the "House music" channel saved the overall score)
Arrival:
10 (With no checked in bags, it was an extremely easy walk out)
Total: 71.5/80 = .893
Kingfisher scored a total of 89%
Jet Airways 402
Kochi - Mumbai
Boeing 737-76N (VT-JNP)
Seat: 23F
Scheduled Departure Time: 13:00
Actual Departure Time: 13:10
Scheduled Arrival Time: 14:40
Actual Arrival Time: 14:48
View Large
View Medium


Photo © Propfreak
Check In:
The hotel car pulled up to the airport departure drop off shortly after 11:45am just as a torrential downpour started. We walked towards the rather tiny common use check in area and approached an empty Jet Airways desk. Our hand luggage was tagged immediately and we were issued Air India stock boarding passes by the friendly Indian Airlines agent. This time around she was able to input my Air France Flying Blue account information into the system which was an added bonus.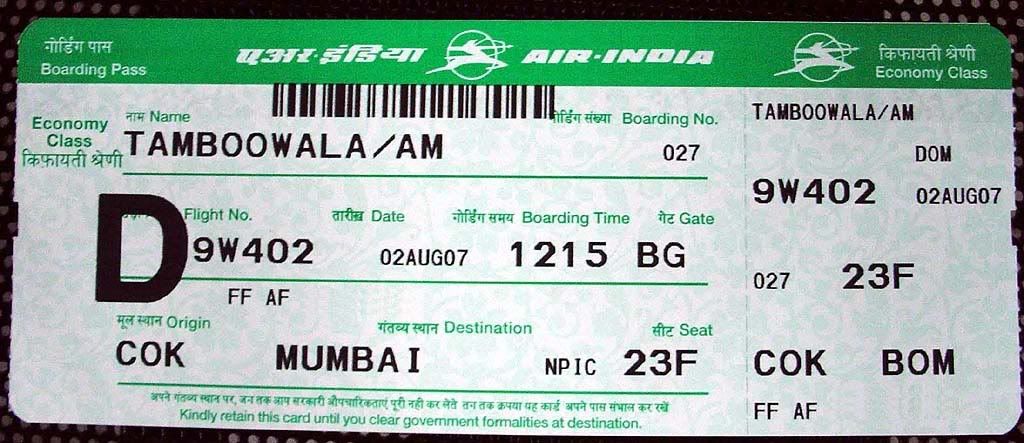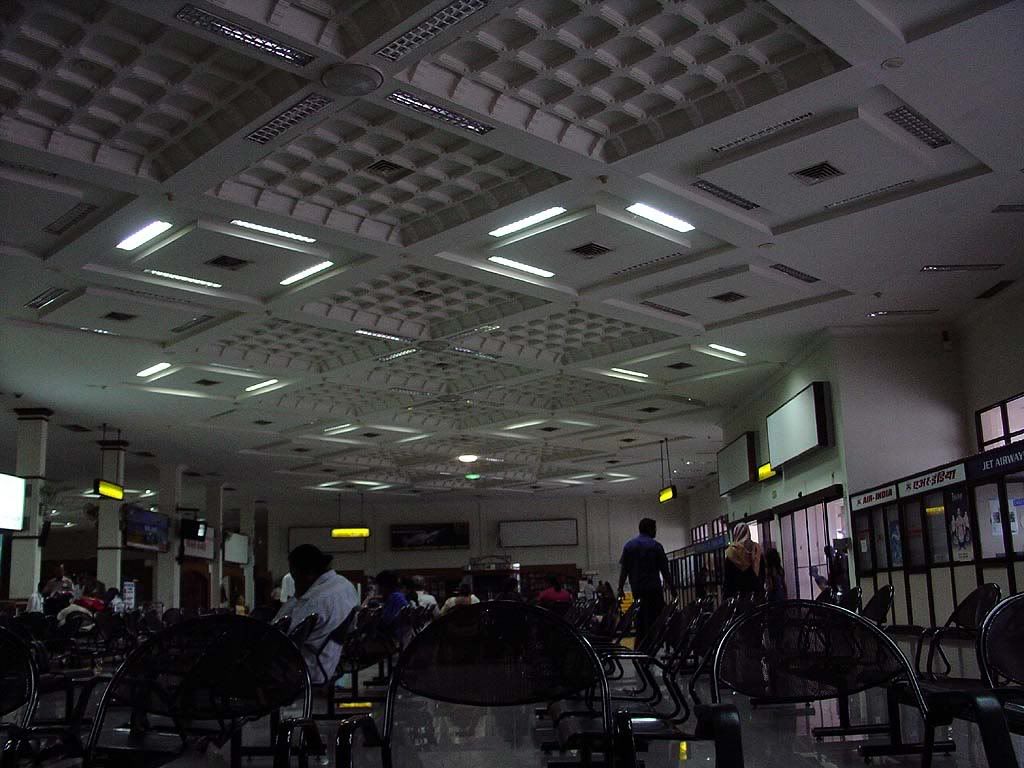 After a bit of loitering, we decided to head to the common use gate area. Security was nothing overly exciting, just the usual pat down with the metal detector and multiple stampings all over the boarding pass.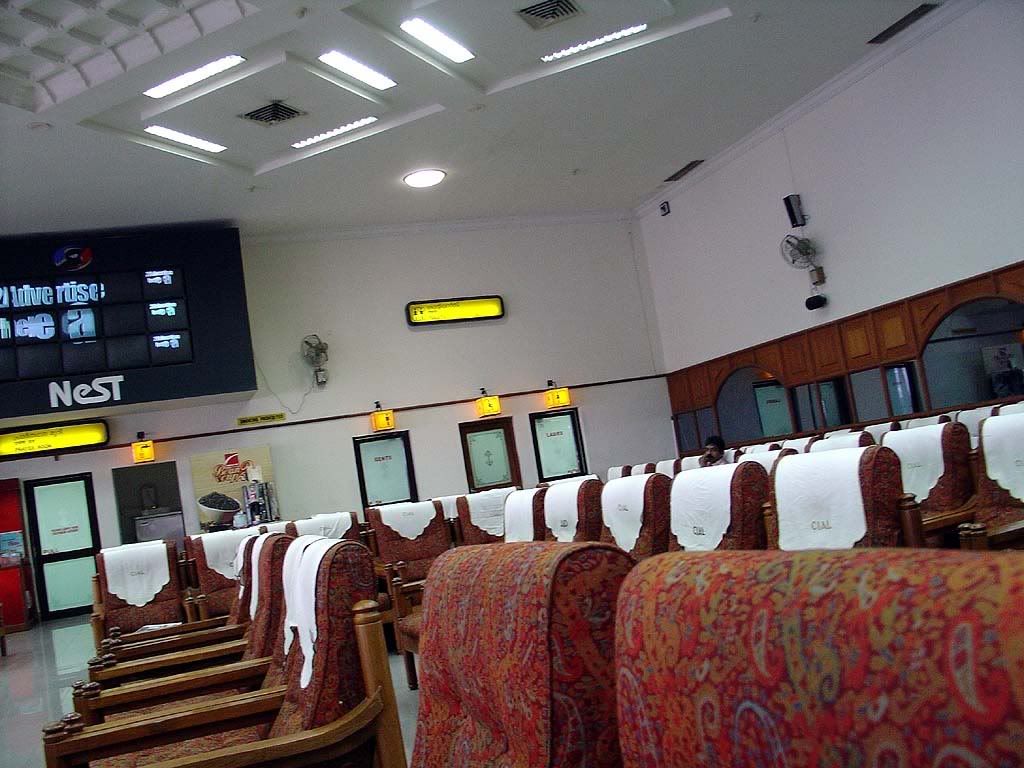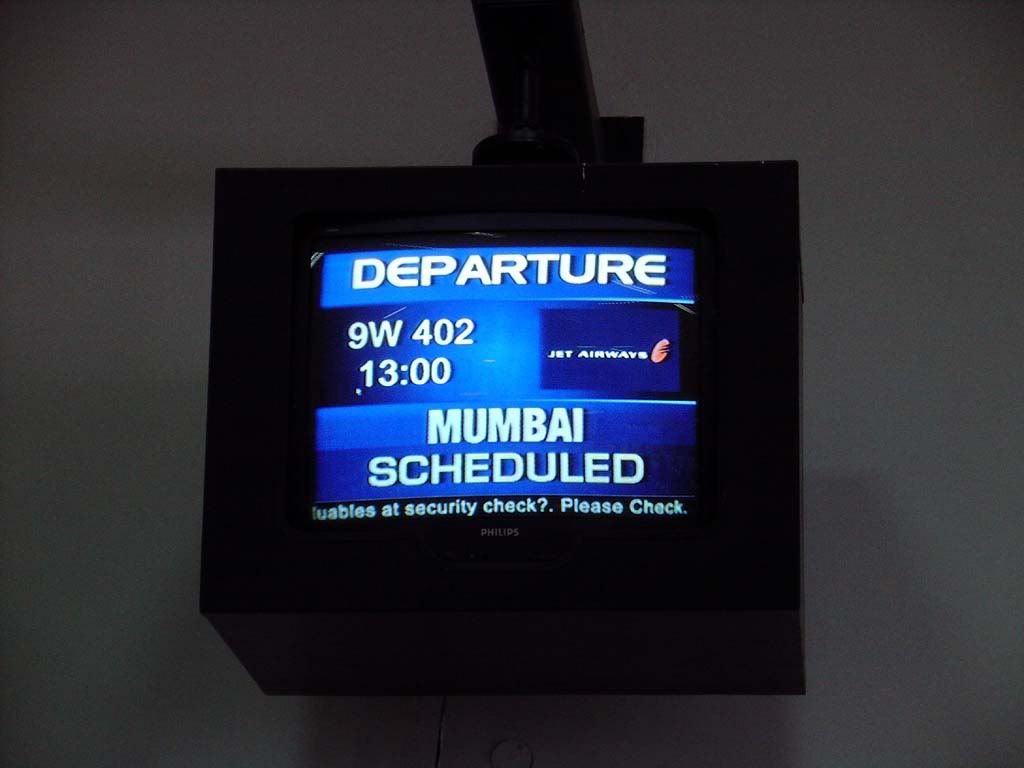 At 12:30 the aircraft was still nowhere to be seen, so I knew a delay was coming but hoped the aircraft could be turned around relatively fast. I decided to pass the time by watching a Saudi Arabian 777 pushback and taxi to the runway. However; before the 777 ever made it to the runway, a Jet Airways 73G came roaring down the runway kicking up a storm of water with its reverse thrust.
Boarding:
Despite our boarding passes stating that boarding time was 12:15, it was close to 12:55 when boarding was announced. Despite the plane being a mere 20 feet in front of us, we were loaded onto an Air India bus for a very short drive in the pouring rain. Truth be told, it was a nice gesture as nobody likes walking in pouring rain, no matter how close the aircraft is.
We were checked once again at the top of the stairs by a security guard who was making sure all our boarding passes had been stamped by security. Once we were allowed onboard the aircraft we were welcomed at the door by two friendly flight attendants.
"Welcome onboard Jet Airways."
As we walked to the rear of the aircraft we ran into at least three other flight attendants who all smiled and welcomed us onboard with equal enthusiasm.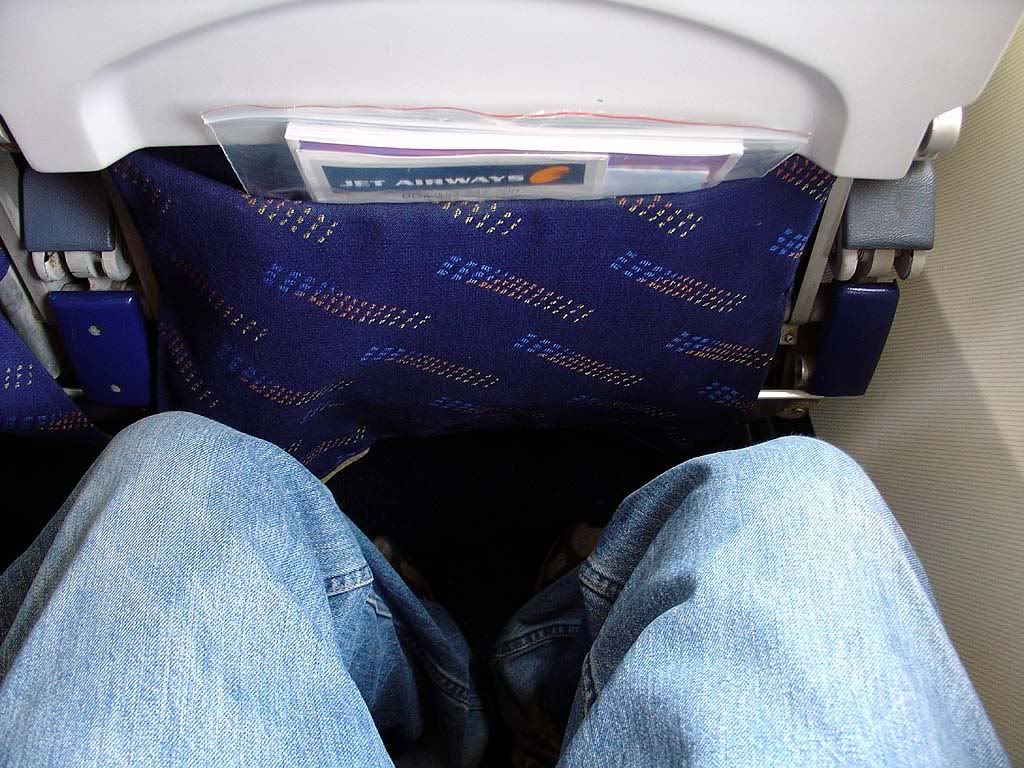 About 10 minutes later a flight attendant came over to my dad,
"Sir boarding is complete, you may move to another seat if you wish."
My dad moved up three rows while my mom stayed in the aisle seat. The captain came on the PA, welcomed us onboard and informed us that our flying time would be around an hour and 30 minutes and to expect some turbulence on the way.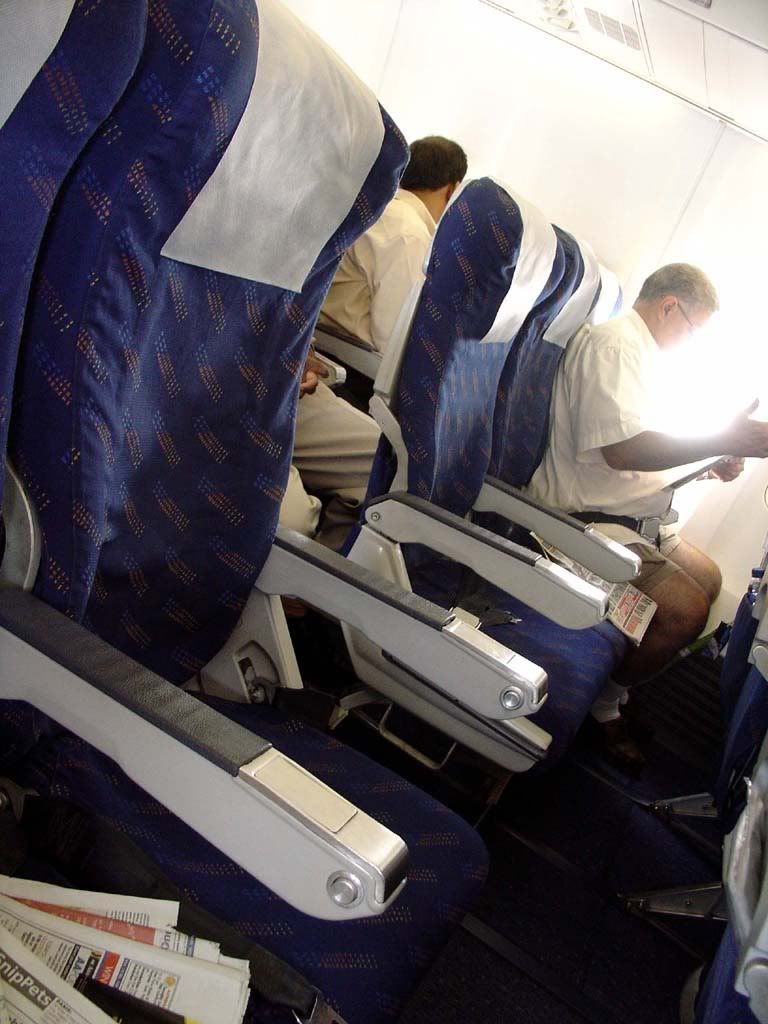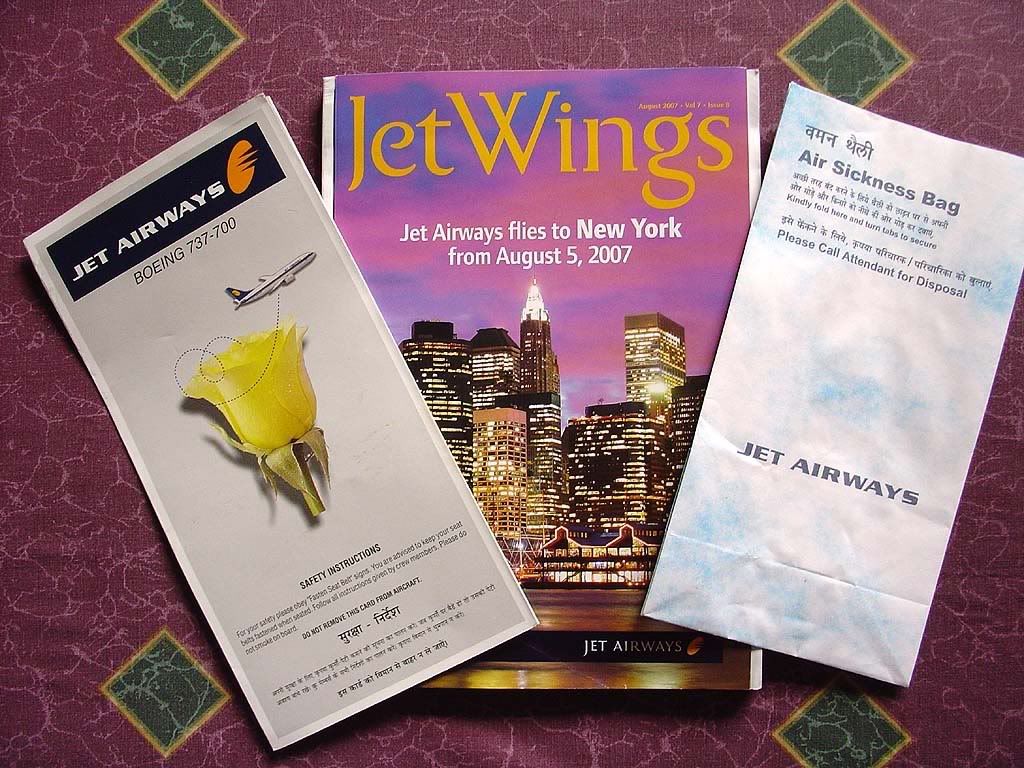 At first the flight attendants passed around bottles of water followed by cold towels which I thought was an extremely nice touch, especially considering this was coach. A manual safety demonstration was performed by the cabin crew and we backed up from the gate just shy of ten minutes behind schedule.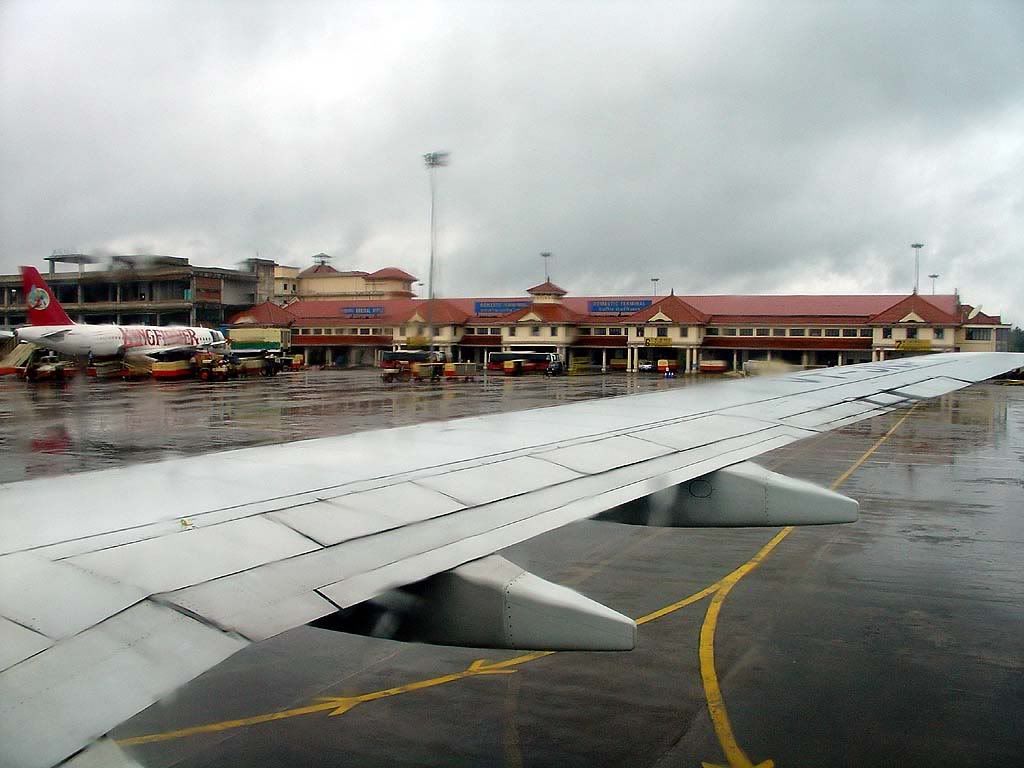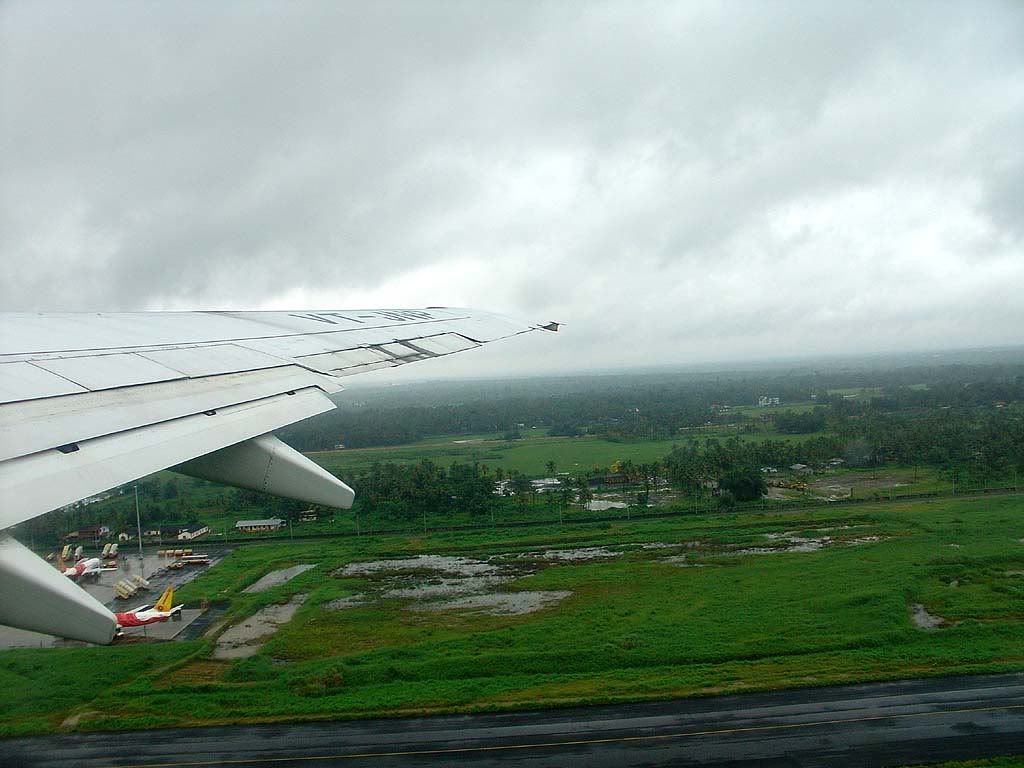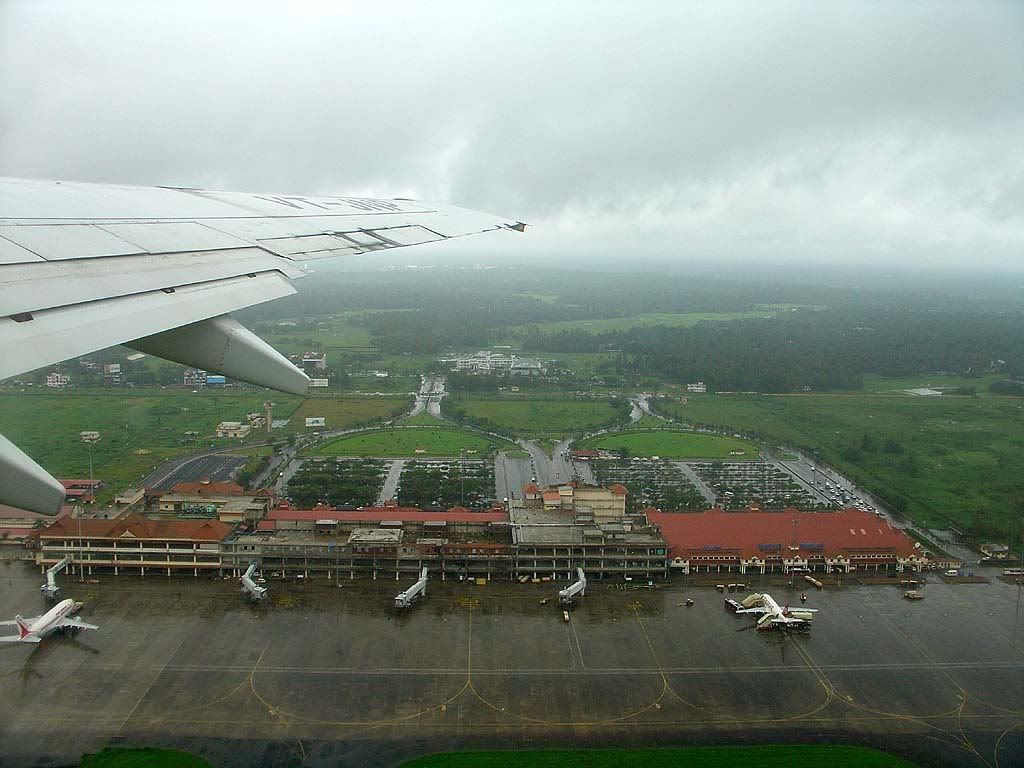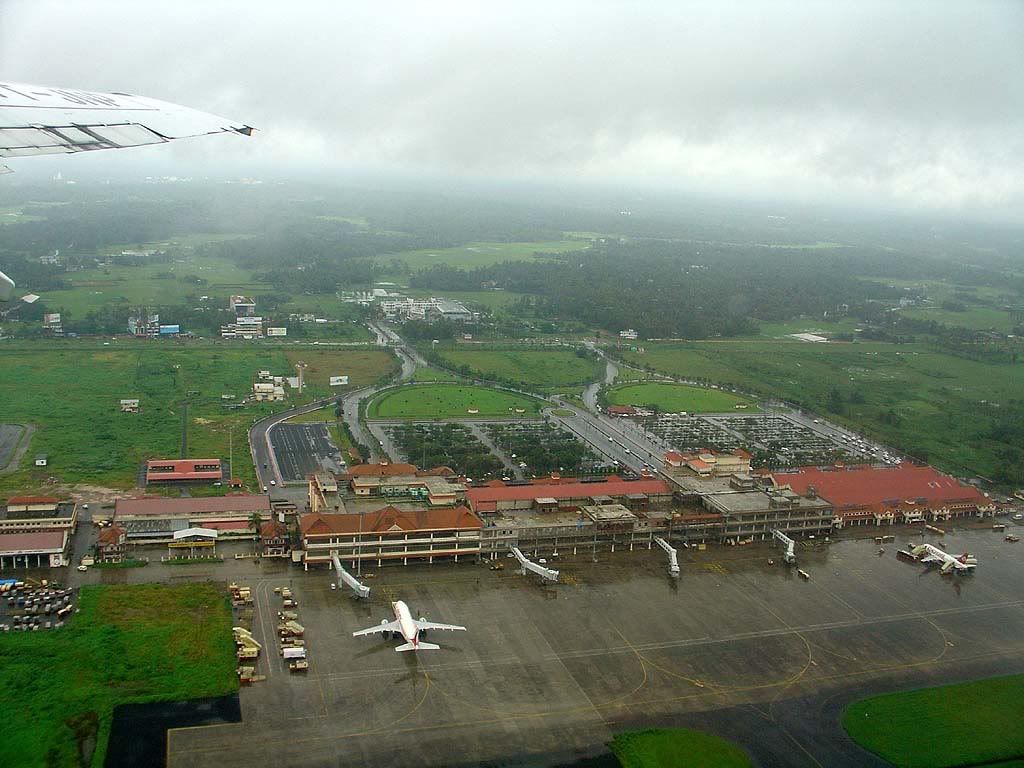 The Flight:
Once airborne we hit a bit of mild turbulence which subsided just as fast as it had appeared. The first part of the service included the cabin crew serving a tray of lime juice and coke. The male flight attendant even went so far as to ask if I would like ice in my coke, which I politely declined.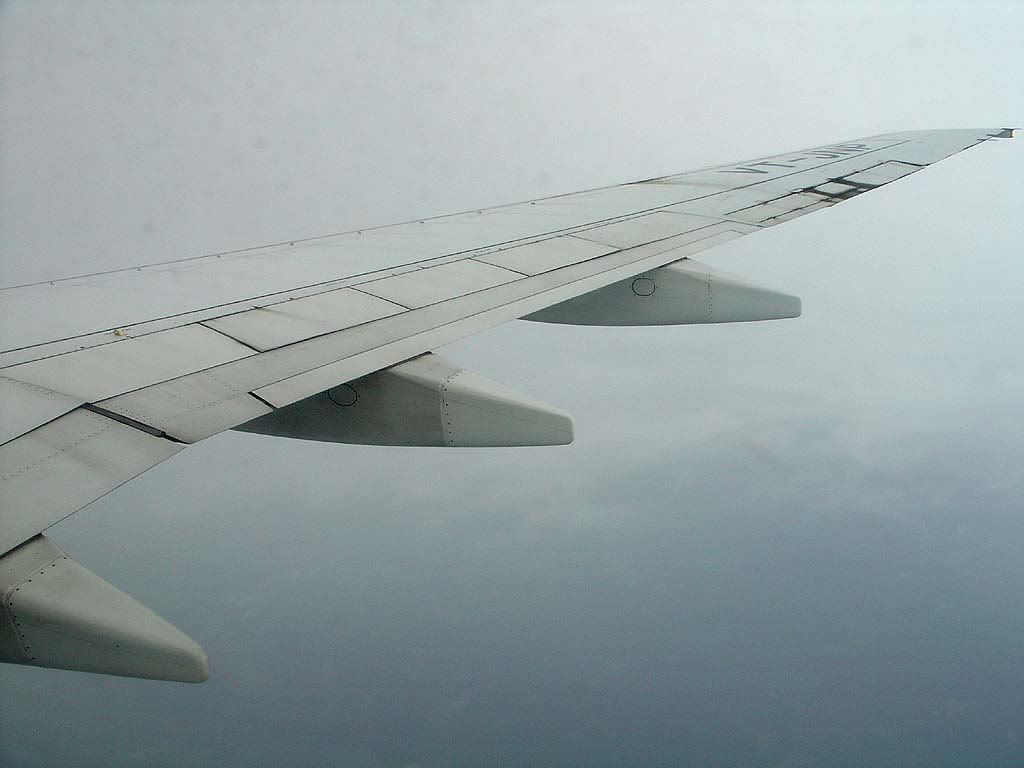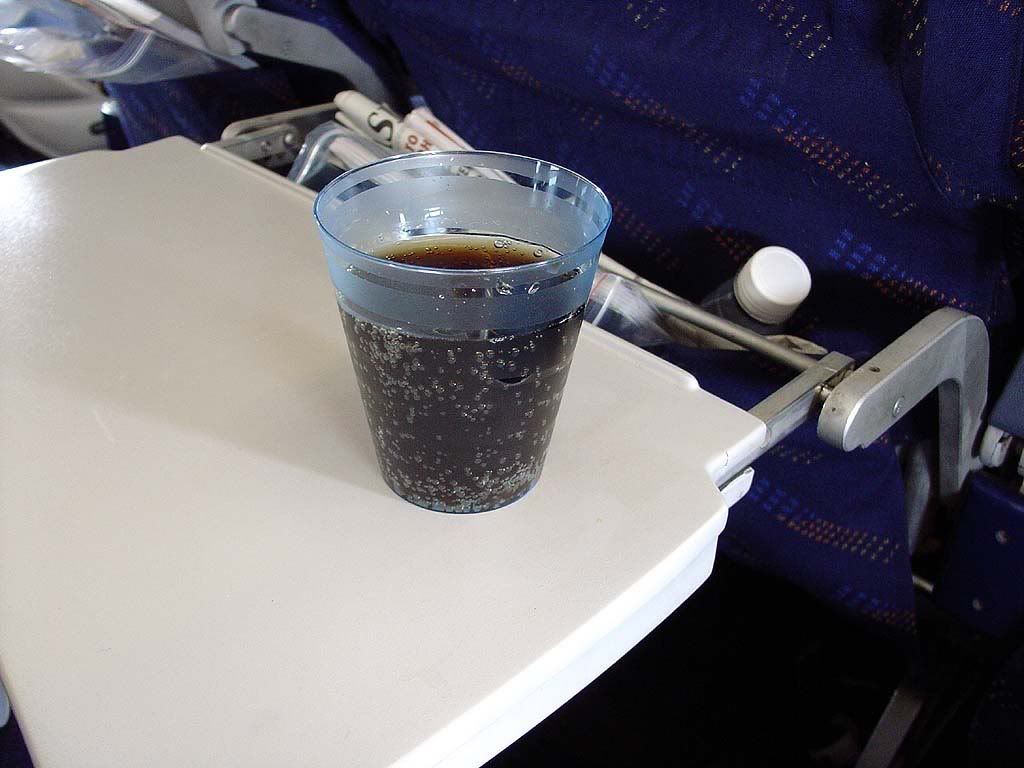 The meal trays were brought around minutes later and a female flight attendant ever so graciously asked me,
"Would you like vegetarian or non vegetarian sir?"
Being the carnivore that I am, I opted for the non vegetarian while my mother took the vegetarian. Here are pictures of both meals which were rather similar minus the chicken curry.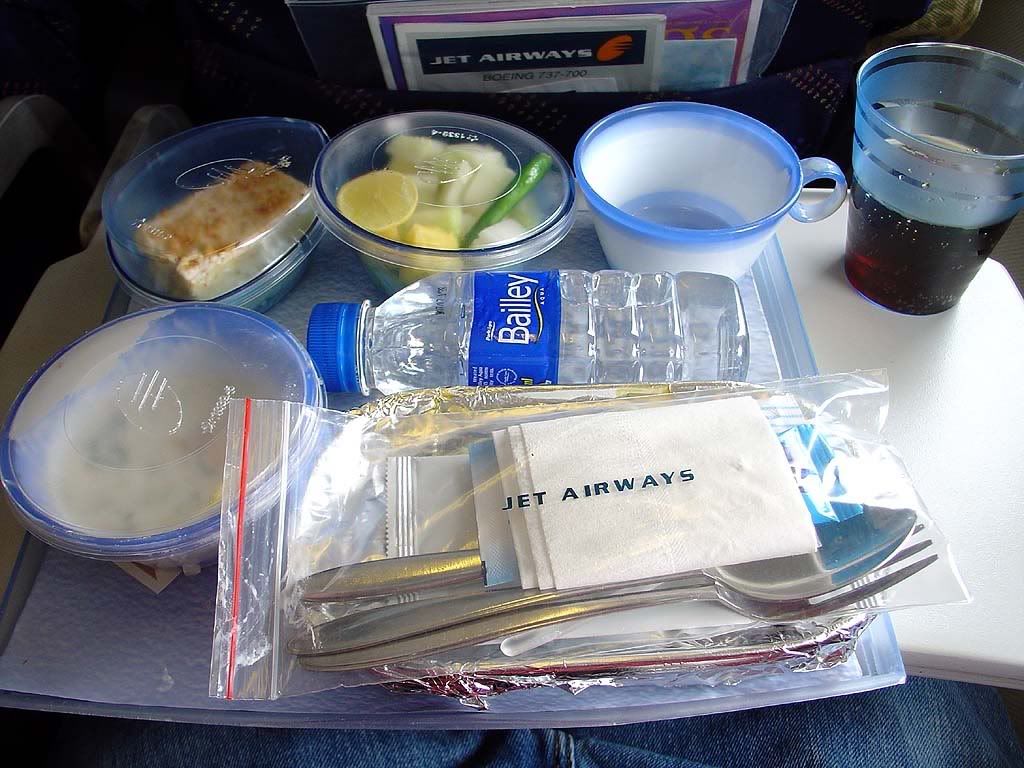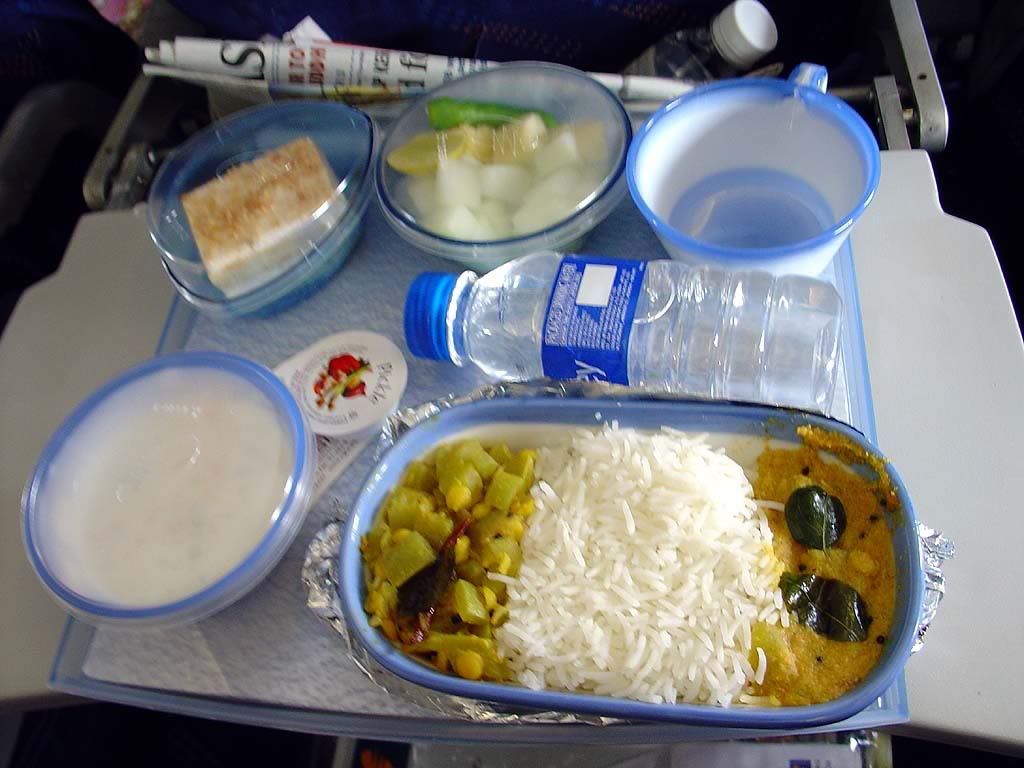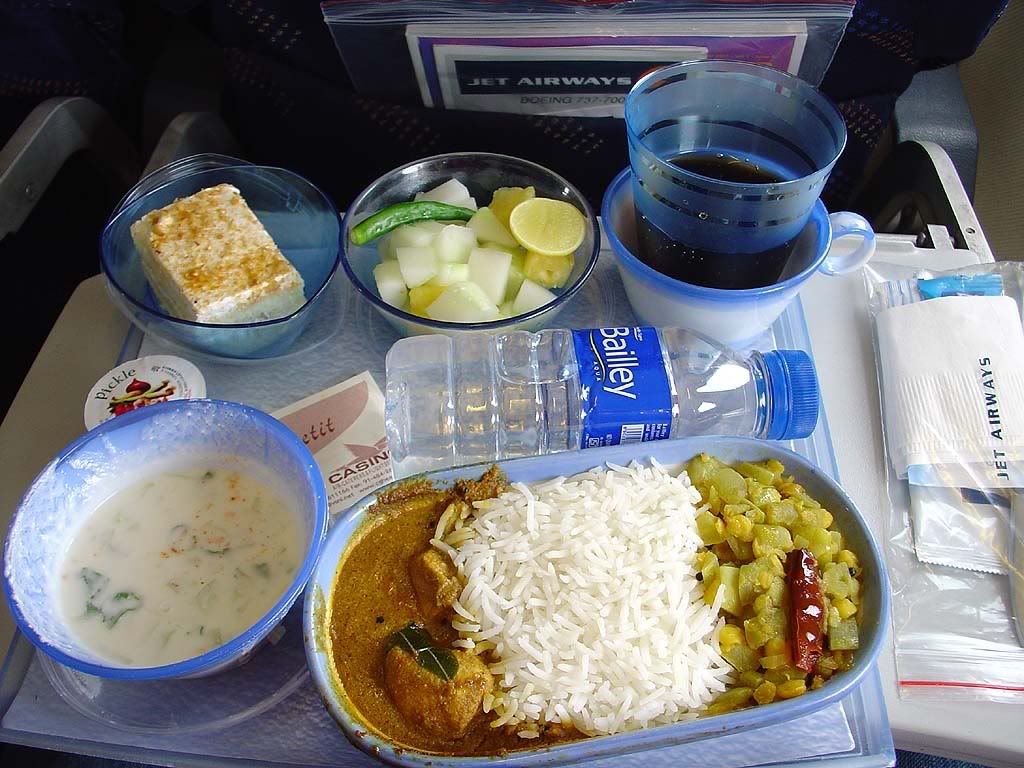 The white bowl on the left of the tray was a bowl of raita, which is a combination of yogurt, cucumber and coriander, a very common dish in India. Unfortunately, I am not a big fan but did take a taste and it seemed fine. The bowl at the top of the tray next to the cup was full of pieces of cucumber, pineapple and a chili. To say it was an odd combination would be an understatement. I ate the cucumbers and left the pineapple pieces for later. The main course in general was pretty good as the chicken curry was full of flavor and the rice soft and moist. The vegetables on the side were horrendous though, tasteless and rather unidentifiable. The pineapple pieces were fresh and sweet as was the cake which was of some vanilla concoction.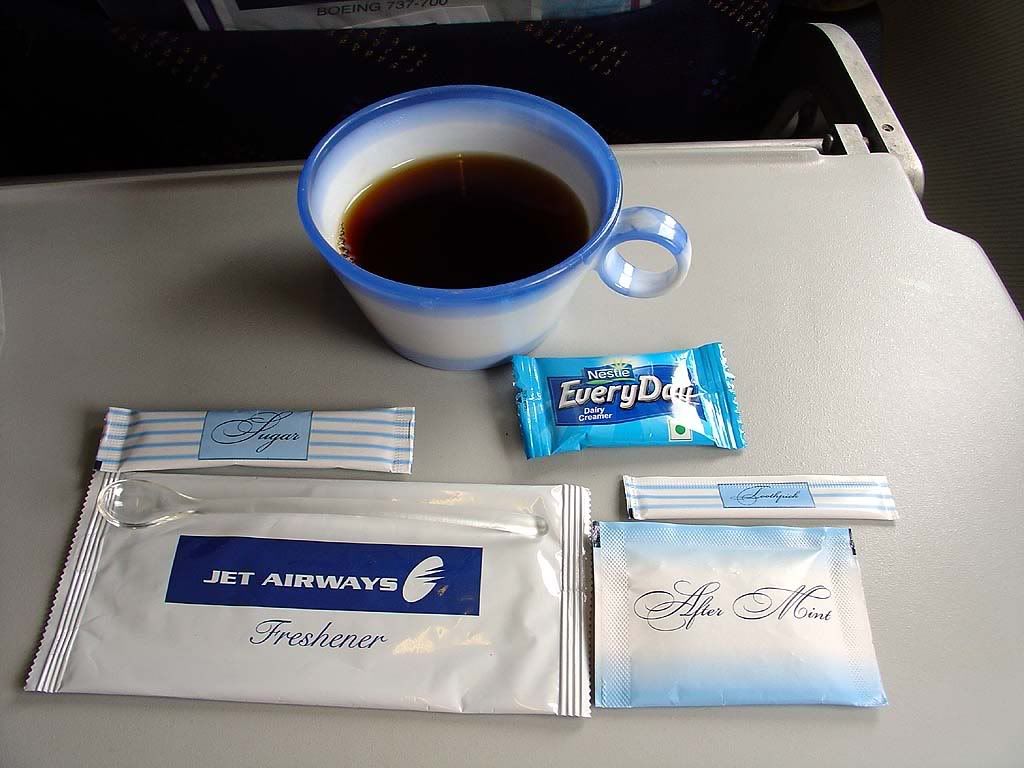 Once the crew had served all the passengers their meals, they came around with coffee and tea. As usual, I opted for some tea which was hot and a perfect way to accompany the cake.
Once the empty meal trays were collected, the cabin crew came around once again with a tray full of water bottles. Never once did their composure falter, they smiled and interacted with each passenger with grace and hospitality that can only be Indian. Just like on Kingfisher, the cabin crew came around handing out surveys.
Descent began shortly thereafter with a few bumps along the way as the weather was rather dull thanks to the monsoons.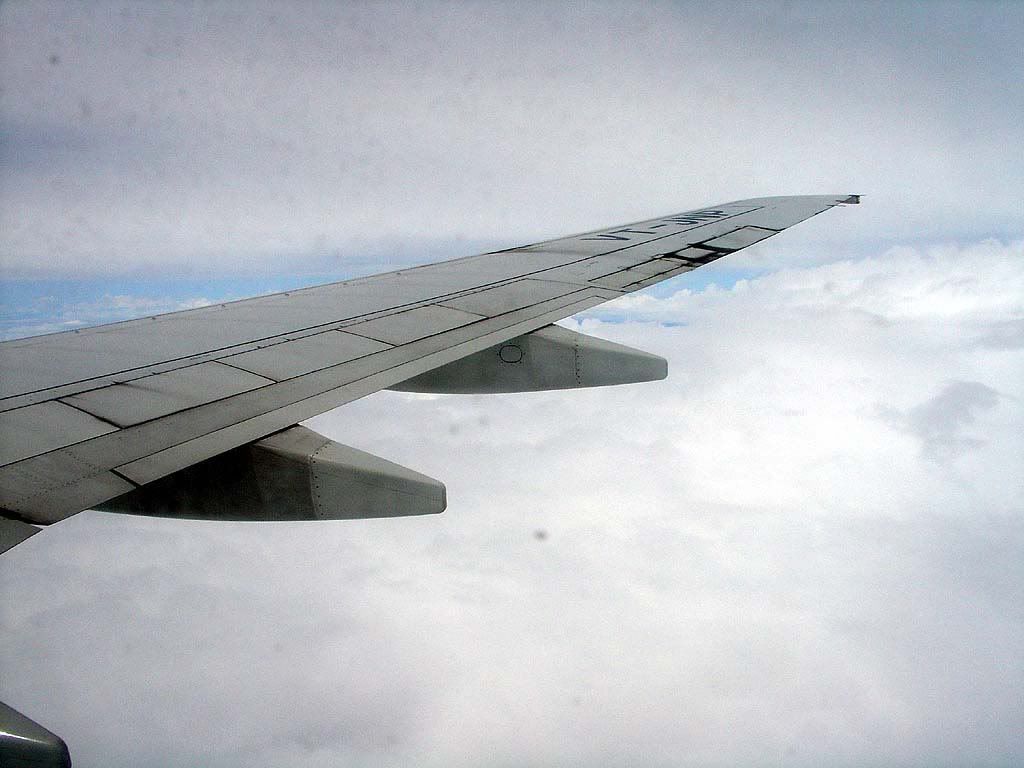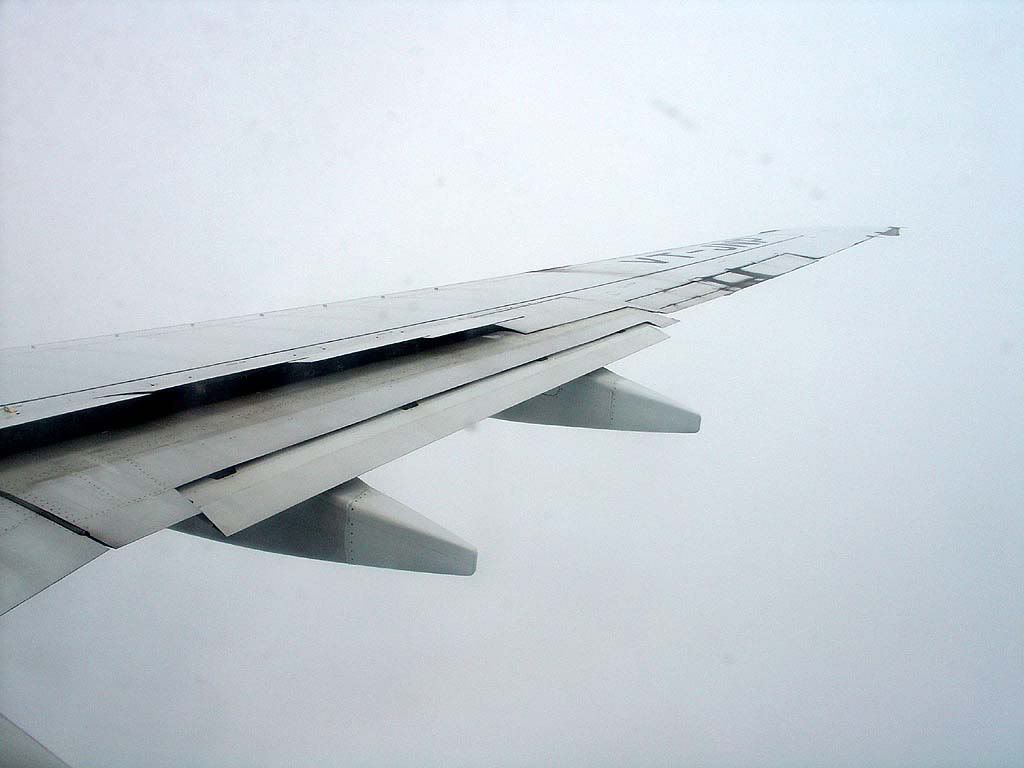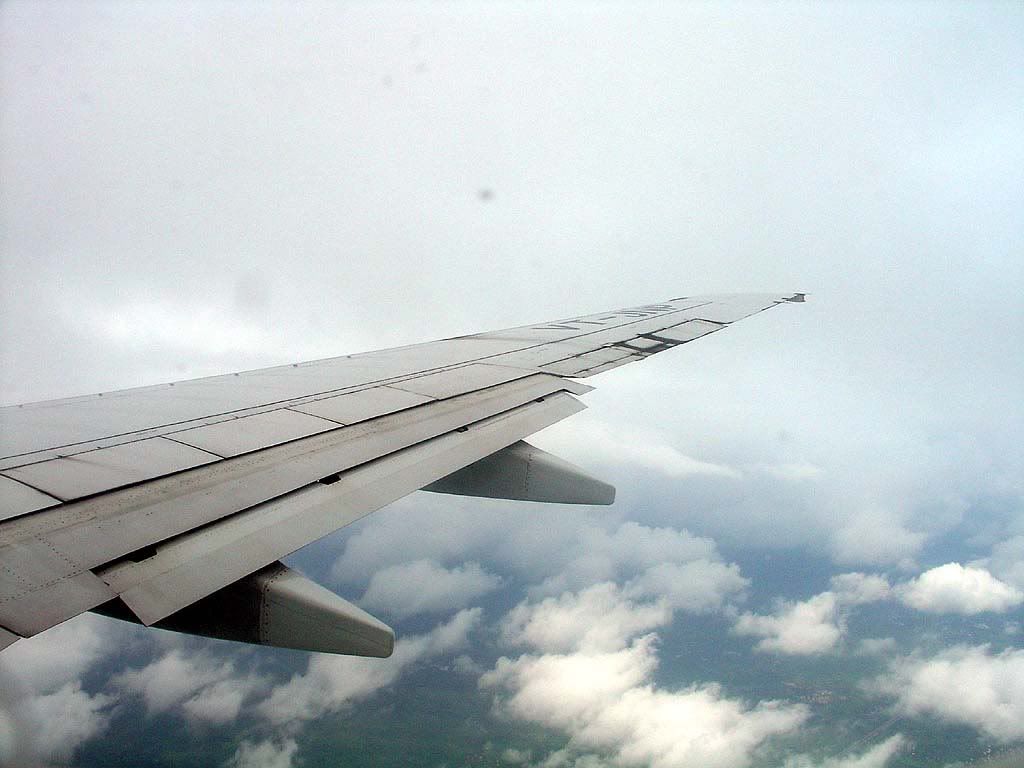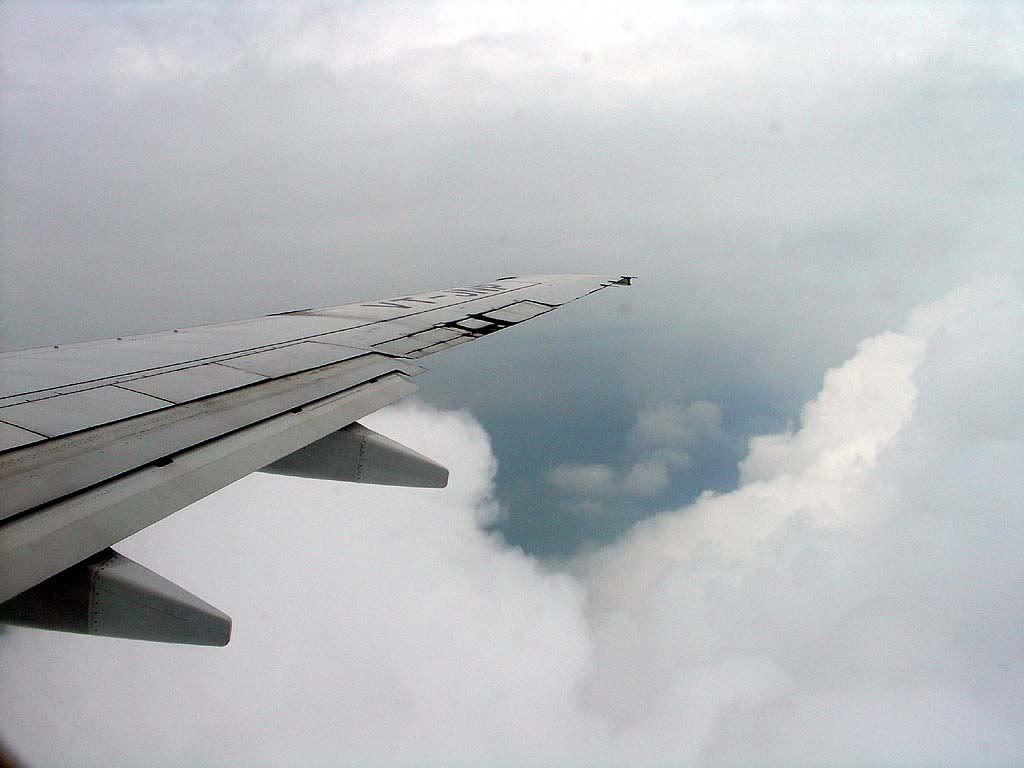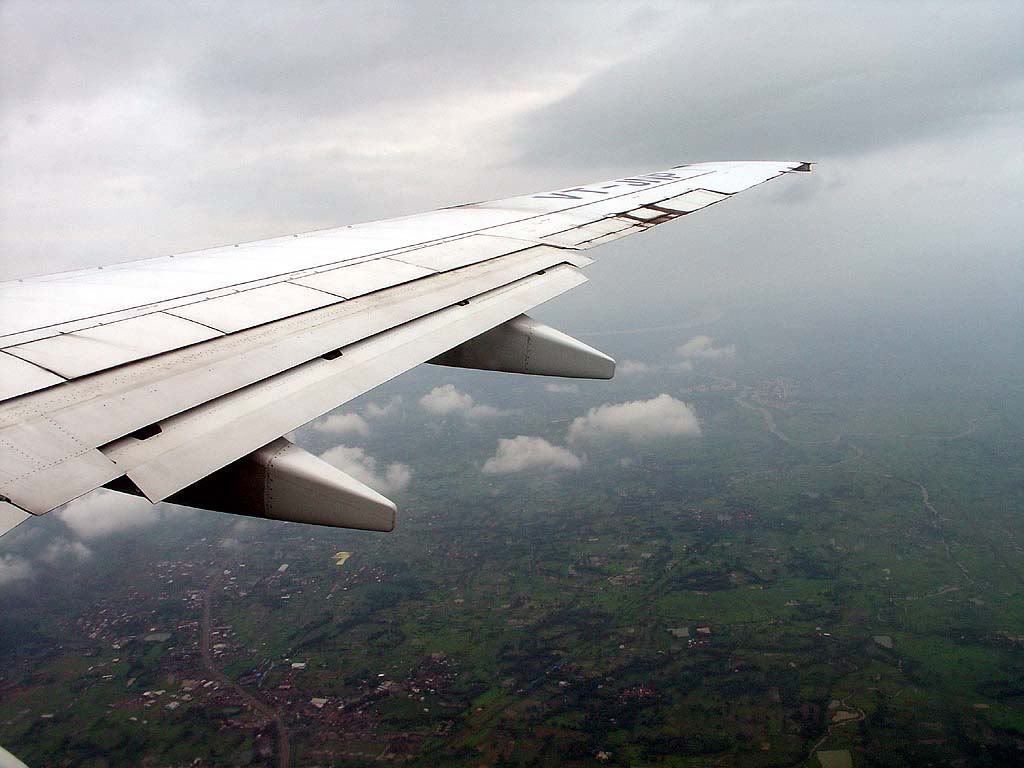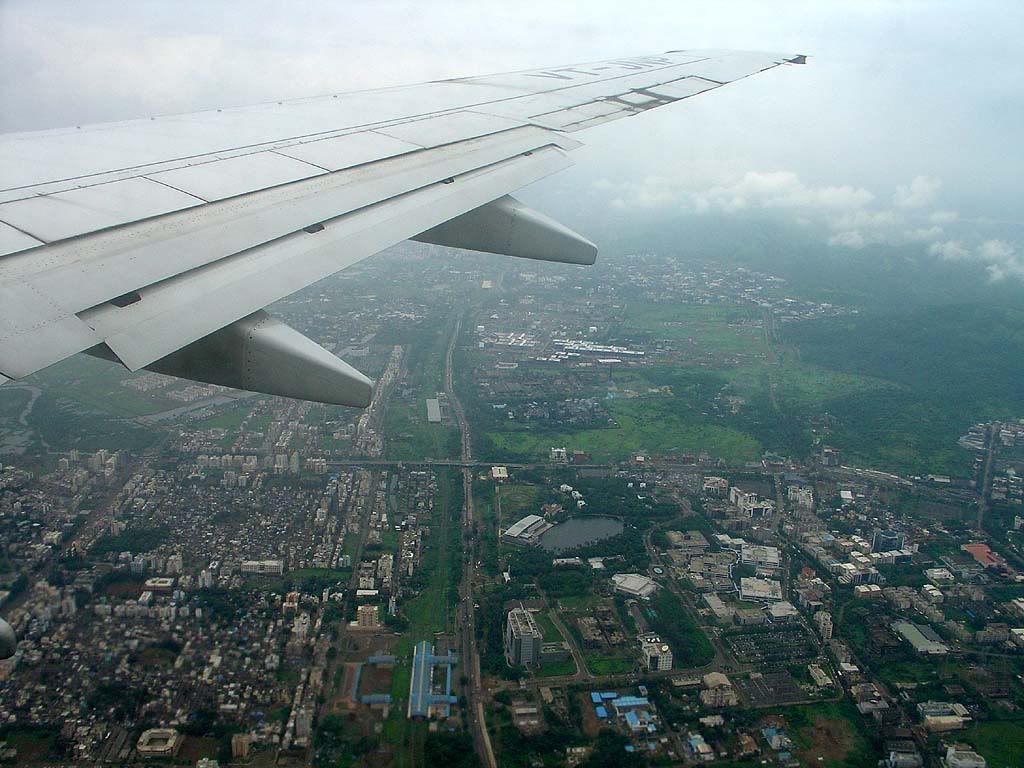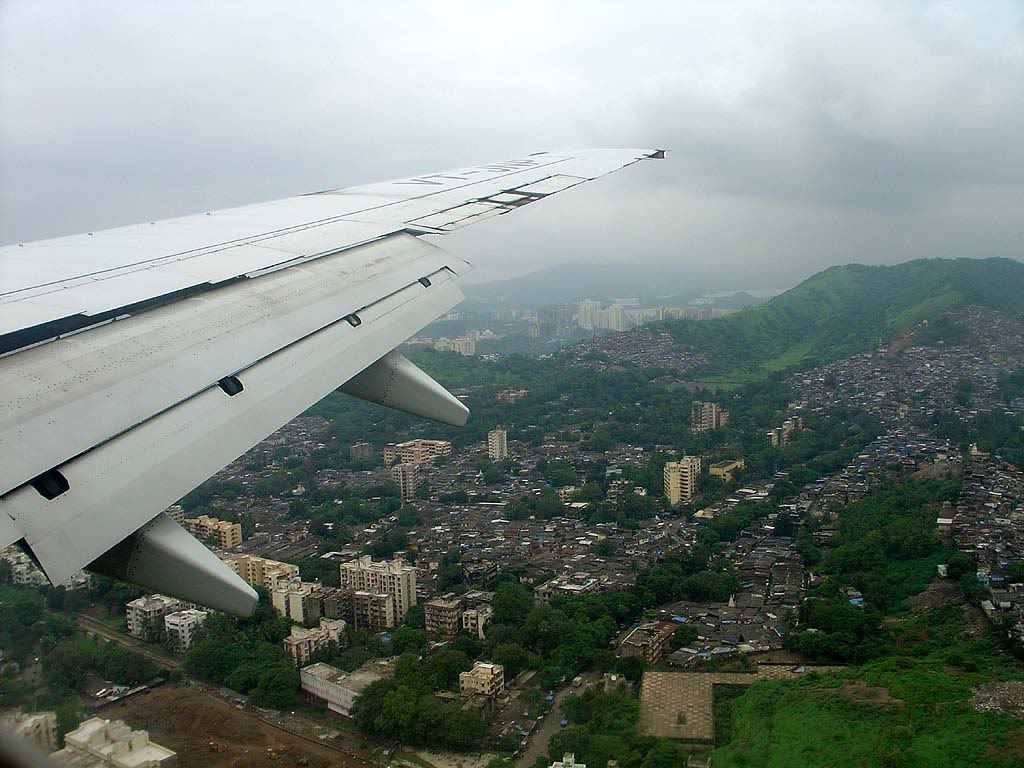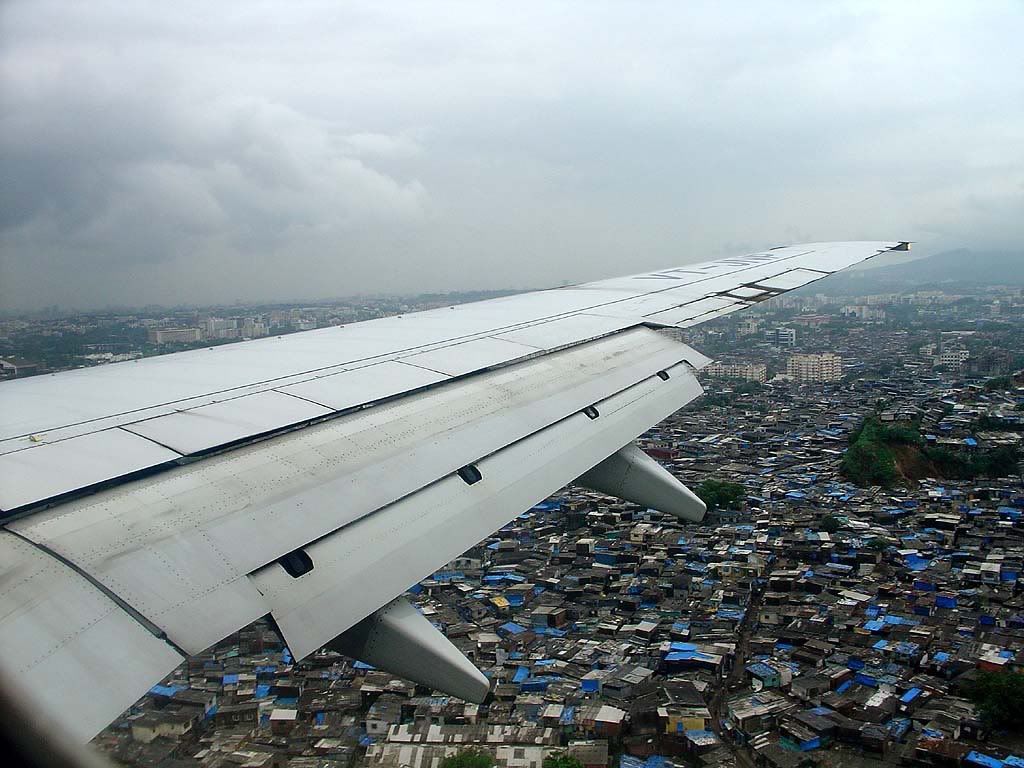 Arrival:
Touchdown was smooth and we began our taxi to the newly built domestic terminal.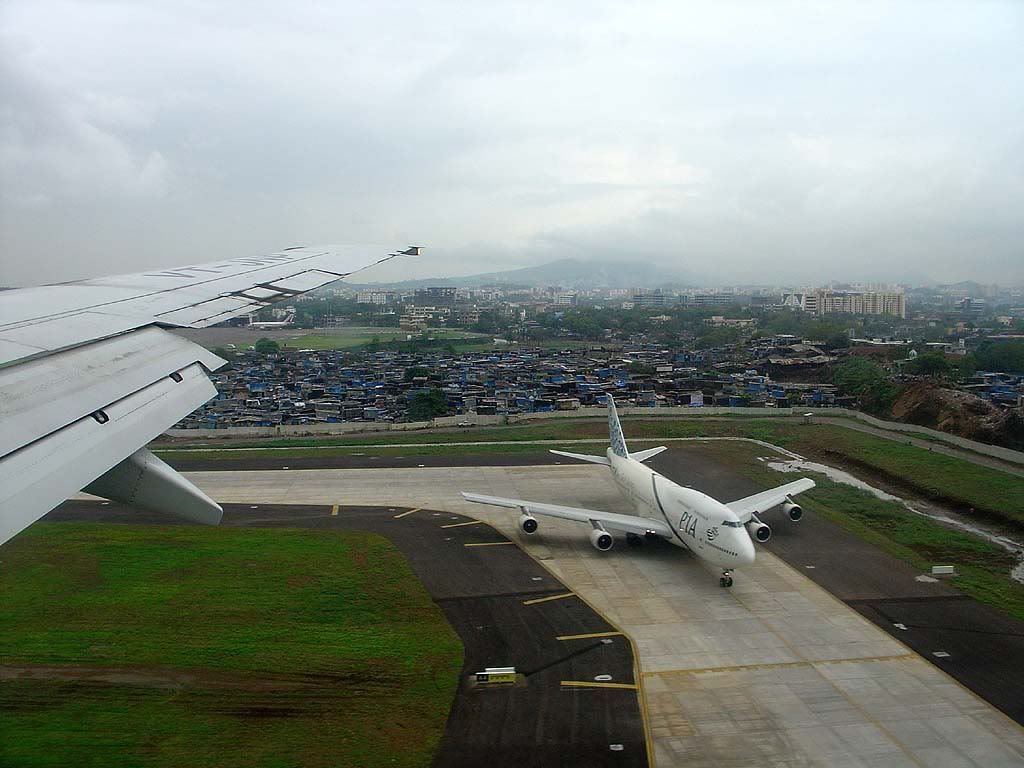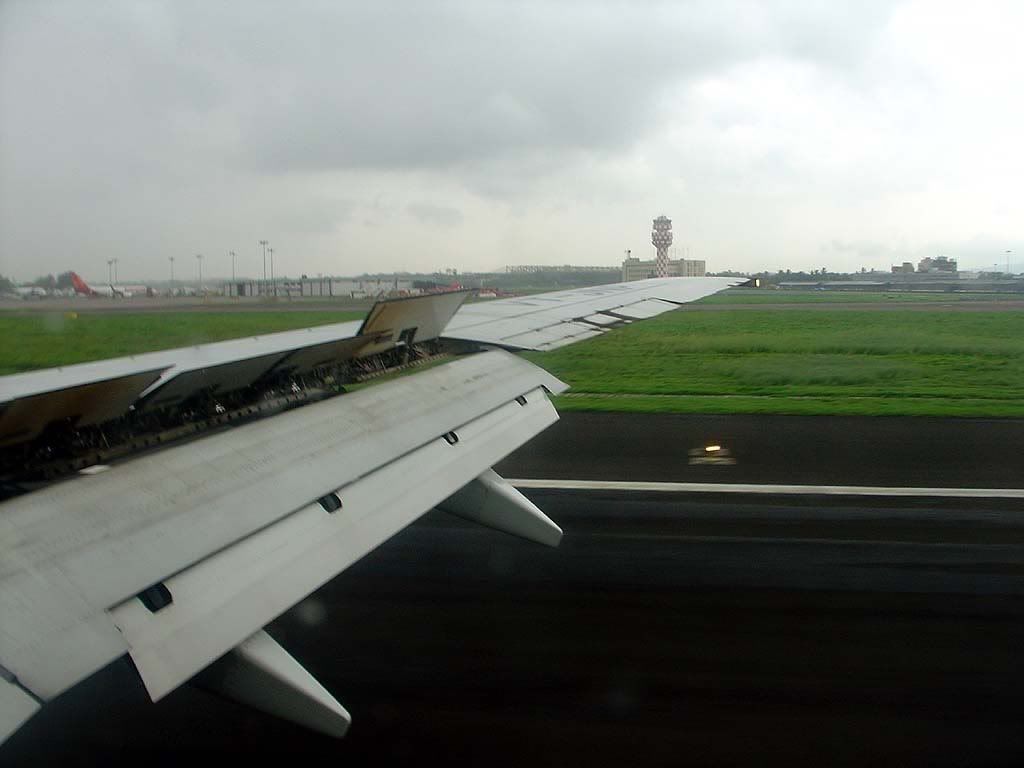 We docked at a gate in front of the newly built domestic terminal. Once the seatbelt sign was off, the mad rush to exit the aircraft began but thankfully the rear exit door was open with plenty of cabin crew on hand to wish us farewell. Once the bus was loaded with around 50 passengers we began our journey to the Indian Airlines terminal as the arrivals hall is not yet open in the new terminal. On the way we passed by a taxing Etihad A330 which brought a smile to my face. With no checked bags, we walked straight out of the terminal and hailed a cab for the long ride home.
Verdict:
I was pleasantly surprised with this flight. Despite the higher load factor, the service was every bit as friendly and hospitable as Kingfisher. The food while on the "exotic" side for me had plenty of taste, quantity and quality. The seat was comfortable but a headrest would do wonders especially on a full flight. The IFE was non existent and this seems to be an area that Jet Airways will need to invest heavily on in the future if they want to remain competitive with Kingfisher. However, the cold towel before take off was an excellent little touch that I am sure many passengers appreciated.
This particular set of two male and three female cabin crew really made the difference on this flight. Jet Airways exudes Indian hospitality at its finest. I can now see why Jet Airways has been so successful over the last couple of years. We Indians need an airline that we can be proud of, and Jet Airways has come a long way from it humble beginnings 15 years ago. I am glad to finally see them spread their wings and start serving new destinations across the globe.
Score:
Jet Airways 402
Check In:
9 (Quick and efficient)
Boarding:
10 (No major problems here, nice of them to bus us 20 feet in the rain)
Seat:
8 (A bit more legroom and a headrest would not hurt but generally very comfortable)
Aircraft:
8 (Young, but looking a bit worse for wear)
Crew:
9 (Considering the load, the cabin crew did a great job)
Meal:
9 (It tasted quite nice despite the rather unique items on offer)
Entertainment:
0 (None means none)
Arrival:
10 (Hassle free but that can be expected with no checked in baggage)
Total: 63/80 = .787
Jet Airways scored a total of 79%
Comparison between Kingfisher and Jet Airways:
I was extremely impressed with both airlines especially considering these were domestic flights in coach. While Kingfisher may have scored a full 10% more than Jet Airways, I still believe they are almost identical in every way. The only major difference being that Kingfisher had IFE while Jet Airways had none.
Kingfisher had a number of small touches that set their service apart from the rest:
1. Personal escort to the check in counter
2. Amenity Kit
3. Menu's
4. IFE with music and live TV
Jet Airways on the other hand struck me as an airline that is set in its ways; nothing was overly special about the flight. The feeling I got was that the airline believes they have branded themselves in the market and are solely relying on their well established reputation as being the leading carrier of India. I for one believe they will be knocked off their high horse very fast the way things are going at Kingfisher. It is time Jet Airways modernizes its domestic product by offering some small touches such as menus and possibly IFE. I can live without personal escorts and amenity kits but, Jet Airways needs to try a bit harder to keep themselves at the top of their game.
Overall, both airlines are excellent, both showed that the art of service and hospitality is still alive and well in the aviation industry. India finally has two airlines that can proudly fly their flag across the world. India is a country full of rich history and culture; it is about time our airlines started showing the world what Indian hospitality really is!
SR 103
[Edited 2007-08-08 19:27:23]