Hello all, and welcome aboard my next TR installment. Be sure to check out my old ones here:
My First SXM Experience + Plenty Of Pics And Vids
AA AUS-CUN First Class (40+ Pics And Vids)
The sole purpose of this trip was to ride on the DC-3, through the [url=www.flagshipdetroit.org]Flagship Detroit Foundation[/url]. You can become a member for a $100 donation, and one of the perks is you can ride any on any ferry flights. They were doing a swing through Texas (AUS and SAT), for AA Station Visits, and this seemed like a perfect time to go, as I could fly up to DFW, and then ride back home on the Flagship. I had originally scheduled a flight for the late afternoon, as it seemed originally like we would leave in the evening of the 6th, however, I had to use AA's Confirmed Standby option, pay a $25 fee, and change to an earlier flight, that put me into DFW a little before 2, since the plane was going to leave about 3:30.
August 6, 2007

AA2334
AUS-DFW
MD-82
N7535A

Scheduled Departure: 12:55 PM
Actual Departure: 12:47 PM
Departure Gate: 15
Seat: 24A
Departure Runway: 17R
Wheels Up: 12:56PM
Route: AUS AUS2.LZZ JEN.JEN8 DFW
Cruising Altitude: FL 230
Arrival Runway: 18R
Touchdown: 1:35 PM
Arrival Gate: C29
Scheduled Arrival: 1:55 PM
Actual Arrival: 1:51 PM
I arrived at the airport about 12, and parked in the garage. I did the self service check-in, and made sure to get 24A, as when I tried to do it the night before, it wouldn't let me. Since I didn't have any bags to check, this whole process didn't take long. I waited to clear security, and did so without incident about 5 minutes later. I went to Amy's to get some ice cream, as I was craving some. Our plane had already arrived, and people were deplaning when I got to gate 15. We started boarding a little early, at about 12:25, and quickly I was called in Group 3. I made my way to the plane, and had a chat with the pilots. These guys were REALLY funny! The F/O was talking about the "skipper" has to be there to correct all the mistakes he makes. Funny stuff! I went back, and settled in 24A. There was no one sitting in 24B, so I could stretch out a little bit. We pushed back almost 10 minutes early, and made a B-line for 17R.
Company Super 80, N470AA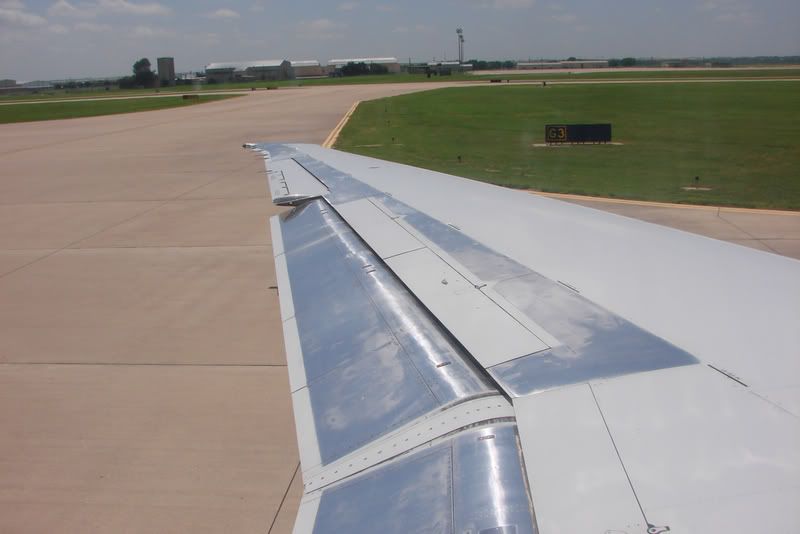 taxiing toward 17R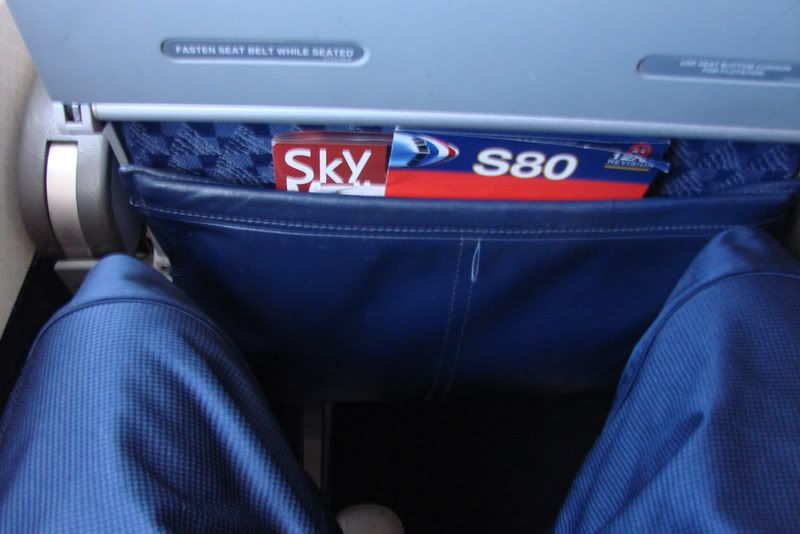 legroom isn't bad, even for a 6'2 guy like me
Takeoff from AUS
It was an uneventful flight, we were served a full beverage service, though no snack of any sort. Still not TOO bad on such a short flight.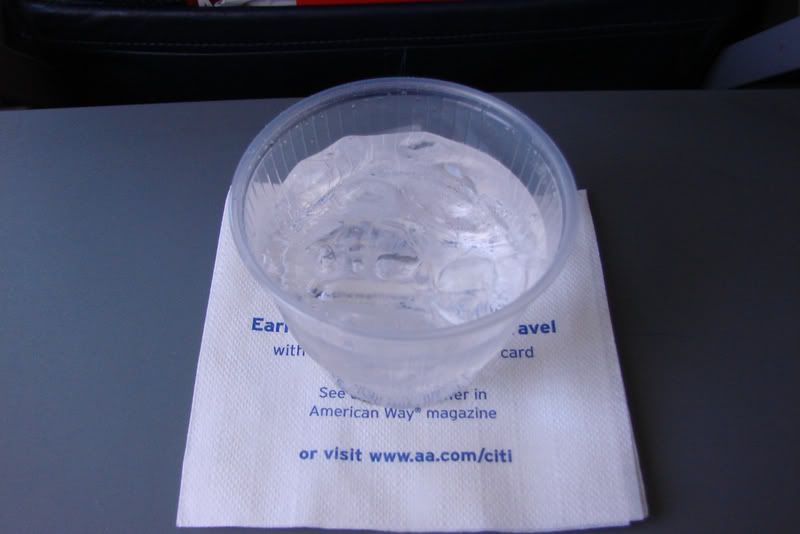 Mmmm.....Sprite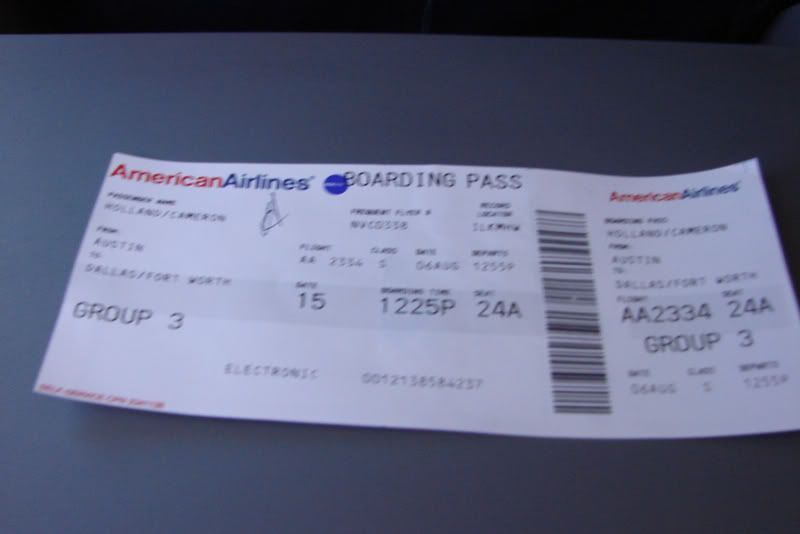 ticket
Not a whole to see, that hasn't already been well documented on my other flights, so not many pictures from the flight itself. Sooner rather than later, we started down, and quickly we came into the sprawling metroplex of Dallas/ Ft. Worth.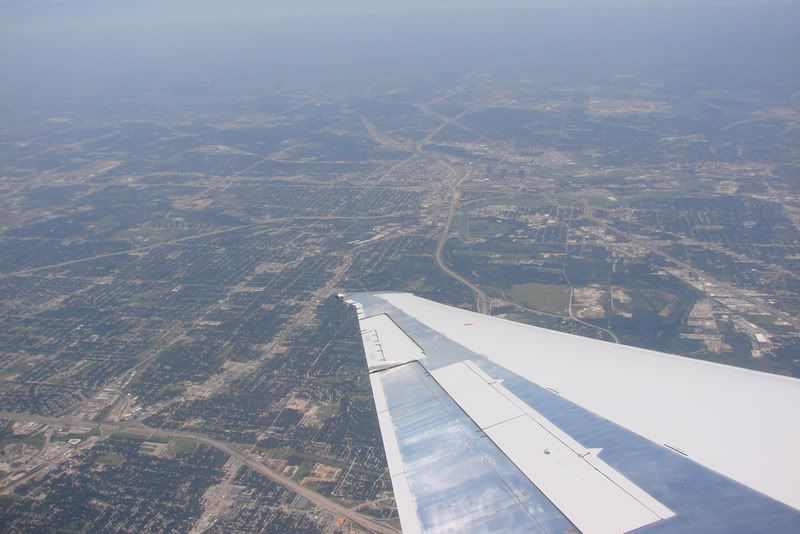 Ft. Worth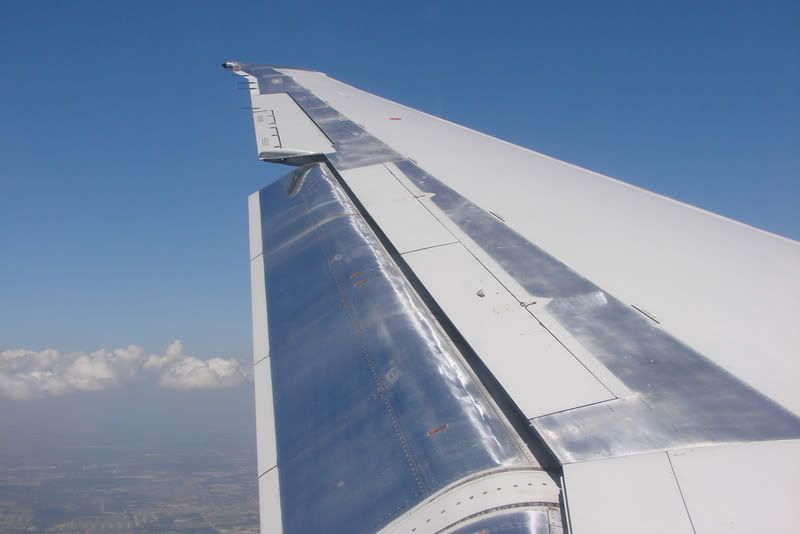 turn to final for 18R
Landing at DFW
It was a rather rough landing, we were powering up right until we hit the ground, which was strange, and as such, we had a long rollout.
We taxied across the Bravo Bridge, and back up Kilo to the C terminal, where we had to wait for a clusterf*** of planes to get out of our way, including the one that was pushing out of our gate. After a little sit, we made it, and were still In 4 minutes ahead of schedule.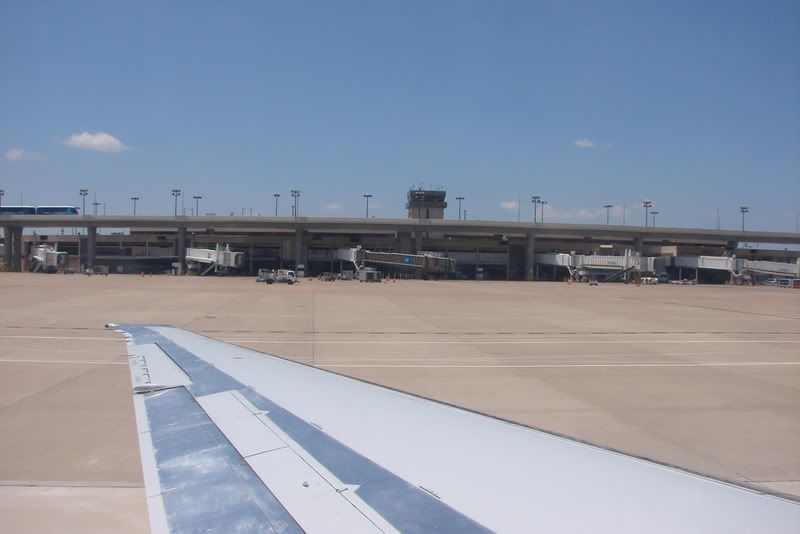 Ok, you all have
1
guess as to which terminal this is!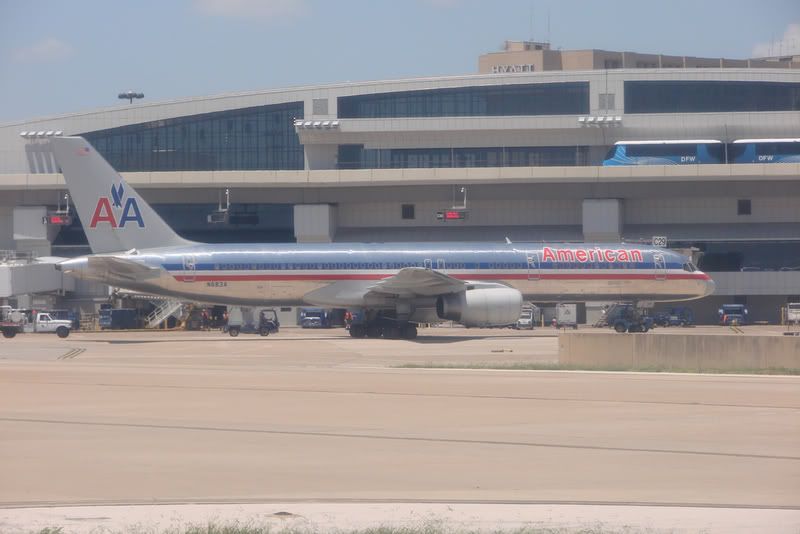 N683A
Any of you that read my TR to SXM know I had the Astrojet stalking me. Fortunately it stopped after that trip. N683A is STILL stalking me.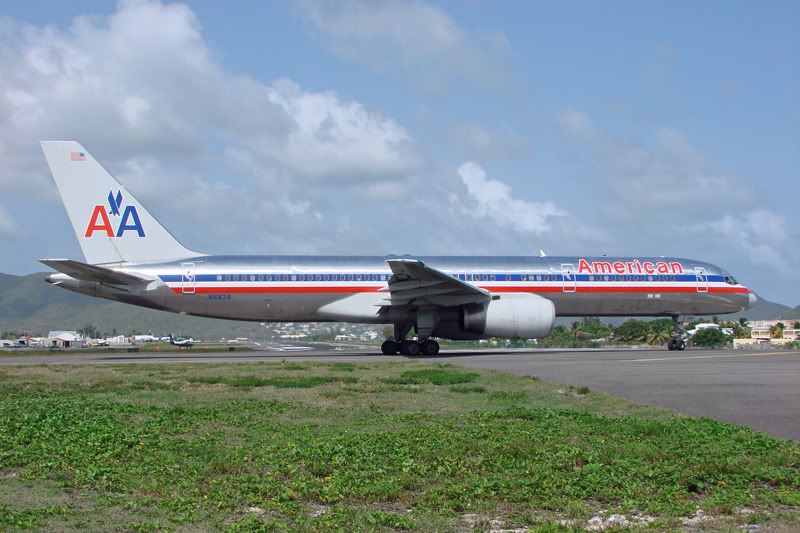 SXM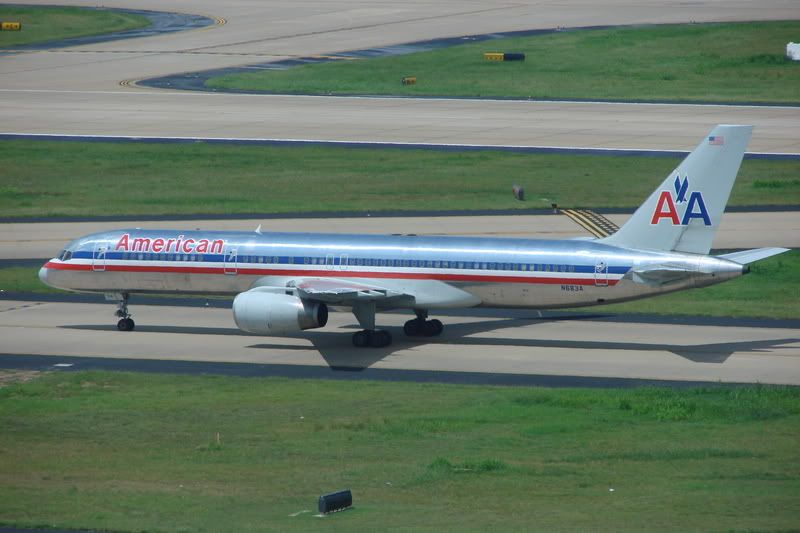 DFW in early July
I've taken 3 trips this summer, and I've seen it all 3 times. Weird, huh?!
I was picked up by Steve, one of the retired AA pilots (all of them retired off the 777 left seat) on the Flagship Detroit's crew, who was picking up another volunteer, an AA flight attendant. We then drove out to Alliance airport, and met up with the rest of the crew. We signed in, and made our way onto the secure side of the building, and eventually out to the Flagship, sitting on the ramp.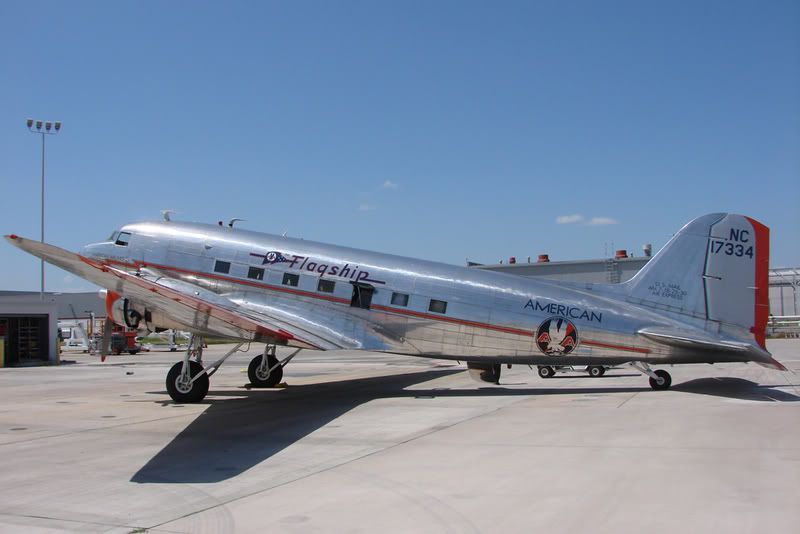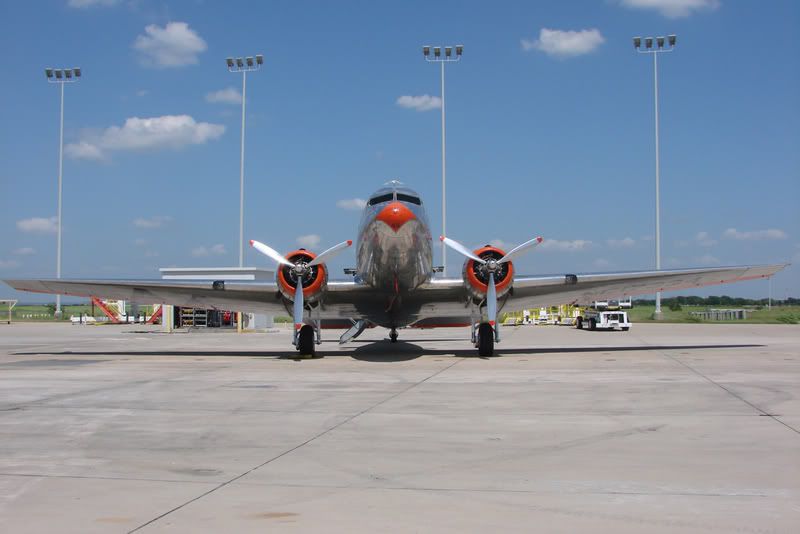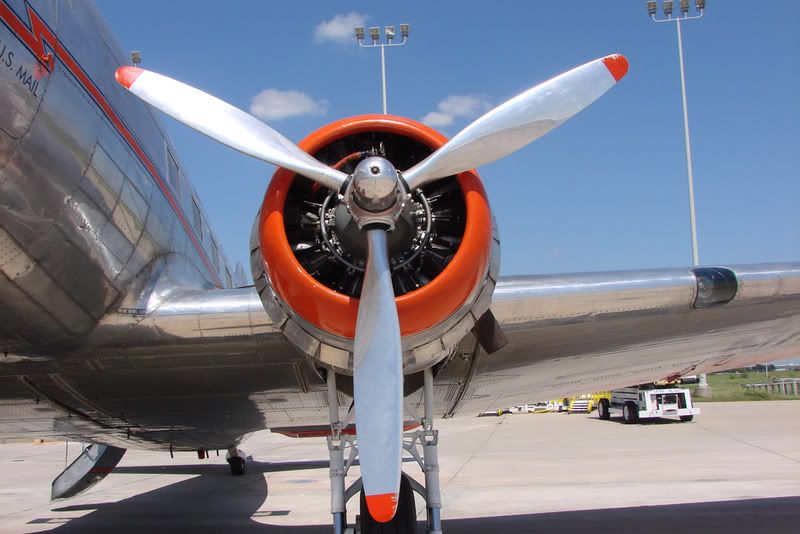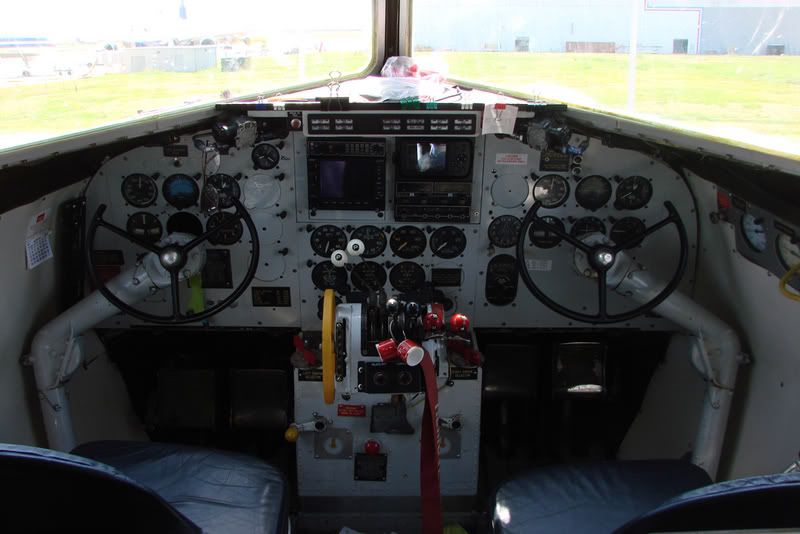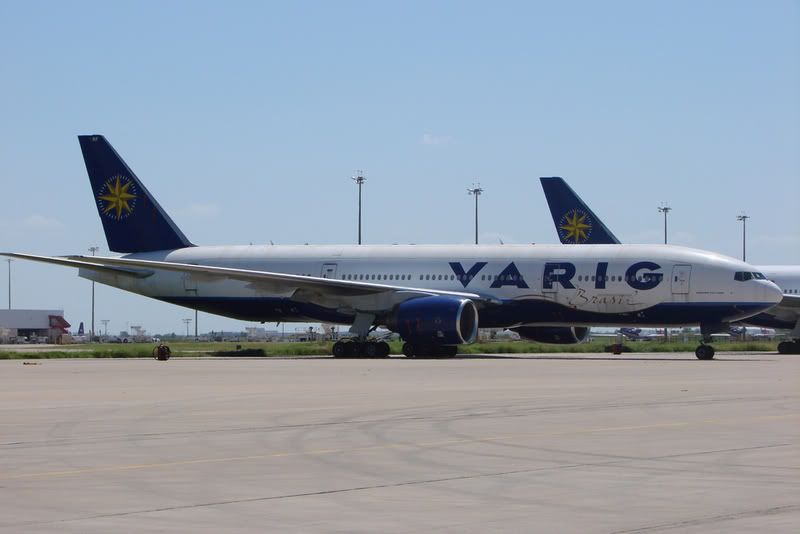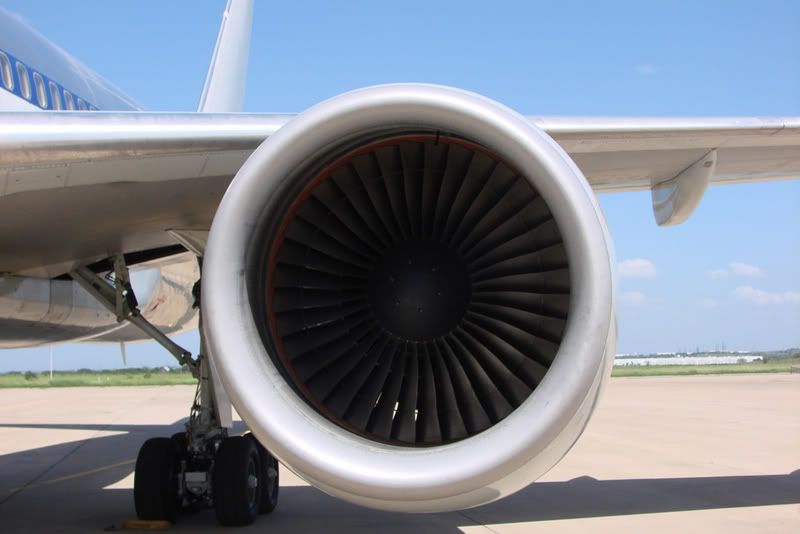 Ex-TWA 757-200 engine
Man, the 777 is really big!
We packed up, and got going about 3:50, and made our way past the AA hanger, and several RG 777s, and a Royal Brunai 772, on our way to 16L.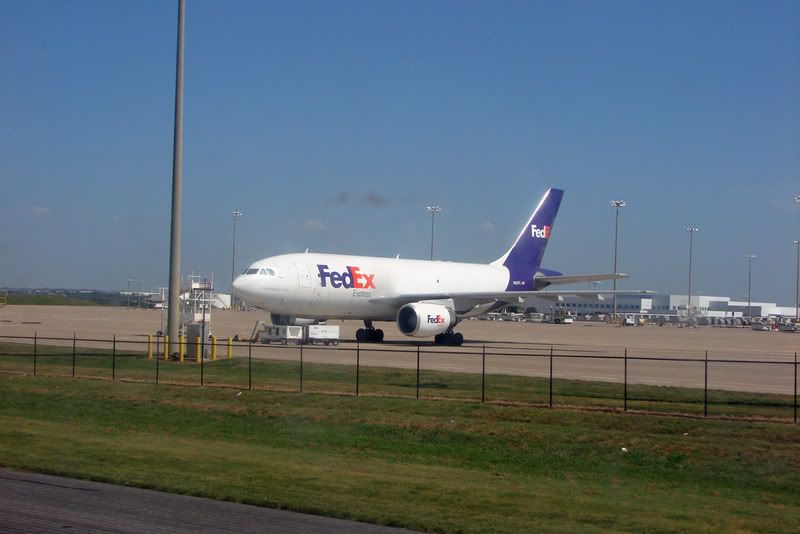 Holla Drew!
Takeoff from AFW (Sorry about the noise in the background, Jeff and Steve were being loud!, and the dirty windows as well. I suppose it can't be helped).
After takeoff, we climbed to a comfortable cruising altitude of 2,500 feet.
Our routing was KAFW Direct -> KAUS. hehe. We flew at a deadly paced 150 knots.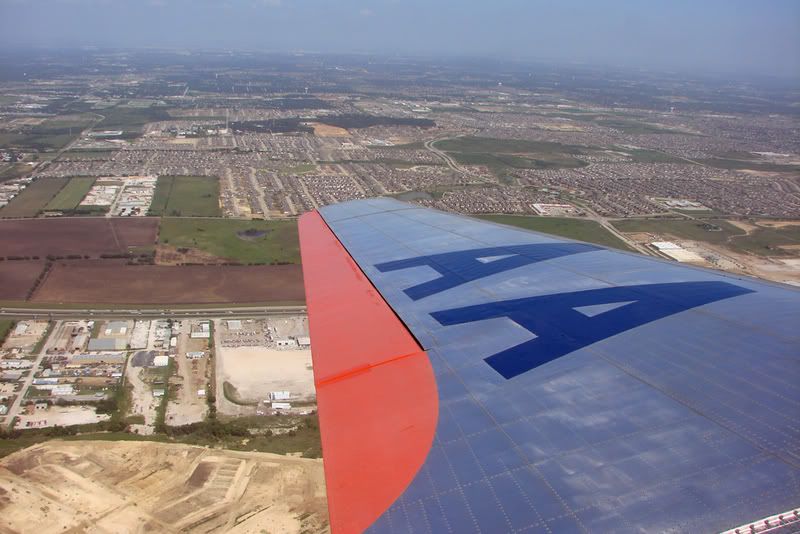 After takeoff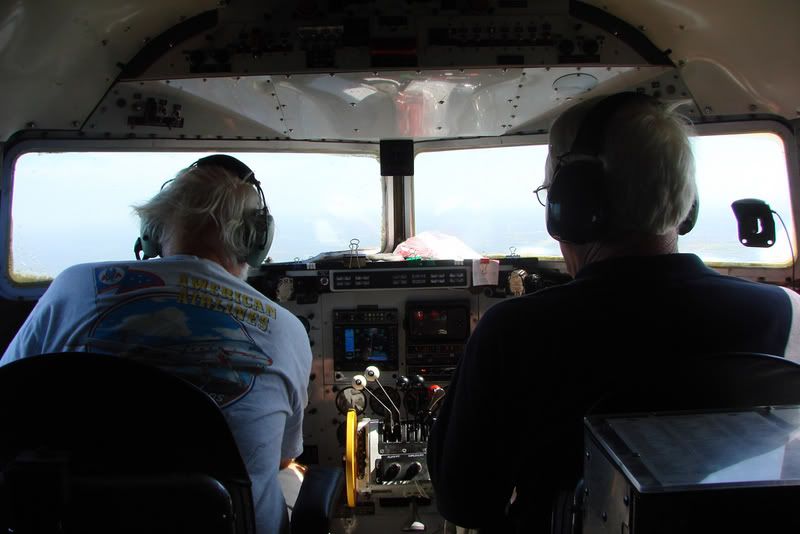 Dave and Ron at the controls
It was a fun flight, getting to wander around whenever I wanted to, wherever I wanted to. We had to make a slight left turn to avoid getting shot down over Crawford
, but other than that, it was a pretty direct flight.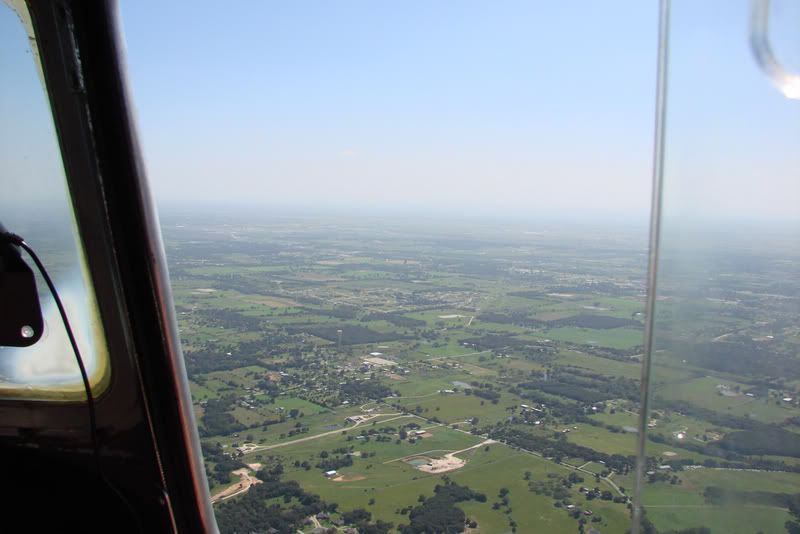 Are we in Texas or Virginia? It's soo green!
Yes, the windows are open. You've got to get some circulation some way!
After about 1:15, we began our descent...at the outer marker.
. Straight in approach to 17L.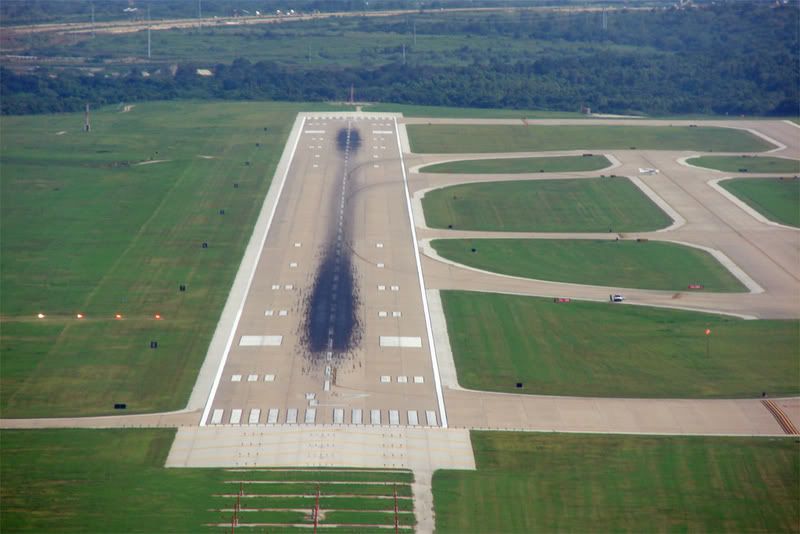 Dave's landing in AUS. Sorry about the head!
After that, we taxied over to the maintenance ramp south of the cross taxiways on the west side.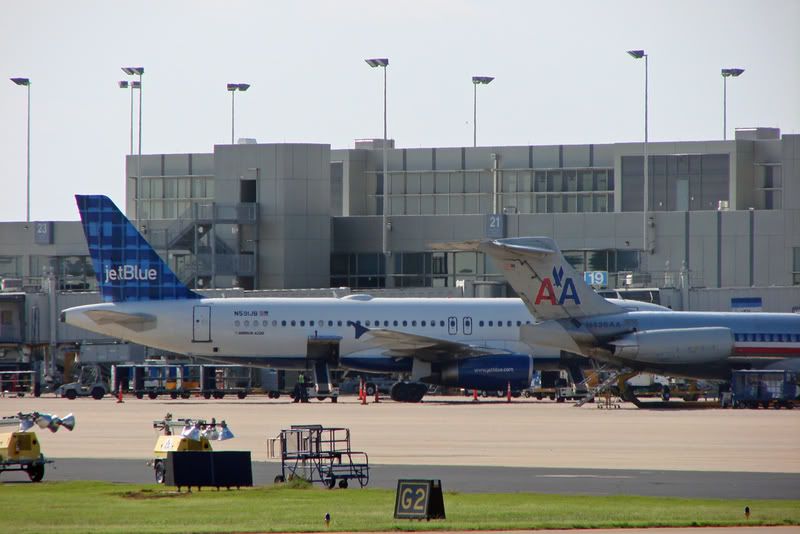 B6 A320 I didn't know they were flying these in here again.
We met up with the AA crew, including the Station Manager. They bussed us back over to the terminal.
A unique view!
That's all she wrote for the day. Tomorrow was the official station visit, and I volunteered to help. It was SO much fun.
August 7, 2007
Well, the worst part of the day was over with quickly. I had to get up at about 7, which, when you've been staying up past 4 for about 2 straight weeks, isn't particularly fun. I managed to get to sleep at an early 3:30.
I was running a little late, so they left a boarding pass for me at the ticket counter to get through security.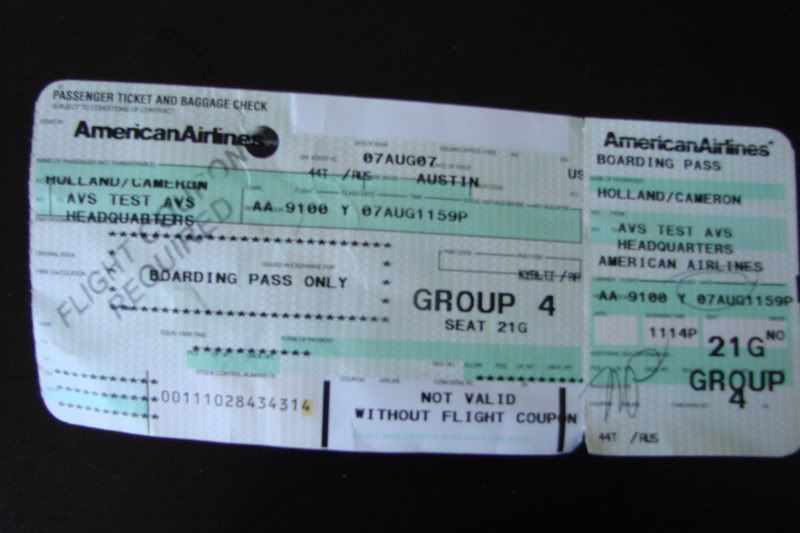 I caught up with Dave and Carol at security, as he got secondary screening, and then the rest of the group, who was waiting for him. We were bussed back over to the Flagship, and set up the tow over to gate 13, where the festivities would take place. We had to wait for the 8:20 to Seattle to depart, but after that, we had the gate until 6:30 that evening. We were towed back over to the gate, and set up our tents, merchandise, and whatnot. Some of the gate agents had done an excellent job decorating for the occasion.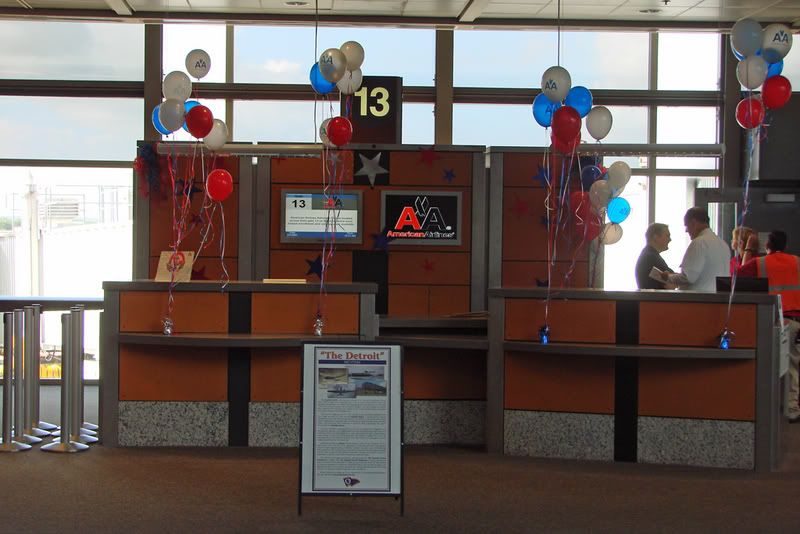 We finally got set up, and eventually opened up for business.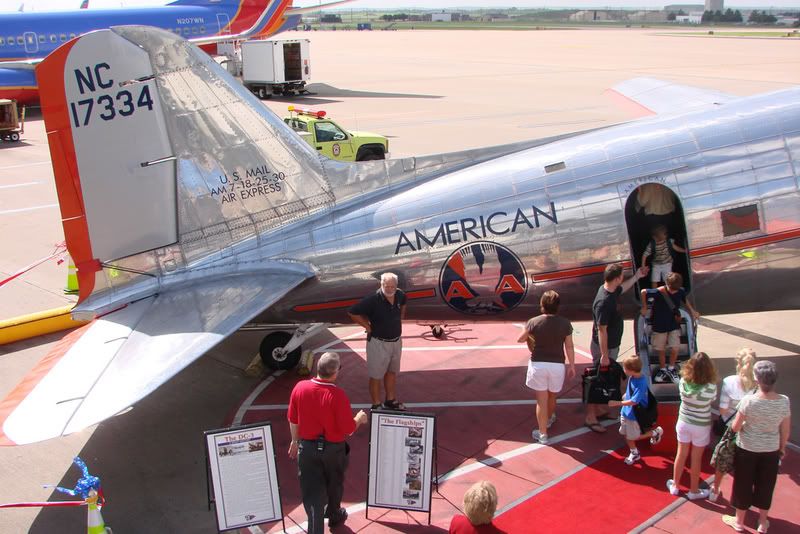 This was really neat, because anybody was allowed to go down, through the jetbridge (with airstairs connected to it), and have a look in and around the plane. It was certainly a unique experience for many, I'm sure, and we attracted all kinds of people, young kids, older people reminiscing flying on a DC-3, business travelers in a really big hurry etc.... It was fun to be a part of something that turned so many heads. We probably had at least a dozen flight crews go down and check it out, and word is the AA pilots were informing inbound pilots we were here, and to come check us out. It was a lot of fun, personally, because I was one of the people helping usher people toward the plane, along with the gate agents (must've been a nice day off for them!), and with my AA polo on, I'm sure everybody thought that I worked for American. I really enjoyed this because I've always wanted to, and even if I wasn't being payed, I still felt very....possessive about it, and wanted to do anything I could to improve AA's image. I was having a blast, chatting with the gate agents (whom I'll know by name next time I fly, and vice versa), and seeing people's reactions to the plane.
I did this from about 9-4, save for about a 45 minute break for lunch around 1:15. While I got really tired physically (my legs and back!!!!!!!!!! I'm SOOO OLD), this never got old. People were so surprised that they could go down and have a look. It was really funny, because this one guy came up to me and was like, "I'm executive platinum, can I go down and have a look," as if you needed to be AAdvantage elite to go down there.
It was fun to just let anybody be able to go. We were doing a scenic flight around Austin at around 4:30-5, so we had to pack up at 4ish. You just hated to have to tell people that they couldn't go down there anymore. Originally, there was a raffle for the AUS station people to see who could go on the flight, but in the end, most people got to go. I'm not sure if they payed the $150 that would buy you a seat or not, I'm pretty sure they did. In the end, we wound up having 14 people plus crew, all of which except for me were either current or retired AUS AA employees. There were some B6 flight attendants who must have spent about 30 minutes down at the plane, and another 30 standing up in the terminal looking at it through the windows. They, in their typical NYC charisma, really wanted to go, but they didn't have the time. I think they probably would have, because the E190 went M/X.
Here are some more pictures from the flight, on which we had Martha (one of the gate agents, and an ex-flight attendant), serve us chips and champagne. Everyone had a BLAST!
Water Cannon Salute
Takeoff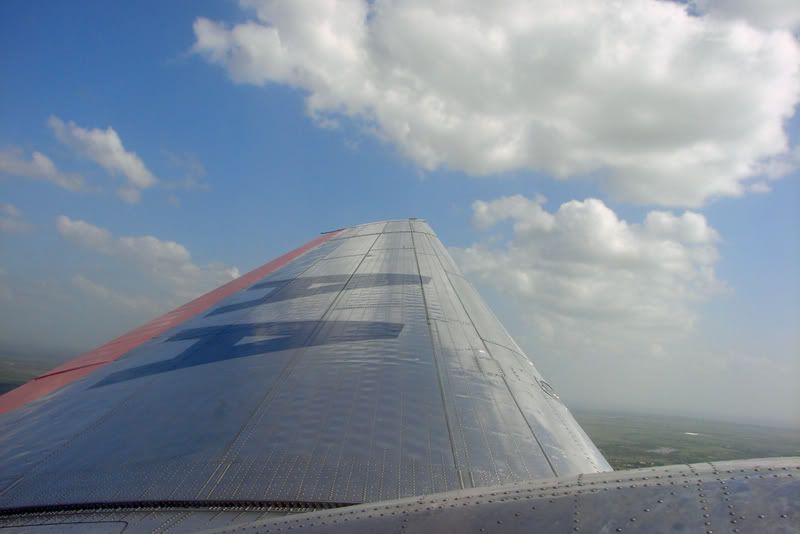 Climbout
Pennybacker Bridge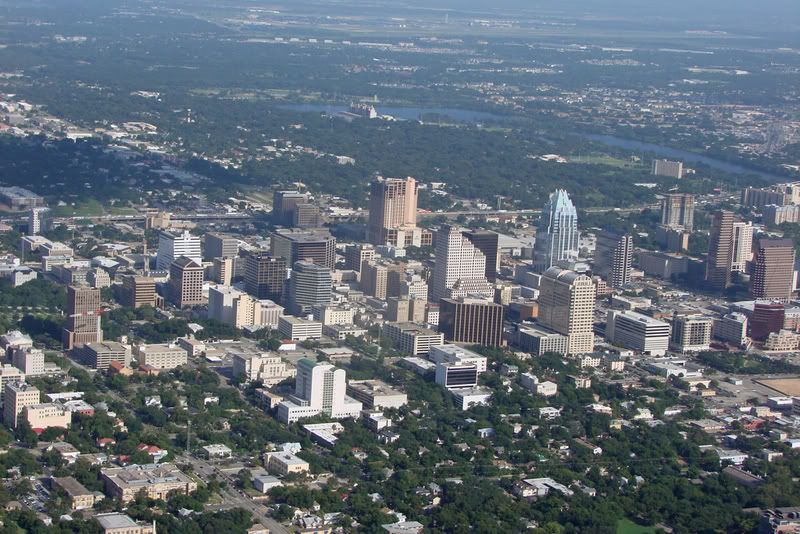 Downtown
the Capitol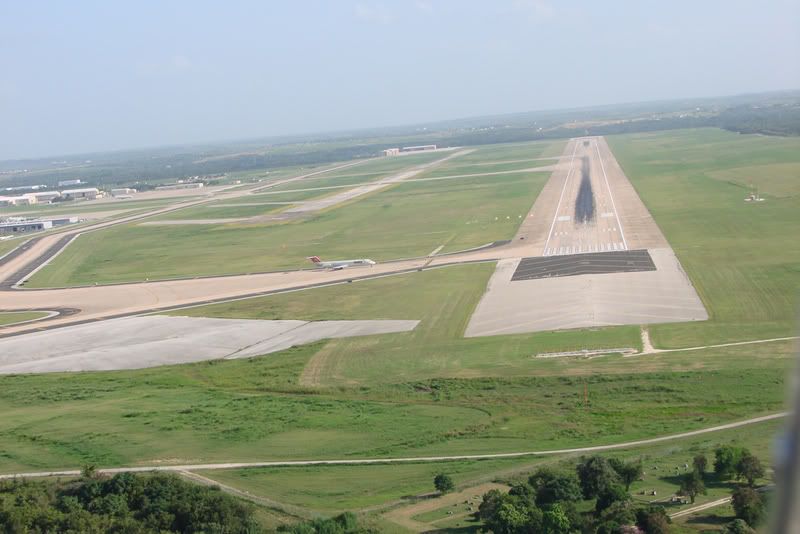 Short Final for 17R
Cal makes a nice landing
After that, we got off the plane, parked right next to the aforementioned B6 E190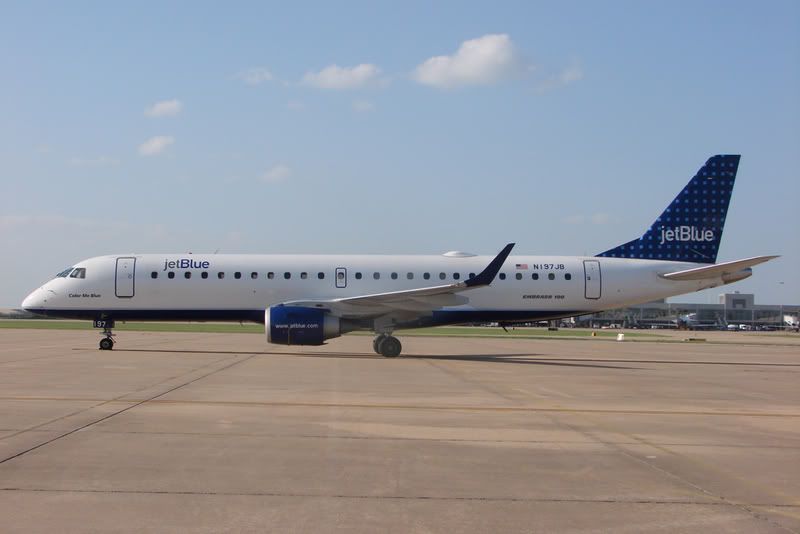 And were bussed back to the terminal, where my day ended.
I hope you all enjoyed my TR, it was a blast for me!
Cheers,
Cameron