30.07.07 IB8739 CANADAIR CRJ-200 EC-IAA 8A
1st Flight on this aircraft & 1st CRJ-200 Flight
SCH DEP 14:00 SCH ARR 14:45
ACT DEP 13:47 ACT ARR 14:22
View Large
View Medium


Photo © Sergio Domingos
After a good few days with family, sleeping, eating and drinking it was time to head home. We got to the airport, returned the rental car, it had been a new Open Corsa, (not to keen on it myself) and headed for check-in.
The Economy check-in counters were quite busy, 3 counters were open, so it was straight to the Business Class counter, no queue there, within a few moments we were relieved of the bags and left with our boarding passes for today's 2 sectors to get home.
Since we had plenty of time to kill, and not recalling IB having a lounge in the domestic departure area, we headed outside to see if I could make any planes and catch a little more sun.
After a while we headed back into the terminal to find lunch, the IB lounge once in BCN will only have crisps, peanuts etc, the London flight is a BOB. I tend to avoid buying sandwiches on flights, quite often they are totally dry and tasteless – hence the desire to find something to snack on before getting home tonight. The terminal has a pretty decent food place, a decent selection of sandwiches and baguettes along with cakes and the like, we had a San Miguel each and shared a large baguette which contained some local meats, very nice indeed!
Whilst eating our lunch, I noted the flight board indicated 3 flights to BCN in less than a half hour slot (the flight before us was something daft like 10 minutes ahead of ours) all operated by Air Nostrum. I understand IB have dropped mainline aircraft on this route, so ensure there are sufficient seat's it appears Air Nostrum have had to add additional flight's. Seems a bit daft to me, though I'm not complaining as it as resulted in my first CRJ-200 flight.
Boarding of our flight was called at 13:30, security was a breeze with no queue at all. As soon as we got through we joined the line for our flight, and then onto the bus for the drive out to the plane. When the doors of the bus closed, I had counted 32 passengers including us.
I had been looking forward to this flight for a while, finally, my first CRJ-200 flight, having flown the –700 & -900 I knew what the cabin would be like, it was the whole window issue, ie they are lower in the CRJ100/200 series, that I wanted to experience and see how annoying they could be.
As per the Dash-8 flight a few days previously, we held back to snap a few ground shots prior to boarding. A friendly FA greeted us as we entered the cabin, as per the Dash 8, the cabin is fitted with nice dark blue leather seats, the interior looked pretty well maintained, I have come to expect that from Air Nostrum.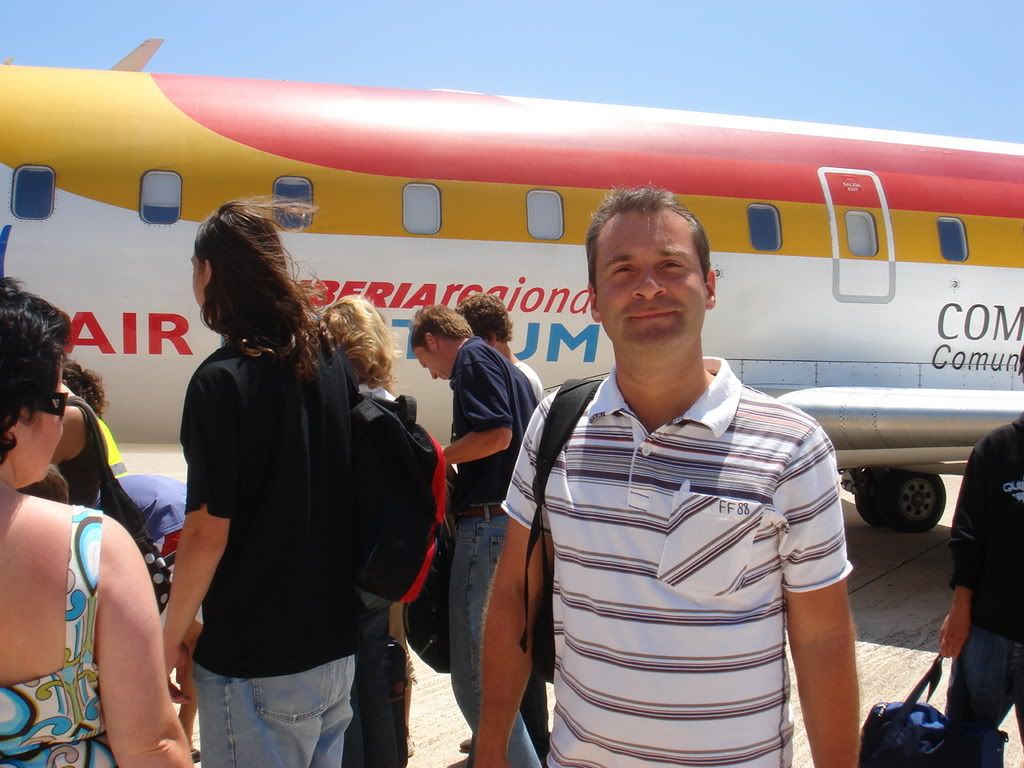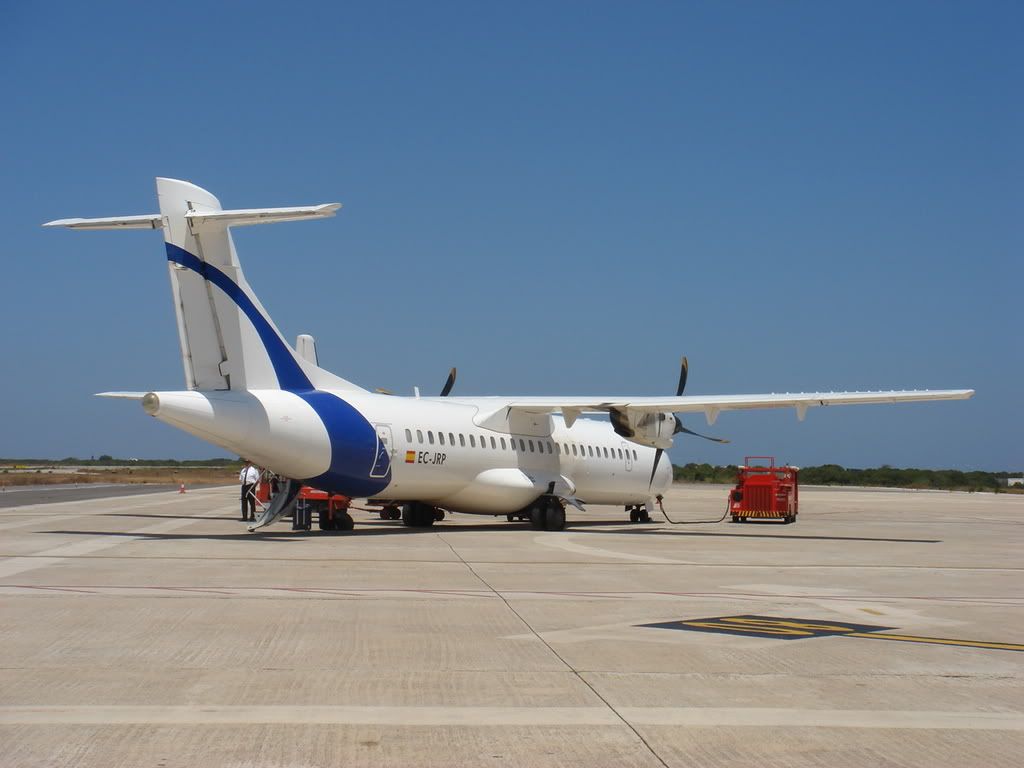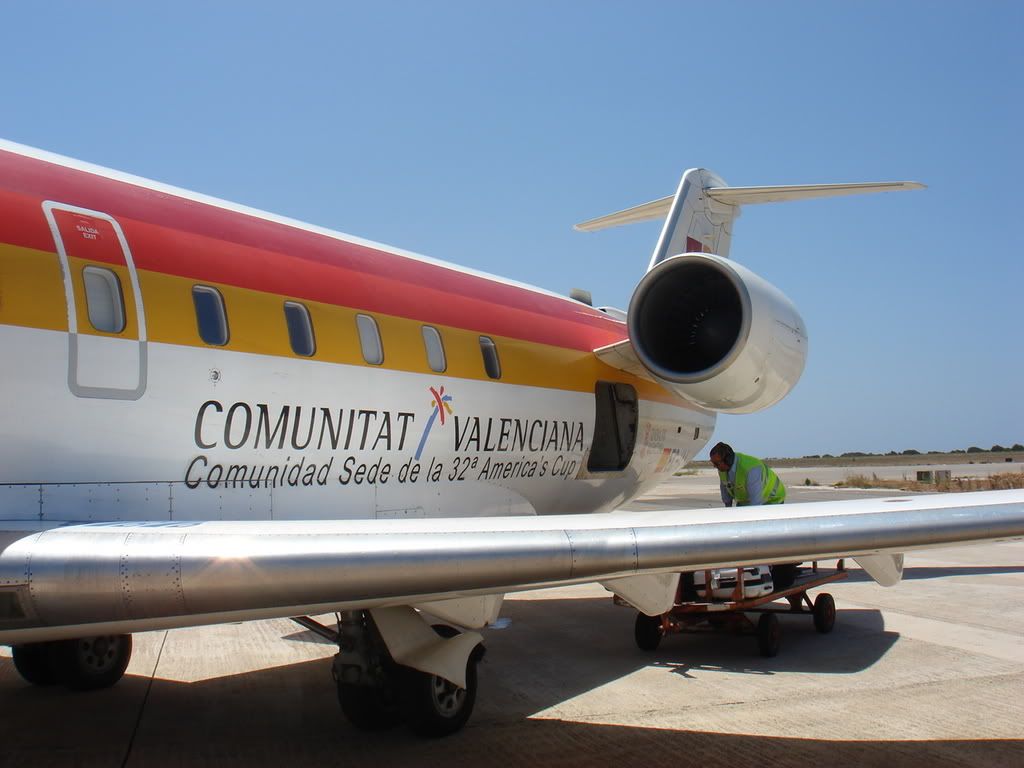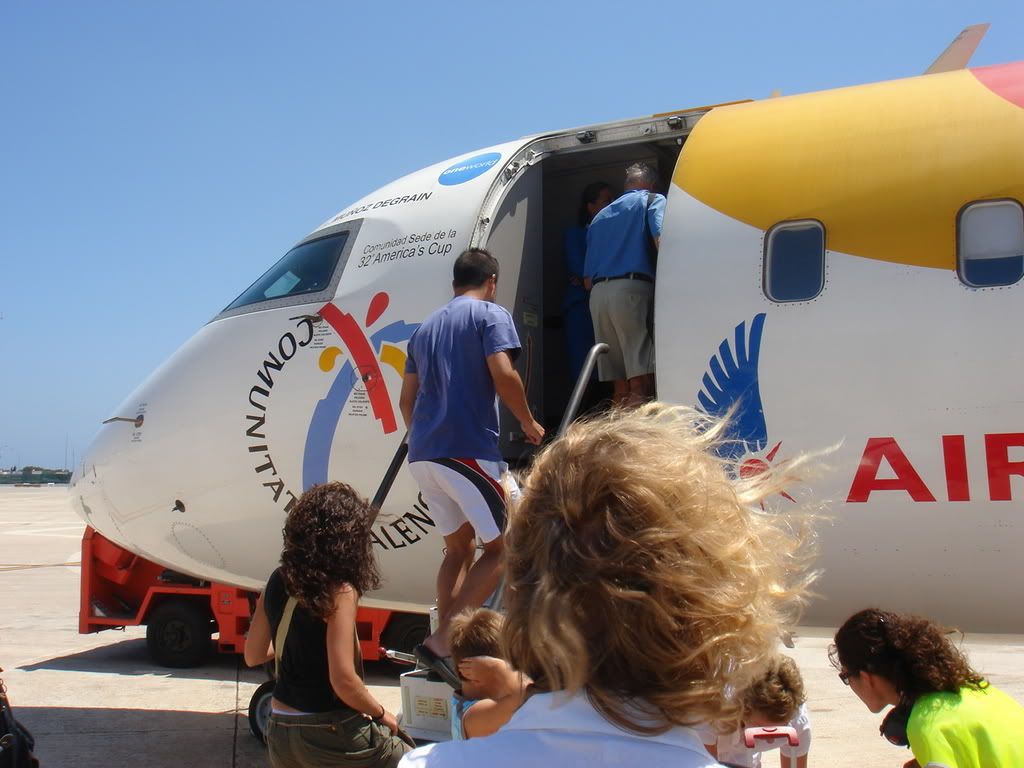 Our seats were in row 8, which turned out to be an emergency exit row, the extra leg room being much appreciated, even if today's flight was just a short one.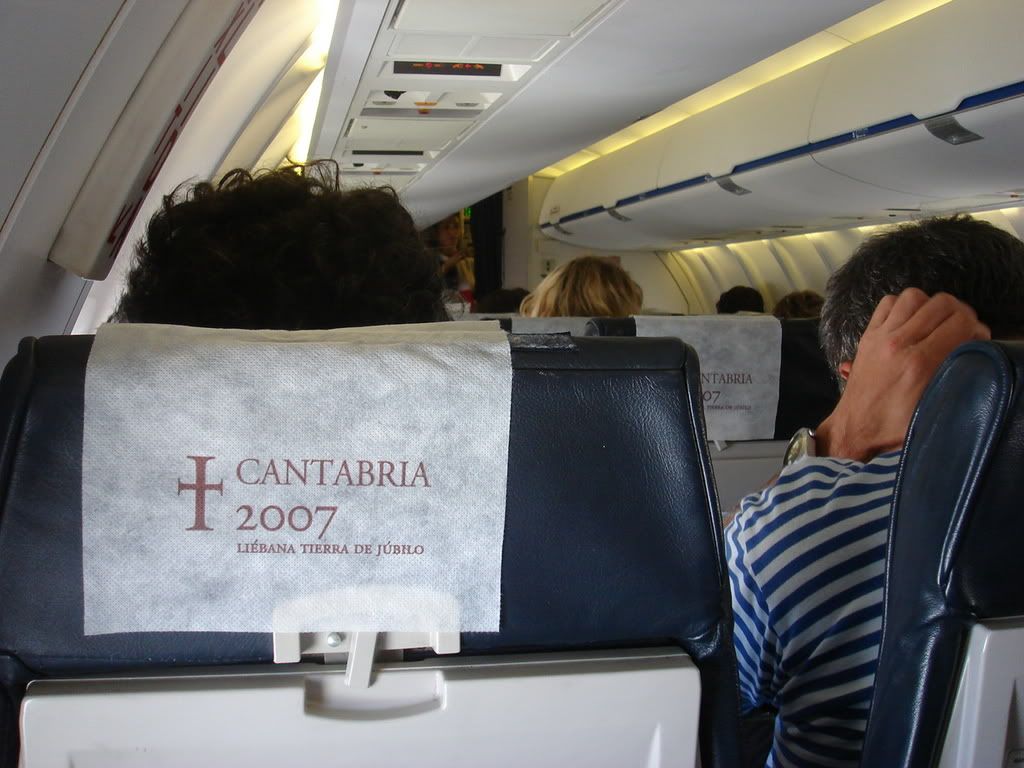 The main door closed pretty much after we got on, push back or rather taxi forward took place at 13:47, a brisk taxi out to the runway end and a blast down the runway, wheels were up at 13:54. As usual the safety brief had been pretty much uninteligable, but hey, I fly a lot, know what to do and I'm next to a exit, what do I care!?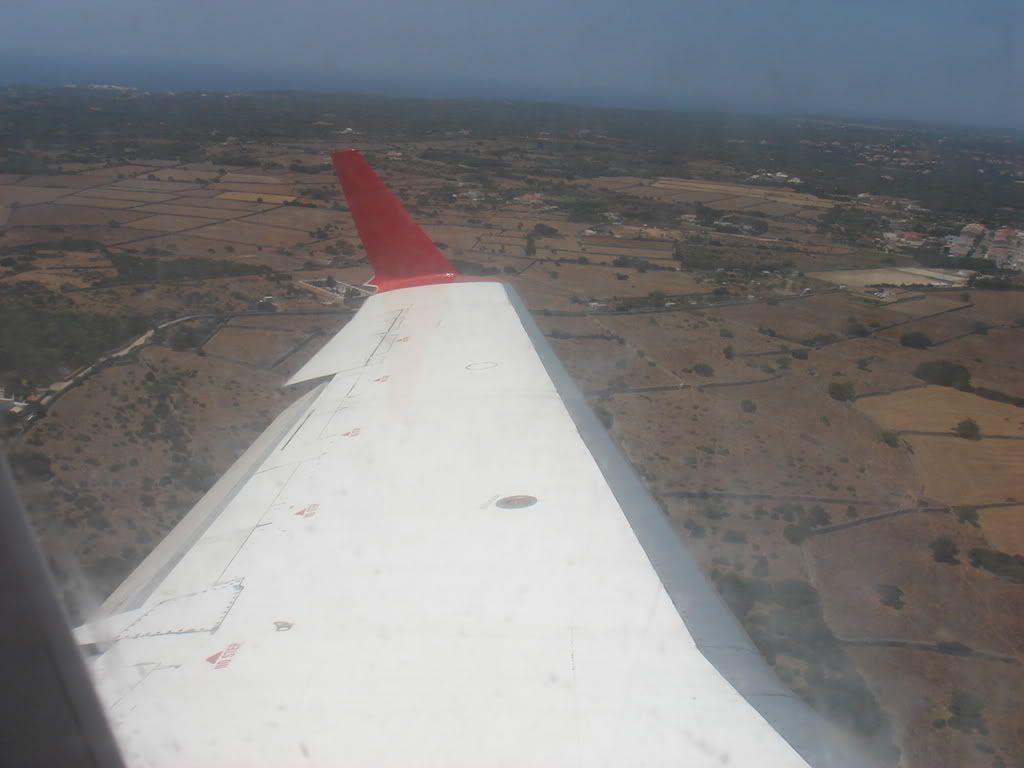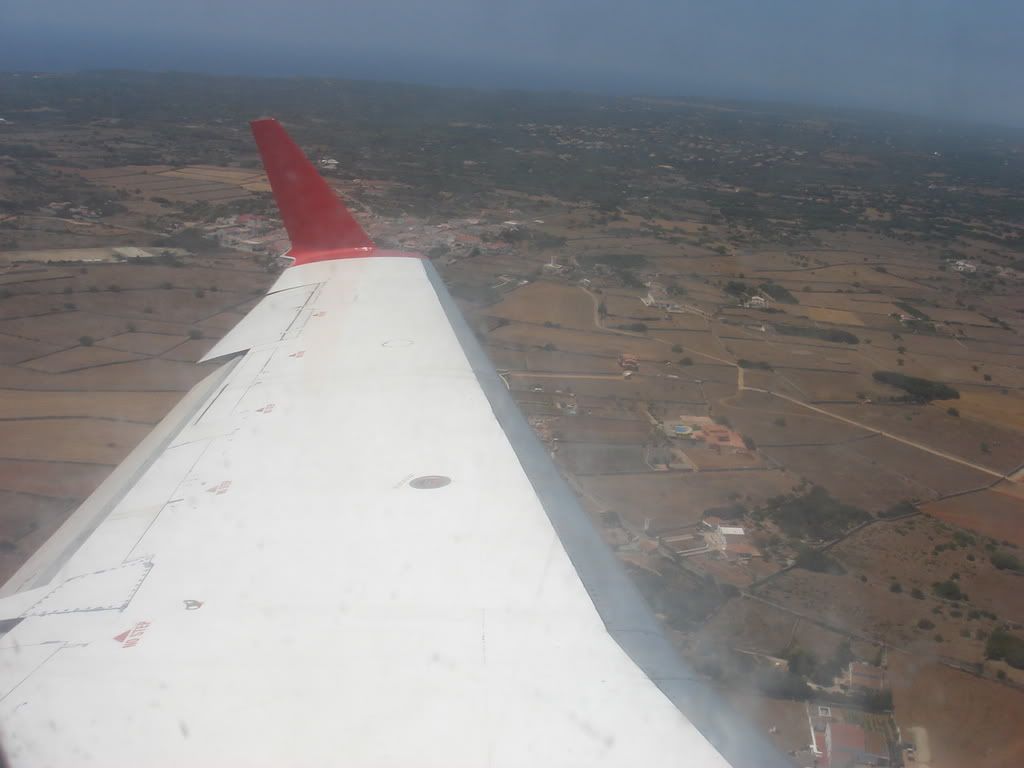 The exterior of my window was quite scratched, when looking through at the wrong angle, the views were pretty poor – see the picture below.
Shortly after takeoff the 2 FA's sprung to life, out came the cart with drinks & peanuts. Unlike the previous flight the only offerings were various juices and water, I'd quite fancied a beer but alas it was not to be so I settled for an glass of OJ, again served in a real glass.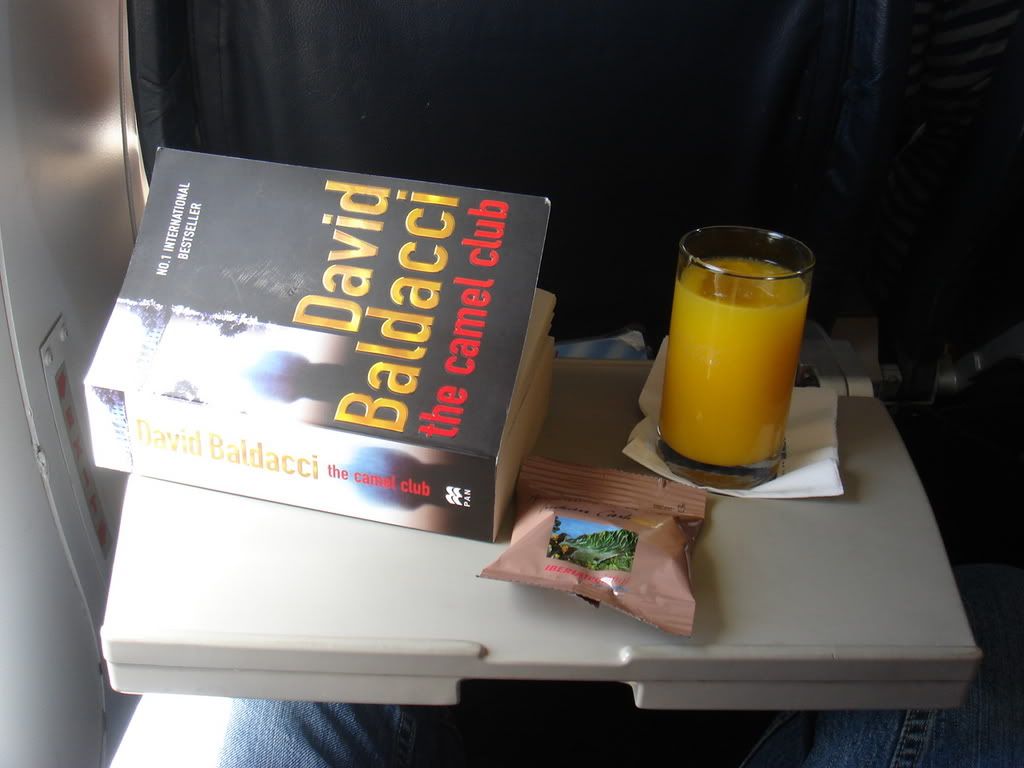 Before I knew it, the nose pointed down as we began our descent into BCN, as usual we came in over the water, wheels touching down at 14:22, arriving over 20 minutes early, the flight time had been a mere 28 minutes from wheels up to down.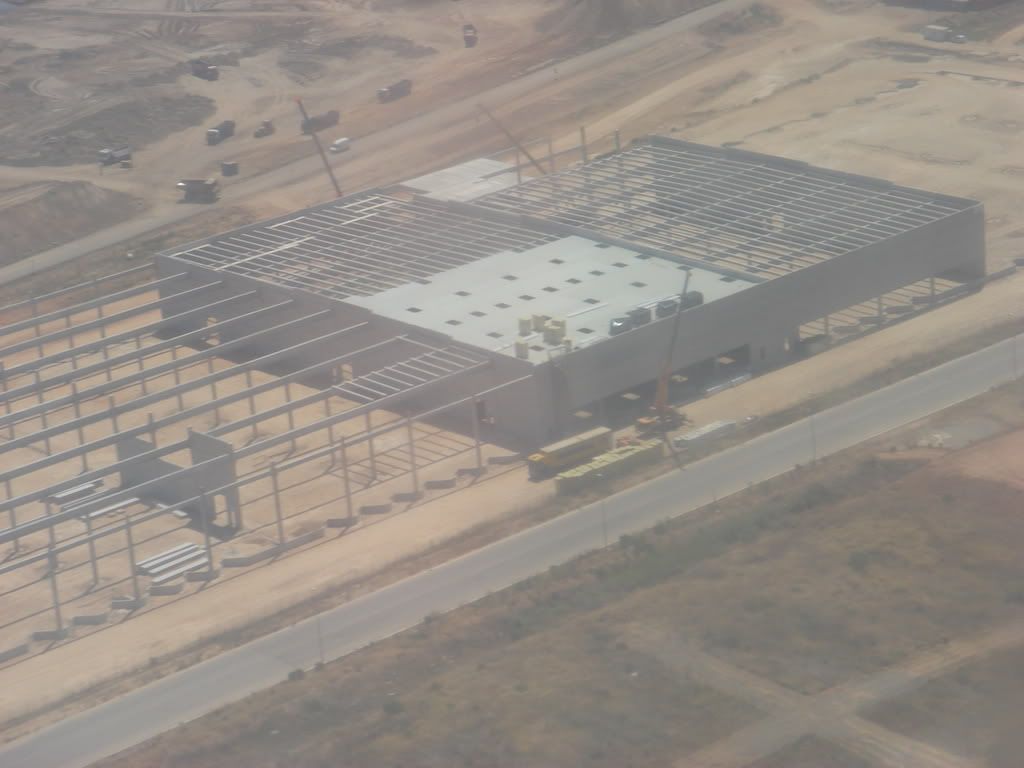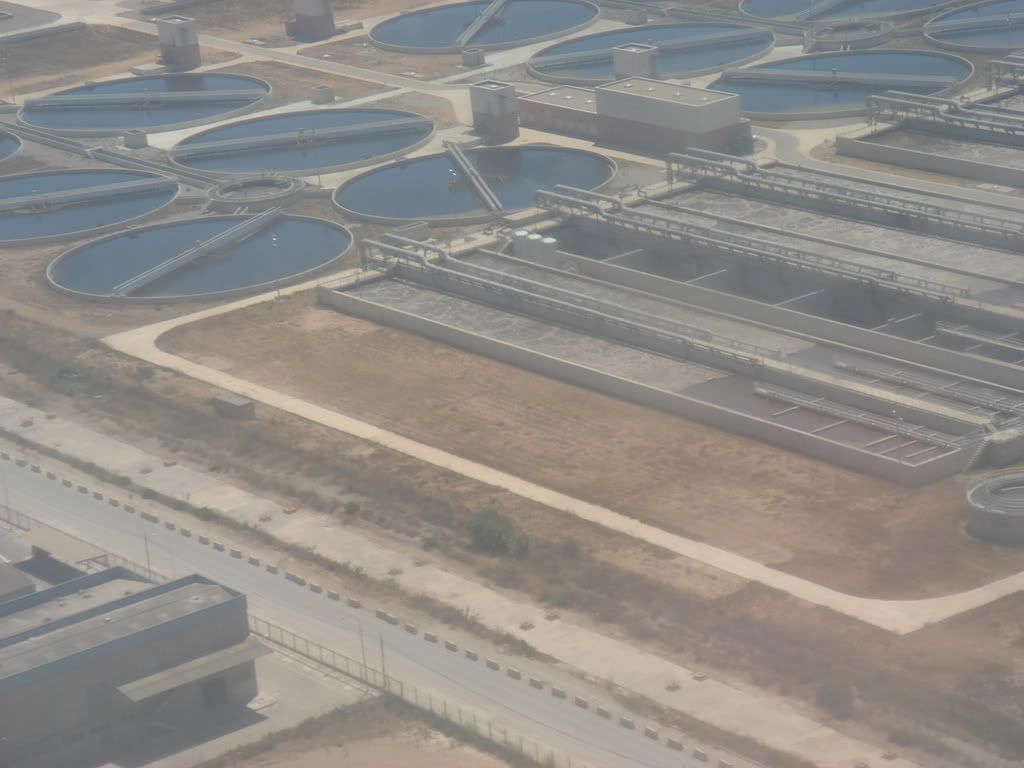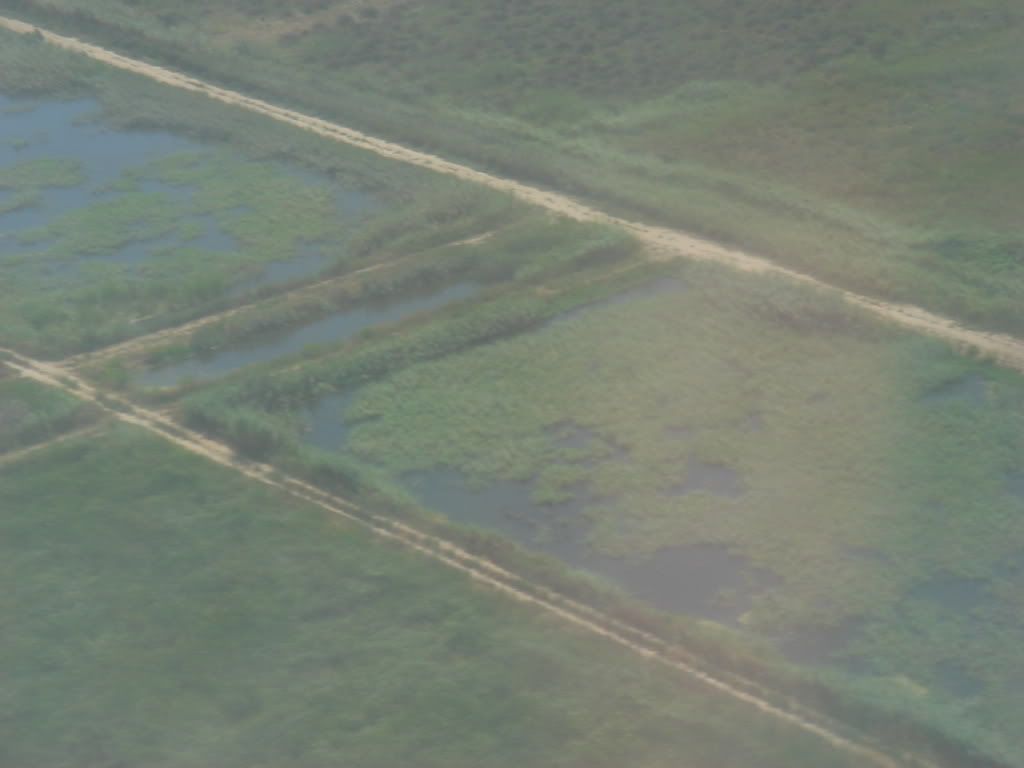 After a taxi to the remote ramp, a bus took us to the main terminal, the first stop was for Barcelona only, the next stop for all connecting flights. I should point out that almost all of the bus tried to get off at the first stop, it had not been made clear this was Barcelona only, a degree of shouting from the driver ensured we all understood who should get off here, the majority of us got back on the bus for the connections stop.
Once in the terminal, Nicole left me with the bags by a window to watch planes whilst she checked out the duty free shops, I made 14 new ones before Nic returned and we headed to the IB lounge for a few beers and snacks before the next flight.
The BCN lounge is ok, fine for resting between flights but lacks the snacks/nibbles that BA provide in their Terraces lounges.
30.07.07 IB4176 A320-214 EC-JSK 12E
1st Flight on this aircraft & 66th A320 Flight
SCH DEP 16:40 SCH ARR 17:55
ACT DEP 16:56 ACT ARR 18:00
View Large
View Medium


Photo © Verwimp Filip
Boarding for this flight took place from Gate 46 (if I recall correctly) this being a lower level bussing departure gate. I've not been bussed to a plane here for a LHR flight before so this was something new for me. Given the queue that was forming at the gate it was clear this was a pretty full flight, indeed once aboard I could not sight a single empty seat.
Anyway, got in line, boarding passes checked then passports were checked outside the door and then we were free to get onto the bus. The bus was quite full, we were one the last bus to the plane.
A nice drive past the ramp took us out to the plane. The CRJ we had arrived on was still on the ground being loaded for it's next flight.
Again we hung back to allow a few more ramp/plane shots before boarding.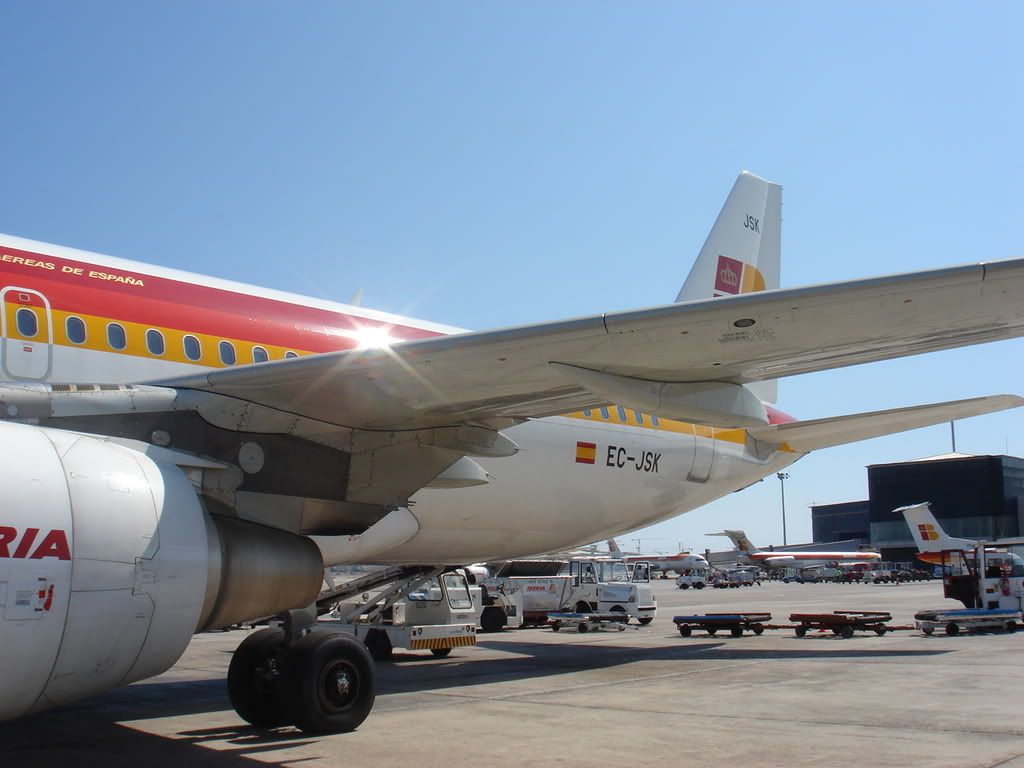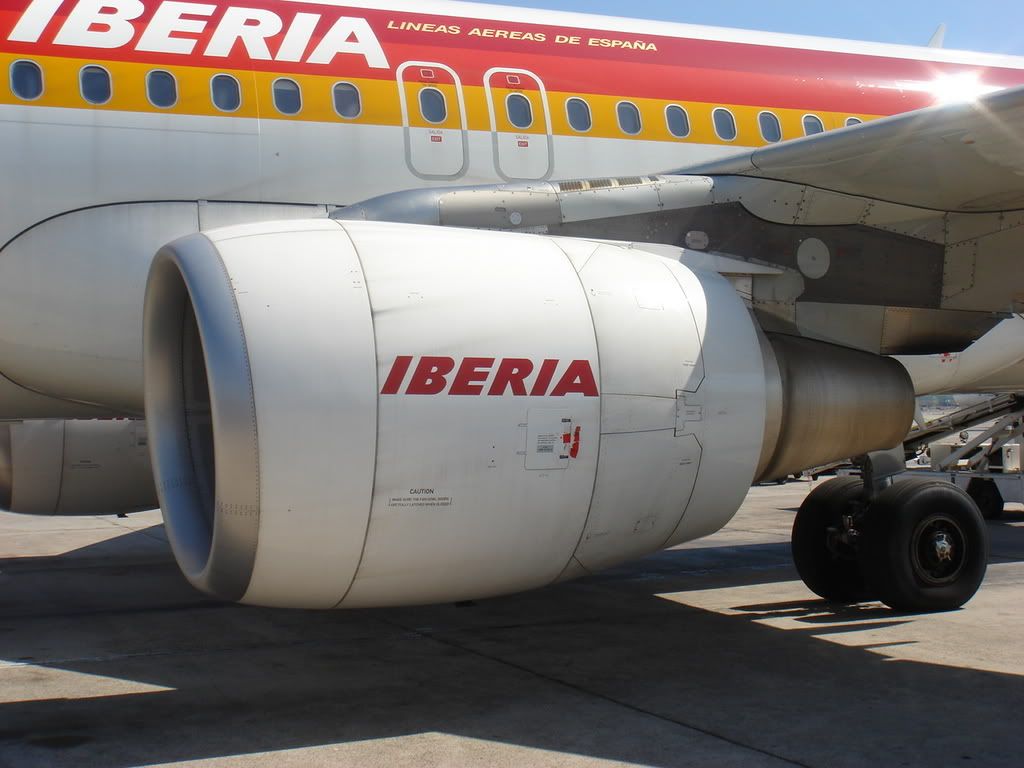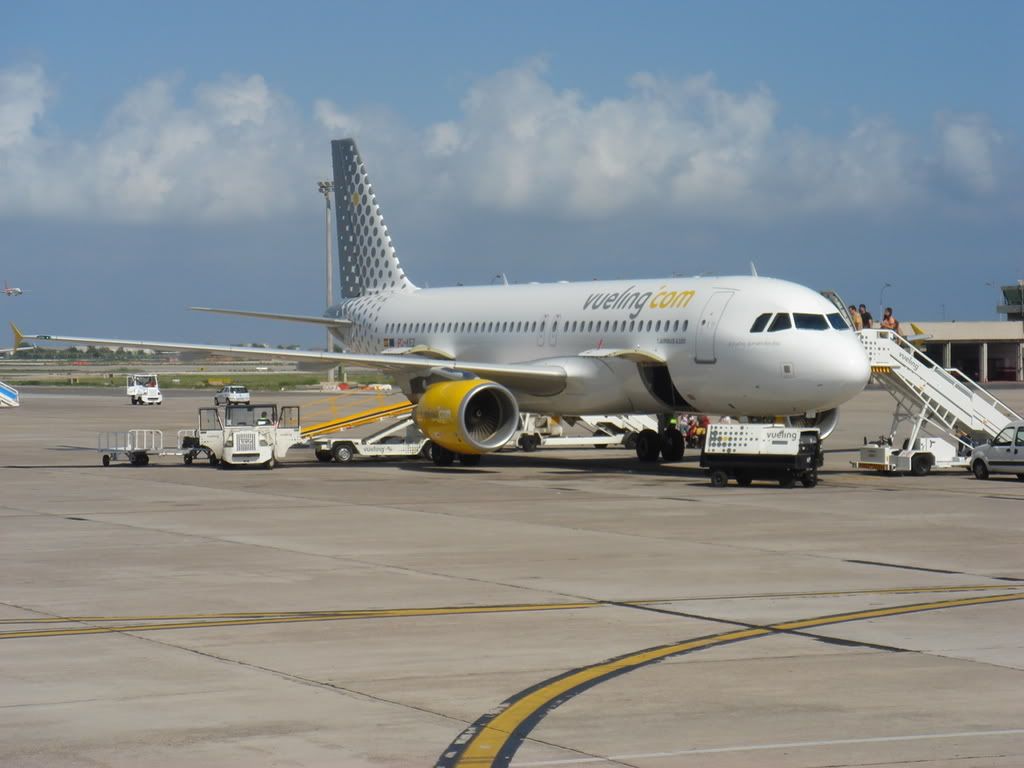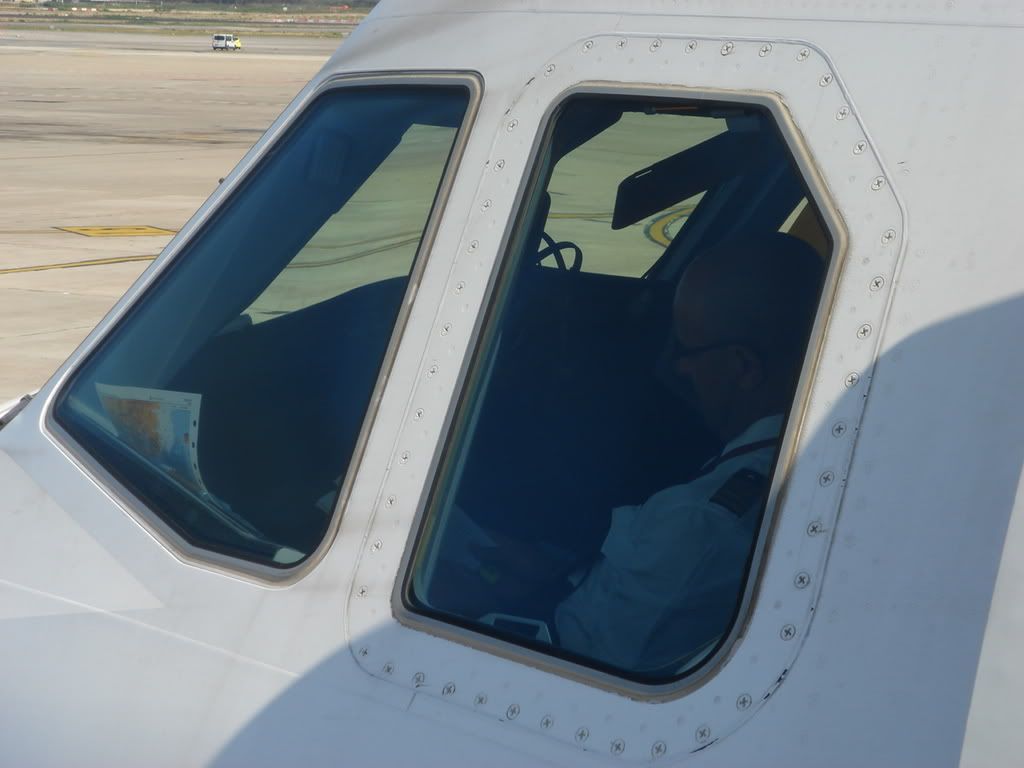 Once aboard Nic let me have her seat (12F) so I could have my much desired window and again, an exit row, thanks IB
When ever we book trips, I always put our BA Exec Card details in the booking, I have Silver card, Nic a Blue card, whenever the seating is confirmed or Boarding Passes issued, Nic gets allocated the window and me the middle or isle seat. I find this odd as my Exec profile shows my preference as a window seat, as does Nicole's, however I would have assumed my Silver Card status would take priority over her Blue Card seating request??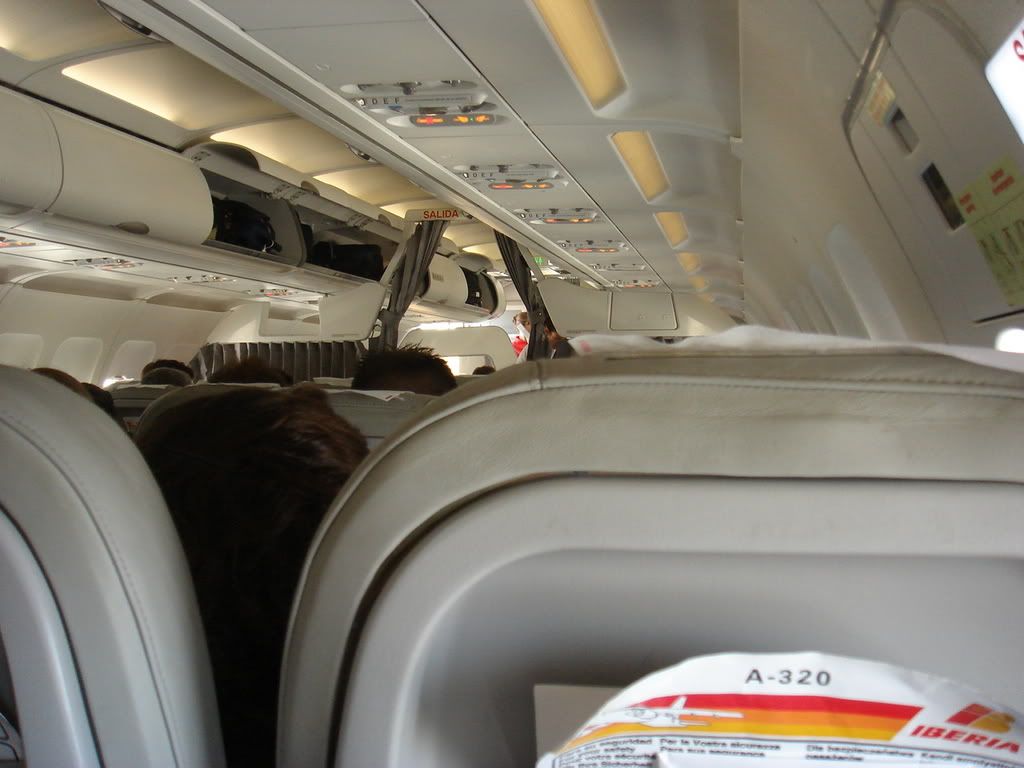 Doors were closed and we taxied of the stand at 16:56. Despite a lengthy taxi past the current terminal and the new terminal we managed to get wheels up at 17:12, we were number 1 for take-off when we arrived at the runway.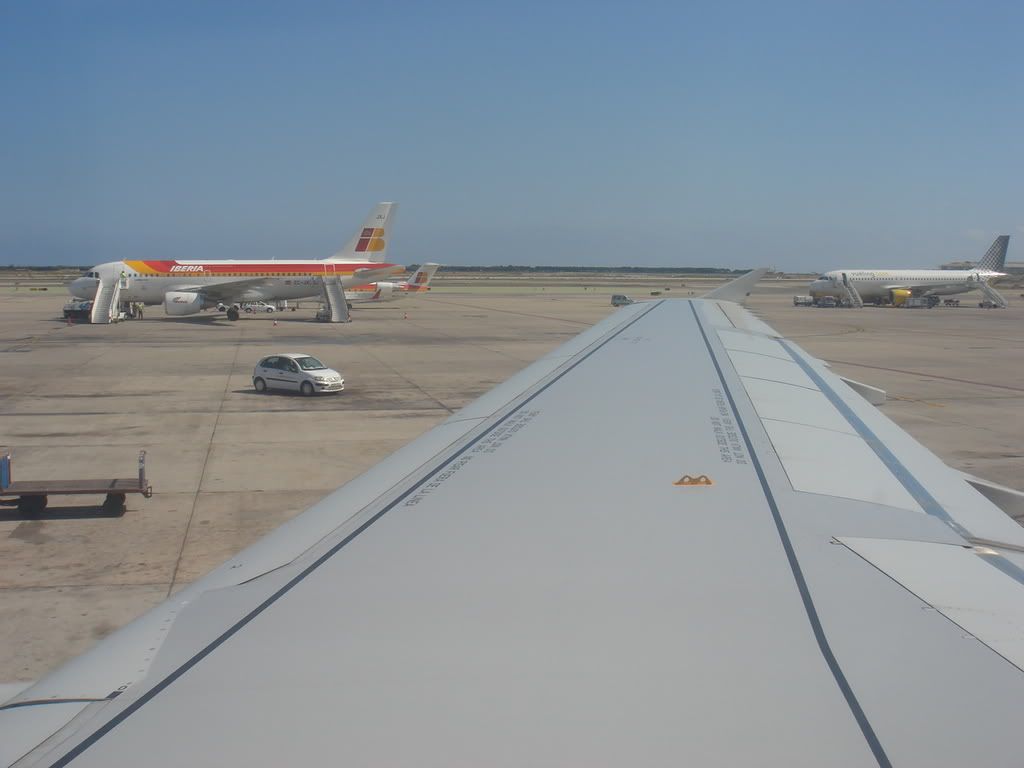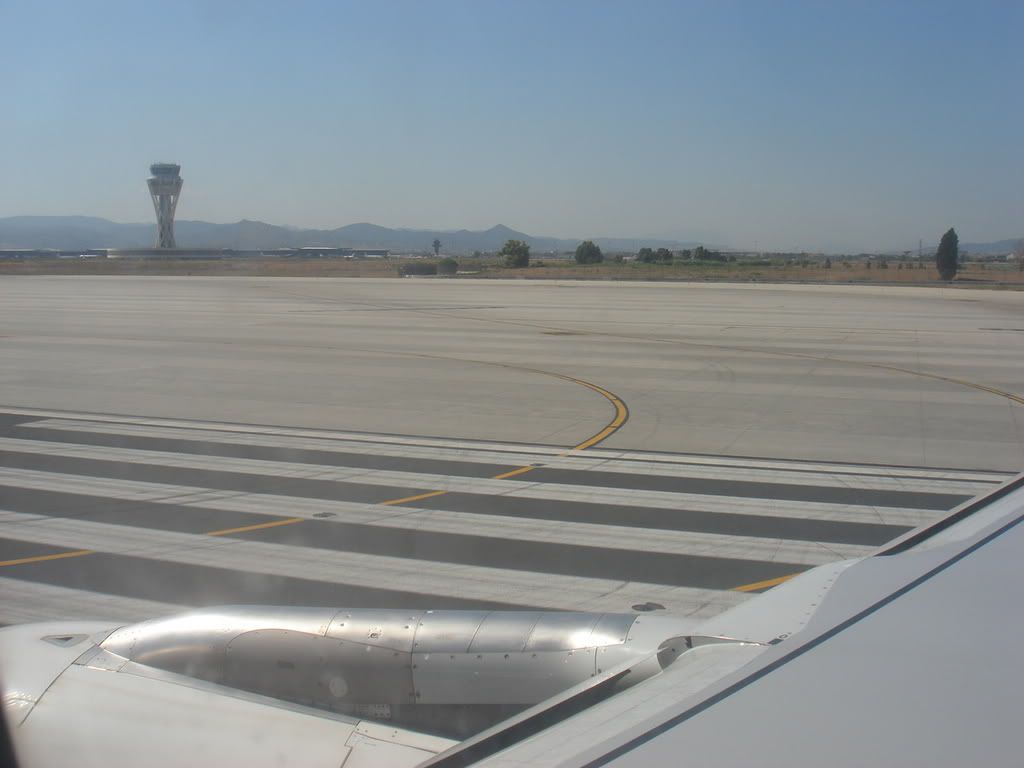 The interior of this plane was kitted out in IB's new slimline seats in grey leather, whilst nice enough, I don't like the seat back as it cannot hold thick paperback's let alone a hardback book, I'd not want a long full flight as I'd be pushed on where to keep my bits, camera, magazines, books etc.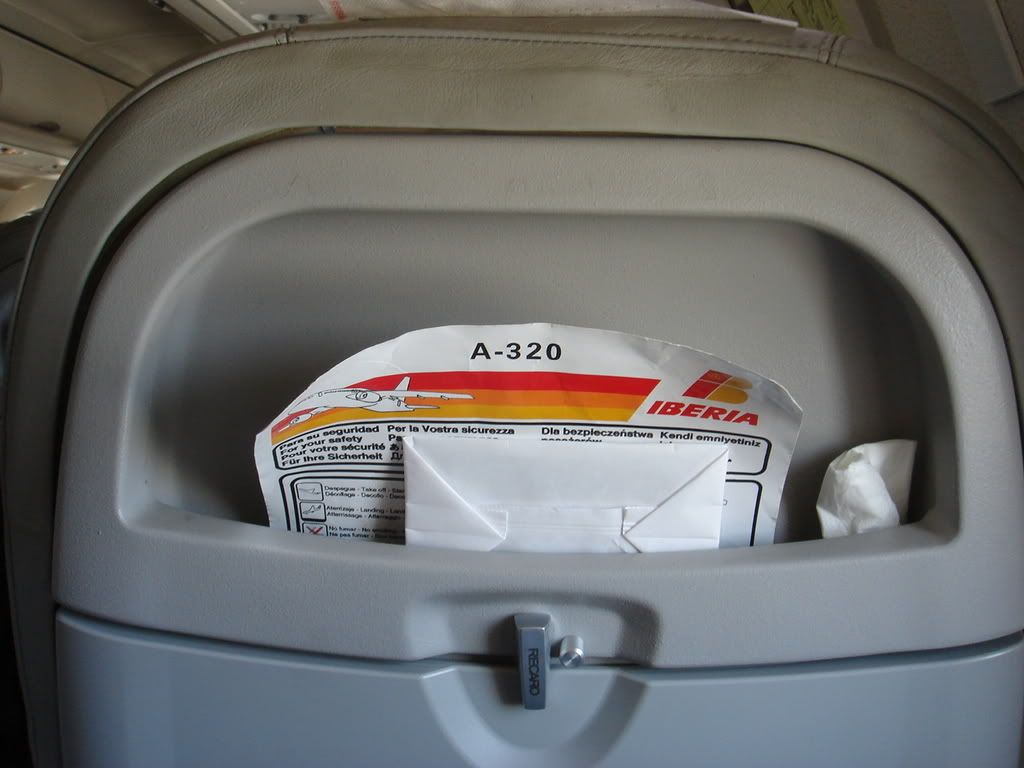 The in-flight BOB started, Nic had a Perrier and I chose Red Wine and some Pringles, I must admit I quite fancied a sandwich, the menu had a nice sounding 'special', however I thought it was pretty steep at 8 Euros and besides, it would most likely have been dry and tasteless.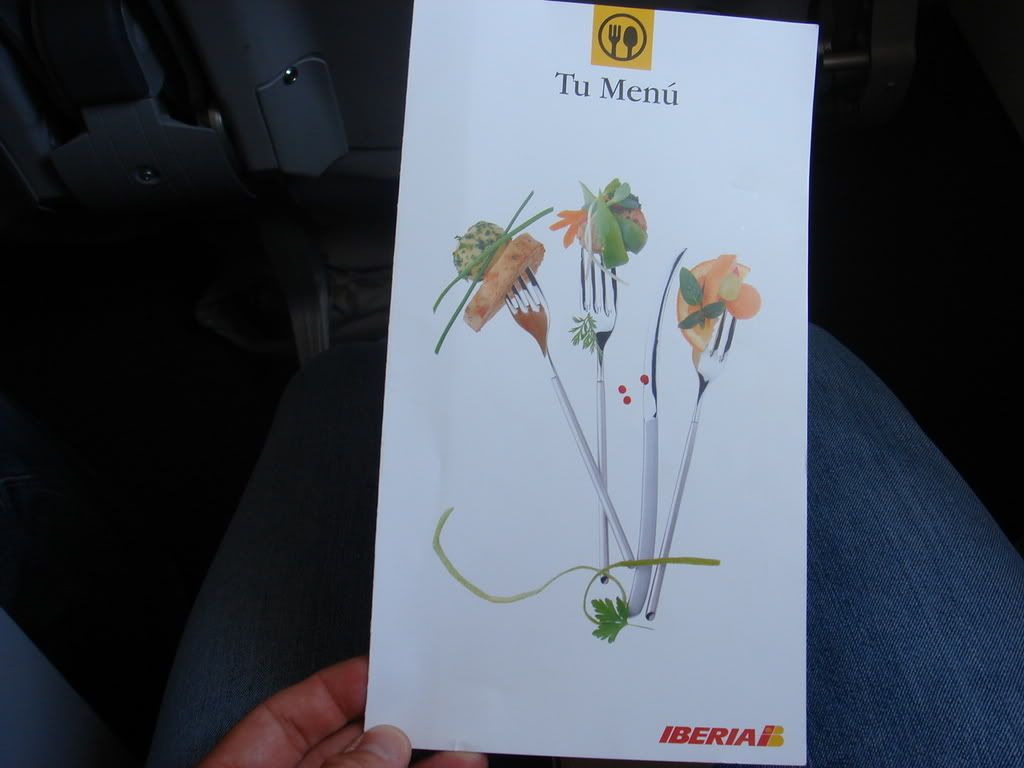 The rest of the flight was uneventful though it was quite noisy from people chatting/laughing etc. The people in the row behind us were quite annoying, Nic got banged on the head twice for some unknown reason and the girl behind kept peering through the gap in the seats to see what we were doing, quite annoying!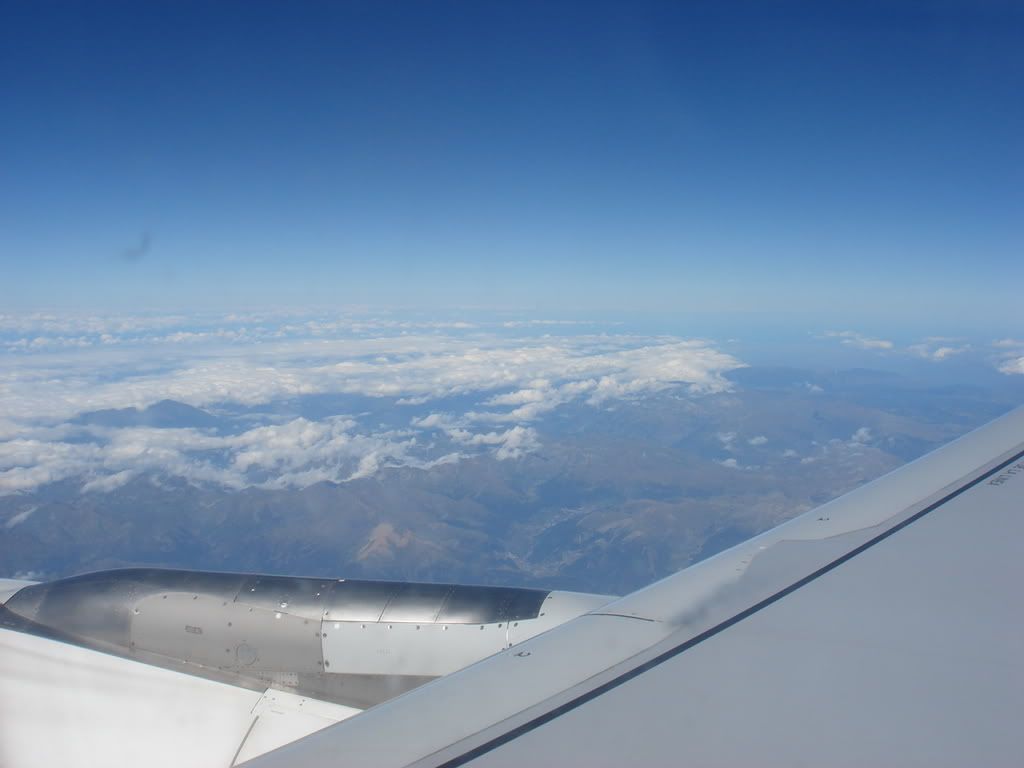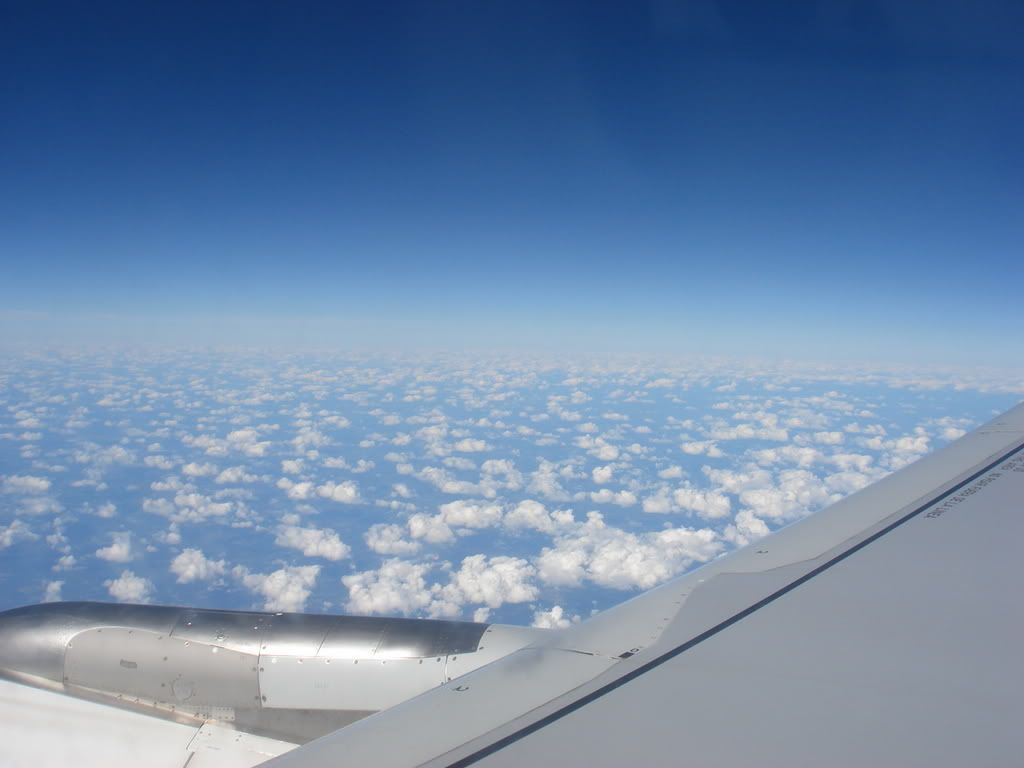 Descent started and we headed in over London on approach for 27R, the weather was quite good so some nice views were to be had.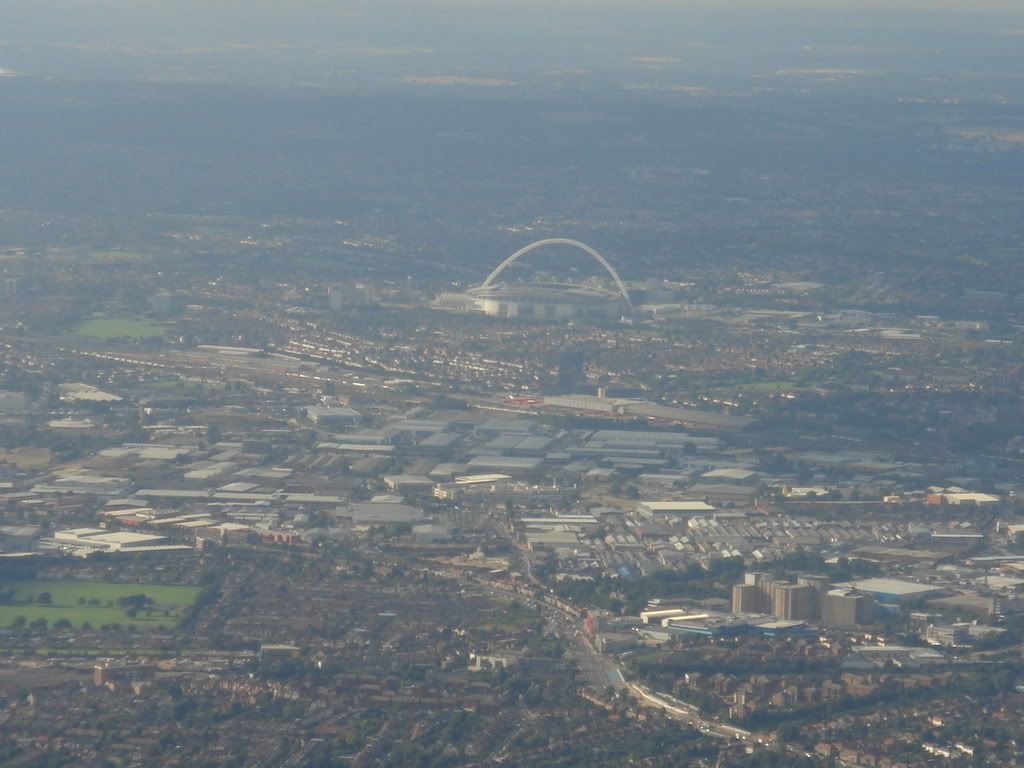 Wheels touched down at 18:00 on the dot, with EC-JSK arriving at the gate some 13 minutes later, longer than it should have been but we had to wait for a LH 320 to taxi out from pushback. During taxi I noted 2 new planes for my log, EI-DVF & SU-GCK.
Once off the plane it's a fair walk to passport control and upon arrival there was a fair queue there, however it didn't take to long, by the time we arrived at the baggage carousel the luggage was already coming off the plane, all this in say 15-20 minutes, if that. This is the second time we have flown into T2 in the last year, on both occasions the baggage has arrived really quickly, the total opposite to T1 arrivals, the bag's take forever to arrive there! Whoever looks after T2 baggage arrivals is doing an excellent job, send them to T1, they need to help our there!!
Summary:
Air Nostrum and Iberia have done just fine here, Air Nostrum being the better of the 2 as they actually have onboard service include, ok it may just be a drink and peanuts but it is something and the drink is in a real glass, I love that!
Iberia were fine, you know what you get so that's fine, but it is a shame nothing is free now, that said, it is the same on all the major Spanish carriers nowdays.
Thanks for reading, hope you enjoyed our trip.
Best Wishes
Mark