Into the flood, or not?:BHX ex FRA
Hello, dear readers,
I´am a bit in arrears in posting reports, too much travel during the last weeks!.
I will start a summer series of storys with a recent trip to BHX from FRA.
The two weeks ahead to our stay there, shows heavy rain in the mid-england area, also some suburbs of Birmingham
are affected, but when I checked the city news, there was nothing viewable, so we decided to go into the flood, or not!.
Saturday, 28.07.2007
FRA (Frankfurt-Rhein-Main) - BHX (Birmingham-International)
Duration: 1 hour 25 minutes
LH 4902 operated by Lufthansa B 737-500 D-ABIU
Scheduled: 12.05 // 12.40
Actual: 12.15 // 12.40
Gate: B55 Seat: 20E
Loadfactor: Around 80 %
Fare: 47,63 EUROS per pax per leg
History:
23.05.1991: Delivered to LH
Leg no. 20 on the 737-500 and the first on this particular machine.
There was no strike action announced from Deutsche Bahn, so we started this trip as scheduled by car to Park and Ride Stuttgart Albstraße,
subway was included in the park ticket and further by the ICE High-Speed train, departure 08.51 am to FRA airport with a connection at Mannheim.
It was the starter weekend for the south german school holiday sason, so you know what I mean when I say, the trains are good loaded,
no free seats available on both legs. Ontime arrival at FRA airport, around 10.00 am.
Online check-in was ok for me, both once again not for my son. I called the help-desk and a friendly girl there secured us two seats beneath,
the boarding passes will be printed during baggage drop-off. Not more than five minutes to wait at the LH counter directly at FRA´s long distance train station,
bags dropped off, boarding passes printed with the announced seats and on the way to clear security.
Not more than five minutes more to wait there and near the gate at around 10.45 am.
B55 is a bus one, at the ground level, you´re only allowed to enter this area with 3 or 4 gates after another security check, no restroom there.
We decided to walk around some more minutes, but no quiet places around to sit back and view the planes. Lots of people there, so we passed security
and waited for boarding. At the gate beneath was an overbooked LH service to Edinburgh handled, 350.-- EURO vouchers or 200.-- EUR cash for any volunteer to leave the flight!.
Boarding started ontime, the plane was parked down the way to runway 18, near the LH cargo area.
The announced B737-500 waited for us, a new one for my log!.
How to board D-ABIU at FRA: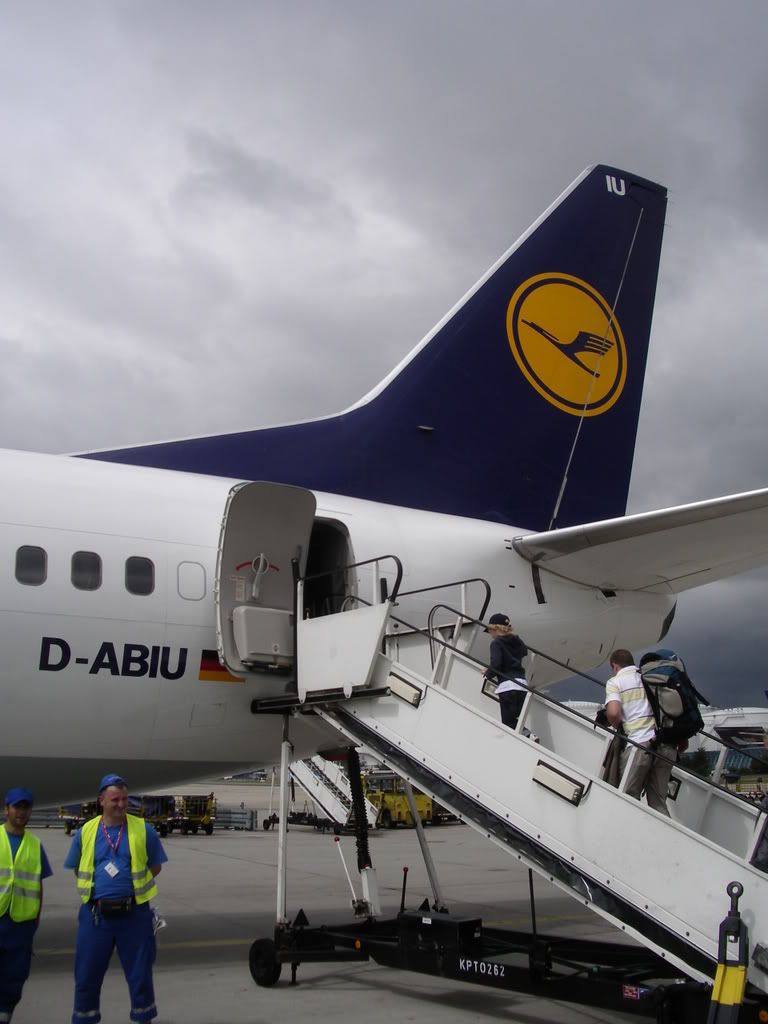 D-ABIU again: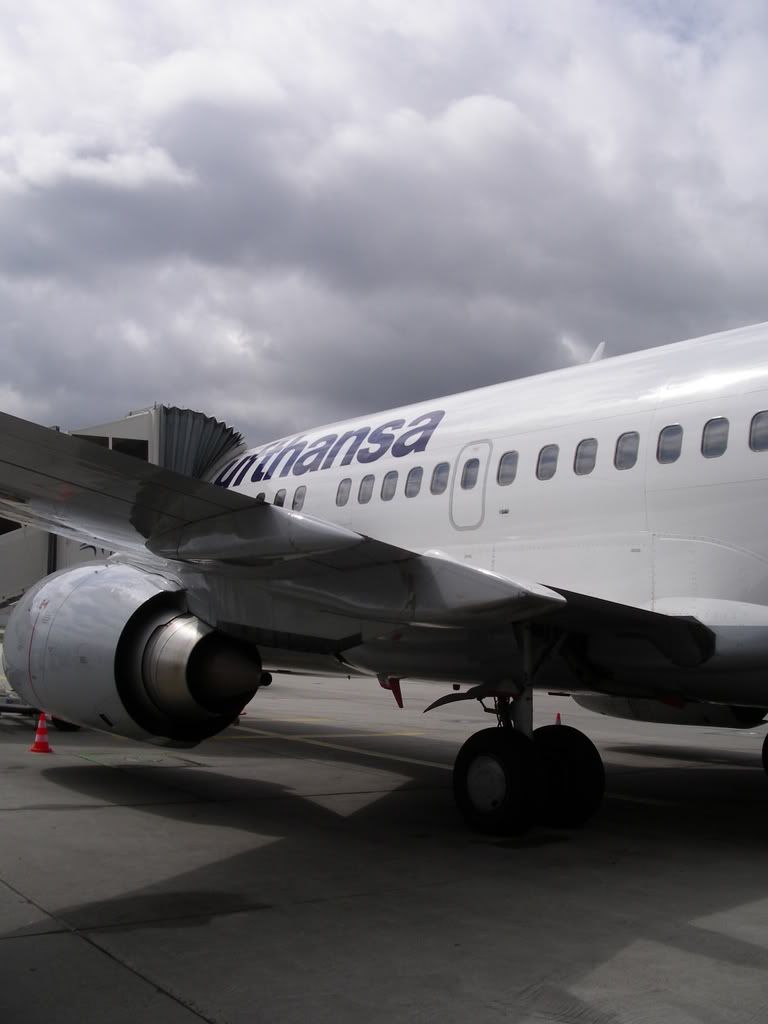 Three nice and friendly female FA´s on this service. The captain welcomed us with a short notice during boarding.
The plane clean, fitted with the dark grey leather seats.
Departure from runway 25R to CGN-BRU-LON. Flightlevel 28.000 ft.
Belgium, near the channel:
We reached the channel: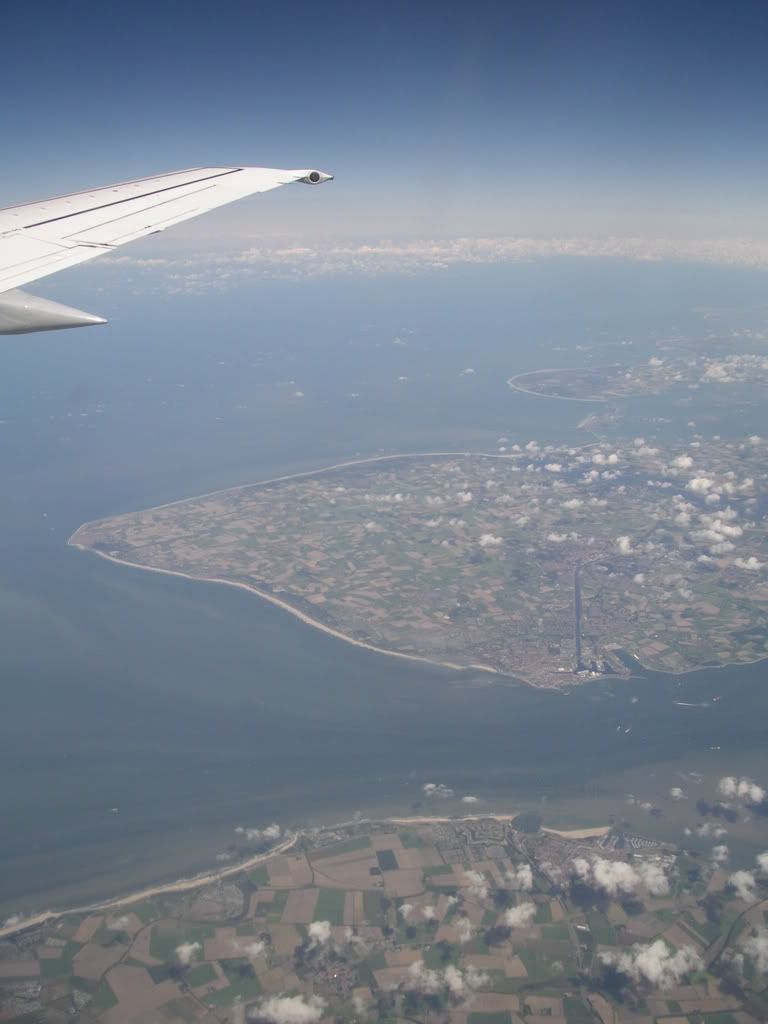 More detailed informations from the FO during our cruise.
A bread roll and beverages for free.
Arrival on runway 33 at BHX ontime, sunny wheather, but lots of water was viewabale during descent.
The train service to New Street station was interrupted according to the bad wheather the last days.
A huge, long line of people waited at the station for the bus replacement service. We´re short in time, so I decided to throw my money out of the window and take
a cab to our hotel, shocking 28.-- pounds, real good business, not for us, but for the driver.
We stayed at the Radisson SAS, a recommendable place to go there.
My son, entering Birmingham ThinkTank:
The worlds oldest active steam engine, designed by James Watt: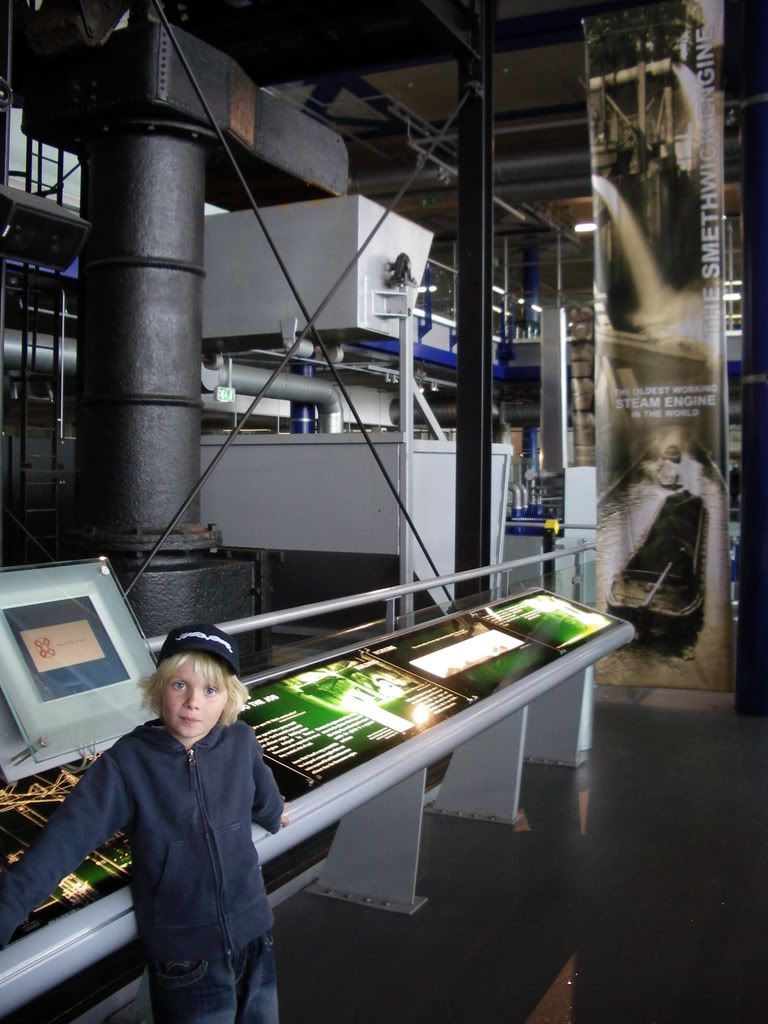 Nice place to rest, under the Spitfire: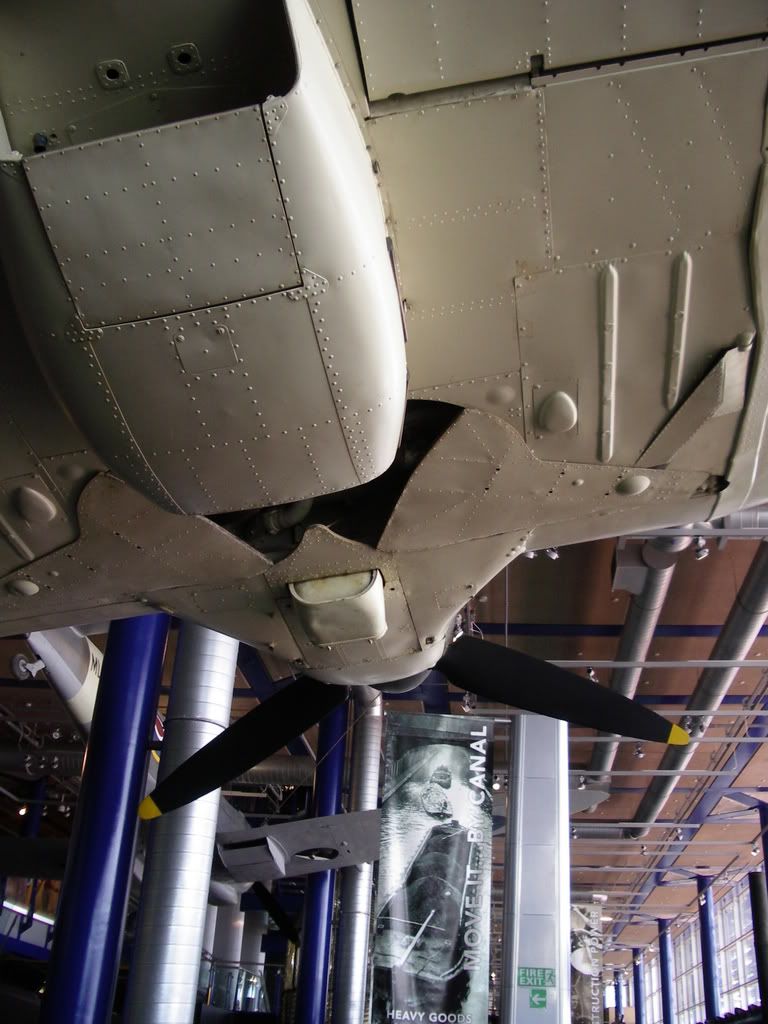 How to compare old and new: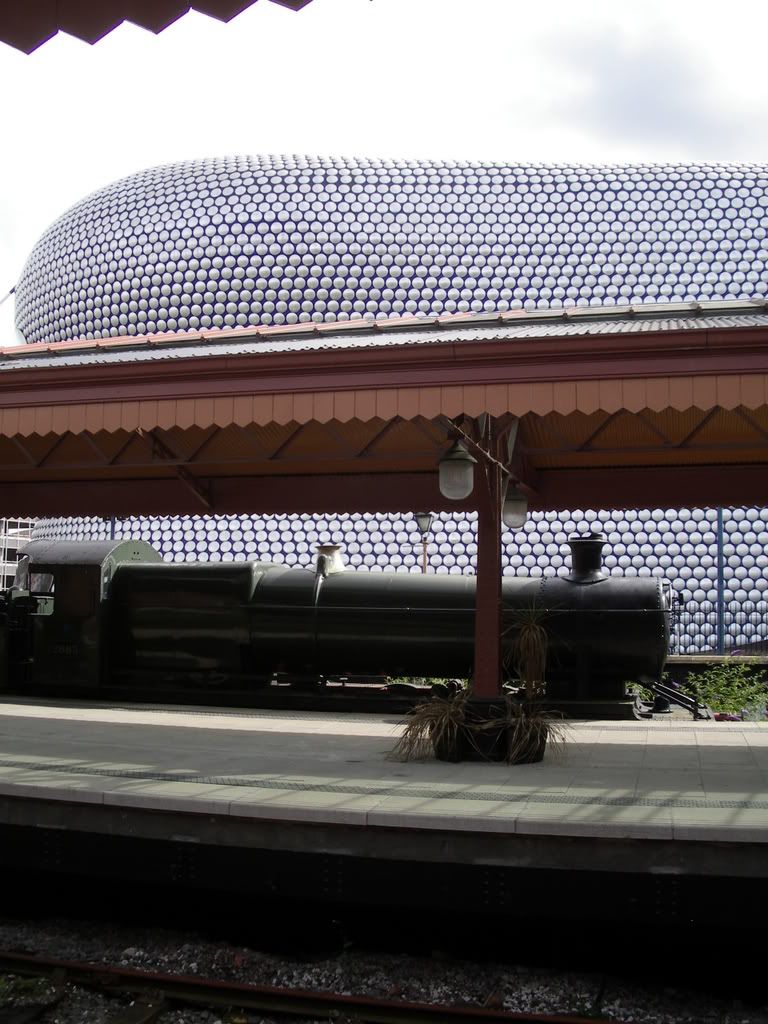 The Bullring again: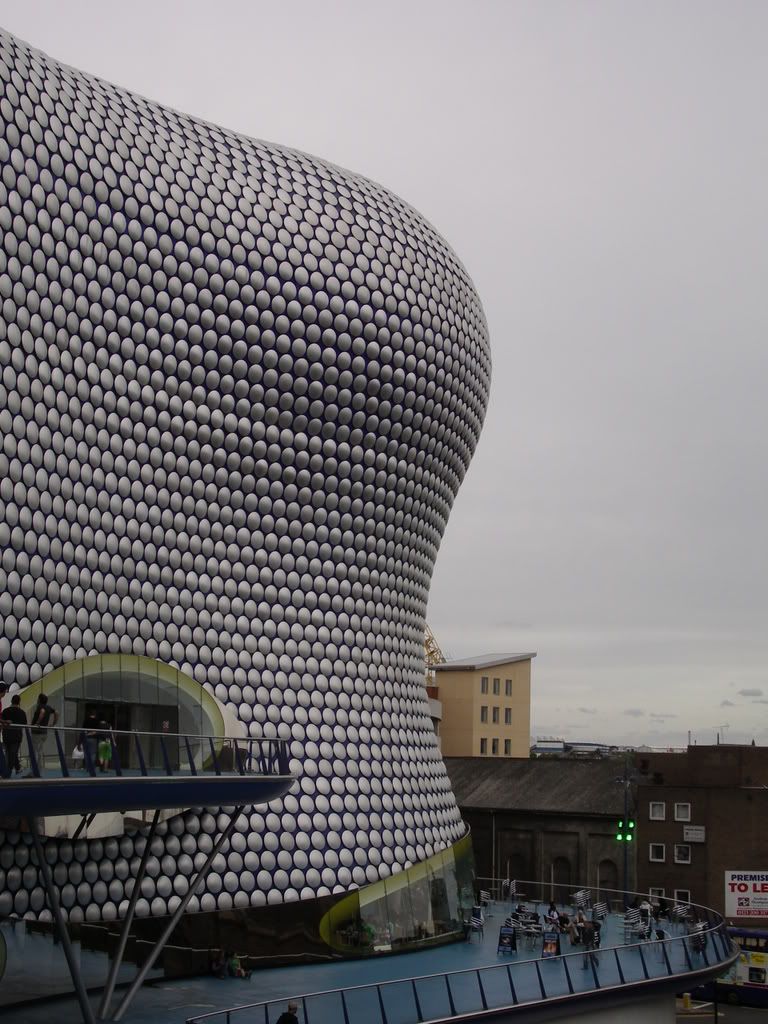 City Hall: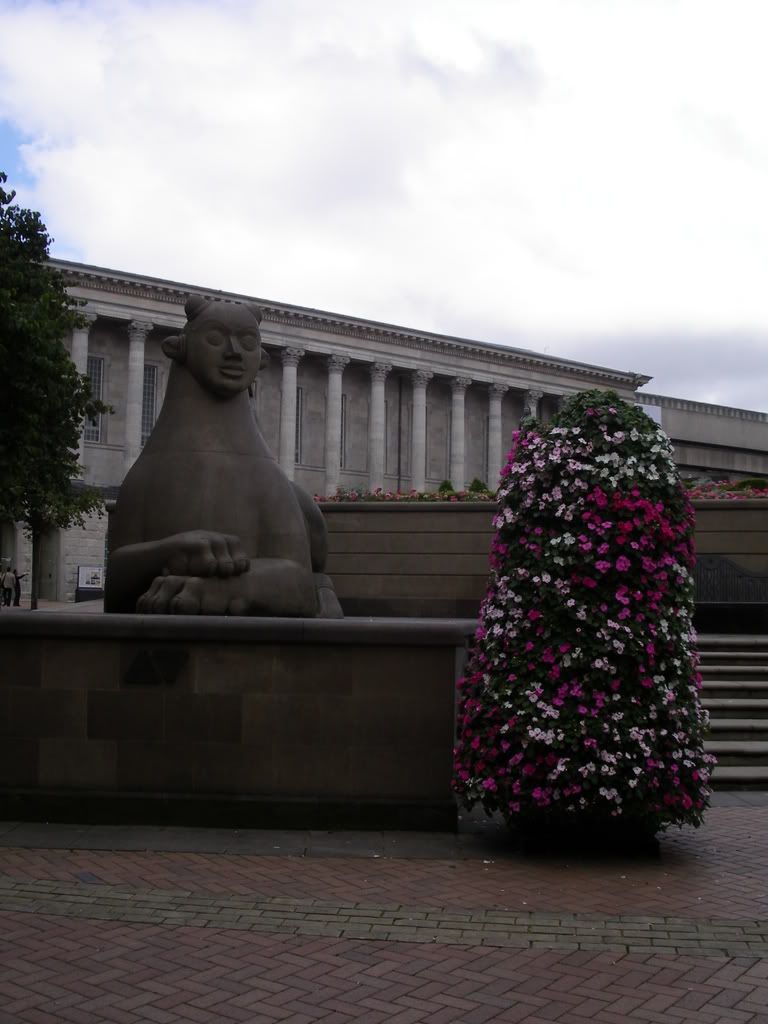 City Hall again: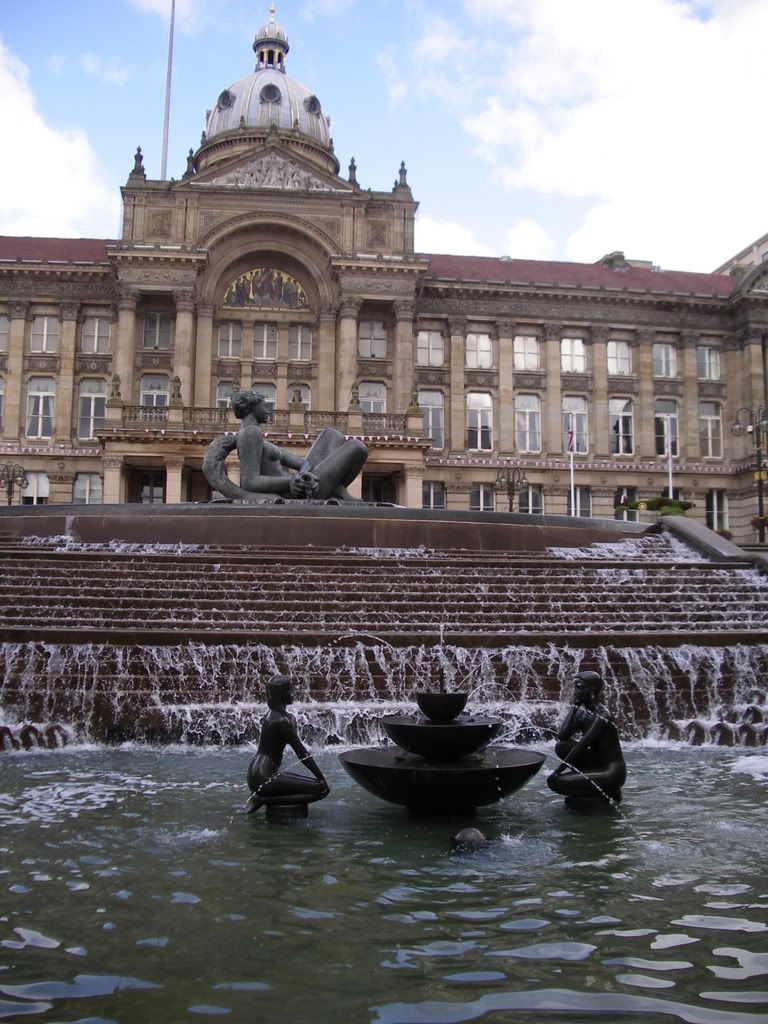 Sunday, 29.07.2007
BHX ( Birmingham- International) - FRA (Frankfurt-Rhein-Main)
Duration: 1 hour 40 minutes
LH 4903 operated by Lufthansa B737-500 D-ABIU
Scheduled: 13.40 // 16.15
Actual: 14.05 // 16.45
Gate: 54 Seat: 21B
Loadfactor: Near 100 %
Dont forget statistics, leg no. 21 on thr 737-500 and the second on this machine.
No way, to spend my money to the cab drivers again, we´re gone to New Street station at around 11.00 am, I thought early enough for our
departure. 4,35 pounds for the bus service to BHX airport, ok so far, but not when I saw the long line of people waiting, ok, we joined the queue.
We made it to the second bus, departure 11.30 am. Good job, that will be my comment, when I want to view the suburns and industrial areas of Birmingham.
But today, I do not write the word down, nearly one hour to reach all that train stations by bus and finally at the airport to leave that packed vehicle at around
12.30 am. Three desks open, no time to wait, no more window seat available, we secured seats in the last row.
Also no time to wait at security.
BHX is one, if not the dumpest place I´ve been for plane spotters, only one window to reach from the "wait in lounge area", I know this from another visit there.
The plane was parked, but nevertheless the gate was announced only around 20 minutes ahead to departure.
D-ABIU at the gate at BHX:
Nice visitor from India: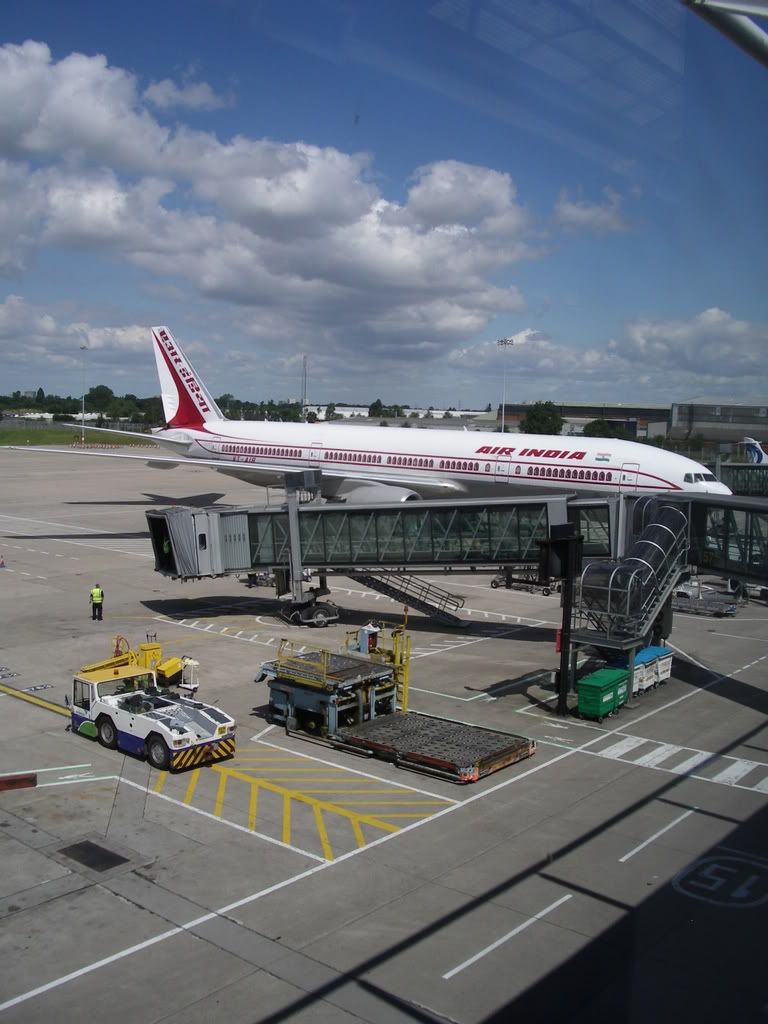 One male, two female FA´s this time.
I noticed the open flightdeck door during boarding. Soon after boarding was finished, the captain entered the cabin and informed us personally, IMO a nice touch,
about a wheather related delay. Heavy winds above mainland europe, that means lower slots at Brussels and more distance between the approaching planes
at FRA. He expected about 45 minutes to wait till engine start up. So it was.
Beverages and sweets are served on the ground.
The nice french guy switched to the aisle seat, so my son had the window again.
Later a departure from runway 33 to LON-BRU and CGN. No info about the flight level.
London: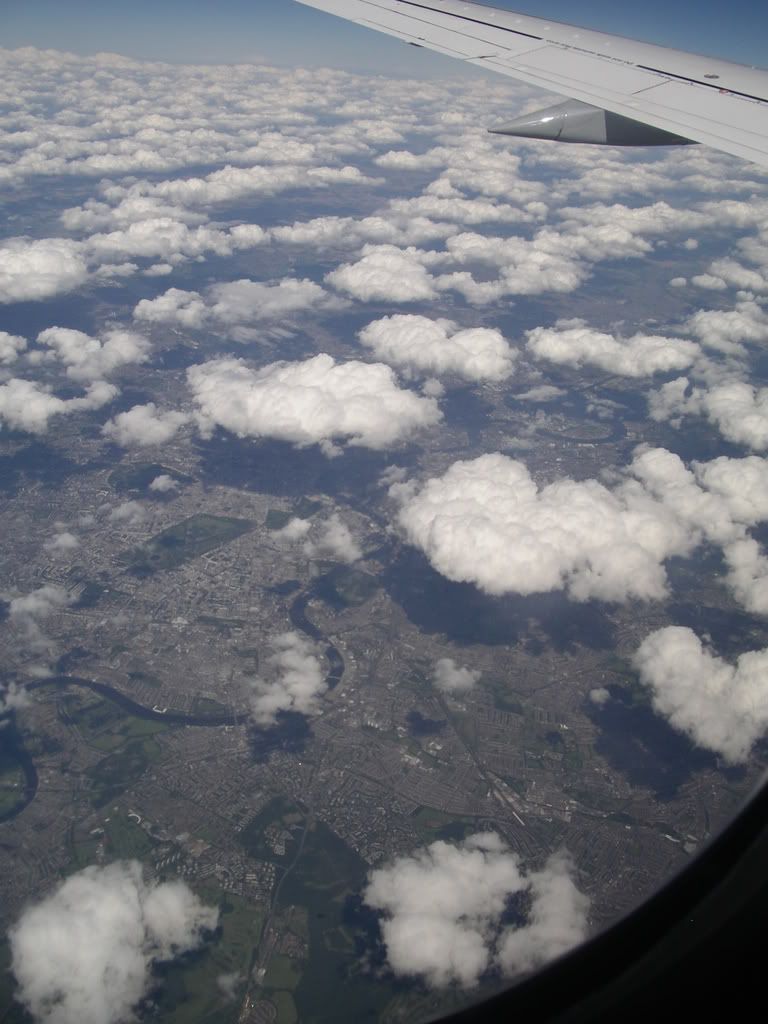 Service again a free bread roll and some beverages.
Some more informations about wheather and arrivals at FRA from the FO during approach.
Touchdown around 30 minutes late on runway 25R. Short, but nevertheless ok to reach our train back home.
Again a bus gate, far away from the terminal, at the belts at around 5 pm, silly FRA people, BHX bags announced as delivered, but we had more than 15 minutes to wait
till a single bag comes up.
No chance to catch the train. That means to buy a new ticket, while the other was only good for the booked service.
But positive things up, we´re gone to T2 by the Skyline and had some nice views outside there from the McD. restaurant.
D-ABIU pictured from the Skyline:
So, time for my opinion.
Birmingham was ok to stay these two days, sure not my favourite city around Europe. To much old an dirty places there.
BHX airport is oldfashioned and for sure, not the place for spotters.
LH offers friendly service, the delay was wheather related and not LH´s fault, no problem to go with LH again.
And my opinion about the B735, I like it, especially when I read about possible replacements around LH´s fleet.
Comment´s welcome,
Markus (FLIEGER67)