So this is the first of the trip reports of my 2007 summer frying which saw me hop through 3 continents sampling 3 different airlines.
As usual when flying the short 1h10 hop across the Med, I try to score either the A300 or the A319ER as these are the only aircraft in TU's fleet which are a C/Y configuration; the A320 and the 737 being full Y.
Although TU operates the flight, my ticket was AF enabling me to accrue mileage and benefit from the automatic upgrade upfront due to my Flying Poo level.
As I checked-in online the day before, I arrived at Tunis Carthage 45 mn before takeoff to check my luggage in at the dedicated TU "Espace Privilege" counters. I then made my way through immigration and customs and then towards the TU lounge where I grabbed a quick coffee (awful) and a croissant (nicey).
Our aircraft on that day was TS-IPB, the second A300-600R delivered to Tunisair, christened "Tunis".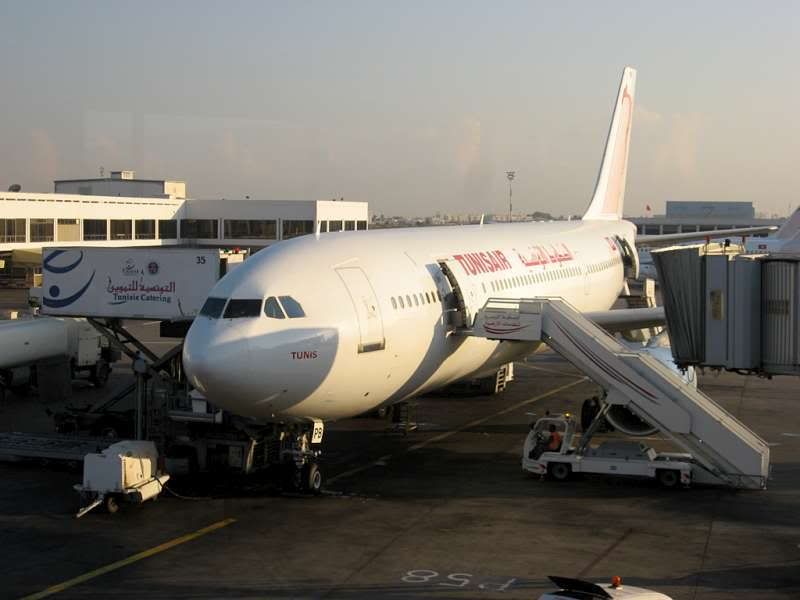 Although quite old, they are impeccably maintained both on the outside and inside.
They are however rumoured to be replaced by A330's, which would be a huge improvement over the actual C product as you shall see later on.
Boarding was a good 15 minutes late (as usual in TUN) and families/elite FF'ers were given priority.
I was the first to board the C cabin so I managed to get pictures without anyone in them: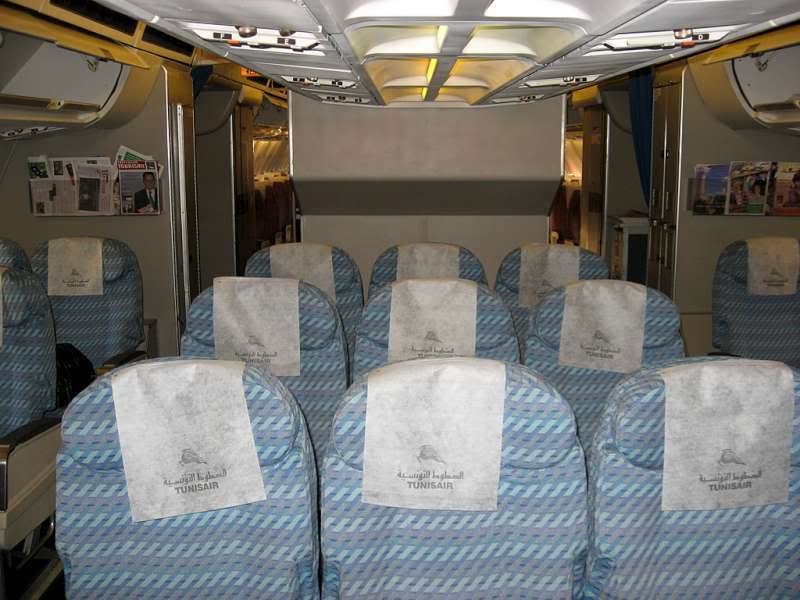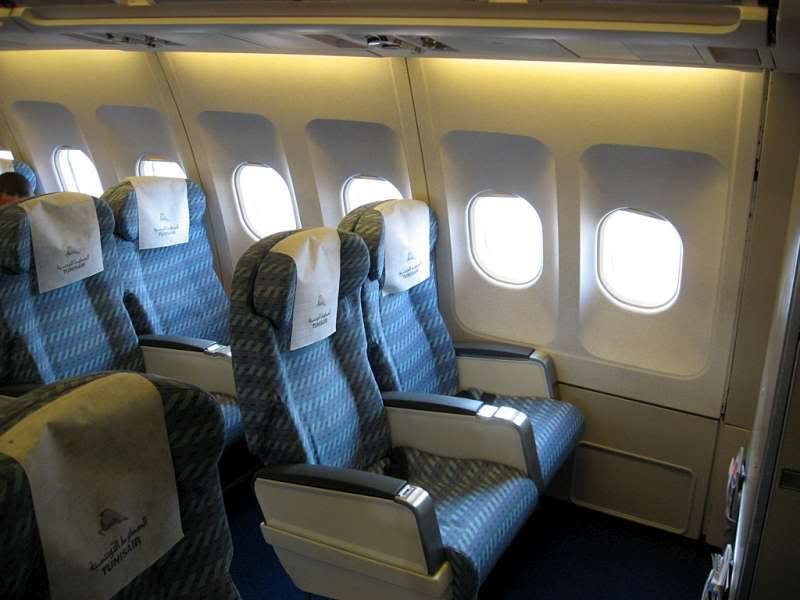 As you can see, the interior is a step back in time in the 80's and is quite outdated now.
No footrests, no electric controls and no IFE whatsoever (not even music!).
The seats themselves are however quite comfy as they are reasonably large, quite plush and with a reasonable recline.
Boarding was quick for a widebody as we were only 95 pax onboard.
The safety demonstration was done by the FA's after pushback as no video screens are present on board these aircraft.
Taxi to the active runway was quick and we were n°1 for takeoff, as usual in TUN as the airport sees little activity, even at the peak of the summer season as most tourist charters fly into MIR or DJE.
Breakfast was served soon after takeoff as we reached cruising altitude quite quickly given our light load.
It consisted of a choice of juice (apricot, orange or grape), coffee or tea, a croissant (same as the ones served in the lounge and a muffin.
After the meal the duty free cart appeared with products either at rhaaingly expensive (perfume and alcohol) or surprisingly low(Tunisian delicacies) prices.
I took this opportunity to stroll around the cabin to document the Y class section: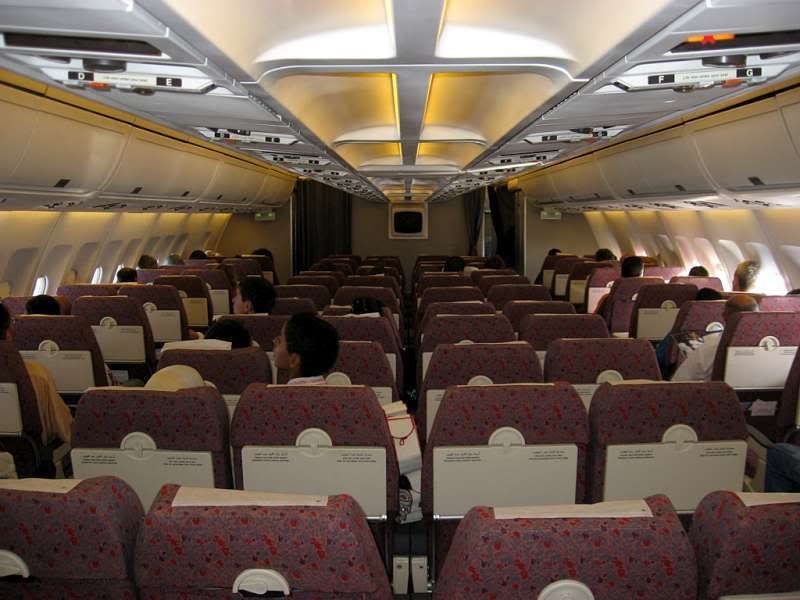 Thanks to the small number of pax I could also get a decent wing shot as you cannot see the wing/engine from the front seats: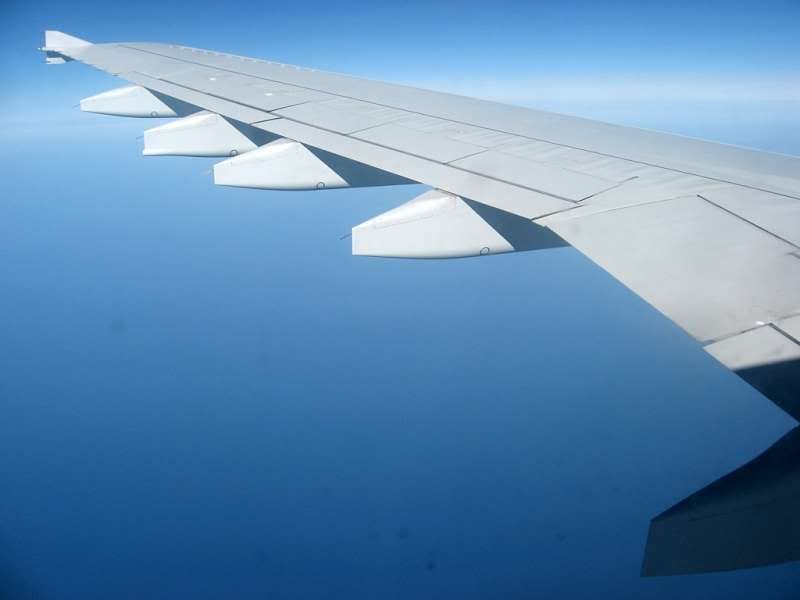 After that it was already tim for descent so I made my way back to my seat.
After an uneventful approach we landed on tim at 9h25.
Score : 7/10 given the low price paid and the good service. The A330's can't come too soon however
Comments and questions welcome
UTA