One of our long time friends moved to Barcelona 6 years ago from Miami. Since I was in Germany my mom and I decided to take the opportunity to go to Barcelona and visit our friend and her kids. We went to Iberia.com while we were still in the US to see how much the trip would cost. The english Iberia site said there were no non-stop flights from FRA to BCN. On the German Iberia site there were non-stop flights but when we went to purchase them there was an error message. We gave up and bought the tickets in Germany. When we bought the tickets the flight number was IB and also XG. They never said whether we were flying with Iberia or Clickair. At FRA were checked in by Iberia staff and the boarding passes were on Iberia paper. The only thing that wasn't IB was the actual plane. Everything was done in a very professional way except they never said if we were flying on Iberia or Clickair.
View Large
View Medium


Photo © Roberto Benetti
Clickair
June 18th, 2007
FRA - BCN
Flight: XG1045
Reg: EC-ICT
Departure: 19:20
Arrival: 21:50 (due to late take-off)
Aircraft: A320
Seat: 24A (open seating)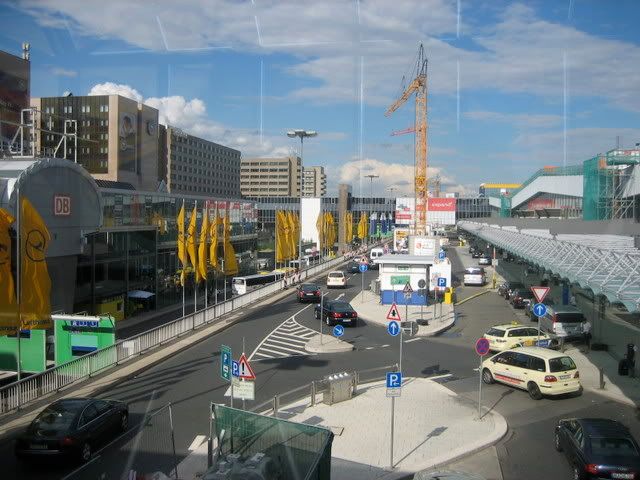 FRA Terminal 1 scene.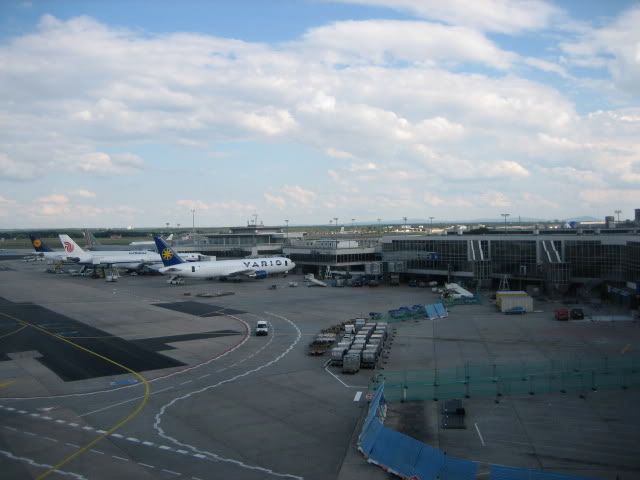 View from the train to Terminal 2.
Terminal 2 is much nicer than Terminal 1. It was my first time using this terminal after 17 years of flying into FRA.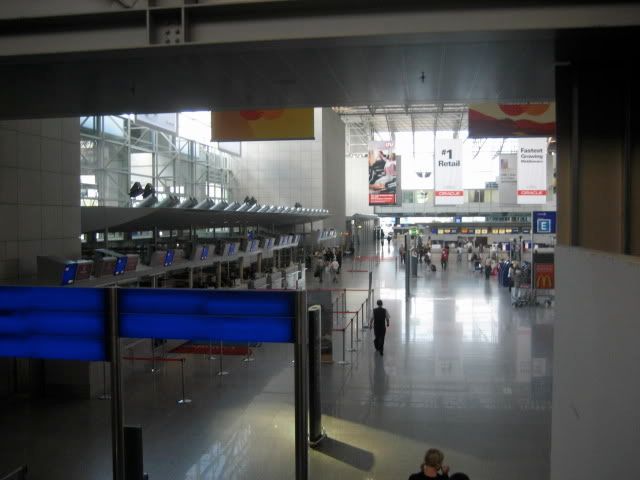 The check in area was empty and the Emirates staff was just sitting around waiting. IB was the only desk that had people checking in at the time.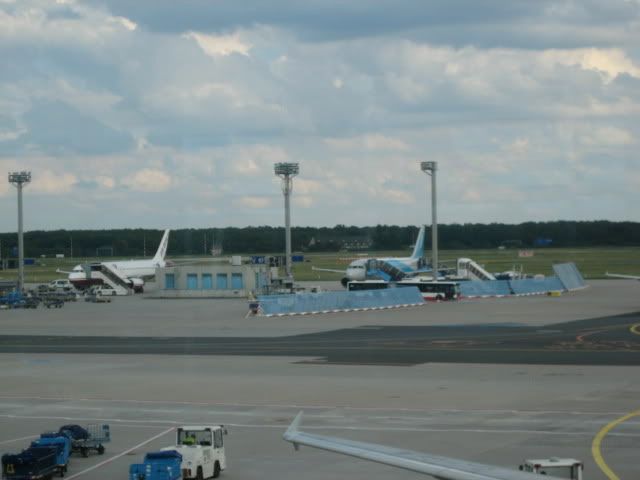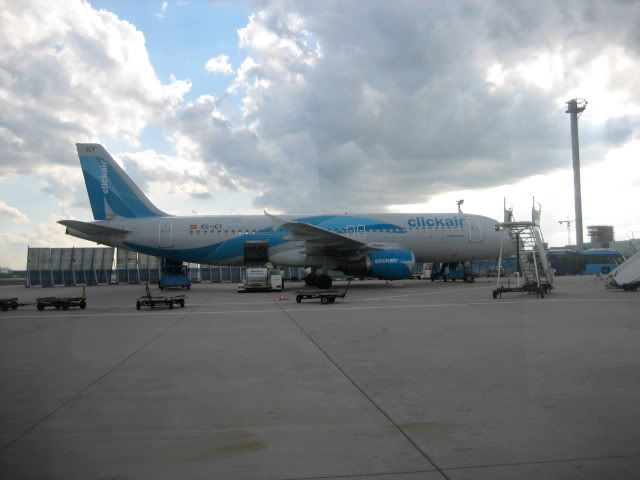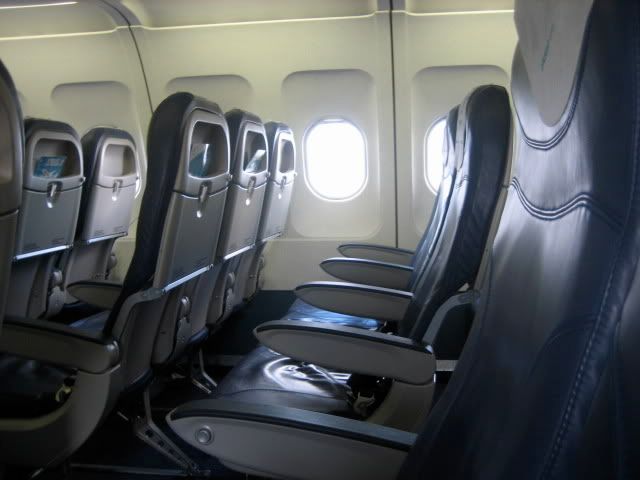 The seats and cabin was in great condition and the seats were hard but comfortable. The FA's had really nice unifoms and they looked comfortable, stylish, and casual.
Decent legroom.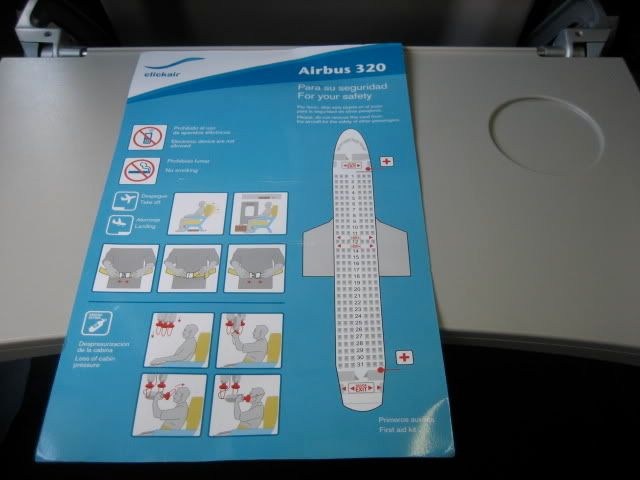 In the seat pocket in front of each seat there was a menu and a card showing what to do in an emergency. On this flight there were barely any menus so it took a long time to do the meal service.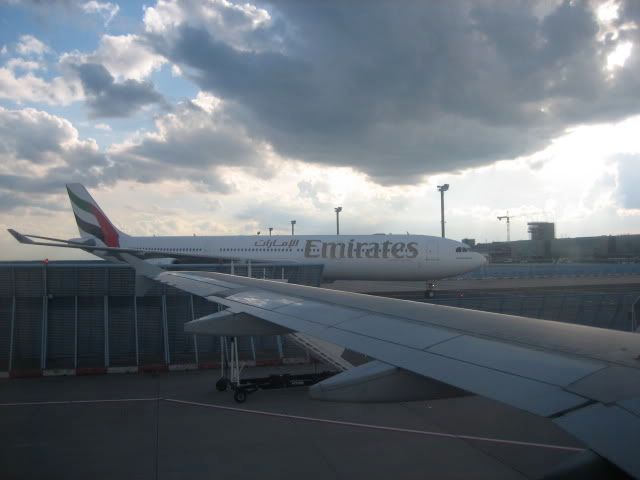 The flight was delayed 40 minutes due to "regulations" and we just sat there for the entire time and then we finally started moving. I will never forget the taxi for this flight. I felt like I was on a tour of FRA we saw everything and it took a good 20-30 minutes.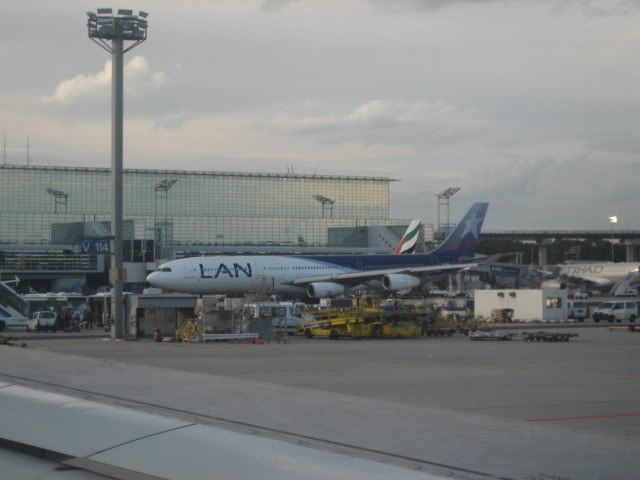 Weinheim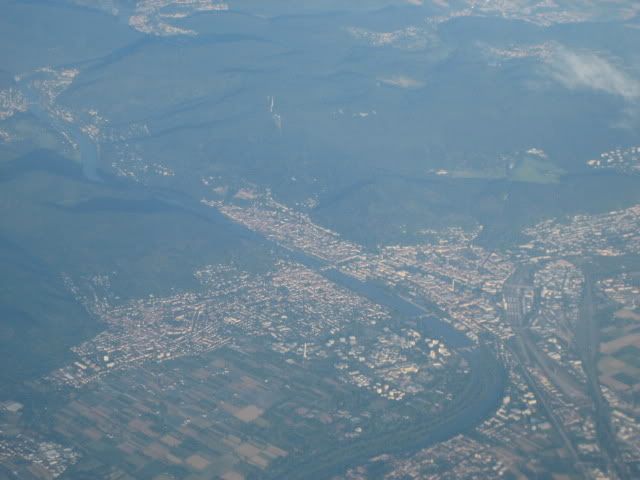 Heidelberg
The food was pretty expensive.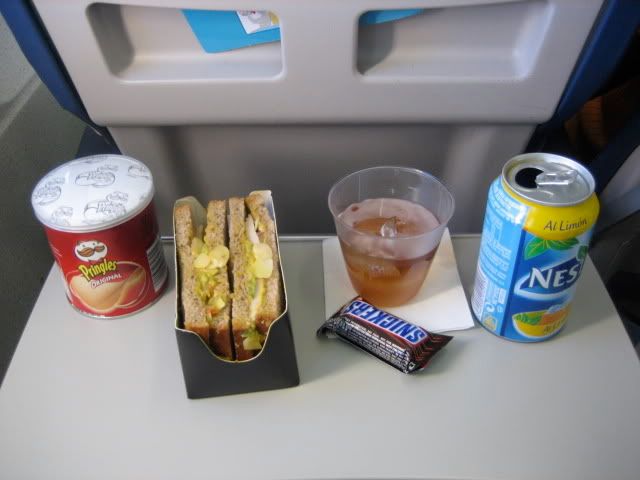 I got my mom a ham sandwich and a diet coke and the food pictured for myself and the cost was 25 Euro.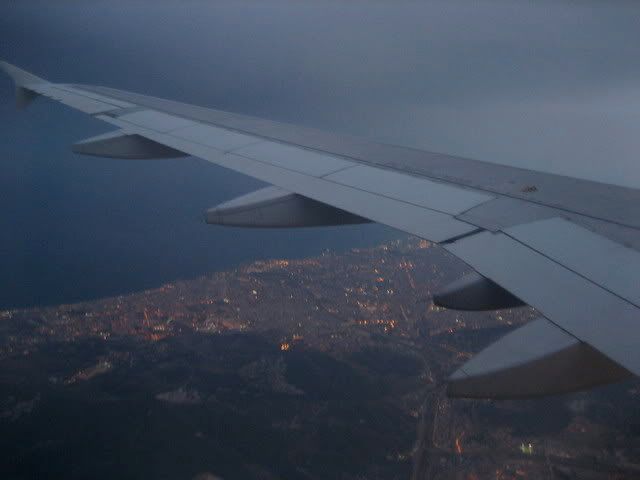 Barcelona.
The approach in to BCN was very turbulent which I think I was the only who enjoyed it.
Landing Video: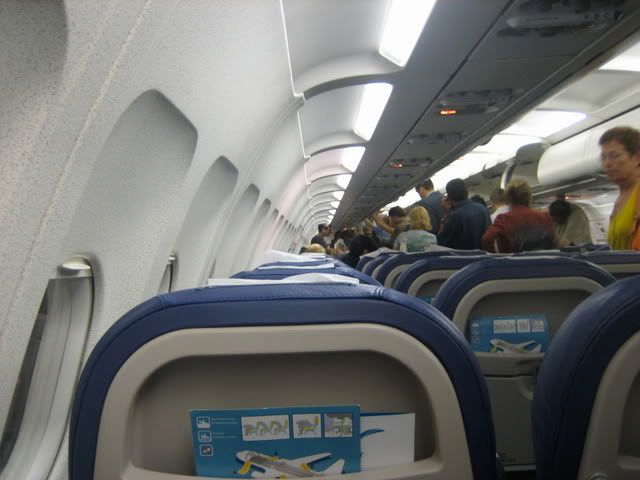 In this picture the airport looks clean and organized but there was construction going on so it was loud and chaotic. Lot's of exits were blocked off and it was hard to get around.
View Large
View Medium


Photo © Massimo Pesenti SpotIT
Clickair
June 18th, 2007
BCN - FRA
Flight: XG1044
Reg: EC-GRI
Departure: 16:15
Arrival: 18:20
Aircraft: A320
Seat: 11F (open seating)
After a wonderful four days in Barcelona it was time to go back to FRA. There was a bus to the airport from the center of the city which we used to go back to the airport.
The bus dropped everyone off at one stop so we had to walk pretty far to where we needed to enter. The sidewalks were under construction so they blocked off part of the street to walk on safely.
Once we were inside it wasn't air condtioned very well and the lines to check in for Clickair were really long and moving so slow. After waiting 1 hour and 20 minutes in line a sign that was for general check in changed to FRA and about 10 passengers in the three long lines rushed towards this sign.
After we were checked in quickly we went upstairs to security. It would make it so much easier if they had escalators or more elevators because it's hard to get up stairs with baggage. The Security line was so slow when we finally got through it and found our gate the plane was boarding. I expected to explore the airport a bit since we got there so early.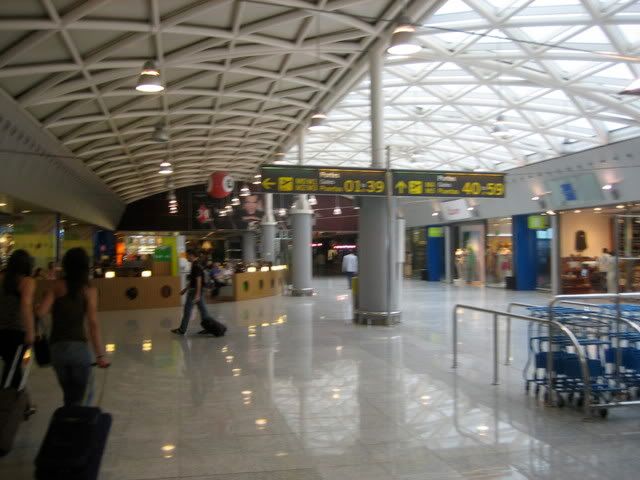 We went into a downstairs area to get on the bus to our plane and that is where they tore the boarding passes. There was a man tearing them and a woman who was scanning them on the computer. When it was our turn the man had a sizable stack of boarding passes in his hand and then he yelled something in Catalan to the woman and threw them all at her face and then they started to yell at each other in front of all the passengers. On the bus one lady that spoke English told us that they were fighting because she was going too slow.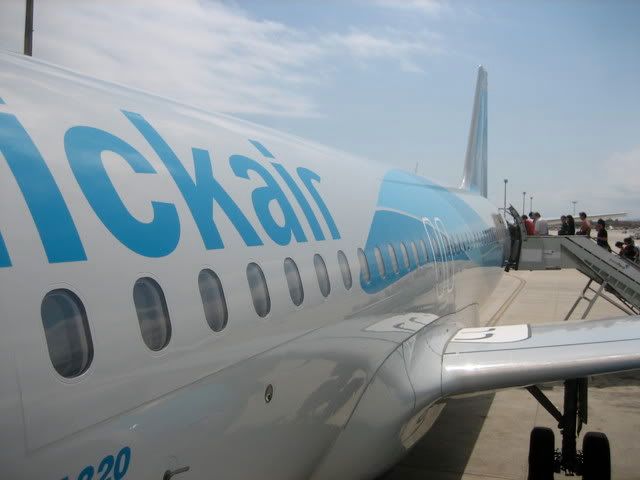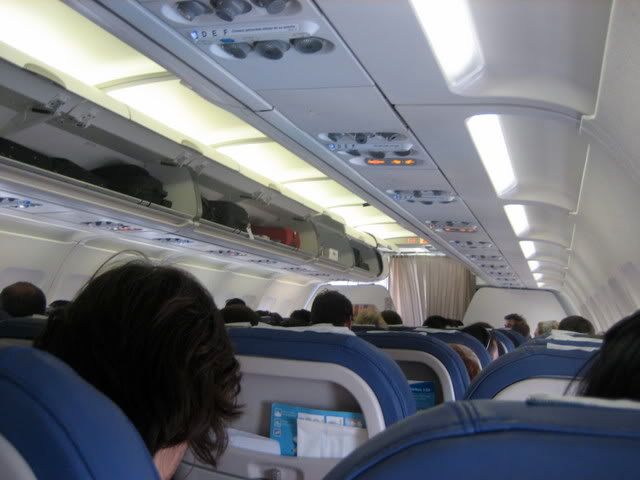 New terminal. The new one is fine but I think they could use a new terminal just based on how unorganized the current terminal is.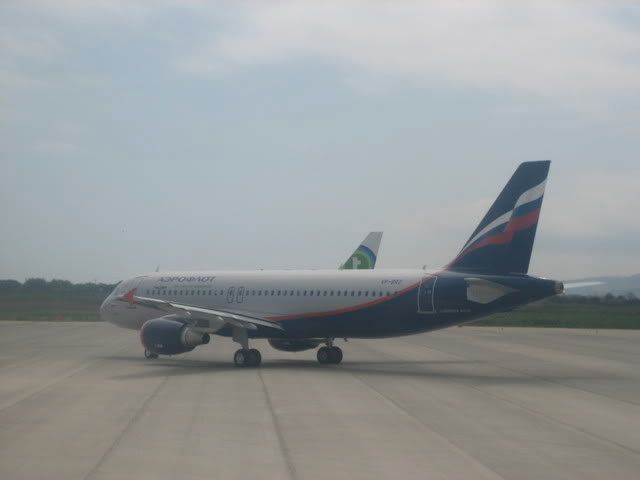 Marsellie?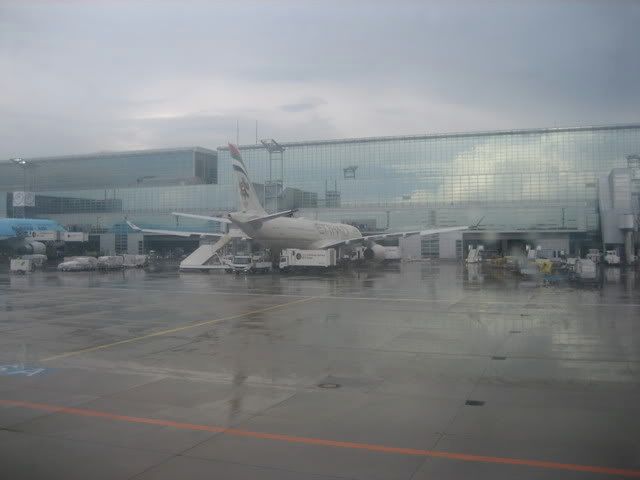 Landing video: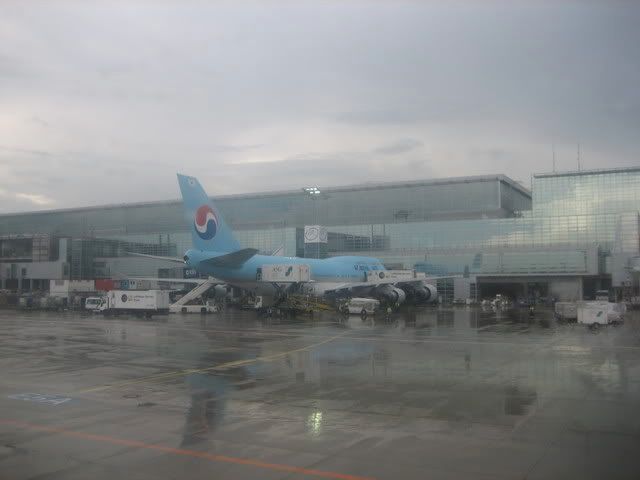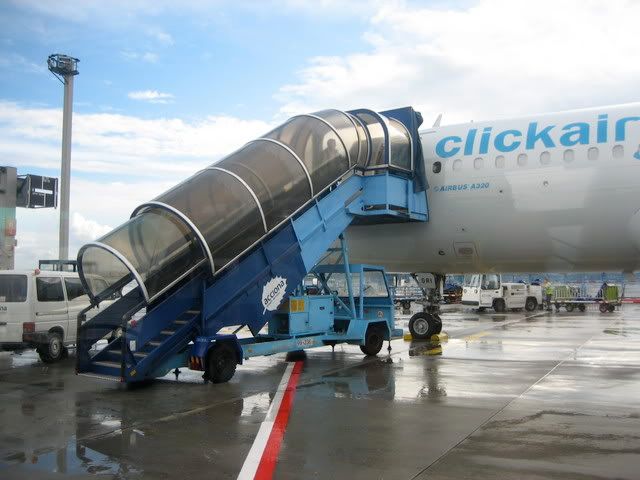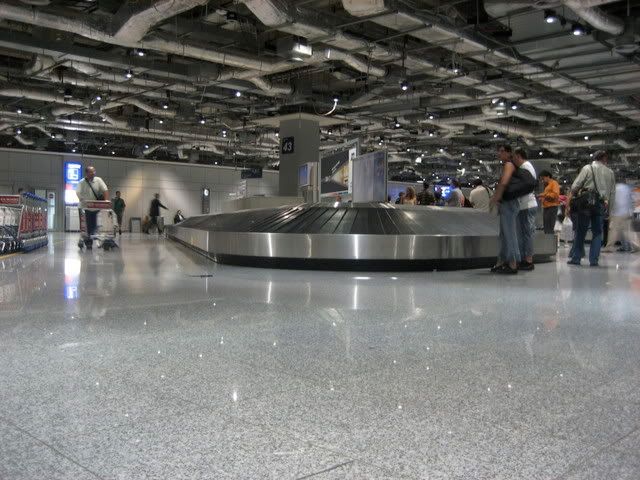 My aunt was picking us up in FRA and they told her the XG flight number but on the signs our flight number was shown as IB which created a problem for her trying to find us. They need to either write both XG and IB or pick one and only use XG.
Thoughts on Clickair: The planes are very well maintained on the inside and they are very clean. The service was efficient but not very friendly. They have a nice livery and the food was excellent. The bread and meat used were really fresh and delicious. The announcements were done at a volume where everyone can hear and understand them unlike many airlines. The price was also good at 300 Euro compared to 850 Euro per person on LH. I would definately fly with Clickair again. They played Gotan Project during the taxi which was nice that they played decent music on board.
Thoughts about Barcelona: What a beautiful city. If you haven't been you must see it! It is so clean and organized and old and new all at the same time. There was a lot to do and the city is easy to get around with a great transportation system. The architecture is one of a kind. The food was great and there was something cool to see on each street. The people were slightly rude and unfriendly but nothing compared to New Yorkers.