My first post on A-net!
My grandmother turned 80 back in April, and my family planned to celebrate the occasion this month. I am always up for any excuse to travel, so I booked my ticket to Ghana through my dad's employer because they are always sending their staff to far off places around the world and give the best results in terms of fares. I ended up flying with Lufthansa for the first time.
Route:
Washington Dulles- Frankfurt Main
Airline:
Lufthansa
Flight Number:
LH419
Aircraft:
Boeing 747-400
Registration:
D-ABVW
Seat:
55J (Economy)
Date:
Monday August 13th, 2007
I attempted to check-in online with United (they code share on this flight) Sunday evening but for whatever reason I couldn't. No harm done, I packed my suitcases (last minute, I know
) and spent the rest of the night watching Amores Perros.
On my way to the airport
I Left my house around 14:30, traffic was heavy at the 270 spur all the way to the American legion bridge. I finally reach the airport an hour later to catch my 17:50 flight.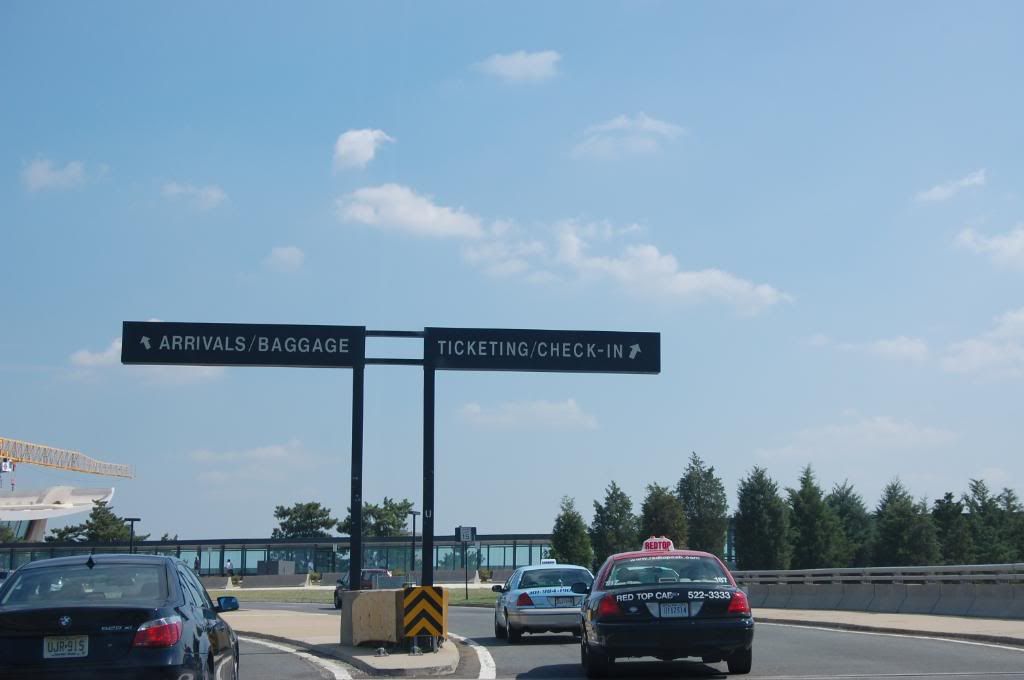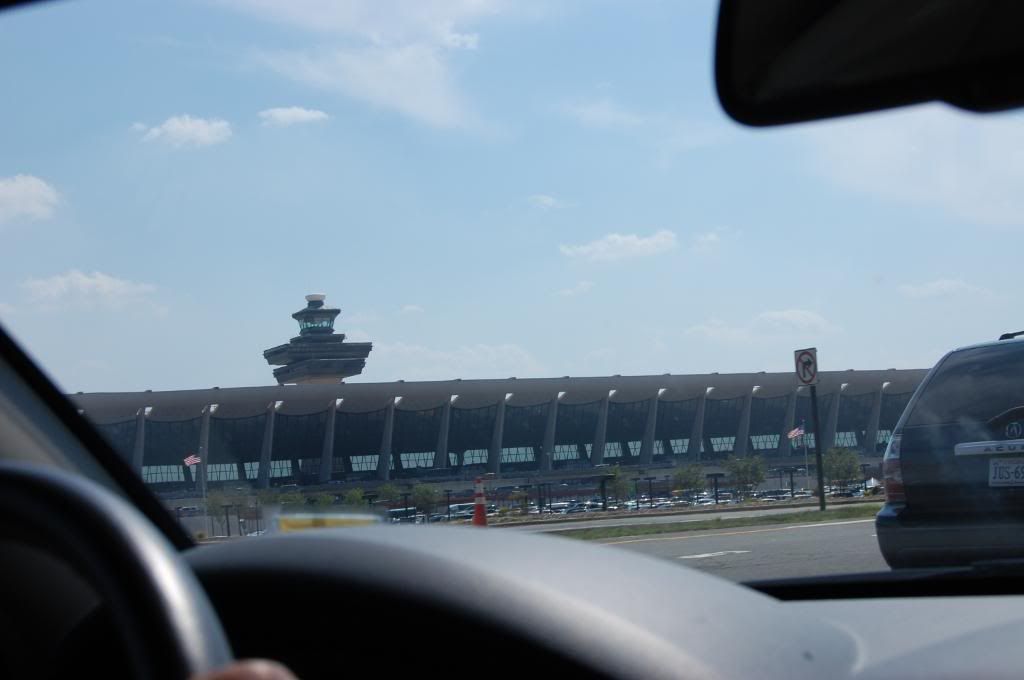 The iconic Eero Saarinen designed main terminal and original tower (now closed) in the background
Check in was a breeze, I walked right up to the check-in agent as there was not a queue at the counter. He asked if I was on an electronic ticket to which I replied yes and handed over my passport. Interestingly enough he did not check to make sure I had a visa for Ghana. He then asked if I preferred a window or aisle. I told him window and preferably 55J; he chuckled and asked sarcastically "Aren't we a little particular?" I smiled and he said, "No problem, I aim to please." I handed him my mileage plus card but the info had already been entered. A moment later he sighed and shook his head due to the fact that he was not able to check me in right then for my FRA-ACC leg, a sign that the flight may be oversold, but he informed me this could be done during my transfer at FRA. I thanked him and headed towards security.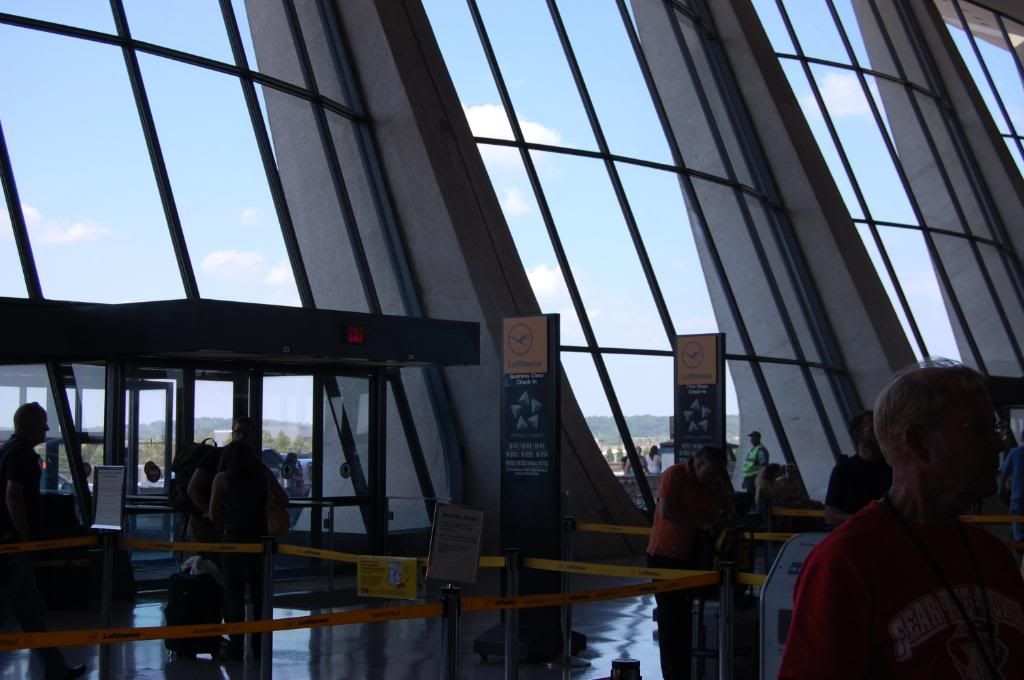 Lufthansa check in area
The security lines were quite long, not surprising during the late afternoon rush period at Dulles. My flight departed from concourse B area so I would not be using the mobile lounge this time around and instead walked all the way through the a maze of escalators, moving walkways, and tunnels.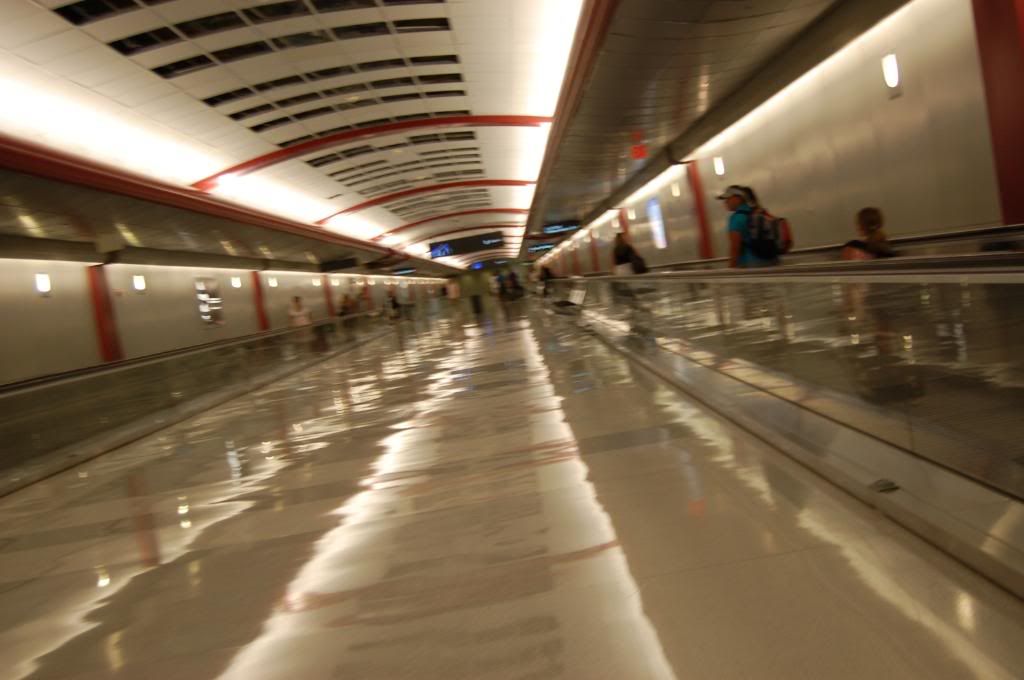 Newly built tunnel connecting the main terminal to concourse B
Escalator up to the concourse, reminds me of the metro
Concourse B is where most international flights depart with the exception of UA, BA, ET, and a few others. It is a nice area with lots of shops and restaurants and a bright & airy feel to it. A tip: if you are in need of water forgo the $2.20 a bottle at the newsstand shops and head over to Villa Pizza (near B23) which is more reasonably priced. I saw the KL crew in line at Dunkin Donuts; I guess they must really not like the meals they receive onboard.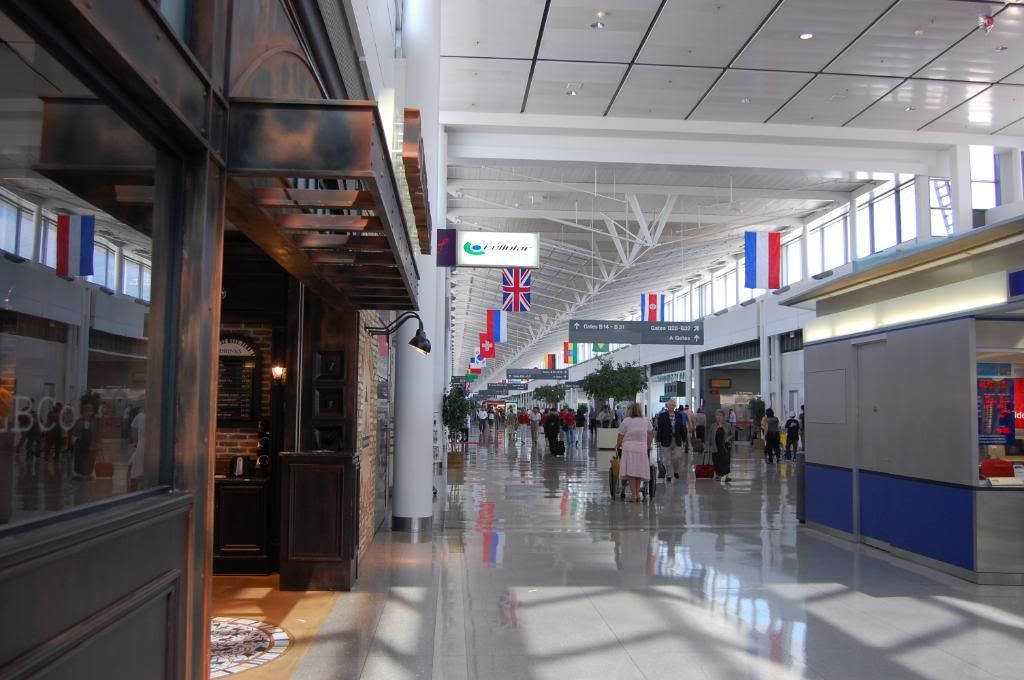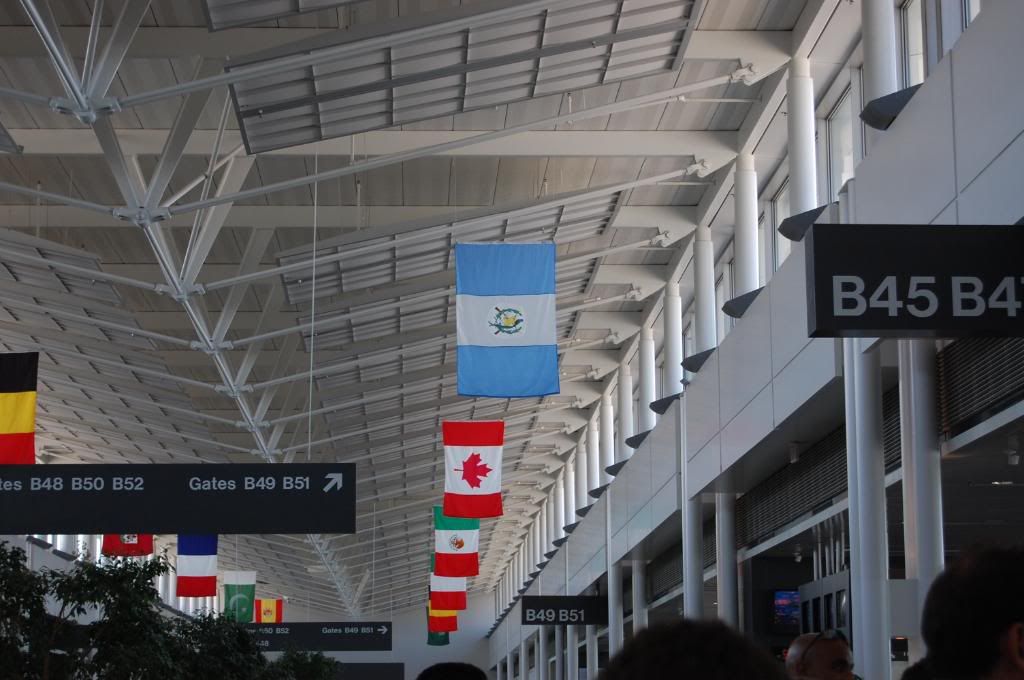 Concourse B
As I arrived at B45, LH417 was just about ready to pushback for its flight to FRA.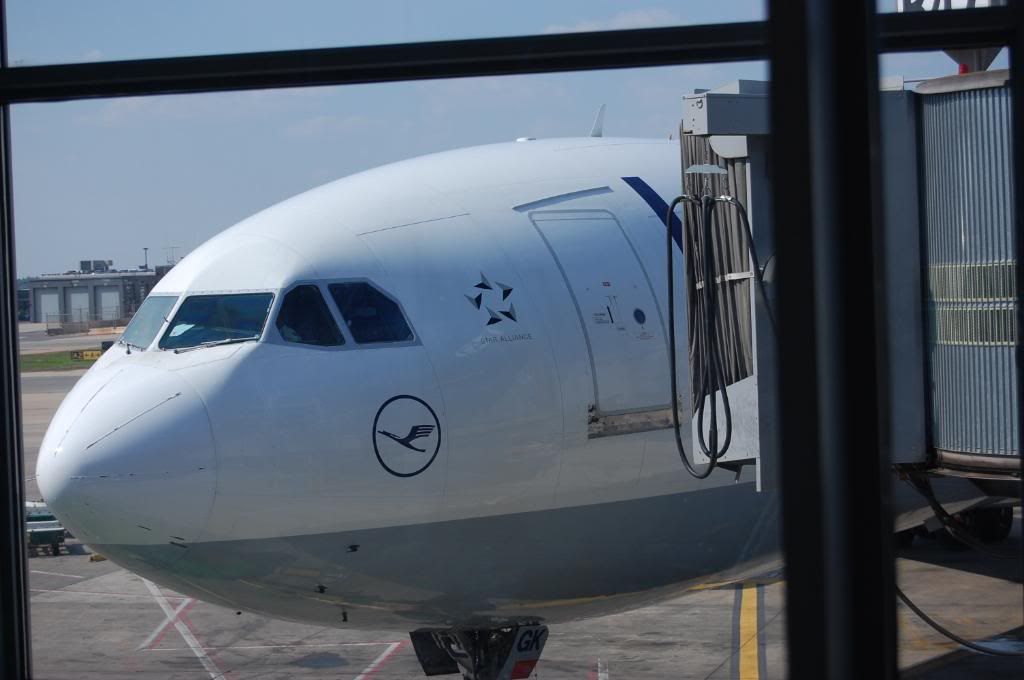 D-AIGK
Shortly after, my ride to FRA pulled up to the gate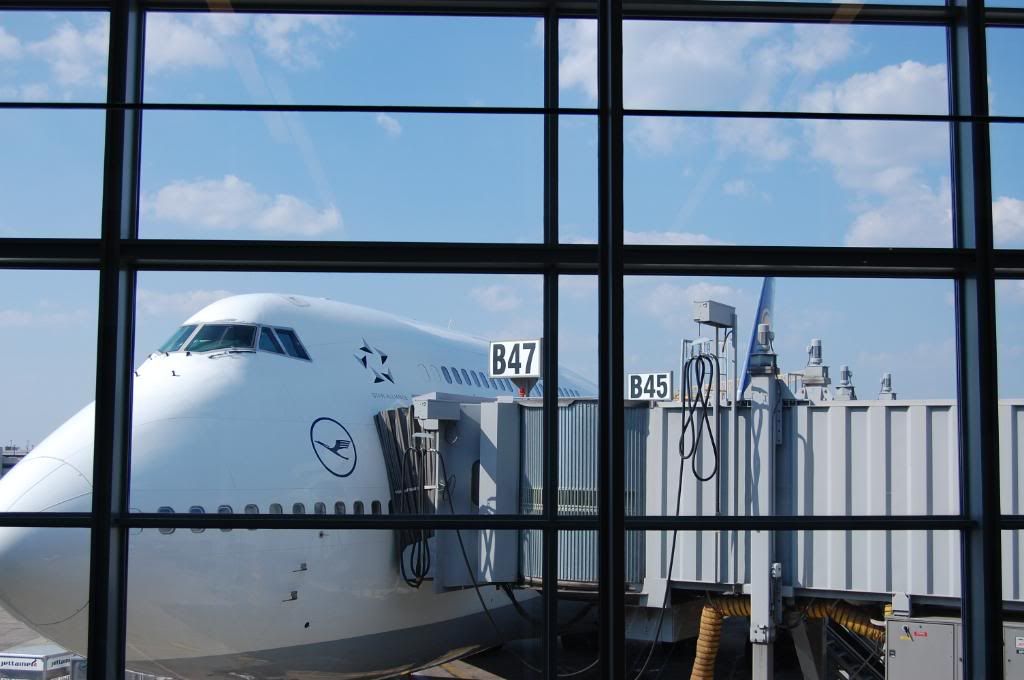 D-ABVW
Boarding began a little after 17:40 with first/business class (they had a dedicated jet way) simultaneously with families with children and those needing extra assistance. General boarding soon followed by row and did not take long at all.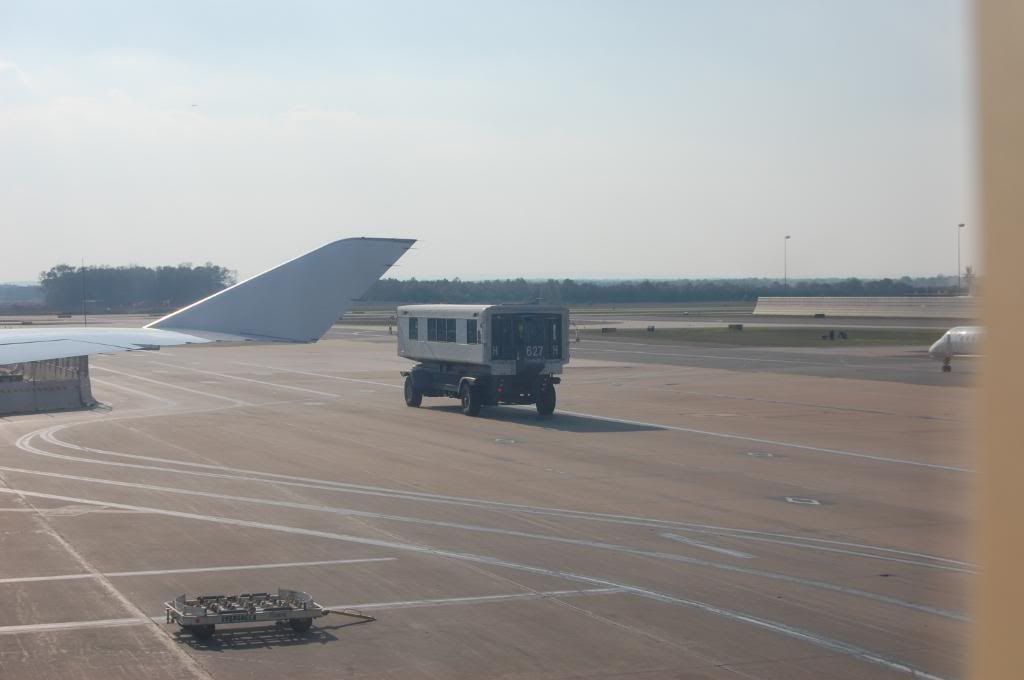 Soon after taking my seat
My seatmate in 55H was a nice German man who was heading back after spending some time in Washington visiting family.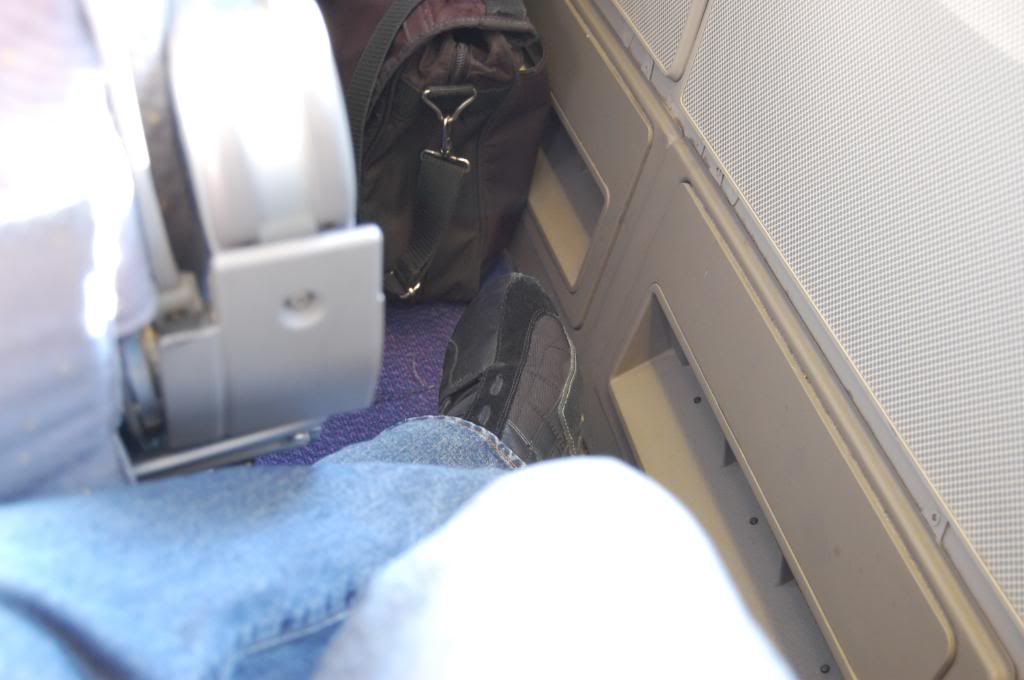 Spacious!
The main reason I wanted 55J (second to last row) was the fact that is in one of three rows of two seaters in the rear economy section and has space to fully stretch your legs and with a 30" seat pitch in LH economy I will take all of the space I can get (thanks seatguru).
Pushback was at 18:10 20 minutes later than scheduled due to a late arrival of the inbound flight but we were informed by the captain that we would still arrive in FRA earlier than scheduled due to favorable tailwinds over the north Atlantic.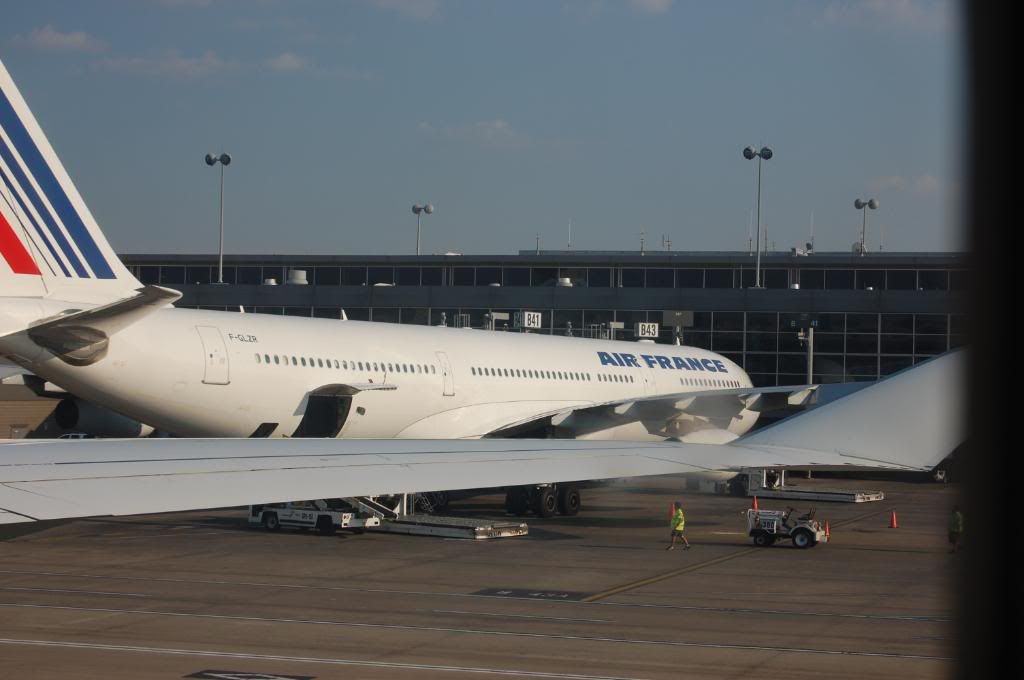 F-GLZR readying for the flight back to CDG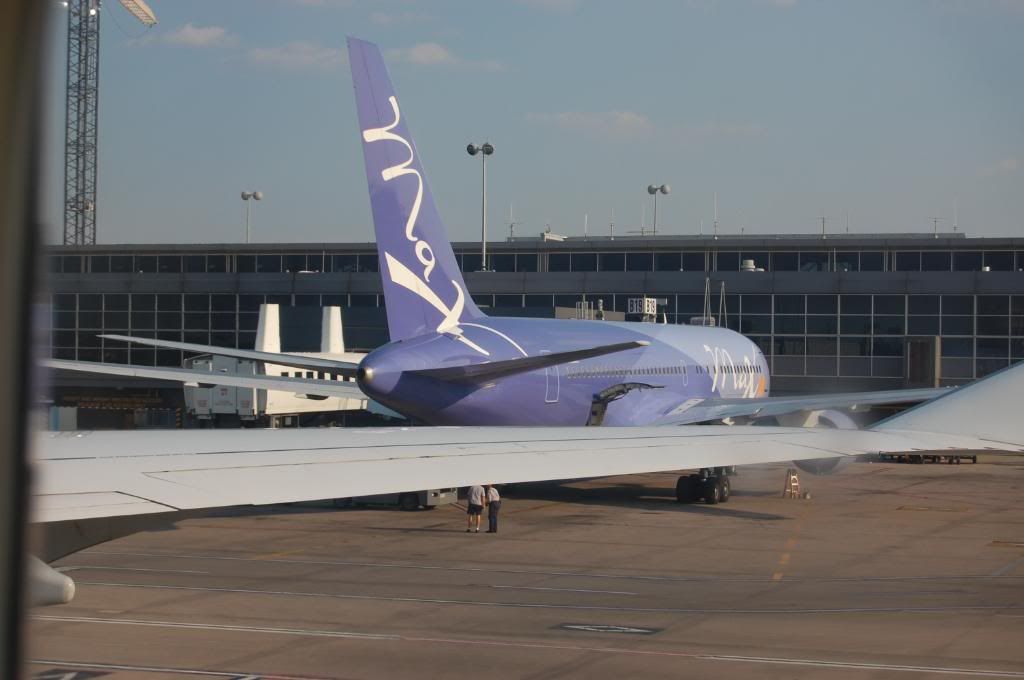 Maxjet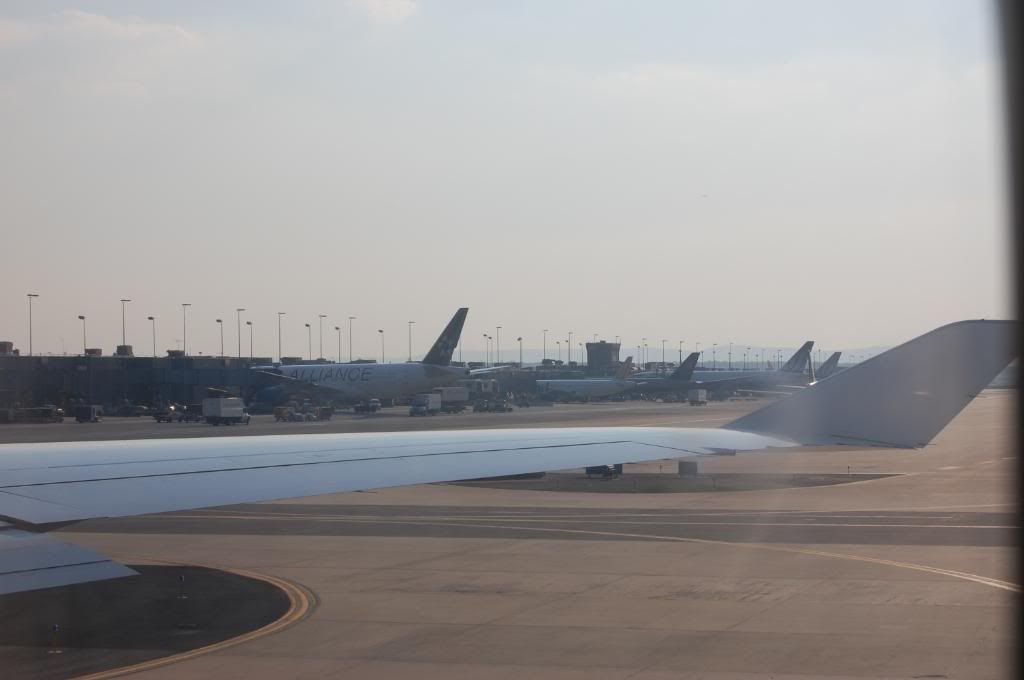 UA central over at concourse C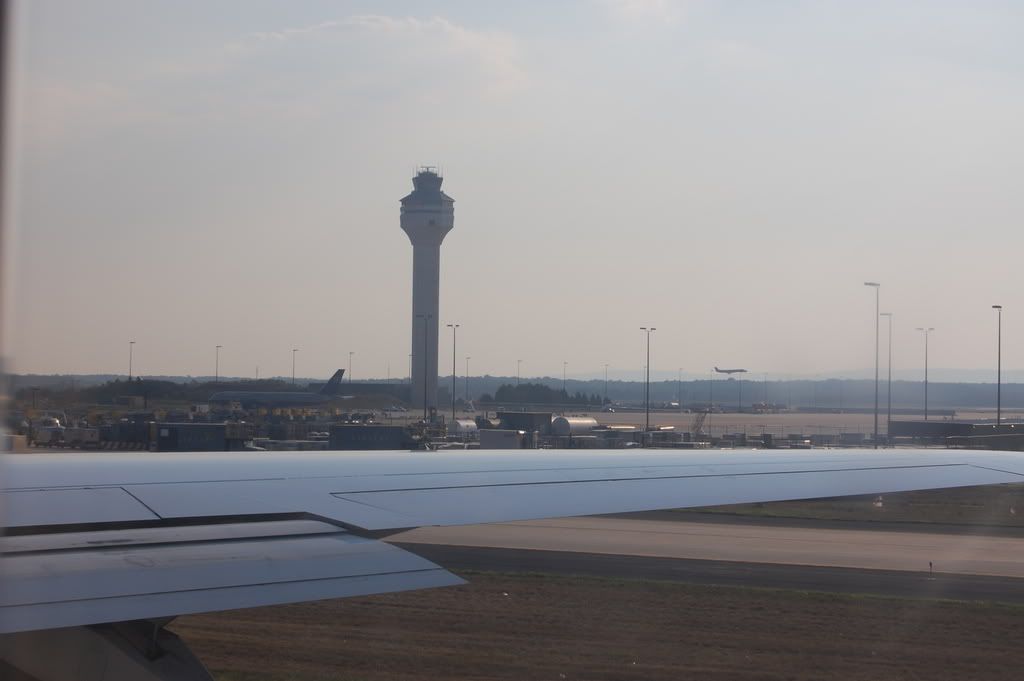 New tower in the distance
An aside: my fingers are crossed in hope that the original tower will be turned in to a viewing area open to the public or at least a restaurant. If I am not mistaken, it cannot be demolished or significantly changed due to its historical architecture.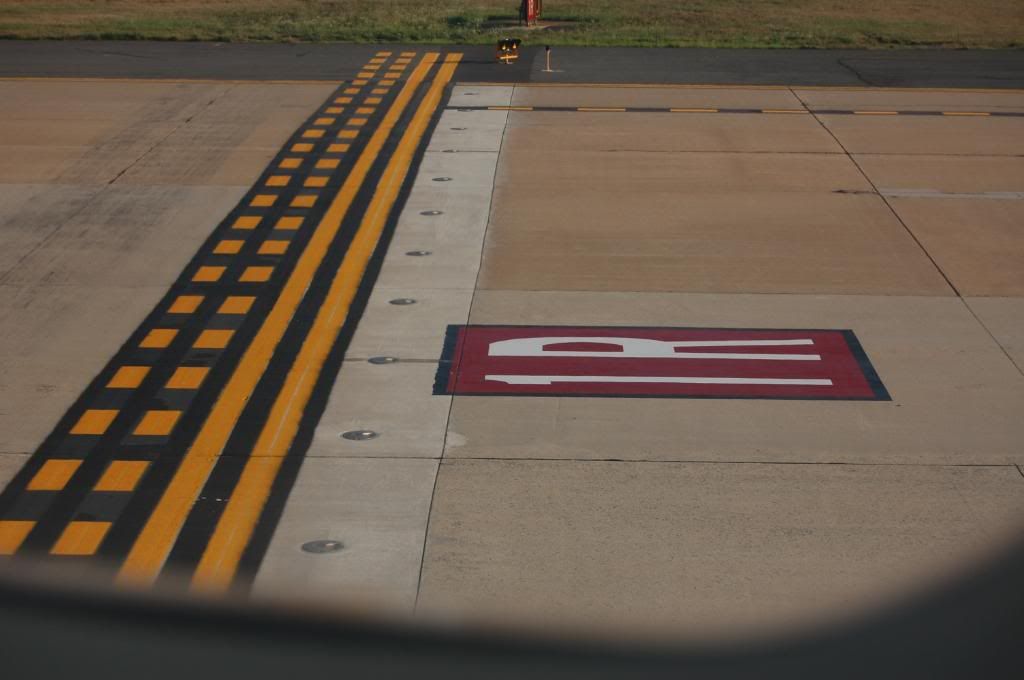 Hold Line for 1R
We waited for an incoming aircraft to land before taking our position on 1R and beginning our takeoff roll. The powerful GE engines roared as throttle was applied and we were airborne in no time.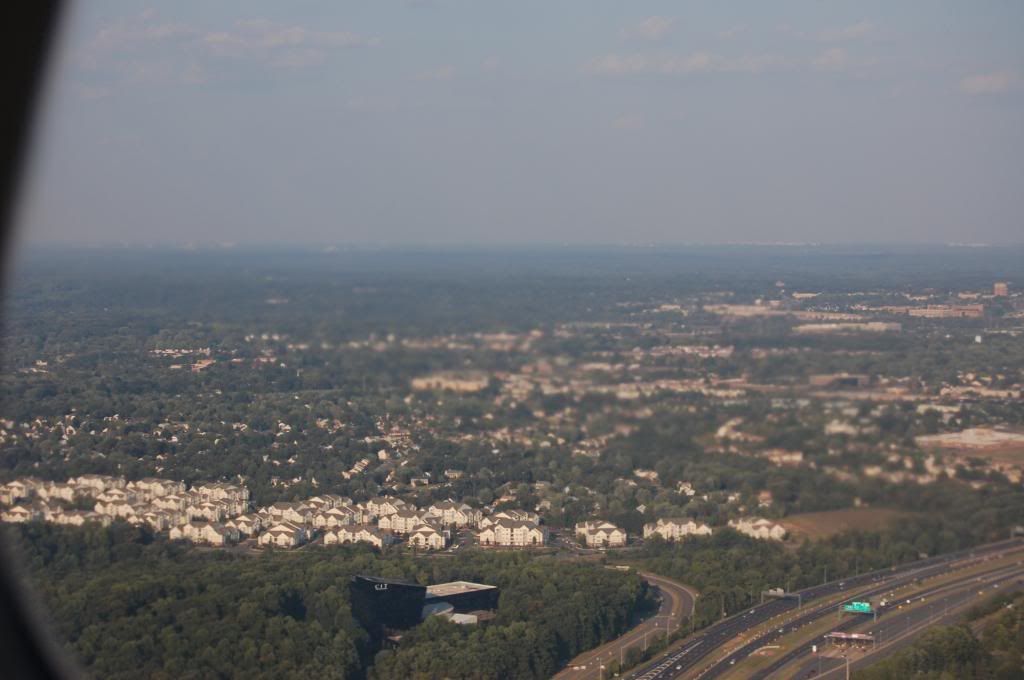 Dulles toll road (Route 267)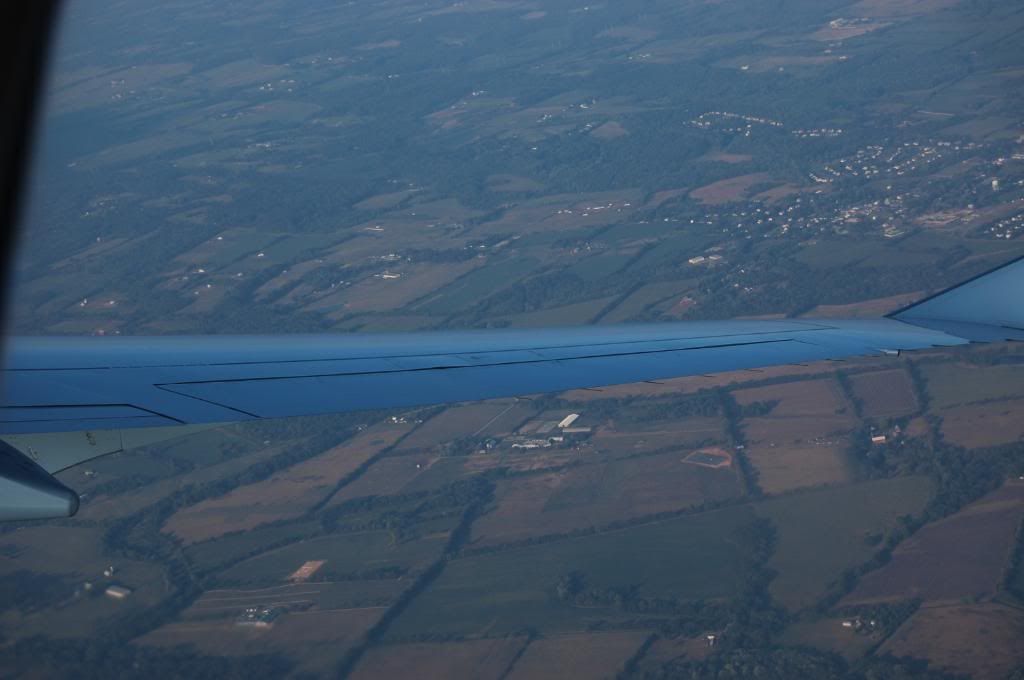 Banking towards the right in a north-easterly direction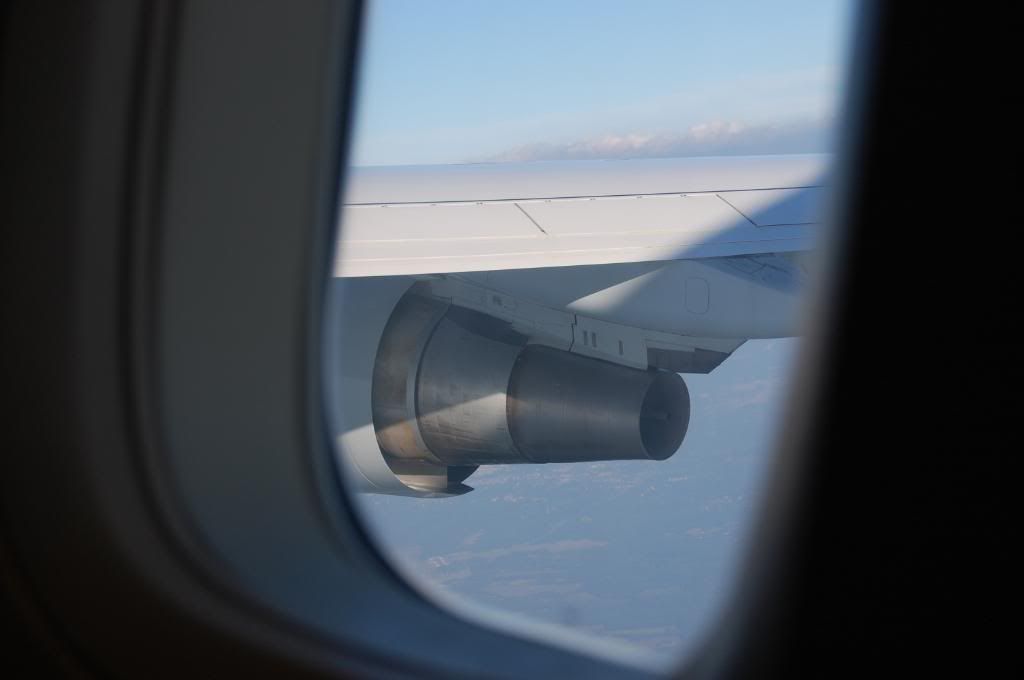 The #4 engine
Soon after reaching cruising altitude the captain came on and announced the flight time would be 7 hours and 12 minutes and we would be heading towards Boston, then Canada south of St. John and travel over the north Atlantic into Europe.
Drinks were served and I asked the flight attendant for a vodka orange juice; she asked if I wanted it mixed and I replied, "Yes please".
My le cocktail with snack
The sweet flight attendant with her smile gave me a second cup of OJ she said just in case the vodka cocktail was too strong. My seatmate and I had a laugh about that, too strong??? More like not strong enough but her intentions were appreciated. My seatmate had a neat whisky and took it straight to the head, to which I remarked; "Ready for round 2," he smiled.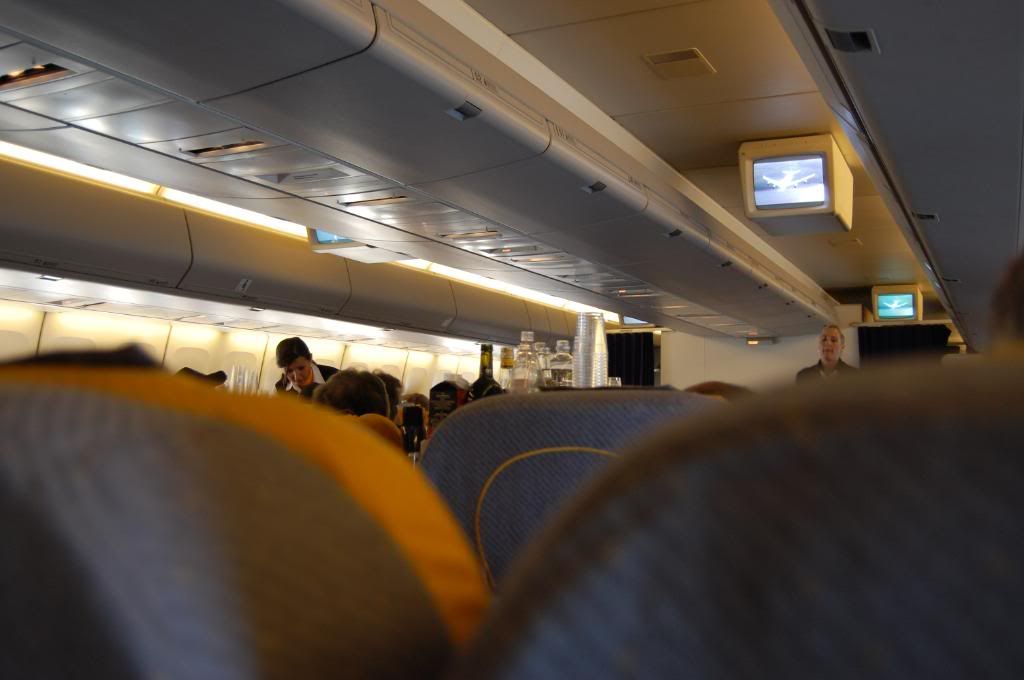 First drink service
My seatmate, seeing my camera began discussing photography and I showed him my camera and other pics I had on it he told me he was a fan of canon, so I dared him to test out my Nikon and so he did.
Rear cabin shot taken by my seatmate
Look, no seat!
Soon afterwards, trash was collected and hot towels were handed out in preparation for meal service. I am very picky when it comes to food and don't care for airline food (who does anyway, right?). On any other flight I would have declined the food offerings but because of the trip report I was preparing, this time I made an exception.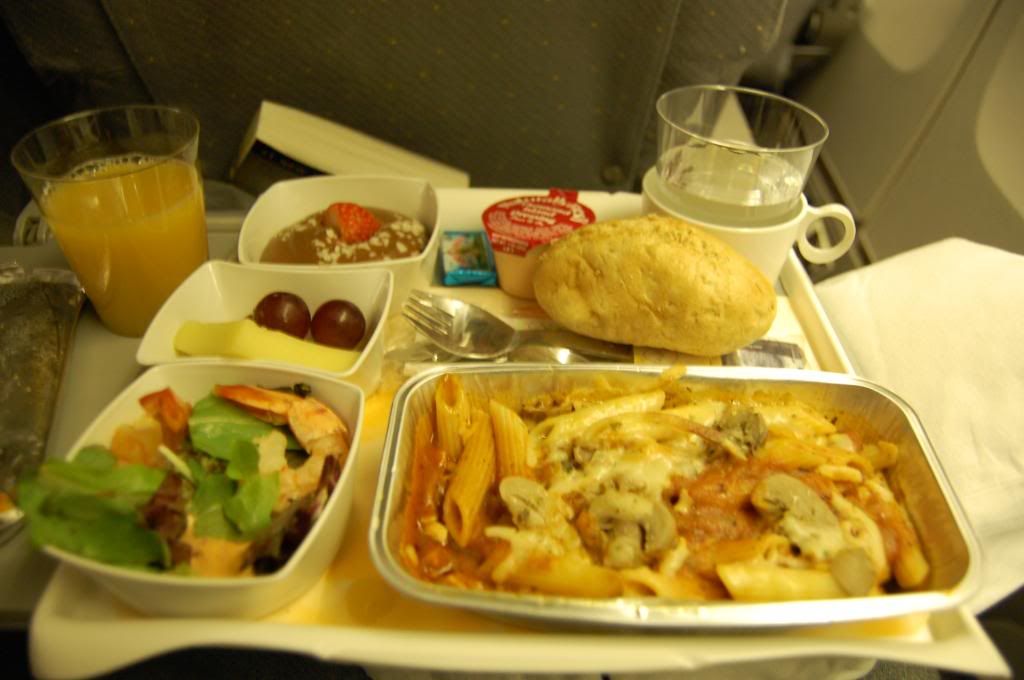 My vegetarian pasta meal
The flight attendant came around with a choice of chicken or vegetarian pasta. I chose the pasta with another vodka orange juice and water. My seat chose the chicken option with another neat whisky. Along with the pasta were a shrimp salad, fruit, chocolate mousse and a roll. Unfortunately I cannot tell you how it tasted, but it photographed great!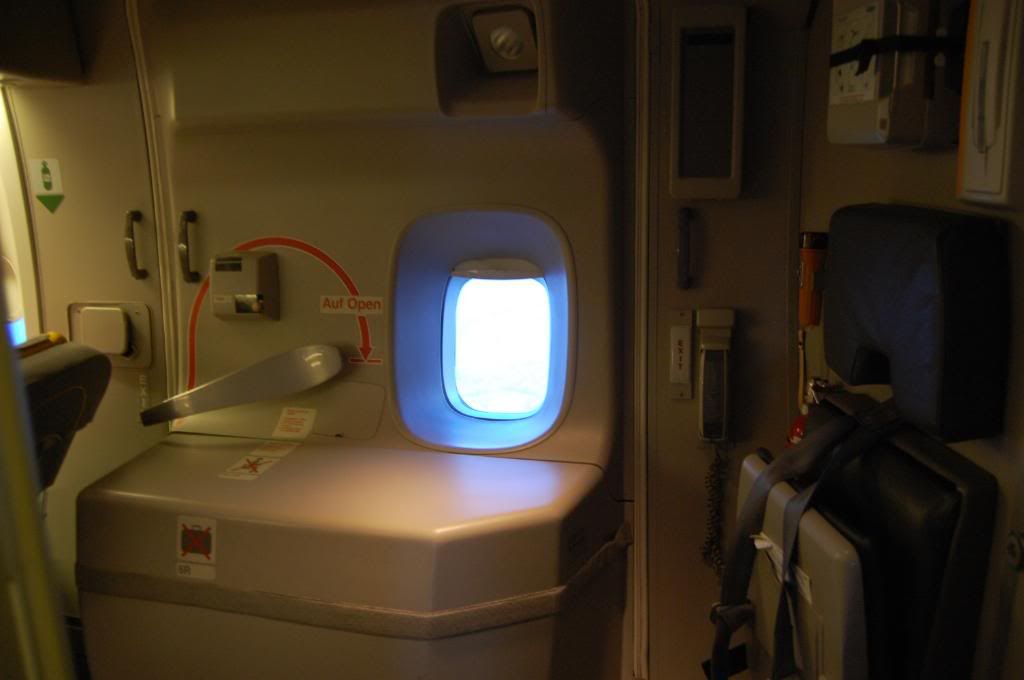 Door 5R
There is a crew rest area behind a door just to the right of the crew seat. I wonder how cramp that area is. All I can picture is that recent artist's rendering in that post about the possibility of a LH economy sleeping area. I doubt that will become a reality.
When I returned to my seat I looked down to the right and found these, HA. I didn't really care, whatever makes her comfortable.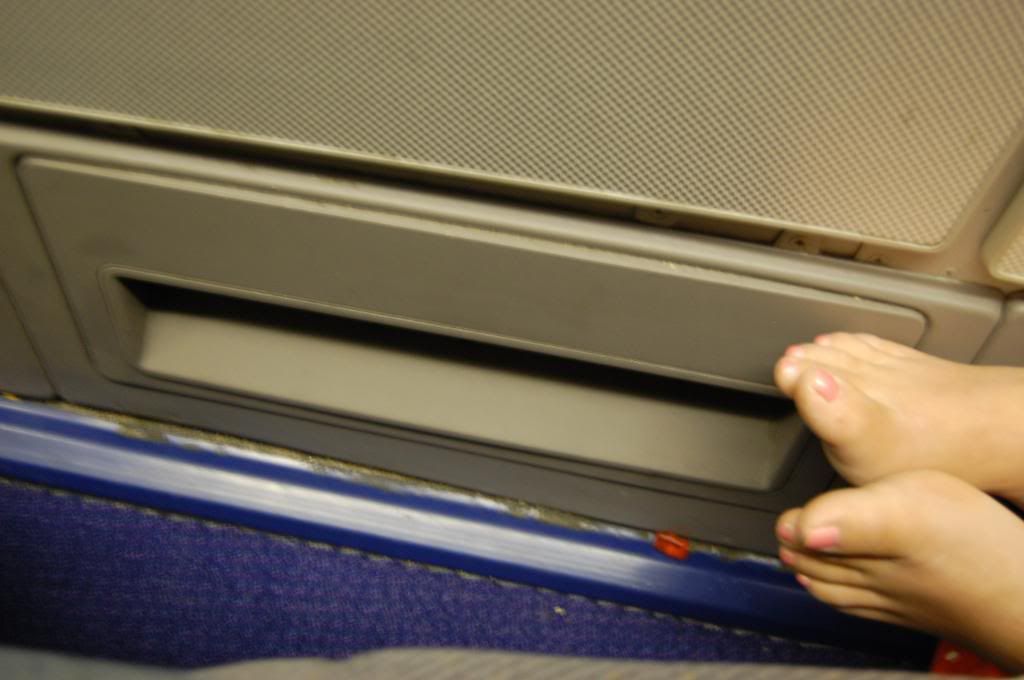 My other seatmate, feet!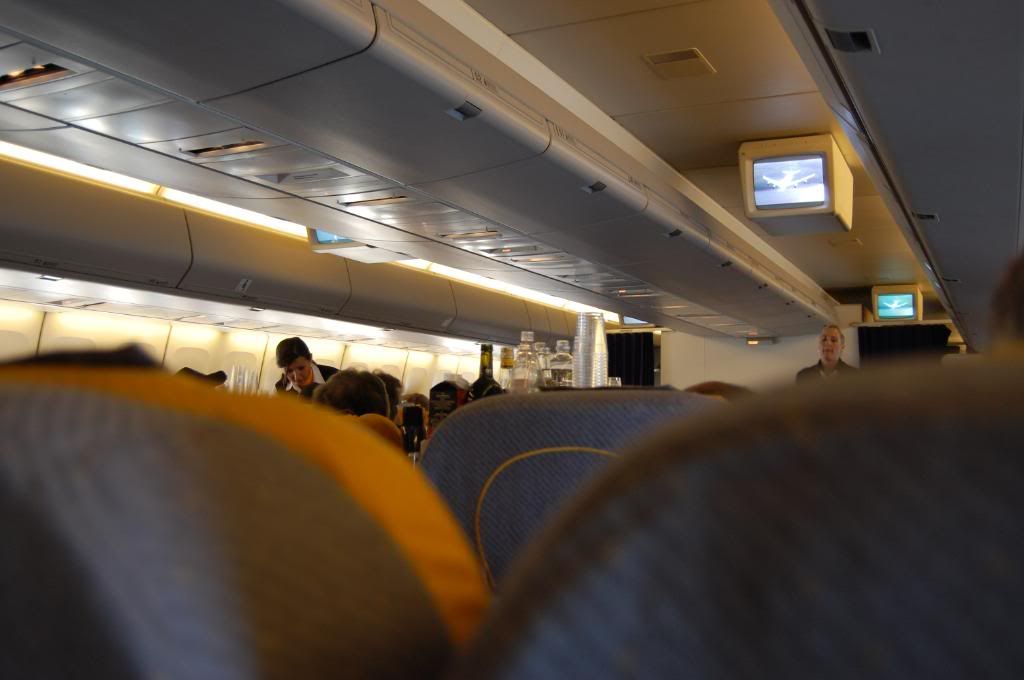 In-flight entertainment
I brought my ipod and several books along for the trip. I do not really watch a lot of television so I don't need it to keep me occupied on flights. These overhead monitors will soon be a thing of the past to the delight of many. I will miss those frequent "Why are there no PTV's on LH" post here on A.net... HA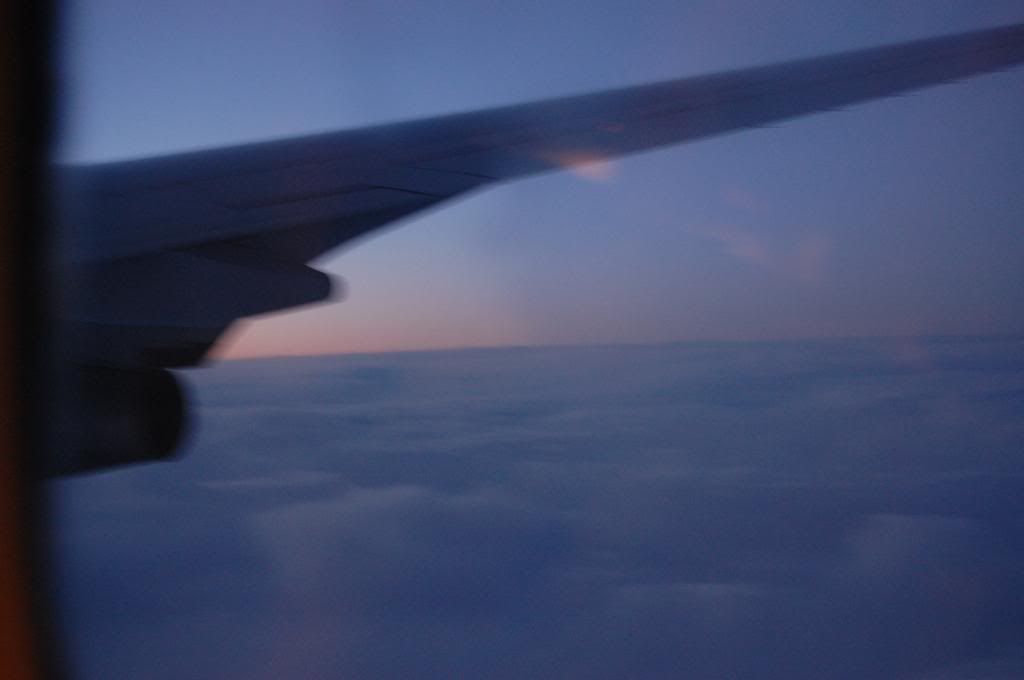 Sunrise over Europe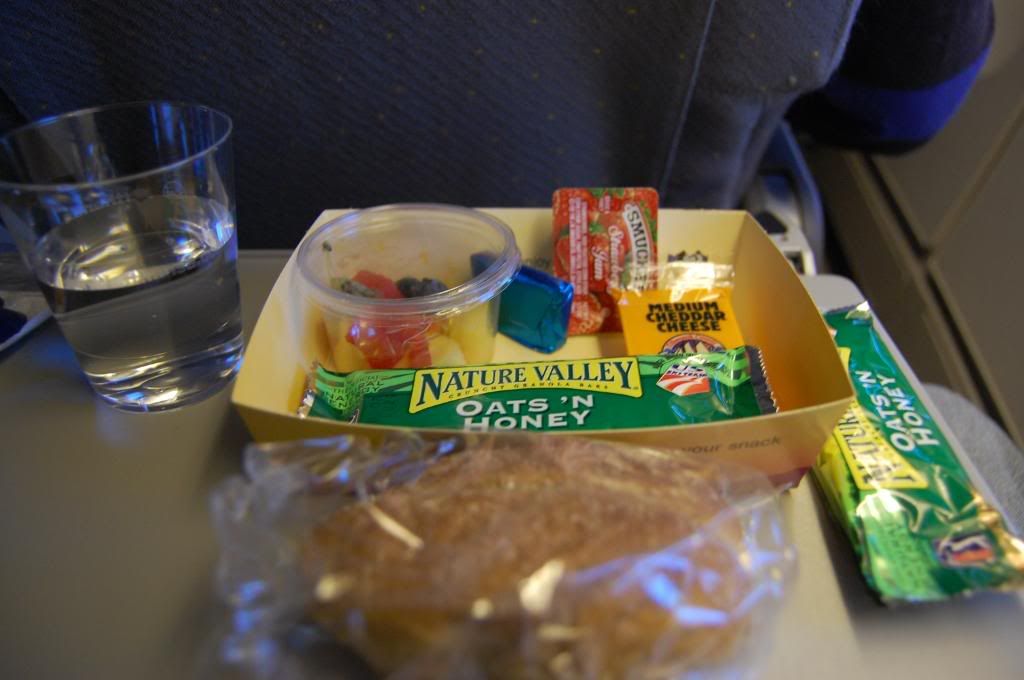 Breakfast is served
About a hour and a half before arrival the FA came around with breakfast which consisted of a roll with cheese, fruit cup, granola bar (my seatmate offered me his) with jelly and butter. I asked for water.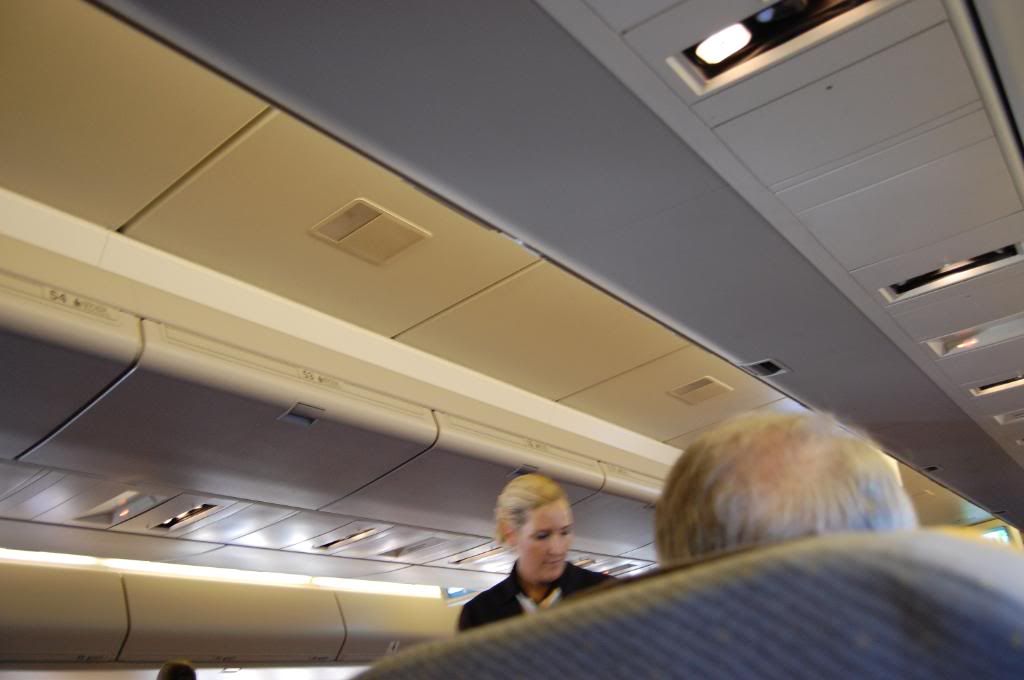 One of the nicest FA I have ever met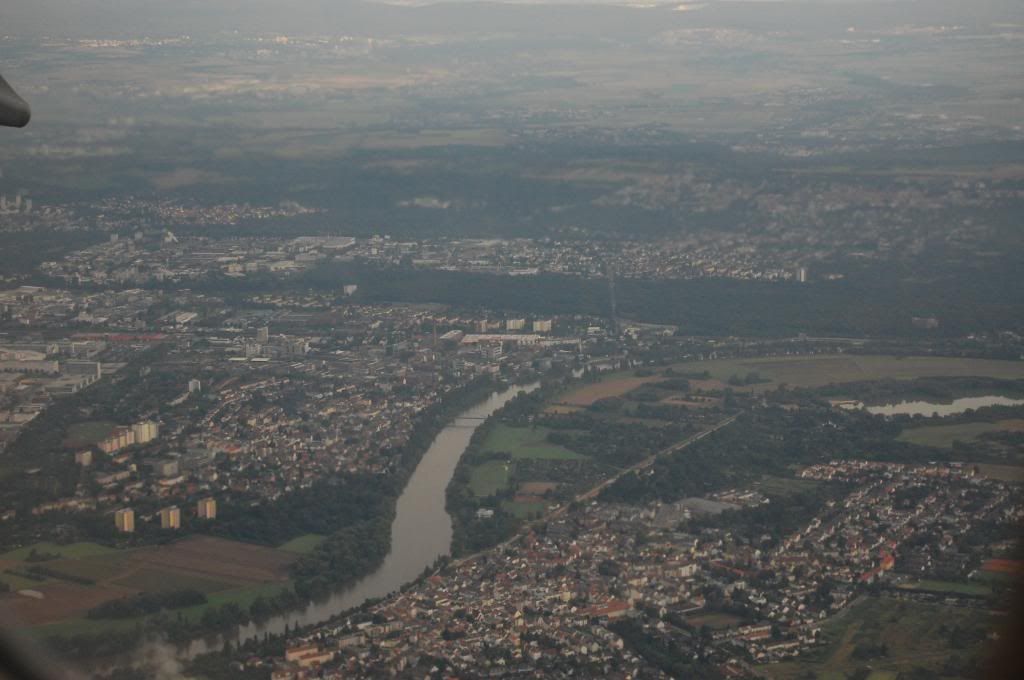 The approach into FRA
Commerzbank-Arena (Waldstadion)
Touchdown on Rwy 25L!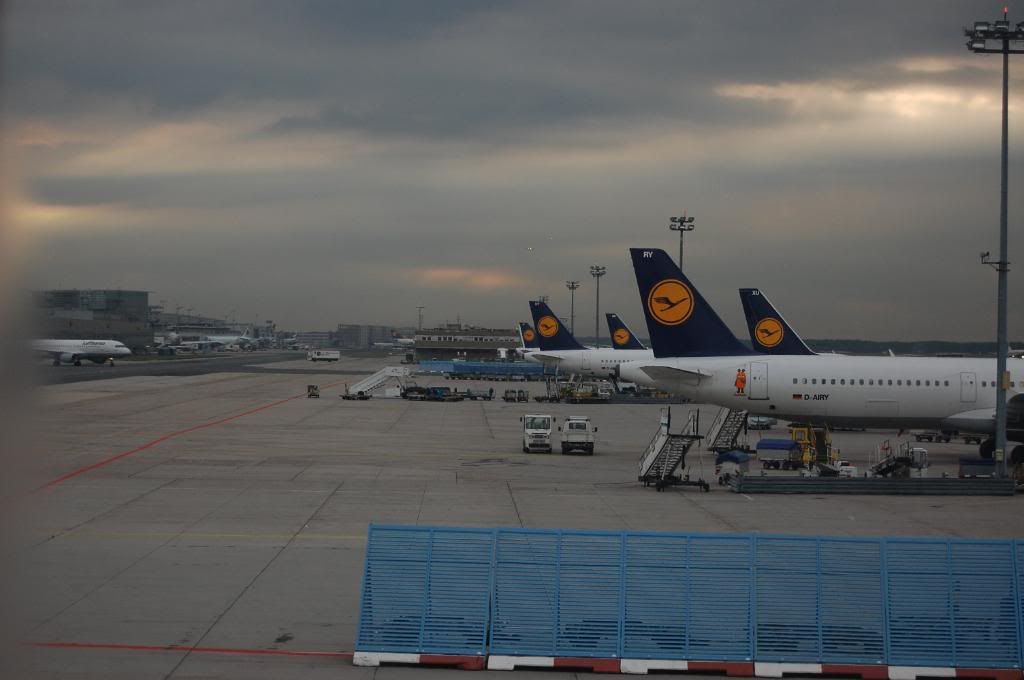 Taxiing to the terminal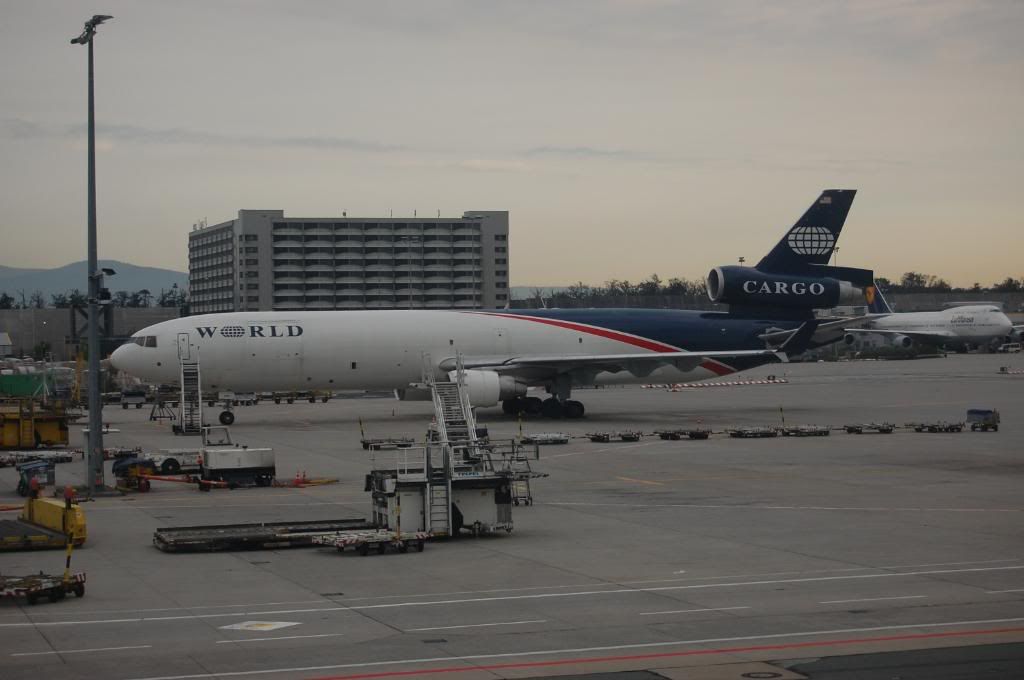 World Airways MD-11 cargo
We were supposed to taxi to a gate in terminal 1 (concourse B) but the captain came on and said we would rather be parking at a remote stand and be bused to the terminal. We deplaned through 5L to awaiting buses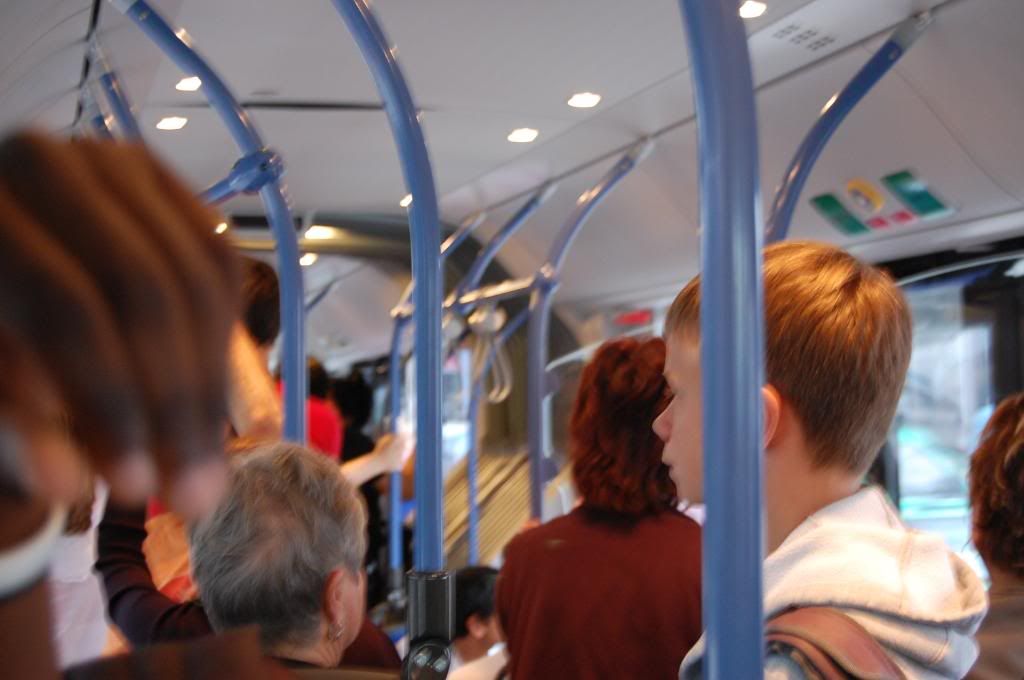 The bus ride to the terminal
Route:
Frankfurt Main- Accra Kotoka via Lagos
Airline:
Lufthansa
Flight Number:
LH564
Aircraft:
Airbus 340-300
Registration:
D-AIGA
Seat:
24H (Economy)
Date:
Tuesday August 14th, 2007
Once I was at the terminal I was told by an LH agent that the flight to ACC would be departing from concourse A and I would need to follow the signs to the train to connect to that concourse and that I would also be able to pick up my boarding pass from the transfer center there.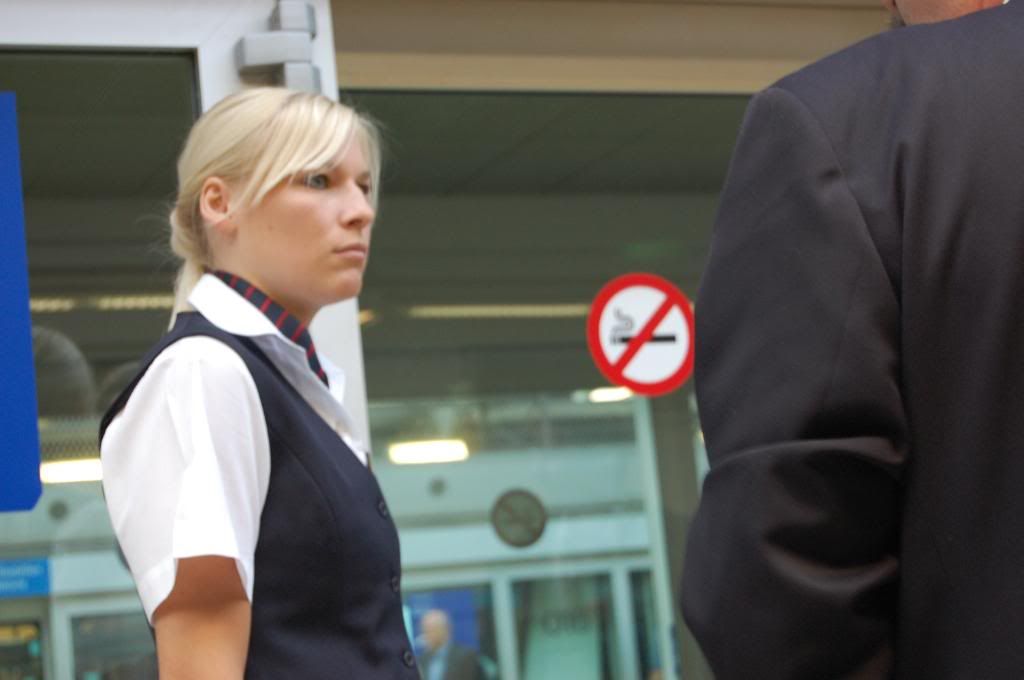 On the platform for the train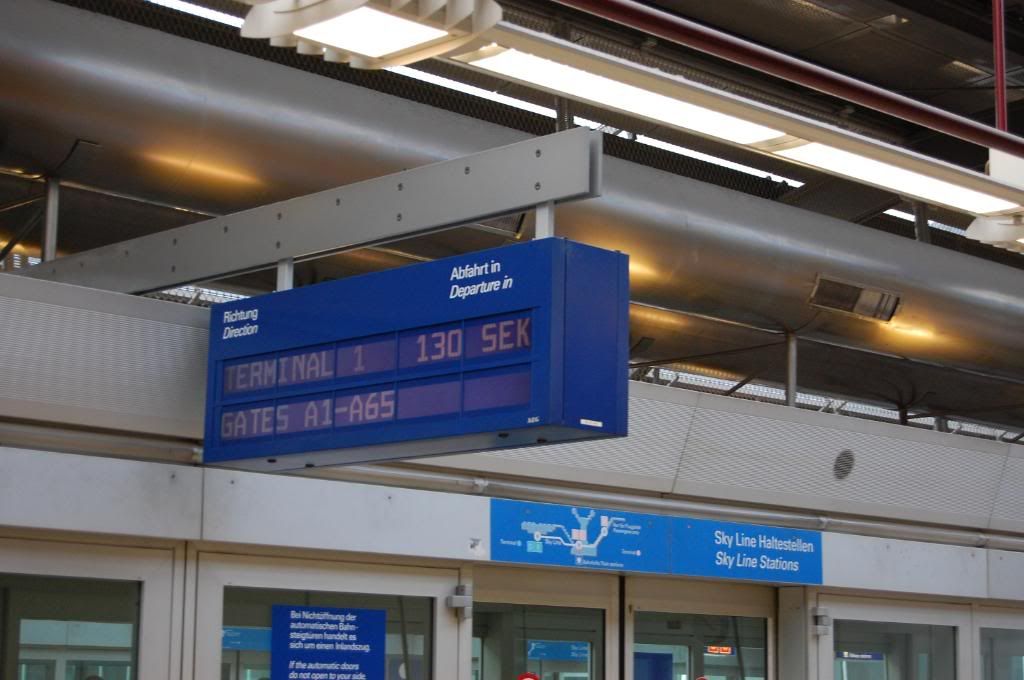 Waiting for the train
Over at concourse A I made way over to the transfer center to get my boarding pass for the next leg of the trip. I asked for a window seat but was informed that there were none left (oh well life goes on). The agent offered me an aisle seat next to a window and said it was fine. I made my way towards the gate and sat across from A52 (where the flight to ACC would board).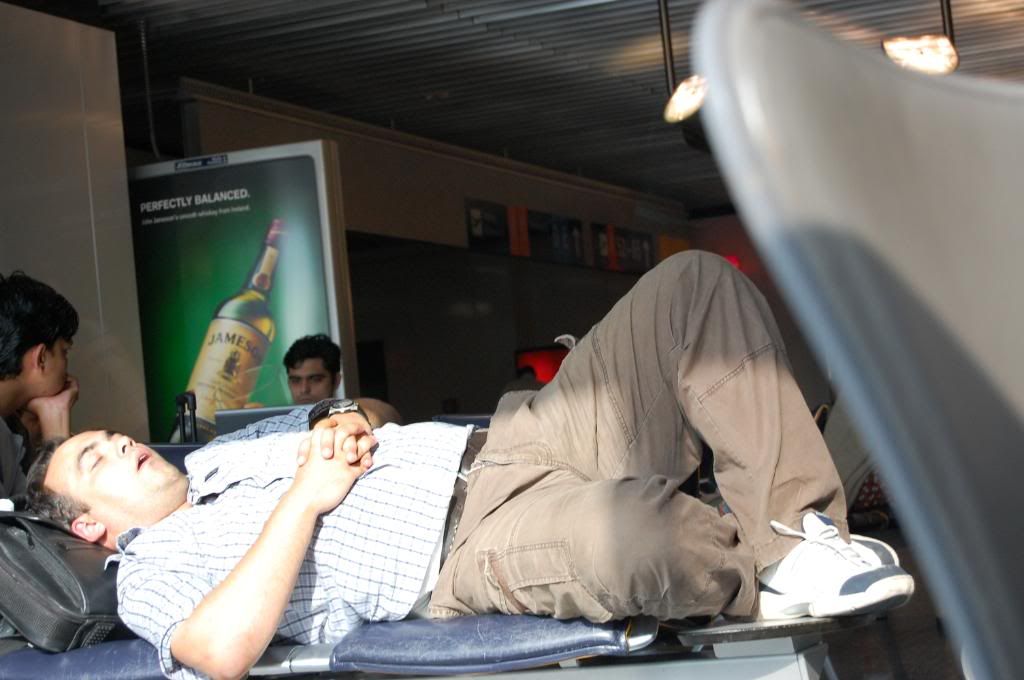 Something I wish I could bring myself to do in public
As I sat and waited, I took this picture. I found it funny as not only was he sleeping; he was snoring loudly without a care in the world. I'm one of those people who find it impossible to sleep in public.
The public bathroom concept at FRA (in concourse A) was all new to me. It consisted of a single door that opened to the sink area from the terminal, and then another single door with a window that opened to a urinal and a single stall. I attempted to go in but there were two people at the sink and someone at the urinal, so I waited outside the door that lead into the bathroom from the terminal. Low and behold someone cuts in front of me and manages to go into the stall, with people at the sink and a person at the urinal. I guess this is the norm in Germany? The public bathrooms in Germany were a little more open than what I am used to.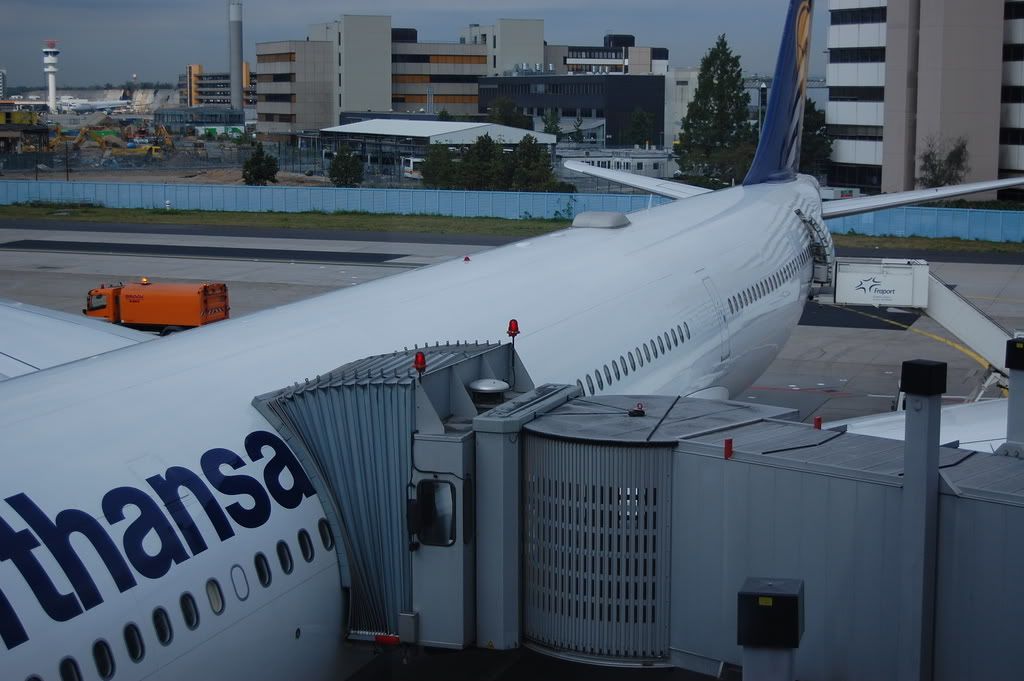 My ride to ACC at A52
Before boarding began at 10:25 the gate agent announced that the flight was oversold and asked if any volunteers would be willing to fly at a later time in return for 300 euros compensation, I doubt there were any takers. The boarding process could best be characterized as a very disorderly free-for-all. After business and first class boarded (there was no boarding by row) everybody with their oversized carry-on luggage rushed towards the jet way, this is very common of flights to Africa. I only had a backpack and my camera bag so I decided to sit and wait and forgo being among that mass and associated BO. I ended up being one of the very last people to board.
I waited for the final call for the flight and walked directly down a set of stairs to the jet way connecting the terminal with the aircraft and to my seat without stopping. I sat next to a Nigerian man in 24H, a bulkhead seat in the first row of economy. I said hello and he just nodded (not very talkative) I didn't bother asking him if he would mind switching seats with me as I knew he would be leaving in Lagos and I would have the entire row to myself for the onward leg to Accra.
Pushback was at 11:10 for an on-time departure. We taxied passed the same World Airways MD-11 I saw on arrival to FRA. There was a strange sound coming from the main landing gears, there must have been something relating to the shock absorbers/suspension I cannot describe the sound, but it sounded like something out of Transformers the movie.
We departed on Rwy 18 in a southerly direction towards Lagos, a 6 hour flight. The crew aboard this flight was a lot older then the previous one and very surly. Once we reached cruising altitude, drinks were served. For one reason or another my seatmate looked at my cup and told the flight attendant that he would like the same. A moment later he turns to me and asked, "What is this shit?" I told him vodka orange juice and he pouts and gets up and heads all the way to the rear galley to get rid of it. When he returned to sit down he reclined his seat to the dismay of the passenger sitting behind him. They got into a little argument.
How towels were distributed and meal service began shortly after. Two fight attendants walked up the aisle with the meal cart and the one closet to me asked the other attendant what the food choices were in German after his colleague replied he turns to me smiling and asked, "Pasta or pasta?" I gave him a confused look and he laughs aloud and corrects himself, "pasta or chicken?" I reply chicken since I had already photographed the pasta on the previous leg.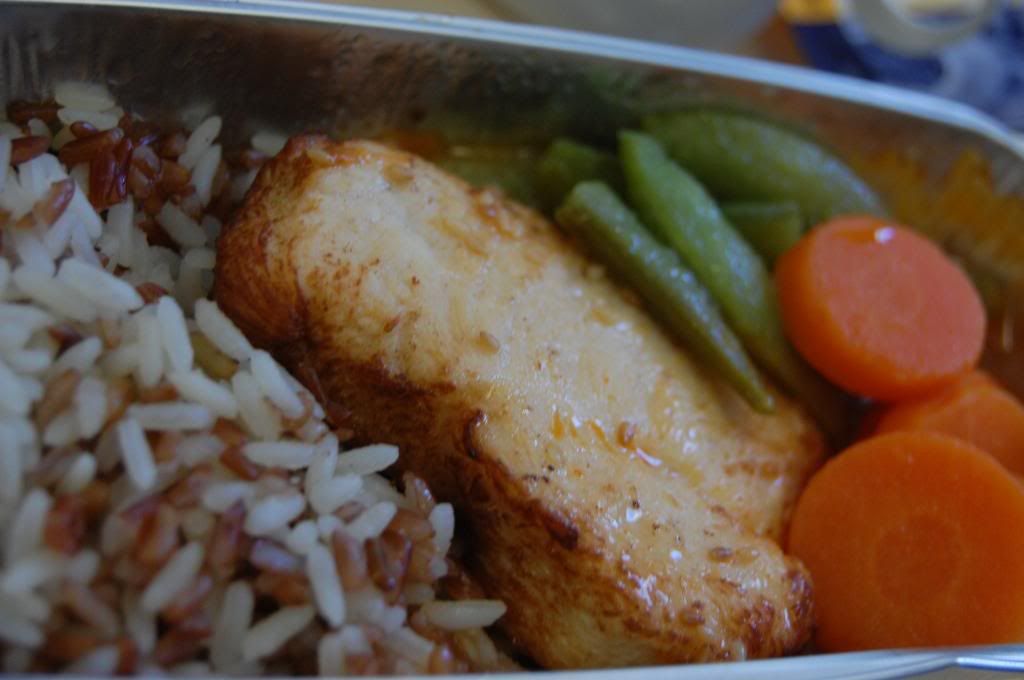 Chicken with rice and vegetables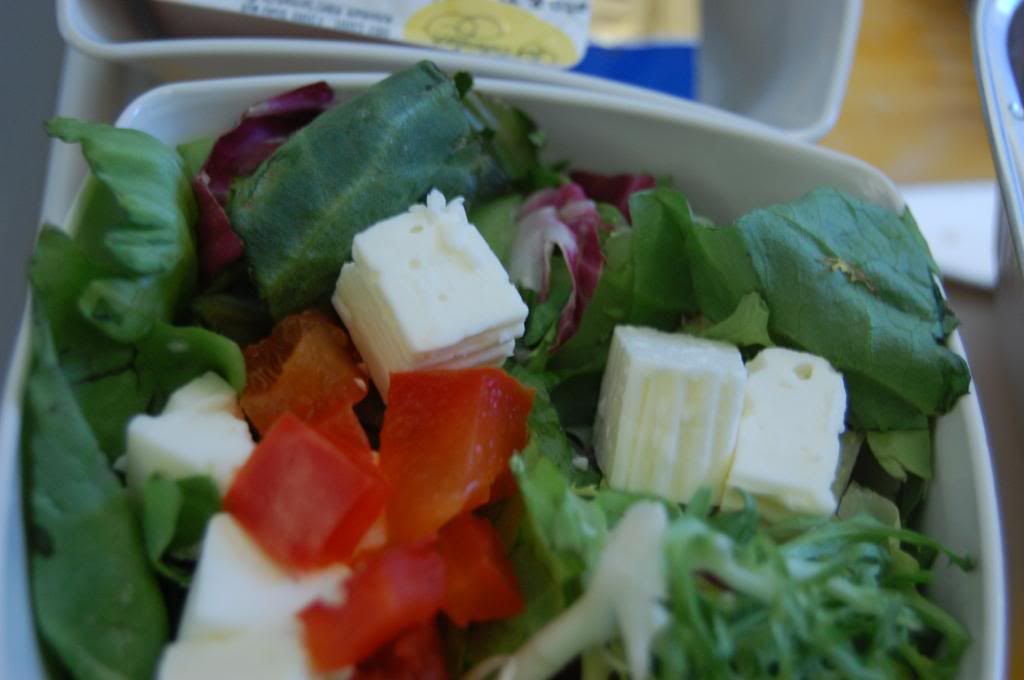 Greek salad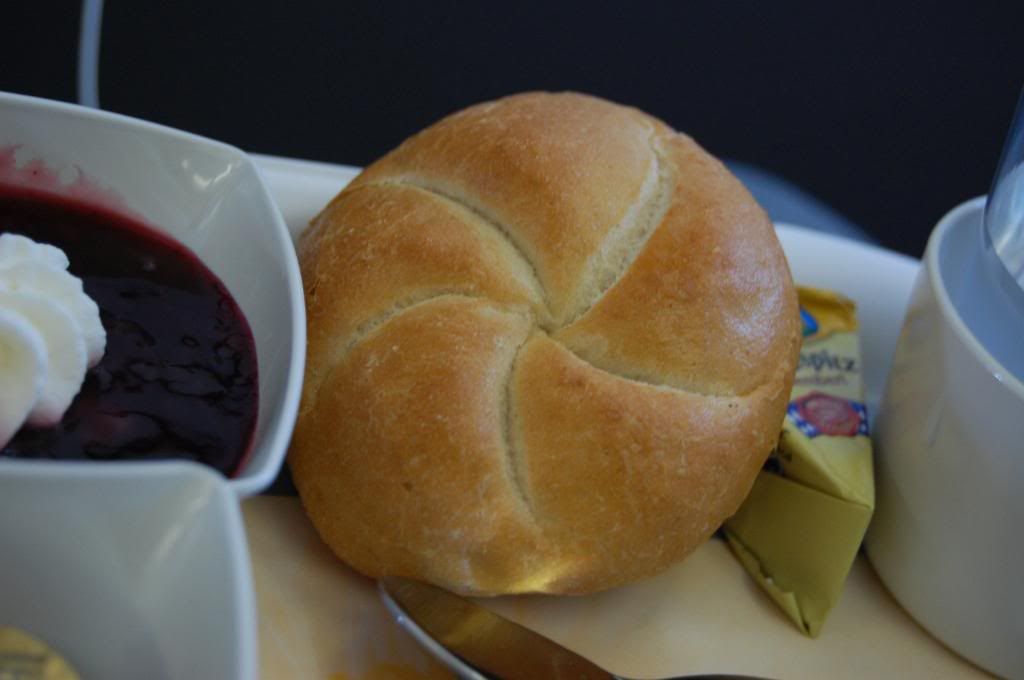 Roll with brie and butter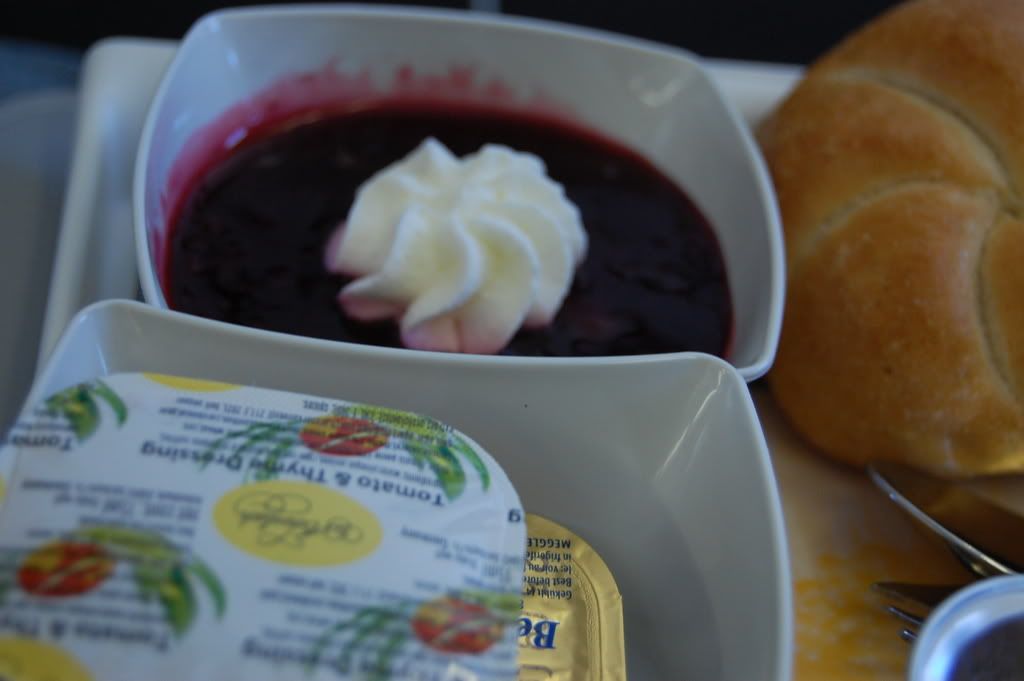 Fruity dessert
After meal service, a selection of digestifs were offered throughout the cabin, I declined and try my best to catch some shut-eye….no luck. I read my book instead.
About an hour before landing there was a hot snack that was served with the choice being a turkey hot-dog or vegetarian pizza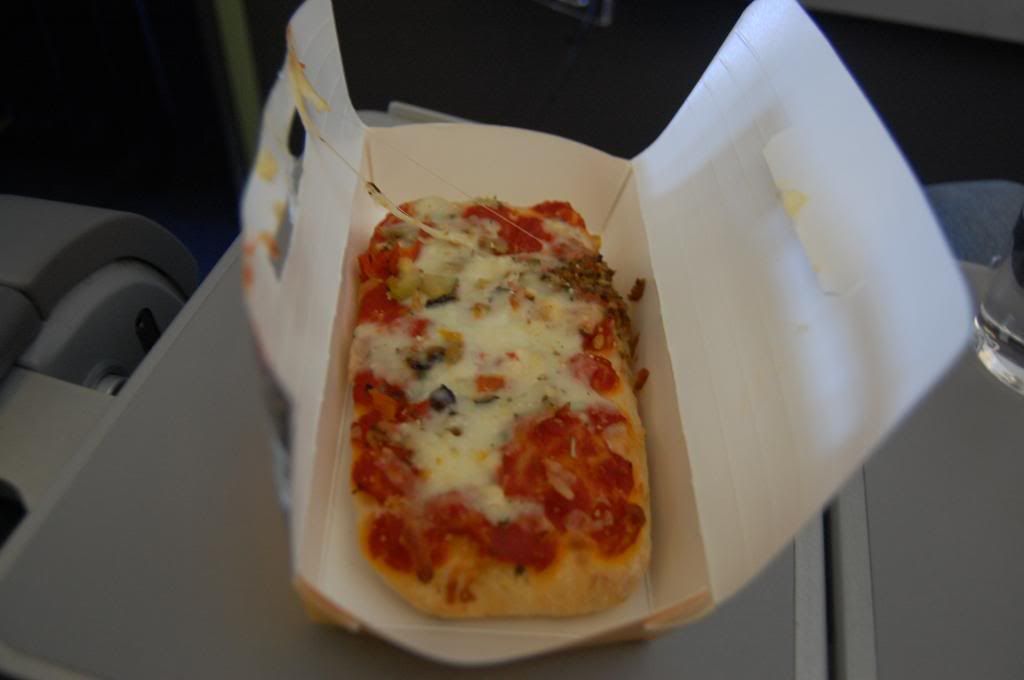 Vegetarian Pizza
I gave into my hunger and took a bite of the pizza and was quite surprised how good it tasted, but then again pizza is one of those types of food that no matter how bad it is, it's still good enough to eat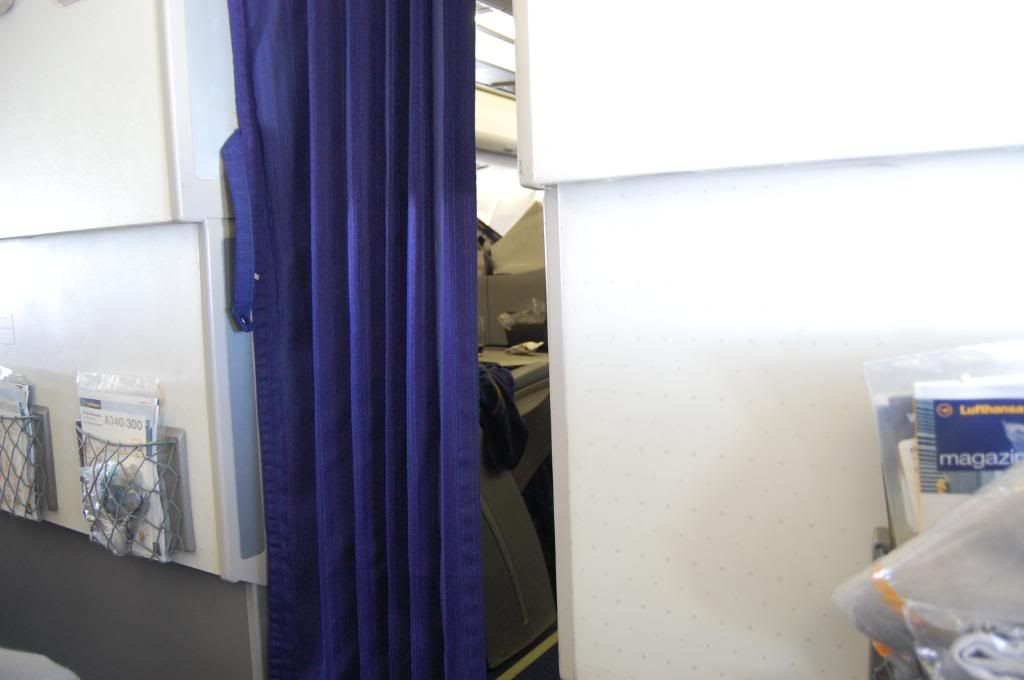 A peek into the business class section
We landed on 19R in Lagos for a 50 minute stopover which included refueling. Traffic on the ground included an Emirates Airbus 340 and Buraq Air DC-10. Around 80% of the passengers aboard got off at Lagos. If only I could always have the luxury of flying with a plane that empty.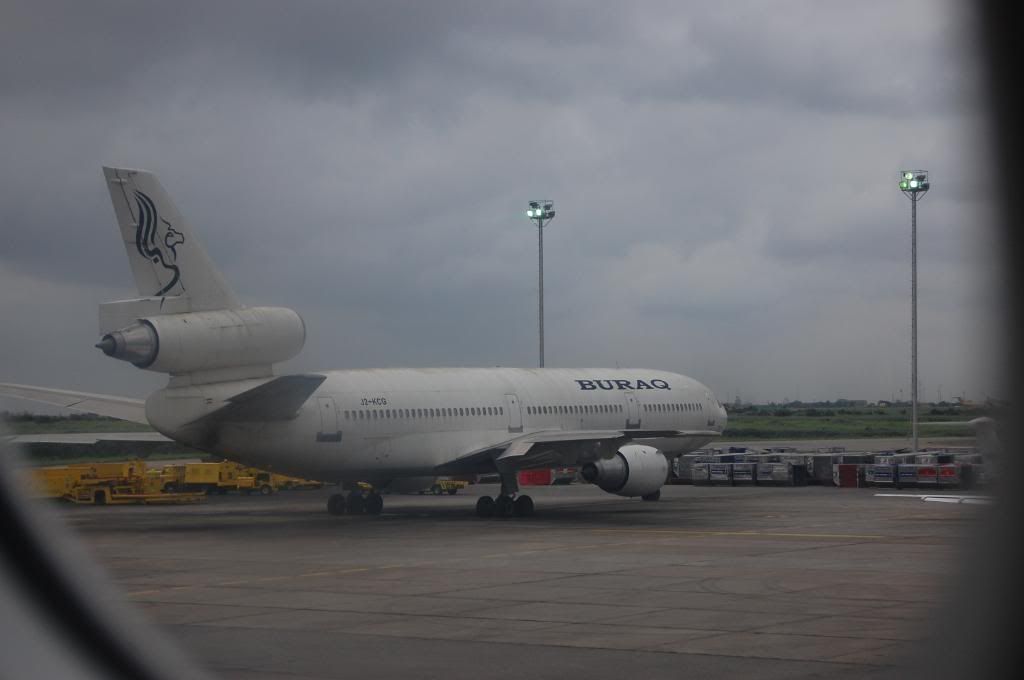 Buraq Air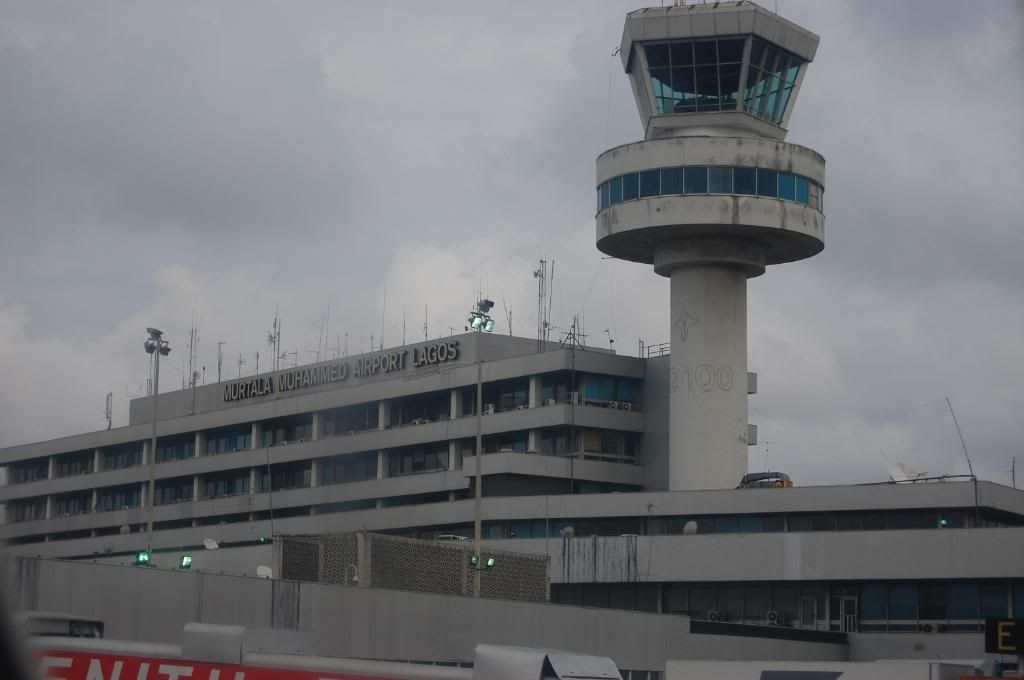 View of the Lagos international terminal and tower
Once everything was squared away, pushback took place at 17:12 for the 45 min short hop to Accra. There was a quick drink service during this leg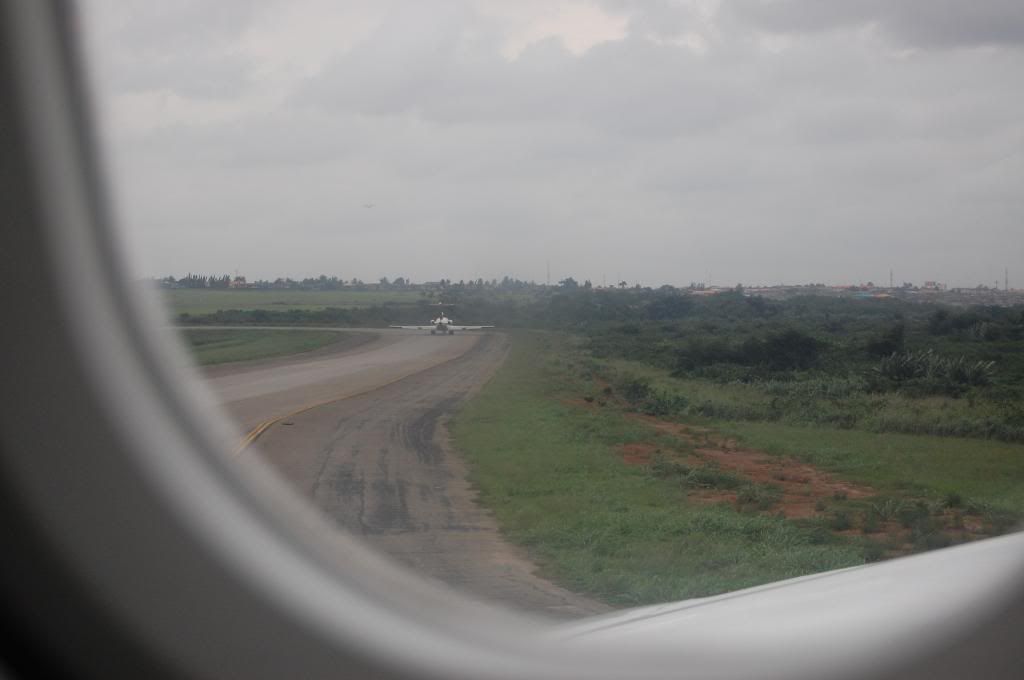 Taxiing out to 19R
View of Lagos after takeoff
One of the things I most enjoy about flying in West Africa is the beautiful cloud formations in the sky! They are absolutely spectacular.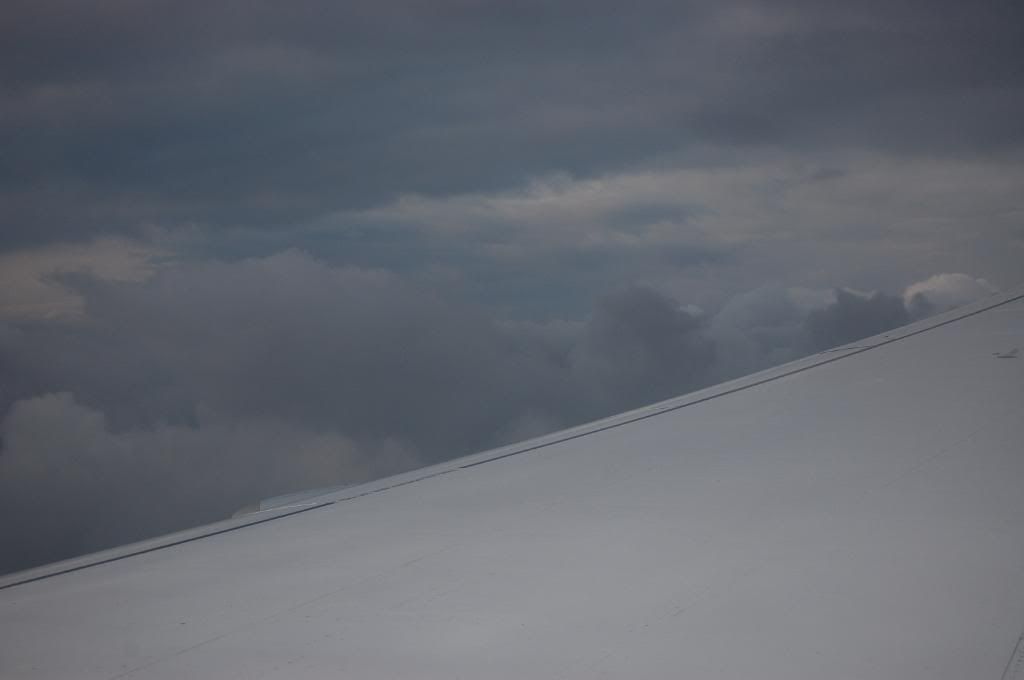 What a view!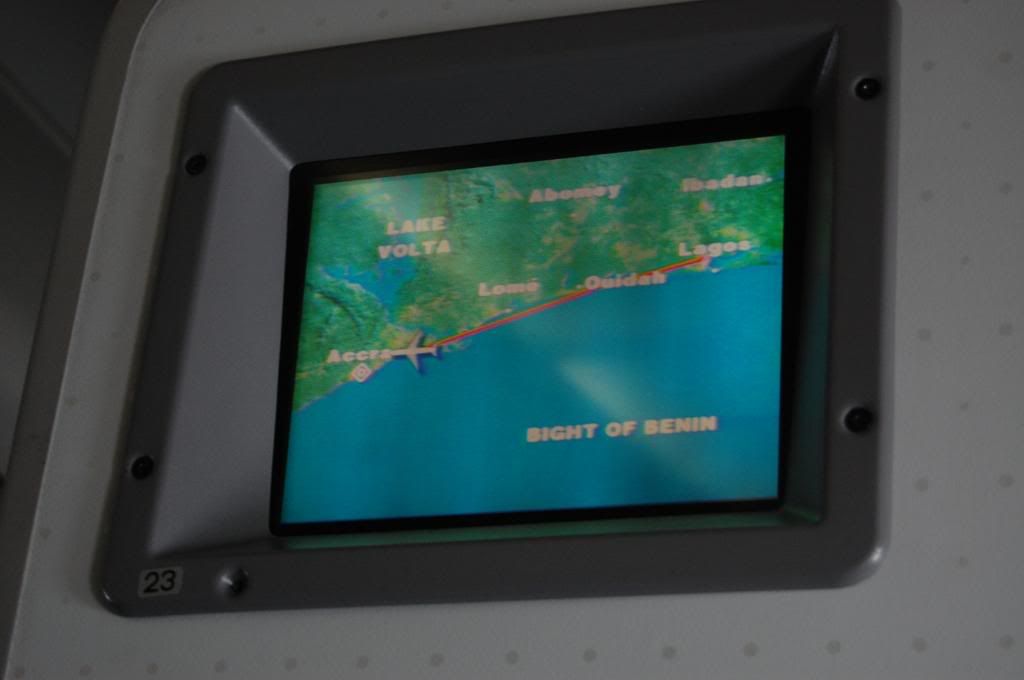 After nearly 20 hours of traveling, almost there
Final approach
We landed at 17:19 on Rwy 21 and taxied to ramp. Along the way we passed by some DC-10 previously operated a Ghana Airways. For a brief moment I thought back to those days of direct BWI-ACC flights but in reality I'd take the punctuality and 22 hour travel time that LH offers over the unpredictability of GH.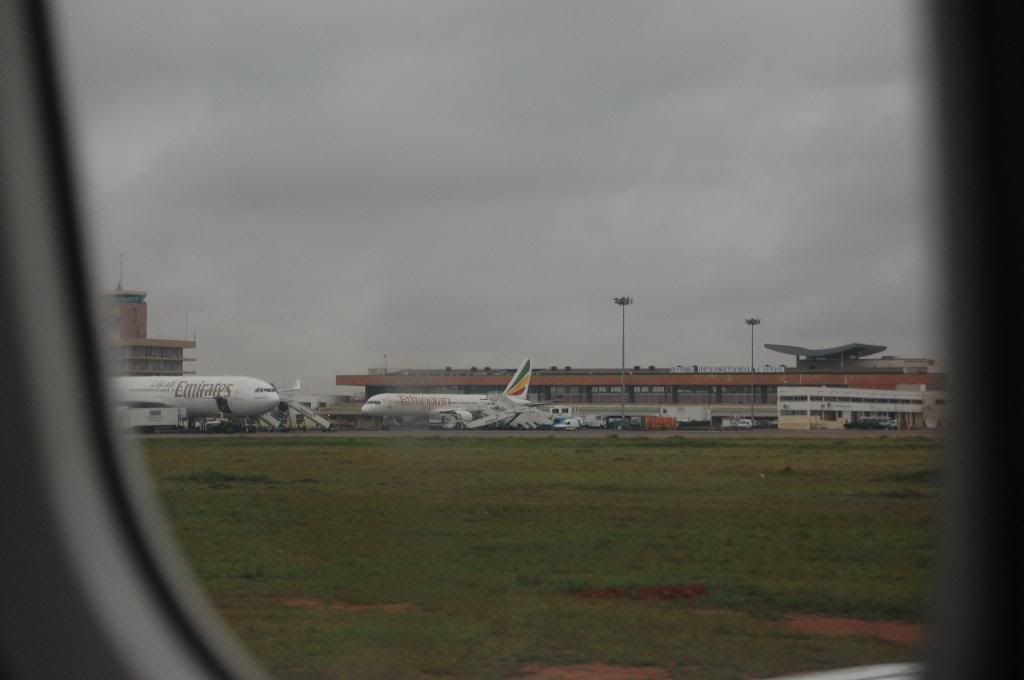 Shortly after touchdown
A good thing about LH flights is that it is the first of the major Europeans to arrive and depending on the passenger loads for Lagos, navigating through the airport is quick as there were not a lot of passengers going through the arrival formalities.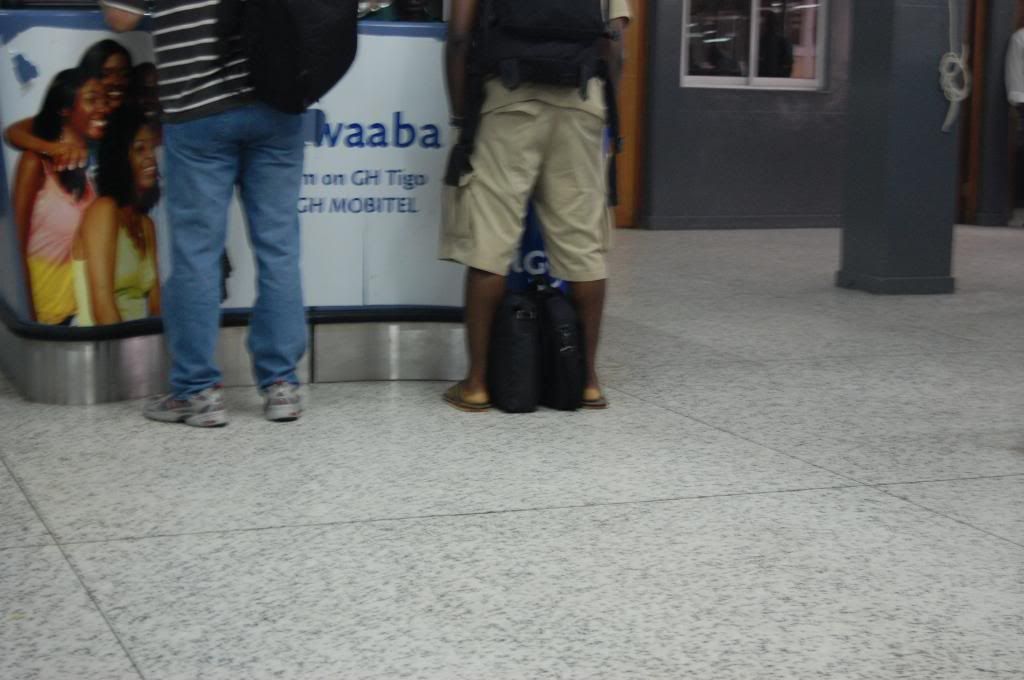 Waiting in line at immigration
We deplaned via stairs (ACC still does not have jet bridges) to awaiting buses that transported us to the terminal (it would've been faster to walk). As soon as we entered the terminal and turned the corner the immigration officers were just idling around. Someone clapped their hands double-time and like clockwork the officers scrambled to their kiosks.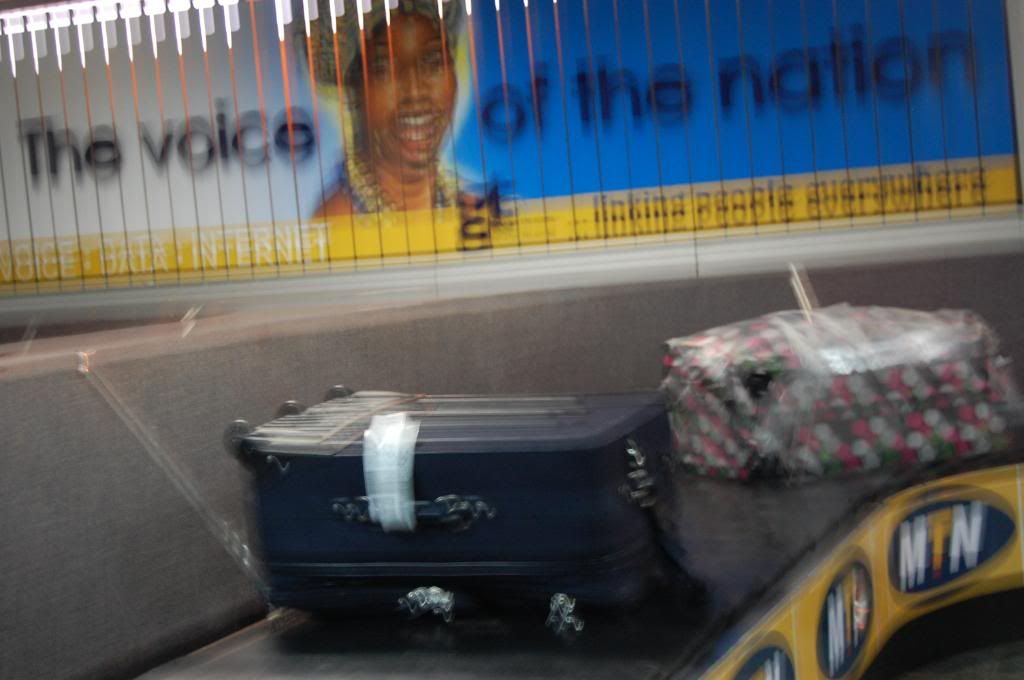 Baggage claim
I love the mechanical billboards at ACC. While waiting for my luggage I noticed that the LH crew traveled with their own supply of water, I counted 6 bundles on the carousel…I guess not every likes Voltic.
After collecting my luggage leaving the terminal can occur through one of two lanes (nothing to declare or something to declare). It is absolutely pointless as regardless of the line chosen, passengers can still be stopped. I went through the nothing to declare line and not surprising; I was stopped and asked for my passport by a female officer. She asked me if I was from Washington, D.C., if I was here on holiday, and if I spoke Ga (a local language). I replied yes to all of her answers and she handed back my passport and waved me on.
Not more than 10 paces later I was stopped again by 2 gentlemen by hissing (an annoying habit common in Ghana). One of them who couldn't have been more than 20 years old grabbed my passport and said, "You are welcomed." I did not hear him at first and so I said, "What?" He said it again and then asked, "Where I was from?" I replied Washington, D.C. and he smiled and returned my passport and waved me on.
ACC is forever undergoing changes and they expanded the terminal and built a new façade that requires passengers to zigzag their way down a series of long ramps toward the single exit. The ramp is now carpeted but in the past it was just tiled and passengers would literally slide down them while trying to maneuver their luggage carts.
As I exited, I was met by a crowd of people just waiting and staring and was accosted by various individuals who wanted to provide their services, (i.e., taxis, luggage help, mobile phone use, etc). My cousins made jokes that these people live at the airport and make a living annoying the passengers, but the aviation authority has cut down on this significantly.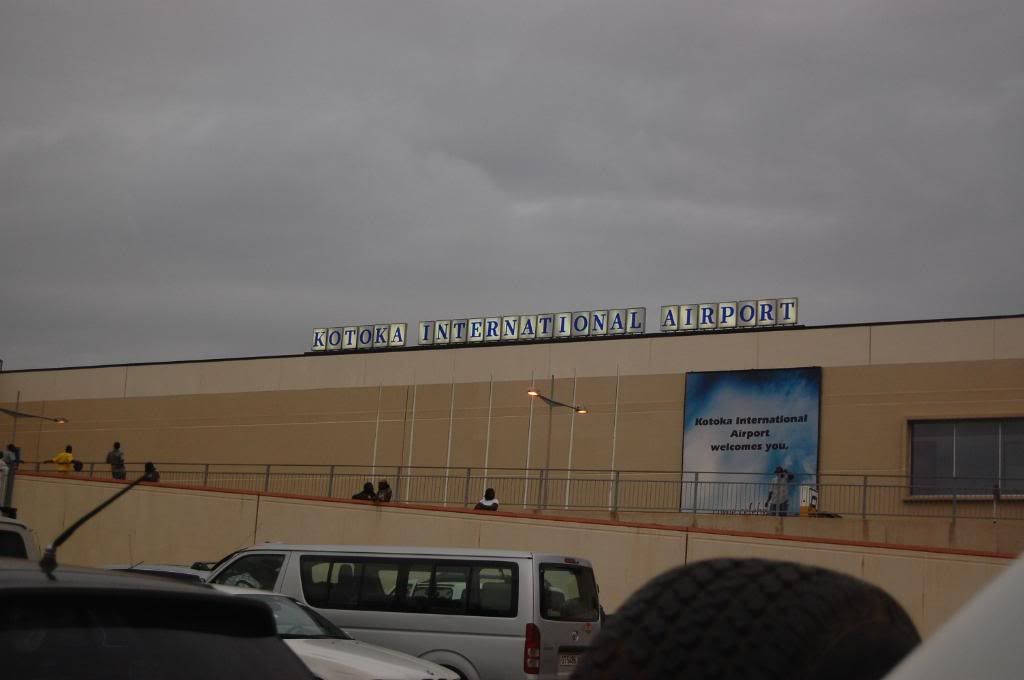 View of the terminal from the parking lot
I made my way to the parking lot with individuals who were persistent in trying to help me with my cart. Saying no once is not enough, and they still had the nerve to ask for money. With the recent redenomination of the cedi the new phrase is "My brother/sister some coins please" LOL
A few photos from my trip: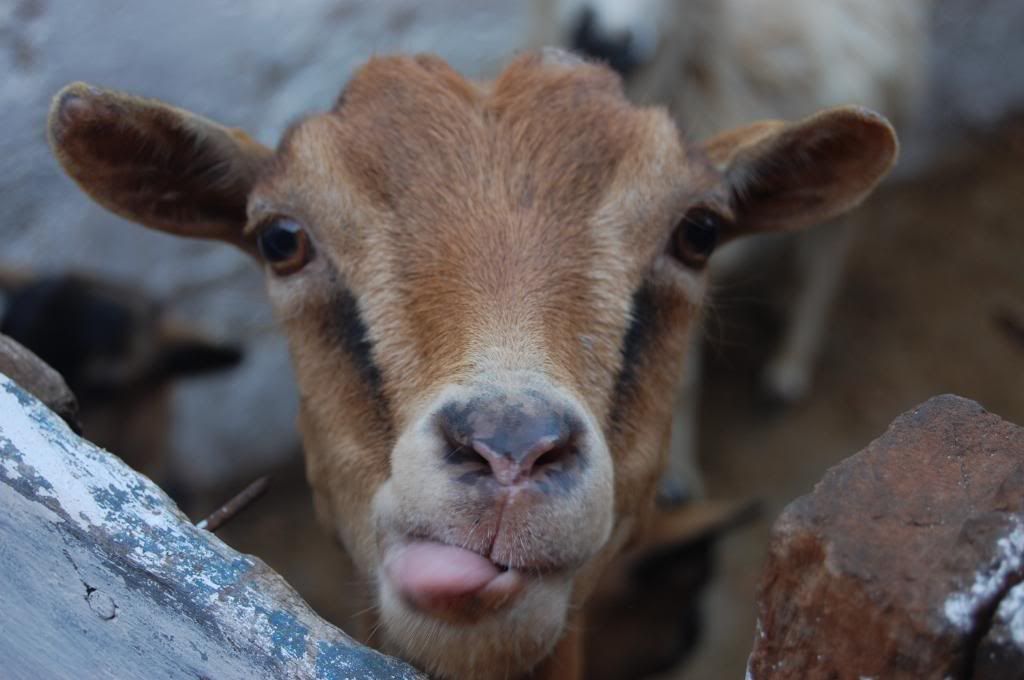 House pets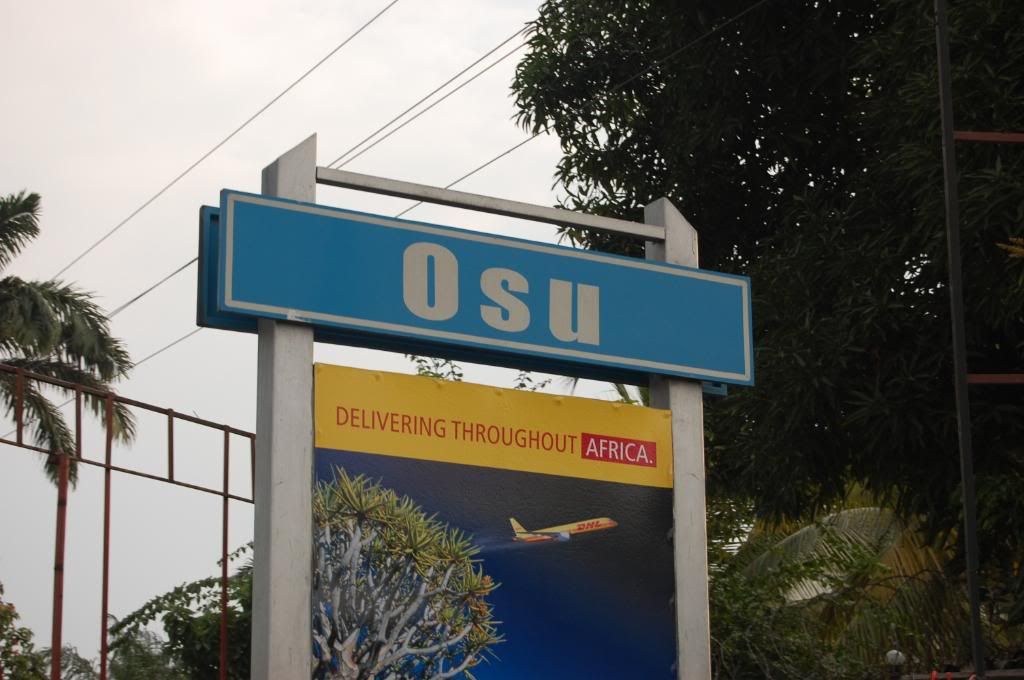 One of my favorite areas of Accra, Osu!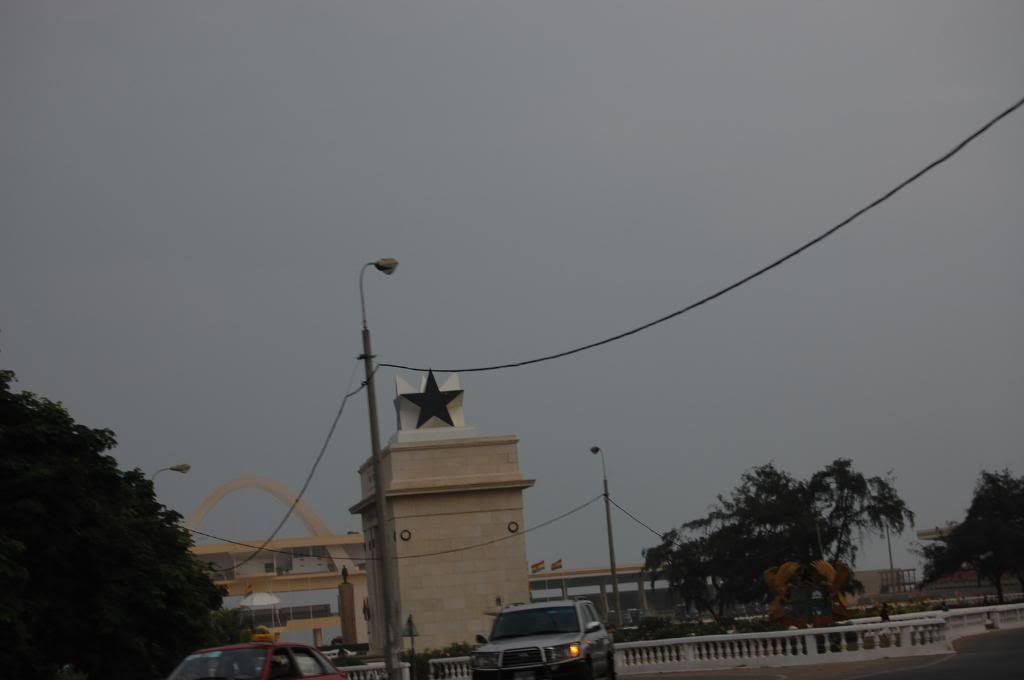 Independence Square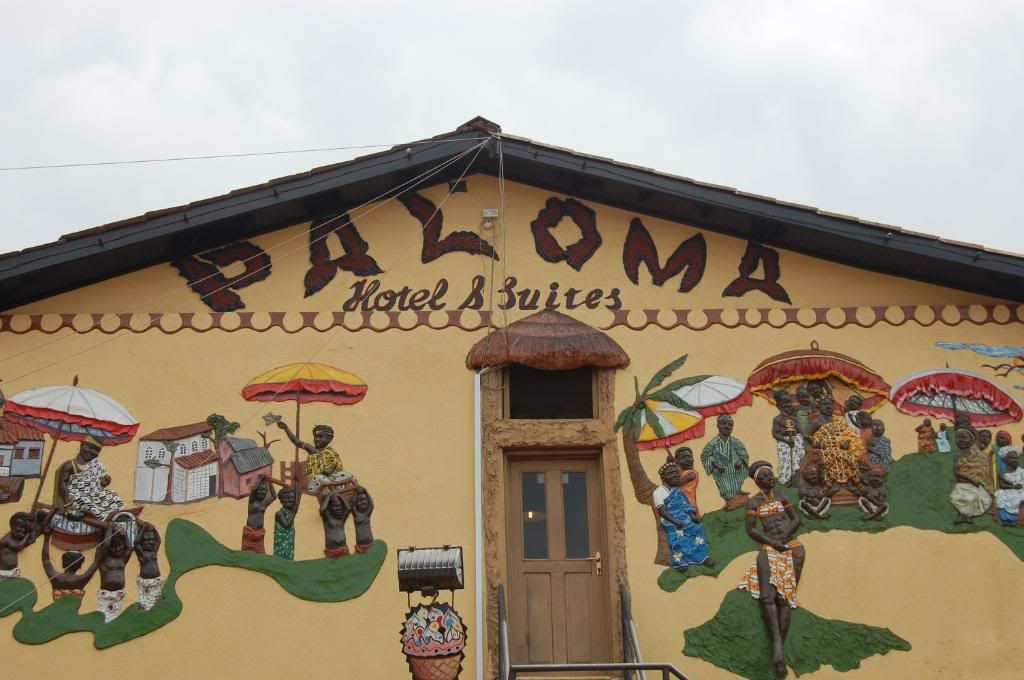 An Accra pastime, meat pies at Paloma restaurant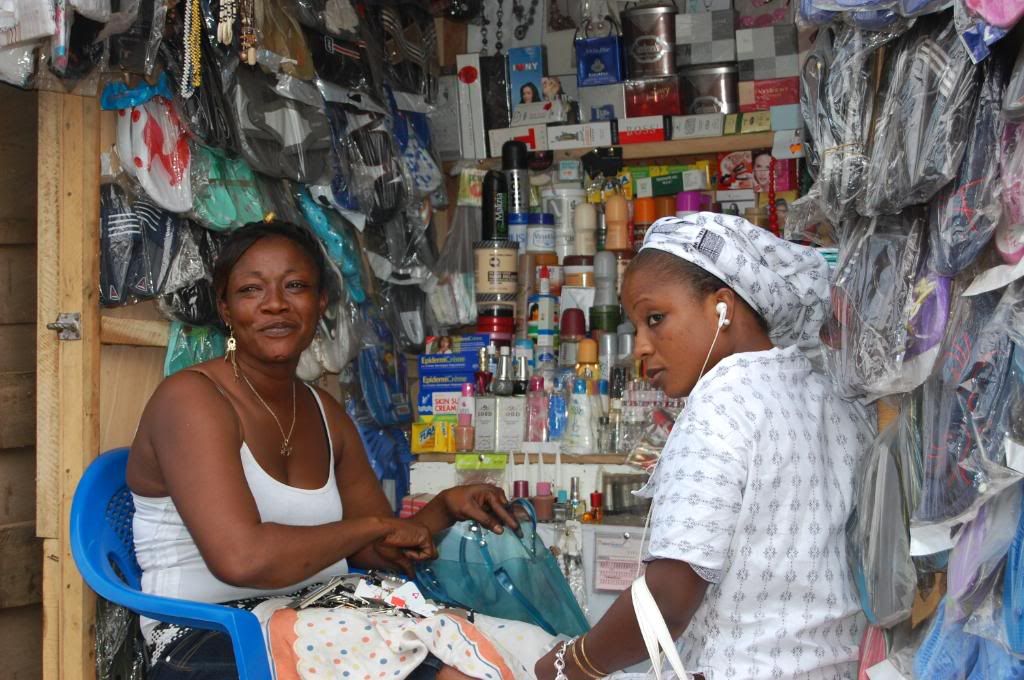 Anyone interested?
These 2 young ladies saw my camera and wanted me to take their picture and bring it back to the U.S. in hope that they would find their husbands! HA LOL
Stayed tune for part 2 of my report, the return segment….
Auf wiedersehen
Gerald