ADL-SIN
Date: 14 July 2007
Aircraft: B777-212/ER
Reg: 9V-SVO
Here is a pic of our aircraft at the gate in ADL, it was a beautiful morning.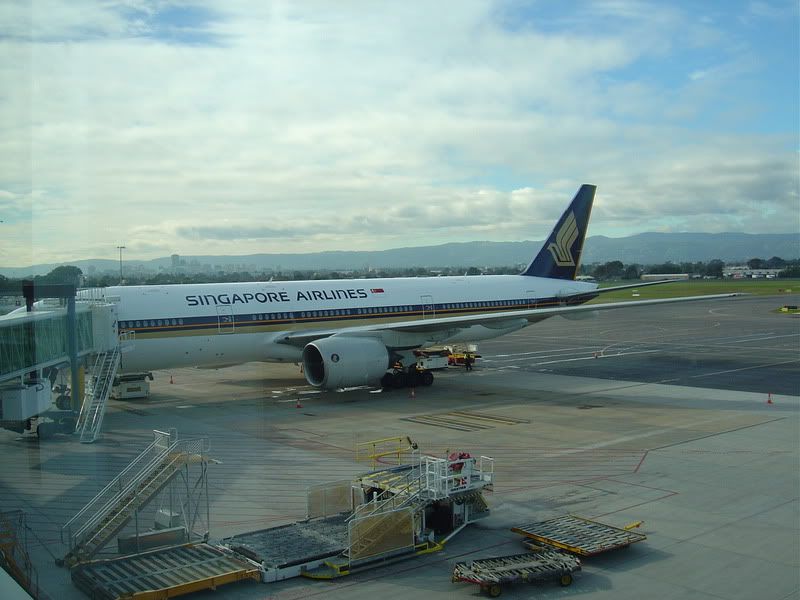 The Malaysia 777 which was also there...next to our aircraft.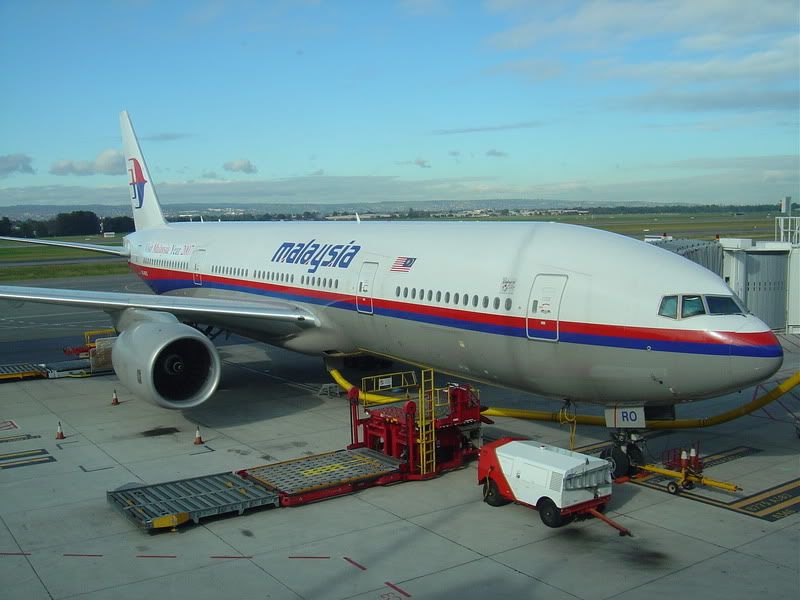 The nice, big engines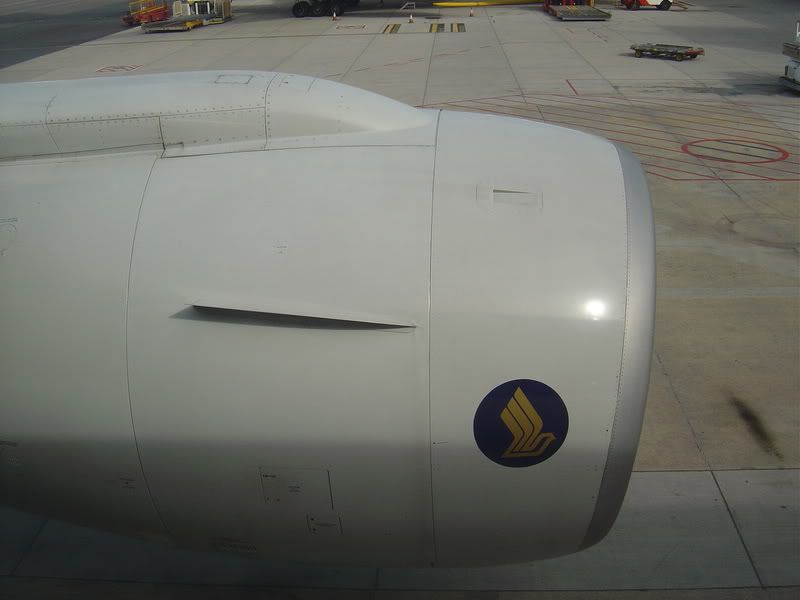 We (my parents and I) were seated in row 33, I got the window, right next to the engines.
Scheduled departure was at 11:55 local time, but we were delayed for 20 minutes as one of the passengers was missing, his luggage was on board, but he was missing...turned up eventually. Idiot..kept us waiting for 20 min. I was surprised that SQ actually wait that long..I expected his luggage to be dumped and that we'd be on our way.
Take off was smooth, we were served lunch at around 1300, which was a choice of steak or chicken with rice and gravy.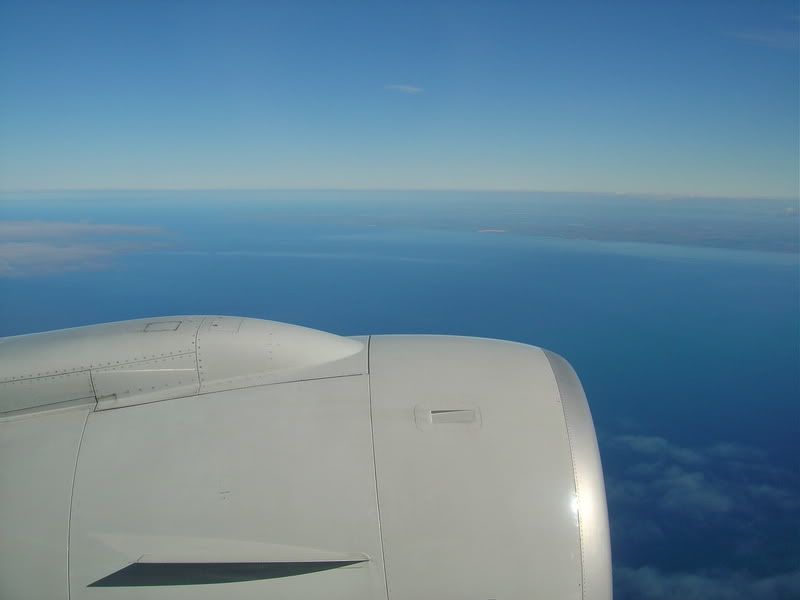 Leaving Adelaide
We flew over Uluru (Ayer's Rock)..and I managed to get a pic. Sorry about the bad quality..was trying to take it from 11km up with my stupid Sony cybershot.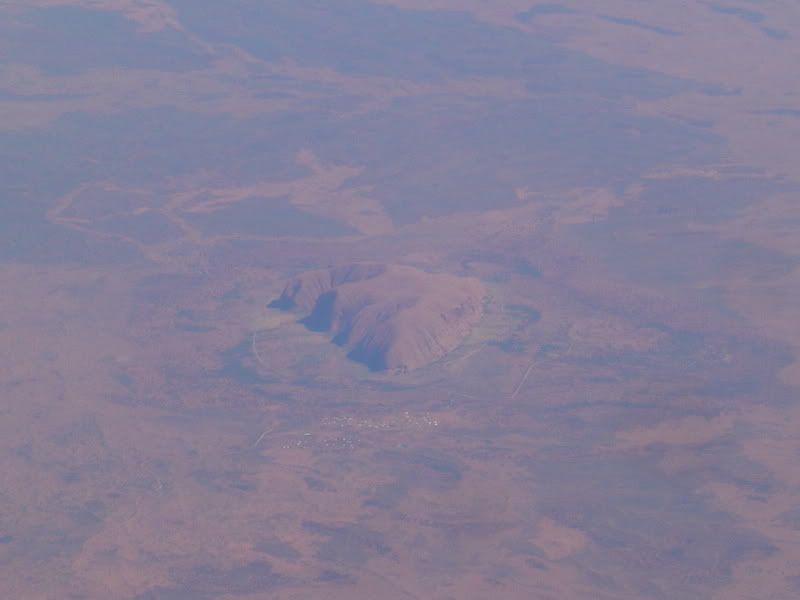 More flying over the outback: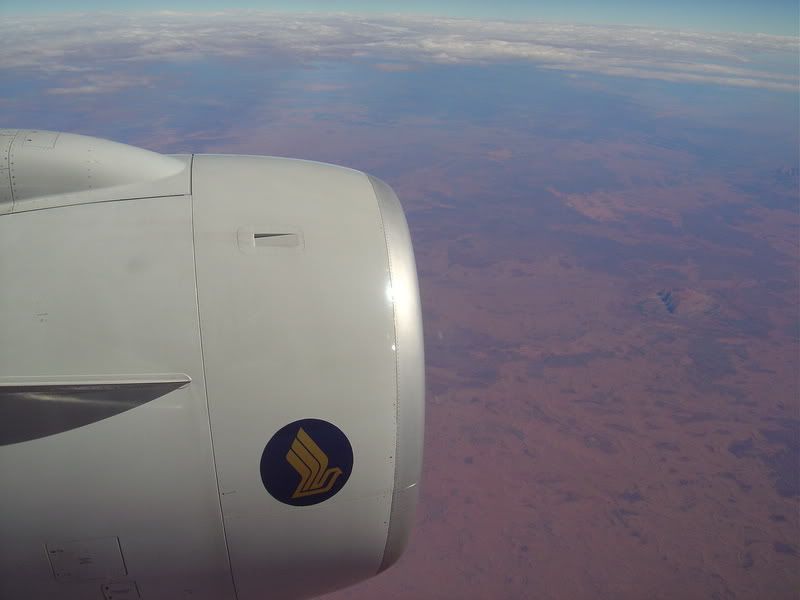 The endless outback:
Approaching the coast over Port Hedland (finally!)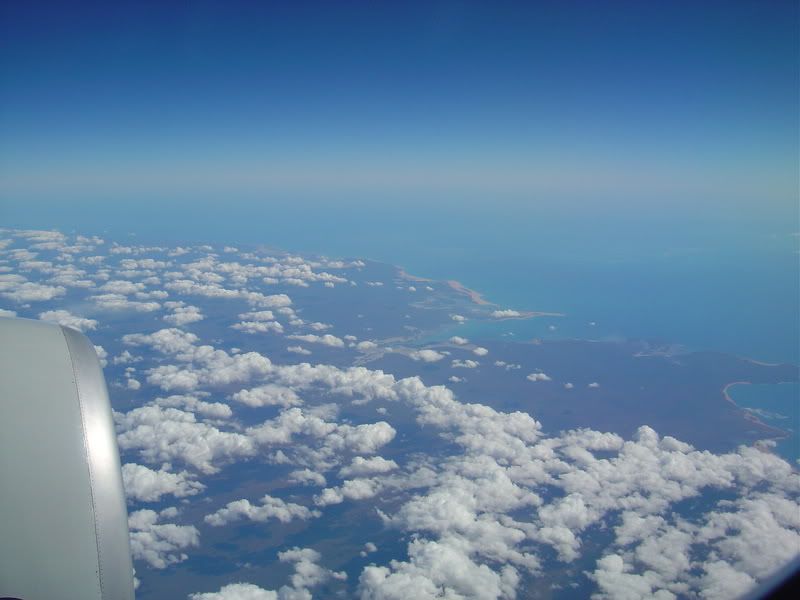 I saw a couple of movies (300 and Spiderman 3 - hadn't seen both of them..figured I'd see them here).
In the late afternoon, we were served a snack - chicken pie with tea or coffee..or other drinks..and ice cream (mmm..it was nice).
Flying over Indonesia: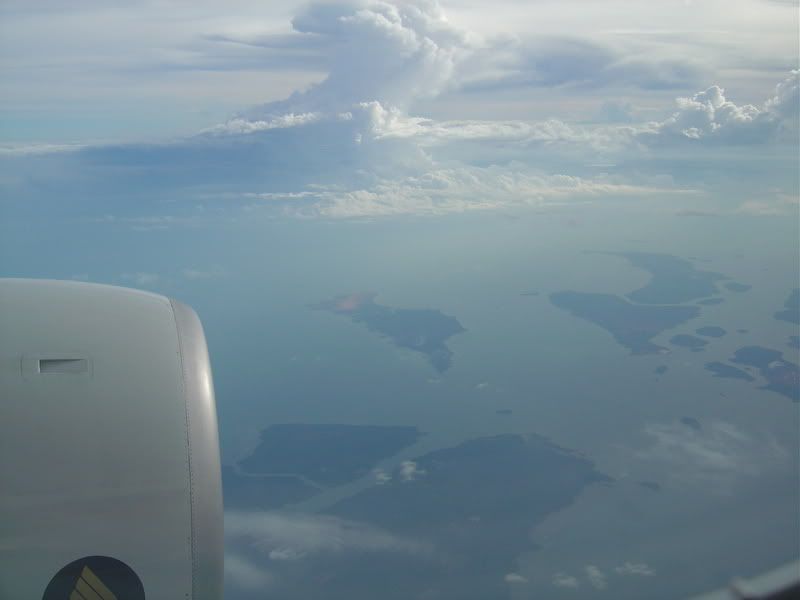 Finally, after 7h and 15m we landed in a rainy SIN: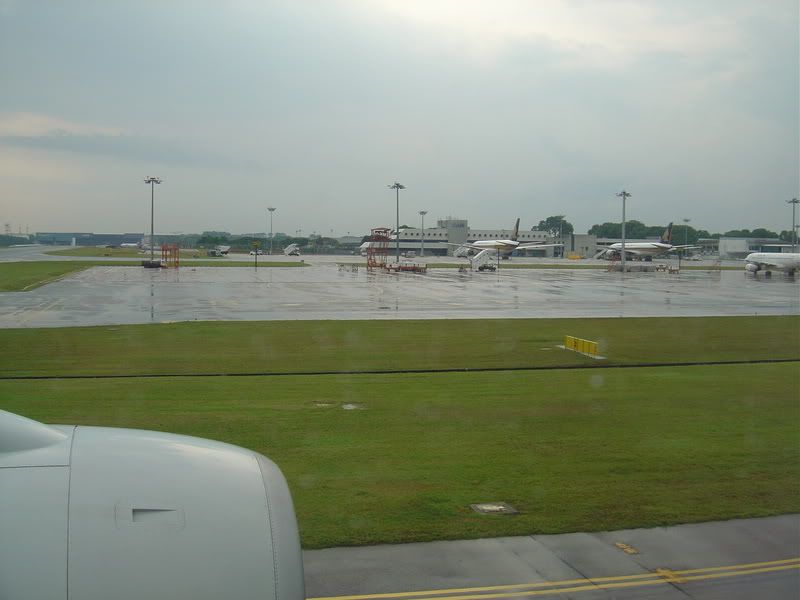 Lots of SQ T7s: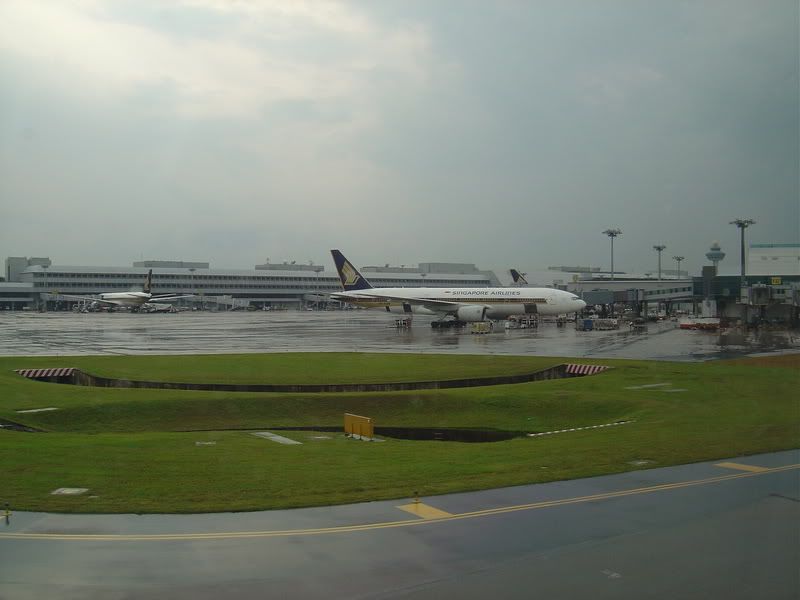 More SQ T7s: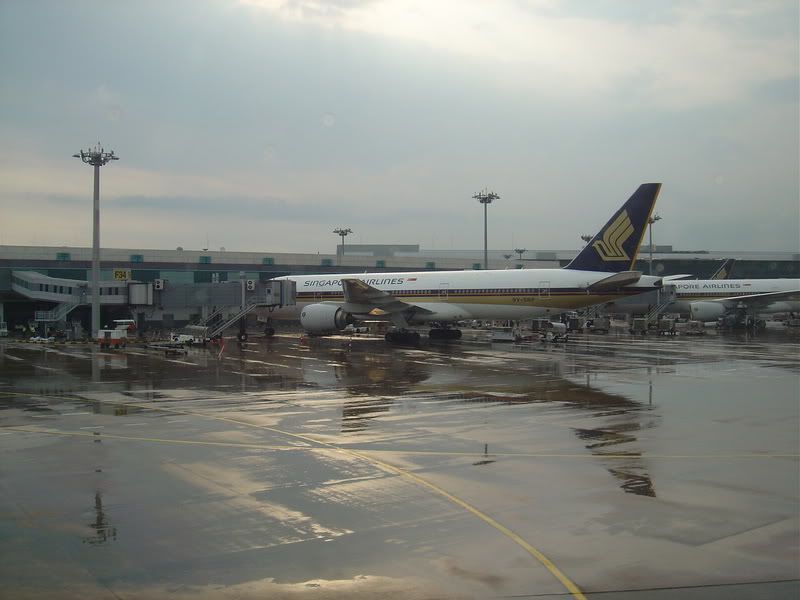 I was amazed to see so many 777s...SQ seems to have only 777s and 747s! (yeah I know they have the 345 also)..but it seems as though SIN is full of 777s and 747s (yay..go Boeing!)
We had to wait for 3 hours for our connecting flight to BLR.
SIN - BLR
Date: 14 Jul 2007
Aircraft: B777-312
Reg: 9V-S**
I didn't take any pictures of this flight as my battery was dead..also I was so tired, I just got on board and slept for the short trip across to BLR (3 and a half hours..wheels up to wheels down).
Landed in BLR at 23:55 local time...it was so chaotic. The immigration took 10 minutes, but we had to wait for our bags - we got them an hour later! So by the time we were out it was 1am..and it was the 15th of July.
Enjoyed myself in India for 3 weeks...then back to ADL.
BLR-SIN
Date: 09 August 2007
Aircraft: B777-312
Reg: 9V-SWD
Boarding was scheduled for 22:10 local time, but it was so chaotic that we were still in the packed BLR terminal at 22:30. LH, AF, AI, and SQ were all departing within an hour..so the airport was crazily chaotic! Check in took more than an hour, and the numerous security checks added to the pain. Also in BLR, there are uniformed personnel in abundance – some of them doing nothing else but checking whether their counterpart a few yards away has placed a stamp in your documents. Where they are really needed, these officers do nothing.
Boarding was a complete mess. Instead of providing the announced priority to families with children and those needing special assistance (and then allowing business class passengers on first), the uniformed guard at the gate was happily (yet again) checking for the numerous stamps on boarding passes of anyone who was rude enough to push their way through.
Ok..enough of BLR's airport...
We were finally on board at 2300, and we were in row 33 (again!).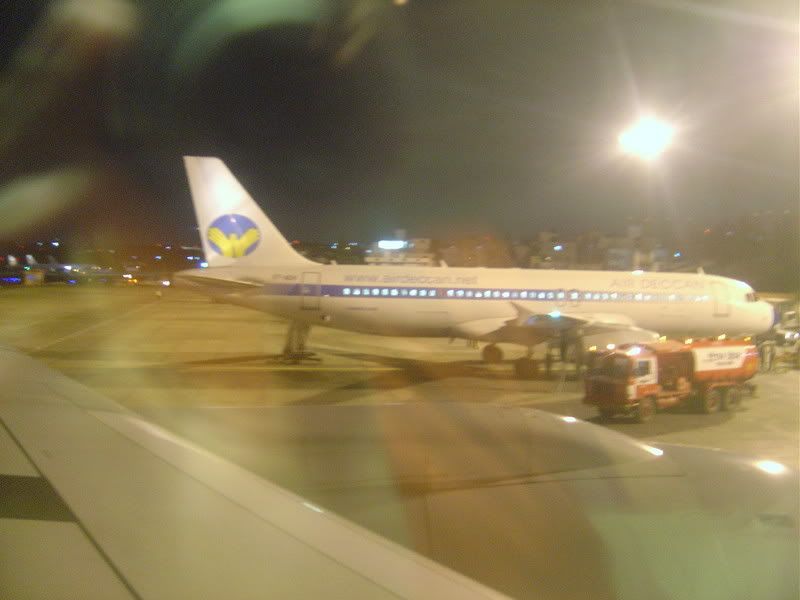 An Air Deccan A320 getting ready to depart to BOM.
Take off was at 23:15 and the flight was uneventful...except for the crying baby in front.
Reached SIN at 0520 local time, and we had to wait for almost 18h before our flight back to ADL! So we checked into the transit hotel..and slept till midday. The views from our hotel room
Nice to see lots of SQ 777s taking off and landing..and I was taking pics from the comfort of my bed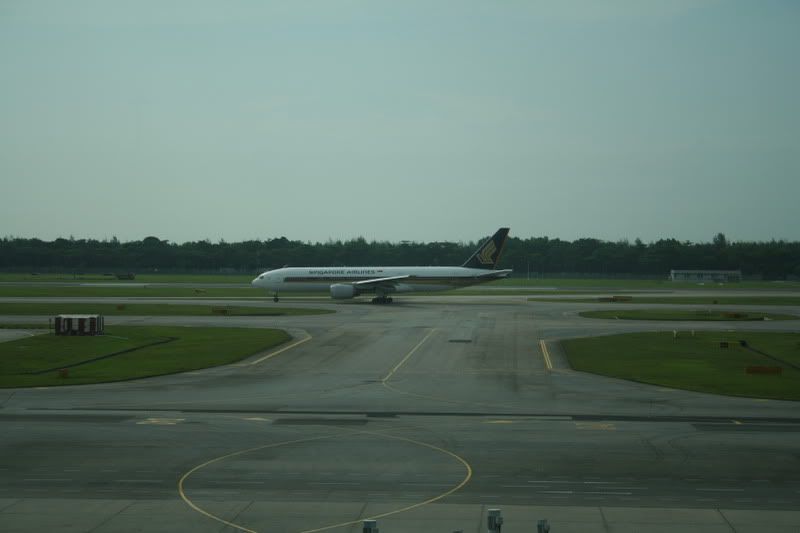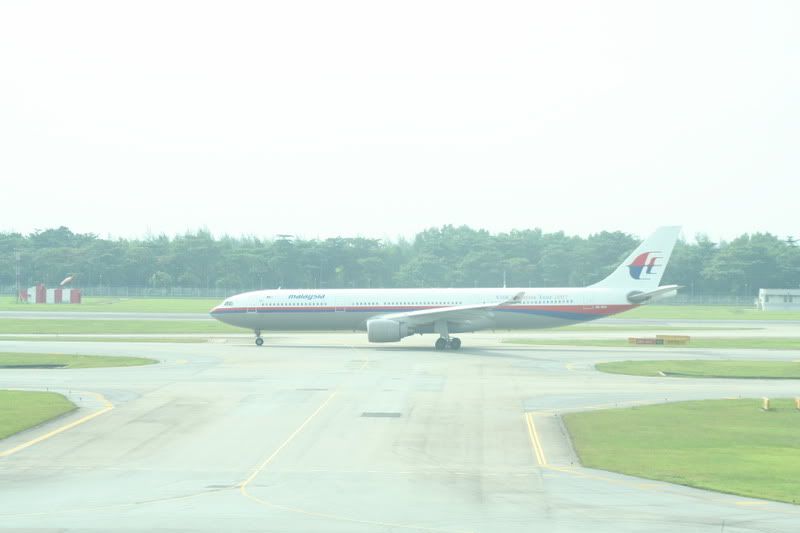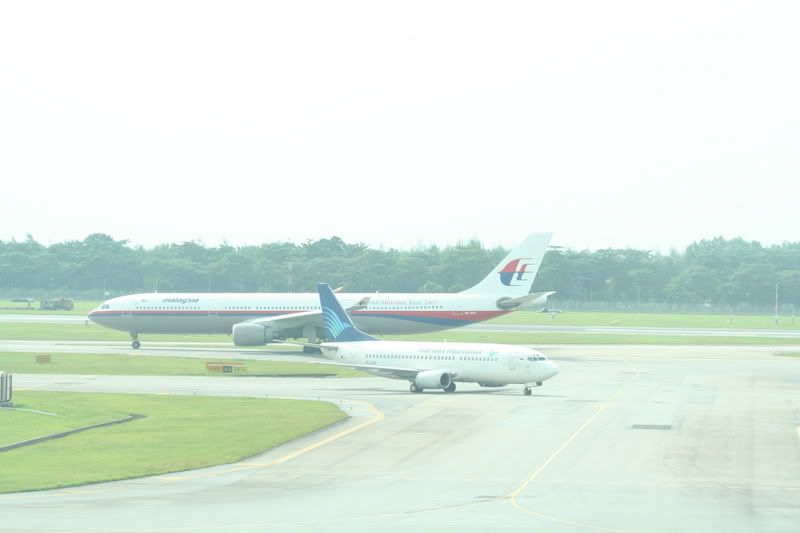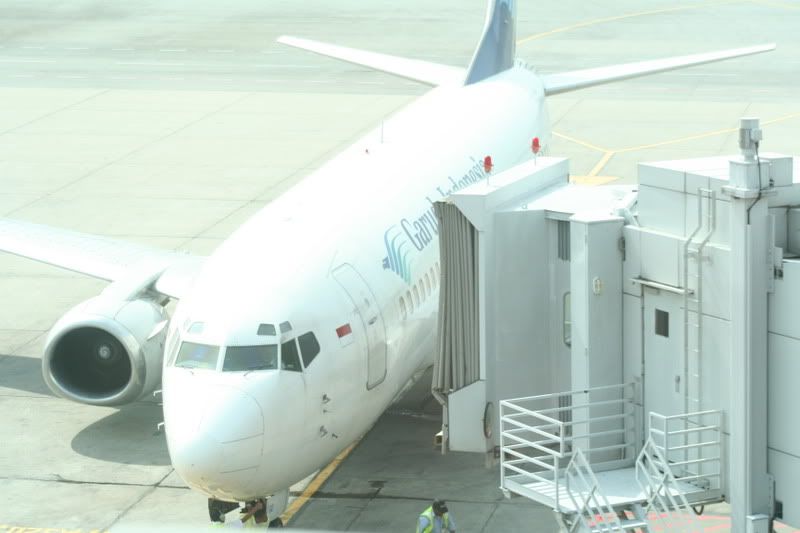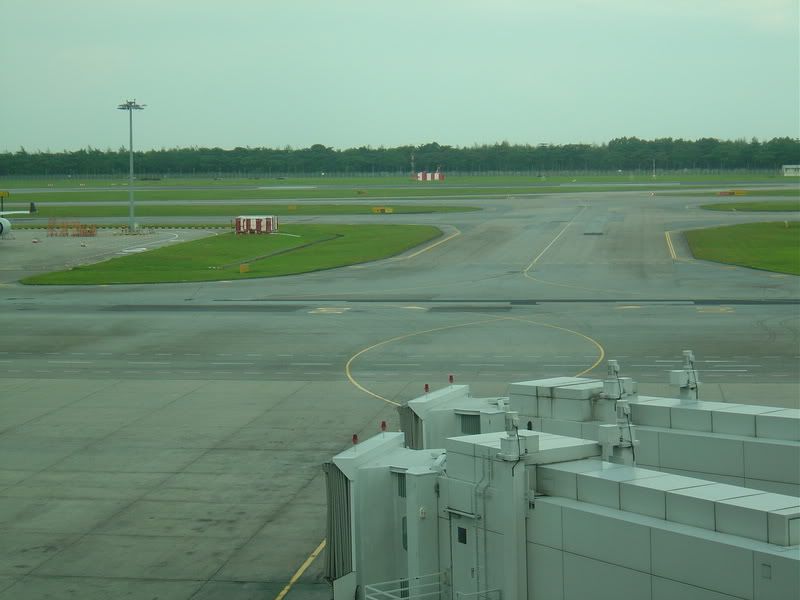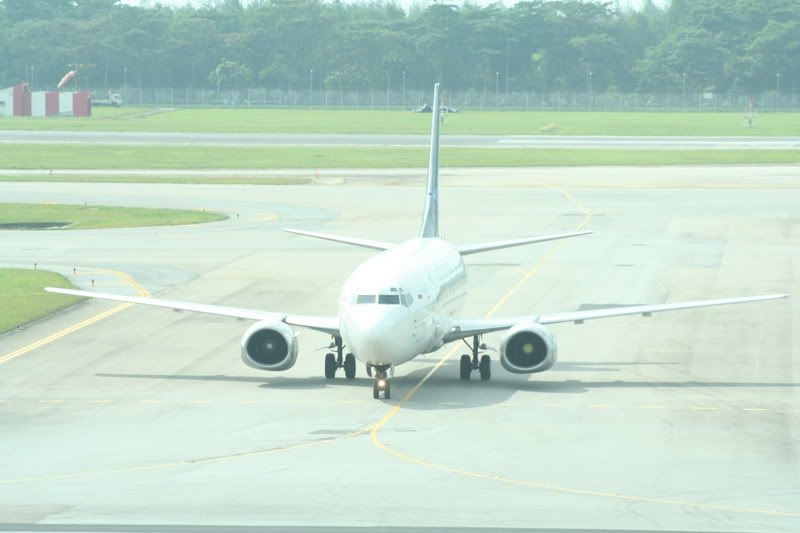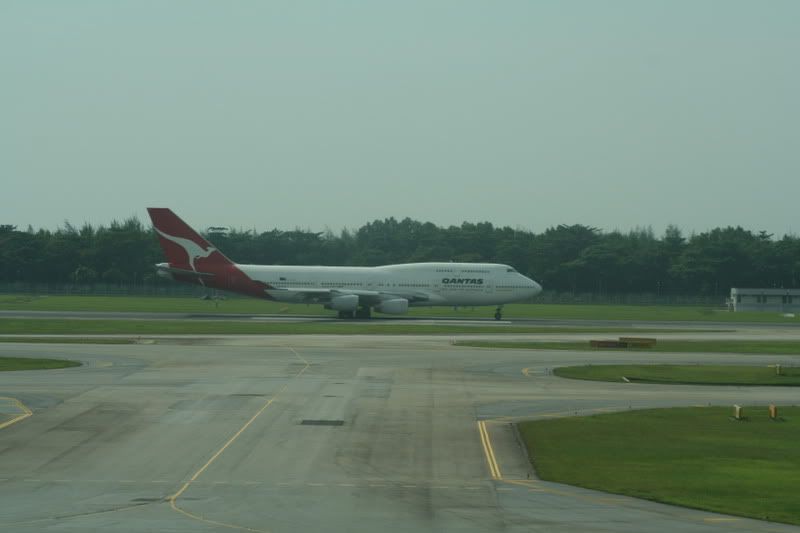 Nice to see a QF 744.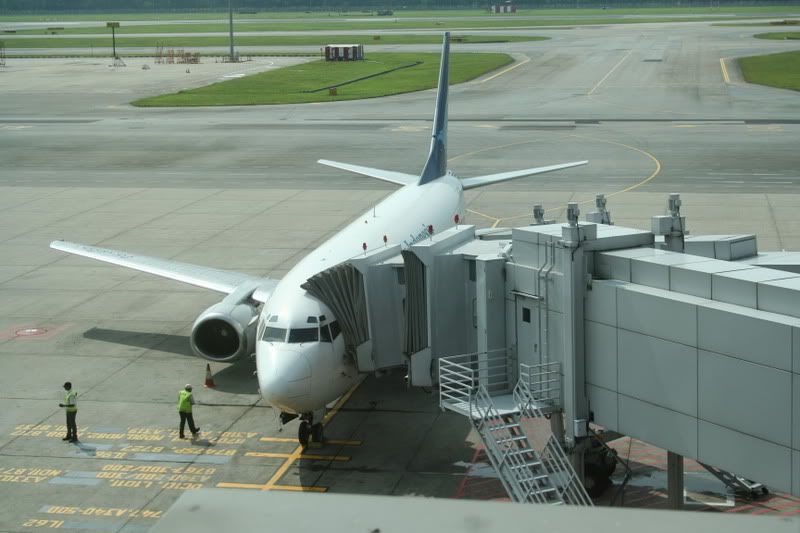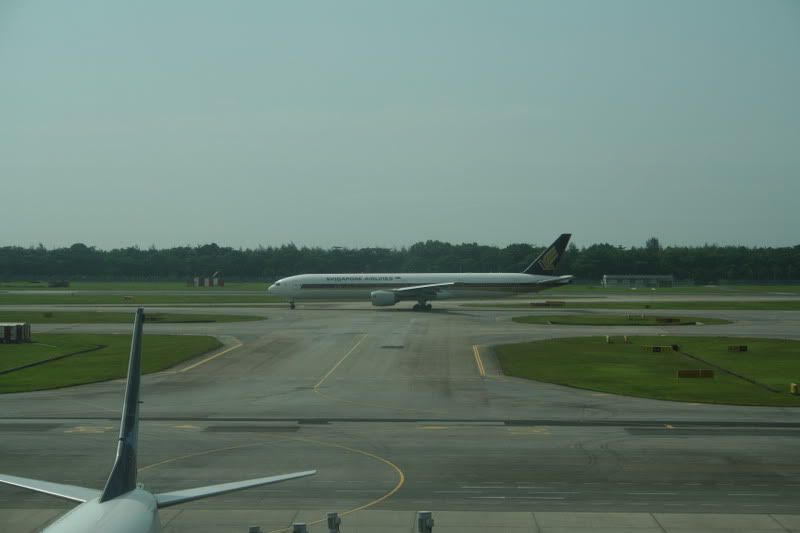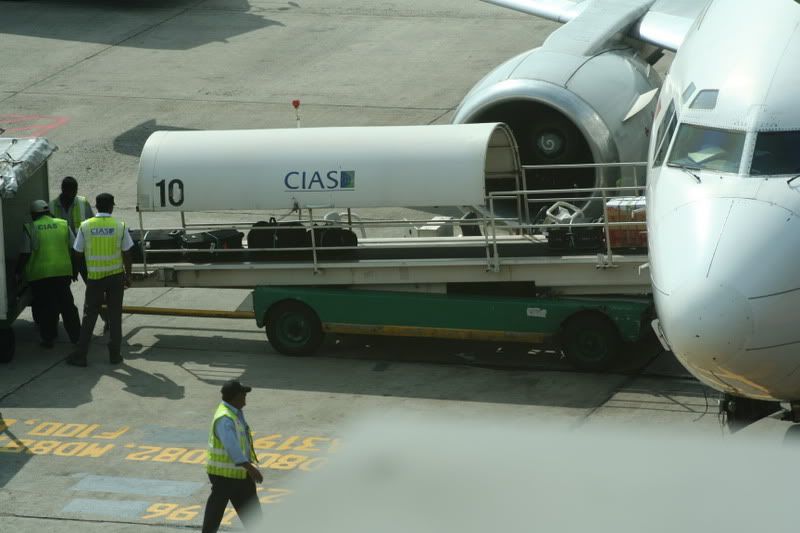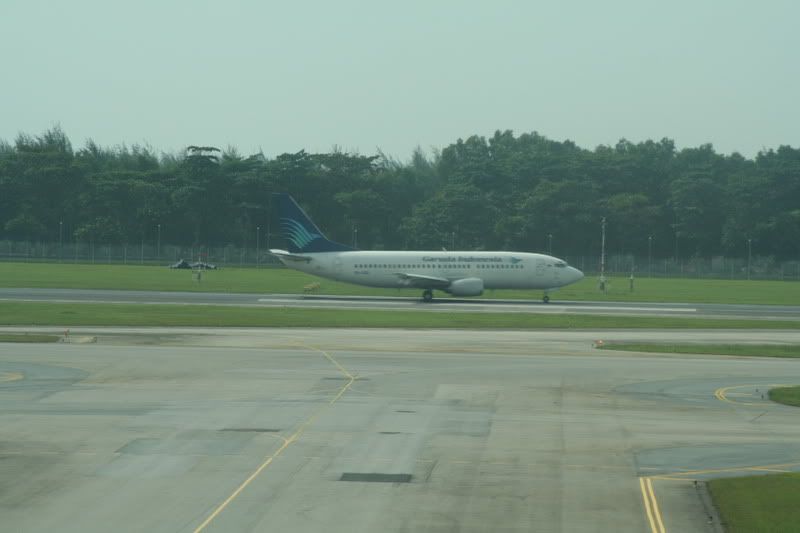 Garuda seems to have a lot of flights to SIN, this was the 3rd Garuda 737 at SIN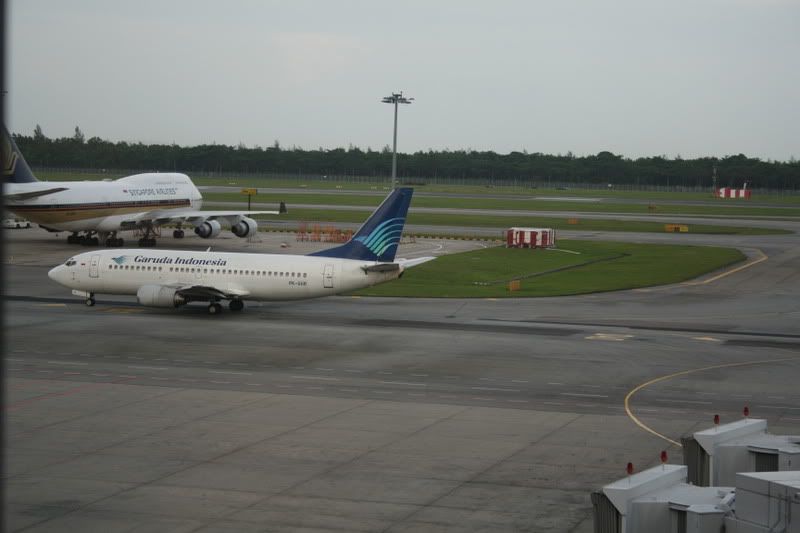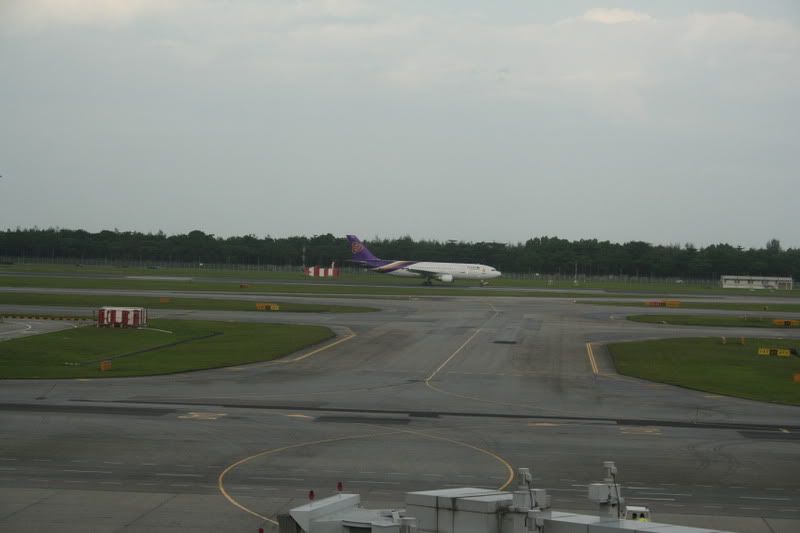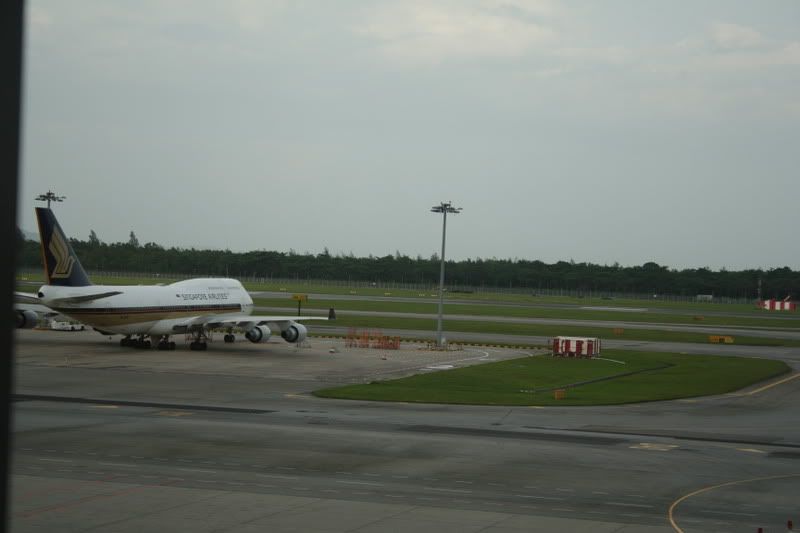 After spending almost 7 hours in the room we decided to take the free visit SIN tour. It lasted for 2 hours and was pretty nice.
Captured the 777 we had flown in earlier(!) crossing the bridge over the freeway.
A nice, clean 744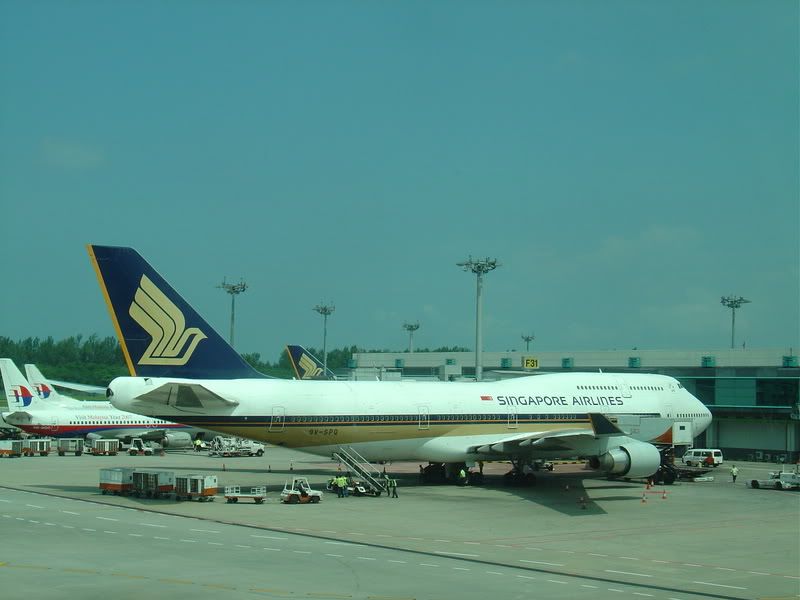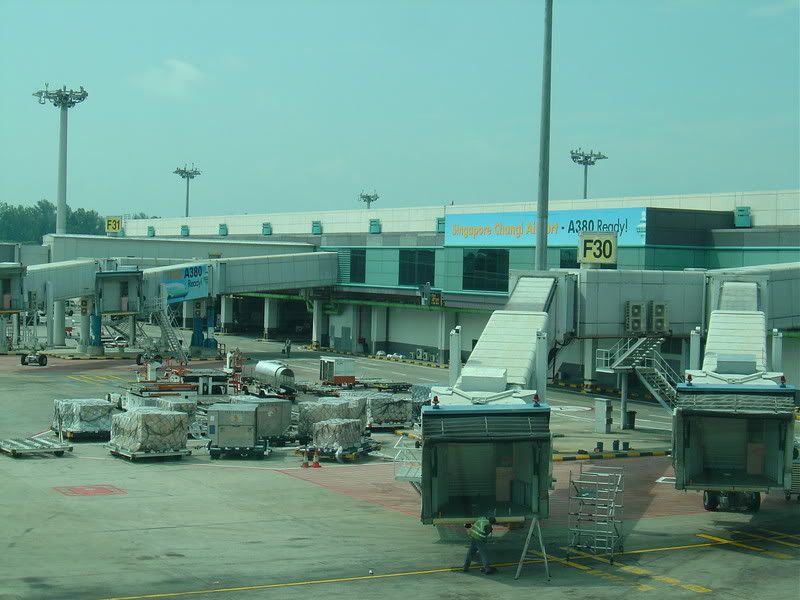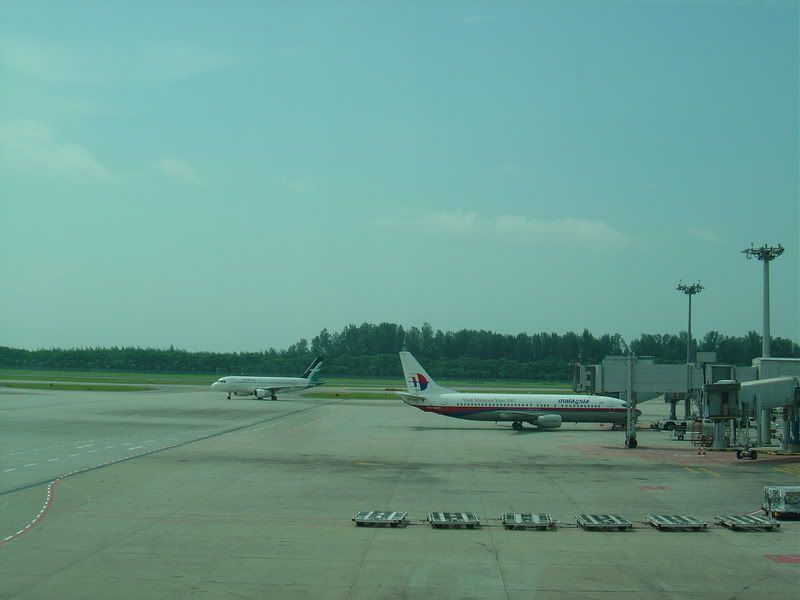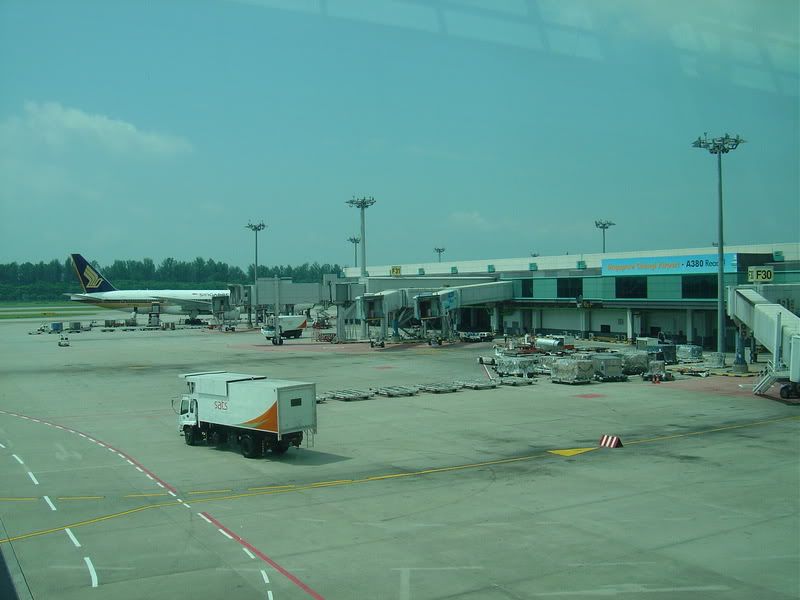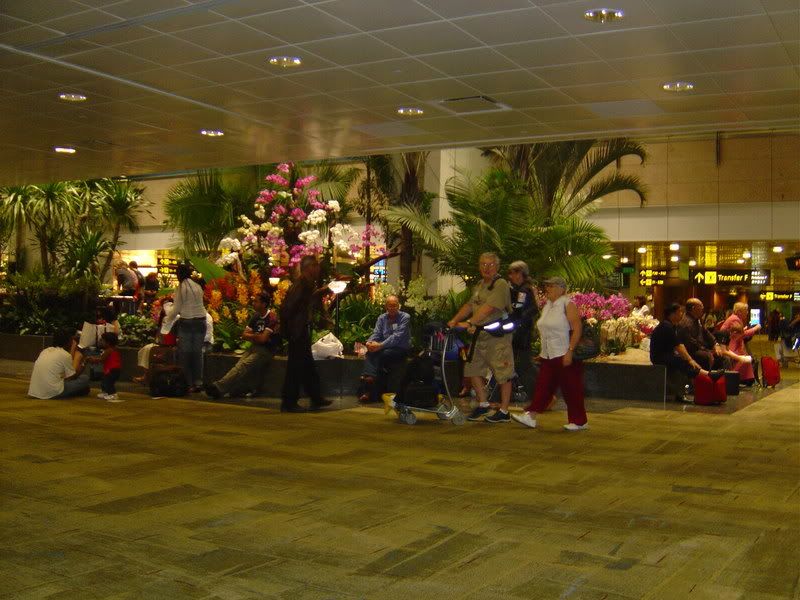 A busy terminal 2 at SIN.
We had dinner at one of the numerous resturants in the terminal, and killed more time by watching a movie and surfing the net.
SIN - ADL
Date: 10 August 2007
Aircraft: B777-212/ER
Reg: 9V-SQI
We were in ow 34 this time (34 ABC).
We departed on time (23:45), and climbed into the night sky. I slept some more...and was woken up for food. We were served chicken curry with what looked like bread...dunno what it was..but it was ok. Had a bottle of water and went to sleep.
I woke up and we had already commenced our descent into ADL (that was fast!)
We landed smoothly..and
without thrust reversers!!
This was the first time I had experienced a landing without thrust reversers! It was cool though..no noise etc..just a smooth landing.
Pulled into the gate next to the usual MH 777.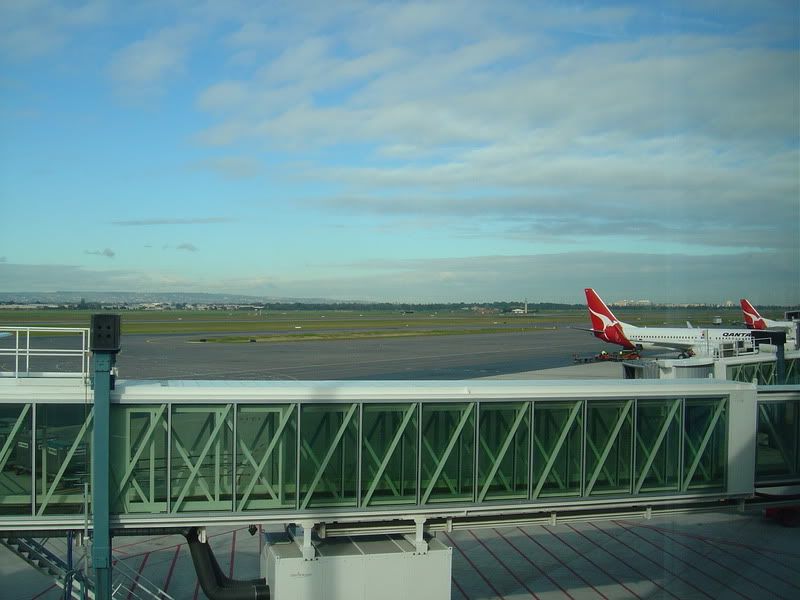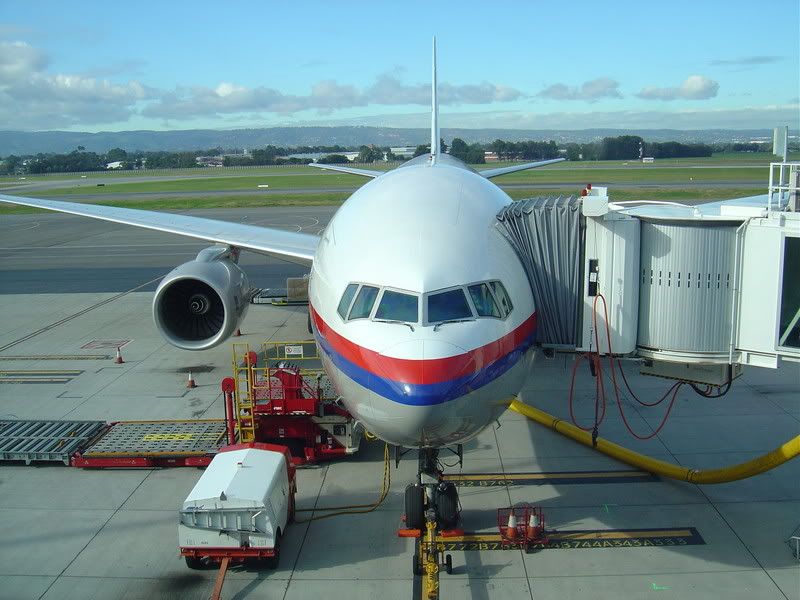 Well thats it! Until next time...