This is the third instalment of my recent trip around the world using the Great Escapade Ticket. Sorry for the delay in writing this section, the release of my results and sorting out university, plus a lot of going out took over my life recently! Anyway, back to the report…
Part two can be see here: Around the world in Y, part two: SQ and DJ
So far Sydney was my favourite destination, I loved the city and thought that there was so much to see and do but we ran out of time. I also felt pretty safe in the city and everyone was incredibly friendly and accommodating. The best experience was probably the Bridge Climb which we booked in glorious sunshine but when we came to actually climb the bridge it was pouring down with rain, however when we reached the top the sun came out for the photograph and then as we started our decent it began to rain again. We never got over to Bondi Beach which was a shame but that's just going have to be next time along with plenty of other places which we didn't have a chance to see.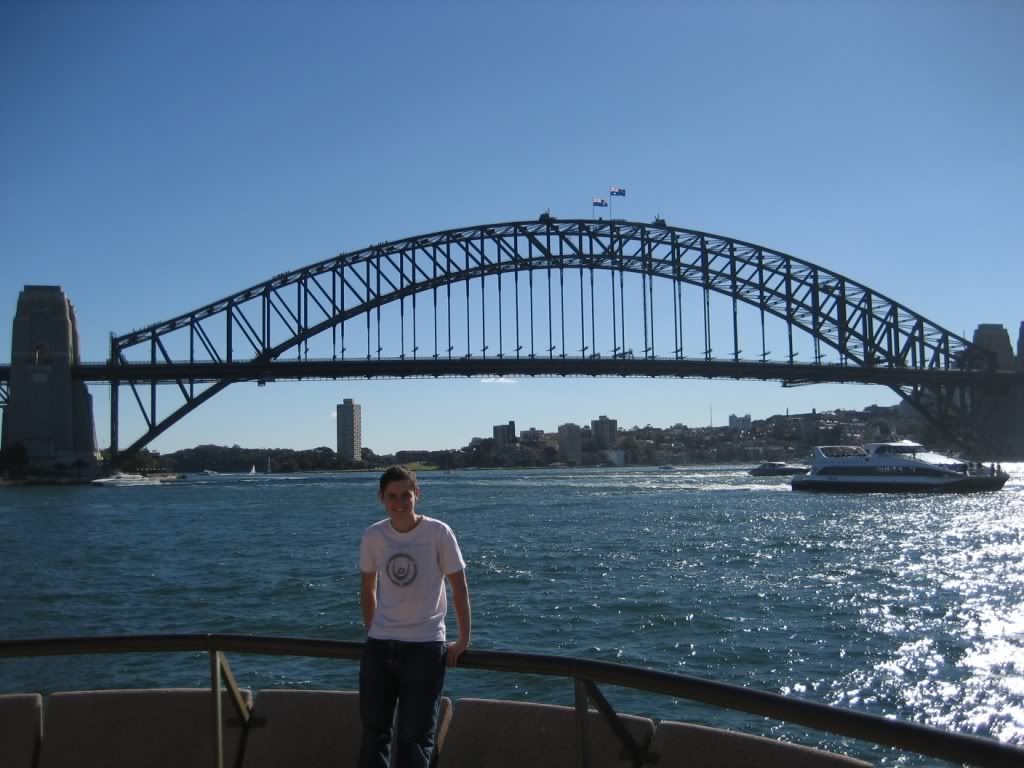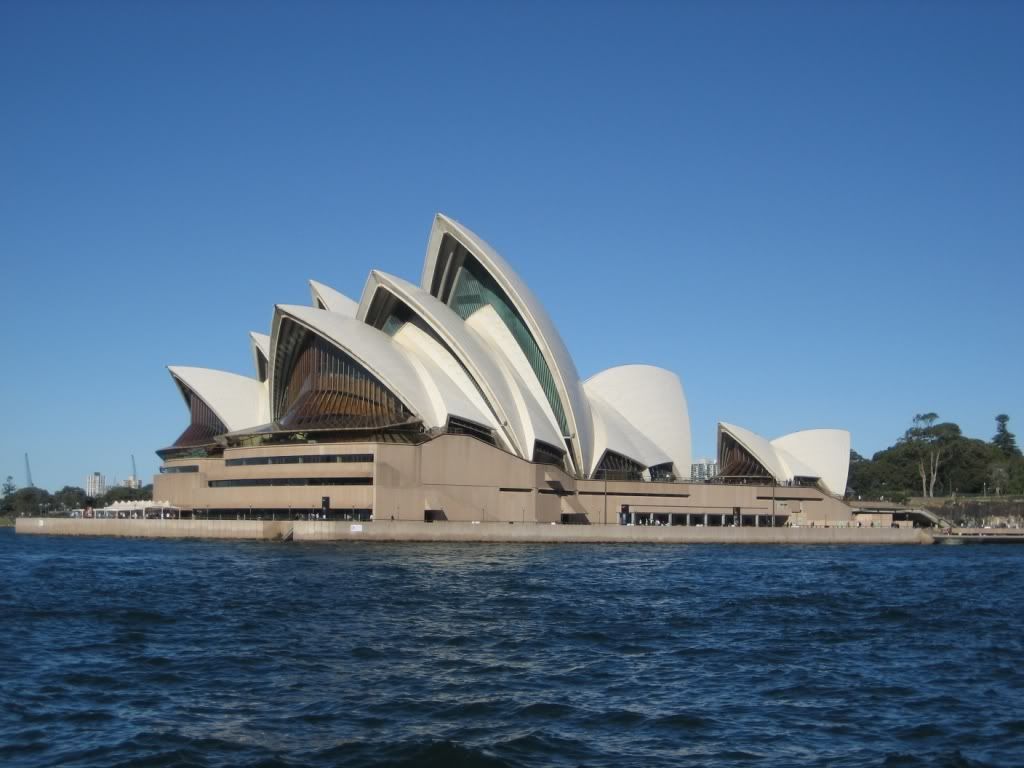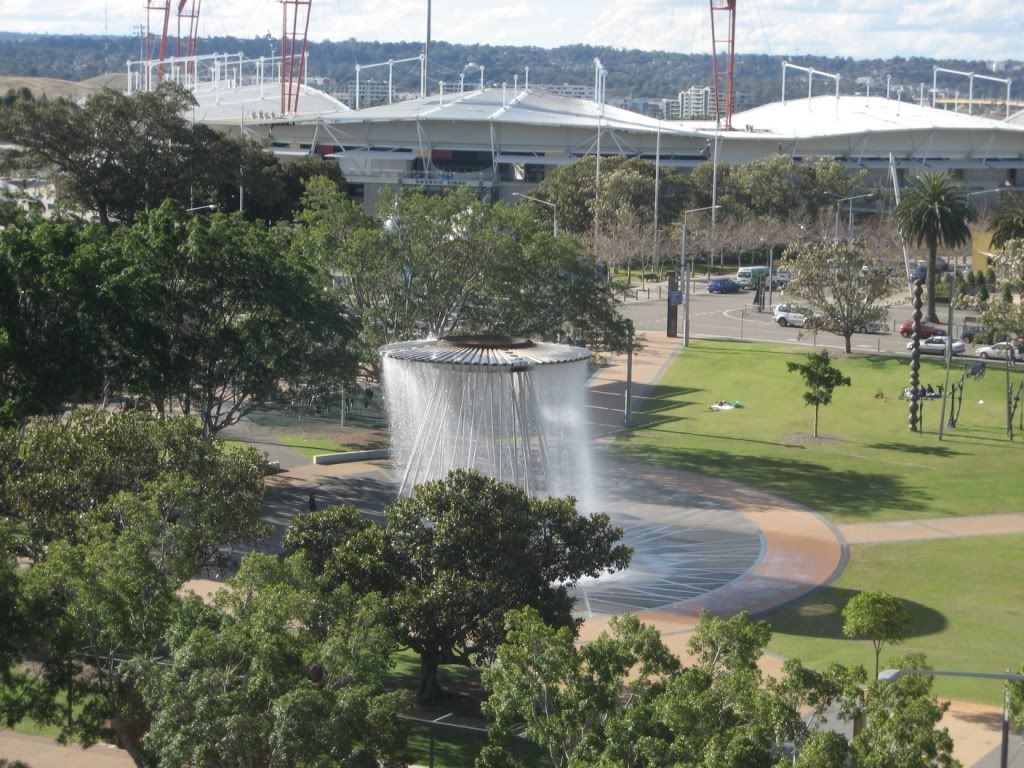 Sector: SYD-AKL-RAR Tuesday 10 July
Flight number: NZ704
Flight time: 2 hours 15 minutes
STD: 11:30
Pushback: 11:29
Rotate: 11:41
Runway: 16R
Aircraft: Airbus A320-200
Registration: ZK-OJB
We made our way to the airport using the train from Sydney Central Station, an excellent service and it got us to the airport within 20 minutes. We arrived at 08:30 and check-in didn't open until 09:00 so we went for breakfast before heading over to desks J01-J09. The lady at check-in was very polite and incredibly helpful, she moved some other passengers around to give us two seats together and myself a window seat, I didn't ask her to do this but I wasn't complaining. We were allocated seats 27A and 27B for the flight to Auckland and then seats 8A and 8B for our flight over to Rarotonga. Our bags were also checked all the way through.
We headed over towards the departure lounge and made our way through security and customs, it was incredibly quiet at the time and we didn't have to queue for passport control or security which made things much easier. As we had quite some time to spare I went off looking at aircraft, much to Dan's dismay, and took a few photographs.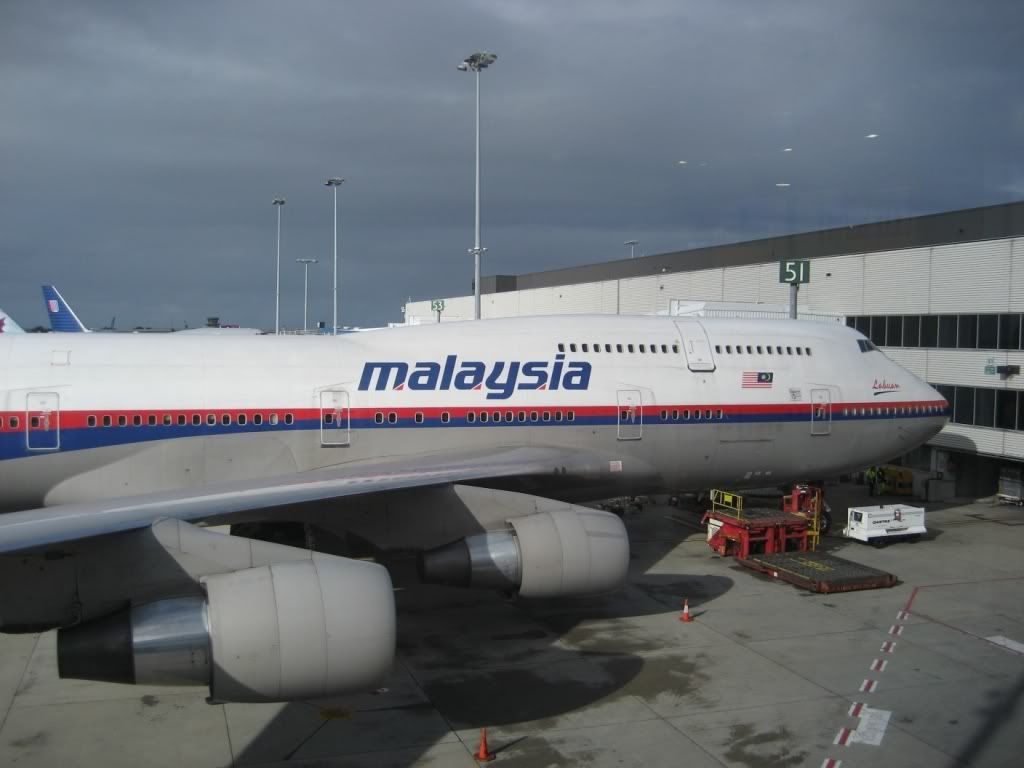 MH 747-400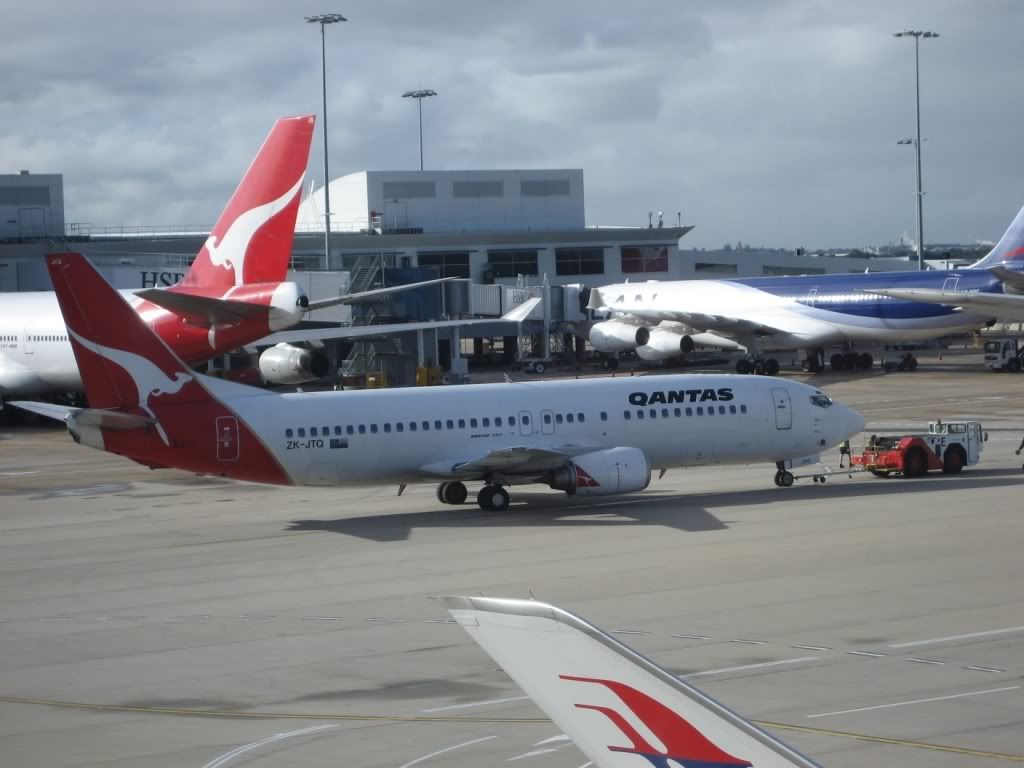 QF 767-400 ZK-JTQ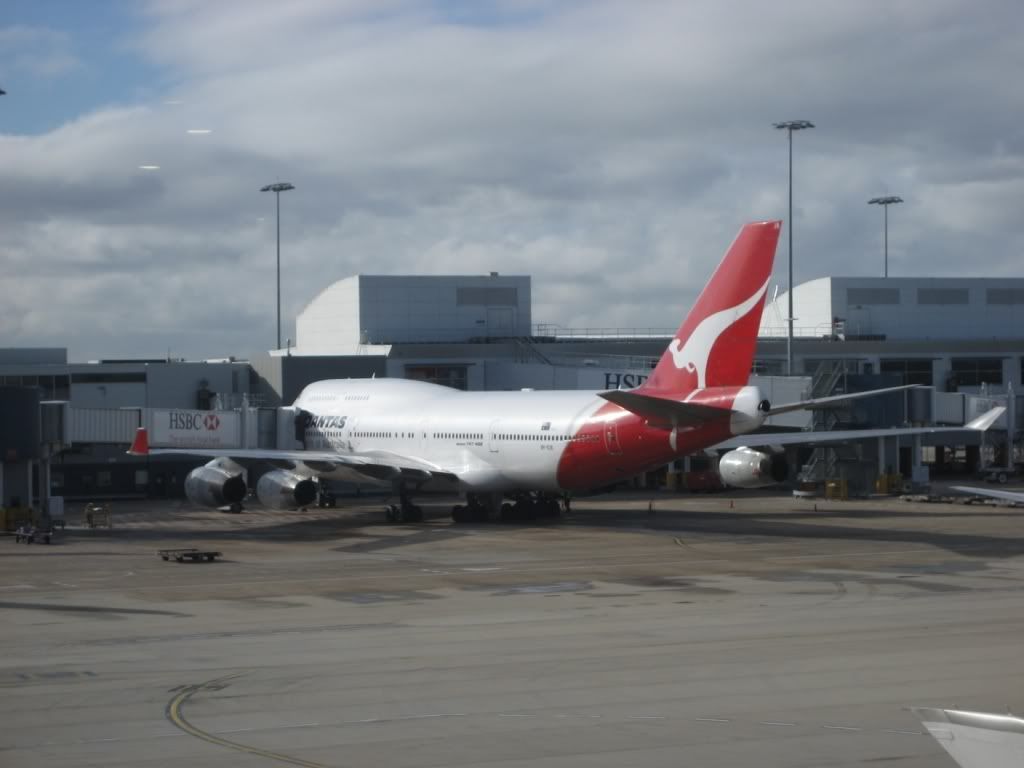 QF 747-400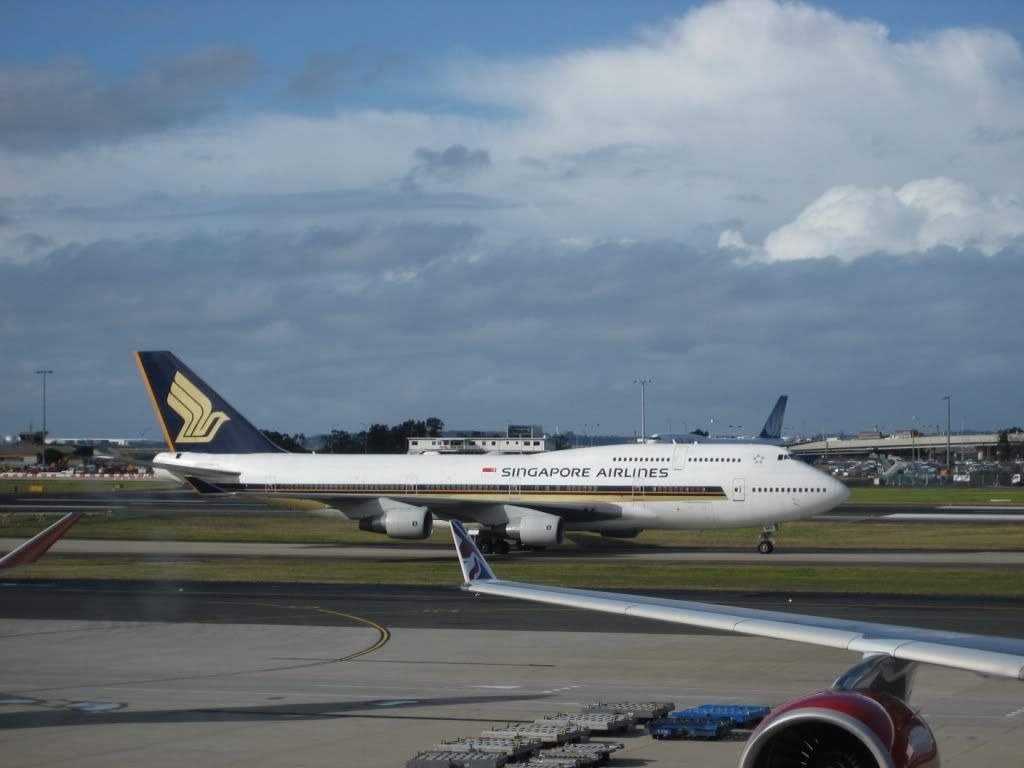 SQ 747-400 for SIN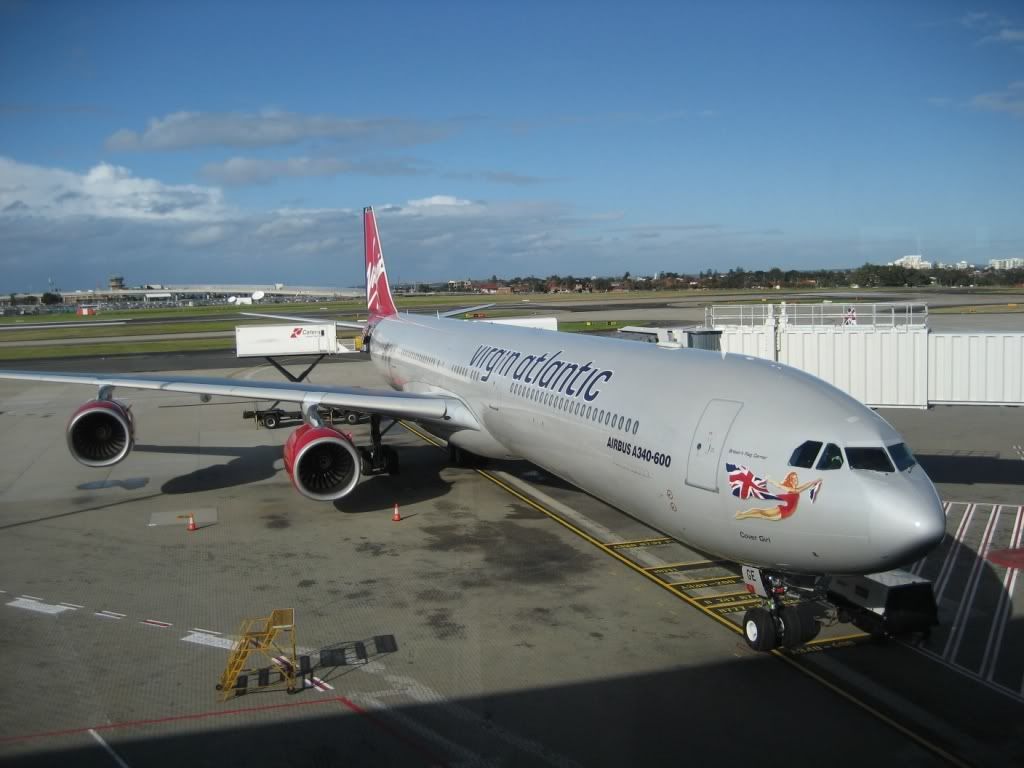 VS A340-600 G-VOGE for LHR via AND OLD: Hong Kong - Kai Tak International (HKG / VHHH) (closed), China - Hong Kong">HKG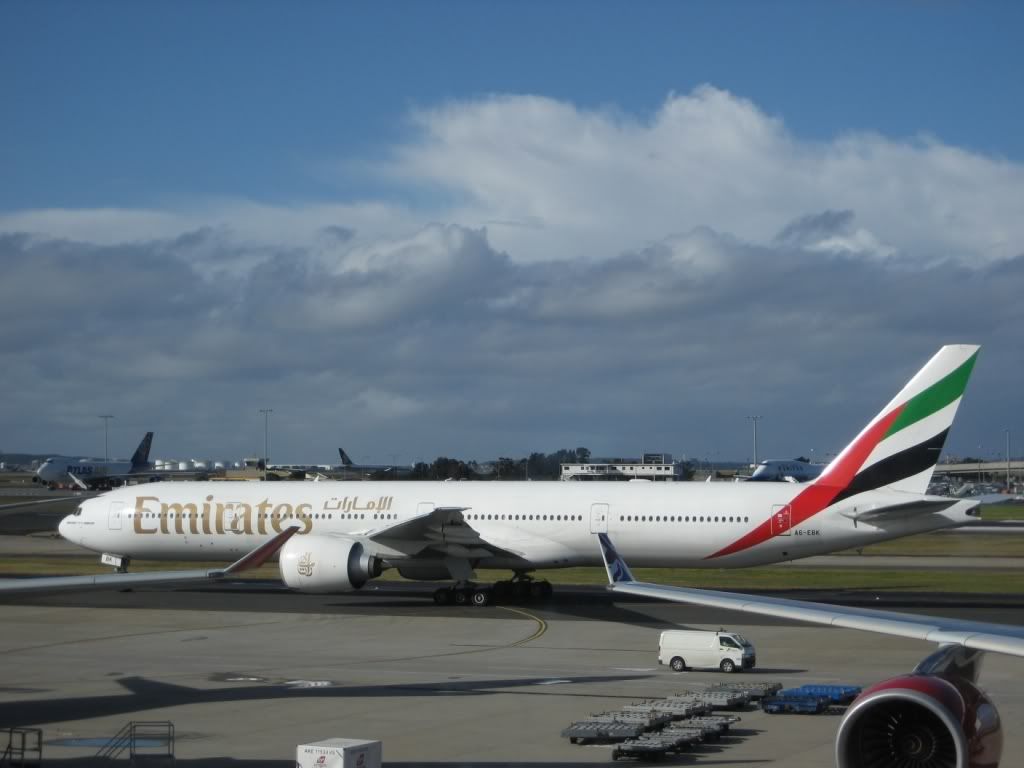 EK 777-300ER A6-EBK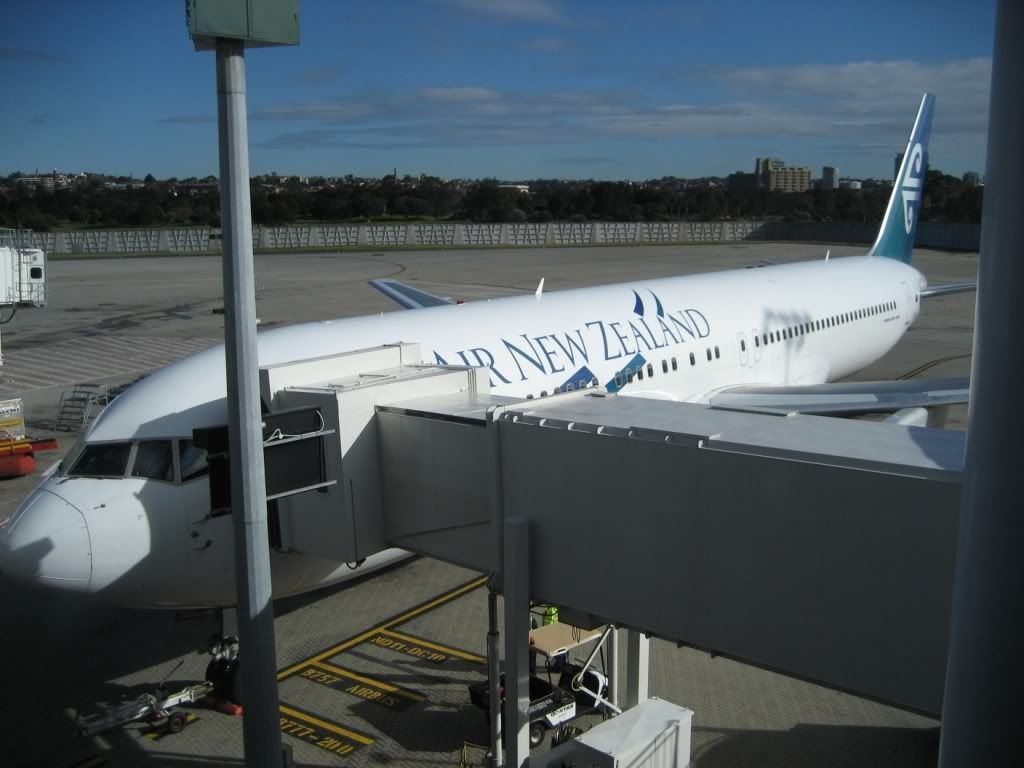 NZ 767
NZ A320-200 ZK-OJB for AKL, our aircraft!
We boarded at gate 60; boarding was late in starting by about 10 minutes and started with the small business class cabin, which has eight seats. After this boarding started via rows and the back was boarded first. Again my hopes of finally getting another proper boarding pass were shattered
, the agent at the gate took the smaller portion of the boarding pass which the passenger usually keeps (well in my experience anyway), so I was left with a very large piece of card.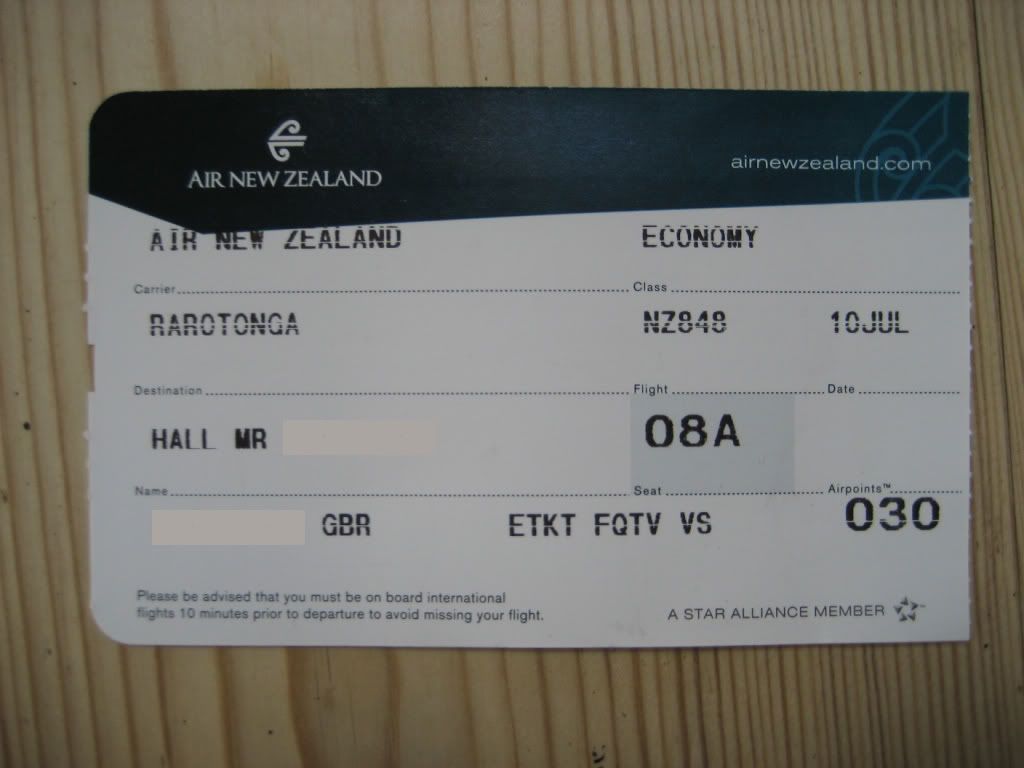 Upon boarding we were greeted by some very friendly cabin crew who asked if we were having a nice day and told us if there was anything they could do then we only had to ask. I do like the A320 and I was very impressed with the quality of this cabin and how clean it was. Our seats were right at the back of the aircraft, they were incredibly comfortable and I really like the brown leather of NZ. The seat pitch wasn't too bad and it was nice to see an adjustable headrest on such a short trip, even if I wasn't going to use it.
We taxied out to the runway and were soon shooting along 16R, compared to the 737-800 we had been on previously with DJ the A320 seemed to be far quieter and much smoother but I may be wrong. While we climbed the crew announced that the IFE system would be started shortly, on the A320 this system was simply LCD screens which dropped down from the ceiling along with eight audio channels, while J class passengers have their own personal TV (not AVOD). Today they were showing the film Blades of Glory which I was a little sceptical about having seen the adverts but I decided to watch it anyway an was pleasantly surprised.
IFE system
Upon reaching the cruise the crew announced they would shortly be starting their lunch service, available to all passengers, followed by a complimentary bar service. The options for lunch were:


Toasted Chicken Focacia sandwich
Or

Steak and cheese pie

As soon as the crew got the signal there was a lot of activity from the galley behind us as they prepared to serve the full aircraft. I had decided that I was going to have the chicken Focacia sandwich but the last one went to Dan and so I got the steak and cheese pie which was quite good. Lunch was followed by the bar service and we helped ourselves to plenty of drinks and water.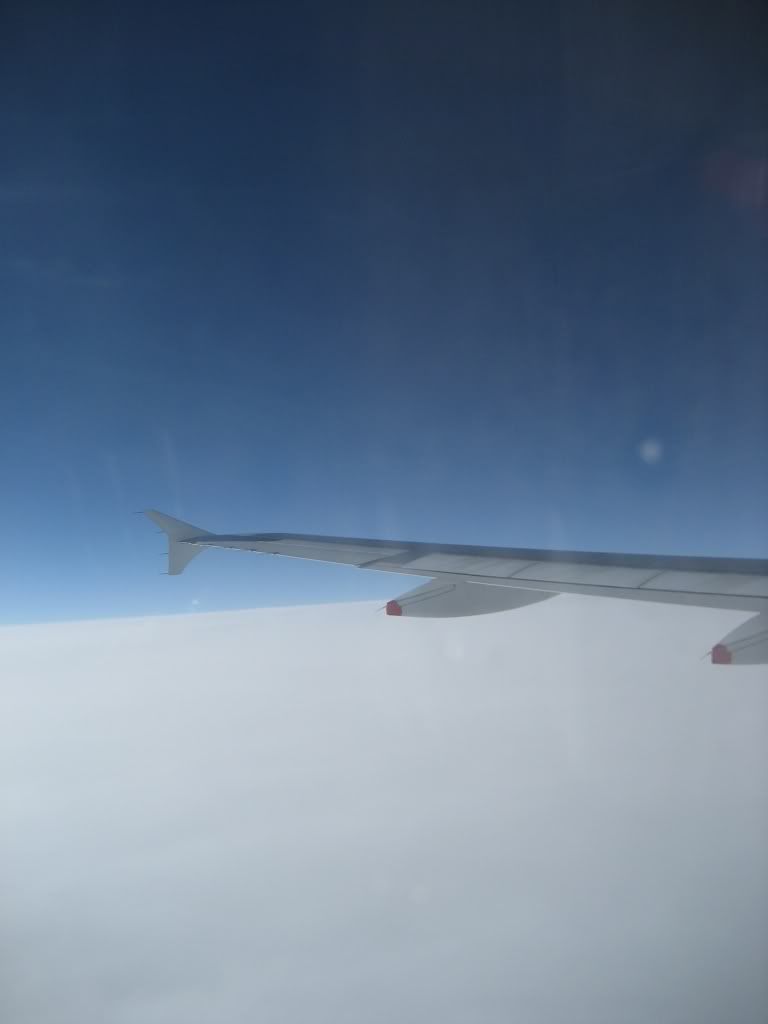 The rest of the flight was pretty un-eventful, a very smooth journey until we began our decent into Auckland when we were greeted by storm clouds and some strong winds. It was quite a bumpy landing but a fun one
and we arrived in Auckland three minutes ahead of schedule.
As we were walking down the aisle I asked the number one whether or not we could see the cockpit, she said the pilots had left but it wouldn't be a problem.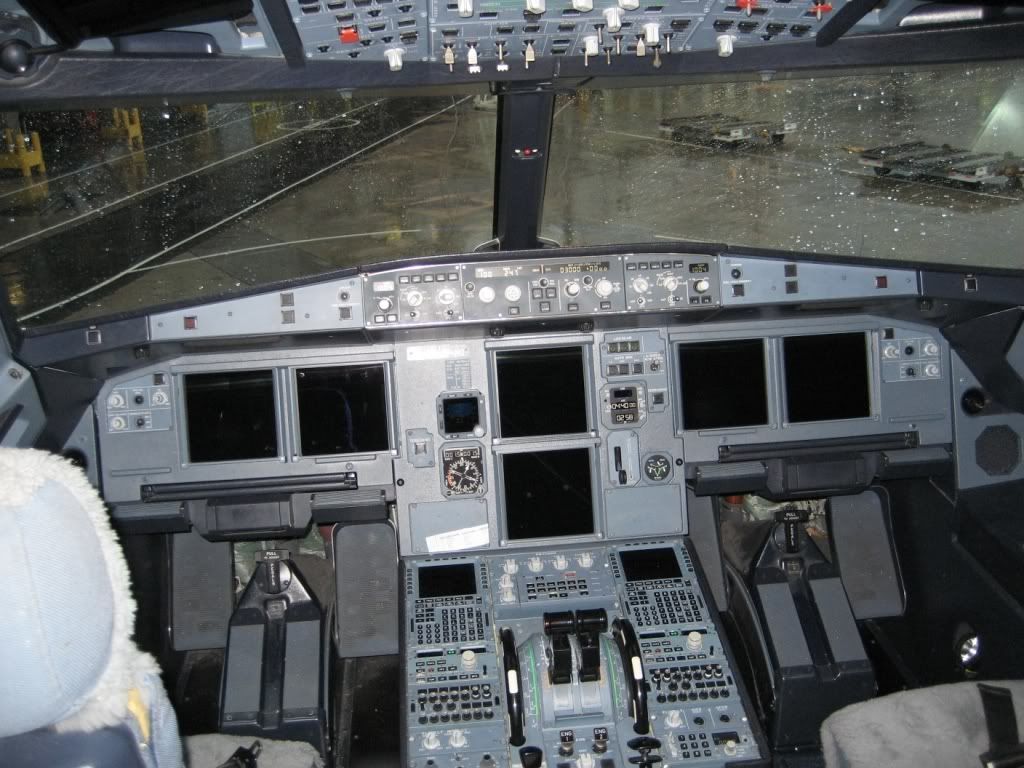 She was incredibly friendly and I had quite a lengthily discussion with her about the aircraft and Air New Zealand. She told me about the on going fleet renewal plans and the plans which are in place to upgrade the IFE to AVOD on all 767 and 320. It was a shame that everything had been powered down but it was good to see the flight deck none-the-less. We left the aircraft and headed for the transfer security for our next NZ flight. My first impressions of NZ were excellent; excellent crew who were friendly yet professional, a good Y class product for short trips and the catering wasn't too shabby.
STA: 16:30
Landing: 16:24
Runway: 05L
At the gate: 16:27
Sector: SYD-AKL-RAR Tuesday 10 July
Flight number: NZ848
Flight time: 3 hours 40 minutes
STD: 21:45
Pushback: 21:54
Rotate: 22:09
Runway: 05L
Aircraft: Airbus A320-200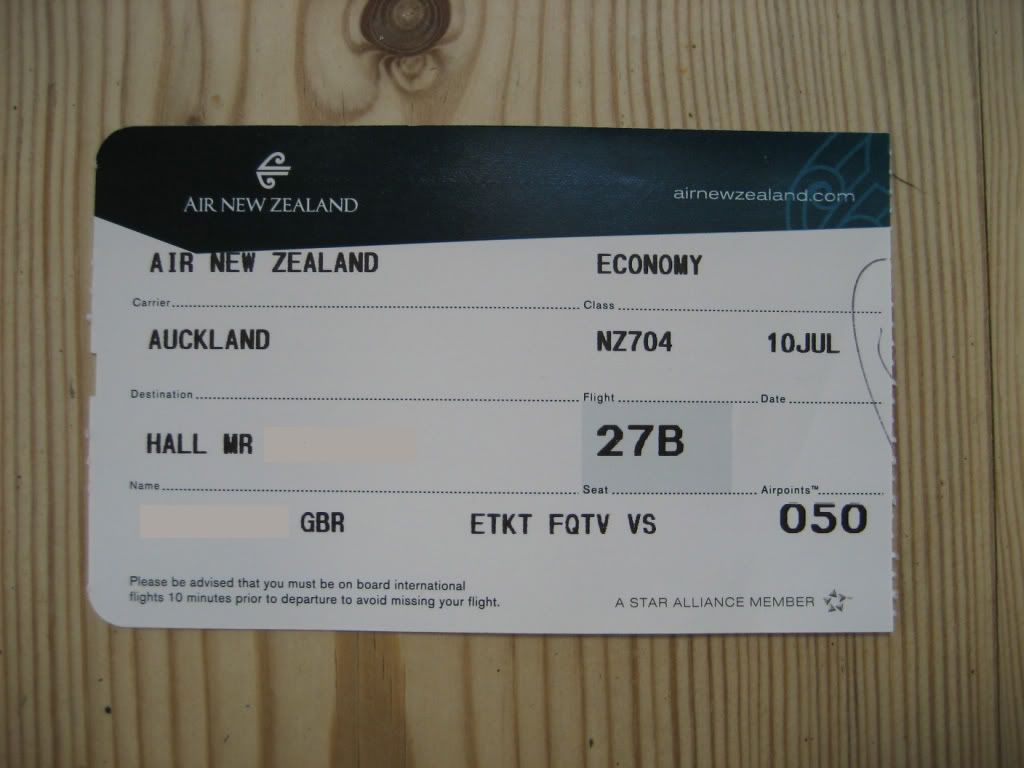 We spent five hours in the departure area of Auckland airport, I thought it was a nice airport and not too mad/busy like some of the others I've been too but there wasn't really much to do for five hours so we spent the time pretty much just eating and drinking while watching aircraft. There wasn't the greatest variety of aircraft at AKL but it still wasn't too bad, the list included:
The weather outside was awful, incredibly wet and windy. Our flight was due to leave from gate nine but it was changed to gate three so that the aircraft doors could be opened, the wind was obviously reaching some quite high speeds. I didn't get any photographs on this sector because one of the crew members asked me not to take any…fair enough.
The crew on this flight were all much older than our previous flight and were not as humorous or as fun (reminded me of BA) there was also a male cabin crew member; our previous flight had been all female. Boarding commenced in the usual manner and the plane was again nearly full, around 90% in Y and full in J, our seats for this flight were 8A and 8B. We were a little late with pushback due to a delay in another inbound NZ flight which had connecting passengers onboard. Once the doors were closed we had a 15 minute taxi to the runway before we took off and headed out towards the vast Pacific Ocean.
The cabin on this aircraft was just as nice as our previous A320 flight, it may have even been the same aircraft but I never for the registration so we'll never know! There was some strong turbulence as we climbed out of AKL and a few small "screams" from some of the passengers towards the back of the aircraft. The IFE system was the same and tonight they were showing Becoming Jane so I popped on the headphones and decided to see what it was like. When the captain gave the signal the crew started their usual activities in preparing to serve dinner, our choices for this evenings meal were:


Steak and Mushroom Pie
Or

Chicken Kiev
Both served with salad and bread rolls

It would seem that Air New Zealand like their pies
I had the Chicken Pie which was better than my meal on our previous NZ flight from SYD that morning, pudding was ice cream. Now we had been told by the purser/number one that the ice cream they serve on NZ is fantastic, coming from Devon and being used to Salcombe Dairy ice cream we had high expectations but wow it was delicious! I don't know what anyone else thinks of Kapiti ice cream but Dan and I were incredibly impressed, so much so that the crew kept on coming back to give us more. After dinner was served there were two rounds of tea and coffee before other drinks were given out to passengers, it took quite a while for our dinner to be cleared away but this is often the case with many airlines.
The lights were dimmed when we had only one hour and 10 minutes left in the flight, as it was quite cold on-board I decided to get the blanket out. Now people often say I'm impressed with the simplest things…but
the blankets were amazing for Y class! They were so soft and very thick, FAR superior to what SQ gave us which actually electrocuted us; I understand they provide better blankets on their 77W services. Being at the very front of the Y cabin and there being several trolleys behind me I decided that I'd use the lavatory which was at the front of the plane, through the J class cabin. I don't think that it's right if Y class passengers use a lavatory where they have to pass through the J class cabin to get to it, even if it is for all passengers on-board and I rarely do it. Anyway it would appear that no other Y class passengers seemed to mind because when I walked through there was a whole host of them crowded around the front of the J class cabin, if I were a J class passenger then I wouldn't be best pleased. I guess it can be very difficult to control something like this on an aircraft like the A320 where you can't exactly stick more lavatories in the cabin without seeing a huge reduction in the number of seats.
The biggest gripe which I had with this flight was the fact that the male cabin crew member, Kev, took off his jacket and tie, un-did his top buttons and rolled up his sleeves once we were in the cruise. He then started service the business class cabin. I understand that the crew need to be comfortable and have a uniform which is smart AND practical but I really didn't think this was very professional and I was to find out that it would get worse the more NZ flights we took.
We began to make our decent when we had about 20 minutes of the flight left, having crossed the international date line my body clock was totally screwed and we would in-fact be arriving on Rarotonga at 03:45 on the same day we left Sydney, in-fact we arrived in RAR before we left SYD. The pilot bounced the 320 down the runway at RAR which resulted in some quite heavy breaking and long reverse thrust.
STA: 03:40
Still on Tuesday 10 July!
Landing: 03:45
Runway: 08
At the gate: 03:48
All-in-all I was very impressed with the quality of service and the economy class of Air New Zealand. The food was good and the planes were incredibly comfortable, the majority of crew were very friendly and provided an excellent service. The uniform issues are just a silly little thing of mine but I still feel that it's not very professional. After this experience I was really looking forward to flying the 777 (favourite aircraft) back to AKL and then the 747 up to LAX the next week and trying out their new economy class. However we had a week of golden sand and crystal clear waters to put up with first