Across the "Oresund" or Kopenhagen ex STR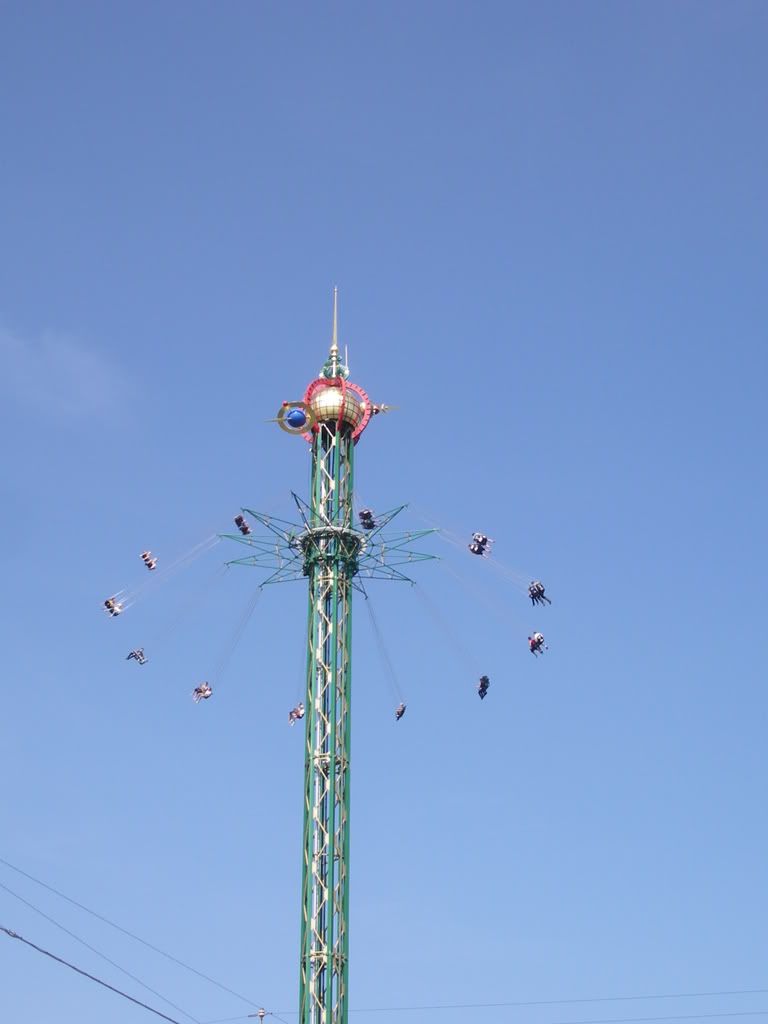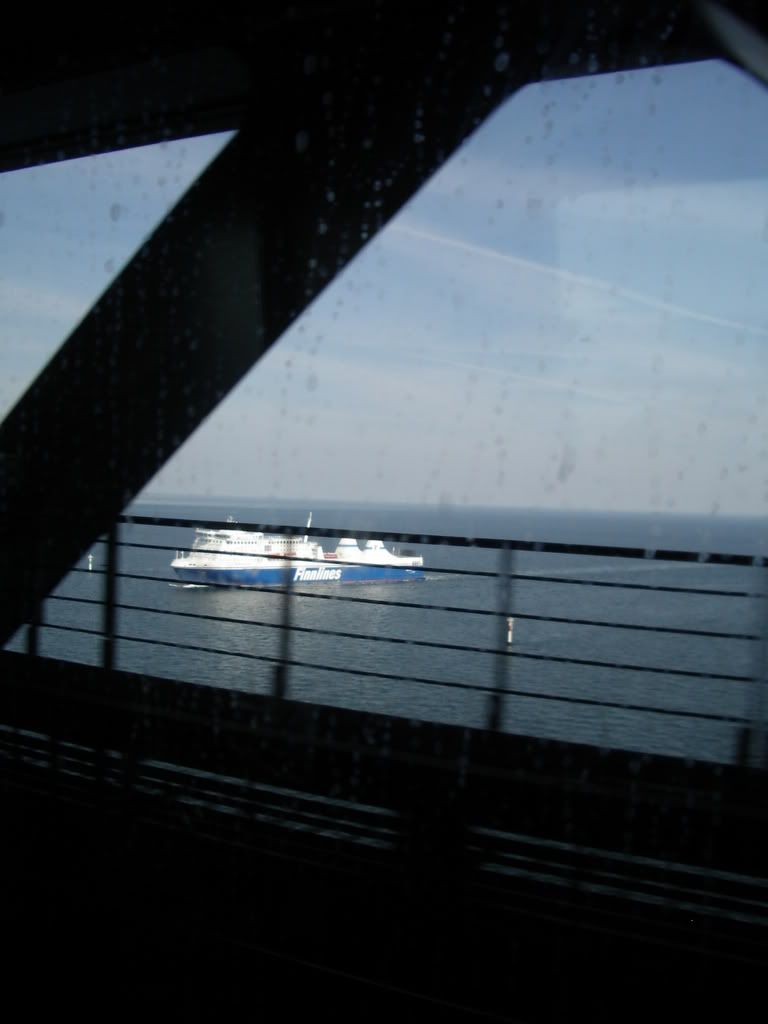 Hello, dear readers,
now it´s time for the next summer series story.
We want to ride by train, the Oresundbridge, one of the worlds largest bridges, from Denmark
to Sweden.
Let´s go.
Tuesday, 07.08.2007
STR (Stuttgart-Echterdingen) - CPH (Kopenhagen-Kastrup)
Duration: 1 hour 35 minutes
SK 668 operated by SAS Dash 8-400 LN-RDE
Scheduled: 07.05 // 08.50
Actual: 07.15 // 08.50
Gate: 162 Seat: 18D
Load factor: 100 %
Fare: 60,12 EUR per pax per leg
History:
28.06.2000: Delivered to SK
Flight no. 3 on the DHC 8-400 and the second on this machine.
Another early morning departure from STR. This time the SK website told me that online check-in was not possible
for me and my sons reservation. So I decided to arrive a bit earlier, around 6 am.
I was really shocked when reached T1. There is some construction work, the LH counters changed to the other side of the middle row.
A long queue around the corner in direction T0 for eco check-in, weird.
LH opened a FF-program for kids, called JetFriends, that´s Miles-and-More with some special kids features.
One thing is a necklace to carry the card. We reached the end of the queue when a friendly LH female saw my sons card and asked us
where we want to go today. I answered CPH and told her that online check-in was not possible. She send us to the biz counters
and only minutes later another friendly female checked us in and send our bags on the way to CPH. Good job, LH ladies.
This time queues at T1 security, but not at T3, passed and returned to T1 where we arrived at our gate around 06.30 am, 15 minutes prior to
scheduled boarding.
162 was at T1 on the ground floor where usually the regional planes are handled by bus. The bus arrived and another free ramp tour started.
Early morning at STR: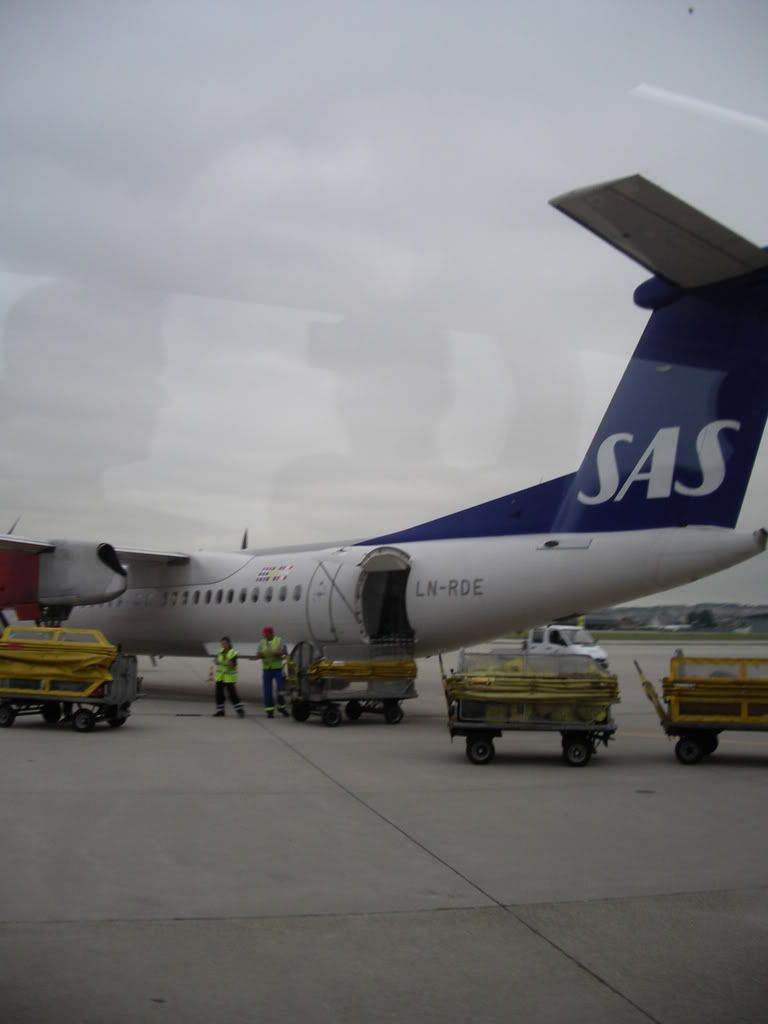 The nose...:
...and the engine:
When we arrived at the plane I thought about that reg sounds familiar. So it was, I had another flight on the same route on this machine last year.
Two male FA´s, not to friendly this morning.
The plane fitted with dark, blue leather seats, the cabin not in the best conditions.
A short welcome from the flightdeck, the crew was scandinavian.
Interesting was what follows: "Pax arrived from Milan had to go out and identify their bags". A joke or what else, it´s 07.15 am and there was
for sure no arrival from Milan earlier this morning. I do not follow the complete action, but we had to wait for some minutes and I don´t saw
a passenger leaving the plane. It seems that there was a unidentified bag from Milan on the plane.
Departure from runway 25. No info about the route. Flightlevel 24.000 feet.
Inflight:
Nothing for free in Eco on SK.
One more short information about wheather at CPH during approach.
Touchdown ontime on CPH´s runway 04L . Parked at the apron.
Perfect wheather conditions at CPH: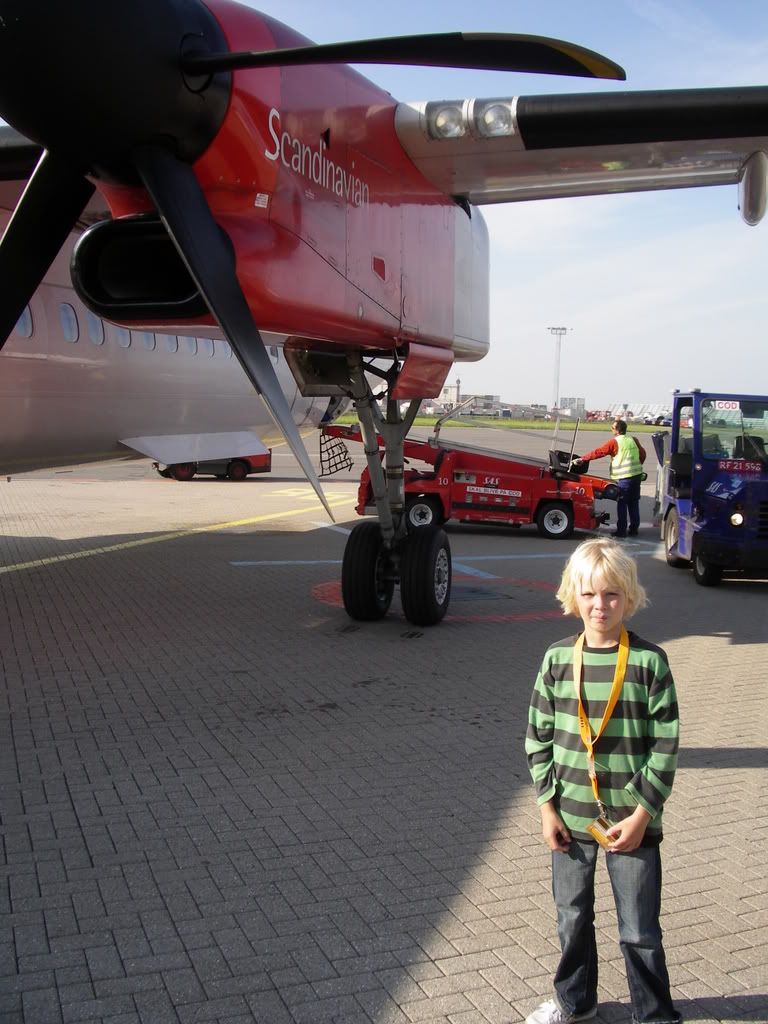 On the apron: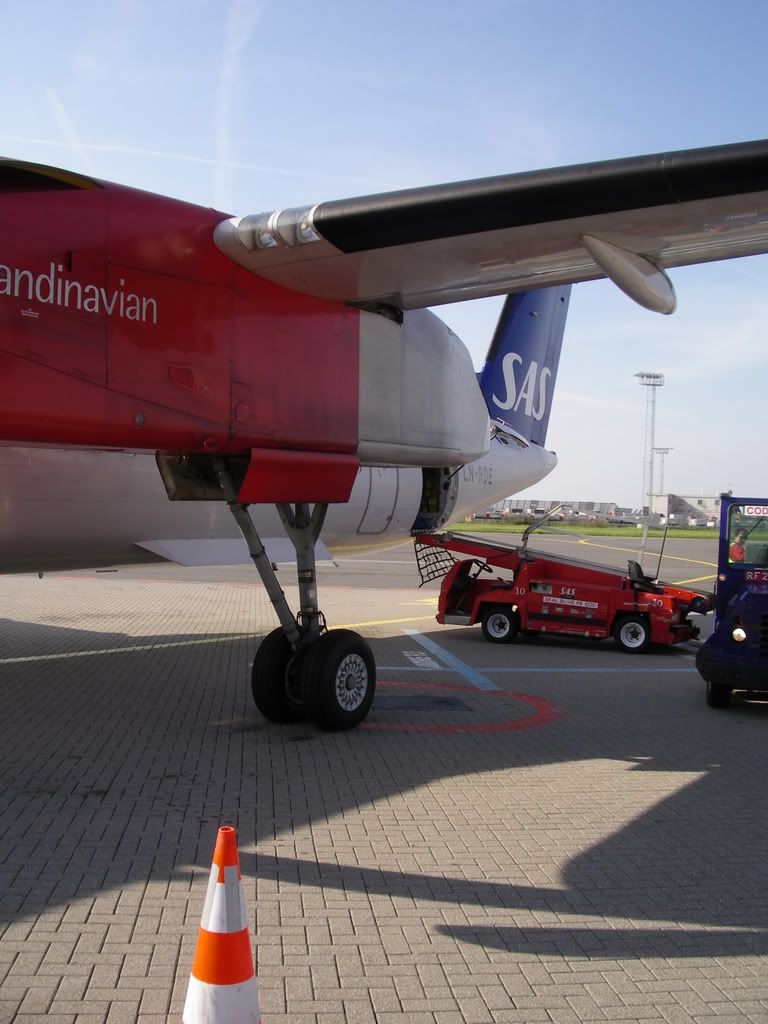 Close-up:
We entered a bus, but it seems it was on strike today, the driver started several attempts but it was impossible to close the doors.
After around ten more minutes on the apron another bus arrived and delivered us to the terminal. .
Nearly no time to wait for the bags and on the way by train to Central and further to the hotel around the corner, The square,
a good but overprized city accomodation.
Some pix for the interested:
Oresundstog:
A view from the bridge again: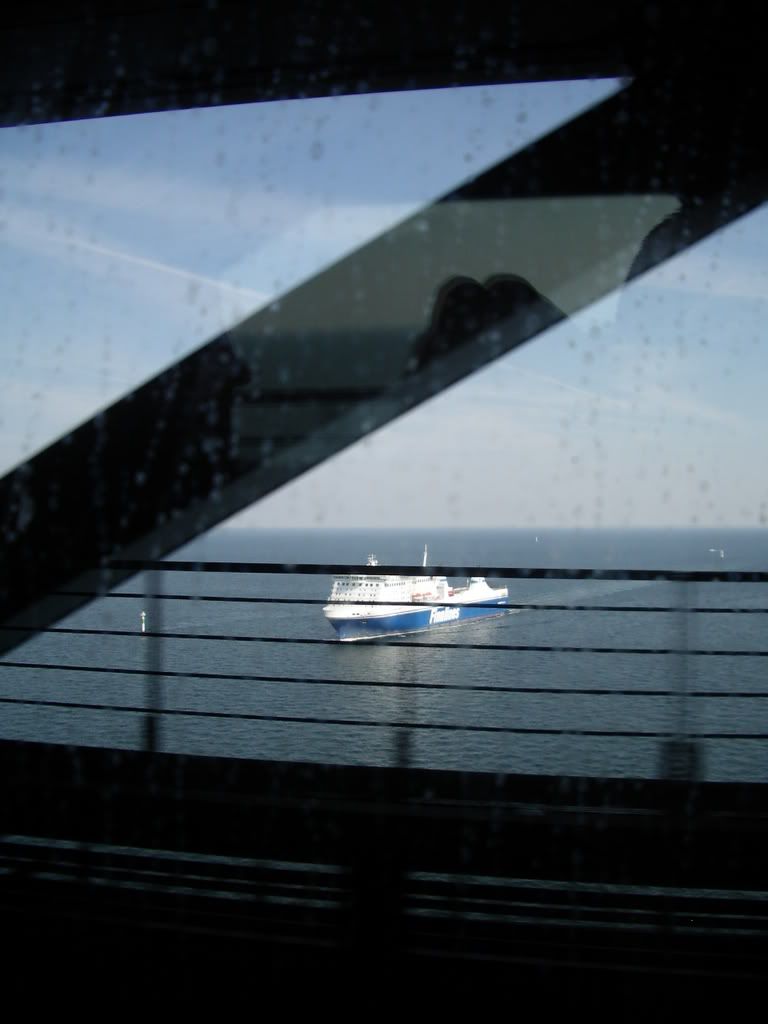 Inside Tycho Brahe's Planetarium:
City Hall: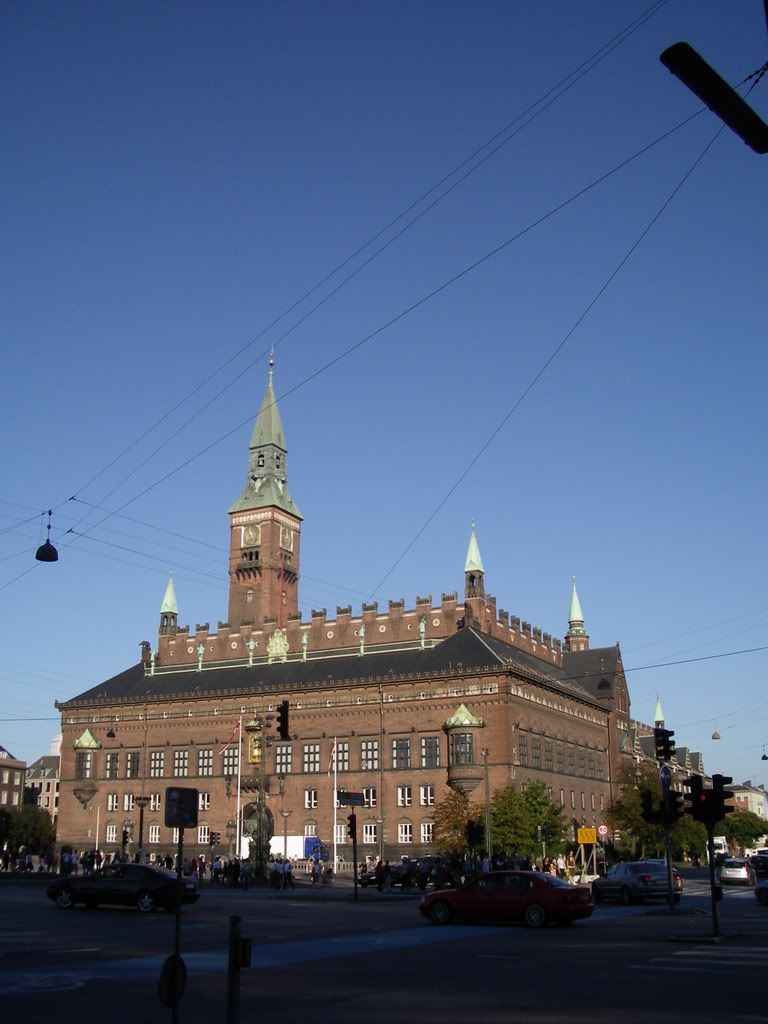 Do you know Jules Verne´s Journey to the middle of the earth?: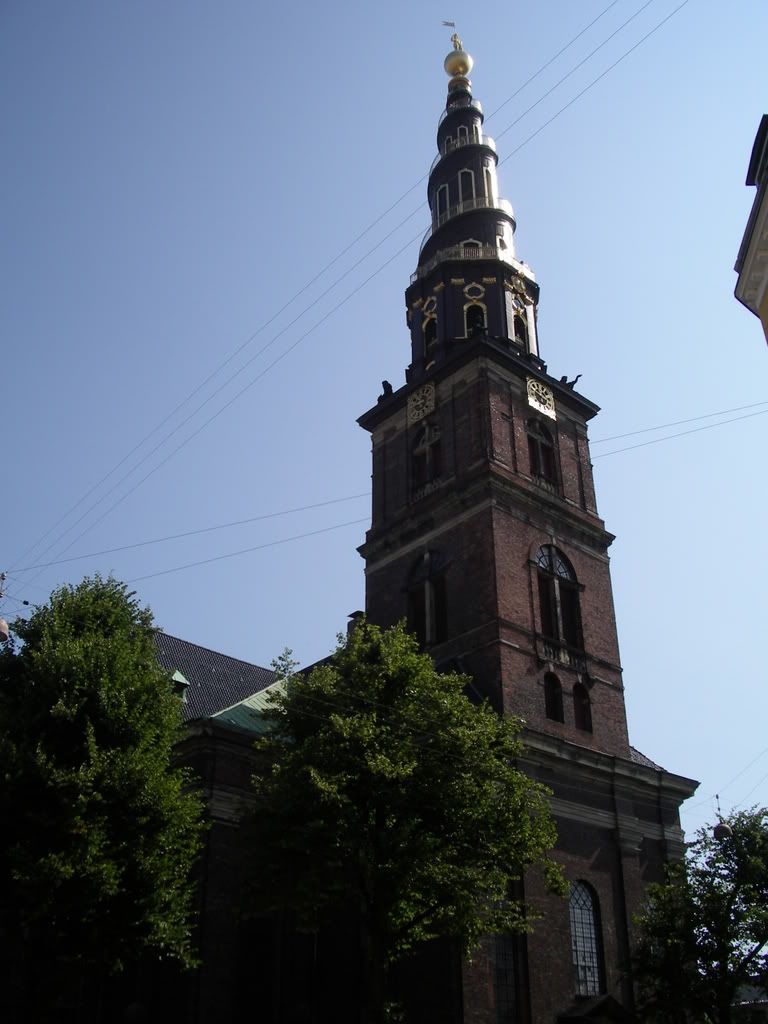 The outside stairs are the place to check out if you´re free of
dizziness:
View from the top of the stairs, Oresundbridge in the far distance:
Wednesday, 08.08.2007
CPH (Kopenhagen-Kastrup) - STR (Stuttgart-Echterdingen)
Duration: 1 hour, 20 minutes
SK 655 operated by SAS MD-82 OY-KHE
Scheduled: 15.15 // 16.45
Actual: 15.35 // 16.55
Gate: A23 Seat: 33C
Load factor: Around 90 %
History:
21.04.1988: Delivered to SK
30.04.1993: Leased out to Reno Air
13.07.1998: Back to SK
Flight no.6 on the MD-82 and the first on this machine.
Time to go at around 11.30 am, by train return to the airport.
Also vacation time at CPH.
A long queue at the eco desks, but it moves fast forward, the atmosphere was relaxed, so no problem to wait this 15 minutes till we checked
in our bags by a friendly older female agent.
For the first time ever I had to leave my Rimowa-Alu-case
at the special-luggage-desk. The agent told me that
scanning was not possible, so it will be manually
checked!.
No time to wait at security and in the gate area early enough for our scheduled boarding.
It was a long way to go from the main building to our gate A23, walking along the parked planes to watch out for our MD.
Approaching OY-KHE:
Nice colours: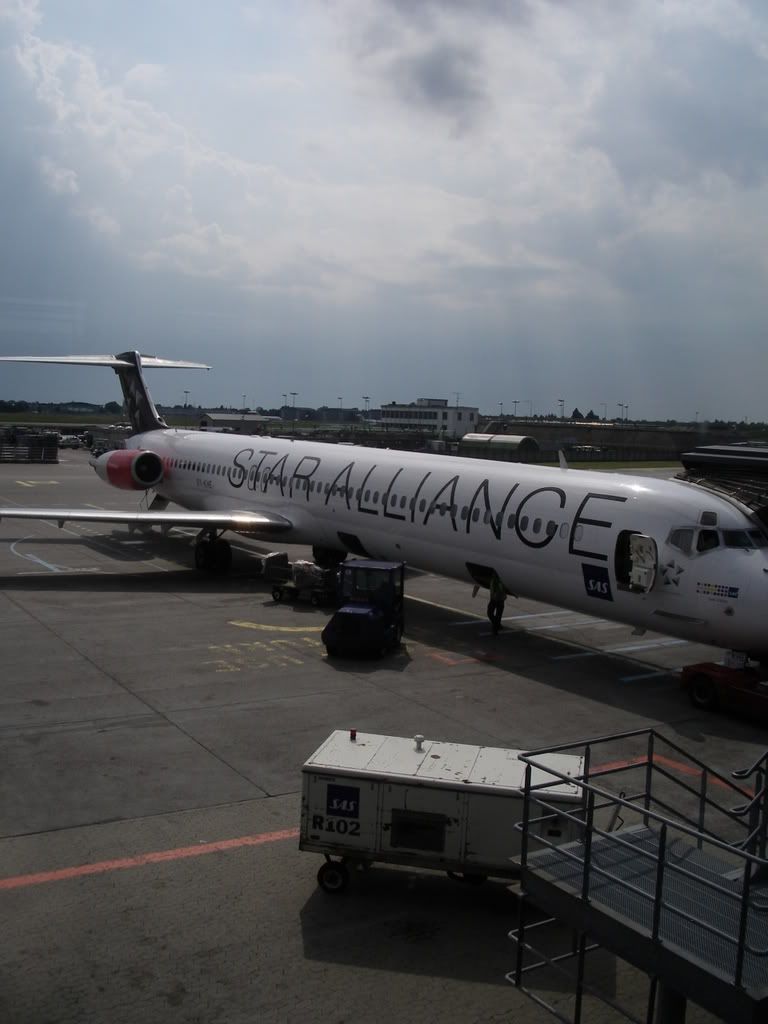 Our neighbour: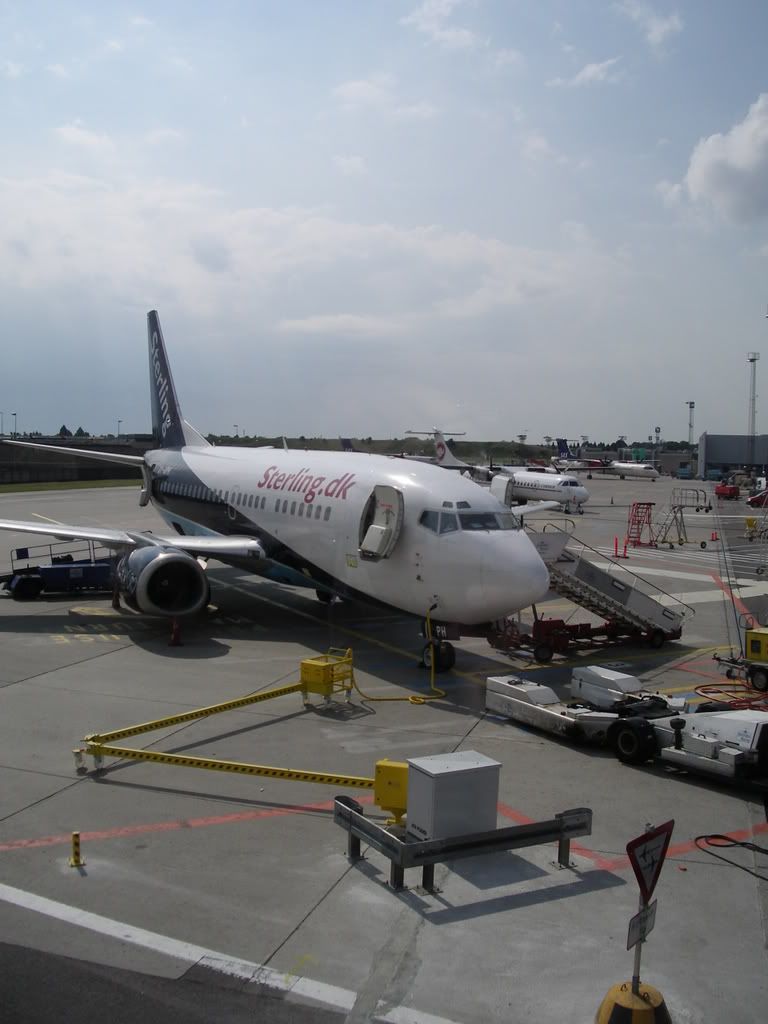 There was one painted in Star Alliance colours and it seems that will be our machine, not bad.
Boarding as announced during a jetbridge.
The crew was oldfashioned, like the plane. Three females in their fifties. Dont get me wrong, these ladies doing a real good job today,
real friendly and attentive.
Row 33, that means after a small compartment with the rear galley, three rows only with limited views directly beneath the engine. Legroom was firstclass,
old fashioned, not really clean fabric seats. And the noise, unbelievable, I like it on most of my flights to sit near the engine, but this time.
We´re pushed-back, nothing´s going on, the captain announced problems with disconnecting the pushback truck, more than ten minutes on the ground
with an incredible engine noise.
Finally it was ok, departure from 04R, no time to wait there.
The flightdeck crew was from Scandinavia, the captain was four times on the sepakers, very detailed informations about all around the flight
in danish, english and german.
A real good job.
The route was above HAJ, flightlevel 33.000 feet.
That´s what I call near the engine:
Touchdown on STR´s runway 25 around ten minutes late.
Once again at STR, finger-deboarding, quick bags and after some eating and spotting at BK in T1 we´re on the way back home.
Time for my opinion.
The ride above the Oresund is real interesting.
STR goes down in my personal rating during these construction times, hope that will be better again.
CPH, large and spacious, friendly employees there, a nice airport from my point of view.
SK: Fare acceptable, flights nearly ontime, interesting equipment, nothing special on the outbound, but for sure the best flightdeck/cabin crew
during my latest travels on the inbound.
My son was allowed to visit the flightdeck at STR and we talked some minutes with the guys in front.
Flightdeck visit: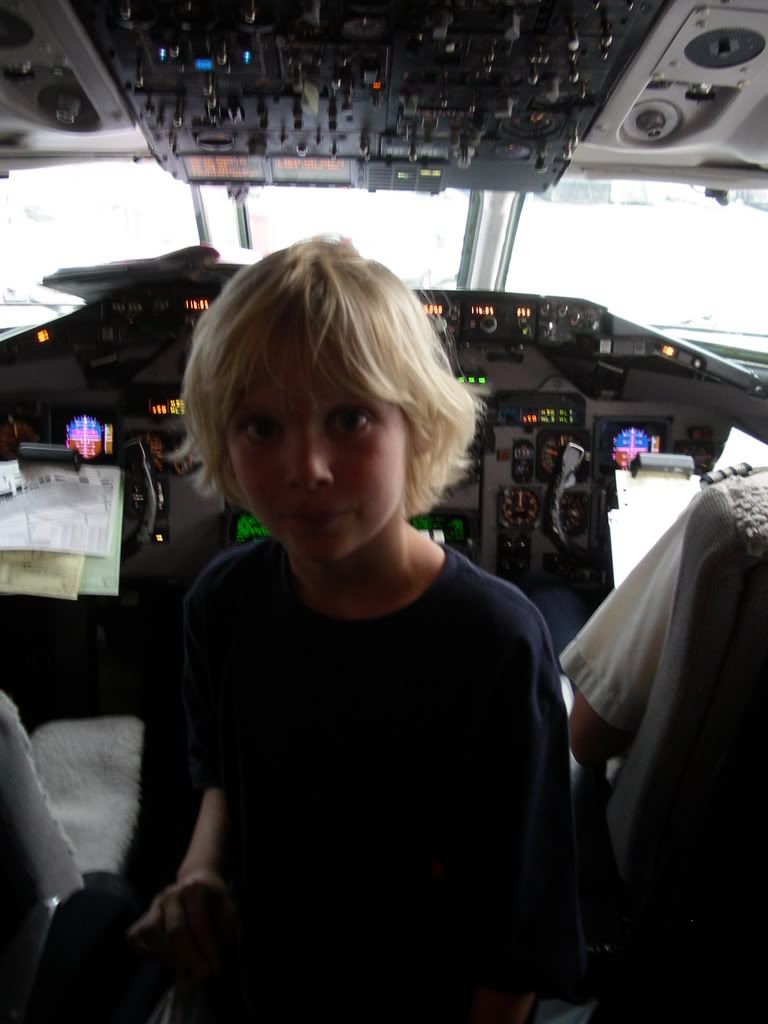 View from BK T1: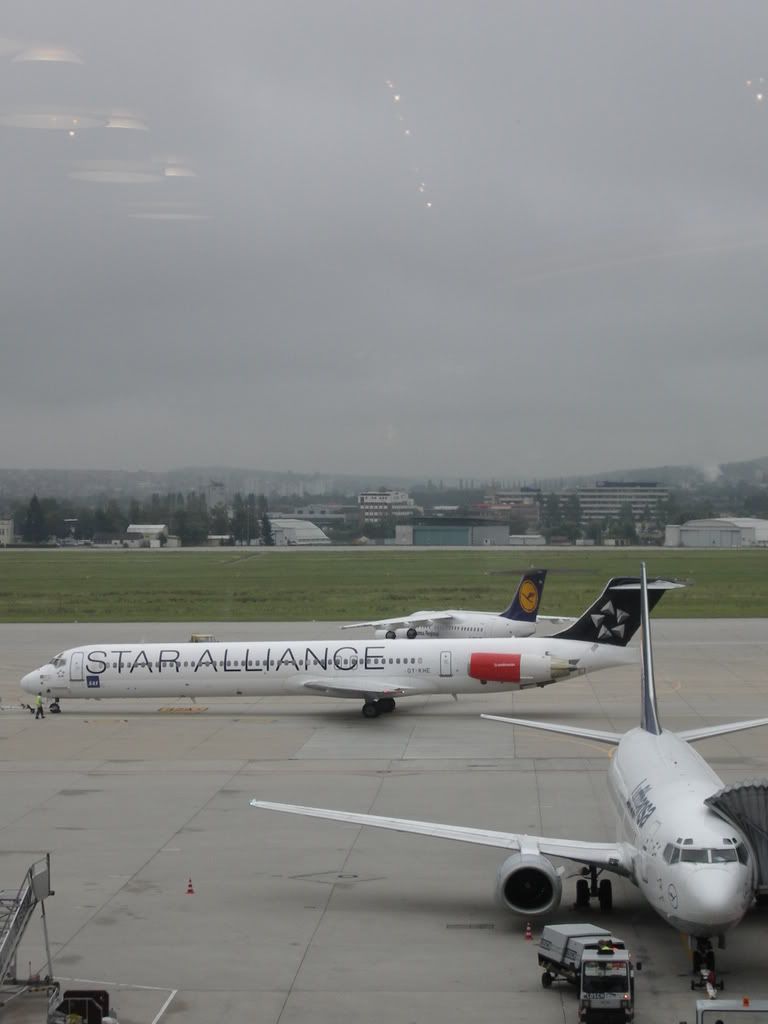 Real good job there on SK.
Comments welcome,
Markus (FLIEGER67)
If anyone wants to follow the full summer series:
1.) Into the flood, or not?: BHX ex FRA
Into The Flood, Or Not?: BHX Ex FRA
(by
FLIEGER67
Aug 13 2007 in Trip Reports)
2.)U-434: How to enter a russian submarine HAM ex FKB
U-434:How To Enter A Russian Submarine HAM Ex FKB
(by
FLIEGER67
Aug 19 2007 in Trip Reports)
3.)"Le Grande Arche" or Paris-Orly ex STR
"Le Grand Arche" Or Paris-Orly Ex STR
(by
FLIEGER67
Aug 25 2007 in Trip Reports)
4.)Your actual read
Coming up soon:
5.)The Hungarian Air Show at Kecskemet ex BSL on LX
6.)The "Duxford" experience ex FKB
On Schedule:
7.)BSL-NCE-BSL on LX