So I finally found the time to do a large scale trip report on my trip with the Royal Canadian Air Cadets, on our adventure through the Midwest States. It will be my first report, so be kind.
The Oshkosh Exchange is a 3 week course for which cadets from all over Canada, are selected from the list of applicants for the glider or power scholarships, who did not make it. In the end, the Oshkosh trip was much more fun anyway.
July 13th
I had to wake up at 3:00am to catch my flights to Toronto. I awoke to thunderstorms and heavy cloud. When I drove into the Comox Airport the clouds dissipated to reveal a magnificent sunrise. (No pics for first day or two. My Camera Wasn't working
)
When cadets arrive at an airport on movement, they are normally to meet with a movement officer, which I was told to do as well, but of course, there wasn't one there. That wasn't a problem and I could check into the flight myself, and I did. I also arrived at the airport 35 minutes before the doors were unlocked (I was told to arrive at 4:25 to meet the movement officer). After the doors opened at 5:00 I went and checked into my Central Mountain Air (9M) flight to Vancouver. I was the first passenger to check in to YQQ that day.
I checked in, and I sat in the cafe, where the staff came in one-by-one to get their early morning coffee. I went into security at 5:50, as my flight was to leave at 6:25. There was still a magnificent orange sun low over the airport, which would have made a really nice photo of the 9M 1900D sitting on the tarmac. But alas, I could not make my camera work. (Damn rechargeable batteries)
Flight Details

AC (9M) 7330
YQQ - YVR
Beechcraft1900D
(first time on type)
Depart 06:25
Arrive 07:00
The flight went without incident was right on time.
As soon as I departed the small Beechcraft at YVR, I looked up only to see a movement officer waiting for me inside the security area. I was treated to a sandwich from Subway while I waited for my flight to Toronto. There were 6 cadets of the 45 coming from British Columbia, and the other 5 were all at YVR the same time as me. However, they were all booked on an A320 that left 20 minutes before my A330-300, so I was left alone for the flight. I was lucky to be seated on the plane next to someone who actually knew a bit about, and showed a genuine interest in aviation.
Flight Details

AC 142
YVR - YYZ
Airbus A330-300
(My first Widebody Flight)
Depart 8:20
Arrive 15:45
Again, the flight went without incident and was perfectly on time. I was in seat 23C, the second seat from the window, although I switched seats with my neighbor over Saskatchewan. I noticed on one of the flap tracks someone had wrote in the dust with their finger, "Suck It". The service on AC wasn't all better than WS like so many people had said. The FA's were just a friendly and courteous. There was about the same variety in snack choices, although I noticed it was a bit easier to get a full can of Coke than it is on WS, instead of the plastic cup.
The AC's FAs had a few better, albeit cruder jokes to tell. They told passengers individually instead of over the PA, which gives it a nicer, more personal effect. I nearly spit Coca-Cola all over the aircraft when I heard the name of the movie that was to be played,
The Land of Woman
. I didn't end up watching the movie, but looking out the window and reading 'Airports of the World' and 'Airliner World' magazines.
There was some inclement weather coming into Toronto, and there was just a little bit of precipitation and turbulence, although it was warm and sunny upon arrival in Toronto.
When I arrived in YYZ there was once again, a movement officer waiting for me. He promptly took me to the baggage claim where I met with 15 or so other cadets who just came in, including the 5 from BC. Once we all had our bags, we were escorted to the Gateway Sheraton, and given our rooms, and key cards. We were given some fancy new name tags, backpacks and golf shirts as well before we headed to our rooms.
---
After a couple hours of free hotel time, we all met in a conference room downstairs for our briefing and dinner, where we all finally got to meet each other. We had a few big laughs after meeting the rather humorous characters from Newfoundland.
---
We had to get up at 7:00 to get on the bus for the start of our week long road-trip to Oshkosh. We first sat on the bus, and were given a small talk before one of our officers put on the DVD
Runway 26L
about the Van Nuys Airport, and a couple GA airports in the USA, and talked about the demise of Meigs Field in Chicago, where we would be going later.
Our first stop was at the Hamilton Air Museum. That was very interesting, and there were some really interesting things. We were fortunate enough to be able to see the museum's Lancaster fly, which was pretty spectacular.
After lunch at the museum we were back on the road, bound for our overnight stay in Niagara Falls, Ontario. On the way, we stopped to get Timbits at Tim Horton's #1 (The first Tim Horton's in Canada). We arrived in Niagara Falls, where the first thing we did was take a ride on the Maid of the Mist boats. Being in such a large group, we had probably 45 minutes of waiting time cut off from the line, which was wonderful. It was the first time I'd ever been to Ontario, so I'd never been under the falls before. I wanted to get my head as wet as possible without getting my cloths to wet, and did so wonderfully.
We then got some free time to do whatever we wanted in the city. I noticed Niagara Falls has a ridiculous amount of Haunted Houses downtown. I finally had a chance to get some batteries for my camera. I went to the Hershey Store and bought a 1lb Reese Cup, which is still in my refrigerator.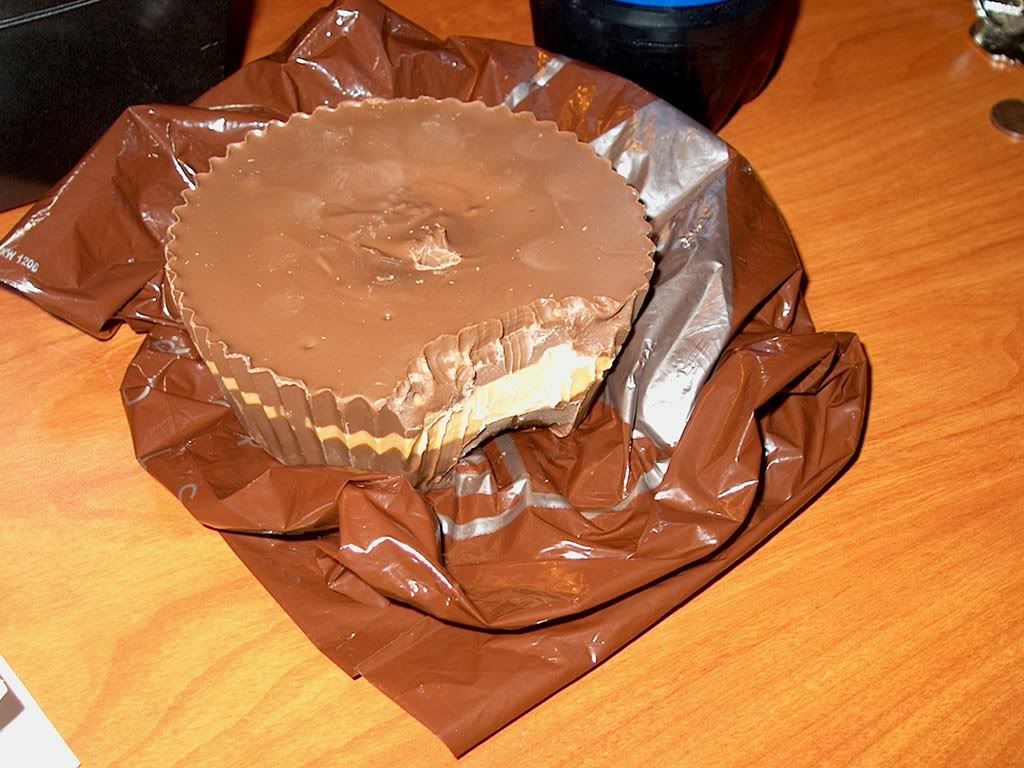 We had dinner at Swiss Chalet before heading to our Niagara Falls hotel, a Comfort Inn.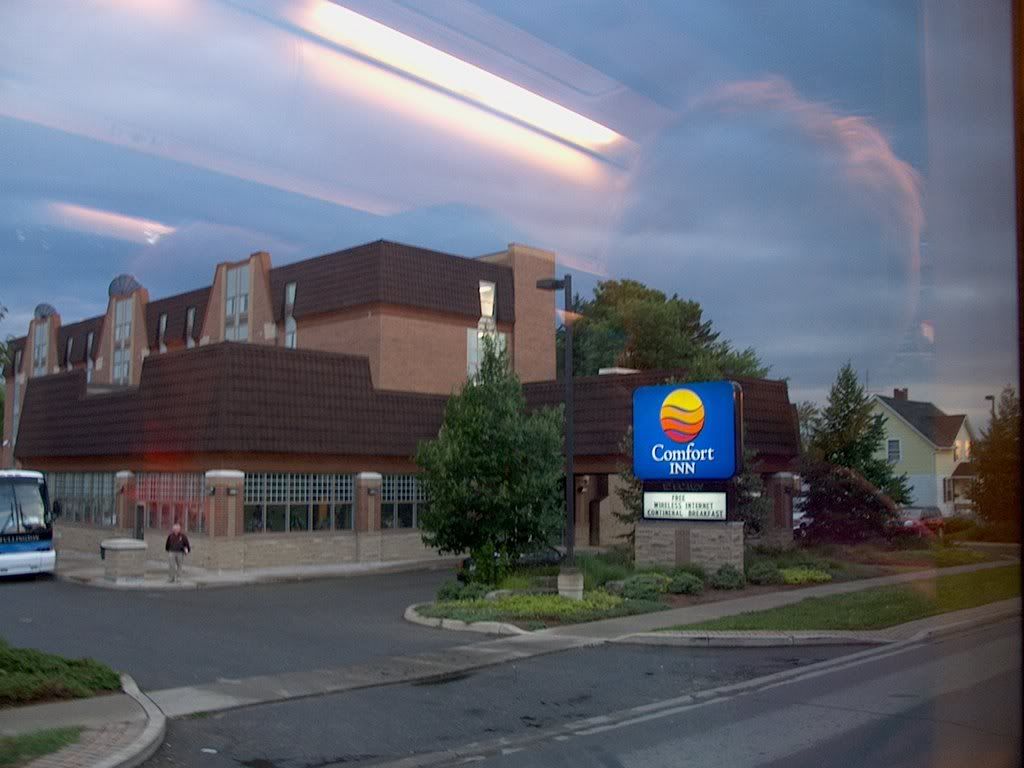 ---
We got up, and had breakfast at the nearby Denny's before heading to the bridge the the USA. I was surprised at how easy it was for a large bus like ours to get through customs. It must have been because we were cadets.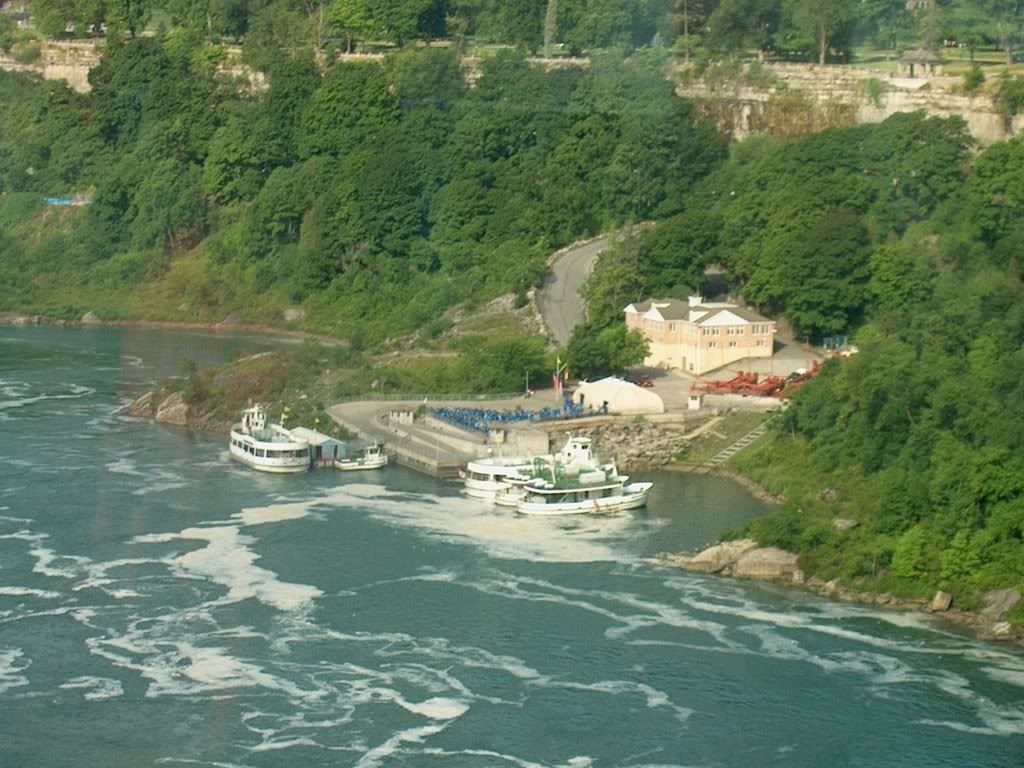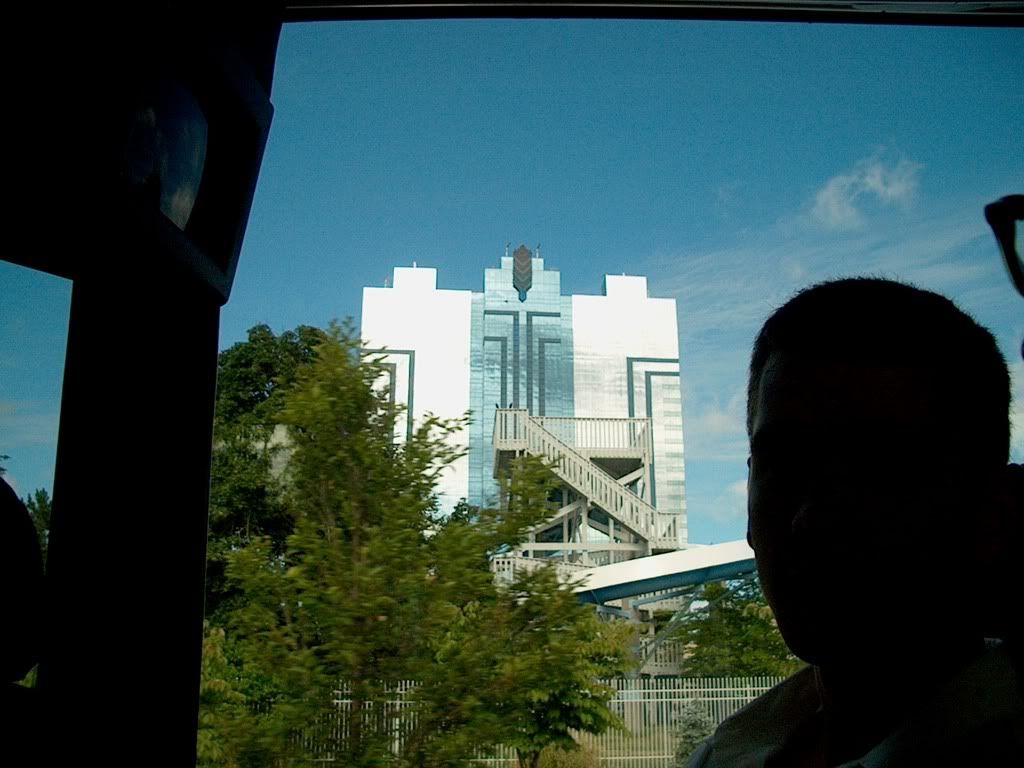 We drove for about a half hour before hitting Buffalo, NY. I have to say that it was a pretty ugly city.
I noticed New York State had an obsession with toll booths. We hit 4 in 30 minutes.
Pennsylvania Welcomes You
When we stopped in Erie, PA for lunch I noticed what I thought to be a peculiar sight; An 'Amish Store' with tons of cars parked outside.
I always try to get a picture of the signs when you enter a new state, but I missed Ohio's border all together. Here's a little bit of it.....
That state had a beautiful highway with lots of great scenery.
And a cool, American rest stop. Ones like these are not so common in BC.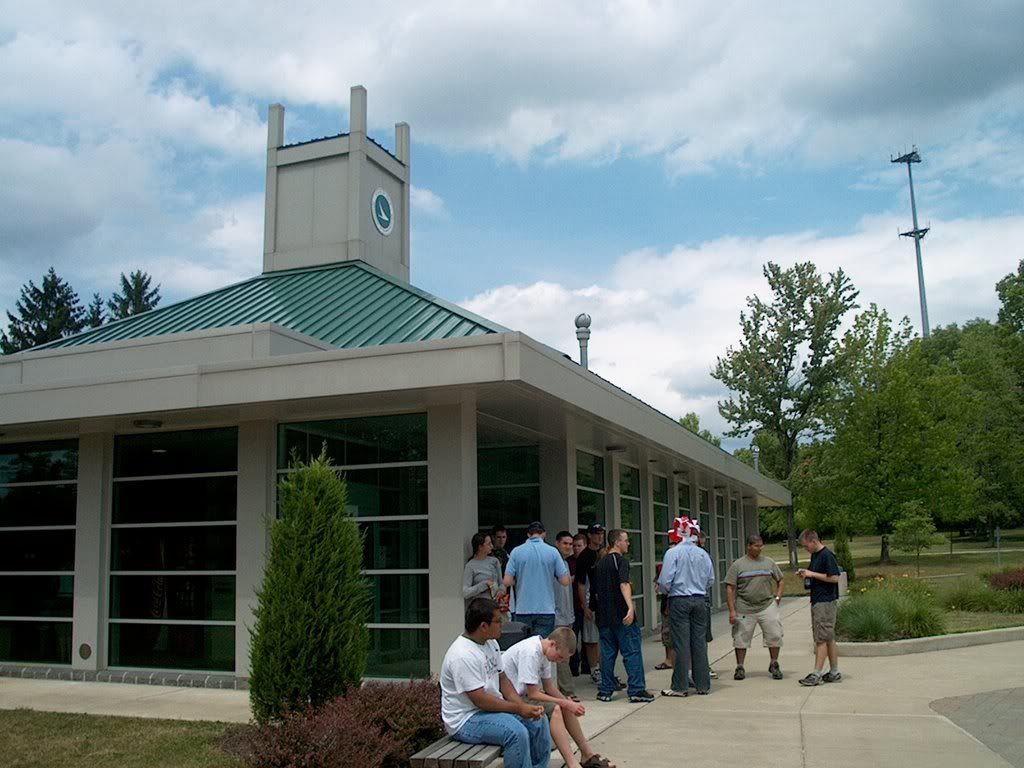 A nice Columbus Budweiser brewery. Everyone on the bus was talking pictures of that.
A random Crop Duster near Columbus
When we stopped for a rest stop just West of Columbus, we noticed how incredibly hot and humid it was. It was probably the hottest and most humid place on the trip. After the quick Stop we continued on to stay at our hotel in Huber Heights, near Dayton, Ohio.
---
We went to the National Air Force Museum, which was amazing.
The Best view we got of downtown Dayton:
---
After 2 nights in Dayton, we headed out for Indianapolis.
We had a nice stop at the Indianapolis Motor Speedway and the Racing Hall of Fame....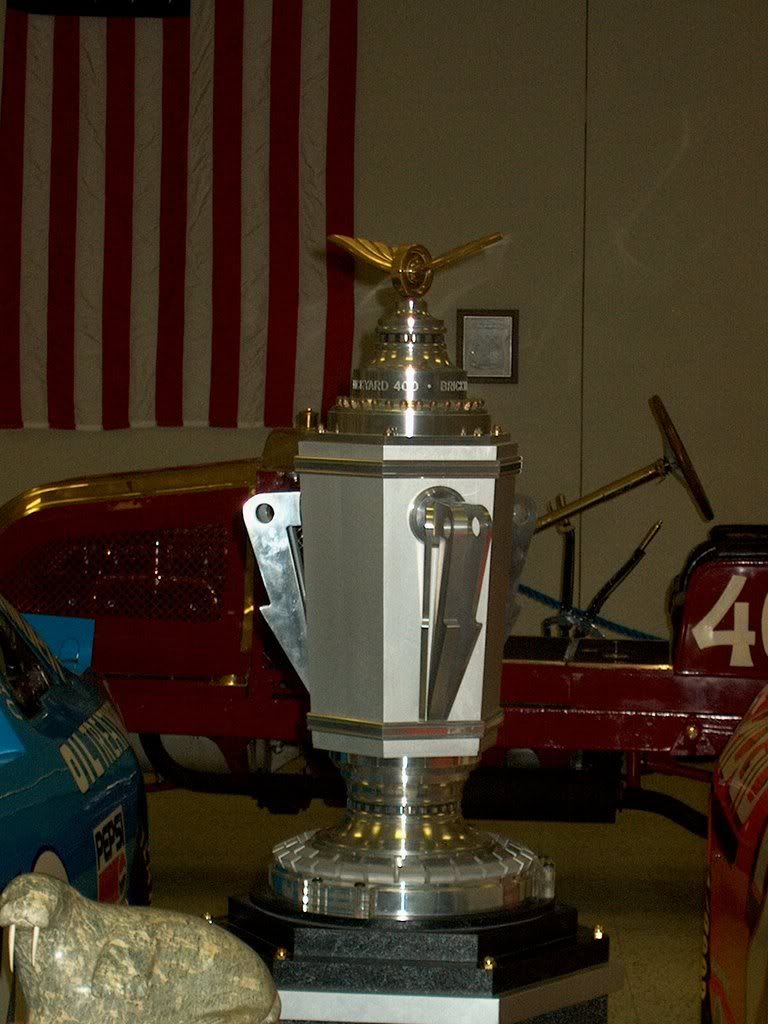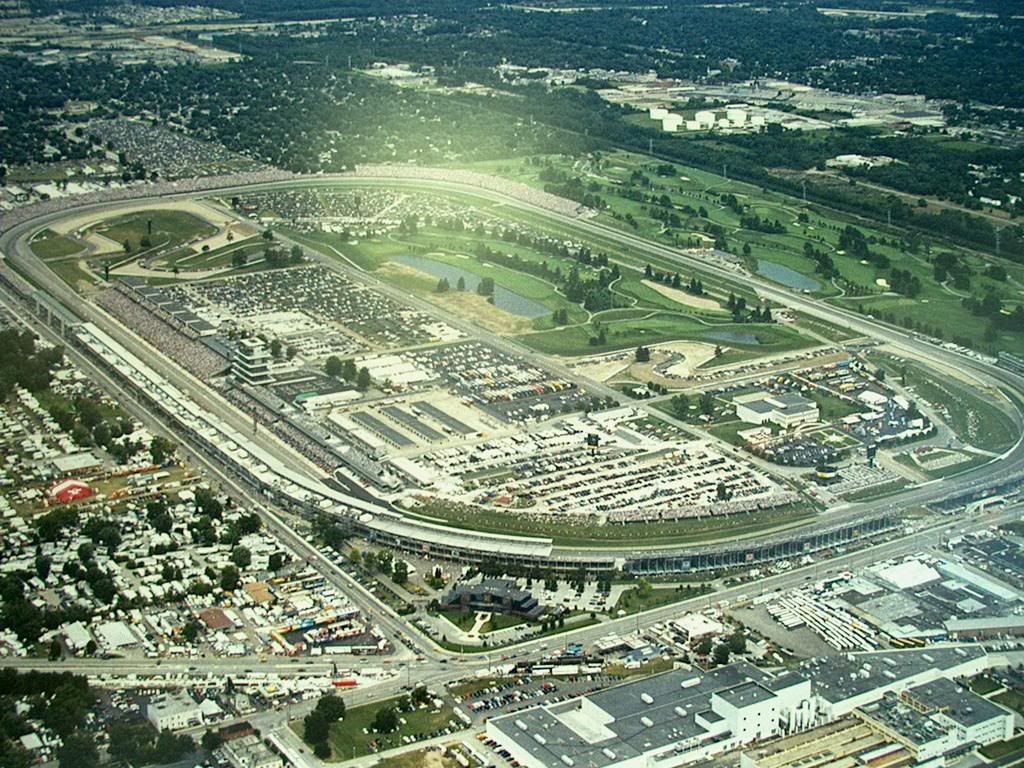 After Lunch we began the drive North to Chicago.
I noticed the USA has a large obsession with billboards, particularly for adult stores.
Welcome to Chicago!
And Then.................Our bus broke down on the skyway.
We were stuck for about 2 hours, before we got a replacement bus, and we went through about 4 sub buses before we got ours back a week later. Damn transmission. After that stop on the highway, we drove up to our Hotel in Gurnee.
---
We went to Six Flags: Great America right across the road from the hotel. The weather was great for the firs part of the day, but was later given a short, but very thorough soaking followed by a nice Midwest style lightening storm, closing all of the taller rides. We got the 3rd last ride on the largest roller coaster,
Raging Bull
before it was closed because of the weather.
---
We had a great day when we went to the Lincoln Park Zoo and the Navy Pier. We went on a cool speedboat tour, but our opportunity to go in the Sears Tower was canceled due to fog. I still wish we would have gone anyway.
Some Geese
One of the largest swans I've ever seen.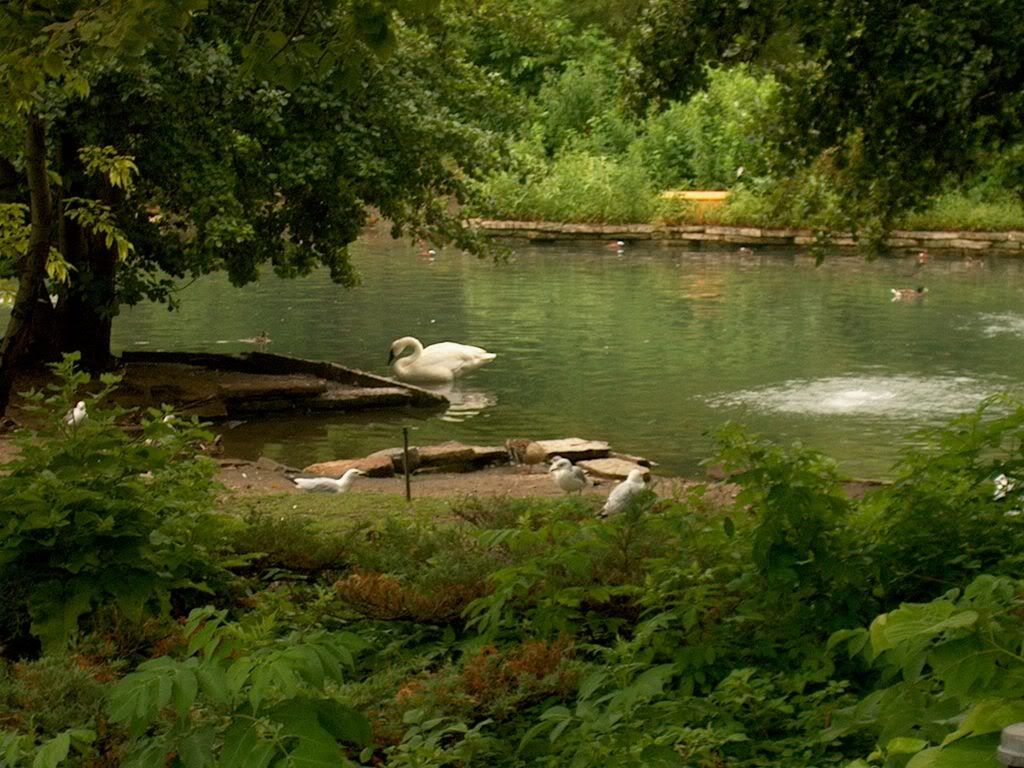 Some very unhappy looking Polar Bears. The one in the water was swimming in circles.
One of our replacement buses.
I took this cool picture of this building next to the navy pier, that was a difficult twisty shot to get from inside the bus.
An interestingly painted mailbox.....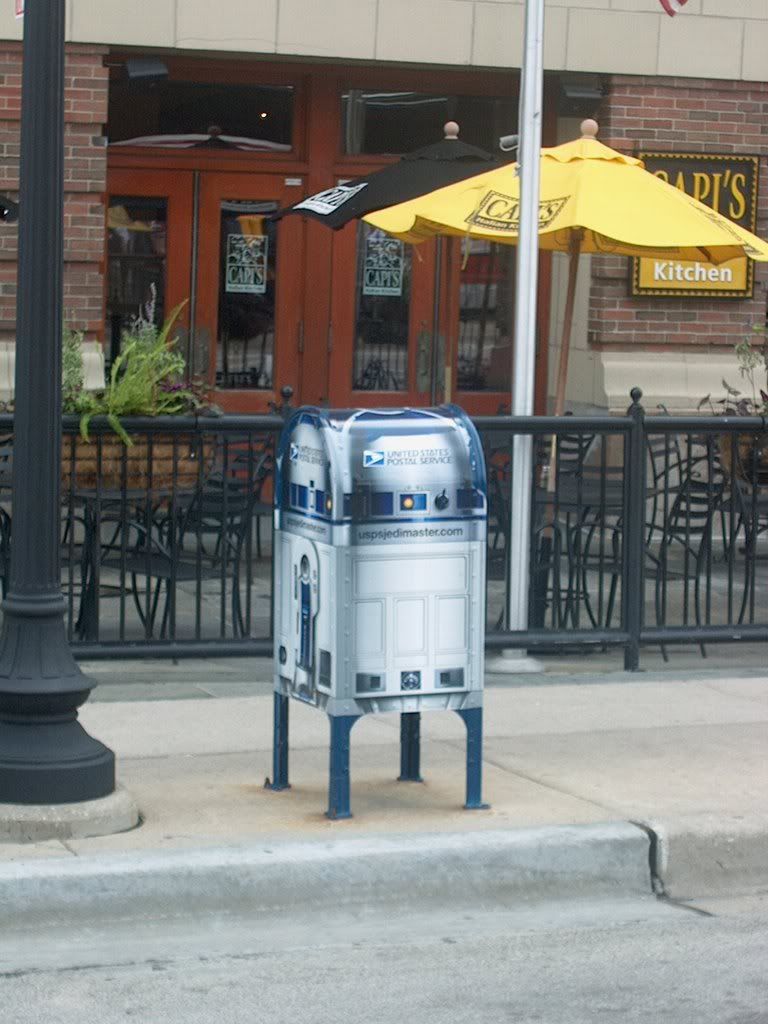 Site of the former Meigs Field. A sad sight to see for any aviation enthusiast.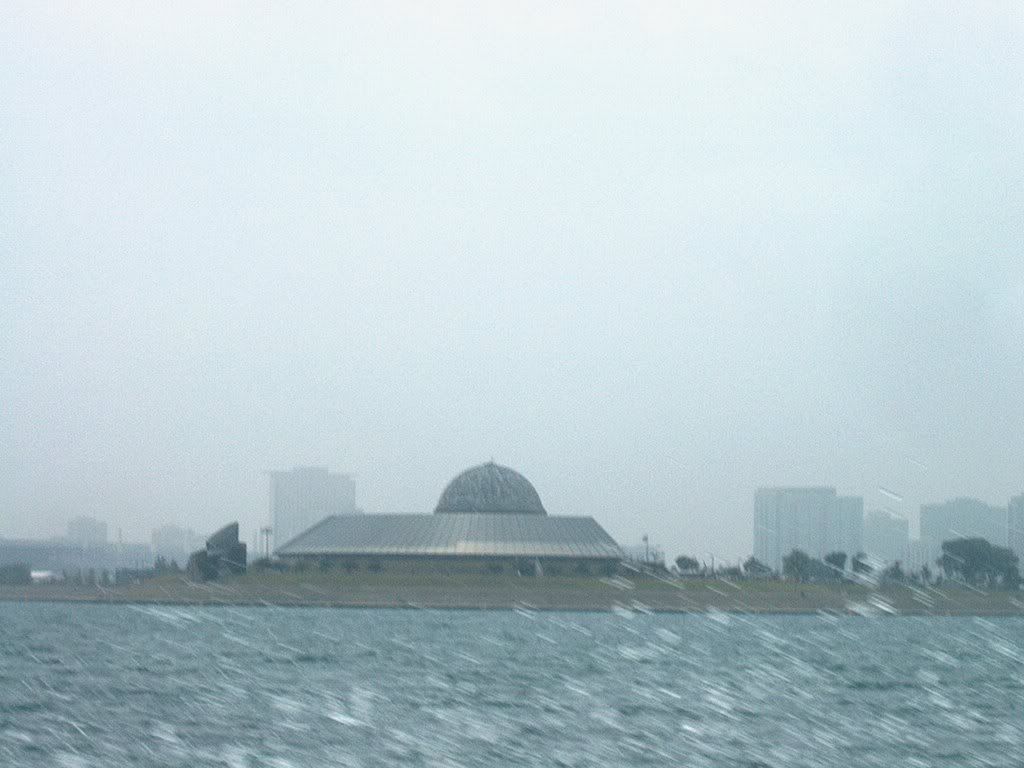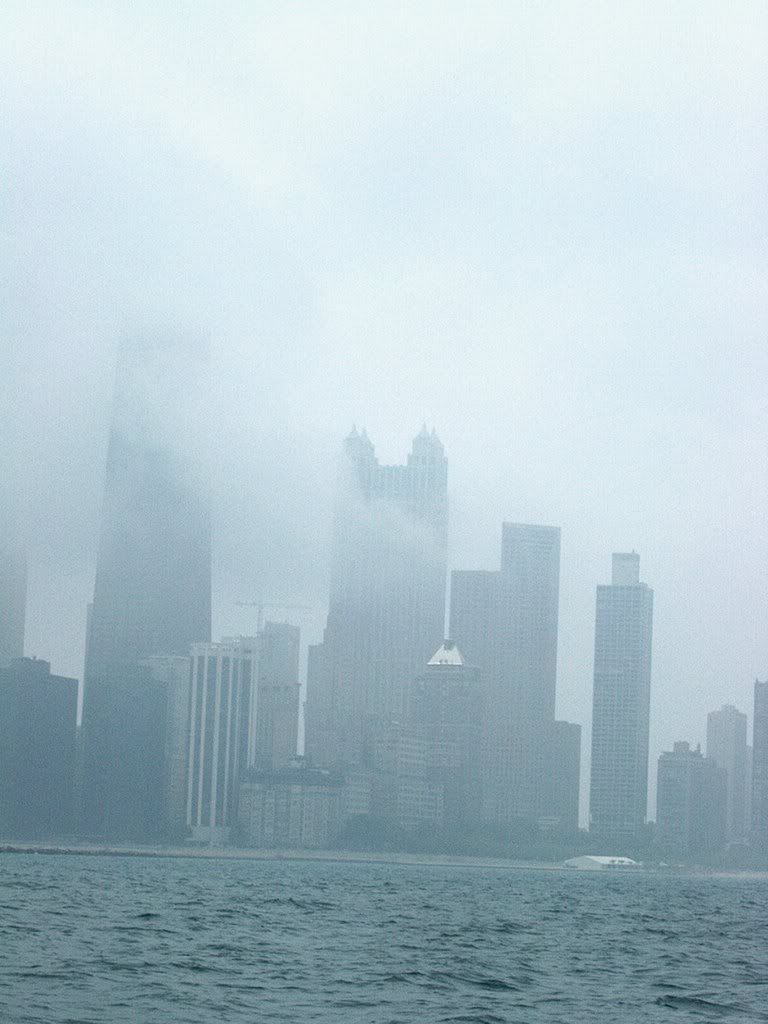 This guy has a really nice yacht. Anyone notice a problem with the helicopter on top? IT'S FAKE!
Anyone have any idea what the deal is with this? The McDonald's of the Future? The only thing I noticed is that is was really big, had some different ceiling patterns, and a separate dessert counter. Weird.
A duck and some duckling hijacked this remote control boat.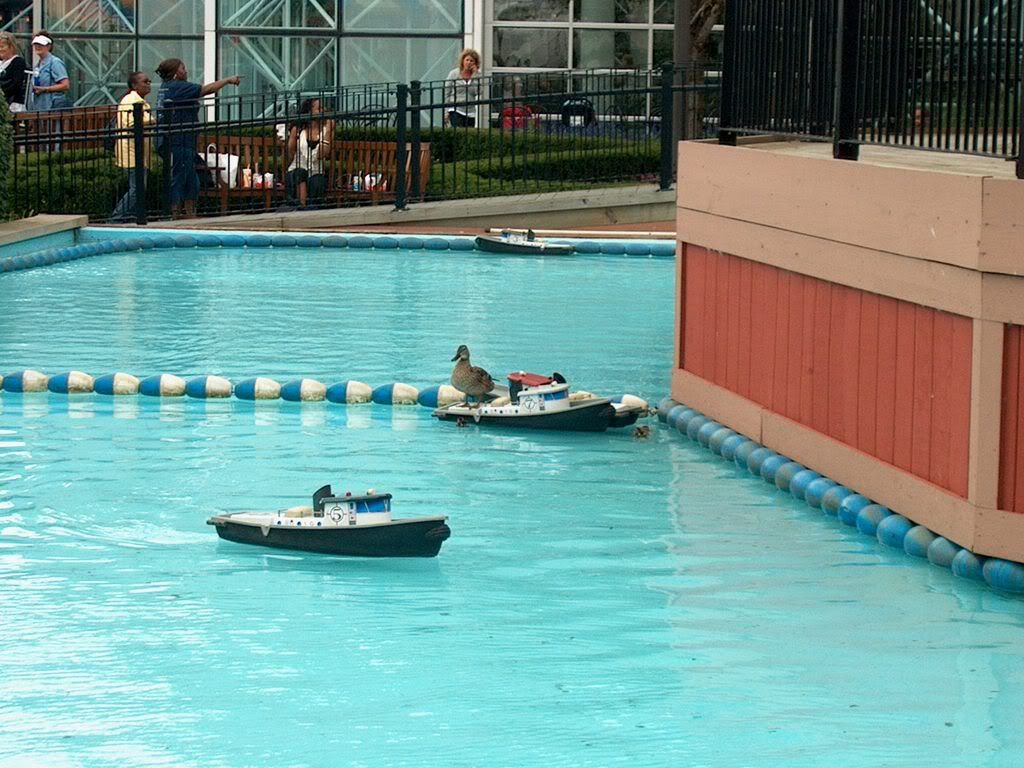 Here's a weird police buggy we saw....
Some towers. Boeing's headquarters is visible.
And so begins the drive North to Milwaukee.
We stayed overnight in Milwakee, and in the morning we took a tour of the ANG 128th Air Refueling Wing.
We were supposed to go on a tour of the Midwest Airlines operation, but that just didn't happen.
WELCOME TO OSHKOSH!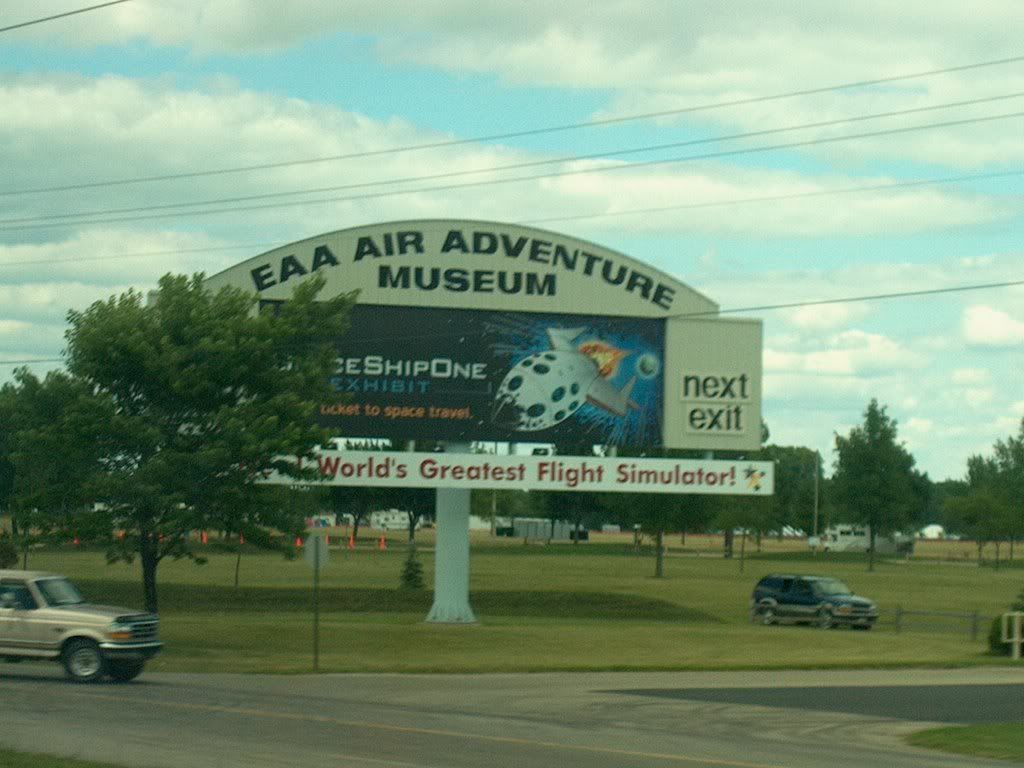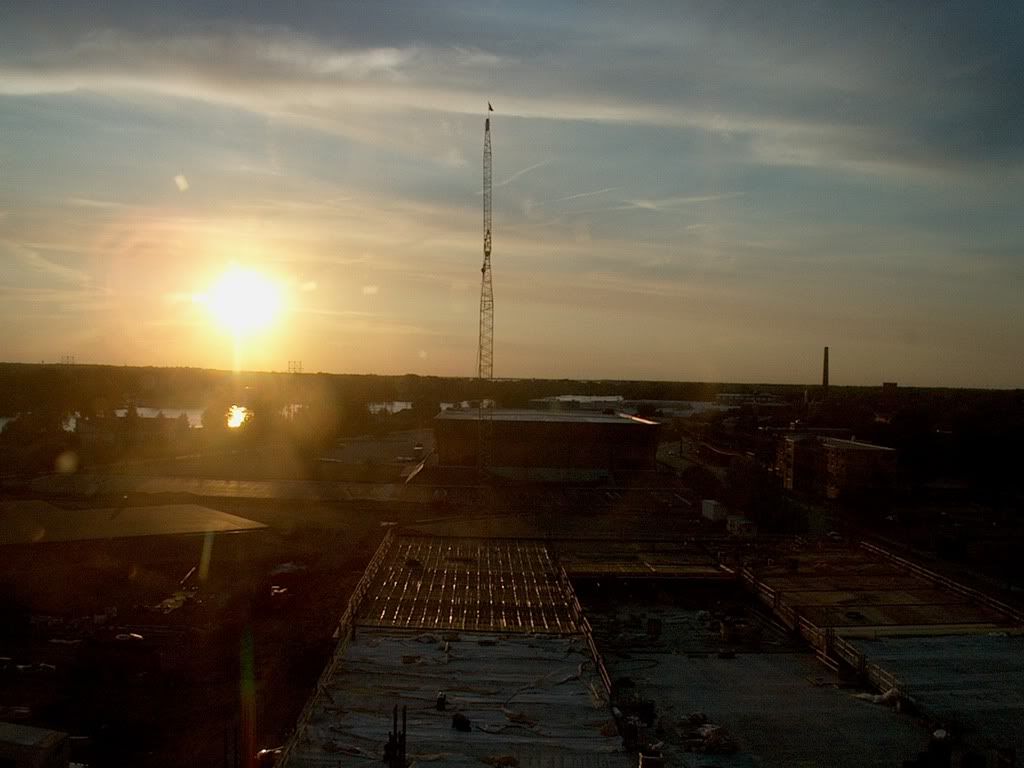 And at our arrival at day 1 of Airventure, here's the first thing we saw. A couple of F-15s doing touch-and-goes.
The Beach Boys concert that evening was pretty cool.
Tri Motor Rides
Random Air show activity.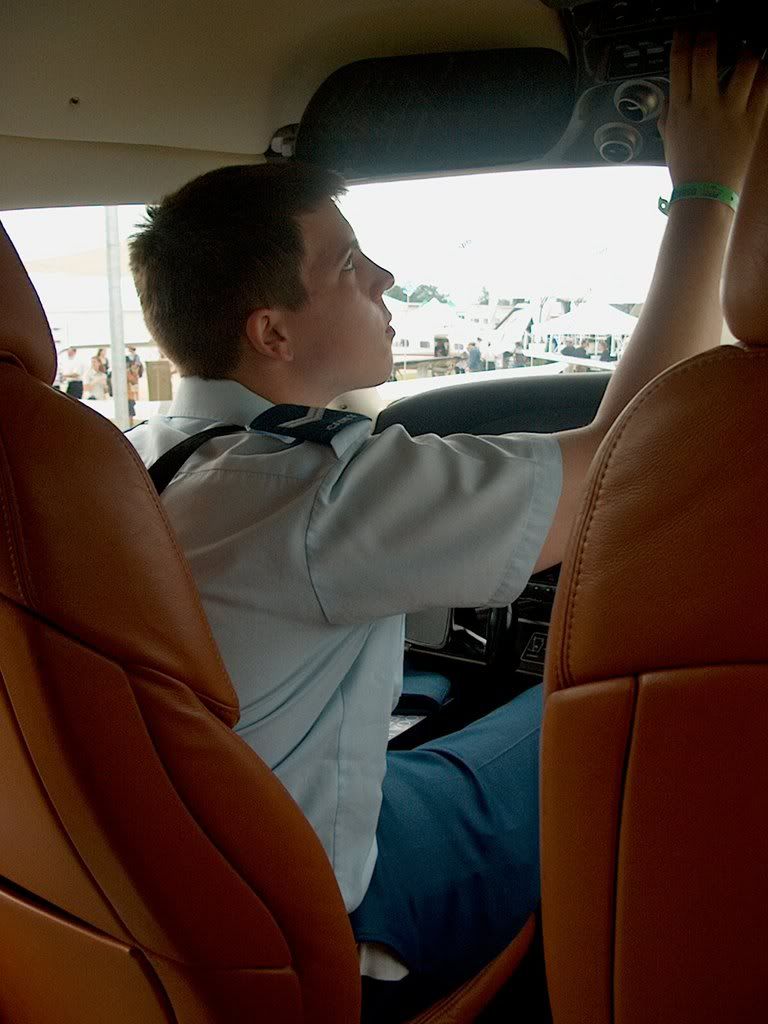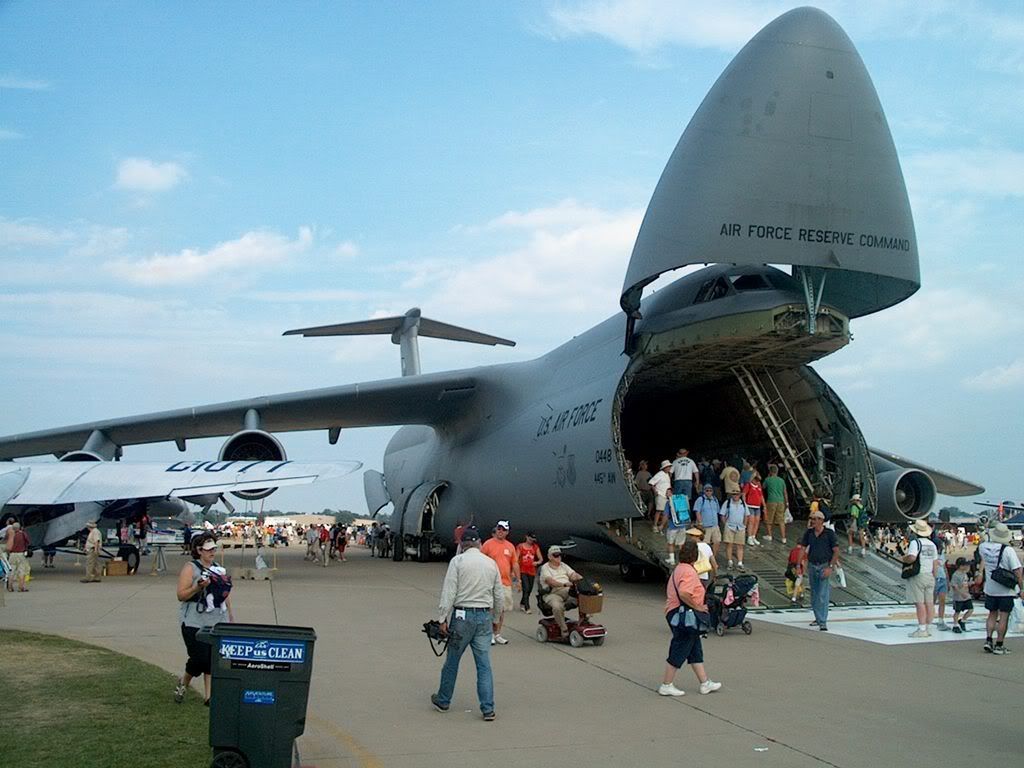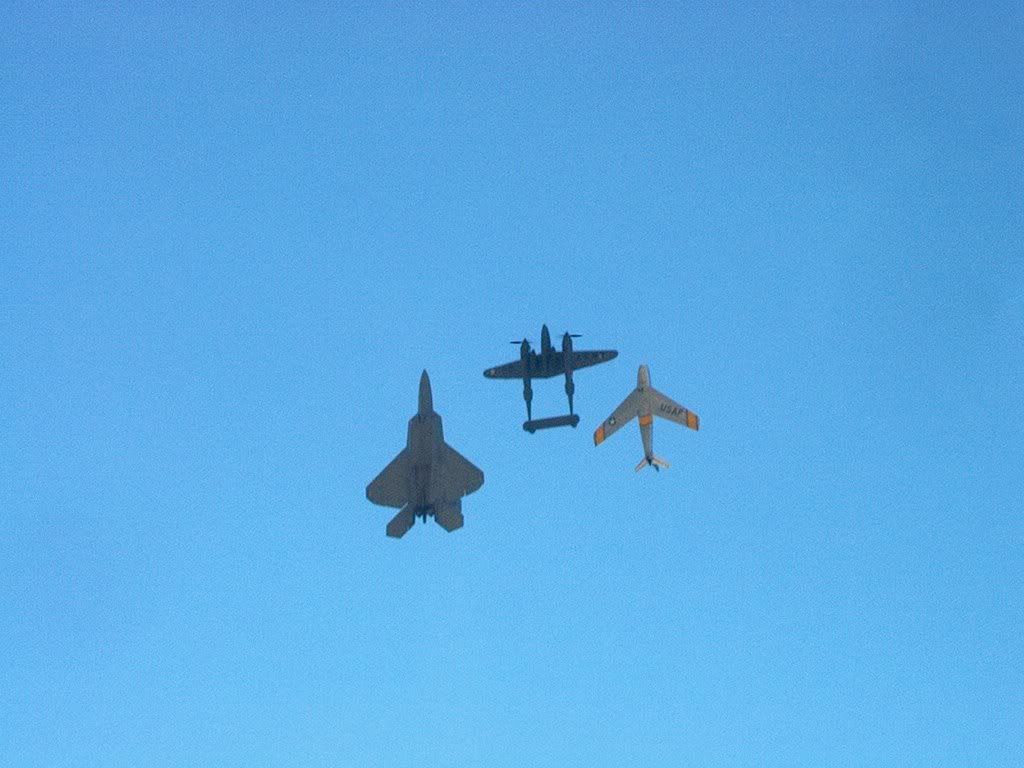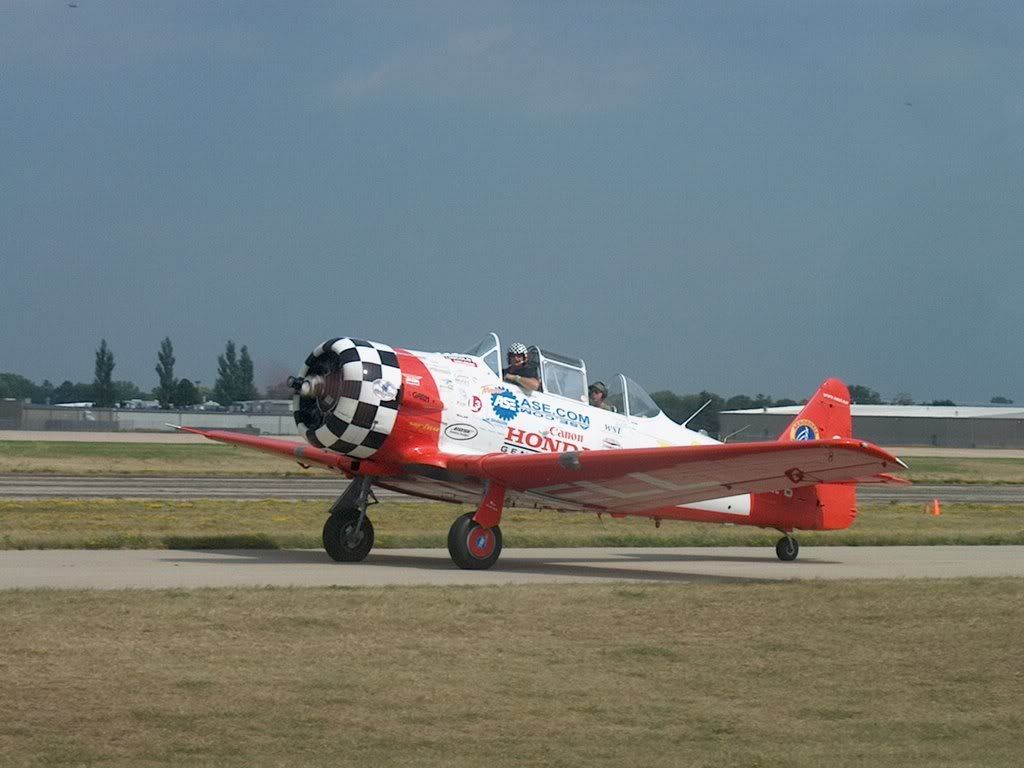 We saw this random sight in a parking lot. Why is there an ATM standing in the middle of the pavement?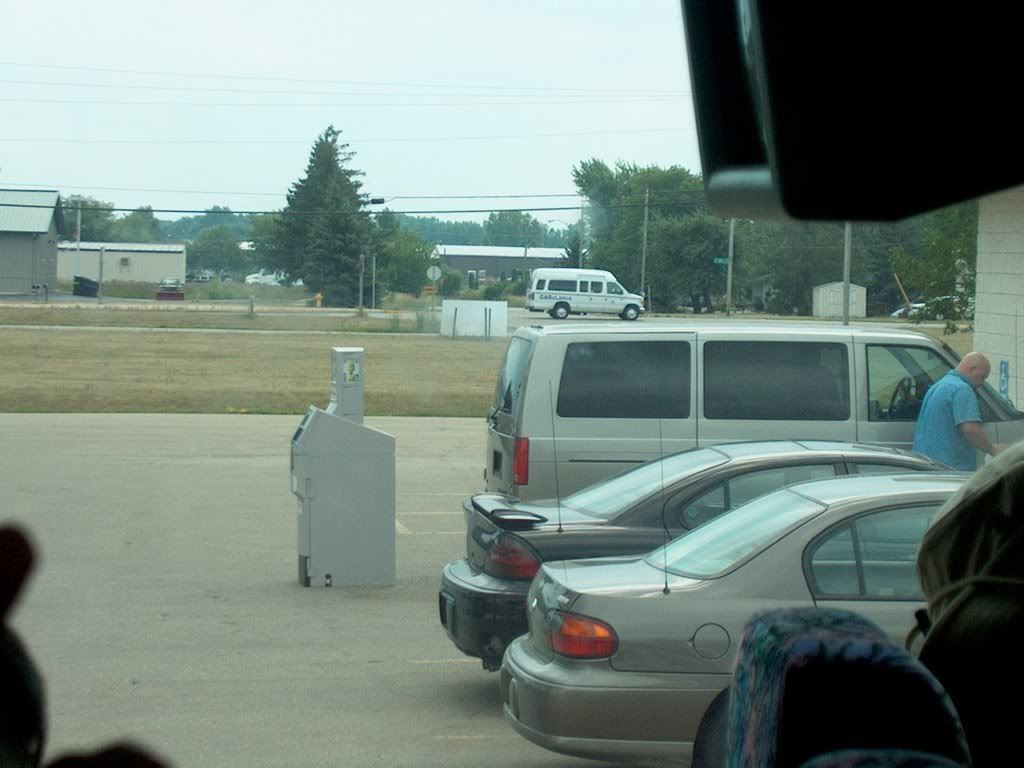 We spent a week in Oshkosh, staying at the University of Wisconsin. We went to Noah's Ark water park in Wisconsin Dells, a small city i thought to be not unlike a miniature Las Vegas, without the gambling.
And with that, we began our much shorter bus trek home. We drove up to Manitowoc and sailed across the lake to Ludington on the SS Badger. I have to say, I much prefer BC Ferries.
We drove across Michigan state for a bit before stopping for dinner, where some foolish behavior got us all banned from soft serve ice cream for the remainder of the trip.
We stayed in Lansing before we began the final day of bus riding. We drove the rest of the way across Michigan, and after a brief stop at the Duty Free, we crossed the bridge to Canada at Sarnia, Ontario.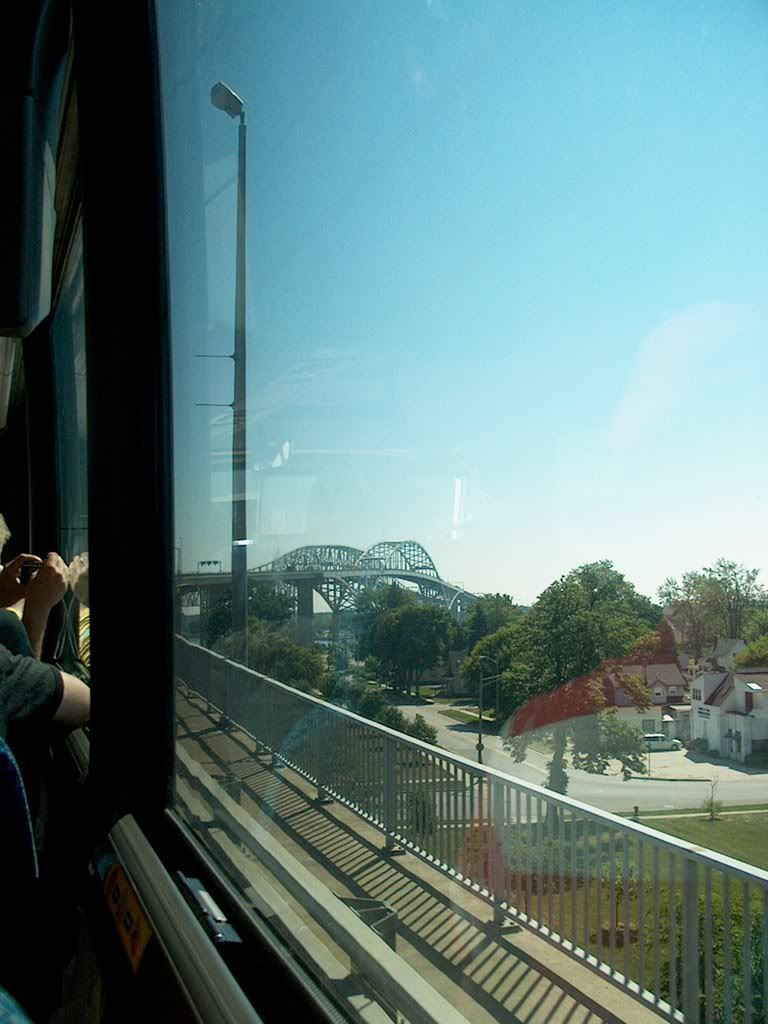 We stopped in London, Ontario for lunch and some shopping time, before we drove back to Toronto, where we stayed in the same rooms as before at the Gateway Sheraton. Here was the view from mine.
We had a fun night, watched a movie, and closed the course off, and went to bed. Some of us had to leave that evening, some of us at 3am. My flight to YVR left later in the morning, so I was lucky.
Flight Details
AC 1137
YYZ - YVR
Boeing 767-300ER
(first time on type)
Depart 08:30
Arrive 10:27
I loved the interior, and my view of my PTV.
It seat 20C this time.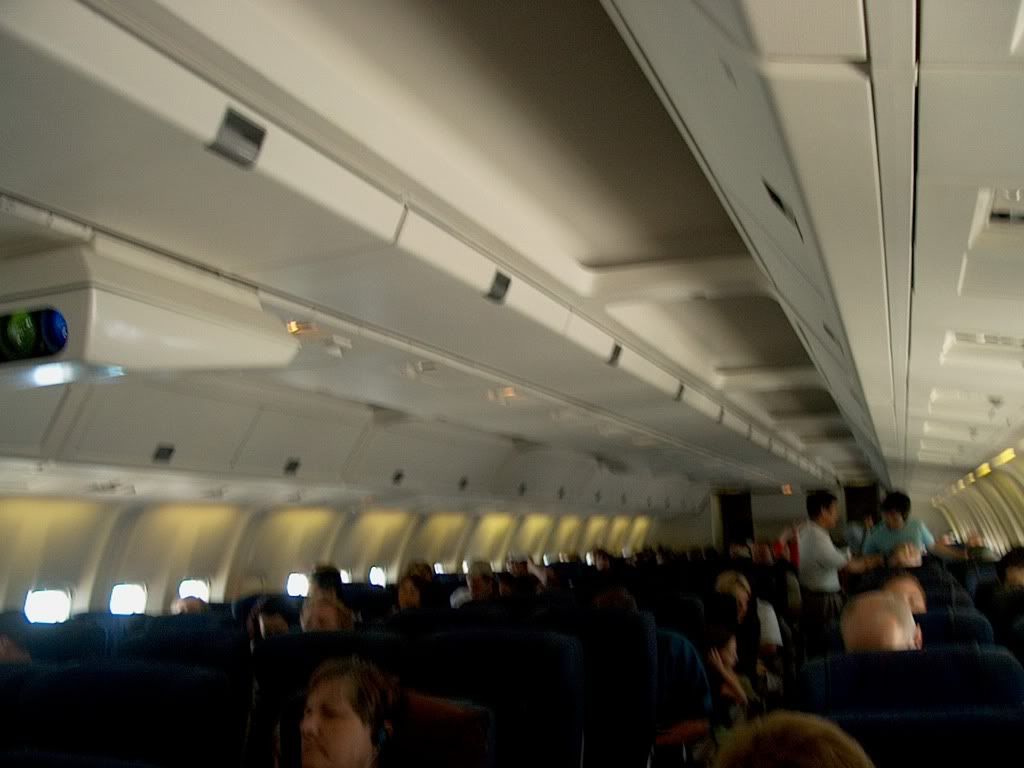 As seems to be the trend for this trip, the flight was perfectly on time, though once we arrived at YVR, we had to wait an extra 10 minutes to deplane because of other flights needing to use customs.
Time for my connecting leg to Comox.
Flight Details
AC(9M) 7345
YVR - YQQ
Beechcraft 1900D
Depart 11:30
Arrive 12:10
Once again, the flight was perfectly on time. Upon my arrival in Comox, I was picked up and taken home. This trip was one hell of an amazing adventure.
If you made it this far, I thank you very much for reading my first trip report. Please give me any feedback or comments!
Cheers
Carson
[Edited 2007-08-29 22:18:33]