Dear Gang,
Tonight I write my first trip report involving my home airport, ROC. I live in Washington D.C., and earlier this month I flew home to see friends and family in Rochester. The land of Wegmans super-grocery stores, Abbott's Frozen Custard, Nick Tahou's Garbage Plate, and the House of Guitars! I fly AirTran for my regular trips home; they offer three daily mainline flights from BWI to Rochester, and low fares.
On this trip, I took their 8:55pm flight home, departing at dusk and arriving well after dark, so I didn't take photos for a trip report. That flight, FL 421, left 40 minutes late and arrived at Rochester 15 minutes late. AirTran like other carriers pads their schedules, so when my flights have departed BWI on time, I've arrived at ROC 15 and even 20 minutes early.
My trip back to D.C., however, was on their 6:11pm departure. Plenty of daylight—though cloudy as it turned out—for pictures for a trip report.
AirTran Airways Flight 402
Greater Rochester, NY International (ROC) to Baltimore-Washington International (BWI)
Wednesday, August 22, 2007
Departure Gate at ROC: A1
Arrival Gate at BWI: D1
Scheduled Departure: 6:11pm
Actual Departure: 6:11pm
Scheduled Arrival: 7:20pm
Actual Arrival 7:10pm
Load Factor: 70 percent
Seat: 14A
Arrival at the Airport.
My parents dropped me off at ROC at 5:10pm. ROC is a medium-size terminal, serving a catchment area of about 1.3 million people and handling just under 3 million passengers per year. Here's a picture I took of the landside facade of ROC in 2000. Even at rush hour you can usually pull up to the curb and find a space.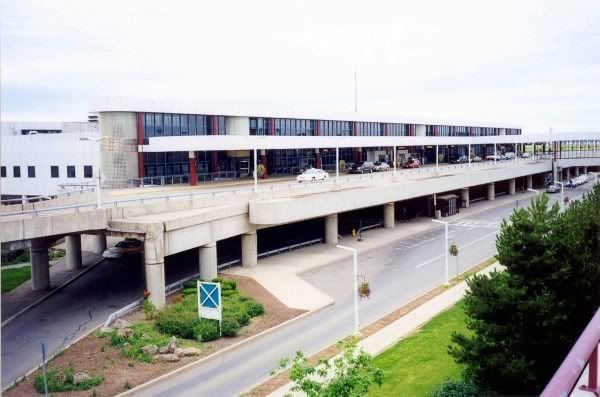 Check-In.
There were only three people ahead of me at the AirTran ticket counter, so I waited only five minutes to check in. AirTran's counter personnel were friendly and efficient, as they always have been in my experience. There aren't usually more than three of them working the counter at ROC, but they hustle, and even when the line's long I've never waited more than 15 minutes.
In-Lobby Luggage Scan.
I checked my one bag, and took it to drop off at the TSA explosives-scanning machines which like at many small/medium airports are in the lobby. I watched the agent rub down the suitcase with a cloth, and then put it on the conveyor. I always sit at a nearby waiting area and watch in case they open it, in case they drop my undies all over the place or something. Not that I'd be able to do anything about it, but I prefer to watch until I see the suitcase closed, latched, and going behind the wall on the conveyor.
Here's a shot of Rochester's ticket lobby, also taken in 2000, before the explosive-scanning machines were set up: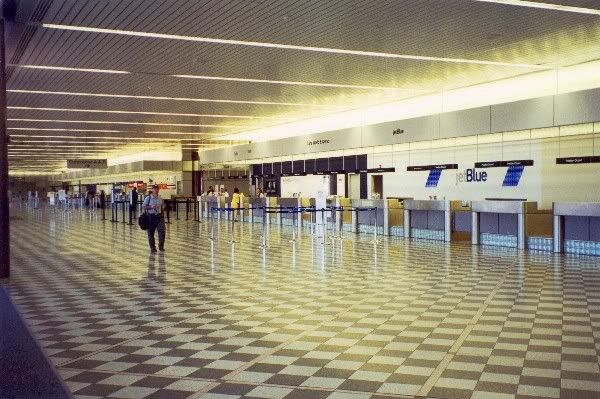 Before Security.
I had an hour until flight time, so I walked out to the curb to take a shot of the AirTran 737-700 I had seen as my parents and I drove up. AirTran had only flown their 717 aircraft to Rochester from their entry in 2002 until this year. I knew they were bringing larger 73G's to ROC with the LAS service that started on August 16, but according to a counter agent, they use the aircraft to ATL and from MCO as well. Here's some rush-hour ramp action at Concourse A, seen from the departures roadway.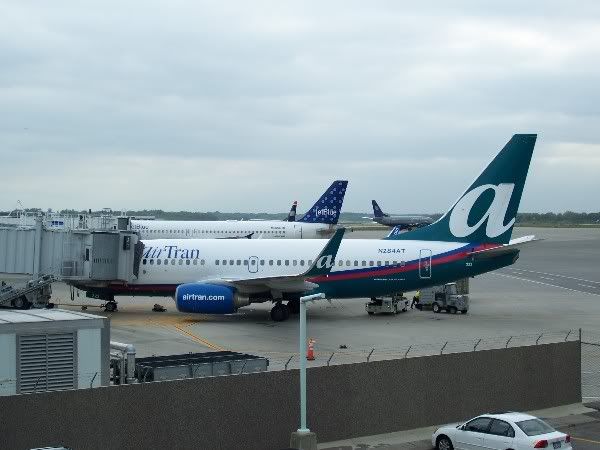 The JetBlue aircraft portrayed was headed to JFK and it was delayed...surprise! While I was at the airport I heard delay announcements for B6 to JFK, CO to EWR, and US to PHL. Typical summer day in the Northeast.
Security.
Rochester has a rectangular terminal with two concourses jutting off the airside corners, and a big atrium concessions lobby in between. Each concourse used to have its own security checkpoint.
In 2005 Monroe County installed a single consolidated security checkpoint in the middle of the terminal, between the banks of ticket counters. Despite my brilliantly-written letter to the editor urging against this step (so that the nice concession atrium with its great apron view would remain open to nonpassengers, and I thought keep more business) the County built it anyway. Aren't they supposed to listen to Airliners.net armchair airport managers?
Tonight there was only one out of six lanes open, plus the 'puffer machine' lane. Despite the time of day I only waited about 10 minutes to go through. I was not singled out for special screening.
Inside Security.
After the security checkpoint you enter the above-mentioned attractive concession atrium with a great view of the apron. I walked around in the concessions atrium and searched the two gift shops in vain for a SkyMarks 1:200 model United 747-400 in new all-blue-and-white colors. They had only 777s so I didn't bite. We hobbyists are so picky.  
Here's a shot of the now-inside-security atrium.
The food options are nicely varied for a medium-size airport—a local Italian pizza and calzone place called Famous Famiglia; McDonald's, a local Applebee's-ish place called Goody Goody's, and a branch of a brew pub in B Concourse.
Northwest flies its DC-9's into Rochester. Here's a -50 at Gate B3, being prepared for a flight to Detroit-Wayne County (DTW). This a/c is a -50, so you know it proudly wore Herman the Duck on its tail back in the North Central days!
After the atrium, you walk down curved ramps in a rotunda to get to your concourse. AirTran is located, along with US Airways and Jet Blue, in the Frederick Douglass Concourse A. Two of Rochester's most famous historical figures are abolitionist Douglass, and women's rights activist Susan B. Anthony. B Concourse is named for her. Here's a view down A concourse.
During the past year, the original 1992 carpet was ripped out of the A concourse corridor and replaced with the terrazzo floor seen in the photo. Terrazzo floors seem to be an in-thing at airports now. The neat thing about terrazzo of course is that you can do artistic things with it—bright colors like the new floors at MCI, or the multiple patterned artworks like the floors at DCA.
So what did they do at ROC, where the terminal is mostly light gray? They installed....(drum roll).....an almost patternless light gray floor! Why on earth spend money on terrazzo if you're going to waste it like that?
The seating areas in the A concourse waiting areas also got new (navy blue, ok some color) carpets and black seats; AirTran replaced some of the rows of seats with circular tables and chairs, probably for people with laptops to use the free wireless. Didn't get a shot of them. FRA has that setup too. The new row-seating chairs are comfortable.
My Aircraft.
Here is the Boeing 717-200 that operated my flight. Sorry, didn't get the reg number.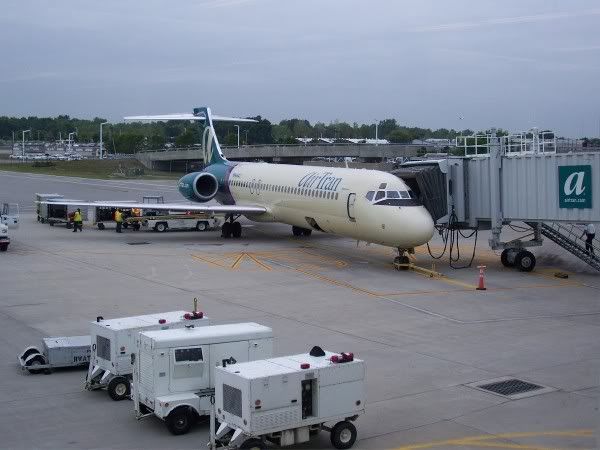 Boarding.
AirTran, like a lot of carriers, has been experimenting with various boarding procedures to see what's fastest. Right now they're using a zone system; I was in 14A, in zone 5. Business and preboard must automatically get Zone 1, as neither was called by name on either flight; just zone 1, 2, 3, 4, 5. Didn't seem any faster or slower than calling row numbers to me.
Aircraft.
I always want a window seat. AirTran allows you to reserve a seat when you book if you pay a higher fare. If you get a low fare bucket, you have to log into you reservation a day before the flight and choose your seat. But this time, despite my low fare bucket, I got my 14A when I booked. Have they changed the policy?
Here's my Y class seat space with AirTran's tight 30-inch pitch. I'm 5'11.5" and I fit it just fine. My knees are up a bit here because my fat briefcase bag is taking all the foot space under my seat.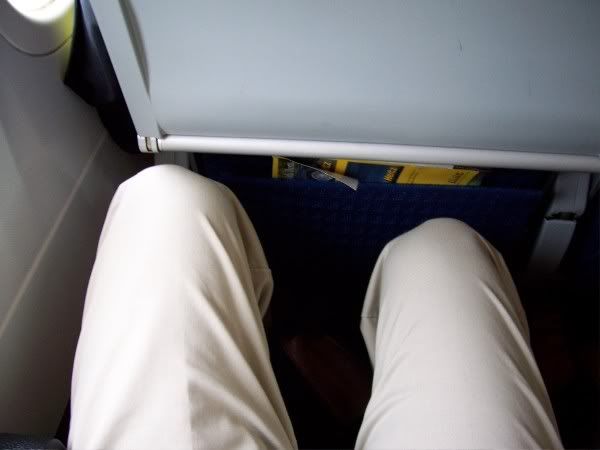 Flight and Service.
We pushed back on time and taxiied to the most distant runway at ROC—Runway 4, almost two miles from the terminal. JetBlue was still delayed at the terminal—D'OH! Flight 43, supposed to leave for JFK at 5:10, was still sitting at the gate at 6:10. Maybe JetBlue's lively FA's are singing Carly Simon's "Anticipation" to the passengers.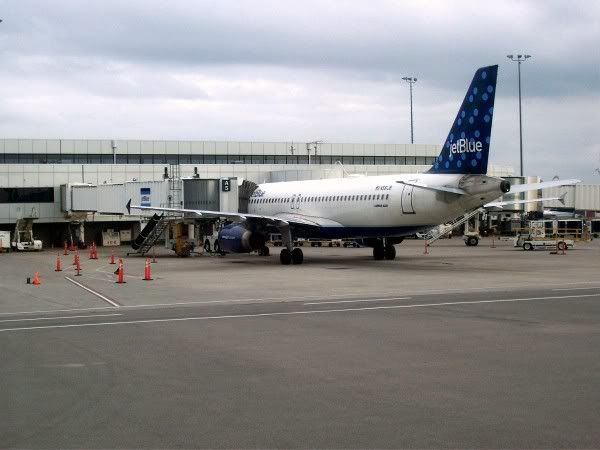 Here's a photo from a previous ROC-BWI AirTran flight of turning onto the Rwy 4 piano keys:
Here's what the terminal would look like from takeoff, I was on the wrong side of the plane to get it. This photo was also taken on a previous AirTran ROC-BWI flight: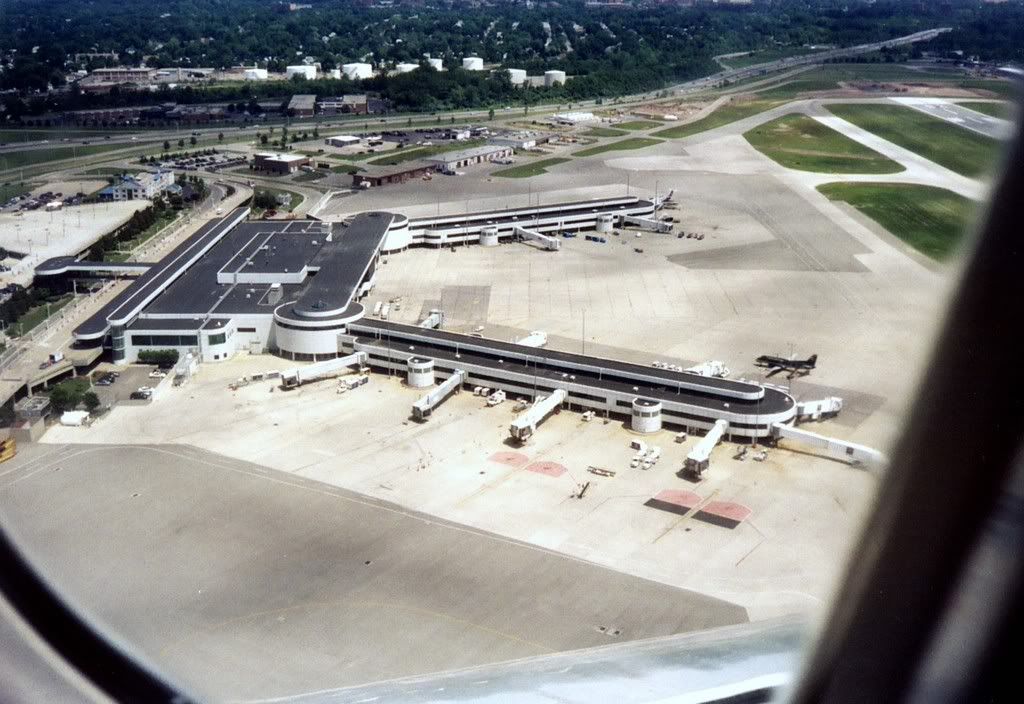 We turned left and circled around over the airport as we turned to fly south towards Baltimore. Unfortunately there was too much ground haze and cloud cover and my photos were poor. So here's how the same angle looked from my ROC-BWI AirTran flight in June: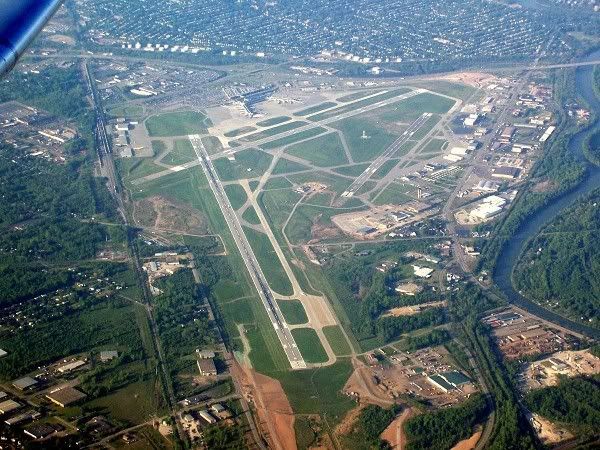 And here's the cloud soup I got to look at most of the way to Baltimore: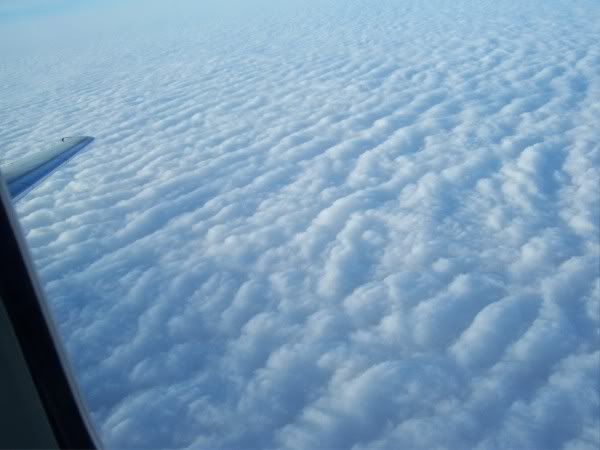 Food and beverage service was standard AirTran Y class: Free chardonnay or merlot, and one's choice of baked chicken and rice with salad and brownie for dessert, or vegetarian stir-fried vegetables, served shortly after takeoff, with a second meal consisting of hot meat breakfast sandwhich and fruit, while approaching over Harrisburg.....oops, I'm thinking of Y class fare on my Lufthansa flight from JFK to FRA in March. My bad.  
AirTran serves standard domestic USA Y class fare: free soft drinks, coffee, water, or juice, and pretzels, and alcoholic drinks at extra cost. I got club soda; too late in the day for caffeine, and I don't waste my carbs on soda pop. Didn't eat the pretzels either.
Arrival and Baggage Claim.
I talked with the passenger next to me for most of the flight, so I didn't get a touchdown shot at BWI, or a shot of the terminal. AirTran has been moving around in Concourse D while they work on apron pavement, and renovate gate areas. We arrived at gate B1 ten minutes early. Here are D1 and D3 with AirTran a/c, seen from a Continental 737-500 that I flew on a trip from CLE-BWI in June.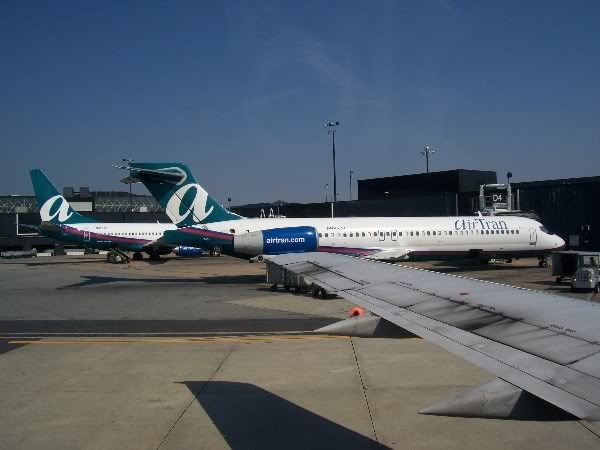 After disembarking the aircraft, I exited the concourse and went down the escalator to the baggage area. The friend who was picking me up called and let me know he was on the way. Here's AirTran's nondescript baggage claim carousel, no. 13.
My experience has been that if you arrive at BWI in the evening on AirTran, you may wait a bit for your bag—15 or 20 minutes or so after arriving at the carousel. Tonight I waited about 20 minutes at the carousel. Another flight's bags were being distributed as I arrived. Fortunately BWI has a cell phone lot, so my friend pulled in there and awaited my call. I called upon recovery of my bag, and he picked me up at the curb and we headed for DC.
Conclusion.
Overall, a satisfactory experience at a reasonable price ($59 altogether because I used frequent-flyer credit for one way). AirTran offers clean mainline aircraft and efficient, helpful, friendly staff. BWI is not a congested airport, which helps reduce the likelihood of delay. I won't complain about waiting 5 or 10 extra minutes for baggage, considering these advantages. AirTran doesn't have the 'culture of fun' that Southwest has, but the staff get the job done well. Check-in and boarding procedures work well, you get an assigned seat, and onboard radio at no extra cost if you want it. I regularly fly AirTran and am very satisfied with their service.
Jim
[Edited 2007-08-30 05:50:42]
[Edited 2007-08-30 05:52:56]