Namibia is one of the countries I have wanted to visit for a long time. This year in became true and I was on a two-week tour around this county in the Southern part of Africa. The best option for me to fly there was with Air Namibia. They are serving FRA and LGW from their home base Windhoek (WDH). The only other airline offering direct flights between Europe and WDH is LTU with a weekly service from MUC. If you don't fly with Air Namibia or LTU, you have to change at JNB or CPT.
As Air Namibia offered an acceptable fare for Business Class, I decided to go for this option. I had never been on Business Class of any airline before, so this was a new experience for me which I wanted to try out once. Seats on Air Namibia's long-haul flights can be reserved with the booking and I chose seat number 5A for both flights.
Thursday, 16 August 2007
Frankfurt (FRA) – Windhoek Hosea Kutako International (WDH)
Airline: Air Namibia
Flight number: SW 286
Scheduled departure time: 22:45
Scheduled arrival time: 07:45 (time difference was – 1 hour, so flight time was 10:00 hours)
Type of aircraft: Airbus A 340-300
Registration: V5-NME
This aircraft was built in 1994 and delivered to Sabena who leased it out to Air France (F-GNIE) till 1997. From 1997 until 2002 the aircraft was in service for Sabena (OO-SCZ). Then it was returned to Airbus Industrie. From 2003 until 2005 the aircraft was leased to Lufthansa (D-AIMG). Since November 2005 this plane is flying for Air Namibia as V5-NME.
Here are some pictures of this aircraft with its former operators:
As Air Namibia isn't part of any alliance, they are working together with German Rail. A railway ticket between any railway station in Germany and Frankfurt Airport is included in the flight price on the FRA-route (Rail&Fly). If you are travelling in Business Class, you get a First Class rail ticket (otherwise Second Class). I took a direct ICE-train service from my home town Stuttgart and arrived at Frankfurt Airport at about 16:30 as I wanted to do some spotting as well. As the viewing deck in Terminal 2 was already closed, I spent some time at the food court close to the viewing deck. At around 19:00 I returned to Terminal 1 where the check-in for my flight would take place: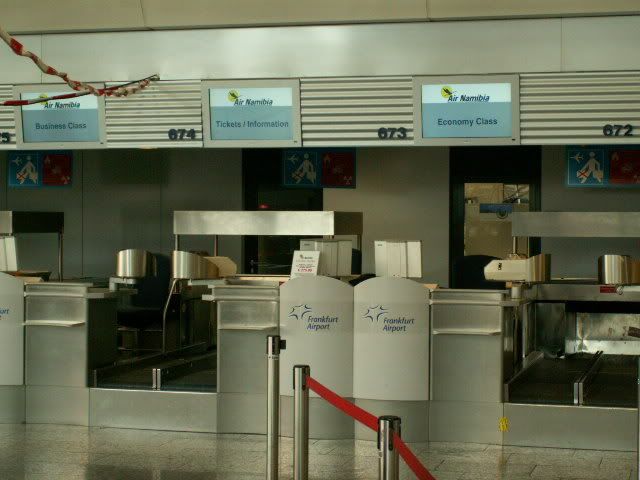 There were sings in the check-in area that Economy Class passengers could buy a one-way upgrade to Business Class for EUR 275.00 (seat only with Economy service) or EUR 375.00 (full Business Class service). Payment was accepted in cash only.
Check-in opened 3 hours before departure at 19:45 with 4 counters for Economy Class and 1 counter for Business Class and was done by Lufthansa – like the complete ground handling. When they opened, a long queue had already formed and a Fraport staff member organized the queue and tried to avoid that the Air Namibia passenger got mixed with those from Qatar Airways who were using the counters next to Air Namibia. At the luggage screening in front of the check-in counters I was chosen for a random security check. I had to open my bag and take out my electric shaver. A member of security staff rubbed the surface with a piece of cloth and went away to test it on explosives. I had to wait for about 10 minutes, then he returned, told me that everything was all right and I was allowed to proceed to the check-in counter. A friendly male agent checked me in, gave me my boarding pass for my pre-assigned seat and invited me to visit Lufthansa's Business Class lounge near gate B44 which he wrote onto the boarding pass for me to remember: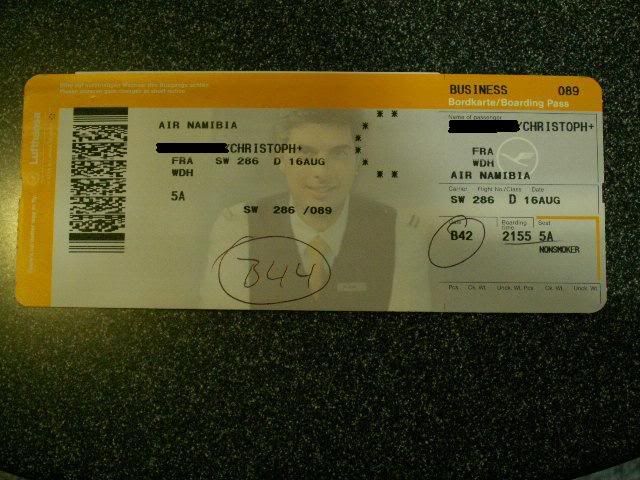 After passing security check and customs quickly I followed the invitation and visited the LH Business Class lounge which is located on the upper floor of the international gate area. Free drinks, different kinds of snacks and some fruits were offered at several service stations: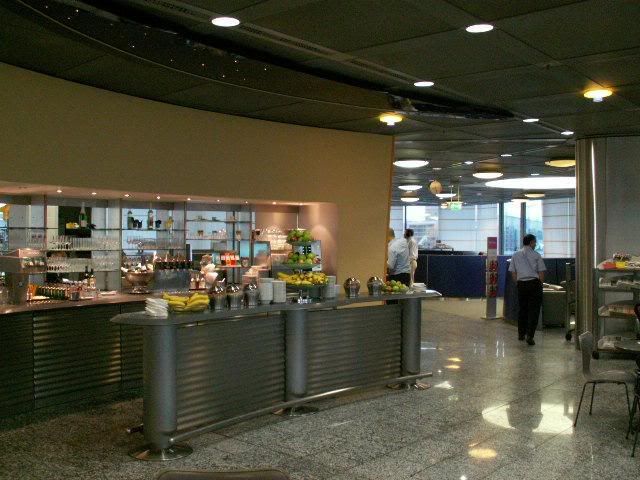 Besides, German and international newspapers and magazines were available.
The working area of the lounge: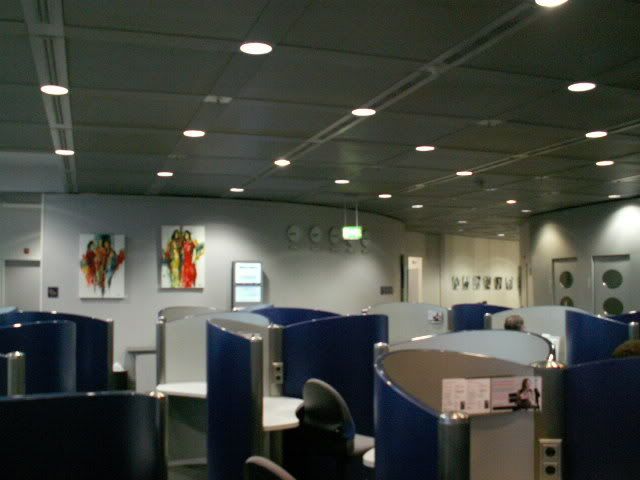 The lounge offers some good views as well (outside you see the former viewing area of Terminal 1 which remains closed):
Later I walked down to Gate B42 where my flight was to depart. The gate opened 90 minutes before departure and boarding passes were checked when entering the gate area. Our aircraft, V5-NME, was already present: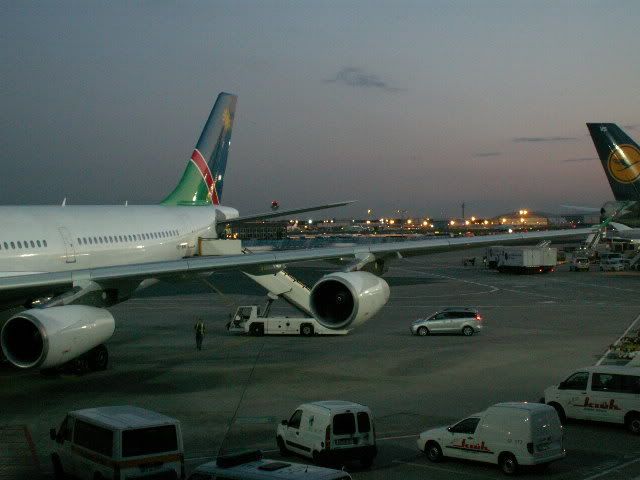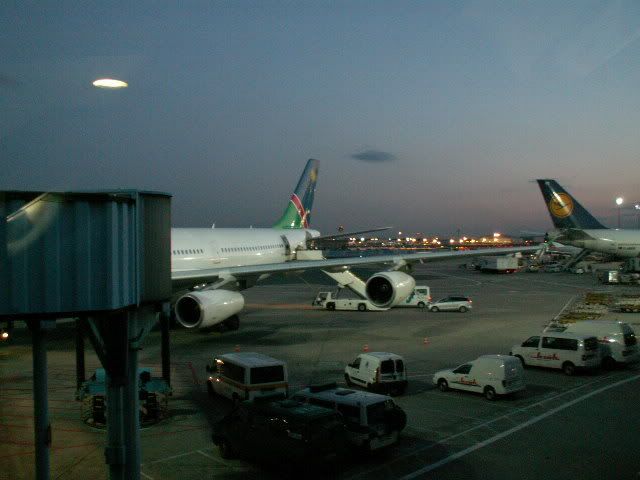 Our flight was catered by GIC International Catering – I had never heard of this company before:
The captain arrived shortly after the opening of the gate, the cabin crew about 20 minutes later (I didn't see the first officer). Cabin crew consisted of 7 flight attendants (6 female, 1 male). The captain on this flight was white wile all members of the cabin crew were coloured.
Boarding started at 22:15 which was 30 minutes before departure. There was a separate air-bridge for Business Class in front of the aircraft. Passengers were welcomed by the cabin crew and directed to their seats. Here is a picture of the Business Class cabin: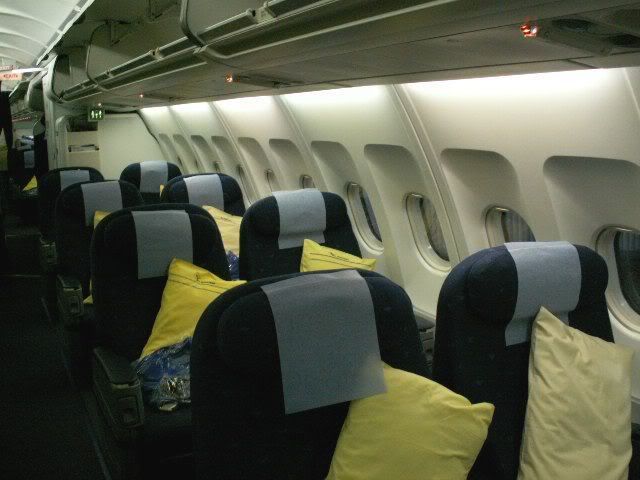 "My" seat:
The cabin was still from Sabena-times but in a very good condition. Seats were comfortable and could be adjusted electrically at 5 different parts of the seat. Headphones, blankets, pillars and an amenity kit were present at each seat: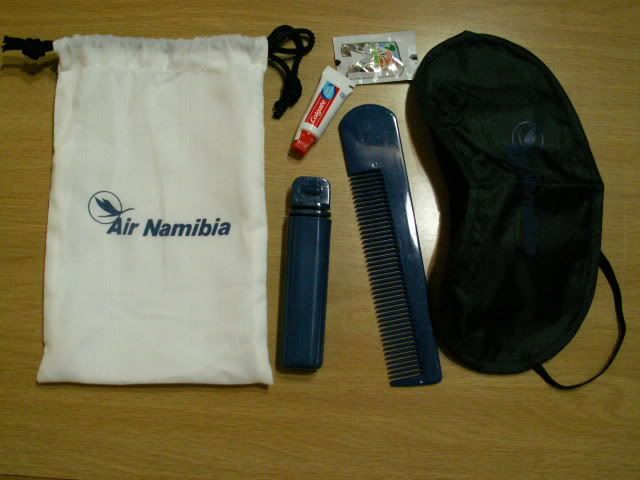 The Business Class section has 30 seats in a 2-2-2 configuration. The numbering starts with row 4, so my seat 5A was in fact in the second row. In addition to that, there were two Business Class seats in front of the centre part next to the galley that weren't offered to passengers. The area in front of these seats was used for the preparation of the meal service and during the night these seats were used as a crew rest.
During boarding, they were playing German folk music – Bavarian style – in a very loud voice ("Resi, I hol di mit mei'm Traktor ab" and things like that). Really bizarre and definitely not my kind of music. Maybe they wanted to please their German passengers?
By the way: The great majority (probably more than 90%) of the passengers on this flight seemed to be tourists from Germany and other European countries like France or Italy; later at the customs at WDH, a couple from Slovenia was queuing in front of me. As I already mentioned, there aren't many connections to WDH, so a lot of passengers are routed via FRA.
Load factor in Business Class was 100%; not a single free seat. Next to me on 5C there was a Business man from South Africa who was connecting to JNB (Air Namibia probably offers the cheapest Business Class product between FRA and JNB).
3 of the 7 flight attendants were serving in Business Class: the female purser who was extremely friendly and attentive and two other female flight attendants. One of them was friendly as well, the third one didn't say much.
They came through the cabin and offered German and international newspapers and magazines, later pre-flight drinks were served followed by hot towels. Then they distributed the menu cards that included the wine list as well (7 different red and white wines, most of them from South Africa). They already took the drink orders for dinner in order to perform a quick service so that passengers were able to sleep soon.
The captain made a welcome announcement before take-off as well. He addressed his passengers in English and fluent German; obviously he was a Namibian with German heritage (Namibia used to be a German colony between 1884 and 1915 and there are still some people with German heritage living in the country). The announcements from the cabin crew were made in English only. A safety video was shown and we were off-block on time. We taxied the long way to runway 18 "West", then we took off into the night.
I know that some of you are interested in the food selection, so here is the menu: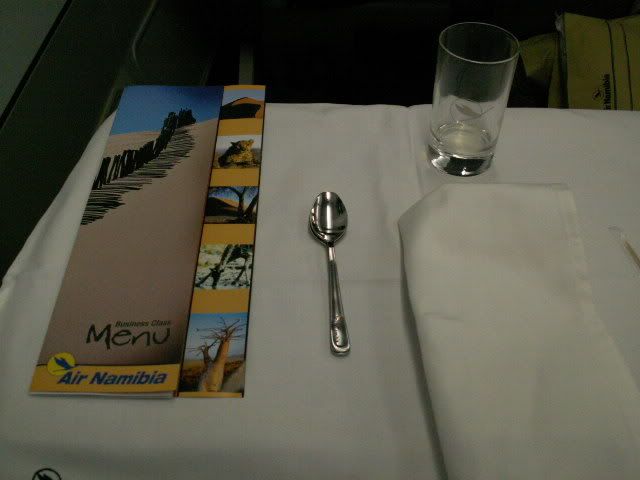 Hors d'oeuvre (starter)
Rack of Lamb with Marinated Vegetables
Hot entrée selection (main course)
Beef Strindberg served with Potatoes and Seasonal Vegetables
or
Breast of Duck with Mango Chutney Sauce, served with Potato Noodles and Red Cabbage
or
Scallops with Saffron Sauce, Pan Fried Rice and Seasonal Vegetables
Dessert
Venezian Peach Cake and Passion Fruit Cake
or
A Selection of Cheese
or
A Variety of Fresh Fruit
or
A selection of finely baked bread rolls
And here are some pictures of the meal as well. The starter: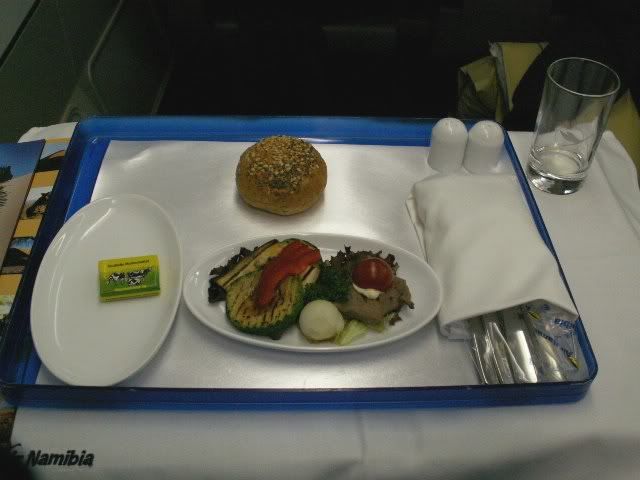 As main course I chose the duck: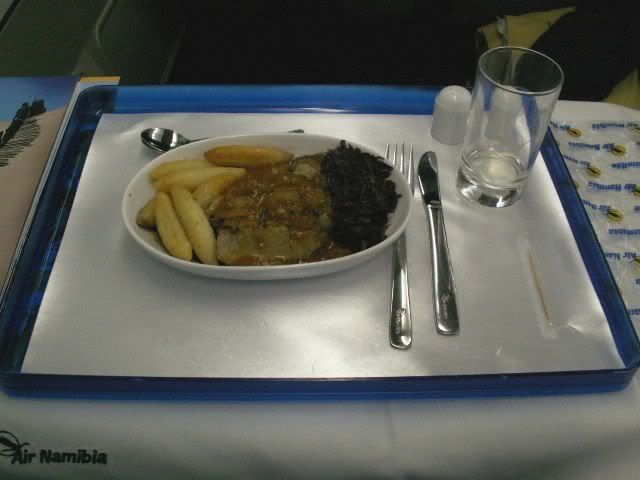 …and for dessert the Variety of Fresh Fruit: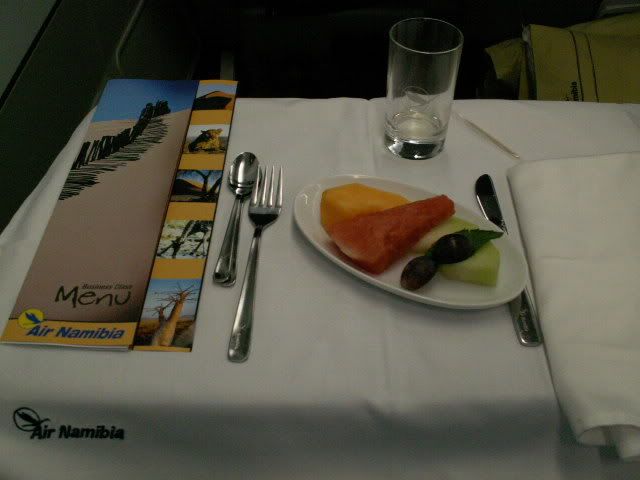 All in all, quality of food was excellent. The portions weren't too big which was all right as it was long after midnight when we had finished dinner and breakfast would be served only a few hours later.
The captain came over the microphone again and informed us about our flight route. We were just flying along the Italian coastline and there was a very good view to the City of Pisa and later the Island of Elba. Unfortunately it was dark outside and I couldn't take any pictures, so you have to get along with the air-show: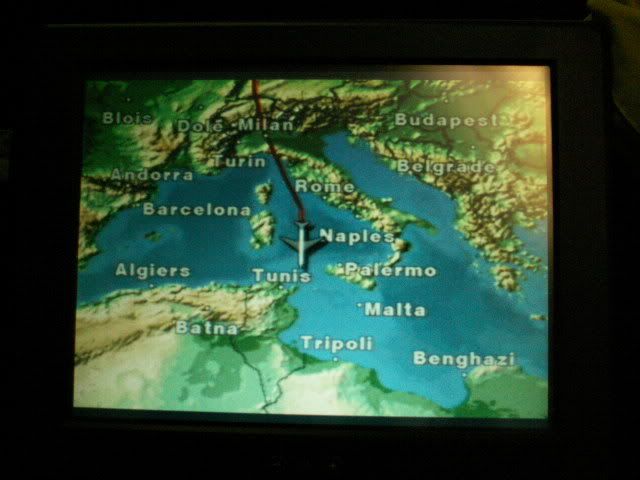 Cabin crew performed their duty-free sales quickly (nobody in Business Class bought anything), then the cabin light was switched off completely. I put my seat into a sleeping position and put out my personal monitor which was located in the arm-rest to check the in-flight entertainment system. There were 7 different TV-programmes available (not on demand), each one in English and German language, so all in all there were 14 channels plus the air-show that was shown on Channel 15. The movies were Spiderman 3, Shrek the Third, Meet the Robinsons, Next, Lucky You, Fracture, Blades of Glory. In addition to that, there was a comedy channel (Friends, Just for the Laughs), A Sports Programme and a Culture Programme. Apart from that, 10 different audio programmes with different kinds of music and a children's programme were available.
I wasn't really in the mood of watching a movie so I switched my monitor to the air-show and left it there until landing (switching it off during night to reduce light sources). By the way: I was the only passenger in the whole Business Class section who used his monitor at all – all other passengers let it stowed away in the arm-rest.
I found some sleep as well, but woke up several times. Then I switched on the air-show for a short time to see where we were about to fly. By the way; after leaving Europe, our flight route lead us to Tunisia, then via Libya, Niger, Nigeria, Cameroon, Gabon (crossing the Equator there), Congo, Democratic Republic of Congo (former Zaire), Angola to Namibia: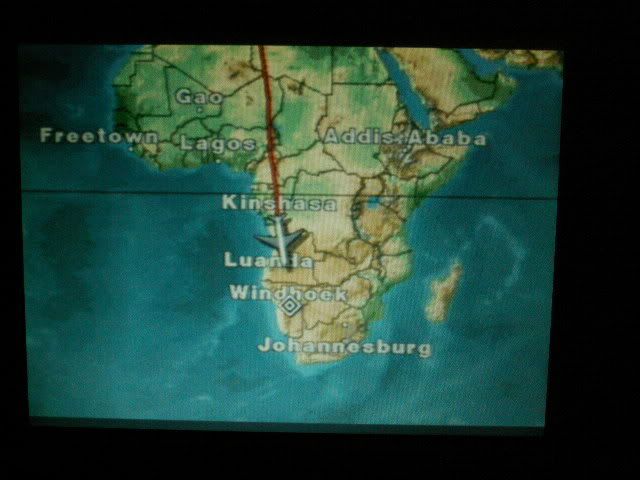 The first sunlight of the day: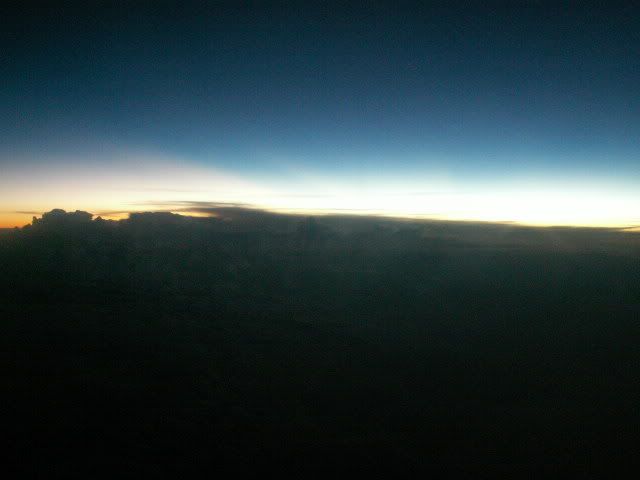 Sunrise above Angola: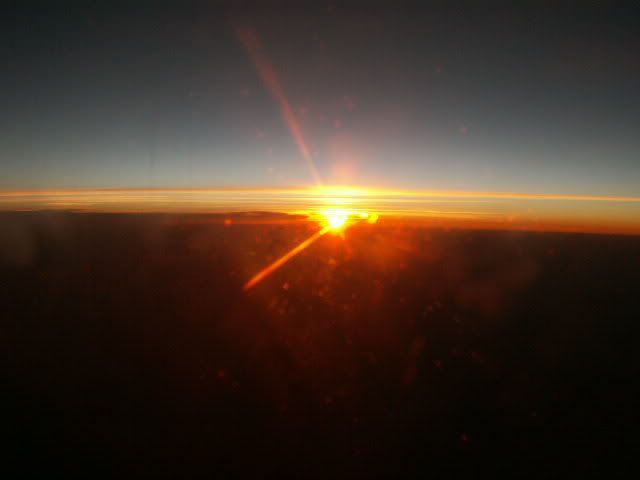 Breakfast was served at around 6:00 am Namibian time. According to the menu, it was supposed to consist of Cream Yoghurt – assorted fruit flavours, Fresh Fruit slices as well as a hot breakfast (Scrambled Egg with Chicken Sausage and Rosti Potatoes). However, the purser went from row to row to apologize that the hot breakfast was not available as it had been somehow destroyed (if I got her right it stayed in the oven for a too long period of time). So we only got the cold breakfast (bread rolls were served later as well):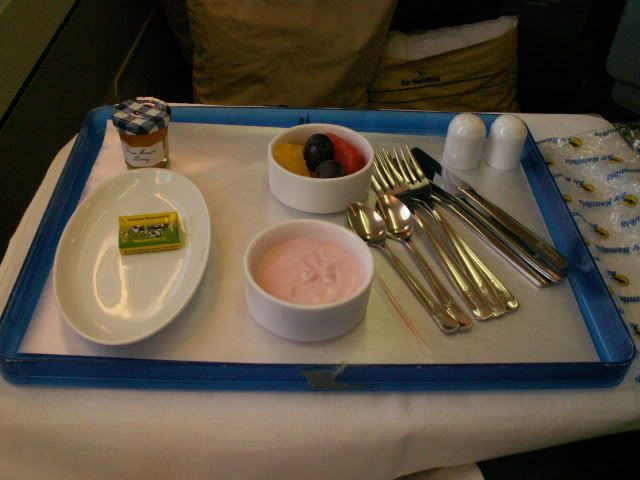 It wasn't much but it was fine for me as it was still very early I the morning. Those who were very hungry could eat several bread rolls. But I found it more interesting to look out of the window and watch the dry but fascinating African landscape outside: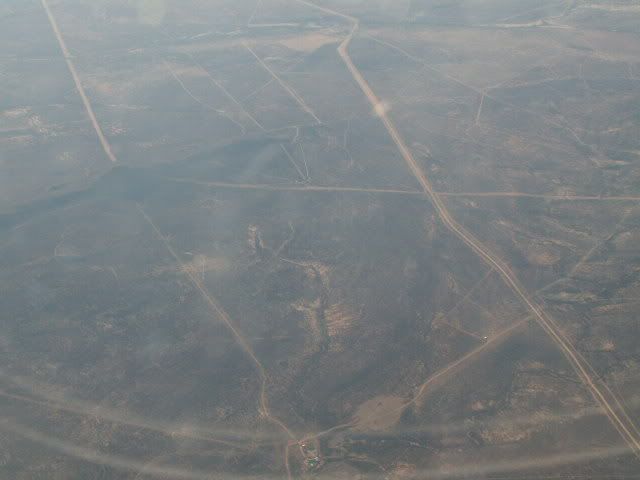 Immigration forms for the Republic of Namibia were distributed for those whose journey ended at WDH (Air Namibia offers connection flights to JNB and CPT as well).
Water is rare in Namibia: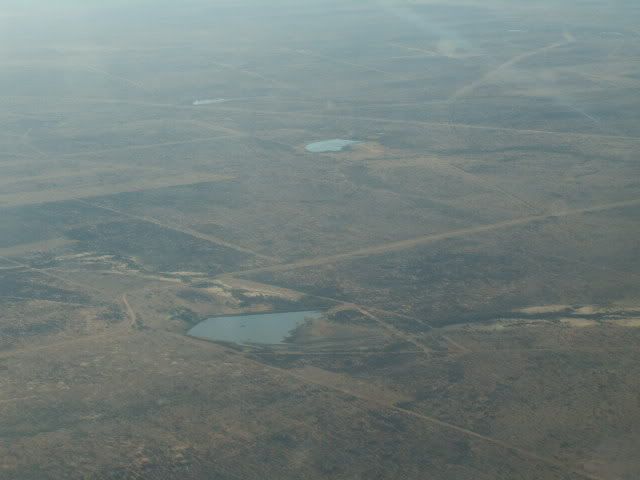 A dried river: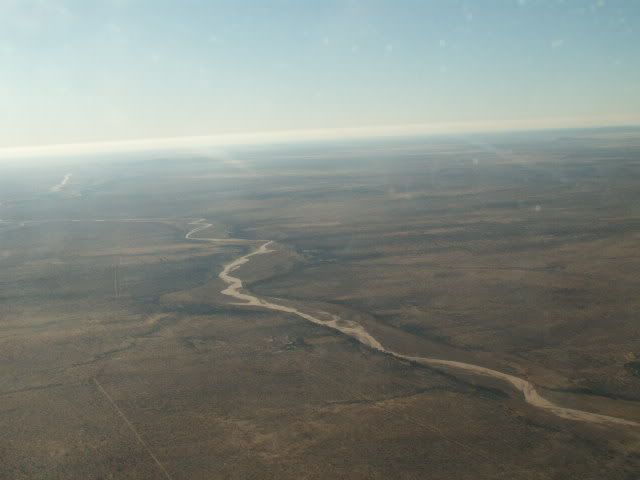 A farm in the middle of nowhere: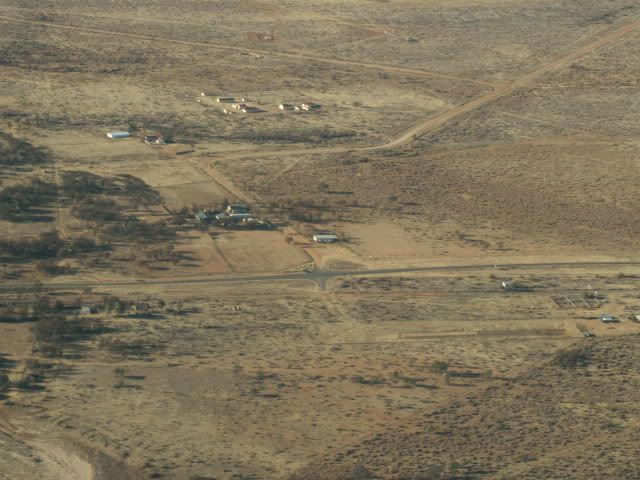 On short finals into WDH: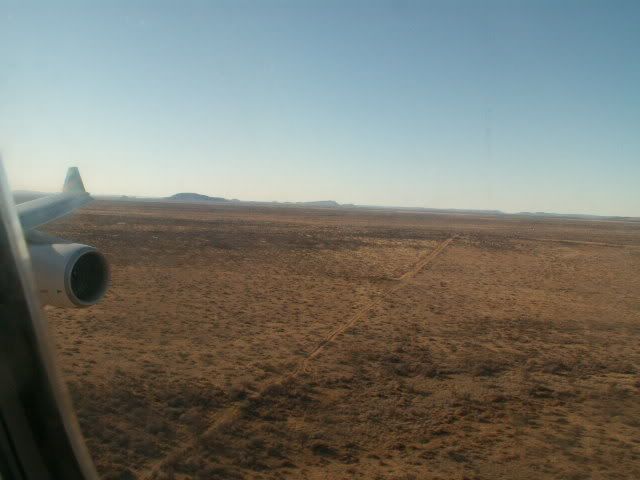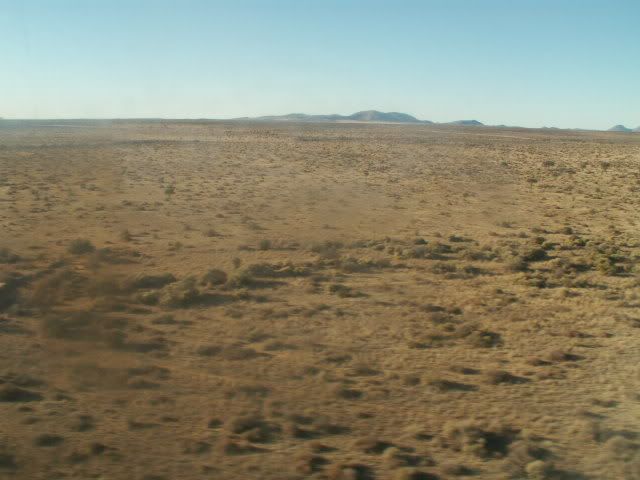 We touched down on runway 26 and taxied to our parking position. The terminal building of Windhoek International Airport: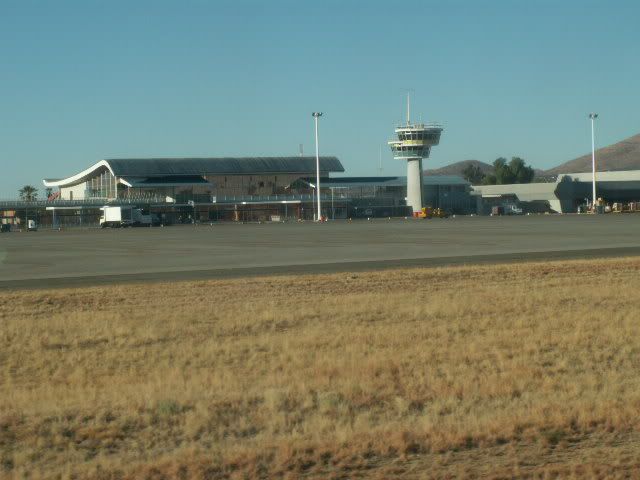 WDH doesn't have any air-bridges, so we came to stand on a parking position on the apron. We were on-block at 7:30 in the morning, 15 minutes ahead of schedule. The purser made her farewell announcement and informed us that taking pictures on the apron was strictly prohibited. She repeated this twice and there were members of security staff on the apron every 50 metres, so I guess you better stick to that rule. Anyway, it was nice to leave a wide-body aircraft on the "classic" way via stairs and walk the way across the apron to the terminal building.
The only aircraft on the whole airport besides our A 340 was an Air Botswana Beech 1900D. While we were walking the quite long way on the apron, a South African Express Fokker F28 arrived from JNB, followed by a DHL Cessna Caravan and two sightseeing / safari flights with Cessna aircraft.
You have to know that Windhoek has two airports – despite the little traffic. On the one hand, there is the "old" city airport "Eros" that handles Air Namibia's domestic traffic, operated with Beech 1900 aircraft, and most of the sightseeing / safari flights that are quite frequent in Namibia. On the other hand, there is Windhoek Hosea Kutako International Airport which is located 45 kilometres away from the city (Windhoek is surrounded by high mountains so they had to go that far away when they built the new airport). This airport handles all international traffic. Besides Air Namibia, it is served by South African Airways (JNB, CPT), British Airways / Comair (JNB), Air Angola (LAD) and LTU (MUC).
Anyway, I passed customs which took some time and entered the baggage claim area. There were two luggage belts but no signs which belt was used for which flight, but it soon turned out that the larger belt was used for our Air Namibia flight from FRA while the smaller one was used for the South African flight from JNB. I waited and waited but my bag didn't arrive. After some time I walked through the baggage claim area to the other luggage belt just to find out that my bag had been placed on the JNB-belt – together with some other luggage from FRA. Obviously the FRA-belt was full, so they just used the second belt as well. Anyway, I collected my luggage and entered the arrivals hall where a member of a tour operator company was already waiting for me and some other passengers to take us to the city.
I was on a tour around the South of Namibia which is famous for its landscapes (especially the Namib Desert and the Kalahari Desert). This was really fascinating for me and I would like to share some pictures of the country with you as well.
The City of Windhoek, Namibia's capital, with the "Christuskirche" (Christ Church), a protestant church of the German community in Windhoek: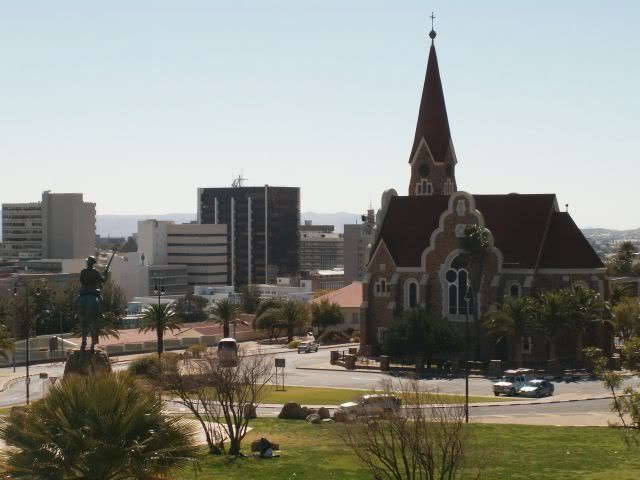 Sunset at the edge of Kalahari Desert: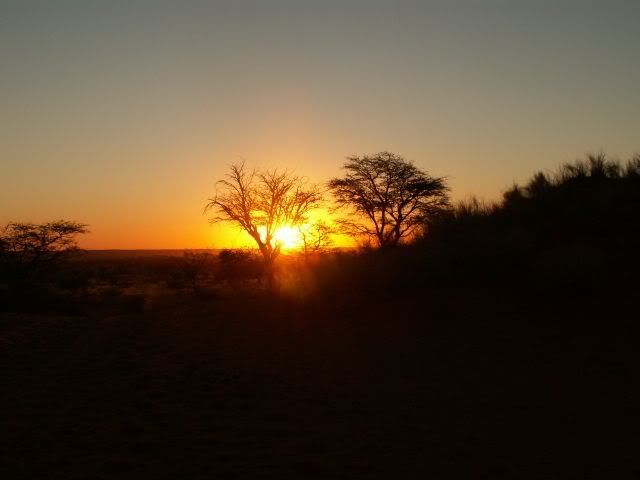 The Quiver Tree Forrest, a plant you find only in Namibia and South Africa: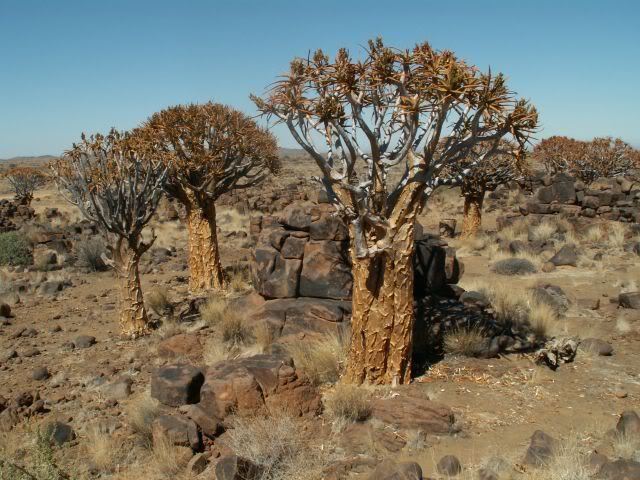 The Fish River Canyon, the second largest canyon in the world (after Grand Canyon):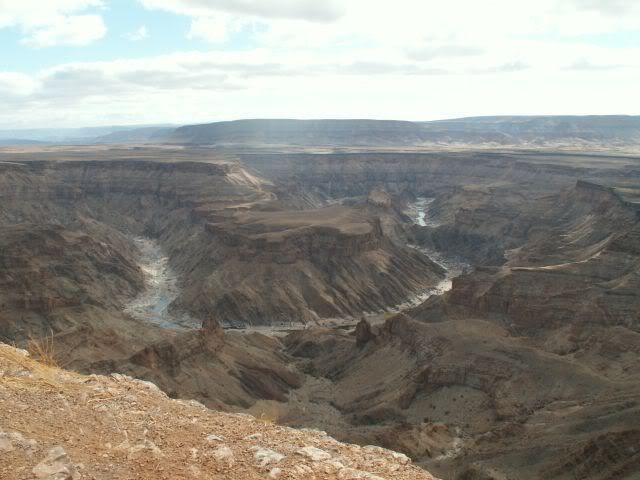 Rocks in the Karas Mountains in the evening sun: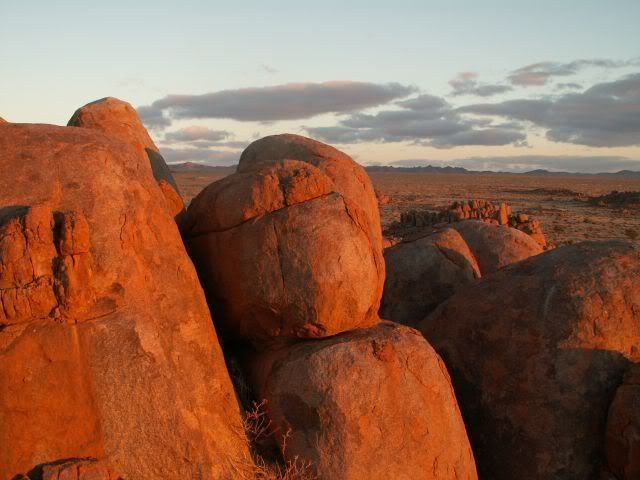 The City of Luederitz in the South of Namibia: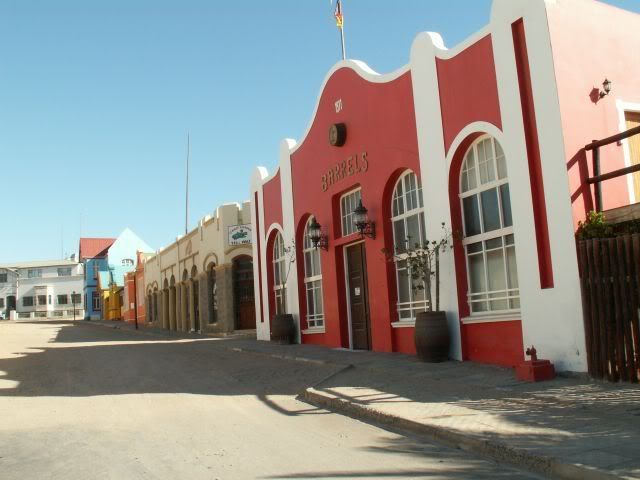 The Atlantic Coast near Luederitz: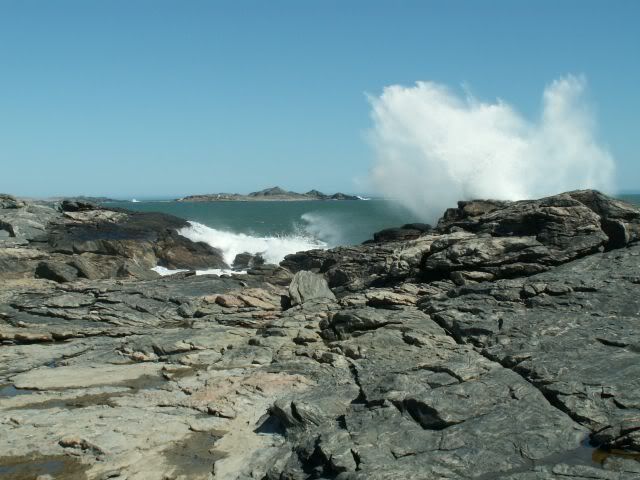 The famous dunes of Sossusvlei in Namib Desert: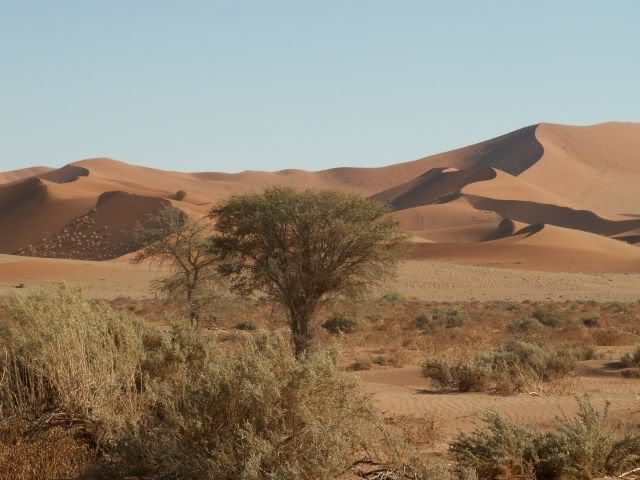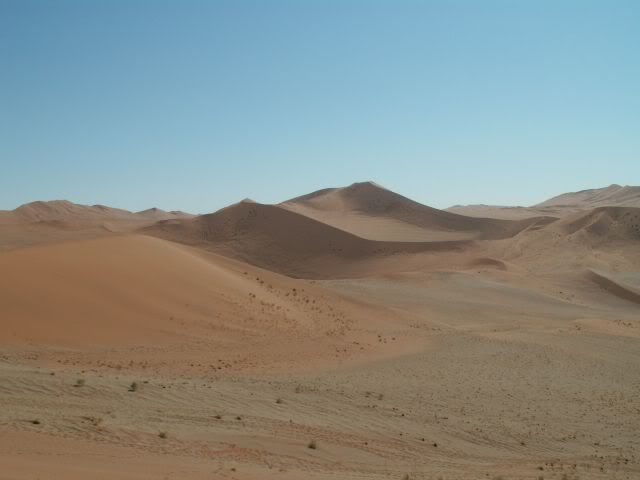 I was also on a domestic flight on Air Namibia from Windhoek to Walvis Bay and back, operated with Beech 1900. This flight will be covered by a separate trip report soon. If you should be interested, watch out for it.
After two weeks of holidays it was time to go back home.
Thursday, 29 August 2007
Windhoek Hosea Kutako International (WDH) – Frankfurt (FRA)
Airline: Air Namibia
Flight number: SW 285
Scheduled departure time: 19:00
Scheduled arrival time: 05:55 (time difference was + 1 hour, so flight time was 09:55 hours)
Type of aircraft: Airbus A 340-300
Registration: V5-NME
I arrived at Windhoek International Airport at 16:30 which was 2:30 hours before departure. Nearly all counters in the small check-in hall were staffed, 6 of them for the Air Namibia flights to FRA, JNB and CPT and some others for an SAA flight to JNB. There was one counter for Air Namibia Business Class all flights, about 10 passengers in front of me. After about 20 minutes waiting time, a friendly female agent checked me in. I got a boarding pass with my pre-assigned seat as well as a hand-written invitation to "Oshoto Lounge" (not on the picture):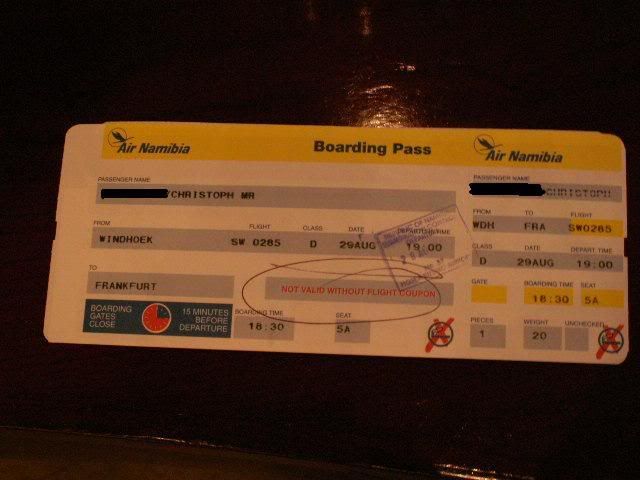 I passed customs and security check and entered the small gate area which consists of one room with 4 gates: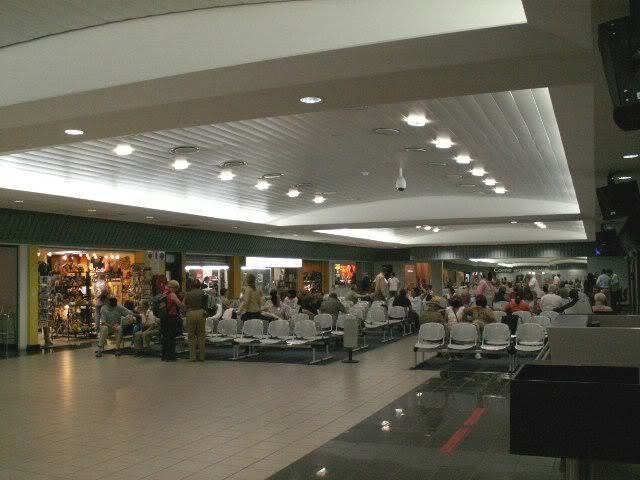 Traffic is only moderate at WDH; the 3 Air Namibia flights (FRA, JNB and CPT) plus the SAA to JNB were the only remaining flights of the day. There are no flights leaving or arriving after 19:00. Our A 340 was already parked on the apron; it had arrived from FRA early in the morning. As all Air Namibia long-haul flights are night flights, their two A 340-aircraft always have day-stops at WDH, FRA or LGW, their only destinations served by A 340. FRA is served 4 times weekly while LGW is served 3 times weekly. The two A 340 never meet at an airport, so there is one long-haul flight leaving WDH every evening (either to FRA or to LGW). Every aircraft is serving FRA 4 times in a row, then it changes to LGW for 3 rotations before it returns to the FRA-route again. So it was obvious that I would be on the same aircraft as on my inbound-flight again as I stayed in Namibia for 2 weeks. And so it was – the parked A 340 was V5-NME again.
I decided to visit Oshoto Lounge which is the only lounge at WDH and is located next to the gate area on the same level. It is rather small, consisting of one room with comfortable seats and a bar (free drinks and some cookies and small sandwiches) and a very small second room that is used as a smoking lounge. Here you can see a part of the main room: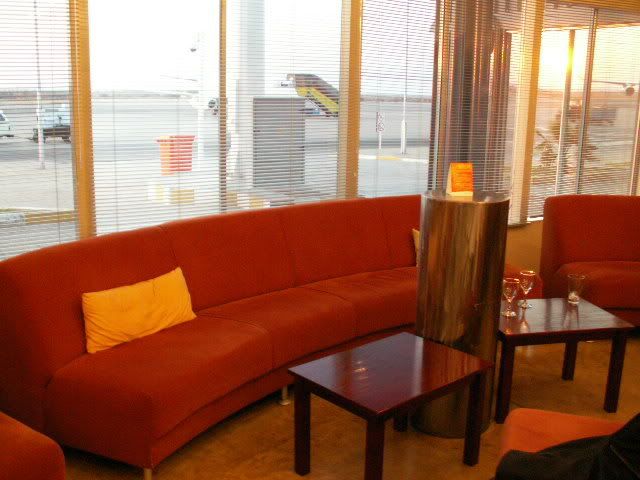 One lady was operating the lounge. With 4 flights that were about to leave, the small lounge was quite crowded. After having a drink I left the lounge again and had a look through the duty-free shop.
About 1 hour before the departure of our flight, the crew arrived, this time with a black captain and a white first officer. Again 7 flight attendants (6 female, 1 male).
I watched the 2 Air Namibia B 737-200 departing for JNB and CPT. Those aircraft are leased from Safair and they spend the night at the airports in South Africa, returning to WDH on the next morning. So there are no scheduled night-stops at WDH; the airport is completely empty after 19:00.
Boarding started 30 minutes before departure and all passengers walked across the apron to the parking position of our aircraft. It was already completely dark outside – it is winter in the Southern hemisphere, so sunset takes place at about 17:30 at this time of the year.
There were 2 stairs at the aircraft, one in the front for Business Class and one at the second door for Economy Class. After being welcomed by the crew I took my seat 5A which was the same as on the inbound flight. Newspapers from Namibia and magazines from Namibia and Germany were offered (offering German newspapers wouldn't make much sense as they would be from the morning of the last day, so they would be nearly 2 days old).
This time there were 6 empty seats in the Business Class section, so load factor in Business was 80%. The seat next to me remained empty as well.
Pre-flight drinks were served again, this time together with a small snack which was "Biltong", a Namibian specialty made of dried game meat, or alternatively salted cookies.
The captain made a very detailed welcome announcement as well. He apologized for the heat in the cabin which resulted from the fact that the APU wasn't working properly. He explained to us that this problem had to be fixed at FRA (all larger maintenance works of Air Namibia's A 340-fleet are carried out by Lufthansa Technik at FRA as Air Namibia has got only a very small maintenance at WDH). The captain then told us that our flight level would be 31,000 feet but we would climb up to 38,000 feet when reaching Tunisia.
We were off-block at 19:20 and taxied to the runway, then we taxied on the runway to the end of it as there are no taxiways parallel to the runway which is probably not necessary due to the little traffic. Then we took off from runway 08 into the night. As there are no towns near the airport, you see only darkness outside when leaving WDH at night.
Shortly after take-off, the captain came over the microphone again. He was very informative and told us everything about the flight route which would lead us towards Angola, then to the Democratic Republic of Congo – Congo – Cameroon – Nigeria – Niger (Sahara Desert) – Libya – Tunisia – the Mediterranean Sea towards Sardinia – Corsica – Elba – Italian mainland and then via Switzerland to Germany, crossing Stuttgart towards FRA.
3 flight attendants were serving in Business Class again, this time 2 female and 1 male. Menu cards were distributed. Here are the choices:
Hors d'oeuvre (starter)
Smoked Salmon served with Herb Cottage Cheese
Hot entrée selection (main course)
Game Fillet with Red Wine Sauce, Savory Rice and Seasonal Vegetables
or
Chicken Schnitzel with Lemon Butter Sauce, Potatoes and Seasonal Vegetables
or
Fresh Salmon on Leek Sauce and a Herb Crust served with Potatoes and Seasonal Vegetables
Dessert
Chocolate Mousse Cake
or
A Selection of Cheese
or
A Variety of Fresh Fruit
or
A selection of finely baked bread rolls
And here are the pictures. The starter: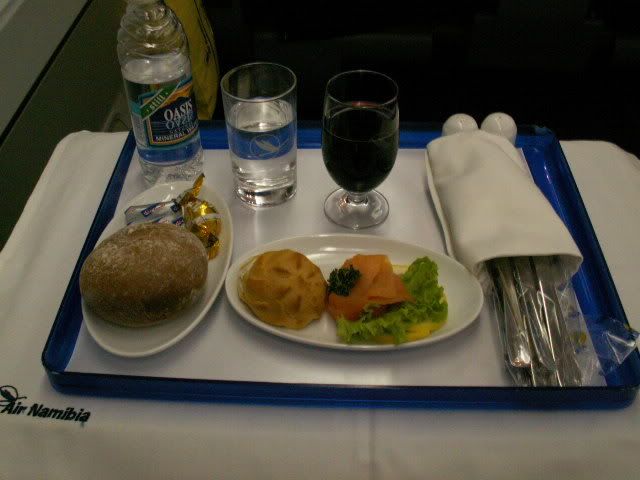 I had the Game Fillet for main course: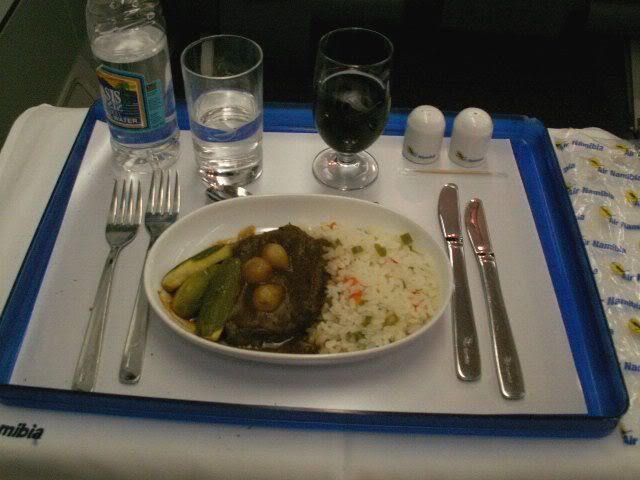 …and for dessert the Chocolate Mousse Cake: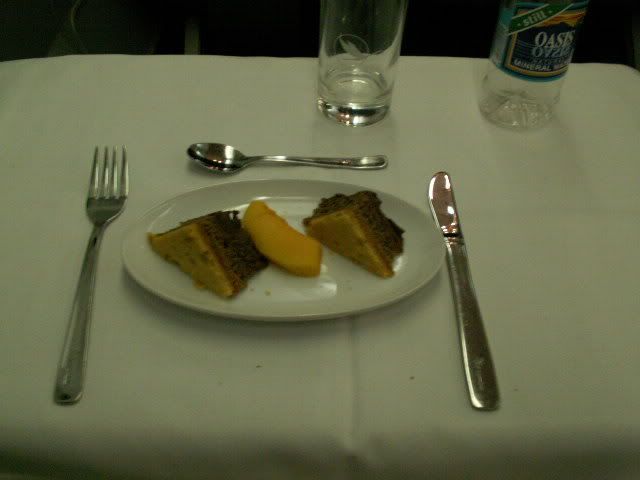 Food was excellent again.
Once more I was the only passenger in Business Class who used his monitor, and once again I switched it to the air-show: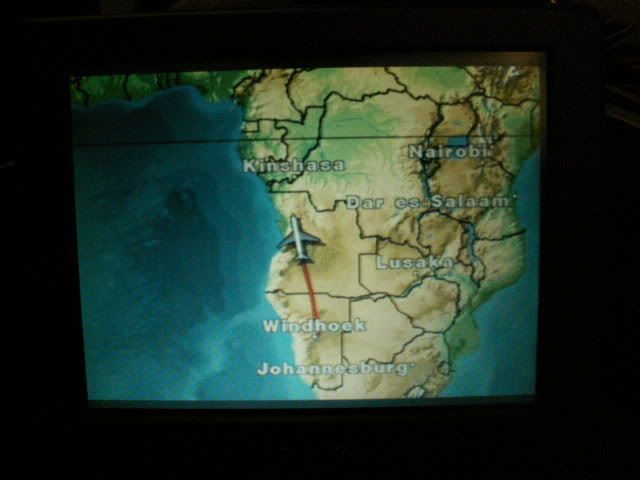 As it was a night flight, there didn't happen too much for the next hours. The lights were switched off completely and everybody tried to get some sleep. Window-shades were left open, so I was able to look out of the window from time to time. For some reason the entertainment system didn't work during the night (probably it broke down or was switched off), so no air-show as well, but luckily the system returned in the morning.
The cabin lights were switched on again at 4:15 in the morning (European time). Breakfast was served, this time consisting of the usual cold items (bread rolls were added later)…: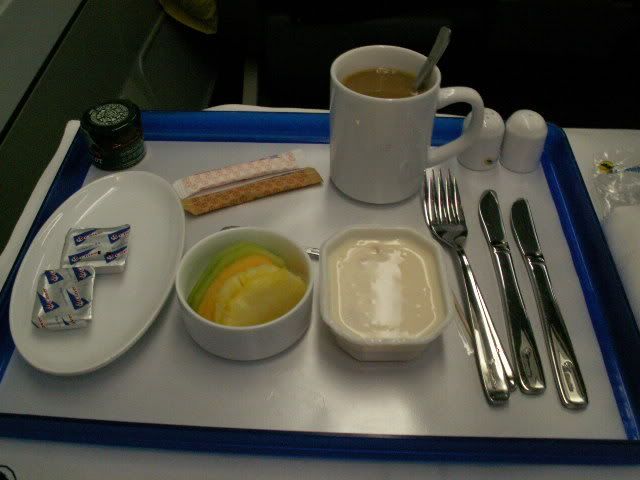 …and hot items, which was a Cheese Omelet served with Fried Bacon, Potatoes and Grilled Tomato: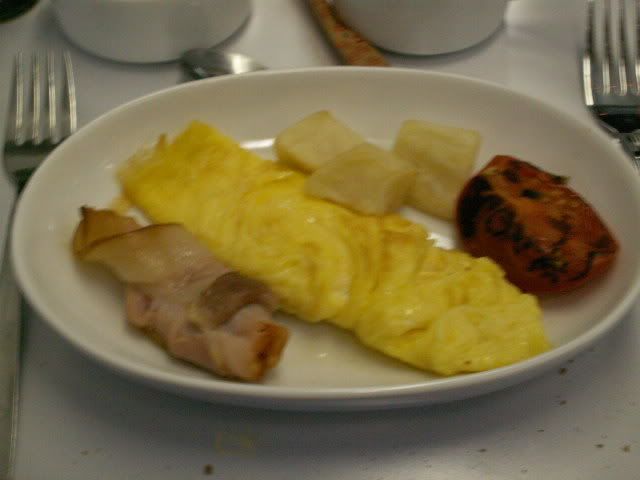 Alternatively to the hot breakfast, a Selection of Namibian Cold Cuts was available as well.
Reaching European airspace again: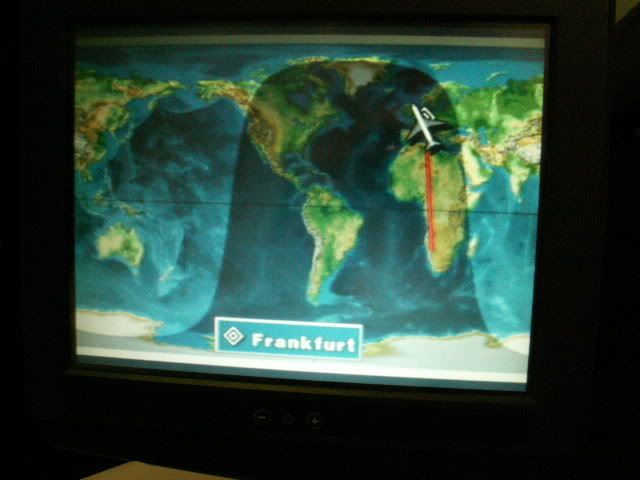 We reached Germany soon and I had a nice view to my home-town Stuttgart. Unfortunately it was still dark, so here is only a picture from the air-show: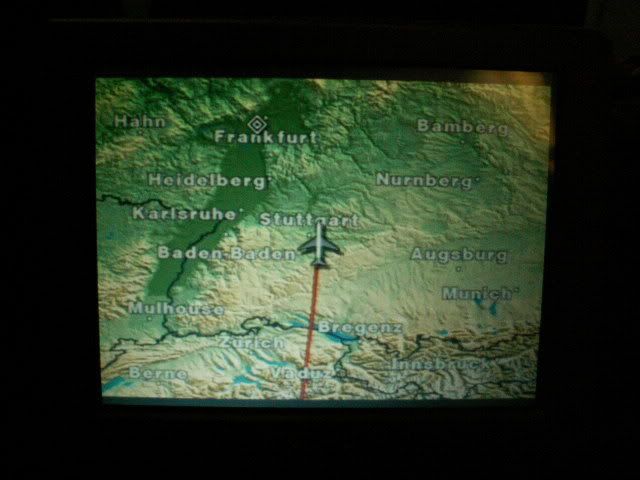 The captain made a last announcement and informed us about our landing at FRA, which would take place on runway 07L, and about the weather. Soon we touched down and taxied to gate A 15 where we were on-block at 6:05. No doubt, we are at FRA again: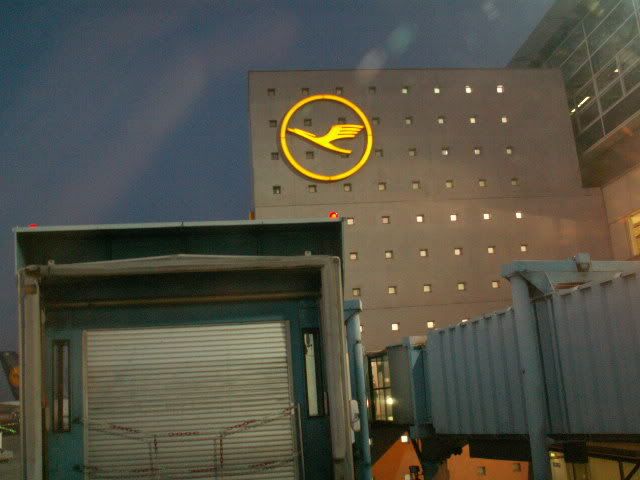 I thanked the crew and left the aircraft. Here are some pictures of V5-NME at the gate at FRA (sorry for the bad quality due to the light conditions):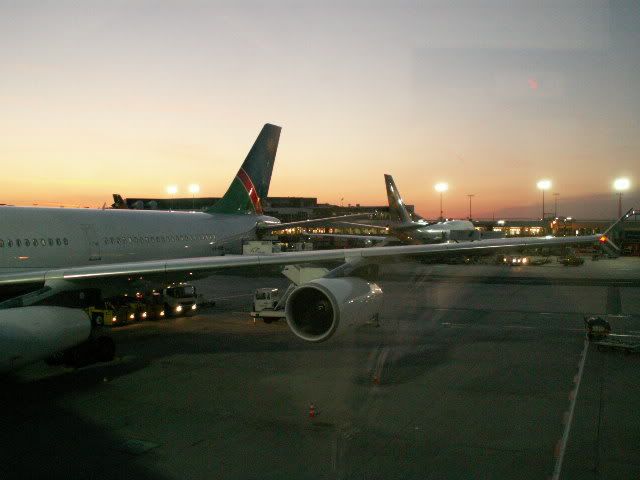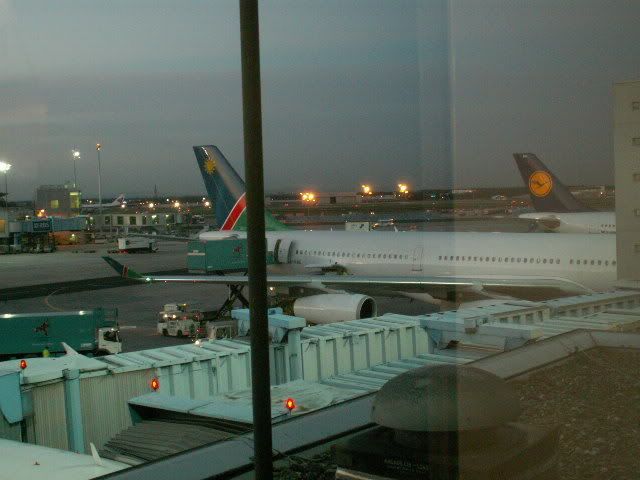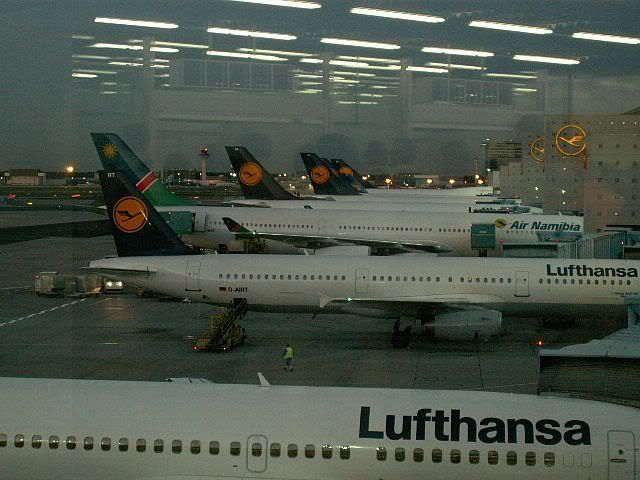 I passed immigration quickly, collected my luggage, and 45 minutes after landing I was sitting in an ICE-train to Stuttgart where I arrived at about 8:00.
Conclusion:
This was my first flight in Business Class and I was really impressed by the seat comfort and the service level. Flights were on time, crews were very friendly and attentive and food was very good as well. As I don't have any other experiences with Business Class flights, I can't compare Air Namibia's Business Class to the products of other airlines. Anyway, Air Namibia is a fine little airline, and if you should consider flying Business Class to Namibia or South Africa and you don't want to pay more than EUR 3.000 for a Business Class ticket with LH, BA or SAA, Air Namibia might be the way to go.
Thanks for reading my report, I hope it didn't turn out too long. This report doesn't contain as many air-to-ground pictures as my usual reports as both flights were operated during night-time. Questions and comments are always appreciated.
Regards
Christoph