Singapore Changi – Hong Kong International Airport
Singapore Airlines SQ 862
Boeing 777-313ER (9V-SWB)
Seat 21K Business Class
ETD: 1100H
ETA: 1435H
Chaos… Freaky Friday
It was a crazy day work wise. It was a day when our dear friend Murphy decided to throw a tsunami-sized curve ball my way. The turmoil ended with me receiving a call from my office at 5pm that I was needed in Xiamen, China… And my flight was leaving at 7am the following morning.
Several phone calls and lots of sms-texts later, the plan was abruptly changed. I was now needed in Hong Kong and I had to book my own flight on the internet (to be reimbursed later, of course).
The only seats available in Economy Class were the full fare tier which cost SGD 2600.00, the same price as a Business Class seat. Any fool would know what to do at this stage… So I carefully orchestrated my bookings to be sure that I got myself on SQ861/862 since I needed to be in Hong Kong specifically by 3pm on Saturday. And also that meant that I could now fly the much fabled Boeing 777-300ER!
But since the booking was done so close to the departure date, I could only get an aisle seat. Plus, I could not BOOK THE COOK so no lobster Thermidor for me… How sad.
Hong Kong homecoming…
Since 1980, I flew between Singapore and Hong Kong once every 3 – 6 months because of my relatives living there. However, these shuttling escapades stopped in 1996. So I have not been back to Hong Kong every since. This trip would be a good opportunity for me, also, to take a walk down memory lane – plus a chance for me to check out HKIA as well.
DEPARTURE DAY, 1 September 2007
It was a Saturday when most Singaporeans are just waking up and thanking God that the weekend has finally arrived, I was in my office finishing up some paperwork before heading to the airport. Looks like Murphy was not done with his fun because at 0930H, I was still fighting a frantic fire with my colleagues. MY PLANE IS LEAVING SOON AND I AM STILL HERE!
0950H: It is a good thing that I work at the airport. But to get from my office to the main terminal building, it takes a 20 min scenic route around the perimeter of the airport boundary. I drove so fast I thought my mighty little Kia Rio was going to explode. My tyres screeched into the parking lot at Terminal Two and I literally ran to ROW 2, where Singapore Airlines checks in all Raffles / Business Class passengers…
By the time check in formalities were completed, it was already 1020H.
"Oh Sir, you have no time for the lounge! Maybe next time huh? Hahaha… You are lucky to get a Window seat 21K. Boarding is in 10 min. Have a safe flight" ambled Latiff, whom I was so sure was trying to flirt with me. On a normal day, I would have humored him by patronizing his advances but not today with my head flooded with work related matters.
No time for the lounge? Hmph… I will so prove you wrong, Sister!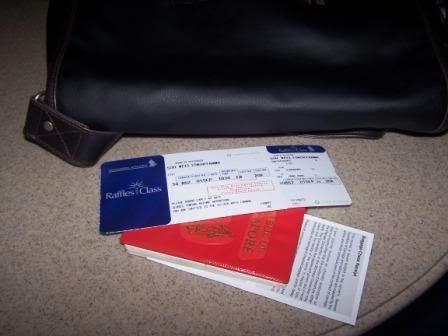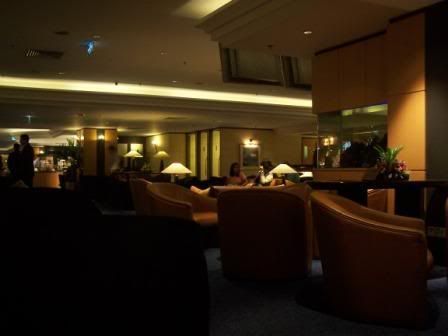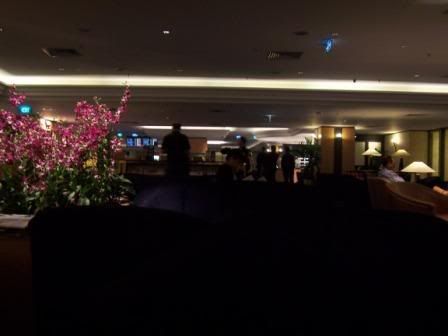 I ran into the Silver Kris Lounge with just enough time to snap 2 photos… and I was out again leading to the lounge attendants giving me curious looks of wonder. Murphy was having a ball of a time making sure that my flight was departing from Gate E8, the furthest possible gate one could get in Changi Terminal Two.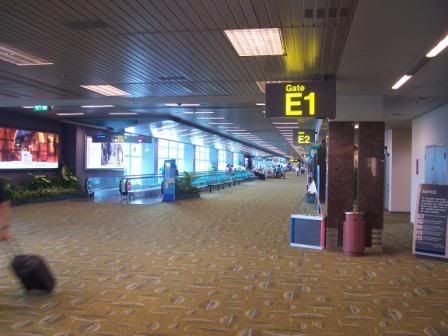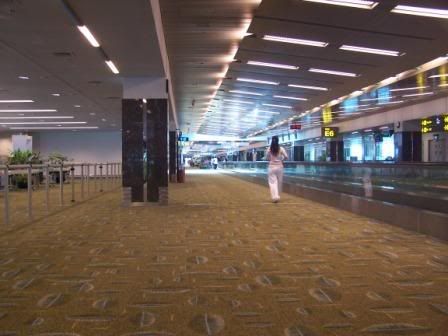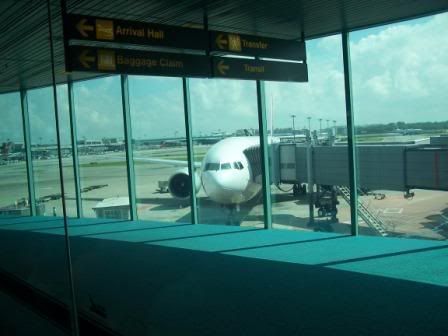 There she was basking in the bright sunshine - 9V-SWB, my ride to HKG.
There was a queue forming at the entrance of the gate. And do you know what was so surprising about this line? It was not made of eager low-fare paying economy class passengers but rather the ones from the Business Class cabin.
1045H: Finally boarding began. Since the 777-300ER was such a prestigious aircraft, they even separated the boarding process between First and Business Class, which normally is combined together.
It was a strange feeling walking down the link bridge towards the plane. I was weirdly not excited at all. I guess this is the difference when you are traveling for work and leisure. My mind was still trying to wind down from the continuation of yesterday's madness that spilled over to this morning, praying that Murphy would cut me some slack soon.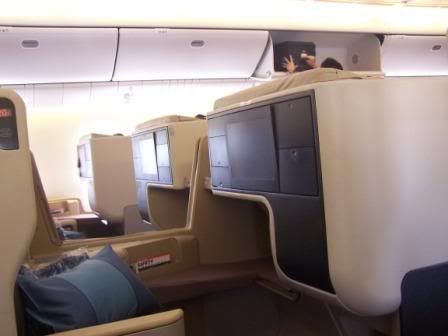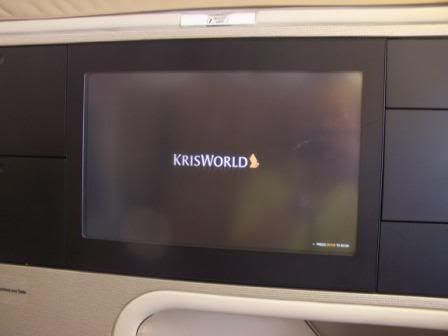 The configuration of SQ's new Business Class is similar to what other airlines would find in First Class only. I mean – seriously, who else configures their Business Class 1-2-1? The seat is WIDE, in fact WIDE would be an understatement. It is F****** WIDE! It was not very comfortable to sit on because one of your armrests is far away. My solution to this was to use the large pillow provided to prop up one of my arm. Signs of wear and tear was already evident around the seat and this aircraft is not even a year old.
Once again, Murphy struck one last time and he made sure I would get a windowless window seat.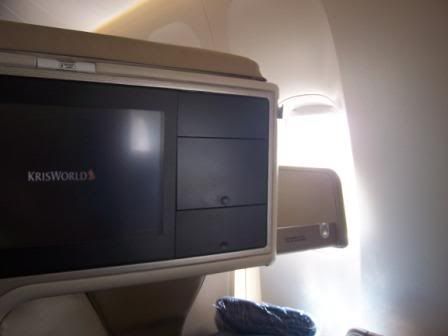 Front view…
Back view…
The seat console design made it very difficult for me to peer outside comfortably.
FSS Shireen Tan: GOOD MORNING, MR SOH, WELCOME ON BOARD. WOULD YOU LIKE A NEWSPAPER?! WE GOT SERRECTION FROM SINGAPORE AND HONG KONG?!
Ok lady, no need to shout because I am not deaf. SQ probably issued a memo this morning reminding their cabin crew to remain audible to passengers, and FSS Shireen took it literally.
"MR SOH, CHAMPAGNE OR ORANGE JUICE??!!"… Sigh…
1110H: Doors closed and armed.
Announcements on this flight were standard SQ and very predictable. FSS Shireen walked by quickly and "MENU, MR SOH?!" disappeared before I could recover from the wake turbulence left behind by her booming chords.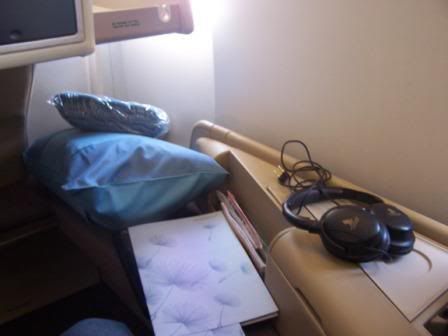 Noise canceling headsets, menu, pillow and blanket. This pair of headsets was very effective in drowning out the cabin noise to a mere whisper.
During pushback, the engines started and as if trying to challenge FSS Shireen, the start up was so loud that it vibrated the entire cabin. My friends in SQ likened the sound to a giant coffee grinder. In fact, it felt like I was in a KING KONG adventure ride at the Universal Studios in Hollywood. The safety video could not be heard at all over the din.
But FSS Shireen would not be outdone… "HOT TOWEL, MR SOH??!!!" and I heard her just fine.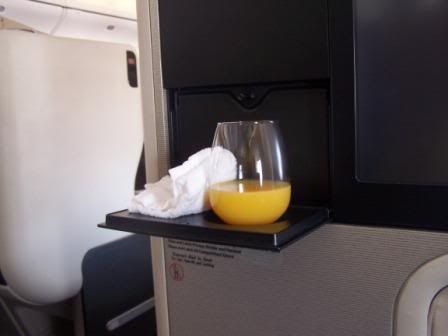 Finally the noise died down and some normalcy returned to the cabin, only then did we start taxiing towards Runway 20C.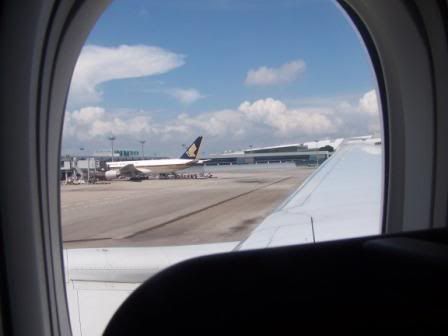 Pushing back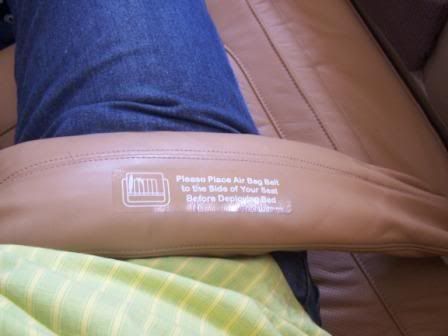 Seat so wide the seat belt needs an airbag. I was wondering how is this going to help in a crash?
1124H: The traffic was heavy that morning. After inching ever so slowly, we were finally on our way to Hong Kong and the take off was one of the most powerful I have ever experienced. I think any more powerful, all of us would have ended up looking like Joan Rivers.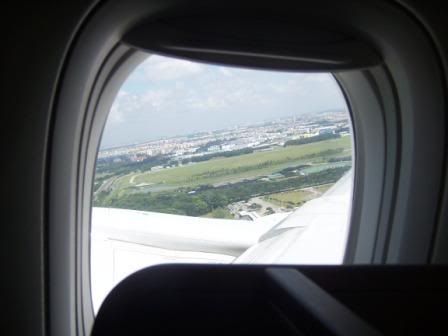 Service began almost immediately after the seat belt sign was turned off. FSS Ang Ching Wen appeared next to me and knelt down on the floor…
"Good Morning, Mr Soh. Did you change seats? Your name is assigned to 21F."
"Check in assigned me to 21K because I wanted a window seat."
"Ok. No problem, I just wanted to call you by the correct name. Have you made your choice for lunch and drink?"
"Yes I will have the lamb, please, with iced tea, sweetened. Anyway you can drop the Sir and Mr, just call me Ryan."
"Ok Sir, I mean Mr. Soh, I mean… RYAN." And with a smile, she got back up to her feet and went her way down the aisle to the other passengers. Finally, a SQ-Girl with a sense of humor.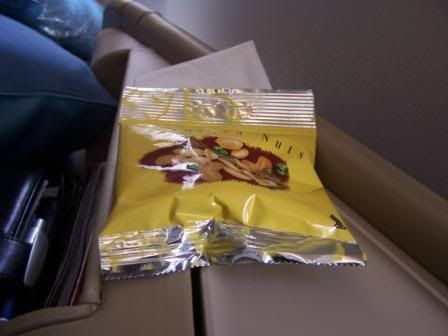 My iced tea never arrived. FSS Shireen came by with packets of mixed nuts and by the time I was through with it, my iced tea was no where to be seen. I guess it was time to test the crew call button. Press… PING!
FSS Shireen appeared, I braced… "YES, MR SOH??!! CAN I HEP CHEW??!!"
"My iced tea, it never arrived."
"OH LET ME CHECK…" And off she ran towards the forward galley.
FSS Ang Ching Wen peered over the front console looking very sorry and admitted that she really forgot about it and holding in her hands, my drink. "Here you go, Ryan. I am so, so, so sorry. Please let me know if you need anything else, I PROMISE I won't forget." And with that, I was also handed a Givenchy branded padded socks.
SQ needs more stewardesses like her, I tell you.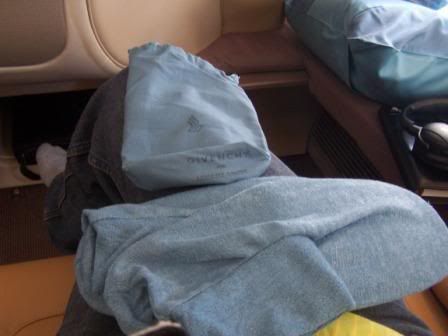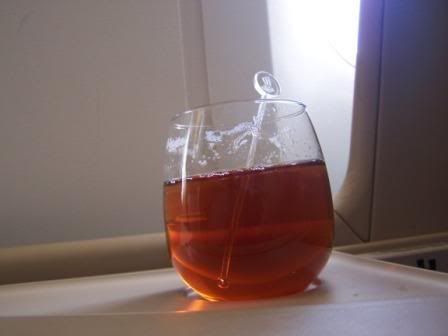 At the same time, I decided to partake in the super-improved Krisworld entertainment system. I chose the movie Georgia Rule and decided to just let it play. The present system is very much easier to use compared to the super retarded WISEMAN. In fact, I got very comfortable with the new IFE in less then a minute and I was browsing effortlessly like a pro.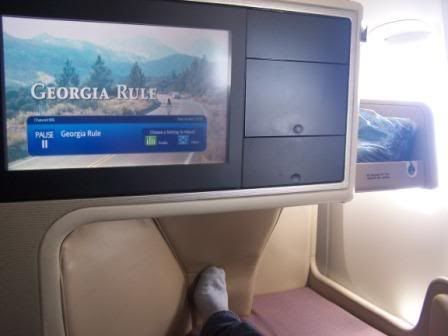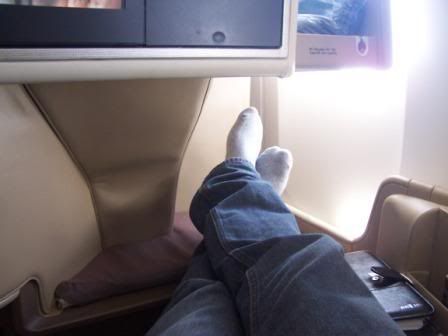 As Georgia continued her rule, I got comfortable very quickly…
1220H: Lunch service began.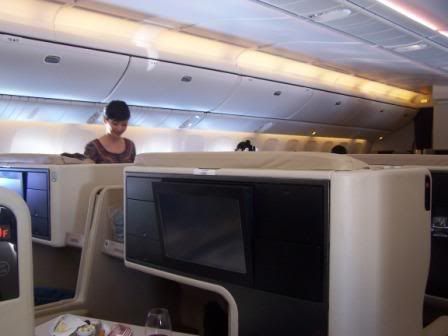 Look at how puny the SIA Girls look minus the center overhead compartments? This gives you an idea of how spacious the cabin is on the 777-300ER.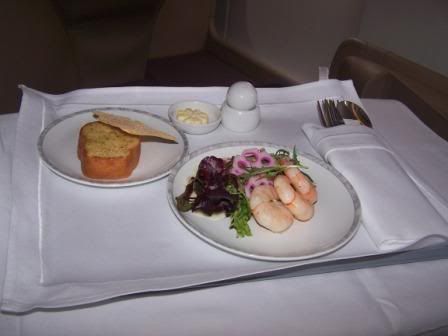 Like all proper airlines, starched white linen was placed on my tray table and immediately after, a tray of cutlery with an appetizer was presented to me. Prawns were really fresh and the citrus dressing they used complemented the seaweed.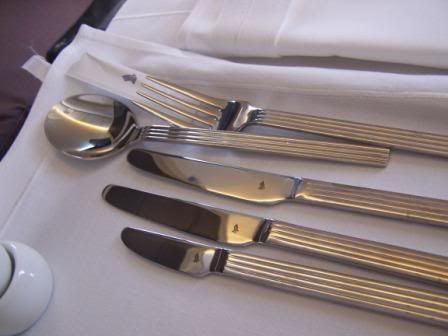 New cutleries only found so far on the new Business Class.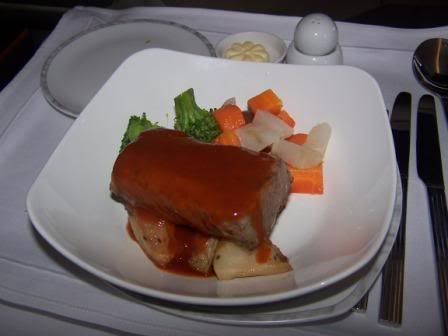 When the main arrived, I was sorely disappointed. While the vegetables were tasty because they were simply sautéed, the meat was tasteless and uninspiring. And to think I wanted to save the best for the last, I finished the veges and potatoes (my mum would be so proud) first before attacking the meat. YUCKS!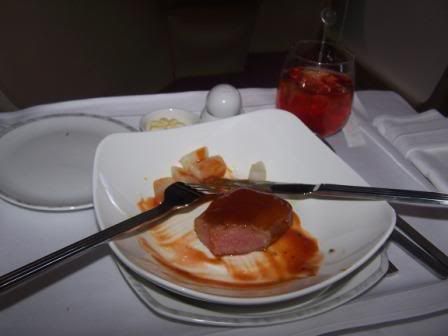 I cannot eat one more bite of this tasteless main meal.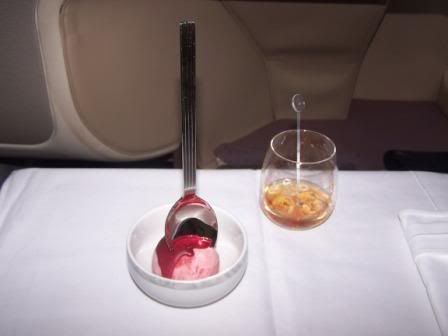 Frozen solid as a rock.
Desert was frozen solid strawberry ice cream on a raspberry coulis. You cannot screw that up.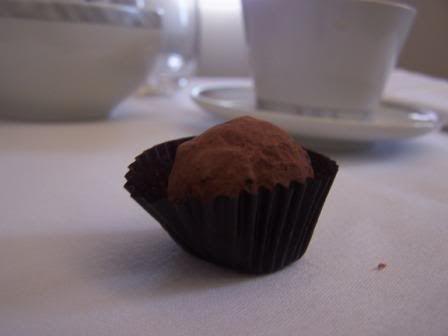 I was stuffed by then and decided to pass on the cheese plate and just ordered tea to finish. Pralines were served to end what was a very lengthy meal service. By then, it was slightly past 1325H. Shortly after that, FSS Shireen came by to clear my table. She thankfully just smiled and didn't shout…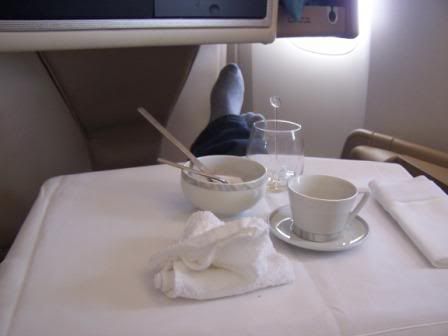 The seat, although folds open to reveal a very comfy bed, was not needed for this flight. I set it into a cradle position and was still able to lie flat all the way. Now this part of the seat was comfortable. I could roll around the span of the area I was in. This leads me to conclude that this seat was made to lie in, not sit.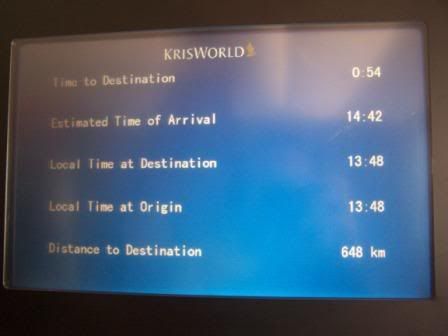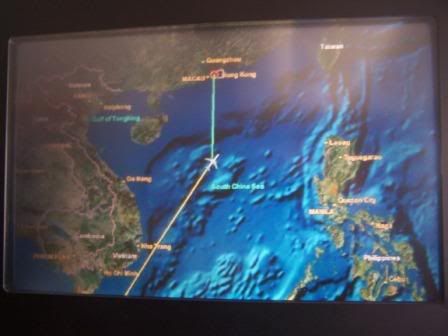 After lunch, we are getting close.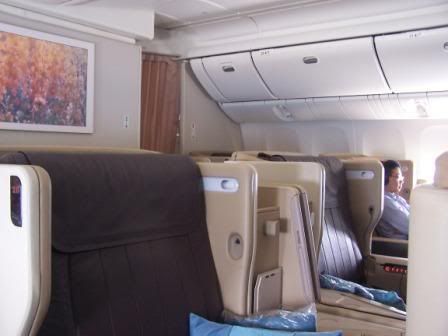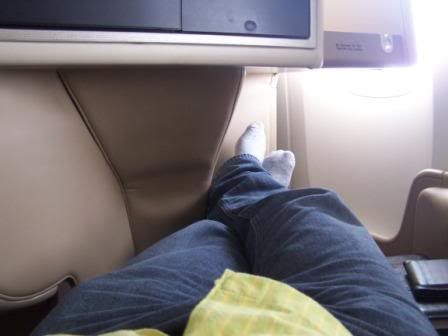 With the seat in a cradle position, I am able to stretch out fully flat although at an angle, with LOADS of room to spare for me to toss and turn.
1410H: Flight deck announced that we were 180 miles south of Hong Kong and descend was in 3 mins. "Cabin Crew prepare for arrival."
Few minutes later, the first signs of descend were felt as the nose pointed towards terra firma.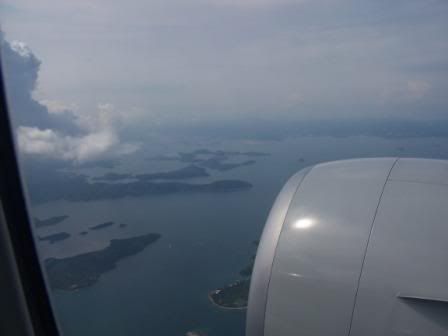 Coasting into Southern China.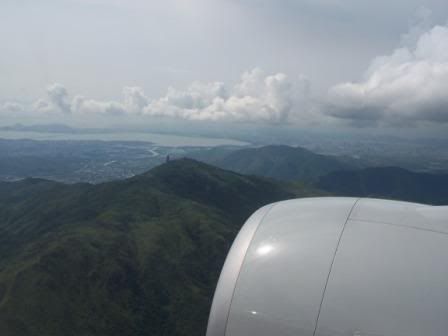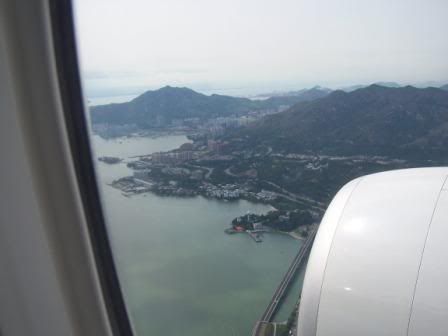 The people on the left side of the plane would have been treated to a beautiful view flying over the skyscrapers of Kowloon and Hong Kong, whereas I had a view of the countryside that was called New Territories of northern Hong Kong. Lots of hills and full of greenery with little bays and coves.
1443H: Final stages of approach for Lantau Island…
The scenery outside was breathtakingly stunning. Steep mountains and very inviting looking seaside suburbs dotted the landscape as the aircraft descended ever so gently towards Runway 25L.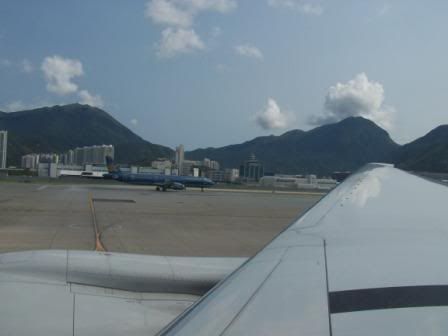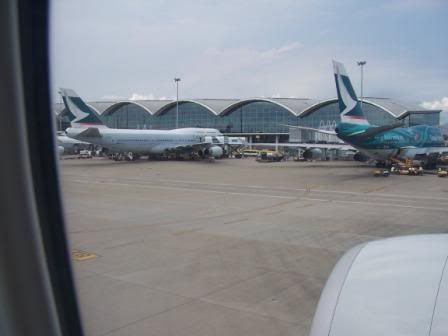 Taxi around the airport compound took about 10 min. Looking at the traffic; it was no doubt that Hong Kong is one of the busiest airport in the world. Movements of aircraft were in constant orchestrated motion that was almost mind boggling on hindsight.
1455H: Gate 1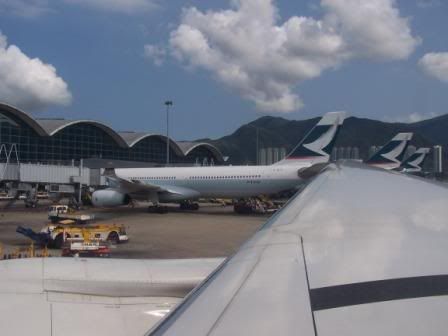 Finally the aircraft came to a complete stop totally surrounded by very jealous looking Cathay Pacific planes. I could almost hear 9V-SWB gloating in all her glory to the pale looking CX A330 parked next to us, "See if you can top this…"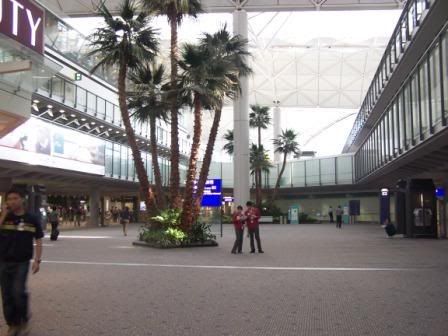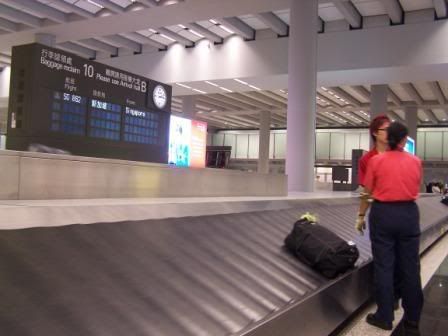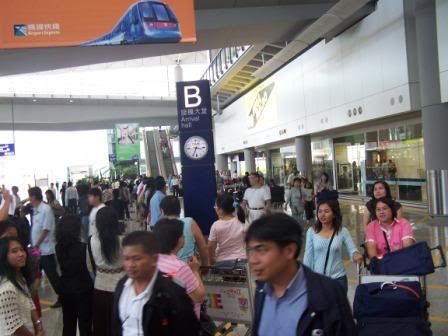 Check-in: 9/10… No one should ever complain about Changi's check in. Effortless.
Boarding: 9/10…Gate agents at Gate E8 were VERY strict about enforcing the rule of boarding. A very good thing to have to ensure an efficient boarding process.
In-flight service: 7/10… The 2 FSSs who serviced me was a mixed bag of nuts. FSS Shireen was obviously a very junior crew who was working her first few Business Class flights. She was trying very hard to be the gracious hostess but there comes a point where you can try too hard. She came across as very unpolished and plastic at times. FSS Ang Chin Wen was more relaxed and in her element of quick quips and witty retorts. Her command of English was excellent and she would make the kebaya-clan proud with her gracious posture with a pinch of much needed spunk among the tight laced SQ environment. It slipped my mind to write her a commendation card.
Catering: 5/10… Awful main course! The pan fried lamb was just that. There were no surprises in the taste that would have made you go "Wow, I want to have another bite!". The potatoes were left in the oven for a tat too long and it was served all dried up and wrinkled. Definitely not one of SQ's best offerings. Book The Cook was not an option for me as it was less than 24hrs before my flight departed when I made the booking.
Arrival: 9/10… I have a new candidate in my list of favorite airports of the world. HKIA is definitely a positive nod in my opinion. Being the largest construction project ever undertaken by Hong Kong, the building is understandably gigantic in proportions in every imaginable way. Navigating it was an ease because of the excellent signage and baggage came out in record time.
Overall: 78%...
Singapore Airlines has raised the bar so high up now for Business Class travel that I will not look at another Business Class cabin the same way ever again. This way of traveling is akin to First Class on other carriers of the same league. But wait a minute; Singapore Airlines is now in a league of her own with the introduction of the new 777-300ER! If the Jubilee name would have stayed, they could have named this aircraft Jubilee Plus, perhaps?
However, the seat has become so wide that it felt a little strange sitting on it. In fact, it is so wide that the seat belt cannot be installed across the width of the seat, but rather it starts from ¼ down the cushion. This forces you to be strapped in to one side of the seat while the one armrest you have is on the other end, makes a rather awkward sitting position.
Other pictures of the flight…
A video was actually screened introducing the New Business Class. I wonder how the YCL and PCL passengers felt about that?
Economy Class, looks great if you ask me!
Signs of wear …
More signs of wear…
Handset to control the IFE with flight time shown to HKG on the small blue screen.
QWERTY key pad for office applications.
Compartments of the seat console. On the left you have a mirror and a drink tray. On the right there is a compartment for sunnies and one with numerous electrical ports.