Well this trip happened in June and although I've been wanting to write this trip report for ages, I just found the time/inspiration. What a special trip this was for me! This was a trip of many firsts for me including (but not limited to):
* First time to Europe incl. UK, Ireland, and France.
*First time with CO, VS, BA, FR, U2.
*First A346
Anyway, June 11th arrived and at around 1700 my brother and I drove up to PDX which is two hours north of home. It was very surreal for me that this trip which I had been planning for a good three years finally was going to happen. I had to overcome itinerary changes due to my brother's school schedule, but it was better because we ended up flying out of EWR to LHR instead of ORD which meant we would fly an A346 instead of an A343 (which in turn meant V:Port!) I had to overcome money shortages, and I had to convince my brother to come since he isn't too keen about distancing himself from home. So after all these complications, the trip was finally happening.
I love flying out of PDX, EUG is the closest airport from my house but it's too small and I never feel like I am about to fly when flying out of EUG. PDX, while it isn't one of THOSE airports that everyone want to go spotting at or just visit, is still in a very dear place in my affection. And so, we arrive at the terminal after parking the car and we made our way to the Continental counter. Even though I had already checked in online, I still wanted paper tickets like the traditional ones, I have a problem with showing up to the airport with a piece of traditional paper calling it "my boarding pass". So anyways, check in was for the most part a breeze although the agent had trouble finding our reservation through to LHR. She finally did and gave us all our documentation.
We were through security one and a half hours before boarding was called so I had ample time to visit all of Concourse E and do a return trip on PDX's Concourse Connector which is just marvelous. I headed back to gate D-1 right as the first boarding announcement was being made.
PDX-EWR
06/11/2007
CO 685
Seat 16F
Depart: 21.55
Arrived: 05.55
<script LANGUAGE='JavaScript' SRC='http://www.airliners.net/photoLink.inc?id=1256773' TYPE='text/javascript'></script>
This was my first time with CO and the only thing I had heard about them is that their seats were very comfortable. In reality they weren't the best I've sat on but they did the job just right. I was however impressed at the adjustable head-rests since I had only seen them before in Business Class not in Y. The departure out of 28R was timely and drinks and snacks came promptly. CO has this campaign around airports that read something along the lines of: We still give pillows, sheets, and a hot meal on our flights. I must say they did live up to it. I didn't get a hot meal but it was an over-night flight so it's understandable. The movie entertainment came on and they played Wild Hogs. I was too entertained with my window seat to watch much of it but about an hour into the flight I fell asleep.
I woke up to the darkness of the early morning. Most passengers were asleep or quietly reading. My brother next to me was also sleeping peacefully. I looked out the window and I was able to witness an Eastern sunrise. This is my favorite time to be in a flight. There were no crying children, my seat was comfortable, and I had just slept through a great part of my flight. Just then the aircraft began to slow down and descend. This was probably one of my favorite approaches ever since I was able to see a great deal of Brooklyn up until landing. EWR truly is CO's hub for I didn't see anything else while taxiing to our gate. One detail that really made my morning was a F/A thanking us for choosing CO but he phrased it something like: "We really enjoyed watching you sleep and we hope to see you in the near future in another Continental flight."
Overall, this flight was flawless. I was a UA supporter but my hat's off for CO, I'm sold. One thing I did notice is that during the safety demonstration video, we were referred to as "customers" when I usually hear "passengers". It's not a bother but it's out of the ordinary in my opinion.
It was six in the morning and EWR was already busy. I must say that aside from the Air Tran, this airport is just great. We made our way to Terminal B and passed security. I was expecting a big International Terminal of the likes of LAX or SFO but I was mildly disappointed. We were about two hours early to our VS flight and I was expecting to find things to see but there was only a small shop selling juices and periodicals. It didn't matter though, our plane, Queen of the Skies was already there waiting for us at gate 55. We were the only flight in the place so there was ample sitting room. I however, went over to the window to spot. The only other heavy out there was an LY 744 but it wasn't parked at a gate.
The gate agent made an announcement that any passengers with boarding passes from other airlines had to come up and get Virgin passes. We did so and then were told we had to check our bags since we already had backpacks on us. I had forgotten about this "one bag only" policy and so we were forced to check them. Around 07.00 the crew started arriving in their distinctive red uniforms. I thought they were the most sharp-looking crew I had ever laid eyes on. Since I'm used to flying smaller planes (my biggest before this was a DL 767) I thought there were too many crew members on this flight.
EWR-LHR
06/12/2007
VS 018
Seat 42K
Depart: 08.20 (08.45)
Arrived: 21.10
<script LANGUAGE='JavaScript' SRC='http://www.airliners.net/photoLink.inc?id=1171323' TYPE='text/javascript'></script>
Our flight was not very full at all and so general boarding of Y was called. We were some of the first to board and when they took my ticket and handed me my stub I felt so very happy! As I made my way down the jet-way and met with my Queen of the Skies, the first ever British accent greeted me. I patted the side of the plane and a second British accent indicated me where my seat was. I made the long walk from Door1Left through Upper Class and Premium Economy to my Economy seat. This was a long walk and it truly proves to you just how long Airbus designed their 346. I sat to the pleasant surprise that there is this huge space between the window and my seat. This acted as my place to store my backpack instead of beneath the seat in front of me which was already occupied by the entertainment box.
The seat next to me was occupied by this quiet person who didn't look willing to share a conversation so I just let him be. My brother also wanted a window seat so he was two rows ahead of me in 40K. The safety demonstration video came on and even though I had seen it before on the web, it was still fun to see the animated characters play out all the safety procedures. The captain then informed us as we taxied that due to weather conditions we were not going to make a northern approach into London but rather from the south, extending our trip time an extra 1 1/2 hours or so. He then said not to worry because the crew were so great and because "this is an Airbus"  
  We passed all the FedEx planes and then sped down 4L and up to the skies. Once the IFE was turned on, I set on exploring the marvels of V:Port. The problem is, there is so much to chose, I spent a lot of time deciding what to do. The moment we reached flight altitude and the seat-belt signs were off, my seat neighbor disappeared into another empty seat leaving me with an extra seat for myself. I then put all my stuff in his seat and enjoyed extra space!  
I heard music until breakfast was served. I chose the English breakfast over the vegetarian and it was very tasty. The fruit was a little too cold, almost frozen but still good. I kept my window open to see when we would leave land behind and encounter the Atlantic Ocean. Well, after breakfast and some good orange juice, I set on to watch a couple of movies. I then got up and walked about the cabin. Here was a little disappointment. I was expecting to go to the back and maybe chat with some passengers or hopefully crew members but they were too busy either working or waiting for the lavatory. Well I used the lavatory and then headed back to my seat to ponder what to do with myself. I checked the map and played around with the IFE when it suddenly froze on me. I called for help and a gentleman crew member helped me diligently.
I really enjoyed my flight, and occasionally I would open my window shade to look out at the massive 346 wing with its winglet having the British flag printed on it, and the Atlantic beneath us. Remembering the great feelings this brought me still helps me fall asleep  
. One thing I absolutely loved about the crew is that they referred to me as "sir". It's not customary here in the US to be called "sir" unless you look like you are around 45 or older.
Seven hours and some minutes after leaving EWR we were put in holding pattern to arrive at LHR. I got this brilliant view of London city centre before gently touching down on 27R and arriving at Terminal 3.
I was a little concerned due to the bad press LHR gets regarding long queues and how crowded and cramped and horrid it was but I found the Immigration queues tolerable. The walk from our gate to Immigration though was very, VERY, long.
So this was my Trip Report on my flight to London. I'll post my inter-European trip report and my return leg report later but now I leave you with some pictures of the trip. I do apologise about the quality of some of the pictures but it was a new camera and my brother took the pictures claiming professional knowledge of advance settings of the camera.
I hope you enjoyed reading and please leave some feedback on your thoughts. You can be hard on me and criticize it, I will appreciate the critique rather than be insulted!
Kind regards,
-Ayubogg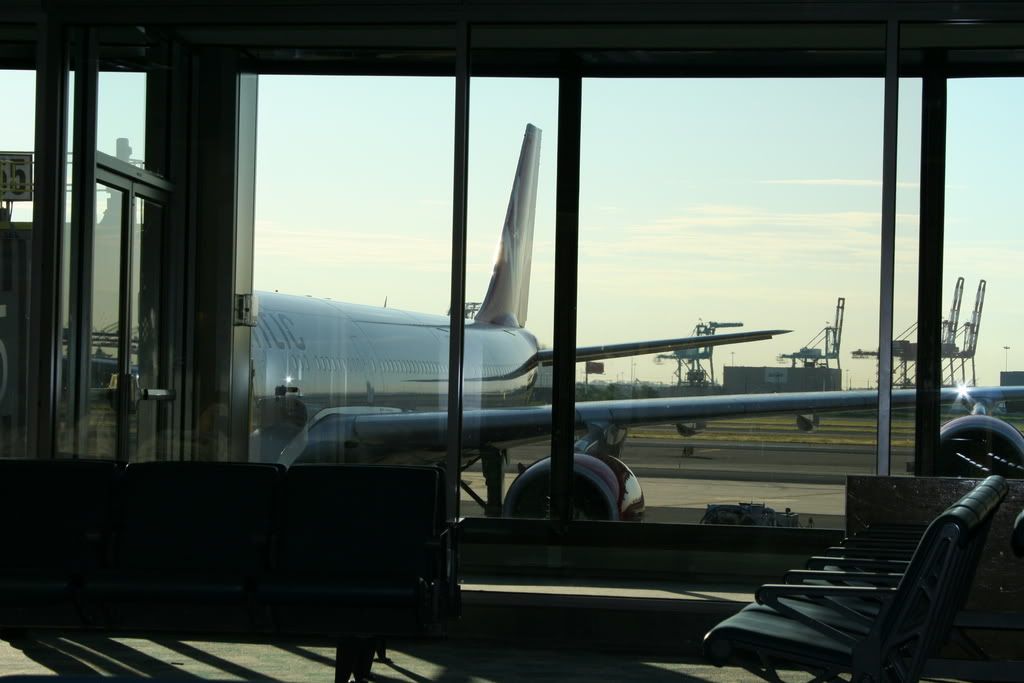 This is Queen of the Skies with little light due to the Terminal's darkness versus the bright morning sun.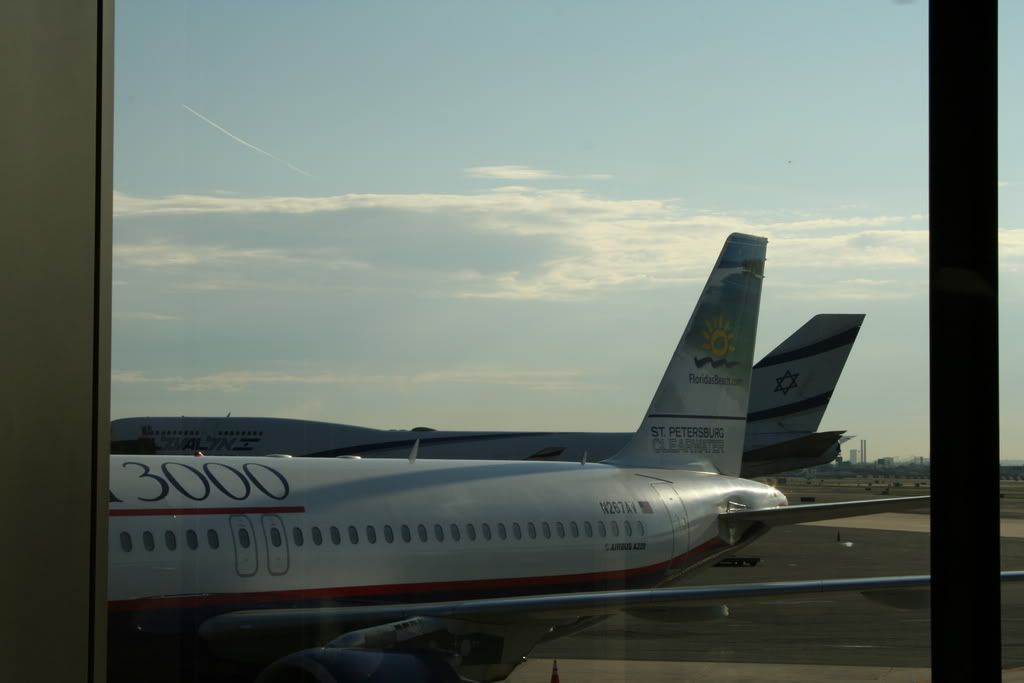 This is the El Al 744 that was parked out remotely.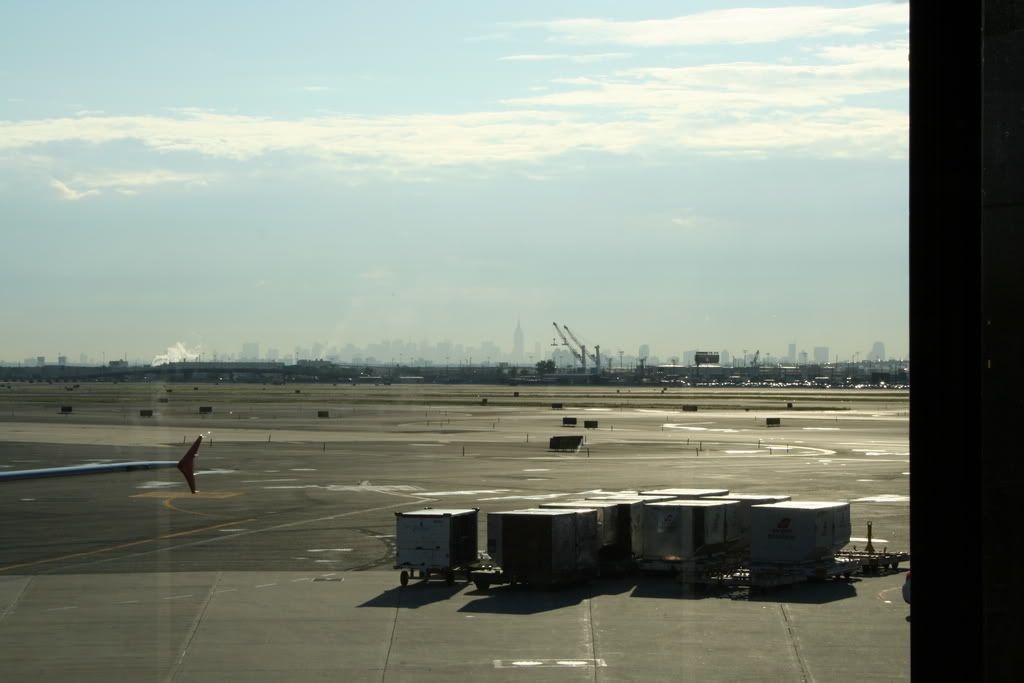 The New York skyline is the backdrop of EWR's tarmac.
[Edited 2007-09-06 03:55:39]