The "Duxford" experience ex FKB
Hello, dear readers,
a visit to the Imperial war air museum at Duxford was on my to do list since a long time ago.
The "summer series" continues with a flight into STN.
Saturday, 18.08.2007
FKB (Karlsruhe-Baden-Baden) - STN (London-Stansted)
Duration: 1 hour 30 minutes
FR 9773 operated by Ryanair B737-800 EI-CSM
Scheduled: 09.55 // 10.25
Actual: 09.55 // 10.25
Gate: 1 Seat: 32B
Load factor: near 100 %
Fare: 45,18 per pax per leg
History:
07.12.2000: Delivered to FR
Flight no. 29 on the 737-800 and the first on this machine
Another flight from FKB. This time, we will be present a bit earlier, while online-check-in with bags is not possible at FR.
By car on the way at around 7.00 am, not that much traffic, so arrival at FKB ontime, around 08.30 am, two hours ahead to
departure. Two counters open, around ten minutes to wait, sequences no. 95/96, sounds like a good load today.
A friendly female accepted our bags. As I hate these queueing scenery, I´ve bought two priority stickers, 3.-- Euros each.
No time to wait at security, some shopping and some minutes outdoor. Nice to follow the arrival of an AB F100 from TXL.
Once again, no time to wait at passport control and at the gate around 09.30 am. Our machine arrived early, also the first bus
for boarding. Priority pax first, but some others joined the first bus till one of the gate agents noticed it.
Nice wheather ab FKB:
Boarding: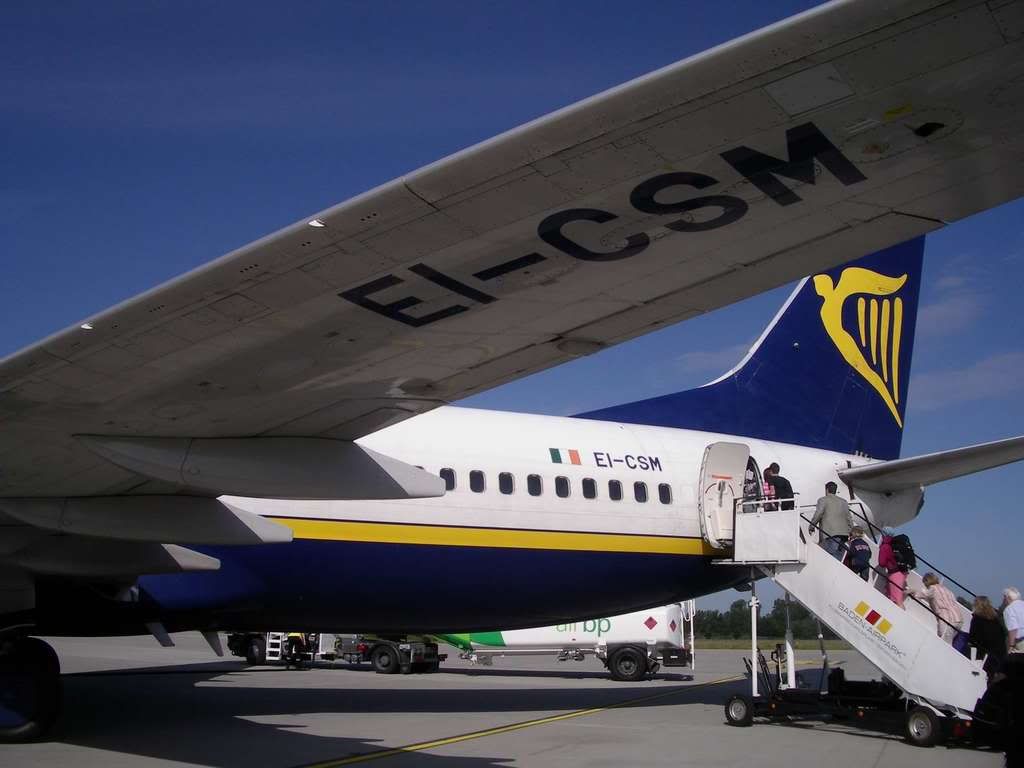 Apron:
Something new for my log: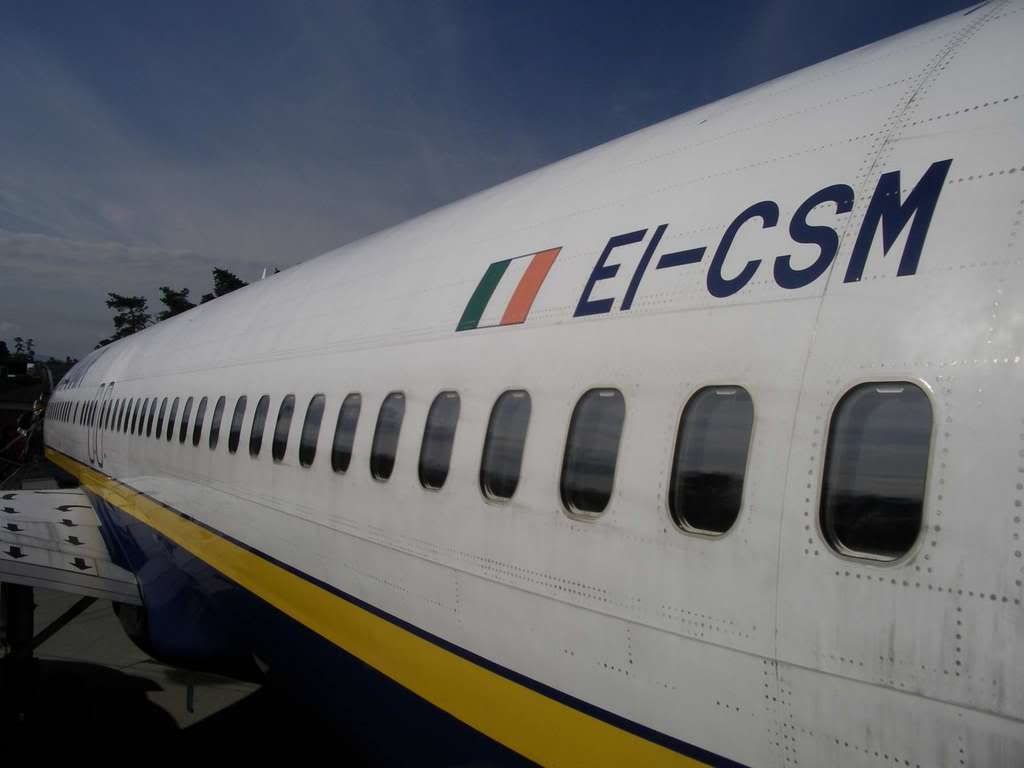 Stressless bus boarding, a friendly male FA at the rear door when we boarded the 737-800.
In total two male (ok) and two females (one ok, one non-friendly) doing the FA job on this leg.
The purser introduced the cabin crew by name.
Shabby fabric seats, clean?, not today.
Departure from runway 21, no other action, no time to wait there.
Mostly cloudy skies on the route.
After a short welcome on the ground nothing more from the flightdeck. It seems the Captain was from the UK.
A short departure delay according to the wheather conditions on the route.
So, route and flightlevel, a hidden secret on this flight.
Arrival on STN´s runway 23 ontime, deboarding at the usual FR terminal area by feet.
STN, where is the sun gone?: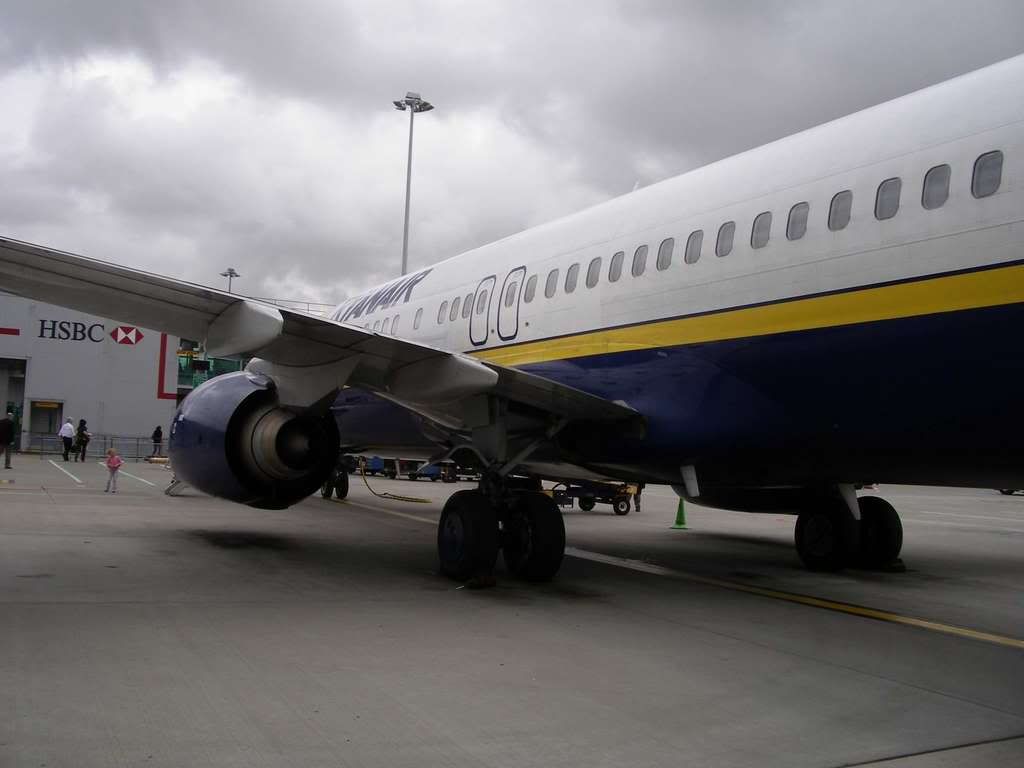 No one in front at passport control, the belt was not announced when we reached the baggage area, real fast.
Bags arrived, to the Budget desk, a nearly new VW Polo, once again booked by AutoEurope fare 48,02 EUR, not bad.
First we drove to our accomodation, the Days Inn Haverhill, around 45 minutes from Stansted and only ten minutes till Duxford.
Opened around a half year ago, a recommendable place to stay there.
Cloudy, but no rain, so time to visit Duxford:
Near Hangar 1: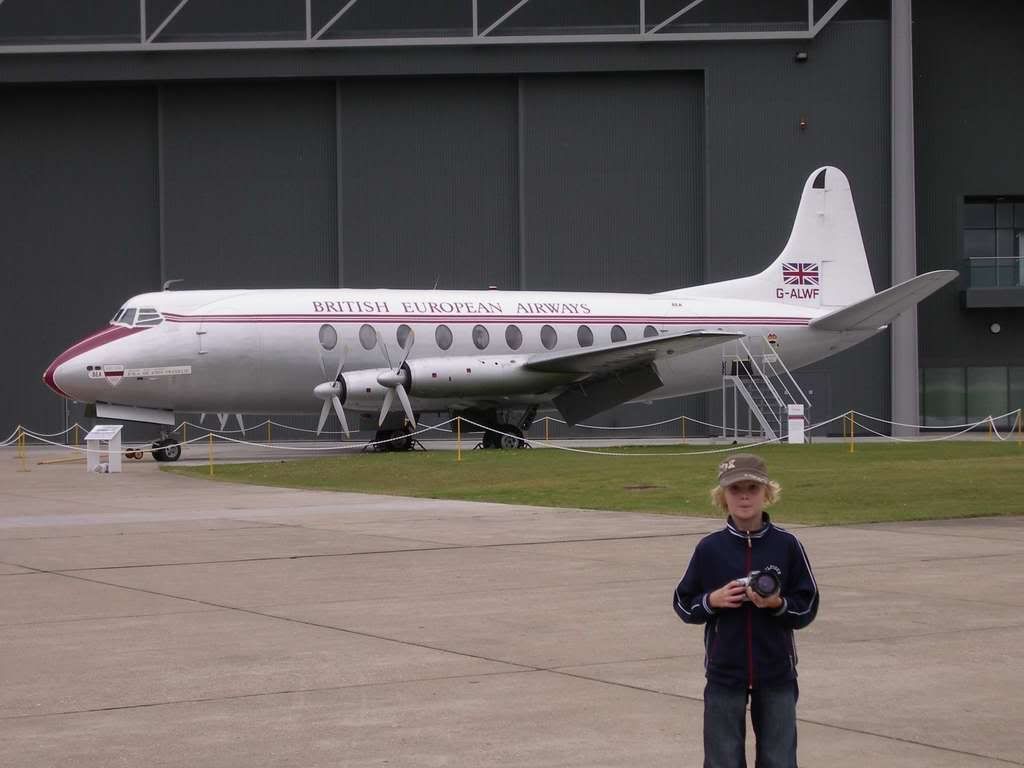 Bronco: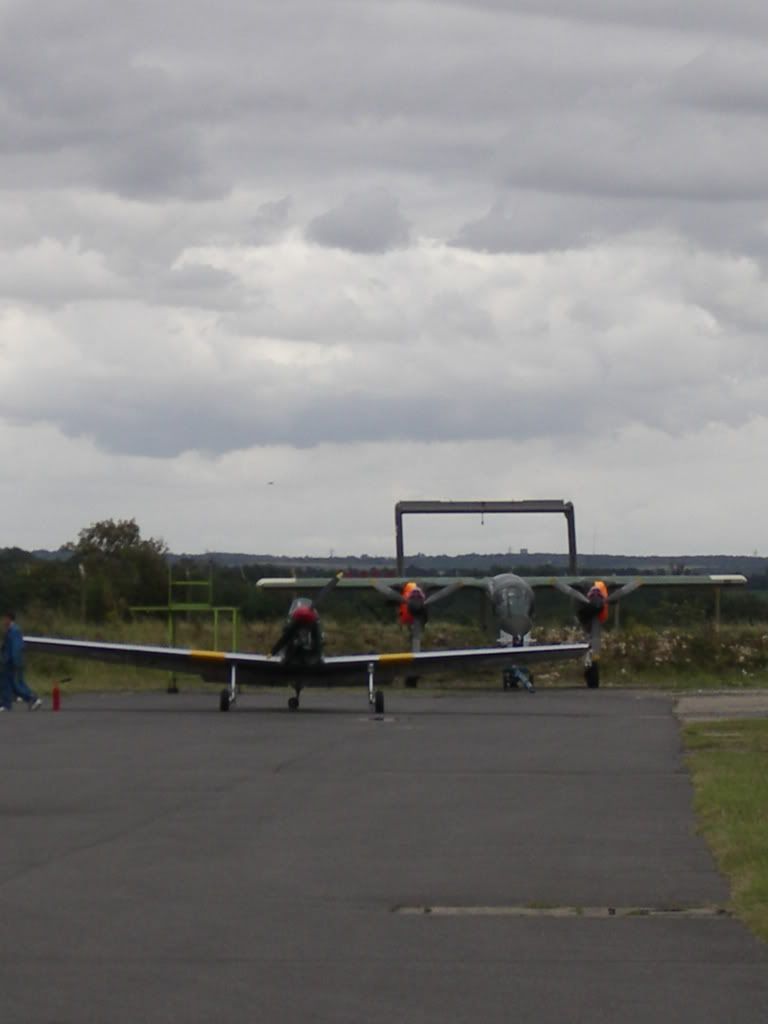 Nice metal: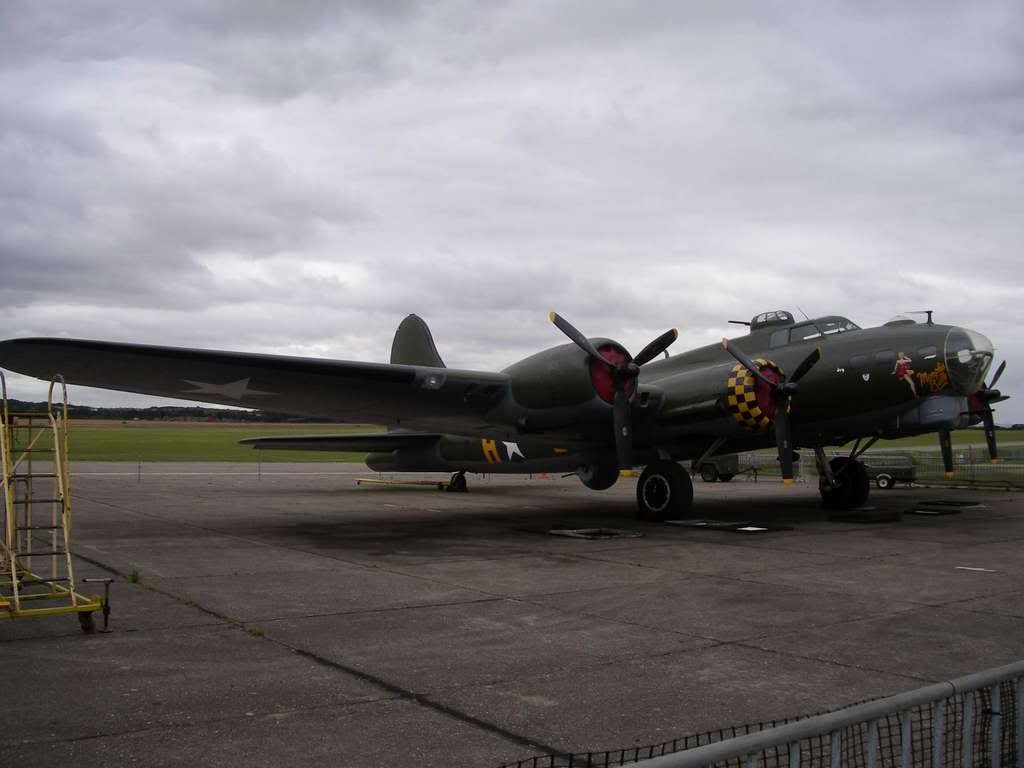 En detail: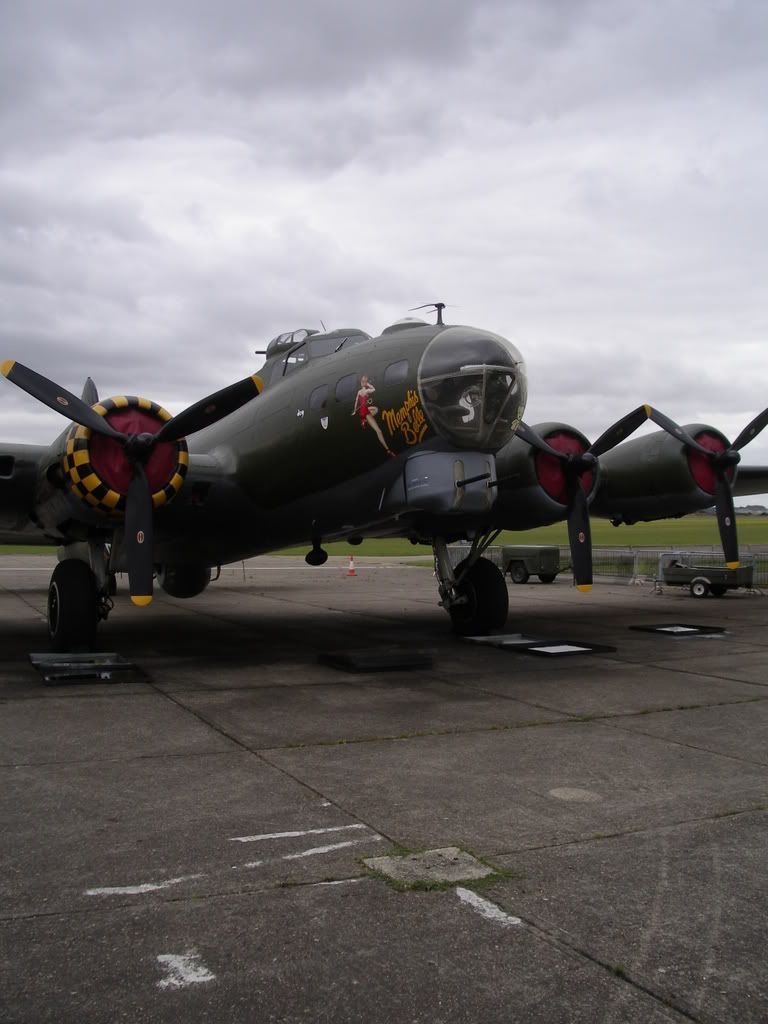 Parked:
Still active:
Engines up:
Taxi:
Departure: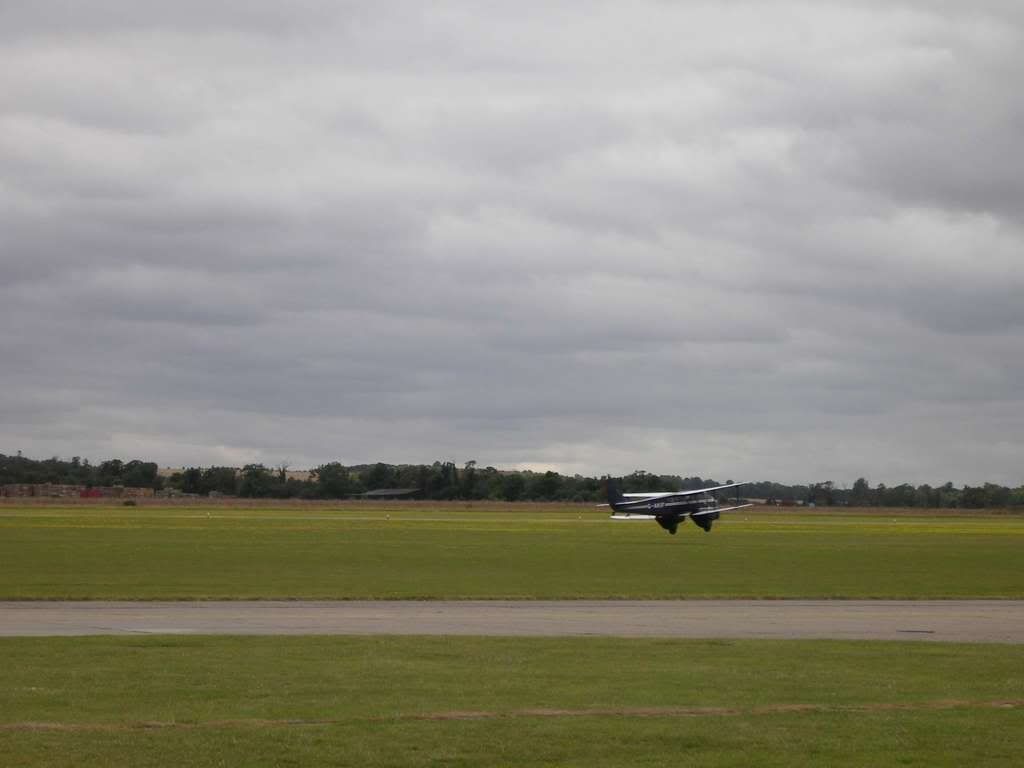 Flightdeck BAC One-Eleven:
Amazing stairs: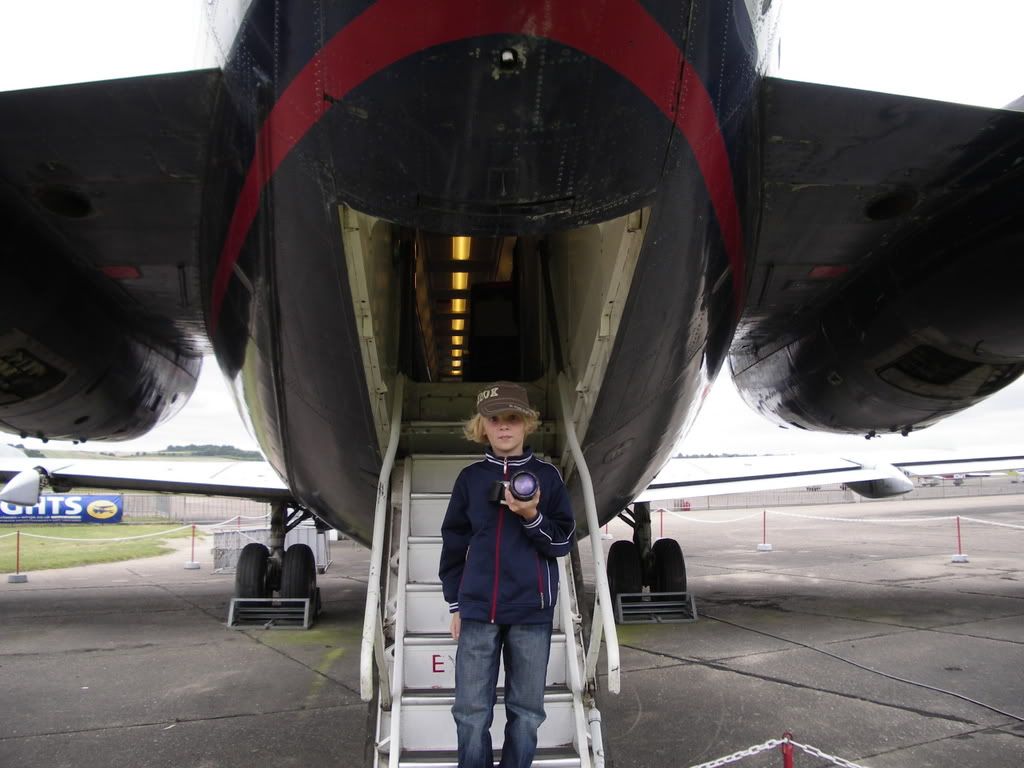 Monarch: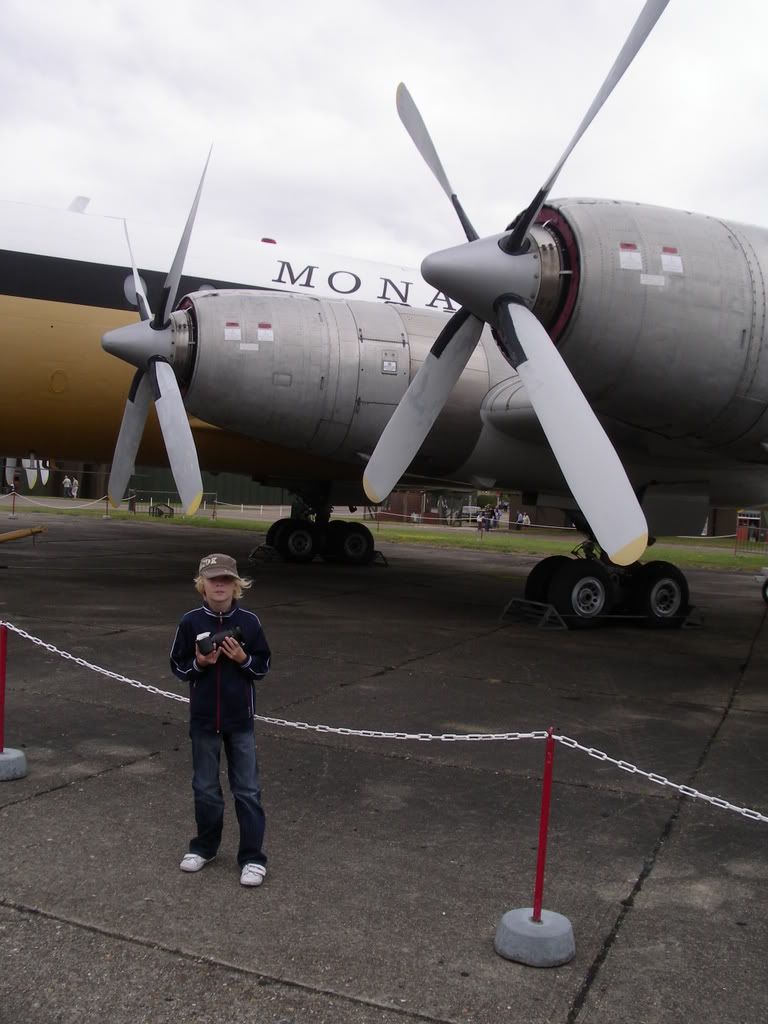 Also a nice one: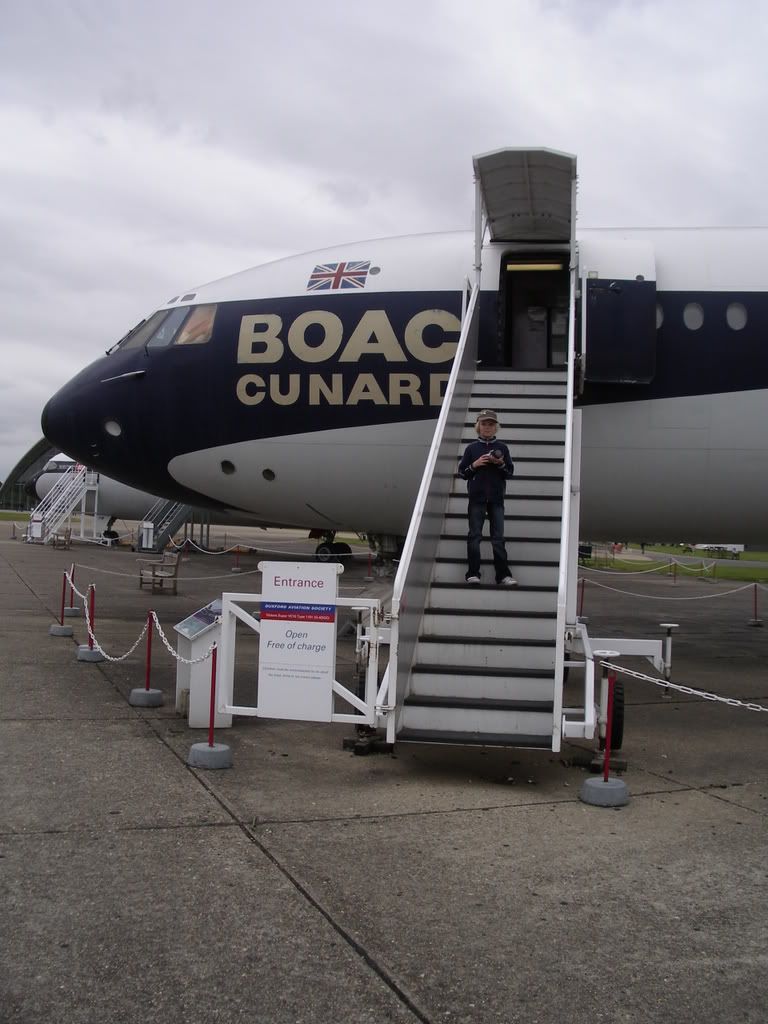 Flightdeck: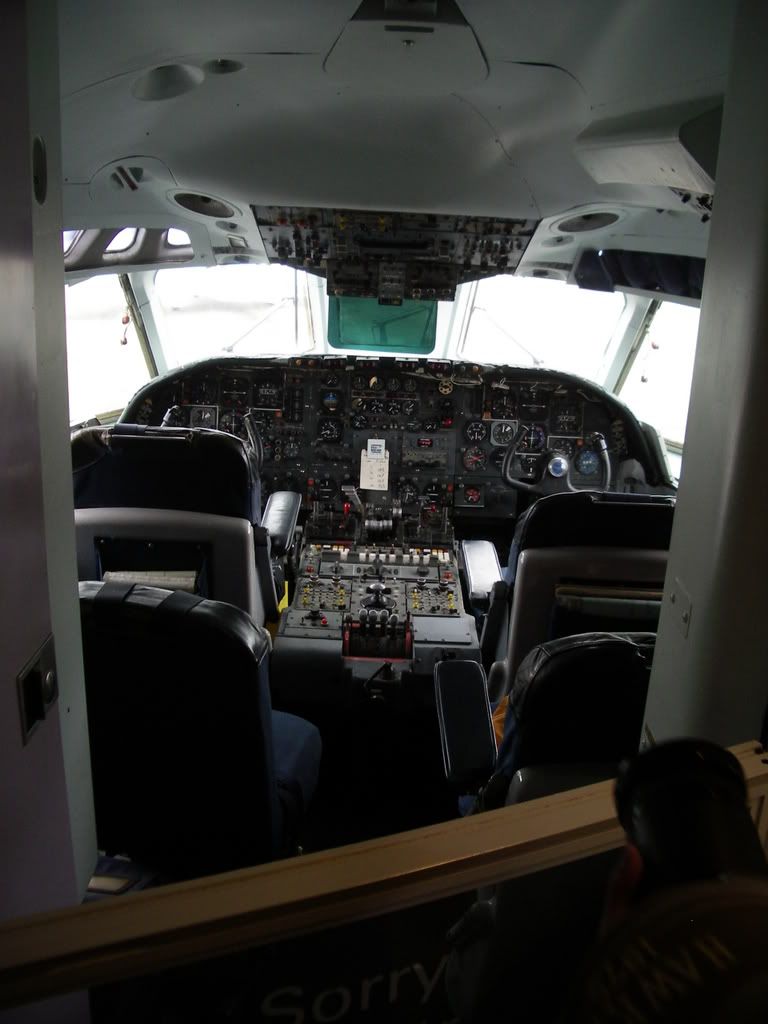 Cabin: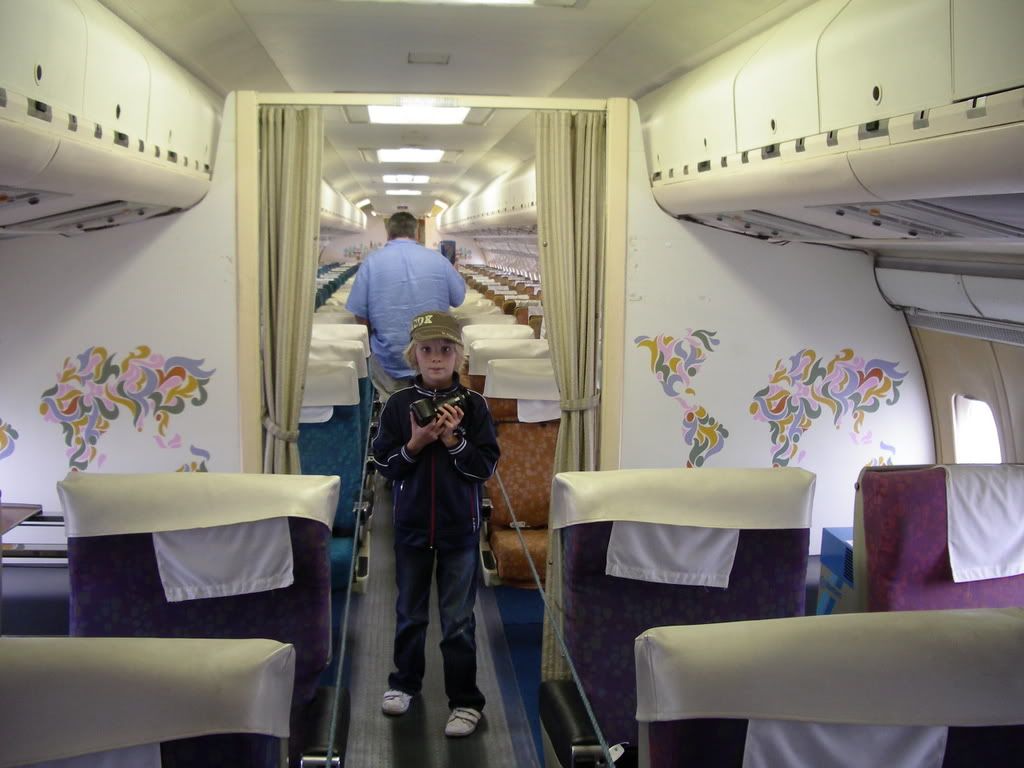 F-15:
Nice plane´s:
Entering the american area:
Inside: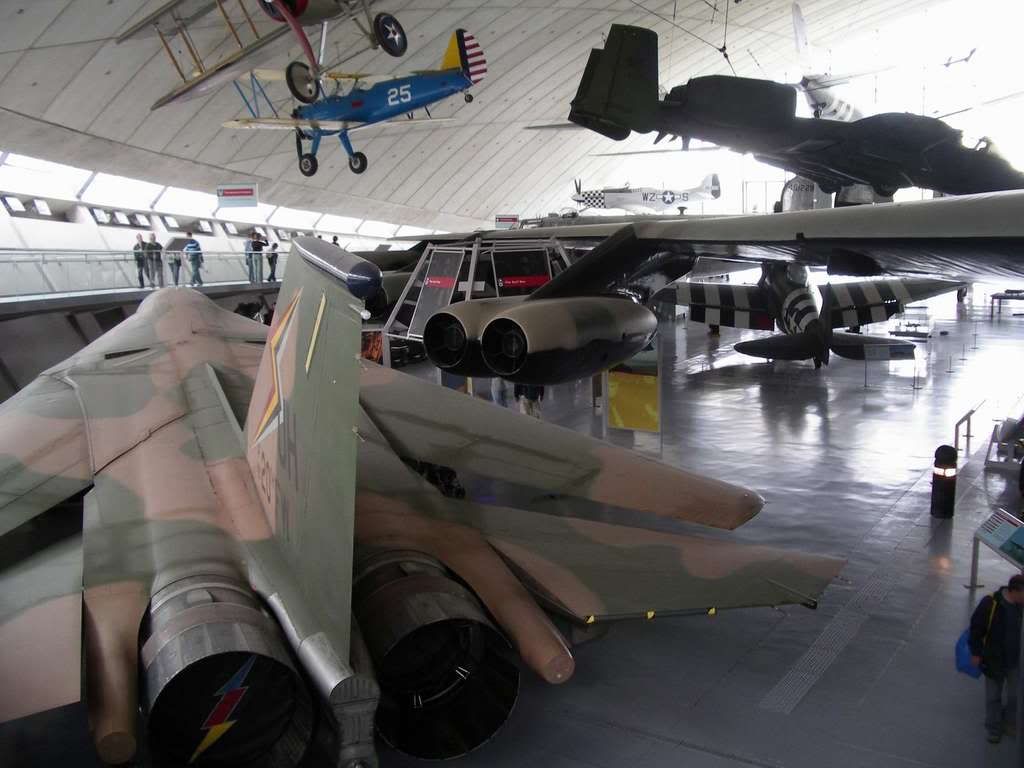 Phantom:
B-52: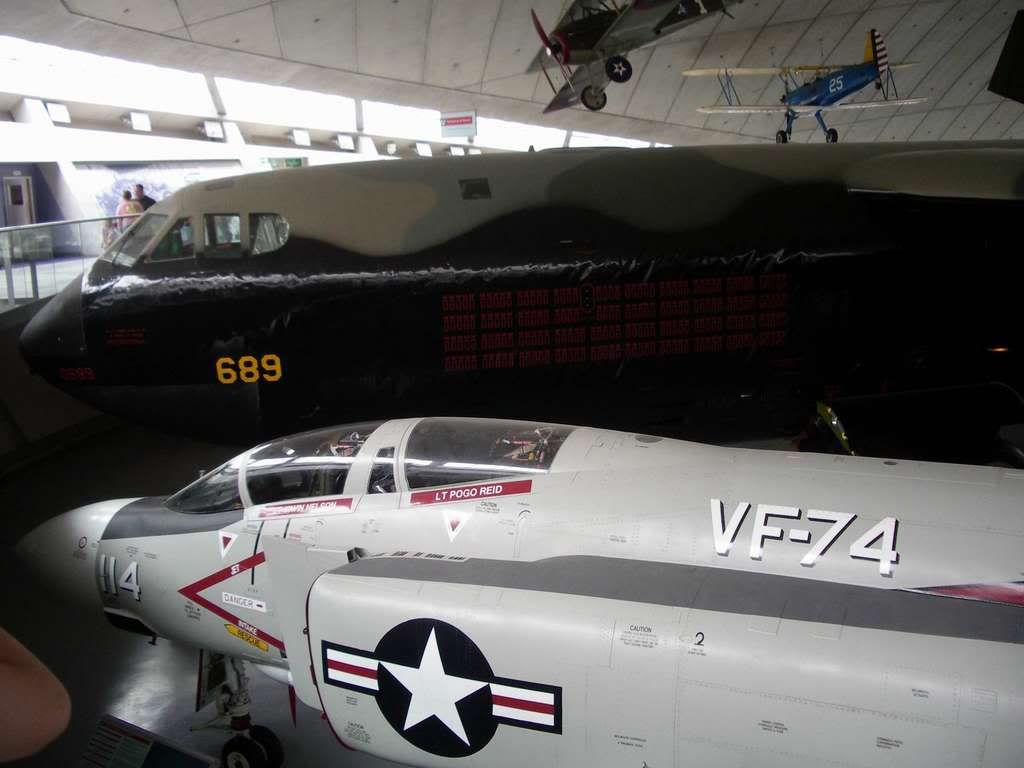 SR-71: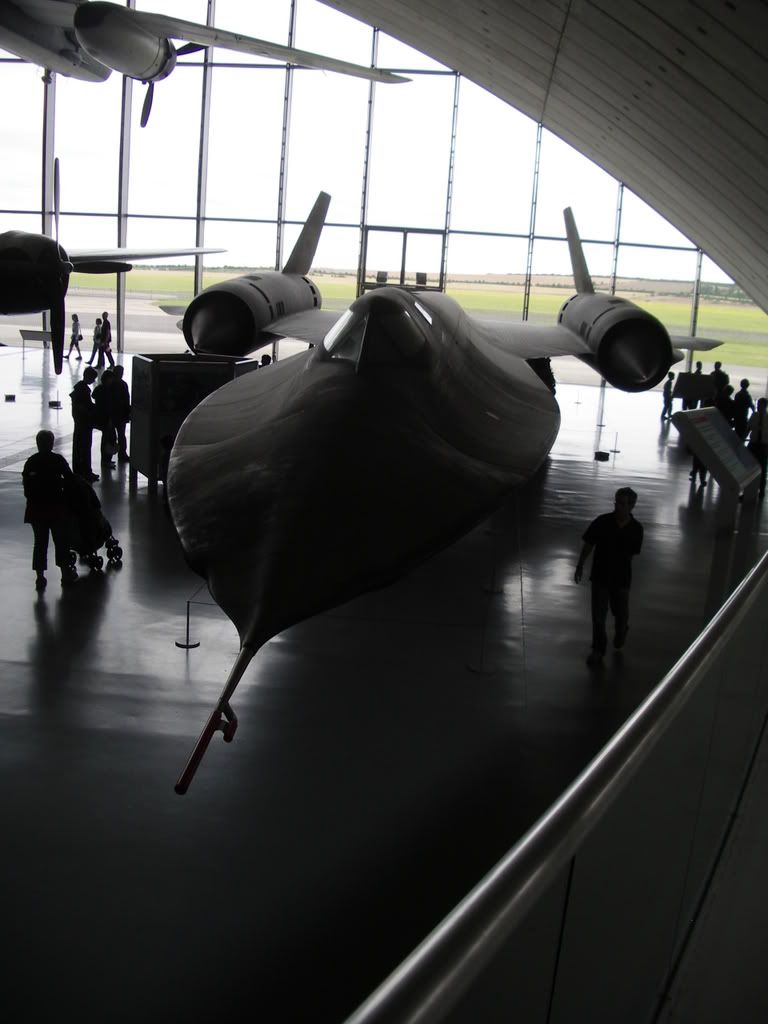 The engines: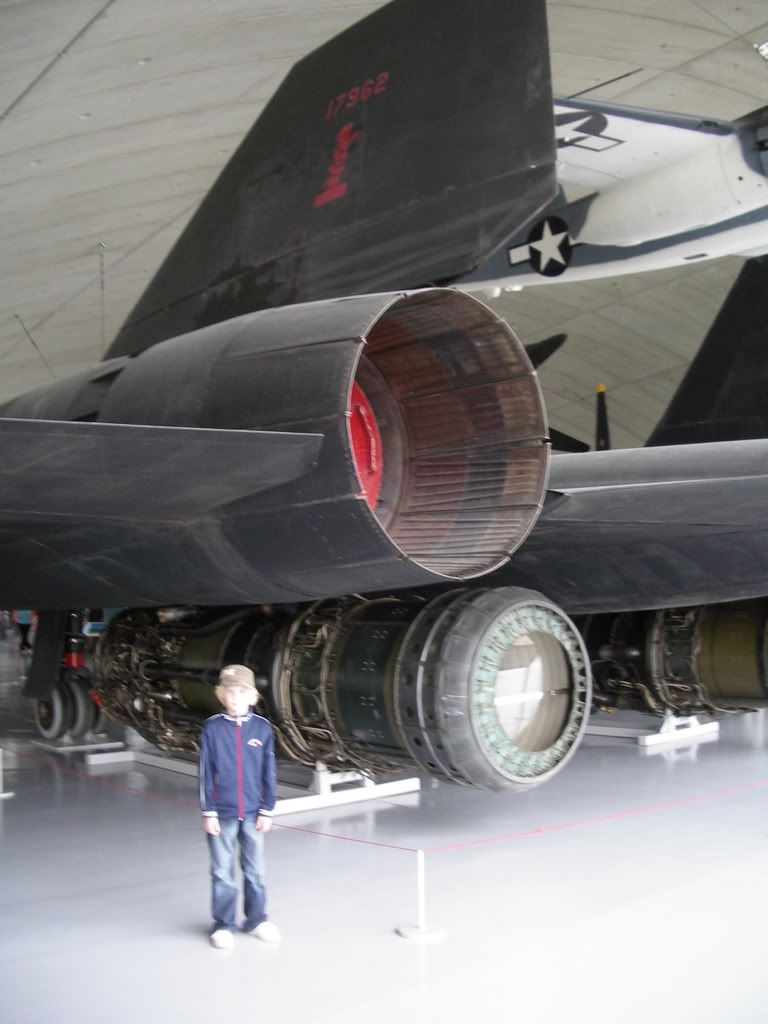 Close-up:
Phantom again: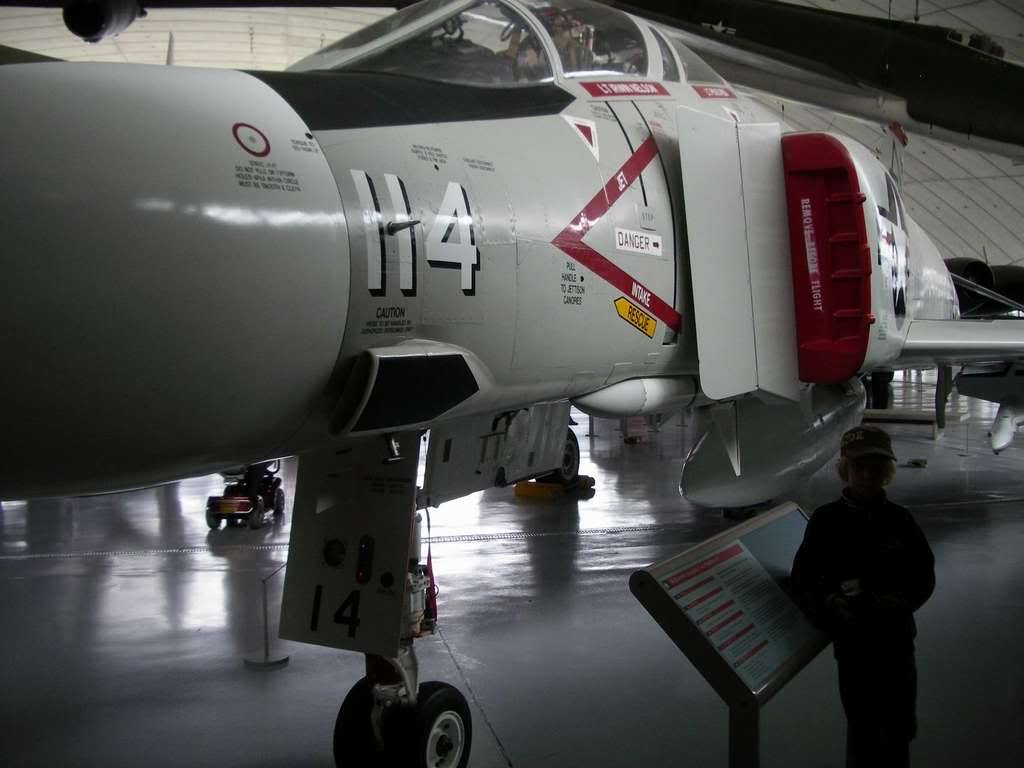 Huey: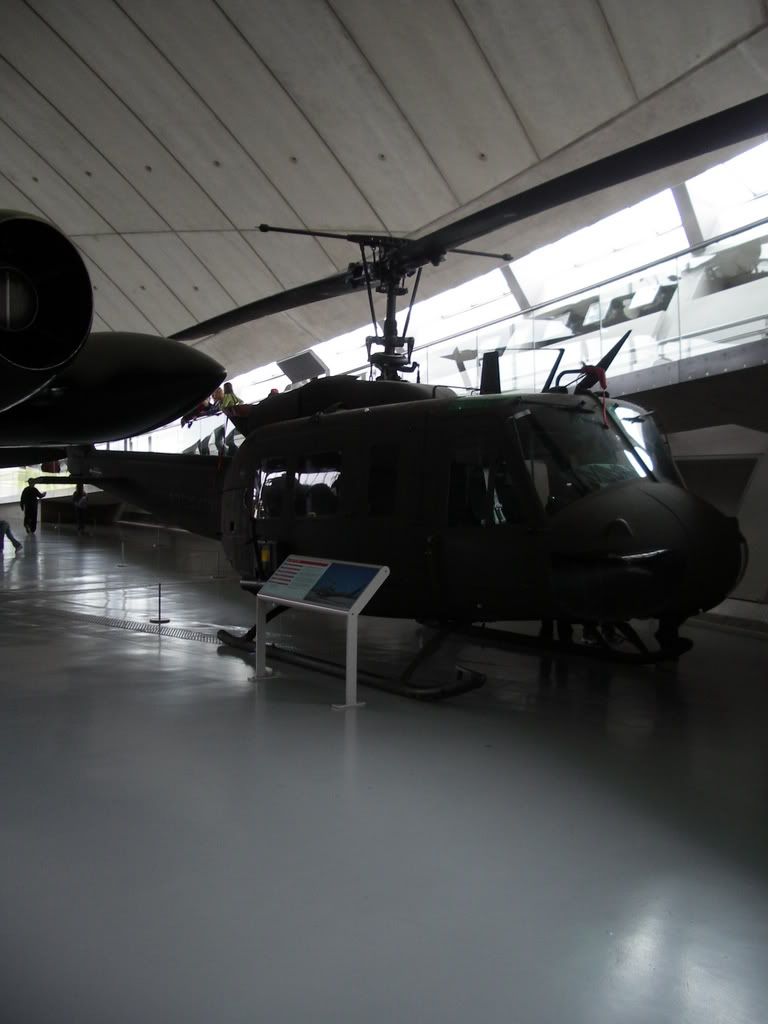 Maintenance area: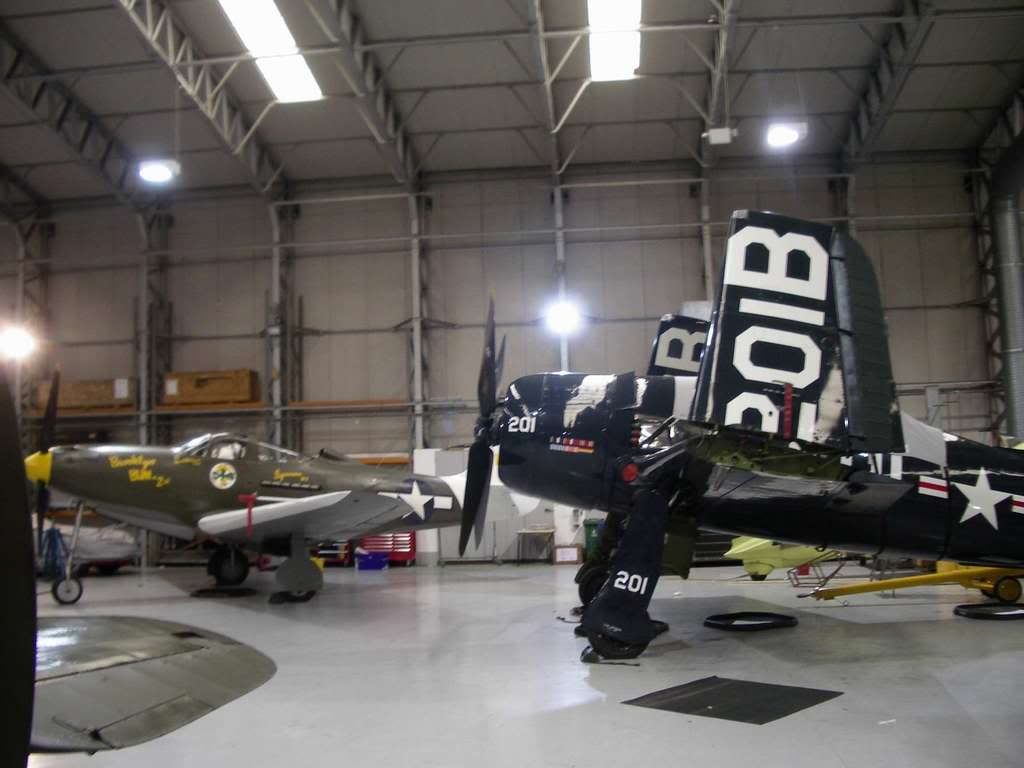 Again:
And again: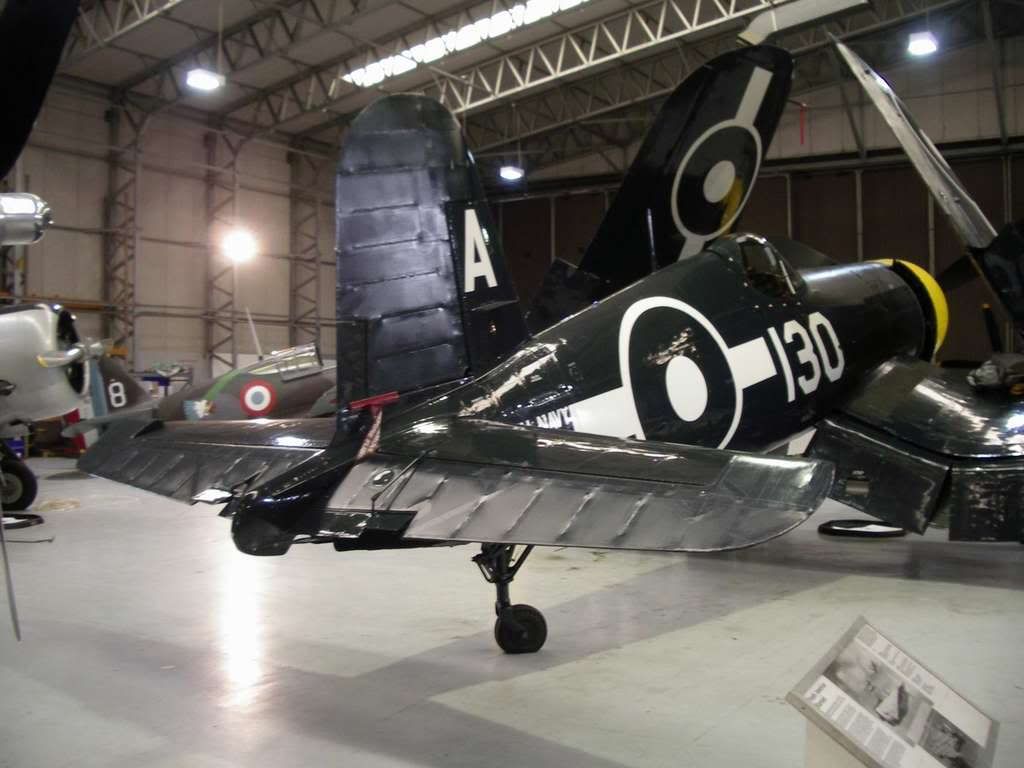 Still in flying conditions: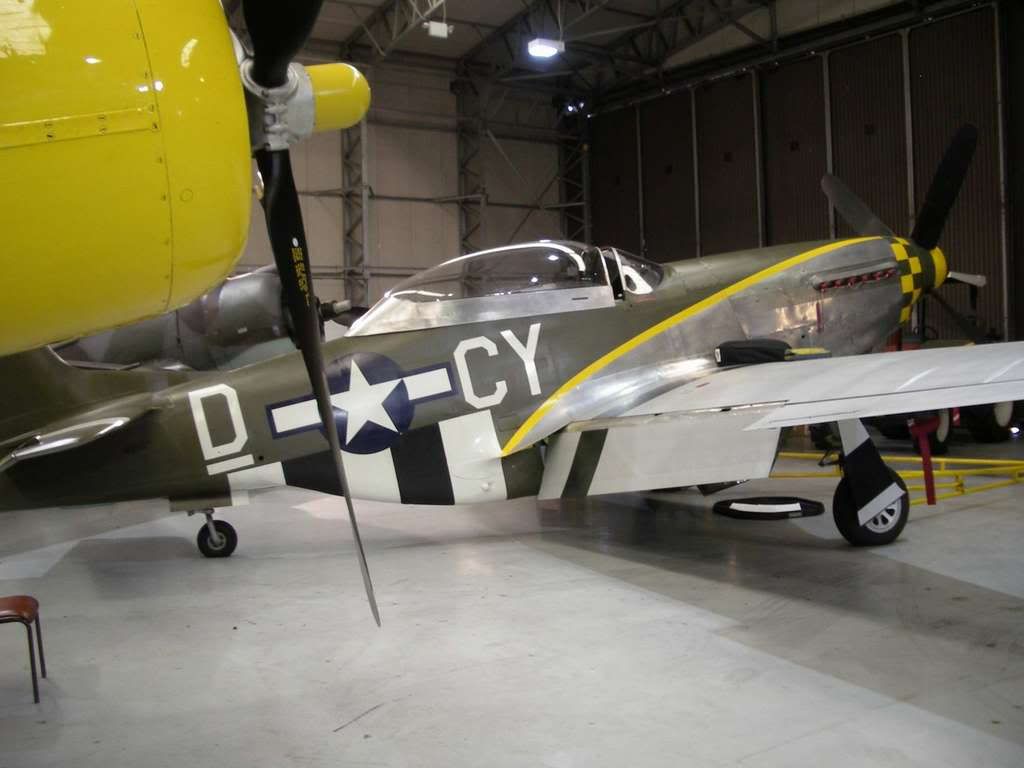 UK Hall:
Sunderland: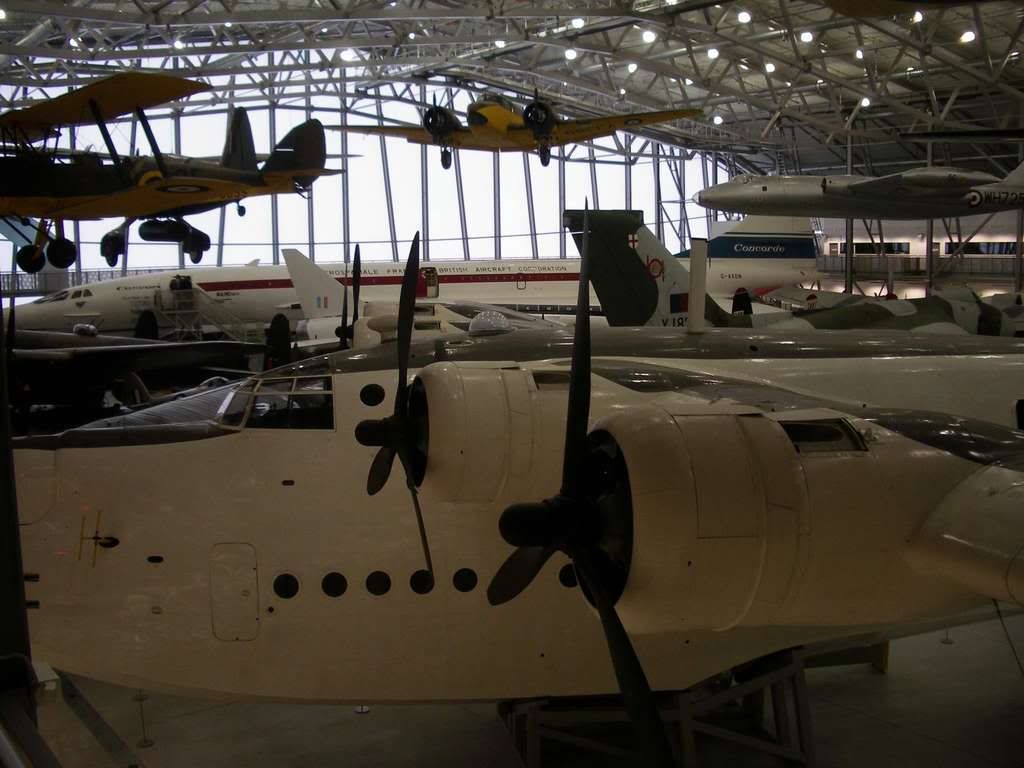 Sunderland close up:
Vulcan:
Concorde:
Flying again: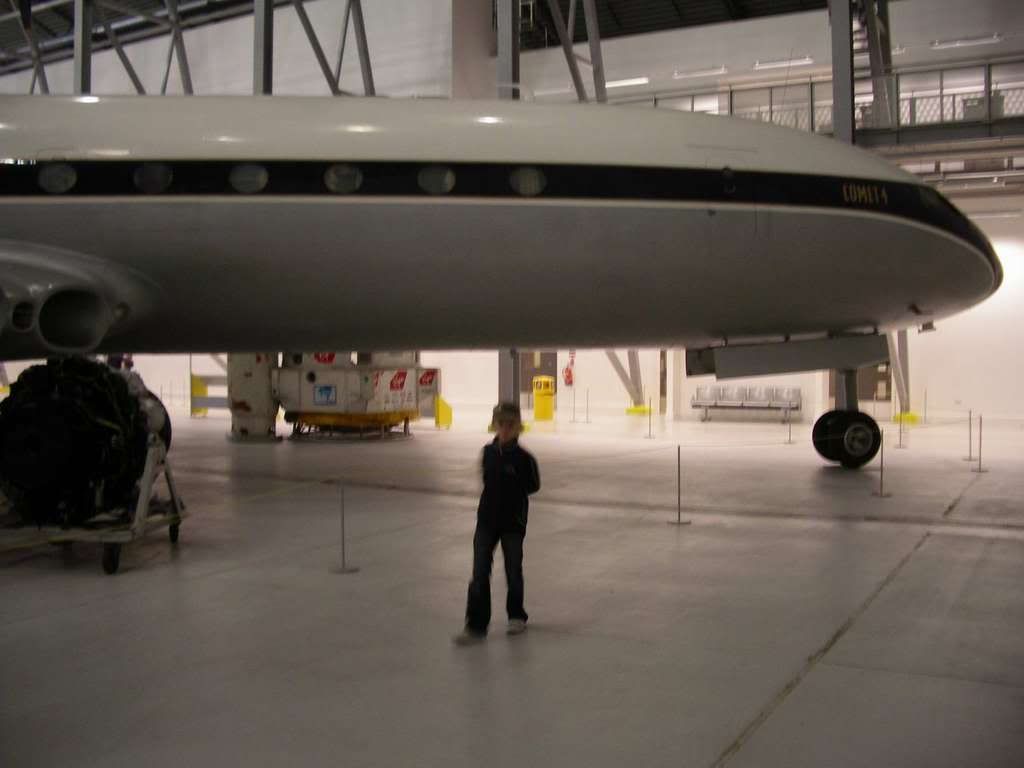 No, but in perfect conditions:
Concorde cain:
Under the Vulcan: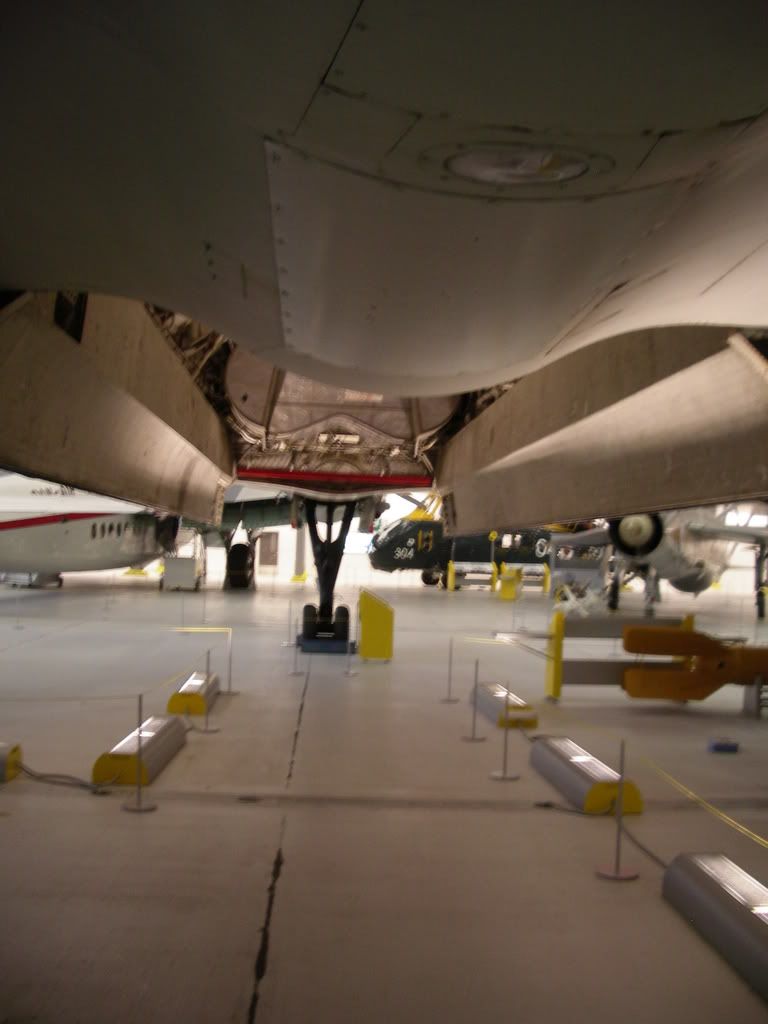 Sunday, 19.08.2007
STN (London-Stansted) - FKB (Karlsruhe-Baden-Baden)
Duration: 1 hour 15 minutes
FR 9774 operated by Ryanair B737-800 EI-DLN
Scheduled: 14.15 // 16.45
Actual: 14.30 // 16.45
Gate: 45 Seat: 5E
Load factor: around 90 %
History:
24.04.2006: Delivered to FR
Flight no. 30 on the 737-800 and the first on this machine
Time limit for car return was 11.00 am, so we leave our hotel at around 10.00 am.
No queues on the road, arrival ontime, returned the car without problems till now.
Around three hours to go for our departure back home to FKB.
A friendly BAA guy told me where to go for our not yet announced check-in desks.
The other flight there was closed, so we built a queue, desk open was announced
two hours prior to departure as usual.
A rather long queue when the two agents arrived, a friendly girl checked us in and send our bags
in the arms of BAA, hopefully we see them again, later this day.
Incredible how much people are at STN today. Another short queue at the FR ticket counter to buy the
priority stickers. Security was weird, all AFAIK six gates open, pax all around.
40 minutes to wait, I´ve had a personal check, the guy asked me where to go today and whats the reason for my travels.
A special shoe scan followed. At the gate only 15 minutes prior to boarding, the plane arrived minutes later.
Incredible was also the queue at arrivals for passport control.
When you know Stansted, you walk from the FR area above a bridge in direction main building, downstairs to the groundlevel
and at the next corner was the end of the queue. That was before the tunnel and the main building. I dont want to know
how long they waited.
I dont see such a high number of running pax, people near panic, when we waited at our gate.
Always the calls waiting for late pax for flight XYZ.
It seems BAA rename STN into "Runners airport". No joke, that was really weird.
Rainy STN: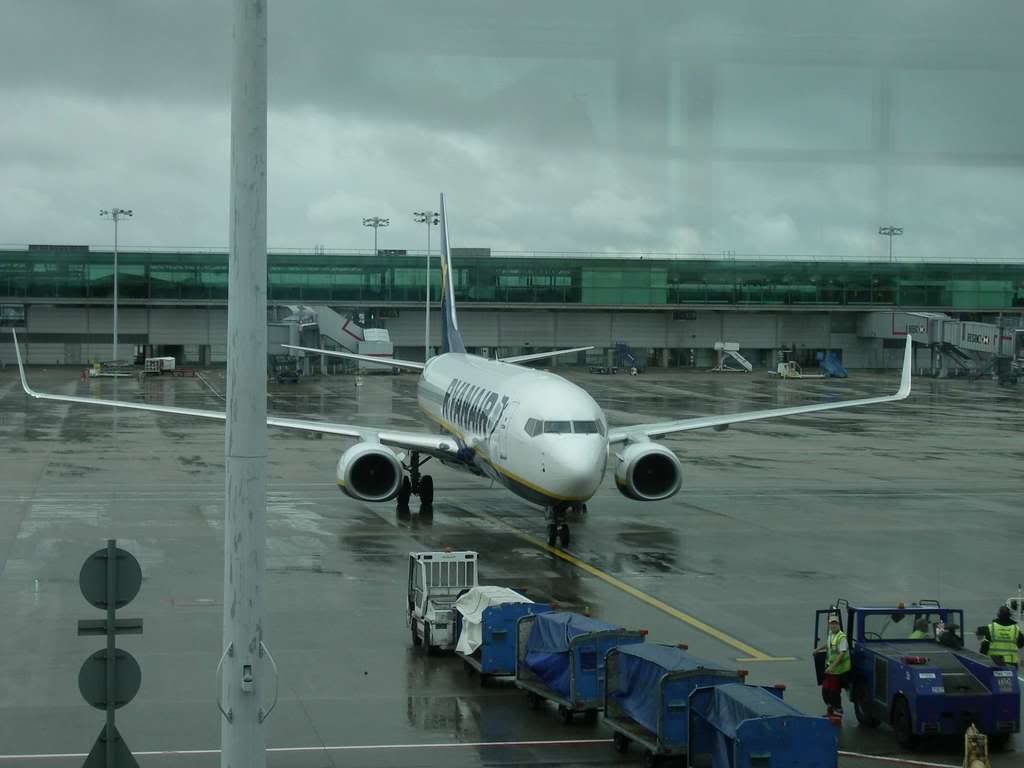 EI-DLN parked: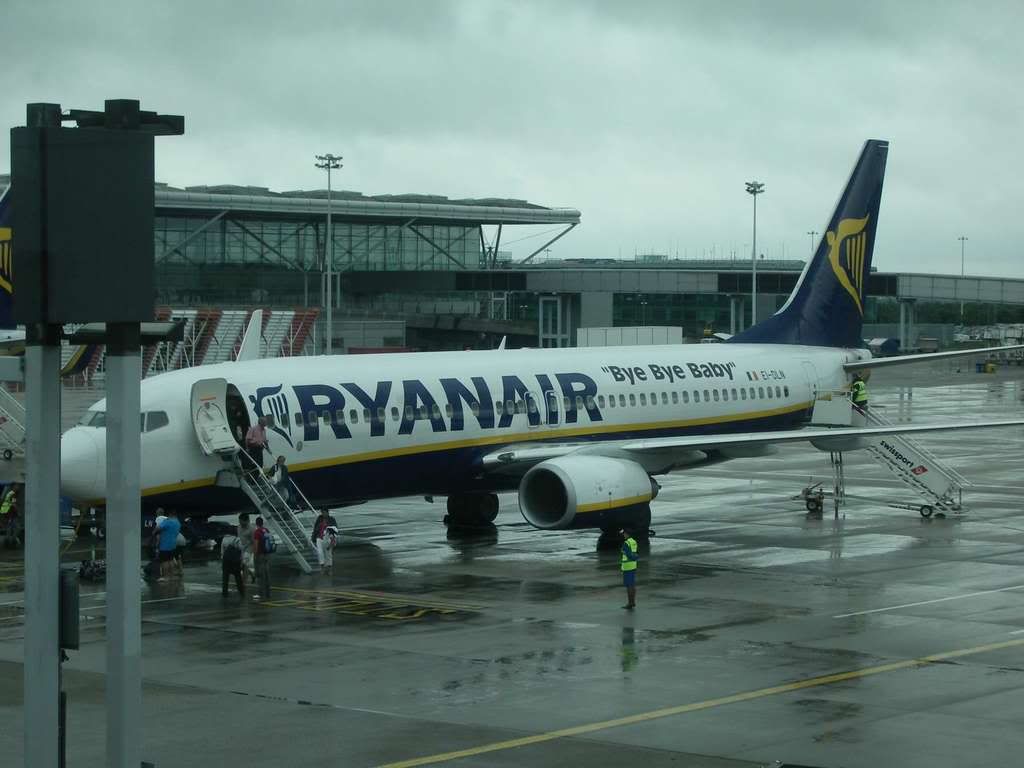 Boarding:
We´re called for boarding, once again stressless with the priority sticker.
Only female FA´s on this service. The two in the front of the cabin friendly.
The flightdeck crew was scandinavian, a friendly welcome during boarding. The captain told us that we had to wait for late pax.
We´re around half an hour in our seats till doors closed. I saw some bags offloaded.
Departure from runway 23 after another company 738.
The route follows the way to Dover, into Belgium and straight to FKB.
Traffic: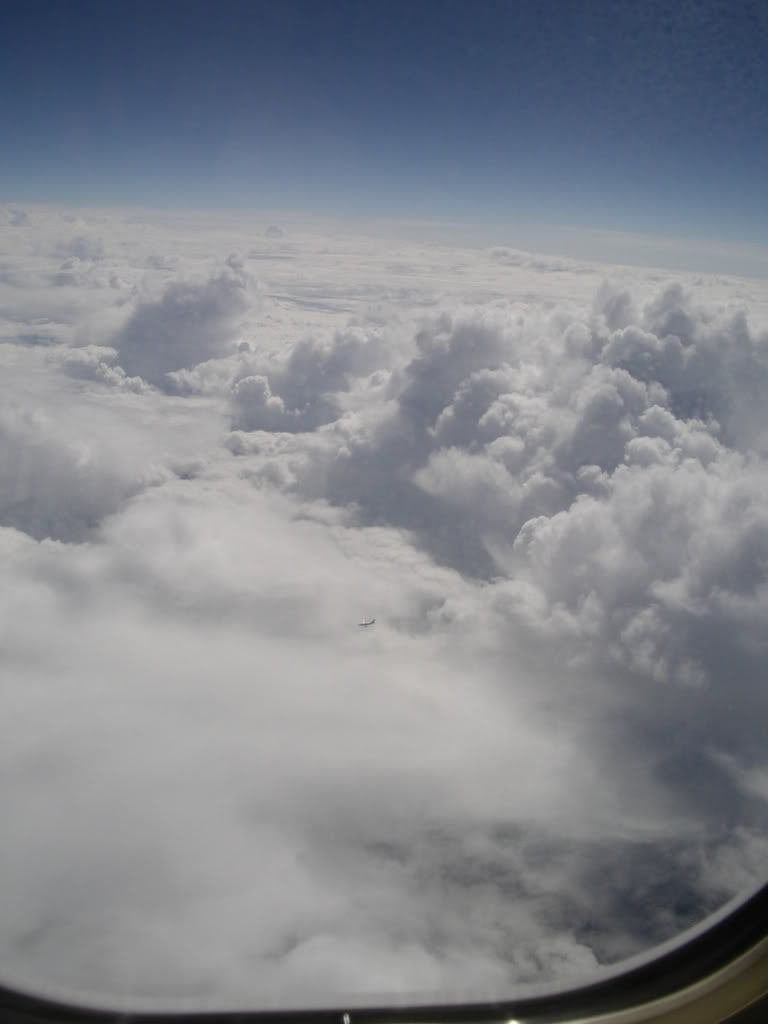 The plane fitted with the dark, blue leather seats, not really clean, but ok .
Arrival at FKB´s runway 21, heavy brakes and parked beneath another company 738 just arrived from CIA.
Sunny again at FKB: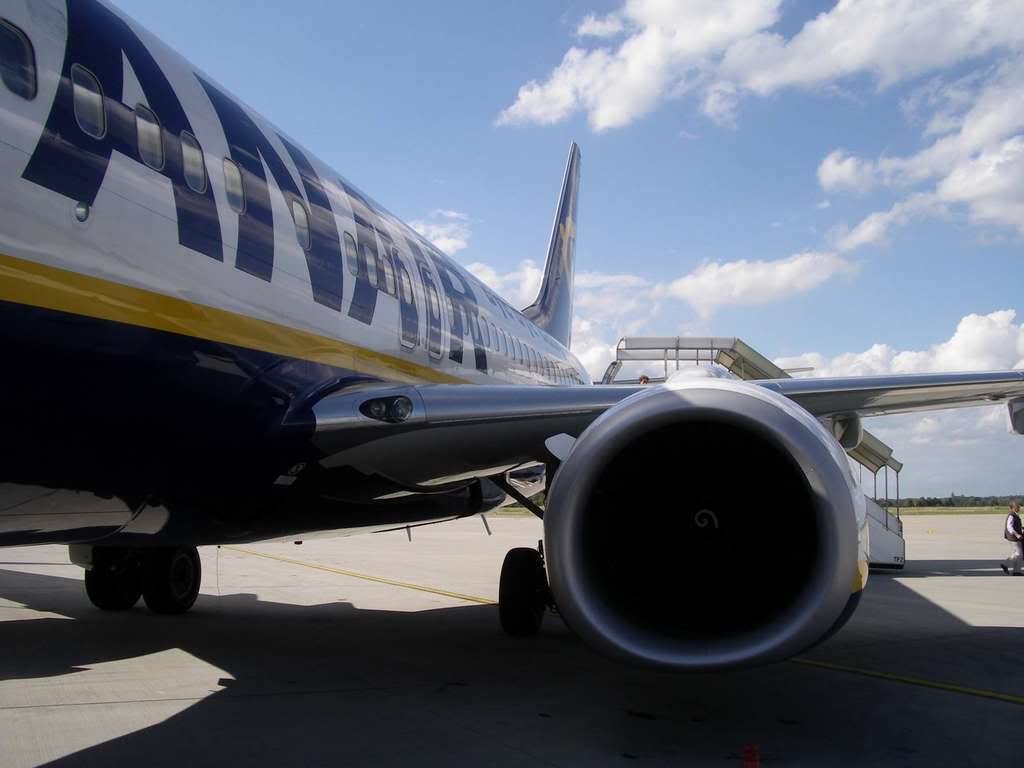 Bye-Bye EI-DLN: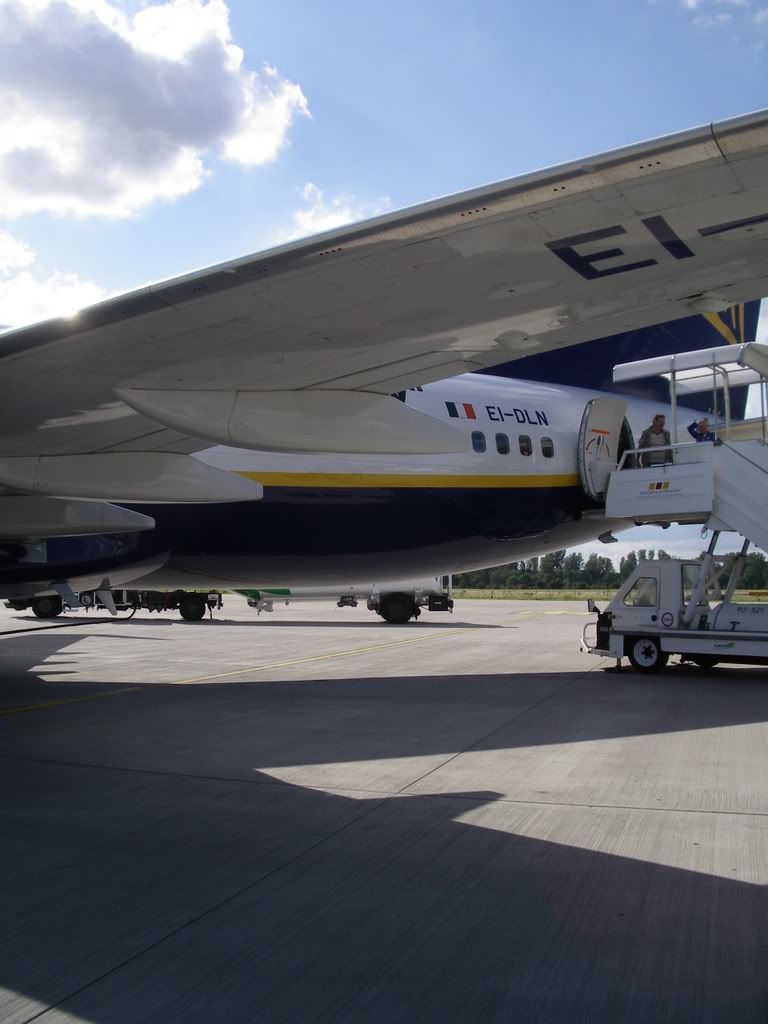 By bus to the terminal, some minutes at passport controls and for the bags and on the way back home.
Finally , time for my opinion.
FKB was ok, short ways. STN a real mess, not the airport for my next visit.
Ryanair, delivered us to our destination and back, both flights ontime, fare not cheaper than on other trips the last time.
The FA´s mostly ok, flightdeck outbound nothing special, inbound ok.
FR is always the last opinion for me to go.
Duxford is really worth to visit.
Comments welcome,
Markus (FLIEGER67)