Despite having spent a month on holidays in
China, Hong Kong and Japan
earlier on in the year when Jetstar had an international sale where the second passenger flew for $3 and I couldn't resist. Unfortunately, my wife's workplace wouldn't let us fly on the original date (our wedding anniversary) so I was forced to pay penalty fees and rebook to the first week of September.
We had only flown Jetstar domestically before but, despite their LCC status, we had found the flights pretty comfortable so I was interested to see how well they stacked up on long-haul.
Due to the big APEC meeting we had no real choice but to catch the train to the airport (to be fair we caught that same train every work day anyway!). We arrived early and B spotted a guy with dreadlocks. "He's that rugby player!" I looked up. No, it wasn't Lote Tuquiri but Andrew Symonds. Almost the entire Australian cricket team was unloading their bags from a truck in preparation to fly off to South Africa for the 20-20 tournament.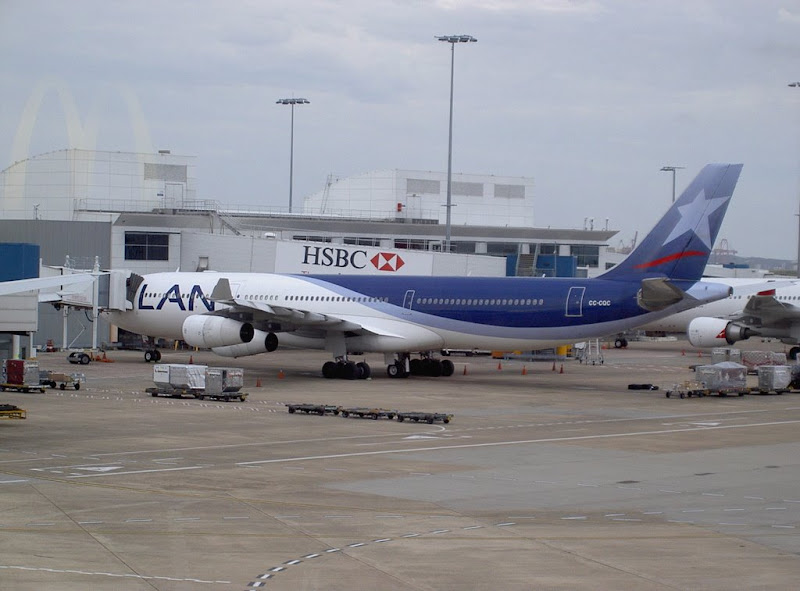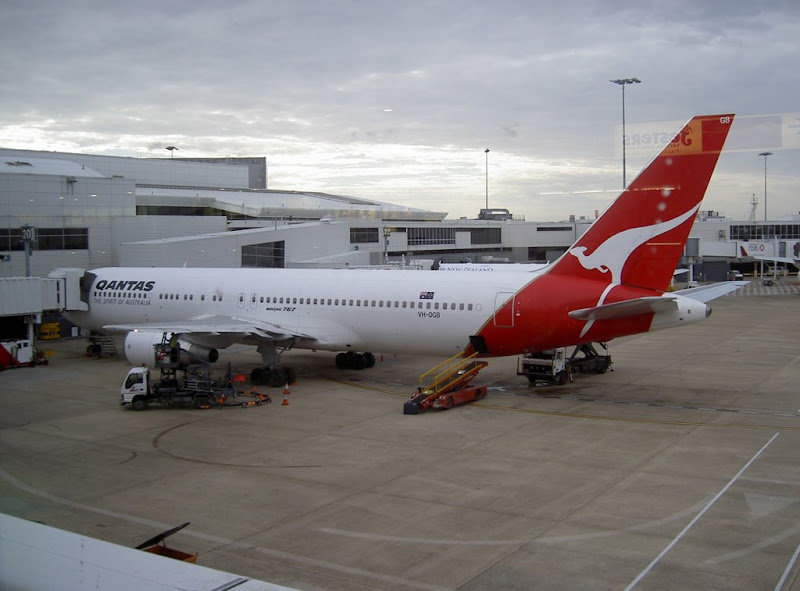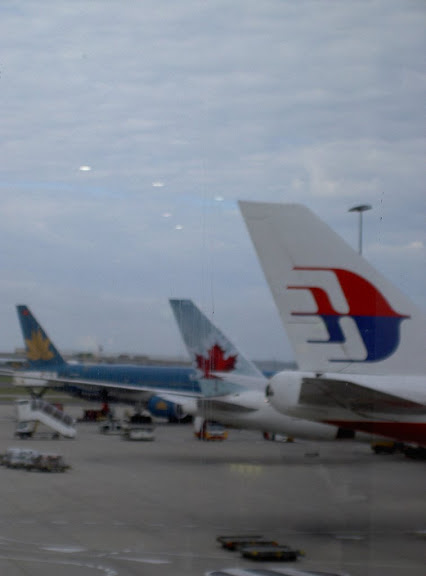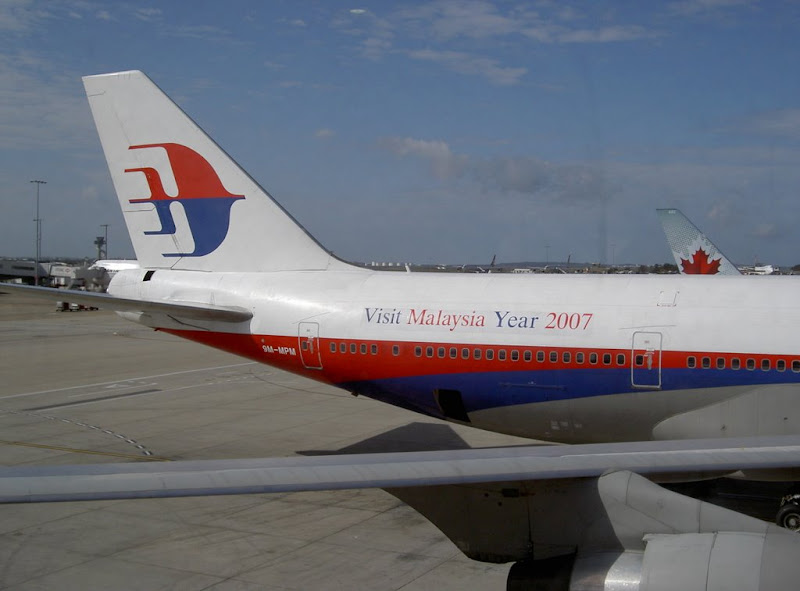 3/SEP/2007
CARRIER: JETSTAR
FLIGHT: JQ17
SECTOR: SYD - KIX
CLASS: Y
ETD: 11:30 (local) ETA: 20:20 (local)
AIRCRAFT: Airbus Industrie A330-202
Our gate was in the far south of the terminal, tucked away in a corner. I thought the A330-200 looked fantastic in the silver and orange Jetstar livery, though not as good at the Australian Airlines plane we had previously flown to KIX.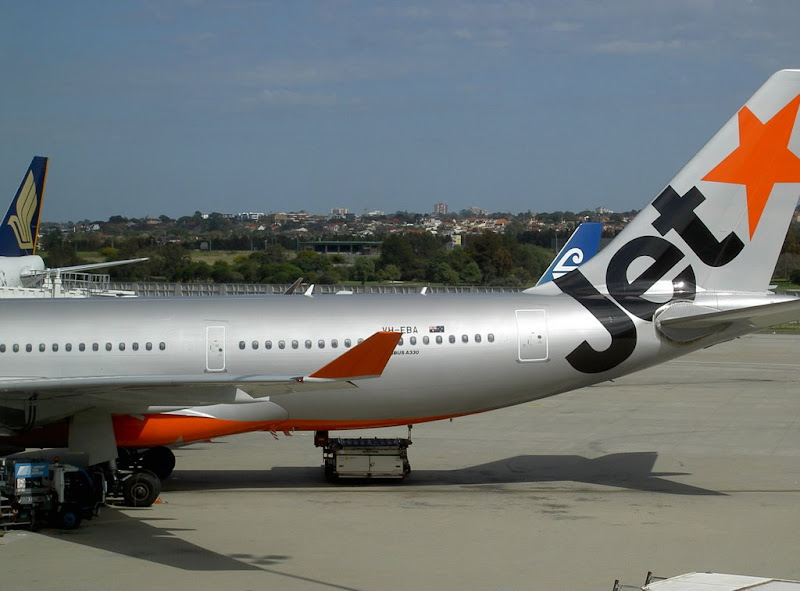 We pushed back a little late and we stuck behind an Air China flight and a Qantas 767 decked out in the Wallabies Rugby Union World Cup Supporters' livery. B fell asleep and didn't awaken until we were well into the air.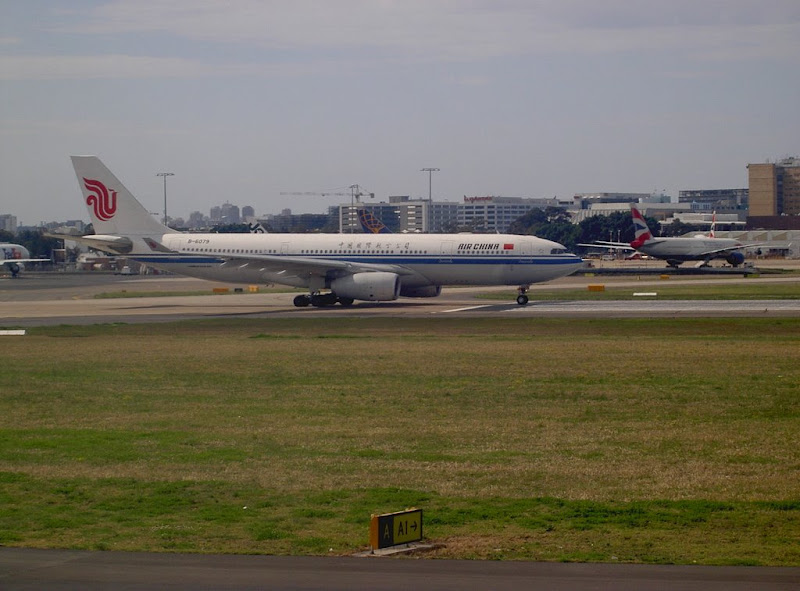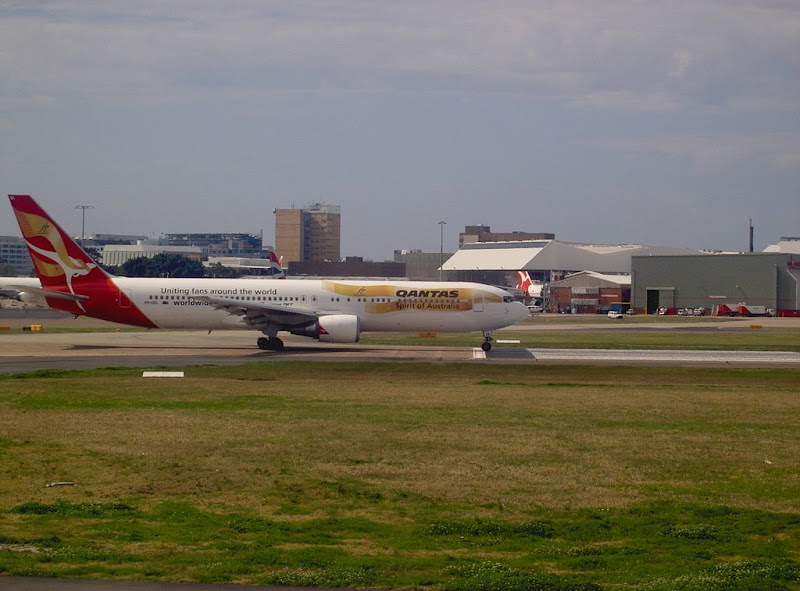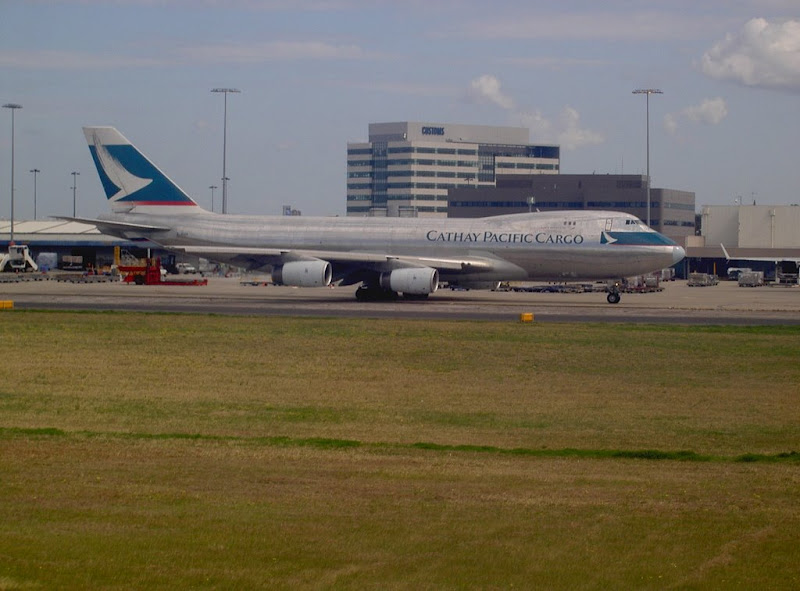 The Airbus 330-200 turned south, taking us over our local suburbs. The cabin crew handed out the amenities pack. I had pre-ordered one for B and she needed the black blanket to keep warm in the cabin. I found the inflatable neck pillow quite comfortable for head support while staring out the window.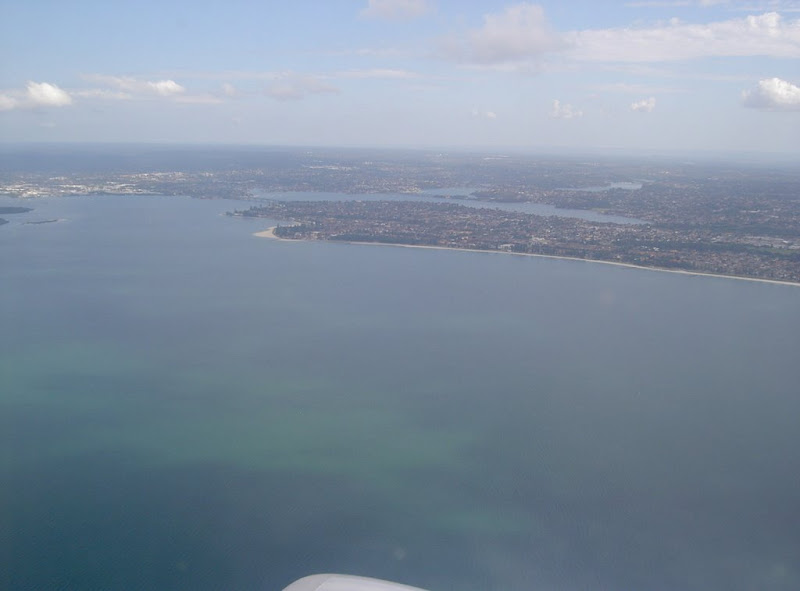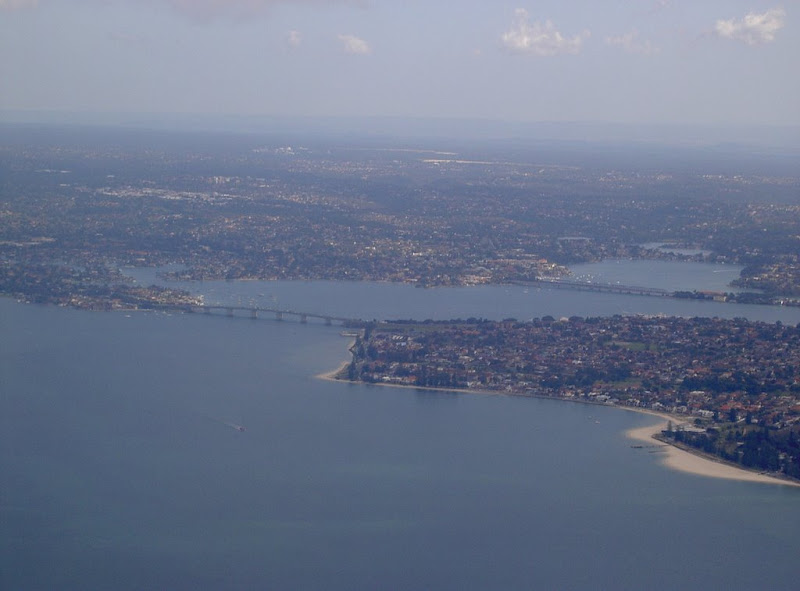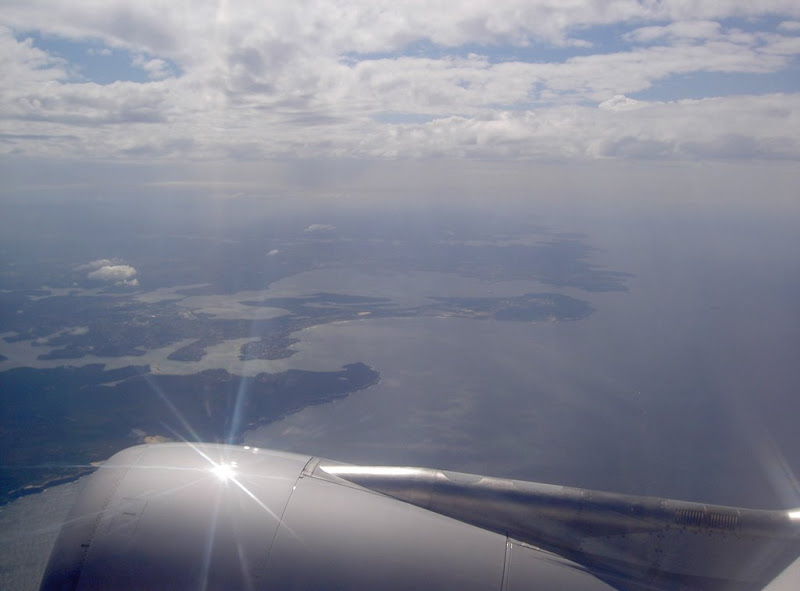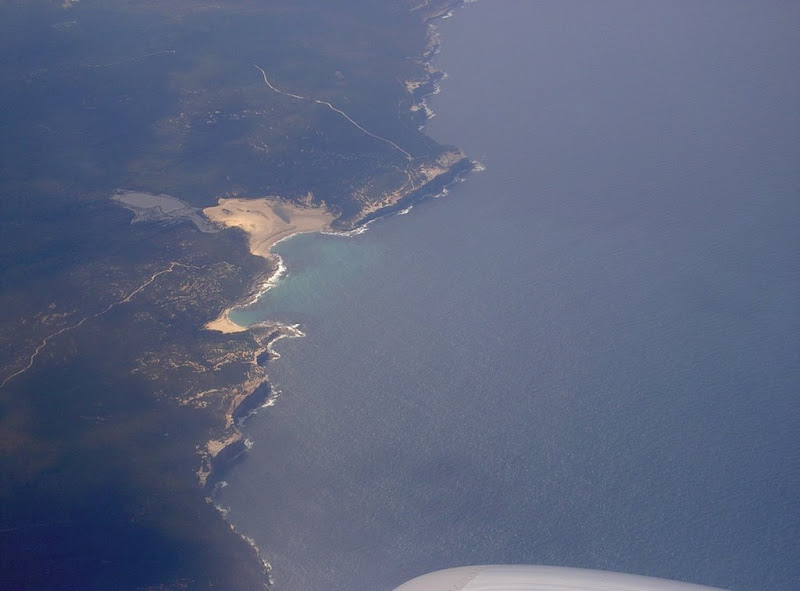 The black leather seats were fairly comfortable, but I think the blue armrests had been inherited from somewhere else. My earphone jack didn't work, so I couldn't listen to the inflight entertainments: Spiderman 3 and TV shows. Despite the messages on the website and Jetstar printed material stating that earphones cost $5 the double plug earbuds were handed out free of charge. They look pretty cheap so I think it's a good move by Jetstar considering the length of the flight.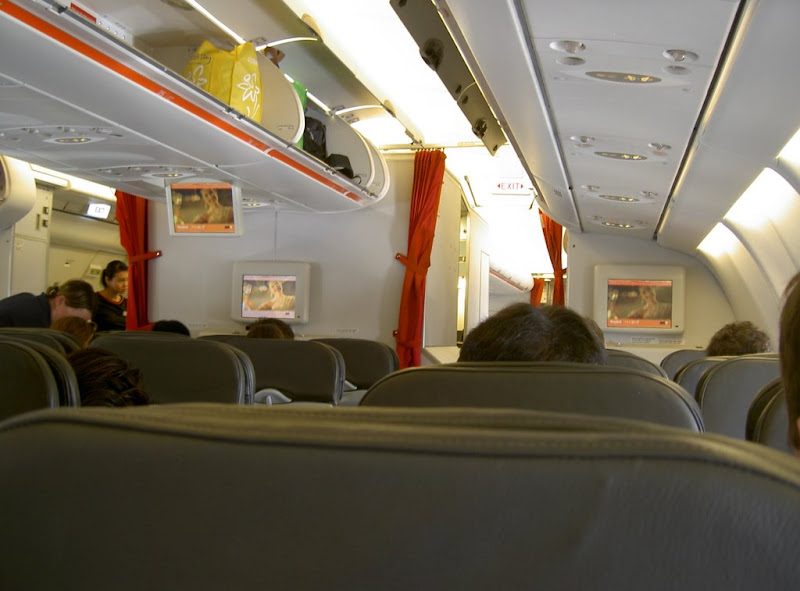 We had also prepaid for a portable entertainment unit and received on of the newer models, an AirVod. Great screen but as heavy as a brick! The movie selection was pretty old, Pirates of the Caribbean 3 being the latest movie. We shared the unit and both watched Anchorman. They also had some movie music and listening to a track from John Williams' Memoirs of a Geisha was a nice treat. One problem with the unit was the back stand, supposed to prop it up on the tray table. The stand was too narrow and it was difficult to position the unit far back enough for a good viewing angle.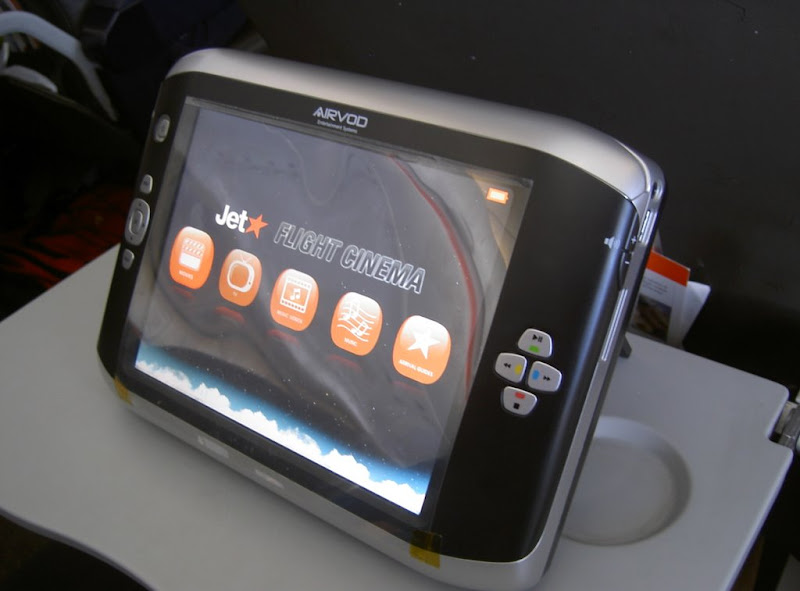 Part of the reason I developed a huge headache on this flight was probably because I spent so much time staring out the window and sunglare reflected off the engine. I saw the squares of farmland, the pale blue of coral reefs off the Queensland coast. The pilots did a fantastic job of steering us through the man storm clouds in our path; this was the smoothest flight north that I have flown on.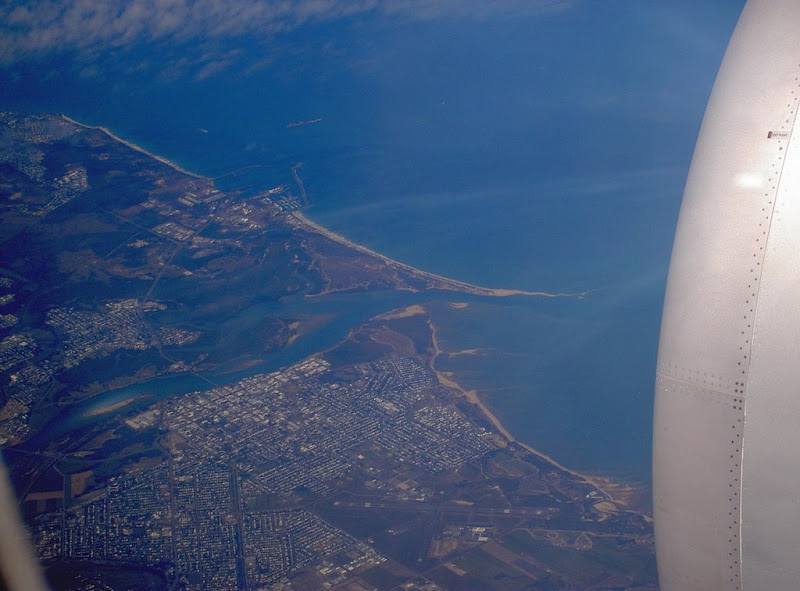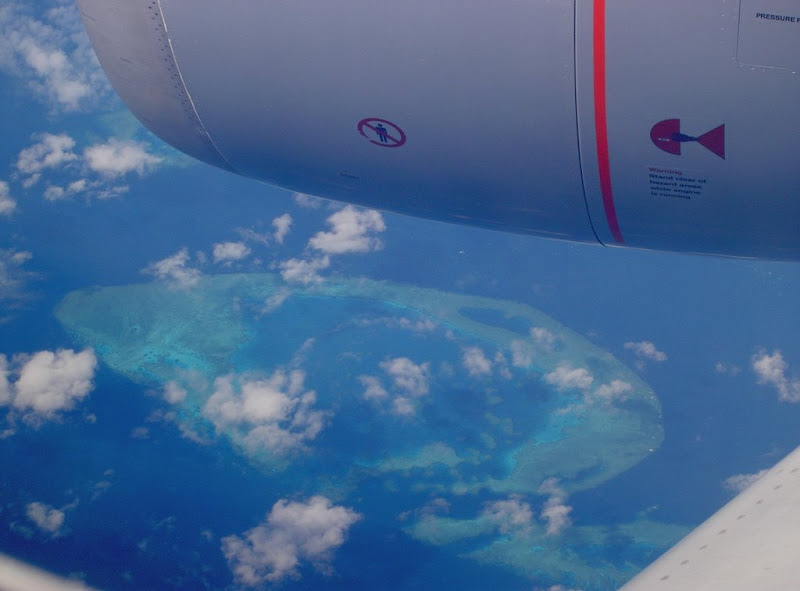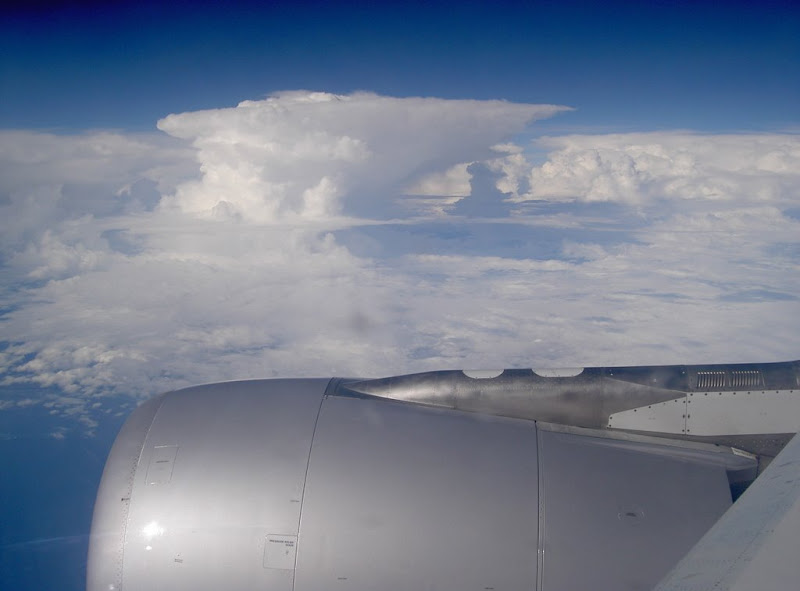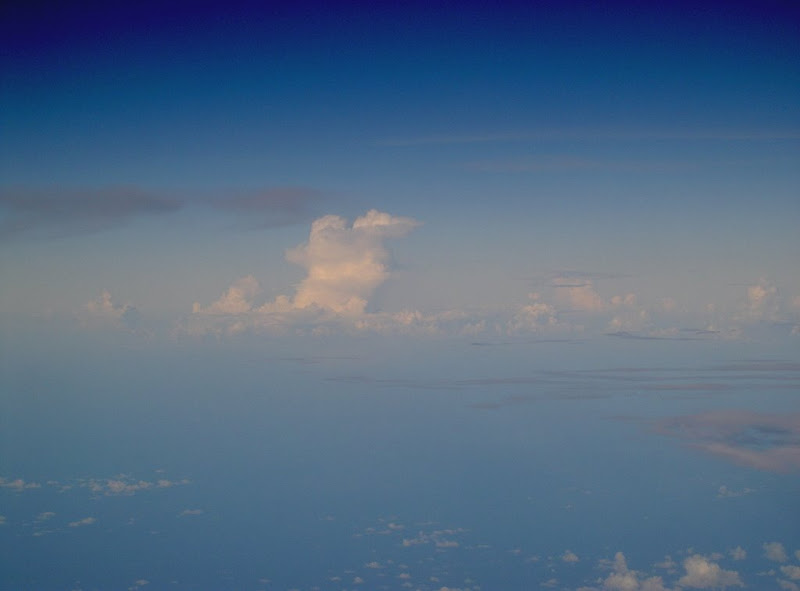 B brought some sushi along from the airport, while I had prepaid for meals. Lunch was beef noodles in five flavour sauce, a stale bread roll and potato salad, with a chocolate to the side. The noodles were tasty. By 8pm I was in no state to eat the other snack, a frittata, with my headache getting really bad. The Weis Bar was nice though!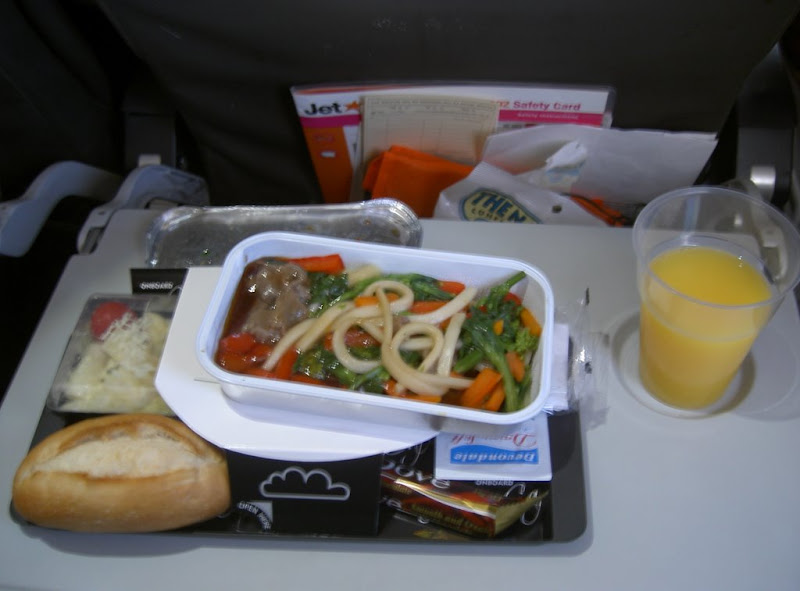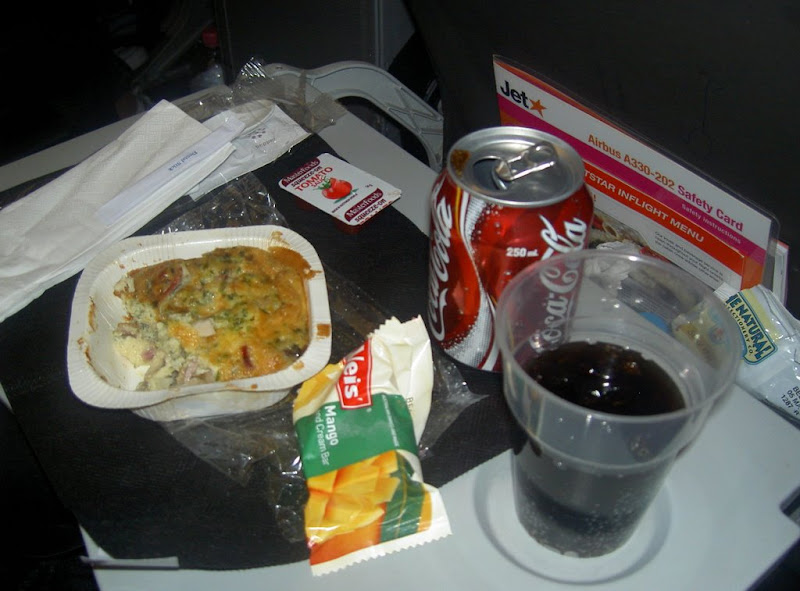 The landing seemed to take an eternity, cruising over bright city and fishing vessel lights through an otherwise black landscape. We exited quickly out of Kansai International Airport and snagged some tickets on the Nankai Rapi:t Express train minutes before it was due to depart. This is a fantastical design with a front like Darth Vader, retro round windows and leopard print seats. Oh, and it cost 1380 Yen, about A$14. That's for a reserved seat in an airconditioned express train with luggage storage. As opposed to our $14 CityRail ticket from Padstow to the International Airport in a packed all stations commuter train. And yes, this was a private line.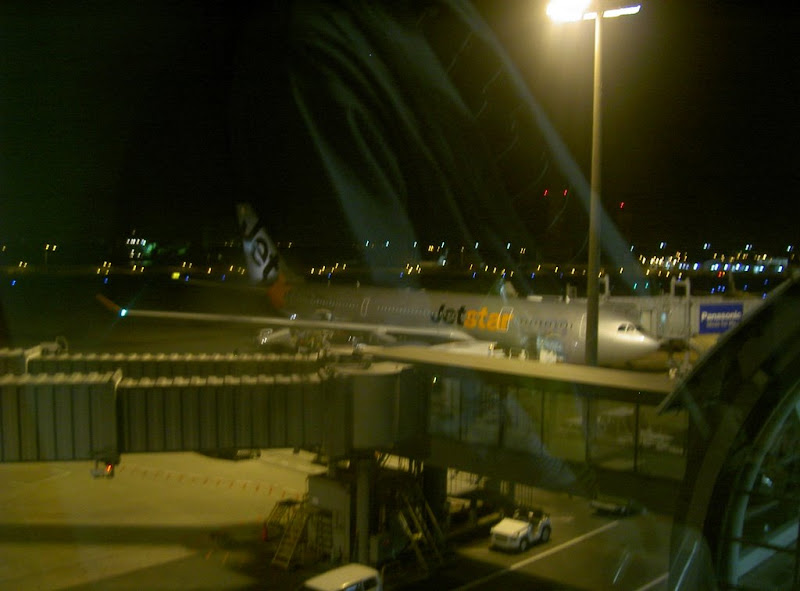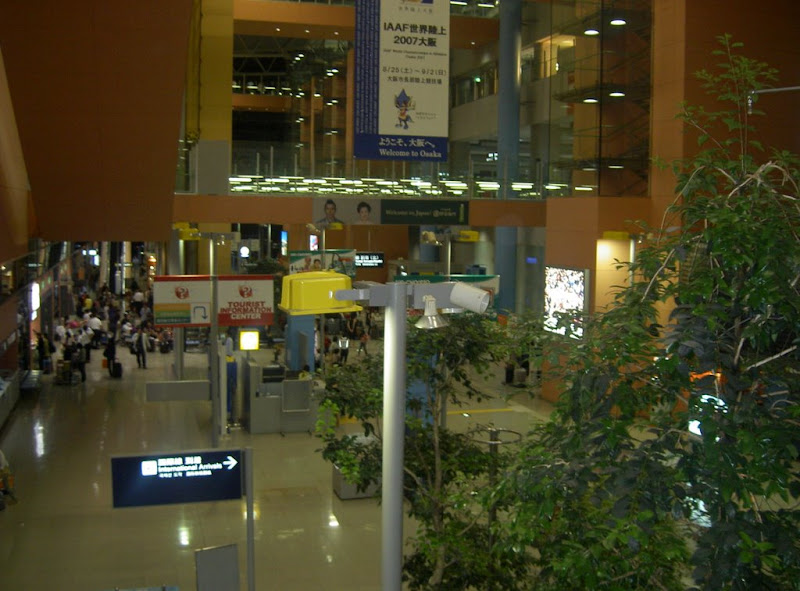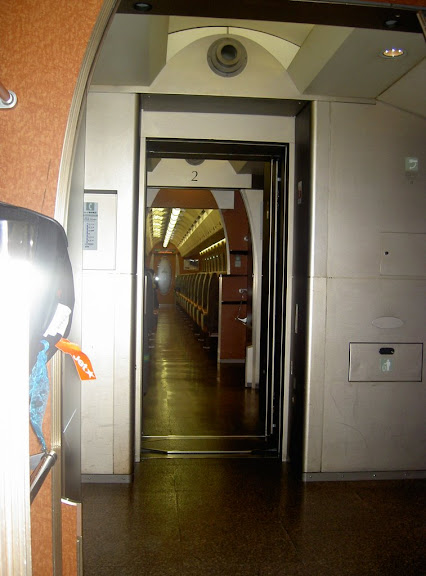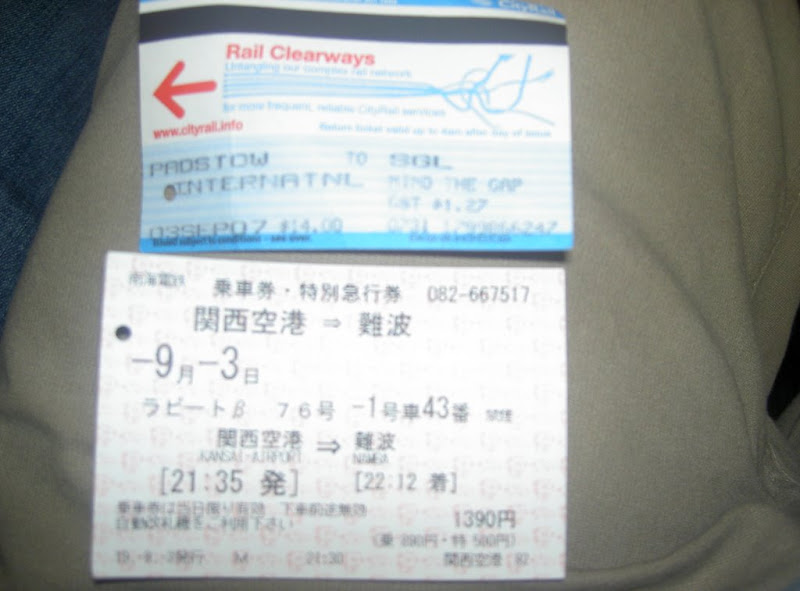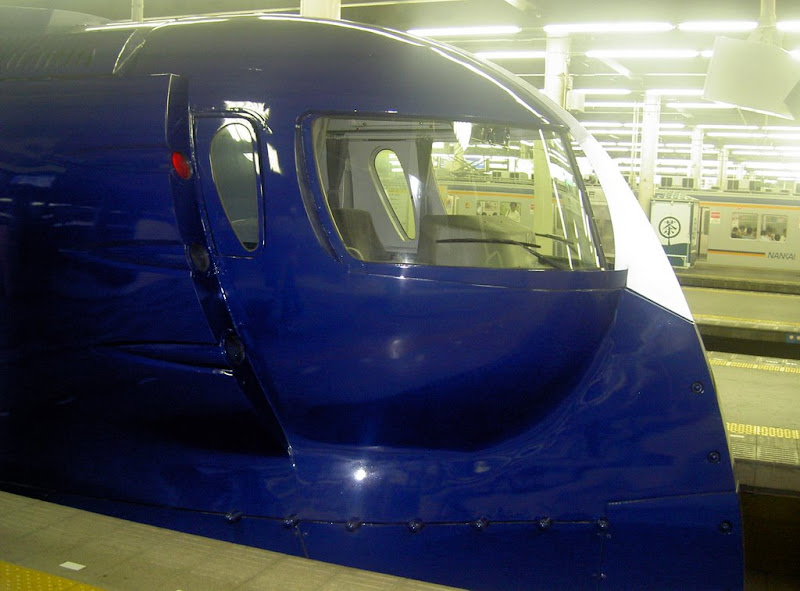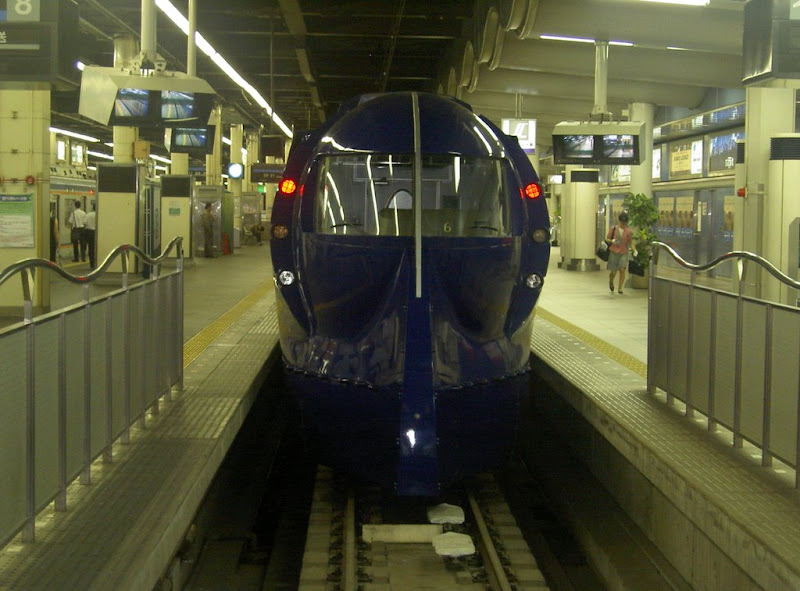 Overall I thought the flight was decent, but not especially good. The time seemed to flow past slower than on our previous flights north. The crew, however, was very good, friendlier and more professional than on some Qantas flights between Australia and Japan that I have been on where certain crew members sound and look like old jaded Aussies with strong accents and no sympathy for non-English speakers.
I found the cabin a bit stuffy and a tad warm, but there are personal air vents. Prices are fairly reasonable for what you get; Jetstar do not seem to overcharge as badly as, say, cinemas or sporting events.
I'll post about the return flight soon. You can also read my
travel blog
and see more
photos
.
You may also enjoy reading my other trip reports:
Just A Day Trip: QF: SYD - CBR
How Many Airlines? Adventures In China (pics)
SYD -ICN-AMS: Asiana, KLM Y Class In 2004 (pics)
QF And AO: SYD-CNS-KIX, NRT-SYD On 767's (pics)
[Edited 2007-09-10 07:38:29]