Hi everyone!
First of all I would like to say thank you for choosing to read my trip report. I have not been a member of A.Net for very long but have surfed this website daily for a few years and this is my very 1st Trip Report.
I have to apologise because I dont have all the details that I would like to have to complete the report. I fully intended to write this as soon as I arrived home from my holiday (in May 07) but obviously am only now getting around to it.
I have split my trip into parts as there were 7 flights and 3 weeks involved. Hope you enjoy it!
Anyway, back to the trip...
-----------------------------------------------------------------------------------------------------------------------------------------------------------------
Sunday April 29, 2007
BNE-BKK
TG984
777-200ER
HS-TJU
Seat: 51A
Gate: 81 (changed from 82)
ETD: 3:20PM
ATD: 3:32PM
ETA: 9:30PM (local)
ATA: 9:19PM (local
Woke up this morning very excited. I was going to be away from home (still live with mum n dad) for the longest I have ever been - 3 weeks! I finished work around 2PM the day before and couldn't get out of there quick enough! I was going to 4 new destinations - Bangkok, Taipei, Phuket & Kuala Lumpur.
Mum, dad and I left our home in the southern suburbs of Brisbane around 11:45AM and arrived at BNE approximately 40 minutes later. After a scare while getting my backpack out of the boot (it was wet, turned out it was the boot and not my bag that had the leakage lol) we entered the terminal at BNE with me looking all backpacker-esque.
I love the International Terminal at BNE. Its bright, airy, well set out and has ample spotting opportunities, although an observation deck wouldn't go astray.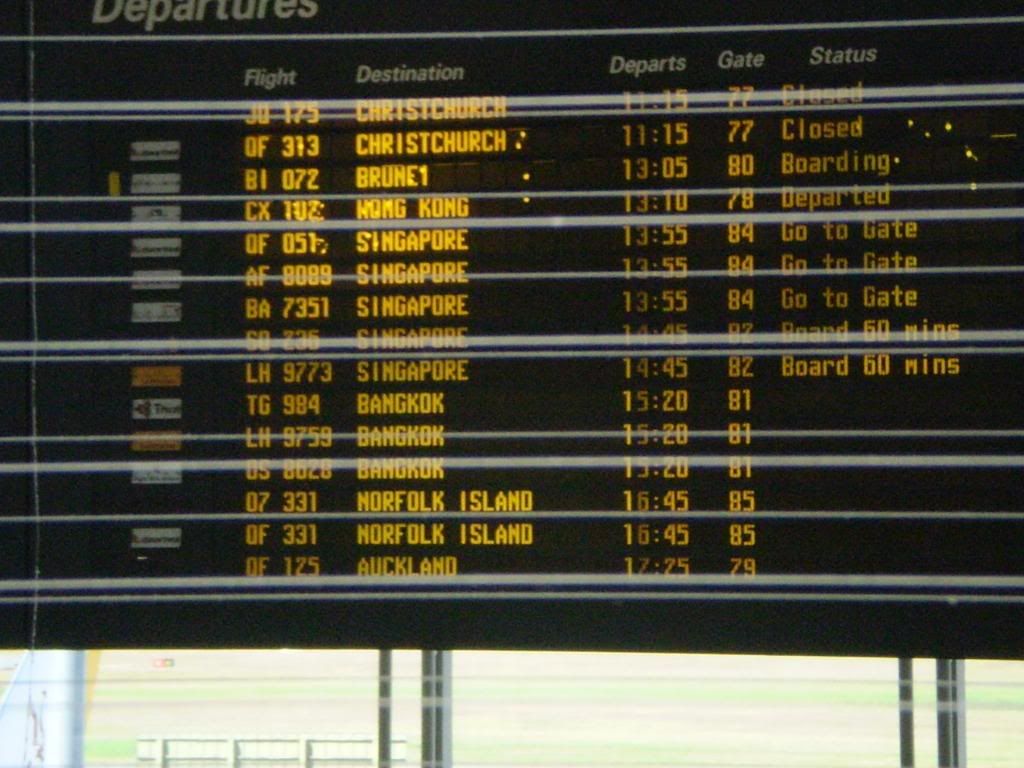 As mum and dad went to wander around the terminal I lined up at TG's checkin and waited the longest I think I ever have to check in, around 30 minutes. I noticed at the Royal Silk line that Y pax could upgrade for US$550.00. I was very tempted but that would've meant an early return home after all my $$$ ran out!
Was checked in by a very friendly QF chap and was given my boarding pass to BKK with my pre assigned seat selection honoured.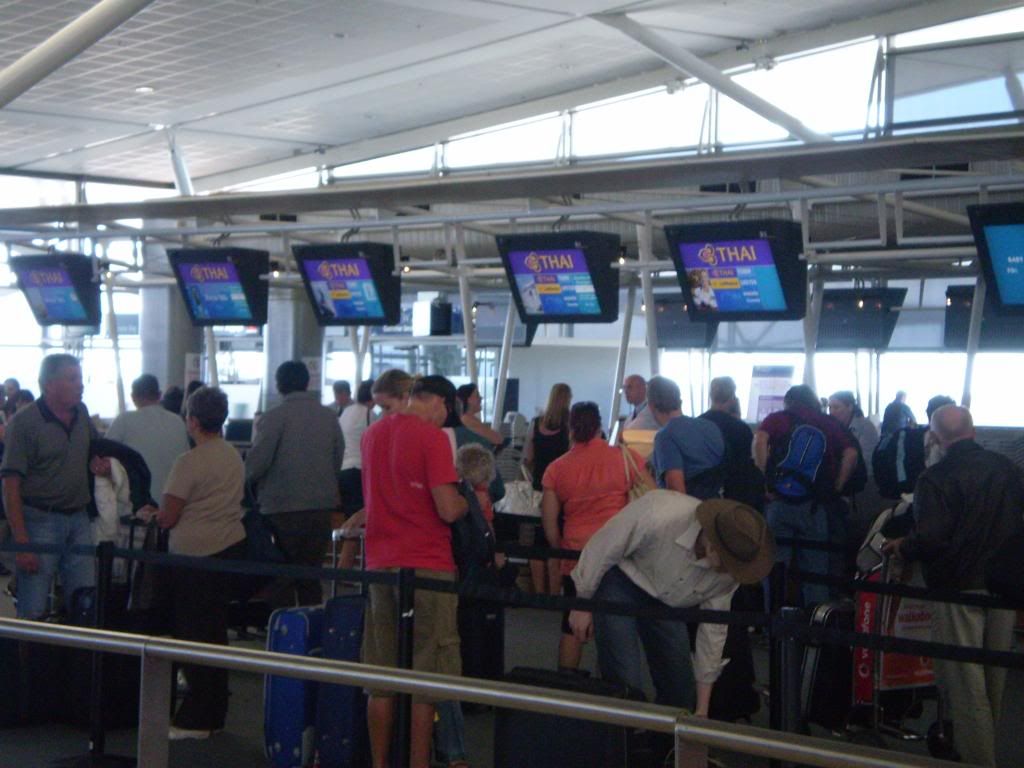 After checking in, my parents and I went and had something to eat from Red Rooster and one of the cafe's there. My dad can't sit still for 2 seconds so after we ate he went outside and mum and I had a look through the only duty free store landside in BNE. I then went for a wander around myself.
Checked out my fair city as well as the bird which will fly me to Bankgok today!
HS-TJU/TG984 being towed to Gate 81
Soon enough it was time that I went downstairs to departures. I said my goodbyes to mum and dad, walked through the yellow archway and downstairs to Customs. Had a short wait, got my passport stamped and was wished a good trip by the usually always friendly BNE officers.
Then had the security screening. The stupid new liquids and gels ban had just come into force and the security agent didnt beleive me when I told her my CK Brave was cologne in a clear plastic bottle and not some sort of weapon. After being allowed to proceed I was randomly chosen for a full body pat down and explosives swap with the wand. What a way to start the trip!
After all that I went to Travelex to get my pre ordered Baht and then patiently waited for boarding to be called. I had asked my parents to drive to the end of the runway here at BNE to take a pic of my flight taking off, which my mother did a great job of!
HS-TJU basking in the Brisbane Autumn sunlight!
Boarding started around 2:45 PM and what immediately struck me was how colourful and spacious the cabin of this 4 month old 772ER was. I was warmly greeted by no less than 4 cabin crew on the way back to my seat for the next 9 hours, 51A. When I arrived I found a couple going to Thailand on their honeymoon in 51B & C (who I would pass on a street in Phuket 2 weeks later!)
Now I am 6'2 and I found that I had more than enough leg room, even with the PTV box under the seat in front of me. The seat wasnt the most comfortable but it wasn't bad at all.
Just before the beautifully produced safety demo was played on the touchscreen PTV's menus, headphones and hot towels were brought around.
Then 10 or so minutes late we took off from runway 19 (I think, the one towards Moreton Bay), made a right 270degree right turn to head north over western QLD, the Northern Territory and Indonesia.
Lunch was served soon after. I forget what the other choice was but I chose curried lamb with rice and carrots for the main, duck noodle salad for entree and a yummy coffee flavoured cheesecake for dessert. Washed down with a couple fo Singha beers and vodka lemonades. I also needn't have worried about being embarressed about taking a pic of lunch as the guy next to me took a pic of that, as well as everything else!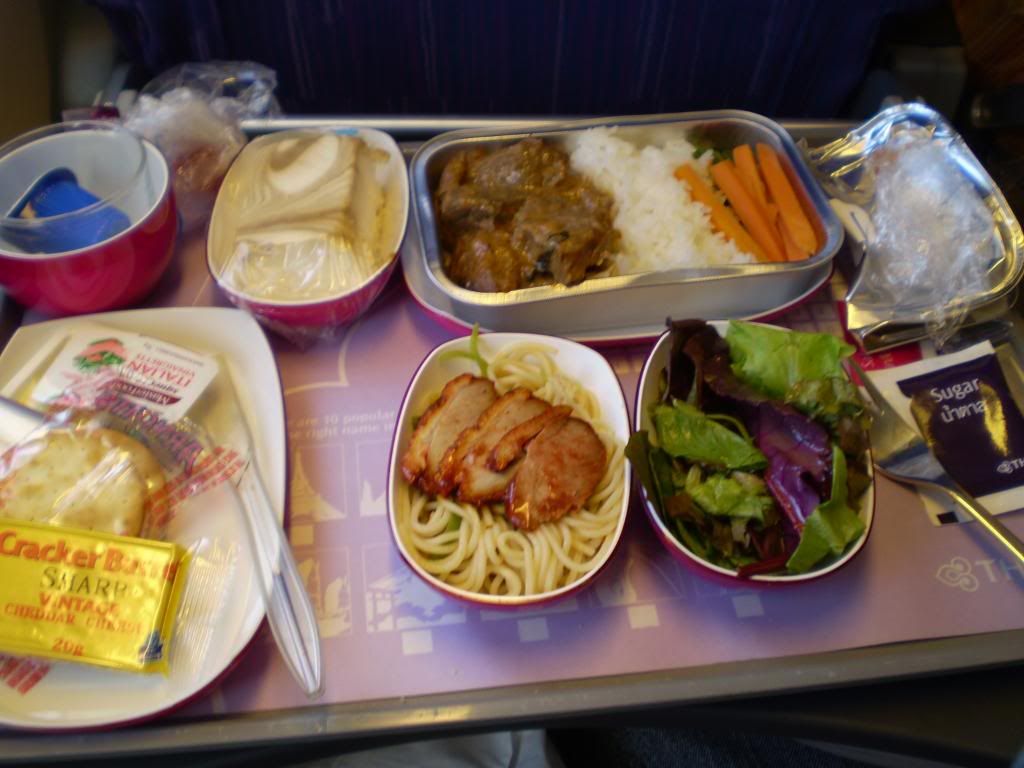 The flight itself was pretty uneventful. Just looked out of the window, watched a couple of movies, some TV, listened to some music and generally just chilled out and contemplated what awaited me over the next 3 weeks.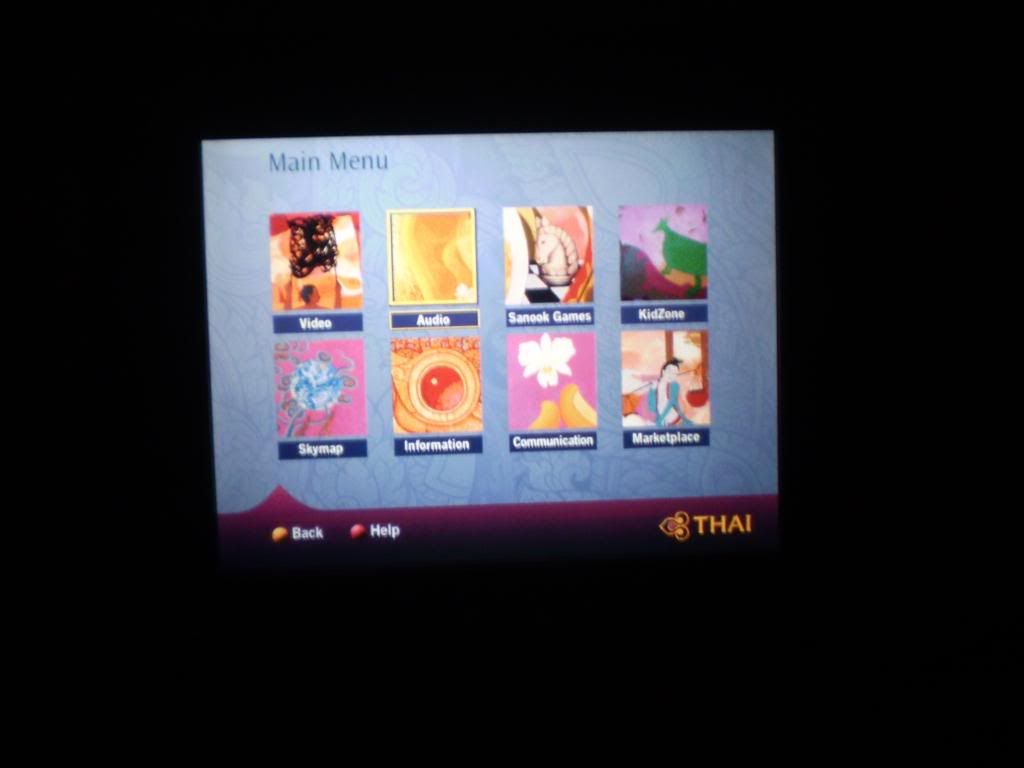 With around 1.5-2 hours to go a second meal was served. A really delicious stir fry with prawns and cashews, as well as some more Singha and vodka lemonade of course!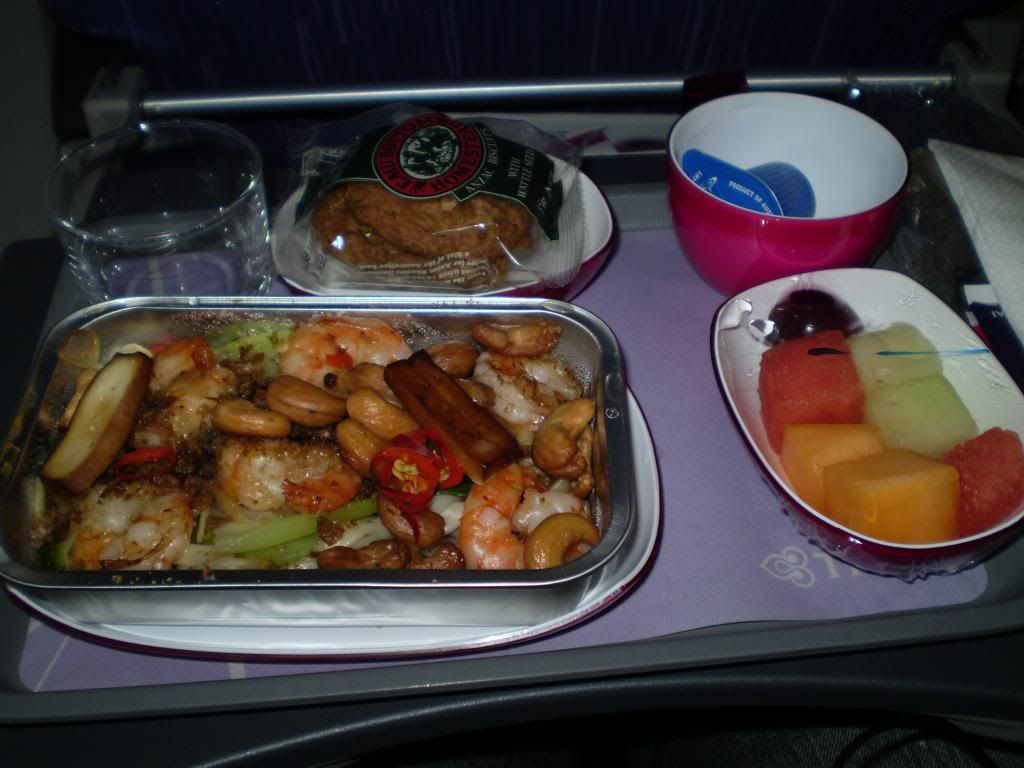 I was by this time getting very tired. To date this had been my longest flight and even though its 'only' 9 hours, I had been awake for much longer today!
We started to decend into the new Suvarnabhumi airport in Bangkok around 9:15PM local time.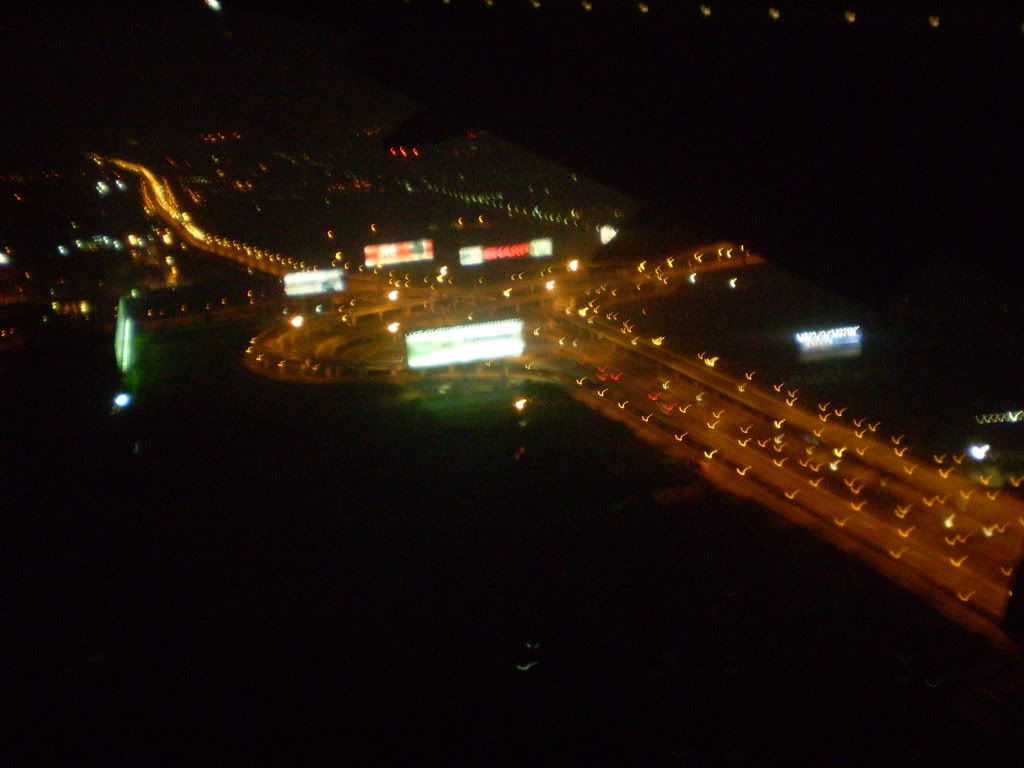 Finally 11 minutes early we arrive in BKK. Passed an AF 343 just arrived from SGN and taxiied into gate (I forget which one sorry) and into the steel and glass amazement that is Suvarnabhumi. First impressions are WOW! So light and bright and modern, yet dark, gloomy and cold (both metaphorically and literally).
Bags didn't take too long to come out and after initially being a bit scared of Thailand customs and security I was out into the arrivals hall to find my transfer to the city.
I booked a bus transfer in Australia for AUD$16 as I didnt want to deal with a taxi driver or tout. I found the guide waiting patiently for me after a few minutes ready to take me out into the unbearable night humidity and onto Sukhumvit Road.
What awaited me was my own driver and private Volvo luxury vehicle transfer! What a way to start the trip! I didnt want them to take me to my dodgy hostel so got the driver to take me to the nearest hotel.
When the guide realised that this was not where I was supposed to be, she had the driver REVERSE back down the busy Sukhumvit Road, 3 blocks to the end of the Soi where my hostel was!
I raced down Soi 38 to the wonderful HI Sukhumvit, checked in and crashed... only to be rudely awoken 3 hours later by the night desk staffer saying I had a phone call. Of course immediately I thought it was my mum or dad back home, but then realised that I had my mobile phone with me and they would've called on that.
Turns out it was my guide calling to make sure that I made it to the hostel alright as the last she saw of me was trudging down Soi 38 with my backpack in the rain! This was to be the start of a very fun, friendly stay in Bangkok and Thailand!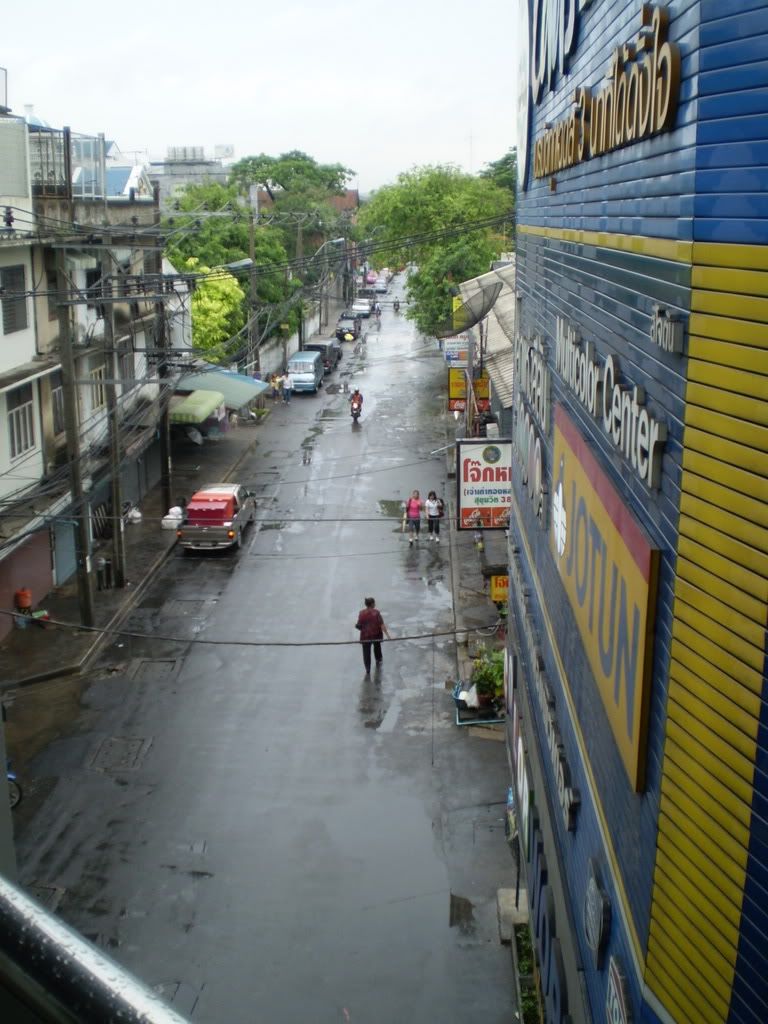 Sukhumvit Soi 38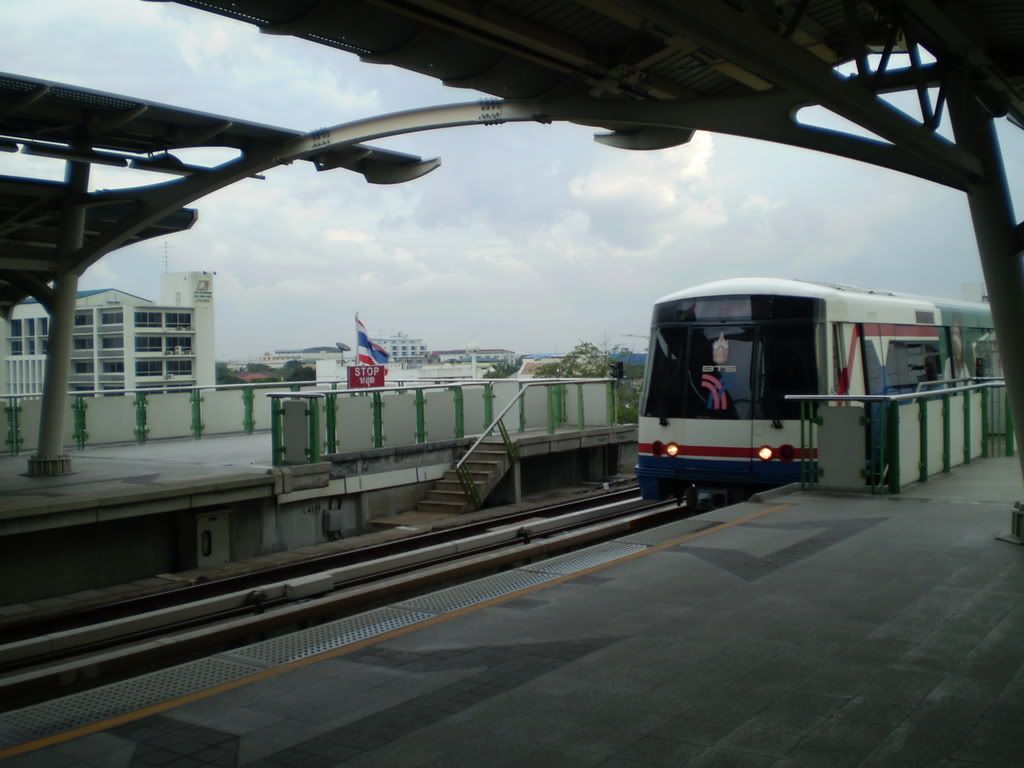 View from Thong Lo BTS Skytrain station. Bangkok has a better train system than any city in Australia!
I was in Bangkok for 5 days and had a blast! Met some great people at the hostel and did some major shopping at MBK and the night markets near Silom.
I also went to Kanchanaburi and the River Kwai as well as the tiger temple out there. To all Australians, if you can't make it to France or Gallipolli, go to Kanchanaburi and visit the River Kwai and the war memorial, it truly is a humbling experience and the Thai people have taken to keeping the cemetary beautiful for everyone to come and pay their respects, even though its in the centre of town.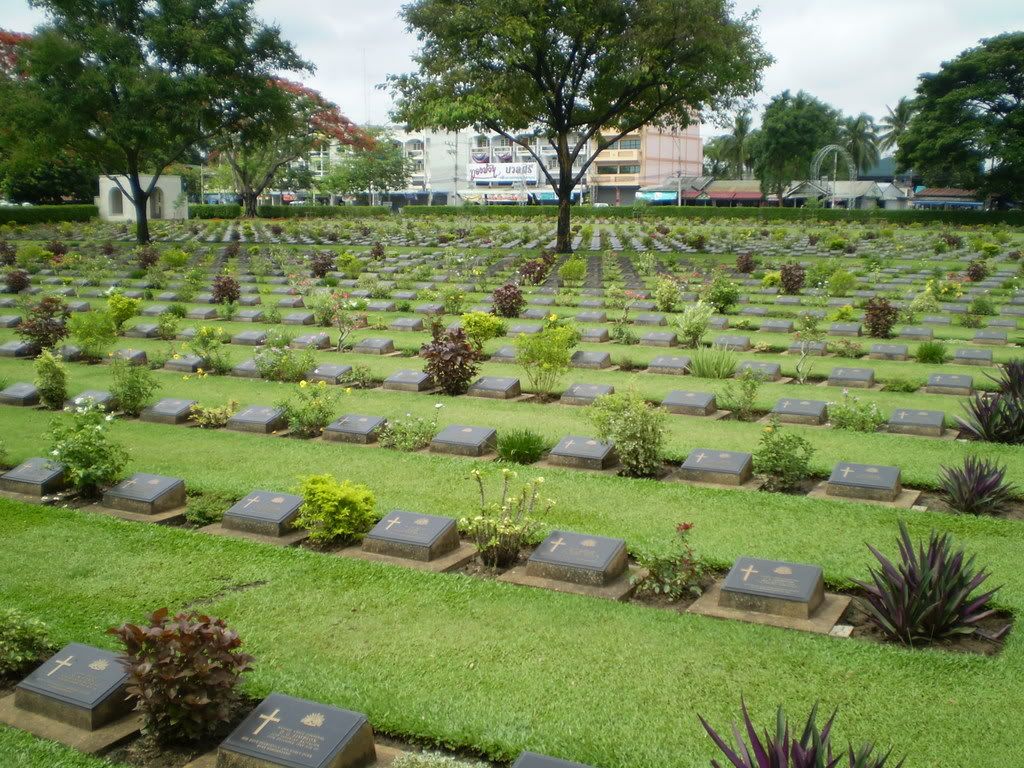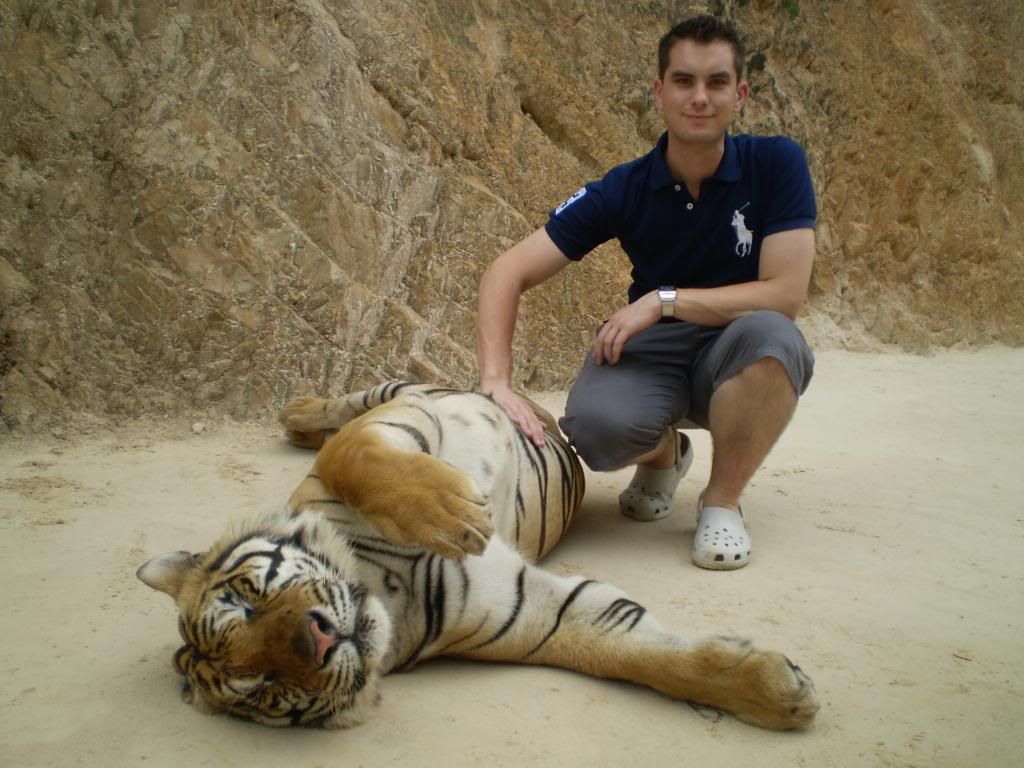 Me & a tiger!
Thank you for reading this far, hope it was interesting for you!
Still to come are reports for:
BKK-TPE-(HKG)-BKK - TG - Y Class
BKK-HKT-BKK - TG - F Class
HKT-KUL-HKT - AK - Y Class
BKK-BNE - TG - Y Class
Flights coming up:
BNE-SIN-BNE - EY (77W) - Y Class
SIN-REP-SIN - 3K - Y Class