Summer at the Cote de Azur: LX ex BSL
Hello, again, dear readers,
now I will close my summer series of report´s with a nice weekend at the Cote de Azur.
For all that stressed middle european sun seeker´s, enjoy.
Saturday, 01.09.2007
BSL (Euro-Airport-Basel-Mulhouse) - NCE (Nice-Cote de Azur)
Duration: 1 hour
LX 544 operated by Swiss European Airlines AVRO RJ 100 HB-IYZ
Scheduled: 10.45 // 12.05
Actual: 11.15 // 12.15
Gate: 37 Seat: 20B
Load factor: Near 100%
Fare: 44,83 per pax per leg
History:
24.11.1998: Delivered to Crossair
31.03.2002: Further to Swiss International
01.12.2005: Now in service with Swiss European
Flight no.3 on the RJ100 and the second on this machine.
7 am, an autumn style saturday morning, time to go by car for Basel again.
Some more traffic than expected, arrival at 09.30 am. Our boarding passes from Online-Check-In
showed reporting time at the gate for 10.05, 35 minutes ahead, ok so far.
Online was once again no problem on Swiss and I was furthermore impressed :
Sequences no. 45 and 46 Friday afternoon, 50 % of the plane was checked-in by this time.
A good decision, long lines at the manual desks, one couple in front at the, this time staffed
bag drop off desk, bags accepted by a friendly female agent. No time to wait at passport control and also
at security. Finally at the gate, a bus gate downstairs, at 09.50 am. Interesting action around ,
Nouvelair to Djerba, Dubrovnik Airlines to Split, LH to DUS and MUC.
Nouvelair to Djerba: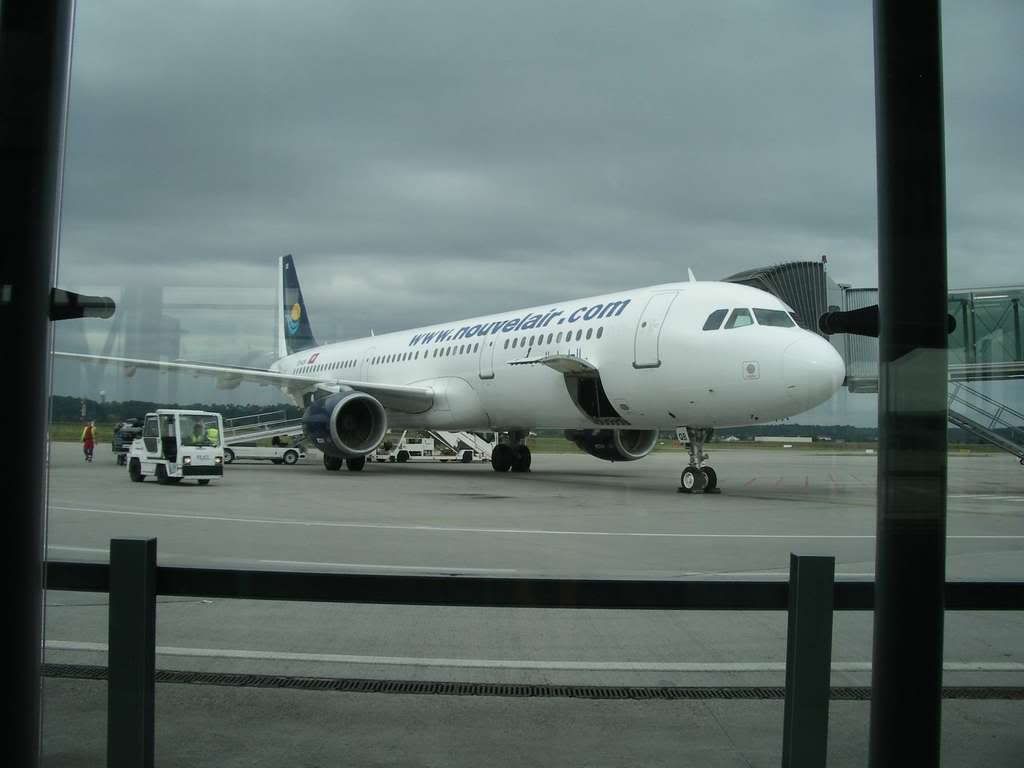 MD nach Split: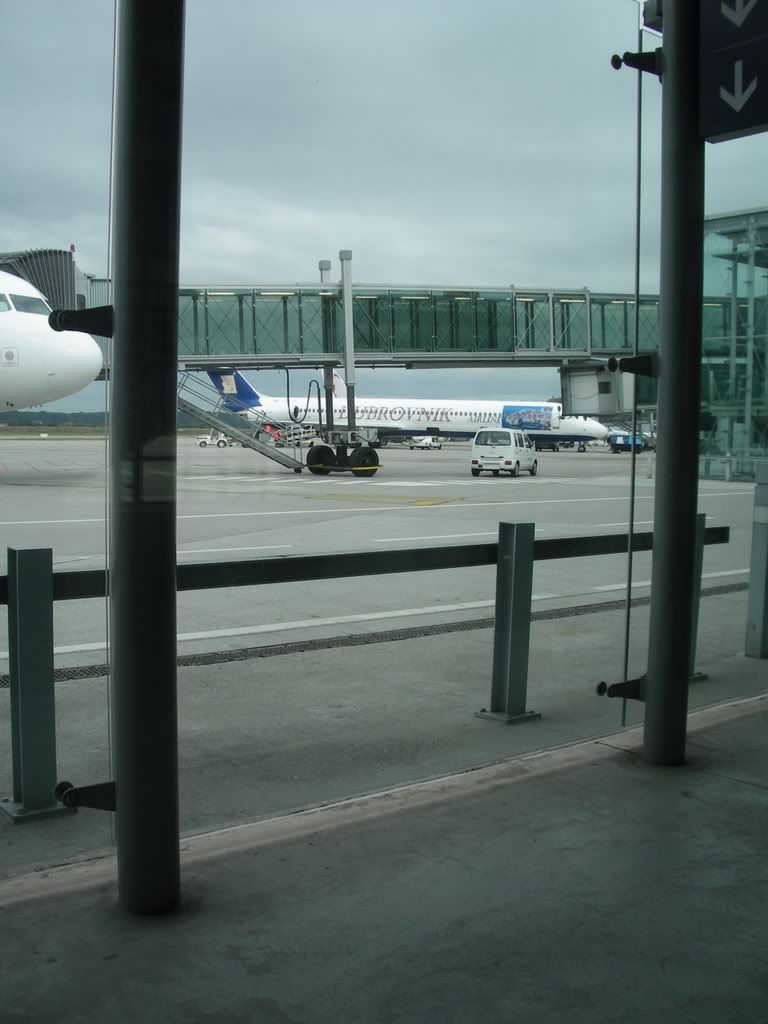 The first of two scheduled LX Avros arrived soon thereafter. HB-IYZ, no comment, I had another flight on this machine
only two weeks ago.
Arrival HB-IYZ at BSL:
The Avro parked, pax deboarded, the usual ground handling activity follows. Boarding was called around 10.15 am.
Boarding HB-IYZ: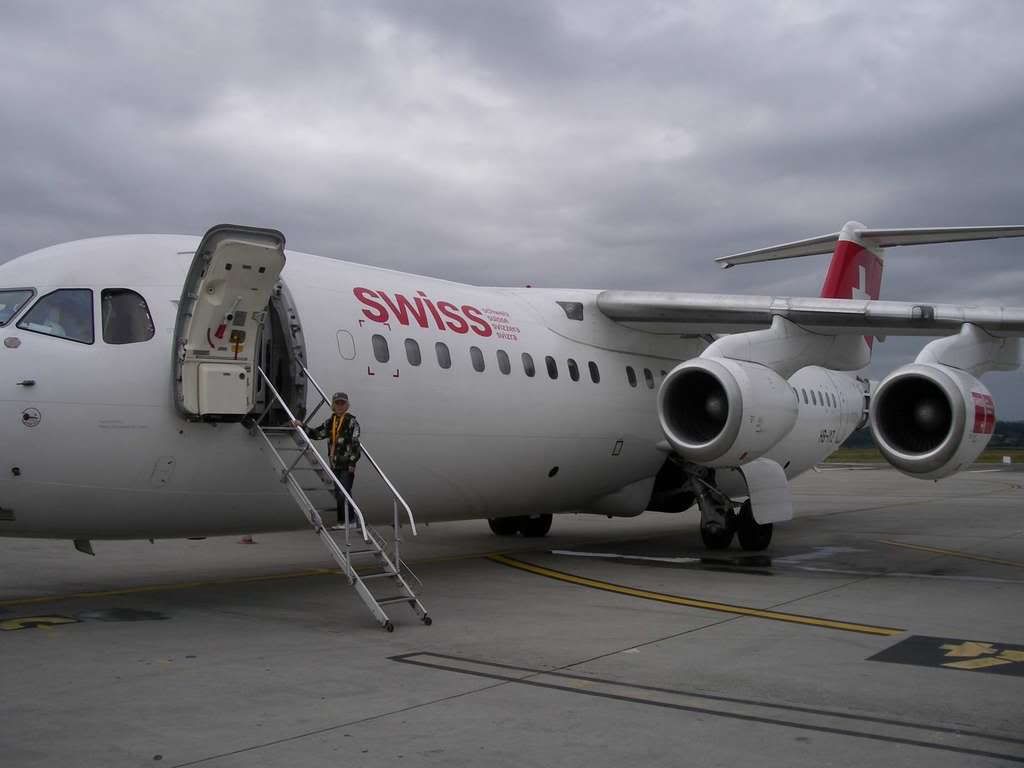 Tails at BSL: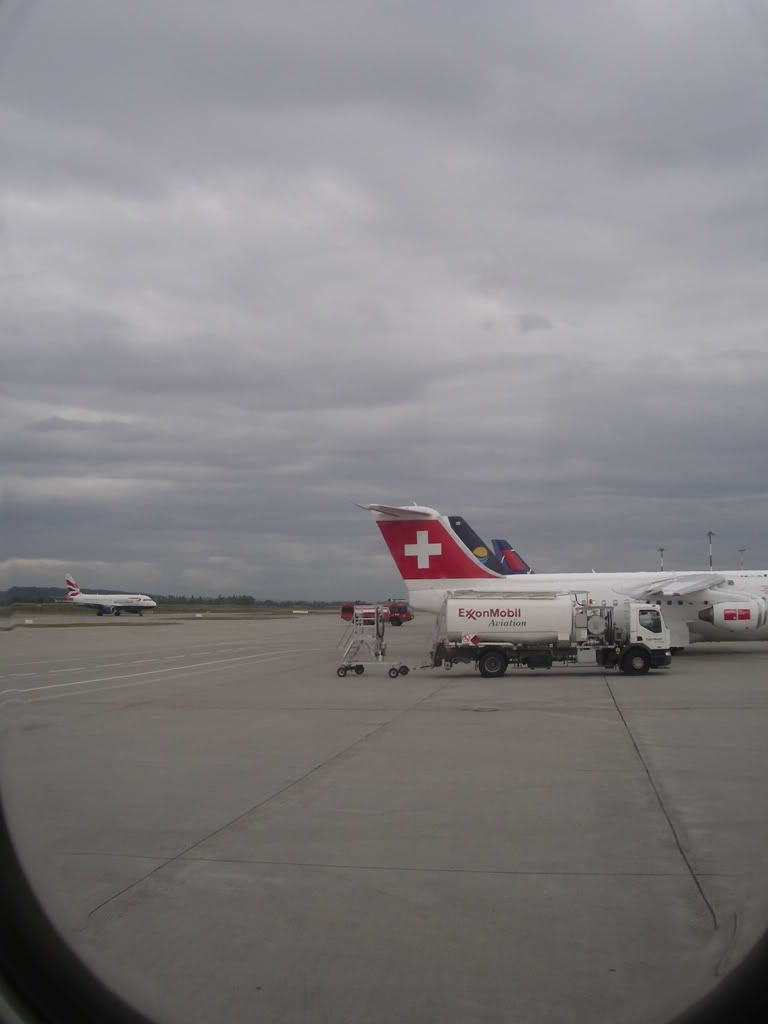 A very friendly male FA and also a friendly young female on this service.
The purser welcomed also the M&M and especially the senator members on this service.
The captain was IMO from Scandinavia, he welcommed us on the ground and informed us about a small delay,
according to limited slots at NCE. The machine fitted with dark, blue leather seats, clean, ok, so far.
An LH CRJ taxiing behind us, took an earlier entrance to runway 16 and departed when we entered the runway.
Flight level 7.000 meters, over Geneva to NCE.
The captain informed us in a friendly way inflight. Good views along the route from near GVA on.
Lakes...: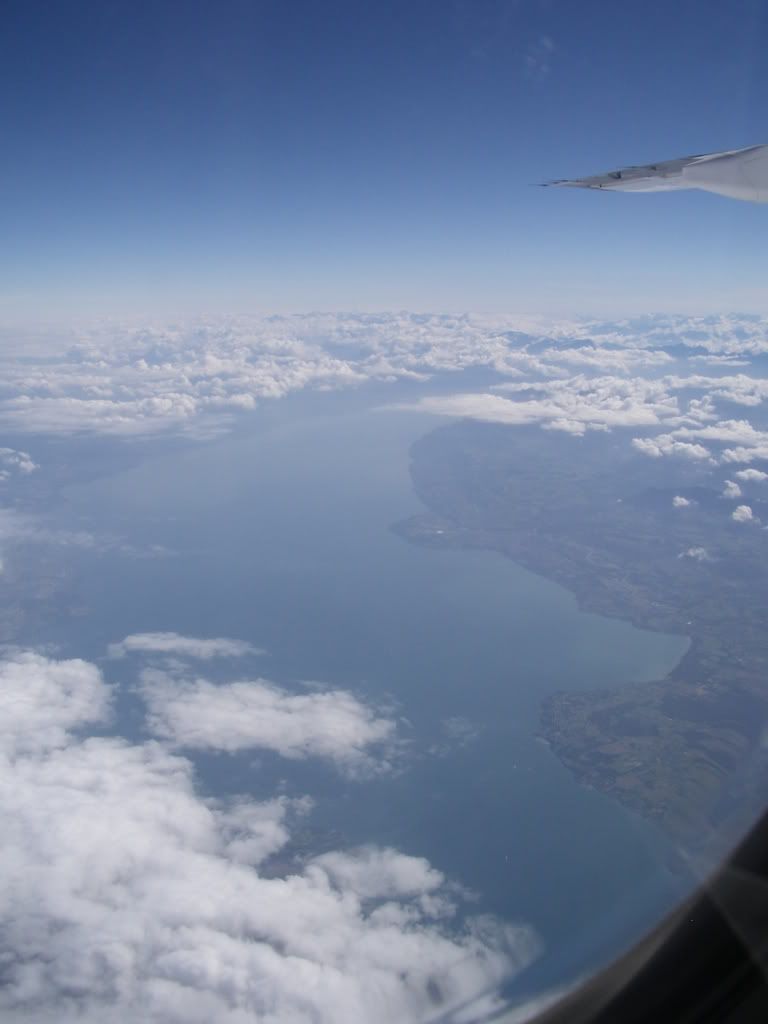 ... and mountains:
A breadroll, beverages and the swiss chocolate for free.
Approach to NCE along the coastline, a nice starter for this weekend and touchdown on runway 04L.
Sunny NCE:
Deboarding: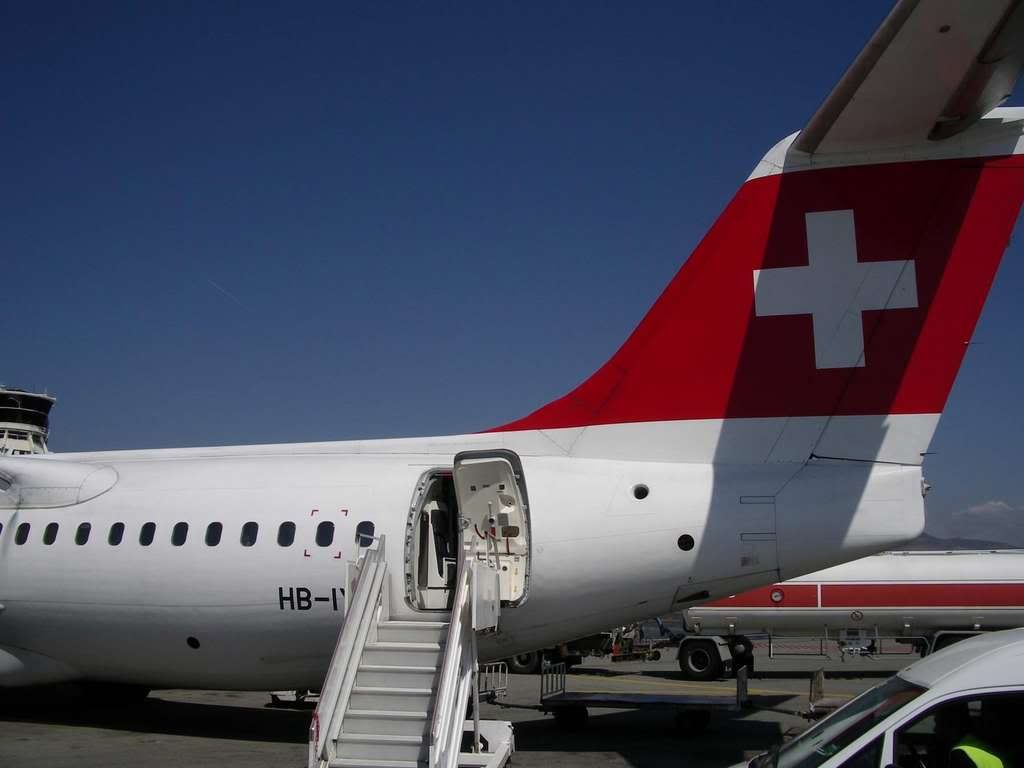 VIP F100 International Jet Management: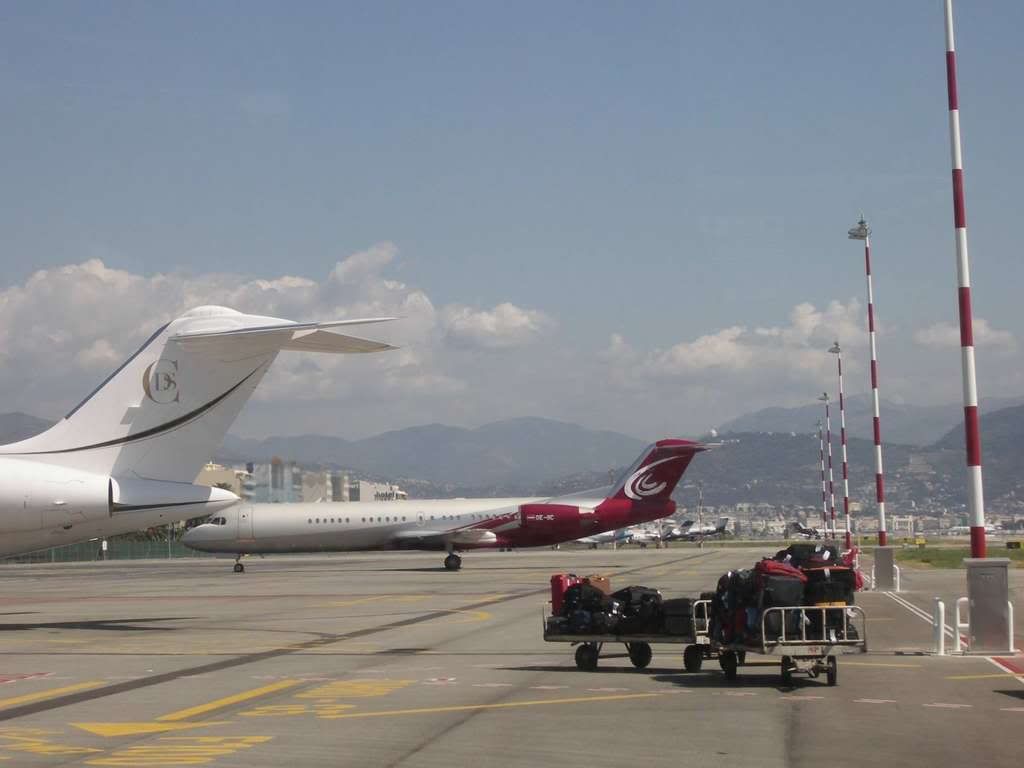 Bus deboarding, some minutes for the bags, my son´s one was the last on the belt.
The cheapest way to Cannes where we want to stay, was by train from Nice-StAugustin, a not recommendable
20 minutes walk through the industrial area and along the roads. No signs at all, but we found the station.
What to do there in Cannes?:
At saturday we´re gone by the ferry to the Isles de Lerins, a recommendable tour to a quiet island.
Cannes harbour: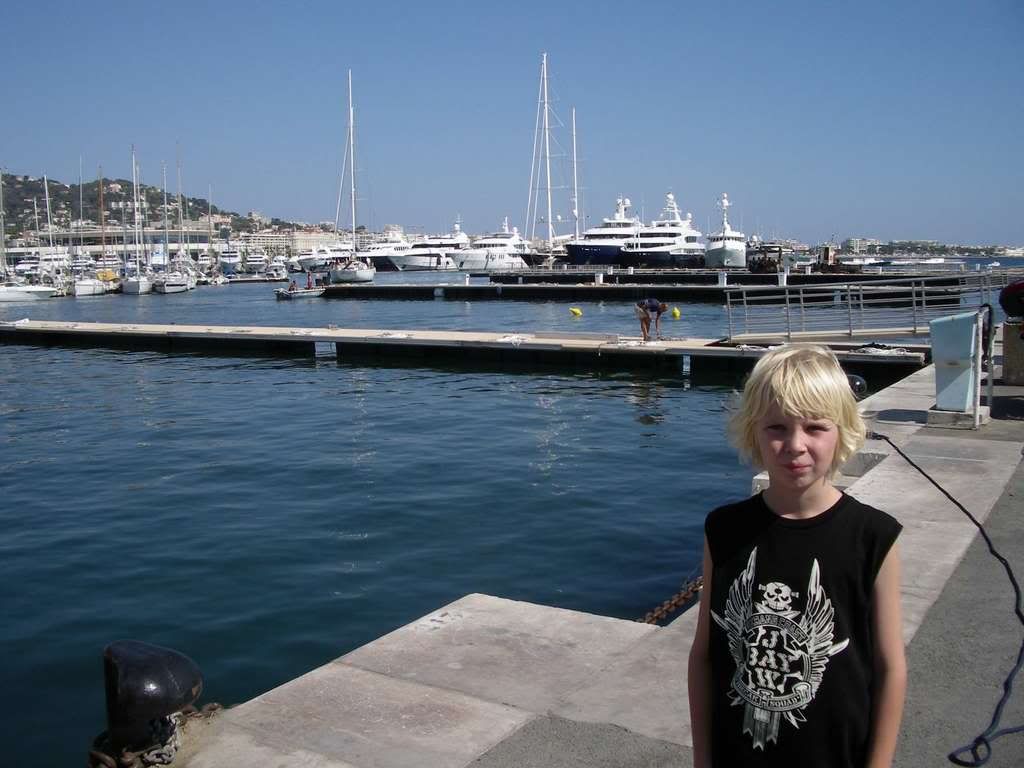 Nice visitors:
The cruiser:
St.Marguerite: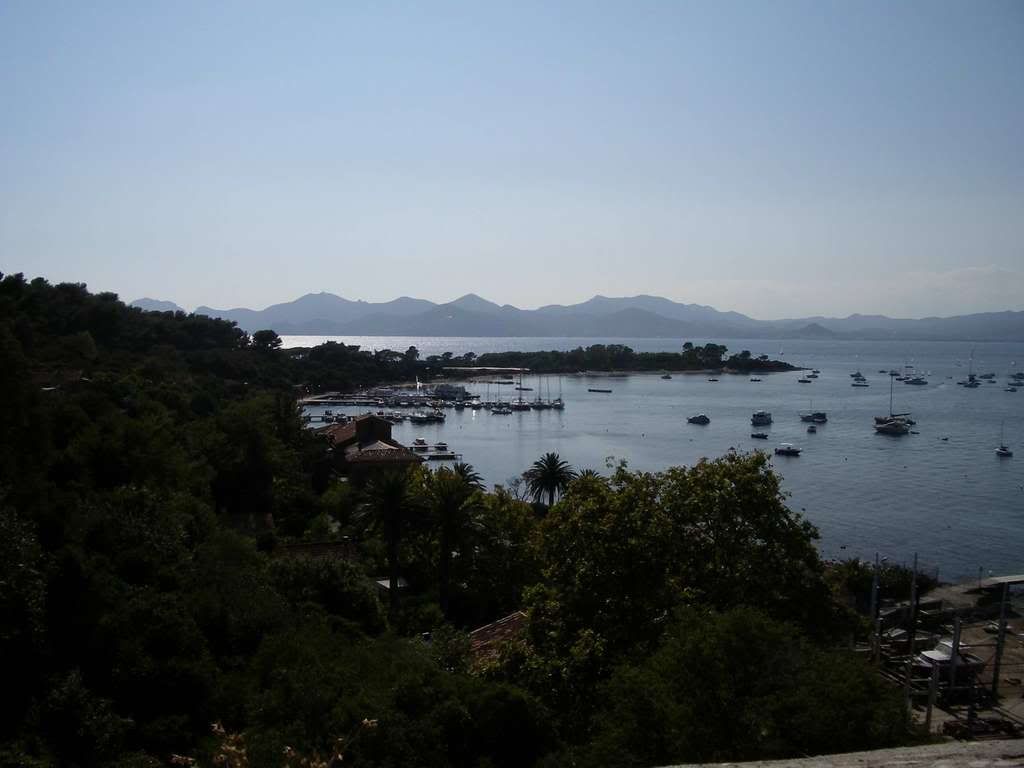 In the evening:
Sunday was train-rider day, first to Nice, than with the scenic Train de Merveilles up to the mountains to Breil-Sur-Roya,
down for Italy to Ventimiglia, a stop on the ride back to Nice at famous Monte Carlo and return to Cannes.
Sure an interesting ride.
Gare Nice Ville: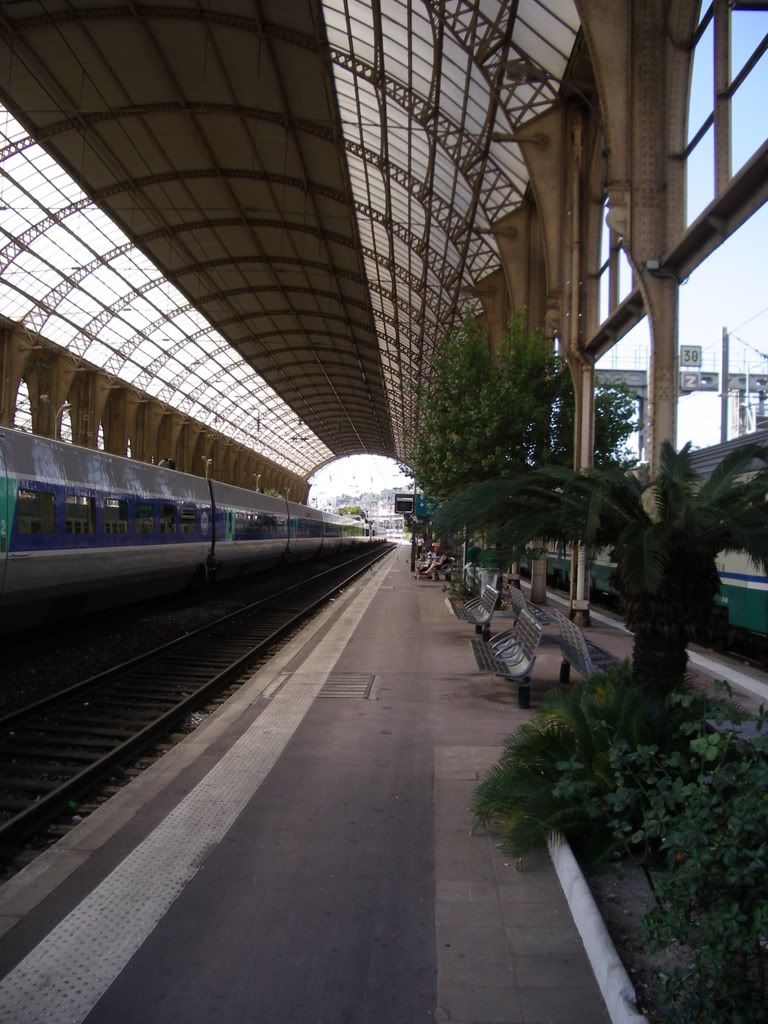 Monaco:
Monaco station: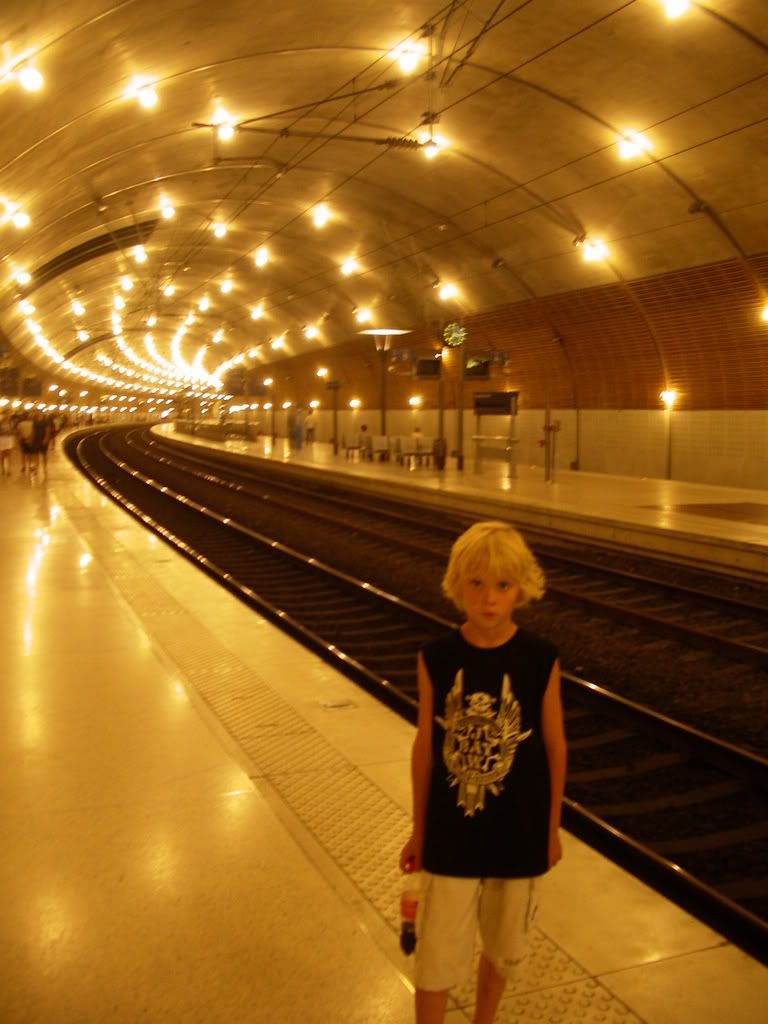 Sunday, 02.09.2007
NCE (Nice-Cote de Azur) - BSL (Euro-Airport-Basel-Mulhouse)
Duration: 1 hour
LX 545 operated by Swiss European Airlines AVRO RJ 100 HB-IXQ
Scheduled: 21.35 // 22.55
Actual: 22.40 // 23.40
Gate: B14 Seat: 6B
Loadfactor: Near 100 %
History:
27.03.1996: Delivered to Crossair
31.03.2002: Further to Swiss International
01.12.2005: Now in service with Swiss European
Flight No. 4 on the AVRO RJ 100 and the first on this machine.
We decided for the nonstop-bus-service back to the airport this time.
Arrival around 1 hour 45 minutes ahead to departure.
Swiss operates from T1, not the best airport-terminal during my latest travels.
Two counters announced, only one staffed when we arrived, that means wait in line for around ten to 15 minutes till another female agent shows up.
No problem to secure the A/B seats again, bags on the way to BSL and then a quick security check without problems.
Only minutes after we entered the departure lounge, the from our train rides well known sign shows up: Retarde/Delayed to 10.15 pm.
Gate B14 was on the ground floor, the usual bus gate area.
There was a large screen in the waiting area where they showed a Bruce Willis SciFi movie, dont know the name, but my son
had no problem this time with our delay, while watching the movie!.
I followed the apron action but dont noticed the touchdown of our aircraft. Around 10.00 pm boarding was called, two busses to the plane.
Two Swiss Avros on the apron, one was well known HB-IYT, but lucky me, we stopped beneath the other, HB-IXQ a new adition for my log.
One of the handling guys told me at the plane, no pics allowed at NCE, joke.
Two female FA´s this time, both friendly.
The pilot welcomed us and explained the delay with the heavy traffic on the route to NCE, the plane was ready to go from BSL to NICE earlier
but had no ok from the controllers. IMO the pilot was from the UK.
The FA's distributed the chocolates while we waited after boarding for our new slot back to BSL.
The machine fitted with the dark, blue leather seats, clean, comfortable legroom.
Departure from NCE´s 04R, no more comment from the cockpit, that means no information about route and flightlevel.
The usual service, a free breadroll and beverages.
Arrival on BSL´s runway 16, as expected around 45 minutes delayed. The last plane of the day only two minutes behind us, an LX A321 from Rhodes.
Back in BSL: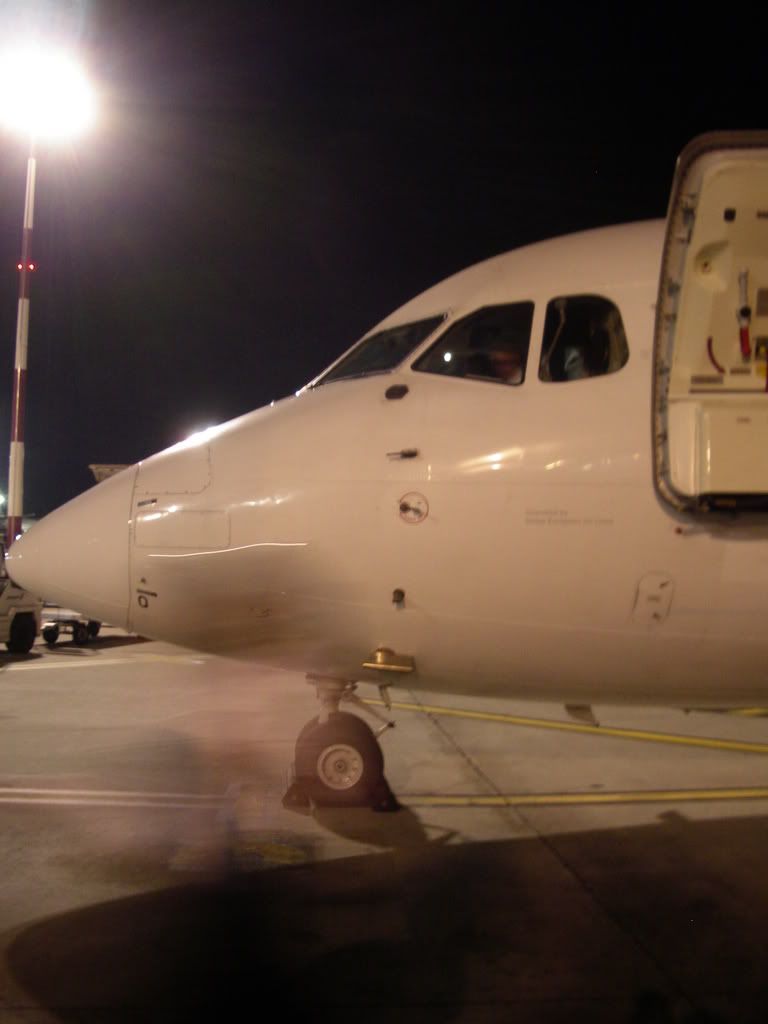 Deboarding at BSL: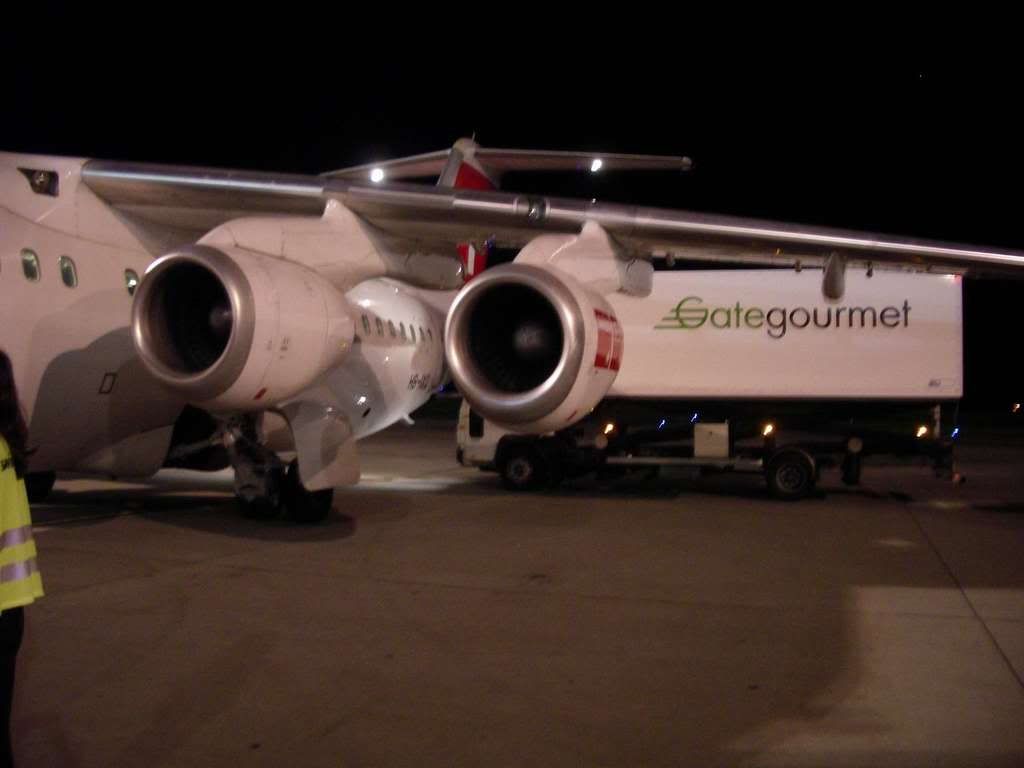 Good night, HB-IXQ: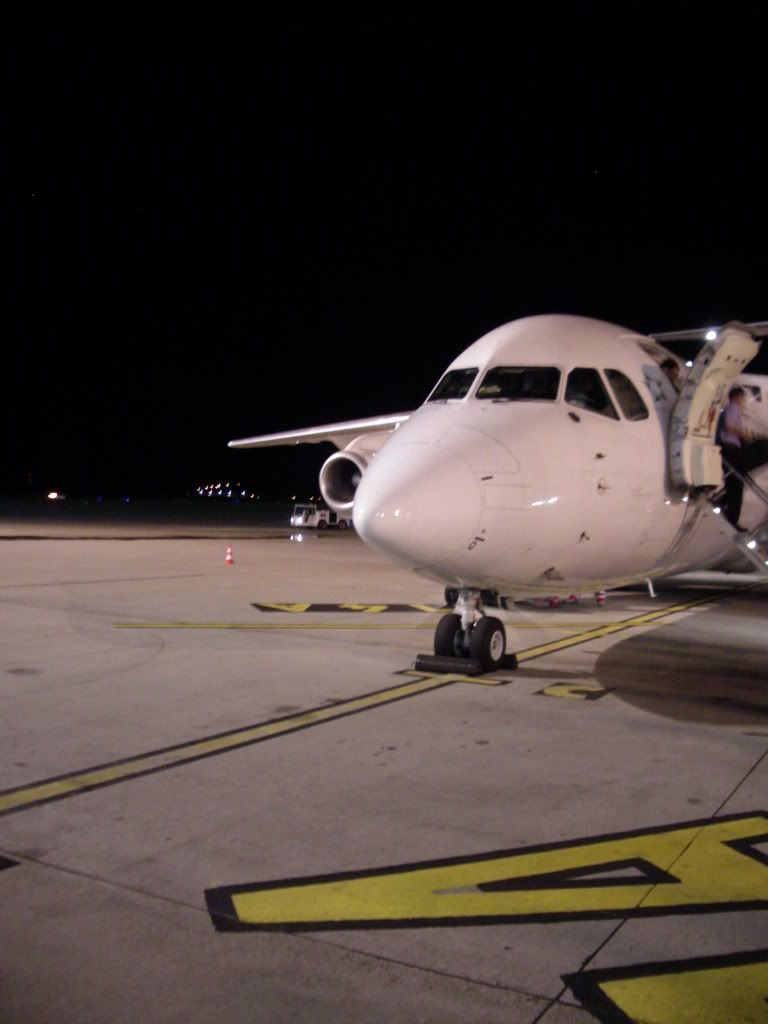 Nearly no time to wait for the bags, passed the border to france and on the ride back home only minutes later.
What about my opinion?:
Once again a real positive experience at BSL, NCE T1 is oldfashioned, nothing special, only limited views there.
LX, good fare, friendly employees, delays happened on all airlines, no problem to go for Swiss again!.
And the Cote de Azur itself?. It was not my first time there in the area, and this trip seems, as long as nothing else happens, was not the last.
Comment´s welcome,
Markus (FLIEGER67)