Aer Arann CWL- DUB- CWL, 10 September 2007
I was visiting family in Cardiff and decided to hop over to Dublin for the day. Aer Arann have 3 flights on weekdays, which makes a day trip feasible.
I left my parents' house in the north of Cardiff at 8.00 to get to CWL in time for the 10.00 departure. To avoid the school run, I took the M4 and then the A4232 to Culverhouse Cross, then joined the queue for miles along Port Road. I think that there was an accident somewhere that held everyone up. The traffic melted away at the last turning for Barry, and after that I had a clear run to the airport. I arrived at CWL at around 8.50.
I parked in the short stay car park (£11 for the day, or cheaper if you book online in advance) and headed for check in. There was only 1 person in front of me at the Aer Arann check in desk. There were quite a few people checking in for the bmibaby flights to Malaga and Alicante.
I wasn't able to get my boarding pass for the return trip, even though I was coming back the same day. Perhaps that is Aer Arann policy? I went upstairs to the departure area. I noticed that since I last used CWL, the lifts near check in have been designated "Staff Only" and that there are new glass-sided lifts on the edge of the building that give a view of the car park when going up. Nice!
Cardiff airport is relatively small and easy to pass through, but when you get upstairs you really start to notice the 1970's look that the airport still has. It really does look quite shabby and thrown together, and there are very few spotting opportunities, and few movements come to that, apart from bmibaby and KLM. CWL is firmly in the shadow of Bristol, despite a similar catchment area, longer runway and better transport links.
The departure area offered the usual CWL scene- families and older couples jetting off on bmibaby for a dose of sunshine. Looks like TOM are giving the baby a run for its money at Cardiff…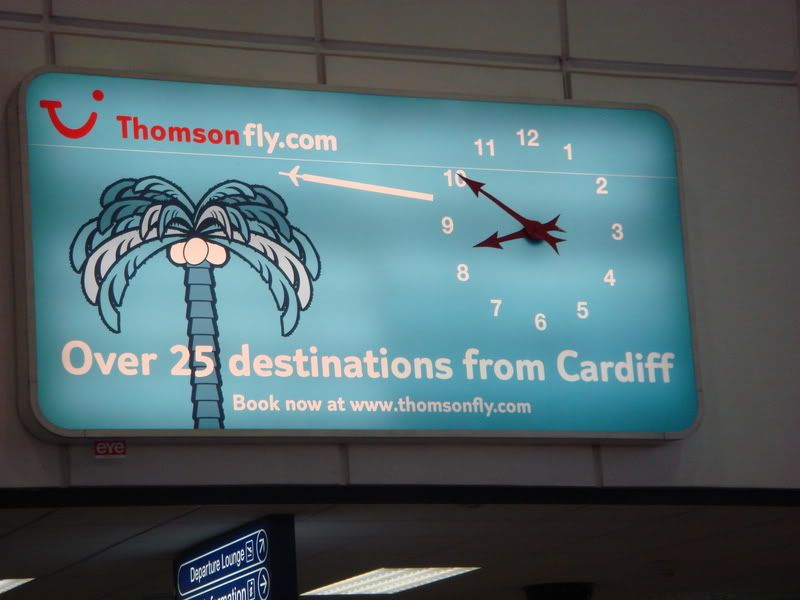 The Scrum Half bar was popular as ever, and most people were downing pints, even though it was only 9.15 in the morning.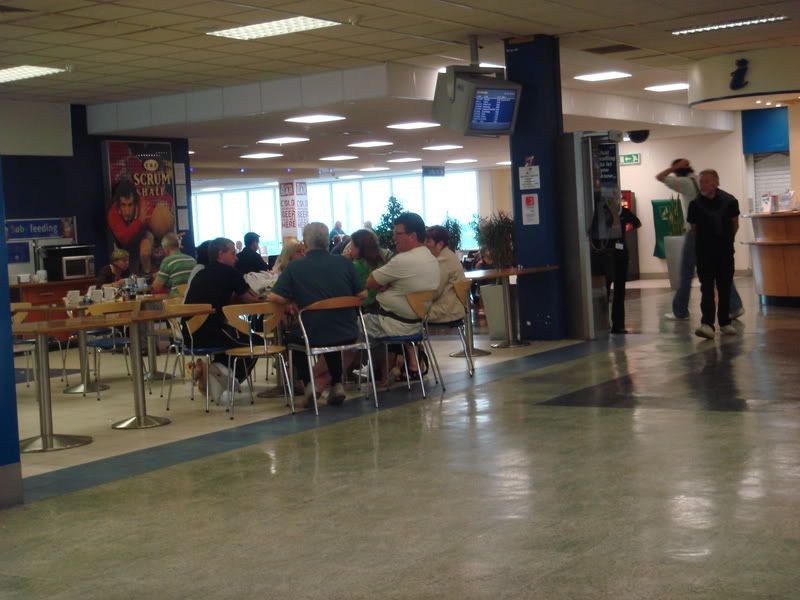 I began to feel undressed without a large tattoo and a Burberry baseball cap, so I decided to head through Security to the departure lounge.
Security had 3 lanes open, so there was no queue at all. The staff were quite busy laughing and joking with each other and I felt that the security screening was rather perfunctory, despite having to remove my belt.
The duty free shops at CWL are nothing to write home about and there is no real view of the apron to be had. I decided to use my Priority Pass to visit the Executive Lounge, especially as there had just been an announcement to the effect that my flight would be delayed for half an hour.
The lounge staff were friendly and efficient and the lounge itself was fairly empty.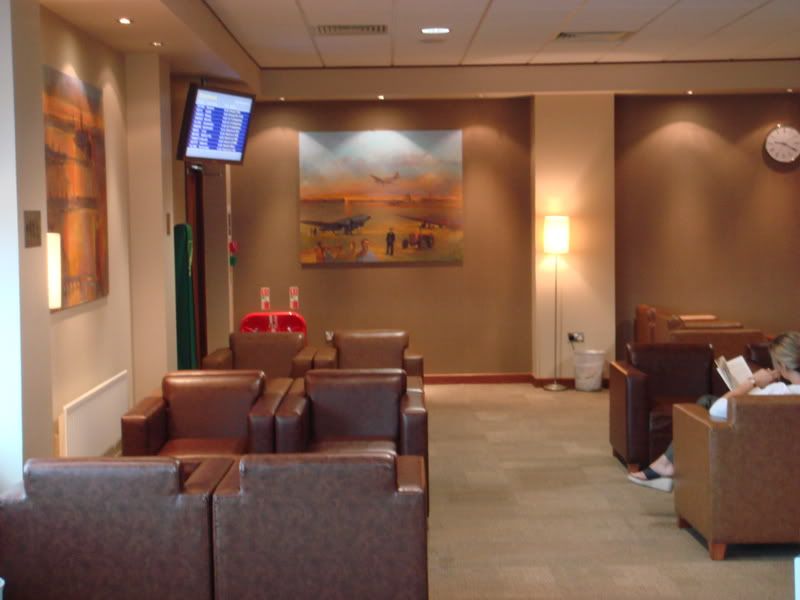 There were the usual selection of snacks, drinks and newspapers on offer.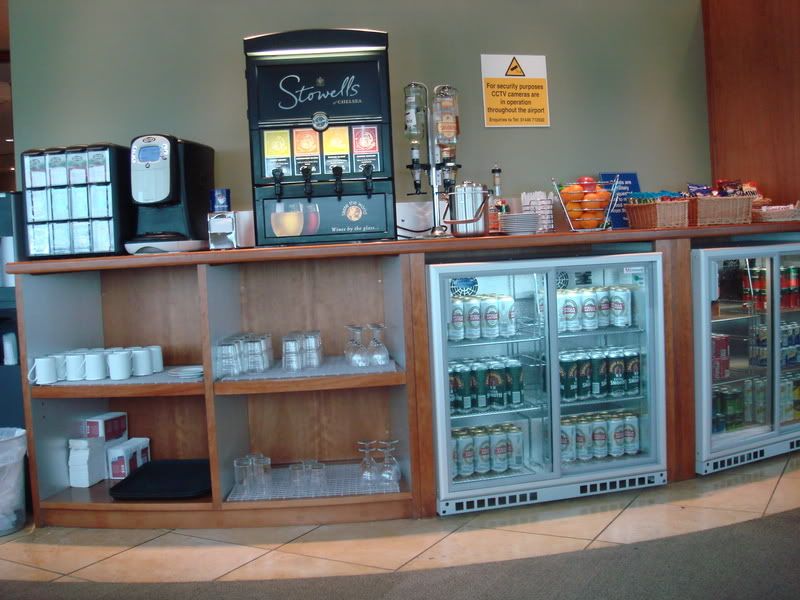 The lounge gives good views of the car park and surrounding countryside, not to mention the BA maintenance hangar and the (now closed) drop off area outside the terminal.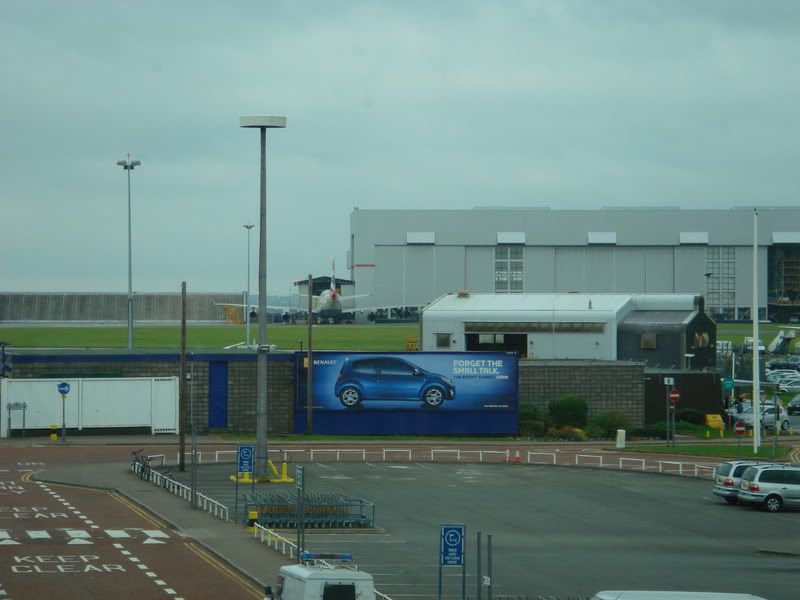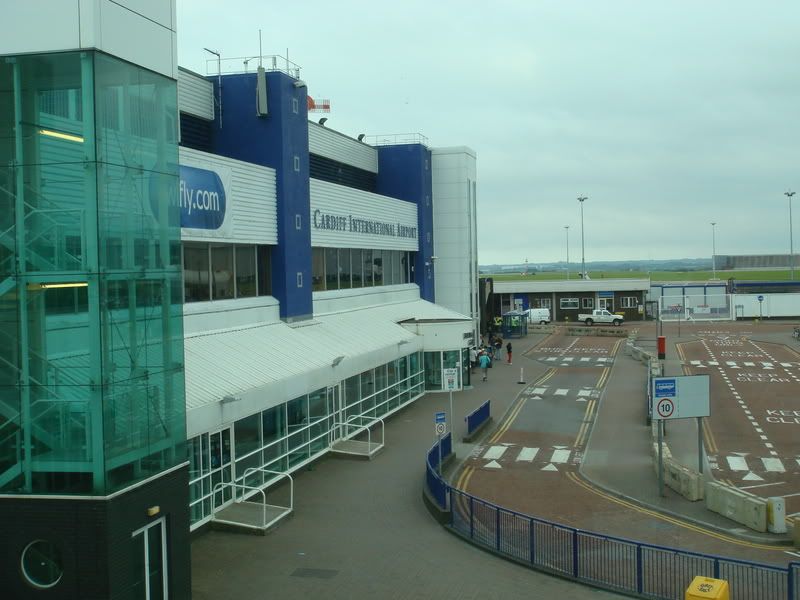 You can also see a part of the taxiway. During my wait in the lounge, the delayed Onur Air A321 arrived from Dalaman, and a WW737 arrived.
A typical mix of CWL departures: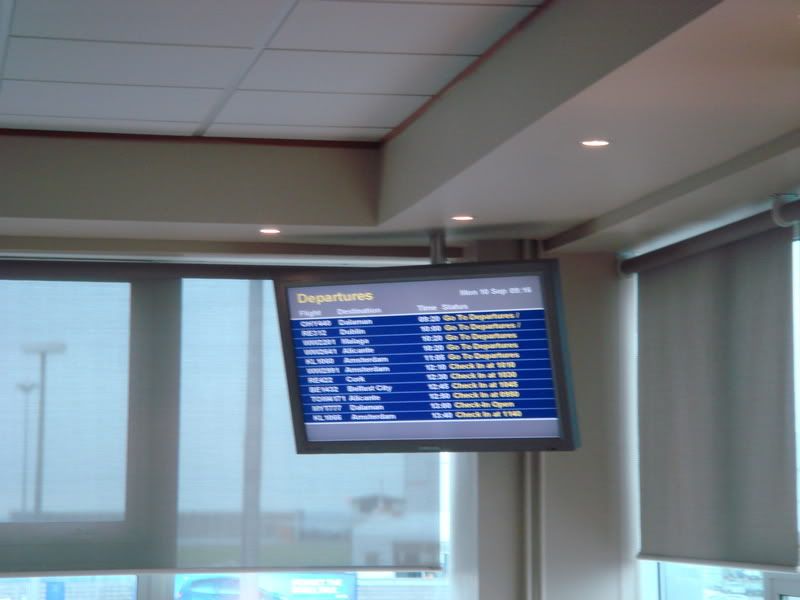 My flight was due to board at 09.30 for a 10.00 departure. The incoming aircraft didn't arrive until 10.03, due to a technical problem earlier in the day. I subsequently found out that it had performed the early morning GWY- DUB rotation and picked up a delay in GWY, with a knock on effect for the DUB-CWL flight.
Boarding was announced at 10.10 and I made my way to the gate.
A shot of the ramp- the ATR-72 taking me to DUB is on the right.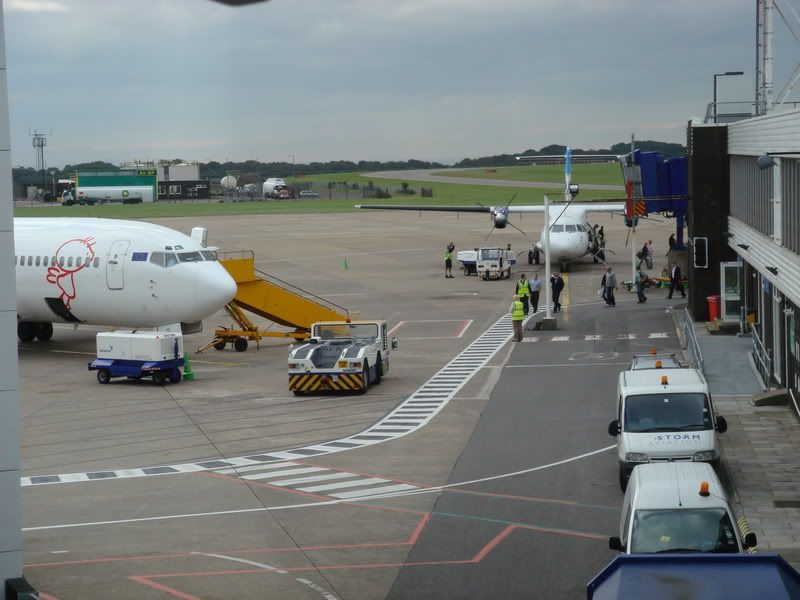 RE0312 CWL-DUB
Dep CWL: 10.00 (10.45)
Arr. DUB 11.10 (11.40)
ATR-72 (Didn't get the reg)
Load factor: 100%
The cabin of the ATR looked a bit worn, but was clean and the legroom is not too bad.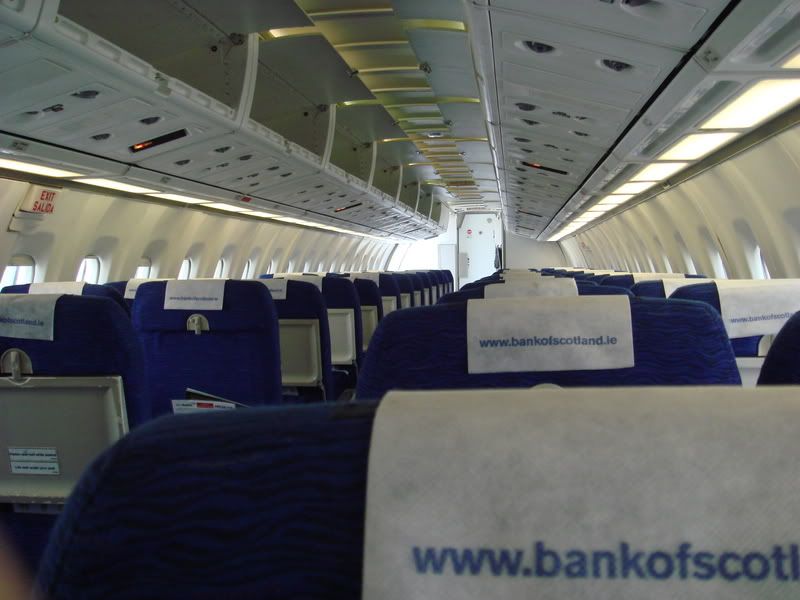 Boarding was via both front and rear steps, according to row number. It was going to be a full flight today, and the cabin soon filled up. There was a male and a female flight attendant. The male attendant made repeated announcements about stowing bags carefully and welcoming us on board, but he spoke so rapidly that he could have been telling us that the plane was on fire, for all we knew! Clannad and Enya tracks were played over the PA- ok, so we get the message- this is an Irish airline!
I was disappointed that the window was so dirty and smudged, which would not be good for taking photos inflight. I was back in Row 15, which would give me a good view.
No, it wasn't foggy at CWL- the window was dirty…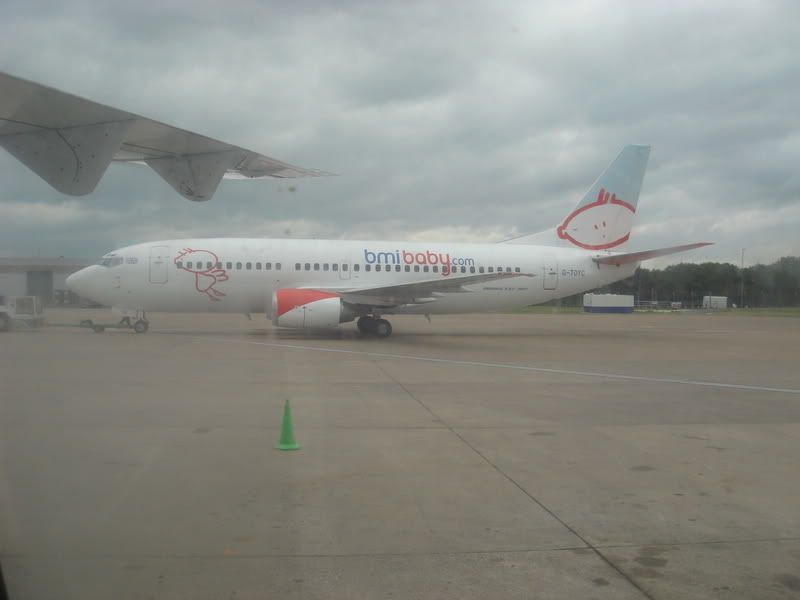 Irish newspapers were handed out and the Captain made an announcement apologising for the delay, and gave us some information on our routing- taking off in a westerly direction over South Wales, to Strumble Head and then heading north west over the Irish Sea to DUB, with a cruising altitude of 19,000 feet.
We were soon on our way, making a fast taxi to the holding point for a rolling take off. The only other planes at CWL were the KL F70 to AMS, the Onur A321 to Dalaman, the WW737 to AGP, and the Highland J31 to Ynys Mon. There was also a BA744 in for maintenance.
The green and undulating Welsh countryside soon gave way to patchy cloud, but there were some good views to be had on our way to the west coast of Wales. Soon after take off, cabin service started. Aer Arann have a selection of snacks and drinks for sale. Most passengers that morning seemed to buy something.
The Teifi estuary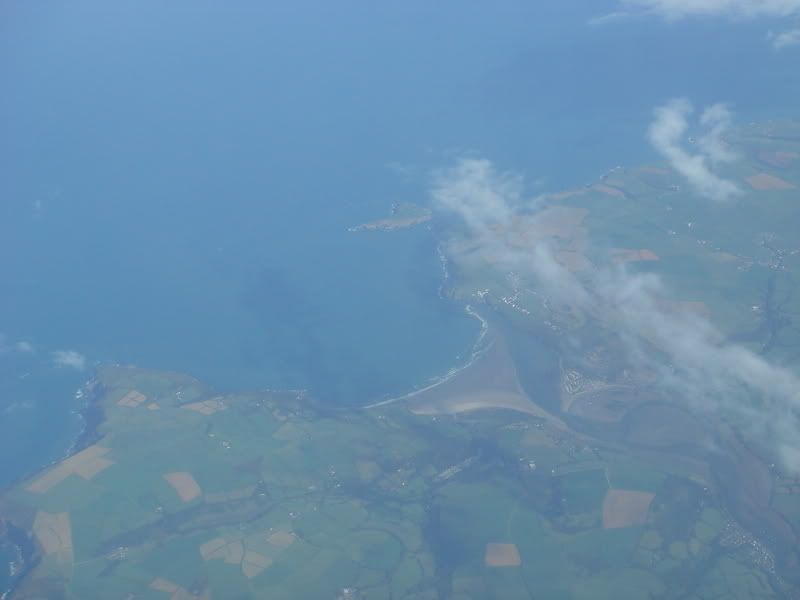 Leaving Wales behind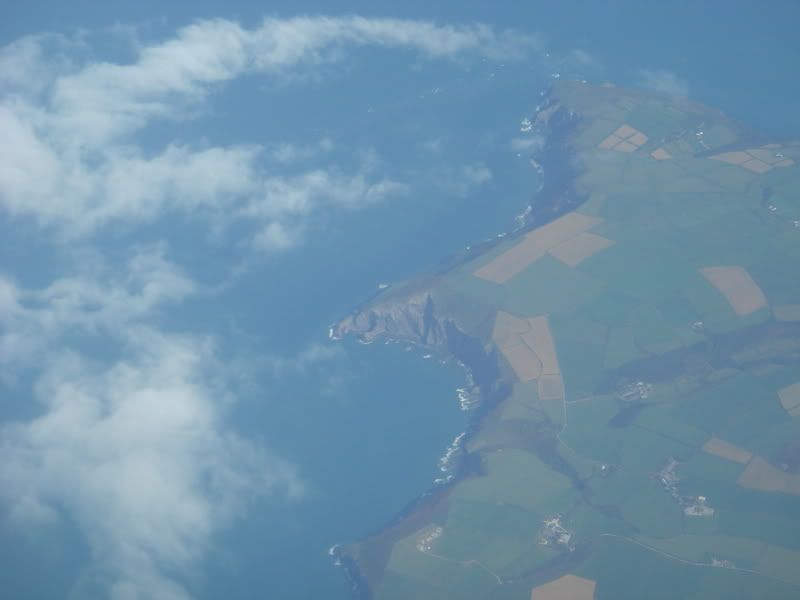 We turned in a north westerly direction over the Irish Sea. By now it was glorious flying weather, with no clouds and we could see the sweep of Cardigan Bay and the mountains of Snowdonia in the distance.
Cloud built as we approached the Irish coast.
Nice beaches they have in Ireland!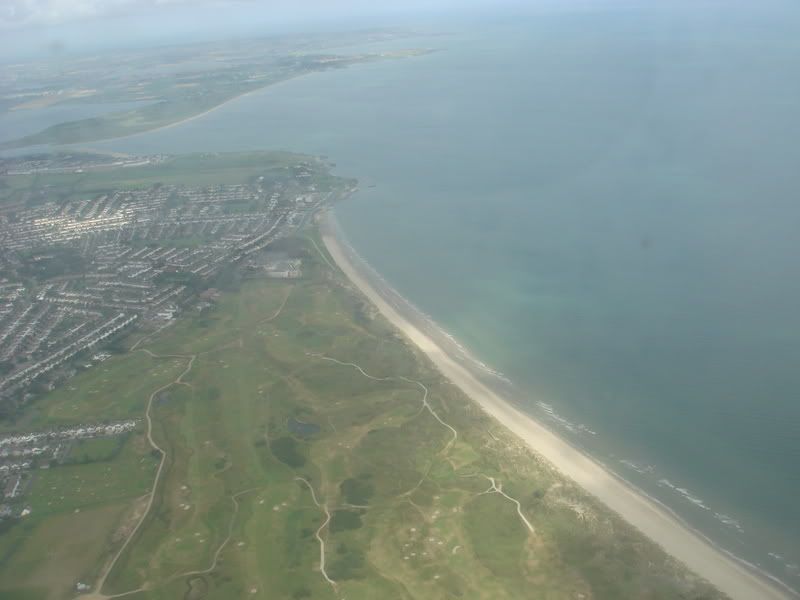 On finals to DUB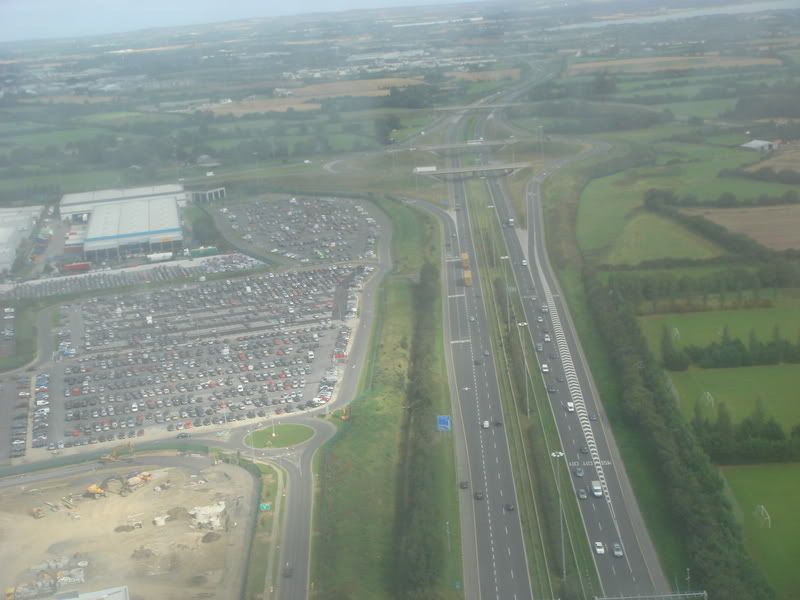 EI, OK, LH and TK at DUB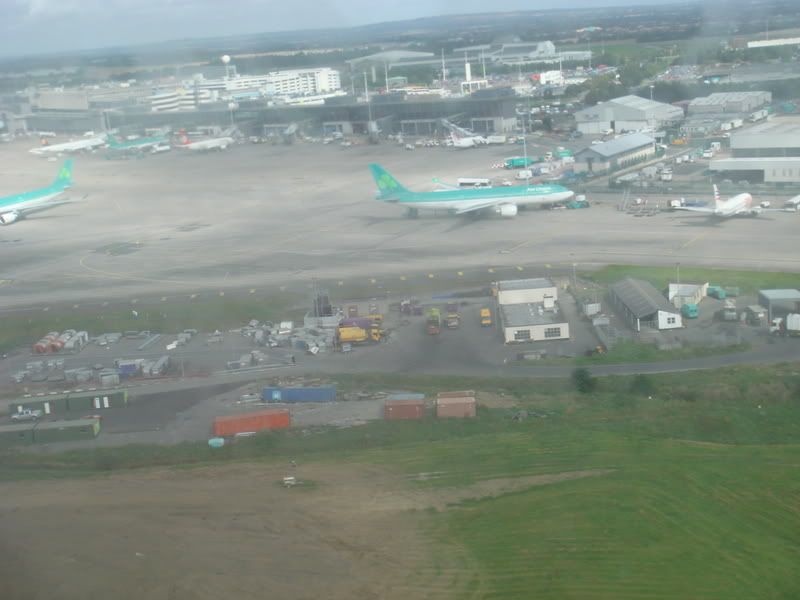 Holding for our arrival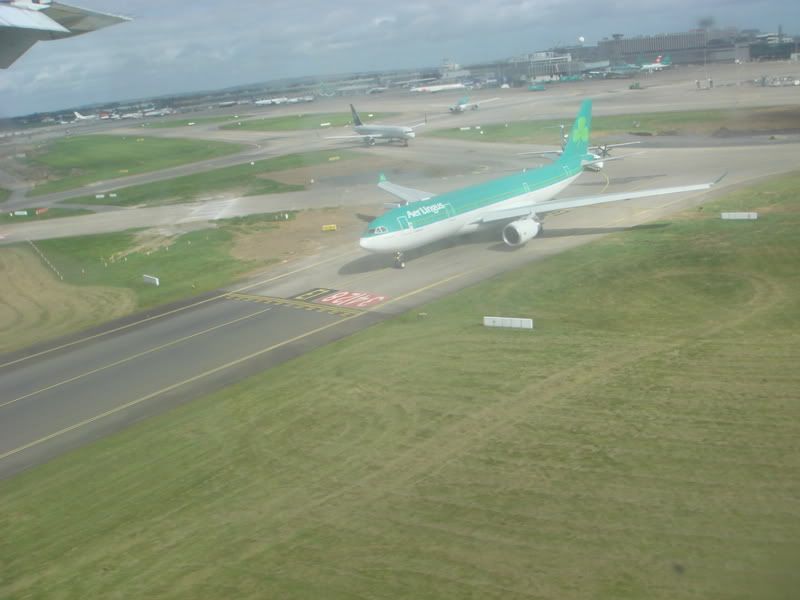 Taxing to our stand, it was unmistakeable- we could be nowhere else than Dublin, home of Aer Lingus. We parked at the end of Pier A, alongside several other RE machines at about 11.45, so we had made up some of the time, but still arrived delayed.
I heard one of the Crew saying that the aircraft that we had travelled on would fly on to Dinard for maintenance, and that they would next be working the 13.25 flight to ORK.
Passport control was very busy, with lots of disgruntled, and frankly rude passengers jostling and pushing to get ahead in the queue. Arriving at Dublin was quite a stressful experience in some ways- the airport does feel very crowded and over-used, but hopefully the new terminal will alleviate this. I also thought that the baggage reclaim area was very dark and dingy.
I caught a cab into town in bright sunshine and soon I was in O' Connell Street.
Here are some of the sights of Dublin:
O' Connell Street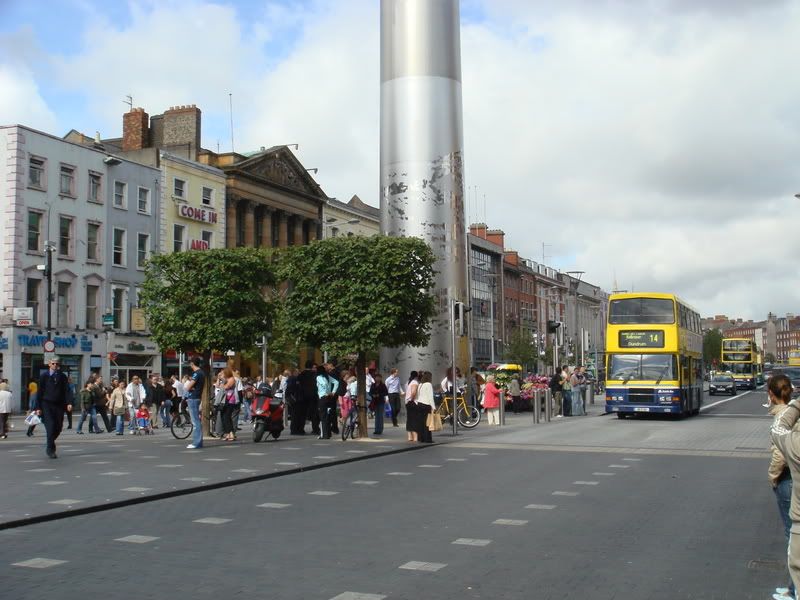 Halfpenny Bridge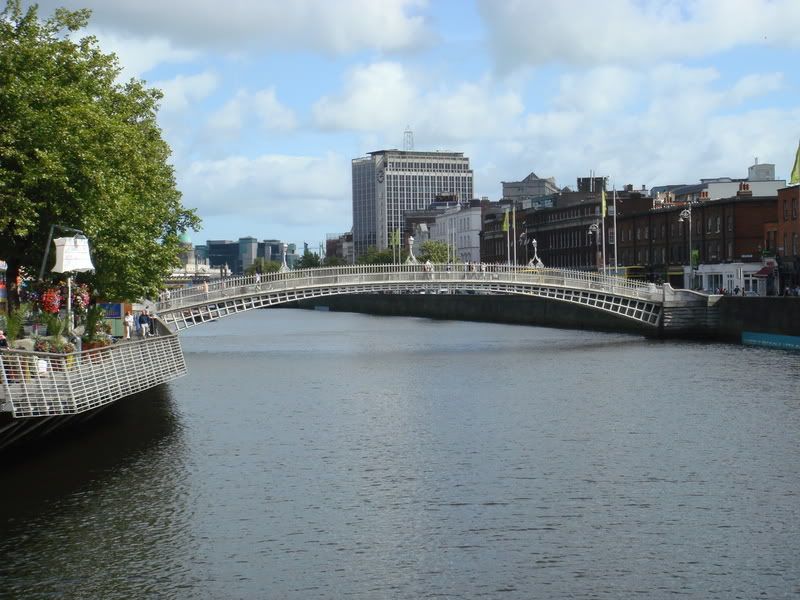 Trinity College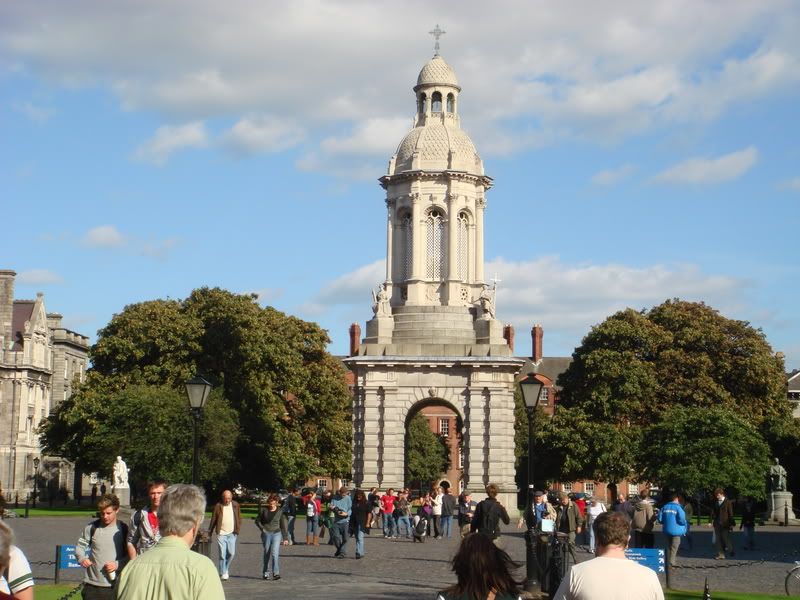 Famine Statues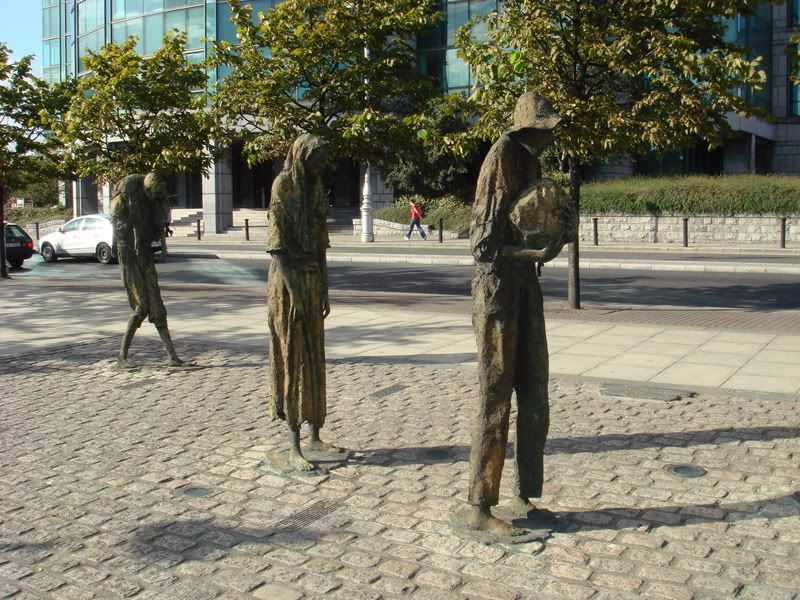 Custom House
As my flight back to Cardiff was leaving at19.15, and mindful of how horrendous traffic can be in Dublin, I decided to head back to the airport at 17.30. The traffic was indeed horrendous, and we eventually took a detour via the new port tunnel to get to the airport. A toll of 12 euro is enough to keep the tunnel almost traffic free, but at least I got to the airport on time.
Despite the range of Aer Arann evening flights to many domestic and UK destinations, I was surprised to find no one at the Aer Arann check in desks, so I received my boarding pass immediately.
Most security channels were open and I passed through very quickly, despite having to remove my shoes and belt. I was impressed with the efficiency of Dublin airport for departing passengers, but perhaps I was just lucky?
I did some shopping and thought about visiting the Anna Livia lounge, but decided to do some spotting instead, as it was a glorious evening and perfect for spotting.
The A pier, which seems to be shared by Aer Arann and Ryanair, was showing signs of heavy usage- it really does look down at heel, but there are some good views to be had.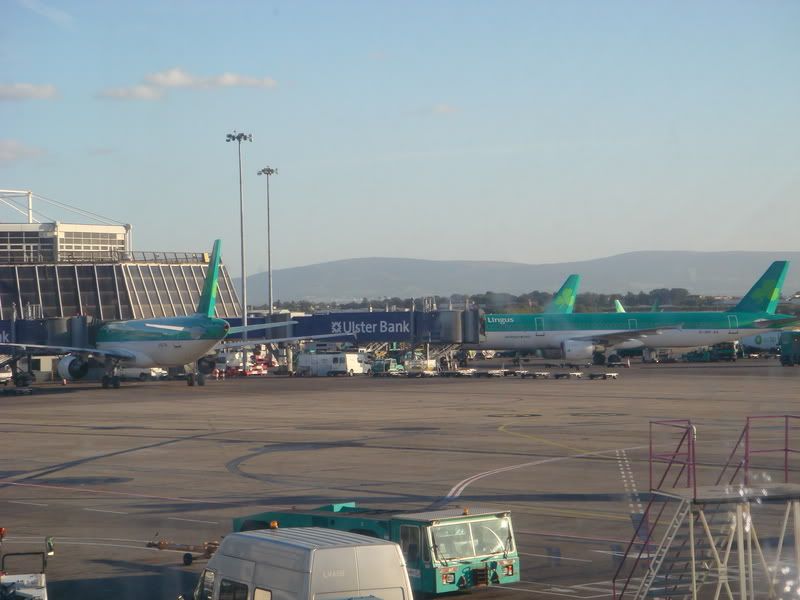 At the Aer Arran gates there were flights to many domestic and UK destinations, such as Kerry, Donegal, Galway and Birmingham. There were also FR flights to EMA and LGW, and an EI departure to Vienna.
Boarding in the evening sunshine was relaxed and unhurried, in the lengthening shadows of a clear evening.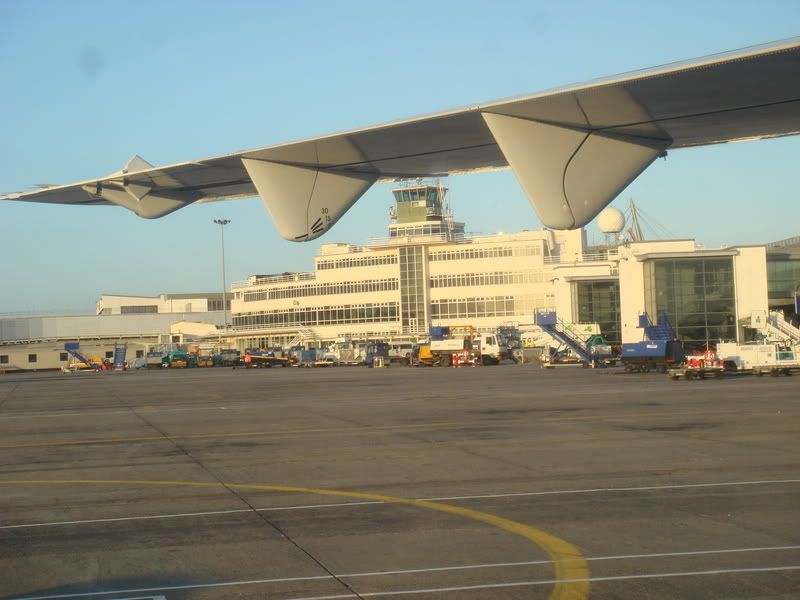 RE0315 CWL-DUB
Dep CWL: 19.15 (19.25)
Arr. DUB 20.25 (20.07)
ATR-72 (EI-REL)
Load factor: 80%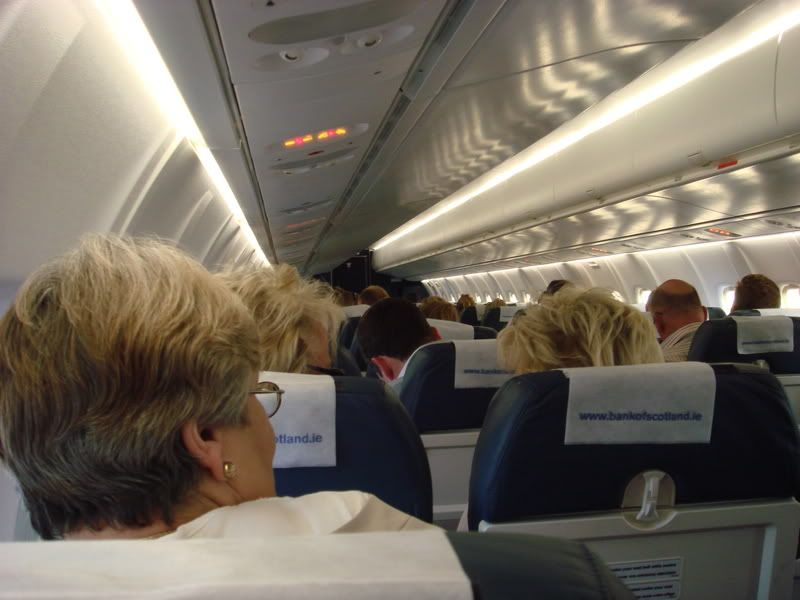 This photo sums it all up!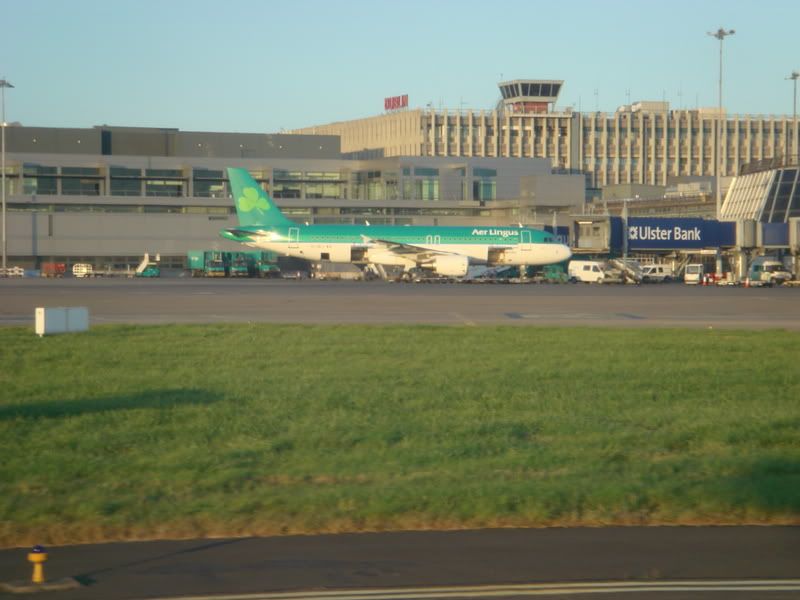 The load on the return flight was in the region of 80%, and the ATR 72 looked almost brand new. This ATR had the concentric circles colour scheme. RE seem to have so many liveries at the moment. Will this scheme be their new colours? Does anyone know why RE have so many different schemes? They are almost as bad as bmi!
There were 2 female flight attendants, one Spanish and one Irish; both very friendly and helpful. It was a short taxi to the holding point, where we waited for an FR738 to land before powering down the runway.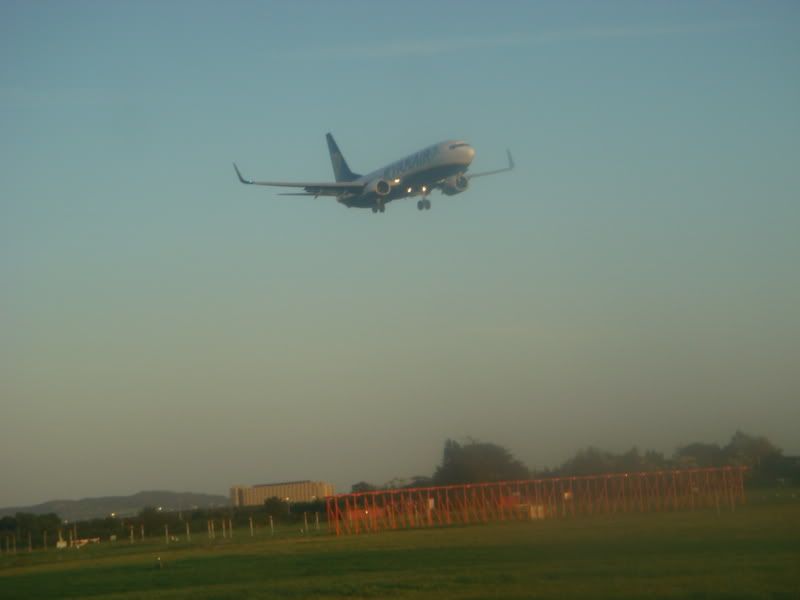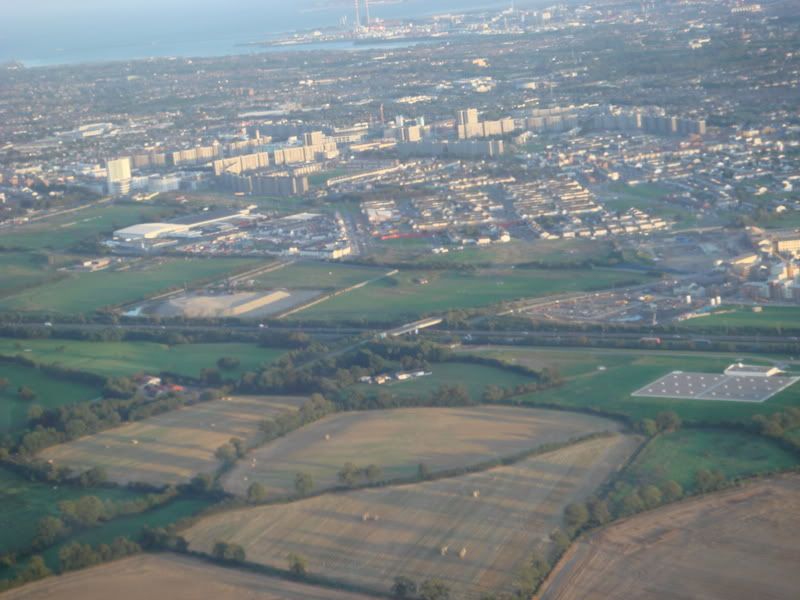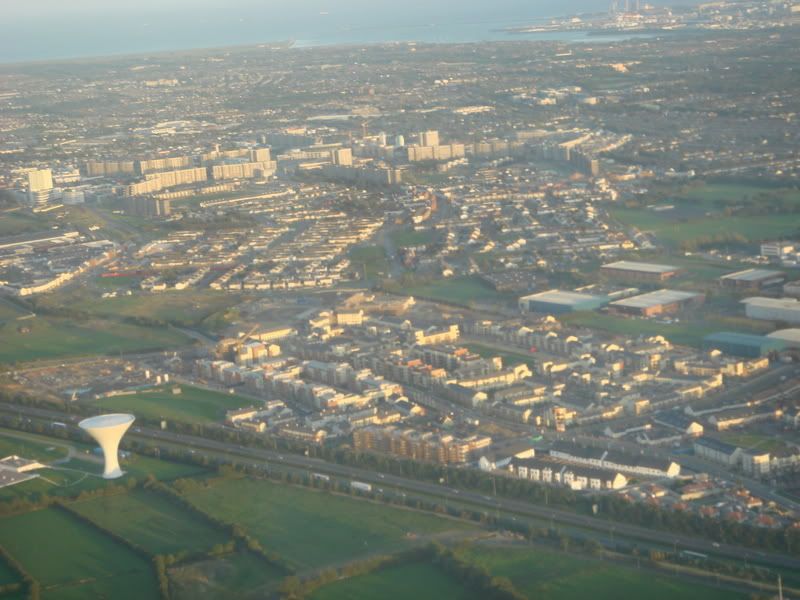 We flew right over the centre of Dublin and I looked down on the places that I had visited only hours earlier.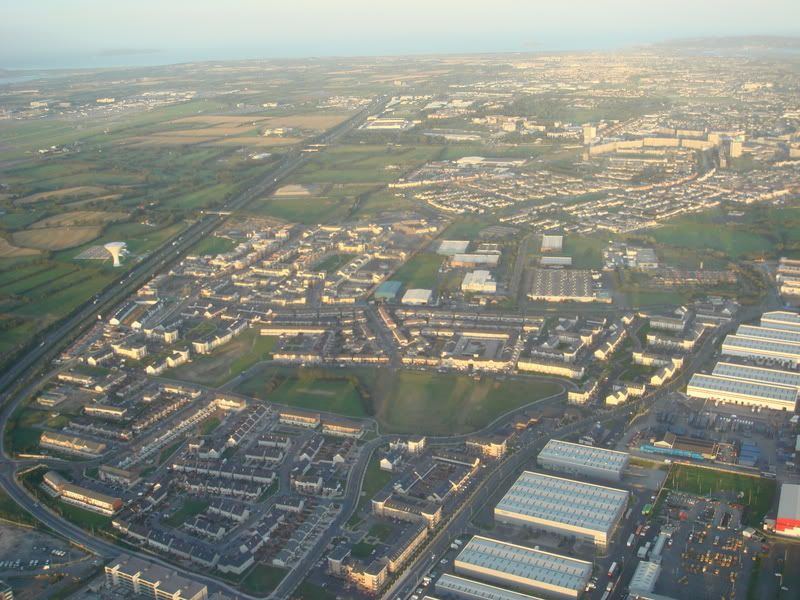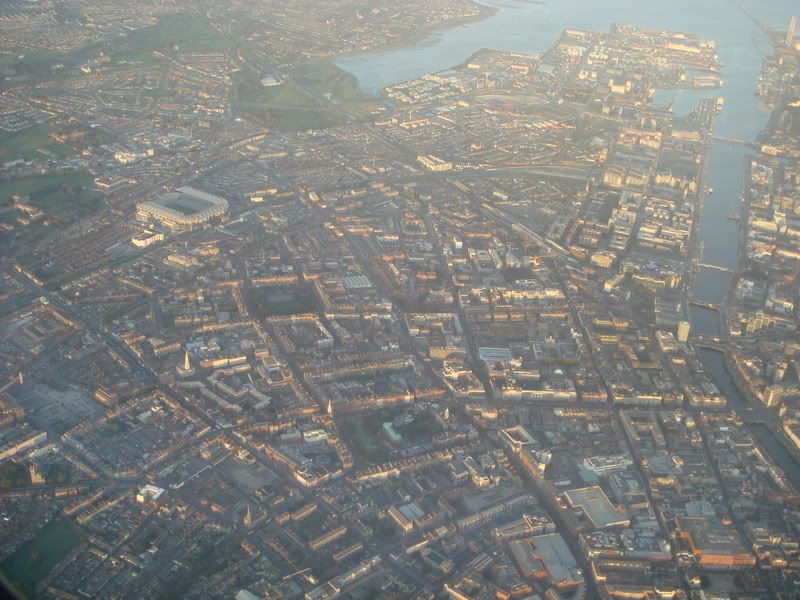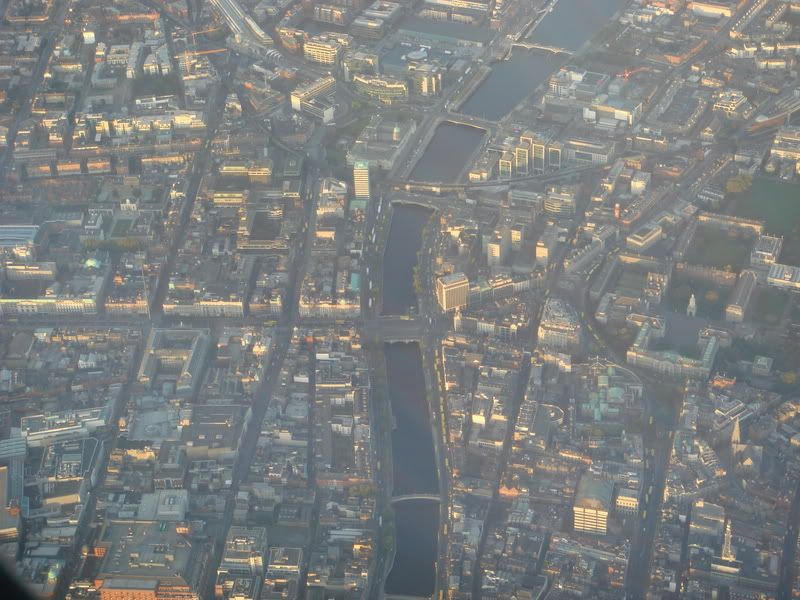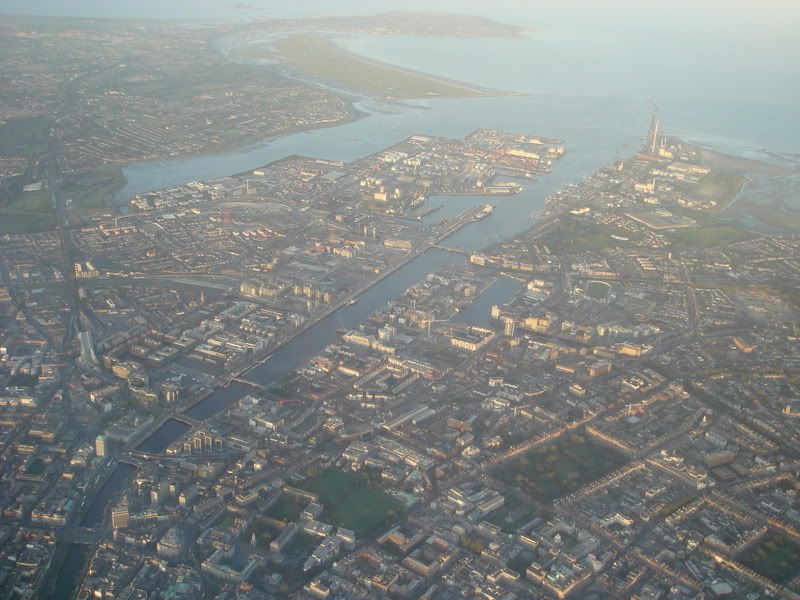 We flew southwards parallel to the coast before turning out over the sea,
Is this Bray?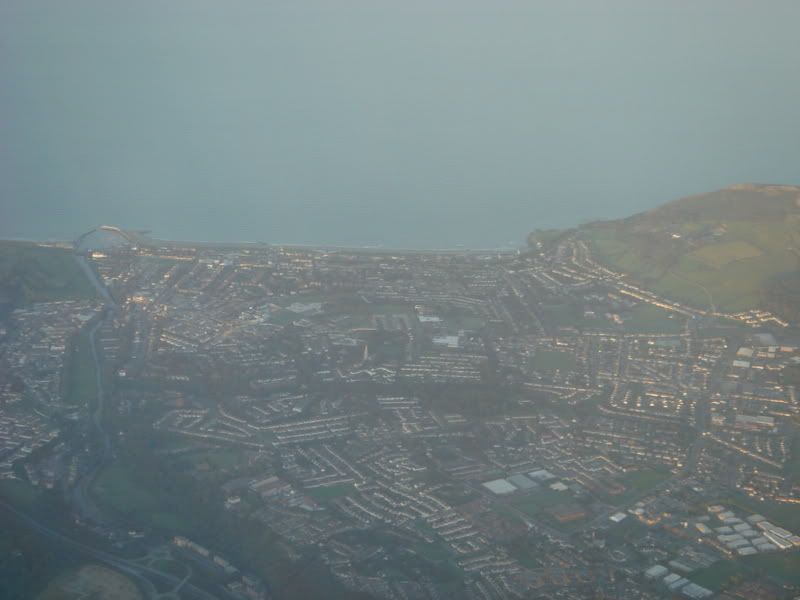 Although the buy on board menu was advertised by the crew, it was half an hour into the flight before anything was offered, and even then, they were unable to offer hot drinks. A technical problem, or not enough time?
I had a beer and some Tayto's- a last taste of the Emerald Isle!
By now we were over Wales again, making landfall at Cardigan and heading east over the Preseli Mountains.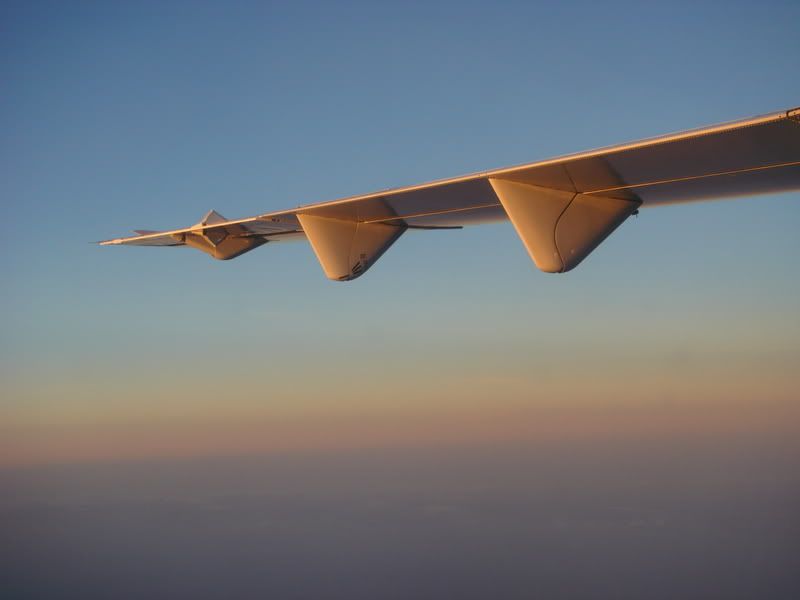 I was shocked to see the visible scar that the gas pipeline is making across South Wales- it was clearly visible from the air. I could also see Llyn Brianne in the distance, where I had been the previous day.
We began our descent to Cardiff flying to the north of the city, turning south at Junction 29 of the M4 (A48(M)), and heading out over the Bristol Channel.
The city of Newport in the distance, and J29 of the M4 in the bottom roght-hand corner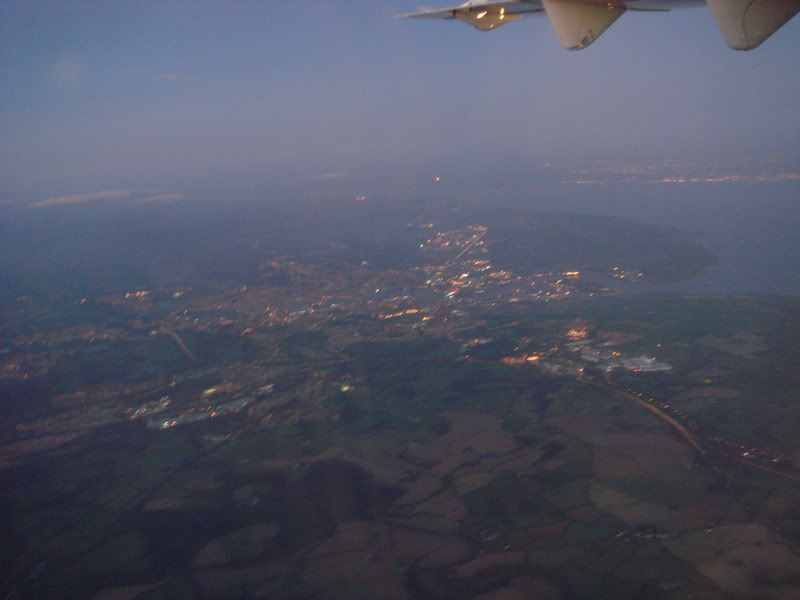 We seemed to head quite far out over the water and were quite near to Weston at one point. I was beginning to think that we would land in Bristol…
Finals into CWL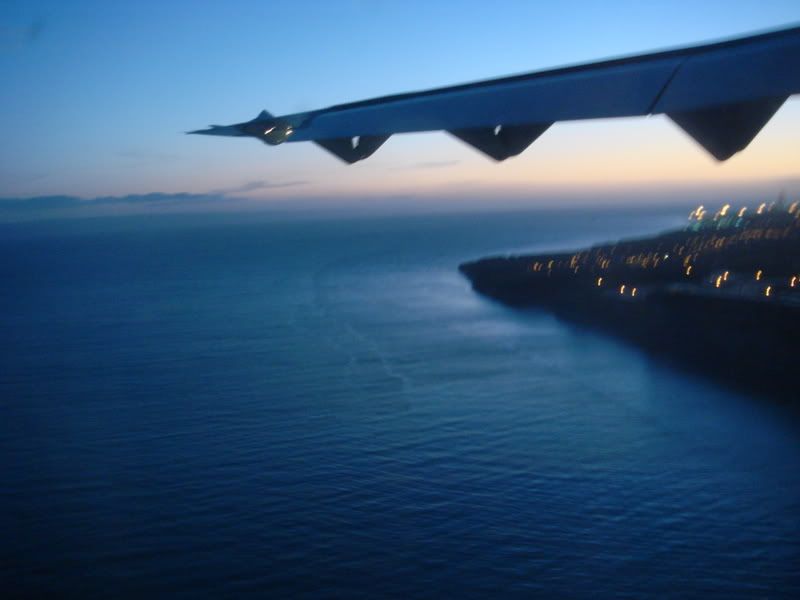 Font-y-gary Caravan Park Yay!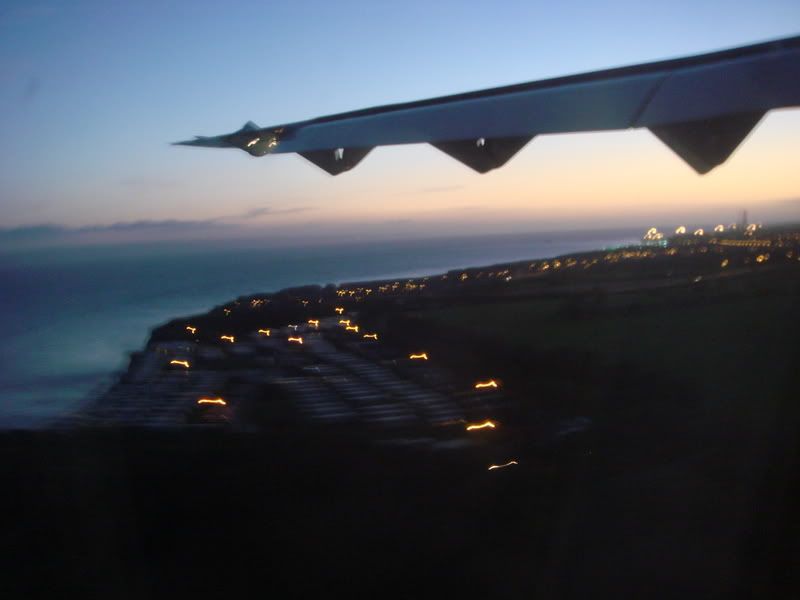 The ramp was fairly quiet at CWL and we made a fast taxi to the stand.
Home again.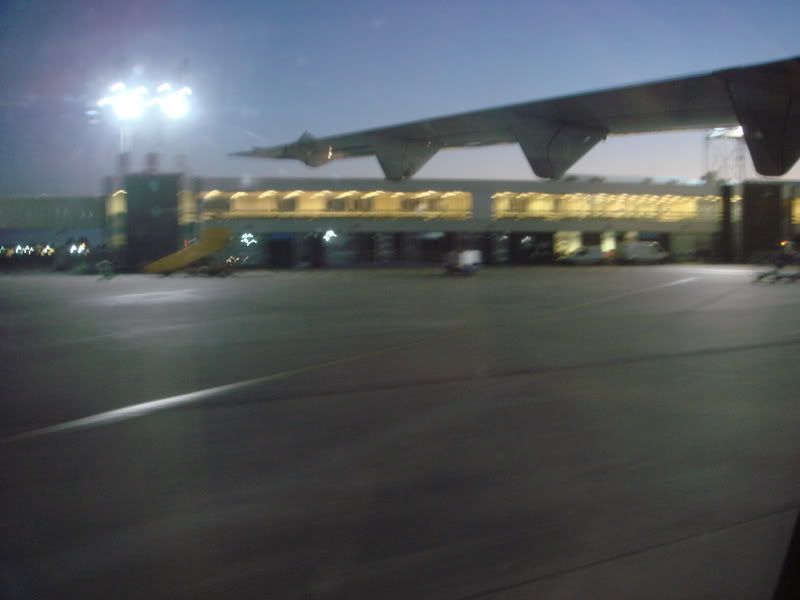 Passport control was quick- they didn't even want to see my passport, and I was soon driving home.
All in all, a great day out. I wanted to try Aer Arann for a long time, and they offer reasonable fares if booked far enough in advance. They have an expanding network from CWL, serving DUB, OKR, GWY and NTE. Loads on both flights were very healthy indeed, and I hear that all their routes out of CWL are performing strongly.
Service was warm and friendly and it was a pleasure to fly from Cardiff again. Although it feels like Toytown airport, and needs an upgrade, it is hassle-free from the passenger's viewpoint.
Thanks for reading the report, and look forward to questions and comments.