This is my very first trip report here, please apologize for the lousy quality of the pictures as well as their limited number, thank you.
I arrived at Luxembourg airport at around 9 AM only to find the smallish old terminal 1 crowded as hell (the usual Saturday morning rush!) The check-in line was scaringly long but moving rather fast so it took less than a quarter of an hour to get my boarding pass. The lady at the counter told me that I'll have to go to the Transit desk once arrived at CDG and there I'd get my ticket to JFK. My luggage was checked through to JFK though. I proceeded through the security check without any further delay since the line there was long as well.
Date: Saturday 15 September
flight:LG8013
Route:LUX-CDG
Carrier: Luxair
Equipment: Embraer EMB 145LU
Reg: LX-LGX
View Large
View Medium


Photo © Luc Willems
We went through gate A2 and walked down to the aircraft since it was standing close enough to the terminal to not require a bus service. Boarding the ERJ was rather quick. I was in seat 16D on the right side of the aircraft-the one with the two seats. The guy sitting next to me pulled the window shade down as soon as we got airborne . Why on earth people wanna have a window seat only to keep the window shade closed for the entire flight is beyond me. The two seat rows in front of me were occupied by a flock of 4 rather fidgety and noisy 4-5 year old children with their mom and nurse sitting in 15A and 14A respectively. The 2 ladies were having a hard time trying to get them children to behave and remain seated for the whole flight and sometimes I couldn't repress a chuckle at the jokes they pulled. The children were not bratty or annoying - just a little bit too lively but I felt sorry at times for the lady and the nurse.
We took off from runway 06 - right behind Luxair EMB-145 LX-LGZ which is the first ERJ to sport the new stylish Luxair-livery. Soon after the seat belt signs went off meal service kicked in. The flight lasted only about 40 minutes and the F/a's had a lot of work to do since it was a full flight. The breakfast consisted of the usual lunch box with a cheese/ham sandwich and a chocolate cake as well as orange juice and mineral water. We landed at runway 09R at CDG at 35 minutes past 11 and were parked at a remote stand, then bussed to the terminal 2D.
CDG is one HUGE airport - connecting between 2 terminals can be time-consuming esp. if you're not familiar with it or don't have much time for transit. Thankfully I had plenty of it since my flight to NY was only leaving at 5 minutes to 4 PM so I decided to walk to my assigned terminal. After having gotten my boarding pass at the transit desk I headed to terminal 2E. Still I couldn't help but being impressed of the sheer size of the terminals - hell - the entire friggin' airport! I used to think of CDG as one nauseatingly fugly airport with all that visible concrete esp. in the terminals 2 A-D, but the more I'm looking at it the more it's growing on me. The architecture (designed by Paul Andreu) is futuristic and lofty esp the terminals E and F with their huge curved roofs covered with wood panels.
Arrived at Terminal 2E I double-checked on the screens that my flight was really going to leave from gate E53, which is located in the new satellite S3, east of the concourses F and E, the latter has been rebuilt after the collapse of a small portion of the structure in 2004. S3 is a huge rectangular building 750 m in length, perpendicular to the terminals 2E and 2F. It will also be able to accomodate 6 A380's. The south end of it has a salon with lounge chairs, out of which you can watch the traffic on runway 08L/26R close up, very neat.
Date: Saturday 15 September
flight:AF010
Route:CDG-JFK
Carrier: Air France
Equipment: Boeing 747-428(M)
Reg: F-GISD
The aircraft was already sitting at the gate. So the good ole 747 was going to carry me across the pond one more time. It's the first time I had one in Air France colors though. I've been looking forward to this flight for quite some time since I knew of course I was gonna fly on a 747. I hoped and prayed there would be no change of equipment at the very last minute on this one and thankfully it didn't happen.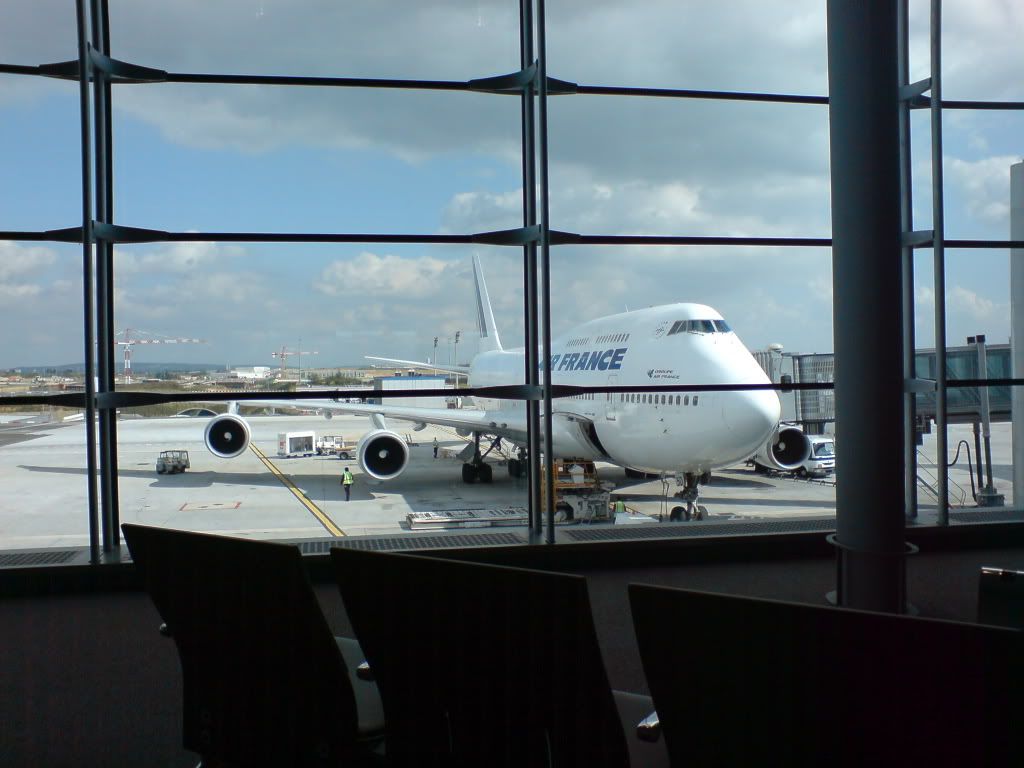 Boeing 747 at gate E53. Construction work for the new Terminal 2G can be seen in the background
Boarding announcement was at 3 O'clock sharp.
I had an aisle seat (32C) on the left side, the middle seat was empty and the window seat was occupied by a french woman in her late 20s. (I think
). Sitting in the row in front of me was a young couple with their baby and thankfully it didn't cry THAT much during the flight.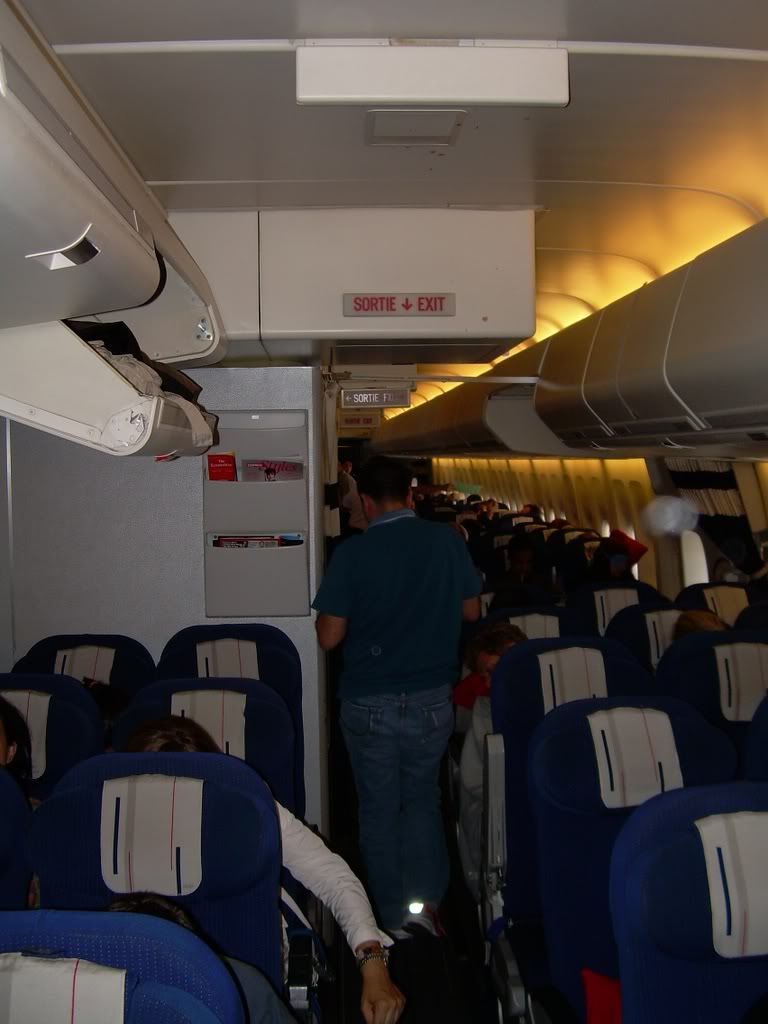 We were forced to wait at the gate because of bagage that was missing and that had to be loaded subsequently, delaying our departure 55 minutes.
Finally, at 10 to 5 we took off runway 08L - with the characteristic loud bang heard on 744s at lift-off - for what was to become the smoothest Atlantic-crossing flight of my life. Pratically NO turbulence all the way! It was a great flight indeed!
Soon after the seat-belt signs were switched off the (very friendly and welcoming) AF flight attendants started to distribute menu cards. I'll leave it to you to read the details, the choice was not bad (I went for the chicken fricassee which was really good)
I found the idea with the little menu cards cute and I haven't seen that on the other airlines I've travelled with so far. Not that it's a big deal but it's one of these little things that make a big difference.
This 747 has no PTVs, (Not that it matters to me) but has the usual screens on the cabin ceiling. I know of a handful of AF 744s that have been fitted with PTVs in Y class though. The aircraft interior was in rather good condition and I really enjoyed the flight - for reasons already known to you.
After lunch a movie was showed - Mr. Bean's holiday - which made for a good laugh (if you like Mr. Bean that is) followed by a National Geographic-documentary.
Less than 2 hours before arrival we were served a snack ( sandwich with orange juice and white yoghurt.) and I ate/drank everything as usual. (I always get so terribly hungry on airplanes).
Finally the captain announced that we were about to descent to JFK, and at 20 minutes to 7 PM local time we made a rather bumpy landing on runway 31R. Taxiing to our gate at Terminal took quite an amount of time before we arrived in front it - the last couple of metres we were being towed-in.