Hello everyone,
This report outlines 3 Y class trips on TG's A300-600, FUK/BKK, BKK/SIN, BKK/FUK.
Fukuoka, Japan (FUK) has a small international terminal (the new one opened in the late 1990s) with three domestic terminals that share a single runway. FUK is the third biggest/busiest airport in Japan. Surprisingly, JL is the only Japanese carrier serving an international destination from FUK (to PVG using 767). All carriers to/from FUK are Asian. QF, AO and DL used to fly here directly. Most routes served by smaller aircraft (737, 319, 320) with some major carriers using 333. SQ and CX use 777. Star Alliance carriers include TG, OZ, SQ and NH (domestic). There's a small NH lounge in the international terminal with a spartan supply of F&B. It is not located airside and has no windows but it is very close to boarding gates and is peaceful, which is more than can be said about some other lounges.
A300-600 sector #1 August 5th, 2007.
TG649 FUK/BKK Seat 37J Loading: 90%
Scheduled dep: 11:45 Scheduled arr: 15:05 Flight time: 5 hrs 10 min
Actual departure and arrival near scheduled.
TG649 is perhaps the longest current TG AB6 route.
Today, we flew on HS-TAY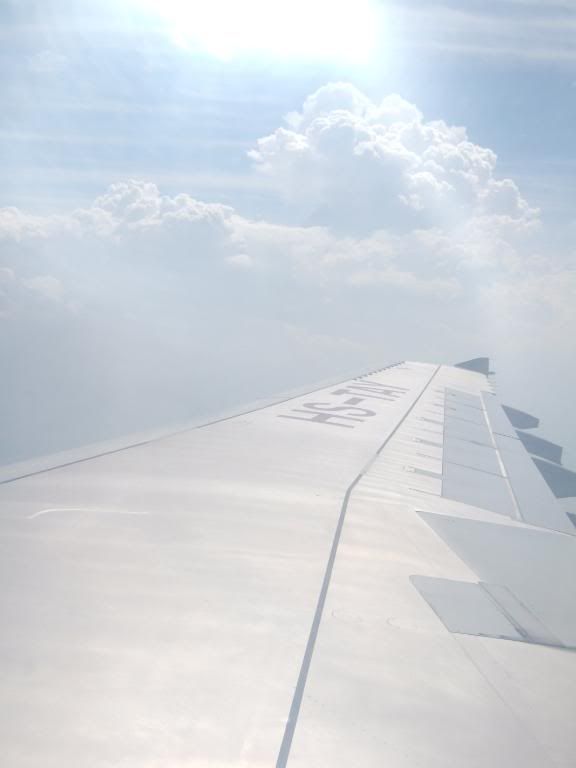 The leg room in Y on TG's AB6 is not bad. Even if it is a standard 32" pitch, it seems more.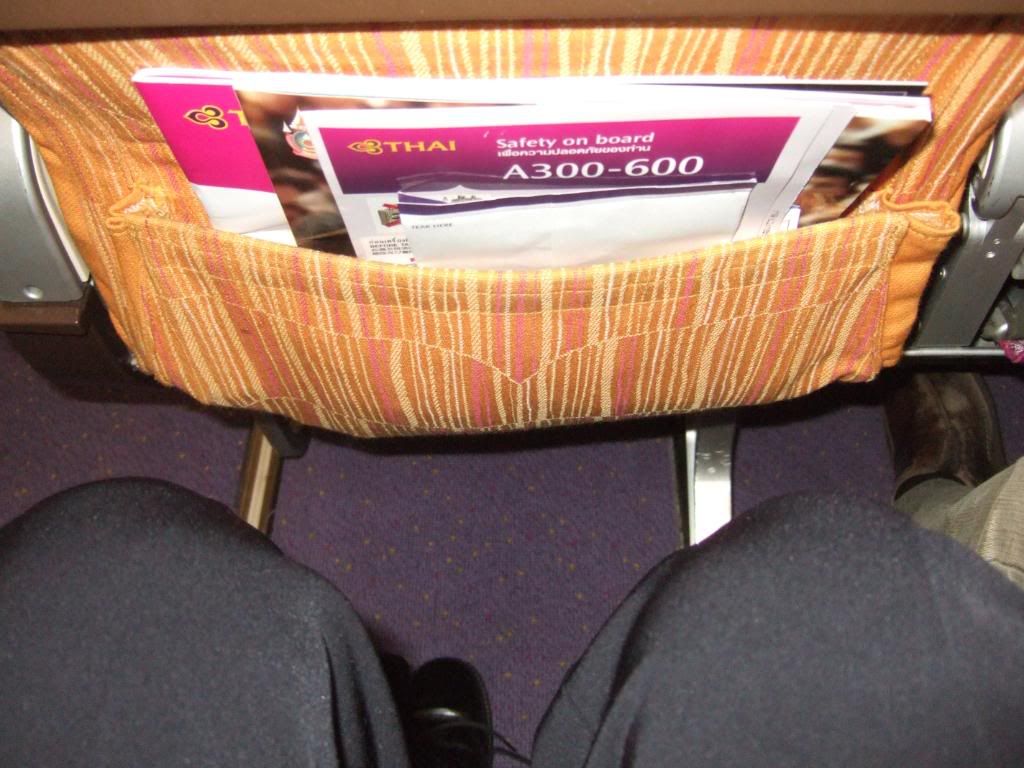 Meal service included lunch. There were two choices of hot meal. This was red curried fish and it was excellent! The fish tasted great, the curry was tasty with kaffir lime leaf. The chocolate dessert was also great.
The famous Singha beer. Note that the can was served unopened and with no paper napkin or nuts/pretzels (nor was the second can). Nuts available on request.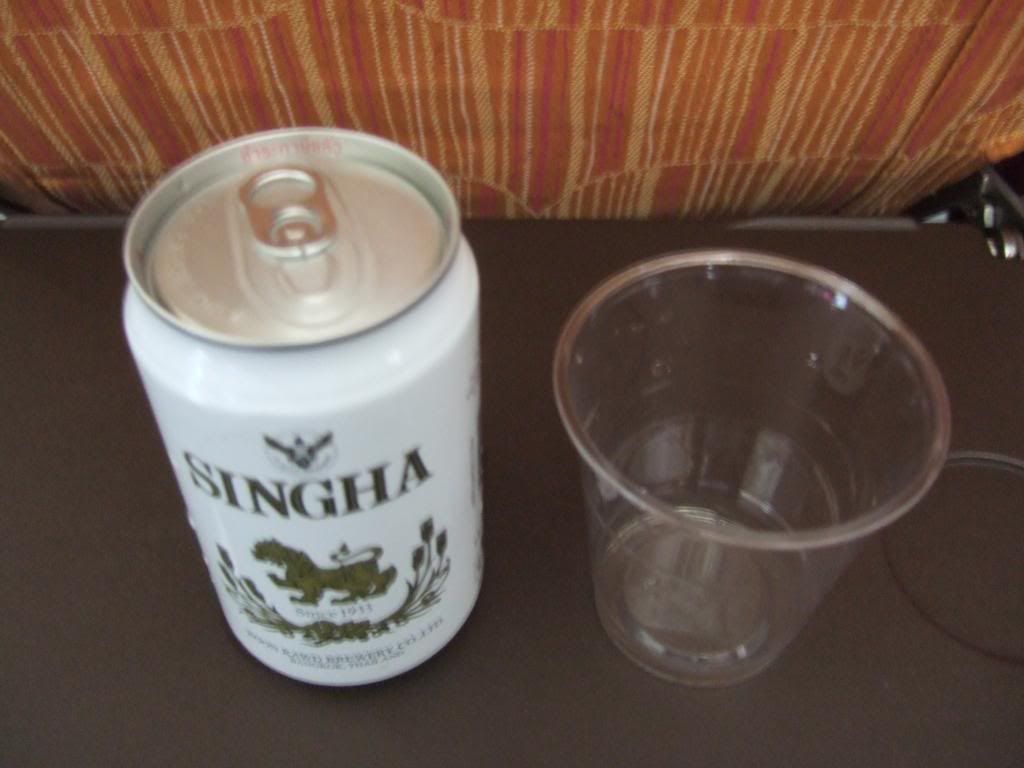 This pic is meant to show the general cabin with old interior design.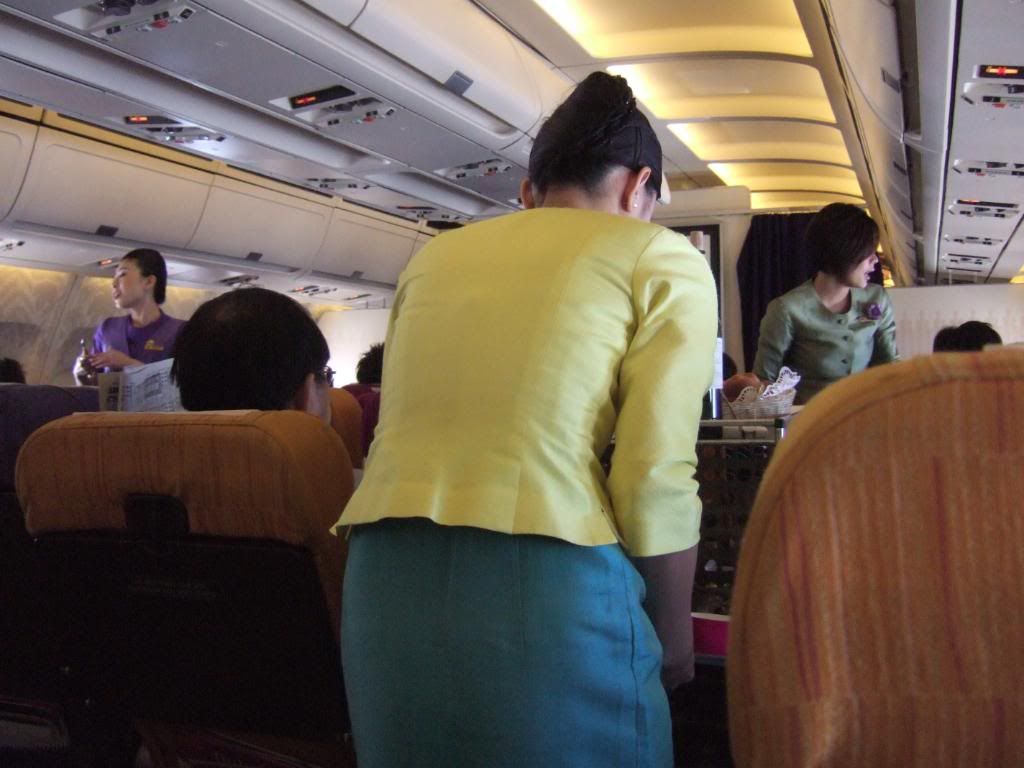 The old pattern around the windows also features on the walls of the bulkheads, toilets and galley.
The rear galley of the AB6.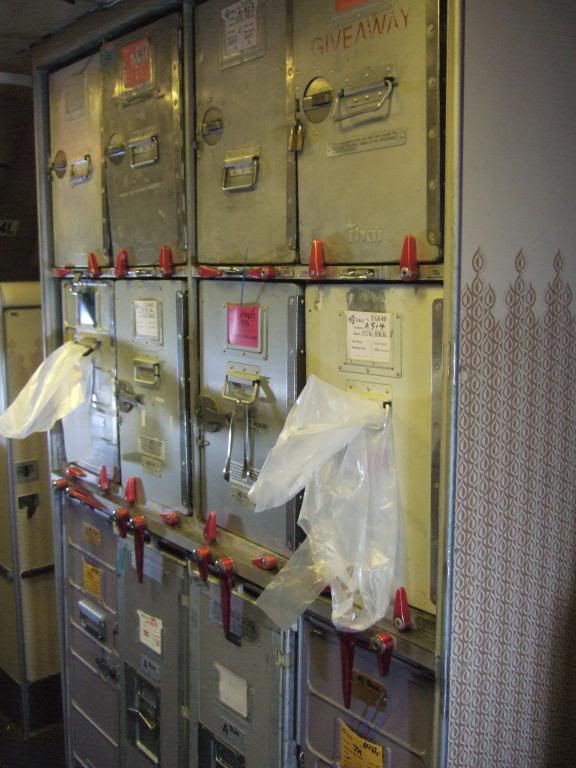 Despite dozens of trips on this sector on TG's AB6, this was my first time to travel with this particular configuration Version 36R1, which has J seats forward and extending from the forward galley (46J/201Y). Seat Guru shows 48 J seats. According to the TG website, there are 10 AB6 with this configuration. The other versions have 28J and either 233/Y (4 aircraft) or 232Y (5 aircraft).
It was also my first time on TG649 to arrive at a gate at BKK (Suvarnabhumi) instead of remote park & bus to terminal.
A300-600 sector #2 August 7th, 2007.
TG411 BKK/SIN Seat 41J Loading 33%
Scheduled dep: 12:55 Scheduled arr: 16:10 Flight time: 2 hrs 15 min
Actual departure and arrival near scheduled.
This flight was on HS-TAM
Meal service included lunch.
There were two choices of hot meal; chicken or fish. The smoked duck salad was excellent, but was eclipsed by the green curry chicken which tasted very authentic. It was moist, spicy and very flavoursome. The dessert was awful. It was a dry vanilla custard cake with a sweet dried plum/date.
This flight was only about 1/3 full (enabling a second serving of curry if desired).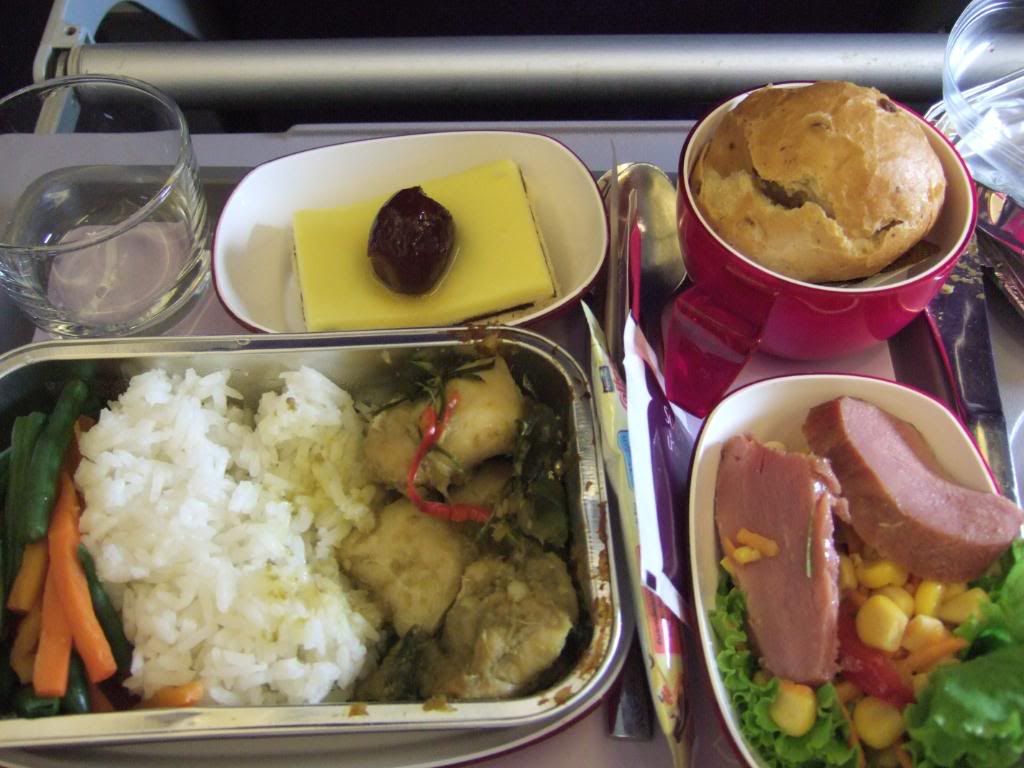 A300-600 sector #3 September 12th, 2007.
TG648 BKK/FUK Seat 37G Loading 33%
Scheduled dep: 0:50 Scheduled arr: 8:00 Flight time: 5 hrs 10 min
Actual departure and arrival near scheduled. The fastest flight I've experienced on this sector was 4 hours.
This flight was on HS-TAY
Meal service included snack and breakfast.
Snack was a few small wrapped sandwiches and drink served immediately after takeoff.
Hot wet cloth towel given before full breakfast. Breakfast choices were Asian or western.
Western choice included omelette, sausage, tomato, hashed potato, fresh sliced fruit, yoghurt. Butter and jam with choice of (cold) croissant, wholemeal or white bread roll.
Food quality is fine, but you have to ask for a small pack of ketchup if you want to add some flavour to the hot meal items.
No pics for this sector,as the red eye flight sapped my motivation for taking any.
On these three sectors, I received friendly, prompt service from the TG crew. Well done (as usual).
The AB6 is a reliable and relatively quiet plane and comfortable for short/medium haul travel.
However, I think overall, there are three main drawbacks to TG's AB6 aircraft:
Y toilets are located only at the rear. There are only 5 of them for 201 passengers on version 36R1 and 5 for 233 passengers on version 36R2, meaning queues at the rear of the aircraft, especially after meals. If you are seated in Y at/near the forward bulkhead on version 36R1, it is 24 rows to the toilets or on version 36R2, 28 rows.
Another drawback is the old overhead luggage bins. Generally speaking, this is not a problem when passengers have limited carry on baggage. However TG649 is full during peak seasons with Japanese and their bags of shopping and souvenirs. The older style bins are certainly not as spacious and well designed as on the 777.
Finally, the J seats are not on a par with any industry standard J seat provided these days. The J seat pitch is only 38" with 18" width and limited recline.
View Large
View Medium


Photo © Poowin Bunyavejchewin
Ironically, in Y, it is possible to lie flat across the four centre seats and rest better than in J.
From my extensive experience travelling on this sector, J loads are consistently high. I would be averse to spend the JPY303865 / US$2630 for J class on this AB6. For just a few hundred dollars more, you could travel from KIX/BKK direct on SQ in J on 777-200/200ER. However, FUK/SIN/BKK in J is much more expensive given the extra sector SIN/BKK.
Can someone provide an update as to when TG will retire the last of their AB6s?
So fellow ANetters, from your experience, do you give TG's AB6s the "thumbs up" or "thumbs down"?