September 12 was the day we moved out of our apartment in Bangkok. The 2.5 years passed very quickly. We arrived at Don Muang in style in CX Business Class back in May 2005, now we were flying out of Suvarnabhumi on a Cebu Pacific cattle truck, requiring three tickets instead of two back in 2005. Needless to say the time in Bangkok was very memorable. As much as I hate 5J, it was really a no-brainer at 7500 THB for 3 pax vs. some 25000 THB on TG.
13 September 2007
Bangkok Suvarnabhumi (BKK/VTBS) – Manila Ninoy Aquino International (MNL/RPLL)
Cebu Pacific Air 5J/CEB 932
Airbus A319-111
RP-C3193
0135-0550 – On Time
Economy Class, Seat 2C
No photos of RP-C3193 in the database
We checked out of the apartment at around 10pm, they insisted on 5pm but thankfully common sense prevailed in the end. I was expecting a major hassle to get my deposit back – after all they had given a list with ridiculous stuff listed like "scratches on the wall, XX Baht per square inch". Surprisingly there wasn't more than the usual scam with the electricity bill – and the idiots
admitted
putting some extra there since we were moving out. How stupid can you be?? THB 3000 was taken off and no further issues getting my money back. Surprisingly easy.
The Filipinos have some weird desire to haul loads of crap back home, my wife being no different. It was pretty hard to fit the 6 bags and a huge box into a regular Bangkok taxi, but at the end we managed. I absolutely hate travelling with baggage, but couldn't really complain this time since the majority of the stuff would end up with the relatives in the Philippines, meaning a civilized amount of baggage for the rest of the trip.
The drive to Suvarnabhumi was quick at 10pm, and one of the cheapest I've had, costing 140 Baht. Feeling generous and considering all the junk we had with us, I gave the driver 300 Baht and he seemed happy. I wanted the huge box plastic-wrapped but guess what? The first time I wanted to use the service, all the wrapping machines are stored at the far end corner of the check-in hall. Not only is the airport very inconvenient to use, they seem to be scrapping services now as well… Thankfully the Family Mart was selling packing tape, I was fuming at this point but nothing I could do.
5J check-in had long lines, and everybody seemed to have a mountain of baggage. Decided to check in two bags and carry on 5, but still had to pay 8 kg excess. That came to 1600 baht. Meanwhile, an American was hassled about visas and return tickets at the counter next to us – an issue I seriously hate about Cebu Pacific. Been hassled twice at MNL myself, they seem allergic to people with one-way tickets. What's more, I'm pretty sure their conditions of carriage say passengers must agree to pay any fines resulting in denied entry, so I don't see what the big deal is. Air Asia usually lets you fly anywhere without showing any proof of anything, have to give them credit for that.
Immigration was surprisingly quick this evening – the ridiculous new visa rules and those cheap looking webcams have made BKK immigration a place you wouldn't want your worst enemy end up during rush hour. Having no lounge access, we went to Burger King for some completely overpriced food. THB 520 for 2 meals, that's 15 bucks…
5J932 was leaving from the F gates nearby, but of course it's an ordeal to get there as well nowadays. The idiot rent-a-cops insist they search your bags for liquids before x-raying the bags, sorry but I'm smart enough to put them into that ridiculous plastic bag myself. Alas, he seemed not happy with my bag, and insisted on confiscating a bottle of cologne the moron decided was 125ml despite being 100ml. No use of arguing with these mindless monkeys, they are much worse than the TSA. As a matter of fact that plastic bag has never even been looked at when passing through security at LHR or LAX. Beyond ridiculous, I was now in the perfect mood of boarding a high-density A319 red-eye to MNL.
Boarding started on time, and thankfully nobody bat an eyelid at the 5 carryons we had. The F/A welcoming passengers hardly bothered to say hello, and was more or less hiding in the forward galley. Thankfully we had seats in the front so it was easy to store the bags.
Cabin view during boarding (Pics of this flight taken in June on the same 5J932)
The riff raff took their time to board, BKK flights have generally a very low-end crowd in Y, so you can guess what it is on a low-cost flight between BKK and MNL. In fact, Finnair has suspended alcohol service other than from the trolley on HEL-BKK due to too many incidents with drunk people on the said flight. We had the pleasure of listening to two Germans drinking San Miguel and having a loud conversation all night long. I guess this riff raff is also the reason for multiple announcements that "removal of the life vest is a criminal offence".
Legroom on Cebu Pacific is very tight, although I feel it's better on the A319 compared to A320
We pushed back on time and took off without further delays for the 3-hour flight to Manila. Flight crew expected an arrival at the lovely hour of 5:30am at Ninoy Aquino. Immigration forms were distributed after the seatbelt sign went off, thankfully they had them this time as last time they hadn't bothered to load any. Back in August on a 5J flight I made the mistake to ask for a pen – that was met with a blunt reply "I don't have any".
Next, food and drinks were for purchase with endless announcements about Cebu Pacific's new China routes. Needless to say it was impossible to sleep. The guys behind us decided to order some more beer later – imagine my surprise as the F/A appeared wearing a camouflage jacket on top of her uniform from the front galley. I guess she felt cold… Just goes to show what a low-class airline this really is.
Cabin view, load was about 100/150 which seems normal for the BKK-MNL route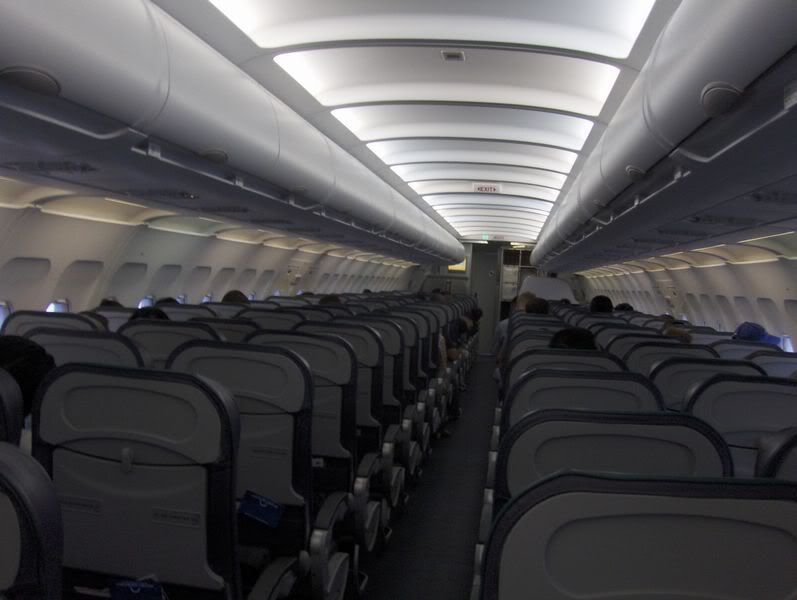 After a very uncomfortable three hours and maybe 20 minutes of sleep, we started our descent into MNL and it was getting light outside.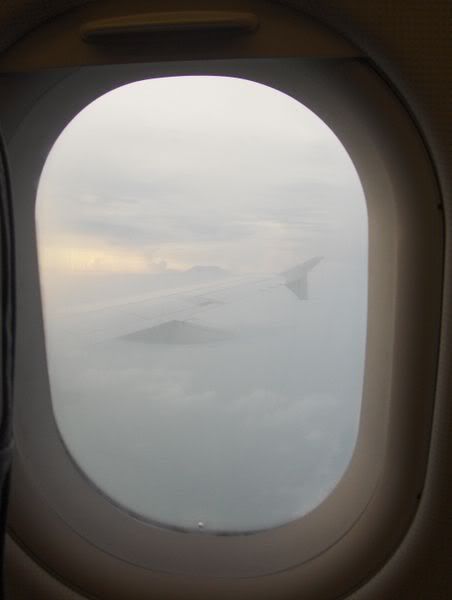 Immigration was a breeze at 6am, and bags appeared quickly on the belt. We took a taxi, err overpriced hotel car, to the Hyatt Hotel and Casino Manila where the front desk agent was telling me what a great deal he was giving me allowing us to check in for half day rate at 6.30am. Pathetic. I have arrived at BKK numerous times at the same time, and the JW Marriott always had a room ready, even on Priceline bookings and no status. Sydney Harbour Marriott said to me at 6.30 am "Naturally we'll find something for an elite guest like you". No Hyatt status but we were paying the rack rate so I find that half day charge pretty much a joke. It's not as if they rent rooms by the hour and can make a profit out of it. But I guess being one of the few nice hotels in Manila,they can afford stuff like that.
14 September 2007
Manila Ninoy Aquino International (MNL/RPLL) – Ozamis City Labo (OZC/RPMO)
Air Philippines 2P/GAP 997
Boeing 737-2B7 Adv
RP-C8001 [Delivered to USAir 19DEC83]
1000-1120 – Delayed 1230-1350
Economy Class, Seat 5F
After a quick overnight in Manila, it was time to head to Mindanao to meet the family of my wife once again. Thankfully Air Philippines has started a 4x weekly flight to Ozamis, just an hour's drive from her hometown. Beats the ferries and the long trek from Cagayan De Oro. Asian Spirit also flies Manila-Pagadian, but without online booking I'm not going through the hoops it takes to get a simple domestic ticket issued. This Air Phils flight was booked as PR codeshare on philippineairlines.com. Paper tickets for the route it seems, so I had to pick up them at the ticket office before checking in.
The Hyatt bellhop suggested a van to the airport at the ridiculous price of 1900 Pesos, no thanks. Two taxis at P200 each did the trick despite the mountain of luggage. This time PR didn't screw up the ticket issuance like back in June, and the paper tickets were waiting.
PR ticket jacket
Good old paper ticket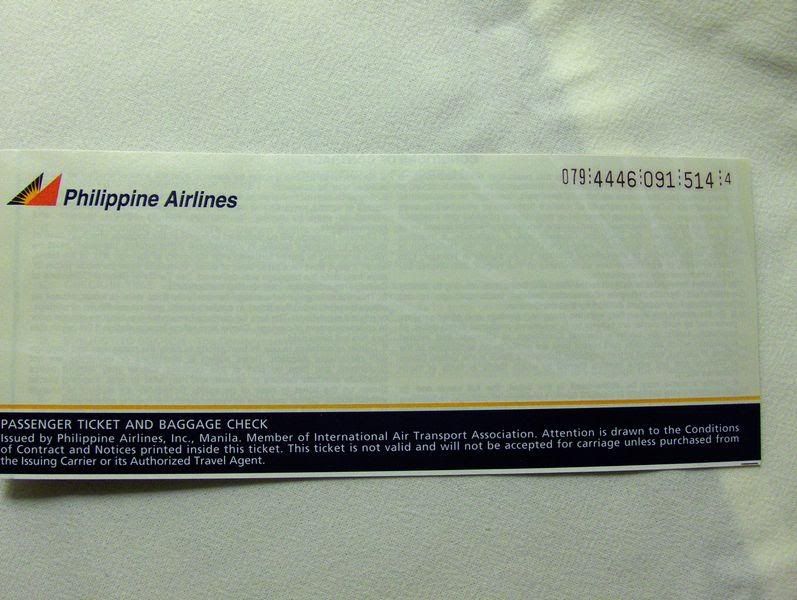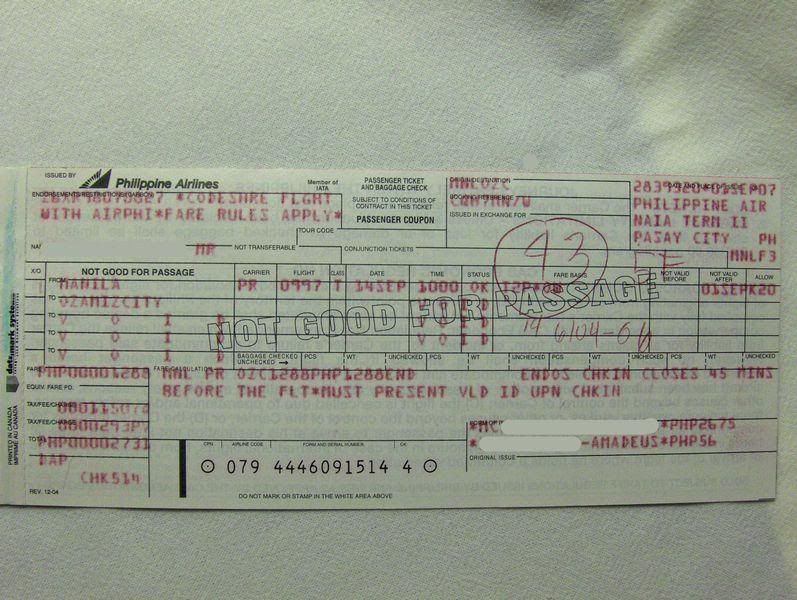 Interesting to see "AMADEUS*PHP56" on the ticket, I guess that's what they pay to Amadeus per booking. We headed to check-in which was a mess with no signs. A security guard escorted us to an empty counter where check-in took at least 10 minutes. Air Philippines employs contract staff for ground services like 5J.
This piece of paper was the boarding pass…Not even name on it, how third world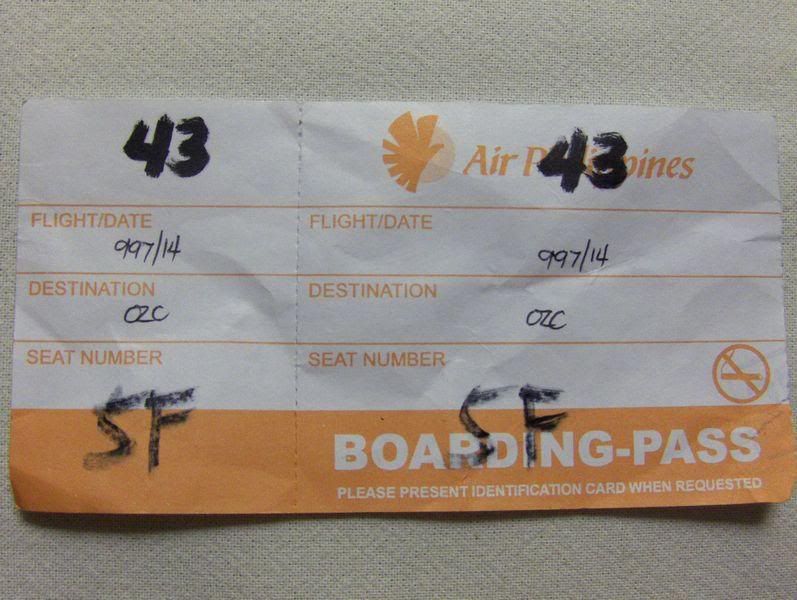 No indication of departure time anywhere, the flight wasn't even listed on the departures board. PR had sent an email about it being delayed till 1150 but Air Philippines insisted on 1000. Great co-operation. Went through security and to have some breakfast/lunch at Delifrance. It soon became clear 1150 was indeed the new planned time. At around 1200 an Air Philippines B737-200 pulled up at gate S7, and boarding started around 15 minutes later.
RP-C8001 is ex-USAir, very obvious from the front bulkhead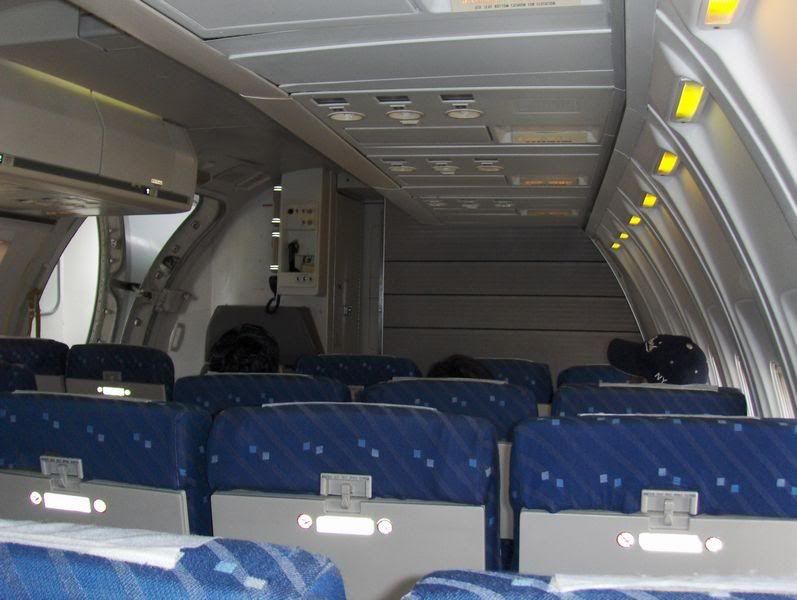 Legroom was excellent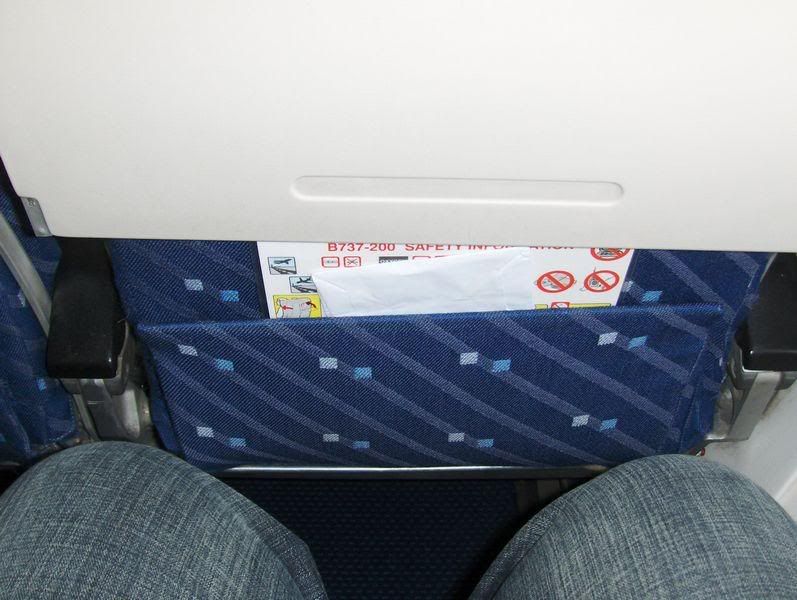 Wing shot at gate S7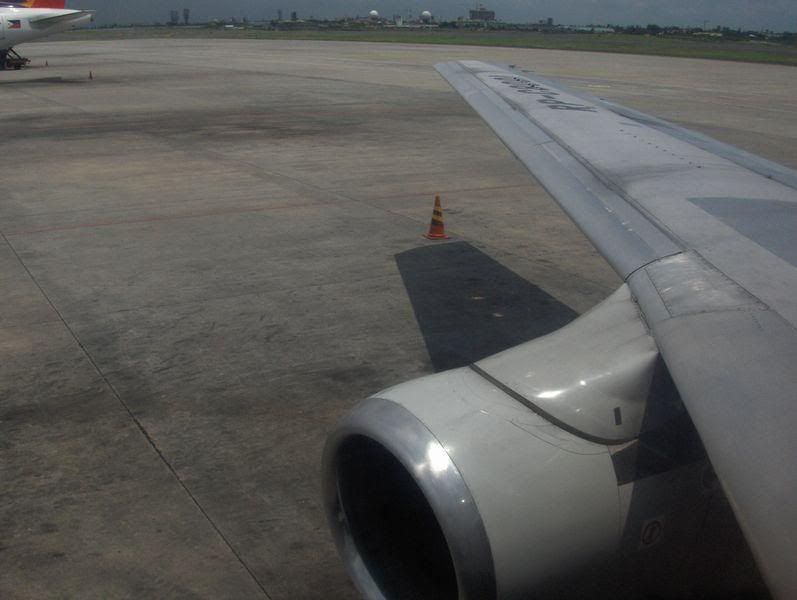 PAL Airbus lineup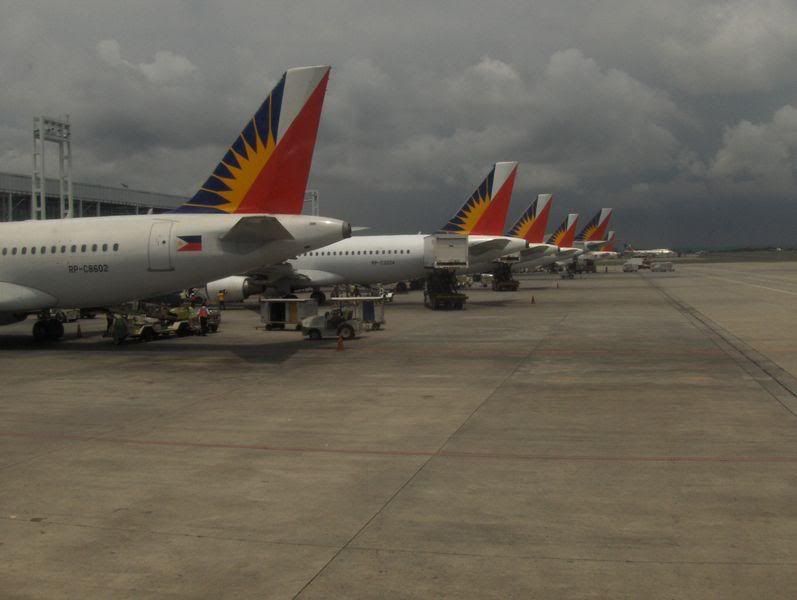 We were pushed back at 1230, a mere 2.5hours behind schedule. No departing traffic in front of us, se we taxied directly to runway 24 for takeoff.
Turning onto the runway, the Saudia jumbo pictured was operated by Air Atlanta Icelandic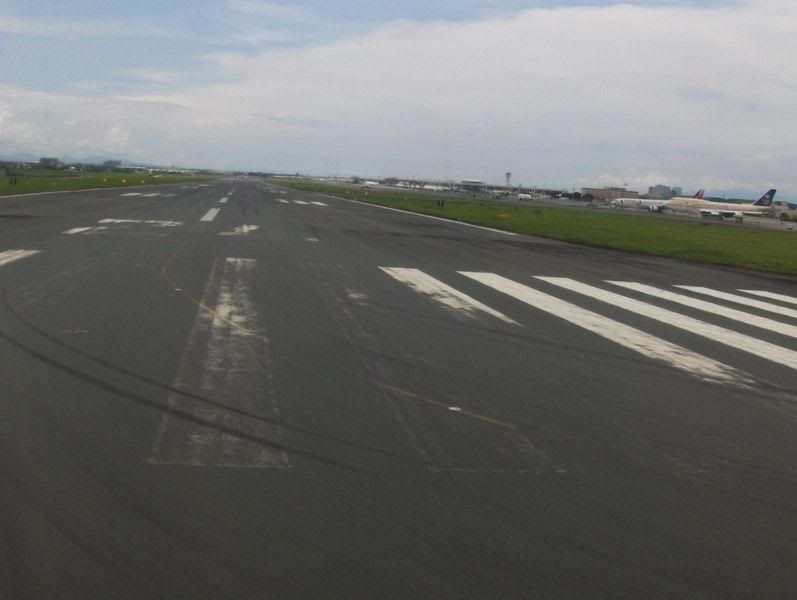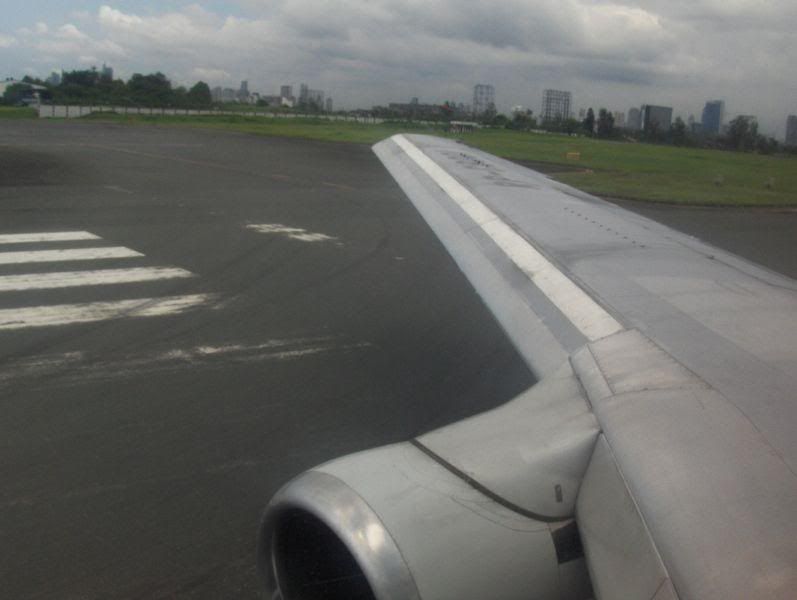 Lifting off with T2 in the background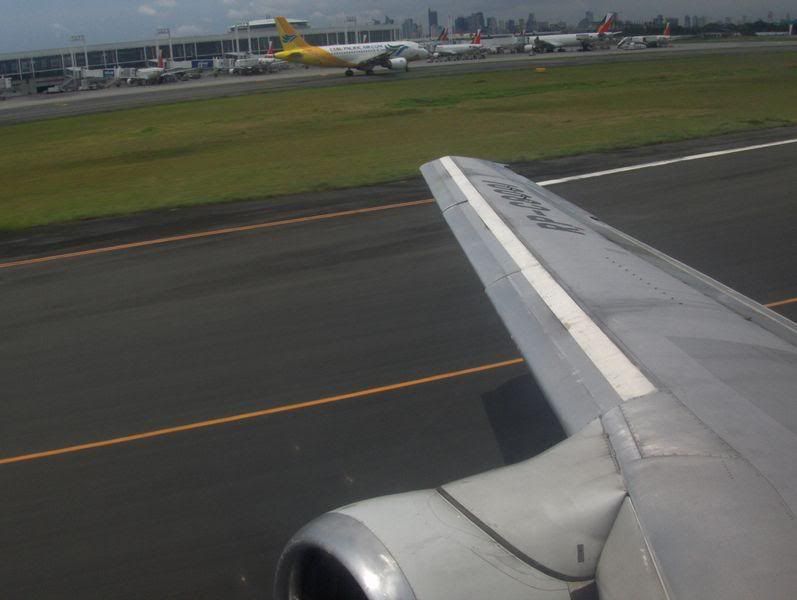 NAIA 1
Manila Bay view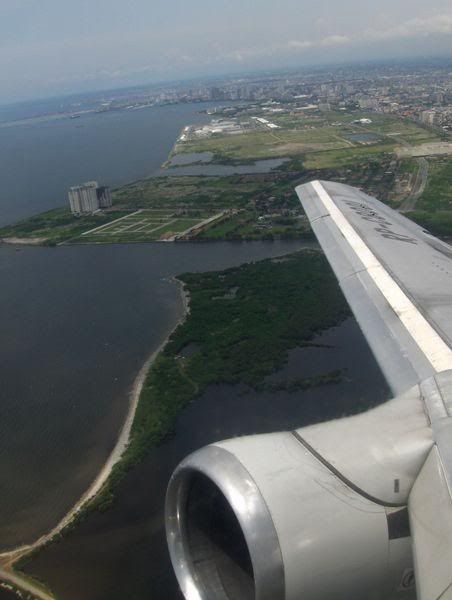 Left turn after takeoff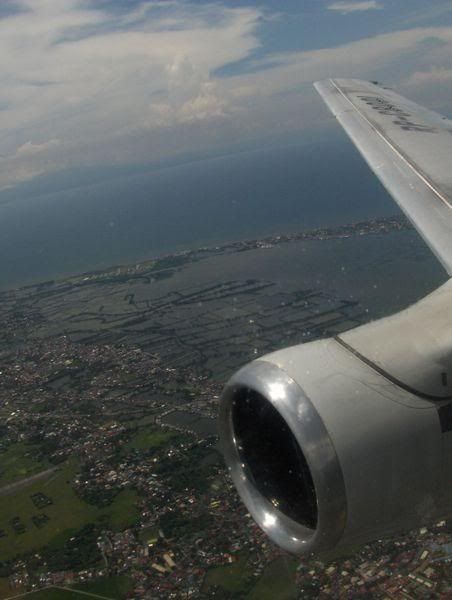 Passing the cloud layer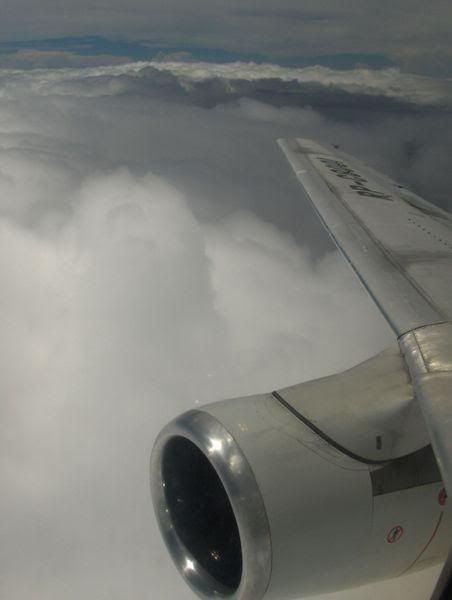 To my great surprise, there was no service whatsoever on this flight. None of those Saudi Arabian made snacks available in June, not even a cup of water. And no buy on board either. But some inflight entertainment at least – f/a wearing a winter coat in the forward galley just like on Cebu Pacific! Do they not realize how ridiculous such behavior looks for people who are supposed to represent the airline? If I was the boss, they'd find themselves looking for a new job in no time at all.
Nice views enroute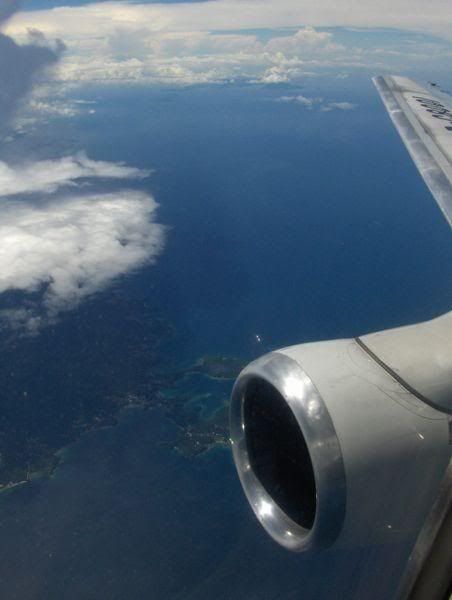 Not a single announcement from the cockpit, but we soon started our descent into Ozamis airport.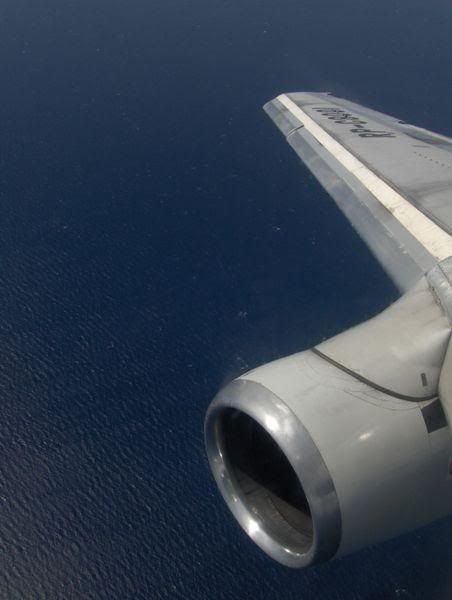 First glimpse of Mindanao
On approach to Labo airport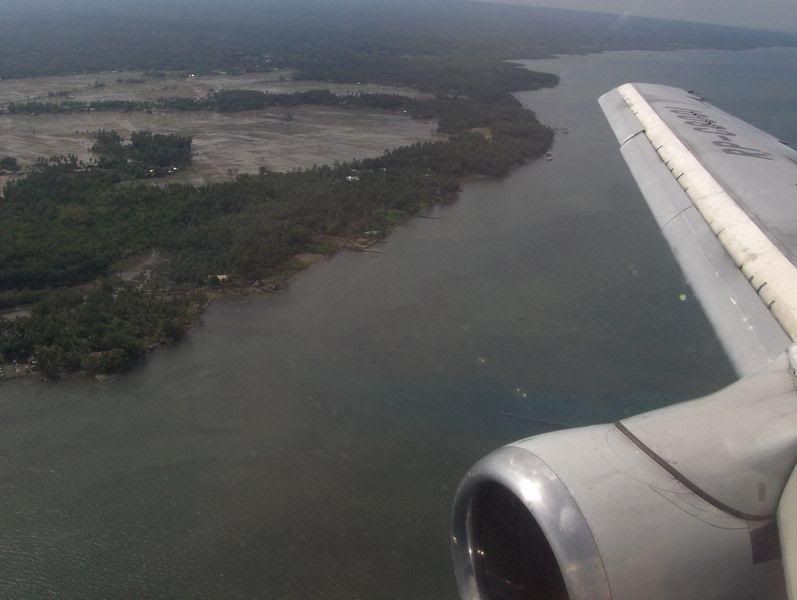 Rice fields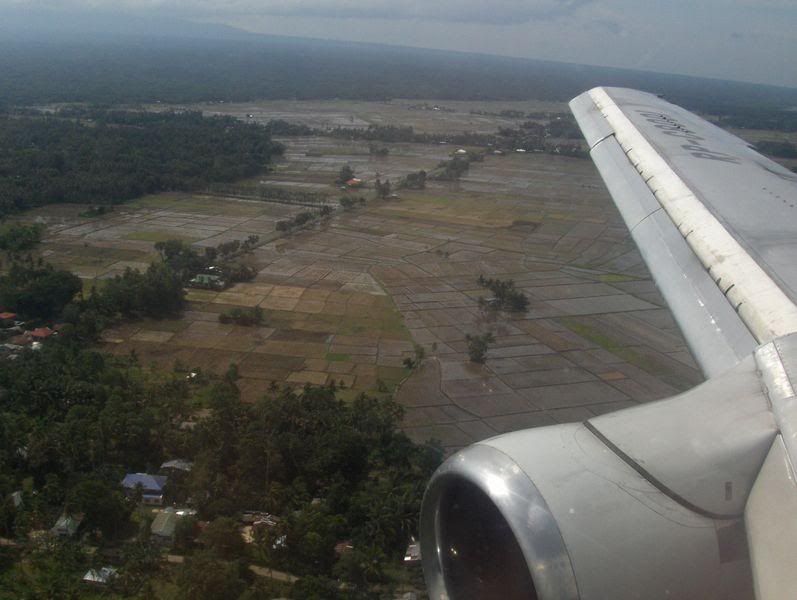 Rural Mindanao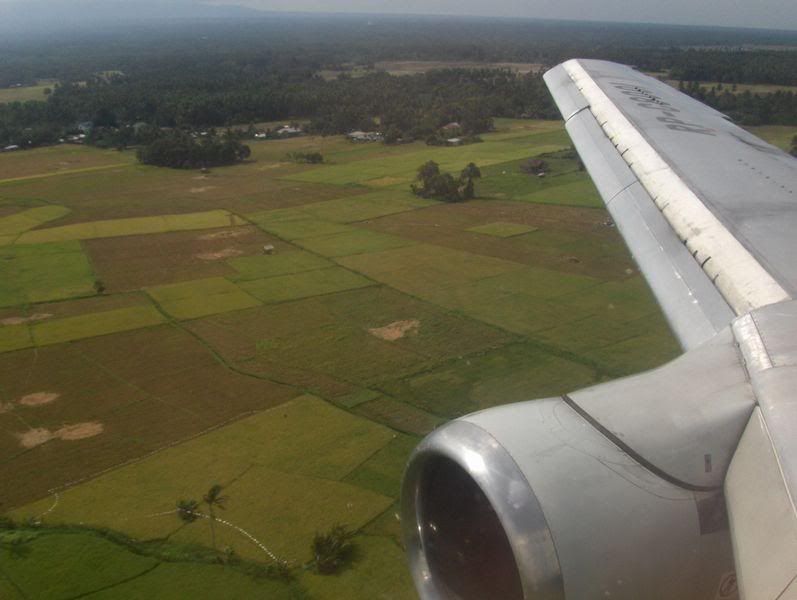 We made a firm landing, and the breaking action was quite something, didn't even experience such fierce braking at short runways at Yogyakarta or Semarang in Indonesia. I suppose the B737-200 is the largest aircraft the runway can handle.
Touchdown
There are no taxiways, so we made a 360 degree turn and taxied to the terminal using the runway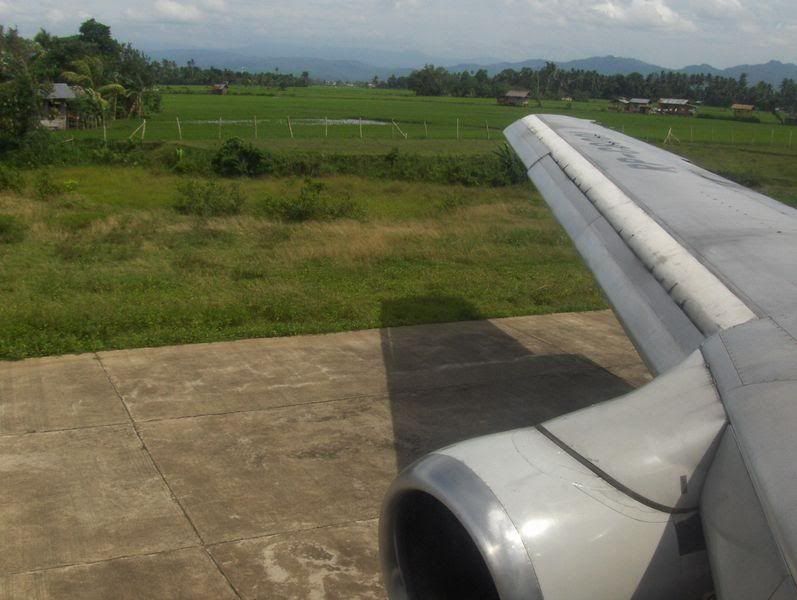 Nice location for spotting – a bit boring though with the 4 weekly 2P 732 being the only visitor
Turning towards the terminal building
Terminal building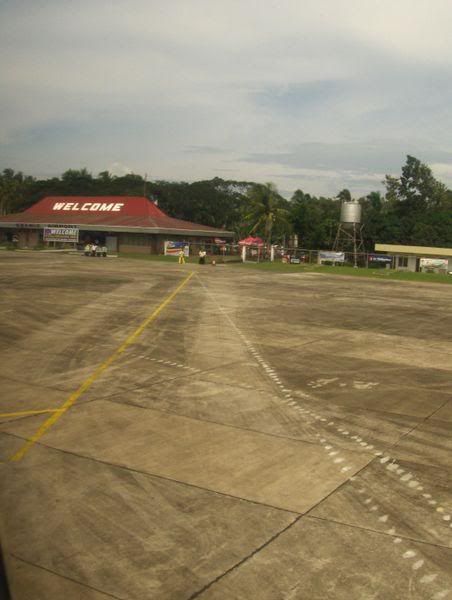 Crash fire and rescue – I wonder what the Toyota Corolla would have done if we crashed…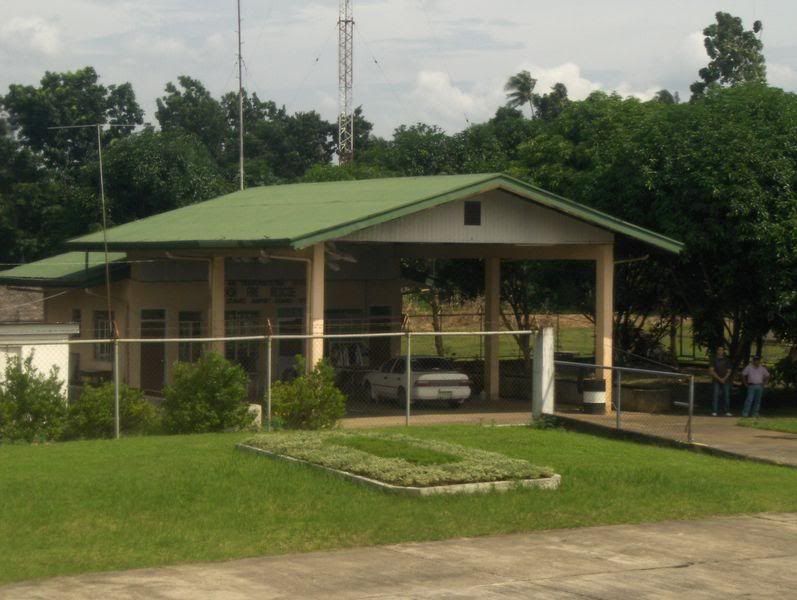 8001 and my wife's sister at OZC. The plane was guarded by soldier with machine guns.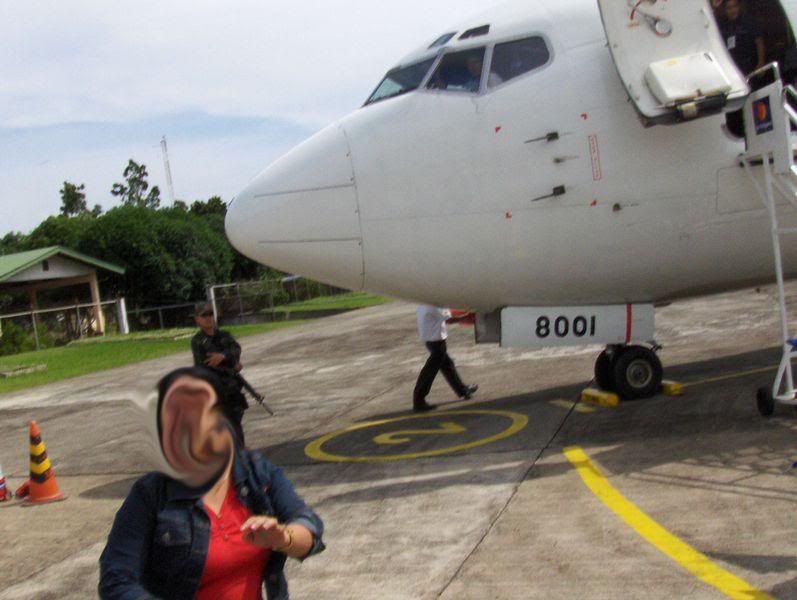 8001 again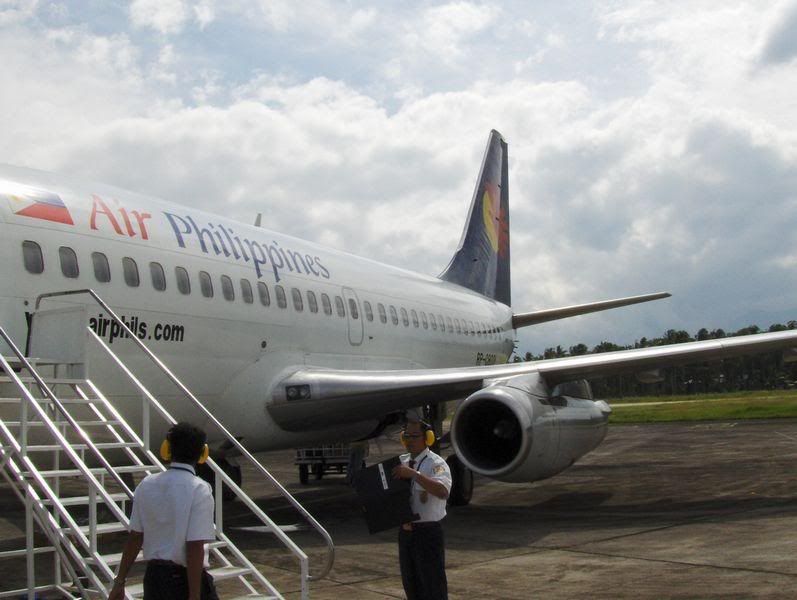 Terminal building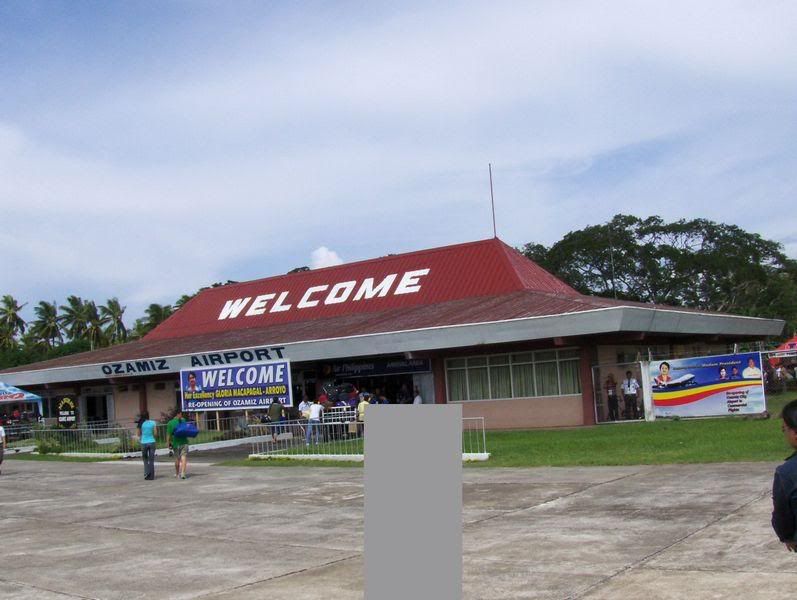 Baggage delivery process was interesting to say the least – no tractors or baggage belts here. Ground staff pushed the carts to the terminal and offloaded the bags into a small overcrowded room. Hopped into the waiting van to my wife's hometown – the airport road was in truly horrible shape, with potholes etc. I'm sure the van ride was a very safe one with 19 pax and 7 bags – I have requested a simple car with a driver and the three of us only multiple times, but it goes to deaf ears as far as my wife and her relatives are concerned.
Stayed two days in her hometown and caught the ferry to Cebu where we are currently staying. I refuse to travel on those ferries in anything but suites (no shared cabins or bunks on the car deck please…), alas Superferry has removed Cebu Ferries from their online booking. As luck would have it, the Cebu Ferries 16SEP sailing had no suites left. Told my wife to have the relatives arrange some suite – turns out Trans Asia Shipping, a company I wowed not to travel on.
Ticket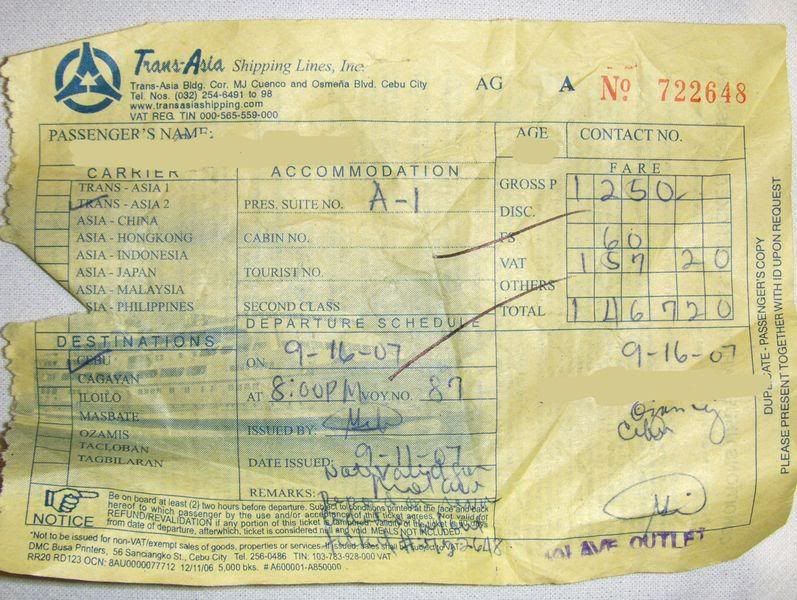 Vessel was Trans Asia II, and we had presidential suite A. Overall a rather pleasant surprise, the room was fine and had a balcony as well. But my head is still hurting from the absurdly low ceilings onboard…
Suite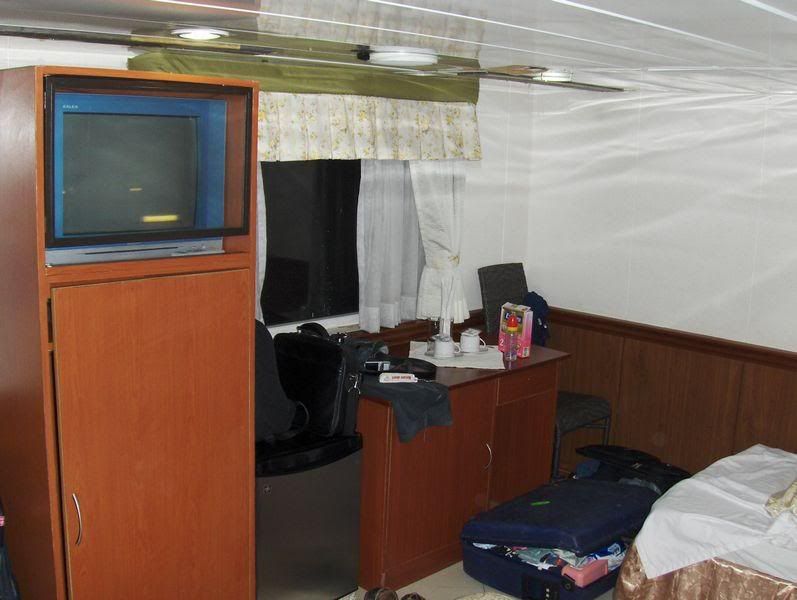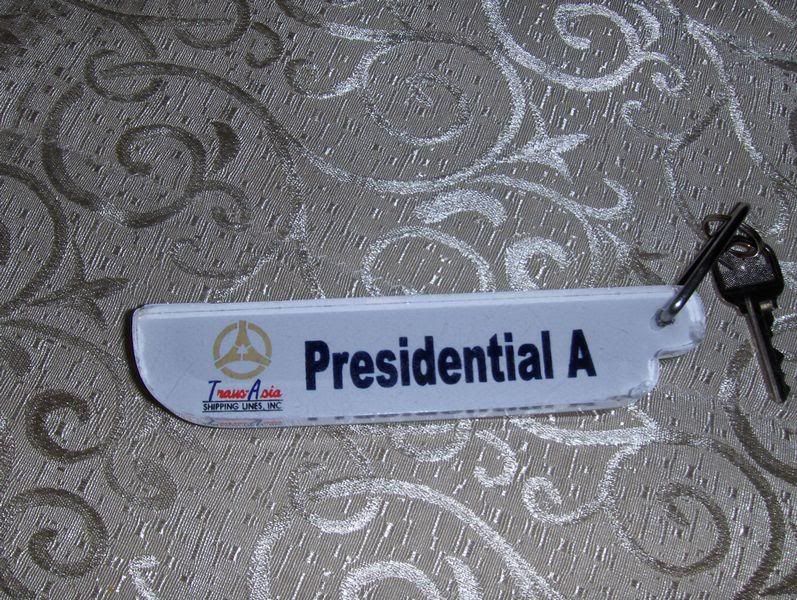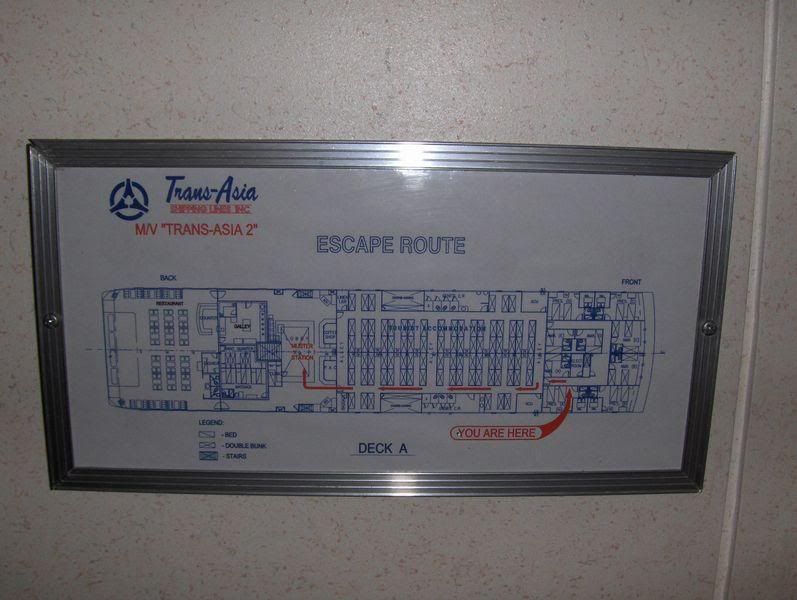 OLO Mt Carmel next to us at Ozamis pier. That's what we took last time.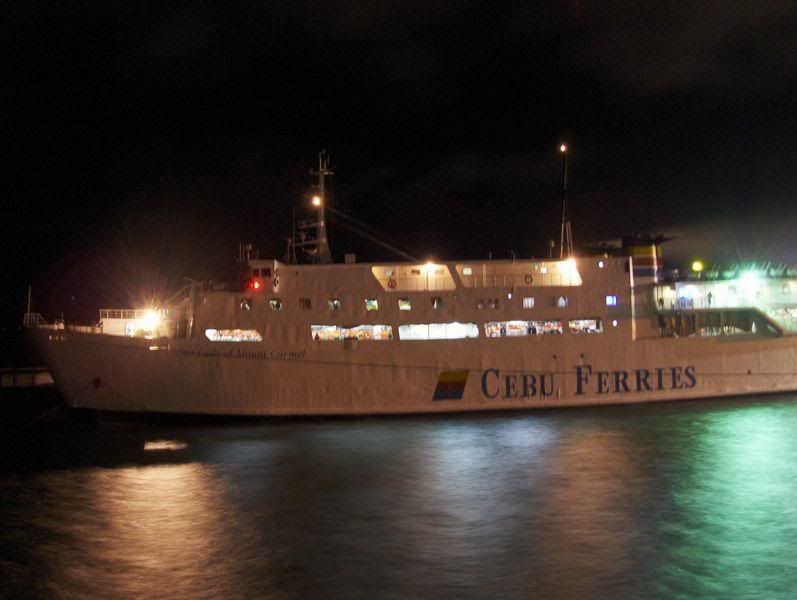 Arriving in Cebu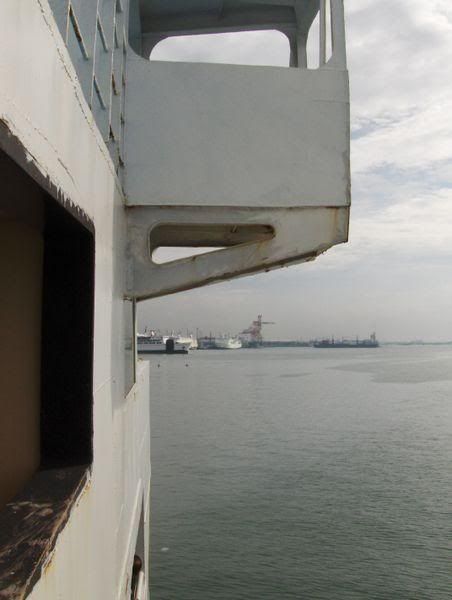 Your local green party would have a field day with this…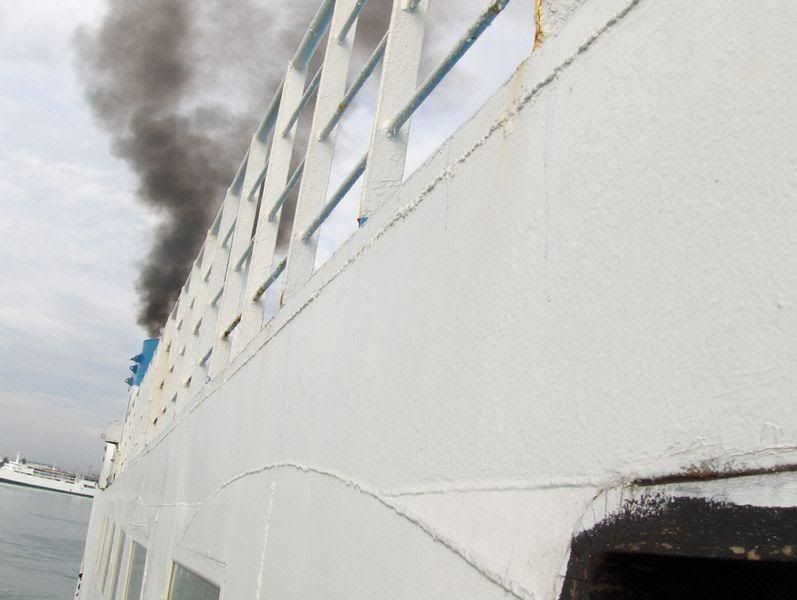 Other Trans Asia vessels, looking old and tired (MV Asia Indonesia and MV Asia Hongkong)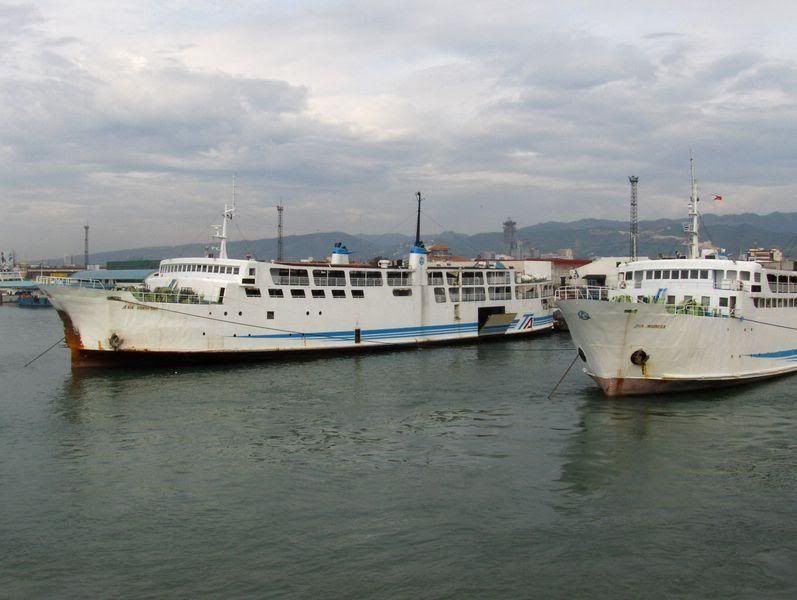 Sulpicio's Princess of the Earth awaiting departure to Butuan City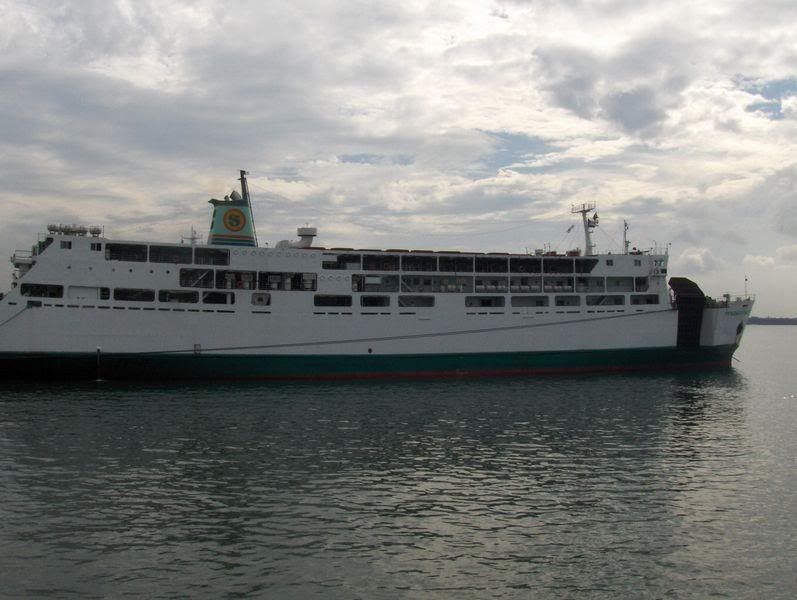 Interesting looking cargo on board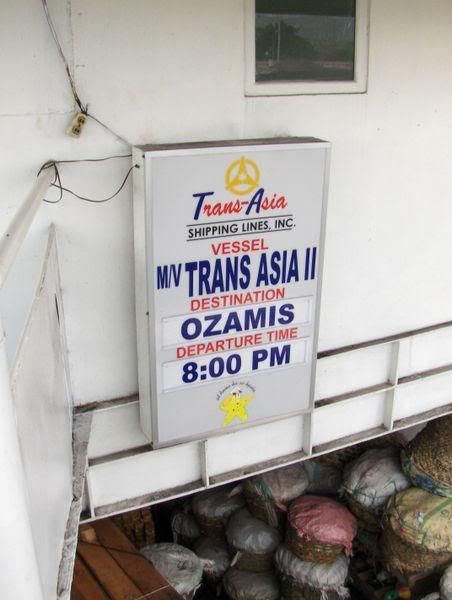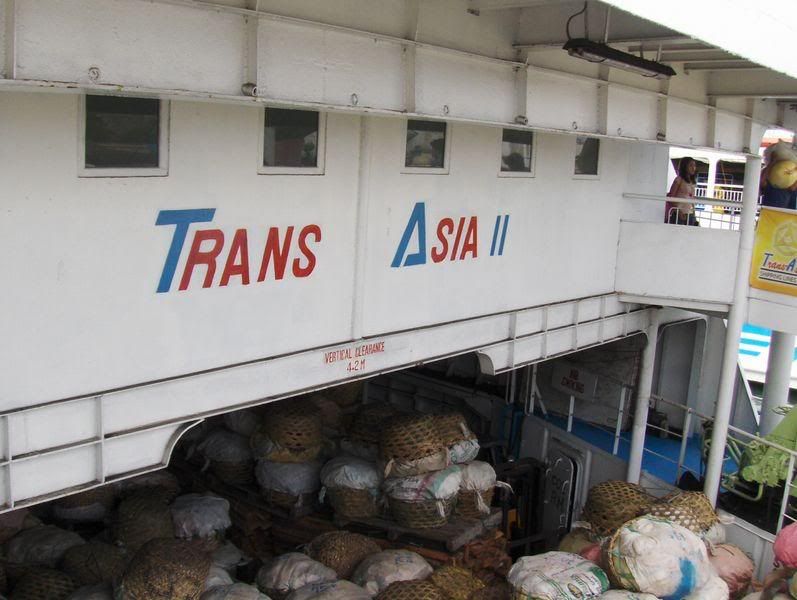 MV Trans Asia II at Cebu
5J was of course cheap and the service and attitude of crews match the fare. My first flight with them was a DC9 with proper service, great legroom, nice crews and NW Worldperks miles. Even friendly crews aren't there anymore.
2P with its delays (more to come later, CEB-DVO-CEB), no service and indifferent crews is one of the worst airlines I have flown. It seems they are unsuccessfully trying to copy Cebu Pacific. A proper online booking would be the first step…
Trans Asia Shipping was fine, wouldn't really care whether I end up on TA or Cebu Ferries. The refurbished suite with private balcony was a pleasant surprise.
Hope you enjoyed the report despite me not enjoying the 5J flight especially.