I had planned to use my expiring Mabuhay Miles for some domestic trips while staying in Cebu. However, availability on Air Philippines operated flights was downright poor at the last minute and PR also charges a processing fee of $30-50 on awards booked less than 9 days before departure. Thus, it was even cheaper to just book regular fares on philippineairlines.com for PHP 768++ CEB-DVO and PHP 568++ DVO-CEB.
E-ticket receipt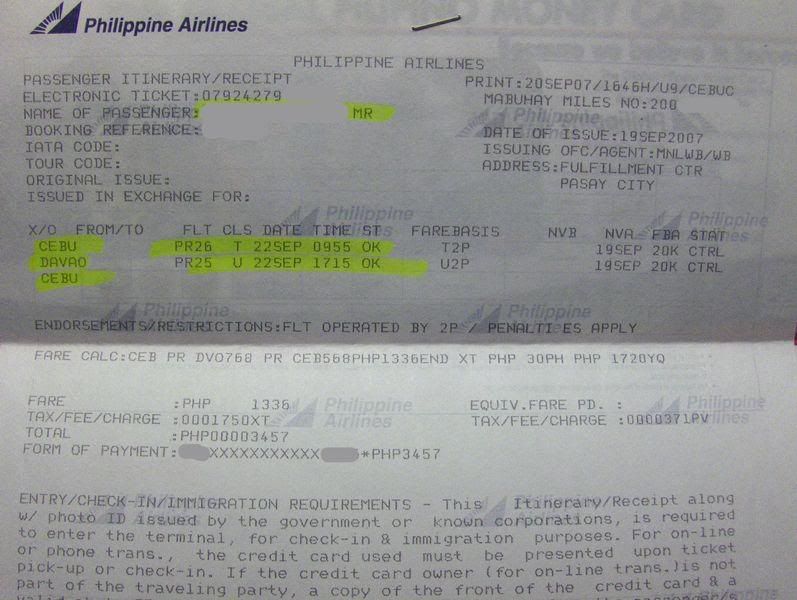 22 September 2007
Mactan Cebu International (CEB/RPVM) – Davao Francisco Bangoy International (DVO/RPMD)
Air Philippines 2P/GAP 026
Boeing 737-2B7 Adv
RP-C8001 [Delivered to USAir 19DEC83]
0955-1050 – On Time
Economy Class, Seat 21A
Took a taxi to the airport at around 7.45am, and as usual the driver begged for PHP 200 instead of the metered rate. It may not be a lot of money, but the meter is there for a reason. After years in Asia, this sort of behaviour is really getting on my nerves these days. I would most certainly have paid the 200 anyway, but it should be up to me whether I tip them or not. Also, don't expect any Thai/Filipino/Indonesian taxi have any change, so better bring small notes. The trip was quick, and I found myself rather early at the deserted Air Philippines check-in counter.
Asked for a seat in the back for proper Pratt & Whitney provided audio entertainment, and got the last row. Proper boarding passes both ways this time instead of the pieces of paper on MNL-OZC.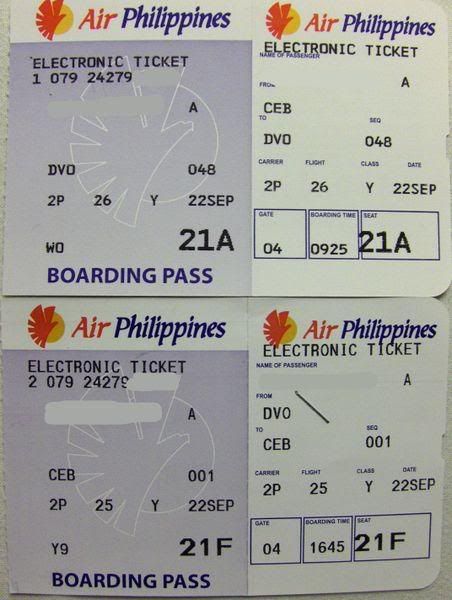 There's pretty much nothing to do at the departure lounge, so I just sat and waited for the trio of Air Philippines B737-200s to arrive. There are flights to Davao, General Santos and Bacolod all at 0955am. A 2P agent hauled a huge pile of newspapers to the gate – obviously meant for their staff and not passengers since the gate agents and F/As all had copies while none of the at least 200 papers were distributed to passengers.
Three classics landed one after the other, and all three Air Philippines flights were called at the same time. As luck would have it, 8001 was assigned for DVO, the same aircraft that I just flew MNL-OZC the week before. Unfortunately it seems not only the RP-C2xxx series non-advanced 222s have been retired, the 3000 series 2H6 Advs are nowhere to be seen either anymore. Nobody bothered to say hello, and one male F/A seemed rather pissed off I had 21A where he was reading a newspaper instead of greeting passengers...
A company 737 and CEB tower seen from my seat 21A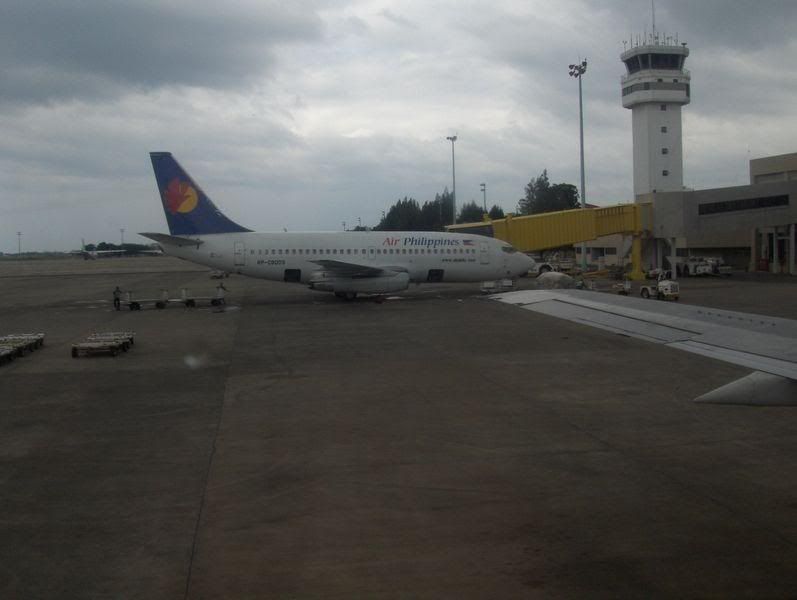 We were pushed back on time, CEB terminal in the background
Cebu Pacific had three Airbuses present, two pictured here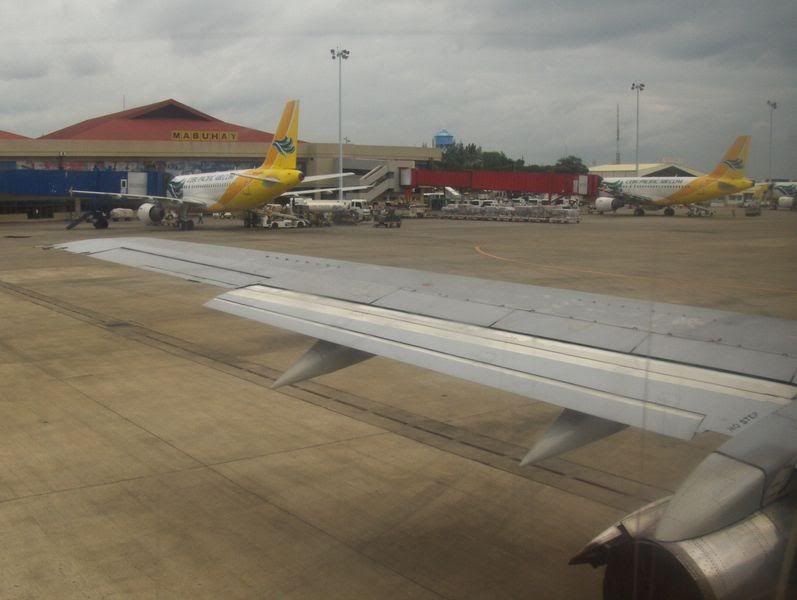 Holding short of runway 22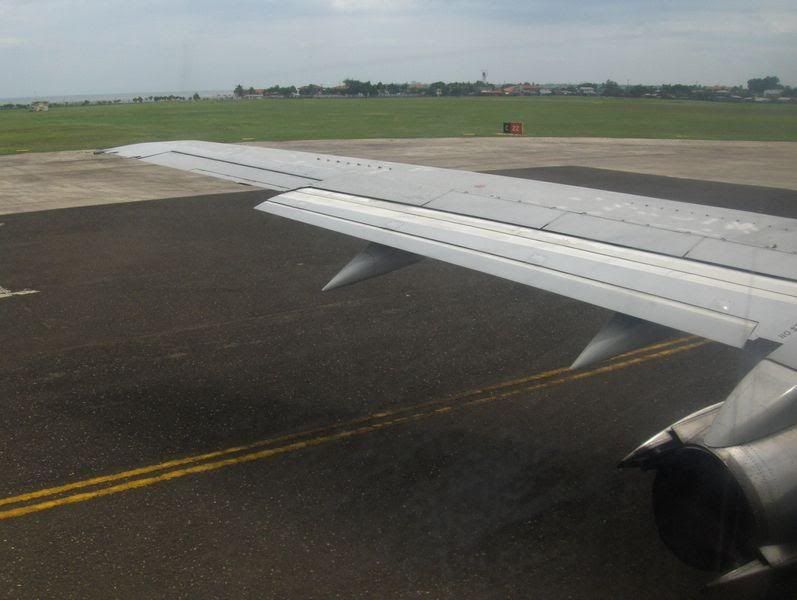 The good old PWs spooled up, and a very noisy takeoff followed as usual when sitting in the rear of a B737-200. The window was full of scratches, so apologies for photo quality. As usual with the lazy Air Philippines crews, a male F/A read a newspaper sitting in 21F instead of his jumpseat during the whole flight, including takeoff and landing...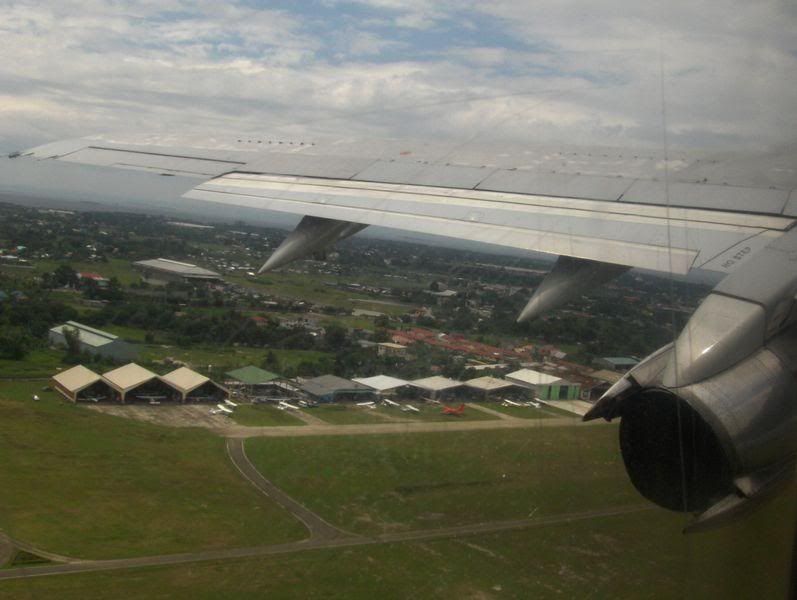 Turning left after departure
Legroom was great, but the seats very tired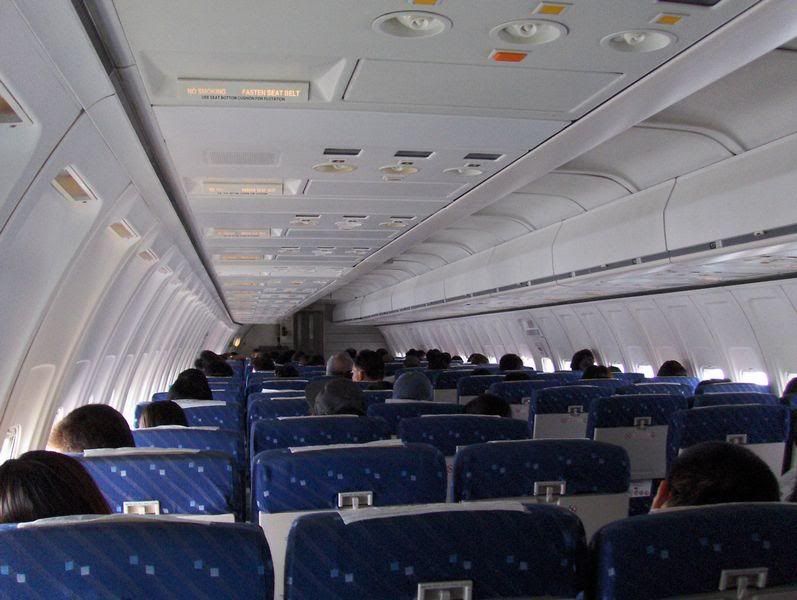 Broken armrest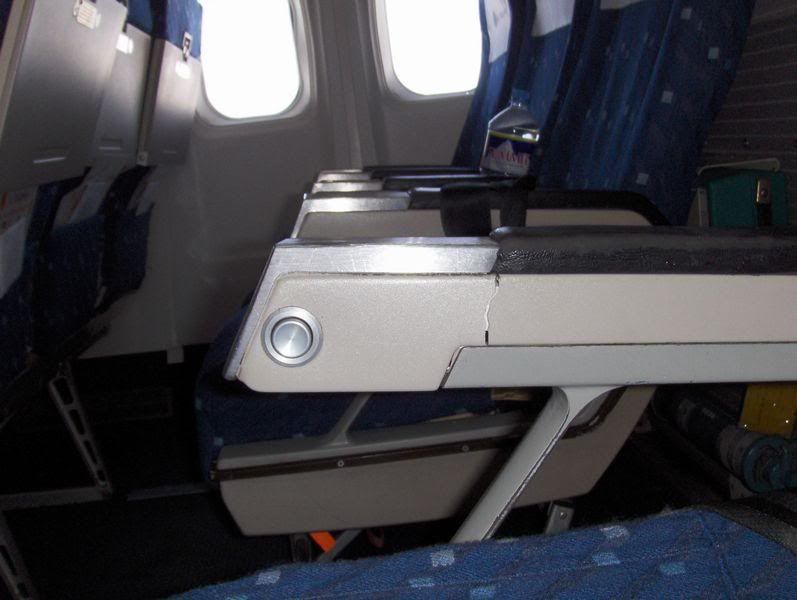 Reaching cruising altitude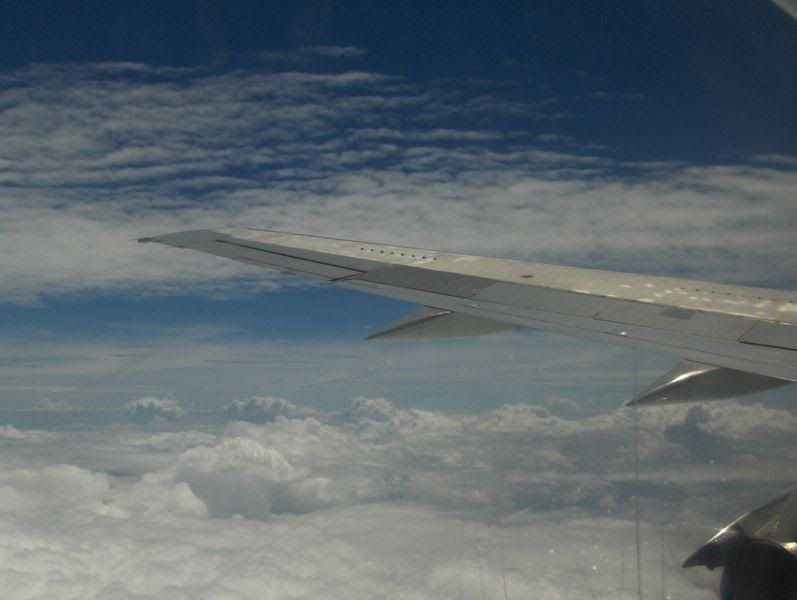 There was zero service on this flight just like on MNL-OZC. Philippineairlines.com where I booked the flight (as PR codeshare) mentions "complimentary refreshments on all flights 45minutes and over". CDB-DVO has a 55min flight time listed, so that's misleading to say the least. However, the same male F/A not bothering to take his jumpseat decided he needs breakfast, and proceeded to eat a bag of potato chips while reading the newspaper. Beyond ridiculous and extremely tacky looking to pax if you ask me. Such food should be consumed in the galley.
Decided to check out the rear lavatory – not only was there a disgusting smell, it was in rather shabby condition as well.
Warning
Pretty hard to tamper with the said smoke detector when it's gone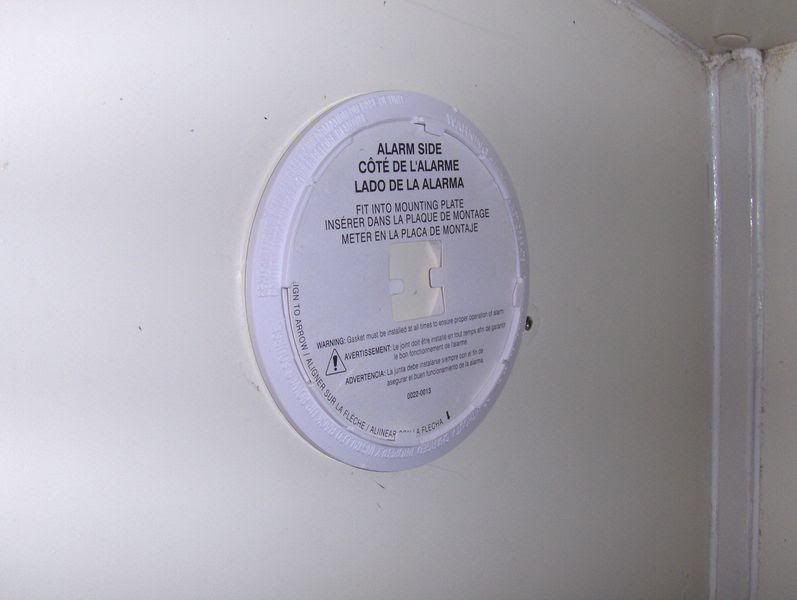 Nice looking lavatory wall and locking device
Cabin shot from the back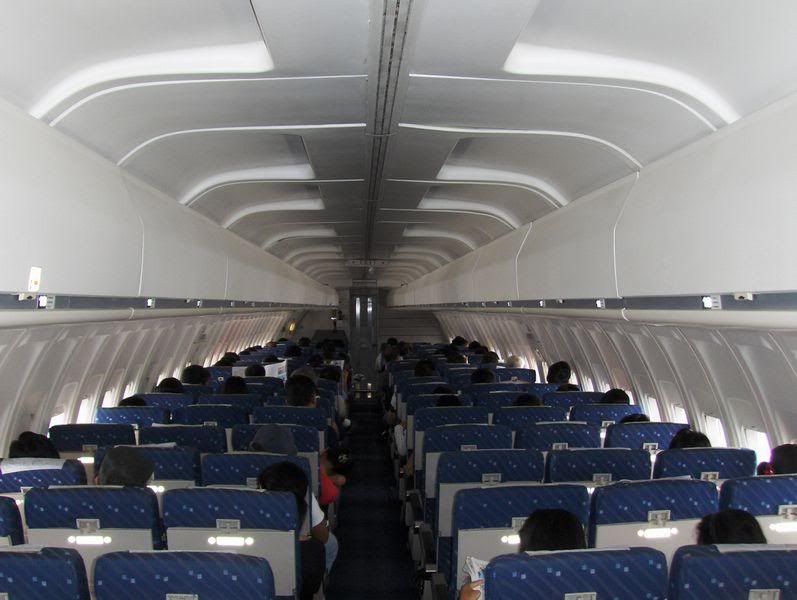 Views through the scratched window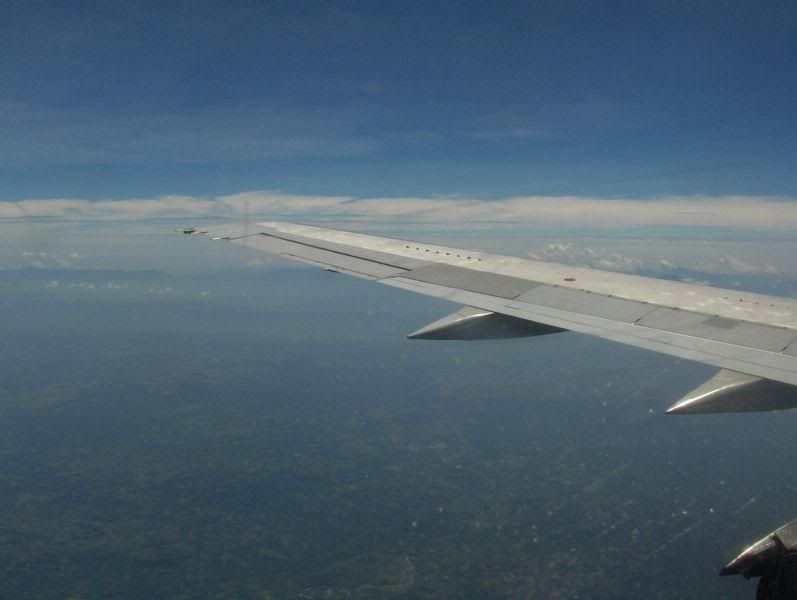 Approaching Davao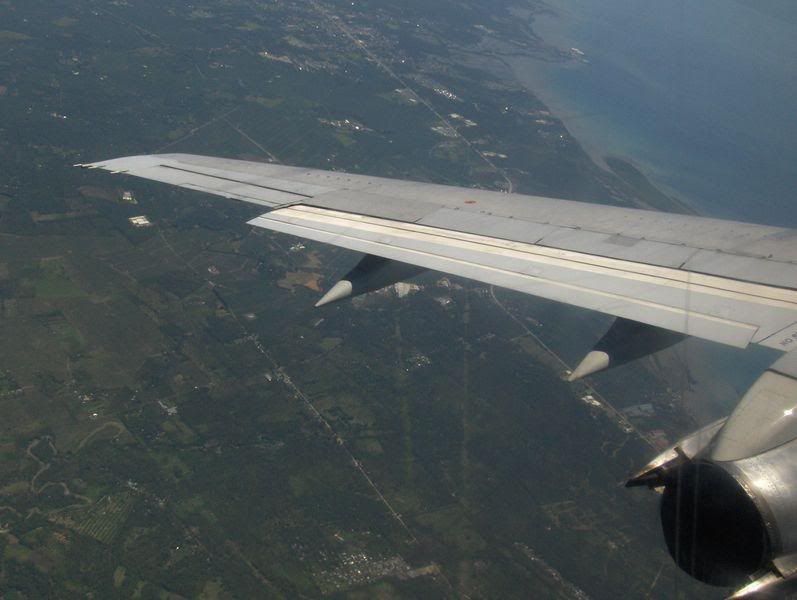 Another cabin view during approach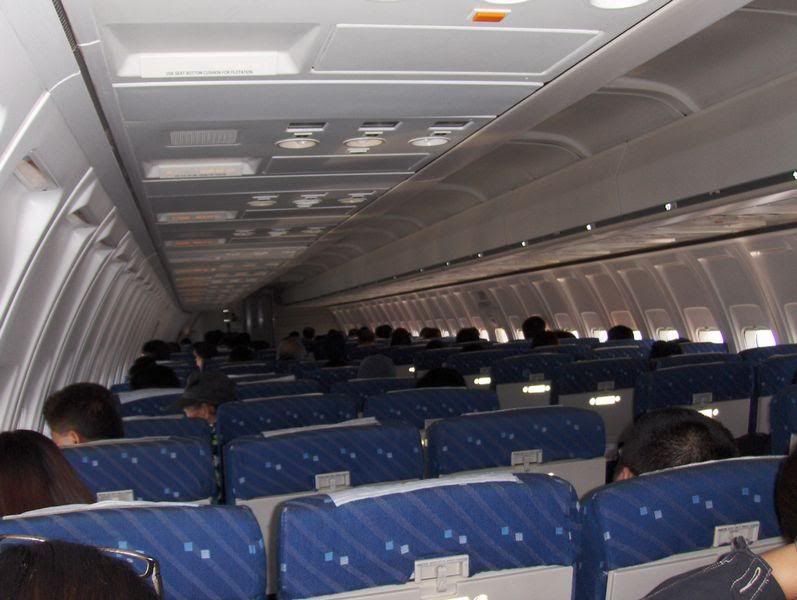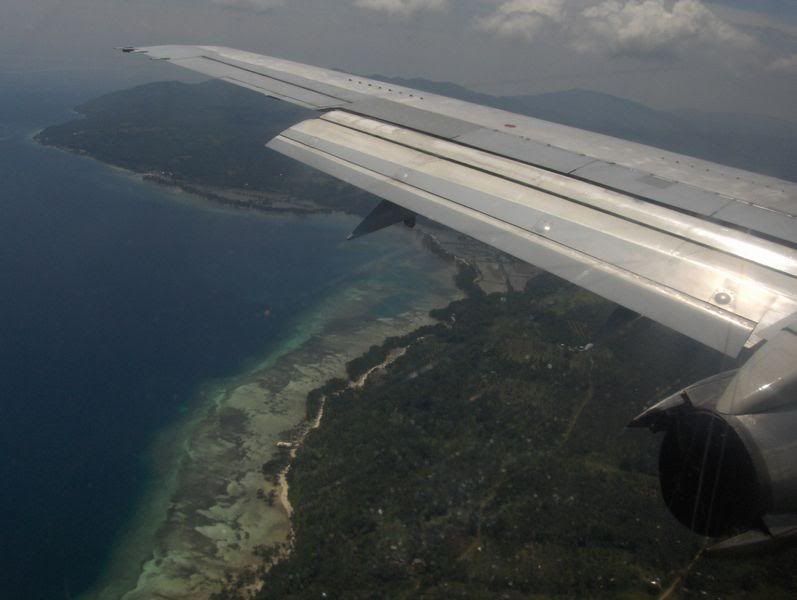 High-end housing under the approach path...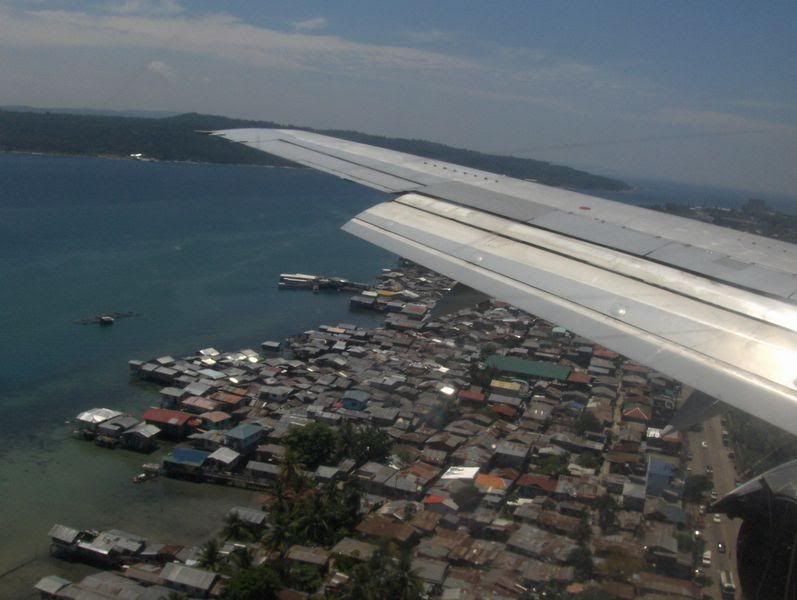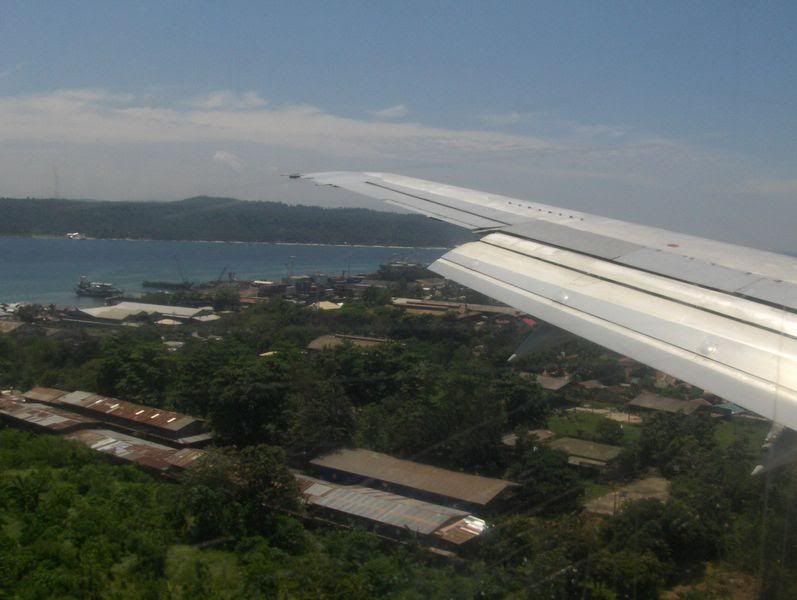 Touchdown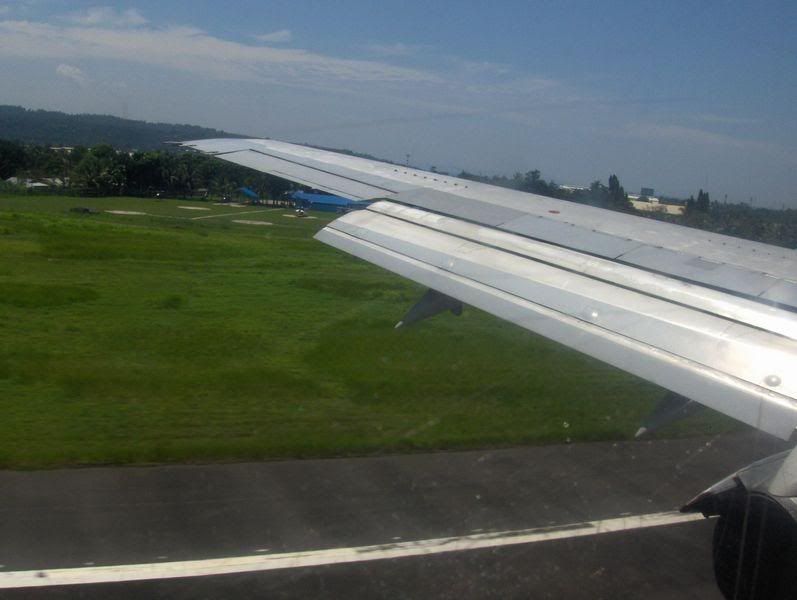 The bucket reverser, with appropriate sounds in the cabin of course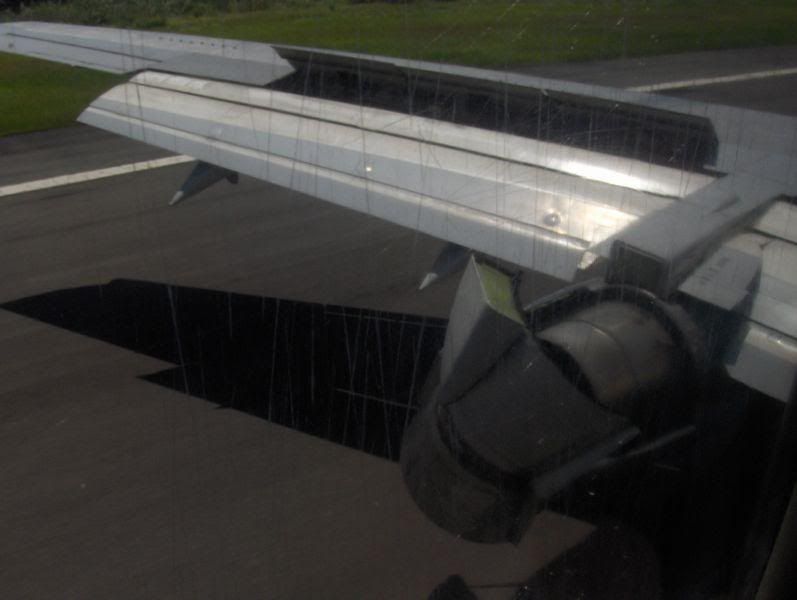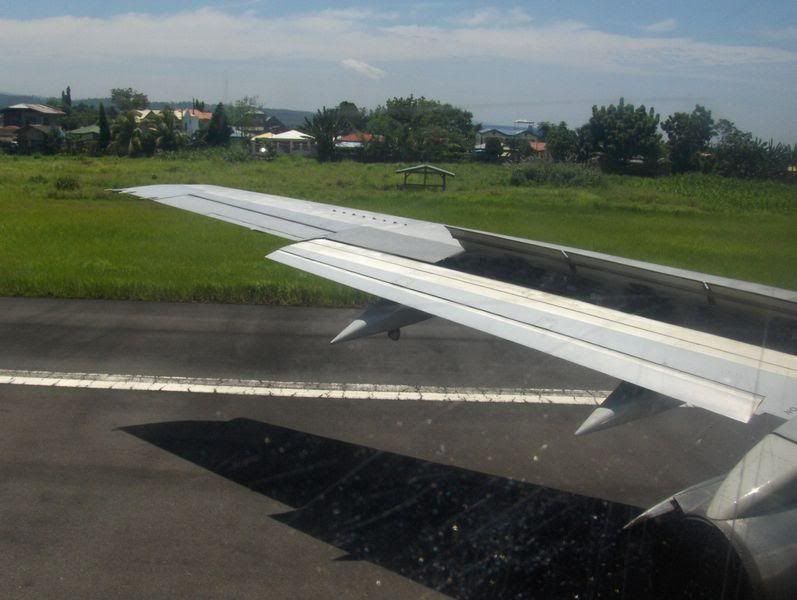 Again, no taxiway like in OZC, so we taxied to the terminal using the runway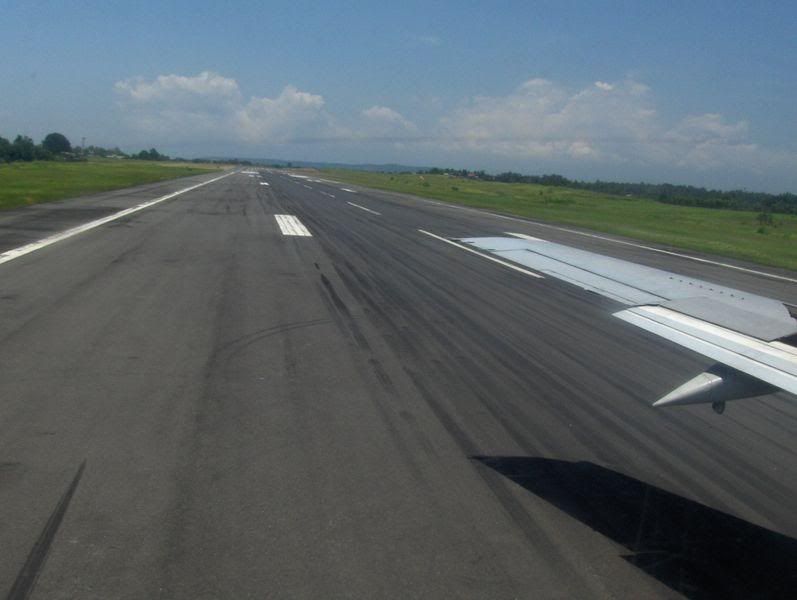 Davao tower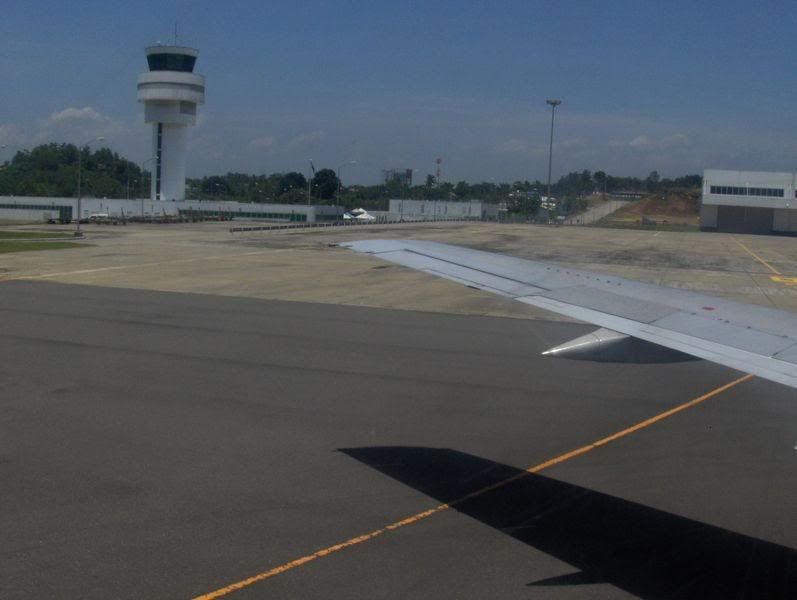 The new terminal at DVO is perhaps the nicest in the country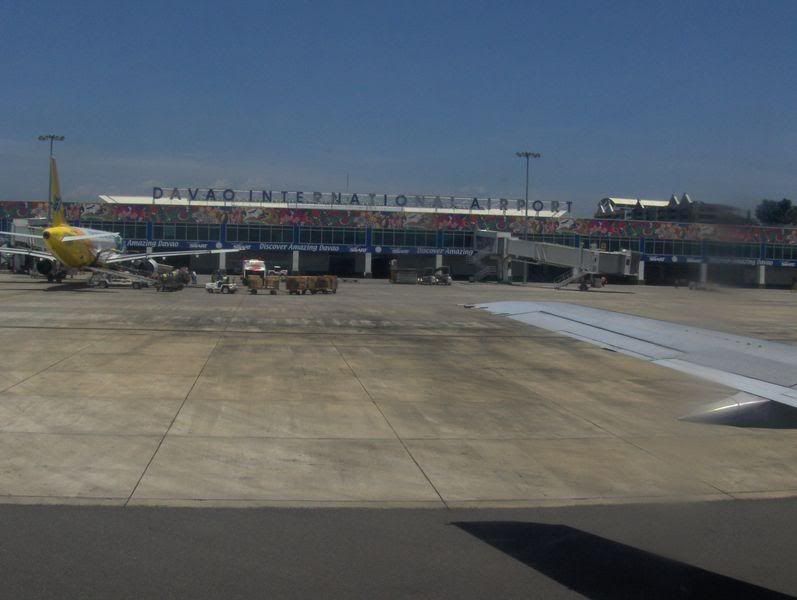 At gate 4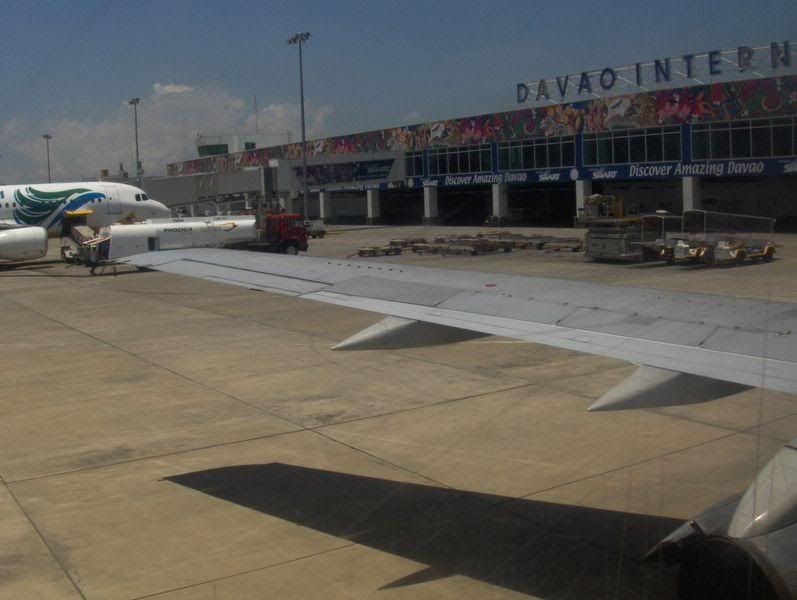 Manila bound Cebu Pacific A320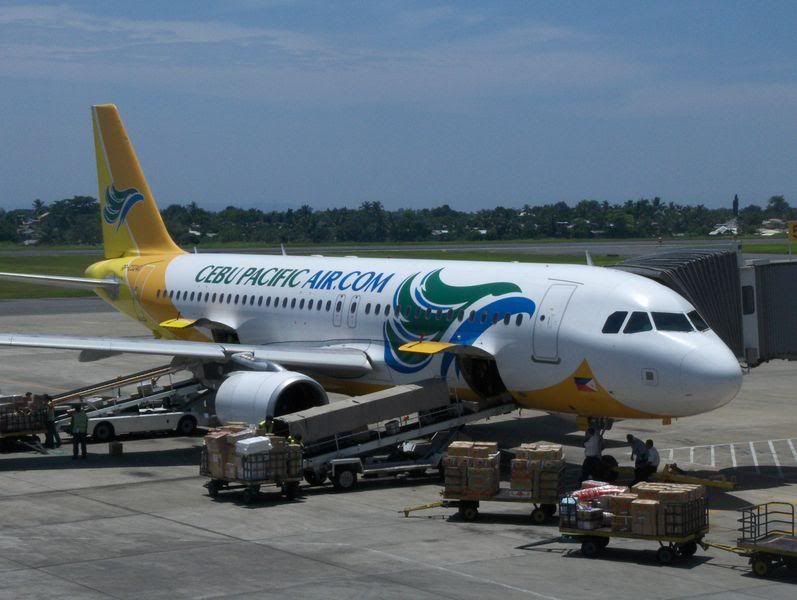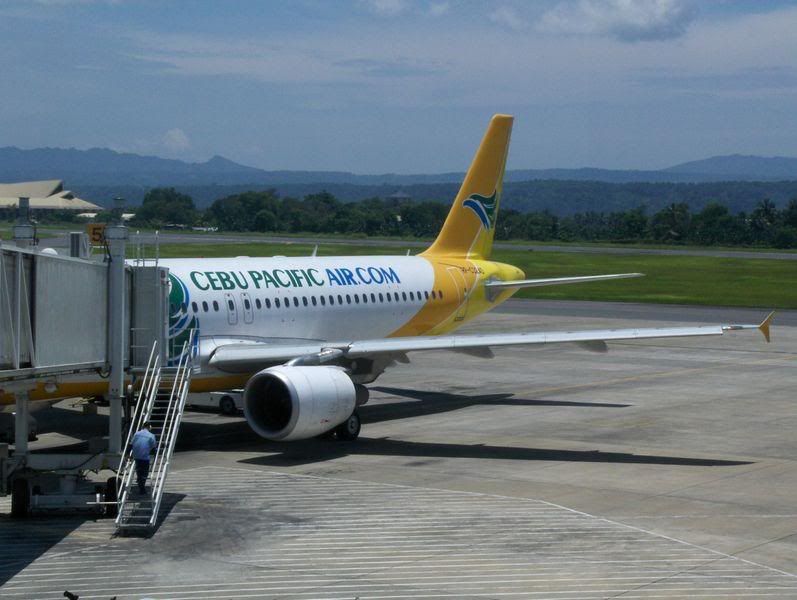 RP-C8001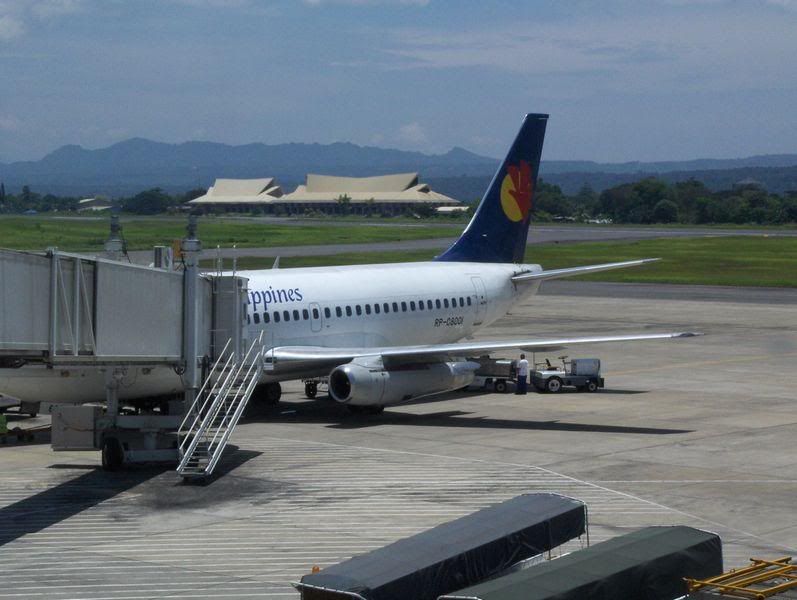 Rather self explanatory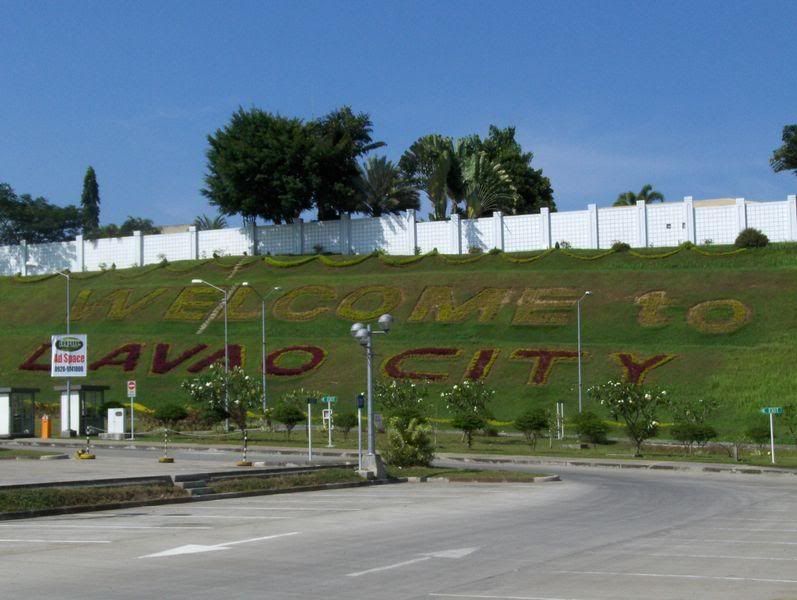 I went to the SM City Davao mall to have some lunch and surfed the internet, would have been too long to wait 6h at the airport. It was a surprise for me how small Davao looked like, I expected something like Cebu to be honest. Taxi was around PHP 160 each way airport-SM.
22 September 2007
Davao Francisco Bangoy International (DVO/RPMD) – Mactan Cebu International (CEB/RPVM)
Air Philippines 2P/GAP 025
Boeing 737-2B7 Adv
RP-C8006 [Delivered to USAir 22DEC82]
1715-1810 – Delayed 1915-2010
Economy Class, Seat 21F
Back at the airport, terminal building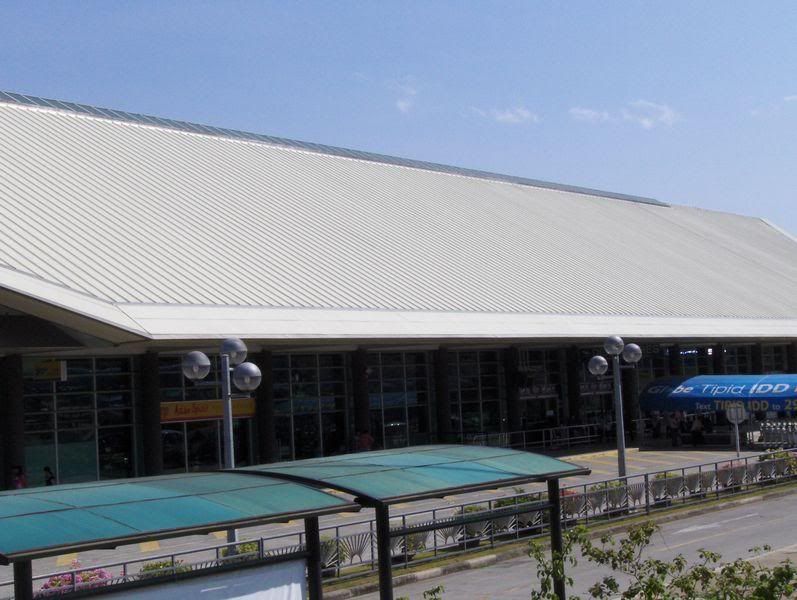 I had planned to fly Sriwijaya DVO-MDC to get to Indonesia, however they only sell full fare Y apparently and it isn't the easiest of tasks to buy tickets for that weekly flight.
Old banner mentioning 2 flights per week, it's down to 1 now
If anybody wants to use this exotic flight, I guess a call to the number listed might get you tickets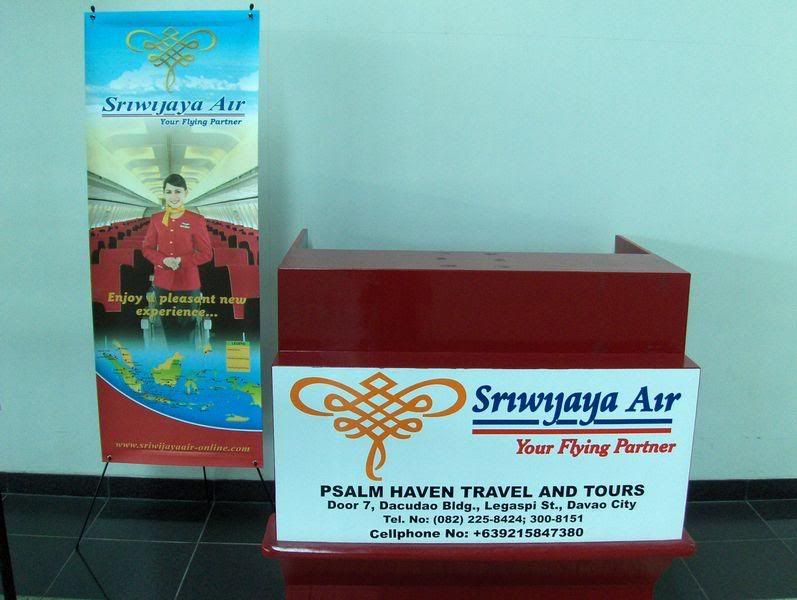 Have a look at the future routes, somebody at SJ must have lost touch with reality...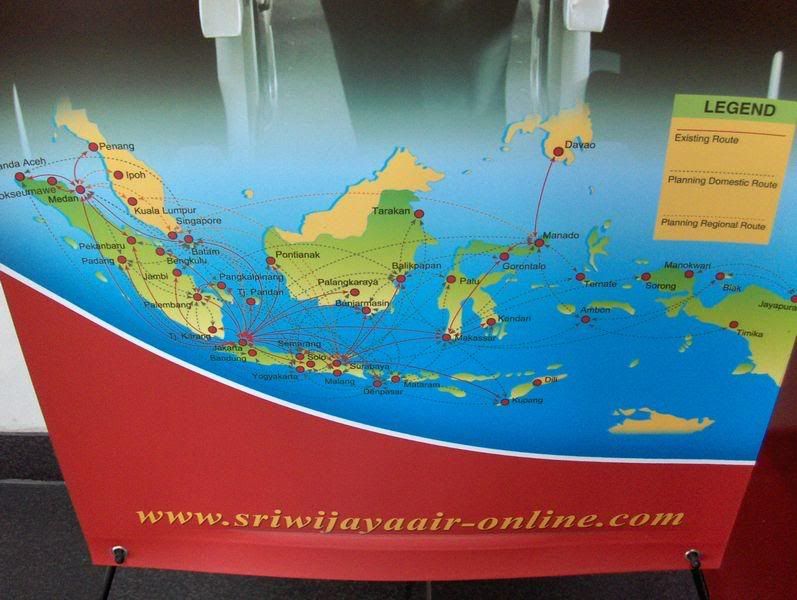 Merpati also had a stand at the airport, apparently they fly MDC/TTE/UPG-DVO sometimes.
Domestic check-in area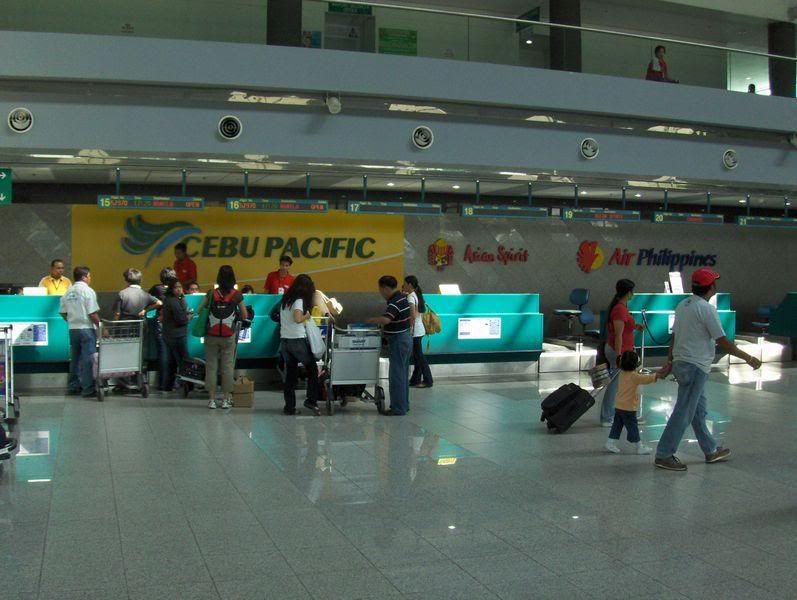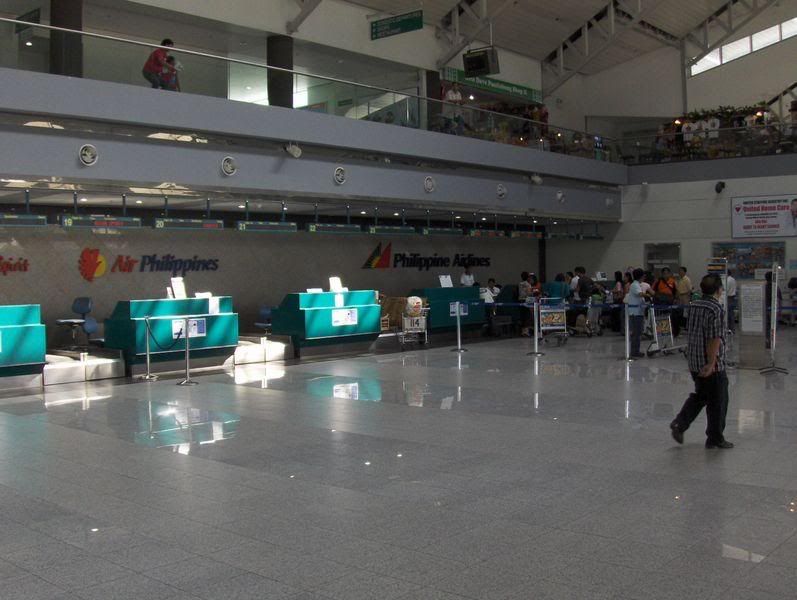 2P announcing the termination of Mabuhay Miles partnership. Considering my experiences with the airline, "valued passengers" should be replaced with "self loading cargo".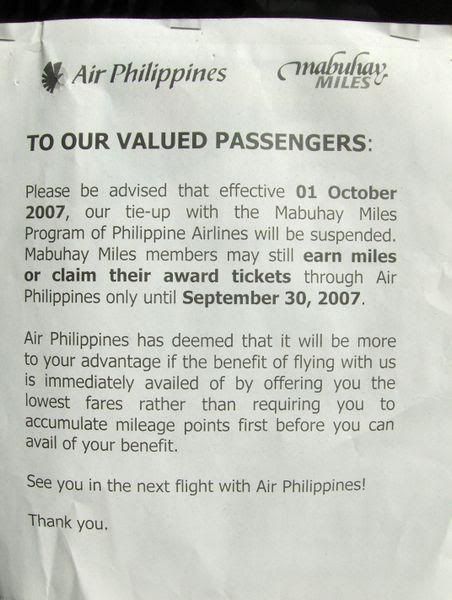 Domestic departures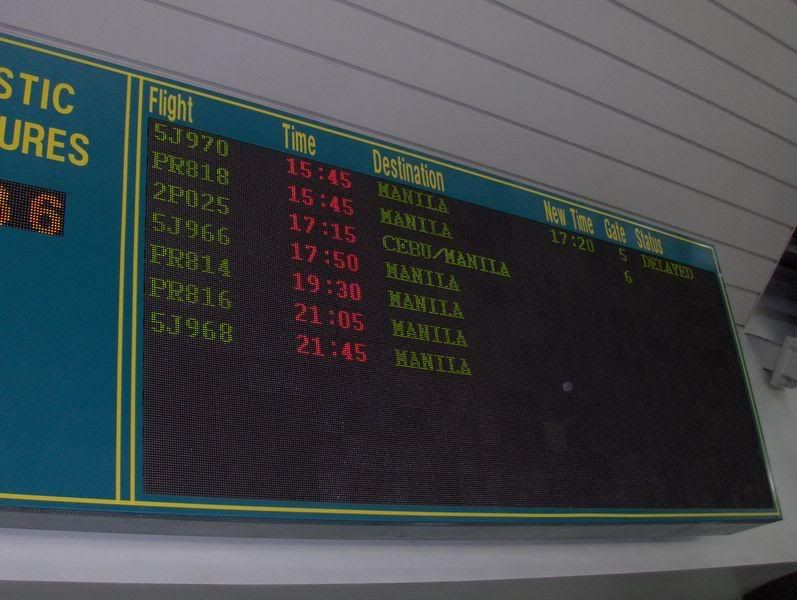 Never seen this one before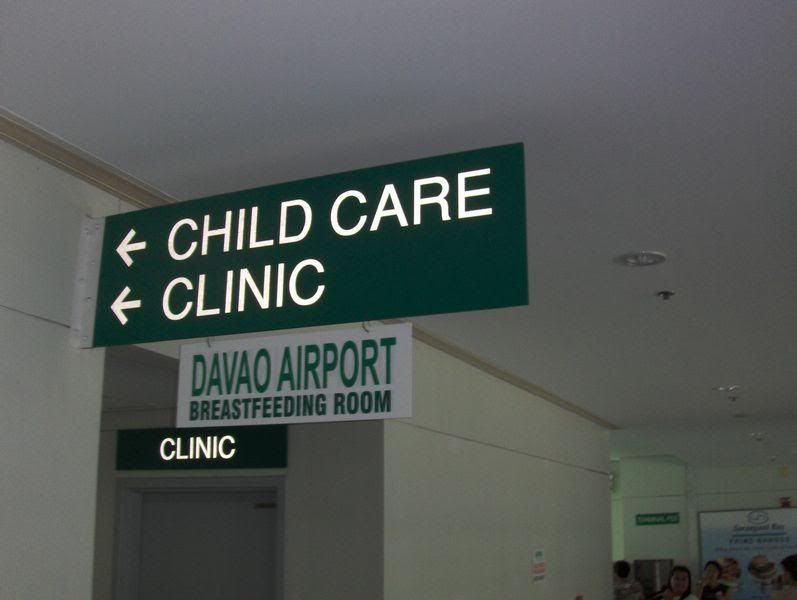 Check in opened 10 minutes late, 1h50min before scheduled departure. Asked for last row and got 21F.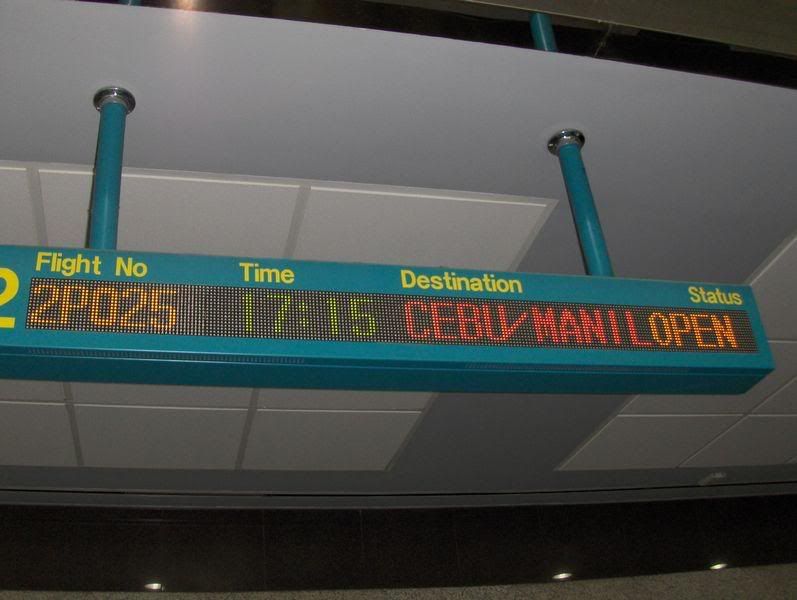 Security was deserted, and I walked through without a problem. However, I was told to go back and remove my sandals ... Hello, I didn't even set off the detector??? They seem to have gone nuts after the bombing here – the curbside reminds me that of JW Marriott Jakarta with the first few lanes blocked from traffic. Purchased a bottle of water after security and was told I'm not allowed to take it out of the cafe. Now I've seen it all.
Philippine Airlines flights were on time, 5J had every single flight hours late. They even offered dinner at the gate for one that was 3h delayed. This has been going on since the switch from DC9s to A319/320s, perhaps a realistic schedule would be the first step trying to correct that? After a while, the Air Philippines check-in agent came to inform me that if I have any connections I should be aware that the flight is delayed. He wore a pink polo shirt instead of company uniform. Considering this and F/As wearing winter coats, I'm sure 2P wouldn't give a rat's ass if you showed up at work wearing a clown's uniform.
1815 was listed as the new departure time on the screens, there were no announcements whatsoever while Cebu Pacific at least kept their passengers updated and even offered the dinner. Finally, at around 7pm, RP-C8006 taxied to the gate and boarding began ten minutes later.
Two foreigners decided to make a fuss about the delay and their connecting flight. Even accused the agent of the "additional Cebu stop that was never mentioned". Hello?? Take a look at your ticket and try to figure out it doesn't take 2h45min to get from DVO to MNL nonstop. Sorry but I have no sympathy for idiots booking separate tickets on unreliable airlines and then missing their connecting flights. Sure, the information about the delay was pathetic at best but 2P or the gate agent have nothing to do with the connecting separate ticket so why bring it up at all.
Crew on this flight was even less interested on greeting passengers than on MNL-OZC or CEB-MNL if that's possible. Considering the airline offers no service on board, the F/As are basically just sitting aboard the plane all day, so the least they could do is being polite and friendly. The cabin was in a terrible shape, lets look at some examples.
Interesting position of the traytables in 21ABC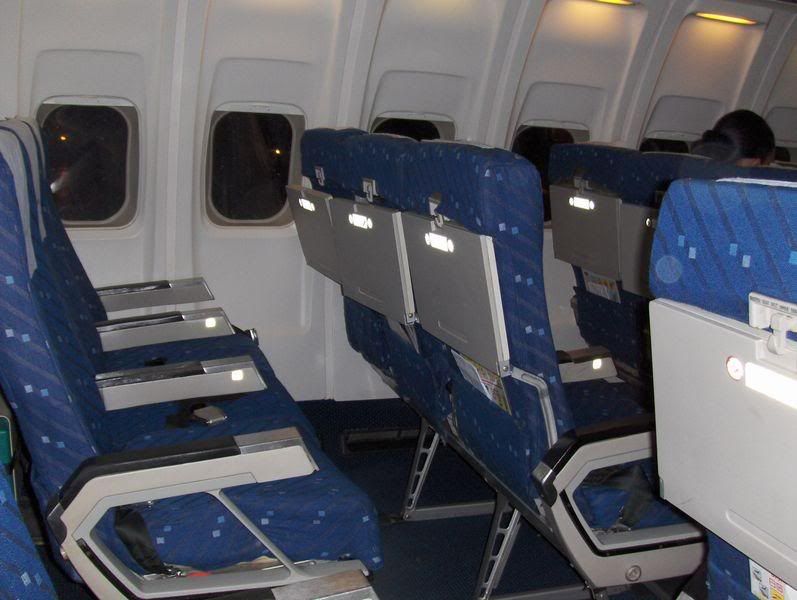 Nicely fitting seatcover
Duct tape is always good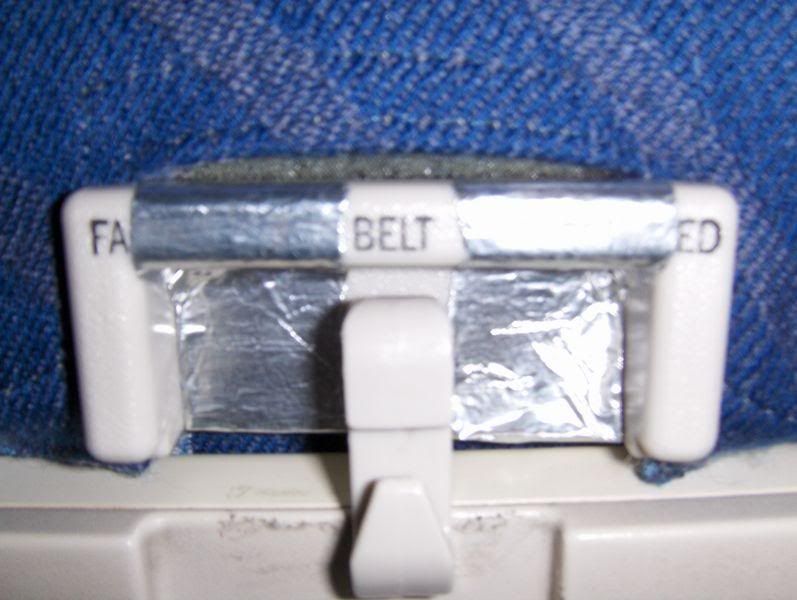 Seatcover of 20A fits nicely...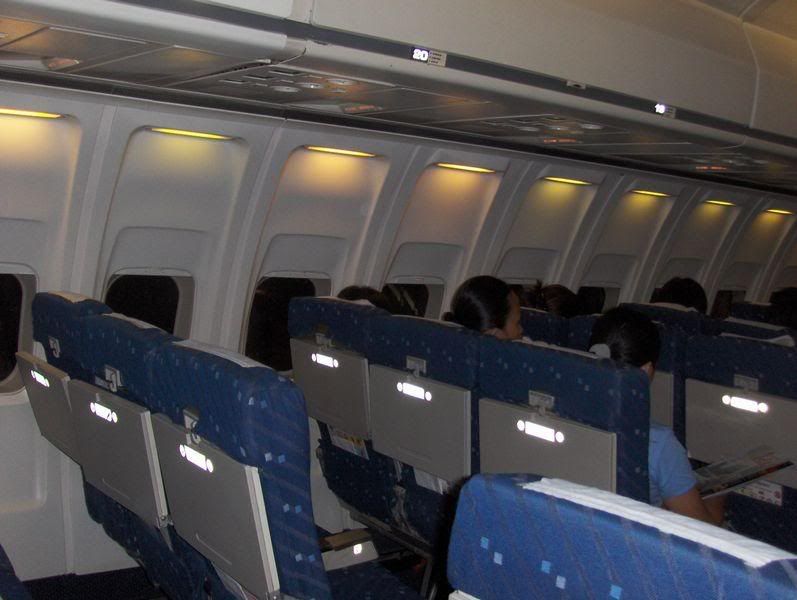 We pushed back exactly two hours late at 1915, and it was raining very heavily at this point. Davao airport isn't exactly busy, so there was no wait for takeoff. Great noise from the engines and rattling cabin fixtures on takeoff – I love these 737-200s.
Poor pic of the old style seatbelt and smoking signs – hard to take since I find the rear section of B737-200s is constantly "moving". You feel that especially if seated in the front and using the rear lav.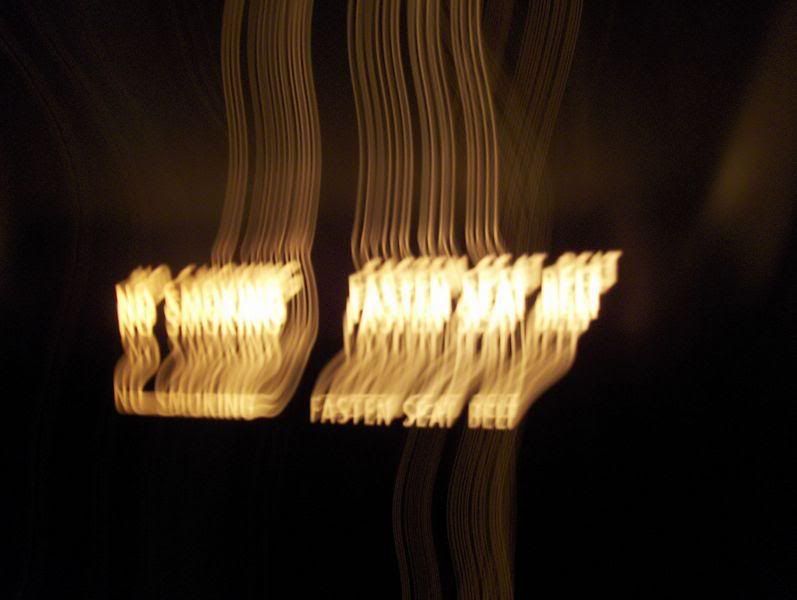 No cabin service on this flight, so it was a very uneventful 42-minute flight to Cebu.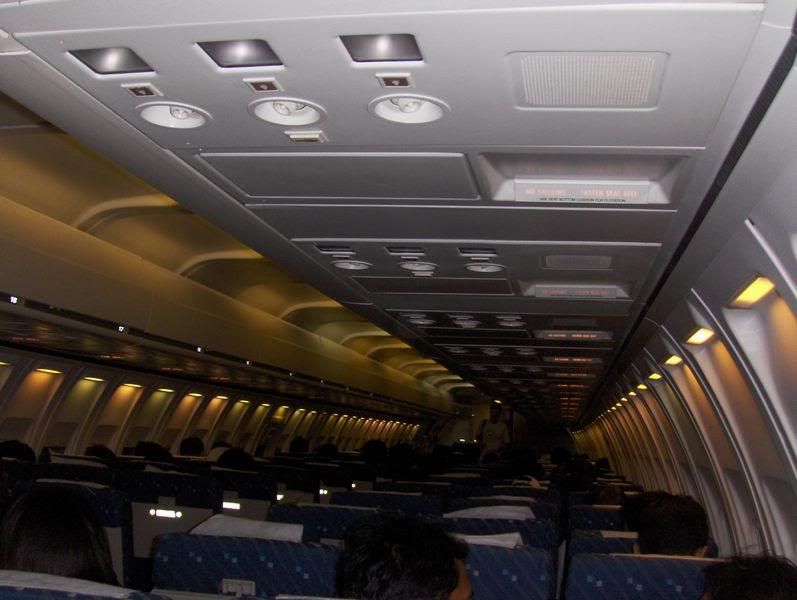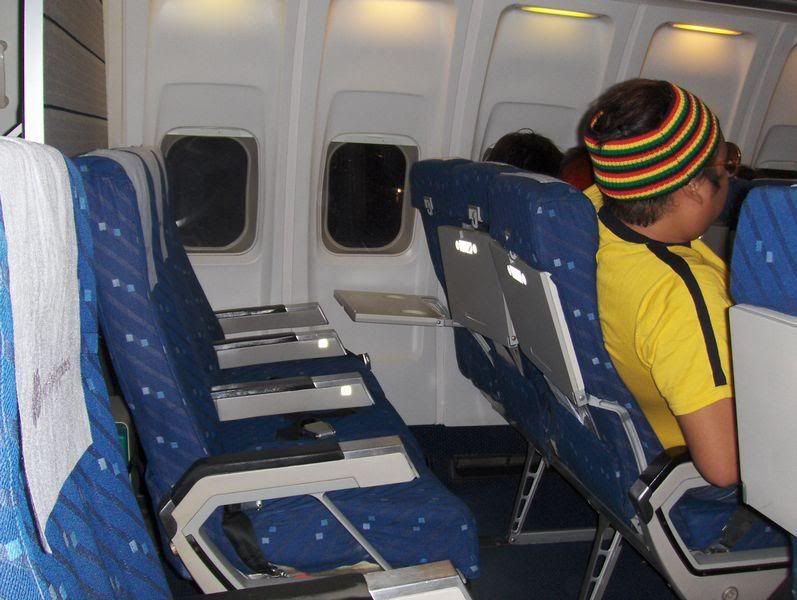 I of course enjoyed the B737-200 very much since they're getting very rare these days. Was also nice to visit a new airport and city, Davao namely. But I'm now fully convinced that Air Philippines is an airline with appalling service and horrible on-time performance. Both flights were about 50% full, so they can't be doing too well on the route with the fuel-thirsty B737-200.
Hope you enjoyed.