In May I began to search for plane tickets to Turkey/Germany and I found a flight with TK for $1,200 from JFK-IST-BJV and back and a cheap flight to BCN. My mom then told me that we were going to go to Germany first so I looked at LH first and they wanted 1,800 Euro per person just from MIA-FRA and 858 Euro to BCN. Being that the price was outrageous she booked with LTU. We had flown with them before from MUC-ADB nearly 10 years ago and the service was great from what I remember. I expected that a lot has changed in this time so I posted this
http://airliners.net/discussions/aviation_polls/read.main/126082/
After reading the replies I didn't have high expectations from LTU. I have flown with LH countless times and know they are consistent so I had no worries there.
The day of our flight finally came and my mom and I took Tri-Rail to the Miami Airport from West Palm Beach.
When we arrived in MIA I was greeted with the usual chaotic scene of this airport. I don't know what airports in Florida see in using carpeting in busy terminals. I bet it got dirty the day it opened. The check in area for LTU was located closer to another terminal so most of the passengers were walking to the wrong terminal and then having to go back to the correct one. The check in staff were nice and I got a window seat as I requested.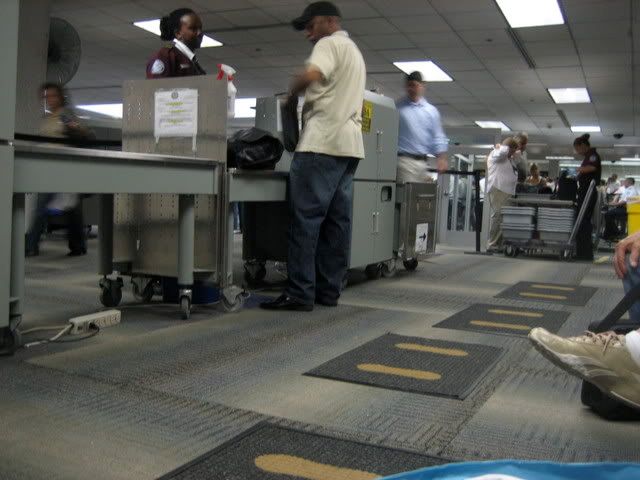 Security in MIA. The security check took place in a room with a sloped floor so it was really annoying standing there for half an hour to an hour at an angle.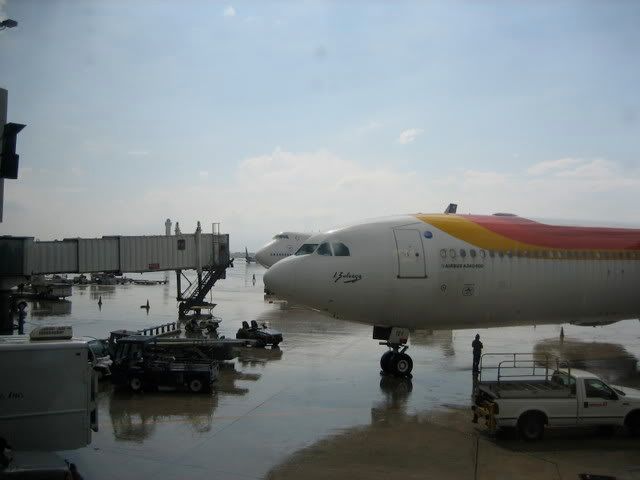 IB and LH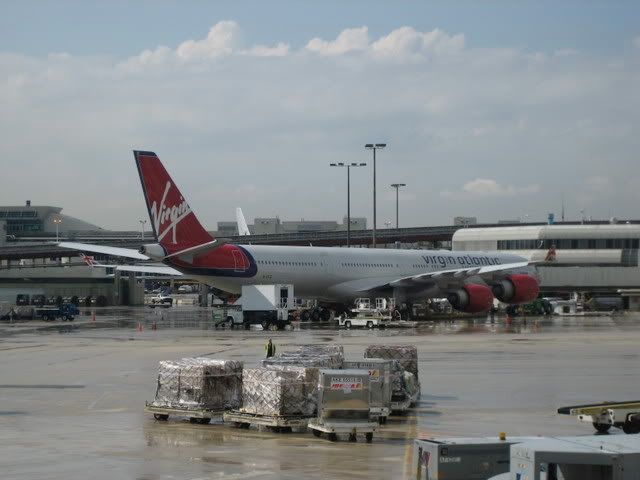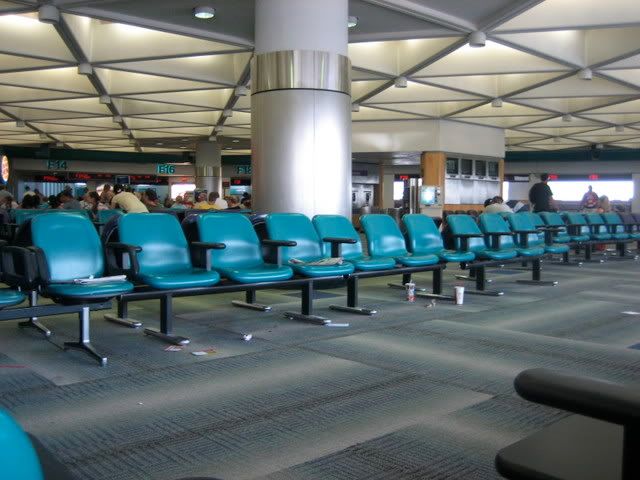 The terminal emptied out after the IB and LH and AF flights departed. It was so loud when all those people were still in the terminal and there weren't enough seats at all.
View Large
View Medium


Photo © Biel Gomila
LTU
June 14th, 2007
MIA - MUC
Flight: 0921
Reg: D-ALPB
Departure: 17:35
Arrival: 11:00
Aircraft: Airbus A330-200
Seat: 44C
The cabin crew was either hidden or talking in a group during boarding.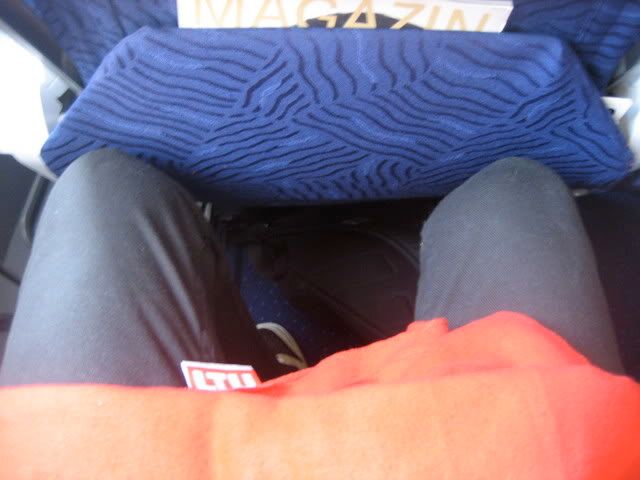 Legroom was pretty tight and I am not that tall.
Dirty tray table. There were crumbs and sticky things all over in addition to the stains and pen marks visible in the picture.
After we taxied away from the gate the advertisements on the over head screens ended and a member of the cabin crew gave some information about the flight. As we were taxiing most of the over head bins were still open. Finally someone came around and shut them as the safety demonstration began on screen. Most of the passengers talked right through the video and it was impossible to hear. It ended and I thought they would play the english version but they never did, we took off instead.
Take-off video:
After take-off they came around and sold headphones for Euro 2.50 which is $3.53. I could understand paying this amount if they had an AVOD system but since they don't they should just pass them out for free and collect them again before landing.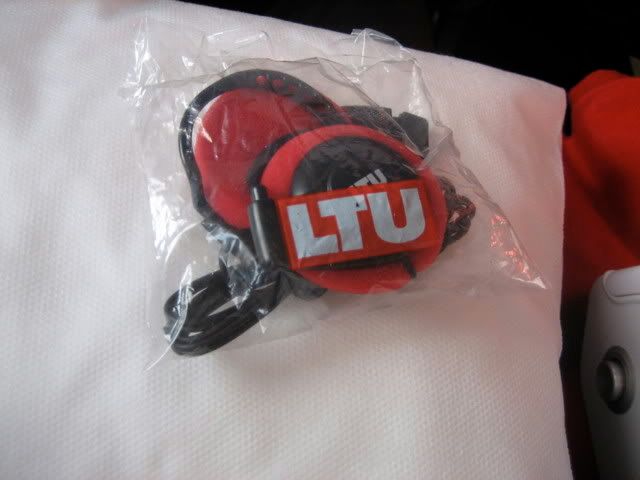 The over priced headphones.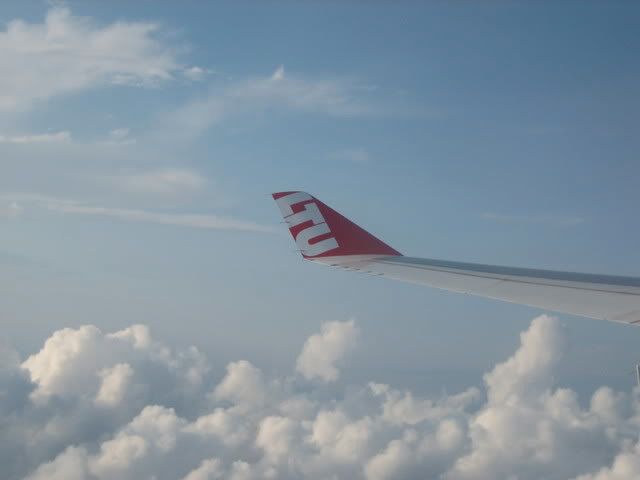 Dinner finally came around and they service was unfriendly.
Vegetarian meal ordered by my mom. It was Indian style and tasted very good.
Everyone else had the option of pasta or pork.
I chose the pork.
It was good but the portion was pretty small. My most recent long haul flights have been with TK and they give nearly twice the amount of food.
Cabin at night.
I don't know what movies were shown because I listened to my iPod the entire flight. All I do know is they played two movies and had news and they barely showed the air map which really annoyed me.
My mom got up to go walk around and talk to friends and she had to go around the rear galley which the cabin crew had blocked off with the food carts. They were sitting back there and talking and my mom asked if she could pass and the flight attendant asked her why she wanted to go to the other side of the plane and told her to go to her seat...then my mom said I want to give my friends my business card and then the flight attendant moved the carts and let her pass. I've never heard of any airline blocking the way to the other aisle.
The bathroom was clean but they needed to empty the garbage as you can see.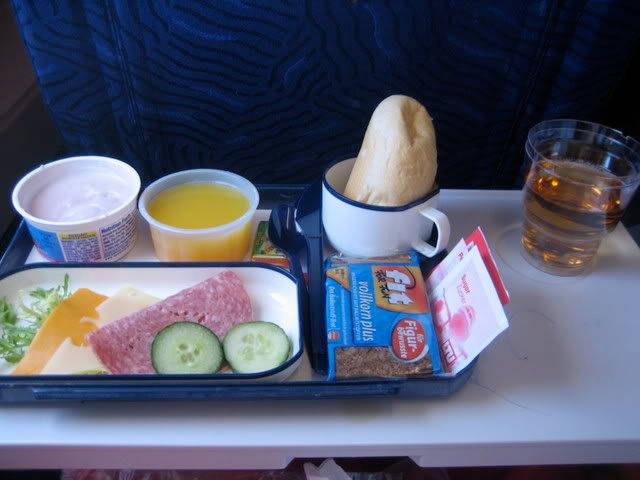 We got a breakfast which consisted of barely anything. My moms vegetarian breakfast was just fruit and that is it. They could have put more effort into that meal than just fruit slices.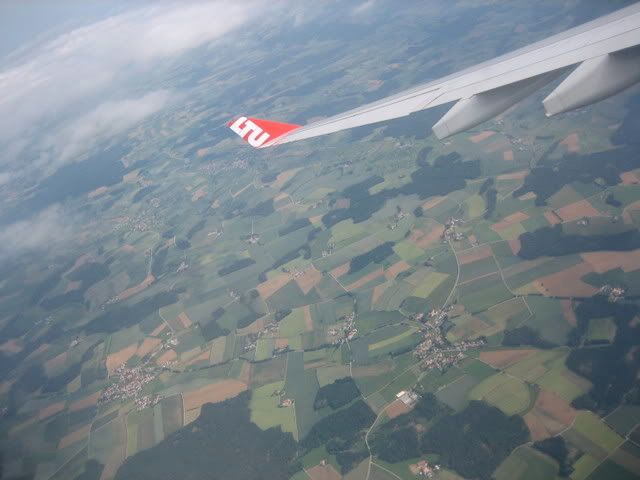 Munich outskirts.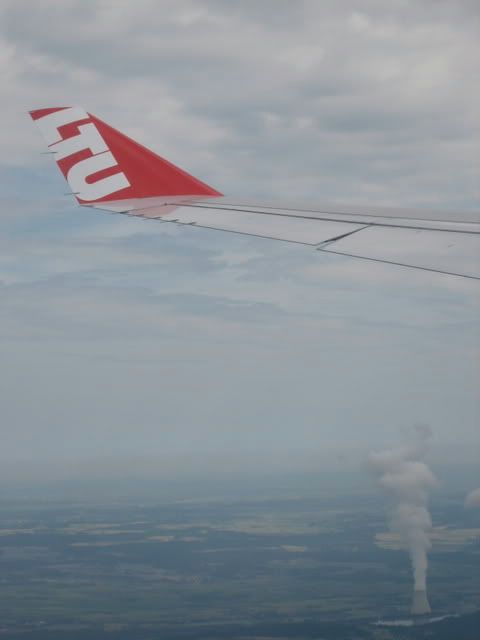 Landing was very smooth and during the decent a LH A320 was flying next to us it was cool and my first time landing at the same time as another flight.
Landing video: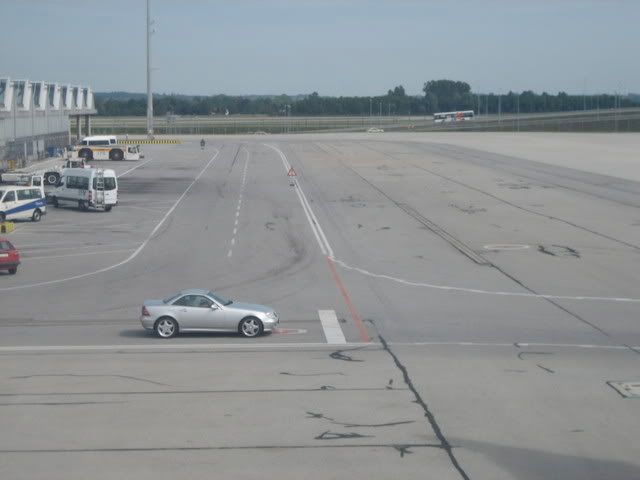 Mercedes-Benz SLK...what at German welcome into Munich.
The crew was very unfriendly while the passengers left the plane they didn't even say bye.
The transit people in Munich were waiting at the gate at were so rude. My mom took the later flight with LH so she could see her best friend at the airport and they told us we couldn't leave and had to go straight to T2 and wouldn't listen at all and just kept on repeating the same thing over and over again like robots. We just disregarded them and left the terminal anyway.
Unlike MIA, MUC had windows facing our gate.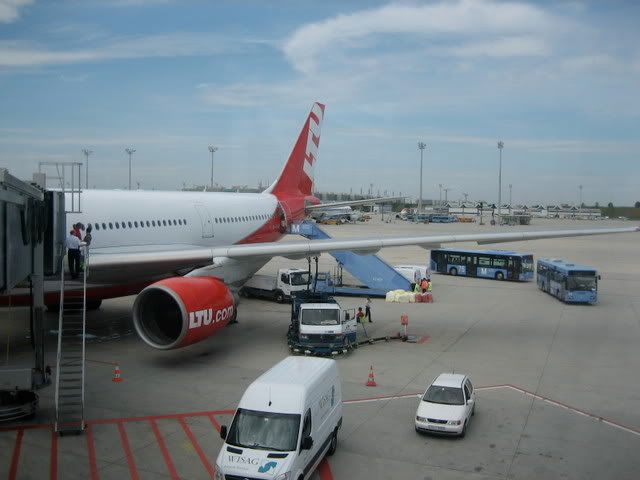 The Munich Airport is the most modern clean functional airport I have ever been to in my life. My mom her best friend and her dad and I all went to a restaurant outside between the two terminals. I decided to go for a walk alone and during the walk I felt really sick and I never came back to the table. My mom's friend went looking for me and they found me passed out in T1 and I was white as a ghost. My thought I wouldn't make it on our next flight.
I still managed to take pictures even though my mom had to help me walk.
We ate in the area with the trees.
After we made it past security in T2 I felt slightly better since I got to sit and close my eyes again. I blame feeling so sick to not sleeping.
I went to the bathroom to wash my face hoping it would make me feel better and when I was there a girl came out of the stall and we looked at each-other with the "Why are you in here" facial expression. We both walked out together and looked at the sign which said men and we both laughed and walked away.
View Large
View Medium


Photo © Steve Albrecht
Lufthansa
June 15th, 2007
MUC - FRA
Flight: 973
Reg: D-AILI
Departure: 13:00
Arrival: 13:45
Aircraft: Airbus A319
Seat: 14B
As sick as I was I was excited since this would be my first time on an A319.
The plane was clean and the cabin had LH's new interior which was nice. The seats were very comfortable and the legroom was pretty good. The distance between the seats was perfect for putting your head down on the tray table and sleeping.
I dreaded the engines to start making loud noises since my head hurt but I was so impressed by this plane. It was so quiet.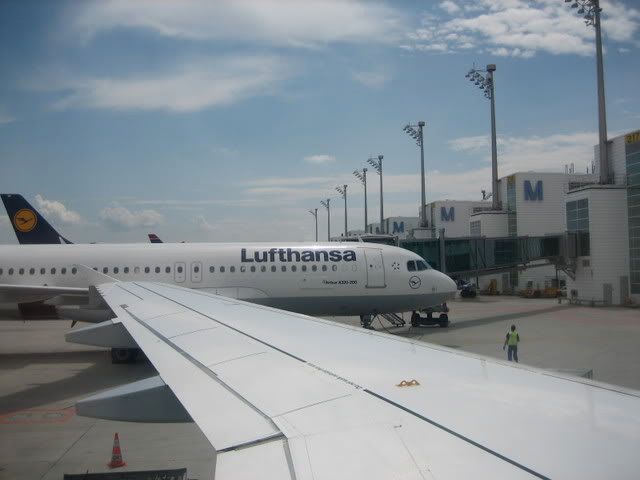 I feel right asleep but woke up 4 times because of the announcements by the pilot. He was very talkative and I find German to be a soothing language so it was nice to listen to through out the flight.
FRA landing: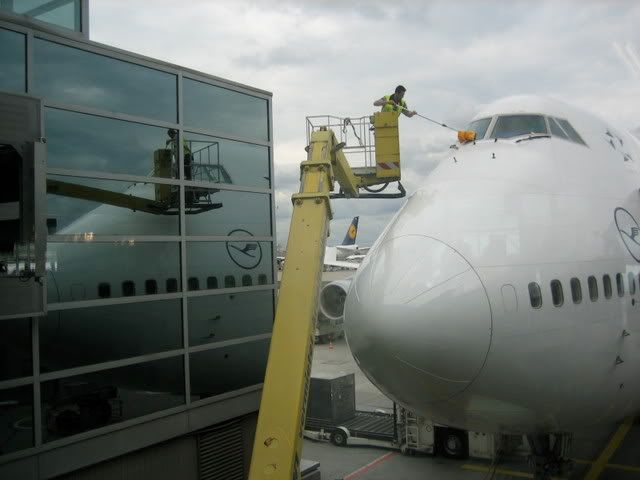 D-ABTH getting a window wash.
After a great summer vacation in Turkey, Germany, Spain, Italy, Switzerland and Greece it was time to go back to Florida.
We woke up early in the morning and my cousin took my mom and I to FRA. We got there two hours early but the lines were so long we had to go to Lufthansa's business class check in area to make it on time. They were so nice and got me window seats on both flights. Even though we weren't business class passengers we were treated like it. LH has very good ground staff and are very helpful.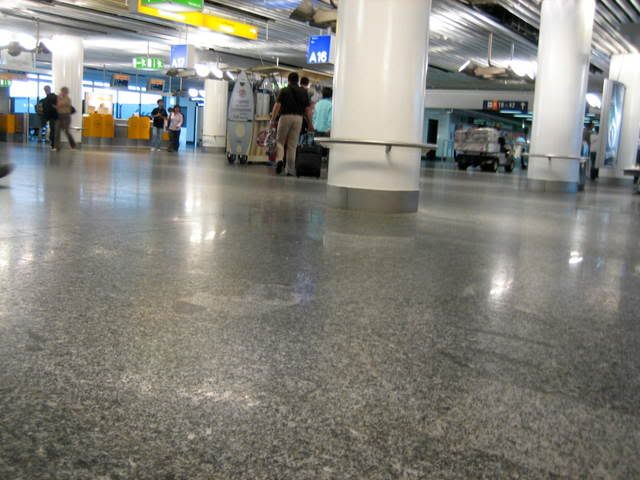 When I checked out plane tickets it said that this flight would be operated by an A300 and then online it said A321.
When we got to the gate I saw the fatter Airbus fuselage and I was like oh it is an A300. You couldn't see our plane from the window because there was a bar in its place.
View Large
View Medium


Photo © Alex Peter
Lufthansa
August 11th, 2007
FRA - MUC
Flight: 962
Reg: D-AIKG
Departure: 7:15
Arrival: 8:00
Aircraft: Airbus A330-300
Seat: 43H
When I got on board I was surprised to see this: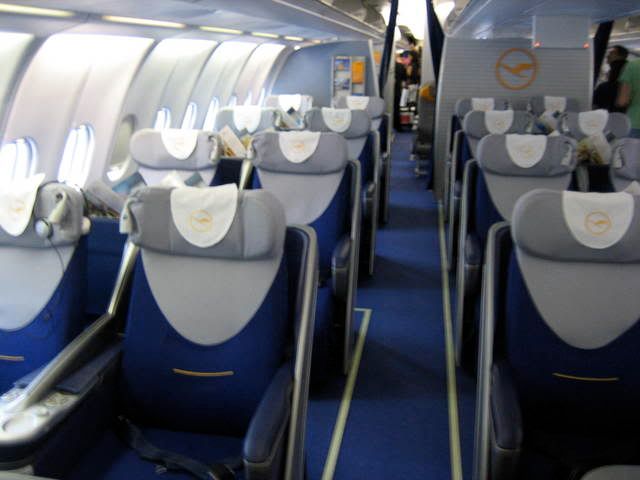 When I saw the LH business class to my right and first class to my left I realized that this was an A330.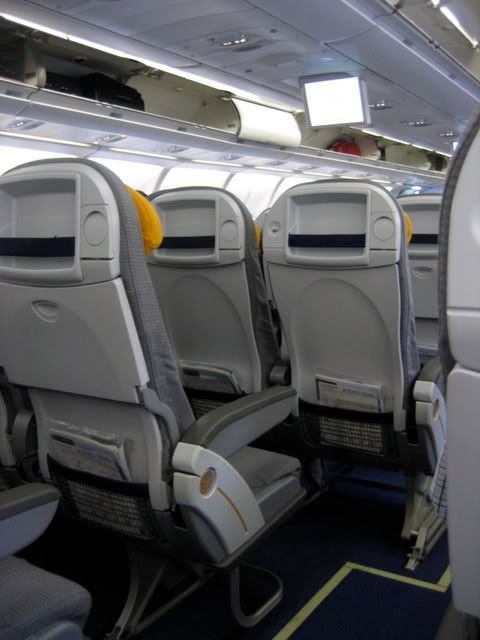 The flight was filled with Americans, Asians, and Israelis. There were barely any Germans everyone was from somewhere else.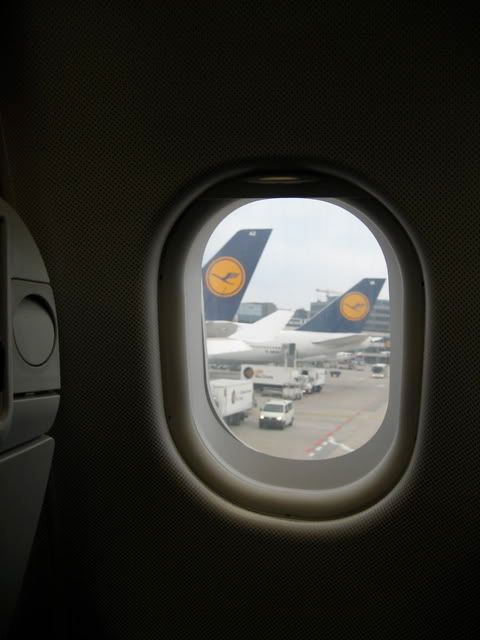 The lady who sat next to me was really nice and was from Ukraine. She let me take pictures from the window even though I had the aisle seat.
I liked the way the LH cabin was. The seat numbers were cool it didn't just say AC or whatever it showed the aisle and two seats in a picture with the window too.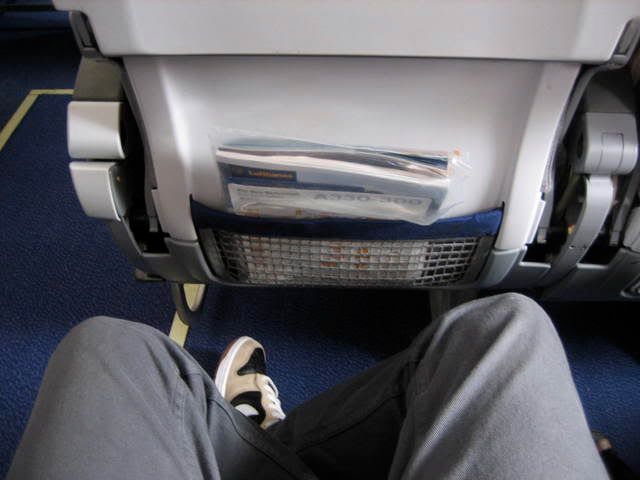 Good legroom. So many people complain about LH having no room between seats and this isn't true with this plane.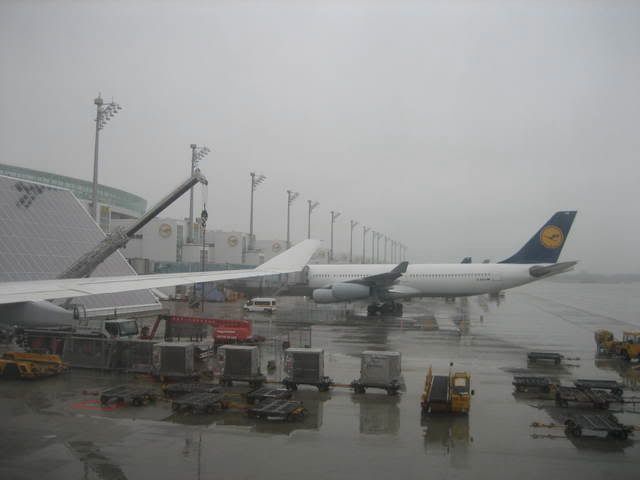 We landed in Munich and it was cold and rainy.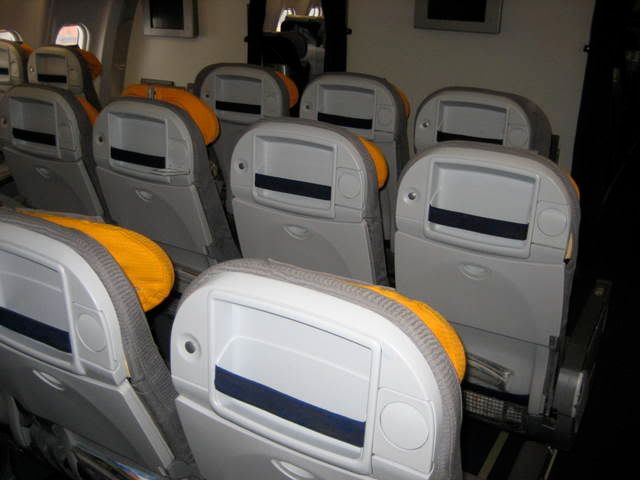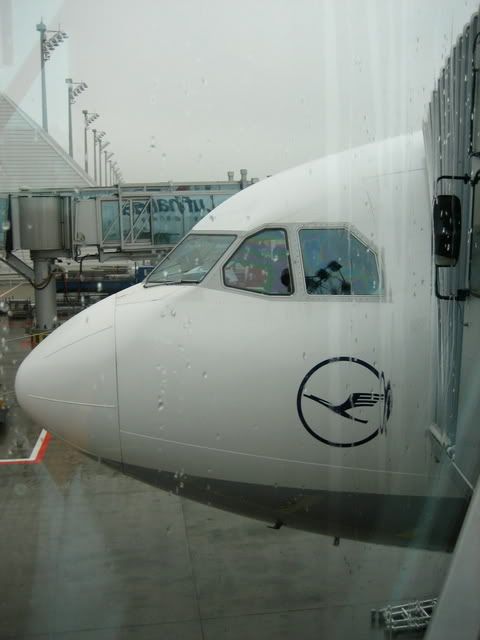 Ludwigsburg.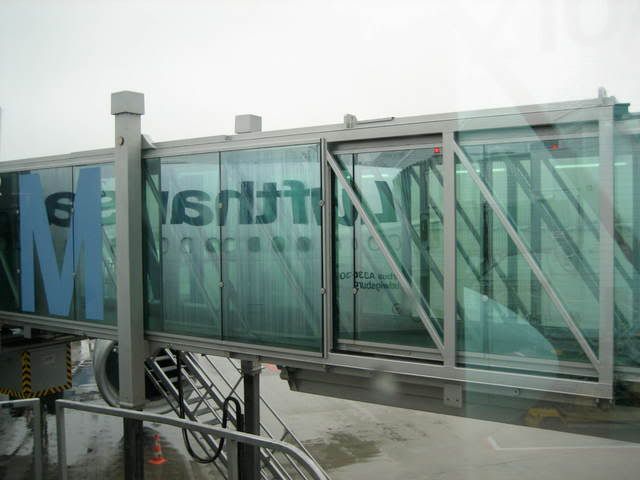 Allianz Arena model inside the terminal.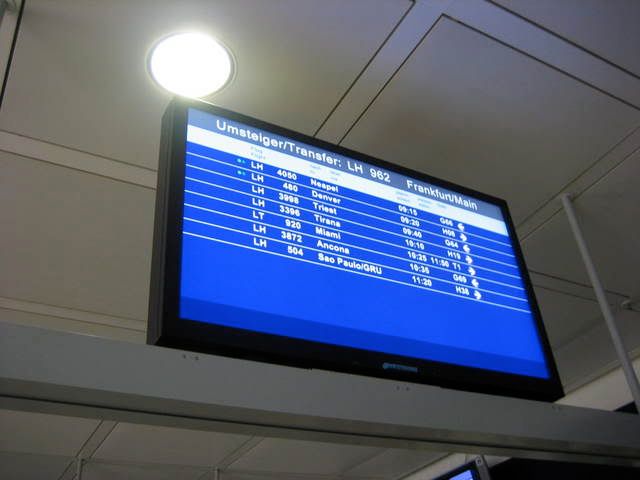 I love how there are screens outside the gate showing information for transit passengers. We got to see our flight was delayed so we had time to shop and eat.
We bought some products that aren't available in America and most were liquids. They put it in a clear plastic bag that showed the items were purchased in MUC and sealed it and put the receipt inside the bad.
There is a sign that says it takes 45 minutes to walk between T1 and T2 at MUC...it really takes 15 minutes.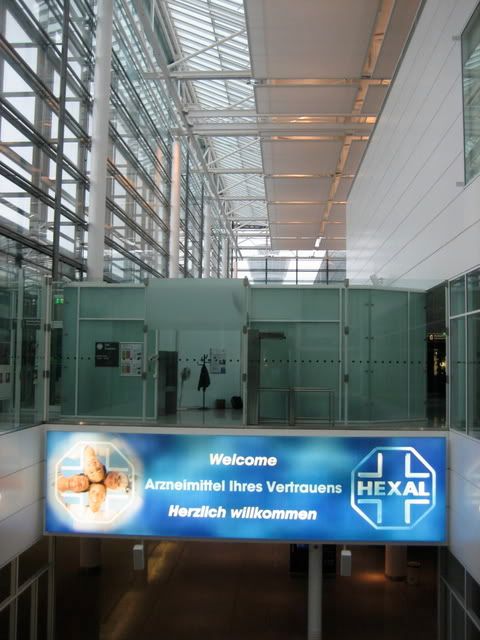 T2 baggage claim.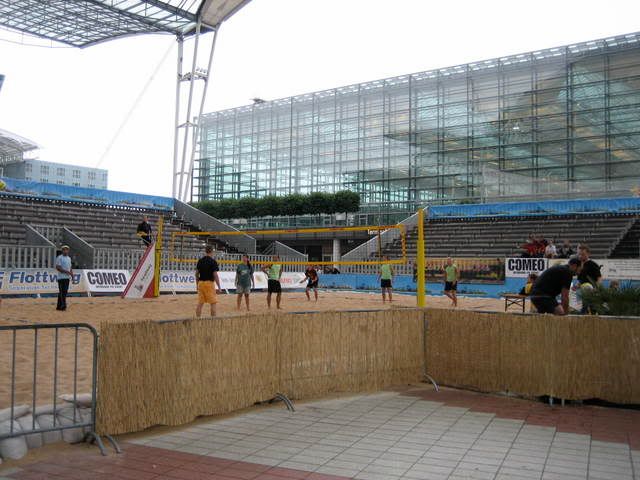 Volleyball game set up between the terminals.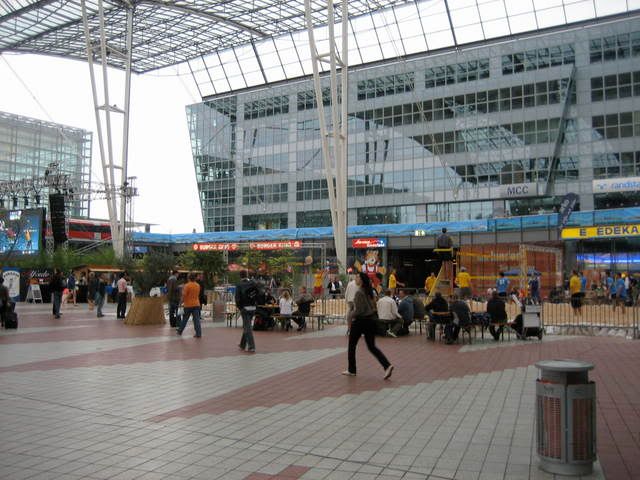 Video of MUC:
The airport is so lively. I like that it has subway connection and good shops and restaurants in both terminals.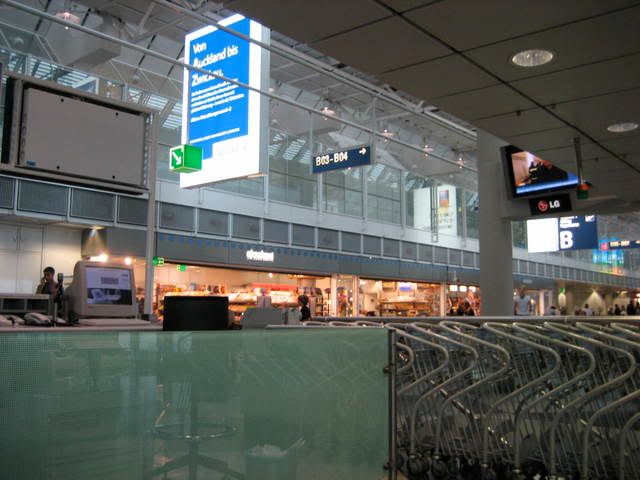 I went to sleep on a bench in T1 and woke up by some airport staff saying I needed to move since they were moving the boarding area over to where I was sleeping. At first I was annoyed but it enabled me to find my mom who was buying a delicious Germany sandwich so I got one too.
Our plane was originally D-AIPD but something went wrong with the engines and they switched it to LTU's newest A330 D-ALPI. I've never been on a brand new plane so this was another first for me.
View Large
View Medium


Photo © Klaus Ecker
LTU
August 11th, 2007
MUC - MIA
Flight: 920
Reg: D-ALPI
Departure: 10:50 changed to 11:50
Arrival: 3:45
Aircraft: Airbus A330-200
Seat: 44C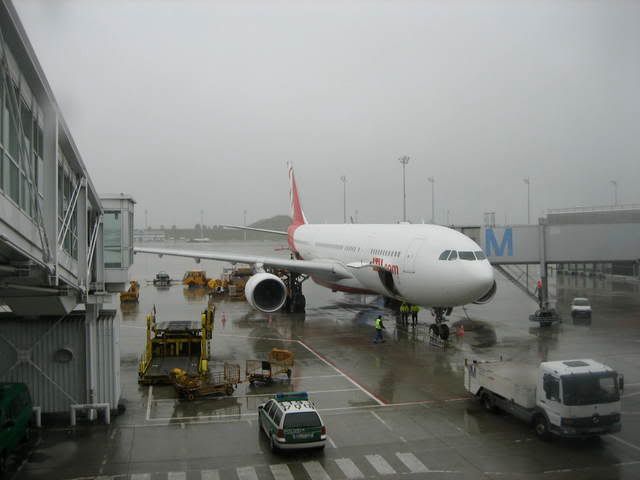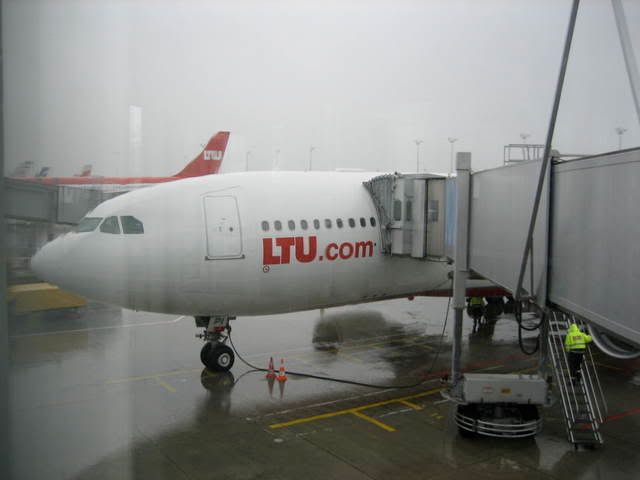 Legroom on the new plane.
The pilot even said in the announcements that this is their newest plane and is almost three months old. The crew on this flight was nicer but still very unfriendly. In LTU's inflight magazine there is an article about their new cabin crew uniforms. The male and female crew members were wearing them on our flight and they were nice. The female F/A bent over with her butt in my direction during the flight and I got to observe the fact that they are slightly see through.
The seats are slightly different from the older LTU A330 but have the same fabric.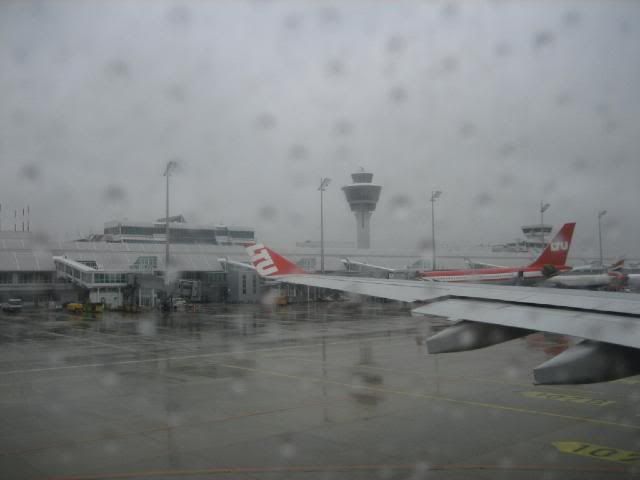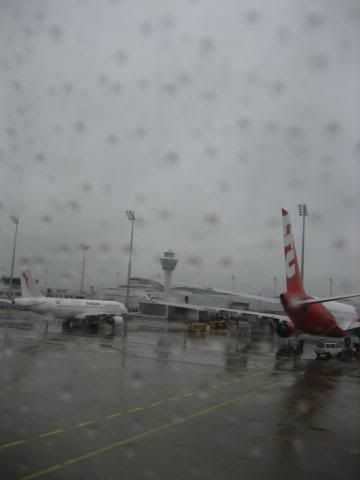 After take-off we were served dinner.
My meal was a mix of two different pastas and tasted okay but was over cooked.
The F/A handed my mom the chicken meal and my mom said I ordered a vegetarian meal. The flight attendant looked at her list and said "I served it to someone else I need to go to get you another." With a annoyed sigh she went and got a vegetarian meal and put it down and didn't apologize. I noticed that the meal service took significantly longer than any airline I have ever flown with.
The new seats were more comfortable than the old so I was able to sleep 5 hours on this flight.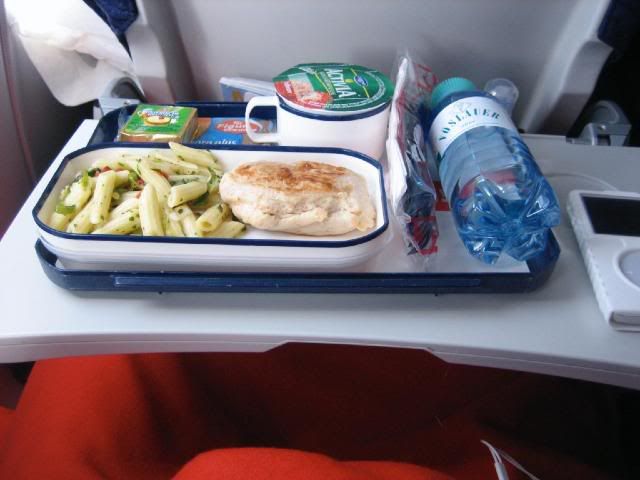 Lunch.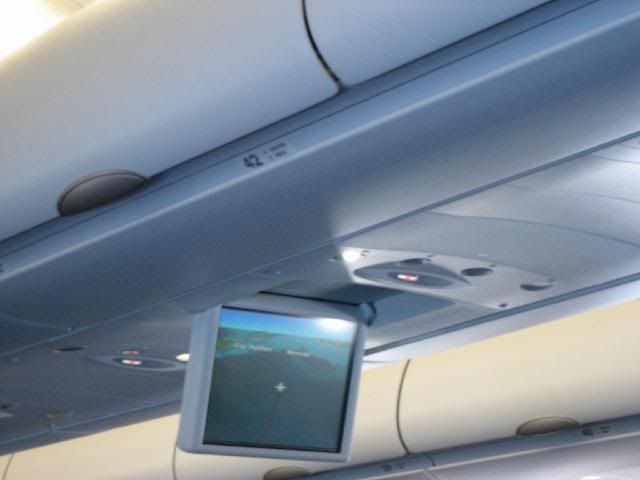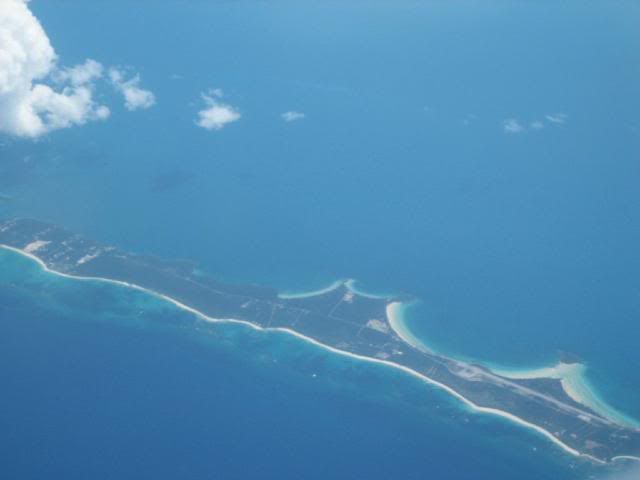 The Bahamas.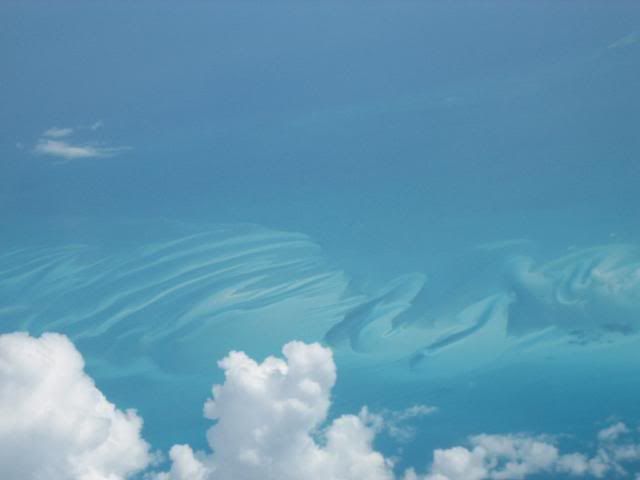 It looked so pretty. After flying over it I really want to go to the Bahamas.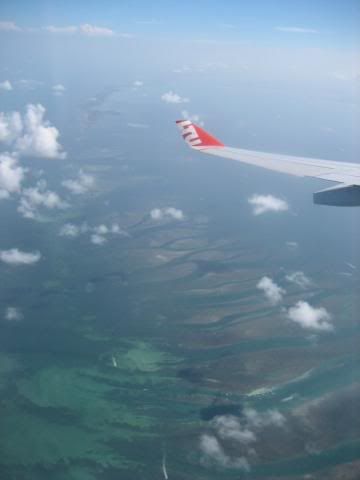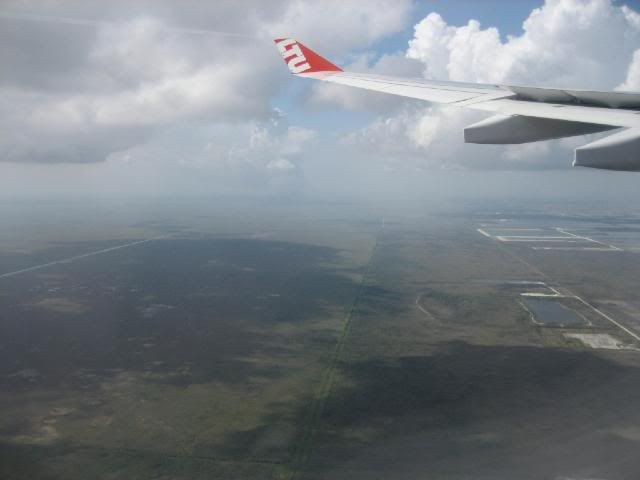 A jail at the bottom left of this pic.
AZ another rude airline...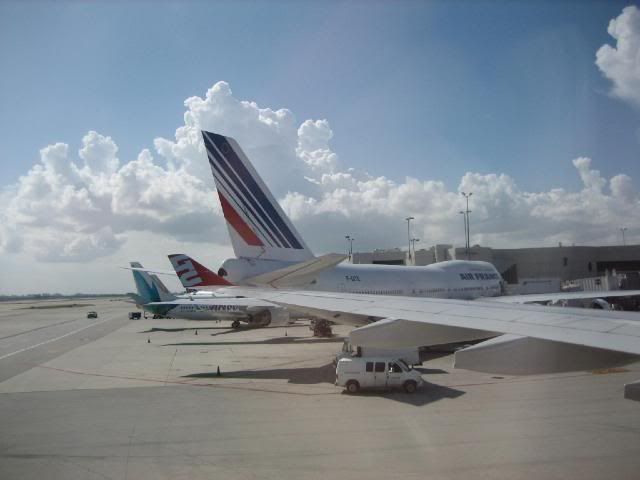 AF 747-400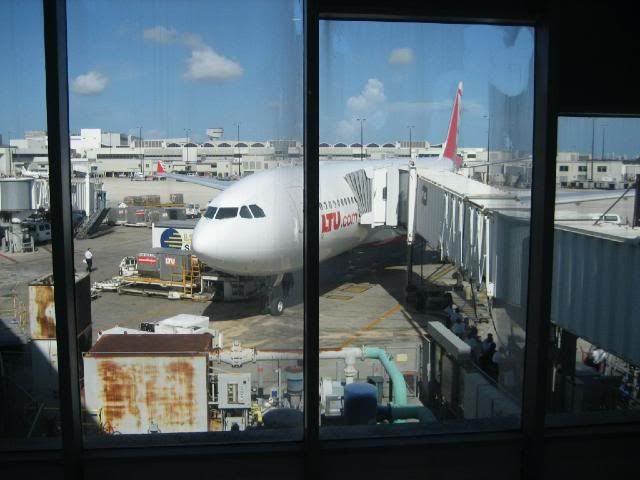 Passport control was a in a huge room and before you entered you were sorted by a grumpy old man screaming "AMERICAN PASSPORTS" or "EUROPEAN PASSPORTS". Typical MIA welcome. I walked into the American passport line and he looked at me and screamed "EUROPEAN PASSPORTS THIS WAY YOU'RE AT Macedonian Airlines (Greece)">IN THE WRONG LINE." I looked at him and said "No." Then he continued to yell "THE LINE FOR EUROPEAN PASSPORTS TO THE LEFT" at me and I said "I AM AMERICAN I CAN READ I DON'T NEED YOU TO YELL AT ME, I AM AT Macedonian Airlines (Greece)">IN THE RIGHT LINE." Then he looked at me and said "WHAT DO YOU THINK I AM A FORTUNE TELLER?"
I always expect something frustrating to happen each time I am at MIA.
My mom walked into the line too and he yelled at her too and I just cut him off and I said "She is in the right line we are both American citizens." All the other passengers were looking at the old guy and laughing. It is really an awful attitude to have welcoming Americans and foreigners into the country.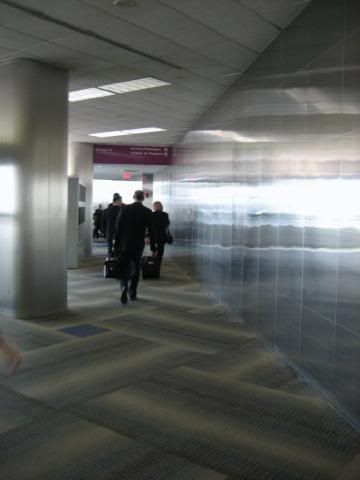 Pilots and cabin crew.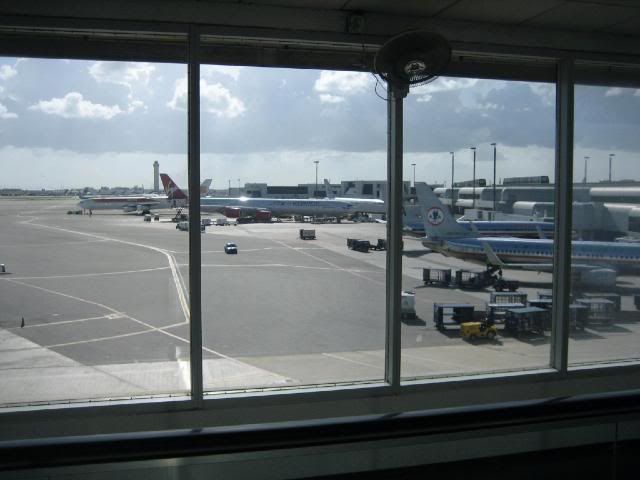 After leaving MUC which was in the 50's getting back to humid south Florida was like hell. First of all MIA is chaotic and just a mess of an airport. It isn't modern and none of the colors go together. The ceiling tiles have mildew on them and the baggage claim staff look like they belong in a rap video, gold teeth and all, instead of an international airport. MIA is the worst airport I have ever been to and I really enjoyed the past two years when I got to avoid it by using PBI-JFK-IST instead.
My opinions of the Airports and Airlines:
MIA - It's a bad airport with a bad design. The people that work there are also as bad as the airport itself. They need to just build a modern airport in a new location and get rid of this airport completely. They also need to remove the carpet while they're at modernizing it.
MUC - This airport is fascinating and is prefect in every way. Using MUC as a transit point is easy and convenient and I highly recommend it. The airport is a place to visit even if you're not flying because it is so nice. The design of the airport is also very nice. All the colors are pleasing to the eye and is a nice change from MIA's neon and pastel tones that don't go together. The food in the airport is excellent and the bathrooms are clean and everything is well lit.
FRA - It's huge and busy and everytime I have been to this airport (almost every year of my life) something is changed and it's constantly under construction or renovation but it still manages to be calm and clean and I have never had a bad experience there.
LTU - It's a decent airline. It gets you from point A to B for less than LH. The cabin crews should really work on their attitude.
LH - LH is very good and they cabin crews were very nice this time. The cabins were clean and the planes all seemed new.
I hope you enjoyed my trip report.
These are the two other trip reports that are part of this same trip:
http://airliners.net/discussions/trip_reports/read.main/107292/
http://airliners.net/discussions/trip_reports/read.main/106828/