I'm sorry if the pictures do not show for some of you. I have a bandwidth limit of 25 GB, and have 90 pictures in this report. If you cannot see them, my only advice is to wait until the 18th of the next month when the limit resets, thanks.
------------------------------------------------------------------------------------------------------------
The idea for this trip started a few weeks ago when a friend at school told me the Red Bull Air Races would be in San Diego on the 22nd. He said we had a test that day. I of course had to find out more, so I went to their website. I also figured out that my test was on the 21st because the 22nd is a Saturday, so I could go. I then checked ticket prices from TUS-SAN. WN still had $49 one-way tickets available 2.5 weeks in advance. I then downloaded DING! in the hopes that they would DING! TUS for SAN. I figured there was a good chance they would since the $49 fares were still there 2 weeks in advance. I didn't have to wait long. That Saturday, 2 weeks before the show, I looked at that day's offers when I turned on my computer. TUS-SAN was there for $37 each way. I had emailed my dad about the show earlier that week to see if he wanted to go. I hadn't heard back so I called home. He wasn't sure if he wanted to go, but said I could go if I wanted and he could get me to the airport. If he went, he wanted to drive. I told him that flying was cheaper than driving with these fares, and look at all the time you saved. I must have convinced him because we bought the tickets right then. Then I went and bought the Air Race tickets and bus passes for San Diego (which we really didn't need, but more on that later). Now I had to wait through two weeks of papers and tests before the show.
I checked in for all the flights the moment they became available on southwest.com. The Friday before the show, I couldn't fall asleep. I can't decide if it was because of the show the next day, or the week I now had behind me. I woke up at 4 Saturday morning and got my things together. Those basically were camera, sunglasses, boarding passes, and tickets. My dad picked me up outside my dorm at 5, and we were off to the airport. We parked in the Park&Save lot and took the shuttle to the terminal. Since I had checked us in the day before, we went right to security. Security was normal for TUS: virtually no one there. After doing the security thing, we went and sat at gate 23.
The side of the terminal WN uses at TUS is looking really sad. They are remodeling it, which explains the dismal appearance. I would say we are lucky it has carpet. The ceiling is the metal frame that is to support the foam tiles, but there are no tiles, so you see the pipes and concrete roof above. The WN gate information signs are hanging by metal wires from the metal frame above (pic at the end of report). At least there were seats to sit on. While we waited the F9 overnight A318 left for DEN (no pics because it left just as we got through security) and an AA MD-80 left for ORD. The other planes on this side of the terminal were an XE ERJ-145XR waiting to go to ONT, three more AA MD-80's, all going to DFW throughout the morning (there is also a 5 AM flight, which had already left, making 5 RON AA jets in TUS). AA's gate situation is interesting. It appears they have 25 and 26, but try to use only 25. They do have a podium at 26, which they need if two flights are here at the same time due to delays. Then there were a total of 5 WN 73G's: ours to SAN, and one each to MDW, LAS, LAX, and ABQ. While waiting, I saw some guy start his campout for spot #1 in the B line. Before boarding, there were 10 or so people waiting in the A line.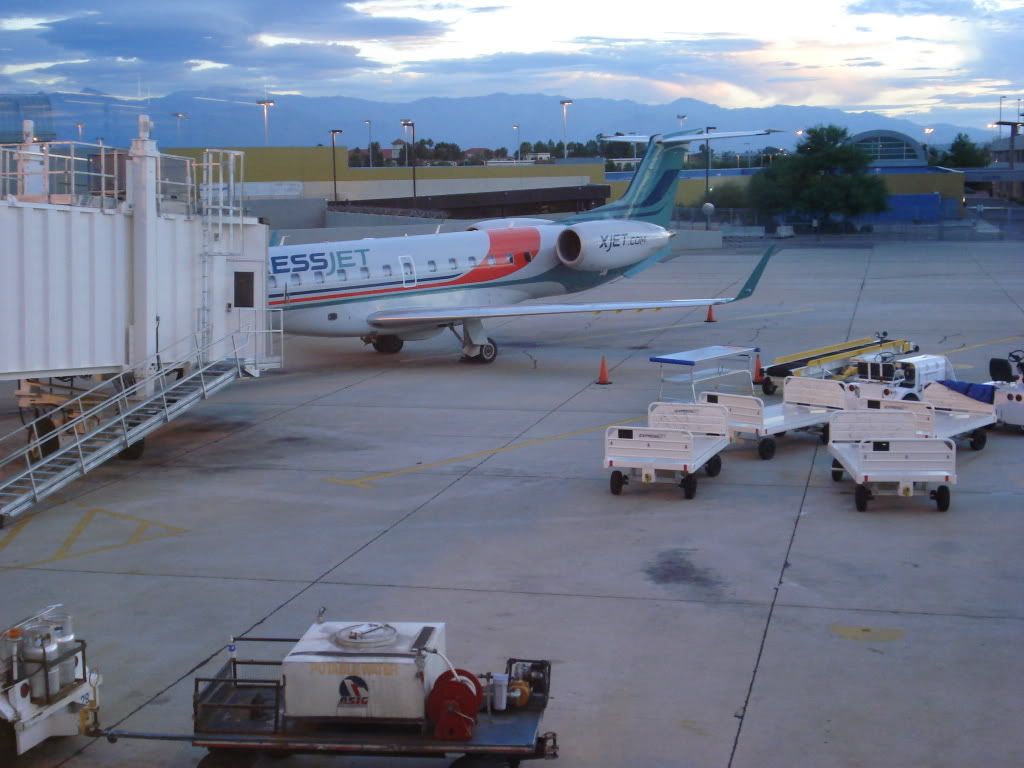 XE ERJ-145XR to ONT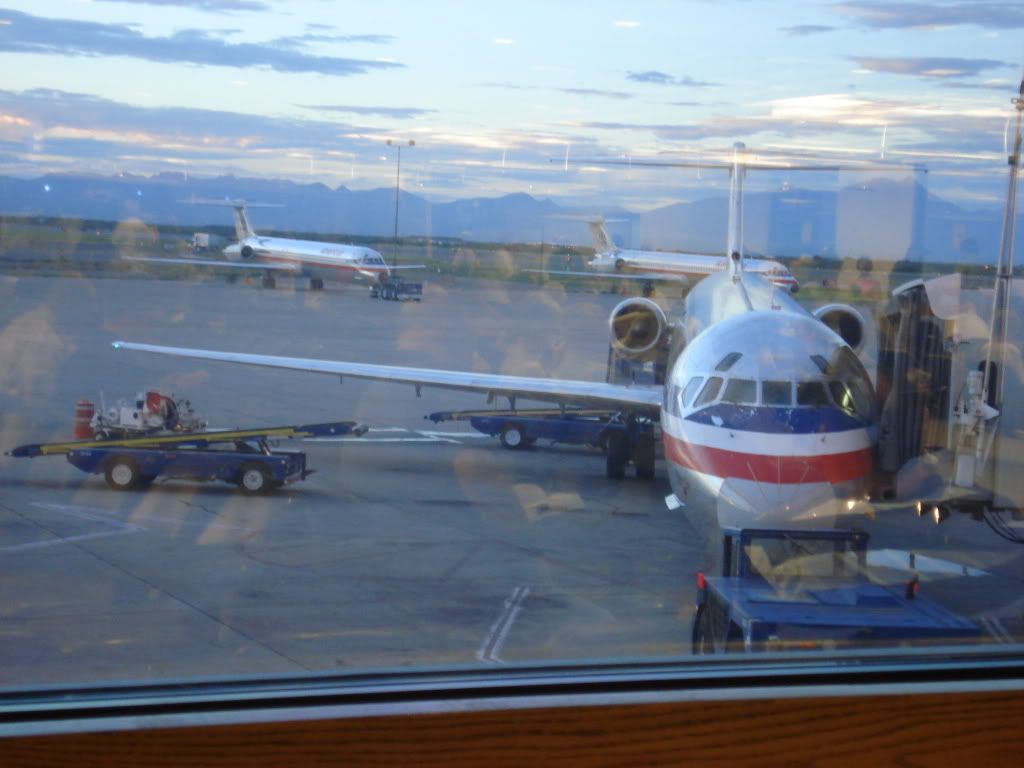 AA MD-80's to DFW Each jet in the background has its own towbar attached to it.
WN to MDW
WN to SAN
Southwest 3291
TUS-SAN
September 22, 2007
Scheduled Departure (Actual): 6:45AM (6:45AM)
Takeoff: 6:53AM
Gate 23, Runway 21
Scheduled Arrival (Actual): 7:55AM (7:55AM)
Runway 27, Gate 10
Cruise Altitude: FL280
N492WN
View Large
View Medium


Photo © Matthew Wallman
Flight track courtesy of FlightAware
Boarding began around 6:25AM with group A. My dad and I got in line behind the 10 people who were already there and got on the plane. We noticed two people get turned away (not because of their clothes
) but because they were in the wrong line. It was clearly announced that this flight was going to SAN and they were going to MDW. As we were on the jetbridge waiting to go through the door, it shifted its position vertically. There were some older women behind us who were a bit concerned, but told them it was the bridge, not the plane. I wanted a seat where I could see the flaps, but also a good view of the ground. The first row I chose had too much wing and not enough ground. So I looked at the next row, which was better, but not great. I decided on one more row, which was good (I didn't even pay attention to the number). As I was working on deciding, an F/A was walking by and jokingly said "It's just a seat guys, pick one."
My dad said I was a pilot and had to have just the right one. He was right, you know. The F/A understood and kept going. I ended up picking a row with two windows, but I had to lean forward a bit to look out the front one and keep my head against the headrest to look out the rear one. Not ideal, but I had a great view. The seats were a bit dirty (not dark spots on the leather, but more like crumbs between the seats and on the traytables. The part of the seat you sit on was clean, which was the least I would expect. All we brought along was a Camelback each, which fit more than fine under the seats in front of us. I was more than happy with the legroom because I could slouch and still not have my knees touching the seat in front of me. I could also stretch my legs out fully and they would remain under the seat in front of me. I didn't think the seat was overly narrow, but wouldn't want it any narrower than it was. The flight was nowhere near full (65% maybe), and no one sat next to us, giving us the whole row of three. The pilots introduced themselves as Anita Newride and Anita Break ("I need a new ride" and "I need a break" if you can't tell). They said the SAN had broken clouds, which would be fixed by the time we got there.
Pushback was right on time at 6:45am, and we made our way to Runway 21.
Wing shot after boarding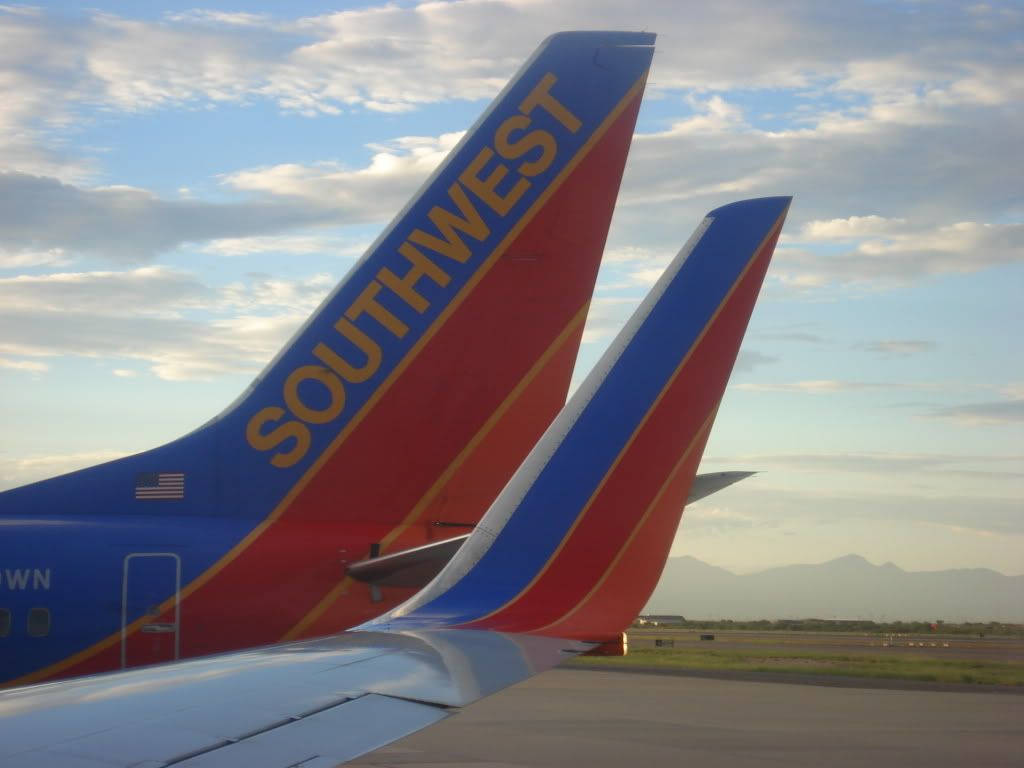 A bit closer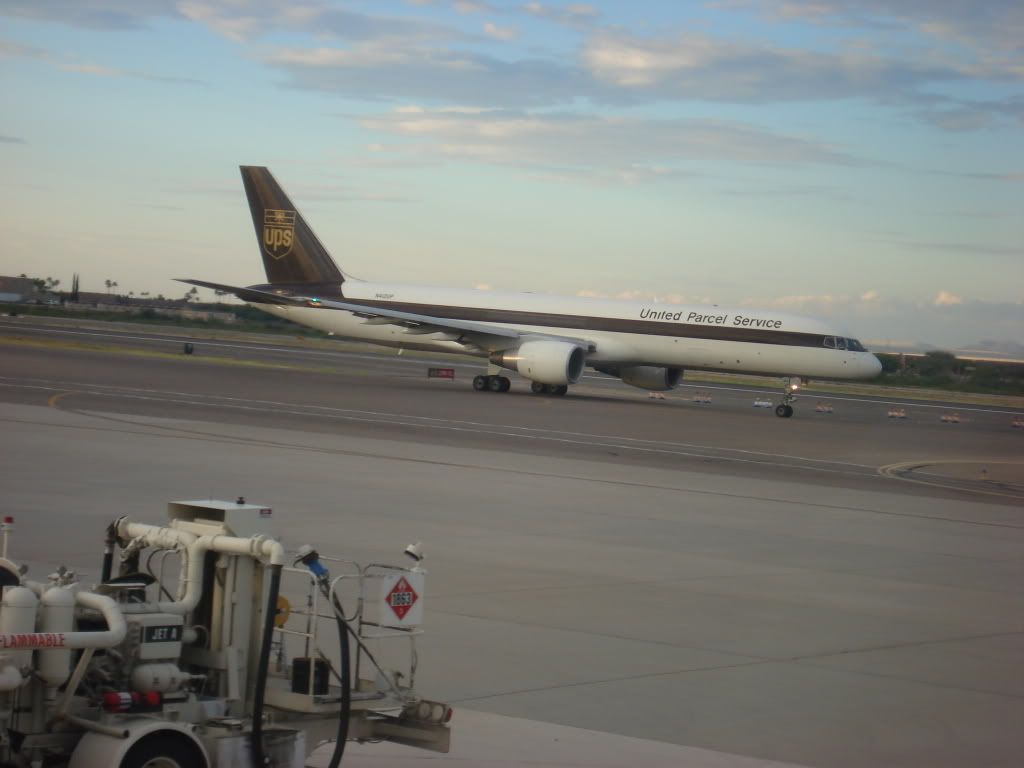 UPS 757 in old colors taxiing for takeoff
Other WN jets
DL 757 going to ATL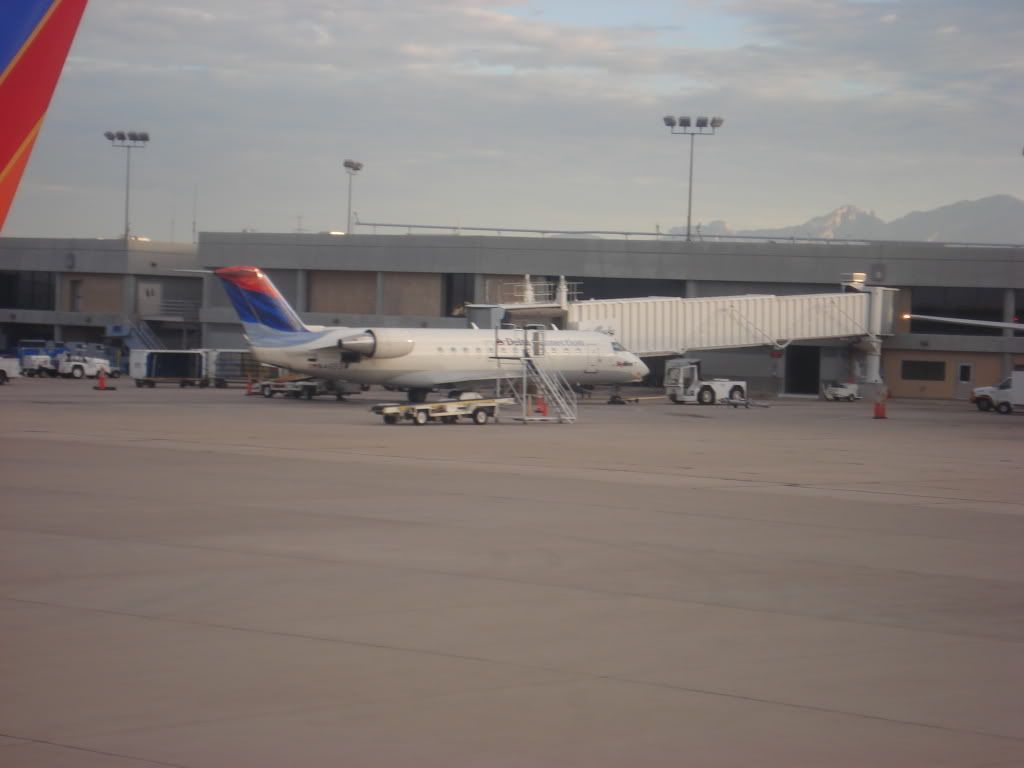 OO CRJ going to SLC
OO CRJ going to DEN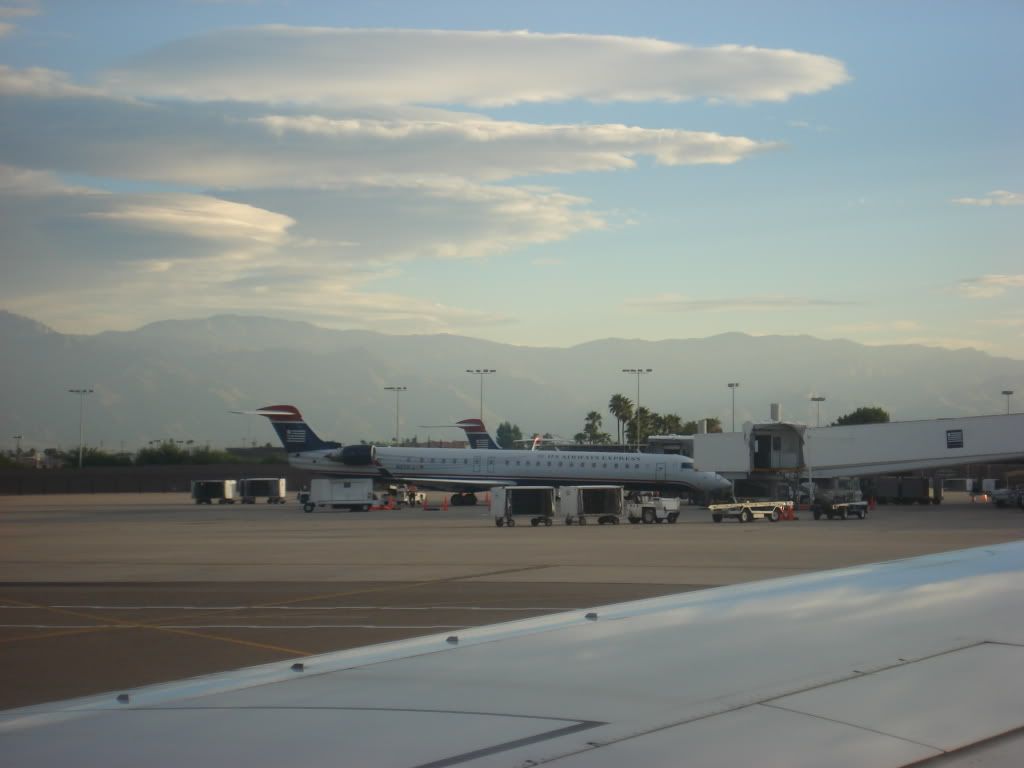 YV CR9's to PHX
This runway was also part of the reason why I chose to sit on the right side of the plane. I had noticed for awhile AZ ANG F-16's flying over the UofA for DMA, but didn't know why. When I flew to keep current on the 15th, I realized it was because runway 11L at TUS was closed for September. Last year it was closed this month for rebuilding, I want to say they are grooving it now, but am not sure. While we were waiting in the terminal, I heard a plane go by taking off and thought 11L was open again, so I called ATIS and found out it was still closed. The plane I heard must have been using 11R. We had a powerful takeoff and were off the ground in 4000 ft. I know that because I saw where we rotated and measured it on GoogleEarth.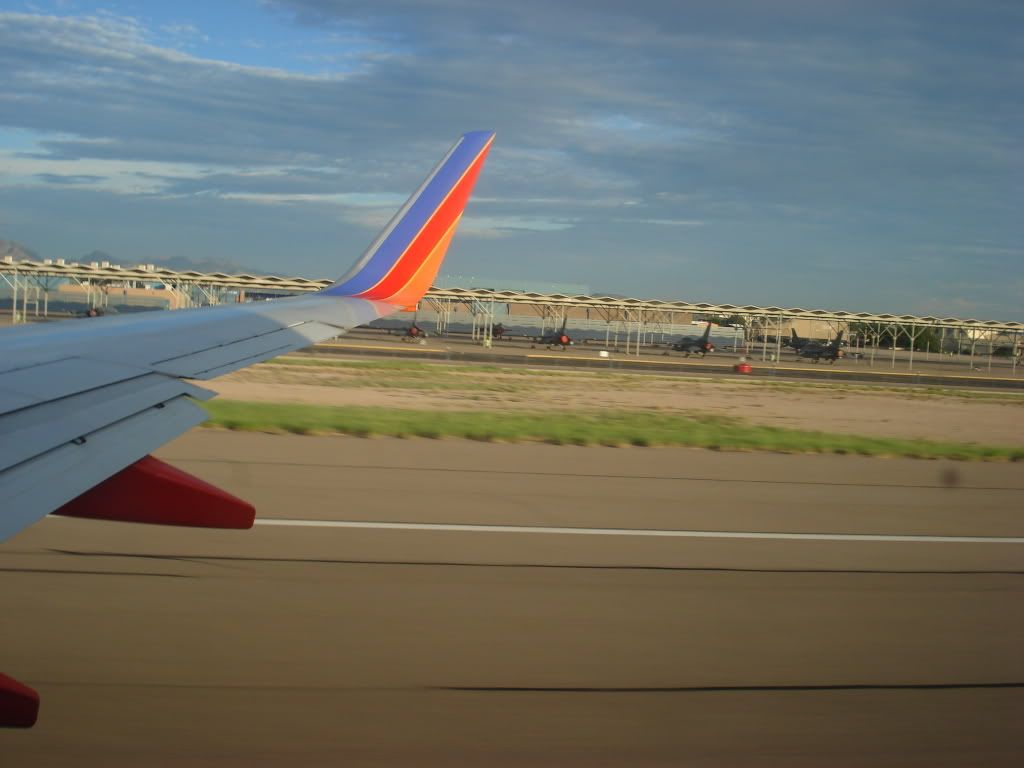 AZ ANG F-16's
Pima Community College Airport Campus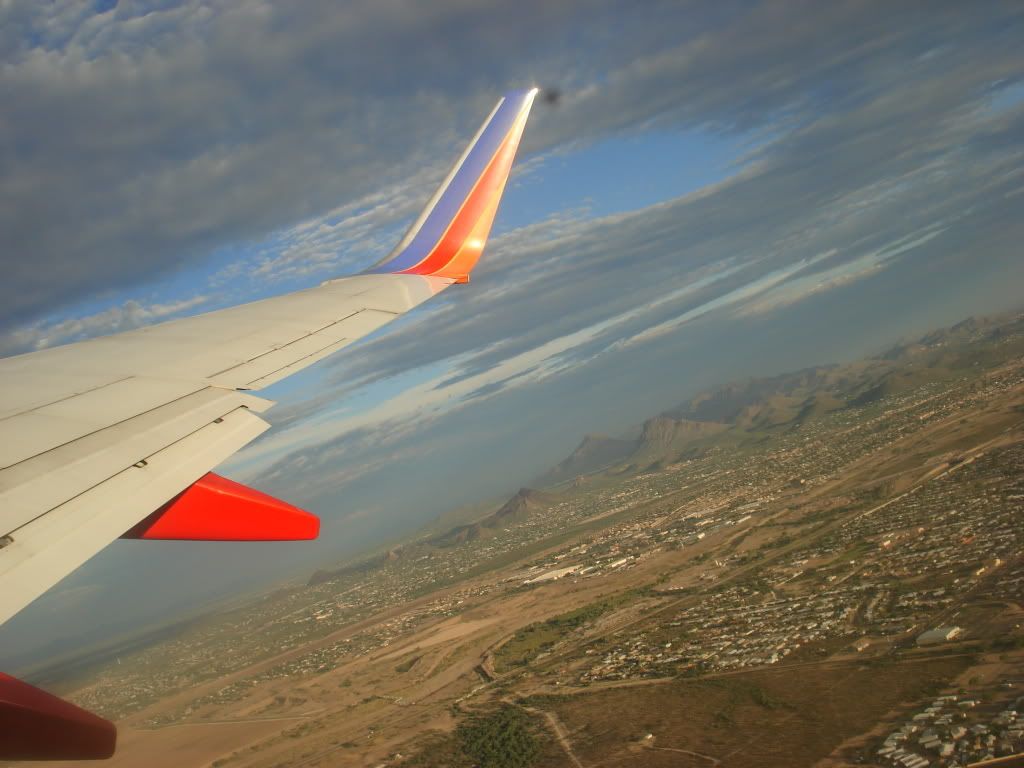 Wing on climbout (The spot behind the wing is on the window, not my camera)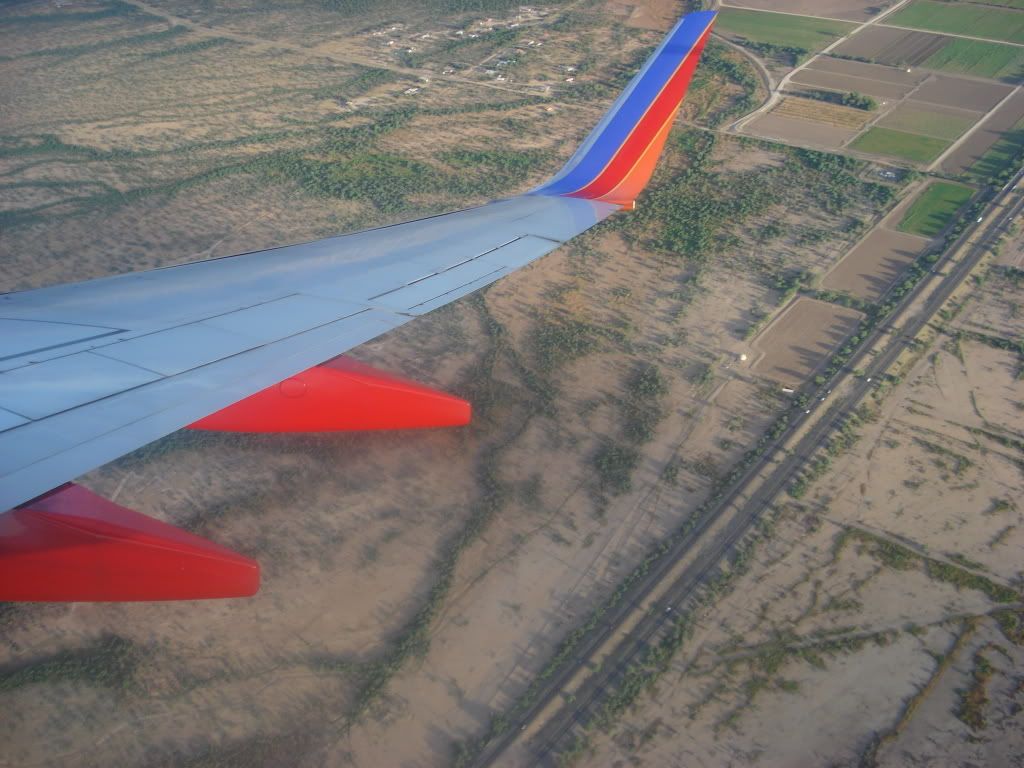 Turning west over I-19
An overview of TUS looking down runway 3
City of Tucson
Clouds over the wing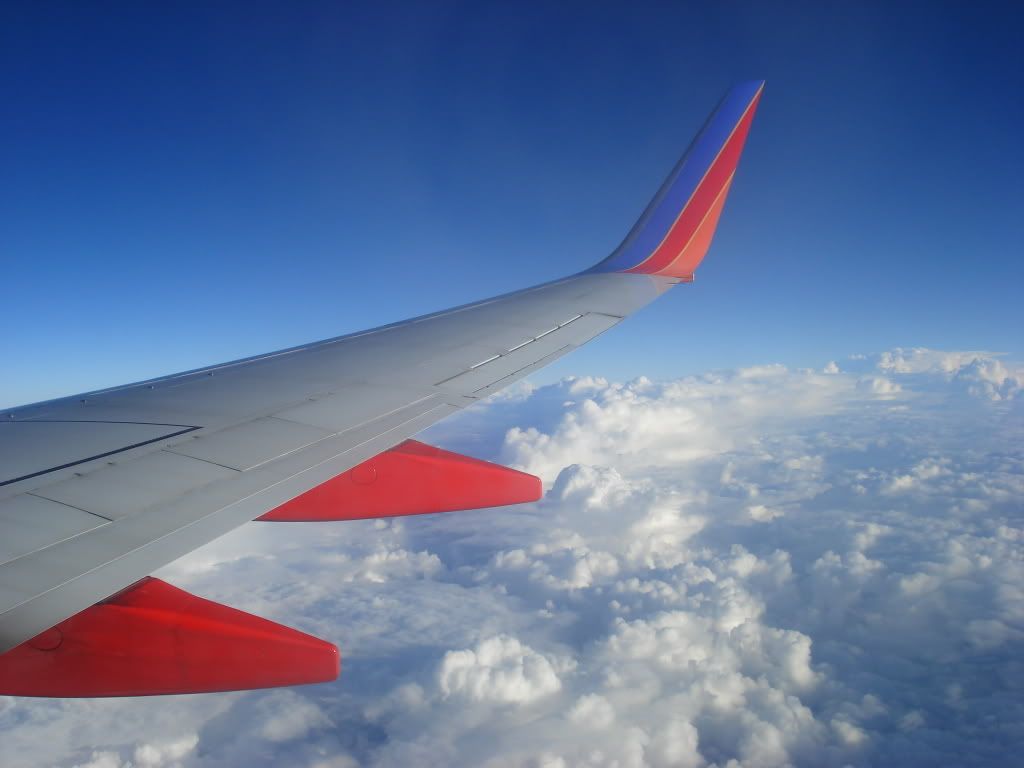 Wing and clouds
We climbed to the south, then made a right turn to go towards Gila Bend (You can't go direct because of restricted airspace south of I-8). Unfortunately the low pressure system that was bringing rain to SoCal brought clouds to Arizona, impeding my view of the ground out the window. Just before reaching Gila Bend, the drink service started, which consisted of coffee or OJ, no food. I had brought pop tarts with me from my dorm and ate those. I think the reason I have so many wing shots on this flight is because back in December when I flew CO, the row I was in on the daytime flight did not have a window, so I had to make up for that here.
The clouds cleared a bit once we passed Yuma and I saw the Imperial Dunes, the Salton Sea, and Imperial, CA.
Imperial Dunes
Holtville Field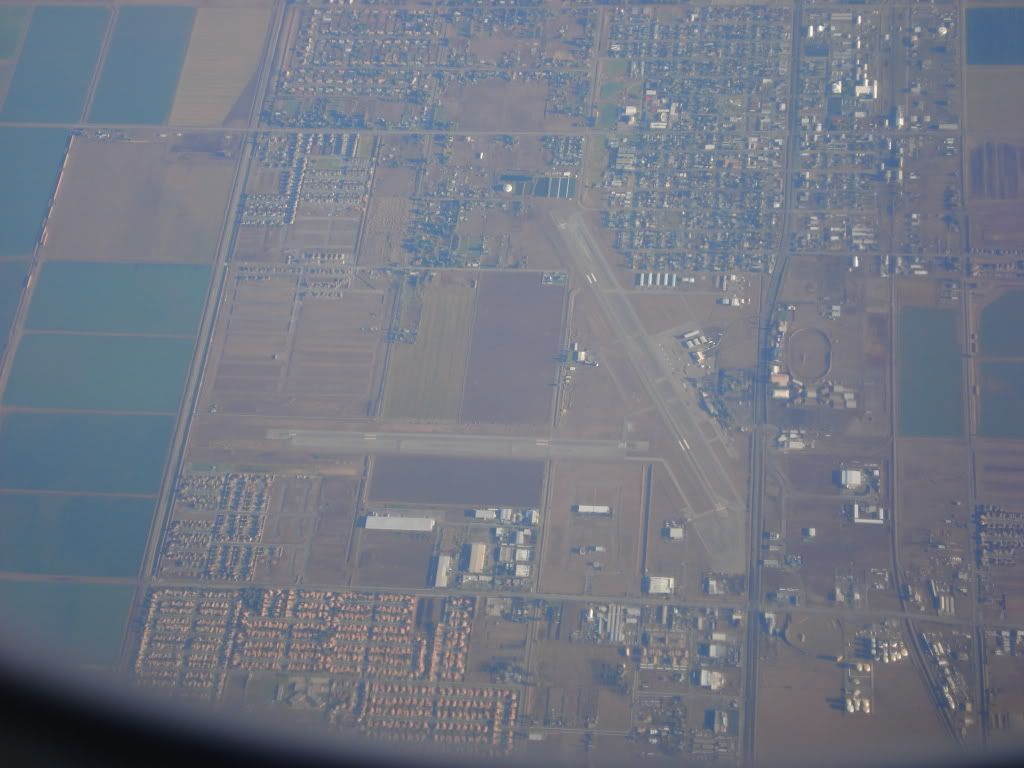 Imperial - IPL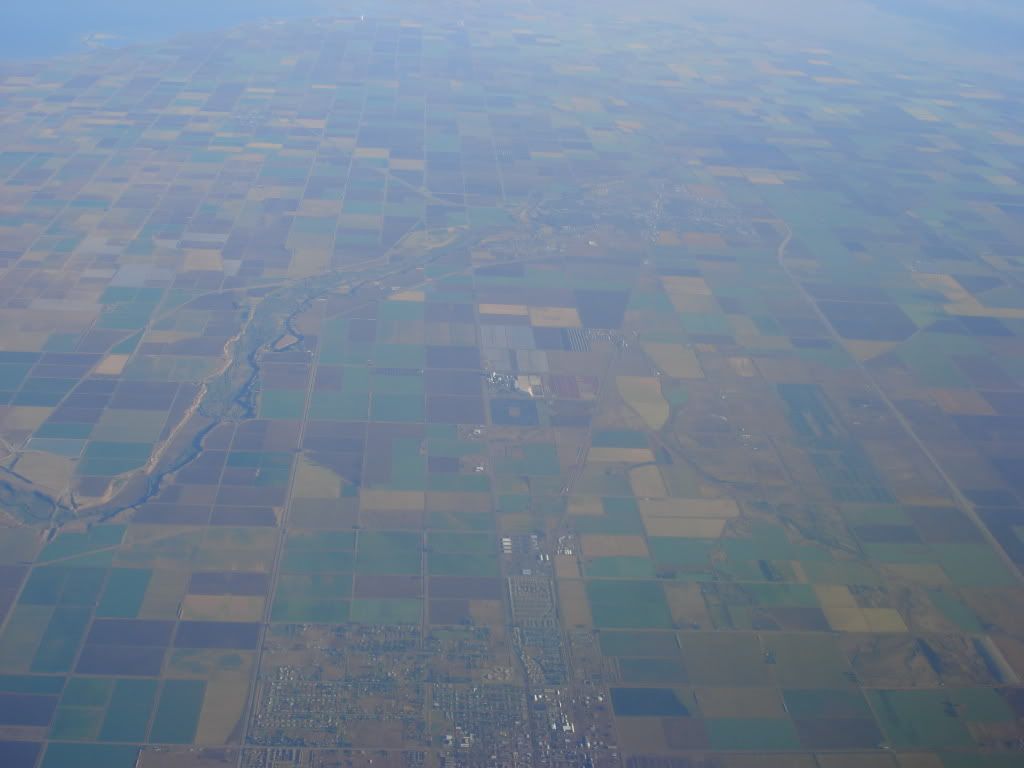 Farms in Imperial
El Centro NAF There appears to be 2 C-17's on the ground between the clusters of white buildings, but I am not sure.
Salton Sea
The clouds came back over the next mountain range, and we descended into them. We popped out of the clouds over green mountains and large houses.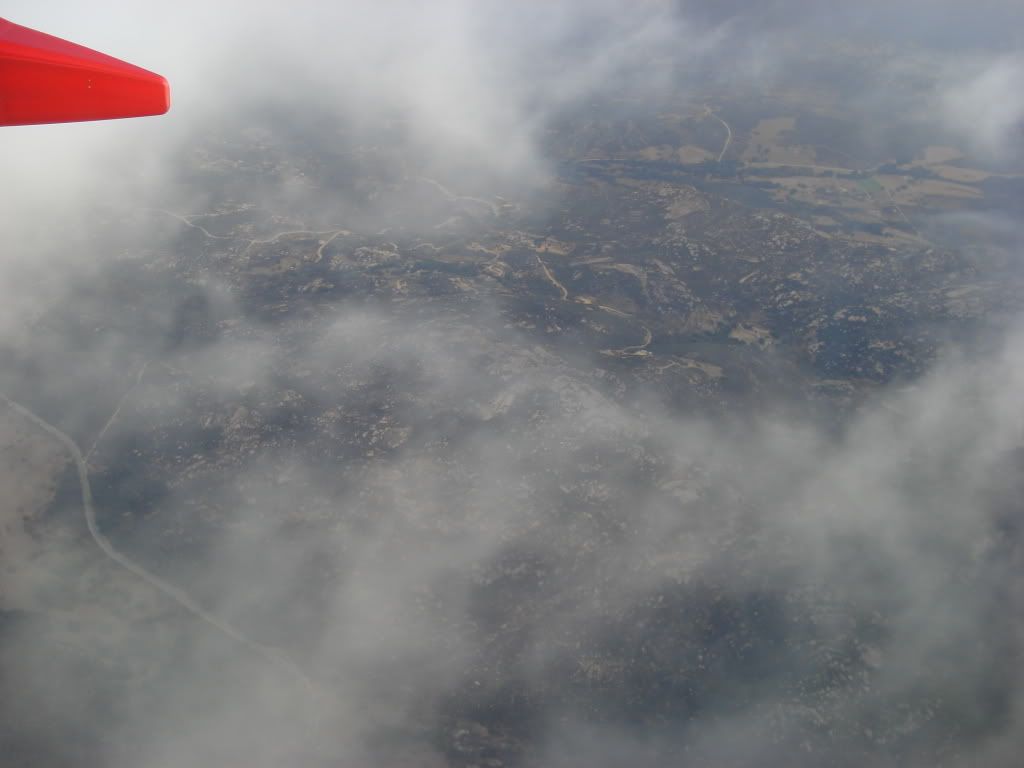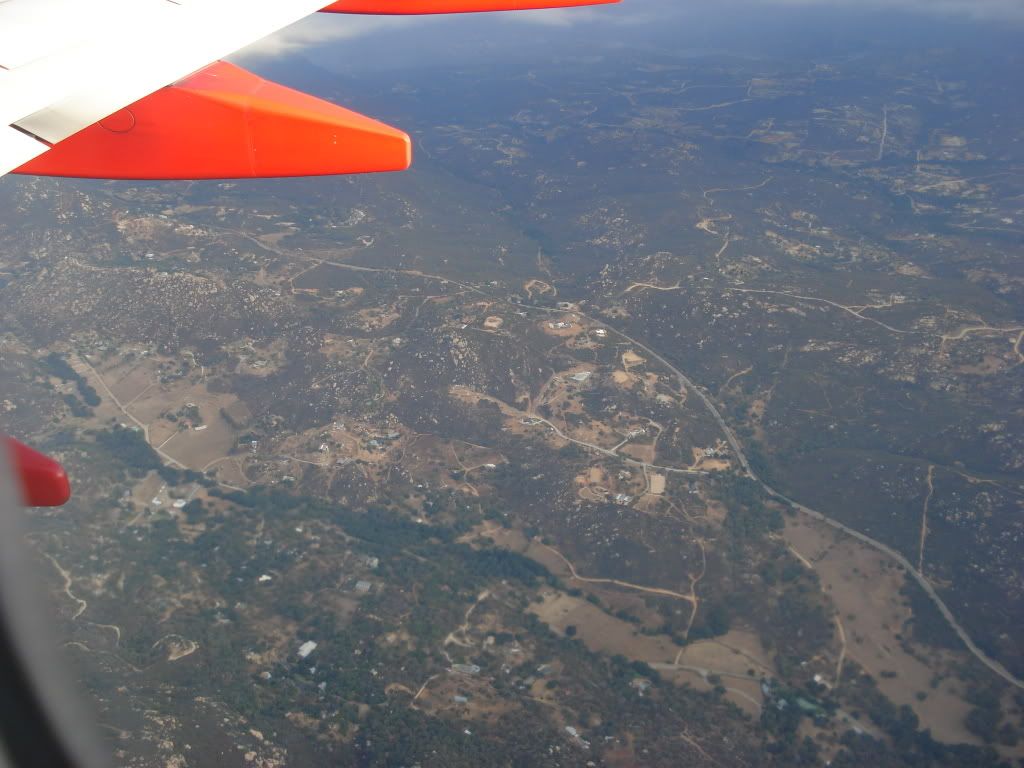 We skimmed the bottom of the clouds for a bit, then stayed below them. The humid air allowed a nice vortex to come off the end of the flap.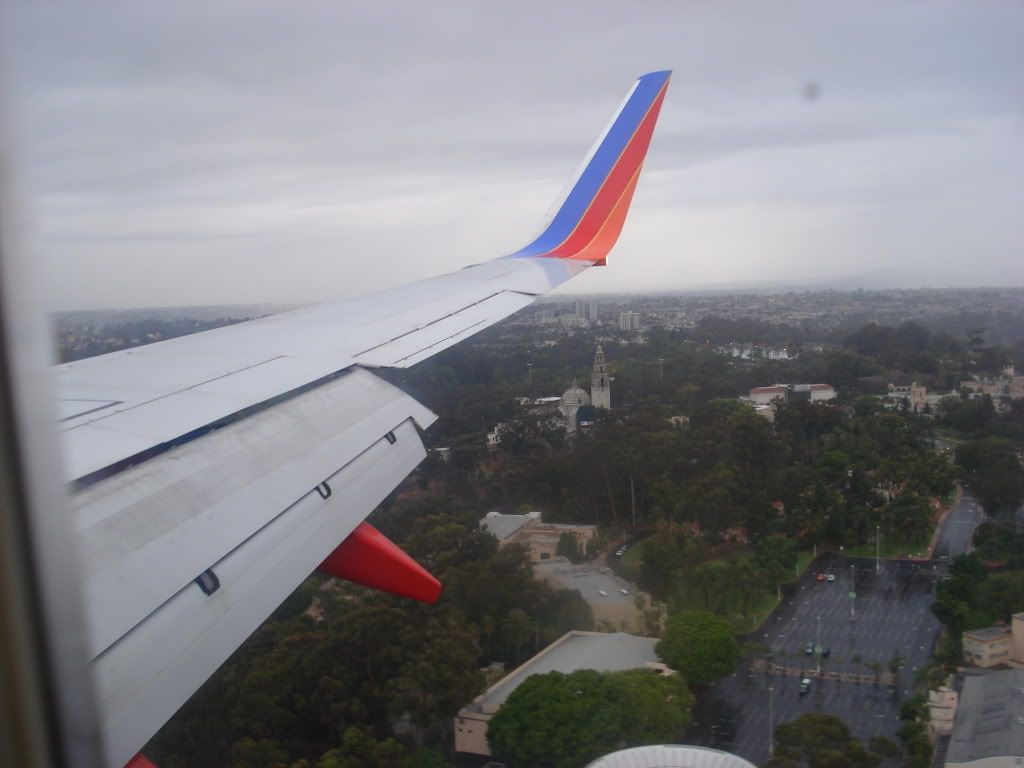 We floated a bit when landing on runway 27, then touched down and the pilots hit the brakes hard. The deceleration was enough to cause me to slide forward in my seat. We pulled off at taxiway B6 and made our way to gate 10.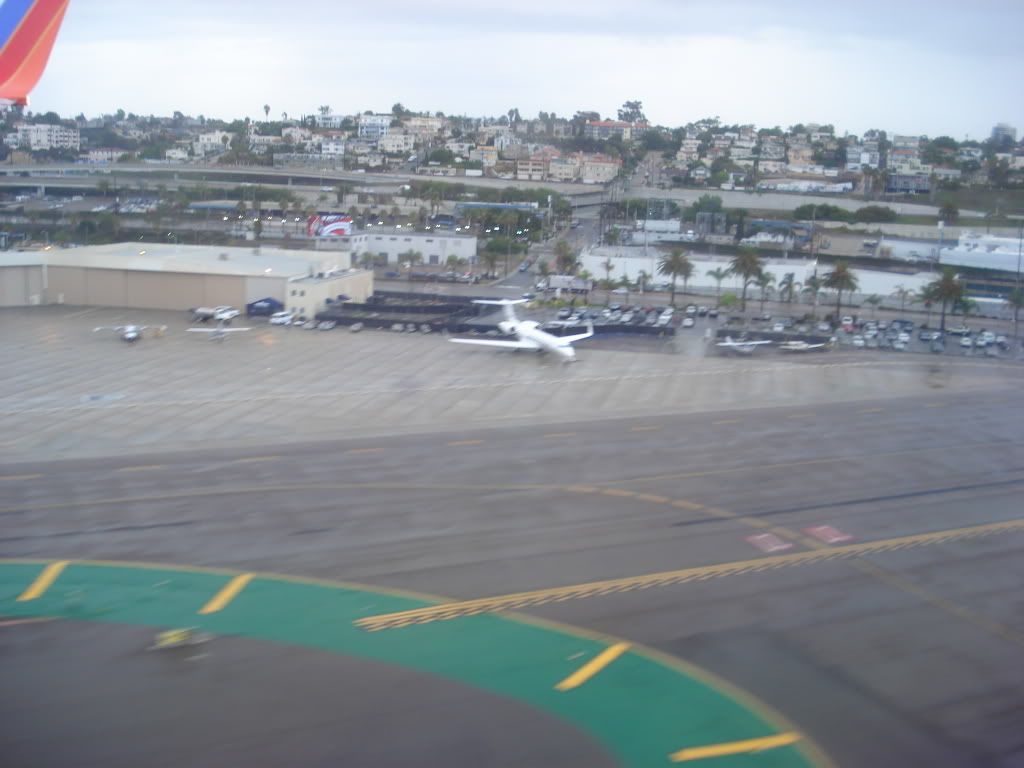 GV
Hawaiian 763 This shot was hard to take because I was trying to keep myself from sliding into the seat in front of me.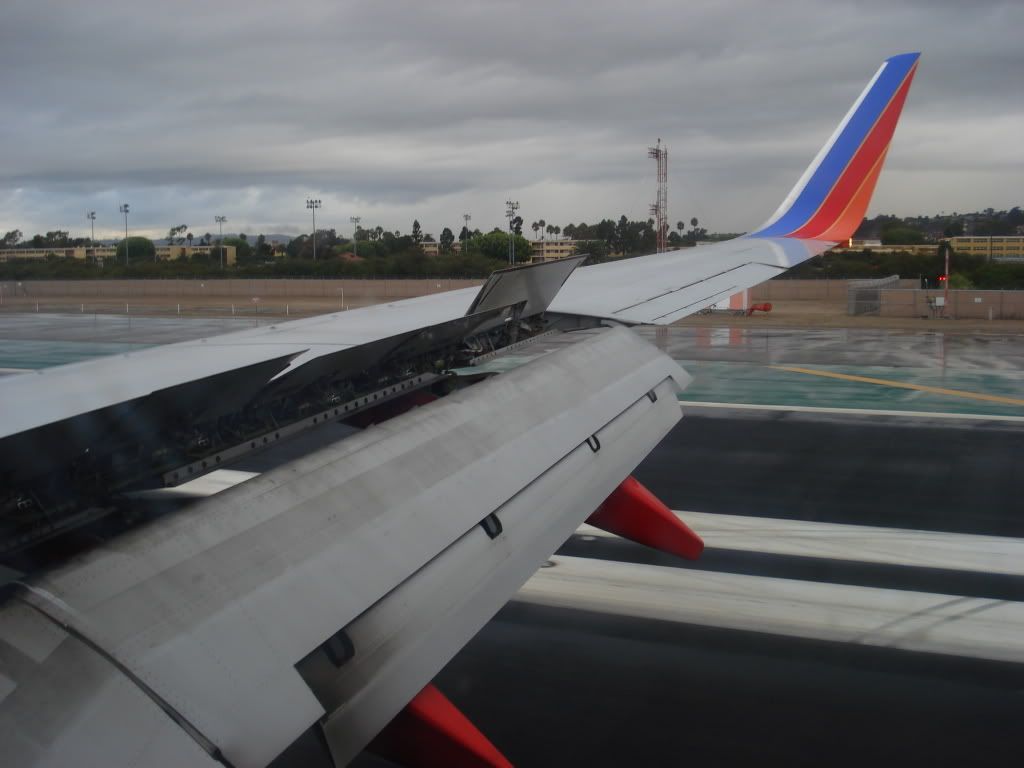 Flaps and spoilers (Wind sock shows a left quartering tailwind.)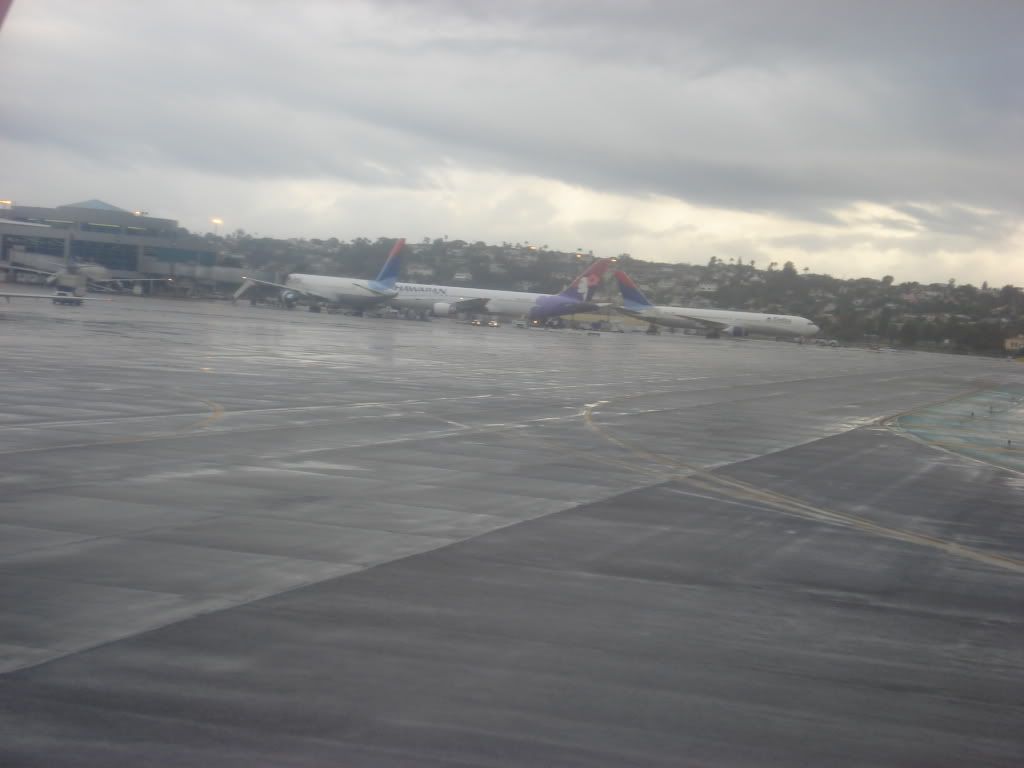 DL 738 (CVG), DL 763 (ATL), HA 763 (OGG, I think), DL 763 (ATL)
AA and YX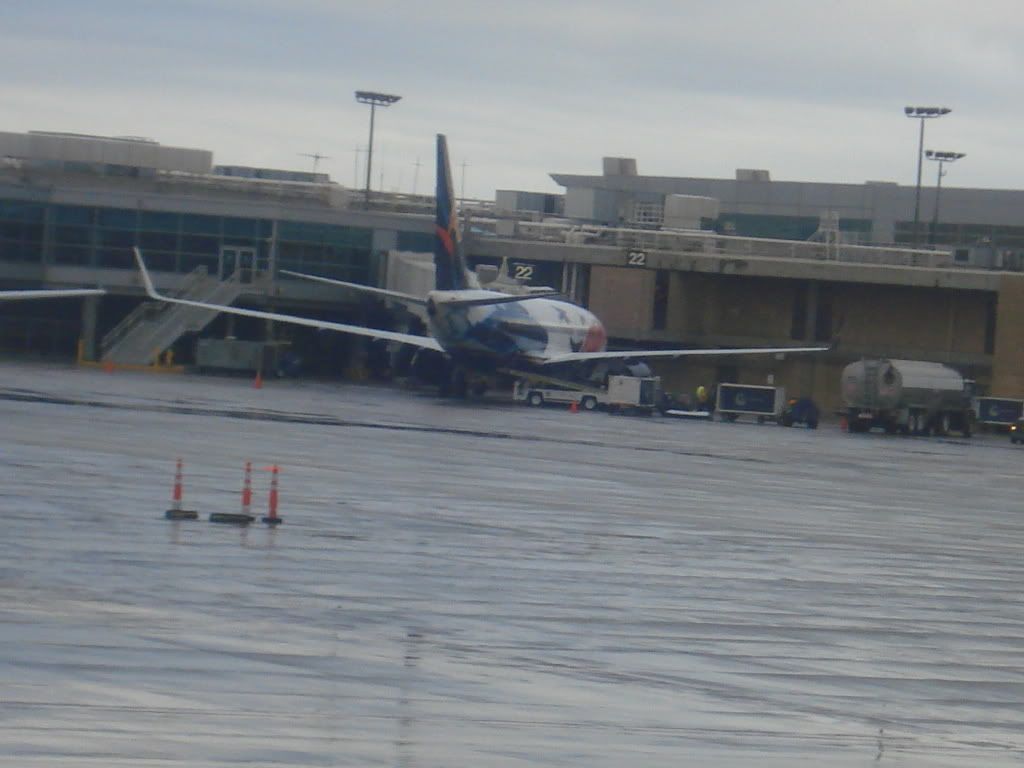 Aloha 73G with the whale on the side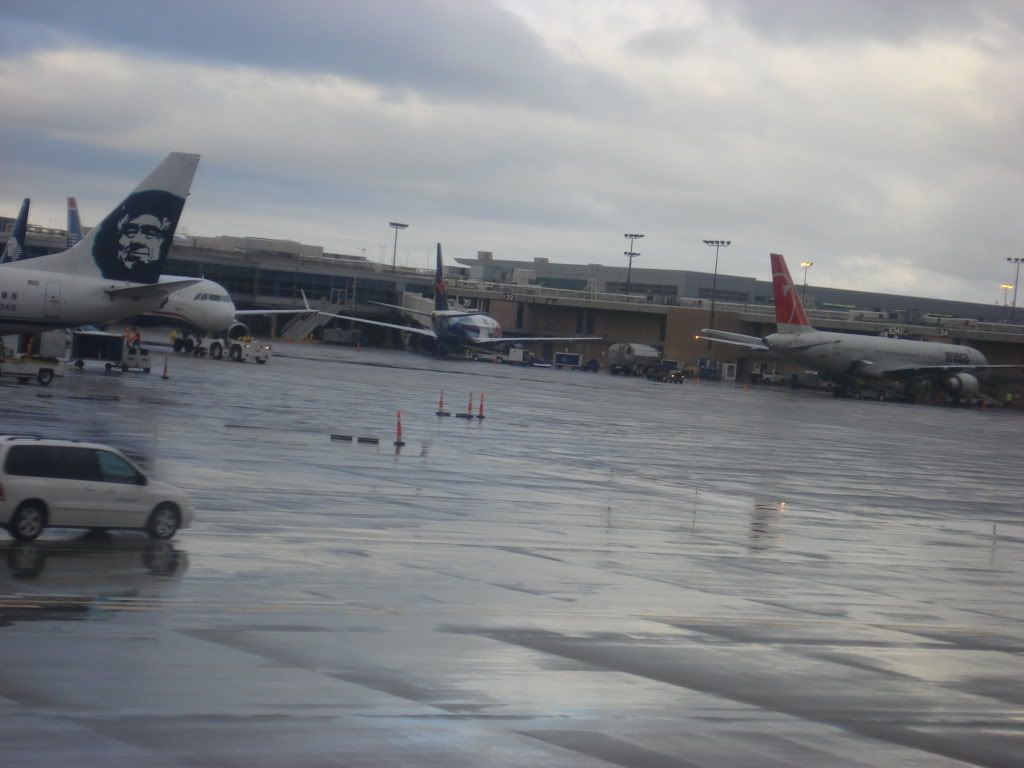 AS, US, AQ, NW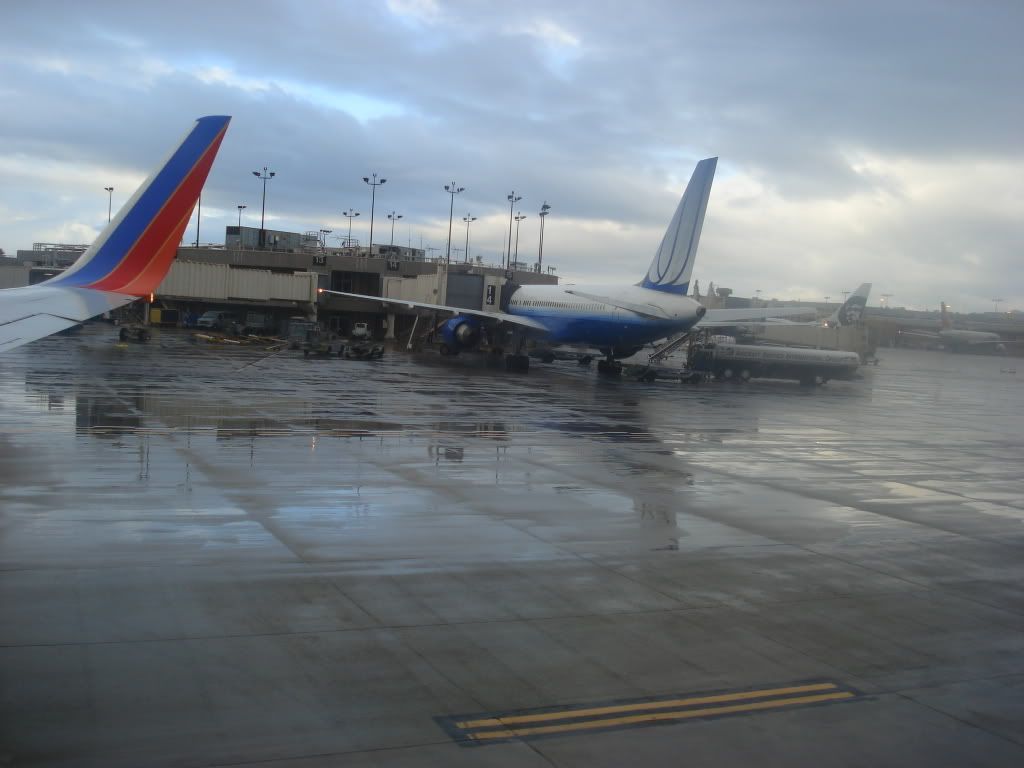 UA 757
YX 717 (MCI)
We pulled in at exactly 7:55am. Since we had 3 hours till the gates to the Air Race opened, we waited till most people had gotten off till we got up. The plane was continuing to OAK, and there were three UofA athletics employees in UofA clothes heading to the UA vs. Cal game. I guess they could not take the chartered HP 757 the day before for some reason.